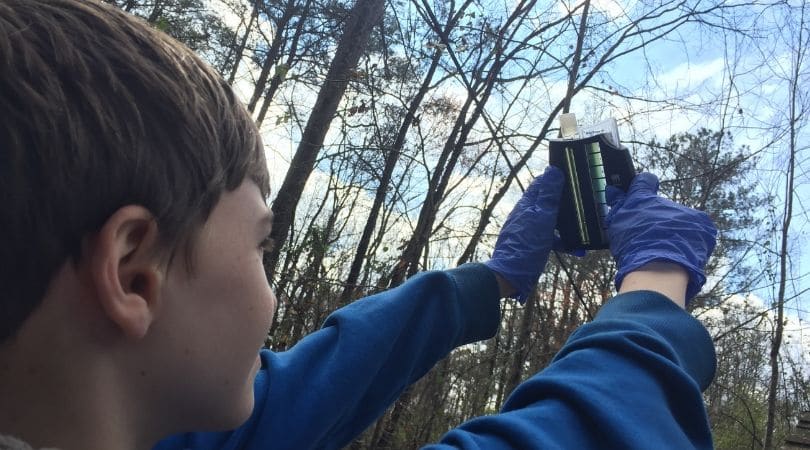 Autrey Mill Nature Preserve, The City of Johns Creek, and Fulton County Water Resources Partner Join Autrey Mill Nature Preserve for a City of Johns Creek initiative as they clean up our City's namesake- the Johns Creek on Saturday, August 24 . Homeowners along the creek are encouraged to venture into their backyards to help with the project. Debris and litter collected may be brought to Autrey Mill Nature Preserve where we will properly dispose of the waste.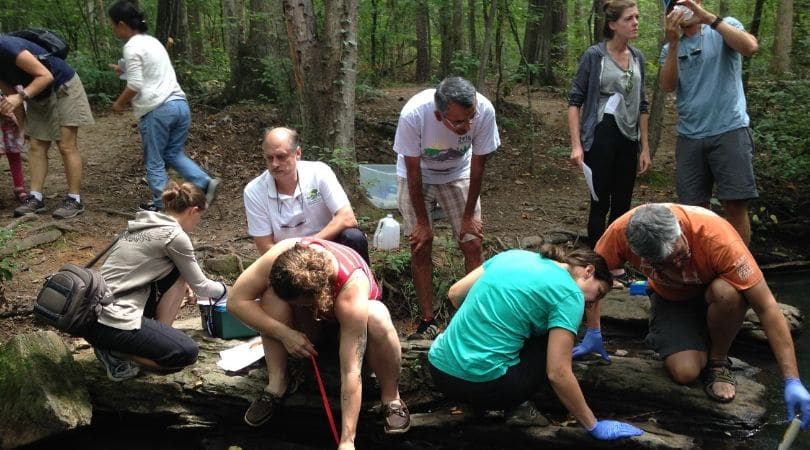 Join Autrey Mill and Fulton County Water Resources down at the Old Alabama Johns Creek overpass where we will dip our toes, survey for fish, gather litter, and learn the process for Adopt-A-Stream Bacterial Monitoring. Afterward, the Fulton County Department of Public Works will take participants on a tour of the Tom Lowe Atlanta Fulton Water Treatment Facility. The tour is restricted to the first 20 participants and requires a minimum of 10. Tour participants must be over the age of 7 and wear closed-toe shoes.
9:30 am Breakfast and Introductions at Autrey Mill
10 am Adopt-a- Stream Bacterial Sampling Demonstration at Johns Creek
10:30 am Creek Clean-Up- Gather and Talk Safety
12 pm Transport trash back to Autrey Mill and Break for Lunch (sack lunch)
12:45 pm Lowe Water Treatment Tour
For more information about Autrey Mill, visit autreymill.org or call 678-366-3511. Autrey Mill Nature Preserve & Heritage Center is a non-profit, 501(c)3 charity, established in 1988. Mission: To create a destination and educational resource that inspires exploration, appreciation, and preservation of the natural environment and local history.
The Mansions at Alpharetta hosting Virtual Bingo Night with Geoffrey Bodine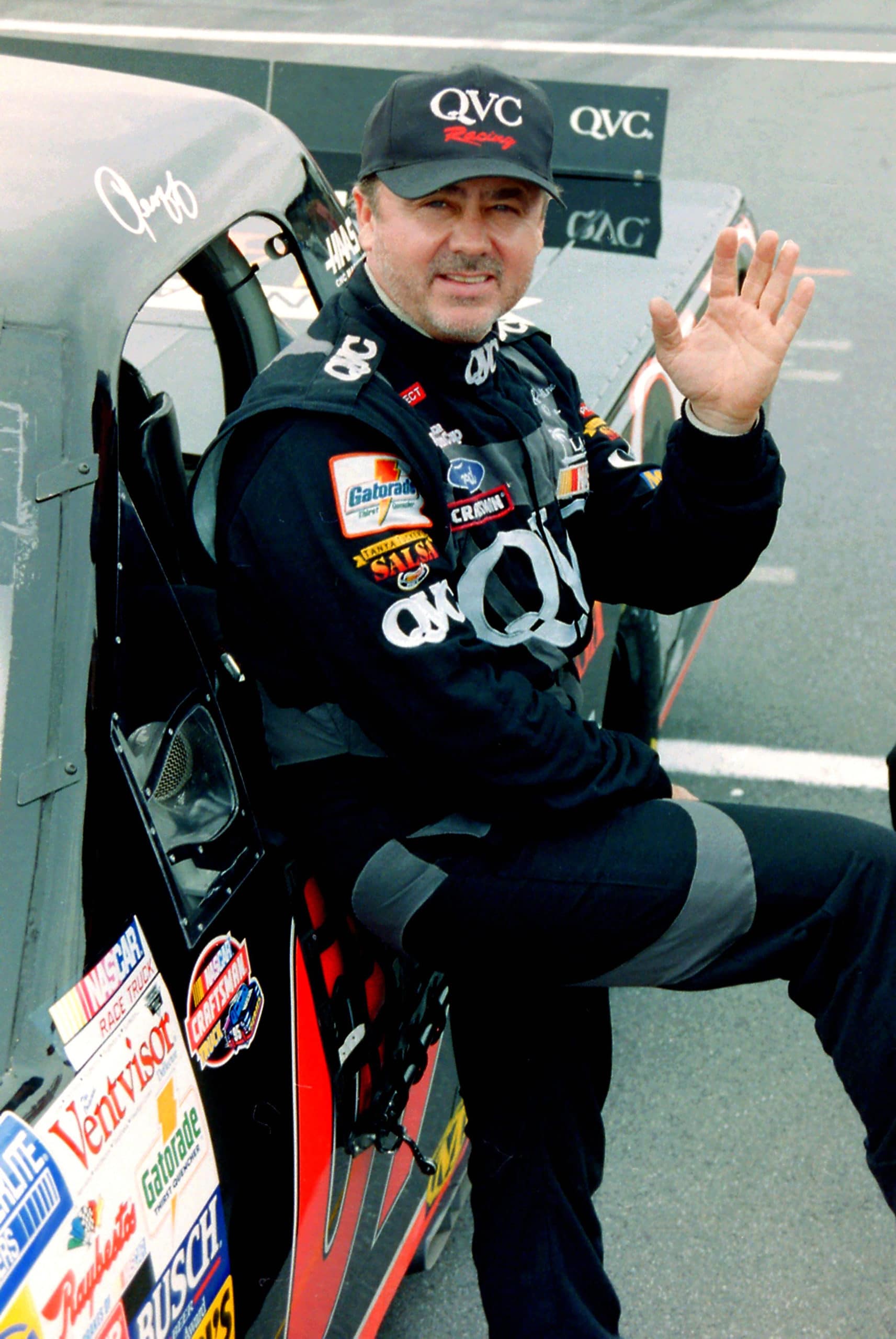 The Mansions at Alpharetta Assisted Living & Memory Care will be hosting a Virtual Bingo night with celebrity 1986 Daytona 500 Champion Geoffrey Bodine serving as the caller. The event is scheduled for Friday, August 28 from 7-9 pm. This high-octane event is open to the public and will feature conversation and fun with the competitive NASCAR veteran for one night only. Registration is required due to the limited number of player slots available.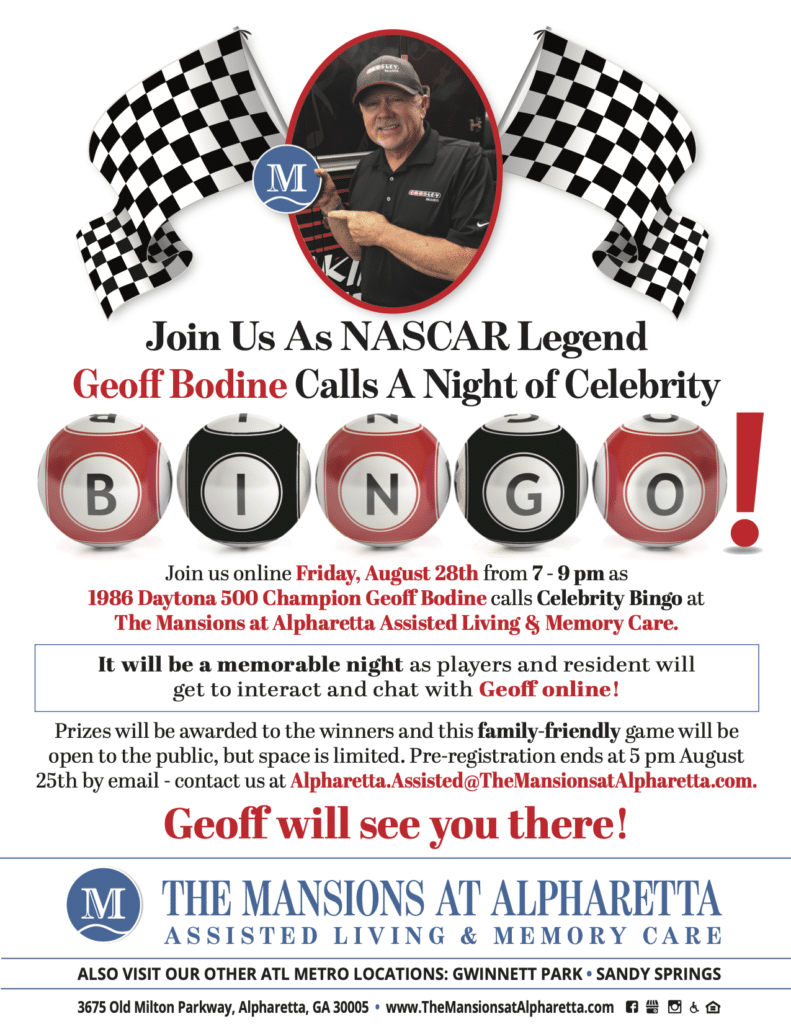 Geoffrey Bodine is a retired American motorsport driver and bobsled builder. Having driven for some of the best car owners in NASCAR history, Geoffrey had 565 starts, 37 poles and 18 wins – including the 1986 Daytona 500, and nearly $16 million in winnings during his Winston Cup/Nextel Cup career.  He was given the title of 1982 NASCAR Rookie of the Year and was honored as one of "NASCAR's 50 Greatest Drivers" during NASCAR's 50th anniversary celebration.  He holds the track record at Atlanta Motor Speedway for fastest qualifying speed of over 197 mph, set in 1997, as well as being named one of NASCAR's Modified all-time Top 10 Drivers, and listed in the Guinness World Records for "most wins in one season" for his 55 modified victories in 1978.  Bodine is also the last driver to win a race having lapped the entire field, which he did in 1994 at North Wilkesboro Speedway.
"We are so pleased to have Geoff Bodine participating in our event. His commitment to giving back to the senior community is one-of-a-kind," said Kristen Lockwood, Marketing Director for The Mansions. "I have known Geoff all my life, and he is really an amazing man, not just for his accomplishments on the track, but also for the contributions he has made to the sport of stockcar racing through the years in engineering and safety advancements – he's truly one of a kind. Our residents and local community are so looking forward to "meeting him" online and are thankful for his willingness to be involved in this event!"
Sign up to attend virtual bingo at The Mansions with Geoffrey Bodine by August 25th before 5 pm by emailing Alpharetta.Assisted@TheMansionsAtAlpharetta.com. Instructions on how to play, bingo cards and Zoom information will be sent via email to those who register to attend.
Source:
Kemp Declares State of Emergency, Authorizes 1,000 Troops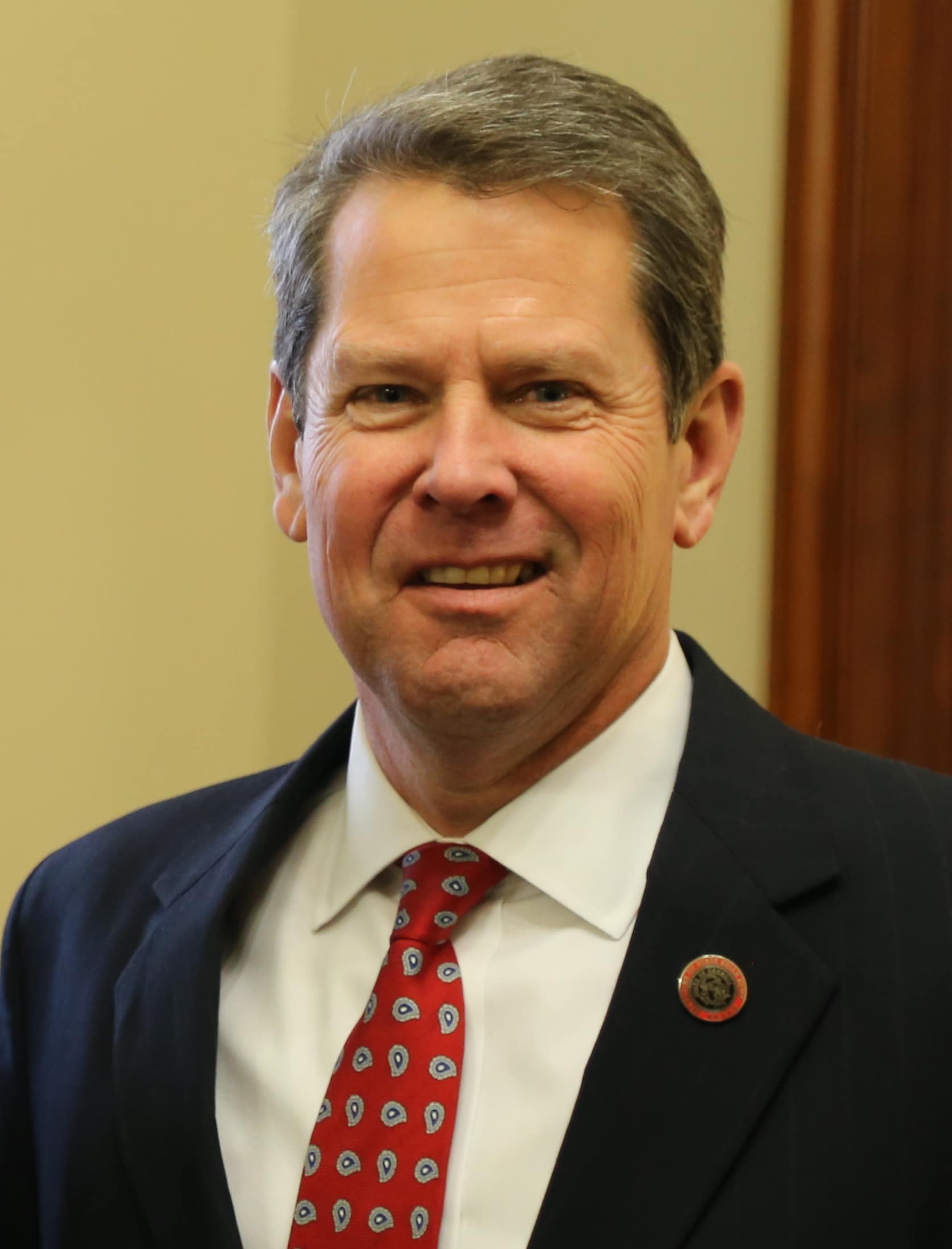 Following weeks of dramatically increased violent crime and property destruction in the City of Atlanta, the July Fourth weekend saw over thirty Georgians wounded by gunfire, including five confirmed dead. Governor Kemp issued Executive Order 07.06.20.01, which declares a State of Emergency across Georgia and authorizes the activation of as many as 1,000 Georgia National Guard troops.
"Peaceful protests were hijacked by criminals with a dangerous, destructive agenda. Now, innocent Georgians are being targeted, shot, and left for dead," said Governor Kemp. "This lawlessness must be stopped and order restored in our capital city. I have declared a State of Emergency and called up the Georgia Guard because the safety of our citizens comes first. This measure will allow troops to protect state property and dispatch state law enforcement officers to patrol our streets. Enough with the tough talk. We must protect the lives and livelihoods of all Georgians."
The Georgia Guard will provide support at state buildings, including the Georgia State Capitol, Georgia Department of Public Safety Headquarters, and Governor's Mansion. This aid will allow state law enforcement personnel to increase patrols on roadways and throughout communities, especially those in the City of Atlanta.
Source: Press Release from the Office of Governor Kemp
Gwinnett County PD PSA: Know When Fireworks May be Discharged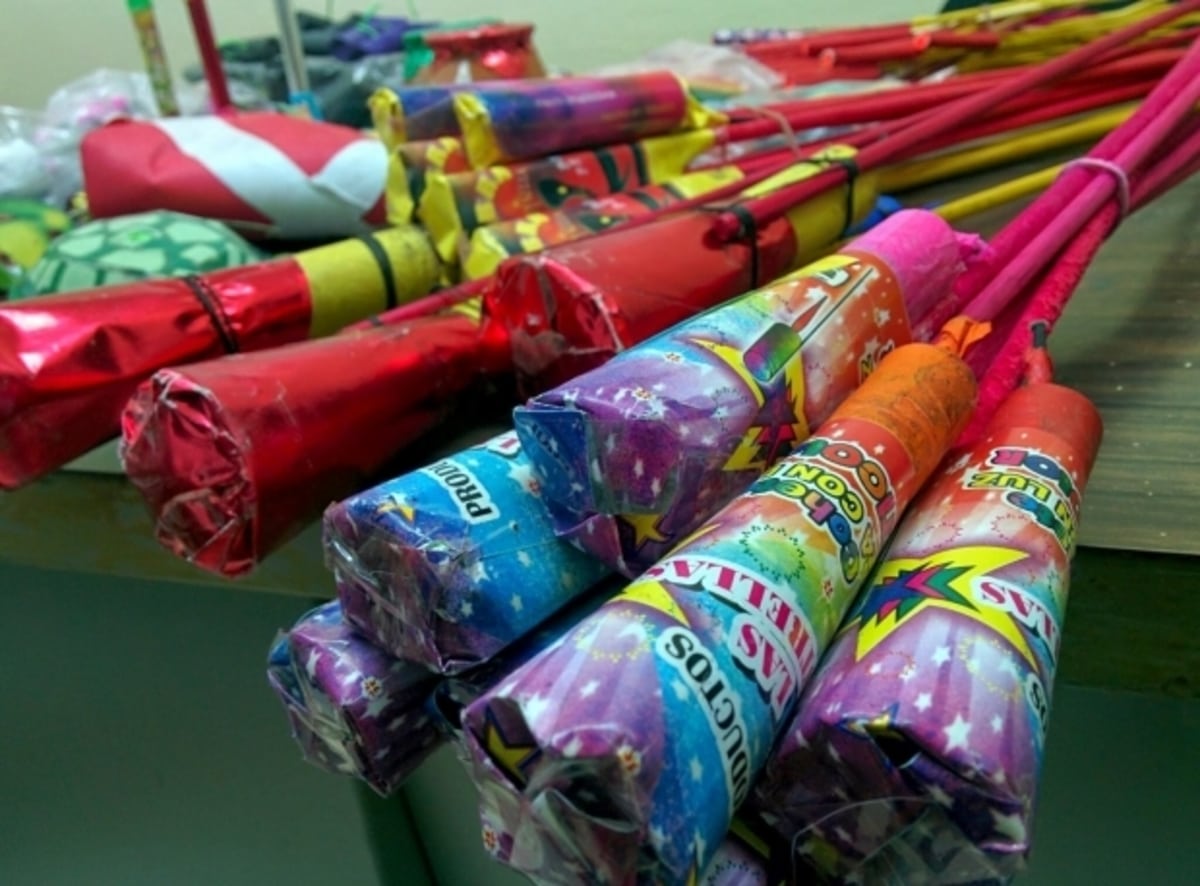 The discharge of consumer fireworks is regulated by the State of Georgia and enforced by the local authorities (City of Peachtree Corners Code Enforcement Officers and the Gwinnett County Police Department).
Pursuant to O.C.G.A. 25-10-2, consumer fireworks can be used or ignited after 10: 00 A.M. and before 12:00 midnight on January 1, the last Saturday and Sunday in May, July 3, July 4, the first Monday in September, and December 31. On January 1, consumer fireworks can be use used or ignited from 12:00 midnight to 1:00 A.M.
The discharge or use of consumer fireworks on any other day (a date not listed above) must comply with the City's noise ordinance. As a reminder, from 7:00 A.M. to 11:00 P.M. Sunday to Thursday and from 7:00 A.M. to 12:00 midnight on Friday and Saturday, the City's noise ordinance prohibits the creation of noise or sounds which are plainly audible at distance of 300 feet or more from the source.
During overnight hours (11:00 P.M. to 7:00 A.M. Sunday to Thursday and 12:00 midnight to 7:00 A.M. Friday and Saturday), the City's noise ordinance prohibits the creation of noise or sounds which are plainly audible at a distance of 100 feet or more from the source.
For residents that are governed by a Homeowners Associations, please check with your HOA for additional regulations.
For questions or to report a violation, contact the City, 678-691-1200 or the GCPD at 770-513-5000. To report an emergency, call 911.