CarMax to Open Customer Experience Center in Peachtree Corners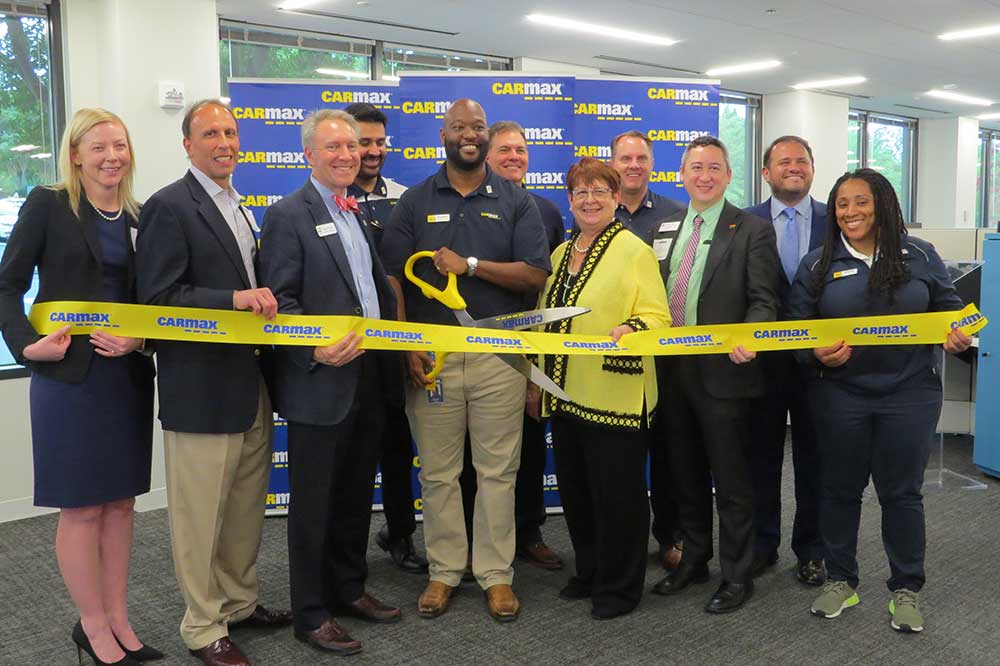 The center will bring over 300 new jobs to the city.
"CarMax, the United States™ largest retailer of used cars and Fortune 500 company, announced recently it is opening a new Customer Experience Center in Peachtree Corners creating over 300 new jobs. Over the next few months CarMax will hire customer experience consultants, assistants and managers to work at the new center located at 5707 Peachtree Parkway.
CarMax said the center will offer a customer-driven buying experience that the company plans to scale nationwide. Through the center, customers can buy a car on their terms, whether they want to buy a car completely from home, in-store, or both. Employees at the new Customer Experience Center in Peachtree Corners will assist customers over the phone or online to help them find their ideal vehicle, navigate financing, and provide any assistance needed.
"We are pleased to have CarMax's new Customer Experience Center bring over 300 jobs to our city," said Mayor Mike Mason. "As a regional job hub, our city continues to attract top-tiered businesses like CarMax."
CarMax has had an established presence in the Atlanta metro area for more than 20 years and currently employs approximately 2,000 Georgians. For 15 consecutive years, CarMax has been recognized as a "Fortune 100 Best Company to Work For." The company was founded in 1993 and is headquartered in Richmond, Virginia. For employment information for the Peachtree Corners location, visit the CarMax website.
During COVID-19 City Implements Measures to Assist Businesses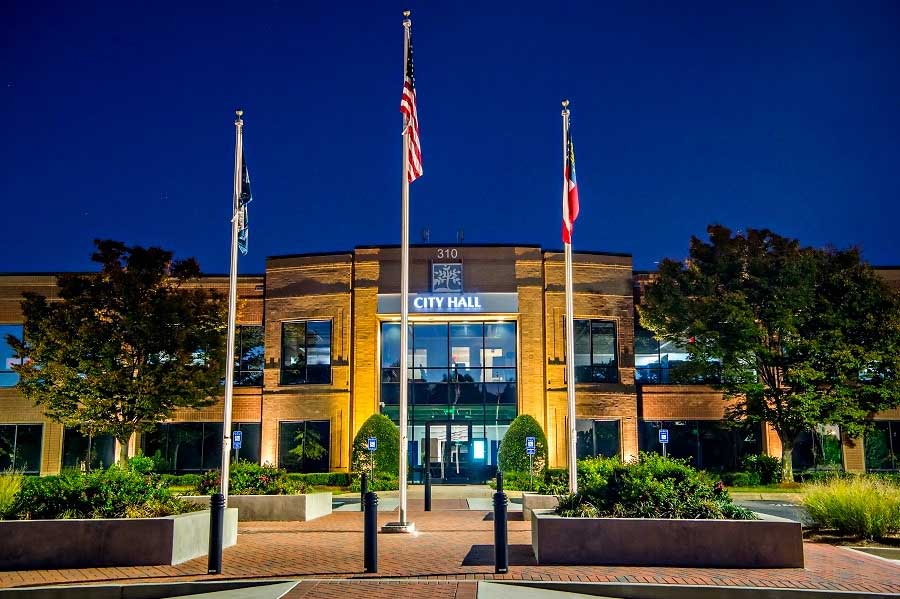 With the outbreak of the coronavirus (COVID-19), Peachtree Corners has been challenged as never before to demonstrate what it means to be a community. From households to businesses, many in our city are struggling and will soon be facing hardship.
Although some will be impacted more than others, the city will all be hurt if there are vacant storefronts and empty office buildings. To assist the business community, the Mayor and Council have approved several measures to help businesses by:
Implementing a 60-day deferral period on all business license fees. The annual fees, normally due by March 31, are now due May 31. There will be no penalty fees assessed during this period.
Temporarily waiving the convenience fees charged for online and/or internet transactions.
Deferring payment of alcohol excise tax for 60 days. No penalty fees will be assessed during this period.
Additionally, the city is asking landlords to join the city as Community Partners by offering:
tenants a 60-day deferral on rent payments
banks to work with their customers by offering a 60-day penalty-free deferral on loan payments
Additionally, the city is asking landlords to join the city as Community Partners by offering tenants a 60-day deferral on rent payments and banks to work with their customers by offering a 60-day penalty-free deferral on loan payments.
To identify and showcase our Community Partners, the city is creating a page on its website to identify and showcase its Partners and will promote those who help our community during these difficult times. Those that can help in any way, will be included as a Peachtree Corners Community Partner
"None of us in our lifetime have had to encounter the circumstances we are now facing," said Mayor Mike Mason. "Be assured the Council and I are committed to doing everything we can as a city to ensure all who live and work here are safe. And we are committed to doing all we can do to ensure our businesses survive and are able to return to operating as they were before the outbreak of the coronavirus."
For questions regarding business licenses or alcohol excise tax fees, please contact City Hall at 678-691-1200.
The Peachtree Corners City Council has pledged to do all that can be done to protect the city's residents and to ensure our business community continues to thrive. Please join us in supporting our local businesses.
City Extends Deadline for Businesses to Renew Business Licenses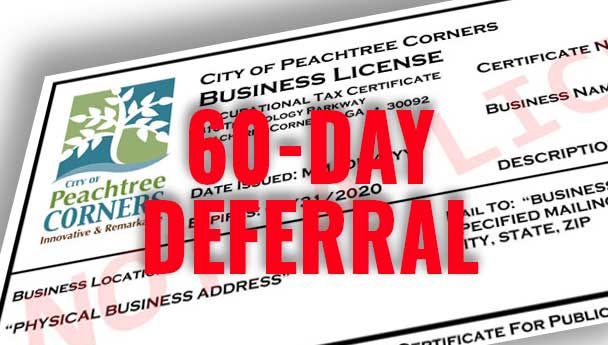 Since the outbreak of the coronavirus began, the City has endeavored to find the best balance between providing service at City Hall to its residents and the business community. After considering the continued spread of the coronavirus in the metro area, the decision was recently made to close City Hall to the public. 
Until further notice, Peachtree Corners City Hall will not be open during regular business hours. However, you may request in-person meetings by appointment. The staff is also available by telephone and email during regular City Hall hours (9 a.m. – 4 p.m.)
The staff telephone numbers and email addresses are located on the city's website, www.peachtreecornersga.gov. Use the "Contact Us" link at the top of the homepage to access contact information. Use the filter to access by department.
Understanding that this may cause a hardship on many companies' ability to renew their business license, the Mayor and Council are extending the deadline for renewals until May 31, 2020.
During this time, the City strongly encourages businesses to renew their licenses online at: https://cityofpeachtreecornersga.governmentwindow.com/start.html or by mail. 
The City is temporarily waiving the $5.00 eCheck fee and reducing the processing fee from 5% to 2.5% when using a credit card. If you have questions regarding renewals, please send an email to businesslicenses@peachtreecornersga.gov or call 678-691-1208 to speak with the City's business license officer.
Curiosity Lab at Peachtree Corners Wins Smart Cities Award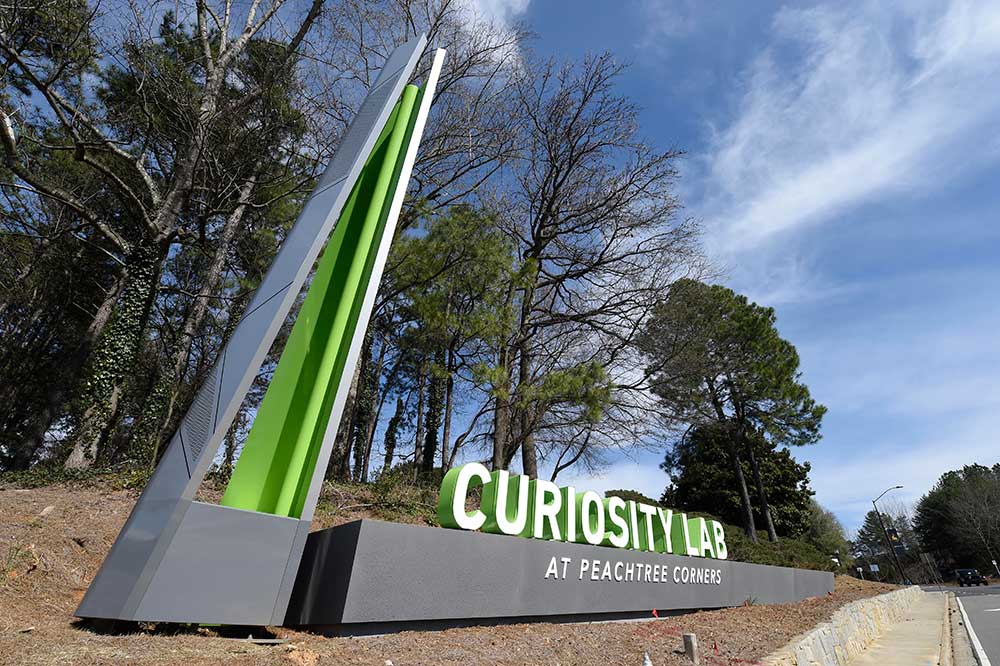 City's project wins IDC Government Insights transportation category.
The city's 5G-enabled 1.5-mile autonomous vehicle test track and smart city laboratory, Curiosity Lab at Peachtree Corners, was named the winner in the transportation category in the third annual IDC Smart Cities North America Awards (SCNAA) for its connected and autonomous vehicles project.
Curiosity Lab was one 11 category winners receiving awards for a wide range of categories including civic engagement, smart buildings, adaptive signal control technology and transportation. The awards recognize the progress North American communities have made in executing smart cities projects. The award recipients were selected following more than 2,500 votes.
"We are extremely proud that our city's Curiosity Lab has been recognized for its efforts in advancing transportation through connected and autonomous vehicles," said Mayor Mike Mason. "We have created an environment where new AV and smart city technologies can be tested and perfected. Our city is the first in the United States to offer a real-world test track for autonomous vehicle research."
Winners in the SCNAA illustrate best practice examples of urban innovation with a particular focus on the use of technology (cloud, platforms, analytics, IoT, mobile solutions) and data, unique partnerships, funding models and/or community involvement.
"Curiosity Lab is a unique economic development investment that helps advance new technologies and grow the employment base of the city," said Betsy Plattenburg, Curiosity Lab's executive director. "We have had interest in testing from both startups and Fortune 500 companies."
The winners illustrate how forward-thinking municipalities are effectively leveraging technology and innovation to offer new services and economic opportunities and to meet the needs and expectations of citizens and residents.
"It is clear from the overwhelming number of impressive responses we received, government
officials across the country are committed to implementing innovative Smart City Initiatives
designed to bring about meaningful changes to the way we live, work, play and interact," said
Ruthbea Yesner, Vice President IDC Government Insights and Smart Cities Strategies.