Prime Lunchtime with Brian Johnson, City Manager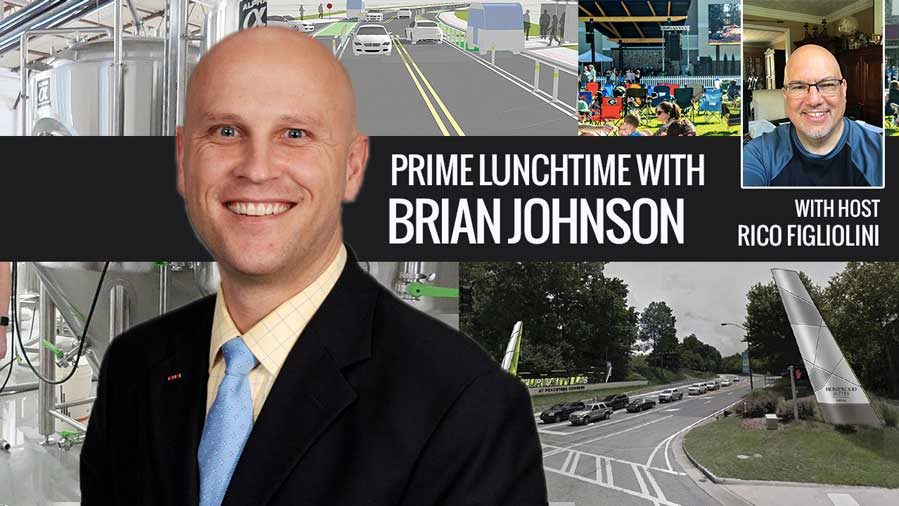 In this episode of Prime Lunchtime, Rico and City Manager, Brian Johnson, discuss the upcoming Smart City Expo and the role that Peachtree Corners will contribute. Brian gives some sneak peeks into the incredible technology that will be demonstrated and accessible during the event, and its implications for the future of smart cities all over the world. Additionally, they discuss developments around the city such as the finishing of the roundabout, new apartment developments at the river corridor, Willie Degel's new Uncle Jack's Meathouse, and more.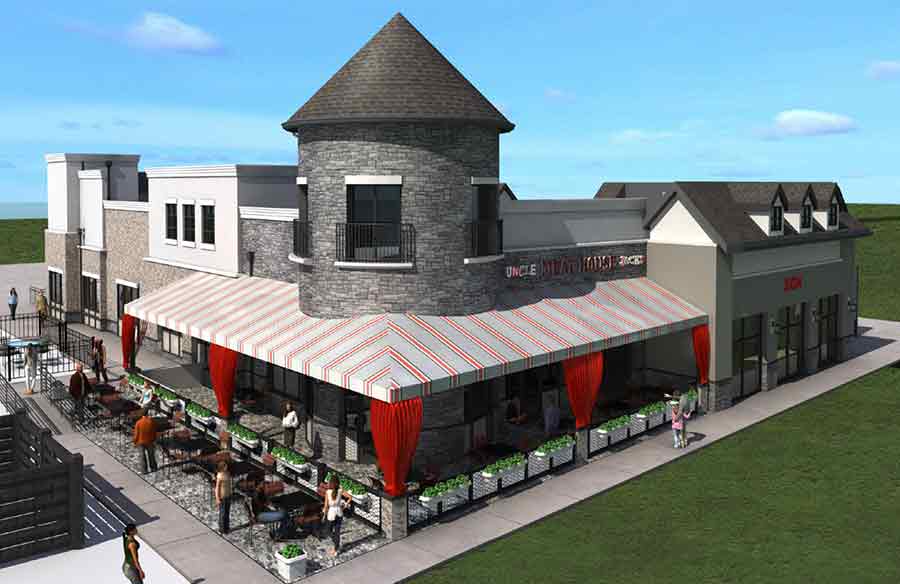 Resources
Smart City Expo Atlanta: https://smartcityexpoatlanta.com/
Podcast Transcript
Rico [01:02 ]: Hey guys, this is Rico Figliolini, host of Peachtree Corners Life, and this is podcast with Brian Johnson is Prime Lunchtime with City Manager.
Brian [01:11 ]: How are you?
Rico [01:12 ]: Good. Just came off another podcast this morning – a videochat with Aarti Tandon, the CEO of the Smart City Expo, which was eye-opening, the stuff that's going on with the exhibit. 250 speakers, tracks they have, the stuff that we're doing that's part of that all. I just want to, before we get there – we are at the Atlanta Tech Park podcast studios, and they're a sponsor of our show. I want to say thank you to them. It's a great podcast studio here in Technology Park in the city of Peachtree Corners. And also to say thank you to GMC Primary Care, Gwinnett Medical. They are a sponsor of the family podcasts that I do, including Capitalist Sage with Karl Barham, and I appreciate you guys and thank you for being part of this. So let's get into what's going on cause the road's being built. The pavement's down. Time is running towards the September 11th date, so tell us what's going on, Brian, with this whole autonomous vehicle Curiosity Lab at Peachtree Corners.
Brian [02:21 ]: Well, if you've been in Tech Park the last couple days, couple weeks, you would notice that, yeah, there's something going on. So two weeks from yesterday will be our grand opening and ribbon cutting of Curiosity Lab. The, I guess, most visually appealing and easy aspect of Curiosity would be the autonomous vehicle test track, which is being put in on the – on a 1.5 mile section of Technology Park. And right now, as we were driving over here, they're starting to stripe the lanes, putting all the flexible bollards to separate the, you know, autonomous vehicle, the test and demo lanes from the two inside lanes for the motor and public to use, because, you know, we still have 7500 jobs that are just in Tech Park and about 1000 people are residing here inside of Tech Park. So, we've got a lot of people who use it, which is what makes it unique, and yes we are almost at the point where we can cut the ribbon, say, 'Alright, it's time to fire this thing up'.
Rico [03:35 ]: Is the control room part of that, too?
Brian [03:37 ]: It is. So, we've got this 1.5 mile liner laboratory. Living linear laboratory. And of course, again, you know, you've got this test track in the roadway, but also, you've got a lot – all the technology infrastructure that is necessary to do any testing with it, mobility for the Smart City space. By that, I mean, it's not gonna be just about autonomous vehicles – there's going to be a lot of other testing, things like, in the mobility space for instance, things like connected vehicles. Testing the vehicles' ability to communicate with, say, light poles, traffic signals, other vehicles, cyclists, pedestrians, a lot of testing in there. There's testing and everything from infotainment systems to Smart City testing of, you know, digital message boards, street lights to reflectors in the road that change color if there's hazards up ahead. There's cybersecurity testing that you can do here because we're creating the right of way of the future. You know, a street that everything in the street can communicate with each other. The cars can talk to each other, to the pedestrian, the cyclists, the light poles and when you do that, you create all those breach points for somebody to use, to hack, and so there's some interest some companies are coming in here to test on ways to either protect agains that breach or try to find weaknesses in the system. So, I mean, you know, the sky's the limit, but it's not just about mobility. It's about the whole thing.
Rico [05:23 ]: That's interesting. Apple this way – Apple is a closed circuit, right? Because this way, there's only one breach you can have through this system.
Brian [05:29 ]: And actually, to that point, when you talked about the network operations here, all that technology that we're putting in is on one fiber network. A closed system. Hargray fiber is providing the backbone to this. All this technology including the, you know, the macro and the mini macro, 5G antennas that are part of this. And that's put in are through fiber networks that's closed, so it's not part of the city's greater fiber system so we can kind of control it in a real world. You know, I was just talking about cybersecurity in a testing component, but we're gonna have real world data being created, and we don't want things like, you know, industrial espionage where some auto company steals data from another one. Or we don't want data to be corrupted, we don't want people to be able to, you know, begin to hack into the traffic signal that we're putting in and change the light when it's not supposed to be. I mean, so, we have a higher degree of controllability and in an inherently uncontrollable environment.
Rico [06:41 ]: Yeah. Do you, do you get any demand or require from developers that come in the same type of – type of security? Because I mean, apps work within that could be a breach point also right?
Brian [06:55 ]: They can. So most of what we're doing right now is – they're bringing their devices, but they're still having to use our software in our system to do it. And so that allows us to be able to make statements about the data created from this, such that we can say we will be in a position where we can respect or honor a company's proprietary concerns if they come in and they say, 'Hey for this particular test, we don't want it to be public.' We're – and be in a position where we control that, say 'Sure'. Conversely, we'll be in a position where we're sharing this data and letting others have it. Because it's creating – there's no better data to get compiled – the data that's created in the real world because, inherently, as humans, we do all sorts of things that are unique, and so the data collected in a controlled environment is only so useful. And again, that's one of the many reasons why this is, you know, a unique asset because we're not a closed course, we're a living laboratory. So we took a public street that we're keeping public, and we're also allowing testing within that in a safe, you know, manageable manner.
Rico [08:16 ]: Are you going to – so September 11th is the day – is the first day of the Smart City Expo Atlanta. And we have the – and probably the only – offsite demo that's being done. So they're gonna bus in attendees that are going to be coming to that. Are you – what demonstrative aspects will we have?
Brian [08:39 ]: So, we're kind of combining two things. You know, it is the grand opening and ribbon cutting. So at the beginning of it, we're gonna have a short, little, kind of grand opening. You know, run of show. You are talking about, we're going to have the Lieutenant Governor speak, we're gonna have – and the mayor. And we're gonna have the President of Sprint speak, and the executive vice president for Georgia Power. Those are the two companies, corporate entities, that are gonna have a short role in that because, as companies, they've invested in Curiosity Lab, and it's going to be – it is their laboratory also. So they're partners with us, but partners in the sense of – they're gonna be using the lab on an ongoing basis, because it's kind of like, to a degree, their lab also. Georgia Power's doing Smart City testing and demo, and of course Sprint's doing 5G utilization and testing. So, when we get done with that, we're gonna have a ribbon-cutting. The ribbon is going to be flown up the track by drones. And so the drones will come up to the dignitaries that are gonna be standing there to cut the ribbon, and they will hover while the ribbon is cut.
Rico [09:57 ]: Oh that's cool.
Brian [10:00 ]: So then, we're gonna transition from there into – into a couple of active demos. And by that, I mean, they're demos that can be done in front of the crowd. In front of the tents and the chairs that are set up underneath it. And there'll be three types. One will be a fully autonomous show. And it's built by local motors – it's called Ollie. So it is a driverless shuttle, and we're gonna get a couple of, you know, the dignitaries to get on the shuttle with the CEO of Local Motors. It's gonna go around the parking lot in front of City Hall, the parking lot in between the track and in front of City Hall. And so, you'll be able to see how that technology works, because again, there's nobody – there's no steering wheel in it, there's nobody driving it – it's fully autonomous. So we'll have a demonstration of that. We'll then do a demonstration of an autonomous drone delivering a package. And so we'll have a drone bring in a package, and it'll demonstrate how it'll get to a delivery box. And hover and drop down and drop that box – drop the package into the delivery box. And then we're gonna have a demo there, and the last demo with everyone sitting there will be a tele-operated e-scooter. By tele-operated means – we al lknow the e-scooter. This company makes essentially training wheels to go on an e-scooter and a camera on the front, and the e-scooter can be activated and driven by a human in a remote location. And you know, we've talked about this before – we've had tele-operated 18-wheeler, but they can do this with an e-scooter such that they can reposition e-scooters, which is one of the problems that are out there right now, is people leave them wherever.
Rico [11:59 ]: Yeah. Well they're banning them, as far as making any more.
Brian [12:02 ]: That's right. There's no additional – yep. And so they're controversial because often times it's the typical, this is why we can't have nice things because a few people ruin it for everybody else. And so people are kind of being careless with driving them and also leaving them and, you know.
Rico [12:21 ]: So we might see –
Brian [12:23 ]: You're gonna see a scooter driving down the sidewalk with nobody on it. And so those are the three – those are some of the tech that you're gonna actually – the attendees are actually gonna be able to see in front of them. Not on a video, not reading about it – we're actually going to see it. And then we have a bunch of other stuff. So at that point, we'll basically tell everybody that the formal part is done, and then we've got a bunch of other demos. We've got a number of cars – KIA is bringing up their concept car – the Habanero. It's a – it's an advanced car that's not in production yet. They're gonna bring up the Telluride and Stinger also, which are pretty advanced but they are commercially available. We've got everything from soft bank robotics, and Sprint has some robots that are gonna be brought out. Then we've got autonomous lawn mowers – somebody called Green Seeds is going to bring out those. So then you can go to the different booths and you can – you know, they've got another robot that has a follower behavior. In other words, it can link it to a person to follow, and it'll follow that person even through a crowd, where it knows how to avoid people but still keep its eye on the person. They use micropositioning. So it positions itself down to the, you know, centimeter, millimeter, so you can really navigate complicated environments because its GPS location is so accurate.
Rico [14:13 ]: So that's almost like it will be an assistant. Almost like Alexa following you.
Brian [14:17 ]: That's right. But even in complicated environments. SO those are the demos that are being set up which you can walk up to it and they'll show you.
Rico [14:25 ]: Wow. A lot of interesting –
Brian [14:27 ]: And we've got a lot of interesting stuff that's not quite the edge of technology, but there's a company called Wreath that's coming and showing off their mobile kitchen. In which their concept is to take a shipping container and put a kitchen in it, and put it at a location, and it's not for use by anybody to walk up and order. It's all for the food delivery like Uber Eats. And these kitchens can cook, you know. I think I've seen as many as five different menus from known restaurants. And you can, like, order from a Chili's menu or an Applebee's menu or an iHop menu – whatever, and it can do all of those. But then it's delivered through one of the delivery. So, you know, that's not necessarily what you necessarily think about just cutting mobility, but it's unique and so we're gonna have a lot of stuff from people. Let's see – a lot of people are interested. We've – we at least have seven members of the consulate corps of Atlanta. You know, countries that have consulates in the metro-land area. The consul generals from those consulates are gonna be coming up because they're interested in the space. Or there's companies from these countries that are interested.
Rico [15:54 ]: So you'll have your own little exhibit going on.
Brian [15:56 ]: Yes. There'll be kind of an exhibition both inside and outside. Inside City Hall we've got some of our multi-use space that will be set up for some of these companies to kind of show off their stuff. And outside there'll be some stuff, too. And so, yeah. It's gonna be – and that's the kickoff, and then everybody who's part of the conference will go down, and at 1:00 it starts down at the Georgia World Congress Center. And we'll have space in the exhibition hall, and we're gonna show off the mini model we had made. It will be for the event. So – 
Rico [16:36 ]: And you have a sign that says – the signage at the beginning at 141 and Technology parkway is gonna –
Brian [16:46 ]: Yes. So you know – part of the – now, you know, we're – I would have loved to have about 45-60 more days to finish everything before the event. We didn't have a choice. We didn't pick the dates. You know, of course, I don't know if necessarily the city of Atlanta or the metro area that was part of bidding to get this conference – I don't know if they necessarily had any say int he dates. But when it was announced that there was gonna be a Smart City conference here, we knew we had an asset that was unique, and they said yes to our partner. A little earlier than I would like, so there's gonna be parts of the track that are not complete. Like some of the signage. But we are trying to start with the signage, the gateway signage at Tech Park 141. And then bring it up just past City Hall and make sure that's all done. Because that's how most of the people will drive in. And so they'll be able to see that card, and then we'll continue with the rest of it.
Rico [17:49 ]: It's exciting to get that, I'm sure. I know from what Aarti was telling me from the earlier podcast that there's so much going on at the Expo that I can't wait to visit that, to see that. It's a lot. And especially I'm sure even the after-hours and that stuff.
Brian [18:03 ]: Yes. There's a number of after-hours. Because you've got some of these companies that are coming in for this – a lot of them are from countries outside of North America, and the reason they're interested is because it's an opportunity. This is the first Smart City Expo in North America.
Rico [18:22 ]: In the US for sure, because I think Mexico –
Brian [18:25 ]: Oh did? Okay, so it's the US. And so, it's, you know, it's a unique opportunity for companies who are not based here to have a presence here to show off what they're doing to get into this market. And so there's a lot of after hour stuff of companies having some people come in and do some special things.
Rico [18:42 ]: That'll be interesting. There's also a lot of CIOs – Chief Information Officers –
Brian [18:47 ]: And CTOs.
Rico [18:49 ]: Yeah, CTOs from all the cities coming in, so that'll be fun. I mean, people who couldn't get to Barcelona coming to Atlanta instead because it's within their budget.
Brian [19:00 ]: Because, yeah. I'm speaking at the conference on Friday, so you know, there's a lot of interesting panel discussions. Classes on all sorts of stuff. So yeah, on one with the city manager of Carlsbad, California. Doing some interesting things with 5G.
Rico [19:19 ]: So you get to talk to him too, maybe.
Brian [19:23 ]: I mean, yeah. We're always interested in – delegation from the city of San Diego came yesterday to see what we were doing cause they're doing some stuff. But, you know, we're always learning from each other. But I think it's fair to say that what we're creating here, if you consider all the unique aspects has not been created anywhere in the world. Because, first, we're a living lab, so we're not competing with the closed laboratories or courses. But we have 5G now. This building has 5G right now. So, and the others will catch up soon, but we have it right now. We're not charging for the use of the facility. So it's not a pay to play. We are not requiring intellectual property rights of any sort on anything that's been created out of testing here. We're respecting times where somebody has proprietary information and they want upwards – in some cases if you do it on public anything, it's all public regardless. And then, the last two things that make us really unique beyond what I just said is – there's only one governmental entity that you have to deal with. A lot of – you've got county, state, feds, you know – even the – Georgia has a rural interstate version that's called the Reg. You know, 18 mile section of I-85 from the Alabama state line to West Point, Georgia. But everything they do, they have to get permission from Georgia GOT and the federal highway. because it's not their roadway. So we are the single entity, so we can move quick. We can say yes. You know, we can cut up the road and put in, you know, testing panels if we want them. We can do whatever we want because it's our road. and then the last thing, which I think is also really makes us unique is – cities throughout the country have to insure their roadway. You know, general liability insurance for roadway. Because stuff happens – sometimes, a city's gotta defend itself. In some cases, the city has some culpability. It could be that something happened to the road. There's a sinkhole and the car goes in, and we let it. So whatever, we've got to have liability coverage. What you don't see is, when you have a public street, I can't limit access to it. I have an insurer, no insurance company will insure that public street when you include testing of advanced technologies. As soon as you try to do that, they're like, 'woah, woah, woah, no no no. We're not going to want that.' We got our insurance. We have insurance, and we got it through *insurance company*. That'll, you know, are known for being in a position to insure basically anybody. And when they tell us, aside from us having never heard of any city doing this, when we were talking to the carriers about what they're all like, 'no, no, no.' And a lot of reason is – because of the drive – when there was a cybersecurity component to it. They don't like to have to insure any data created from use of this public. And so that was one. But the main one was, the advanced vehicle testing. Especially when you got it to the drivers. Because, about 98.7% of automobile accidents are driver error. There's some driver or there's some component – statistically, so actuaries can handle that because they have, you know, a century of historical data to run basics on. When you remove a component that is 99% at fault from the equation, they get real uncomfortable. Like, 'Okay, wait a second. How do we even forecast what our exposure here is? Because who's going to be to blame?'
Rico [24:00 ]: Because they don't have history.
Brian [24:03 ]: Correct! Is it going to be the OM that made the vehicle. Is it going to be the software in the vehicle? Is it going to be the components that comprise it? Is it gonna be the wireless signal that they're using to run – I mean who's to blame? And so Lloyd stepped up and said, based on, you know, the environment we've created, the, you know, some of the safety measures we took to make, you know, our living lab to be – to have a higher degree of controllability that you normally see with this kind of testing. They said yes – we will insure it. So we are – again, I can't. I'm not sure anybody else has coverage over a public street that includes that. So any of the insurance carriers that we talked to in the US – we're US based – would say, 'We'll insure the city. We're gonna carve that 1.5 miles out." But we found one that did –
Rico [25:03 ]: It's – that's interesting. I mean, you – the city's in a position to be able to actually create legislation that can take care of that to a degree. Within city limits. To say, you can have autonomous vehicles. These are the parameters. Of course, those laws could be tested at some point, right?
Brian [25:24 ]: Oh, they always are.
Rico [25:27 ]: But this is a great opportunity for a city that's doing this in a living environment to also begin investigating, 'How can we legislate this in our city?'
Brian [25:38 ]: Well, so there's a component of all of this. These companies are interested in being a part of something that's going to create the new normal in that area. In the insurance industry, there's a degree of that we got. The company's like, 'Look, we'll do this. Here's our -' But we're also interested in watching how this plays out. Because, you know, I think they're seeing the long term play. Which is – look, every city's gonna have this at some point. There's gonna be driverless and human-driven on the public road at the same time at some point. So you gotta get in at some point. Like, look – the city, which has created this really easy environment for us to get invovled in, has done this really unique thing. Why not now? Let's go ahead and get in on this. So there's a degree of that. You know, the other thing too is, the state of Georgia – whether many of those involved knew it or not, created a very friendly environment for the testing autonomous vehicles. Because there – most states require there to be a human in the vehicle even if it's driverless. But Georgia is one that does not. Now, it does require, if it's driverless, if something goes wrong, it's got the operator of the vehicle has got to be able to take control of the vehicle. That could either be a tele-operated human, or like a kill switch. Where it can just shut it down and stop it, and you can go out to the thing and take it over. A lot of states do not.
Rico [27:16 ]: Right, and that legislation just passed.
Brian [27:19 ]: It was, just a couple of years ago. So we're a very friendly state when it comes to the testing in this. So, the city, being in the Georgia municipality, has benefitted from that foresight. So there were some people who thought of that a couple years ago. Maybe there were some legislators who didn't realize what they were doing, but we put ourselves to a point where I think we can really attract companies that are in this space because the state's kind of friendly to it. We've got a city that's friendly to it. A city that's controlling the entire right of way to this. It's easy – there's not a lot of bureaucratic hurdles. So, given the amount of partners we have, the amount of interest, I don't really have to say this. It's selling itself.
Rico [28:03 ]: Oh, for sure. I gotta believe. And things with this expo and the exposure there, we could probably have the news show up. Are you excited by any particular exhibit or company showing there that you've heard of that you got to see? That you got to visit for the expo?
Brian [28:24 ]: Well, you know, no. Only because all of the ones that I was excited are actually coming up to our place. So there's some that we've got some meetings, and afterwards we're gonna talk. I'm sure there's some that I don't know of yet, but all the ones that we were interested – you know, we're not necessarily shy when it comes to companies doing something where – if they don't know about us, let's send them some stuff. Usually that's enough for them to say, 'Um yeah, we would like to come out and look or talk and so'. Most of those that are coming in and inviting up – yeah.
Rico [29:02 ]: I can't wait. September 11th, 12th and 13th. And the morning of the 11th we'll be here. That's great. So that's happening. It's gonna be for the next two years, so we may go back.
Brian [29:15 ]: For the Smart City Expo.
Rico [29:17 ]: So that's the biggest thing to talk about.
Brian [29:24 ]: Well right now, like you said, the city is still running.
Rico [29:27 ]: There's several things to talk about also – other things that are happening. The – I guess, let's go down the list a little bit. This way people can be informed a little bit. The roundabout is going to be finished at some point.
Brian [29:41 ]: In the next 72 hours, maybe? I mean, for the traffic stuff that – it's all the paving stuff.
Rico [29:50 ]: So it's raised a little bit? Because that center part looked a little hard to me.
Brian [29:54 ]: Well, inside of the median still have work. We've gotta fill some of them in, we've gotta do some stuff. But I'm talking about, when it comes to the traffic. Cause you know, inside of the curbs that are poured, that'll not affect traffic. but the striping, the paving's done, the curbs are all in, the striping's gonna be happening, maybe happening right now. Sometimes, you know, the weather – I don't know if they're doing that at night either. But anyway, so it'll only be inside filling in those things, you know, go from there. Kind of the last accouturements at the end to make it pretty. And the lines.
Rico [30:37 ]: And the lines – people are a little confused, do they have to get on the lane – there's actually two lanes.
Brian [30:45 ]: Well, yes. Because if you need to go more than halfway around, you would stay on the inner lane until you get to – but yeah, the striping will handle that. That'll make it so it's not so confusing.
Rico [30:58 ]: That's what I was thinking. But some people just can't get it straight. City council handled a few things. Let's just go into that a little bit. I know, well, at least to let people know. I know Tipsy Nail Salon finally got their alcoholic beverage license approved, I think?
Brian [31:13 ]: They did. Now theirs is for the, um, what is it called?
Rico [31:19 ]: The retail packaging.
Brian [31:22 ]: Yeah. So that one – yeah, retail package in one license. So that's the one where you can – under that permit is where you can have wine tasting or – it limits the amount you can drink in a time period. Because it's kind of like for, you know, like a wine store has. You can taste wine. It's a limit so you can't go in there and taste so long.
Rico [31:50 ]: But they can have sort of a happy hour, when you go and get your nails done.
Brian [31:54 ]: Yes. So while you're there – but again, state law sets how much alcohol you can have in periods of time. And they apply to that yes, they can qualify for that.
Rico [32:05 ]: Okay, so, and then, I believe the mechanics bill – the town has developed on that – there was a second read of consideration on that?
Brian [32:13 ]: But the applicant pulled. The applicant pulled because there were some environmental, I guess challenges that required them to adjust the site plan. Actually, they're making the project a little bit smaller because it was – it was cost-prohibitive for them to get into certain wetlands over there. So I think they're pulling it back, so – because of that, they gotta go back to planning commission to start it all over.
Rico [32:46 ]: So it sounds like the wetlands – they don't want to clean it out.
Brian [32:51 ]: No, it wasn't about that – I've not heard anything about pollution. But wetlands are expensive in two regards, if it's an actual wetland. First of all, you've gotta get permission. There's a lot of regulatory stuff to fill in a wetland. Sometimes you've gotta buy wetland credit sell square, you know, things like that. So environmentally it's difficult because, technically, the aggregate amount of wetlands in Georgia has to stay the same. So if you fill in wetlands here, somewhere else you've gotta create them.
Rico [33:23 ]: It's an impervious surface also.
Brian [33:27 ]: Yeah, well that is – even though it's kind of a separate issue, even though they're both storm water related. So wetlands can be a lot of cost on the bureaucracy. And two, you also have to – if you're filling in wetlands, you've gotta bring in stuff and sometimes you've gotta dry pilings in the ground because the soil has not been compacted long enough. And so often times it just gets cost-prohibitive for somebody.
Rico [33:53 ]: SO they're gonna take their time and come back.
Brian [33:55 ]: Well yeah, my understanding is they're already on the planning commission agenda, but because they're redoing their site plan, there's a material change, they've gotta start the process over. So they pulled their application to start over.
Rico [34:10 ]: Okay, cool. The – going down the list of the city council, the definitions of nuisance of urban camping. So, two parts to that, right? One is redefining certain definitions, I guess. Was the second reading consideration in the ordinances. And also there was a second part that was a mandate about specific sections of articles 1-4, really about conflicting ordinances, I guess. How to deal with unsafe buildings, drugs, sexual abuse in buildings and stuff like that.
Brian [34:41 ]: So, the urban camping definition – well so, we went into our code section and had to update a lot of stuff. And so, when attorneys went through and did this, they identified some things that were in conflict with stuff, state law had changed in certain things that were now in conflict. We needed to bring it up, there have been court cases that kind of – so it's bringing a lot of stuff up to code. The main things, after that -we had to change some terms, make things accurate as far as state law goes. Then, we had some things that had not been addressed that we needed to. Like, we needed ot have a prohibition against standing water in certain things. Some people were having pools and stuff that they weren't keeping clean, it was breeding mosquitoes. So there are some things like that. And then urban camping is one which we only have to address as we started to own public property – town green. And so those are – that was what drove these. It's just pretty typical for cities to go through code every now and then and kind of say, 'Alright, we're gonna clean it up some of this stuff.'
Rico [35:58 ]: From experience also, you realize you may need changes because of the way life goes, right? Then, there was also the town center. Okay, so I did an interview with Willie Degel from Uncle Jack's Steakhouse, Meathouse. It's actually Steakhouse in New York, Meat house here. So they requested some changes to their elevation plans. The building's actually gonna be a little bigger, I guess? There was the original plan for the Xfinity –
Brian [36:29 ]: Well, I don't think the inside of the building's gonna be bigger. I think there's just gonna be more outdoor seating so that Willie can actually have more people. Which is really what required him to change some of the – so, you know, Fuqua Development which is our private partner with the Town Center development – they owned a building Willie's going to lease. So they're the ones that actually have to petition the city because they're the owner of the building. And they've had to work through with him to get the facade to look the way that he wants his branded Uncle Jack's Meathouse. and that required them to come back.
Rico [37:12 ]: He was telling me a little bit about the New York – they actually have a Bootleg entranceway downstairs, you know, that he brought through the bathroom to get to the safe. They open the slot, they let you in – a speakeasy. It's interesting, only in New York type of deal, experience. And that's what he's looking for, experience.
Brian [37:34 ]: Well, you know, there's one here near the energy center, an Uncle Jack's Meathouse, right. And I've been to it. They do a good job in creating an ambience that's unique. And so yes. We're looking forward to it. It's going to be – it was an experience beyond just the food. She did a good job up there, it's a little bit – that one was a renovation of an existing one, so, we're looking forward to it.
Rico [38:07 ]: Yeah, so am I. This is a show, and the food supports our state. He likes –
Brian [38:12 ]: He likes both. And some of the really good chefs, if you want to go to a restaurant – they are good. They realize that it's a combination of two things that make you – make those places places people wanna go. They have good food. And then also, if you have bad ambience or non descript ambience, you don't set yourself apart, then people won't necessarily go either. So he does a good job –
Rico [38:43 ]: I can't wait to see it. That'll be spring of 2020. It's a bit away. Um, Earth Fair. The old Earth Fair, if anyone knows where that is still. There's new people running it now, but it's where the shopping center – Marcos – they had an auction there. They're auctioning off the inside of that store. Organic farmers auction. It wasn't clear what they were auctioning. It was really the supermarket. Do you know what's going on there? I hear there's maybe someone coming in there, but –
Brian [39:18 ]: Well, so what I can say is, it does look appear that the owner of the entire shopping center, you know, the entire development has potentially come to terms with Earth Fair, which was the leasee. And of course they closed it before the lease ran out. So there was some negotiation between the two so that the space would become available again. So there is indications that they've worked that out. And Earth Fair is wanting to extricate all of, you know, their old equipment and whatever because, you know, they know that something's coming in. We do not have anything official as far as who the next one is other than just the owners and, you know, asking a few questions and we're gonna have something soon.
Rico [40:16 ]: It sounds like also, they're losing the dry cleaner there too. Again, I'm getting some information from next door which isn't always the best way – that's right.
Brian [40:26 ]: It's potentially, sometimes when this happens, when you would, I guess call the anchor tenant, is changing, you'd have a lot of the ancillary, smaller places that feed off of the big one. You know, good examples of that would be – you can go out, you see a lot of Publix, or if I remember, Kroger or Walgreens had a good relationship with Krogers. So Krogers would build, a Walgreens would go next to it. People were always like, 'Why?' Because they felt like they fed off each other well. THere's examples of that. SO when the anchor tenants change, oftentimes those ancillary ones, you know, change also. Because they may not feed off of the anchor – the next one versus the one they had next door. And so, it wouldn't surprise me if that s happening because they're gonna need a C state change there. It's gonna be kind of a rollover of that space.
Rico [41:33 ]: But it would make sense that, I don't see another place coming in. And it is the entertainment district over some expensive…Anything special going on in any other parts of the city that we should be aware of?
Brian [41:48 ]: Um, now back to school, that dust is settling. We've got the pedestrian bridge will start soon. They're doing geotechnical soil stuff. We have had some movement on both by certain property developers and by certain property – developers of the property behind Black Walnut and Chase. I think Hotel Indigo and – so both of them have progressed in their behind the scenes stuff on getting through getting certain things from the city. Visor got their market certificate approved by us, ARC recommended us approving it – our council approving it, so. That's to be developing property within the river corridor – the old Visor property – a lot of it is in the river corridor. So, you know, they're moving forward. So those two people – it takes, even after they get a rezoning from the city, only after that can they move forward with getting financing and maybe even getting partners who will maybe build things.
Rico [43:12 ]: So the department and the town and the hotel is moving along.
Brian [43:16 ]: Boutique hotel. Yes, there's movement there, too. Starting to need some information from us, asking about certain things, so those are good signs. Guinnett Medical Center opened there.
Rico [43:30 ]: Yup, shared city primary care. Just next door –
Brian [43:32 ]: The old Apolitos.
Rico [43:35 ]: Yup, completely cleaned it out.
Brian [43:37 ]: So, some of that. We had the qualifying came equipped. So we had four seats that were up for reelection. So it was Lorri Christopher, Phil Sadd, Alex Wright, and Mayor Mason. Three of the four are running unopposed. The only one that has a challenger is Lorri Christopher.
Rico [44:04 ]: She post or at large?
Brian [44:06 ]: She's at large. And so, we will have an election, but it will only be one of the seats. So that's significant.
Rico [44:16 ]: Yeah, that is. It shows that a lot of people are happy with them.
Brian [44:20 ]: That's usually a fair assessment when you're unopposed. Generally people are like, 'You know what? They're doing a good job. We do not need to run against them.' Not to say that people just pick one, you know, it's not because – here, you basically could have picked any of them.
Rico [44:35 ]: I guess, yeah. That's true.
Brian [44:44 ]: Yeah, but I'm saying, you didn't get that where you live or anything, you know, so it's just something like a dart board and you don't know what it lands on. Lorri Christopher –
Rico [44:53 ]: It's a lot of work to do this, and people don't understand that. Work sessions, council meetings, and all the stuff beyond that. But people don't understand the amount of time it takes, it's commitment to do the job well. To can do the job and not do it well.
Brian [45:11 ]: That's correct. You could almost be absentee – show up twice a month, but no. There is a lot of stuff. People don't realize that expectations of – you need to be certain places, representing city places, meeting with people, because you need to learn something or meeting with people because they asked for a meeting with you, even if it's not. I would say at least half of the services requested from the city are referred to me by council members who, when they met or talked on the phone, told the person, "Well I don't have the authority. You've got to talk to the city manager." That's where the – it's a referral from a council member because – well, people don't really know, they're like – there's this bush that's growing out into the road and it's making the sight line hard to see. I want the city to trim it back. And they think, how do I get it done? Call my elected local official. There's nothing wrong with it all, I'm just saying that it takes their time. Because oftentimes, I need to meet with you to talk about it. They don't know. So then they meet, they get it done, at the end of it, they're like, well you know what? That sounds reasonable. However, I need you to talk to the guy that can actually get it done. And so, yeah. It's a lot of their time. Part of being –
Rico [46:40 ]: Part of being a city rep. We've been spending our time here with Brian Johnson, city manager, talking about Smart City Expo that's coming up September 11, 12 and 13th. Three day expo in the city's World Congress Center. So feel free to find out more about that at SmartCityExpoAtlanta.com. And if you need your bushes trimmed or something –
Brian [47:05 ]: Come directly to City Hall.
Rico [47:09 ]: You don't have to go to your city council person. But so much stuff going on. Hopefully, we'll find out more stuff about the apartment complex and Indigo and Visor property and Earth Fair in the coming months, but I appreciate the time because this is always enlightening. It's always a good place to hear things online and the forms and stuff like that – it's always good to know the straight stuff.
Brian [47:37 ]: Well, I can speak on behalf of all the city when the part of our job is to communicate with our residents, and we can try as hard as we want, but we can never get to everybody. So you can never have too many communication mediums, and this one is a great one, so we appreciate you doing it because even if we reach a couple people who don't, you know, go on our website, aren't getting our newsletters or whatever, but they heard this, that's an important part of it. So we appreciate you doing this. It's a way of educating our citizenry.
Rico [48:12 ]: Well, this is Peachtree Corners Life, we appreciate you being here. Find out more about our post and our other podcasts at LivinginPeachtreeCorners.com. And look for the Peachtree Corners Magazine in October in the first week. It should be in your mailbox. All 18,800 mailboxes. Thanks guys.
Public Invited to Intersection Improvement Meeting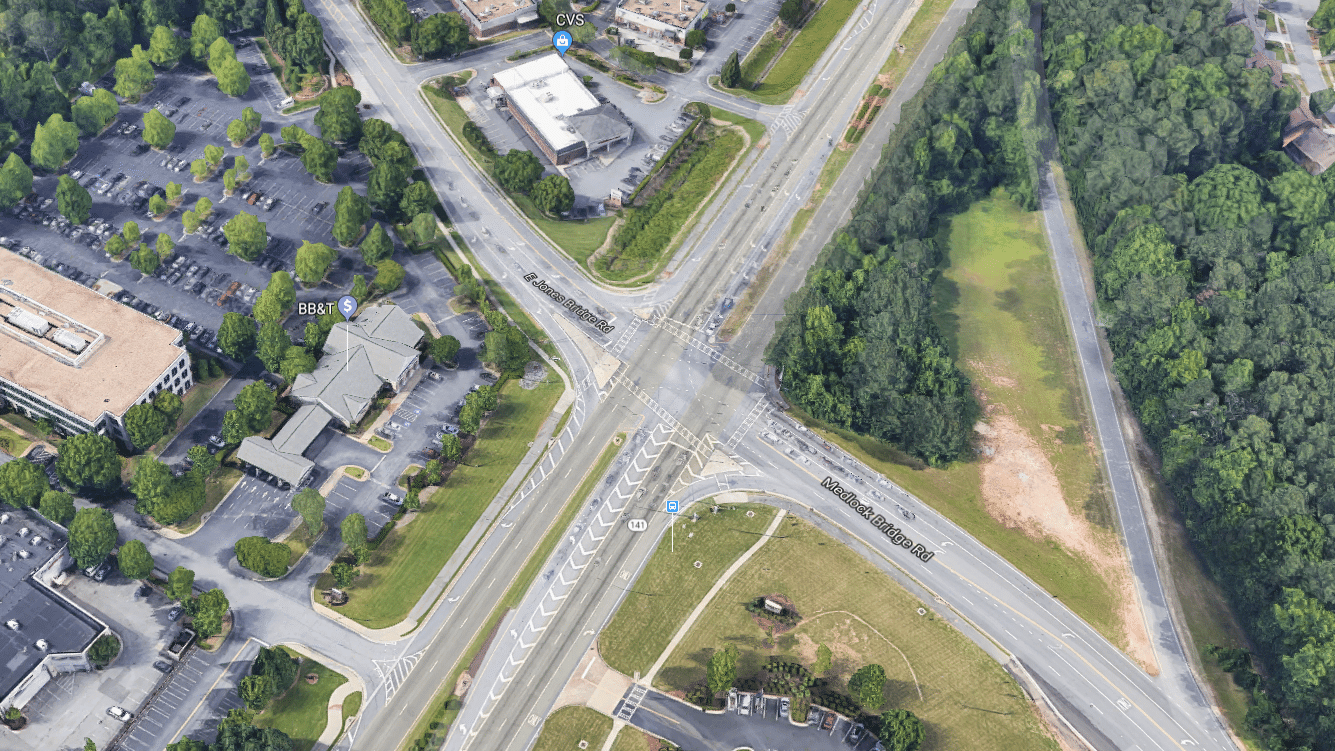 Intersection of State Route 141/Peachtee Parkway at East Jones Bridge Road and Medlock Bridge Road
The city's Public Works Department invites you to attend a public information meeting to learn potential intersection improvement options for the intersection of State Route 141/Peachtee Parkway at East Jones Bridge Road and Medlock Bridge Road.
When: 7 p.m., Thursday, Sept. 5, 2019 
Where: Community Chest Room at City Hall, 310 Technology Parkway (The entrance to the Community Chest Room is located on the north side of the building). Look for "Event" signs directing you to the entrance.
A short presentation will be followed by a Q&A session and an opportunity to discuss the potential improvement options with staff and engineers.
Feedback on the options and potential improvements will be solicited from the audience, and comment forms will be available to submit at the meetings.
Comments via forms or emails will also be accepted following the meeting.
Smart City Expo Atlanta — Putting Peachtree Corners on the Map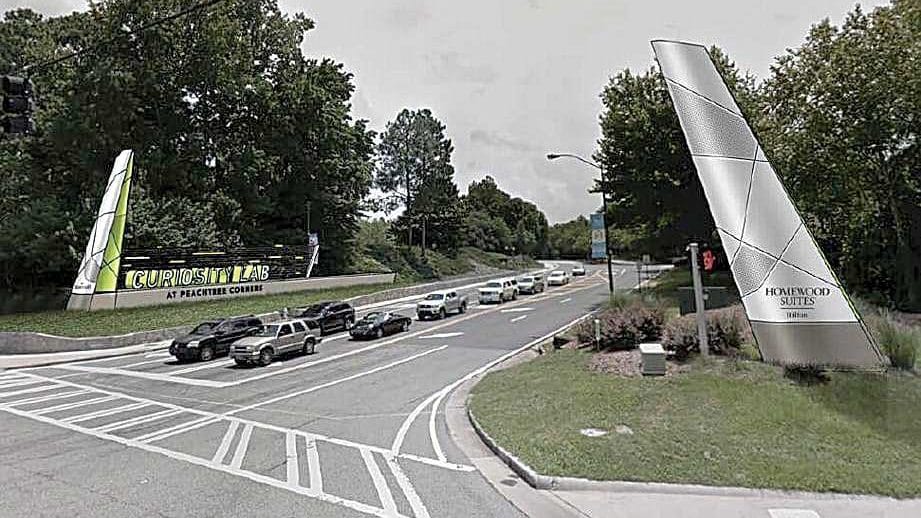 What Makes a City "Smart?"
The advancement of technology coupled with rapid urbanization continues to press for local and state governments to create better solutions for urban development. Today's metropolises are characterized by intelligent infrastructure, early-stage investments and open communication between residents and government. Smart cities leverage data to spur progress and inform better policies and processes. Can a city as relatively new and as small as Peachtree Corners be a smart city?
Does PTC Make the Grade?
City Manager Brian Johnson revealed how Peachtree Corners is uniquely positioned to have all the "smarts!" A lean operating budget, a perk of being a young city, allows for more "discretionary funds" with which the city is able to add value back to the community.
The Corners Connect app, already up and running, can tell you the local weather, traffic, events, sales, and soon it will even guide you to the nearest open parking spaces in Town Center and The Forum. Residents can pull up the app to report problems in real-time, put in a service request and then track its status. "Providing services and communication in a more convenient way for citizens," that makes us a smart city.
If you choose to enable it, Peachtree Corners has the ability to geofence. That means the app knows your location once you cross into the corporate city limits and it can automatically send you helpful information. Internally, the city uses this to monitor and improve its delivery of services. This makes our city "smart" too, and I haven't even mentioned the giant screen on the Town Green yet.
The city can turn on the 22 feet wide by 12.5 feet tall NanoLumens video wall and accompanying audio system in three seconds, at the request of a resident, as we witnessed during the recent World Cup Soccer games, when one resident asking resulted in a multitude of our neighbors gathering on the Town Green with friends to watch and enjoy the big games on the big LED display. It's a testament to Peachtree Corners' investment in smart city infrastructure.
Yet what gets Peachtree Corners a solid A+ is the important investment it has made in Curiosity Lab at Peachtree Corners. Johnson shared, "There are direct and indirect ways smart city technology is benefiting our residents. We look to stay at the cutting edge of smart city technology in a way that [is] both responsible and cost-effective…We haven't borrowed any money to do it. We [don't need] to implement city property taxes to do it, it's within our budget. But it is providing a value add…that our residents are seeing now and will continue to see in the future."
Curiosity Lab at Peachtree Corners
In keeping with its history to develop around technology, and the city's slogan, "Innovative & Remarkable," very soon, visitors and residents of Peachtree Corners may feel like they're in an episode of the Jetsons as they find themselves driving alongside autonomous cars or otherwise novel vehicles on a 1.5 mile stretch of our roads in Technology Park. The vehicles are being tested by the ground-breaking Curiosity Lab — the first autonomous vehicle and smart city living laboratory and test track of its kind in the country, featuring "not just cutting edge, but bleeding-edge technology," as City Manager Brian Johnson describes it.
This state-of-the-art testbed for smart city technologies is attracting movement to Peachtree Corners, which is precisely what city officials had envisioned.
Johnson explained, "We're deploying the Lab as a way to attract activity to Peachtree Corners. That activity is what's going to keep Peachtree Corners a great community, a community that has a healthy retail/restaurant climate, stable, high property values. It's a place where people want to come work, live, learn and play because we're giving people reasons to come to Peachtree Corners."
The Curiosity Lab will draw businesses from across the country interested in testing the limits of their next-generation mobility technology in a real-world, 5G and IoT environment, unlike traditional closed tracks where everything is level, predictable, controlled and confined to a parking lot-type setting. According to Betsy Plattenburg, Executive Director of Curiosity Lab, they've had interest from delivery and logistics companies seeking to test the delivery of food and packages in an automated fashion, using both the roadway and potentially, the sidewalk.
She also mentioned talks with some interesting drone companies, adding: "Drones can use the infrastructure and are permitted to fly as long as they're under 400 feet." Most importantly, Plattenburg revealed, "We are just going to be making a public announcement next week that we are partnering with the Smart City Conference."
If Curiosity Lab was born to attract activity to the city of Peachtree Corners, one might say it has already met with great success in its infancy. We'll soon see Fira de Barcelona — the world's leading conference on smart cities and smart urban solutions — cross the pond and arrive on our shores for the first ever American edition of Smart City Expo World Congress, debuting in Atlanta at the Georgia World Congress Center from September 11 to 13, 2019. So how does Peachtree Corners get the spotlight in the midst of an international conference of such magnitude?
Johnson described a long-standing relationship between the Metro Atlanta Chamber and Fira de Barcelona. When Fira was looking to expand to regional conferences in Asia and North America, the Metro Atlanta Chamber welcomed the chance to make a pitch for Atlanta to host the inaugural smart cities conference in the U.S.
Having spoken in Barcelona last year, as part of the U.S. delegation there, Johnson's pride could not be mistaken, "Smart City Expo Atlanta has recognized Peachtree Corners and the businesses that operate within our corporate limits, as being important to the greater metro Atlanta area and this conference."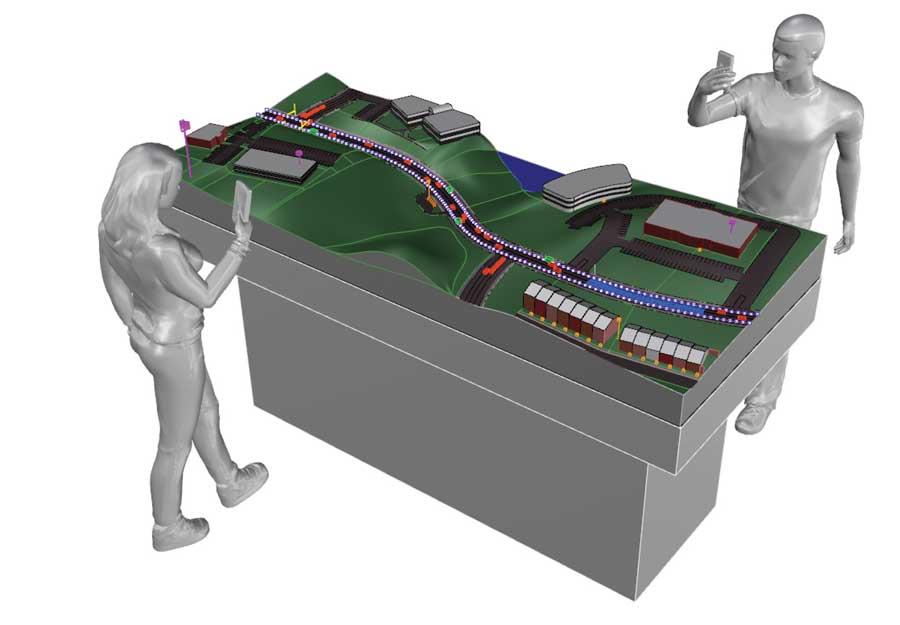 Peachtree Corners to Kick Off Smart City Expo Atlanta
Curiosity Lab at Peachtree Corners has been named the official offsite demonstration location, in addition to having an important presence in the exhibition hall at the Congress Center. On the first day of the Expo: Wednesday, Sept. 11, 10-11:30 a.m., prior to the opening events at the Georgia World Congress Center, Expo attendees who purchased tickets to the Smart City Expo and signed up to attend the demo will have been bussed to Peachtree Corners City Hall on charter buses. There, they'll witness live demonstrations of some avant-garde technology on our test track which allows for interaction with everyday vehicular and pedestrian traffic.
A number of state dignitaries are expected to be present, as this event will coincide with the ribbon-cutting ceremony for the inauguration and grand opening of Curiosity Lab. Afterwards, charter buses will return participants to the Georgia World Congress Center in time for the opening plenary of the Expo at 1 p.m.
What to Look Out For
The demo on September 11 should be something to behold. Plattenburg and her team put out a national casting call for companies who have "proven technology that is viewable," in the interest of making the demo on the morning of the Smart City Expo more exciting.
Plattenburg described the test track: "The outside lane will become the test lane. The inside lanes will be where human drivers drive. So, it's almost like a regular road exists in the middle, and the testers will be on the outside. They'll be separated by flexible bollards. The road will be painted dramatically differently on the outside lanes, and there will be excessive signage, digital and otherwise, letting you know that you're entering a test environment. So that people driving, the human drivers, you'll know that something is different. The test vehicles will be there."
"That should get people off their phones!" ■
Prime Lunchtime with the City Manager: Smart City Expo, Curiosity Lab, the city's first craft brewery and more.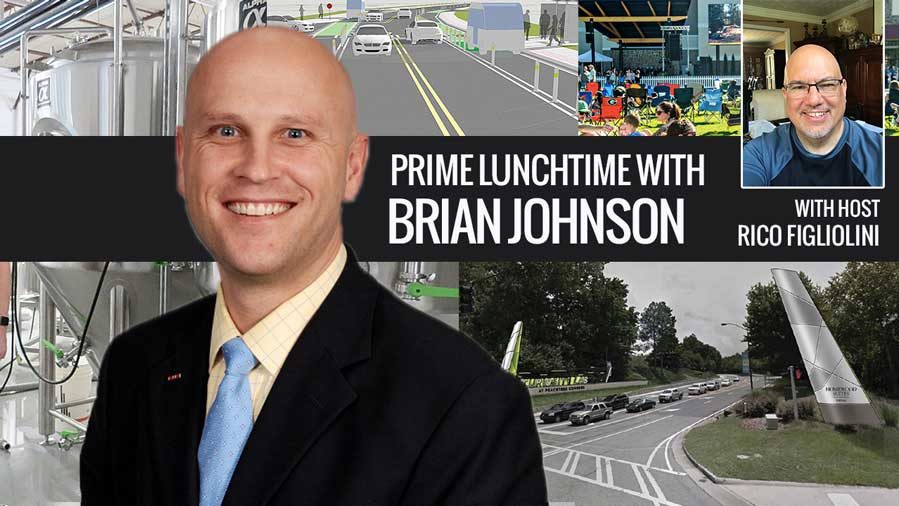 This podcast also includes information about hosting a special event for the first day of the Smart City Expo Atlanta 2019, the opening of the city's first craft brewery, upcoming developments in the city and the city's response to urban camping.
About Smart City: "It won't be long until, literally, you could be walking down the street and your phone's talking to the cars driving by, talking to the phones of other pedestrians, talking to the buildings, talking to the light pole. I mean – it's a both amazing and sometimes scary environment we're going to be in."
On the Chattahoochee River (Fiserv) development: "So it's a very complicated site both from an environmental standpoint, as well as because of its sheer size, there's a lot of, you know, back of house negotiations that the master developer has to do with lining up the team that's going to develop it. Because this is a mix of uses, so you've got different contractors that specialize in different types of housing."
On expanding the Town Green: "Essentially, the eastern side is currently in development. The city owns it, and we have wanted the town green to be activated and to watch kind of how it's playing out, and take feedback from our citizens on what we could do on that six acres to be a value add to the town green. So that discussion will be happening over the next three to six months…"
Transcript of the podcast:
Rico [00:00]: Hey! This is Rico Figliolini, host of Prime Lunchtime with Brian Johnson, city manager. We do this every month, and we have great discussion of all things going on here in the city on Peachtree Corners. Before we start, Brian, do you mind saying hi?
Brian [00:15]: Oh absolutely!
Rico [00:16]: Excellent. So a couple of sponsors. So first off, Prototype Prime, which is – we're using the studio here – the podcast studio we're at. They incubate here in the city Peachtree Corners, which is part of the Curiosity Lab at Peachtree Corners.
Brian [00:30]: It is. Curiosity Lab is really three things. It's a mile and a half-intelligent mobility and smart city laboratory which has an autonomous vehicle test track. It's a 25,000 square foot technology incubator. And it's all the technology within both the building and the one and a half mile for you to test anything from drones to, you know, autonomous, you know, vehicles to on the uh, you know, to smart city connected vehicle. I mean, anything you could think of.
Rico [01:03]: So, this place has grown since I've been doing this podcast. This is unbelievable growth over the next few months than we've probably seen. Companies coming here from all over, not only the metro area, but the country and the world. We're gonna be on the map. Peachtree Corners will be known, hopefully as well as Atlanta in some ways. So Prototype Prime, Curiosity Lab, sponsor of the podcast. And also want to thank a new sponsor that's coming on – Gwinnett Medical Center. They're now going to be insuring Peachtree Corners. You can learn more about their premier services. They're gonna be conveniently located where the old Ippolito's Restaurant used to be, and people know where that is. That's the shopping center south of the QT on that side of the road on Peachtree Parkway. So they're entering. They're going to be having first-rate primary care services and specialty services. You can find out more about that at gwinnettmedicalcenter.org/PTC. So that out of the way, there's just a lot to talk about.
Brian [02:03]: Sure there is!
Rico [02:05]: And in fact, the third sponsor on the radio – we're a media sponsor – Peachtree Magazine. Peachtree Corner Magazine. Smart City Expo, Atlanta. So that's just the – let's start off with that.
Brian [02:16]: Sure!
Rico [02:16]: It's such a huge thing.
Brian [02:19]: It is.
Rico [02:18]: You were in Barcelona last year. This is the first big expo on the North American continent for this.
Brian [02:24]: So, the Smart City Expo World Congress is the largest Smart City conference in the world. And, annually, it's in Barcelona, and it has 35 to 40,000 attendees. And it got so big that they decided to create regional, kind of affiliate or feeder ones. You know, they have an Asian one, a European one, and the North American one, which started this year because of the work that Metroland and Chamber and others did. We are lucky enough to have the very first North American version here in Atlanta. And then, given that it was here, we were able to, um, kind of brief the powers that be about what Curiosity Lab is, and they were like, "Wow! We're doing a Smart City conference and you have this living laboratory for Smart City testing and demonstration. Let's make it an official demonstration site." So we're also a partner of Smart City Expo, and we're going to be a demonstration site the morning the conference begins which is September 11th.
Rico [03:29]: Right. Three day weekend. Three day conference. And it's the first of three years that they're going to do this in such a place. And the whole idea is to be able to, not only show off Smart City IMT, you know, Internet and Memory Thing – Internet talking tower thing. Um, but it's also to bring it down to a more usable level for the common man and woman. And how sustainability, smart technology, how it affects everyone.
Brian [03:58]: Right?
Rico [03:59]: Right, not just corporations.
Brian [04:00]: No, we're at the cusp of really – the way we do, you know, anything, changing because of the ability to have, you know – to create that internet of things, which is everything being able to communicate with everything else. And we're, you know, especially with 5G rolling out, we now have a wireless environment where it can happen. And so, it won't be long until, literally, you could be walking down the street and your phone's talking to the cars driving by, talking to the phones of other pedestrians, talking to the buildings, talking to the light pole. I mean – it's a both amazing and sometimes scary environment we're going to be in.
Rico [04:43]: And it's kind of interesting because if you go onto the basic, let's say, warehouse for example, where the sustainable – what they're doing is, as you walk the warehouse floors and the warehouse – the lights come on as you walk through. Heat and other sensitivity things come on as this human person walking that area, occupying it. These are all things that can happen in a 5G world.
Brian [05:08]: They can! I mean, you literally can control everything wirelessly and not have latency issues where it's lag time. All the controls – you could have so much more on the wireless environment. We're used to 4G or even your conventional 4G LT – you could put so much on it that it starts to get, you know, have a little bit of lag, get slow. And 5G we just – we have so much more to work with. So it's an exciting time!
Rico [05:40]: So now – because we're demo aside – the Expo is in September. We're not that far where we –
Brian [05:47]: 48 and a wake up.
Rico [05:49]: Yeah, 48 days.
Brian [05:50]: Who's counting?
Rico [05:52]: How far are you going to be. Is it going to be, like, complete almost past city hall? I mean I know the whole stretch won't be completely –
Brian [06:01]: Right. With every aspect of the lab on this one and a half mile section – for every single thing to be done by then, probably not. So what we've done is – all the work we're doing, we've had them do it in a linear fashion. Normally, if some contractor is putting something in, they would – entire projects – they get to choose what order they do. In this case, we're like, "No, we need you to start at the technology parkway 141 intersection. The Marriott. And then work north and, at a minimum, we've got to get it past City Hall, because that'll be the main stretch for the Smart City Expo that people will both be coming to the demonstration site and where the demonstrations will take place. So that'll – that's the stretch we're concentrating on.
Rico [06:55]: So there'll be shuttle buses coming from the expo for people attending the demo?
Brian [07:00]: We're gonna be – we're gonna facilitate two things. You know – for those conference attendees that sign up to do this, we will have buses available to bring them up from the Georgia World Congress Center. But for attendees who are – who live close by, they won't have to go all the way and cut back. They can just go right to the site.
Rico [07:22]: So what are you planning? What demonstrations? Anything particular yet?
Brian [07:28]: Yes. So, I don't want to share the companies yet, but I can share the type of stuff. We're gonna have everything from fully level 5 autonomous vehicles, driving a track or a portion of the track. Tele-operation vehicles. We're gonna have drone autonomy – and these are autonomous. These are not, you know, done by human. Drones showing off capabilities of package and food delivery. You know, some of those kind of things. Also – other package delivery robot components. Let's see, what else have we got? We've got some connected vehicle demonstrations to show how vehicles talking to each other can actually alter the way that the car drives itself, even with a human in it. So we're wanting these companies to come in, and, again, we're kind of inviting anybody who – we got a couple of like, one company – we're not sure we can get them. But they actually have a vehicle that is – it's kind of like the smart car, you know that really small – their vehicle contracts or expands for purposes of urban use. So when you're driving it, it can – when you get in, it expands so that the wheelbase and everything is stable. But when you go to park it, you can actually – you can park it in the same size space that you could put a Harley Davidson.
Rico [09:07]: Really? All by itself? So you get out of it and itself – it's like the Jetsons.
Brian [09:14]: Yes! I mean – so, that one we'd like to have. So those are some of the things we're gonna have at this demonstration. And so it'll be, uh, interesting.
Rico [09:24]: Excellent. Lots of stuff. There's a lot of things happening here in the city, too, so we should probably talk about – besides the autonomous vehicle tries. So, I know we have a city council meeting. Um, the mayor also had a state of the city on Tuesday night.
Brian [09:44]: Monday night. Tuesday night was the city council.
Rico [09:47]: That's right. So there's a lot of things that Mike Mason talked about.
Brian [09:53]: 72 slides worth.
Rico [09:54]: Right, yeah? But he went through it fast. I gotta say.
Brian [09:57]: Oh, I mean, you know – look. We've learned, you know, we being staff have learned where the mayor's real, um, his real strength is. And he is phenomenal when, you know, you put him in that environment and he's talking with, not to, the citizens of the city. And so, yes, he knows how to, you know – we all warned him this was a lot of slides. But he went through it quick. I mean he got it done in an hour, and it was good. But he's amazing, how he can interact and just make everybody feel like they're part of the discussion.
Rico [10:36]: Oh yeah, you could see, I mean, he's not a politician per se. He came from a corporate environment, so you can see how that works. And he – there was a lot of things that he talked – he talked about the infrastructure improvements. Over 2[0 million dollars since 2[015. About the town center, about the pedestrian bridge coming online soon, probably within a month or so. We might even see ground –
Brian [10:59]: Oh yeah, I mean it's underway.
Rico [11:01]: Okay so, we'll see – and I saw – I wish I had the slide on this. I saw the picture of the newest picture, um, where the work clock. It looks fairly good, actually.
Brian [11:12]: Just saying – now you were – you were a part of all of it to begin with, so you may be better positioned than me to comment. But I, you know, our hope was – we went from the initial versions –
Rico [11:24]: The double spires –
Brian [11:26]: And to one that is maybe, you know, it's more modest, but it's not, you know…It still has a distinctiveness that you won't be like, oh yawn another pedestrian bridge. Distinctiveness, but it's not over the top.
Rico [11:43]: No. And it looks really good now, from what I saw on it. And then I saw something else somewhere about the botanical gardens that might be an offshoot walk through the bridge –
Brian [11:53]: There is. So when you go in, you know, on the south side of Lazy Dog, um, you've got the creek. And so for – we will have a path that goes along the creek but elevated. Kind of in between the creek and Lazy Dog, or the parking deck. So it'll have to be elevated. And then we're wanting to put a section that allows you to go down to that level, and then maybe put some other plant material there, make it a unique section.
Rico [12:23]: If you want to get to a cool place on a hot day, that'd be the perfect place to go. So you have that, and of course the mayor wants to talk about Georgia Tech, professional education, the on site. And we came just before, saw kids walking – they must be walking to the uh –
Brian [12:41]: Well that's the coding for kids. That's not Georgia – Georgia Tech is on the evening or weekend. This is a summer camp, so we actually have coding for kids camps that have been conducted here over the summer.
Rico [12:54]: It's cool. So you have the young kids, the high school, middle school kids, and then you have the professionals who are coming back to learn a bit more.
Brian [13:01]: Well, yeah, they are officially coders when they are done with that with the Georgia Tech diploma.
Rico [13:06]: Absolutely. There's only two – I didn't realize there's actually three Georgia Tech –
Brian [13:12]: Well that's all professional education. So Georgia Tech only teaches professional education in three locations. Their main campus, then they have their Savanna campus, and then here.
Rico [13:25]: It's amazing. I mean Georgia Tech – everyone wants Georgia Tech. The other thing that the mayor talked about and we featured in the upcoming Peachtree Corners magazine is the, uh, Anderby Brewing that just opened. We'll be up there –
Brian [13:41]: Tomorrow night is their grand – their little grand opening.
Rico [13:45]: Gotta go. This is a great craft brew –
Brian []:13:47 Craft brewery?
Rico [13:49]: Yeah! First one in Peachtree Corners. I mean, brewing their own stuff.
Brian [13:52]: Right on the end of Curiosity Lab.
Rico [13:54]: We passed them coming in. I mean, this is great stuff. I mean it's just – the funny part was the mayor saying, "We know it's near the high school, but it's far enough so it's okay."
Brian [14:05]: We had a few people bring that up. But yeah, there – you know, all that stuff said, like state law in some cases and locally and it meets all the requirements-
Rico [14:17]: Um, so there was that, um, that – we saw the things that the mayor talked about. Then we had the city council meeting on Tuesday night. So I just want to go through a couple of things. I know Lazy Dog is going to be up pretty soon. They just, um, applied for their –
Brian [14:34] Liquor license, yeah.
Rico [14:36]: And that got passed. The other thing is that uh this – I don't know what this is. The MRPA – I should know what this is.
Brian [14:45]: Metropolitan River Protection Act.
Rico [14:46]: Ah. Okay. That was for the 55 law –
Brian [14:50]: Fiserv property.
Rico [14:52]: So they got approved? Or was that public hearing?
Brian [14:54]: It did. Well, and action items. So they got it approved.
Rico [14:59]: So what does that mean to them? Because people have been asking, what is that –
Brian [15:02]: Right. So, this is a hundred plus acres of development in the Chattahoochee River corridor. So it's a very complicated site both from an environmental standpoint, as well as because of its sheer size, there's a lot of, you know, back of house negotiations that the master developer has to do with lining up the team that's going to develop it. Because this is a mix of uses, so you've got different contractors that specialize in different types of housing. They've gotta line those up, they've gotta line up financing, they've gotta come up with the timing. Because, you know, they can go as high as – and I think it's 916 total units on the…And let's just say that they did that, and they may not, but you don't – at something that big, you don't build 916 units just…You tend to do it in phases and you've gotta master plan it out, so there's been a lot of work behind the scenes. But the first thing they have to do is, they have to get a certificate allowing them to develop within the protected river corridor. That's the Chattahoochee River. So that's what this was. The city and the Atlanta Regional Commission, the ARC, together we regulate state law. Which is the Metropolitan River Protection Act. This was us approving the fact that they've met the requirements when it comes to things like – how many trees that they want to remove, or how close to the river they can add impervious surface –
Rico [16:50]: So this is going to be different size buildings. From what I understand, at least going to be four or five story buildings towards the river because that's the lower end –
Brian [16:56]: That's correct. I think they can go as high as six stories up the other end that – where no one other than, like, Country Club of the South residents could see it, which is, you know, across the river, but –
Rico [17:07]: But they'll be able to see the river. It's a great view for, I mean, no matter how you look at it – living in a place like that it's a great view. And that's –
Brian [17:16]: And I think they recognize that. I mean, look. When you're 20 miles from downtown, show me another location where you can go on a property and literally be outside the view of anything else like you can on that property. You get in off of East Jones bridge and you wouldn't even know that you're not in the middle of nowhere. Along the river. And so I think they recognize that it's kind of – it's a unique place to build residential. And so your'e right. They're going to build everything from two-story detached residential to stacked flats, to townhomes, to condos, to multistory, you know…
Brian [17:58]: What they're doing is – I think it's supposed to be 55 and older. And as you get Ricoolder, there's memory centers, supposedly will come on three years into the development and stuff like that.
Brian [18:10]: So it's moving. I mean there's no doubt about it. It's just that, sometimes people have to have a lot of talk and public hearings for them to get their first special use permit. They think that as soon as it's approved they're gonna go. That was merely for the developer to know that they can do it, then they have a lot of work behind the scenes.
Rico [18:29]: Same thing with the apartment building and boutique hotel on Town Center. I mean that was approved over a year ago or longer, and they haven't done anything.
Brian [18:39]: Well they haven't done anything that we can point to. But there's lining up financing, there's deciding who's going to build this, there's the design of what is the building exactly gonna look like.
Rico [18:51]: Right, which they still have to come back and share. Um, Instant Mechanicsville – that area is also getting rezoned from M1, which is industrial office to residential.
Brian [19:03]: Yup.
Rico [19:04]: Um, what's going on there as far as –
Brian [19:07]: Well the request – so that was just the first rating. But that said developer wants to come in and build townhomes.
Rico [19:11]: In that area?
Brian [19:13]: In that area.
Rico [19:14]: Which is the oldest part of the city, isn't it? Mechanicsville is fairly old.
Brian [19:19]: It is. As a residential area, it is. You know, Pinckneyville and the Term is, you know, older as it relates to when it was referred to back in time. I mean the intersection and Spaulding and Medlock bridge – that's, like a corner that has existed when the Pony Express came through. I mean, so, there's some older sections of – But as far as a currently existing residential community, Mechanicsville is our oldest.
Rico [19:49]: So is that taking – that's only converting – it's converting about 20 acres.
Brian [19:53]: It's converting 20 undeveloped acres but that were zoned for an industrial use.
Rico [19:59]: So is that all empty land?
Brian [20:01]: It is undeveloped, just tree, just wooden land.
Rico [20:04]: So obviously no one's looking to do industrial there. There's no demand for it, but there is for townhomes.
Brian [20:11]: I mean, there is a demand for it, actually. I mean you get out there, go along Buford highway. You know, in that area. You've got – there's new recycling's got a big wing. So there's demand, but sometimes the demand is one thing, but the political, you know, interest in facilitating that is sometimes uh – and this, these parcels are at the edge of this neighborhood, so I would imagine…I mean they haven't voted on it yet. But normally, cities very – look very favorably on somebody wanting to rezone on an intensive use like manufacturing, you know, industrial to a residential. Because most people are like, okay.
Rico [21:00]: I'm actually surprised that it was M1 to begin with and it butts up to residential – it almost never happens that way.
Brian [21:07]: It has probably happened because it was industrial to begin with and some parcels got residential.
Rico [21:14]: Um, the next thing was the consideration of ordinance for the city. Nuisances – urban camping – that's the first that caught my eye. So let's go on about that. Are we having urban campers?
Brian [21:28]: Well, I mean, so urban camping is just, you know, a municipal way of talking about people who are sleeping out in public spaces. For various reasons – probably, you know, most of the time it's done by people who are homeless and they're moving around. But, yes, we have had some problems of late in the town green.
Rico [21:54]: Oh really? In the wooded area, likely?
Brian [21:59]: Yeah, or just out on the town green itself. And so we've had, you know, fortunately, there are instances where there are people who, you could argue, make a living from moving from location to location, and begging for money from those who are frequenting establishments there. So now we've got a bunch of retail and restaurant space and a location that people are going to. And so you've got the panhandling and…so they'll do that, and they'll sleep there overnight. And so we needed to have something so it's in violation – doing so is in violation of local law because it is public property. So somebody can say "I have a right to be here." We're saying, "You do, but you can't camp there."
Rico [22:51]: In Simpson Park – because it's a park and that's a camping park – I think they allow camping.
Brian [22:58]: I'm not sure they do. I mean it's because – you know – I'm not sure they do.
Rico [23:01]: You know they let the staff –
Brian [23:05]: Yeah, but that's probably under special – part of a special event permit. Jones Bridge I think has done the same – but I think you apply and they give you a special event permit for that particular thing. They say, "Hey, we're gonna be doing this."
Rico [23:23]: Yeah, I mean you can't just show up and camp. They're pretty good about controlling some of those things like that. Alright, so there's that. There was also resolution about the call for an election qualifying and all those things that have to be done on a regular basis.
Brian [23:39]: I mean, you know, so we all know that our staggered terms are every two years. So you know, this year, four of the seven are up for re-election. And so when that's the case, we have to set certain dates um and locations for our election within the guidelines of the state sets. And so that's what that was. Was setting the qualifying period, setting the location where you would go to the polls, setting the election dates.
Rico [24:12]: So is that – these – so this election won't be part of the county.
Brian [24:16]: That's correct. This is – there will not be any county vote in November. Unless they, you know, decide to hold some special election for something. If not, it will just be at City Hall.
Rico [24:30]: Do you see that changing next year during presidential election where – because I know there was a rule passed that allows cities to approach the counties that include the same election name to save space?
Brian [24:43]: Well, so, what you're referring to is the Gwinnett County board of elections had an actual prohibition of running, managing, the election for a municipality within Gwinnett County. Which we – I know absolutely for sure that no other metro-Atlantic county is that way. I think that, of the 159 counties, Gwinnett County was the only one that had that prohibition. So you're referring to the fact that that was removed. So now, Guinnett County board of elections could provide election services for municipality for a fee.
Rico [25:26]: Right. It's a governmental arrangement system.
Brian [25:29]: Right – what hasn't happened since then is there has not been a negotiated rate and all that stuff hammered out so that a city could say, "Yep, we want you to run ours." There's a lot of, you know, there's a lot of details in that because there's a lot of differences between if the county already had to open a precinct versus they didn't have to but a city wants them to open one special. So, like, you know, if the county is already going to be holding an election anyway at a certain location, you know, I think some cities are like, "Why can't we pay you based on whatever additional cost it would be to just add a line or add a, you know, to the ballot that they're already having to –
Rico [26:21]: Because right now, essentially, next year for example, nothing changes. Most people know you go to vote for your local precinct, you go to vote for the presidency, the Senate, Congress, whatever. And for me, that would be let's say at Peachtree Corners Baptist Church is my precinct. But then I'd have to go to City Hall separately to vote for my city council people. Which is, like, really –
Brian [26:47]: Well it really came up last November when the city and Gwinnett County has a special referendum. On – well actually it was earlier this year, it wasn't last November.
Rico [26:57]: Are you talking about the March Martyr thing?
Brian [26:59]: No no no, the Sunday alcohol sales. So they held a special referendum to change the start date – was it back from 12 to 11. And we did too. We wanted to put it to our residents. So, to go and vote for that, you had to go to your county precinct. And that was going to determine whether unincorporated Gwinnett County. And that – and then you had to go to the city – to City Hall to vote on whether the city could – and that kind of is what prompted this movement to say, "Wait a second, why is this prohibition in there? We're not saying any city has to use Gwinnett County board of elections, but if there's a fair price to pay to have, you know Gwinnett County board of elections, couldn't that option be there?" And that's where we're headed, but that has not been negotiated yet. So in our case, November and Gwinnett County Board of Elections doesn't have an election this November to do right now. So it'll just be City Hall and it'll just be municipal elections. We have four positions.
Rico [28:16]: Not bad.
Brian [28:17]: Which actually – four positions are up. There may not be candidates. In which case, they would not be on the ballots.
Rico [28:24]: Qualifying is going to be next.
Brian [28:26]: It's middle of August.
Rico [28:27]: Middle of August? Long way off, but if you're thinking about something, it's time to do it I guess. Um, anything else new? I know that you had a chance to speak, but I don't know if there's anything else from your department, from the city manager?
Brian [28:42]: I didn't have any updates at that meeting, no.
Rico [28:44]: Anything else that we should be aware of that's, uh, maybe coming up?
Brian [28:48]: I mean, you know, we're gonna be talking shortly about locations to put the video cameras that we budgeted for out. You know, we've talked about here soon –
Rico [29:02]: Security cameras –
Brian [29:03]: Right. The license plate reader video cameras that we'd like to make available to police department if we've got a crime that's been committed and they want to –
Rico [29:14]: So that's all budgeted and now you're just gonna decide –
Brian [29:16]: Yeah it's all budgeted. We're just gonna decide which intersections we want to put it in. You know, that's coming up, um…
Rico [29:24]: The – I know that the mayor also talked about the acreage. Um, several different options for that – almost six acres or –
Brian [29:33]: Yes. So you know, if you go to the town green, you know, two of the four sides if you consider the green a square, even though it's a circle, but you know, two of the four sides are developed. Center Vista on one, all the shops on another. Then the north side of it will have the townhomes. They're getting ready to go vertical. But the – essentially, the eastern side is currently in development. The city owns it, and we have wanted the town green to be activated and to watch kind of how it's playing out, and take feedback from our citizens on what we could do on that six acres to be a value add to the town green. So that discussion will be happening over the next three to six months as we again keep activaty – because this Saturday night we've got the Journey cover band. You know, so, we've got some – right. We've got some good events that have happened out there already and some more to follow. And we're learning and we're taking feedback and, well, we've got some things that are, you know, will be here before – 
Rico [30:49]: So Alex Wright – city councilman Alex Wright actually pointed out a few things that people pointed out that you guys may be adjusting. For example, the playground area, which may be adding some more, um, onsite playground equipment.
Brian [31:06]: There will be. We've just gotta decide which type and of course how much.
Rico [31:13]: And shelter from the heat.
Brian [31:15]: Well yeah, so correct. The slide – that one's already done. And that one's gonna be here soon. But yes, a shade structure over the side. But those are the kind of things, you know, feedback we're taking. Even having them manage the crowds over there. Talked about we may need to rope off an aisle or two to walk, you know, across it. Because we had the Queen Nation, literally was just –
Rico [31:43]: Six thousand people. That place was jammed with people.
Brian [31:47]: It was. It was great to see, but little things – little things that we're learning and our residents are telling us. "Hey, think about this." So we're gonna continue to improve it.
Rico [31:58]: I think some of the – I think there was some landscaping where they thought maybe – a slight hill where they could do some seating actually.
Brian [32:05]: Yup. We're looking at that.
Rico [32:07]: And I think the mayor also discussed either – those six acres could either be expanded into – discussed it at one point – either part of the town green maybe becomes, or it might be a pavilion that might be able to handle a hundred people at some party –
Brian [32:22]: It could be a mix of uses. It could be on the ground floor. You could have maybe covered event space or more seating. And then higher up, you could have, you know, anything from the commercial performing art center, more seating to overlook the green. I mean, the sky's the limit.
Rico [32:40]: And I found that interesting, you know, one of the options you pointed out was that someone actually – one of the companies actually approached the city to say, "What if we did, like, a four-story building and two stories down below would be the art center, and two stories above would be office space?" And I thought that would be a great way to actually help finance – 
Brian [33:00]: That's correct. And that's why we will have and will entertain some sort of potential public/private partnership on that. Because it takes what investment we make and it, you know, it –
Rico [33:13]: Maximizes and leverages –
Brian [33:15]: It does. Just a force multiplier to let us do more with less money coming out of our budget to go to it.
Rico [33:22]: That was exciting. That part was a decent way to go actually. Earth Fare – the empty store. Anything new on that?
Brian [33:29]: Um, well actually, there is – I mean, other – the owners just contacted us recently to say they think they may have got a scenario to where they're, you know, prepared to take over the lease from Earth Fare. And have it go to another tenant. So, that's about as far as I can –
Rico [33:49]: Can't tell us? Big boss –
Brian [33:51]: It would – it would occupy the whole thing. If this one plays out.
Rico [33:58]: Okay. Part of the entertainment district, it is?
Brian [33:59]: It is.
Rico [34:01]: And related to that, maybe? Just curious.
Brian [34:03]: Potentially.
Rico [34:06]: I have to push.
Brian [34:08]: Oh, I don't blame you. I mean economic development is a tough one. You know, sometimes you get excited, but you have to be cautiously optimistic because some of these things fall through.
Rico [34:19]: Oh, for sure. For sure. We've – I've kept Brian long enough. I think he has real important meeting to go to after this regarding Curiosity Lab at Peachtree Corners. So, great and local – well not a local, international company, really. And they have a local office. So he's heading out that way. So we want to say thank you to Brian for coming out, sharing his time with us. And also to say, look out for Peachtree Corner Magazine. It's going to be hitting the post office Friday, which means you should be getting it in your mailboxes early next week, if the post office delivers it on time and it's not three weeks late. But look forward to a cover story on Titan Pictures, on the movie industry in and around Peachtree Corners. The boy scouts, the Gwinnett swim local team won the Gwinnett swim championship, which is cool. And a lot of other stuff that we have packed in there. So that's coming out and, that's it. Thank you all, appreciate it.