Prime Lunchtime with the City Manager: Smart City Expo, Curiosity Lab, the city's first craft brewery and more.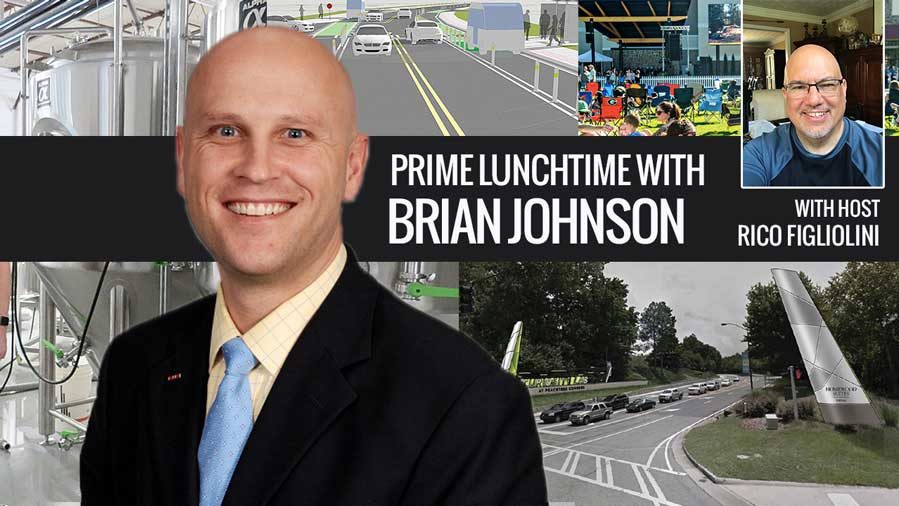 This podcast also includes information about hosting a special event for the first day of the Smart City Expo Atlanta 2019, the opening of the city's first craft brewery, upcoming developments in the city and the city's response to urban camping.
About Smart City: "It won't be long until, literally, you could be walking down the street and your phone's talking to the cars driving by, talking to the phones of other pedestrians, talking to the buildings, talking to the light pole. I mean – it's a both amazing and sometimes scary environment we're going to be in."
On the Chattahoochee River (Fiserv) development: "So it's a very complicated site both from an environmental standpoint, as well as because of its sheer size, there's a lot of, you know, back of house negotiations that the master developer has to do with lining up the team that's going to develop it. Because this is a mix of uses, so you've got different contractors that specialize in different types of housing."
On expanding the Town Green: "Essentially, the eastern side is currently in development. The city owns it, and we have wanted the town green to be activated and to watch kind of how it's playing out, and take feedback from our citizens on what we could do on that six acres to be a value add to the town green. So that discussion will be happening over the next three to six months…"
Transcript of the podcast:
Rico [00:00]: Hey! This is Rico Figliolini, host of Prime Lunchtime with Brian Johnson, city manager. We do this every month, and we have great discussion of all things going on here in the city on Peachtree Corners. Before we start, Brian, do you mind saying hi?
Brian [00:15]: Oh absolutely!
Rico [00:16]: Excellent. So a couple of sponsors. So first off, Prototype Prime, which is – we're using the studio here – the podcast studio we're at. They incubate here in the city Peachtree Corners, which is part of the Curiosity Lab at Peachtree Corners.
Brian [00:30]: It is. Curiosity Lab is really three things. It's a mile and a half-intelligent mobility and smart city laboratory which has an autonomous vehicle test track. It's a 25,000 square foot technology incubator. And it's all the technology within both the building and the one and a half mile for you to test anything from drones to, you know, autonomous, you know, vehicles to on the uh, you know, to smart city connected vehicle. I mean, anything you could think of.
Rico [01:03]: So, this place has grown since I've been doing this podcast. This is unbelievable growth over the next few months than we've probably seen. Companies coming here from all over, not only the metro area, but the country and the world. We're gonna be on the map. Peachtree Corners will be known, hopefully as well as Atlanta in some ways. So Prototype Prime, Curiosity Lab, sponsor of the podcast. And also want to thank a new sponsor that's coming on – Gwinnett Medical Center. They're now going to be insuring Peachtree Corners. You can learn more about their premier services. They're gonna be conveniently located where the old Ippolito's Restaurant used to be, and people know where that is. That's the shopping center south of the QT on that side of the road on Peachtree Parkway. So they're entering. They're going to be having first-rate primary care services and specialty services. You can find out more about that at gwinnettmedicalcenter.org/PTC. So that out of the way, there's just a lot to talk about.
Brian [02:03]: Sure there is!
Rico [02:05]: And in fact, the third sponsor on the radio – we're a media sponsor – Peachtree Magazine. Peachtree Corner Magazine. Smart City Expo, Atlanta. So that's just the – let's start off with that.
Brian [02:16]: Sure!
Rico [02:16]: It's such a huge thing.
Brian [02:19]: It is.
Rico [02:18]: You were in Barcelona last year. This is the first big expo on the North American continent for this.
Brian [02:24]: So, the Smart City Expo World Congress is the largest Smart City conference in the world. And, annually, it's in Barcelona, and it has 35 to 40,000 attendees. And it got so big that they decided to create regional, kind of affiliate or feeder ones. You know, they have an Asian one, a European one, and the North American one, which started this year because of the work that Metroland and Chamber and others did. We are lucky enough to have the very first North American version here in Atlanta. And then, given that it was here, we were able to, um, kind of brief the powers that be about what Curiosity Lab is, and they were like, "Wow! We're doing a Smart City conference and you have this living laboratory for Smart City testing and demonstration. Let's make it an official demonstration site." So we're also a partner of Smart City Expo, and we're going to be a demonstration site the morning the conference begins which is September 11th.
Rico [03:29]: Right. Three day weekend. Three day conference. And it's the first of three years that they're going to do this in such a place. And the whole idea is to be able to, not only show off Smart City IMT, you know, Internet and Memory Thing – Internet talking tower thing. Um, but it's also to bring it down to a more usable level for the common man and woman. And how sustainability, smart technology, how it affects everyone.
Brian [03:58]: Right?
Rico [03:59]: Right, not just corporations.
Brian [04:00]: No, we're at the cusp of really – the way we do, you know, anything, changing because of the ability to have, you know – to create that internet of things, which is everything being able to communicate with everything else. And we're, you know, especially with 5G rolling out, we now have a wireless environment where it can happen. And so, it won't be long until, literally, you could be walking down the street and your phone's talking to the cars driving by, talking to the phones of other pedestrians, talking to the buildings, talking to the light pole. I mean – it's a both amazing and sometimes scary environment we're going to be in.
Rico [04:43]: And it's kind of interesting because if you go onto the basic, let's say, warehouse for example, where the sustainable – what they're doing is, as you walk the warehouse floors and the warehouse – the lights come on as you walk through. Heat and other sensitivity things come on as this human person walking that area, occupying it. These are all things that can happen in a 5G world.
Brian [05:08]: They can! I mean, you literally can control everything wirelessly and not have latency issues where it's lag time. All the controls – you could have so much more on the wireless environment. We're used to 4G or even your conventional 4G LT – you could put so much on it that it starts to get, you know, have a little bit of lag, get slow. And 5G we just – we have so much more to work with. So it's an exciting time!
Rico [05:40]: So now – because we're demo aside – the Expo is in September. We're not that far where we –
Brian [05:47]: 48 and a wake up.
Rico [05:49]: Yeah, 48 days.
Brian [05:50]: Who's counting?
Rico [05:52]: How far are you going to be. Is it going to be, like, complete almost past city hall? I mean I know the whole stretch won't be completely –
Brian [06:01]: Right. With every aspect of the lab on this one and a half mile section – for every single thing to be done by then, probably not. So what we've done is – all the work we're doing, we've had them do it in a linear fashion. Normally, if some contractor is putting something in, they would – entire projects – they get to choose what order they do. In this case, we're like, "No, we need you to start at the technology parkway 141 intersection. The Marriott. And then work north and, at a minimum, we've got to get it past City Hall, because that'll be the main stretch for the Smart City Expo that people will both be coming to the demonstration site and where the demonstrations will take place. So that'll – that's the stretch we're concentrating on.
Rico [06:55]: So there'll be shuttle buses coming from the expo for people attending the demo?
Brian [07:00]: We're gonna be – we're gonna facilitate two things. You know – for those conference attendees that sign up to do this, we will have buses available to bring them up from the Georgia World Congress Center. But for attendees who are – who live close by, they won't have to go all the way and cut back. They can just go right to the site.
Rico [07:22]: So what are you planning? What demonstrations? Anything particular yet?
Brian [07:28]: Yes. So, I don't want to share the companies yet, but I can share the type of stuff. We're gonna have everything from fully level 5 autonomous vehicles, driving a track or a portion of the track. Tele-operation vehicles. We're gonna have drone autonomy – and these are autonomous. These are not, you know, done by human. Drones showing off capabilities of package and food delivery. You know, some of those kind of things. Also – other package delivery robot components. Let's see, what else have we got? We've got some connected vehicle demonstrations to show how vehicles talking to each other can actually alter the way that the car drives itself, even with a human in it. So we're wanting these companies to come in, and, again, we're kind of inviting anybody who – we got a couple of like, one company – we're not sure we can get them. But they actually have a vehicle that is – it's kind of like the smart car, you know that really small – their vehicle contracts or expands for purposes of urban use. So when you're driving it, it can – when you get in, it expands so that the wheelbase and everything is stable. But when you go to park it, you can actually – you can park it in the same size space that you could put a Harley Davidson.
Rico [09:07]: Really? All by itself? So you get out of it and itself – it's like the Jetsons.
Brian [09:14]: Yes! I mean – so, that one we'd like to have. So those are some of the things we're gonna have at this demonstration. And so it'll be, uh, interesting.
Rico [09:24]: Excellent. Lots of stuff. There's a lot of things happening here in the city, too, so we should probably talk about – besides the autonomous vehicle tries. So, I know we have a city council meeting. Um, the mayor also had a state of the city on Tuesday night.
Brian [09:44]: Monday night. Tuesday night was the city council.
Rico [09:47]: That's right. So there's a lot of things that Mike Mason talked about.
Brian [09:53]: 72 slides worth.
Rico [09:54]: Right, yeah? But he went through it fast. I gotta say.
Brian [09:57]: Oh, I mean, you know – look. We've learned, you know, we being staff have learned where the mayor's real, um, his real strength is. And he is phenomenal when, you know, you put him in that environment and he's talking with, not to, the citizens of the city. And so, yes, he knows how to, you know – we all warned him this was a lot of slides. But he went through it quick. I mean he got it done in an hour, and it was good. But he's amazing, how he can interact and just make everybody feel like they're part of the discussion.
Rico [10:36]: Oh yeah, you could see, I mean, he's not a politician per se. He came from a corporate environment, so you can see how that works. And he – there was a lot of things that he talked – he talked about the infrastructure improvements. Over 2[0 million dollars since 2[015. About the town center, about the pedestrian bridge coming online soon, probably within a month or so. We might even see ground –
Brian [10:59]: Oh yeah, I mean it's underway.
Rico [11:01]: Okay so, we'll see – and I saw – I wish I had the slide on this. I saw the picture of the newest picture, um, where the work clock. It looks fairly good, actually.
Brian [11:12]: Just saying – now you were – you were a part of all of it to begin with, so you may be better positioned than me to comment. But I, you know, our hope was – we went from the initial versions –
Rico [11:24]: The double spires –
Brian [11:26]: And to one that is maybe, you know, it's more modest, but it's not, you know…It still has a distinctiveness that you won't be like, oh yawn another pedestrian bridge. Distinctiveness, but it's not over the top.
Rico [11:43]: No. And it looks really good now, from what I saw on it. And then I saw something else somewhere about the botanical gardens that might be an offshoot walk through the bridge –
Brian [11:53]: There is. So when you go in, you know, on the south side of Lazy Dog, um, you've got the creek. And so for – we will have a path that goes along the creek but elevated. Kind of in between the creek and Lazy Dog, or the parking deck. So it'll have to be elevated. And then we're wanting to put a section that allows you to go down to that level, and then maybe put some other plant material there, make it a unique section.
Rico [12:23]: If you want to get to a cool place on a hot day, that'd be the perfect place to go. So you have that, and of course the mayor wants to talk about Georgia Tech, professional education, the on site. And we came just before, saw kids walking – they must be walking to the uh –
Brian [12:41]: Well that's the coding for kids. That's not Georgia – Georgia Tech is on the evening or weekend. This is a summer camp, so we actually have coding for kids camps that have been conducted here over the summer.
Rico [12:54]: It's cool. So you have the young kids, the high school, middle school kids, and then you have the professionals who are coming back to learn a bit more.
Brian [13:01]: Well, yeah, they are officially coders when they are done with that with the Georgia Tech diploma.
Rico [13:06]: Absolutely. There's only two – I didn't realize there's actually three Georgia Tech –
Brian [13:12]: Well that's all professional education. So Georgia Tech only teaches professional education in three locations. Their main campus, then they have their Savanna campus, and then here.
Rico [13:25]: It's amazing. I mean Georgia Tech – everyone wants Georgia Tech. The other thing that the mayor talked about and we featured in the upcoming Peachtree Corners magazine is the, uh, Anderby Brewing that just opened. We'll be up there –
Brian [13:41]: Tomorrow night is their grand – their little grand opening.
Rico [13:45]: Gotta go. This is a great craft brew –
Brian []:13:47 Craft brewery?
Rico [13:49]: Yeah! First one in Peachtree Corners. I mean, brewing their own stuff.
Brian [13:52]: Right on the end of Curiosity Lab.
Rico [13:54]: We passed them coming in. I mean, this is great stuff. I mean it's just – the funny part was the mayor saying, "We know it's near the high school, but it's far enough so it's okay."
Brian [14:05]: We had a few people bring that up. But yeah, there – you know, all that stuff said, like state law in some cases and locally and it meets all the requirements-
Rico [14:17]: Um, so there was that, um, that – we saw the things that the mayor talked about. Then we had the city council meeting on Tuesday night. So I just want to go through a couple of things. I know Lazy Dog is going to be up pretty soon. They just, um, applied for their –
Brian [14:34] Liquor license, yeah.
Rico [14:36]: And that got passed. The other thing is that uh this – I don't know what this is. The MRPA – I should know what this is.
Brian [14:45]: Metropolitan River Protection Act.
Rico [14:46]: Ah. Okay. That was for the 55 law –
Brian [14:50]: Fiserv property.
Rico [14:52]: So they got approved? Or was that public hearing?
Brian [14:54]: It did. Well, and action items. So they got it approved.
Rico [14:59]: So what does that mean to them? Because people have been asking, what is that –
Brian [15:02]: Right. So, this is a hundred plus acres of development in the Chattahoochee River corridor. So it's a very complicated site both from an environmental standpoint, as well as because of its sheer size, there's a lot of, you know, back of house negotiations that the master developer has to do with lining up the team that's going to develop it. Because this is a mix of uses, so you've got different contractors that specialize in different types of housing. They've gotta line those up, they've gotta line up financing, they've gotta come up with the timing. Because, you know, they can go as high as – and I think it's 916 total units on the…And let's just say that they did that, and they may not, but you don't – at something that big, you don't build 916 units just…You tend to do it in phases and you've gotta master plan it out, so there's been a lot of work behind the scenes. But the first thing they have to do is, they have to get a certificate allowing them to develop within the protected river corridor. That's the Chattahoochee River. So that's what this was. The city and the Atlanta Regional Commission, the ARC, together we regulate state law. Which is the Metropolitan River Protection Act. This was us approving the fact that they've met the requirements when it comes to things like – how many trees that they want to remove, or how close to the river they can add impervious surface –
Rico [16:50]: So this is going to be different size buildings. From what I understand, at least going to be four or five story buildings towards the river because that's the lower end –
Brian [16:56]: That's correct. I think they can go as high as six stories up the other end that – where no one other than, like, Country Club of the South residents could see it, which is, you know, across the river, but –
Rico [17:07]: But they'll be able to see the river. It's a great view for, I mean, no matter how you look at it – living in a place like that it's a great view. And that's –
Brian [17:16]: And I think they recognize that. I mean, look. When you're 20 miles from downtown, show me another location where you can go on a property and literally be outside the view of anything else like you can on that property. You get in off of East Jones bridge and you wouldn't even know that you're not in the middle of nowhere. Along the river. And so I think they recognize that it's kind of – it's a unique place to build residential. And so your'e right. They're going to build everything from two-story detached residential to stacked flats, to townhomes, to condos, to multistory, you know…
Brian [17:58]: What they're doing is – I think it's supposed to be 55 and older. And as you get Ricoolder, there's memory centers, supposedly will come on three years into the development and stuff like that.
Brian [18:10]: So it's moving. I mean there's no doubt about it. It's just that, sometimes people have to have a lot of talk and public hearings for them to get their first special use permit. They think that as soon as it's approved they're gonna go. That was merely for the developer to know that they can do it, then they have a lot of work behind the scenes.
Rico [18:29]: Same thing with the apartment building and boutique hotel on Town Center. I mean that was approved over a year ago or longer, and they haven't done anything.
Brian [18:39]: Well they haven't done anything that we can point to. But there's lining up financing, there's deciding who's going to build this, there's the design of what is the building exactly gonna look like.
Rico [18:51]: Right, which they still have to come back and share. Um, Instant Mechanicsville – that area is also getting rezoned from M1, which is industrial office to residential.
Brian [19:03]: Yup.
Rico [19:04]: Um, what's going on there as far as –
Brian [19:07]: Well the request – so that was just the first rating. But that said developer wants to come in and build townhomes.
Rico [19:11]: In that area?
Brian [19:13]: In that area.
Rico [19:14]: Which is the oldest part of the city, isn't it? Mechanicsville is fairly old.
Brian [19:19]: It is. As a residential area, it is. You know, Pinckneyville and the Term is, you know, older as it relates to when it was referred to back in time. I mean the intersection and Spaulding and Medlock bridge – that's, like a corner that has existed when the Pony Express came through. I mean, so, there's some older sections of – But as far as a currently existing residential community, Mechanicsville is our oldest.
Rico [19:49]: So is that taking – that's only converting – it's converting about 20 acres.
Brian [19:53]: It's converting 20 undeveloped acres but that were zoned for an industrial use.
Rico [19:59]: So is that all empty land?
Brian [20:01]: It is undeveloped, just tree, just wooden land.
Rico [20:04]: So obviously no one's looking to do industrial there. There's no demand for it, but there is for townhomes.
Brian [20:11]: I mean, there is a demand for it, actually. I mean you get out there, go along Buford highway. You know, in that area. You've got – there's new recycling's got a big wing. So there's demand, but sometimes the demand is one thing, but the political, you know, interest in facilitating that is sometimes uh – and this, these parcels are at the edge of this neighborhood, so I would imagine…I mean they haven't voted on it yet. But normally, cities very – look very favorably on somebody wanting to rezone on an intensive use like manufacturing, you know, industrial to a residential. Because most people are like, okay.
Rico [21:00]: I'm actually surprised that it was M1 to begin with and it butts up to residential – it almost never happens that way.
Brian [21:07]: It has probably happened because it was industrial to begin with and some parcels got residential.
Rico [21:14]: Um, the next thing was the consideration of ordinance for the city. Nuisances – urban camping – that's the first that caught my eye. So let's go on about that. Are we having urban campers?
Brian [21:28]: Well, I mean, so urban camping is just, you know, a municipal way of talking about people who are sleeping out in public spaces. For various reasons – probably, you know, most of the time it's done by people who are homeless and they're moving around. But, yes, we have had some problems of late in the town green.
Rico [21:54]: Oh really? In the wooded area, likely?
Brian [21:59]: Yeah, or just out on the town green itself. And so we've had, you know, fortunately, there are instances where there are people who, you could argue, make a living from moving from location to location, and begging for money from those who are frequenting establishments there. So now we've got a bunch of retail and restaurant space and a location that people are going to. And so you've got the panhandling and…so they'll do that, and they'll sleep there overnight. And so we needed to have something so it's in violation – doing so is in violation of local law because it is public property. So somebody can say "I have a right to be here." We're saying, "You do, but you can't camp there."
Rico [22:51]: In Simpson Park – because it's a park and that's a camping park – I think they allow camping.
Brian [22:58]: I'm not sure they do. I mean it's because – you know – I'm not sure they do.
Rico [23:01]: You know they let the staff –
Brian [23:05]: Yeah, but that's probably under special – part of a special event permit. Jones Bridge I think has done the same – but I think you apply and they give you a special event permit for that particular thing. They say, "Hey, we're gonna be doing this."
Rico [23:23]: Yeah, I mean you can't just show up and camp. They're pretty good about controlling some of those things like that. Alright, so there's that. There was also resolution about the call for an election qualifying and all those things that have to be done on a regular basis.
Brian [23:39]: I mean, you know, so we all know that our staggered terms are every two years. So you know, this year, four of the seven are up for re-election. And so when that's the case, we have to set certain dates um and locations for our election within the guidelines of the state sets. And so that's what that was. Was setting the qualifying period, setting the location where you would go to the polls, setting the election dates.
Rico [24:12]: So is that – these – so this election won't be part of the county.
Brian [24:16]: That's correct. This is – there will not be any county vote in November. Unless they, you know, decide to hold some special election for something. If not, it will just be at City Hall.
Rico [24:30]: Do you see that changing next year during presidential election where – because I know there was a rule passed that allows cities to approach the counties that include the same election name to save space?
Brian [24:43]: Well, so, what you're referring to is the Gwinnett County board of elections had an actual prohibition of running, managing, the election for a municipality within Gwinnett County. Which we – I know absolutely for sure that no other metro-Atlantic county is that way. I think that, of the 159 counties, Gwinnett County was the only one that had that prohibition. So you're referring to the fact that that was removed. So now, Guinnett County board of elections could provide election services for municipality for a fee.
Rico [25:26]: Right. It's a governmental arrangement system.
Brian [25:29]: Right – what hasn't happened since then is there has not been a negotiated rate and all that stuff hammered out so that a city could say, "Yep, we want you to run ours." There's a lot of, you know, there's a lot of details in that because there's a lot of differences between if the county already had to open a precinct versus they didn't have to but a city wants them to open one special. So, like, you know, if the county is already going to be holding an election anyway at a certain location, you know, I think some cities are like, "Why can't we pay you based on whatever additional cost it would be to just add a line or add a, you know, to the ballot that they're already having to –
Rico [26:21]: Because right now, essentially, next year for example, nothing changes. Most people know you go to vote for your local precinct, you go to vote for the presidency, the Senate, Congress, whatever. And for me, that would be let's say at Peachtree Corners Baptist Church is my precinct. But then I'd have to go to City Hall separately to vote for my city council people. Which is, like, really –
Brian [26:47]: Well it really came up last November when the city and Gwinnett County has a special referendum. On – well actually it was earlier this year, it wasn't last November.
Rico [26:57]: Are you talking about the March Martyr thing?
Brian [26:59]: No no no, the Sunday alcohol sales. So they held a special referendum to change the start date – was it back from 12 to 11. And we did too. We wanted to put it to our residents. So, to go and vote for that, you had to go to your county precinct. And that was going to determine whether unincorporated Gwinnett County. And that – and then you had to go to the city – to City Hall to vote on whether the city could – and that kind of is what prompted this movement to say, "Wait a second, why is this prohibition in there? We're not saying any city has to use Gwinnett County board of elections, but if there's a fair price to pay to have, you know Gwinnett County board of elections, couldn't that option be there?" And that's where we're headed, but that has not been negotiated yet. So in our case, November and Gwinnett County Board of Elections doesn't have an election this November to do right now. So it'll just be City Hall and it'll just be municipal elections. We have four positions.
Rico [28:16]: Not bad.
Brian [28:17]: Which actually – four positions are up. There may not be candidates. In which case, they would not be on the ballots.
Rico [28:24]: Qualifying is going to be next.
Brian [28:26]: It's middle of August.
Rico [28:27]: Middle of August? Long way off, but if you're thinking about something, it's time to do it I guess. Um, anything else new? I know that you had a chance to speak, but I don't know if there's anything else from your department, from the city manager?
Brian [28:42]: I didn't have any updates at that meeting, no.
Rico [28:44]: Anything else that we should be aware of that's, uh, maybe coming up?
Brian [28:48]: I mean, you know, we're gonna be talking shortly about locations to put the video cameras that we budgeted for out. You know, we've talked about here soon –
Rico [29:02]: Security cameras –
Brian [29:03]: Right. The license plate reader video cameras that we'd like to make available to police department if we've got a crime that's been committed and they want to –
Rico [29:14]: So that's all budgeted and now you're just gonna decide –
Brian [29:16]: Yeah it's all budgeted. We're just gonna decide which intersections we want to put it in. You know, that's coming up, um…
Rico [29:24]: The – I know that the mayor also talked about the acreage. Um, several different options for that – almost six acres or –
Brian [29:33]: Yes. So you know, if you go to the town green, you know, two of the four sides if you consider the green a square, even though it's a circle, but you know, two of the four sides are developed. Center Vista on one, all the shops on another. Then the north side of it will have the townhomes. They're getting ready to go vertical. But the – essentially, the eastern side is currently in development. The city owns it, and we have wanted the town green to be activated and to watch kind of how it's playing out, and take feedback from our citizens on what we could do on that six acres to be a value add to the town green. So that discussion will be happening over the next three to six months as we again keep activaty – because this Saturday night we've got the Journey cover band. You know, so, we've got some – right. We've got some good events that have happened out there already and some more to follow. And we're learning and we're taking feedback and, well, we've got some things that are, you know, will be here before – 
Rico [30:49]: So Alex Wright – city councilman Alex Wright actually pointed out a few things that people pointed out that you guys may be adjusting. For example, the playground area, which may be adding some more, um, onsite playground equipment.
Brian [31:06]: There will be. We've just gotta decide which type and of course how much.
Rico [31:13]: And shelter from the heat.
Brian [31:15]: Well yeah, so correct. The slide – that one's already done. And that one's gonna be here soon. But yes, a shade structure over the side. But those are the kind of things, you know, feedback we're taking. Even having them manage the crowds over there. Talked about we may need to rope off an aisle or two to walk, you know, across it. Because we had the Queen Nation, literally was just –
Rico [31:43]: Six thousand people. That place was jammed with people.
Brian [31:47]: It was. It was great to see, but little things – little things that we're learning and our residents are telling us. "Hey, think about this." So we're gonna continue to improve it.
Rico [31:58]: I think some of the – I think there was some landscaping where they thought maybe – a slight hill where they could do some seating actually.
Brian [32:05]: Yup. We're looking at that.
Rico [32:07]: And I think the mayor also discussed either – those six acres could either be expanded into – discussed it at one point – either part of the town green maybe becomes, or it might be a pavilion that might be able to handle a hundred people at some party –
Brian [32:22]: It could be a mix of uses. It could be on the ground floor. You could have maybe covered event space or more seating. And then higher up, you could have, you know, anything from the commercial performing art center, more seating to overlook the green. I mean, the sky's the limit.
Rico [32:40]: And I found that interesting, you know, one of the options you pointed out was that someone actually – one of the companies actually approached the city to say, "What if we did, like, a four-story building and two stories down below would be the art center, and two stories above would be office space?" And I thought that would be a great way to actually help finance – 
Brian [33:00]: That's correct. And that's why we will have and will entertain some sort of potential public/private partnership on that. Because it takes what investment we make and it, you know, it –
Rico [33:13]: Maximizes and leverages –
Brian [33:15]: It does. Just a force multiplier to let us do more with less money coming out of our budget to go to it.
Rico [33:22]: That was exciting. That part was a decent way to go actually. Earth Fare – the empty store. Anything new on that?
Brian [33:29]: Um, well actually, there is – I mean, other – the owners just contacted us recently to say they think they may have got a scenario to where they're, you know, prepared to take over the lease from Earth Fare. And have it go to another tenant. So, that's about as far as I can –
Rico [33:49]: Can't tell us? Big boss –
Brian [33:51]: It would – it would occupy the whole thing. If this one plays out.
Rico [33:58]: Okay. Part of the entertainment district, it is?
Brian [33:59]: It is.
Rico [34:01]: And related to that, maybe? Just curious.
Brian [34:03]: Potentially.
Rico [34:06]: I have to push.
Brian [34:08]: Oh, I don't blame you. I mean economic development is a tough one. You know, sometimes you get excited, but you have to be cautiously optimistic because some of these things fall through.
Rico [34:19]: Oh, for sure. For sure. We've – I've kept Brian long enough. I think he has real important meeting to go to after this regarding Curiosity Lab at Peachtree Corners. So, great and local – well not a local, international company, really. And they have a local office. So he's heading out that way. So we want to say thank you to Brian for coming out, sharing his time with us. And also to say, look out for Peachtree Corner Magazine. It's going to be hitting the post office Friday, which means you should be getting it in your mailboxes early next week, if the post office delivers it on time and it's not three weeks late. But look forward to a cover story on Titan Pictures, on the movie industry in and around Peachtree Corners. The boy scouts, the Gwinnett swim local team won the Gwinnett swim championship, which is cool. And a lot of other stuff that we have packed in there. So that's coming out and, that's it. Thank you all, appreciate it.
Capitalist Sage: Bill Frey's Architect of Illuminations [Podcast]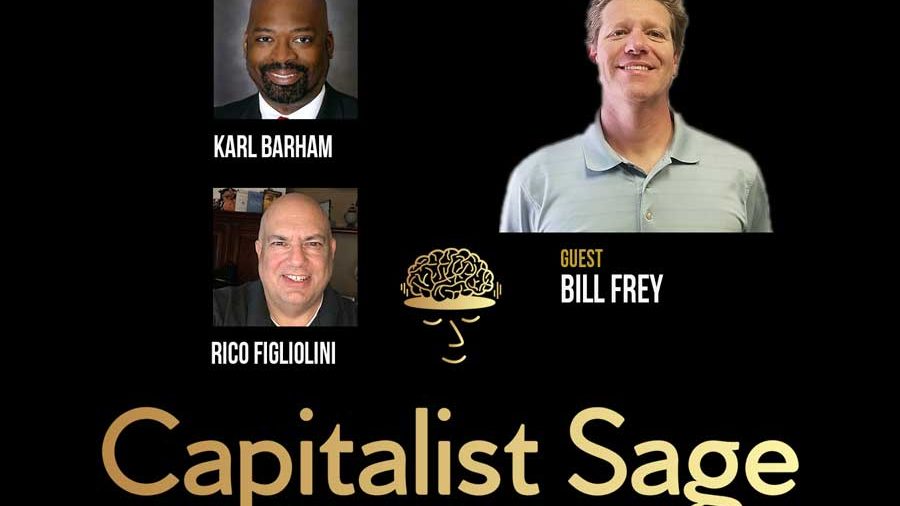 Have you ever wondered who's in charge of designing and setting up those amazing holiday light displays? Well, this week, Karl and Rico sit down with Bill Frey – entrepreneur and owner of Illuminating Design, a local business event, holiday and specialty lighting company. Bill talks about his path into creating a business and how he found a niche in the holiday lighting market during the 2008 economic recession. Additionally, he shares about his struggles and solutions to working in a seasonal industry, as well as the joys of using his lighting designs to create and evoke holiday memories.
"I like to think about it in a theoretical way, where we really just provide the backdrops of people's memories. You have your holidays, you have your holiday pictures and all the memories that you have. We're the lighting behind that. We're what brings about the emotion, we're the ones that bring about the feelings of the season. By seeing our lights in different areas, it really brings about that Christmas spirit and gets people in the mood – whether they need to shop or come in and spend more time with their family – again, to create those memories. And that's – that's really the main point of where – what we do and what we like to do."

Bill frey
Resources:
Illuminating Designs
Website: https://www.illuminating-design.com/
Facebook: https://www.facebook.com/IlluminatingDesign/
Instagram: https://www.instagram.com/illuminating_design/
Phone: 404-454-8944
Podcast Transcript:
Karl [01:33 ]: Welcome to the Capitalist Sage podcast. We're here to bring you advice and tips from seasons pros and experts to help you improve your business. I'm Karl Barham with Trans World Business Advisors. My cohost is Rico Figliolini, with Mighty Rockets Digital Marketing and publisher of the Peachtree Corners Magazine. Hey Rico, how are you doing today?
Rico [01:50 ]: Good, Karl. Lots of things going on.
Karl [01:52 ]: Absolutely. Why don't we start off by introducing some of our fabulous sponsors?
Rico [01:56 ]: Sure. So the first thing I should say is Atlanta Tech Park, which is where we are in this podcast studio. We're doing the recording here in the city of Peachtree Corners. Atlanta Tech Park is an accelerator, right? Go to from a startup place – that's the incubator – to an accelerator. That's the next step for a growing company. And they have, I don't know, how many thousands of square feet here. But they have enough event facilities, they run workshops, they run things with funding and venture capitalists.
Karl [02:28 ]: Absolutely. There's a cyber – cyber event coming up I think later on. Thin-tech. It's coming up later this week. Fabulous stuff to get connected in technology and business community here.
Rico [02:38 ]: That's Peachtree Corners. So anything you need to fund your business, you can – I mean they do some of that pitch stuff.
Karl [02:44 ]: Yup – Friday morning. Pitch Fridays.
Rico 02:46 []: So then our other sponsor is GMC, or Gwinnett Medical. Just got bought out by Northside Hospitals, by the way. So – but it's the place that just opened. It's the GMC Primary Care and Specialty Center on Peachtree Parkway, next to Planet Smoothie and QT. And it's a great place. We just interviewed Dr. Barbara Joy Jones just last week. Find our podcast, by the way, online. But they're a sponsor as well.
Karl [03:11 ]: Oh, fabulous, fabulous. And I think in the next week we have –
Rico [03:15 ]: Smart City Expo.
Karl [03:17 ]: Smart City Expo coming up. I'm excited about that.
Rico [03:19 ]: It's going to be great. You, me, Patricia Wenzburg, who's a writer for Peachtree Corners Magazine. We're all going to be attending that expo.
Karl [03:27 ]: Absolutely. And it's kind of going to be looking at smart technologies and cities. And I think Peachtree Corners is going to be featured there.
Rico [03:35 ]: That's right. So the first day, which is the 11th. It's the 11th, 12th, and 13th. So the first day is gonna be – we're gonna have – and it's probably, I think it's the only off-demo site for that expo. And there are gonna be people from all over the world and the country visiting, and we're gonna be showing off our 1.5 mile autonomous vehicle track. Along with a couple of special surprises and stuff like that going on. But there's quite a few things. I mean, we – to be having that in this city when they do a world conference of this in Barcelona. First time in the United States, so…
Karl [04:12 ]: So much fun stuff happening here. Curiosity Lab at Peachtree Corners highlighting technology, showing how a city can continue to grow and innovate on itself. And one other thing that's great about this business community here – we've got lots of entrepreneurs in the business community, and today we're just – it's an absolute pleasure to have Bill Frey from Illuminating Design – a local entrepreneur, business owner here – that combines technology and art to create amazing lighting displays for holiday seasons, for a variety of cities, commercial customers. Just help them really celebrate the holiday season or whatever festivity they may be having through innovative lighting displays and design and display. So really glad to have you, Bill. Tell us a little bit about how you do that and how you're able to make clients super happy with their displays and help attract people to come see them. Why don't we start by you telling us a little bit about yourself?
Bill [05:18 ]: Alright. Well first of all, thank you for having me. I appreciate the time and being out here. This is a great thing that you guys do, and I'm very happy to be a part of it. Well – I graduated from Clemson University and went back to Georgia State to get a Masters degree in marketing, and found that the corporate world wasn't really for me. I had the advantage of being in a management position at a very young age, however, when you're dealing with people that are older and have been in the work environment a lot longer than you have, they tend not to take your ideas so seriously. So at that point, I'd always knew I wanted to be an entrepreneur, and that kind of pushed me to do it. I was young, didn't have any kids, didn't have a family, didn't have any responsibilities, so I was able to easily take the jump. I worked for a gentlemen that had a holiday lighting company and saw an opportunity where the market really wasn't being taken care of. So opportunities for better customer service, better pricing, and really just a better know how on doing the holiday and event lighting. There were a lot of missed opportunities before, and this is back in 2004, so back then, there were maybe a handful of companies out there. Now, recently, there's been more people jumping into the industry because they see what a good industry can be and the opportunities that are there.
Karl [06:38 ]: Fabulous. Well, for those that do not know, describe what holiday lighting is and how businesses like yours help clients.
Bill [06:45 ]: Well, in – I like to think about it in a theoretical way, where we really just provide the backdrops of people's memories. You have your holidays, you have your holiday pictures and all the memories that you have. We're the lighting behind that. We're what brings about the emotion, we're the ones that bring about the feelings of the season. By seeing our lights in different areas, it really brings about that Christmas spirit and gets people in the mood – whether they need to shop or come in and spend more time with their family – again, to create those memories. And that's – that's really the main point of where – what we do and what we like to do.
Karl [07:25 ]: So what made you choose to go into this industry? You saw – you worked for a company that did that before, but how did you feel that you could make it different or make a difference in this industry?
Bill [07:36 ]: Umm, for a long time, it was kind of like, Henry Ford's saying – "You can have any color, as long as you want it black." And that's not really the way the design and the lighting goes. We saw – if you drive up and down, and you look at different Christmas displays and holiday displays, a lot of them are very similar. They use the same products, same techniques, and we found ways to be a little more creative. To use an artistic side to it. To add pops of color here and there. To add different elements that people wouldn't necessarily think of. By being Christmas – 365 days a year, versus the other companies that are really doing it as seasonal job, we have the ability to research and work with worldwide vendors, find the best products, and really find what suits you. As a client. We don't – we use multiple vendors, and we find the best fit for the client. We don't lock you into proprietary software. We use all open-sourced software. And it's really giving the client the options again. Giving them their voice in what they want. And a lot of people might not know what their voice should be saying, but we help bring it out what they want. So we have about 20 questions or so that we start our conversations with our clients to get them to kind of relax a little bit and to get into their own design mind and what they like. Are they symmetric people? Do they like the right and left to balance? Do they want – do they want heavily daytime decor? Do they want nighttime decor? Are they a less is more person? A more is more person?
Rico [09:07 ]: Do you have the things, like – also, like – you know how the fireworks, you can do that electronically now? Is it all app-based? How do you set up on something like that?
Bill [09:17 ]: There are some app based programs. What we find is a lot of those are limited. We actually use a program for our programming side – an open source software called x-lights. It's based loosely on, my opinion, it's based loosely on madrix, which is used for stage lighting. And that's what I originally started with. So our philosophy is – we take the stage lighting and event lighting and everything and bring that into holiday shows. We go to concerts and say, "You know what, that's cool. We like that. How can we bring that out? How can we make that relate to the holidays?"
Rico [09:52 ]: So you're creating as you're going, almost in a way – because every year it's a little different?
Bill [09:58 ]: Right. And that's the one thing that we want. Our philosophy is that, if you dream it, we can make it happen. And that's what we try to do. We've had some wild concepts come to us that we're working through – a fun project we're working on now is, we're working with a couple of people to create art pieces with LED background lighting for it. So they actually, as you're – it's not a stagnant picture any longer. So you'll have color flashes that'll change. Say, it's a series of umbrellas, and the umbrella will change colors.
Rico [10:25 ]: So you find the technology useful? I mean, you've been in the business for a while and stuff. Has technology helped you do your work better, do you think?
Bill [10:33 ]: I think so. I think it's really cool, some of the stuff that we're putting out. We work with – on one of our big displays, we made – gosh there were 15 by 25 foot light panels that we broadcast massive displays across. So imagery, and it's the motion and imagery. So it's not as stagnant. It used to be the only movement you had was twinkle lights. Every now and then, one would twinkle in. If you had your strand of incandescents, put the wrong bulb in, they all start twinkling on you. They didn't like that.
Rico [11:04 ]: Do you do other things besides the lighting as well? Like mechanical stuff or other inflatables?
Bill [11:10 ]: Yeah. Some of the pieces we have, we can add motion to it if need be. Haven't had the opportunity to – in our warehouse, yes we have plenty of that. Haven't found the client yet that wants something with that much movement. With more movement comes sometimes more issues, and they're afraid of that for a short term installation.
Karl [11:29 ]: I remember growing up in New York – we – the Rockefeller Center display was always a centerpiece, and people would, for years, you'd go and visit, and it would attract people to that display. You fast forward 20, 30 years later, you see more places using lighting and holiday kind of spirit to attract people to there. Do you find that clients get a lot of success by investing in these kind of displays to help attract folks?
Bill [11:59 ]: Definitely. It's funny that you bring up Rockefeller Center, because that is one of the reasons I'm in the business. My grandparents lived in New York, and I would go see it as a child, and it's one of my fondest memories as a child. And I've always said if I get the Rockefeller Center tree, I'd be done.
Rico [12:15 ]: You've reached the pinnacle.
Bill [12:17 ]: Yup – I've reached the pinnacle. What more can I do at that point? But yeah. We see – you know, it's interesting because the first exposure I had to that, where it was really helping to increase revenues and things like that was during the recession – 2008. And when I – I noticed a lot of people were cutting back on what they were doing. Obviously, they were concerned about what was going on in the world, and with the market and everything like that. But what it did was allow me to kind of recenter our company and to see what's going on out in the world. And neighborhood fronts – you had homes that were diminishing massively in value, and people were fighting against each other to sell their houses. So the first exposure was – we started decorating neighborhoods – neighborhood fronts. And by giving the exposure to those neighborhoods, it gave them more name recognition, allowed the home values to – I'm not gonna say they stayed where they were in 2006, but they did not decrease as much because you had the talk about – the word of mouth going around about what they were doing, and that the community looked nicer. People were doing a lot of cutting back, so we worked for our clients at those points to allow them to have that exposure. And also – you see a definitive difference in shopping centers. You know when you go out during the holidays, a shopping center that is not decorated, it's like any other time of the year. You go in there, you spend what you would. Holidays are all about excess, you know? And that's for – a lot of people it's about, they eat too much, they shop too much, they drink too much. They do everything too much. And that's what – having the lighting really evokes that feeling of peace and euphoria and good times and cheers.
Karl [13:58 ]: Especially, during the holiday season, if you think about, if you live up north where it's snow, you feel Christmas coming around, you feel the holiday. If you live in warmer climate, you don't have the snow, so the lights is something that could still connect people, that you could tell it's a different time of year. If you have little kids, I know during the winter, people don't go out as much. But if they'll drive around the neighborhoods and see the houses that are doing better displays –
Rico [14:27 ]: So do you find then that – because I totally agree with you. Living in New York or Brooklyn, everyone hung their lights and stuff, but it didn't matter. If it snowed, it was Christmas – you knew it was coming. Down here, it's so different. The hurricane's coming, God forbid. So, but, you know, your lighting during – are you lighting throughout the year as well?
Bill [14:46 ]: We do most of our work during the holiday season. We do still work with events and facilities and things. If they have larger events going on, we'll go out and help them. What we can do is year round. We've really created a niche in the Christmas market, though. We've worked on some of the largest areas around the Southeast. And we have really made our names for ourselves in the Christmas area. There are a lot of companies out there that do events. They have a lot of big products, and it's kind of a different product base that we have, but it is still possible. We have a lot – maybe 50% of it transfers over, which allows us the opportunity to go and decorate for some weddings, or big corporate parties or Fourth of July. We got to go up to – one of the really neat things we got to do is, we went up to Knoxville and lit up the Sun Sphere for the World's Fair. It was, I want to say, their 250th anniversary. And we had the lights rotate around, red white and blue, and they rotate around the Sun Sphere. It just happened to be the year that Pat Summit passed away, and we were able to dial in the Tennessee orange and light up the Sun Sphere in honor of her, which is a really, really neat and impactful moment for us.
Karl [15:56 ]: How did you get command over the technology? Cause it sounds like you gotta know a little bit about design – artistic design – but also to program, to figure out what pieces to go together, to integrate and all that.
Bill [16:11 ]: You hire the right people. To be honest with you. I dabble in the programming. I like to say I'm good at it, but I brought somebody into the company that has extensive background in it, and he – Tim Griffith – and he is phenomenal at what he does. And he – we work together, and it's very – it's kind of we're yin and yang. I'm the artistic side, he's the detailed process side. So we balance off each other in very, very great ways.
Rico [16:40 ]: So you can envision what you want, and he sort of implements it.
Bill [16:44 ]: Yeah. I come to him all the time and say, "I wanna see this!" And he kinda looks at me and goes, "Alright, give me an hour." And it's great, because you know, it takes him out of his comfort zone and I'm asking for elaborate things, and we kind of bounce ideas off, and I know enough to give suggestions about different ways to look at it rather than the engineering side. Look at it from this direction, see if it changes some things.
Rico [17:07 ]: Are you seeing the technology and lighting itself? Like, LED's been around for a while, right? Are you seeing that changing? Are you seeing anything new coming out?
Bill [17:16 ]: Actually, yeah. And that's one of the things that's – and we've had to kind of adapt our company because of it. It's, you know, LED's – incandescents and LEDs are the first change in lighting in how many years? Forever. So then, so what do you think? Okay, well LEDs are gonna be here for a while, and this is how it's gonna be. Well now they're moving onto low voltage. So low voltage gives you – obviously, you're running less amps, thus you're having less – when you have a power spike because of rain or something like that, there's less fluctuation. So it doesn't trip your GFI. So low voltage lighting is exactly which landscape lighting runs on. So you don't have problems with that normally when it rains, but your holiday lights, occasionally you do. And that's honestly a problem. If you have a GFI, and it's put in there, and it's working right, and your lights go out because of rain, it's doing exactly what it's supposed to. But nobody wants their lights out. And you can't tell somebody – "Well, you know what? Sorry your lights are out, but that's doing exactly what you want." So we figure out ways to work around that. And we at – when we were working at Atlanta Botanical Gardens for four years, we had – I'll never say 100%. So, 99.999% on rate. I don't – I cannot remember or do not recall or was not told of any situation when the lights went out with low voltage.
Karl [18:31 ]: So you can use technology to help make them more robust and bring all that. When you think about the business side of this, when you started this out, anything that you learned along the way that you think would help someone else that was thinking of starting a business?
Bill [18:46 ]: Yes. A 22 year old does not know everything. I learned that one very quickly. And, you know, you learn to trust your support system. And that's the foundation of how you're gonna be successful in business. If you don't have a strong support system with you, with family, friends, people that believe in you and are going to pick you up when you get knocked down and say, "You know what? Let's get up tomorrow and try again." That's crucial. If you don't have that, you're off on an island. And it becomes extremely difficult.
Karl [19:17 ]: What is it like doing business here in Georgia or at least in this part of Georgia area? Have you found there being any advantages of being in a community like Peachtree Corners?
Bill [19:28 ]: Yeah. Well, one, it's a newer city. So there's a lot that the city's doing that we can help out with. We're actually working in the new City Center this year, which will be great. We're very happy about that. I was actually – as soon as I heard it was starting to be built, I started calling. Because it's a project I wanted to be part of. To me, the community is important. The community's giving me, myself, my family so many opportunities. My children go to school here. Their friends go to school. I coach soccer here. So being part of this community is a great, great thing. I even moved my office here from Norcross so we'd be a little more local and tied more into the business community in Peachtree Corners.
Rico [20:08 ]: Are you part of any of the business associations here locally?
Bill [20:11 ]: Yes.
Rico [20:12 ]: What are some of the things you've been able to gain through a relationship you've built through those?
Bill [20:16 ]: Some contacts. That's really important. You find out – moreso business contacts, it's personal contacts. People who have gone through what you do. As an entrepreneur, it's very difficult for people to understand your day to day. What you wake up dealing with, what you go to bed dealing with. What problems you have. And you know what? None of us here are recreating the wheel. Whatever business process we're working on – whatever situation we're dealing with – somebody else has dealt with. We're not the first ones to go through it, so why not ask for feedback? Why not say, "Hey, let's go get coffee. Let's talk about a couple things. What's troubling you? What's troubling me? What can we help each other work through?" And you never know who's gonna have that opinion or that little nugget of advice that really helps you out.
Rico [21:03 ]: Let me ask you something, if you don't mind. It's a seasonal business. So the one thing that struck me – like urban growers, you know? They have the cycle – the season. Although they, if I remember, they said there's really no season because they can keep growing throughout the year. How does that work in a business where it's more seasonal? How does that impact revenue, income – how do you budget the company out? How do you keep staff where they need to be, I guess?
Bill [21:30 ]: That's one of the harder pieces. That's – if I knew all the answers to that, it would uber successful. You know, we're not doing bad. But, it is difficult. The seasonality of the business makes it difficult for staffing. You have – so what we do is, we have a core group of people. That those are our people that we bring in. Then, we wind up bringing in revenue producers that – the guys are doing the actual install. But we bring the team of leaders in before that. We spend about a month with them and training them on what we are, who we are, going around and seeing the jobs. So we catch them up to speed on what's being produced. Then we bring the next team in and do our OSHA training and those things. So, a lot of times, it's recreating the wheel each time. It's restarting the process each year. But we're fortunate enough that each year, we have some residual people that come back. We try to find business owners that may have another business. That their seasonality goes a little bit lower in time, so we kind of work together in that aspect. And you find – you do have a lot of guys that are out of work over the holidays. So generally, finding labor in the actually installers is not that difficult. Because you have all the other season out – like, the non-winter jobs – pool companies, painters, landscapers, that aren't doing as much. They all lay off, we hire them in.
Karl [22:51 ]: I'm curious, you know, if you were to advise – whether it's neighborhood that's deciding holiday lighting or retail areas and so on. What are top things they should consider if they're thinking on doing this? Where do people get it wrong? When you go out there and you look at people trying to do it, what do they get wrong about it?
Bill [23:11 ]: A lot of the time, it – you wind up with inconsistencies. Where it doesn't – it doesn't flow. There's – it kind of, it's sporadic, where they're not actually – they're saying, "Okay, let's light every tree." Well, lighting every tree, while nice, doesn't always give you the best visual impact. I like to work in negative space. So it's not where the light is, it's where the light is not. Because if you constantly have a wall of light, it's a blur. It doesn't give a good visual image. If you're selective in what you liked – so really, I guess the answer's editing – I guess, what exactly to do. Anybody can throw stuff up anywhere, but it's systematic in that type of editing in the overall design that makes everything better. And the consistency in the products. You can't have one color bow in one area, another color in another area. Or have weird colors. If – I've noticed a lot, they try to go with festive colors and things like that now. But it starts looking a little like Mardi Gras. Which is awesome for the Mardi Gras time, but it doesn't really flow with what most people think of Christmas.
Karl [24:17 ]: And things that will create those memories that you were describing. If you do a blur of lights, it just remembers it's a blur. But if you can create art with that and create it, that's what create memories.
Bill [24:29 ]: Our lighting philosophy is, we believe every light is important. You can make a very impactful statement with a single light. So it's all in the editing of how you edit those lights down.
Karl [24:38 ]: Fabulous, fabulous. Well, I'm curious, you know – as this time of year, we're getting into the fall season. What's it like for you this time of year? What do you have coming up? What do you do over the next few months as you gear up for the holiday season?
Bill [24:52 ]: First thing is not sleep. It's – this is really the busy time. But we've set ourselves up over the past few months, and basically, since we've finished last year to be ready. So we've dotted all the i's, crossed all the t's. We're just ready to go now. We have – we've tested all the products. We're gonna be out. Within the next month or so, we're gonna be working on some of the bigger installations. We're gonna be at the battery for the Atlanta Braves, decorating out there. We'll be building a 35-foot walkthrough ornament at World of Coca Cola. And working on some of the really large displays downtown Atlanta. We put all the garland on Peachtree street. So really finalizing what we've worked on for so long. It's – you've had your spring training, and now it's time to get to action.
Karl [25:41 ]: You remember when Christmas season used to start the week after Thanksgiving? And now, I remember – I think in August, I saw Halloween stuff start to show up, and I'm pretty sure it's happening with the season. When is Christmas really starting now? Is it October? Early November?
Bill [26:02 ]: November 1st is when a lot of the turn on dates. And you know – it's understandable. If they're spending good money on the displays, it makes sense. Go ahead and get them up. Yes, it mixes Thanksgiving and Christmas. But the idea is to spread the joy. To get people out there.
Karl [26:19 ]: So if they're starting November 1st, that means if you want to have a spectacular display, you probably should be starting now having conversations with folks like you.
Bill [26:28 ]: Very much so. If not a few weeks ago. We're – it's time now. We're locking in most of our bigger installations. And there are still some slots open that we'll take as we go through. But yeah, there's plenty of opportunity to still get decorated and for us to work with you.
Karl [26:45 ]: Fabulous. So how do people reach you? If they want to know more about what you do and how you do it, what's the best way to reach you?
Bill [26:50 ]: First thing I suggest is to go onto our website and take a look at some of the projects we've done. See if it's something you'd like to do and see if there – we can work together. We like to create a union with our clients. It's – we're not a one and done type company. We like to create relationships. So go onto the webpage. It's www.illuminating-design.com. Or you can give us a call at 404-454-8944.
Rico [27:25 ]: We can also find you on instagram on @illumin. I'm assuming there's lots of pictures there too.
Bill [27:32 ]: Yes there are.
Karl [27:33 ]: Fabulous. Well it's great to see a local company here in Peachtree Corners. Entrepreneurs that are doing really fun business. I gotta imagine, when you complete a project, you get a big smile on your face, on your client. Who doesn't like a business that helps create smiles?
Bill [27:48 ]: Oh, it's amazing. It's absolutely amazing.
Karl [27:50 ]: It's fabulous for that. We want to thank you for being our guest today. Bill Frey, from Illuminating Design for being our guest. Taking time out and sharing your experience and journey on this, and giving some advice to folks that are looking to start in their own businesses that may not be as traditional as others. Maybe taking a different look in providing a different service for clients. And we also want to thank Atlanta Tech Park for hosting the Capitalist Sage podcast. If you're starting a business and looking to network with other people, like minded folks in there, there's no better place to start in a community designed around supporting entrepreneurs and business owners. I'm Karl Barham with Transworld Business Advisors of Atlanta Peachtree. We help people – help business owners understand their business. When they're ready to sell their business, when they're ready to buy a business, when they're ready to grow their business. We offer services to help them all throughout their business life cycle. And Rico – why don't you tell them a little bit about what you've got going on?
Rico [28:49 ]: Sure. I publish Peachtree Corners Magazine. Just launched that this year. Cities – hopefully of what's going on in the city on a bi-monthly business. We've got a lot of traction on it. We're planning the three major stories that are coming in this forthcoming issues. One is – the cover story is a Pat and the People story. So submit your – this can be a contest giveaway starting Friday. You'll find that on Facebook. So we're gonna be giving away some prizes. But that's one of the main features. The other one is Great Spaces for your Corporate and Holiday Events. We have a writer out there, and she's already on the 8th or 9th or maybe 10th place. So she's putting out there – she's putting together the article as well. But that's Patricia Windspur. And we have a third piece on technology in the school system, which is cool. So the magazine, of course, you can find my work also at MightyRockets.com. I handle social media, social media content, videography, product videos, a whole bunch of things that different types of companies may need. And that's where you can find me.
Karl [29:54 ]: And follow us on Facebook. Peachtree Corners Life on Facebook if you want to get an update.
Rico [30:00 ]: That's right. So, like us there because once you like us there, then you get notification of these live Facebook feeds. You can find the podcast, Capitalist Sage, on iTunes, iHeart Radio, Spotify, Stitcher – almost anywhere that – FM, that's another one – almost anywhere you can find podcasts. Find this, listen to the drive, 25 minutes, and you're good. And LivinginPeachtreeCorners.com is the website for the magazine, the podcasts, and all that.
Karl [30:28 ]: If you want to keep up with what's going on, a fabulous job of keeping up, you go in there, you'll see articles in there, it'll give you highlights on what's going on around Peachtree Corners and greater Gwinnett in general. But just lots of ways to get connected back to the community. And please do tune into the Capitalist Sage podcast, and all of the other podcasts that highlight local people in your community. About business owners, political leaders, community leaders, schools.
Rico [30:58 ]: We have two other podcasts – Prime Lunchtime with City Manager which is once a month. And we have Peachtree Corners Life which is a whole host of things, and we do interviews.
Karl [31:08 ]: So thank you very much for tuning in, and looking forward to bringing you more great guests on the Capitalist Sage Podcast. Thank you everyone, have a great day.
Boutique Staffing Firm Opens in Peachtree Corners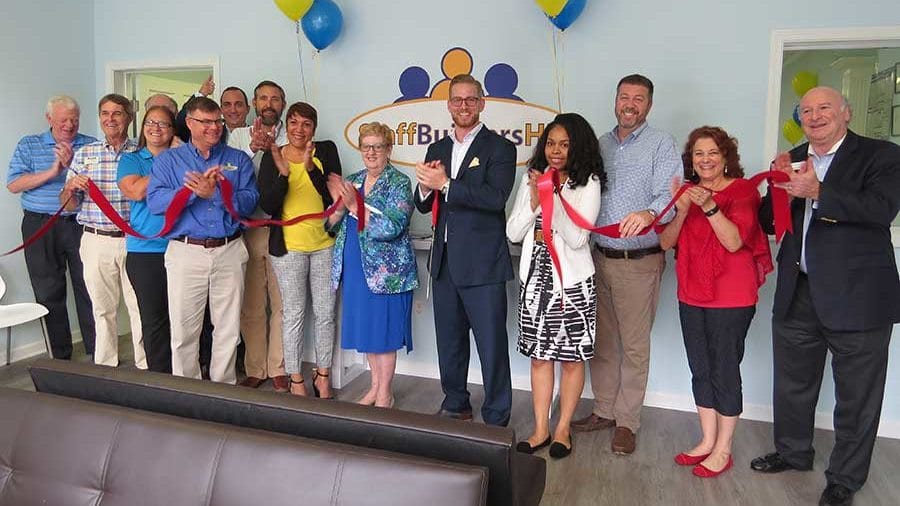 Staff Builders HR, which specializes in identifying quality talent for businesses, celebrated the opening of its Peachtree Corners location recently.
Operated by management and staffing expert Austin Ashworth, the office will serve the north Metro Atlanta area and offer staffing solutions to businesses in administrative, professional and industrial trades.
"We like to think of ourselves as a one-stop shop," said Ashworth, who is the territory manager for Staff Builders HR. "We specialize in staffing light industrial and clerical positions and strive to provide companies with top-notch personnel. We handle payroll processing service, too."
Ashworth said Staff Builders HR recognizes that each business and its needs are unique and offers a personalized recruiting strategy for each client.
The Peachtree Corners location is the first permanent site in the state for the Florida-based business which founded in 2008. The new staffing office is located at 5260 Peachtree Industrial Blvd, Suite 600. Ashworth said the company plans on opening an additional four to five locations in the next three to four years.
"We are delighted to welcome Staff Builders HR to our community," said Councilmember Lorri Christopher during the company's ribbon-cutting event held on Aug. 27. "Peachtree Corners is well known as a business-friendly city, and we are confident that you will be very successful operating your new business here."
Staff Builders HR offers temporary, temporary to permanent and contract staffing services for the fields of warehouse, professional and skilled trade. For more information visit the website or call the Peachtree Corners office at 404-858-2228.
A conversation with Aarti Tandon about the Smart City Expo Atlanta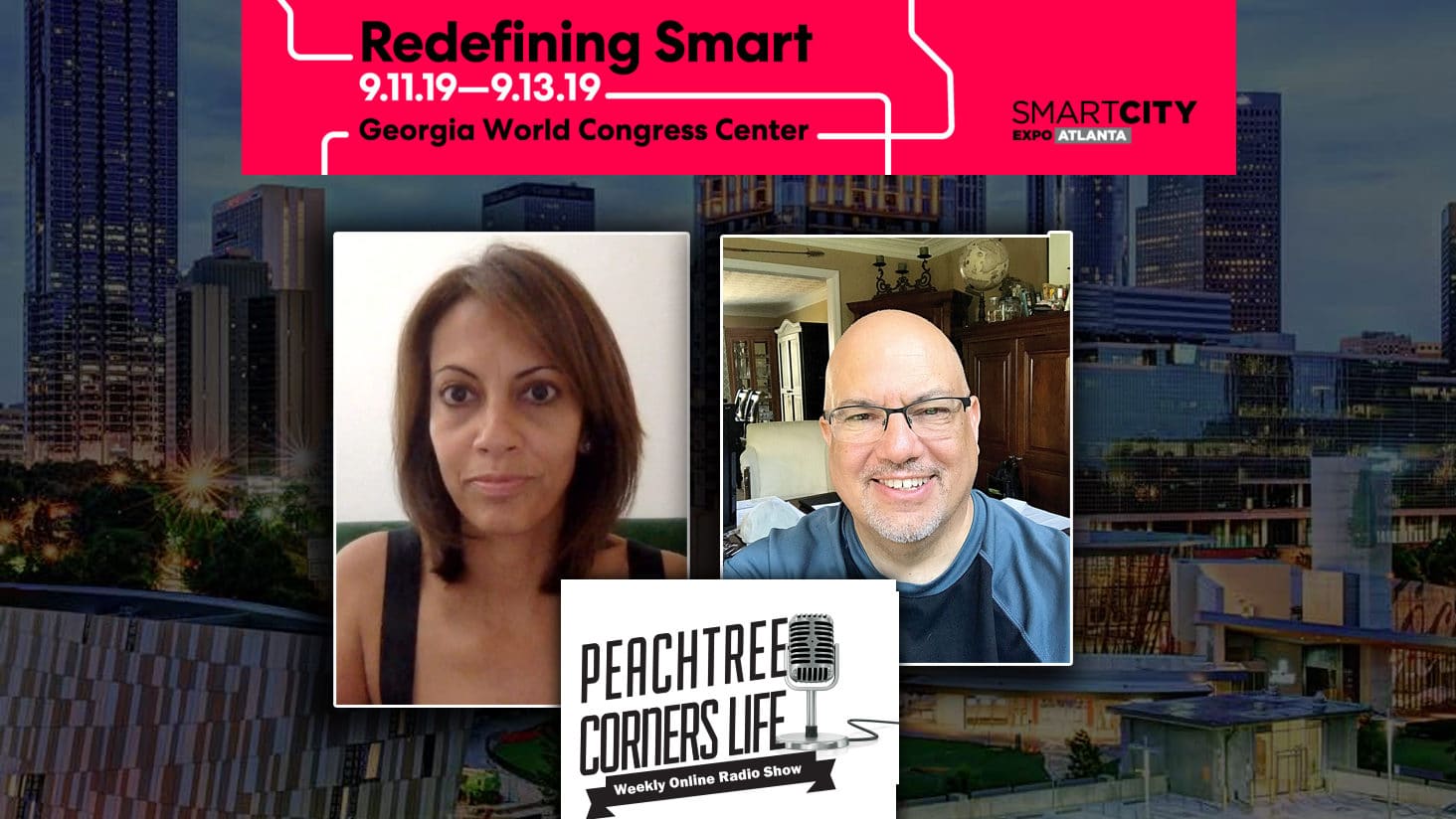 With the first Smart City Expo Atlanta coming up in less than two weeks, Rico sits down with Aarti Tandon, the CEO, and co-founder of the expo. Aarti talks about how they're striving to redefine "smart" by bringing in the human aspect of innovation into their event. By bringing in younger generations, people from the public and private sector, CEOs of corporations to mayors to non-profits, Aarti shares how the United States' first Smart City Expo will instigate essential conversations and dialogue about what the future of technology is, how its applications can impact cities, and how we all can reframe our mindset towards "smart" technology.
Resources
SmartCityExpoAtlanta.com
Email: info@smartcityexpoatlanta.com
Facebook: https://www.facebook.com/pg/SmartCityATL/photos/?tab=album&album_id=310784826476114
Instagram: @smartcityatl
Twitter: #SCATL19
"The conversation is so comprehensive. It's micromobility, but it's also building a workforce that's not just the future of work, but how do you build dignity into the future of work. We talk about economic mobility. I think for us, in reframing the narrative, we want to talk about not just autonomous, electric and micromobility. We want to talk about social mobility, economic mobility. We want to talk about human capital alongside venture capital. And we want to make sure the infrastructure is equitable while it's intelligent."

Aarti Tandon, the CEO, and co-founder of smart city expo atlanta

Transcript of the podcast:
Rico [01:26 ]: Hi, this is Rico Figliolini, host of Peachtree Corners Life, a podcast that's centered here in the city of Peachtree Corners, just north of Atlanta. The city of Atlanta that's gonna be hosting, for the first time, the Smart City Expo Atlanta, which is an offshoot – it's the US edition of the Smart City Expo World Congress that's hosted every year since 2011 in Barcelona. And over the years, they've expanded to other cities like Brazil, Turkey, Japan, Mexico, Argentina – other countries – and this is the first time in the United States. So, what I want to do is bring on Aarti Tandon, who's the cofounder of the Smart City Expo. So let's bring her on. Hey Aarti, how are you?
Aarti [02:13 ]: Hi Rico, thanks for having me!
Rico [02:15 ]: No, this is great. I appreciate you bearing with me for the technical difficulties we were having before. But thank you for coming on.
Aarti [02:25 ]: My pleasure.
Rico [02:27 ]: So tell us a little bit about Aarti. Tell us who you are and how you got to Smart City Expo and stuff. Give us a brief.
Aarti [02:35 ]: Thank you for asking. So, I'm actually lawyer by trade, and many years ago, I was working in entertainment and after that, working at a project for a client of mine who was serving 14 years in federal prison. And I really understood what, at that time – how do we actually, really build an inclusive economy. I spent five years working pro bono for this case, and President Bush had granted a commutation to my client in 2008, and since then, I've been really trying to understand, you know, how do we use sports, entertainment and marry it with justice. I went on to produce a bunch of films, and then, in 2000, or actually probably three years ago, I was asked to be the executive director of Smart City New York. And in that process, I really wanted to talk about what makes a city smart. And sort of redefine the term. And we ended up having 2000 people from over 80 countries – over 30 countries. But we had the CEOs of UNICEF and Robin Hood and Boys and Girls Club in conversation with the Mastercards and the Microsofts. And we really felt that everyone had to have a seat at the table if we were going to make sure we had an inclusive, 21st century economy. And so last year, Mayor Bottoms was at our conference and I established a relationship with Vera, and we had decided, you know, she had a focus on developing strong Smart City strategy, and Atlanta would be an ideal place to host the first Smart City Expo World event in the US.
Rico [04:15 ]: So you were in – you helped run the Barcelona event, then?
Aarti [04:19 ]: No, I ran a separate New York event. It was just a Smart City conference.
Rico [04:24 ]: Oh, okay. So this is the big expo then.
Aarti [04:26 ]: This is the big one. Yeah. This is really exciting. So Smart City Expo World Congress, which is the original temple event that's happened since 2011 in Barcelona, 20,000 people attend. It's basically the CES for cities. And what's interesting about it is that, the rest of the world has really been focused on smart city strategy. So when you think about actually countries that have had conflict, they've leapfrogged into the future because they didn't have legacy issues to deal with that we have in the United States. And so they're deploying all sorts of incredible work in Estonia and Kosovo and Rwanda. And so Smart City Expo World Congress has been convening these thought leaders since 2011.
Rico [05:12 ]: So, with the mayor of Atlanta talking – sort of getting it set up here in Atlanta. Now – you're gonna – eventually it's gonna be a three-year deal on this one.
Aarti [05:25 ]: Yeah. We – our goal is to really plant ourselves in Atlanta, right? That's the temple event for the United States. And it's hosted in Atlanta, but it's actually a national event. And part of the reason for that is because a lot of the people from the public sector in the US can't justify, or really afford, sending their CIOs to Barcelona. And so they're missing out on a lot of the sharing of best practices that are happening, especially, you know, the Nordic countries are so ahead of us on circular economy and sustainability. People are working on cyber around the world. And so we really, genuinely felt that this conference is a national conference. And if you're a CIO from South Dakota or Minnesota, you have the same challenges that most cities do, and we'd love to have them come and learn.
Rico [06:16 ]: So, and if I understand correctly too, there is – smart city is not just about corporations or upper or middle class people that can afford an iPhone ring or something like that. It's really bringing it to an equitable position, right? All the people on the street, if you will, can feel the effects of a smart city. That's what this theme is, I guess, for Atlanta?
Aarti [06:42 ]: Yeah. So our theme is – let's redefine the term 'smart'. People ask me all the time – the most inevitable question is, "What is a smart city?" And I did a presentation for the state department a few weeks ago, and my response was, increasing quality of life. And so, what does that mean? How do you use the data to increase quality of life? So my dear friend, the mayor of Helsinki – he says his goal is to give every citizen one hour back in their day. And if you come from that premise, right – you think about – so if you knew your train was gonna be 20 minutes late, you may take a bus, you may take a bike, you may do something else, right? So how you make those choices so you can go home and spend more time with your family? And that's how we look at what makes a city smart is how we're deploying the technology. I'd love to just give you a few examples. I know you've got a bunch of questions. So, NYU Langone, and he's gonna be one of our speakers, Dr. Gorovich, did a study on population health, and the health of cities. So it's affordable housing, transportation, the actual health. In a few cities, and one of the cities was Providence, Rhode Island, I believe. Again, we have 250 speakers, so if I'm missing something let me know. But one of the things he realized was absenteeism was a really big issue in Providence. So what do you do with that data? Well, the mayor ended up putting washing machines in the public schools, right? That is how you create equity. That is where you say, we're gonna give every child the opportunity to learn, and we don't want them to be ashamed that they can't come to school, and we're gonna make sure that they have a safe environment from which they can prosper. That to us is equity. Other examples of that are – you know, there are all these amazing energy-generating pavements that are being used in stadiums and universities. So you generate energy off of the foot traffic. Well, why don't we put that on a basketball court in the Bronx? You want people to understand what the 21st century is gonna look like, and they think it's robots and they think it's automation. It's also – let's meet people where they are, and that's how this conference is designed. And that's why we're redefining the term smart.
Rico [09:02 ]: That's cool. Because lots of people think it's Amazon delivering their stuff by drone. They can't wait for that because it would be easy, I guess. delivery within an hour or two, right? Or an AI machine that would be able to almost predict what you may want in the next two hours. But I like that idea. And it's not too far flung out to say that it could happen within years as opposed to within a decade or two.
Aarti [09:29 ]: It's about a year. And I think what we're doing is helping mayors in cities understand that it's literally right here, but your constituents have to understand it. We have to meet people where they are. So, like, you mentioned drones. Drones can be scary to some people, and it also can be helpful in the sense where you reduce congestion on the streets. Right? So there has to be a balance, and that's the key. That's why the integrated approach to cities is so important. I think what happened in the past – it was like the smart water meter, the smart parking meter. And those are really important, but if they're not interoperable, a city ends up not knowing what the right hand's doing with its left hand.
Rico [10:10 ]: Does that almost mean that you want, sort of a, you know, this – the UI, right? Universal integration, right? That's the problem with a lot of these smart devices. You have the apple iHome, or you have the iHome, the Apple Home, you have all these devices – Alexa and stuff. Can they integrate together? Can we – is there a highway that we can all go on, if you will?
Aarti [10:36 ]: And so one great way to look at that, Rico, is – so a few years ago, the city of Columbus won the big smart city transportation – the smart city challenge that was issued by the DOT. And I think 83 cities applied, and the reason Columbus won is because women couldn't get to the hospital on time to deliver their babies. And they came from a very human issue and decided that if they won the grant, they would then adjust how their roads and their emergency response and how their police operated. So when you think about integration the way you just said it, how do we take a human problem and then get everybody to participate on that highway so that we can clear it? And so what happened was they ended up changing their bike lanes and their emergency response. And they ended up addressing climate issues, right? Because now they put in electric buses, and they created bus lanes. So the city started to move better, the environment was better, but it required everyone to come together and do that. So the interoperability doesn't actually have to be between the technology. It actually has to be between the groups that are workin to solve the problem.
Rico [11:47 ]: And would you say that, I think some people think you have to invest a lot. Some cities would have to invest a lot to get there. But maybe that's not the case, right? You have infrastructure money anyway. To spend it wisely makes more sense, no?
Aarti [12:03 ]: Yeah, so I think financing is a major issue in the US because we don't have public partnership models as robust as the rest of the world. Like, Canada and Australia are leading the way in those places. I think the US also has a lot of procurement issues and, like, how do you get from pilot to deployment. Those are all issues we're covering at the conference. And so, you know, financing mechanisms are key, and I think a lot of the private sectors looking to help figure out new models.
Rico [12:38 ]: So who would you say are the – some of the key players that will be speaking at the expo?
Aarti [12:45 ]: That's my favorite question – I have literally 250 speakers, and so many of them are people – you know, of course, we're so honored to have the CEOs of Cox, the CEO of Suntrust, the CEO of the Atlanta Braves, and all for different reasons. The CEO of Cox is working on his commitment to sustainability and innovation. HE's funded tech stars, he's funded carbon lighthouse – or invested in carbon light house. The CEO of Suntrust is so focused on financial inclusion, public private partnerships. The CEO of Atlanta Braves is obviously also focused on public private partnerships – think about all of the technology that's advancing consumer experience inside a stadium, right? So we have all of them – we're thrilled. We've got TI coming in to talk about the importance of – you know, how do you drive economic development within our communities, and he's doing an incredible job that way. We have John Hope Bryant who will be in conversation with TI. But then we also have a woman named Veronica Scott who runs the empowerment plan. Who created a jacket for people who are homeless that turns into a sleeping bag.
Rico [13:54 ]: Oh, wow.
Aarti [13:55 ]: We've got such extraordinary entrepreneurs and innovators. We have a guy who basically has created a coral that regenerates or is helping to regenerate coral reefs. We've got, you know, obviously the best of the best soft bank robotics. We've got Block Rock coming to talk about social impact. We've got Cisco and we've got Southern Company – our founding partner. And they are doing extraordinary work to enable the infrastructure for a city to be smart.
Rico [14:25 ]: Yeah, will some of these companies be part of the exhibitors also?
Aarti [14:29 ]: Yes. We have 50 plus exhibitors. My colleague Adam Lennon has done an extraordinary job. We've got two tiny houses. We've got eight different EV/AV vehicles. We actually have the first autonomous, electric truck in the world by Einride. Know that we've got drones, and I know that we've got Bird doing an activation. So when you think about – you asked earlier in the podcast about, you know, what to expect. I mean, the conversation is so comprehensive. It's micromobility, but it's also building a workforce that's not just the future of work, but how do you build dignity into the future of work. We talk about economic mobility. I think for us, in reframing the narrative, we wanna talk about not just autonomous, electric and micromobility. We want to talk about social mobility, economic mobility. We want to talk about human capital alongside venture capital. And we want to make sure the infrastructure is equitable while it's intelligent.
Rico [15:39 ]: That's exciting. I think that, you know – I have a kid that goes to some high school who just started last year, right? And I own a magazine called Peachtree Corners Magazine, and our next story in the next issue is about technology in the school and how that works. That's the high school that has four days of school and one digital day. And doing online work.You know, it's interesting to see how young people use technology. And in the easiest way. Because they're growing up in that environment and don't know different. So how – are there any exhibits or anything along the way that you can talk about that?
Aarti [16:20 ]: Well, you talked about young people and I'm so glad that you brought them up. For us, smart city is defined by every generation. So we actually have a Harvard debate, diversity council scholars, four high school seniors coming in to talk about how they envision the future of cities. We have people with disabilities being represented. We have the top – we have top disability commissioners in the country from Chicago, New York and LA coming to talk about – what does it mean to build an inclusive city? And the reason I bring it up is because, in New York City, the – to cross the street, it's about 22 seconds, which is based on a 22 year old, white male. Now, think about the fact that, if you have a disability, or you're a parent with a stroller, right? The city wasn't designed for it to be accessible. And so, we have the youth, we have a lot of – we're really focused on gender issues. Women leading smart cities. And we're also making sure that minority communities are represented. And, just to go back to your STEM question again, I think the key for us is, you know, kids especially have new ways of learning and acting. And they're almost like, they get to leap frog into the future, right? They don't have the legacy issues that we do when working with technology. But when they find a real, life way of experiencing it, they're inspired. So, like, a lot of kids in hip hop, for example, they learned about Nipsey Hussle Smart store out in LA. What happened to Nipsey was tragic and all of those things, but he – a lot of innovation is coming from these young people in the streets, and if we can harness them in a way that's safe and exciting so it's like, when they're learning STEM, they can see the real life application for it, that's a lot more exciting.
Rico [18:21 ]: I would think. And you're right, I mean, they're using technology at this point, so they're not afraid of it. You have older people, and I'm sure in the cities across this country, there are a lot of older people, if you will, that are in positions of power. And I saw this when Congress originally – I think it was about a year ago – one of the communities talked about security online with Google and Facebook and stuff, and the questions they were asking were so out of pace with the real world. It was scary that these people actually – you would think that if given the right questions to ask. It just didn't sound right. And so those are the people that have to be convinced that smart technology can be a great investment over a period of time. And they shouldn't be looking short term, and the United States is very local oriented, as far as cars, right? We built our highways after World War II, I mean. If you look at Europe and other countries – Kyoto and other cities around the world – they don't have a lot of cars, but they also have a lot of bikes. There's a human traffic a lot different from – very different from here. Manhattan – I used to live in Brooklyn – in Manhattan, you wouldn't want to cross the street because that bike is riding fast by, or that yellow cab was gonna, you know, cut the traffic or something. So, technology is a big thing. As far as the cities go, as far as the young people go in this building, are there other things we should be looking forward to at this expo?
Aarti [19:58 ]: Yeah. Well first of all, the opening at Peachtree Corners is very exciting, right? That speaks to everything that we're doing because – to have the, I believe, it's the second 1.5 mile autonomous test track in the country in Georgia. And basically, they're saying, for free, we invite all these innovators to come and test their pilots and their innovations. I mean, that's what people are looking for. And to have it powered – the 5G powered by Sprint. I mean, if we're gonna get these kids inspired and take them out of the classroom and be able to have them demo their work, then that's really important for us. And I think that's what's happening in the rest of the world is – you know, you talked about urban planning and cities and, you know, we just have to have a design of what we want our cities to look like. And have people move in that direction.
Rico [20:53 ]: I think so, too. It does take foresight. I know that when the city first started, that they had in mind that doing this – developing a smart city. So, they really put into their budget. They had forethought about doing that. And they had also an understanding, Brian Johnson city manager, the mayor and the council – an understanding that you want to be able to provide this environment – Curiosity Lab in Peachtree Corners – in a free way. Because it does provide economic impact on the city as well. So, you know, there is that. But I think being able to get ahead of this, because a lot of other cities will be looking at doing the same thing now, in the next decade or so. I mean we have Michigan that's planning now. And so it's exciting to see all of that, you know? You have Tesla moving forward with all the stuff they're doing.
Aarti [21:47 ]: And the rest – I mean, you asked about some of the other people. I mean, one we're really honored by is, first of all, the support from the private sector and the public sector. But we have almost ten mayors coming from across the country, and I – mayor of Honolulu to the mayor of Denver to the mayor of Montgomery, the mayor of Newark. And they're all so different, and yet they have the same challenges. And to see how they're addressing them, to see how they're – I mean, we have the President of the US Conference of mayors – Mayor Barnett of Rochester Hills. And he, like so many other mayors, are excited about autonomous mobility because of the fact that – you know, most people don't frame it this way. Autonomous mobility is going to help move people with disabilities and the elderly. And think about the impact that that will have in those communities, right? So they're already embracing the innovation. The US Conference of Mayors – their platform is infrastructure, innovation and inclusion. And those are their three pillars. And the mayors are really rallying around it.
Rico [22:53 ]: You know what I like about this, Aarti? Is that you're providing – the expo is not just, alright you have a lot of speakers, you have a lot of exhibitors. But it's also providing a place for people to meet, to brainstorm, really. Because they're gonna be talking about all sorts of things, and I know from experience and from listening to others that you start one way, and you wind up somewhere else, right? So mobile, mobility, having an autonomous vehicle – can that happen in five years or ten years? Maybe the delivery aspect of autonomous vehicles. Maybe the non person in the car, if you will. The pizza delivery for lack of a better way of looking at it, may happen sooner than, let's say, a passenger riding for, you know, without having a steering wheel, practically. Like in, was it Blade Runner was the movie? So, I mean, that – that part might be a little further out, cause you have to build 5G –
Aarti [23:48 ]: Not as far out as you think, which is really the fascinating part of it. We're not Dubai, where we have drone taxis, you know? Because they can sort of put up whatever they want in the air. But I will tell you that in conversation with former FAA advisors, they will tell you it's right around the corner, and I'm sure, you know, Elaine Chao – Secretary Chao – she likes to use the word "self-driving", not driverless. And they are, you know, putting in policies for that. Because you think about the stretch of roads across America, right? Just the trucking, like – you can – that's why we have the first autonomous, electric truck to join us. I mean, they're – it's not that far. They're changing FAA regulations for drones. Is it a little awkward? Yeah. Like, I was sitting outside of a friend's place. There was a drone overhead, and I felt quite upset. Like, I felt so violated. But at the same time, if there is a way to start maximizing the air and, you know, creating more public space on the ground, that's interesting. So, I don't know the ramification.
Rico [24:54 ]: No no no. I agree with you. There are so many aspects to it. You have counties, you have cities, you have states, federal government – federal highway, state highway, state streets. I mean, there's so many regulations that have to come into bear on this. And then the technology, like Sprint, I mean. There's only certain amount of places that 5G enabled Sprint, right? Enabled areas and Sprint is one of the companies doing it. But one of the companies doing it with us in Technology Park, where our track is at. And so, because you really can't have autonomous vehicles without that 5G –
Aarti [25:29 ]: Right, with the infrastructure.
Rico [25:30] : So, just a lot of stuff. A lot of interesting – it's almost like sci-fi in a way, but it's really not because it's almost like near future, what's gonna happen.
Aarti [25:39 ]: Right, right. And I think it's so important communicating that to the public. They should feel part of it. That's why I used the basketball example, like, if they understood the technology could benefit them – yes, there's a lot of issues around it. I'll be the first to say, predictive analytics, the criminal justice space – things like that are major issues. But, you know, the one thing Europe has is GDPR, which we don't have in terms of privacy, which, you know, scares people. And rightfully so. So I think that there are issues around that. But, you know, part of this is what you said. It's to have a dialogue, for people to understand and to reframe their thinking. And to help people understand that they, too, have a role in the 21st century.
Rico [26:22 ]: Yeah, I think as much as Americans believe that we're exceptional to a degree, and that we sort of drive technology or the future in some way, there's a lot of different thinking outside the US. Right? Europeans, with their privacy – and some of the American companies are adopting anyway, because they know it's gonna come this way. And then you have a place like Japan with robotics because of their aging population. Now, how do you handle that, you know? People think robots like arms and legs, but it doesn't have to be. Could be a box, I mean, it's whatever it needs to be. So great stuff. If someone wants to be able to attend, this is over the 11th, 12th, 13th and 14th?
Aarti [27:05 ]: No, it's the 11th, 12th and 13th and the Georgia World Congress Center. Tickets can be purchased at www.SmartCityExpoAtlanta.com. I literally just dated myself because your child would just say SmartCityExpoAtlanta.com, and I put the "www" in front of it. And, but you know, they can reach out to us at info@SmartCityExpoAtlanta.com. We're happy to answer any questions. If people would like to attend the exhibit or are just curious, we love to engage and have them be part of this community.
Rico [27:41 ]: What about – can they follow on Instagram, Twitter, Facebook?
Aarti [27:49 ]: Yes, at @SCAtl and #SCAtl, I believe, are the handles. My team might kill me that I don't know that off the bat, but I do believe that those are it. And maybe you could post it when you post this.
Rico [28:06 ]: I think you are right. I think that is correct. And in fact, in the show notes, when people are listening to the podcast on this and on YouTube, I'll have it in the links below, so feel free to look through that. And I'll tag the Facebook page when this is up and going.
Aarti [28:22 ]: Perfect. And can I just – yes. And I'll send you a link. Perfect, great.
Rico [28:29 ]: So I'm gonna sign off, but you hang in there with me, Aarti. Thank you everyone for being with us. This is an interview with Aarti Tandon, CEO and co-founder of Smart City Expo Atlanta. My name is Rico Figliolini, host of Peachtree Corners Life, publisher of Peachtree Corners Magazine. Find us at LivinginPeachtreeCorners.com. I appreciate you joining us. Thank you.