Gwinnett Medical Center to Open Primary Care & Specialty Center in Peachtree Corners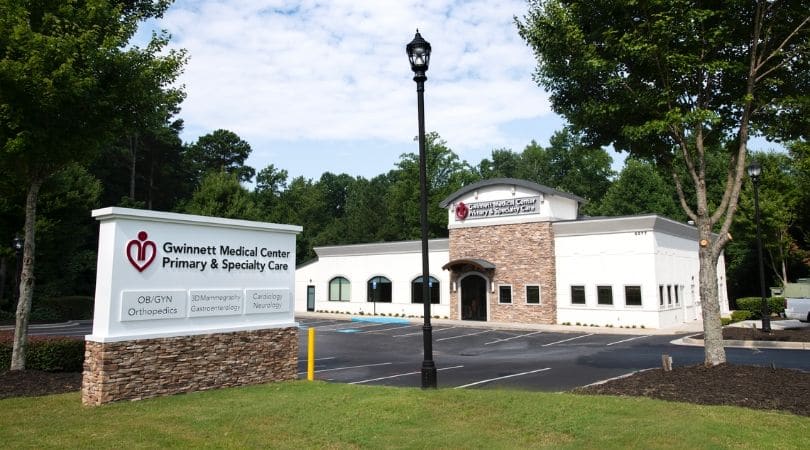 Gwinnett Medical Center announced today a new GMC Primary Care & Specialty Center will open August 5 in the heart of Peachtree Corners on Peachtree Parkway, putting accessible, industry-leading healthcare on the map for area residents.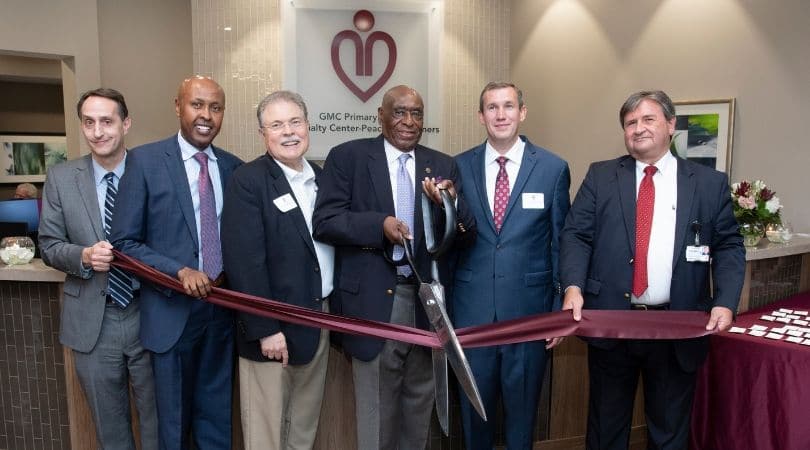 GMC Primary Care & Specialty Center-Peachtree Corners will deliver several exceptional services for individuals and businesses seeking specialized and preventative care. Offerings will include primary care and corporate health programs from GMG Primary Care, as well as cardiology, gastroenterology, obstetric and gynecologic care from a variety of local specialists. Additional, onsite offerings will include orthopedics, 3D mammography and digital X-ray.
Mike Mason, Debbie Mason (Peachtree Corners Festival Board of Directors Vice President), Jason Chandler (GMC Foundation President)

Lorri Christopher, Thomas Shepherd, Jay Dennard (GMC Senior Vice President and Chief Transformation Officer), L.C. Johnson

Lorri Christopher (Peachtree Corners City Council Member), L.C. Johnson (Board Member for both Gwinnett Medical Center and Southwest Gwinnett Chamber of Commerce)

Ben Ku (District 2 Commissioner for Gwinnett County), Thomas Shepherd (GMC Executive Vice President and Chief Operating Officer)
Barbara Joy Jones, DO, an alumna of GMC's Graduate Medical Education program, will serve as the lead primary care provider for the new facility.
"Delivering care that is both high-quality and convenient is instrumental to our mission of transforming healthcare," said Phil Wolfe, president and CEO of GMC. "We believe that the addition of this facility will further that mission and promote healthier communities."
GMC Primary Care & Specialty Center-Peachtree Corners

GMC Primary Care & Specialty Center-Peachtree Corners
To learn more about the new GMC Primary Care & Specialty Center-Peachtree Corners, visit gwinnettmedicalcenter.org/ptc. In addition, GMC is offering free concussion baseline testing August 5 from 8 a.m. to 5 p.m. and August 10 from 11 a.m. to 1 p.m. To register, visitgwinnettmedicalcenter.org/ptcbaseline. For questions, contact Kristy Crea at kcrea@gwinnettmedicalcenter.org.
About Gwinnett Health System
Gwinnett Health System (GHS) is the parent company of Gwinnett Medical Center, Gwinnett Medical Group and Sequent Health Physician Partners. GHS employs 5,000 associates and has 800 affiliated physicians serving more than 400,000 patients annually. Gwinnett Medical Center (GMC) is a nationally-recognized, not-for-profit healthcare network with acute-care hospitals in Lawrenceville and Duluth. Additional facilities include: the Gwinnett Women's Pavilion, the Gwinnett Extended Care Center, Glancy Rehabilitation Center, outpatient health centers and surgical centers, imaging centers and outpatient physical, occupational and speech therapy facilities. To learn more about how GMC is transforming healthcare, visit gwinnettmedicalcenter.org.
Construction on Pedestrian Bridge Underway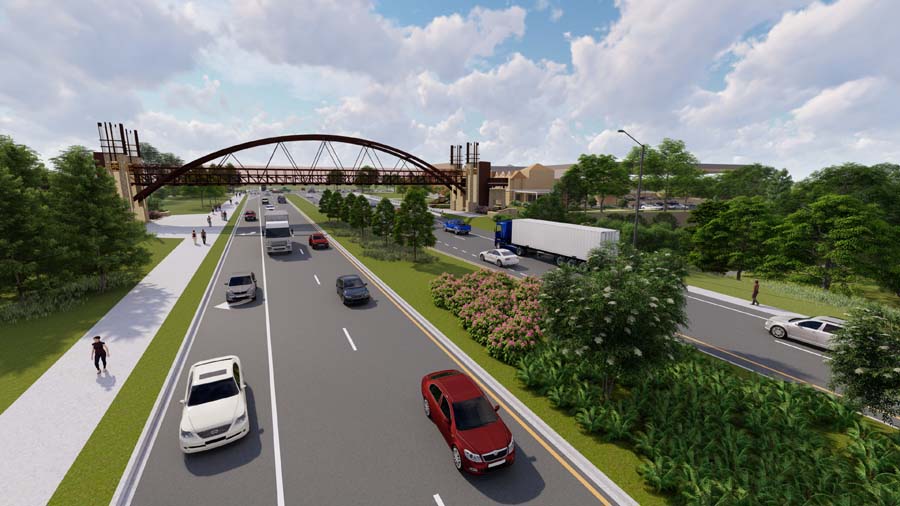 The Peachtree Parkway Pedestrian Bridge is now under construction thanks to the recent permit approval from the Georgia Department of Transportation. Construction is scheduled to continue for the next 14-16 months until completion.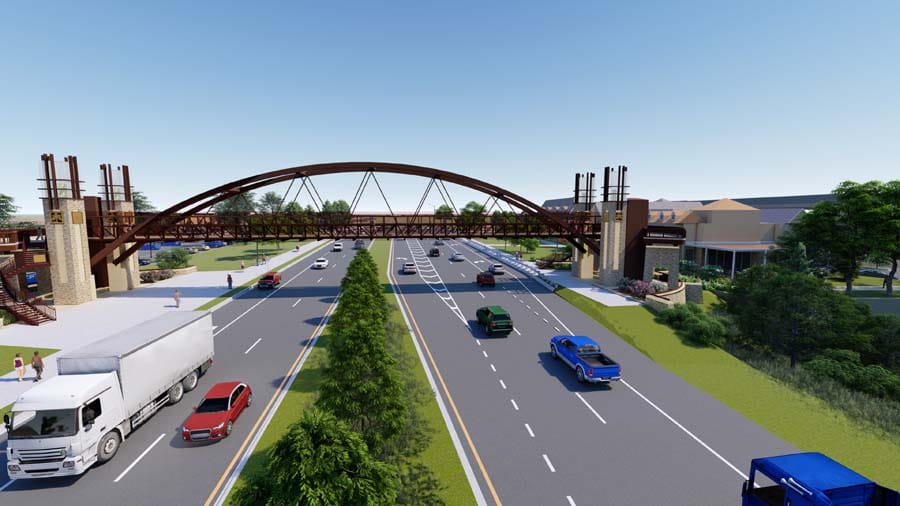 It will be a steel, thrust arch bridge connecting the multi-use path on the west side to the east side of State Route 141 that separates the Town Center and Forum developments. The design of the pedestrian bridge is intended to be a tribute to Jones Bridge, which stretched across the Chattahoochee River for decades and served as a namesake for many of the amenities and roads in the Peachtree Corners community.
Concrete barricades have been installed along northbound and southbound Peachtree Parkway that provides protection between the construction work zone and vehicular traffic. Lane closures or traffic interruptions are not anticipated, but any construction activities that require impact to the vehicular lanes will be kept to a minimum during off-peak hours only, and no permanent or long-term lane closures will be involved.
Initial construction for this project will involve driving piles for the foundation of the structural towers on each side of the bridge. The structure itself is being manufactured now and it will be delivered and installed in Spring 2020.
The installation process will require lane closures over a weekend, and information on that process and plans for detours will be disseminated as that information is finalized and the calendar approaches the scheduled dates for the work.
Volunteers Needed at County's America Recycles Day Event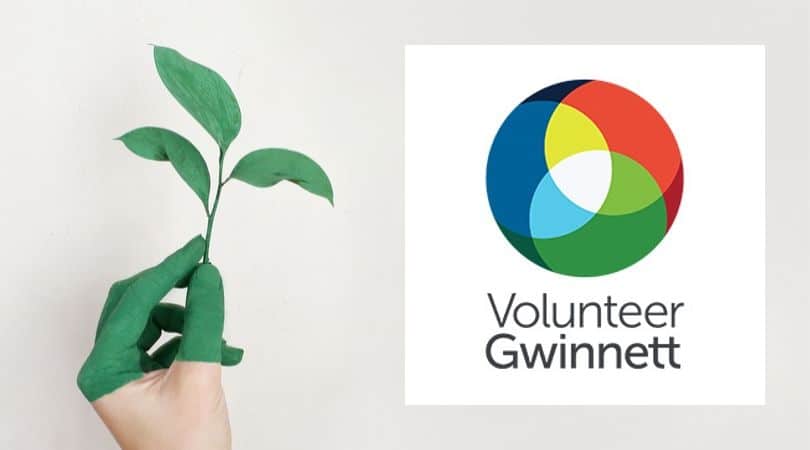 Help Gwinnett County maintain a sustainable environment by volunteering at the annual America Recycles Day event Saturday, Nov. 9 from 9am to 12pm at Coolray Field.
Gwinnett residents are invited to recycle paper, paint, electronics, tires, clothing, sneakers and ink/toner cartridges. Volunteers ages 14 and up are needed to unload vehicles, break down boxes, distribute recycling information and support other America Recycles Day activities.
The event is rain or shine. Volunteers should register at www.VolunteerGwinnett.net.
For more information, please contact Gwinnett Clean & Beautiful at (770) 822-5187 or email gwinnettcb@gwinnettcb.org.
Coolray Field is located at 2500 Buford Drive in Lawrenceville.
Prime Lunchtime with Brian Johnson – Olli, Autonomous Vehicles, 5G and Smart City