Gwinnett Medical Center to Open Primary Care & Specialty Center in Peachtree Corners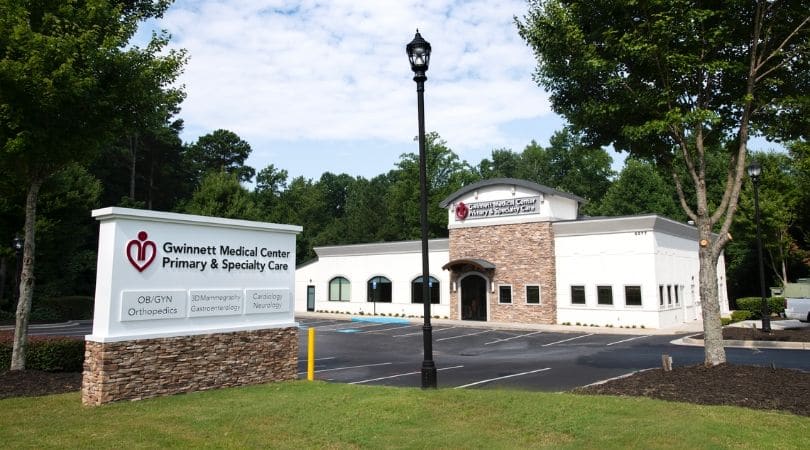 Gwinnett Medical Center announced today a new GMC Primary Care & Specialty Center will open August 5 in the heart of Peachtree Corners on Peachtree Parkway, putting accessible, industry-leading healthcare on the map for area residents.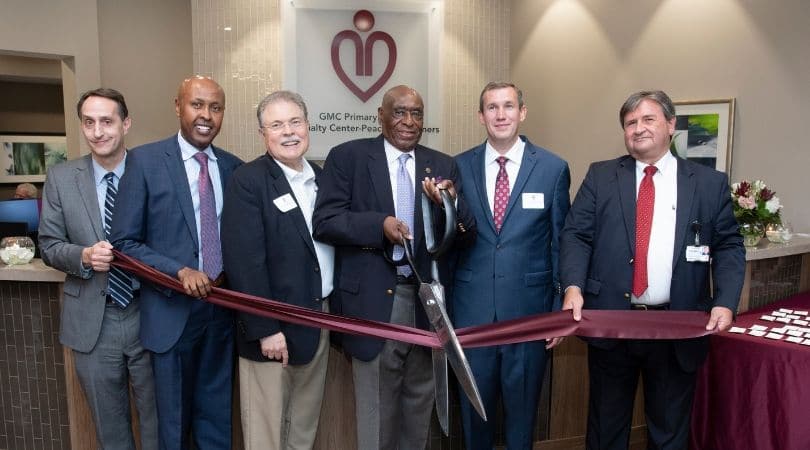 GMC Primary Care & Specialty Center-Peachtree Corners will deliver several exceptional services for individuals and businesses seeking specialized and preventative care. Offerings will include primary care and corporate health programs from GMG Primary Care, as well as cardiology, gastroenterology, obstetric and gynecologic care from a variety of local specialists. Additional, onsite offerings will include orthopedics, 3D mammography and digital X-ray.
Mike Mason, Debbie Mason (Peachtree Corners Festival Board of Directors Vice President), Jason Chandler (GMC Foundation President)

Lorri Christopher, Thomas Shepherd, Jay Dennard (GMC Senior Vice President and Chief Transformation Officer), L.C. Johnson

Lorri Christopher (Peachtree Corners City Council Member), L.C. Johnson (Board Member for both Gwinnett Medical Center and Southwest Gwinnett Chamber of Commerce)

Ben Ku (District 2 Commissioner for Gwinnett County), Thomas Shepherd (GMC Executive Vice President and Chief Operating Officer)
Barbara Joy Jones, DO, an alumna of GMC's Graduate Medical Education program, will serve as the lead primary care provider for the new facility.
"Delivering care that is both high-quality and convenient is instrumental to our mission of transforming healthcare," said Phil Wolfe, president and CEO of GMC. "We believe that the addition of this facility will further that mission and promote healthier communities."
GMC Primary Care & Specialty Center-Peachtree Corners

GMC Primary Care & Specialty Center-Peachtree Corners
To learn more about the new GMC Primary Care & Specialty Center-Peachtree Corners, visit gwinnettmedicalcenter.org/ptc. In addition, GMC is offering free concussion baseline testing August 5 from 8 a.m. to 5 p.m. and August 10 from 11 a.m. to 1 p.m. To register, visitgwinnettmedicalcenter.org/ptcbaseline. For questions, contact Kristy Crea at kcrea@gwinnettmedicalcenter.org.
About Gwinnett Health System
Gwinnett Health System (GHS) is the parent company of Gwinnett Medical Center, Gwinnett Medical Group and Sequent Health Physician Partners. GHS employs 5,000 associates and has 800 affiliated physicians serving more than 400,000 patients annually. Gwinnett Medical Center (GMC) is a nationally-recognized, not-for-profit healthcare network with acute-care hospitals in Lawrenceville and Duluth. Additional facilities include: the Gwinnett Women's Pavilion, the Gwinnett Extended Care Center, Glancy Rehabilitation Center, outpatient health centers and surgical centers, imaging centers and outpatient physical, occupational and speech therapy facilities. To learn more about how GMC is transforming healthcare, visit gwinnettmedicalcenter.org.
Tara's Journey Leads to a Healthier Path for Georgians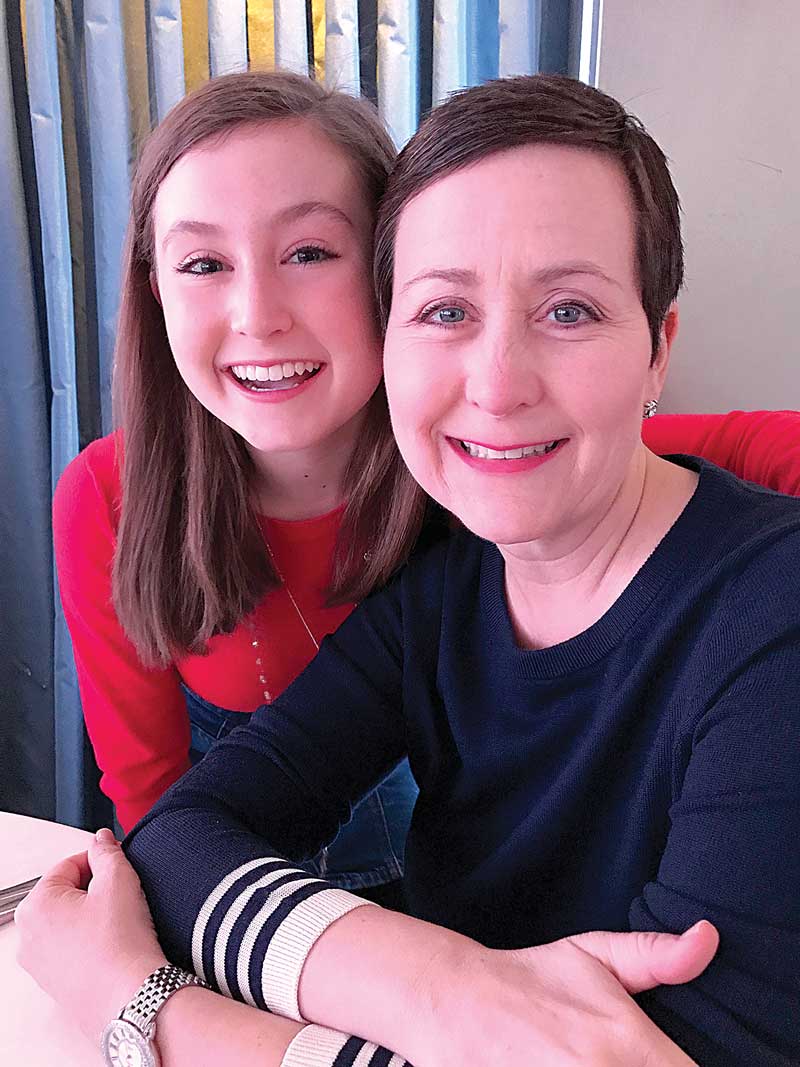 Peachtree Corners resident Rich DeAugustinis is driven in what he's doing to bring about specific legislative changes for Georgia. It's important.
That's because Tara, his late wife and teenage daughter Aubrey's mom, lost her battle against mesothelioma far too soon.
"Most Americans aren't even familiar with the disease," Rich said. "It's a rare cancer, but deadly."
Tara's Journey
Tara was diagnosed with mesothelioma (or meso) in early 2016 at age 45. Just before her lung surgery in 2016, she wrote: "I am mentally and physically ready. I know this will be difficult, but I am a fighter."
Throughout her 15-month ordeal, with surgery, setbacks and sadness, Tara pushed forward with all her strength. As the months slipped by, the DeAugustinis family continued to share their thoughts, as well as prayers for their family, friends and for those who might be facing similar circumstances.
By November of 2016, Rich wrote: "Tara will be continuing radiation treatments through Thanksgiving week. As a result, we expect the next couple of months to remain challenging."
By spring of 2017, the journal betrayed a hint of sorrow: "This week we have learned that Tara's latest scan shows the mesothelioma has spread to her remaining left lung, and also in the abdomen and in several lymph nodes. Bottom line," Rich wrote, "the immunotherapy is not working."
Tara continued to be strong as she added later: "So what is next?… I keep fighting…We focus on one day at a time. I start a new drug protocol at the end of the month. It is a combination of two immunotherapy drugs."
But, on May 19, 2017, her husband added his most heartbreaking note: "Tara's battle with mesothelioma is coming to an end…we don't know how much time she has left."
Sadly, four days later, Tara died.
What's Next?
Working through a tremendous amount of personal grief, Rich knew he had to change the public's awareness of meso through education.
"That first year, I was shell-shocked," he admitted. It took him about a year to emerge. He wanted to move forward with his life and be the father his daughter needed.
When he decided to take on the battle of educating others about meso, he realized how difficult it was to find credible information. In fact, it was challenging.
Many folks don't have the resources that Rich does. As a highly educated Georgia Tech alum and 30-year Coca-Cola executive, he has the background to understand the research and the finances to travel wherever is necessary. So today, he is fighting for Tara as well as all the families who experienced meso before her and those who are experiencing it today.
Finding the Cause
Meso is associated with environmental and occupational inhalation exposure to asbestos fiber, according to the experts. Rich said that meso's delayed attack can take place decades after initial exposure. "Asbestos is still very much present in the community around us," he said.
For years, asbestos was widely used as a form of insulation in many industries. People who worked in paper mills, shipbuilding or construction are particularly vulnerable. The microscopic fibers can get lodged in the lining of the lungs or tissue surrounding other organs. Loose asbestos fibers breathed into the lungs can cause several serious diseases—including malignant mesothelioma.
Tara didn't work in any of those industries. She was exposed to baby powder during her childhood years, according to her husband. And it is that powder that Rich believes contained asbestos.
"I believe that's what happened to my wife," he said.
This led to his conviction that Georgia should ultimately ban asbestos in all products. Although the dangers of asbestos are well known, and building codes were changed throughout the 70s because of it, the use of asbestos is still alive and well in Georgia, Rich said.
"Many people think of asbestos as yesterday's problem," he explained. "It's today's problem, too. Years ago, we figured out it was a deadly carcinogen."
A Day of Mesothelioma Awareness
To support meso awareness, Rich and his daughter Aubrey were at the state Capitol on September 26, 2019. The date was proclaimed Mesothelioma Day by Georgia Governor Brian Kemp.
Rich and Aubrey were joined by state Rep. Beth Moore and state Sen. Sally Harrell, both of whom plan to introduce legislation to ban asbestos in products during the current legislative session. At the Capitol, Rich took time to share his wife Tara's battle with the debilitating disease.
"Tara lost everything to mesothelioma," he said, "and we lost Tara."
Continuing the Journey
Today, Rich is on the board of the Mesothelioma Applied Research Foundation, a nonprofit charity dedicated to ending meso and its suffering. For him, success would be "banning asbestos completely and educating the public about its dangers."
Asbestos has been banned in 55 countries worldwide, according to asbestosnation.org. Rich stated that most people don't realize that among industrialized nations, the U.S. is one of the few that doesn't have a ban on asbestos. "There's no such thing as an understandable or acceptable cost to including asbestos in any products," he said.
Meso is one of the most painful and difficult cancers for any human being to go through, Rich said, "and yet it propels me to get out of bed every day to fight the good fight." He added that he'll be motivated for the rest of his life to help drive the necessary legislative changes for Georgians.
"Tara's death was a preventable tragedy," Rich said. "I'm seeking justice. I want society to make different decisions to protect the health of our citizens. It's only those who are left behind, who have had their lives profoundly and completely changed by this disease, who can say, "this is unacceptable." ■
Tara's Journal
When death comes to one mother, one daughter, just one person, it takes on a deeper meaning. To help others understand Tara's journey, the family shared their deepest feelings from the beginning to end. Every stage of the journey has been chronicled in Tara's journal, which is online at
curemeso.org/blog/tara.

Mesothelioma Applied Research Foundation
703-879-3820, curemeso.org
American Cancer Society
800-227-2345, cancer.org/cancer/malignant-mesothelioma.html
National Institutes of Health (NIH)
National Cancer Institute (NCA)
800-422-6237, cancer.gov/types/mesothelioma
Centers for Disease Control and Prevention (CDC)
Agency for Toxic Substances and Disease Registry (ATSDR)
800-CDC-4636
Sign Up Now for Youth Sports Leagues and Camps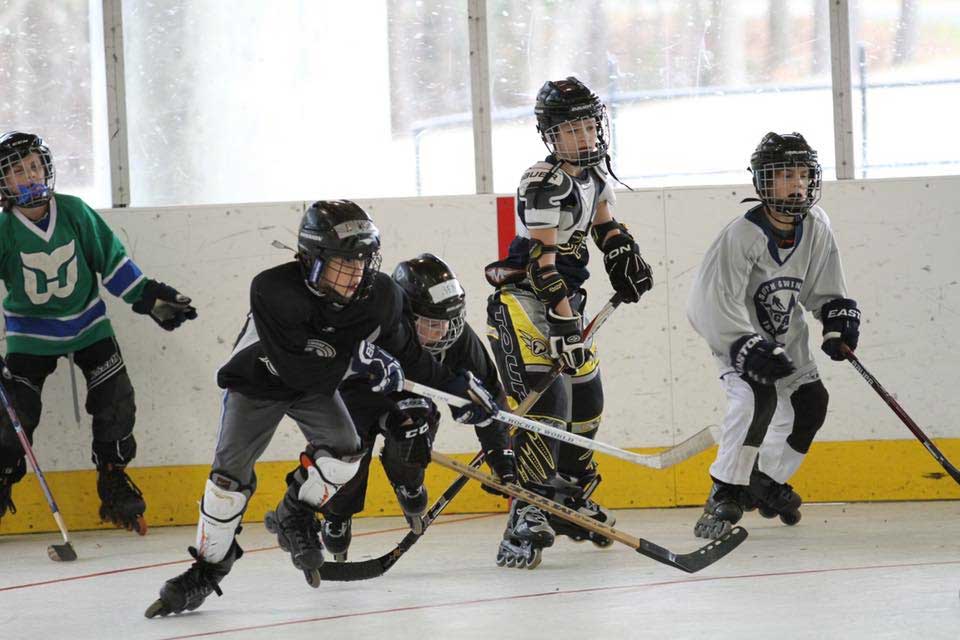 Registrations for spring and summer youth sports leagues are now well underway. If you're interested, don't delay. Get signed up now.
Soccer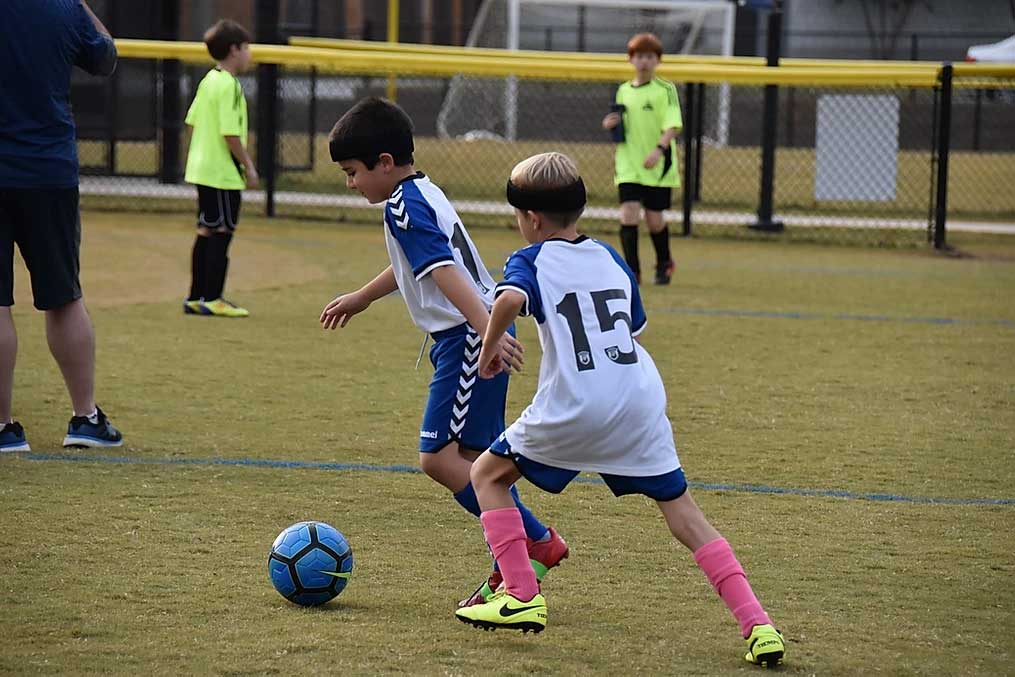 The Peachtree Corners Football Club has seven soccer teams for ages U4 to U16 that play their games at Jones Bridge Park. The spring season starts March 7 and runs through to May; registrations are open now.
According to their website, "the goal of PCFC Recreational Soccer is to offer a fun, exciting soccer experience where kids get to learn the game with their friends in a safe environment." Visit pcfcsoccer.com for more details and to register.
At Robert D. Fowler Family YMCA, Youth Soccer is open for registration to members. The U4 coed league is an instructional Saturday-only program designed to get kids familiar with soccer fundamentals. The season runs March 14 to May 5 and costs $100-125.
U6, U8, U10 and U12 are coed teams that practice one night a week with games on Saturday morning. Practices start the week of Feb. 24; the first weekend of games is March 7 and the season goes through to May 16.
Youth volleyball, for ages 6 through 14, will also be offered this spring. And Tae Kwan Do classes are available through the year at Fowler YMCA. Check out ymcaatlanta.org/ymca-locations/norcross for costs, details and to register.
T-Ball and Baseball
Peachtree Corners Baptist Church (PCBC) has several youth spring sports leagues that are filling up quickly. T-Ball, for boys and girls ages 4 and 5, and Baseball, for ages 6 and 7, run from March to May. The cost of $140 includes a preseason clinic, the seven-game season, umpire, trophies and more. Weekly practices are held on weekday evenings and games are on Saturdays. Find out more at pcbchurch.org.
If you miss out, don't worry. Peachtree Corners Baptist Church has baseball and basketball summer camps for several age groups. There's even a Dodgeball Day on July 24 for ages 8 to 12. PCBC camp info is at pcbchurch.org/camps.
Gwinnett County Parks & Recreation offers Jump Start Sports Camps by working with local instructors and sports-based businesses. All-Star Baseball/Softball, as well as other week-long sports camps, are held through the summer at Pinckneyville Park. Kids ages 4 through 12 can choose from World Cup Soccer, Flag Football/Cheer, Olympic Sports Camp and much more. The Parks & Recreation pages at gwinnettcounty.com will have updated info.
Roller Hockey
Registrations are open for youth roller hockey teams.
Norcross Roller Hockey, in partnership with Gwinnett Parks and Recreation and Peachtree Booster Club, is a recreational and travel roller hockey program based at the Pinckneyville Park Rink.
There are two youth teams: Street Cats Jr. (ages 4 to 6) and Youth Hockey (8U to 18 U). Registration runs from Feb. 18 to March 4; late registration is March 5 to 31. The youth hockey season starts March 9 and goes through May 17.
Registration costs are $60 to $80 for Street Cats Jr. and $120 for Youth Hockey. Norcross Roller Hockey also has travel hockey and adult hockey teams. Go to norcrossrollerhockey.com to register, find out more or volunteer.
Summer Camp, Where Every Day is an Adventure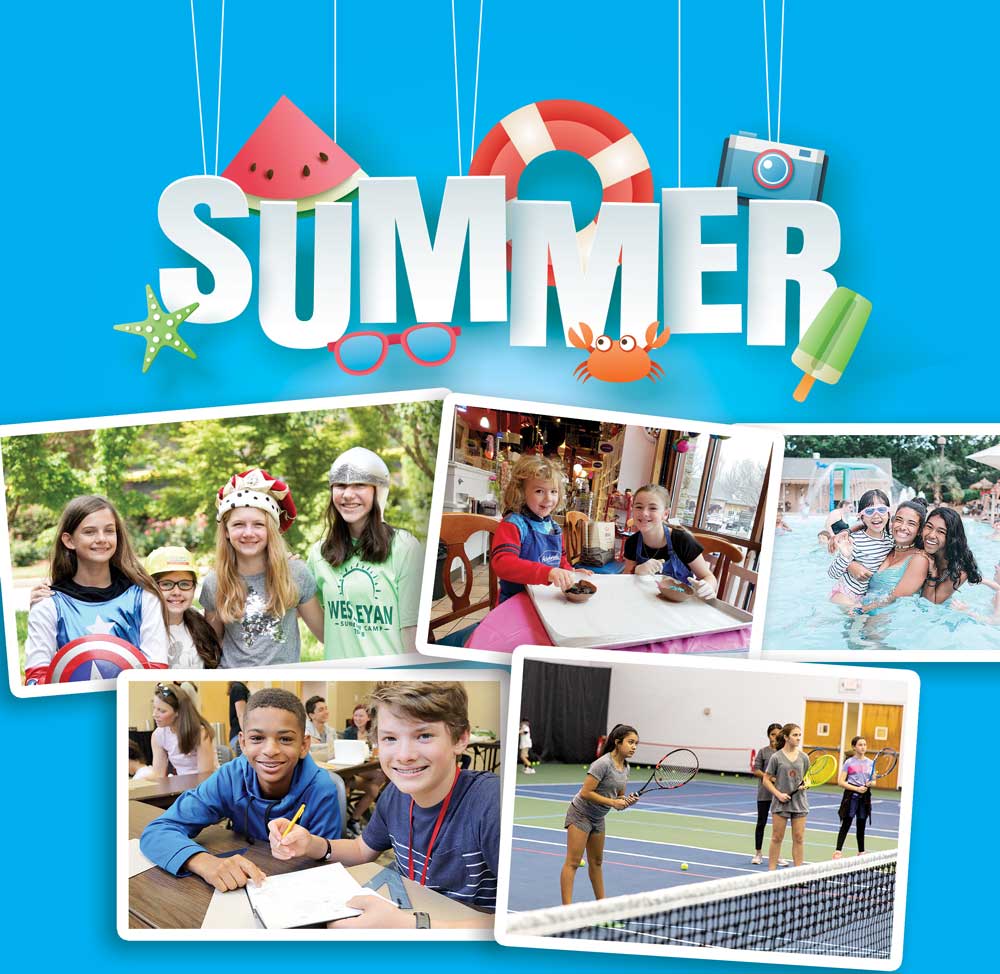 There's no reason for students to get bored during summer break. With all the camp opportunities in the Peachtree Corners area, there's bound to be something that will spark their interest and keep them active. Sure, they'll have fun, and they may even learn something new.
Don't wait to get them signed up, though. Space fills up quickly, so it's best to get registered as soon as you're able.
Schools Stay Open for Summer Fun
Even though school sessions are suspended for summer, that doesn't mean the campuses close down. Many open their doors for summer camps.
Greater Atlanta Christian (GAC) offers a variety of summer camps. There are two separate full-day camps for lower school and middle school children that include activities and field trips. In addition, GAC has camps that feature a full range of sports, fitness and specialties.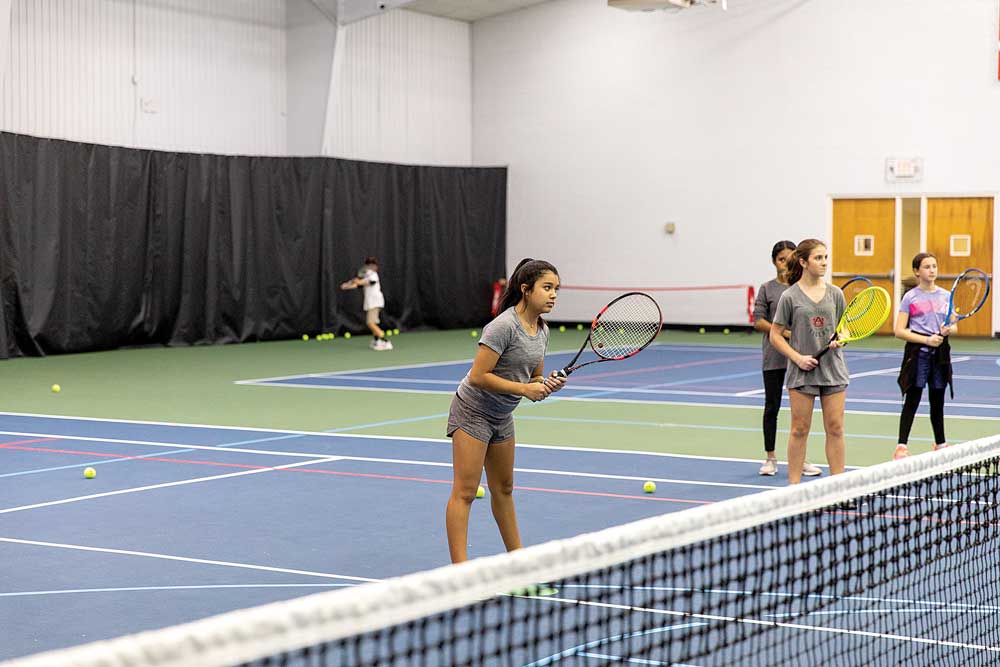 Campers can choose from baseball, flag football, cheerleading, swimming, golf and tennis. GAC is the only K-12 school in Georgia with an indoor tennis facility. It's state-of-the-art, air conditioned and winner of the 2019 USTA Outstanding Facilities Award. GAC's tennis pro also received an award: Tennis Director of The Year, State of Georgia 2019.
All kids are welcome at GAC summer camps; they don't have to be GAC students to attend. Visit greateratlantachristian.org/summer-camp for details and to register.
The Summer Adventure Club at the Primrose School of Peachtree Corners is designed for ages 5 to 12. It allows children to become artists, explorers and scientists as they're challenged by experiments and other themed activities. Register and get more info by calling the school at 770-409-8732 or visiting their website, PrimrosePeachtreeCorners.com.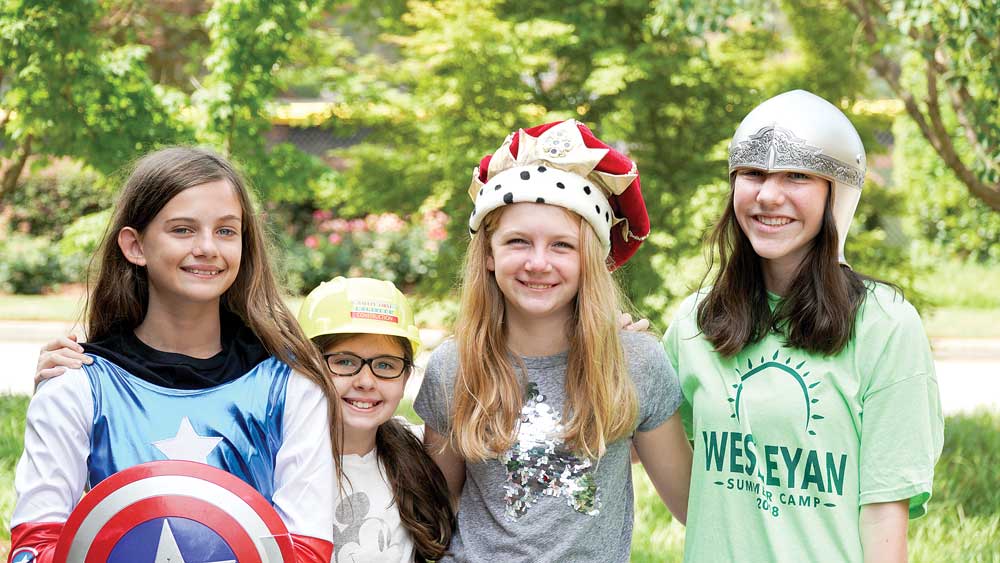 For children aged 4 to 14, Wesleyan School's summer camps run half or full day. The camps cover everything from athletics and arts to STEM and study skills. Camp topics include Adulting 101 and Intro to Babysitting, as well as architecture, cooking and baking, coding and Lego robotics, creative writing, theatre and improv, sewing, movie making and forensic science.
The sports camps include baseball, basketball, football, soccer, lacrosse, tennis and volleyball. Lunch and a snack are included in full-day camps; before and after care is also available. Campers do not need to attend Wesleyan to participate in camp. Learn more at wesleyanschool.org/summercamps.
It's worth the trip to Athens, Ga. for your child to attend camp at UGA Summer Academy. Not only do students stay academically engaged while school is out, they can explore their own interests and passions.
UGA hosts several academic camps for ages 11 to 17. A sampling of the available specialties includes animation, film, mini-medical school and game design. Registration opens Feb. 5, 2020, and financial aid is available for students based on need. Visit georgiacenter.uga.edu/youth or call 1-706-542-3537 for the full list of programs and to register.
Other Spots to Enjoy Camps
Peachtree Corners Baptist Church offers several sports camps through their recreation ministry. But there's much more, like a Beach Camp, for students who have completed grades 6 to 12, from May 31 to June 5, or Lifeway's "Concrete and Cranes" Vacation Bible School running June 8 to 12, 8:45 a.m. to 12 p.m., for children who have completed Kindergarten through grade 5.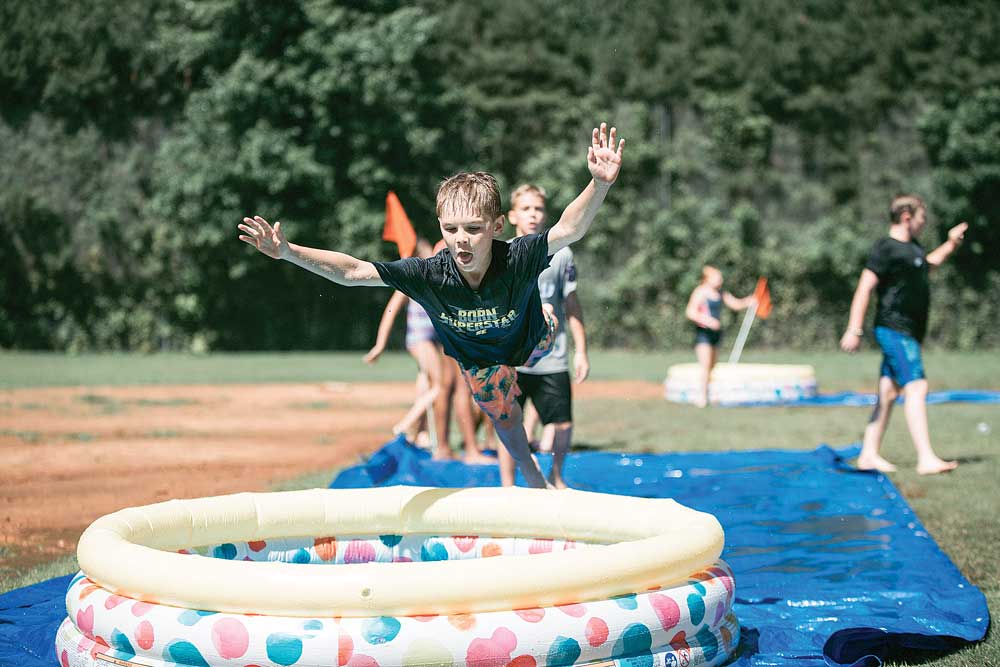 Centri-Kid Camp, July 6 to 10, will be offered at Shocco Springs Retreat Center in Talladega, Ala., for kids who have completed grades 3 to those in grade 5. Take advantage of early bird pricing through Feb. 28 for Peachtree Corners Baptist Church's Summer Daze camp for children aged 2½ to those who have completed grade 3; it runs 9 a.m.-1 p.m. on Tuesdays and Thursdays, from June 23 to July 23. Register and get additional info at pcbchurch.org.
At Robert D. Fowler Family YMCA, there are so many camp opportunities that choosing can be a challenge. Sports lovers can pick from gymnastics, cheerleading, soccer, baseball, basketball, flag football, volleyball and more. There's also swim and skate camp.
Junior Ranger Camp, a traditional camp with full and half-day options for ages 5 to 12, takes students on nature walks, canoeing and swimming in the Chattahoochee River National Recreation Area, park of the National Park Service.
That's not all. There's also half-day preschool camp for ages 4 to 6, full-day teen camps for ages 13 to 15 that prepare them for leadership, and specialty camps including STEM, film and creative arts. To find out more and register, go to ymcaatlanta.org, click on Summer Camp and choose the Robert D. Fowler location.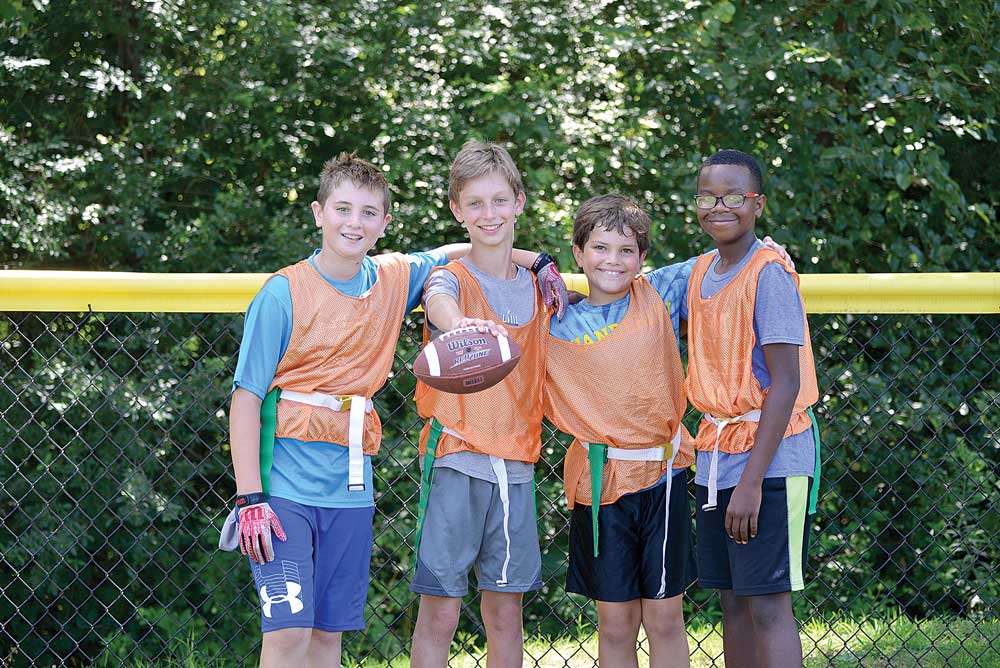 Marcus Jewish Community Center of Atlanta hosts their MJCCA Summer Day Camps for Pre-K to grade 10 students from May 26 to August 14 in three locations: Dunwoody, Intown and East Cobb. Some of the unique camps available are Sports Broadcasting, led by Atlanta Hawks' very own Bob Rathbun, and Teen E Sports, which combines the best of both the real and virtual sports worlds.
Sports camps include the Atlanta Hawks Basketball Camp with Hawks' professional team of coaches leading focused practices and games. Partnering with Concorde Fire, MJCCA Camps offer a one-of-a-kind soccer camp experience, challenging campers both technically and tactically.
Some of the new active 2020 MJCCA Day Camps are American Ninja Warrior (for teens), Bring the Hype Dance Camp, Challenger Soccer Camp, Cheer and Dance Camp and Dancing with a Purpose. Campers can also opt for MJCCA Day Camps' Camp Isidore Alterman (CIA), where they can enjoy lake activities, archery, ropes course, zip-lining, outdoor cooking, swimming and fishing. To register, go to mjccadaycamps.org or call 678-812-4004.
Gwinnett Parks & Recreation works with local instructors and sports-based companies to offer a variety of camps where kids can learn new sports and enhance their skills. Sports camps include baseball/softball, basketball, soccer, flag football and tennis.
Adventure Camp, for ages 7 to 13, and Jr. Adventure Camp, for ages 5 and 6, feature general recreation activities with a different theme each week. For example, the June 1 to 5 camp theme is Earth, Wind & Fire which will allow campers to explore the elements, and July 20 to 24's Full Steam Ahead camp will explore renewable energy with STEAM activities. Campers should bring a lunch, snack and drink daily. Camp runs from 7:30 a.m. to 6 p.m. daily, and costs $126 per child per week of camp.
Register for Gwinnett Parks & Recreation sports camps and Adventure Camps at gwinnettcounty.com. Click on Departments, then Community Services, then Parks & Recreation, then Camps and, finally, Camp Registration. You'll find the full listing of all the available options with details.
The weekly themes at Lifetime Fitness summer camps span many interests—animation, dinosaurs, glitter and slime, emojis, escape rooms, space travelers and so much more. All the activities focus on healthy eating, physical activity, character development, community connections and STEAM. Call Lifetime Fitness in Peachtree Corners at 770-449-6060 for more information and to get signed up.
Full-day camps at Camp All-American are for kids aged 5 through 17 and feature Bible study, physical activity and a wide range of specialties. Camp runs for 10 weeks and is held at Perimeter Church in Johns Creek. Day camps for students in grades 1 to 6 are held at Dunwoody Baptist Church. Get more info and register at campallamerican.com.
Special Times with Specialized Camps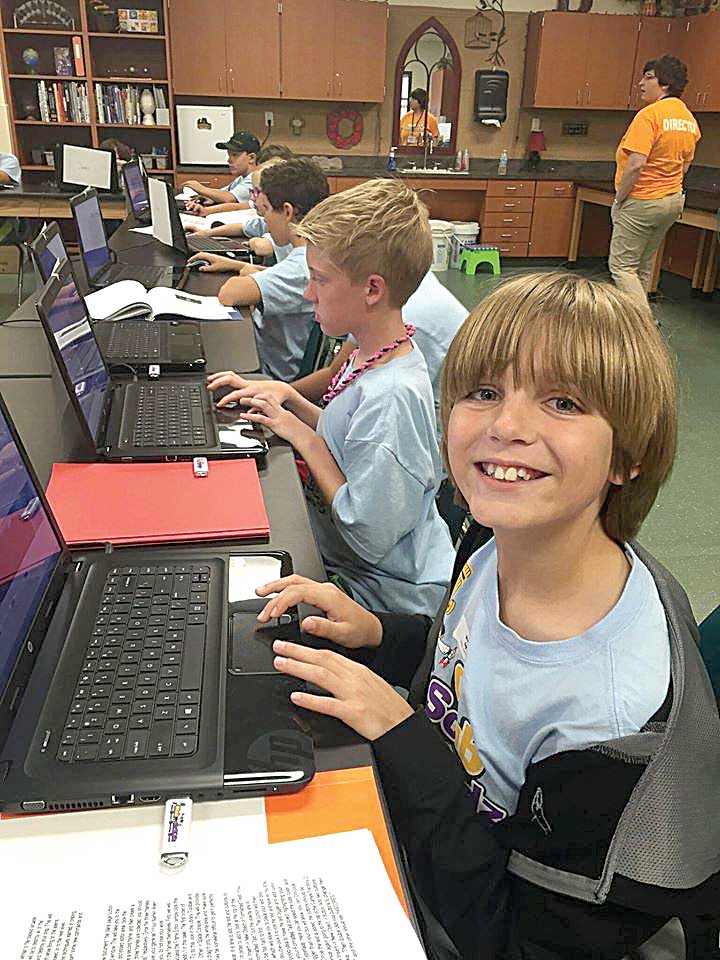 Each summer, Club SciKidz offers four themed camps for grades Pre-K to 5. Themes this year are By the Beautiful Sea, Cosmic Cookie Dough, Robot Rumble and Coding Kaleidoscope. The American Girl camp is open campers in grades 1 to 5.
Campers in grades 5 to 8 can choose from the Tech Scientific division. Concentrations include Veterinary Medicine, 3D Printing, Chemistry, Rocketry, Drones, Stop Motion Animation, Harry Potter, Minecraft with Java Programming and Advanced LEGO Robotics.
Each day, campers rotate through four classes that incorporate science, technology, art and an outdoor component. Pre-camp and post-camp hours are available. Club SciKidz camps are held at several locations near Peachtree Corners, including Duluth First United Methodist Church. Enroll and get details at ClubSciKidz.com.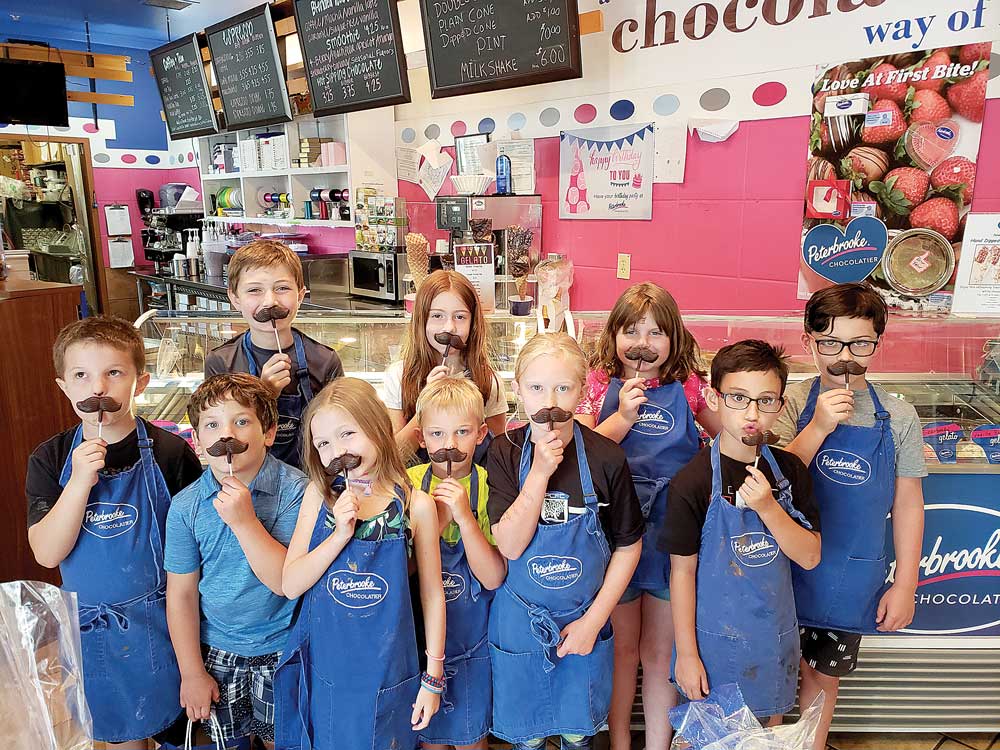 Does your child love chocolate? The answer is probably yes. Consider Chocolate Summer Day Camp at Peterbrooke Chocolatier at the Forum. Not only will campers learn all about the history of chocolate, they'll also get to be chocolatiers for the day. After dipping caramel apple, pretzels, Oreos, potato chips and graham crackers into Peterbrooke chocolate, the kids will package their creations to take home.
Camp is held every Tuesday, Wednesday and Thursday, May 31 through August 9. The daily session cost of $50 per child includes Jason's Deli Lunch and gelato for dessert, and of course, Peterbrooke Chocolate. Space is limited; call Peterbrooke Chocolatier at the Forum for details at 770-817-8118.
New this year is the Animal Ambassador Camp with Gwinnett Animal Welfare and Enforcement for children aged 7 to 14. Students can become a junior animal ambassador by learning all about pet care. The $80 per week cost includes animal interaction, arts and crafts, educational activities and special guests. Camp runs 12:30 p.m. to 4:30 p.m.; register at GwinnettAnimalWelfare.com.
At Autrey Mill Nature Preserve & Heritage Center in Johns Creek, kids are encouraged to reconnect with nature and history. Campers enjoy activities and learning opportunities while having time to explore and imagine. There are several options of full-day summer camps for campers 5 to 13 years old; half-day camps are available for 4-year-olds. Find schedules and more at autreymill.org. ■