Peachtree Corners Swim Teams Shine at 2019 County Championships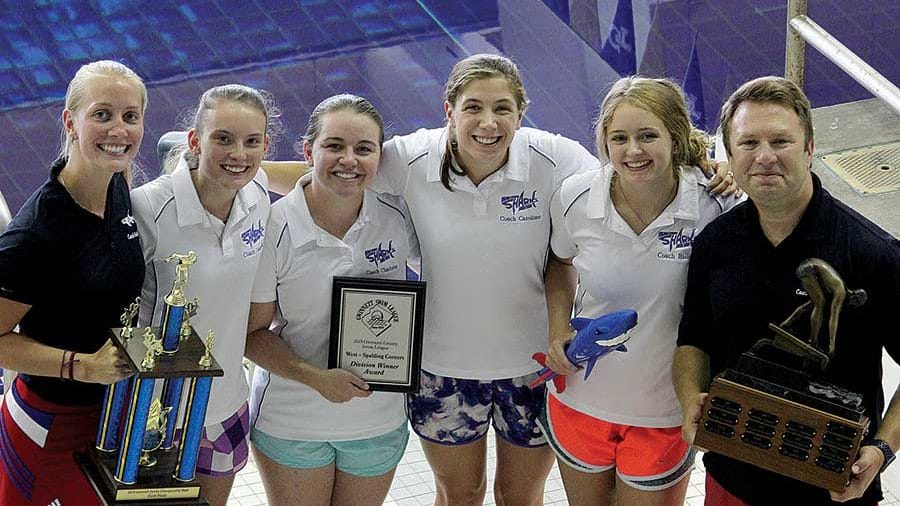 One year after finishing third and two years after finishing second, the Spalding Corners swim team decisively claimed their first Gwinnett Swim League (GSL) Championship on Sunday July 14 at the McAuley Aquatic Center at Georgia Tech.
The championship was the first by a Peachtree Corners area team in over a decade.
Seeded third entering the Championship weekend, the Sharks pulled ahead in the final session on Sunday afternoon to earn their first title ahead of the Lansmoore Lasers from Suwanee. The Thunderbolts, Wild Timber and Chateau Elan rounded out the top five.
"This meet was not only won because of the coaches," said Spalding Corners Co-Coach Willie Hildebrand afterwards. "It was won because of our swimmers and our parents. Our swimmers did what they were set out to do and they swam their best, making their best times."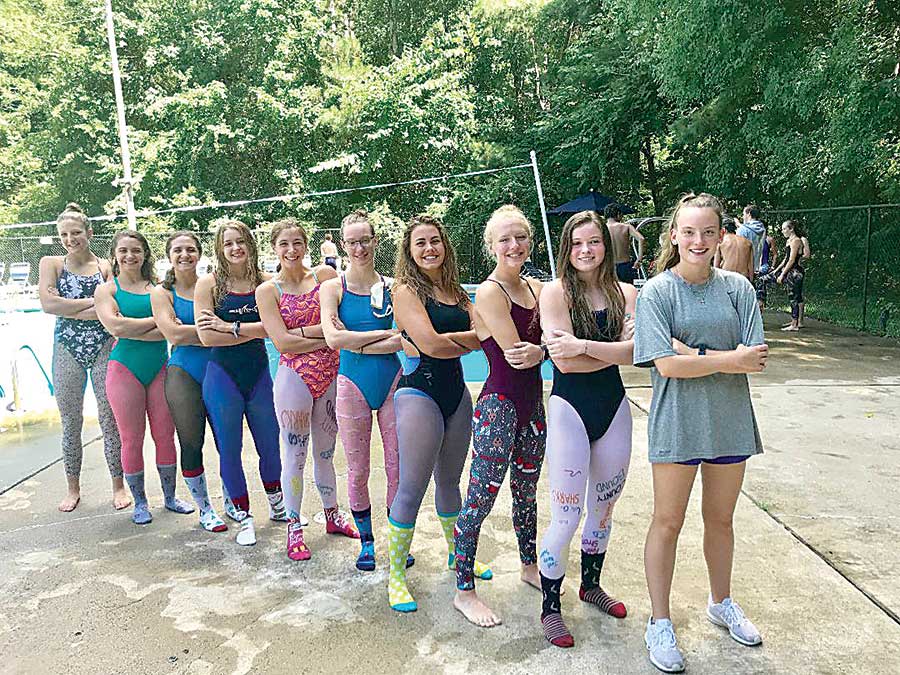 "We knew that it was going to be a very close meet between our team, the Thunderbolts and Lansmoore," added Hildebrand. "All three coaches knew that it was going to be a dogfight from the first session to the last. We were seeded third place for the meet. So, we still had a bit of a hill to climb (to win the championship)."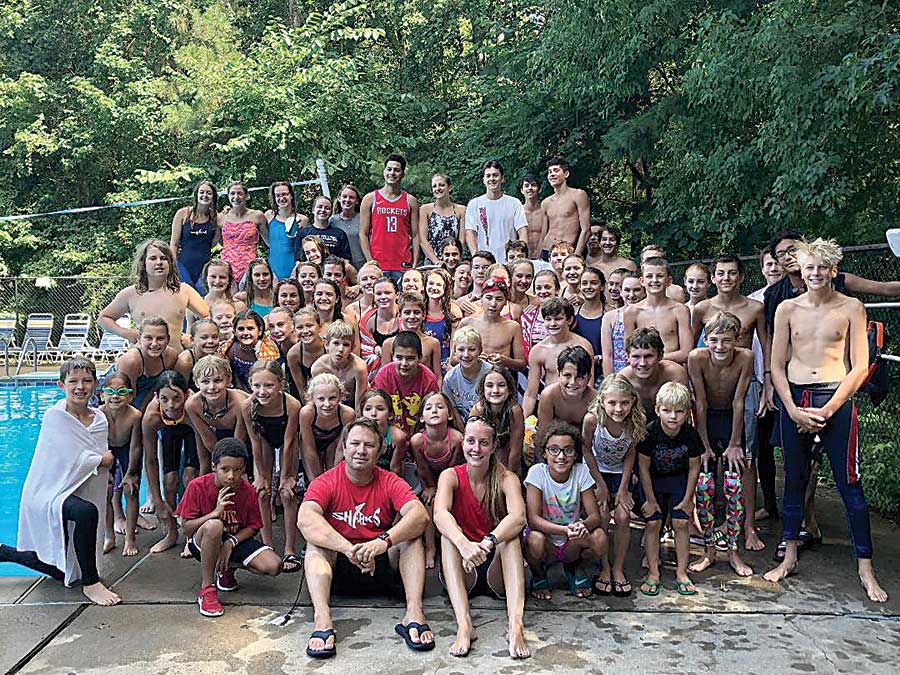 Spalding Corners finished ahead of 3 other local teams — Peachtree Station (8th place), Fields Club (14th Place), Peachtree Corners (16th Place) — to wrap up a very strong performance for all Peachtree Corners area summer swim teams. "This is the first time a team not from the Northern Division has won County in over 11 years," noted Hildebrand.
In all, over 2000 swimmers from 43 different teams across Gwinnett County competed over two days at the venue which hosted the 1996 Olympic Swimming & Diving competitions.
"There was no particular standouts as to any age group or swimmers explaining how we won (the championship). It came down to every swimmer showing up, every parent bringing their kids and every coach doing a whole lot of work for the last two months," said Spalding Corners Co-Coach Kailyn Dunn.
"We had many times where we were ranked first before county, but this is the first time we have ever actually had a relay finish first," added Hildebrand. The 8-and-under boys' relay team (Kolton Regina, Braxton Romeyn, Tony Martelli and Lawson Parton) won both the freestyle and medley relays. Savannah Moss, also 8 and under, won the Girls' 25 Freestyle event for Spalding Corners with a time of 16.60 seconds.
Catie Choate (Fields Club) and Emma Livezey (Peachtree Station) finished first and second in the Girls 13/14-year-old age group. Choate swept three events (50-yard Freestyle, 50-yard Backstroke and 50-yard Butterfly) while Livezey won the 100-yard Freestyle, took 2nd place in the 50-yard Freestyle plus 3rd place in the 50-yard Backstroke.
Berkeley Hills' Ryan Qi won the overall Boys 7/8-year-old division, sweeping three individual events – 25-yard Backstroke, 25-yard Freestyle and 50-yard Freestyle. Peachtree Corners' Tripp Wiggins took 3rd overall in the Boys U6 division with a pair of third place finishes in the 25Y Backstroke and Freestyle. ■
— Special to Peachtree Corners Magazine by Sonny Pieper, with Marilyn Whitmer
Construction on Pedestrian Bridge Underway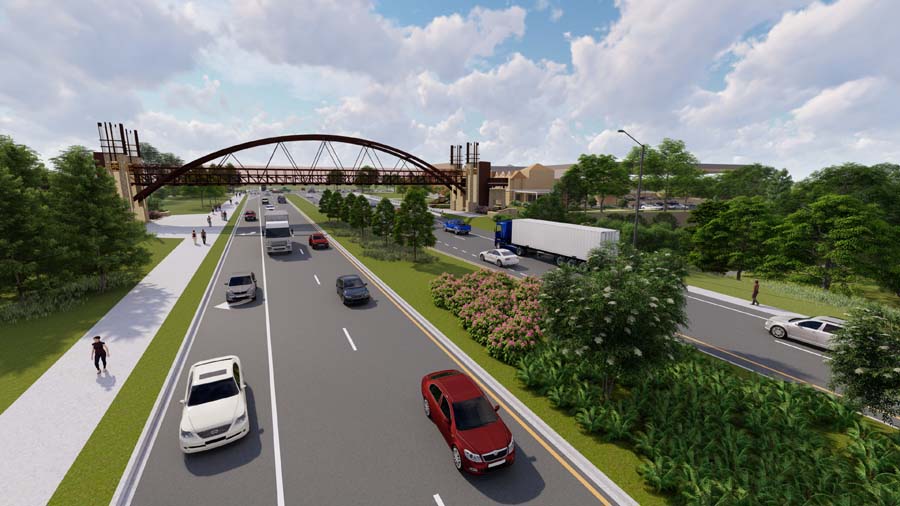 The Peachtree Parkway Pedestrian Bridge is now under construction thanks to the recent permit approval from the Georgia Department of Transportation. Construction is scheduled to continue for the next 14-16 months until completion.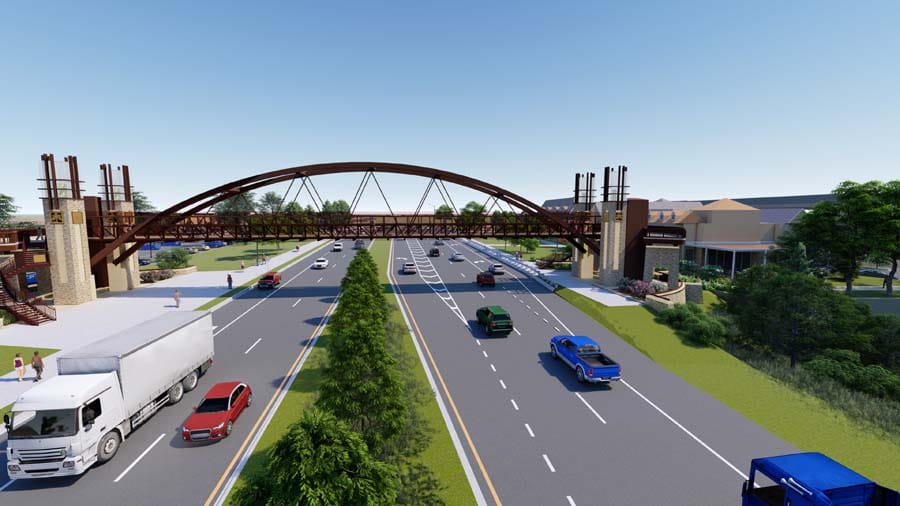 It will be a steel, thrust arch bridge connecting the multi-use path on the west side to the east side of State Route 141 that separates the Town Center and Forum developments. The design of the pedestrian bridge is intended to be a tribute to Jones Bridge, which stretched across the Chattahoochee River for decades and served as a namesake for many of the amenities and roads in the Peachtree Corners community.
Concrete barricades have been installed along northbound and southbound Peachtree Parkway that provides protection between the construction work zone and vehicular traffic. Lane closures or traffic interruptions are not anticipated, but any construction activities that require impact to the vehicular lanes will be kept to a minimum during off-peak hours only, and no permanent or long-term lane closures will be involved.
Initial construction for this project will involve driving piles for the foundation of the structural towers on each side of the bridge. The structure itself is being manufactured now and it will be delivered and installed in Spring 2020.
The installation process will require lane closures over a weekend, and information on that process and plans for detours will be disseminated as that information is finalized and the calendar approaches the scheduled dates for the work.
Volunteers Needed at County's America Recycles Day Event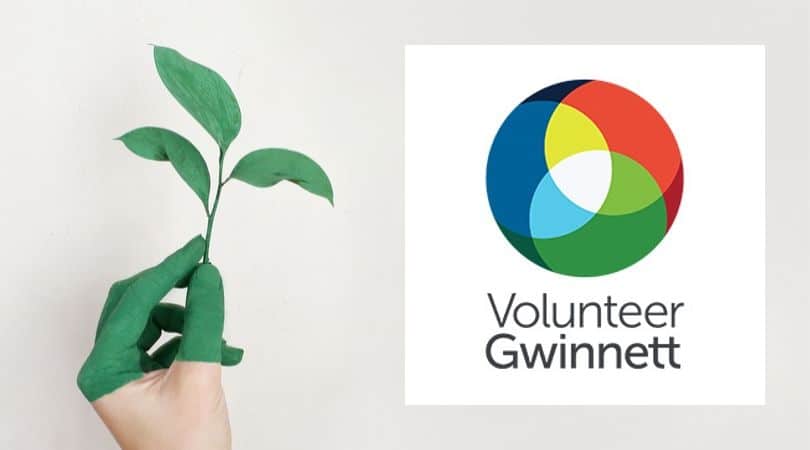 Help Gwinnett County maintain a sustainable environment by volunteering at the annual America Recycles Day event Saturday, Nov. 9 from 9am to 12pm at Coolray Field.
Gwinnett residents are invited to recycle paper, paint, electronics, tires, clothing, sneakers and ink/toner cartridges. Volunteers ages 14 and up are needed to unload vehicles, break down boxes, distribute recycling information and support other America Recycles Day activities.
The event is rain or shine. Volunteers should register at www.VolunteerGwinnett.net.
For more information, please contact Gwinnett Clean & Beautiful at (770) 822-5187 or email gwinnettcb@gwinnettcb.org.
Coolray Field is located at 2500 Buford Drive in Lawrenceville.
Prime Lunchtime with Brian Johnson – Olli, Autonomous Vehicles, 5G and Smart City