Peachtree Corners Swim Teams Shine at 2019 County Championships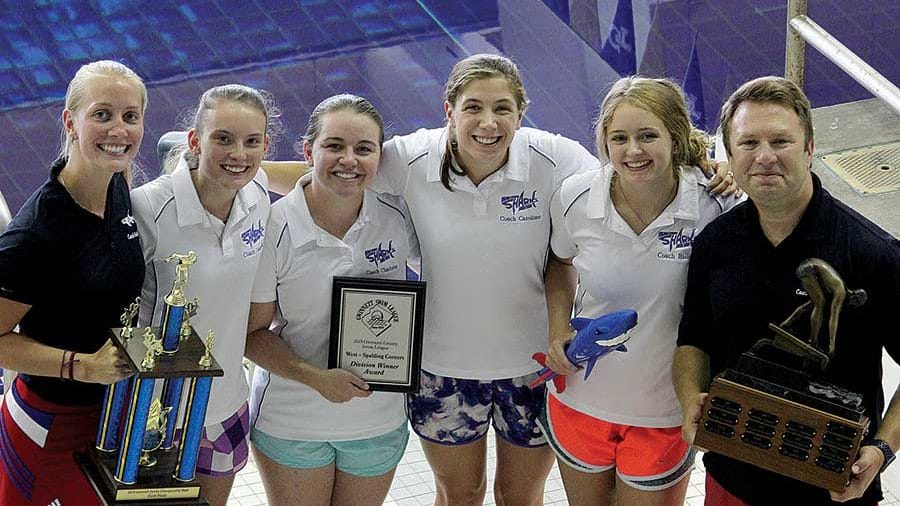 One year after finishing third and two years after finishing second, the Spalding Corners swim team decisively claimed their first Gwinnett Swim League (GSL) Championship on Sunday July 14 at the McAuley Aquatic Center at Georgia Tech.
The championship was the first by a Peachtree Corners area team in over a decade.
Seeded third entering the Championship weekend, the Sharks pulled ahead in the final session on Sunday afternoon to earn their first title ahead of the Lansmoore Lasers from Suwanee. The Thunderbolts, Wild Timber and Chateau Elan rounded out the top five.
"This meet was not only won because of the coaches," said Spalding Corners Co-Coach Willie Hildebrand afterwards. "It was won because of our swimmers and our parents. Our swimmers did what they were set out to do and they swam their best, making their best times."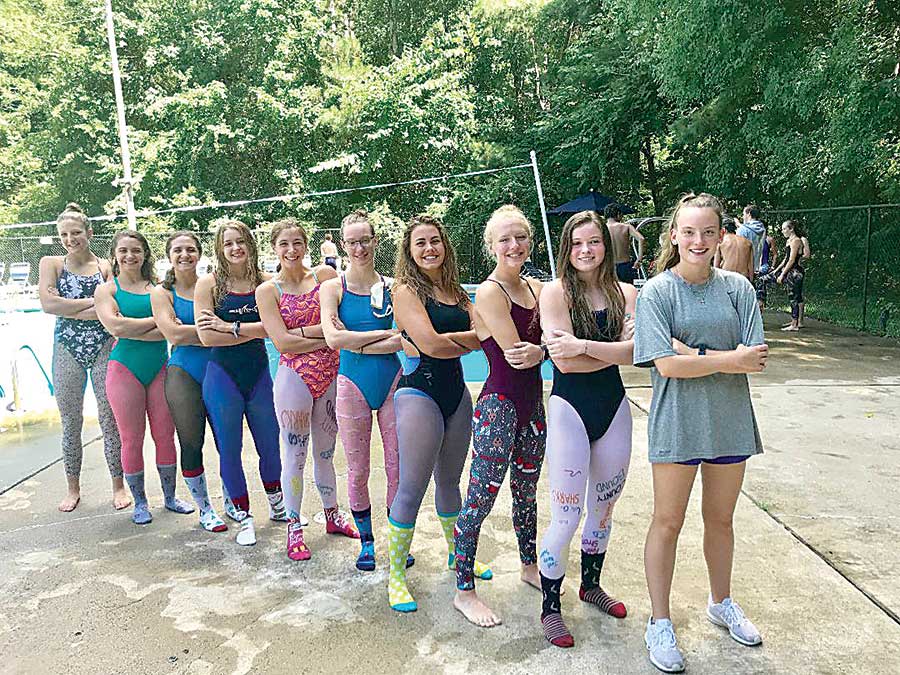 "We knew that it was going to be a very close meet between our team, the Thunderbolts and Lansmoore," added Hildebrand. "All three coaches knew that it was going to be a dogfight from the first session to the last. We were seeded third place for the meet. So, we still had a bit of a hill to climb (to win the championship)."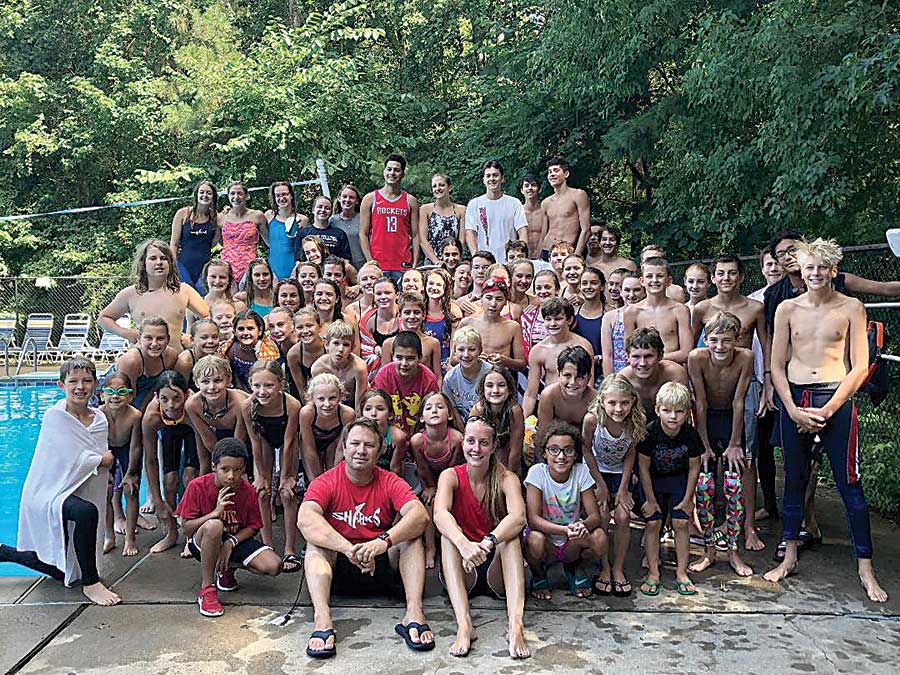 Spalding Corners finished ahead of 3 other local teams — Peachtree Station (8th place), Fields Club (14th Place), Peachtree Corners (16th Place) — to wrap up a very strong performance for all Peachtree Corners area summer swim teams. "This is the first time a team not from the Northern Division has won County in over 11 years," noted Hildebrand.
In all, over 2000 swimmers from 43 different teams across Gwinnett County competed over two days at the venue which hosted the 1996 Olympic Swimming & Diving competitions.
"There was no particular standouts as to any age group or swimmers explaining how we won (the championship). It came down to every swimmer showing up, every parent bringing their kids and every coach doing a whole lot of work for the last two months," said Spalding Corners Co-Coach Kailyn Dunn.
"We had many times where we were ranked first before county, but this is the first time we have ever actually had a relay finish first," added Hildebrand. The 8-and-under boys' relay team (Kolton Regina, Braxton Romeyn, Tony Martelli and Lawson Parton) won both the freestyle and medley relays. Savannah Moss, also 8 and under, won the Girls' 25 Freestyle event for Spalding Corners with a time of 16.60 seconds.
Catie Choate (Fields Club) and Emma Livezey (Peachtree Station) finished first and second in the Girls 13/14-year-old age group. Choate swept three events (50-yard Freestyle, 50-yard Backstroke and 50-yard Butterfly) while Livezey won the 100-yard Freestyle, took 2nd place in the 50-yard Freestyle plus 3rd place in the 50-yard Backstroke.
Berkeley Hills' Ryan Qi won the overall Boys 7/8-year-old division, sweeping three individual events – 25-yard Backstroke, 25-yard Freestyle and 50-yard Freestyle. Peachtree Corners' Tripp Wiggins took 3rd overall in the Boys U6 division with a pair of third place finishes in the 25Y Backstroke and Freestyle. ■
— Special to Peachtree Corners Magazine by Sonny Pieper, with Marilyn Whitmer
Georgia Unified Invitational Brings Together Swimmers for Competition and Fun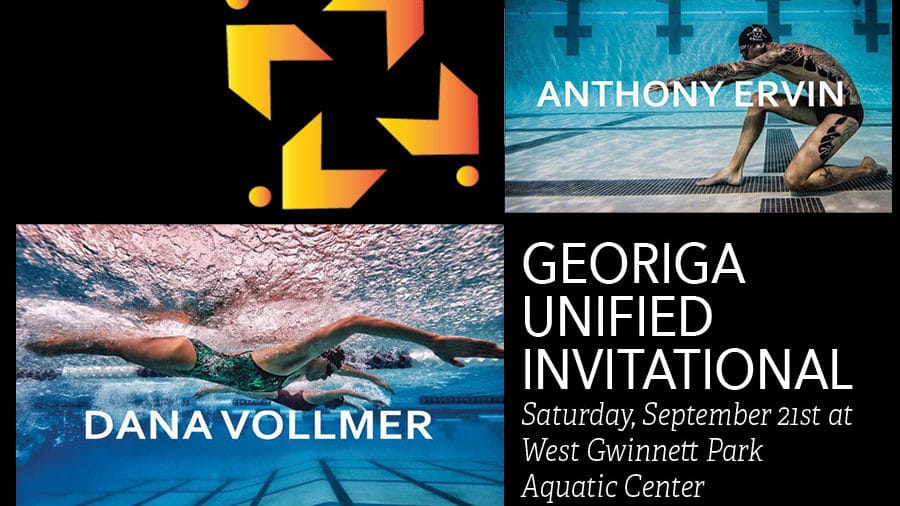 Competitive swimmers are invited to participate in the 2019 Georgia Unified Invitational (GUI): Celebrating the Olympian in All of Us, to be held September 21 at West Gwinnett Park Aquatic Center.
"This event is all about bringing together many different groups. The purpose is really to drive home that they're all one," said Kai Akubo Smith, AngelfishGA/ATAQ, Area 18 Agency for Special Olympics Georgia. "With Special Olympians leading the way, GUI celebrates the Olympic spirit in all of us, recognizing that everyone has daily struggles and challenges to conquer."
The invitational, a sanctioned Special Olympics and USA Swimming observed traditional sprint swim meet, is open statewide this year to all qualifying athletes of Special Olympics, USA Swimming, Paralympics, YMCA and US Masters, as well as uncertified athletes who have been certified through GUI.
"Uncertified athletes are swimmers who swam for summer league, middle or high school swim teams," Smith explained. "They will need a letter from their summer league coach, verifying their times and their ability to perform race starts off the block."
In addition to racing each other, athletes will have the opportunity to race against some of the top swimmers in the world, including 2016 Rio Olympic Gold Medalists Anthony Ervin and three-time Olympian, Gold Medalist and former world record holder Dana Vollnmer. The fun doesn't stop with the swim meet. Participants can continue their good time at the Victory Village, which is open to the public.
"There will be a DJ cranking out hot tunes, a pool party, food trucks, local artisans and much more," Smith said. "So save the date, participate, donate and celebrate at the 2019 Georgia Unified Invitational!"
GUI—pronounced "GOO-wee"—was formed to provide greater access, exposure and opportunities for athletes with intellectual disabilities seeking to participate in traditional sporting events.
The admission fee for the pool party is a $10 donation. All donations are directed to Special Olympics Georgia.
West Gwinnett Park Aquatic Center is located at 4488 Peachtree Industrial Boulevard, Berkeley Lake, Ga. 30092. Visit georgiaunified.com for more information.
Light Up The Corners "best race and most successful"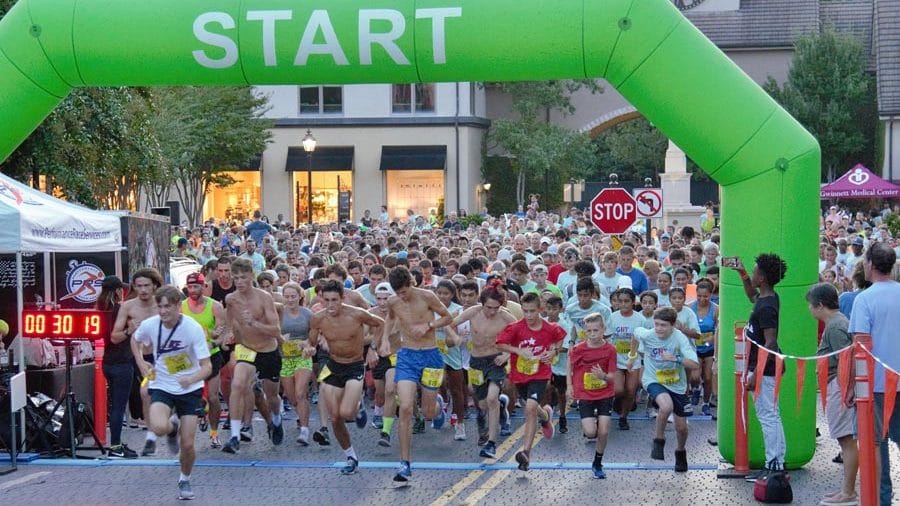 2019 Light Up The Corners Glow Run was "the best race and our most successful fundraiser yet," according to Amy Massey, Race Coordinator.  "This fun, family-friendly event has become a Peachtree Corners tradition shared by more and more every year."
The annual event in Peachtree Corners has touch lives of so many in the community who need it "most by enabling them to benefit from the life-changing programs and services at the Fowler YMCA."
In her e-blast to supporters, Massey said, "This event is a team effort in every sense. Many thanks to the more than 150 volunteers who donate their time, talent, and energy so 100% of your entry fees can go directly to the Why It Matters campaign at the Fowler YMCA."
About the sponsors, she wrote, "This could not be a successful fundraiser without the generous support of our sponsors who help defray our costs through donations of money, food, gift cards, and/or time and resources. If you get a chance, please thank them for caring about – and giving back to – their community." (Sponsor links below)
SPIRIT AWARD WINNERS
Congratulations to PEACHTREE ELEMENTARY SCHOOL for winning the spirit award for the team with the most number of participants with 70 members!
Second place goes to Junior Blue Devils with 46 team members, and 3rd place goes to Simpson Elementary School with 38 members.
AGE GROUP AND OVERALL RESULTS
Click this link for results. 
Top Male Finisher – Top 3 Overall
Gabriel Schlicht
Miguel Schlicht
Eric Heintz
Top Female Finisher – Top 3 Overall
Merritt Blum
Regan Russo
Hannah Schemmel
Light Up The Corners – 2019

Light Up The Corners – 2019

Light Up The Corners – 2019

Light Up The Corners – 2019

Light Up The Corners – 2019

Light Up The Corners – 2019

Light Up The Corners – 2019

Light Up The Corners – 2019

Light Up The Corners – 2019

Light Up The Corners – 2019

Light Up The Corners – 2019

Light Up The Corners – 2019

Light Up The Corners – 2019

Light Up The Corners – 2019

Light Up The Corners – 2019

Light Up The Corners – 2019

Light Up The Corners – 2019

Light Up The Corners – 2019

Light Up The Corners – 2019

Light Up The Corners – 2019

Light Up The Corners – 2019

Light Up The Corners – 2019

Light Up The Corners – 2019

Light Up The Corners – 2019

Light Up The Corners – 2019

Light Up The Corners – 2019

Light Up The Corners – 2019

Light Up The Corners – 2019

Light Up The Corners – 2019

Light Up The Corners – 2019

Light Up The Corners – 2019
Sponsor List:
The Forum on Peachtree Parkway
Relationship Recovery Center, LLC
Debbie Timm – Atlanta Fine Homes
Greater Atlanta
Christian School
Road Runner Sports
Peachtree Corners Business Association
Norcross Sports Training Academy
Greater Atlanta Christian School
Pediatric Associates of North Atlanta, PC
Pokeworks
Taqueria Tsunami
Trader Joe's
Mojitos Bistro
Patricia Merson
Landscape Architect
Press Blend Squeeze
Gwinnett Medical Center to Open Primary Care & Specialty Center in Peachtree Corners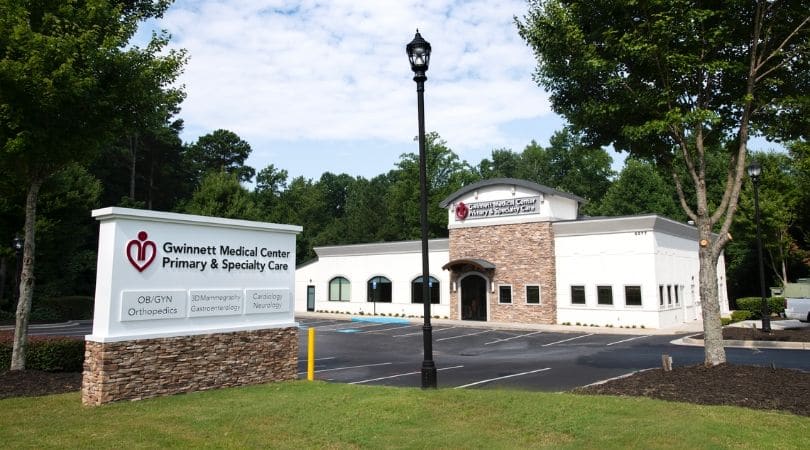 Gwinnett Medical Center announced today a new GMC Primary Care & Specialty Center will open August 5 in the heart of Peachtree Corners on Peachtree Parkway, putting accessible, industry-leading healthcare on the map for area residents.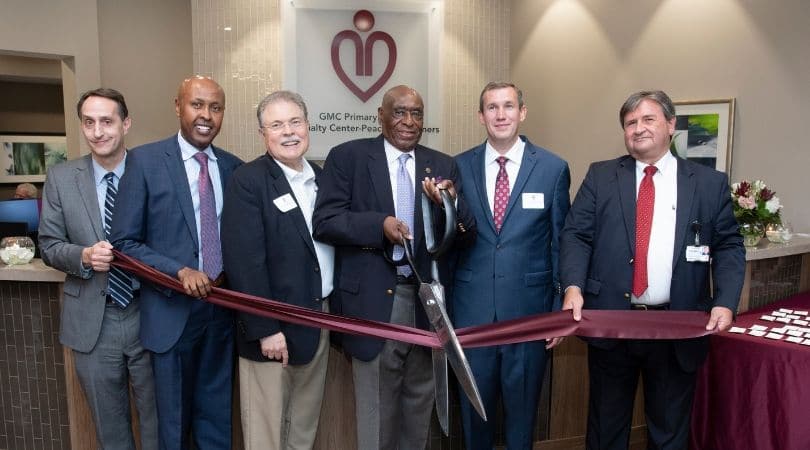 GMC Primary Care & Specialty Center-Peachtree Corners will deliver several exceptional services for individuals and businesses seeking specialized and preventative care. Offerings will include primary care and corporate health programs from GMG Primary Care, as well as cardiology, gastroenterology, obstetric and gynecologic care from a variety of local specialists. Additional, onsite offerings will include orthopedics, 3D mammography and digital X-ray.
Mike Mason, Debbie Mason (Peachtree Corners Festival Board of Directors Vice President), Jason Chandler (GMC Foundation President)

Lorri Christopher, Thomas Shepherd, Jay Dennard (GMC Senior Vice President and Chief Transformation Officer), L.C. Johnson

Lorri Christopher (Peachtree Corners City Council Member), L.C. Johnson (Board Member for both Gwinnett Medical Center and Southwest Gwinnett Chamber of Commerce)

Ben Ku (District 2 Commissioner for Gwinnett County), Thomas Shepherd (GMC Executive Vice President and Chief Operating Officer)
Barbara Joy Jones, DO, an alumna of GMC's Graduate Medical Education program, will serve as the lead primary care provider for the new facility.
"Delivering care that is both high-quality and convenient is instrumental to our mission of transforming healthcare," said Phil Wolfe, president and CEO of GMC. "We believe that the addition of this facility will further that mission and promote healthier communities."
GMC Primary Care & Specialty Center-Peachtree Corners

GMC Primary Care & Specialty Center-Peachtree Corners
To learn more about the new GMC Primary Care & Specialty Center-Peachtree Corners, visit gwinnettmedicalcenter.org/ptc. In addition, GMC is offering free concussion baseline testing August 5 from 8 a.m. to 5 p.m. and August 10 from 11 a.m. to 1 p.m. To register, visitgwinnettmedicalcenter.org/ptcbaseline. For questions, contact Kristy Crea at kcrea@gwinnettmedicalcenter.org.
About Gwinnett Health System
Gwinnett Health System (GHS) is the parent company of Gwinnett Medical Center, Gwinnett Medical Group and Sequent Health Physician Partners. GHS employs 5,000 associates and has 800 affiliated physicians serving more than 400,000 patients annually. Gwinnett Medical Center (GMC) is a nationally-recognized, not-for-profit healthcare network with acute-care hospitals in Lawrenceville and Duluth. Additional facilities include: the Gwinnett Women's Pavilion, the Gwinnett Extended Care Center, Glancy Rehabilitation Center, outpatient health centers and surgical centers, imaging centers and outpatient physical, occupational and speech therapy facilities. To learn more about how GMC is transforming healthcare, visit gwinnettmedicalcenter.org.