GAC Students Gain Competitve Edge via Mock Trial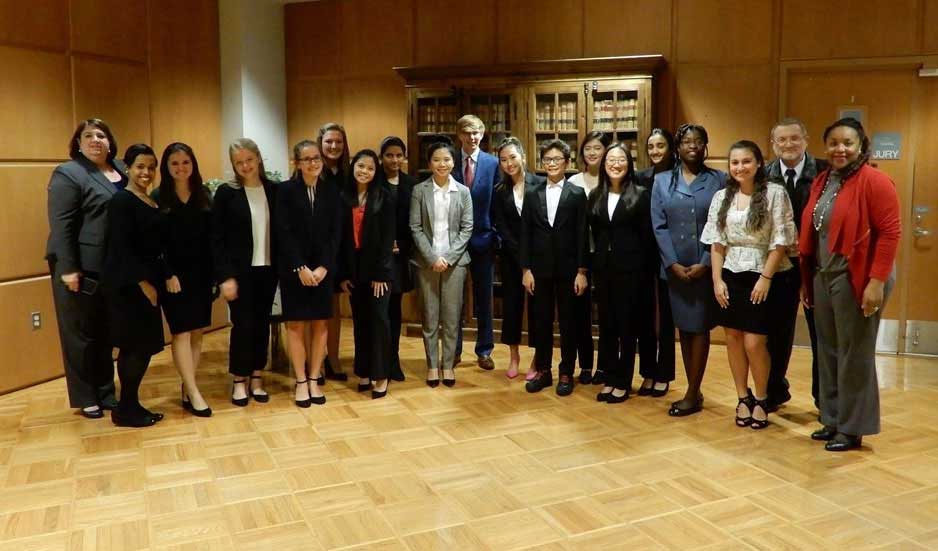 Mock Trial students know this to be true: you don't leave this group unchanged. Through practice and preparation, students become more polished, confident, professional, and able to speak publicly. Whether they will go on to pursue a career in law or not, they are better for the time they spent on the Mock Trial team.
What sets Mock Trial apart from the many co-curricular teams at GAC are the volunteer attorney coaches who support it. When our students went to the Georgia Mock Trial Competition recently, they were well prepared due in major part to the countless hours that attorney Joi Fairell, other members of the Fairell Firm, and Judge Tangela Barrie of the Superior Court of DeKalb County spent coaching the students.
Ms. Fairell has enjoyed giving back as a Mock Trial coach for the last eight years. "I got my start while in law school and credit Mock Trial as the thing that helped me be a good litigator. You are required to process difficult scenarios and think outside the box. Were it not for Mock Trial, I think I would be afraid of the courtroom. I've seen lawyers do anything to avoid the courtroom, to the point that they will settle the case (to their clients' detriment) just to avoid it. When judging job applicants, I actually favor people who have Mock Trial on their resume. Mock Trial teaches you how to think on your feet. You also learn confidence and how to speak boldly which is the crux of advocacy. The ability to stand strong in your position is something that you will have to do in life, whether for yourself, your child, or someone around you."
With the support of the legal professionals and the work of faculty coaches Gary Crane and Mary Lynn Huett, GAC students placed second in the region and several students earned individual awards.
Eunice Park, two Outstanding Attorney Awards
Parker Hallock, two Outstanding Attorney Awards
Jena Vo, Outstanding Witness Award
Jessica Israel, Outstanding Attorney Award, Championship Round
Vincent Huynh, Outstanding Witness Award, Championship Round

Students advanced to the District Tournament on Saturday, February 23rd and battled it out in four different courtrooms to finish the season. Eunice Park and Parker Hallock each received an Outstanding Attorney award, and Vanessa Huynh was honored with an Outstanding Witness award. Congratulations to all 20 members of the team for an exceptionally strong season!
Reflecting on the season, Ms. Huett says she loves being a Mock Trial coach, mainly due to the incredible growth she sees in her students as a result of the experience. "When they arrive for individual tryouts, students are visibly nervous just to ask or answer a couple of questions. Five months later, participants deliver a flawless, 5-minute statement to a jury of adults with clear passion. Or we get to see witnesses testify with great confidence, artfully keeping opposing attorneys from discrediting their stories. These moments are always an amazing glimpse into the future of these young people."
Eunice Park, a senior who has been a part of Mock Trial for the last three years, has watched Mock Trial change from something she was nervous about to something that she has a really fun time participating in. This year she is a defense attorney in charge of the closing argument after starting off as a witness her first year. Victoria Huynh, another senior, had this to say: "The fact that we all get to talk about the case together and each person has a different perspective on the same facts is one of the most interesting aspects. Because it's a case designed that both sides have enough evidence, it's challenging. You have to be able to make connections in new ways."
Record number of Cornerstone Students Qualify for Duke TIP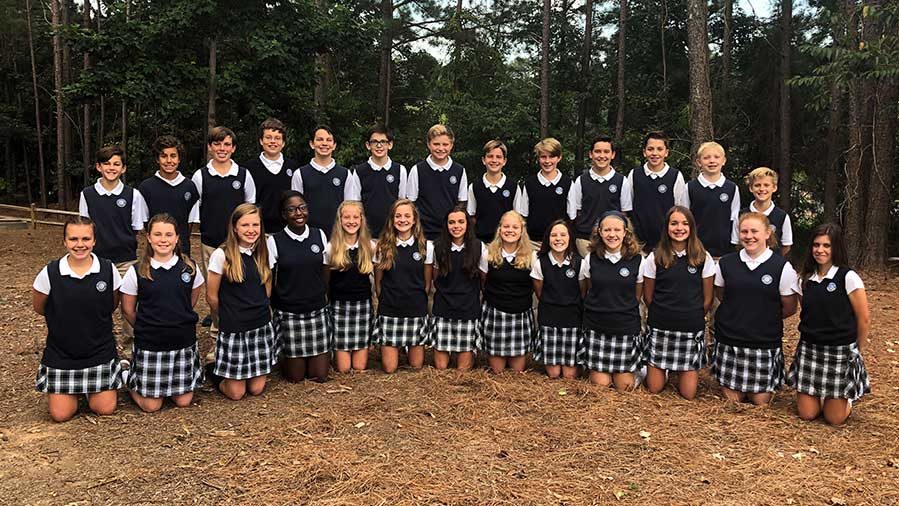 Half of the 7th grade students at Cornerstone Christian Academy in Peachtree Corners qualified for the highly selective Duke University Talent Identification Program (Duke TIP). That's the highest number of qualifying students in school history.
The Duke TIP supports academically talented students in grades 4 through 12. The non-profit organization offers above-grade-level testing, enrichment resources, residential summer programs, online courses and more. To qualify, students must score at or above the 95th percentile on accepted tests.
Twenty-seven students are being recognized. Congratulations go to: Sean Balderas, Landon Clement, Jack Coates, Ella Floyd, Rayna Garland, Hannah Gartin, Alice Griffin, Madeline House, Julia Jackovich, Melina Jackson (not pictured), Ethan Lewis, Philip Liebenberg, Alana Magley, Jack Merrill, Matthew Mitchell, Parker Moore, Eleanor Moran, JJ Neeb, Andrew Schemmel, Connor Schenke, Manuel Schlicht, Patrick Stephens, Emily Wallace, Lizzie West, Allie West, Kendall White and Caroline Yates.
Meet New York Times Bestselling Author Karen Abbott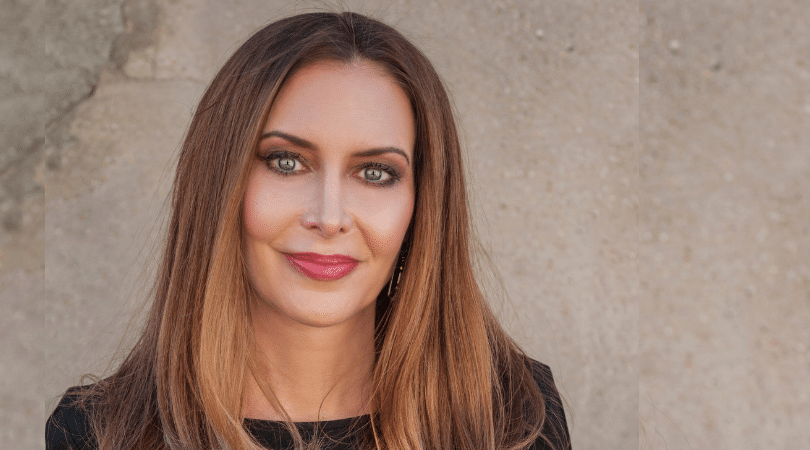 Karen Abbott is the author of Sin in the Second City, American Rose, and Liar Temptress Soldier Spy, which was named one of the best books of 2014 by Library Journal, Christian Science Monitor, and Amazon. She has written for The Wall Street Journal, The Washington Post, newyorker.com, and other publications. Her next book, The Ghosts of Eden Park, tells the story of "the Bootleg King, the women who pursued him, and the murder that shocked jazz-age America."
Join Gwinnett County Public Library and meet Karen Abbott on Friday, August 30 at 7:00 pm at the Peachtree Corners Branch, 5570 Spalding Drive, Peachtree Corners, GA 30092. Free and open to the public.
For more information, please visit www.gwinnettpl.org or call 770-978-5154.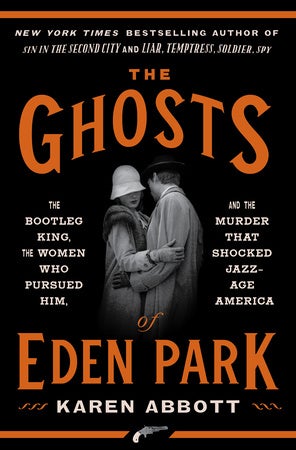 Photo/Video Workshop for Kids: From Shutterbug to Social Media Influencer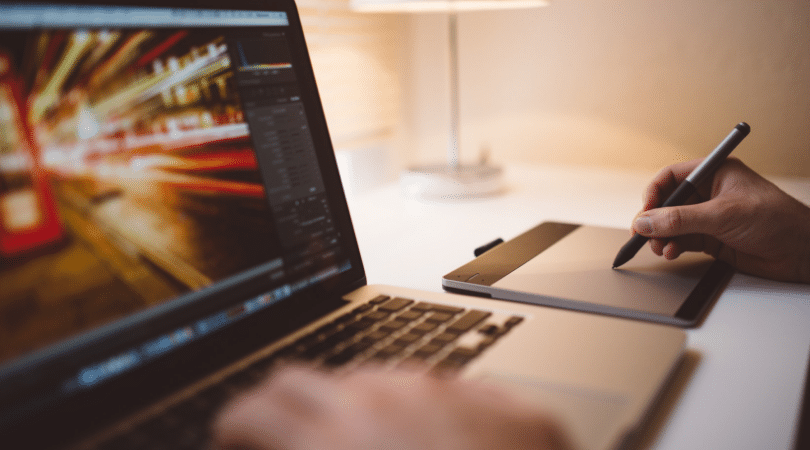 Date: Thursday August 29, 2019
Location: City Hall
Time: 6 to 9 pm
Level: All levels
Ages: 8 to 18 (Parents welcome to join as well) Must live or work in Peachtree Corners.
In this seminar for youth (and their parents), we will be discussing the basics of modern photography and video production – the tools, the techniques, and the costs of equipment, software, and training. We will also be discussing how to create compelling images and video for school, competition or social media. We will take a real look at the opportunities and the dangers of social media and how to best protect your children if they are producing content for social media.
We will have an extended Q&A session with professional photographers and filmmakers as well as social media experts. For questions or to register contact Jim Stone at jstone@tytancreates.com