GAC Students Gain Competitve Edge via Mock Trial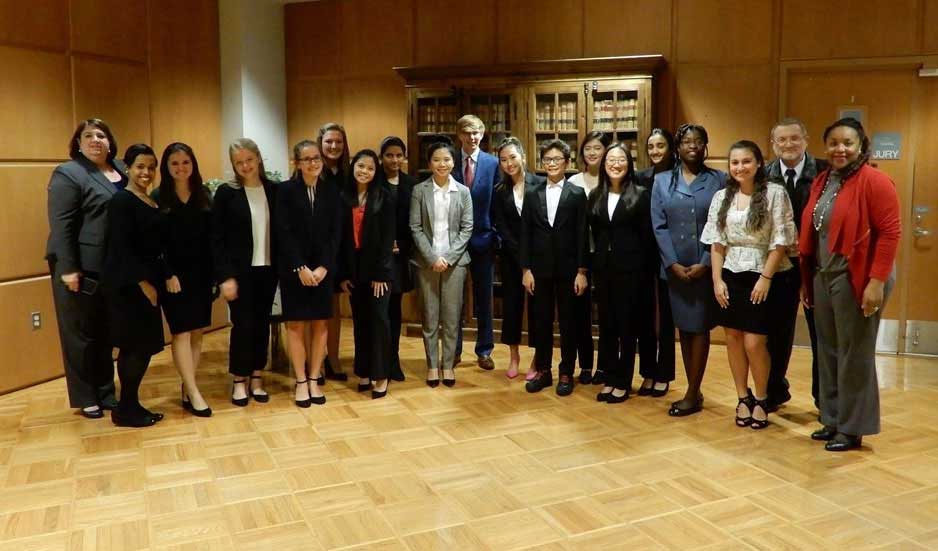 Mock Trial students know this to be true: you don't leave this group unchanged. Through practice and preparation, students become more polished, confident, professional, and able to speak publicly. Whether they will go on to pursue a career in law or not, they are better for the time they spent on the Mock Trial team.
What sets Mock Trial apart from the many co-curricular teams at GAC are the volunteer attorney coaches who support it. When our students went to the Georgia Mock Trial Competition recently, they were well prepared due in major part to the countless hours that attorney Joi Fairell, other members of the Fairell Firm, and Judge Tangela Barrie of the Superior Court of DeKalb County spent coaching the students.
Ms. Fairell has enjoyed giving back as a Mock Trial coach for the last eight years. "I got my start while in law school and credit Mock Trial as the thing that helped me be a good litigator. You are required to process difficult scenarios and think outside the box. Were it not for Mock Trial, I think I would be afraid of the courtroom. I've seen lawyers do anything to avoid the courtroom, to the point that they will settle the case (to their clients' detriment) just to avoid it. When judging job applicants, I actually favor people who have Mock Trial on their resume. Mock Trial teaches you how to think on your feet. You also learn confidence and how to speak boldly which is the crux of advocacy. The ability to stand strong in your position is something that you will have to do in life, whether for yourself, your child, or someone around you."
With the support of the legal professionals and the work of faculty coaches Gary Crane and Mary Lynn Huett, GAC students placed second in the region and several students earned individual awards.
Eunice Park, two Outstanding Attorney Awards
Parker Hallock, two Outstanding Attorney Awards
Jena Vo, Outstanding Witness Award
Jessica Israel, Outstanding Attorney Award, Championship Round
Vincent Huynh, Outstanding Witness Award, Championship Round

Students advanced to the District Tournament on Saturday, February 23rd and battled it out in four different courtrooms to finish the season. Eunice Park and Parker Hallock each received an Outstanding Attorney award, and Vanessa Huynh was honored with an Outstanding Witness award. Congratulations to all 20 members of the team for an exceptionally strong season!
Reflecting on the season, Ms. Huett says she loves being a Mock Trial coach, mainly due to the incredible growth she sees in her students as a result of the experience. "When they arrive for individual tryouts, students are visibly nervous just to ask or answer a couple of questions. Five months later, participants deliver a flawless, 5-minute statement to a jury of adults with clear passion. Or we get to see witnesses testify with great confidence, artfully keeping opposing attorneys from discrediting their stories. These moments are always an amazing glimpse into the future of these young people."
Eunice Park, a senior who has been a part of Mock Trial for the last three years, has watched Mock Trial change from something she was nervous about to something that she has a really fun time participating in. This year she is a defense attorney in charge of the closing argument after starting off as a witness her first year. Victoria Huynh, another senior, had this to say: "The fact that we all get to talk about the case together and each person has a different perspective on the same facts is one of the most interesting aspects. Because it's a case designed that both sides have enough evidence, it's challenging. You have to be able to make connections in new ways."
Summerour Middle School Science Fair Club's success at 2021 Gwinnett Science Fair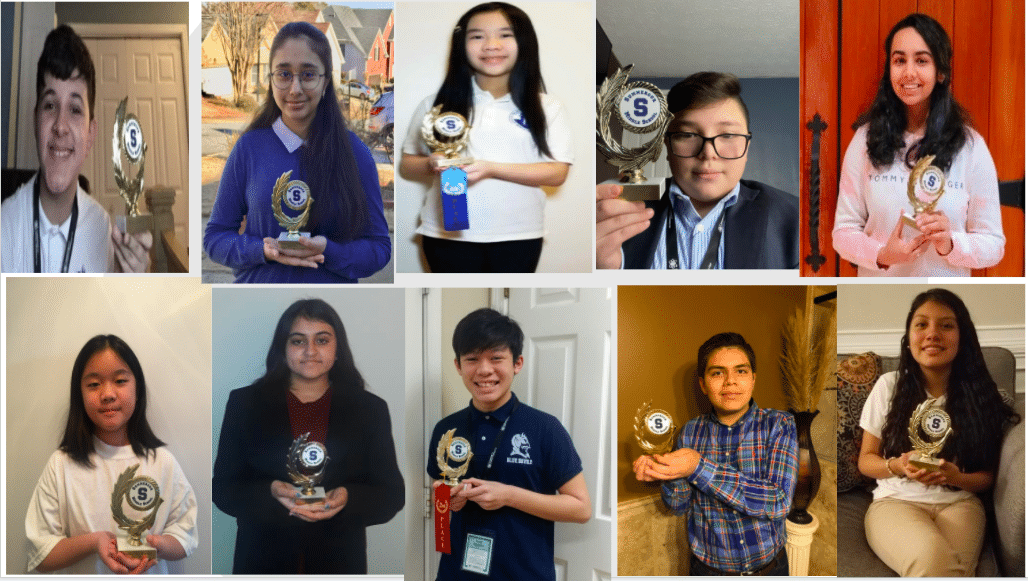 The 2021 Gwinnett Science Fair was held virtually on February 19. As always, the Regional Fair aimed to showcase amazing STEM talent in Gwinnett County schools and connect tomorrow's science and engineering leaders with STEM business and community leaders.
Many Gwinnett County schools have science fair clubs that help students come up with a science project, a testable hypothesis and preparation help for the big competition. At Summerour Middle School, science fair is serious business.
Summerour MS Principal Dr. Natalie Looney summarized their 2021 science fair experience: in their program, students worked with advisors on Zoom every Monday and Wednesday from September through February. Then students competed in the school's Science Fair in January and presented their projects, from inception to data collection to results.
Summerour MS students worked and collaborated online, much like scientists have to do in the current environment. Ten students from the school advanced to the GCPS Science and Engineering fair. They all placed in their perspective categories.
One of the students, Sharika Awashti, placed first in the Environmental Engineering category and will move on to the Broadcom Masters National Science Competition.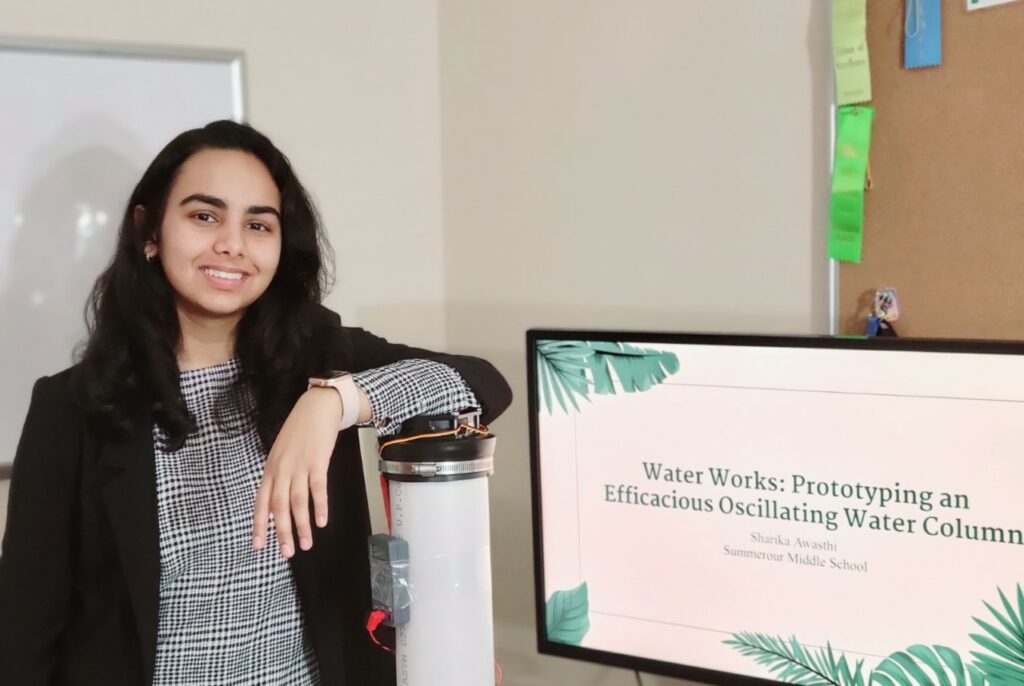 "We would love to share the story of their journey and the countless hours poured into the process by the teachers and advisors who thrive on giving students the opportunity to be the best they can be. We are building future scientists every day in our classrooms," Looney said.
Of course, success in science fair at any level would not be possible without the contributions and support of team sponsors and advisors. Team Sponsors Phani Duggirala and Urooj Beg dedicated significant time and energy to make sure their team was ready to present with confidence.
"The Science Fair is all based on scientific method and how they use their scientific concepts, basically applying their scientific knowledge to the real world," Duggirala said. "So students can then improve their conceptual understanding through exploring, experimenting, analyzing."
Spring into Summer Reading at Local Schools and Library Events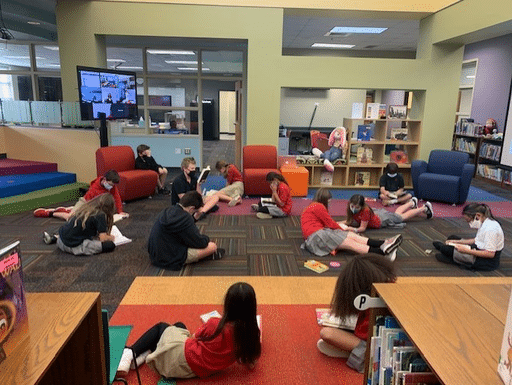 There are few natural highs superior to a good book by the pool on a perfect summer day. To foster a genuine love affair with reading at a young age, schools and libraries must get super creative, especially in our current socially distant climate. So, let's peel the page back and see what's in store for burgeoning Peachtree Corners book lovers.
Gwinnett County Public Library Events
The Gwinnett County Public Library system offers countless educational and recreational programming of all kinds. Here are some upcoming highlights.
Storytime LIVE! via Google Hangouts
April 2, 10:30-11 a.m.
Enjoy a new storytime with stories, songs, games and a new way to get social via Google Hangouts. This program is geared towards toddlers/preschoolers, but any child is welcome to join in! There is a limit of 25 kids and their caregivers, so please register at gwinnettpl.org.
Virtual Author Talk —
Martha Alanis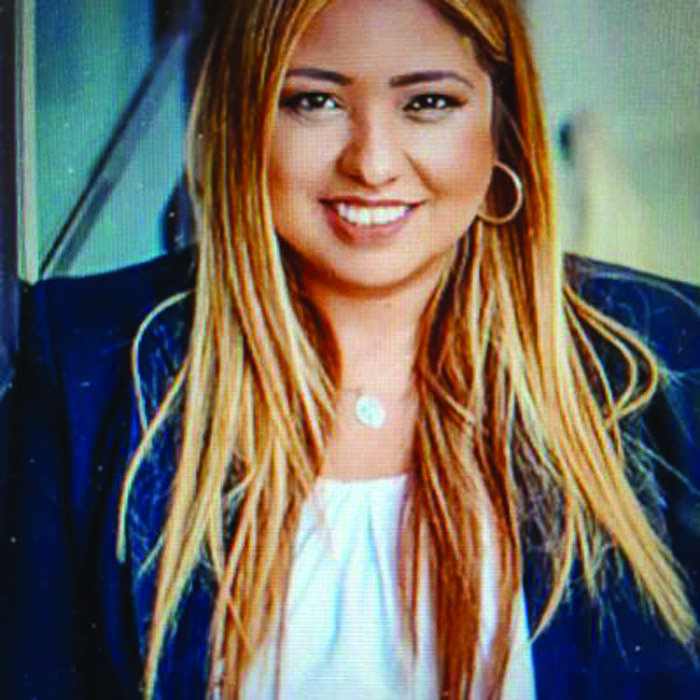 April 10, 11 a.m.
Diverse Voices: A Bilingual, Children's Author Storytime featuring Martha Alanis.
Open Your World Book Club
April 20, 3-4:30 p.m.
For adults and teens with intellectual and developmental disabilities. Readers and aspiring readers are invited to join online for reading, listening and discussion of adapted versions of classic short stories and novels. Registration required.
Read Like a Trailblazer—Paul Duke STEM High School
In keeping with the school's overall motto of "We are the Trailblazers," the media center at Paul Duke Stem High School is currently running a reading promotion aptly titled "Read Like a Trailblazer."
"What I am trying to get kids to do is to define what a trailblazer is — someone who challenges the status quo, who sees an injustice and wants to fix it or address in some way," said Media Specialist Christine Pulliam. "So we have been promoting a lot of memoirs from revolutionaries of thought or action, who can help kids think outside of the box and not always operate in a straight line, but create new paths."
At the moment, the Read Like a Trailblazer promotion mainly pertains to recommendations to students to pick up titles they might not normally consider, so that they can relate to and learn from the heroes of past and present. Perhaps it might inspire them to blaze their own trails in avenues previously unexplored.
Pulliam is "bursting with ideas" to do more, such as a weekly writing workshop for thoughtful students to create comprehensive exposés centered around compelling historical trailblazers, or perhaps turning that enlightening research into beautiful informative school posters.
As is to be expected, the trail of the library aisle has limited access to students at this time for safety reasons, which in turn limits the ability to implement complex, comprehensive promotional projects.
But the trailblazers of Paul Duke are not easily deterred. We suspect that given a little time, the resourceful staff that keeps books on the shelves and insightful ideas in the minds of teens will find a way to keep the fires of the trailblazers lit.
GAC Reads! Program, Middle School Book Club and More
Greater Atlanta Christian (GAC) Spartans have lots of literary inspiration at their disposal.
The first week of March marked special learning moments for the Early Learning Village at GAC, which is comprised of Pre-K3 and Kindergarten classes. GAC Reads! is an annual program for the little ones to connect with books and reading in an intentional way.
This year, there is a focus on American authors, with a wide range of authors both male and female, as well as current and 'tried and true' choices across many cultures. Each day of the week had a creative student participation theme and a compelling recommended list for teachers to pull from during story time.
■ Monday – "American Authors" Red, White, and Blue Day
■ Tuesday – Silly Socks Day
■ Wednesday – ABC Day
■ Thursday – Hat Day
■ Friday – Pajama Day
The GAC HS/MS Library Media Specialist, Mrs. Bonnie Baker, expressed lots of enthusiasm for the progress of the GAC Middle School Book Club. "The GAC Middle School Book Club is off to a great start," Baker said. "Twenty students from 6th to 8th grades are meeting during lunch to learn about new books, play literature related games and talk about the great books they have read.
"In March and April, the book club will be giving input on our summer reading program and helping to choose our theme for this summer's Ultimate Reading Challenge. They will also be creating book reviews to be displayed in the library for other students, helping those who struggle to find good books their peers have enjoyed," she said.
Author Talk with Marsha Skrypuch
Fourth and fifth graders Zoomed with author Marsha Skrypuch on March 24. Ms. Skrypuch specializes in writing historical fiction for children's literature.
Alphapalooza Contest
First to third graders are invited to participate in the book contest Alphapalooza! The contest requires students to read a book from each letter in the alphabet and keep a journal.
Virtual Book Fair
The Henderson Media Center, along with Scholastic, will have a virtual book fair April 26 through May 7. Students can buy books for summer reading and support the Media Center.
Book Character Dress-Up!
GAC Elementary (Pre-first to fifth grades) hosted Book Character Dress-Up Day on March 24. Students dressed as their favorite book character and were encouraged to bring the book to school.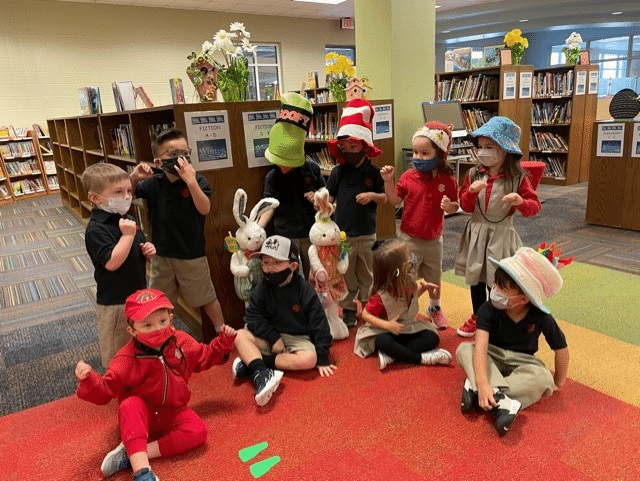 Caldecott Art Contest for Pre-first to Third Grades
The Caldecott Medal is awarded annually by the Association for Library Service to Children to the artist of the most distinguished American picture book for children.
The Caldecott Art Contest was hosted by the Henderson Media Center, collecting all entries by March 26. Pre-first to third graders turned pieces of artwork that illustrates a book cover or a scene relating to a Caldecott Medal (or Honors) book.
90-Second Newbery Contest for Third to Fifth Grades
The Newbery Medal has been recognized as the most prestigious award in children's literature. The 90-Second Newbery Contest invites students in third to fifth grade to create a short movie or piece of artwork that tells the story of a Newbery-winning book. Films are about a minute and a half long, and artwork could be any medium of choice; all entries were collected by March 26.
Gwinnett County Recognizes Top Students and Teachers, STAR Honorees and Winners Announced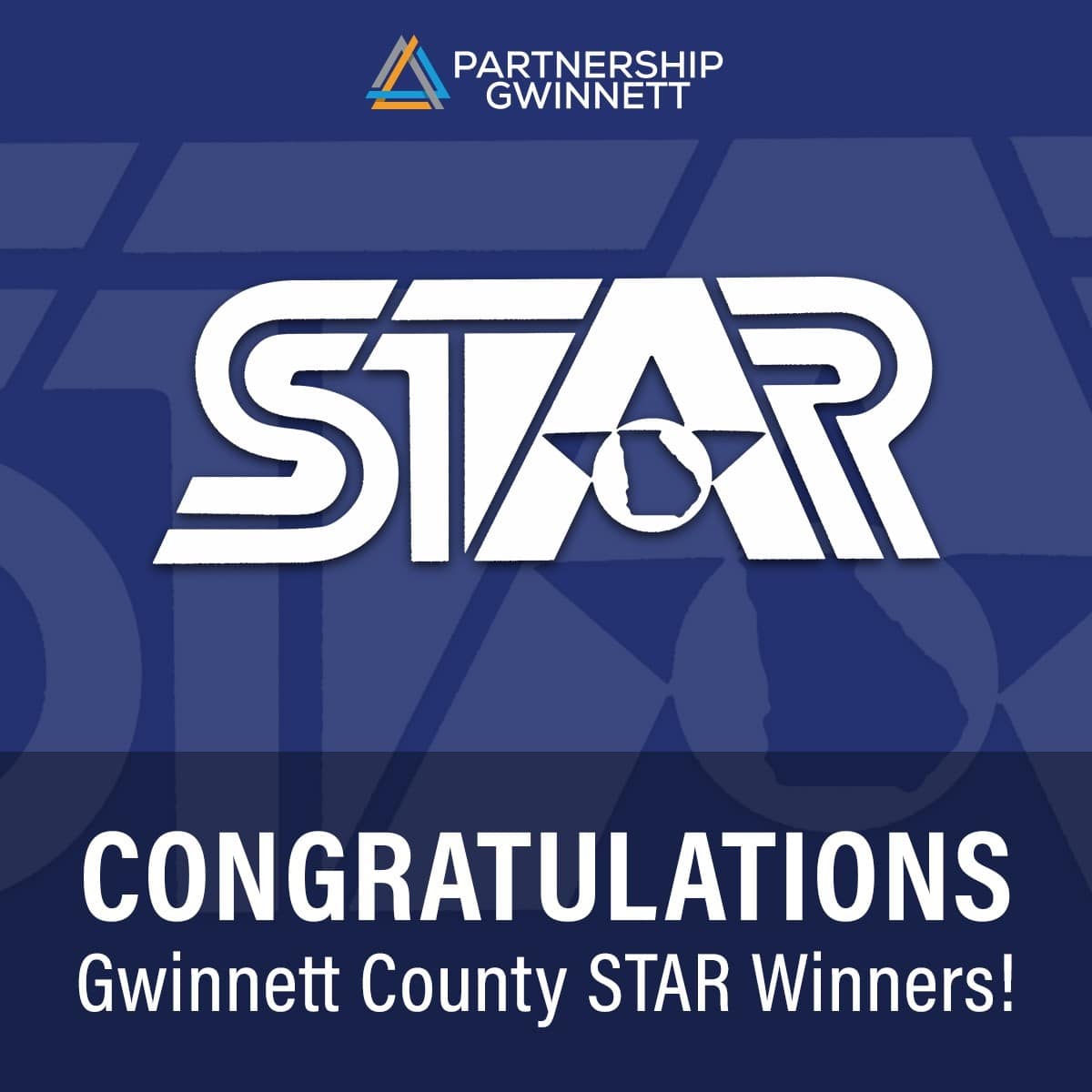 The Professional Association of Georgia Educators (PAGE) Foundation and Partnership Gwinnett partnered to announce the PAGE Student Teacher Achievement Recognition (STAR) program highlighting Gwinnett's best and brightest students and teachers. These awards celebrate the achievements of STAR students and teachers from each Gwinnett County high school, both public and private.
"We are very proud of our high school students for being recognized as academic achievers of excellence within their respective schools," said Gwinnett Board of Commissioners Chairwoman Nicole Hendrickson. "These young people are incredible representatives of our powerful public and private school systems in Gwinnett County."
Since its creation, the STAR program has honored nearly 28,000 students and the teachers they have selected as the most influential to their academic achievement. High school seniors must have the highest score on a single test date on the SAT and be in the top 10 percent or top 10 students of their class based on grade point average to qualify for STAR nomination.
STAR begins each year in participating Georgia high schools when the STAR Student is named and chooses a STAR Teacher to share in this recognition. The students and their teachers are honored by their schools and receive special recognition in their communities from one of the more than 170 statewide civic organizations and businesses that serve as local sponsors of the STAR program. Students then compete for school system recognition as the top STAR Student, and those winners compete for region honors. Region winners contend for the honor of being named State PAGE STAR Student. STAR Teachers continue with their STAR Students at every level of the program.
"It's an honor to be a part of the celebration of these exceptional Gwinnett County students and teachers each year," said Adam Forrand, Vice President of Education, Talent & Leadership Development at Partnership Gwinnett. "We thank our teachers for the extraordinary investment they make in their students every day. We hope to see these students continue their personal and professional paths right here in Gwinnett County regardless of where their post-secondary plans take them."
PAGE and the PAGE Foundation honor outstanding students and educators and, encourage academic excellence through competitive academic programs such as PAGE STAR, the PAGE Academic Bowl for Middle Grades and the PAGE Georgia Academic Decathlon.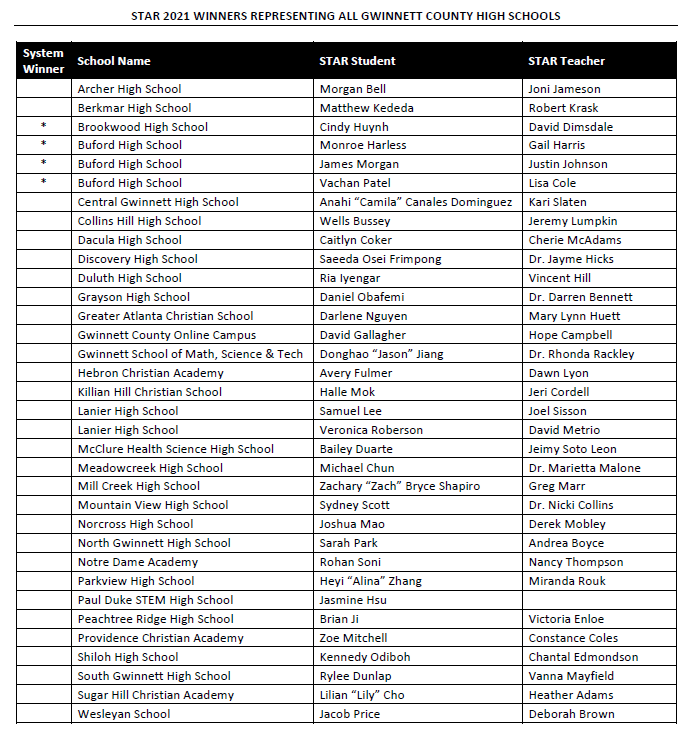 For more information or to learn how to get involved in local economic development efforts, please visit partnershipgwinnett.com.
Source: Partnership Gwinnett release