Anderby Brewery Opens in Tech Park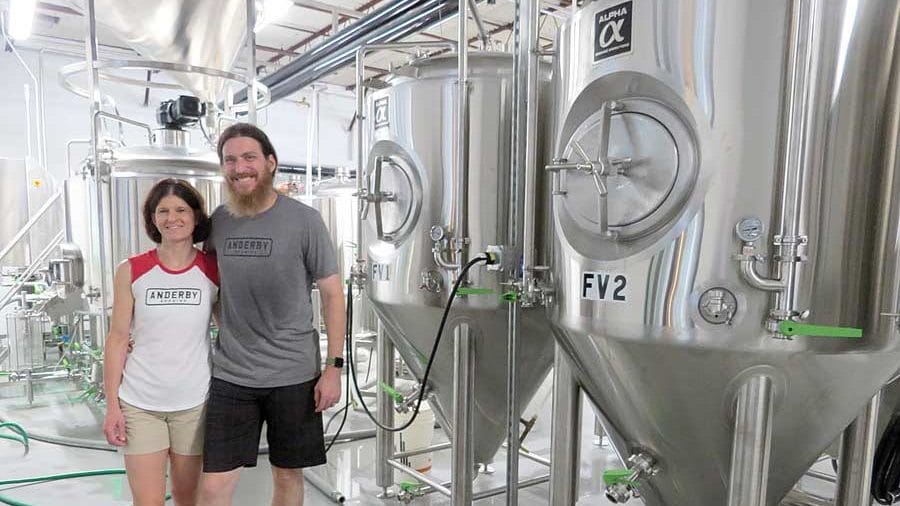 A dog-friendly brewery with event space in Peachtree Corners
On Saturday, July 27, Anderby Brewing opens its doors to the public. Its location at 110 Technology Parkway features a spacious taproom that opens out onto a patio with outdoor seating and a 75-inch flat-screen TV.
The beer menu pays homage to Georgia, and specifically Peachtree Corners. The owners, Michell and Preston Smelt, are brewing specialty beers for the opening. Among the offerings are the "Jay Bird Bitter" and "141 Lager," as well as "Helen," a Vienna lager.
"We use the beer styles as a guide, but we're going to have fun with it," Preston said. "If people really like it, we'll make it again. My goal is to make stuff that sounds good to us and hopefully, others will like it too."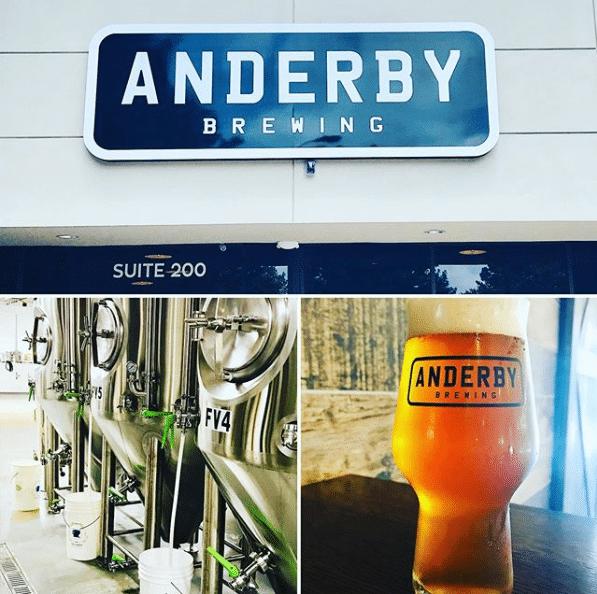 Preston started making beer about seven years ago after his wife, Michell, purchased a Groupon for beer-making lessons and a kit. He learned how to brew and then started putting together different recipes, ultimately creating a pilot system with multiple propane tanks. The name, "Anderby," stems from a small town in England where Preston traced his ancestry.
"We have a 10-barrel system in our brewhouse, and all of our beers will feature malts from Riverbend Malthouse in Ashville, N.C.," Michell said. "To start, we'll have six beers on tap, including a pale ale, a couple of IPAs, a blonde and a bitter."
Some of the up and coming offerings will include a Double Chocolate Oatmeal Milk Stout, a porter and a couple of lagers. "We can have up to 20 beers on tap at any given time," Michell added.
Anderby won't sell food but will have snack offerings, and patrons are welcome to order food through services like Grubhub and Uber Eats.
The brewhouse also houses approximately 1,000 square feet of event space with its own bar.
One more thing — dogs are welcome. "We are avid animal lovers and Anderby will be dog-friendly," Michell said.
Visit the Anderby Brewing website, anderbybrewing.com, for more information. ■
More than a Taco – The Tortugas Cuban Grill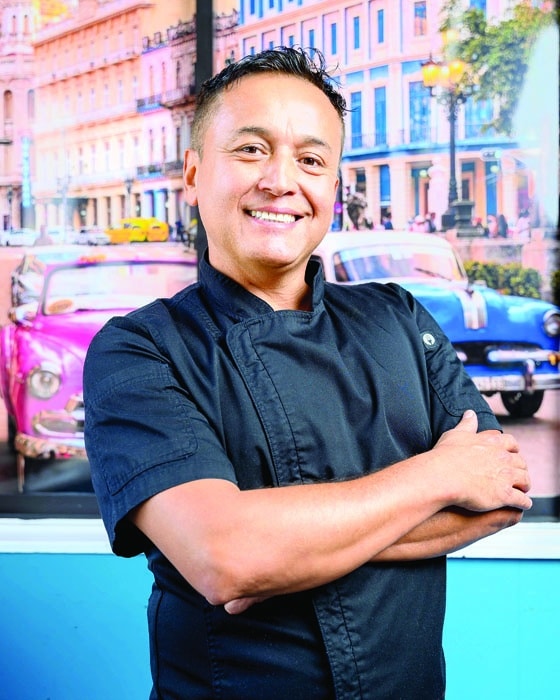 Celebrate Hispanic Heritage Month by seeking out cuisine from a diverse mix of Latin countries – you won't be disappointed.
Photos by George Hunter.
Many Americans aren't aware of the complexities of many cultures across the globe. For example, not all Latin food is spicy or comes in a tortilla. As Hispanic Heritage Month approaches, please don't think of Taco Bell as the place to sample the cuisine of more than 60 million people on the planet.
With Spanish being the second most spoken language in the world, the Pew Center estimates that there are more than 500 million Hispanophones across the globe. That is, people who speak Spanish — whether natives or those for whom it is their second language.
To honor the diversity within the Latinx culture, Peachtree Corners Magazine met up with Victor Melendrez at his restaurant Tortugas Cuban Grill in Peachtree Corners. He was working on a big catering order for a client who was looking for authentic Cuban fare.
"That's what you get here," he said, adding that during the holiday season he's overrun with orders for lechon asado (roast pork), arroz congri (Cuban rice and black beans) and yuca con mojo (cassava with garlic sauce).
Melendrez has been in the food service industry for more than 25 of his 53 years. He and his family emigrated from Guadalajara, Mexico when he was young. The family settled in California, like many Latinos looking for a better future.
Authenticity and commitment keep the business strong.
In 2005, Melendrez visited family in Georgia and realized that the cost of living was a lot lower than in the Golden State. "At one point, the economy was getting really bad, especially real estate," he said. "When I found out that you can buy a house for $130,000 here, I was ready to move."
His first Georgia restaurant was in Buford where he had a partner in a different Cuban restaurant. He chose that cuisine because it was in the Caribbean style that he enjoyed. Besides, there are so many Mexican restaurants everywhere, he wanted to stand out.
The business relationship didn't go well, and he decided to venture out on his own.
"Partnerships are tough," he said. "I'm not sure that's something that I'd do again."
Researching potential areas, Peachtree Corners appeared to have the demographics he was looking for: high disposable income and not overrun with restaurants. But before he could find success, Melendrez had to educate his customers.
An introduction to Cuban cuisine
"I noticed right away that not a lot of people are familiar with Cuban food," he said. "At the beginning, especially at this location, a lot of our customers said the food was excellent, but 'we never got our chips and salsa.'"
Melendrez smiled at this. He tried to explain the difference between different Latin American cuisines, but many patrons wrongly assumed that they were all similar to Mexican food.
He explained that it was like expecting chips and salsa at an Italian restaurant. It still didn't always sink in, but he didn't let that frustrate him. He decided to let the food do the talking.
If you asked people what they know about Cuban cuisine, they'll mention the Cubano — a variation of a ham and cheese sandwich that usually includes pickles and roast pork. It more likely originated in cafés catering to Cuban workers in Tampa or Key West than on the island nation itself.
"I like to talk to customers. And with some regulars, I try to get them to order something besides the sandwiches," he said. "I'll describe the ingredients and how it's prepared, and most will try something they've never had before. I've never had anyone who said they didn't like the new dish."
Now, after a few years, he doesn't have to try so hard with most dishes, but on occasion he brings out samples of something like oxtails or empanadas filled with guava and cream cheese. Those have become such a hit that he sells more than 60 pounds of oxtails a week and the sweet empanadas are outselling the savory ones.
Melendrez is convinced that sticking to authentic ingredients, authentic methods and refusing to cut corners has kept him doing well in spite of the COVID pandemic.
"We had to close for a few months, like everyone else," he said. "But we are doing well now."
Food, supplies and staff are costing much more, but Melendrez said he'd rather bring in a lower profit than sacrifice service or quality. It would cost less in food and manpower to purchase pre-made empanadas, or frozen or canned ingredients, but he insists on using fresh.
"I can tell," he said. "It doesn't taste like Mama or Grandma made it."
And he has the same philosophy with people. He's gone up in pay for his loyal employees rather than turn the restaurant into a revolving door. "I don't want a customer to say the same dish they had last week tastes different today," he said.
Melendrez takes his cooking seriously. In addition to hiring a Cuban chef who stressed the training he had already, he has traveled to Cuba and learned from restauranteurs and home cooks alike. "I spent days with people cooking and getting more involved with the culture and the ingredients, and that's why a lot of the people come here," he said. "When they compare us to other Cuban restaurants — even though I'm not Cuban — they always go, 'Oh my god, this reminds me of grandma's cooking' or '…mama's cooking.' It's because, basically, I've been learning from mamas and grandmas from Cuba."
He added, "I don't want a native Cuban to come in and say that this doesn't taste like home."
Right where he belongs
The restaurant's décor is subtly Cuban. Pictures of the streets of Havana, as well as popular beaches and famous nationals, adorn the walls. He even has a photo of a former chef with President Jimmy Carter at the entrance. "When President Carter went to Cuba, he was one of the main chefs who served their meals," said Melendrez.
On weekends, he brings in live music to help with the island vibe.
These days, Melendrez spends almost all his time at Tortuga Cuban Grill. "It's good I just live two miles away," he said. And, he added, it's a labor of love.
Before the pandemic hit, he may have thought of expansion, but Melendrez said he's content feeding the people of Peachtree Corners the most authentic Cuban cuisine this side of Havana.
"I can't see myself doing anything else," he said.
Happy Tails & Ales Event at Anderby Brewing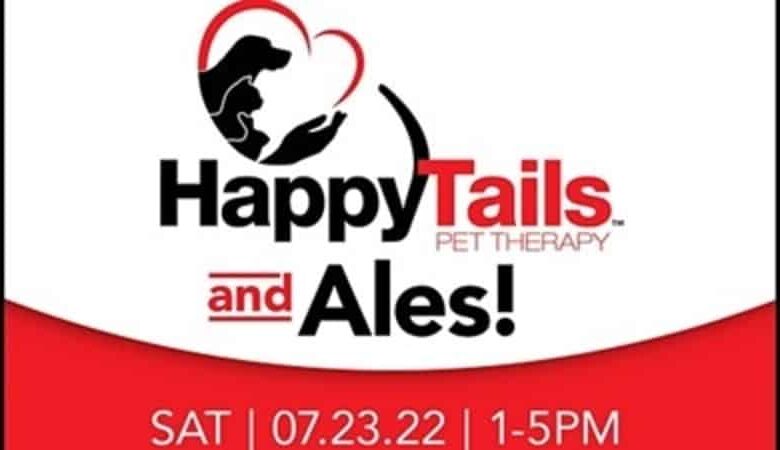 Happy Tails Pet Therapy and Anderby Brewing in Peachtree Corners are teaming up to for a pet therapy social event called "Happy Tails & Ales." Come out and meet the pet therapists from Happy Tails, a 501(c)(3) non-profit organization. Learn about animal-assisted therapy, how to volunteer, and the qualifications for an animal to become a therapy pet. Anderby is discounting all pints by a dollar to benefit Happy Tails. The event takes place Saturday, July 23, from 1- 5 p.m. outside on the patio.
Anderby is pet-friendly, so bring your pet! Happy Tails will rotate four teams of therapy
animals (primarily dogs) each hour for snuggles and meet and greets. So, join the fun and experience how a therapy pet can soothe your soul.
Happy Tails Pet Therapy began 31 years ago in Roswell, Ga. Since its inception, the
organization has brought animal-assisted therapy to hospitals, hospices, schools, assisted living facilities, learning centers, libraries, and other places within the greater Atlanta metro area. Happy Tails Pet Therapy volunteer teams provide physical, social, emotional, and cognitive therapy to people.
All Happy Tails pets are trained in obedience and pass a multi-stage assessment by
experienced Happy Tails Pet Therapy Evaluators before they and their handlers can join the
organization and do the job of pet therapists.
Bringing the Urban to the Suburbs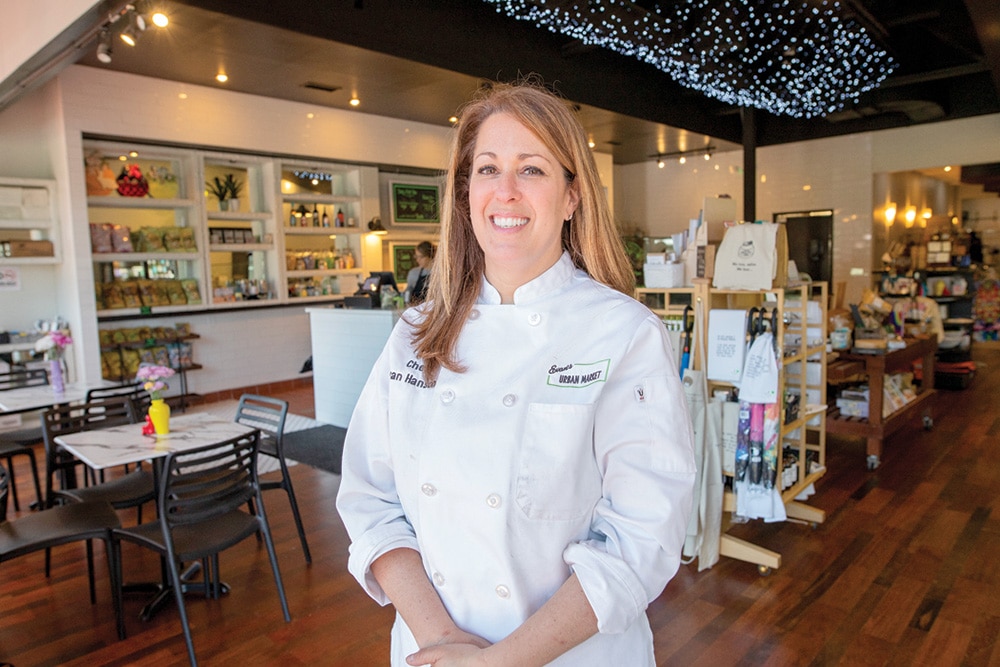 Evans Urban Market a Welcome Addition to Peachtree Corners
Clean, bright, friendly, enticing. All of these are words that describe the vibe at Evans Urban Market. Located in a storefront which once housed Ten Bistro in the Wellington Center Shopping Strip at 5005 Peachtree Parkway, Evans Urban Market is a refreshing homage to the types of markets and eateries you're more likely to find on the streets of New York City than in a Georgia suburb.
The space has been significantly transformed since it was purchased and renovated by owner Evan Hanson. This fun and casual eatery officially opened its doors for business in March of 2022. Prior to that time, when it was in operation as Ten Bistro and owned by Hanson's former husband, it was your typical dark and intimate bar setting.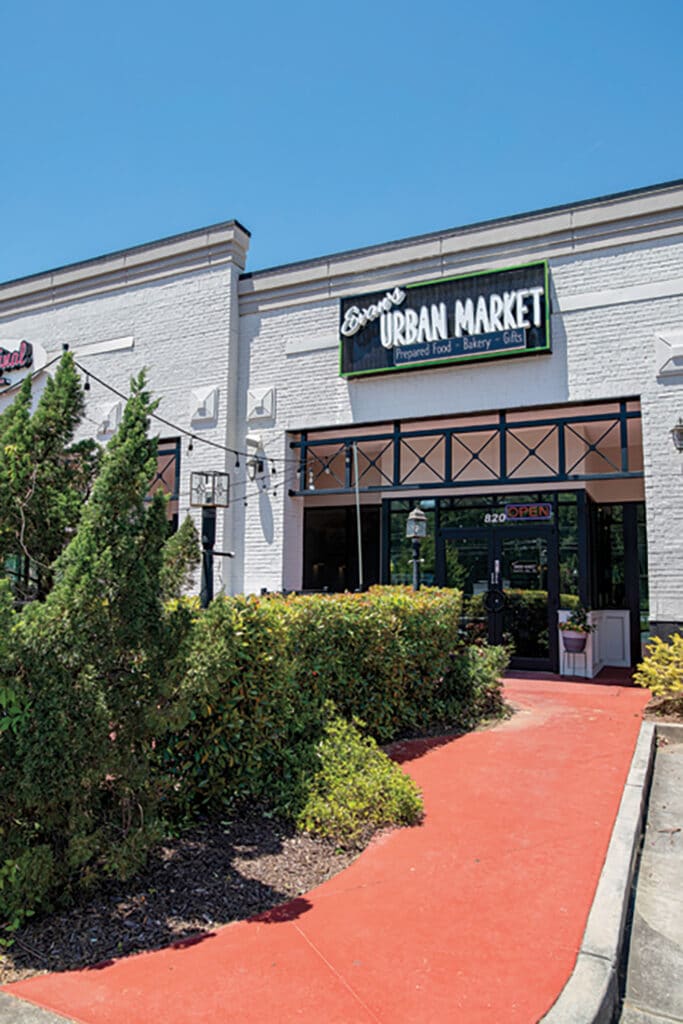 Today, there is a central L-shaped counter with a register and display cases, all bright and clean and white. The walls and displays are similarly clean and pretty. The ceiling features strands of twinkle lights hanging in a zigzag pattern the length of the restaurant. "I feel like it's a starry night in here," she said.
Behind a glass partition are the day's freshly prepared dishes. Offerings typically include salads, sandwiches and soups, plus specialty meals, such as meatloaf, biscuits, biscuit sandwiches, beef stroganoff, Asian beef with rice and even Moroccan and Belizean cuisine.
Nearby is also a dessert case full of decadent treats like donuts, cakes and cookies. Artists' works are set up on free-standing shelves, while a selection of dry goods and prepared meals to take home and heat up can be found around the outskirts of the shop. A few small tables are located by the front window and a patio outside offers additional seating.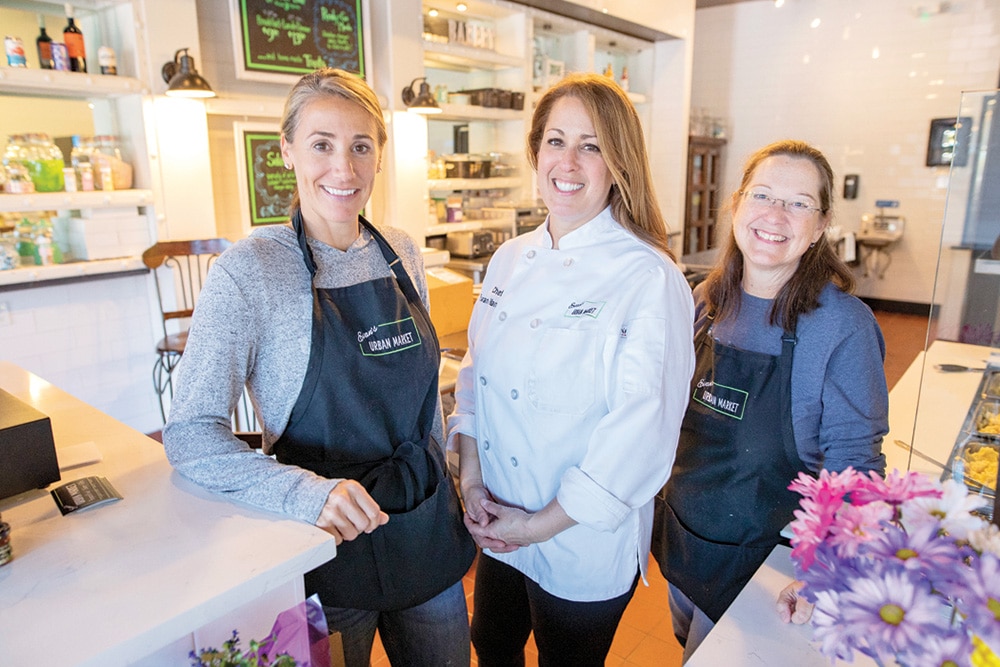 The road to the market
Hanson, the visionary behind this concept, has always loved cooking and baking. She recalled experimenting with brownies, emblazoned with her initials, as far back as eight or nine years old. At the time, Hanson wanted to become a baker. Her mother worried that this would not be a profitable and stable career, so for many years baking was relegated to a passionate hobby in her life.
Several careers and many paths later, today Hanson owns her own restaurant where she is able to use her creativity to craft a vibrant menu of dishes plus custom desserts. "This is a career that has stuck with me," explained Hanson, who says that owning and operating Evans Urban Market is truly her living out her dream.
Her career includes a variety of positions including sales, teaching, working at Ten Bistro and when she opened Pub Ten, she made desserts for both restaurants. It was during her time with Pub Ten that she developed many of her staple desserts, including the renowned dish called 'Sweet Heaven from Evan,' often shortened to Sweet Heaven. This dish, the market's most popular, features delectable bites of cake topped with mascarpone cream, a chocolate ganache and her mother's recipe for chocolate pecan brittle.
Following the separation from her second husband, she became determined to find a way to channel her love for baking into a career. So, when she saw the space that was formerly Ten Bistro for sale, she decided to make her move.
"I wanted to do something with cooking and baking. I loved cooking so much but didn't know if I could sustain doing just baking. I love cooking and wanted to support local artists. So that's why I ended up doing the gifts too," explained Hanson.
A family feel and home cooking
She hopes that this shop will function as a sort of one-stop-shop for locals. Whether you just need a quick bite, a prepared meal to reheat at home, desserts, corporate catering or even a gift for someone special, she hopes it fills a void for those who call the neighborhood home. "I used to say that it's comfort food elevated, but then someone else said it was 'home cooking that I don't have to cook.' I was like 'oh, I like that.'"
It's not just the food that is comforting, it is the very atmosphere of this cozy urban market. Clocking in at only 2,000 square feet, Hanson has to be thoughtful when deciding how many local artists she can invite to sell in her shop and who she employs to work behind the counter and in the kitchen.
Her careful selection of crew and employees is certainly a part of why the vibe at Evans Urban Market is so delightful. It's not uncommon to see a team of only women behind the counter. In fact, the majority of her crew are women, and like Hanson, most are also mothers.
This is part of what Hanson has curated here, a group that feels like a family. They look out for one another and step in when someone needs to attend to a child outside of work. As a result, her 15 staff members are all part time. This allows them to balance their family lives with work and encourages a healthy and, according to Hanson, drama-free work environment. "This is a neighborhood space. We treat the neighbors like we are friends. That's how people want to be treated. Here you're not a number."
Hanson gushed about her staff. "We all get it. We all chip in to help each other. That's one of the things with this group; they work so hard. This is my dream team. Everybody has a special skill that helps us to succeed. I tell them: this isn't just my place, this is for all of us." ■