Farm Burger Brings Locally Sourced, Grassfed Beef Burgers to New Town Center Location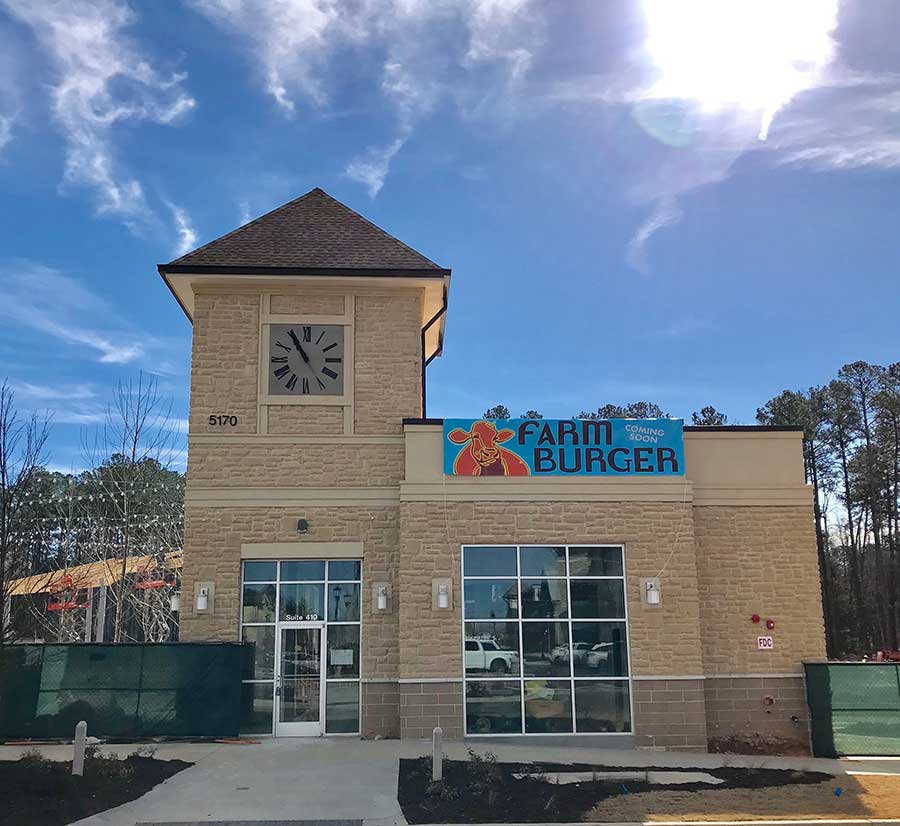 Grassfed burger restaurant Farm Burger has opened in Peachtree Corners' Town Center at 5170 Town Center Blvd. The "ethical burger" restaurant group offers high-quality, locally sourced ingredients, including 100 percent grassfed, grass-finished beef burgers, as well as chicken burgers, vegan offerings, farm-fresh salads and more.
The Peachtree Corners Town Center location is Farm Burger's sixth restaurant in Georgia, joining locations in Decatur, Dunwoody, Buckhead, Grant Park and inside the Mercedes-Benz Stadium. The fast-casual eatery also has restaurants in Alabama, California, North Carolina and Tennessee, bringing the brand's total footprint to 13 locations across five states.
"In true Farm Burger fashion, we have grown organically since opening our first Decatur store in 2010," said George Frangos, co-founder of Farm Burger. "We don't have a copy-paste growth model. For us, it's about establishing roots, cultivating relationships and nourishing community in every market we call home. We have wanted to bring Farm Burger to Peachtree Corners for a while and are thrilled to open in a thriving new development like Town Center. We are excited to share the Farm Burger experience with this community and the surrounding areas."
As part of the opening, Farm Burger partnered with Norcross High School to raise money for the Norcross High School Foundation for Excellence during its private Friends & Family preview events. A registered 501c3, the Foundation helps to bridge the gap between state and county funding and ensures the success of all Norcross High School students through academics, arts and athletics.
Founded in 2010 by organic rancher Jason Mann and seasoned restaurateur George Frangos, Farm Burger is an ethical burger restaurant group committed to leading the fast-casual industry in forging a sustainable food future. Farm Burger crafts 100 percent grassfed, grass-finished beef burgers, dry-aged and ground fresh, as well as other locally sourced menu items, with an emphasis on in-house production of cured meats, pickles, sauces, jams and preserves.
"At Farm Burger, we believe that good food begins on the farm," Mann said. "Our goal has always been to reroute the traditional supply system to function less like a corporation and more like an ecosystem. Farm Burger exists as the crosspoint between consumers and farmers to educate communities on where their food comes from and why it matters. Our cattle are fattened and finished on sweet grass, never fed antibiotics or growth hormones, and always humanely raised and handled. Our menu is simple but thoughtful, crafted by chefs who want to honor the integrity of ingredients. We're grateful for the opportunity to support farmers across the state of Georgia, and here in Peachtree Corners."
In addition to in-house dining, Farm Burger has a number of catering options to accommodate parties big and small. From fresh deliveries to 100 percent grass-fed beef burgers grilled on site, the restaurant's event coordinators work to create customized spreads for every occasion. Farm Burger also offers a loyalty app, which allows customers to order ahead, earn rewards and invite friends to join the Farm Burger community.
Farm Burger Peachtree Corners is located at 5170 Town Center Blvd, Peachtree Corners, GA 30092.
For more information, visit www.farmburger.com.
A Valentine's Day to Savor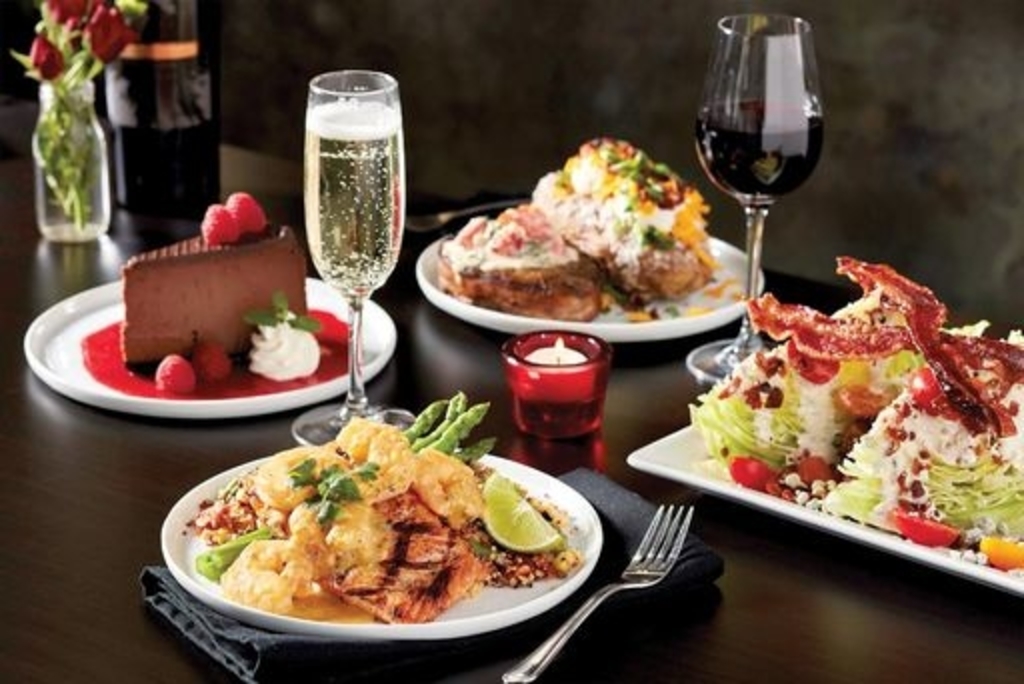 Firebirds Wood Fired Grill
Give your taste buds some love this Valentine's Day with Firebirds Wood Fired Grill's Table for Two dinner special. Available for dine-in, carry-out and delivery, this special includes an appetizer, two entrées and a dessert to share. The main courses feature a selection of a 7-ounce filet topped with lobster and spinach fondue, Key Lime grilled salmon or New York Strip. We all know a romantic evening isn't complete without drinks, so after you finish your Black Tie Chocolate Cheesecake, be sure to try one (or more) of their "Love Potions."
5215 Town Center Boulevard,
Peachtree Corners 30092
770-225-4662 |
peachtree-corners.firebirdsrestaurants.com
Mojitos
In honor of Valentine's Day, Mojito's has scheduled live music on Friday, February 12 and Saturday, 13. Couples can choose from two different package deals of food and drinks served by candlelight. These special deals will be available Friday night through Sunday night in celebration of the weekend of love.
The Forum, 5161 Peachtree Parkway, #630, Peachtree Corners, 30092
770-686-3254 | mojitosbistro.com
Grace 1720
Celebrate Valentine's Day all weekend long at Grace 1720 with a dining experience that's guaranteed to be special. Reservations for Friday, February 12 through Sunday, February 14 can be made through OpenTable or by calling.
The Forum, 5155 Peachtree Parkway #320, Peachtree Corners 30092
678-421-1720 | grace1720.com
Peterbrooke Chocolatier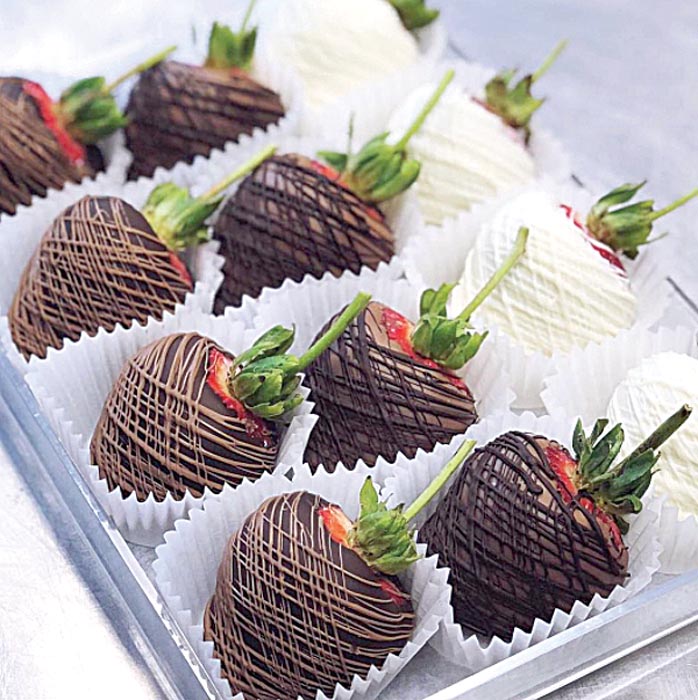 Nothing says romance quite like chocolate covered strawberries. Peterbrooke Chocolatier's Valentine's Day specialty is just that — hand-dipped chocolate strawberries with milk, dark and white chocolate options. You can mix and match your customized order inside a heart-shaped box. Complete your romantic gesture with a chocolate rose for that special someone in your life. They can accommodate walk-ins, but manager Scott Gottuso recommends pre-ordering your strawberries for the romantic day.
The Forum, 5135 Peachtree Parkway #930, Peachtree Corners 30092
770-817-8118 | peterbrookeforum.com
Marlow's Tavern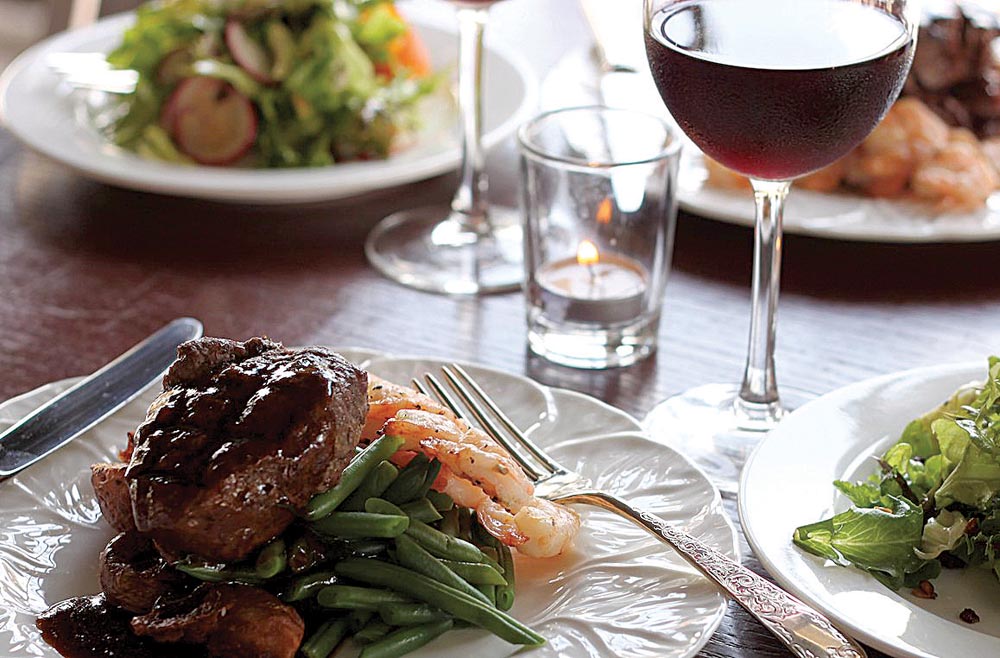 Marlow's Tavern has a plan to make your date night special, whether it's at home or a safe night out. They've prepared a romantic Prix Fixe menu to enjoy with your loved one. Wine pairings are available for both dine-in and takeout. Available for dine-in or takeout, the Prix Fixe meal includes:
■ First Taste — Tavern Salad for Two, Asparagus Fries or Warm Brie Fondue (choose from one to share).
■ Main Plate — Surf and Turf, Pan Seared Trigger Fish or Grilled Center Cut Filet (chose one per person).
■ Sweet Plate — Warm Chocolate Cake (to share).
5210 Town Center Boulevard, Suite 260, Peachtree Corners 30092
470-550-1197 | marlowstavern.com
Pouch Pies Bring Comfort to Peachtree Corners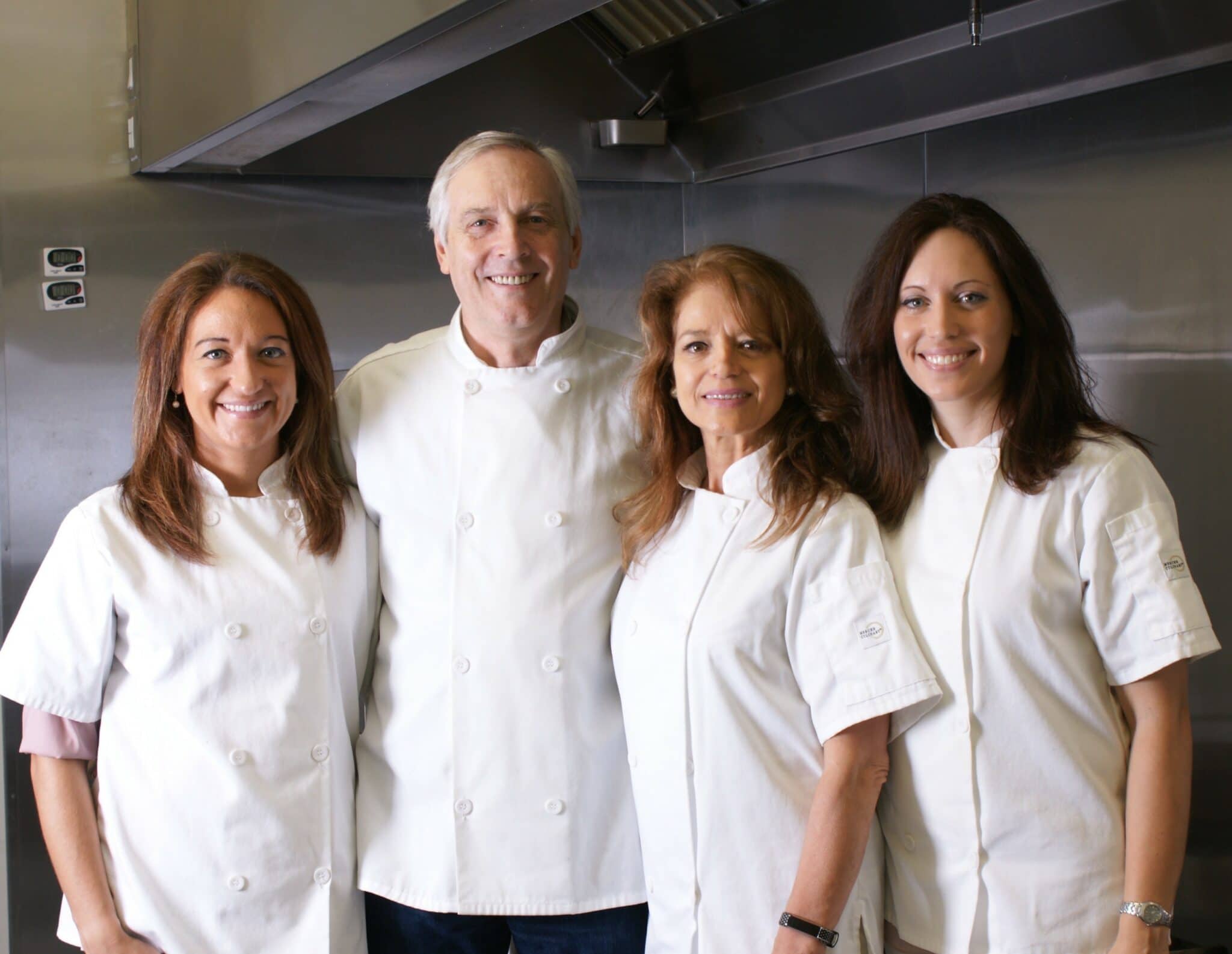 During this difficult time, when we are all looking for a little comfort for our families and ourselves, we need not look further than our own community. We can find it in the walks we take, the neighbors waving hello to us on the street, but especially in the meals we share with our loved ones.
That comforting feeling can be found in delicious Pouch Pies, made locally in a Roswell facility by an entrepreneurial Peachtree Corners family. Now that the holidays are fast approaching, it's hard to imagine how we will make this season feel "normal." Perhaps if we can't be with the people we love, we can still eat the foods that bring us a sense of nostalgia.
The Pouch Pies' Malcher family saw the value in bringing families together, when the two daughters, who were living in South Africa at the time, convinced their parents, who were living in Scotland, to move to the United States to be closer to extended relatives.
A taste of home
Once they made the move, they quickly grew homesick for a certain kind of dish that most other countries around the world have their own version of. "Pies," as they lovingly refer to them, are not the same thing as the sweet, fruit-filled treats we have here in the South. Latin countries have the empanada, India has the samosa and Jamaica has the beef pattie. Even George Washington used to make some version of it; in fact, it was his favorite dish.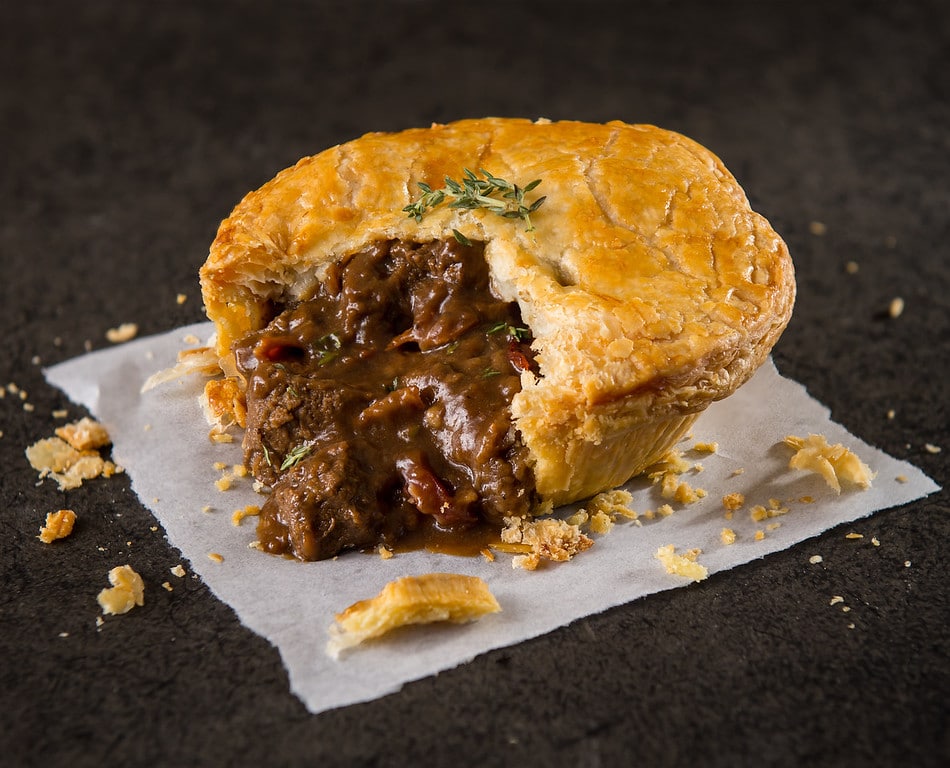 But when it comes to this common food, the closest thing the U.S. has would be the pot pie, which isn't handheld and convenient. "The U.S. had it, then somehow lost it. Now we're bringing it back," said Dave Malcher, the 'father' of Pouch Pies.
In 2015, the family — they call themselves the "pie"-oneers! — decided to open up a small shop in Athens, Ga., where they lived, and spent six months perfecting their recipes and trying new, exciting combinations. Using fresh, high-quality ingredients, they forged on to handmake each pie from scratch.
It was a hit! Not only did they get a ton of business from the local university students with late-night munchie cravings, they also started to notice something far more touching. Expats from all over the world would drive for hours and hours to their little shop in Athens — just to get a taste of home.
Finding more mouths to feed
Three years ago, they decided to close up the shop in Athens and move into a factory in Roswell, Ga. Once there, they expanded the operation, hiring more chefs and distributing to boutique stores and markets all over the country.
Now they ship all over the nation using cooled containers, while still keeping the tradition of hand-making each pie individually. It eventually caught the eye of some prestigious culinary awards and earned the Flavor of Georgia Award in 2019.
Once the pandemic hit, the Pouch Pies family worried about how their special little company might survive. "We learned not to take anything for granted," said Dave, speaking about the ability to stay quarantined with his family and still see them every day. "The way I see it, you can either adapt to it, or stop your life right there."
And adapt they did. In addition to distributing their pies to businesses, Pouch Pies started hipping directly to customers, even providing free local deliveries to members within the community. Now families of Peachtree Corners — and all over the country — can enjoy a homecooked meal on nights when they're exhausted from virtual learning, housebound kids or COVID-burnout.
"It was local businesses that first kept us going," Charmaine, one of the sisters, recalled. "Now we love being able to help out the community during this difficult time."
Familiar flavors
I, myself, was "coerced" into a taste test. (Yes, it's hard being a writer, sometimes!). After sharing with my family, I asked what they thought.
My mama's favorite was the Spinach and Feta, and she pointed out that while most American pot pies are mostly gravy, Pouch Pies are full of meat and vegetables. My husband's first response was that one of the pies — Beef, Bacon and Ale — reminded him of his mother's fabulous brisket. And that's what it comes down to, isn't it?
This holiday season, even though we can't physically be with our loved ones, we need to do all we can to find the comfort of the many holiday meals we've shared with them. Thank you, Pouch Pies for giving us a taste of home this holiday season.
As an exclusive perk for magazine readers, Pouch Pies is offering a 15% discount on their site — just order through their site at pouchpies.com and use the code PTCmag when checking out. You can also call at 470-545-3895. The offer will be valid until January 31, 2021.
Use the discount for the seven- or nine-ounce pies. Pouch Pies also plans to offer mini sausages and sticky toffee pudding, and they'll roll out a new flavor — Beef Bourgeon — for the holidays.
Taqueria Del Mar to give away Thanksgiving meals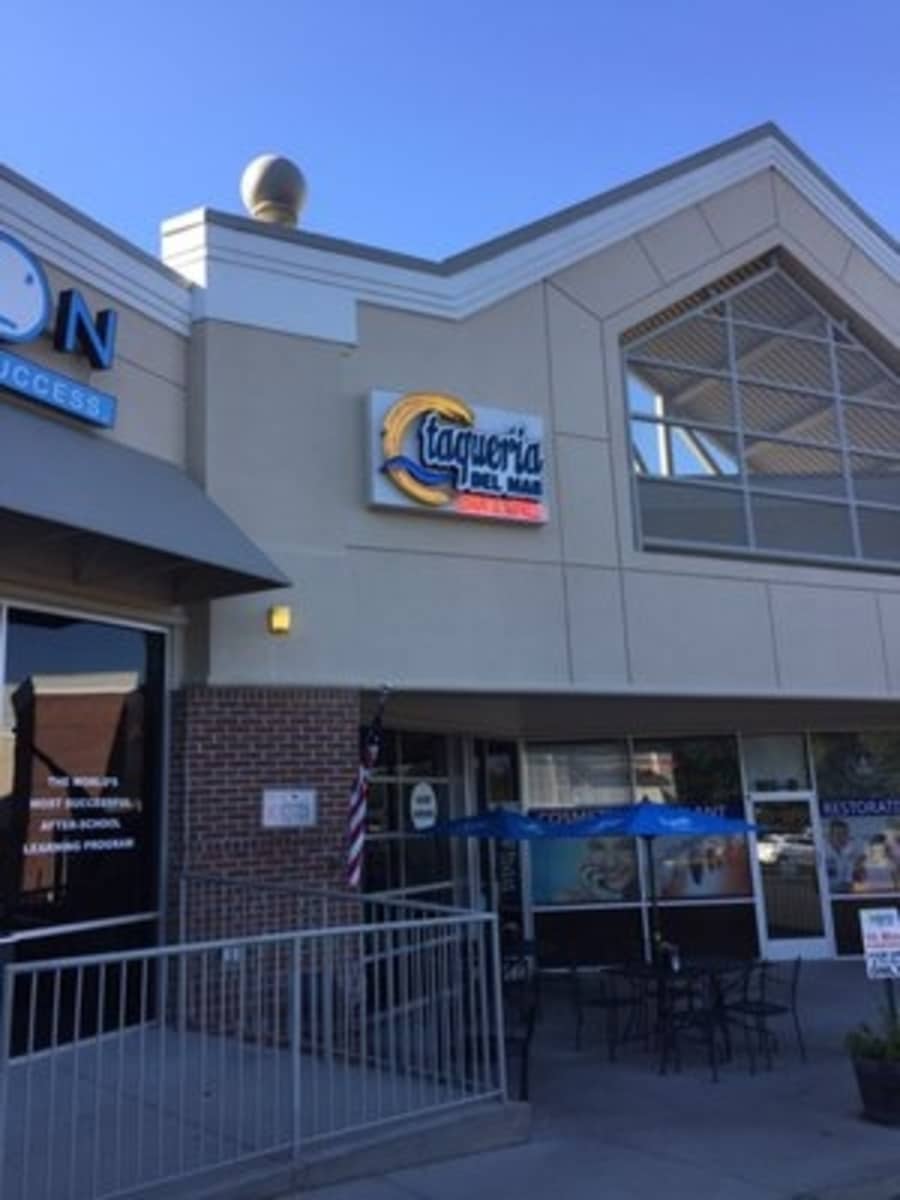 As Thanksgiving approaches, normally many people would plan to gather with friends and
families to celebrate the bountiful life most are blessed with. However, there are millions of
others who go without on Thanksgiving Day. Taqueria del Mar has decided to forgo
Tacos and Tostadas on Thanksgiving 2020 and instead turn their attention to Turkeys and
togetherness. This Thanksgiving, the restaurant wants to focus on "Unity in the Community".
"What we take most pride in is helping those that need help the most. We have always served a traditional Thanksgiving meal on Thanksgiving using the 'Pay what you can' format. Some guests simply don't want to cook at home, others can't afford to cook at home, and a lot are somewhere in the middle. All we wanted to do was offer a comfortable, judgement free setting where all could come together as a community and celebrate Thanksgiving," Owner Andrew Hoppen said.
Taqueria del Mar will be offering a traditional Thanksgiving dinner for free! They will
be offering a convenient "Take and Bake" one pan meal that feeds up to six people. Open to
everyone, we want to give back to those that may not have the means to celebrate Thanksgiving. They want to give back to the community that provides for us and our families each and every day.
So if you or anyone you know is in need, please contact Taqueria del Mar. We will also be offering the meal for six people to purchase for $50. As in past years, the business operates under the "Pay what you can" and "Pay it forward" principles – so if you can not afford to pay, we will not turn anyone away. And of course, if you can "Pay it Forward", your generosity is most appreciated. All proceeds will be donated to their sister charity, the Renewed Hope House of Wellspring Living, located in Duluth GA.
Source– City of Peachtree Corners Press Release