Great Spaces: Noble Fin Restaurant and Events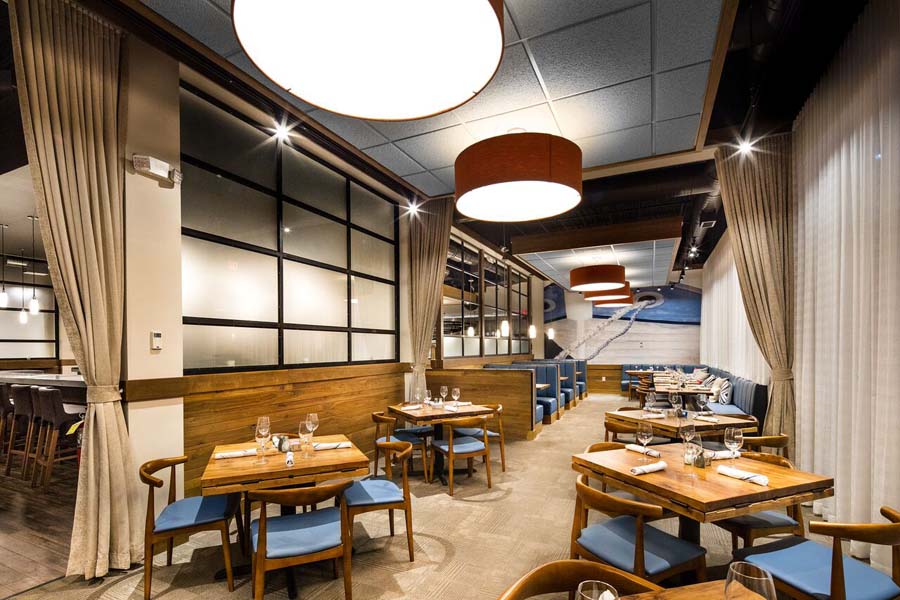 One of Fourteen included in Our Great Spaces for Your Corporate & Holiday Events
Noble Fin Restaurant and Events
5260 Peachtree Parkway
Peachtree Corners 30092
678-488-9918
noblefinrestaurant.com
After much anticipation on behalf of residents, Noble Fin arrived on the Peachtree Corners restaurant scene three years ago. It's a refined seafood and steak restaurant with loyal customers, for both corporate and family occasions. They have a fantastic staff, great food, and a culinary trained chef. "We're always happy to please everybody who comes in. That's our job," emphasized Owner, Cliff Bramble.
Santa Baby Meets Little Fin
Currently, they do not cater off-site, but they've just launched Little Fin, a virtual, daytime restaurant with the capacity to serve 10-200 people with boxed lunches, sandwich platters, soups, salads, beverages, and fruit via pick-up or delivery to homes and offices in Gwinnett County. Just in time for the busy, holiday season!
In the restaurant, a small party size in a private room would comprise about 15 people. For a group of 70, two private rooms can be combined. The largest party they can accommodate would involve a complete buyout, with 150 guests.
"We can accommodate parties for lunch and dinner that are anywhere from 20-75 people. We also do a lot of rehearsal dinners that go up to as many as 70 or 80," resumed Bramble.
At Noble Fin, your holiday party can feature a seated meal, a cocktail party, or a combination of the two. "If you want to do something between 3 p.m. and 5 p.m., perhaps not a big, blow-out dinner, you can come here, rent one of the rooms, and have cocktails and small appetizers," suggested Bramble.
Besides a semi-private room, they have three private rooms named after some of their favorite places on the coast: The Chesapeake Room, The Newport Room, and The Hatteras Room.
Service options are buffet style, family-style, and chef-driven stations throughout the restaurant, especially for larger parties. The stations make things a little less formal, allowing for people to circulate and intermingle. Salad, prime rib, and pasta stations are popular.
If you have a limited timeframe, like an hour for lunch, and you want to serve 35 people in one hour, you'll find a salad on the table when you arrive. Then the entrees would be served. "We can have everybody in and out of here in 45 minutes to an hour. We try to be flexible and help everybody out, no matter what they need," said Bramble.
How About a Holiday Party with Noble Fin?
Although the restaurant name would suggest a seafood-only menu, there are plenty of steaks on the menu for meat lovers. Bramble commented, "Everybody loves steak!"
Dietary needs are discussed during the planning phase of your holiday party. They can offer vegetarian and gluten-free options. If you request a kosher meal, they will have it delivered to the restaurant by a gentleman they work with in town. "We have options available for everybody. We have to have all bases covered," explained Bramble.
Bar: Hosts can provide an open bar for their guests and be charged for beer, wine and liquor based on consumption. Bramble commented, "Companies are a lot more conservative now with the parties than they were five years ago with those two martini lunches. Ha! Ha! Or was that ten years ago?" Martini lunches? Where do we sign up?
Book it!
"We've been booking holiday parties since August. Usually by October, they're already booked. I would recommend you book early because by the time you want that favorite Friday night, it might already be taken," warned Bramble. "Saturday afternoon parties are very popular."
In December they open for lunch at 11 a.m. and for dinner, people having large parties lasting 3 to 4 hours, will come in as early as 3:30 p.m. or 4 p.m. While they're usually closed on Sundays, in December they offer the opportunity to have parties on Sundays as well.
Event menus are derived from the regular menu. There are three different packages. They start at $45 for 3 courses and go up to $65. If items that are not on the menu are requested, they'll work to accommodate you.
Guests are offered a choice of appetizers, three or four entrees to select from, and then there's dessert. "If you want a 4-course dinner, we can do that as well. Some people choose to do a cocktail hour first, especially if they haven't eaten since 1:00 in the afternoon and they're showing up here at 6 p.m. It's good to have a cocktail hour or half hour, with some passed hors d'oeuvres, before sitting down to have dinner," suggested Bramble.
For a class act seafood and steak holiday party in an elegant yet comfortable setting, contact Noble Fin Owner Cliff Bramble at 678- 488-9918.
Disclaimer: Pricing is meant as a guide and is subject to change, please check with the individual facilities directly.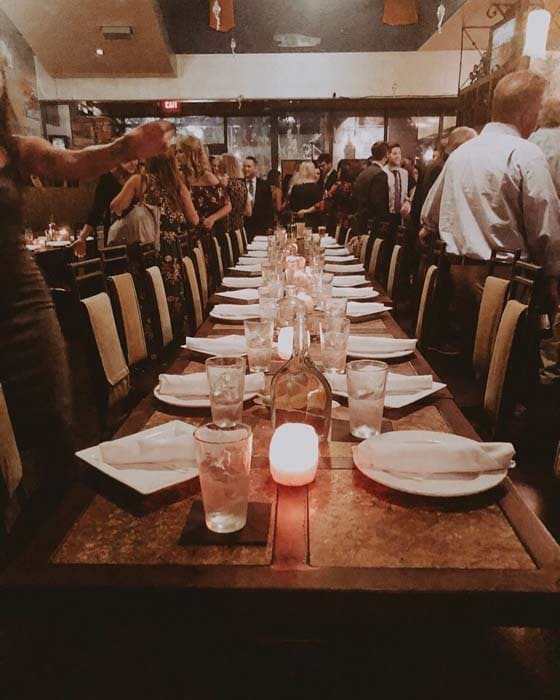 One of Fourteen included in Our Great Spaces for Your Corporate & Holiday Events
Ten Bistro
5005 Peachtree Parkway #820
Peachtree Corners 30092
770-375-8330
tenlocalflavors.com
Ten Bistro is the vision of Owner and Chef Jesse Kauffman who initially spent a long time on the corporate side of the restaurant business. Much of his formation included eight weeks of training in the kitchen, at each new restaurant that he managed.
He comes from a family of foodies; his mother was always very focused on organic, healthy foods, and his grandfather was a life-long baker. He rolled into the restaurant business very naturally.
When this attractive space became available in his community, he jumped at the chance to open his own, and just like that, Kauffman became both a Peachtree Corners resident and restauranteur. Although he didn't realize it at the time, he decided on a brilliant way to get the neighborhood to rally behind him.
He put out the word to the 10 major subdivisions in Peachtree Corners, soliciting favorite recipes from his neighbors. "There's always that one person known for their white chicken chili at the tennis team party," chuckled Kauffman. So in a genuine attempt to find out what his fellow citizens would enjoy eating, his initial menu emerged, complete with the names of the neighbors who had volunteered them and the subdivisions they hailed from.
"So that's where the "10" came from. And Bistro, just because a bistro has everything from French onion soup, to a good fresh fish, to filet mignon, and good organic salads. So that's Ten Bistro!"
The Ten Bistro Noël
Both corporate and family gatherings on the smaller side, which do not necessarily require a private event space, are welcome in the restaurant. If a private function is a requirement, buyout of the restaurant is always an option.
The best number for a party size here is 50 or less—50 would take-up the whole restaurant. They've had parties of up to 65, with some guests spilling over onto the patio, but you can't always count on the weather.
Owner and Chef Jesse Kauffman
How About a Holiday Party with Ten Bistro?
Great news! Kauffman and his team do provide off-site catering for 10-150 people. Call the restaurant to discuss your vision and Ten Bistro can come to you!
For a group reserving the whole restaurant, they'll start off with either passed around appetizers, or set them up on the bar. Envision brie wrapped in puff pastry with pineapple chili marmalade, asparagus fries, pitta and hummus, vegetable crudités, and bruschetta toast points.
Once guests are seated two choices of salad are offered; either Caesar or the House Salad.
Entrees can be served one of two ways; family-style, with guests being served from platters brought out by servers or plated in advance and brought out. For family-style, "servers come out with large platters of truffle mashed potatoes, green beans, and asparagus, and serve everybody. Then we come out with 3 different proteins and everybody can have all of them, like salmon, steak, and chicken. So, you get a nice full plate that we keep serving until people are full," explained Kauffman.
Alternatively, you may develop a menu from which guests will be able to choose one of three entrees if the party is large. If the party is 20 or smaller, guests can have a choice of up to five entrees. "That's where we can include vegan, vegetarian, seafood, chicken, steak, for a nice broad coverage. Then we just plate it, and bring it out," offered Kauffman.
Desserts are the grand finale of either the aforementioned scenario. 
Dietary restrictions can be accommodated here. Whether you're a vegetarian, or you're avoiding gluten, or dairy. Meals can be easily made per your request. Because everything is made to order, any undesired ingredients can be easily left off.
Kauffman has always had his finger on the pulse of every food decision at the restaurant. For the past seven years he's shifted his focus from shaking hands and kissing babies in the front of the house to the kitchen even more so. There's a reason the "boutiquey" restaurant is often buzzing.
Artwork from local artists adorns the walls of this eclectic establishment. If you should find a piece that speaks to you, they're for sale – all proceeds go to the artists who created them.
Book it!
Any day is a good day to host a party at Ten Bistro. Kauffman recommends scheduling your holiday season event one month in advance.
From Sunday through Thursday, the group would have to spend $4,000 to rent the whole restaurant. This includes an open bar and a four-course meal.
The buyout price for Friday and Saturday is $5k, including a four-course menu, an open bar, tax and gratuity.
Daytime parties that take place on Saturday or Sunday can be done for much less: $20 per person, with a 20-person minimum.
For smaller groups of 15 to 25 that don't need to rent the whole space for a private venue, it's from $15 to $20 per person for lunch groups. For three courses dinners, it's $27 per person, alcohol would not be included. It would be billed separately.
To book your holiday fête or soirée at Ten Bistro, call Owner and Chef Jesse Kauffman at 770-375-8330.
Disclaimer: Pricing is meant as a guide and is subject to change, please check with the individual facilities directly.
Great Spaces: Royal Thai Bistro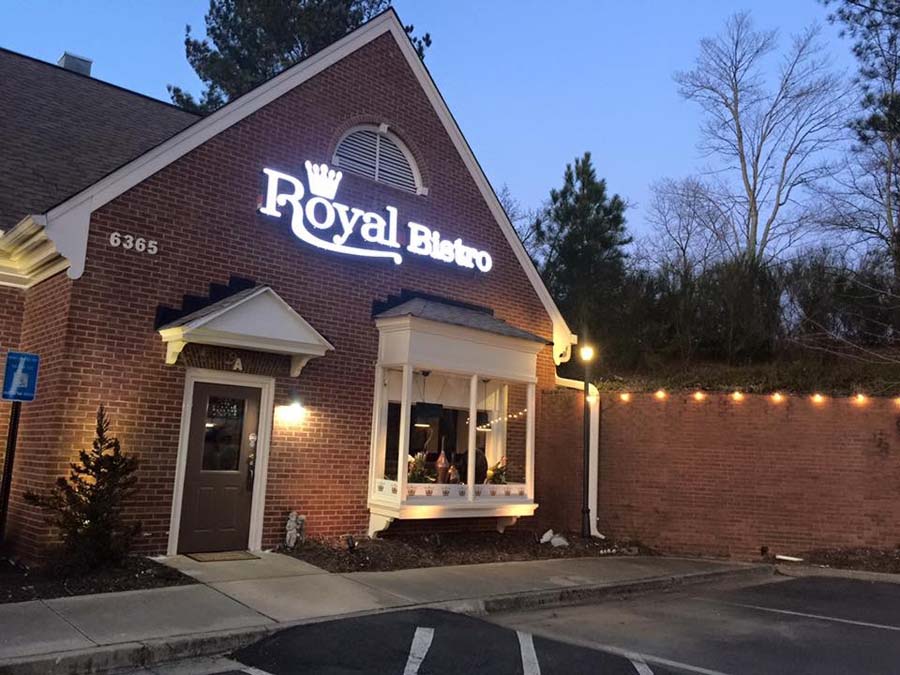 One of Fourteen included in Our Great Spaces for Your Corporate & Holiday Events
Royal Thai Bistro
6365 Spalding Drive, Suite A
Peachtree Corners 30092
828-635-9745
royalbistro.net
Royal Thai Bistro is a family-owned, Asian Fusion restaurant offering in-house and to-go dining. There's an uplifting story behind this restaurant. It's a story of hard work, a love of our community, and of course, a love of flavorful Thai food.
Breathing life back into a great neighborhood jewel with a fresh Asian Fusion twist, Owner and Managing Partner Kenny Suphapol once worked in Royal Thai Cuisine. When it closed after serving the community for 25 years, he decided to purchase the space, pick the former owner's brain regarding everything he loved about her restaurant, and he opened up shop again with his own personal touches, in the form of Royal Thai Bistro.
That was almost four years ago. Today, this welcoming neighborhood establishment offers weekly lunch specials and monthly Happy Hour dinner specials that are a big hit among the locals.
The Most Wonderful Thai of the Year
There are approximately 33 chairs, a long silver-colored, tufted back, leather banquette against the back wall, and a smaller adjacent room with 3 booths. Tables are elegantly set with dark linens. Royal Bistro can seat a party of 25-30 people for your holiday event.
If you'd prefer a standing-only cocktail hour type party, with passed appetizers, that is also an option in the main dining room.
Owner and Managing Partner Kenny Suphapol

Writer Patrizia Winsper & Kenny Suphapol
How About a Holiday Party with Royal Thai Bistro?
Every dish served here is made fresh to order. "We use only fresh ingredients to make our Thai Fusion food," stated Suphapol. Their aim is to serve up the unique flavors of Thai cuisine with a slight twist, making it friendlier on American palates. "For example, we'll put a traditional, Thai Nam Tok salad in a sandwich, and serve it with fries," explained Suphapol. "We can make dishes super spicy, or as spicy as you like."
There are gluten-free and vegetarian options available. They're able to cater to certain food allergies as well. They try their best to meet your needs and are happy to prepare dishes especially for you if you have dietary restrictions.
While Royal Thai Bistro does not cater off-site, they do prepare large quantities of food for pick-up so you can still take the Thai party home. For a large affair, five days of advance notice would be beneficial.
Book it!
Two days' notice is sufficient for a party of 10-12. For parties of 25-30 people, five days' notice is advised. While they encourage customers to book as early as possible, they've also been able to accept large party bookings in as little as two to three days in advance.
Royal Thai Bistro is open for lunch Monday through Friday from 11 a.m. to 2:30 p.m. Dinner hours are Sunday through Thursday 5 p.m. to 9 p.m., and Friday and Saturday 5 p.m. to 10 p.m.
If your party takes place here, free refills of Thai tea and coffee are included. Beer and wine would be charged on a per consumption basis.
Food pricing will depend on the number and type of dishes you request. Per person rates can start at $12 to $15, which would include appetizers and entrees. More expensive selections can go up to $25 per person, including three to four appetizers, not served all at once, but staggered and spread out. When everyone is done, a main course would be served.
To discuss the details of your Thai-rrific holiday party at Royal Bistro, call Owner, Kenny Suphapol at 828-635-9745.
Disclaimer: Pricing is meant as a guide and is subject to change, please check with the individual facilities directly.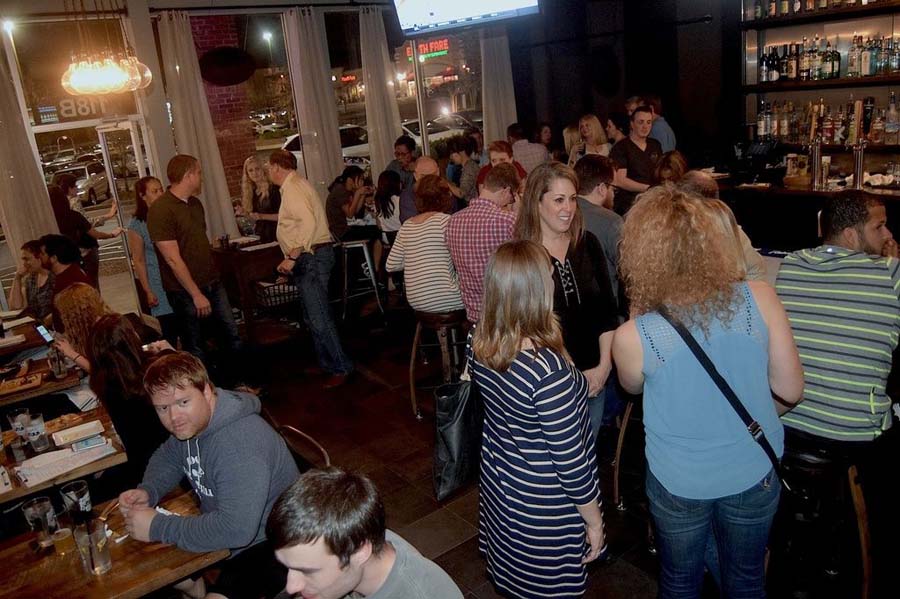 One of Fourteen included in Our Great Spaces for Your Corporate & Holiday Events
Pub Ten
5270 Peachtree Parkway #118b
Peachtree Corners 30092
678-691-5041
pub10.com
The friendly, neighborhood bar and grill with that Cheers sort of vibe, "where everybody knows your name," Pub Ten, is a cozy place to consider celebrating the season's social events. Owner, Evan Hanson and I had a fun chat about just that. Evan also does the pastry work at the pub.
"I have a lot of regulars. They start to walk in the door and the bartender is making their drink before they even ask for it. Or we're already ordering their food. I want everybody to feel comfortable and enjoy themselves. I want everybody to have great service, good food, enjoy the ambiance, and listen to some fun music," beamed Hanson.
This craft kitchen and bar serves-up an elevated take on pub food, with a bit of a twist. They like their food to be a little bit crazy—like the lamb burger with banh mi slaw. Instead of nachos consisting of corn tortilla chips with ground beef on top, you're going to get fried wontons topped with Korean BBQ brisket. Besides avoiding the traditional however, the old favorites are on hand, because plenty of people still enjoy a regular burger, and the comfort of a grilled cheese sandwich.
Evan serves up the best wings in town, in my opinion. They're smoked, baked, fried, and then tossed in your sauce of choice. My favorite is the Sweet Chili Thai sauce, but their made-from-scratch 10 spice dry rub is popular too.
On the Pub-Tenth Day of Christmas…
A sit-down dinner, a buffet, or appetizers, all scenarios are possible here. "We try to accommodate the needs of the group," said Hanson. They have both family and business events at the pub.
There's a semi-private room where events are usually held, and the main dining area where the bar is located. Generally, people rent out the quasi-secluded room. If seated, 30-35 people can be accommodated. If it's a standing/cocktail shindig, one can invite 40 to 55 guests.
If booking this semi-private room, there is a minimum dollar spend, depending on the day of the week and the time. You can also rent the entire space as long as the minimum spend is met.
Good News! Pub Ten also provides catering off-site for up to about 100 people. Hanson advises against certain items that don't travel well, like some of the fried foods, although some of her customers insist on getting the Mac Tots delivered – in which case she advises they be kept in the oven so they stay crispy. When catering, all sauces are kept separate from the food to avoid anything getting soggy.
If you need servers, she's happy to send her staff along to help you, and allows you to pay them directly.
How About a Holiday Party with Pub Ten?
It's nice to have a space exclusively dedicated to your party. "We are so reasonably priced compared to some others in the area. Again, we're that hometown, sit down and feel comfortable kind of place. You'll feel like you're at home. We'll make sure we take good care of you," vowed Hanson.
For the most part, the party food comes from the usual menu. You can also provide guests with a reduced menu if you prefer. If you want to go off menu, that is absolutely an option. A nacho bar, with all the fixings is a popular idea. That way everyone can create their own and get it just the way they like. Chafing dishes are used for a buffet style meal. "We try to make it easy for anybody to get whatever they want," said Hanson.
Pub Ten can adapt the menu according to your dietary needs. "We can cater to any dietary restrictions considering what's on the menu. If you need it to be gluten free, we can make sure it's gluten free for you. If you need some vegetarian options, we have great vegetarian options. We have a veggie burger that's amazing. I have a keto bowl right now that's a spaghetti squash bake, no pasta, and it's amazing, with chicken. If you need it to be vegetarian, we can just leave the chicken off," said Hanson. 
Book it!
For larger groups, a week's notice helps them to plan accordingly. For the holidays, Evan suggests starting to book in October, if not sooner, because several corporate events get booked here annually.
Hours
Monday 5 p.m. – 9 p.m.
Tuesday 11 a.m. – 10 p.m.
Wednesday 11 a.m. -10 p.m.
Thursday 11 a.m. – 11 p.m.
Friday 11 a.m. – 12 a.m.
Saturday 11 a.m. – 12 a.m.
Sunday 11 a.m. – 9 p.m.
Instead of a room rental fee, you'll have to spend a certain amount, depending upon the night of the week. A normally busy night like a Friday will be more expensive. If you reach that predetermined amount, there's no extra charge. If you haven't met that minimum amount, then your tab will be bumped-up. "I'll make sure you get the best of the best. I try to be fair," promised Hanson.
Pricing will vary between buffets and seated dinners.
Low: grilled cheese sandwiches, burgers, and such.
High: steak, Spanish bowl, Brazilian bowl, and the higher-end items.
Alcohol tabs for parties can be handled in a number of ways. Evan is open to what works best for you. For example, you may opt for an open bar scenario, minus one or two liquors that may be beyond what the agreed-upon price-point would afford.
To inquire about hosting a friendly and intimate holiday party at Pub Ten, contact Owner, Evan Hanson at 678-691-5041.
Disclaimer: Pricing is meant as a guide and is subject to change, please check with the individual facilities directly.