Light Up the Corners – A Fun Way to Help Our Community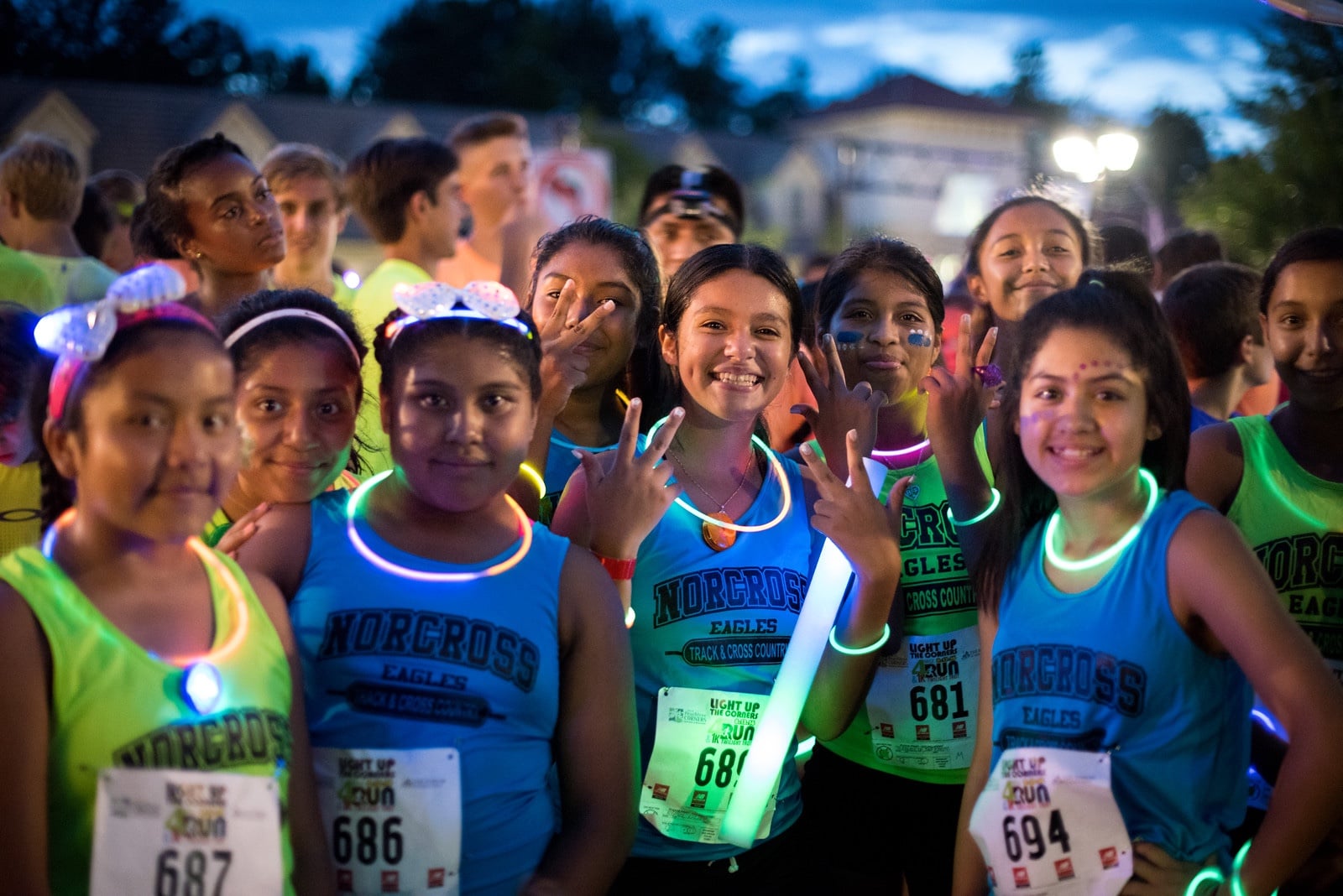 Light Up the Corners is a one-of-a-kind nighttime experience with two events: the 4 Mile Glow Run and the 1K Twilight Trot. In these two events, the course will be lined with blinking lights, illuminating your path. All participants will also be given glow lights to light up the course as they walk or run.
Because the main concept of Light Up the Corners is to have fun lighting up the streets, there will be contests for the "glowiest" boys, girls, men, women, and teams. So, don't forget to strap on as much glow bling as you can find!
But keep in mind that Light Up the Corners is not only about having fun. While you'll definitely have a great time, these events are also about helping our community. As such, all proceeds from the events will benefit the at-risk children and families around Peachtree Corners. The money will be used to give these people a chance to participate in various life-enhancing activities and programs at the Fowler YMCA.
Overall, these two events will not only light up Peachtree Corners but will also light up lives as well. Remember, this event is not only for those who can run fast; weekend joggers, casual walkers, or any anyone who wants to help our community is welcome to join the 4 Mile Glow Run and 1K Twilight Trot.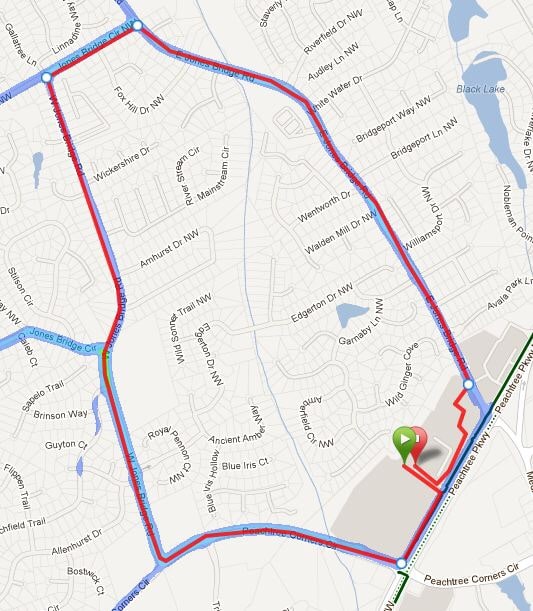 When and Where
Light Up the Corner will be held at Peachtree Corners, GA on August 10, 2019 (Saturday). The 4 Mile Glow Run will start at 8:30 pm and will end at 11:30 pm. As for the 1k Twilight Trot, it will start at 8:00 pm EDT and will end at 8:25 pm EDT.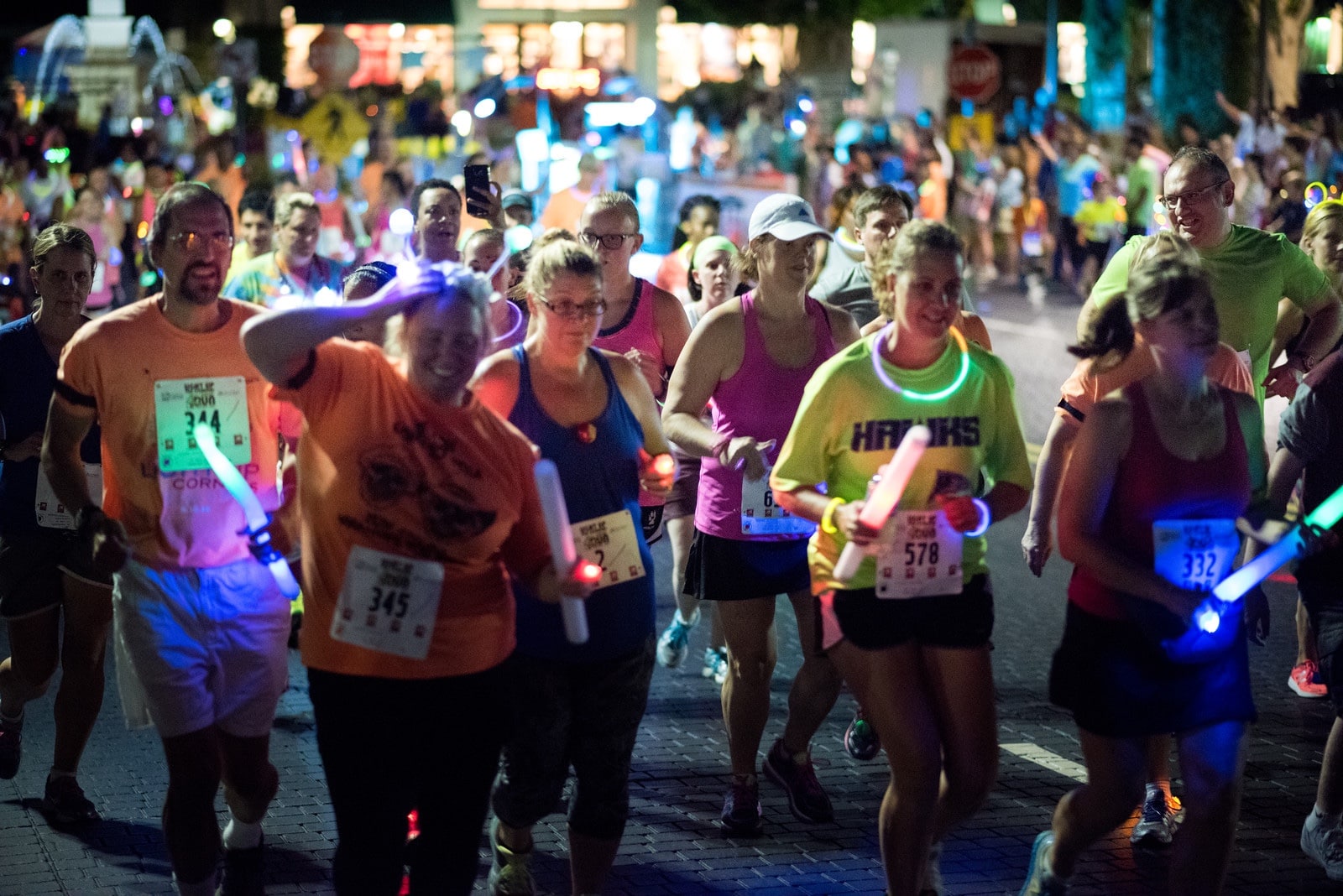 How to Join this Fun Activity
To join Light Up the Corners, you can either register online or go to the Fowler YMCA or New Balance Store at The Forum.
Individual registration will cost $35 for the race fee and $3 for the sign-up fee. The price will be lower if you register as a team – four or more persons per team.
If you can't make it to the event, you can still light up someone's life by being a phantom runner. The registration fee is $38 ($35 for the race fee and $3 for the sign-up fee).
For more information, you can visit the Light Up the Corner's page at https://runsignup.com/Race/GA/PeachtreeCorners/runthecorners
More Fun at the Post-Race Party!
After the 4 Mile Glow Run and 1K Twilight Trot, all participants can join and have more fun at the BEST post-race party in Peachtree Corners. There will be live music along with free food and drinks courtesy of the events' generous sponsors. Prizes and gift certificates will also be handed out during this time.
With that, let's light up the streets and someone's life this August 10, 2019, by signing up for Light Up the Corners!
Gwinnett Hosting Four Poll Official Hiring Events in July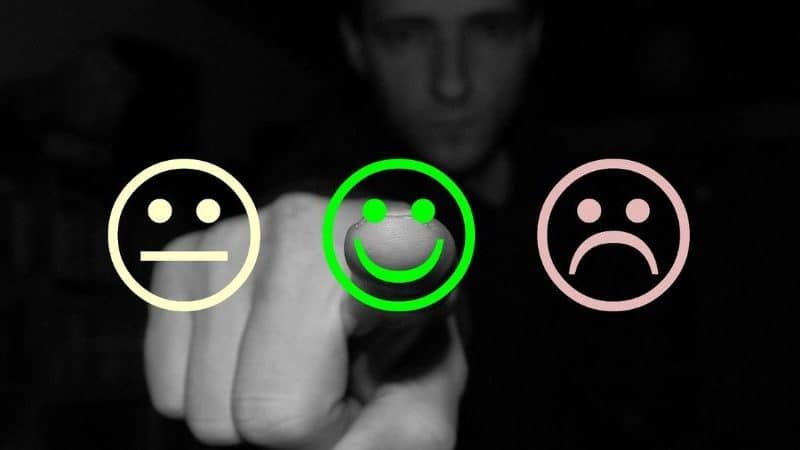 Citizens interested in the electoral process and who want to give back to the community are invited to attend one of Gwinnett County's four upcoming poll official hiring events in July.
The Gwinnett County Voter Registrations and Elections Division is looking for citizens of all backgrounds, but especially needs bilingual poll workers, particularly Spanish speakers. Gwinnett County elections personnel staff 156 polling locations on Election Day plus eight advance voting locations. To comply with federal law, bilingual polling officials must be available to assist voters at each polling location during elections.
Poll officials can gain valuable work experience and earn $75 to $300 per day.
The hiring events are set for:
Thursday, July 18 from 4 p.m. to 7 p.m. at Five Forks Branch Library, 2780 Five Forks Trickum Road, Lawrenceville
Saturday, July 20 from 9 a.m. to noon at Collins Hill Branch Library, 455 Camp Perrin Road, Lawrenceville
Thursday, July 25 from 4 p.m. to 7 p.m. at OneStop Norcross, 5030 Georgia Belle Ct., Norcross
Saturday, July 27 from 9 a.m. to noon at OneStop Norcross, 5030 Georgia Belle Ct., Norcross
The events are scheduled in the evenings and on a Saturday so that people who work during regular weekdays can attend.
Among the requirements, applicants must be at least 16 years old, a U.S. citizen and be able to read, write and speak English. They also must be a Gwinnett County resident or a Gwinnett County government employee and they must have access to a computer for required online training.
Interested citizens are encouraged to apply online prior to the event at www.gwinnettcountyjobs.com.
Gwinnett County Human Resources staff will be onsite to accept applications in person. Computers will be available at the events for applicants to use. To fulfill federal I-9 Employment Eligibility Verification requirements, please bring documents to verify your identity and legal authorization to work in the U.S.
To view the list of accepted documents, visit www.uscis.gov/i-9-central.
You Are Invited to Mayor's Annual State-of-City Address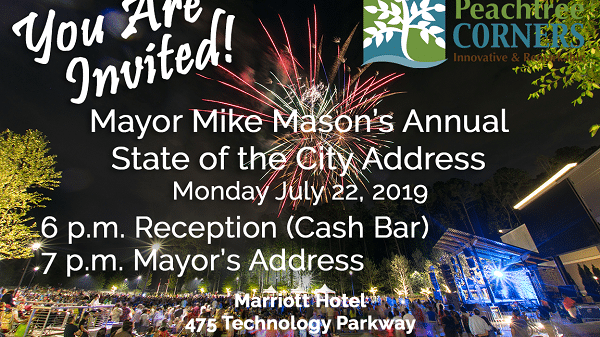 Mark your calendars and plan on attending Mayor Mason's annual State-of-the-City address on Monday, July 22, 2019, 6 p.m. – 9 p.m.at the Marriott Hotel, 475 Technology Parkway, Peachtree Corners, GA 30092. A reception with cash bar begins at 6 p.m. followed by the Mayor's address at 7 p.m.
Its been a short seven years since the city was incorporated as Gwinnett County's 16th city, yet there is little doubt that this young city has been on the move since it was officially founded July 1, 2012.
Mayor Mason is expected to highlight the city's progress — and offer a look ahead to the future of the county's largest city.
Feeding Hungry Children in Southwest Gwinnett County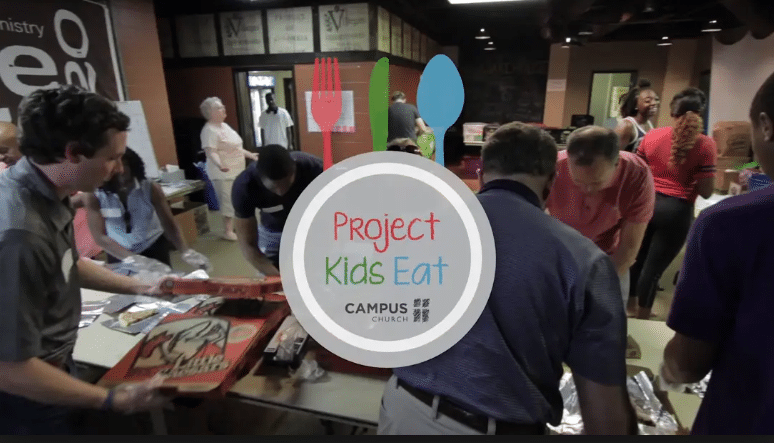 Southwest Gwinnett Chamber of Commerce Volunteers to help prepare and deliver meals to area children in need on Friday, July 12th.
The Southwest Gwinnett Chamber of Commerce will work side by side with the organizers of PROJECT KIDS EAT to deliver meals in the Southwest Gwinnett area to children who often go without regular meals when school is not in session. Studies show that hunger and drug/sex trafficking are linked as predators lure children into activities with simple offers of food. Summer is an especially vulnerable time.
Mayors, Council members, and other SWGC members will make sandwiches, pack and deliver meals to over 100 children, located mostly in the extended stay hotels, on Friday, July 12th from 11:30 a.m. to 1:00 p.m.
SWGC Chair (and Peachtree Corners Mayor Pro Tem), Weare Gratwick, explained that volunteering in areas of need were a central part of the chamber's charter. "We are all in close proximity to kids who need our support. It is something that needs daily attention, and we were glad to participate with the folks who do this work throughout the summer and other times when school is out. Our community is made better because of the efforts of organizations like Project Kids Eat." Membership Director, Beth Coffey also commented "the SWGC members are typically small to medium sized organizations in the SW corridor of Gwinnett County. They truly understand the specific needs of our community and are active in filling in gaps through our volunteer programs. It is one of the reasons Gwinnett County is such a tremendous place to live."
Project Kids Eat is an outreach of Campus Church, located at 1525 Indian Trail Road. They utilize volunteers every weekday to help with the outreach to over 100 children who rely on them for consistent and reliable meals during the summer. For more information about PKE, contact Julie@campuschurch.org or https://campuschurch.org/PKE
The Southwest Gwinnett Chamber of Commerce is a voluntary partnership of business and professional people, both profit and not-for-profit, working together to build a healthy economy and to improve the quality of life in Berkeley Lake, Norcross, and Peachtree Corners. For more information about Chamber, contact Beth Coffey at 678-906-4078 or bcoffey@southwestgwinnettchamber.org.