UFA Norcross Girls Takes U.S. Club Soccer National Cup Championship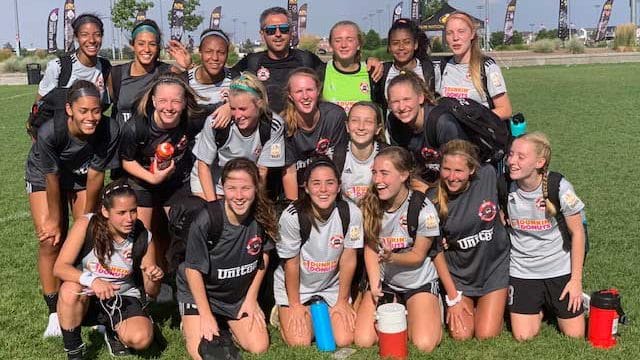 On July 20, the United Football Academy (UFA) Norcross U16 girls won the U.S. Club Soccer National Cup Championship, which was held in Commerce City, Colo. This is the team's first national championship, though they have won many local tournaments.
The National Cup is U.S. Club Soccer's cup-based national championship competition. Club teams qualify for the national tournament by advancing from the National Cup Regionals and qualifying state cups.
Most of the girls on the UFA Norcross team live and go to school Peachtree Corners and Johns Creek. "The team is made up of local talent," said Coach Sergio Magana, who also serves as UFA's Director of Coaching. "Ours is a club that serves the community."
UFA Norcross U16 Girls team members are: Ashley Binney, Theanna Burnett, Megan Childress, Samantha De La Cruz, Millie Filson, McKenna Filson, Hayley Foster, Sierra Fowler, Daniela Henriquez, Jocelyn Hill, Camryn Lampron, Danielle Mullins, Jocelyn Oballe, Maisie Pike, Liliana Johnson, Caroline Archer, Emma Markland and Marisa Lambert.
Coach Magana said that most of the team members have been together for the last 3 to 5 years. "They've worked very hard and trained seriously for this," he added. "The girls' work ethic is second to none. They're all highly competitive and dedicated to becoming better at their craft."
The mission of UFA Norcross is to "provide soccer players of all ages the appropriate level of play and training in a supportive environment where skills for soccer are developed alongside skills for life," according to the website. The organization promotes the game of soccer by providing a positive learning atmosphere that allows players to achieve their full potential.
Ashley Binney and Megan Childress; Ashley Binney attends Wesleyan and Megan Childress attends Mount Pisgah Christian School and have been playing for UFA for over 5 years.

Coach Sergio after the Championship game with his wife and son who came to support and cheer on the team! A great family in the UFA Soccer Community

The UFA Norcross 03G Premier team being announced as the US Club Soccer National Champions for the U16 Division. Girls received their Gold medals, team trophy on stage in Denver Colorado after the win at the Dick's Soccer Sports Complex

Goalie Sierra Fowler, a Junior at Johns Creek High School, was amazing on the soccer field and saved some game changing goals.

This photo was taken after the game the team won to reach the championship game. Team lead by Coach Sergio, The players: Ashley Binney, Theanna Burnett, Megan Childress, Samantha De La Cruz, Millie Filson, McKenna Filson, Hayley Foster, Sierra Fowler, Daniela Henriquez, Jocelyn Hill, Camryn Lampron, Danielle Mullins, Jocelyn Oballe, Maisie Pike, Liliana Johnson, Caroline Archer, Emma Markland, and Marisa Lambert
Norcross Youth Baseball and Softball Association Suspends their Spring Season Amid the Coronavirus Pandemic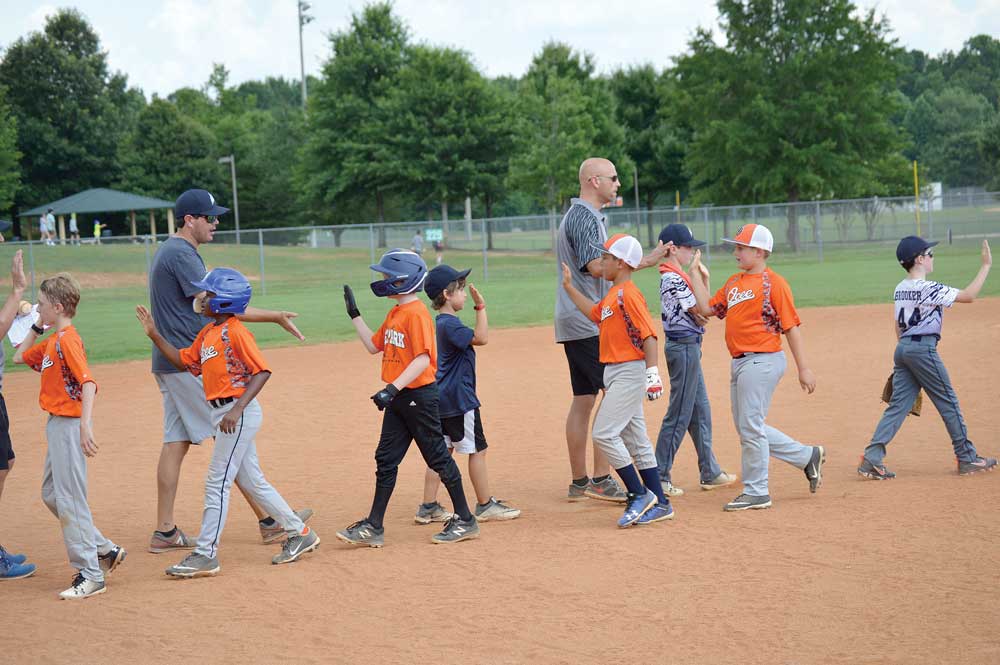 To many kids enrolled in Pinckneyville Park Baseball, the program is not merely a sport but a way of life. They come home from school, throw on their team gear, grab their gym bag and hop in the car to go practice or play a game.
But all that activity slid to a halt on March 17 when the Norcross Youth Baseball and Softball Association (NYBSA) suspended all games and practices at Pinckneyville Park and Collins Field to prevent the spread of Coronavirus. Gwinnett County followed suit on March 22, closing its parks except for trails and open areas provided visitors adopt social distancing. The NYBSA has scheduled a meeting of its board of directors on April 5 to determine next steps regarding this year's season schedule. In the meantime, practicing on any of the seven baseball and softball fields is prohibited.
Prior to the season suspension, Pinckneyville Park Baseball had already held its draft, celebrated its opening day for Spring 2020 and played into its second week. Reactions to the interruption appear mixed. Gwinnett County City Manager and Pinckneyville Park Baseball Coach Brian Johnson noticed a wide range of emotions from parents, fellow coaches and players involved in the program.
"There were a few parents, maybe the day of (the season) being postponed or the day after, that felt that maybe it was a bit early. In baseball you're not as close, versus a sport like basketball where you are all up into an opponent's space and touching them a lot. But as things have progressed, I don't think any parent doesn't think it was a wise decision," said Johnson.
Though health and safety prove the major concern, player morale has certainly been affected.
"I know a ton of kids, my son included, who were extremely upset when we told them the season would be suspended indefinitely. Lots of the boys shed some tears because they love the camaraderie, they love the challenge, they love the sport," said Johnson.
Participants and supporters of Pinckneyville Park Baseball are part of a unique approach to recreational sports that may help foster a greater sense of community. The non-profit NYBSA works in partnership with Gwinnett County Parks and Recreation to provide organized sports.
"NYBSA was established in the early 1960s to provide a recreational baseball and softball program and travel baseball program for the youth of our community. The program strives to promote the spiritual, mental, emotional, and physical development of all program participants through supervised competitive sports," said NYBSA President Jason Pressman
The county owns and operates Pinckneyville Park, while NYBSA manages the everyday baseball and softball operations. Additionally, NYBSA owns & operates Collins Field at Dan Watts in Norcross.
"(The partnership) also contributes, because it is non-profit, to parental and personal involvement because I think more of the parents of kids on the teams invest their time as they see 'We're a part of the process, We get an opportunity to weigh in and influence things,'" said Johnson.
Currently about 600 participants make up the over 50 teams in the NYBSA baseball and softball programs. The age ranges and skill levels involved start at U-6 (under six) tee-ball and progress gradually in challenge level until Pony Level, with a maximum age of 14 years old. There are also an impressive number of all-star and traveling teams that play in tournaments locally and nationally.
Regarding how the Peachtree Corners community can support the NYBSA and Pinckneyville Park Baseball, Pressman urged residents to follow Coronavirus quarantine guidelines as outlined by county, state and national officials. In an abundance of caution, the NYBSA website discourages impromptu get-togethers of players and parents at any of the fields it uses.
Pressman expressed gratitude for the patience and understanding of the coaches, players, volunteers and fans, as well as the entire NYBSA board for their leadership and guidance during these challenging times.
The NYBSA will continue to monitor county, state and national recommendations and act accordingly. Pressman and the other NYBSA board members prepare to meet via teleconference on April 5.
Note: Since this story originally went to press the association has canceled the 2020 Recreational Baseball and Softball season.
Sign Up Now for Youth Sports Leagues and Camps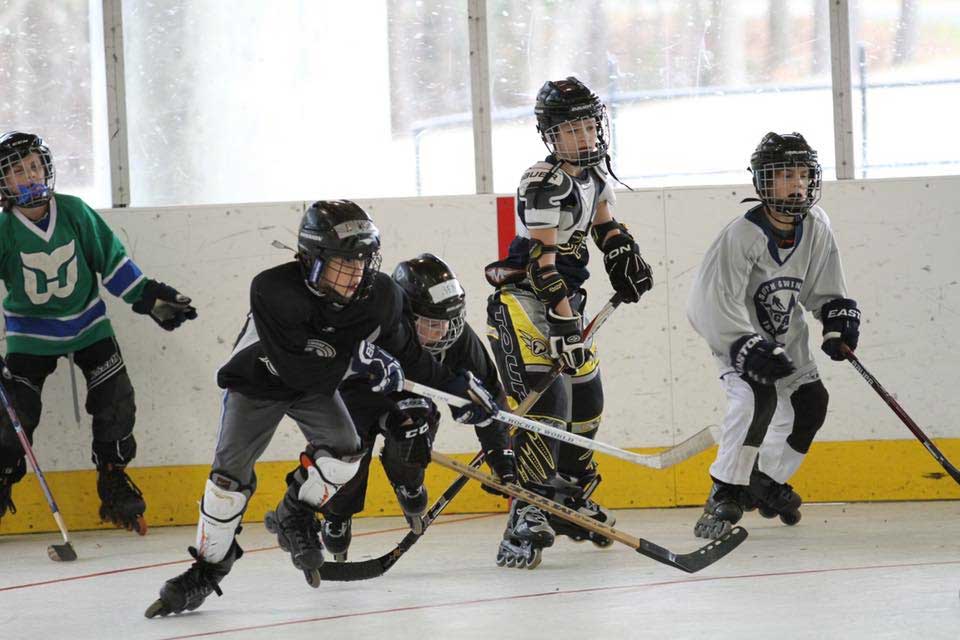 Registrations for spring and summer youth sports leagues are now well underway. If you're interested, don't delay. Get signed up now.
Soccer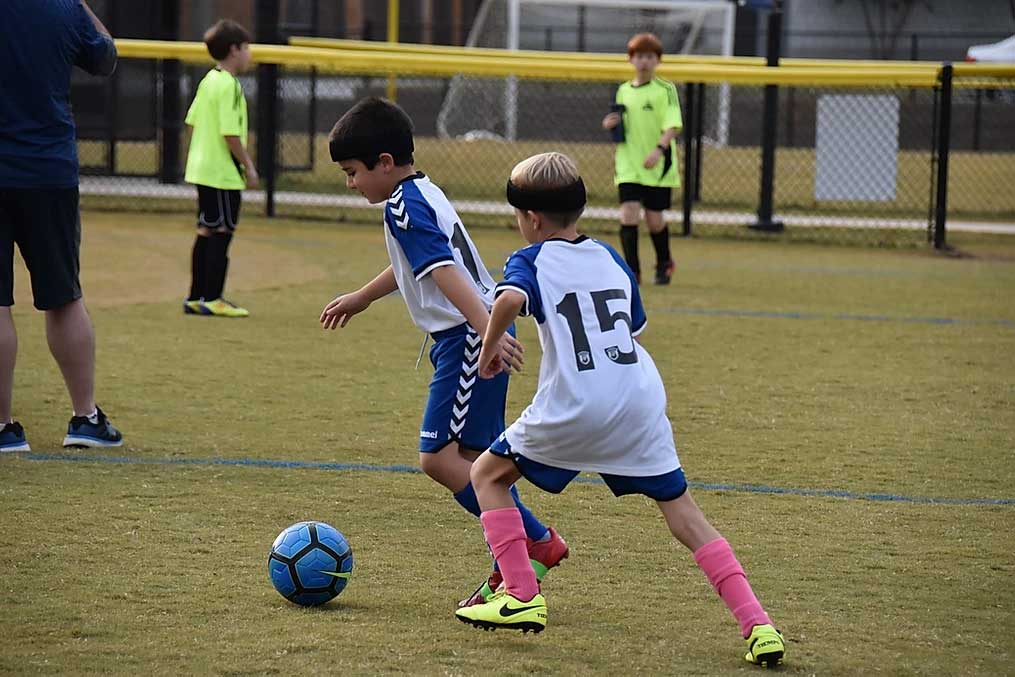 The Peachtree Corners Football Club has seven soccer teams for ages U4 to U16 that play their games at Jones Bridge Park. The spring season starts March 7 and runs through to May; registrations are open now.
According to their website, "the goal of PCFC Recreational Soccer is to offer a fun, exciting soccer experience where kids get to learn the game with their friends in a safe environment." Visit pcfcsoccer.com for more details and to register.
At Robert D. Fowler Family YMCA, Youth Soccer is open for registration to members. The U4 coed league is an instructional Saturday-only program designed to get kids familiar with soccer fundamentals. The season runs March 14 to May 5 and costs $100-125.
U6, U8, U10 and U12 are coed teams that practice one night a week with games on Saturday morning. Practices start the week of Feb. 24; the first weekend of games is March 7 and the season goes through to May 16.
Youth volleyball, for ages 6 through 14, will also be offered this spring. And Tae Kwan Do classes are available through the year at Fowler YMCA. Check out ymcaatlanta.org/ymca-locations/norcross for costs, details and to register.
T-Ball and Baseball
Peachtree Corners Baptist Church (PCBC) has several youth spring sports leagues that are filling up quickly. T-Ball, for boys and girls ages 4 and 5, and Baseball, for ages 6 and 7, run from March to May. The cost of $140 includes a preseason clinic, the seven-game season, umpire, trophies and more. Weekly practices are held on weekday evenings and games are on Saturdays. Find out more at pcbchurch.org.
If you miss out, don't worry. Peachtree Corners Baptist Church has baseball and basketball summer camps for several age groups. There's even a Dodgeball Day on July 24 for ages 8 to 12. PCBC camp info is at pcbchurch.org/camps.
Gwinnett County Parks & Recreation offers Jump Start Sports Camps by working with local instructors and sports-based businesses. All-Star Baseball/Softball, as well as other week-long sports camps, are held through the summer at Pinckneyville Park. Kids ages 4 through 12 can choose from World Cup Soccer, Flag Football/Cheer, Olympic Sports Camp and much more. The Parks & Recreation pages at gwinnettcounty.com will have updated info.
Roller Hockey
Registrations are open for youth roller hockey teams.
Norcross Roller Hockey, in partnership with Gwinnett Parks and Recreation and Peachtree Booster Club, is a recreational and travel roller hockey program based at the Pinckneyville Park Rink.
There are two youth teams: Street Cats Jr. (ages 4 to 6) and Youth Hockey (8U to 18 U). Registration runs from Feb. 18 to March 4; late registration is March 5 to 31. The youth hockey season starts March 9 and goes through May 17.
Registration costs are $60 to $80 for Street Cats Jr. and $120 for Youth Hockey. Norcross Roller Hockey also has travel hockey and adult hockey teams. Go to norcrossrollerhockey.com to register, find out more or volunteer.
Jane Park, Women's Golf and the 67th KPMG Women's PGA Championship [Podcast]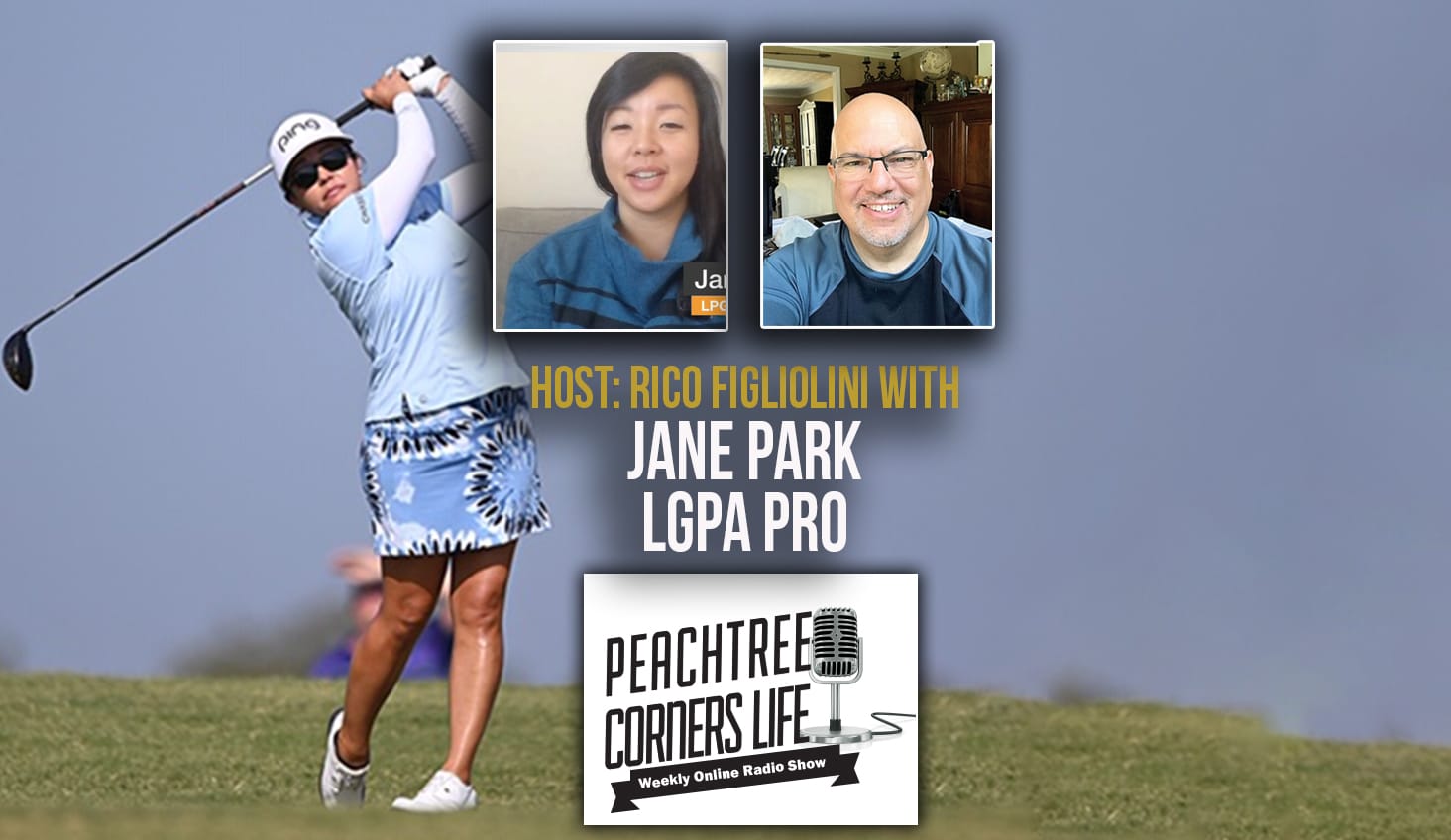 In this episode of Peachtree Corners Life, Rico Figliolini video chats with Jane Park, pro golfer and upcoming player in the 67th KPMG Women's PGA Championship. Coming to Atlanta in 2021, this championship golf tournament will have the largest purse in women's golfing history. Listen in as Rico and Jane talk about her history in the sport, training at a young age, her preparation for this historic event, and her life in Georgia.
But, obviously, with the work that KPMG does with their leadership summit and their charitable initiative to help future girls get development and advancement and empowerment through women's golf. It could be a great stepping stone to empowering little girls and women and helping us maybe reach that equal pay in the golf life.

jane Park
Major championship golf returns to Georgia in 2021 when the Atlanta Athletic Club hosts the 67th KPMG Women's PGA Championship. The event combines an annual major championship with the KPMG Women's Leadership Summit and an ongoing charitable initiative called the KPMG Future Leaders Program – all focused on the development, advancement, and empowerment of women on and off the golf course.
Founded in 1898, this will be the second women's major championship hosted by Atlanta Athletic Club, which was the site of the 1990 U.S. Women's Open, won by Betsy King. The 2021 KPMG Women's PGA Championship will be played on the Highlands course, which has also played host to three PGA Championships – 1981 (won by Larry Nelson), 2001 (David Toms) and 2011 (Keegan Bradley) and the 1976 U.S. Open won by Jerry Pate.
The KPMG Women's PGA Championship – a collaboration between the PGA of America, KPMG and the LPGA – offers a purse among the highest in women's golf. It is broadcast in partnership with NBC and Golf Channel.
Podcast Transcript
The championship began in 1955 and was known as the LPGA Championship from 1955 to 2014. Since 2015, the KPMG Women's PGA Championship has been played at Westchester Country Club, Sahalee Country Club, Olympia Fields Country Club, Kemper Lakes Golf Club and Hazeltine National Golf Club. The 2020 championship will be played at Aronimink Golf Club in Philadelphia with Australia's Hannah Green defending her title against the strongest field in golf.
Rico: [00:00:30] Hi everyone. This is Rico Figliolini, host of Peachtree Corners Life here in the city of Peachtree Corners in the great state of Georgia. Today this morning, at nine'o'clock. If you're listening in soon, we're starting with a really cool guest. She's been in the pro golf business, if you will, for, since she was 11 years old. So I'm going to introduce Jane Park with me. Jane Park. Hey, Jane. Jane is a pro golfer with the PGA. Great. Thank you. And we're discussing today, the reason we're talking, she lives in Woodstock, close enough to Peachtree Corners that we could say she's, she's part of the city, if you will. And because there's going to be a returning championship that she's going to be part of coming in 2021 and coming just a few minutes North of us at the Atlanta Athletic club, and that's the 67th KPMG women's PGA championship that's returning to Georgia. It's actually going to have the largest, a women's purse, I think right.
Jane: [00:01:44] Yes. One of the largest women's purses. First place is $645,000. So that's a good.
Rico: [00:01:55] That's a great pay though. Yes, for sure. And I think the whole purse takes like 3.8, 5 million.
Jane: [00:02:02] I think it's about 4.3 million..
Rico: [00:02:05] Wow. Okay. That's grown even more than before. So this is the largest Women's purse, if you will, in history it seems.
Jane: [00:02:16] I think there's one that's slightly bigger, but this is definitely one of the biggest.
Rico: [00:02:21] And that's a shame because really, I mean, since title I forget, was titled on a title 11. Women have, girls have grown into sports like soccer and other sports coffers. No, no different than that. I believe there are high schools that have women's golf teams in stuff, and yet the purse's continued to be smaller than the men's it seems sometimes. And I, and I'm sure you would love to see that a little bigger.
Jane: [00:02:51] Yeah, for sure. For sure. Maybe a, you know, one day. One day the ladies can play for just as much as the men, but unfortunately, I don't think I'll see it in my lifetime. But, obviously, you know, with the work that KPMG does with their leadership summit and their charitable initiative to help, you know, future girls get, you know, development and advancement and empowerment through women's golf. It could be, you know, a great stepping stone to empowering little girls and women and helping us maybe reach that, you know, equal pay in the golf life. So hopefully one day.
Rico: [00:03:34] Yeah, that would, that would be the right way of going. Now you, you started, you're born in Chicago. You started at 11 years old putting cuffs with, tell me a little bit about that.
Jane: [00:03:50] I was at a law firm was the, well, you know, when I first started I didn't really have a love for the game. My older brother was playing. He's three years older than I am and he was playing and had my dad as a coach. So I pretty much just followed along. And, it was kinda my dad to take me to the golf course and babysit me. So I just got super bored one day just rolling down the hills, you know, like being a kid. So my dad just put a club in my hand and I guess I was a natural when I first started. So he focused his attention, he shifted his attention from my brother to me. So that's kind of how I got started. You know, hitting a couple balls a day and then kind of making it, you know, hitting more balls, every day. But you know, eventually I wanted to get a scholarship to school. She's a big Heller family and my goal was to get to UCLA and I was able to reach that goal, so I was very happy about that.
Rico: [00:05:04] Well that paid for college, and I'm assuming that.
Jane: [00:05:07] Yes, yes, it did. It did. Yeah.
Rico: [00:05:11] I'm curious now, because obviously you're the natural in the family, it seems that your brother's still like, does he play golf still?
Jane: [00:05:22] He does not, I beat him. I think that was when his love for the game kind of went, okay, well if my little sister can beat me, then I probably shouldn't really do this anymore. Wow.
Rico: [00:05:36] That's cool, yeah. Every kid in the family is different. You know, they all, we all have different aspirations in silence. God knows I have three kids and they will differ from each other. Well, they're older now, so think of this. They will graduate and they live at home, but you know, it's okay. I don't mind the noise around the house. But the, so you, I think, you've been playing for 13 years now.
Jane: [00:06:08] Yes. So this'll be this coming 2020, will be my 13th season. So 13th year on the professional tour.
Rico: [00:06:17] I'm sure at the beginning it wasn't that easy. Right? I mean, a lot more practice.
Jane: [00:06:21] You know what, I actually got really lucky my first few years. I actually had a few good results and I didn't really go through the growing pains, if you might say. You know, being a newbie on tour. But, you know, the growing pains came a few years after where when I thought, you know, "Oh, I played so well my first few years. It's just going to be a smoother ride from here now." But, you know, all golfers will know that you go into kind of slumps and you know, you play well a few weeks and then all of a sudden the next week, you can't. Even make contact with the ball sometimes. So, you know, it's definitely been a learning process. I definitely learn something different every year that I'm on tour. And I'm very, very thankful that I've been able to have, you know, a pretty relatively long career out here on the LPGA compared to, you know, some of the other players on tour.
Rico: [00:07:28] You know, it's interesting to me. I mean, I'm sure you know, you would think younger people, I mean, you're not old. You're young still 24 maybe or something. Are you like 23?
Jane: [00:07:42] 33
Rico: [00:07:46] Oh well, sorry.
Jane: [00:07:48] That's okay. It's very flattering.
Rico: [00:07:52] But still 33 is not old.
Jane: [00:07:53] I mean, you know, it's not in golf age. I'm pretty ancient actually.
Rico: [00:07:59] Oh, man. All right. Well, you know what? It's like the Alta tennis players right there. They age at 70 they'll still be on the court as long as they could spot that ball. So, you know, learning every year, new things I used still. So do you, I heard that recently you were being coached by someone here in Georgia as well. The, does that help having, is it like anything else? Like, you know, sales is like that. Other sports is like that where you need to revisit to a coach to teach you a little bit more?
Jane: [00:08:35] Yeah. I think it's itself, it's all part of, you know, as a professional, you're trying to reach perfection and obviously it's not possible. But the aspect of trying to get better every day, if you need someone to kind of guide you, because if I'm doing it, if I'm doing this all on my own, then I honestly don't really have, I don't really have enough knowledge to teach myself. So having someone who, and my coach, his name is Scott Hamilton, and he's up in Cartersville, Georgia. And he's, he teaches many, many players on the men's tour and a few on the women's tour as well. But he's so knowledgeable and just kind of gives me, you know, a drill or two to work on between our lessons. So it just kinda, it's almost like kind of keeping someone interested with a little tidbit to work on, you know, so you know, if he didn't have any type of guidance or any type of direction then it would be hard to really work on something to improve yourself.
Rico: [00:09:46] So every young person or parent watching this as they have young kids at sports, they know that they need a coach somewhere.
Jane: [00:09:54] But also you can't have, you need to be careful that you don't find the wrong coach. Cause there's a lot of them out there.
Rico: [00:10:01] Oh yeah. With thanks. Just like any other business. So, when you started out younger than, I mean, your dad was your initial coach, I guess. When did you actually get a coach? A real, not a real coach, but like a professional coach. At what point did that happen
Jane: [00:10:21] You know, I was very lucky in that my father was a huge golf nerd. And he read every single book known to man. And, you know, in terms of golf. So he read, you know, Jack Nicholas, his book, he watched videos and tapes and he learned the fundamentals that way. And, you know, just like any other sport, the fundamentals are the most important foundation of whatever game you're playing. So he had, he was very knowledgeable in terms of trying to teach me those basics and you know, got me pretty far. But my first coach was, his name is Scott Wilson, and I started working with him when I was about 15. So I would say I had my first PGA professional coach at 15. So, yeah, in a long time since then.
Rico: [00:11:19] You do you have, do you do, if you had, I don't know if you have children yet or not, and if you do, if you end up, would you encourage them to be in the same sport?
Jane: [00:11:32] Absolutely. I think, I would. My husband is actually is super into golf. He's actually a golf caddy on the women's tour, so we get to travel together. But yes, he loves golf. And I think he would love nothing more than to go play golf with his little girl or his little boy.
Rico: [00:11:53] Right, right. Yeah, that would be cool. Yeah let's get back a little bit to the KPMG and then we'll talk a little bit more about that. You, your growth as well, but I don't, I just want to make sure that we cover the championship well enough here. Tell me a little bit more about the KPMG women's PGA championship that's going to be coming in 21 to Georgia, to the Atlanta athletic?
Jane: [00:12:18] Well, the KPMG women's PGA, it's one of five LPGA majors and the men only have four majors, but you know, the ladies, we've got five. So I mean, that's a little better, I guess. It's a pretty unique collaboration of the PGA of America, the LPGA and KPMG. And for, I think it's, I think this is going to be its sixth year as a major. But they basically, you know, the three of them. The three, PGA of America, LPGA and KPMG come together and just host this world class event. And the first time I played the KPMG, I think, I remember thinking to myself, wow, I feel like a PGA tour player, which is. You know, it's an experience that you can never get unless you were a player in a PGA tournament. But you know, from beginning to end, it's first-class. We get, you know, our own courtesy car. They have world-class chefs that come in and cook for us. Breakfast, lunch, and dinner. I mean, I just, I'm getting hungry thinking about it now. But, you know, 2016 was its inaugural KPMG event. The first KPMG women's PGA and, you know, it's one of the strongest fields in all of the LPGA schedule. And yeah, I mean, there, it's going to be broadcasted on NBC and golf channel. It's going to be on some major networks and you know, pure, if you're out in the Atlanta area and if you want to see some really great golf, please come to Atlanta athletic club in 2021 and we're giving you a very large heads up on this, so there's no reason you can't make it.
Rico: [00:14:23] Yes. The, they've had some big tournaments at the Atlanta athletic club.
Jane: [00:14:31] Yes.
Rico: [00:14:32] I'm looking forward to it. I'm not, you know, anyone that knows me, I'm not a golfer per se, but I can drive the ball a little bit. Prof is good for me, but I don't mind being on the green watching. That'll be cool to be up to be out there. So are you, you know, you have, you have two years or a year and a half, I guess, working towards that. Right? There's going to be 400 players, the guests that run through that now. So what are you planning on doing to get ready for it?
Jane: [00:15:08] Well, I'm, I mean, I've played the Atlanta athletic club I think only once or twice. And it's quite far from where I live. But I might be making a few trips over there. There's obviously so much history there. It goes into the golf course. It's got a world-class practice facility, which is amazing. And they've hosted, you know, numerous men's majors and, you know, their most recent men's major that they held at this course was won by Keegan Bradley, the PGA championship in 2011. So, and they also had the U.S. men's amateur championship there in 2014. So it's definitely one of those major championship rotation golf courses.
Rico: [00:16:00] So if you've, for parents that have young kids maybe interested in golf and stuff, or sports, but golf in particular, probably. What would you say to them? What would the, what would Jane Park's advice be?
Jane: [00:16:17] My advice would be a few things. Find a good coach, someone who's knowledgeable, someone who knows what they're talking about. But mostly, I would say make the sport fun for your kid, because obviously, you know, a lot of, a lot of kids and parents and kids have a goal, maybe more of the parents school to, you know, get them, get the kid in a sport and get a scholarship to college, which is huge. But you know, even if the kids' aspirations are just to get a college scholarship, that it's a lot of pressure to put on a kid. And, I've seen so many young players, young talented players who just get burned out so quickly because of the pressure that they feel from their parents, from their coaches. And just, you know the kids are very, very competitive nowadays. I don't know if you've noticed, but kids are very competitive and that's not a bad thing. But I think a lot of positive energy and a lot of, you know, the right type of support, you know. Be a parent and let someone else be the coach because I've seen this way too many times where the parent becomes the coach and there is no distinction between a parent and a child. It's just a parent and a coach, or sorry, a child and a coach.
Rico: [00:17:49] That makes a lot of sense. Yeah. I've had my kids go through baseball, soccer, lacrosse, if it's sports. You learn better, I think a child learns better from a coach than this sometimes. Cause you take it, it's a different space to take it
Jane: [00:18:07] 100%.
Rico: [00:18:08] Yeah. I can agree with that. Just a couple of… We're getting towards the end of our time and I want to be able to let you go on time, but I thought maybe we should, we could go
through a couple of quick things. Jane Park and her personal interests and stuff. Do you have a dog?
Jane: [00:18:30] I don't have a dog.
Rico: [00:18:31] You don't have a dog.
Jane: [00:18:33] I cap away too much, so I can't take care of a dog.
Rico: [00:18:40] Do you have a favorite food or foodie thing that you want?
Jane: [00:18:42] I am a foodie. I honestly, whenever my mom's around when she's around right now, she's here in my house. I ate Korean food for breakfast, lunch and dinner. My mom was born in Korea. Yes.
Rico: [00:19:00] You get to eat authentic Korean.
Jane: [00:19:02] I will not turn down a Chicago deep dish though. I mean, you put that in front of me and it will be gone.
Rico: [00:19:09] Chicago?
Jane: [00:19:10] Oh yeah.
Rico: [00:19:10] Yeah. My parents were born in Italy, so growing up with the town.
Jane: [00:19:15] Wow. I'm so jealous. I've never been to Italy and it is on my bucket list and I just eat pasta.
Rico: [00:19:23] You need to go. She's telling me she took the year off and she traveled the world and her favorite, one of her favorite places was Italy. So actually it's not, we need some, sorry, she's Korean. Her husband is so different. Are you a waffle house fan?
Jane: [00:19:39] Yeah. I have one that's almost walkable to my house. Oh, real big.
Rico: [00:19:44] Cool. What's your favorite part of Georgia? Do you like about your, what? Why did you move to Woodstock?
Jane: [00:19:53] Well, honestly, my favorite part of Georgia is we get four seasons here. And so I moved here from California, and obviously it's beautiful in California. It's 75 and sunny every day. But, you know, moving here, I saw snow, you know, for, not for the first time, but I mean, coming from California, you never really see snow. But, you know, waking up one morning and then having everything covered in snow, I mean, that's just, it's so beautiful. I love that we get
fall. I mean, fall is so beautiful and in the state of Georgia. But mostly, I mean, I came here because obviously the cost of living is great compared to California, but also, Atlanta Hartsfield is a great airport to my out of tour work. I mean, it's awesome everywhere, you know, nonstop.
Rico: [00:20:54] So it's definitely a hub for everyone. My son just left this morning to go to Miami I think for work and it's, it's a great place to go from. All right, hang in there for a minute. We're going to close it out through our Facebook live stream to our fans out there who share, if you all watching, this has been Jane Parks. She's a LPGA pro golfer. You can follow her actually. What did you, what Instagram?
Jane: [00:21:23] Instagram. I'm @TheJanePark. And on Twitter I'm the same @TheJane Park.
Rico: [00:21:29] the Jane Park. That's amazing that you got that. That was cool. So follow her on Instagram and you can scroll through until whenever, and you can see her playing in 2021, that the 60, 57th, KPMG women's PGA championship at the Atlanta athletic club. Thank you guys.