Veterans Monument Dedication Ceremony, Saturday, June 15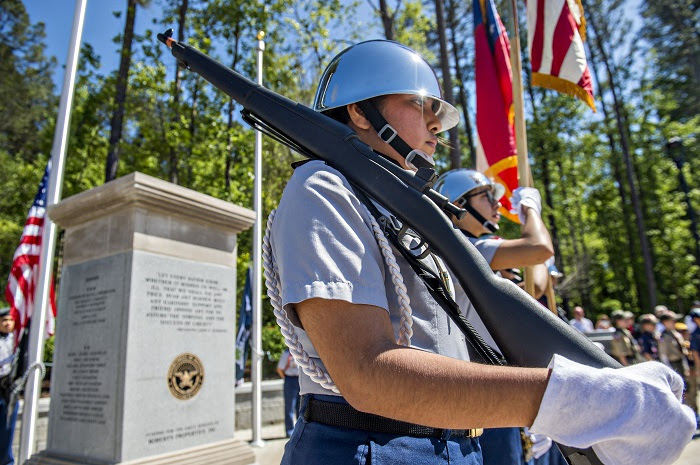 Join us for a dedication of the Peachtree Corners Veterans Monument on Saturday, June 15 at 10 a.m. This is an exciting time for our city as the Veterans Monument board, volunteers, donors, dignitaries and veterans will all be on hand to celebrate this special occasion. The program includes music by the 116th Army Band Georgia Army National Guard, posting of colors, keynote address and the unveiling of the monument sculptures.
The Veterans Monument is located on the city's new Town Center in a prominent place on the Town Green. The Monument has been designed to be a serene and dignified place where individuals may come and reflect – and where veterans, schools and civic organizations may hold ceremonies and educational opportunities. 
The Monument is a 2,500 square-foot plaza that features a central pillar with an eagle atop the globe which represents the presence of the U.S. Armed forces across the world, and six sculptures representing each of the Armed Forces and the Federal Military Reserve components. 
The monument honors all military veterans past, present and future for their service to the United States of America and its citizens and to the preservation of freedom throughout the world.
The Program
09:58: Master of Ceremonies announces arrival of Color Guard, Knights of Columbus and Cub Scout Pack 575
10:00: Welcome and Introduction of Guests
10:05: National anthem, followed by Pledge of Allegiance and Invocation – Pastor John Purrington
10:10: Posting of Colors
10:15: Remarks by Mayor Mike Mason
10:25: Remarks by Colonel Bob Ballagh, USA Retired
10:35: Unveiling of Sculptures
10:45: Guest Speaker – Major General Ron Johnson, USA Retired
10:55: Presentation of Flagpole and Kiosk Keys to Mayor Mason
11:00: Final Remarks and Thank You's
11:05: Benediction – Pastor John Purrington
11:10: Retirement of Colors and Exit Music
Participants in the Ceremony:
Colonel Doug Heckman, USA Retired Master of Ceremonies
116th Army Band, Georgia Army National Guard
Air Force Reserve Color Guard
Fr. Charles J. Watters, Assembly 2668 Knights of Columbus
Cub Scout Pack 575
Georgia Patriot Guard Riders
Pastor John Purrington, Simpsonwood United Methodist Church
Mayor Mike Mason, City of Peachtree Corners
Colonel Bob Ballagh, USA Retired, Executive Director, Peachtree Corners Veterans Monument Association
Chad Fisher, Sculptor
Volunteers of the Peachtree Corners Veterans Monument Association
For more information on the monument, please visit the Peachree Corners Veterans Monument website, www.ptcvets.net. For questions, please contact Bob Ballagh via email at bob.ballagh@comcast.net or by telephone: 678-618-1722.
Construction on Pedestrian Bridge Underway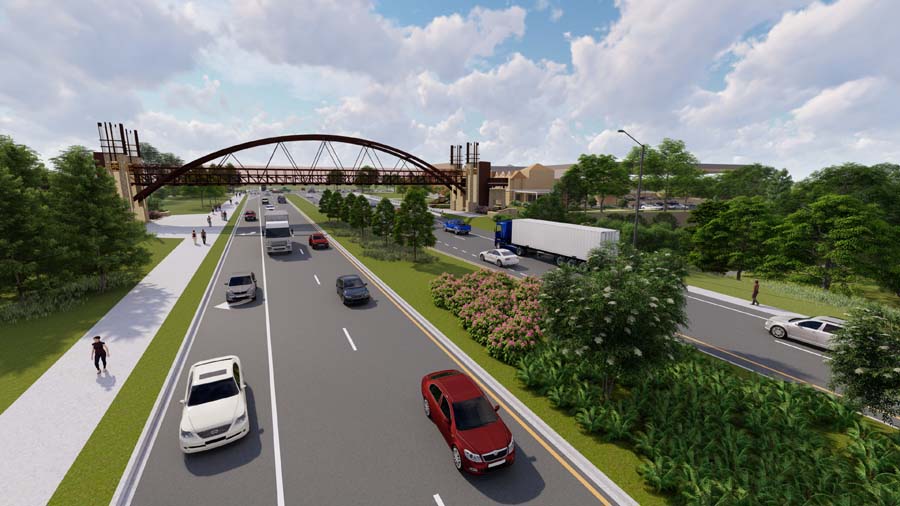 The Peachtree Parkway Pedestrian Bridge is now under construction thanks to the recent permit approval from the Georgia Department of Transportation. Construction is scheduled to continue for the next 14-16 months until completion.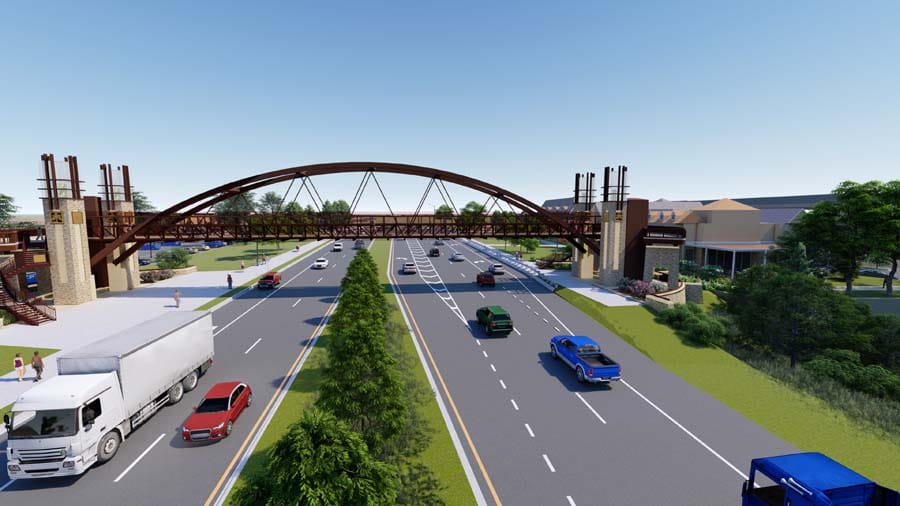 It will be a steel, thrust arch bridge connecting the multi-use path on the west side to the east side of State Route 141 that separates the Town Center and Forum developments. The design of the pedestrian bridge is intended to be a tribute to Jones Bridge, which stretched across the Chattahoochee River for decades and served as a namesake for many of the amenities and roads in the Peachtree Corners community.
Concrete barricades have been installed along northbound and southbound Peachtree Parkway that provides protection between the construction work zone and vehicular traffic. Lane closures or traffic interruptions are not anticipated, but any construction activities that require impact to the vehicular lanes will be kept to a minimum during off-peak hours only, and no permanent or long-term lane closures will be involved.
Initial construction for this project will involve driving piles for the foundation of the structural towers on each side of the bridge. The structure itself is being manufactured now and it will be delivered and installed in Spring 2020.
The installation process will require lane closures over a weekend, and information on that process and plans for detours will be disseminated as that information is finalized and the calendar approaches the scheduled dates for the work.
Volunteers Needed at County's America Recycles Day Event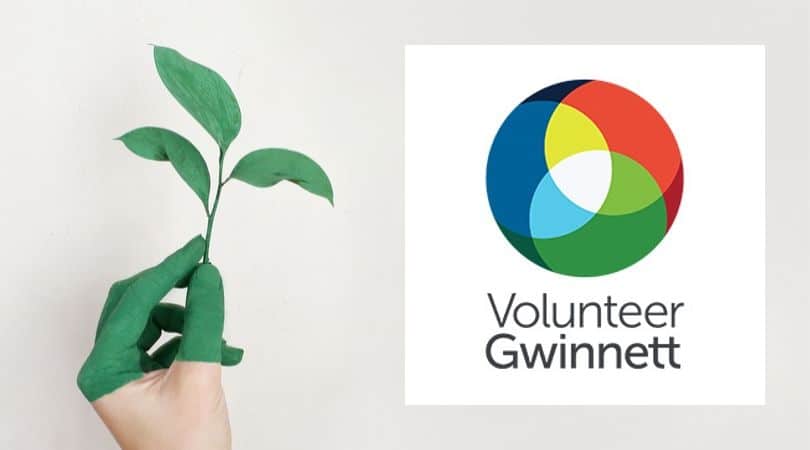 Help Gwinnett County maintain a sustainable environment by volunteering at the annual America Recycles Day event Saturday, Nov. 9 from 9am to 12pm at Coolray Field.
Gwinnett residents are invited to recycle paper, paint, electronics, tires, clothing, sneakers and ink/toner cartridges. Volunteers ages 14 and up are needed to unload vehicles, break down boxes, distribute recycling information and support other America Recycles Day activities.
The event is rain or shine. Volunteers should register at www.VolunteerGwinnett.net.
For more information, please contact Gwinnett Clean & Beautiful at (770) 822-5187 or email gwinnettcb@gwinnettcb.org.
Coolray Field is located at 2500 Buford Drive in Lawrenceville.
Prime Lunchtime with Brian Johnson – Olli, Autonomous Vehicles, 5G and Smart City