Choosing, planning and Growing a Business, with Barry Adams, owner of Peachtree Awnings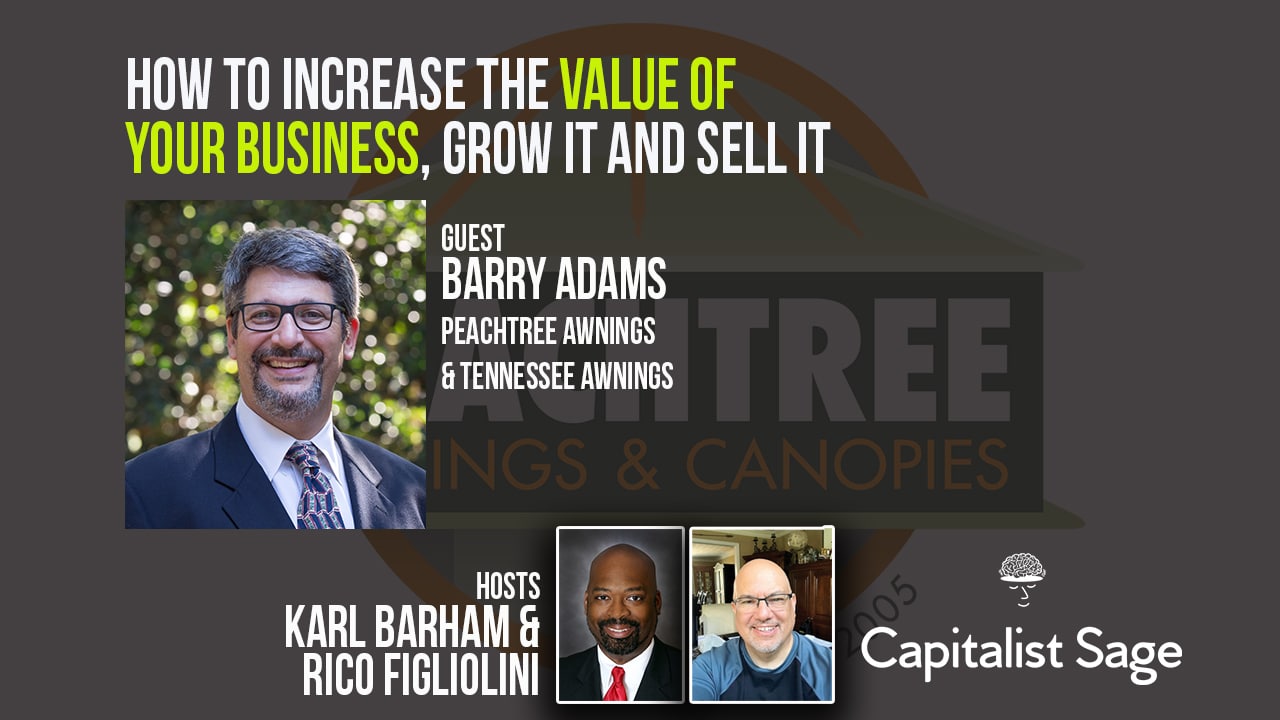 What to consider when starting a business. How to choose the business for you. How to consider when planning your first three years of business. In this episode of the Capitalist Sage Podcast, Karl Barham and Rico Figliolini talk with Barry Adams, founder, and owner of Peachtree Awnings and Tennessee Awnings about his experience in the business world. Barry shares some insightful tips and tricks to help any small or large business owner through their journey through entrepreneurship.
Related Links:
Websites:
https://www.peachtreeawnings.com
http://www.tennesseeawnings.com
Facebook:
Peachtree Awnings
Tennessee Awnings
Phone Number: (770) 409-8372
Where to find the topic in the show – Timestamp:
[00:00:30] – Intro
[00:01:58] – About Barry and Peachtree Awnings
[00:07:36] – Learning from Experience
[00:10:20] – Making Business Decisions
[00:12:26] – Impact of a Formal Education
[00:14:59] – Business Impact of COVID
[00:17:31] – How to Make Your Business Thrive
[00:23:08] – Making a Business Plan
[00:25:31] – Learning New Things
[00:30:19] – Looking to the Future
[00:32:44] – Innovations
[00:34:17] – Growing Through People
[00:36:55] – Helping the Community
[00:41:23] – Closing
Podcast Transcript:
Karl: [00:00:30] Welcome to the Capitalist Sage Podcast. We're here to bring you advice and
tips from seasoned pros and experts to help you improve your business. I'm Karl Barham with
Transworld Business Advisors and my co-host is Rico Figliolini with Mighty Rockets Digital
Marketing and the publisher of the Peachtree Corners magazine. Hey Rico, how're you doing
today?
Rico: [00:00:49] Hey Karl. Pretty good, beautiful day. Thank God the power's on versus last
week. Before we get into the show, let me introduce our lead sponsor Hargray Fiber. They're a
great Southeast company that works in fiber optics and IT management working to make you a
business sound and be able to communicate with the rest of the world. Whether it's, you're at
home teleworking employees or in office, cause COVID is still going on, right? So many different
people are working it differently. And here in Peachtree Corners, they're very involved. They're
involved with Curiosity Lab that Peachtree Corners. They're involved with the city. They're really
in tune with the community and that's how they are with every community they're in. So unlike
the cable guy, these guys are here right in the community that they're working in. If you need
them, they're there for you. So any business, whether you're small or enterprise size, they can
work the systems for you, provide the office tools that you can work with as well. So visit them at
HargrayFiber.com and find out a little bit more about our lead sponsor. We're thankful for them.
So cool.
Karl: [00:01:58] Sounds good. Well, thank you Rico for introducing our sponsor. Today's guest is
Barry Adams, CEO, and founder of Peachtree Awnings. Local, small business that's located
here in Gwinnett County and one of the business leaders in the community that we're glad to
have as a guest with us today. Hey Barry, how are you doing?
Barry: [00:02:20] Great Karl. It's good to be here.
Karl: [00:02:23] Good. Why don't you introduce yourself a little bit? Tell a little bit about yourself
and what you do.
Barry: [00:02:29] Yeah. I'm Barry Adams the owner of Peachtree Awnings and Canopies I own
the local shop and also Tennessee Awnings up in Nashville service and middle Tennessee up
in the Nashville area. So we are a manufacturer of custom commercial and residential awnings
of all shapes and sizes. We serve the local Atlanta area, but we go outside of Atlanta too. So
we've got a pretty good reach. And we've been in business for 15 years. I started the company
in 2005. And then acquired an existing awning company in Nashville in 2012. So I've had that
shop up there in Nashville for eight years now, and 15 years here in Atlanta. So it's been a labor
of love. I can tell you that any small business owner, I think, would say the same thing is that,
you know, you do it and you do it because you really are passionate about your product or your
service and whatever you do. You gotta dig in everyday in kind of the same way.
Karl: [00:03:40] So I'm curious, did you grow up in a small business family? What was, what did
you do before?
Barry: [00:03:46] Well, that's great question, Karl. Actually, my grandfather had the
entrepreneurial spirit because I think he had four or five businesses by the time he was in his
mid forties. A couple of restaurants to his name, ended up having a landfill. And this is all in the
Southern California area. And so he definitely had the entrepreneurial spirit. You know, my
mother's side, my grandfather on my mother's side owned a grocery store in the Southern part
of Illinois. And so he was a, both a farmer and a grocer. And so I think I come by it naturally, the
Apple doesn't fall far from the tree. So it definitely was in my genes, I think, to be a small
business owner.
Karl: [00:04:33] So when you were deciding to start off, what were you considering and how did
you come to that decision? What were some of the factors that you considered?
Barry: [00:04:40] Yeah, I was, it was 2005 and I was in my MBA program, executive MBA
program at Kennesaw state and I knew I wanted to start a business and wasn't sure exactly
what I wanted to do. I was working with a business consultant that was pointing me in different
directions. I ended up buying, actually buying a franchise business. I got close with several
businesses. I looked at sign businesses. I really tried to give myself a lot of green space, a lot of
greenfields to look at a lot of different businesses. I looked at non-invasive skin procedures. I
looked at a lot of different things and got very close with sign businesses, but I wanted
something a little bit more differentiated. And so they said, how about awnings? And I had never
thought about awnings, never had really even looked at awnings. But I'm an engineer by
education. And so the more I looked at it, I said, I think I can, I think I could do this because you
design the product that you end up building and installing. And so it fit my skillset particularly
well. And so there in January of 2005, we kind of set sail having never built an awning or never
installed an awning. I bought into a franchise business and they educated me about how to build
awnings and how to install awnings. We climbed that learning curve very, very, very fast. So it
was really a challenging time, that first three years of being in business. Of course, the
recession started at like two double '09. So shortly after that it was, you know, it was a little bit of
tough sledding.
Rico: [00:06:27] Well, I've got to give a little testimonial shout out to Barry because I must have
been one of the first of the half dozen of regional clients that Barry had. And it was beautiful. I
think it was a summer. It was definitely a summer day. And you put in the awning that I still have
15 years later. Still working, retractable working, and I'm not a maintenance type of guy. So the
cables might be a little rusted and stuff and the fabric might be a little bit dull, but it's working
fine 15 years later.
Barry: [00:07:04] I can't tell you how much we appreciate that too Rico, because at that stage in
our career, we, you know, in our business development, I didn't have any orders and I didn't
have any customers. So you were, you know, every time I came back to the shop and I had an
order, you know, it was time for celebration really. Because we didn't, we did not have any
customers at that time. And every time we added one to our, you know, to our stable of
customers, we were really excited. So great times. Thanks for that.
Karl: [00:07:36] So I'm curious about that first year. Is there anything that you've learned that if
you wish you knew someone told you about in that first two to three years, about business,
about being a small business owner that you'd pass on to someone else starting on?
Barry: [00:07:54] Well, yeah, a couple of things come to mind Karl, one of the things is, I think
you can plan to be big, but think small starting out. Think small. I bought used office furniture. I
bought used trucks. People want to go, a lot of times they want to, you know, want to buy, have
the biggest, best or newest anyway, the newest and best of everything. And I would say think
small, plan to be bigger, but think to start out think small. Because you can always scale it up
from there. Based on your success or your, you know, your volume. The other thing is of
course, be a planner and I can't emphasize that enough on the small business side. Be a
planner and always be thinking about that next step that you want to take. It doesn't have to be
five years out there, but it definitely has to be 12 to 18 months out there. And then think about
that next step. Think about it like you're, you know, crossing a river, a very, very turbulent river
and you have to step across those rocks very carefully as you cross from one bank to the other
bank. Now, once you start to cross the river, you can't go back to the other bank, right? You
know, that's not an option. So, you know, I often say it's not about making all the right decisions.
It's about making the decisions that you make right. Once you make a decision. Don't worry
about whether you, well, have I made rights, make it, try to make it right. You know, and you're
not going to make every decision 100% right. But I can tell you that if you're making eight,
seven, eight, nine decisions out of 10 or 80 out of a hundred or 90 out of a hundred correctly,
you're going to be in rarified air, right? You're going to be among those small business owners
that are really, really super successful. So it's not about making all the right decisions and don't
agonize over. Wow, you know, once you have the information that you have and frequently it's
incomplete, right. And we don't have the benefit of having the whole, all the puzzle pieces in
front of us. But once you've got enough information to make that, make the decision and then go
about making it right.
Karl: [00:10:20] It's actually, I can talk about decision-making even at the beginning. What would
you advise people that are struggling with making decisions. To get it right or wrong. But you
know, a lot of folks can't even make the decision to buy that business, start that business grow,
invest, make that hiring choice. How do you get through that?
Barry: [00:10:42] Yeah, it's that, you're right. That is probably the toughest decision because
you're now, you may be leaving something that's safe and secure. You may be leaving an
income that's a known quantity. Which I was leaving something that was very insulated and
insular and embarking on something that's very uncertain and very unknown. And that's a very
scary thing. You know, I think it's important to make sure, obviously that you're wall capitalized,
you know, that you are not embarking on something that you can't sustain through the most
difficult period of your business tenure or your business career. And you got to make it through
that first year years. And I can tell you factually that I did take a plug nickel out of my business
the first three years that I was in business. Now that's a very, very difficult you're like, well, how
did you do that? Well, make sure you're well-capitalized and that you can sustain yourself. You
can get real skinny, you know, for a period of time, but you've got, you still have to put food on
your table. You still have to pay your mortgage. And so you have to from a personal standpoint,
make sure that you can sustain yourself through those first three years. And plan, really, almost
to the effect that you're not maybe not going to take an income for that first three years. What
does that look like? Can you sustain yourself through that first three years without taking any
money out of your businesses? There's a likelihood that you're going to have to, anything that
you make, you're going to have to plow back into the business, particularly in that first three year
period of time.
Karl: [00:12:26] That makes a lot of sense. And that's good advice for folks. You mentioned that
you got an MBA, what effect and impact do you think that that had? A lot of small business
owners don't get that formal business education. Do you think that's impacted how you
approach your business?
Barry: [00:12:45] Well, first of all, you know getting my executive MBA at Kennesaw was
definitely a catalyst to me starting my business. I think the Genesis of me starting my business
began as I embarked on that program. And so it was definitely a catalyst for me. I think you
know, I pull some parts or pieces of my MBA program every day, sometimes unknowingly. You
know, but I draw on that experience. You know, I think that the best life experiences, combine
that kind of formal education that you got in the classroom and you can go back as far as you
want, with the practical knowledge that you gained when you're in the field or when you're
practicing. And that goes for everything from, the first job that you may have ever had in a fast
food restaurant or cutting lawns. And so you learned something when you were in the
classroom, but that's formal education without practical experience is almost useless, right? It's
very antiseptic. It's very institutional. And so you've got to combine the formalized, the education
and instruction that you get with practical knowledge. If you only have practical knowledge, then
it had no frame, right? It had no real design to it and it had no organization. It didn't step you
through things sequentially. So I always like to think that my best, you know, my best
experience comes from the formalized education that I got and then the practical things that I'm
learning out in the field or through the school of hard knocks.
Karl: [00:14:33] I agree. I notice that a lot of folks, and I meet different types of business owners,
the ones that have formal education. What I notice is they've got, they avoid some basic mistake
things that helps kind of guide them. But also they also feel more confident and have a handle
on unknowns being thrown at them. So take 2020.
Barry: [00:14:57] Right. You know, you're right.
Karl: [00:14:59] You're running the business, things are going good. And then, how soon did you
know something was happening related to coronavirus and so on. And when did you start
thinking about the possible impact on your business?
Barry: [00:15:13] Well, I think everybody, you know, kind of woke up in mid March and said, my
gosh, what's, you know, what's happening? What's happening here? And it was very uncertain.
We wanted to protect our associate base. We want to protect our families. And then early on, I
guess I would say, you know, in the first couple of weeks in April, about 30 days after we'd
gotten into the Corona or pandemic environment that we. You know, I pulled the audience, I
pulled my associates and I found that they really wanted to work. I mean, of course they really
wanted to work because they knew that their livelihood and income was at risk if we were to
stop, you know, stop work for any reason. We were fortunate that we had projects, orders to fill.
And so we had work that needed to be done. And so I can't say it was business as usual, but
the word that I kind of continue to use with my team and with the people that I talk to is balance,
you know. I try not to be fearful of the current environment in that we still have a job to do, and
we try to press forward. But neither can we be cavalier about the threats and the things that are
happening out in the marketplace. And so we have to have our head up all the time. Just like
you're on a ball field, you have to have your head up and on a swivel sometimes to make sure
you're not going to get hit broadside from somewhere. But nor can you be redisant or you can't
be fearful or tentative. And so we've tried to strike that balance. We've tried to protect our
associate base when we go out to projects, certainly for sure residential projects. You know, we
mask up and we go, when we're in people's homes or around people's homes, we make sure
that we're taking the proper precautions. It's not business as usual. But we're pressed forward
and it's not easy. But I think that it's suited my associate population that people really, really
want to work. And we've been able to make a lot of progress this year and that's not been easy,
so.
Karl: [00:17:31] We noticed a lot of, this year, at the beginning we talked a lot about a bridge
plan. And it was just simply when this hit a lot of businesses. What do you do to get through this
and empower through and excel? And in the bridge plan, it talked about, you know, making sure
you knew what your break even was and reducing expenses. How do we figure out ways to
pivot and increase income with your business as well as how do you communicate and stay
contact with your customers? But the last two, G and E, was around get working. Like just get
out there and start, you know, when other people are wondering what to do the strong, they're
gonna figure out a way to do that. And hopefully it leads you to excelling. When you understood
what was happening, what were some of the things you decided to do in your business to try to
not just survive this, but actually to thrive?
Barry: [00:18:23] Well, you know, we did talk, we moved, actually moved our shop in this
environment. We moved up to Lawrenceville. We moved our shop from Norcross to the
Lawrenceville. And so we, there was an opportunity there. The SBA has been helpful. Gave us
a little bit of tailwind. I always say it's all about the hustle. You know, it's all about the hustle. You
know, and, I like to think when other people are at home with their feet up on the coffee table,
I'm making that last sales call of the day. And my team is making that last sales call today or
Friday when some people are knocking off at three o'clock, you know, I'm going from whistle to
whistle, you know, and I'm going to go all the way to five o'clock in the evening. And, it's all
about work and hard work and sweat equity. And the gritty and gutty people in this world
survive. And that's, I'm a grinder and I just don't know any other way around that. And so, and in
this environment, I think you can just need to, you need to retrench and look for opportunities.
I've tried to be an opportunist and that's a hallmark, I think of my business career is just trying to
be an opportunist. And so when other people, other businesses may be retreating, you know,
that's a great time to forge ahead because they may be either pulling back from a marketing
standpoint or a sales standpoint. And so going forward, really charging forward or finding that
pathway is really, really important.
Karl: [00:20:04] It's interesting. As you said that, I was suggesting to some business associates,
they had strong businesses going in, that it was a time to double down and reinvest and there
were some simple things. It might be training people. If you were shut down for a month, what
training did you never have time to do before that you could implement? Marketing. What a
better time to go talk to more customers, communicate, launch campaigns cause those
customers are out there. But when everybody was quiet, looking at charts every day, you know,
what messages were they thinking about as far as, you know, ways to have shade in backyards
and different things like that. And who's communicating to them through that. What are some
other things you see people that have really thrived through this and are really poised for
breaking out in the future?
Barry: [00:21:00] Yeah. And you brought up some great, great things, Karl. You know, training
and education and reinvesting equipment. Of course, if I go back in my business career now,
this is not, I say this is not the first difficult economic time that I've encountered in the lifespan of
my business. Because as I said earlier, 2009, 10 and 11, we were in the throws of a real, you
know, real recession. And so, again, while other people were pulling back on marketing dollars,
I never cut my marketing budget, not one dime. You know, when other people were looking to
reduce head count, we never reduced. We never reduced head count. Take those people and
see where they're going to be best utilized in your business. Be a planner, I'd make a plan.
Every single, business year I do not go into the ensuing year without a business plan. And so
this time of year it is the heart of my business planning period. And so November, December,
when I put my plan together for 2021. So I will not go into the ensuing year without a business
plan. And once I make that plan, while I do make some adjustments, some small minor
adjustments and tweak it, the plan is the plan is the plan. And I don't very much for my plan
when I embark on a direction and I will tweak it, but I won't make wholesale changes. I will not
slash dollars. You know, if I had set those aside, there has to be a real catastrophic event for
me to change my direction, based on my plan. And so I try to stick to the plan that I've created
and we'll make some adjustments, but the plan is the plan is the plan. And I think to the extent
that you're able to really stick to that, and that's a discipline, by the way. It's really, you gotta
have the discipline to stick to your plan. Especially when things get a little bit Rocky.
Rico: [00:23:08] Can I ask you Barry, what, you know, just to get into the weeds a little bit, just
the meat of it, if you will. So this way, because people hear plans and they're not sure what does
that mean? You know, what's involved? What's actually in the plan, let's say for example. So
could you give an idea of what that, you know, two or three points, what that means as what's in
a plan for you? Is it a sales goal? Is it a dollar amount? Is it adding a truck? What's in a plan for
you?
Karl: [00:23:34] If somebody were to look at your plan, how would you describe that?
Barry: [00:23:39] No question. I mean, I think it starts with you know, it really does start with your
marketing and sales planning conjunction. You're either going to, you're going to look for
geographic extensions. You're going to look for product extensions. So that's going to drive your
marketing. So I'm going to advertise, or I'm going to push this product forward with my sales
team or with my marketing dollars. And then, so out of that marketing plan that comes from your
strategic goals that I want to grow in this geographic area, I want to grow in this product group, I
wanna, you know, I want to reach these customers, this and then you create a, you know, out of
that kind of marketing plan comes your sales plan, you know? And so now you've got, you've
kind of fleshed that out with your team. You know, these people are going to produce this
amount, you know, in terms of selling or sales dollars. And then rolling down from that,
obviously your expense model. And for us I say there's not a lot of moving parts and pieces. It's
gotten bigger. At first there was not a lot of moving parts and pieces. There's more than there
was, but your expense model flows out of that. And so then, you know, this is not a difficult
equation, right? You have sales and you have expenses and that produces profits. You know, I
think Bill Gates said that originally, you know, it's like, let's not overthink this. The sales
expenses, the bottom line is profits. And that's what we're, you know, that's what we're trying to
drive. And so, but it kind of starts out of your marketing ideas and where you want to go
strategically. And then you can decide, you know, what kind of revenue, what kind of volume
you're going to create from there and what kind of expenses you're going to take on.
Karl: [00:25:31] I'm curious in your industry, typically I sort of look at where to market. How do
you learn what's going on in your industry, your market, how do you know what's going to be
things that you need to react to or things where there's opportunities? How do you as you and
your team learn things?
Barry: [00:25:51] Well, I think you gotta be in touch with your sales team. First of all, it was to
start out with, it was just me. And so I had to be head up all the time active in my community,
active in the business community, active in my trade association, looking for changes. You
know, I really do think about it as a business owners, like a ship and I'm in the wheel house and
you know, I'm in the wheelhouse and I'm guiding the ship or the captain has gotta be
responsible to be looking out there and seeing what kind of weather conditions are changing,
you know? What's changing and the tack of the ship and that kind of thing. And so as a
business owner, I have to have my head up and I have to be aware of industry changes, market
conditions and market changes and opportunities for us to, you know, to make hay while the
sun shines. And so, as an example, like home improvement in this COVID environment has
fared very, very well. People were home for months at a time, and they were not spending
money on vacations and going out to eat. Theater and concerts and ball games. And so they
looked for opportunities to improve their homes. And so as a result, that part of our business
has as flourished in this environment. So, as the captain, you have to be head up, looking
around, you know, active in your community. So many people, I think so many business owners,
they get stuck with their head on the desk, you know. Head up off the desk and eyes forward
and see what's going on and being very much in contact with what is going on around me.
Karl: [00:27:45] There must have been a point in your business when you were doing
everything. And for you to start being able to work on the business and do that and keep your
head up. There was a inflection point where that sort of happened. Can you tell us what that
was like and how does someone else know when that's happening and how to navigate that?
Barry: [00:28:05] Yeah, that's great. That's great Karl cause it takes me back to like 2007, eight
and nine. And I was literally on the ladder. I was on the ladder installing. You know, I think that
first year of 2005, I know I did 110, 109 or 110 jobs. And I installed all hundred nine or a
hundred and ten in that year. And I was on those first three or four years, I was on the ladder
installing the stuff that I sold, you know. I think Rico, I think I installed your awning as well. But,
you know, at some point I think it was long about probably 2008 and nine. I said, I can't run my
business from the top of the ladder. And so, there's that continuum, right? It starts out, operator
there's operator on one side and there's owner on the other side. And there's this continuum
from operator, owner operator to owner. So many small business owners get stuck at that
operator phase. They never even, they can never even push the needle toward owner operator,
right. They just get stuck in that operator phase. And around 2008, nine was like, I can't run my
business from the top of the ladder. And so I started to add head count. I added a sales guy, I
added an installer. And so instead of three of us, there was now five of us. And those are, you
know, those are steps that you make and you've got your plan. You're planning for it though in
your business plan, you're still like, do you know what. I think by the end of this year, I'm going
to get to five, you know, by the end of 2009. And it was at five people, you know, and I realized,
you know, with a drill in my hand, you know, and screws and hanging an awning over my head,
I was like, I can't. It worked for the first three years that I was in business, but then about eight,
nine, 10, I was like, I need more help. And then you make those steps, but I can tell you that
that was that adding those heads was a part of my plan for that year.
Karl: [00:30:19] But that's an important insight that it did definitely be highlight the first part that,
that strikes the rings so true. Those first three years. Let's make no illusion right? It's work.
You're an operator. You're doing all those. If you are operating a small business, that comes
with the territory of it. But then you have to have a plan to move away. It doesn't happen
magically. Like people didn't just drop into your lap and they changed. The best, make a plan to
scale that and start shifting through that. I'm curious, what does the future look like now that
you've gone this far along? How far do you look out and how do you start to figure out, you
know, what do you want to do? And what do you want it to be in five years, 10 years?
Barry: [00:31:05] Right, yeah. Right. Well, even in this environment, we moved into a brand new
30,000 square foot facility in Lawrenceville, Georgia. A lot of our product now has shifted from
fabric linings, which is what people think about when they think about awnings and canopies.
Though a lot of our work now is actually metal. We do a lot of metal architectural canopies. We
serve the general contractor trade now. A lot more of our work is B to B and not business, B to
C business to consumer, but B to B. And so, you know, we've migrated a good bit in the 15
years we've been in business, but we're a brand new 30,000 square foot facility. We're going to
add powder coating. I won't get into the weeds with that industrial process, but it's a painting
process. We have a lot of our product, metal product is powder-coated. We're going to start a
powder coating operation, here in Atlanta anyway, into 2021. So that's going to be a big part of
our 2021 plan is a separate business unit, Peachtree Powder Coating. It's complimentary, it
dovetails in with Peachtree Awnings and Canopies as well as the operation that we have up in
Tennessee Awnings. So, we're going to have a real robust plan and I'm not going to, I'm not
planning to retreat in 2021. We're going to keep forging ahead. This will be a product extension
as opposed to the geographic, you know, organic growth that we, you know, we've talked about.
Karl: [00:32:44] I'm curious about technology and how is technology impacting your business
and how do you, you know, how do you incorporate some new technologies? When people
think of awnings, has there been a lot of innovation that we're not aware of that's happening and
is there more to come?
Barry: [00:33:01] Not a lot of, you know, our product is a very, very old tried and true product. I
mean, you know, awnings and coverage, it goes back to the time when somebody, you know,
made an umbrella or threw a bare cloth over their head to protect themselves from the
elements. And so our product has been around for a very, very long time. As I said a lot of the
changes and a lot of changes in the products and the materials that we're using in our products.
A lot of the product, fabric is still is used, still widely used and you'll still see that product out in
the marketplace. But a lot of it is now architectural metals. There's been a lot of changes though
on the shop floor, things that help us become more efficient. Job costing pieces of software
there's been a lot of software, you know, we do a lot of rendering now to help people visualize
that awning or canopy on their home or business. So we're utilizing rendering software on the
sales side, we're using the software on the shop floor to help us be more efficient and that's
going to help us, I think, in the next year to a couple of years.
Karl: [00:34:17] Well, one more question. When you see most businesses grow, there's an
element that they can't be ignored when it comes to people. And what's constraints growth very
often as people. How do you manage through that dynamic and grow your business with
people?
Barry: [00:34:36] Yeah. That's, you know, recruiting and selecting, I think is really at the heart
lifeblood of just about every business. Not just small business, but every business. And so, I've
tried to always make a part of my plan the people plan, the recruiting and selecting being a large
part of that. We were fortunate when we moved up to Lawrenceville now. There you go, we're
five minutes away from Gwinnett tech. You know, Gwinnett tech is a great source of fabricators,
welders, people with technical skills and expertise. And so what did I do? First thing, you know,
within three weeks of landing up there. I was on the phone with the people in their fabrication,
welding department. And we had the first, I say student graduate, start this week. You know,
and I have another one lined up that's gonna start in three weeks, so right before Thanksgiving.
So, recruiting and selecting, extremely important, not just at small business, but every business.
And that's proved to be very difficult in this environment.
Karl: [00:35:47] So specifically, how do you find the right people in your organization?
Barry: [00:35:54] I always will say that the best people in our company will continue to come
from other people in our company, they're already our company. So quite frequently, I think the
best people in our company come from referrals from associates that are already working for us.
That's a tough sell. People are doing their jobs and they, you know, but if you could help them
for information. This young man who came to us from Gwinnett tech came from one of the guys
who works for us, who is a student at Gwinnett tech. He helped recruit this guy, helped us
create that little pipeline now. And so that's going to be very helpful for us. I mean, you know, we
use some of the traditional methods too, like Indeed.com just to give them a plug. We use
Indeed.com and we get a lot, you know, we have a funnel. But we, I still think that the best
people in our company come from other people already in our company.
Karl: [00:36:55] So one last thing I wanted to ask you about just in the context, I know you get
involved in the community a lot. And what role as a business leader, are there things that you're
passionate about or things that you get involved with? Just to help the community in general.
Barry: [00:37:13] Yeah, I can't stress enough the importance of being a good corporate citizen
and pay it forward. And I think that we have responsibility as business owners to give freely to
others what's freely given to us as a baseline. And so, I always try to approach my, I say my
philanthropic efforts, my, you know, my nonprofit efforts, with that as a backdrop. And it's
important that you pick two or three things that your people can get behind. It doesn't matter
whether it's, you know, toys for tots or the Atlanta community food bank or the local chamber,
which will funnel you into a number of non-profit areas. But pick two or three and make a
difference, you know. You might say, well, I'm a small business what difference can I make. But
you can. You can make a difference and you can make a difference at a level that's really
grassroots. Whether it's a church or a school, one of the things that's near and dear to my heart
is a school called the special needs school of Gwinnett. My youngest daughter, Megan has got
special needs. And so up in Lawrenceville is the special needs school of Gwinnett. And they just
built a brand new school, we're providing coverage of their playground equipment, because a lot
of the kids that go to school there, they take medicine that's sun sensitive and that may be, you
know, an issue for them. And so we are providing cover for their playground equipment and
that's something that we're doing.
Karl: [00:38:59] Well, you know, I want to say, thank you. You being part of community. And
when I see you, you're always willing to give time and you'll mentor in other businesses. Your
involvement in the Southwest Gwinnett chamber over the years has been, if there was one
thing, if you look at like, Southwest Gwinnett, some of the business that you think, as a
collective, businesses can do better to help the community. Is there anything collectively that
comes to mind that they could be a bigger role in the community?
Barry: [00:39:29] You know, get involved. Yeah, it doesn't matter. I know that the large Gwinnett
chamber can be a little bit intimidating. It's a big, that's a big organization, you know, and I'm a
member of the Gwinnett chamber of commerce, but I'm also a member of the Southwest
Gwinnett chamber as you pointed out. And you know, get involved. It's, I have a saying, you
know, it's never too late to become what you might've been. You know, and we're not dogs and
these are tricks, you know, that's what I like to say that at work, you know. So we have a
responsibility to our communities. Give, get involved. Don't sit on the sideline and say I'm too
busy to give back to my community or to be involved or to be active. And so I started that at a
very early part in my business career to see and be seen. And that's not easy when you're, you
know, we're already working 12 hour days. But I carve out that hour and a half for the first, you
know, the Southwest Gwinnett chambers first Friday, which is this week, you know. And so I'm
gonna always make time for those community activities and those organizations, which actually
help you become more visible in the community that you serve. Before you can be a big deal
outside of your community, you've gotta be a big deal inside your community. Or you have to
get a little feel inside of your community. And if you're active and looking for those opportunities
to get involved, you know, look for your local chamber. Look for your, you know, look for church.
You know, here in Norcross, Norcross cooperative ministry, you know, there's lots and lots of
places. Lots of places to get involved, and that's gonna help your networking overall as well, so.
Karl: [00:41:23] Well, I want to thank you for that. I'm curious, so coming into the holiday
season, the end of the year, do you have much going on either professionally or personally, how
do you plan on closing out this year?
Barry: [00:41:35] Well, we, you know, the fourth quarter is typically our slowest quarter of the
year, but we're still blessed to have a lot of project business, and a lot of orders to fill. We're
winding down. I think, you know, the city of Atlanta looks for any reason to take a holiday or take
a break. And so the, you know, that block of time, you know, right around Thanksgiving is a nice
period of respite for everybody. Certainly the end of the year, you know, we think of December
as having one holiday, but in fact it almost has two holidays because you take Christmas and
than immediately is New Year's a week after that. So that the city slows down a lot between
Christmas and New Year's and we'll probably close down that week between Christmas and
New Year's. I like to give our associates that time off paid and give them a chance to rekindle,
you know, restrike and refresh, and spend time with their families.
Karl: [00:42:35] Amen, after 2020 folks could be ready for that. How do folks reach out to you if
they wanted to contact with more of you know, what you do, and what's the best way to get in
touch with you?
Absolutely. Karl it's, you know www.PeachtreeAwnings.com or www.TennesseeAwnings.com.
Barry: [00:43:01] Both companies have independent websites. You can find us on Facebook at
facebook.com/peachtreeawnings or /TennesseeAwnings. You'll find that we have a social media
presence there and you can see lots of pictures of our current projects. You know, we're
obviously, you can find us, call us up at our new location. It's 770-409-8372.
Karl: [00:43:27] Well, I want to thank you so much for, you know, just carving out time to just
share with The Capitalist Sage. Barry Adams, founder and owner of Peachtree Awnings, and
Tennessee Awnings. And you'll always see him at our local Southwest Gwinnett chamber
event. You know, stop by say hi, see him there. And I just want to thank you so much for
sharing some of the insight on your journey to entrepreneurship.
Barry: [00:43:54] Thanks, Karl. Thanks, Rico it's good to be able to spend some time with you.
Karl: [00:44:00] We want to thank everybody on with the Capitalist Sage podcast today, we're
continuing to bring you local business owners, local leaders, people in the community that
impact the business community and be a place. I'm Karl Barham with Transworld Business
Advisors of Atlanta Peachtree. Our business is available to consult with business owners,
whether you're looking to improve and grow your business through acquisition, through
franchising, or you're working on planning your exit strategy, finding someone that could take
the reins of the business into the future. Feel free to schedule a council with us. I can be
reached at KBarham@TWorld.com or www.TWorld.com/AtlantaPeachtree. Rico, what have you
got coming up?
Rico: [00:44:49] Sure. Peachtree Corners magazine, we're working on the next issue and the
cover story is actually going to be faces of Peachtree Corners. So we're working through a list of
people and students and educators that'll be on that cover story. And like every other issue,
there's going to be a bunch of things. So we're covering a variety of things that you can look
forward to. You can find out more about Peachtree Corners and what we're doing at
LivingInPeachtreeCorners.com. Follow us on social media. We're really big on Instagram and
Facebook. Just look for the Peachtree Corners Magazine or Peachtree Corners Life and
Capitalist Sage, where you can find the podcast on Instagram as well as our website. So, you
know, go out and look for that. We also have Mighty Rockets, so we do a lot of digital marketing,
I'm the creative director for several different companies. I have lots of things I do. So if you're
looking for video marketing, photography, content online, podcast production, I was engineering
today's podcast. Feel free to reach out to me, go to MightyRockets.com. So it's easy enough.
Karl: [00:46:00] Alright. Well, thank you everybody for tuning in for the Capitalist Sage podcast,
stay tuned for more episodes. Have a great day.
PCBA's Accepting Applications for Two Scholarships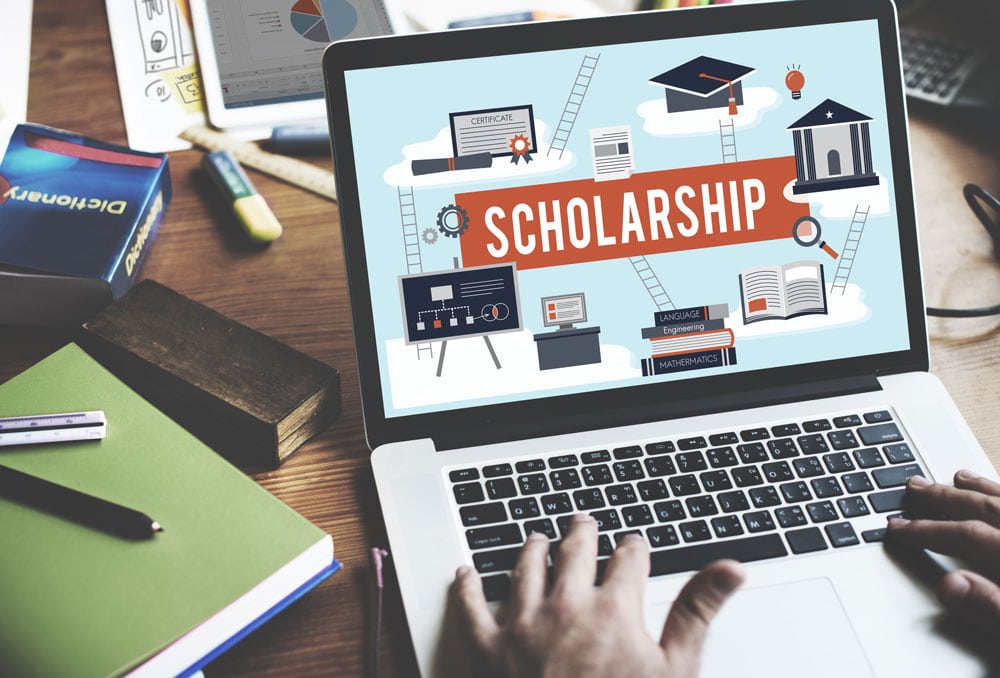 The Peachtree Corners Business Association (PCBA) is excited to announce our eighth annual scholarship opportunity for local high school Seniors who demonstrate community spirit and initiative and meet the requirements.  The scholarship program was established to raise awareness among high school students of the need to give back to the local community & school.

Applications are now being accepted for the 2020 – 2021 Student Scholarship Program.  The PCBA will award two $1,000 scholarships to deserving graduating high school seniors.

Students are invited to apply now by completing the Scholarship Application through midnight on March 17, 2021.  Submit your COMPLETE application by March 10, 2021 to enter a special raffle.

Applications should be emailed to scholarship@peachtreecornersba.com.

Sealed Transcripts may be sent to the PCBA office at
4989 Peachtree Parkway Suite 200
Peachtree Corners, GA  30092.

Click Here for the Current Scholarship Application for Eligible Graduating Seniors

Qualifications Include:
– Must be a Senior & at least one of the following to qualify:
– Resident of Peachtree Corners
– Senior at Norcross HS, Wesleyan HS, Paul Duke HS, or Duluth HS
– Child of PCBA Member

Applications must include the application form, a copy of the student's sealed, or official transcript showing cumulative GPA, and essay of 500 words or less describing why you are the best candidate for the scholarship including three (3) things you have learned during Covid-19 that you believe will help you in the future and a separate page listing any of the following the student has been associated with, and give a brief description of your involvement:
School Organization Affiliation
Sports Affiliation and Extra-Curricular Activities
Areas of Community Involvement
Personal time donated to Charitable/Humanitarian causes
Activities completed or participated in due to Covid-19 restrictions to support the community, healthcare workers, first responders, and others.
Click Here for the Current Scholarship Application for Eligible Graduating Seniors
"The PCBA is proud to continue this scholarship opportunity, which recognizes local students who have positively impacted the community," says Mona Lippitt and Janice Crosby, the PCBA Community Outreach Co-Chairs.  "In previous years, we were impressed at the dedication to community service we saw from applicants. We look forward to honoring the deserving students who receive these scholarships, especially during these challenging times" shares Lippitt and Crosby.  Funds for the scholarships are raised throughout the year from PCBA membership, sponsorship, and our annual charity event.
For questions regarding the scholarship program, please email scholarship@peachtreecornersba.com
How The Atlanta Jewish Film Festival Comes to Life Virtually & In-Person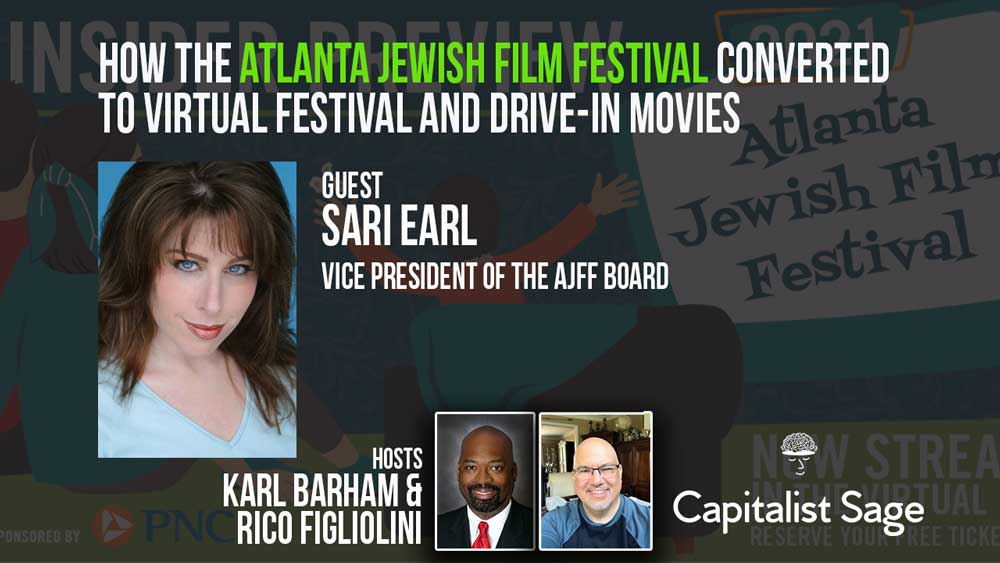 Learning to run a virtual film festival with drive-in movies too, for the first time isn't easy? The Atlanta Jewish Film Festival is back and better than ever! Karl Barham and Rico Figliolini are joined by Sari Earl, the vice president of the Atlanta Jewish Film Festival board. For years the AJFF has been bringing great films to Metro Atlanta and on this episode listen in to explore how they're doing a film festival in a pandemic and socially distanced environment.
Website:
https://www.ajff.org
New Website: https://ajffrecommends.org
Social Media: @AJFFAtlanta
Timestamp:
[00:00:30] – Intro
[00:03:17] – About Sari
[00:07:10] – Changing Perceptions
[00:13:20] – Going Virtual
[00:18:09] – Ideas to Take into the Future
[00:22:33] – How Films are Selected
[00:24:35] – Cost of Films
[00:26:53] – Getting Involved
[00:27:58] – Film Recommendations
[00:32:11] – Closing
"I have always been drawn to the mission of the film festival, which is the bridge building. Bringing people together, digging into a topic, and then unpacking it together with a guest speaker. To me that's really exciting, but it's the first time where I really think, art is more than art. Art is human and it's a human connection. And it really spoke to me. It was great."

Sari Earl
Podcast Transcript
Karl: [00:00:30] Welcome to the Capitalist Sage podcast. We're here to bring you advice and
tips from seasoned pros and experts to help you improve your business. I'm Karl Barham with
Transworld Business Advisors, and my co-host is Rico Figliolini with Mighty Rockets Digital
Marketing, and the publisher of the Peachtree Corners magazine. Hey Rico, how are you
doing?
Rico: [00:00:48] Good, Karl. How are you?
Karl: [00:00:50] I'm doing well. I'm excited. This is one of my favorite times of years, film festival
time. And today we are going to have a great discussion with Sari Earl, the vice president of the
Atlanta Jewish film festival board. And we're going to talk about some of the exciting things
that's coming this year to Atlanta and the film festival. So I look forward to having that chat.
Sari: [00:01:15] Thanks for having me, Karl. Thanks Rico. I really appreciate you having me.
You have a great show and I'm glad to be here.
Karl: [00:01:21] Awesome. Why don't we introduce our sponsor before we get into our
conversation with Sari today?
Rico: [00:01:27] Sure. Our sponsor is Hargray Fiber. They've been a sponsor of both Peachtree
Corners magazine, and for the family of podcasts that we do. And this year they are the, they
introduced the Hargray Economic Stimulus Plan. Just like the federal government has one,
Hargray has one. They're an internet cable company that provides fiber optic, fast internet
connection and business solutions for not only small businesses, but enterprise sized
businesses. So the economic stimulus plan, real simple it's one year free of business, internet,
and phone service for those that qualify. So check them out there at
Hargray.com/business/economic-stimulus, and find that website, check them out. Look at what
they're doing. They're here in Peachtree Corners. They're all over the Southeast. They're not
like the cable guy. They're really committed to the communities that they're in. So check them
out, Hargray Fiber.
Karl: [00:02:32] There isn't a business today that should not have great internet speed, making
sure that their fiber optics is working and they're able to communicate. Whether they're working
from home or they want to keep that speed up at their place of work. So I'm really grateful to
Hargray Fiber for all they're doing in the community and helping businesses with this great
stimulus package.
Rico: [00:02:53] Absolutely. So I just also want to say one other thing. We are a sponsor of the
Atlanta Jewish film festival with the Peachtree Corners magazine and the latest issue that came
out. So I just want to let everyone know that, you know. And I'll tell them how great the website
is when we get to it. But it's a great film festival. So I'm excited to have Sari on.
Karl: [00:03:17] Well today's guest, Sari Earl is the vice president of the Atlanta Jewish Film
Festival board. And for years they've been bringing great films to the Metro Atlanta and beyond
community. And today we get to talk about this year's film festival, some of the interesting things
they're doing. And even get to explore how we're doing this in this pandemic environment, this
socially distanced environment. Lots of great options for you to get out and see some films. So
we'd like to welcome Sari to the podcast. How are you doing today?
Sari: [00:03:52] I'm great. Thanks for having me.
Karl: [00:03:54] Why don't you tell us a little bit, start off by telling us a little bit about yourself.
What do you do when you're not enjoying great films and tell us how you made it to Atlanta?
Sari: [00:04:03] I'm originally from Brooklyn, just like Rico. And moved down here to attend
Emory law school. I stayed and got my master's in laws and taxation. And then I worked at Delta
as in-house counsel. I worked for another trade association. And ultimately turned to writing.
And I've been a professional writer ever since. I've published about 10 books, some fiction,
some non-fiction. I love to try new ways of writing. I've written a screenplay and I got involved
with the festival a number of years ago. Mostly through the community building. The American
Jewish committee created the film festival originally, and they have a black Jewish dialogue, a
Baptist Jewish coalition. They have just amazing events and programming, but it's really about
the interconnecting of our communities. And so the film festival was a program that was so
successful at bringing people together. That we kind of outgrew our founder and partner
American Jewish committee, and we became our own non-profit. And once we did that, like the
partnership with American Jewish committee is so strong and it's a huge balance. Because yes,
we're a film festival, but we are focused on our community and our wider community. We
conversed over Jewish films, but the topics are wide ranging and a large percentage of our
audience is not Jewish. And we love that. So typically on a typical year, non COVID year, I go to
the film festival with my friends. As an example, I have a friend who's an atheist, one who's in
Hindu and one who's Catholic. I am Jewish. We all go together, we pick certain films and then
afterwards we debrief about how we process them. And it's that kind of magical experience that
we've done year after year. We love it. As soon as the program guide comes out, people start
circling what they want. I get emails from people I'm going to this one, I'm going to that one. But
also the other thing that really gets me excited about it, are the Q and A's. We bring in these
guests and we get guests that you're really not going to hear somewhere else. One of my
earliest guests that I remember so clearly was, it was a film about a Mossad agent, an Israeli
spy who went to go work in Egypt to try to uncover nuclear ambitions in Egypt. And he had a
family in Israel and then he had a family for his undercover work. And the film was about what
happened to him. Great story. At the end of the film, we got to talk to his son about the impact of
his father being a Massad spy on his life. It was fascinating, fascinating. So we get really good
conversations going.
Karl: [00:07:10] I think in particular this past year, if there was a time where people needed to
one, be distracted from the day-to-day through film and through art. And at the same time, bring
people together through shared experiences and seeing artists' stories and visions and seeing
how it's received. It's been this year. And I think, you know, I think many people I talk to have
missed films on a mass scale. And especially the independent ones that are story-driven plot
driven, performance driven stories. We all love the Marvel big, fantastic. But those quieter, that's
where a lot of people learn about other cultures. And I think the work that you're doing and the
film festival does to bring that together is amazing. So I'm curious, you know, and do you have a
favorite film that you've seen over the past few years that brought a different insight to
something that you may not have, the film fundamentally changed the way you perceived a
person or people or culture or something of significance?
Sari: [00:08:28] Absolutely. The first one that pops into my mind is why culture, why art? And I
remember watching, it was a documentary about the Warsaw Ghetto during the Holocaust and
how people were starving in the streets. People were suffering such indignities by the Nazis.
And during that time they chose to put on theater productions. And I'm thinking, this is the worst
of times, you're in the worst of places. Who's thinking about putting on a show? And something
clicked. What was happening is they wanted to keep their sense of joy and play and culture.
And so they put on Yiddish theater in the middle of a Holocaust. And for me, I have always been
drawn to the mission of the film festival, which is the bridge building. Bringing people together,
digging into a topic, and then unpacking it together with a guest speaker. To me that's really
exciting, but it's the first time where I really think, art is more than art. Art is human and it's a
human connection. And it really spoke to me. It was great.
Karl: [00:09:46] Absolutely. I remember watching a film some years ago. And I think it was about
Indian culture, this particular one. Have you heard of the ones that follow water? I think earth,
fire. I remember watching them. They're just great films and they're based on books, great films.
But it gave you an insight into a culture that you didn't see every day. But I remember it made
me reach out to people and want to get to know them and their culture and experience more of
that. And I think the film festivals like this that brings those types of elements together is going to
be the way that a lot of young people are going to really get to learn about people that are
different from them, or grew up differently from them which might make them curious to go meet
more people and get to understand more people. Which is a lot of what we could probably use
now after the past year. People got disconnected, socially distanced. And how do we start
bringing them back together.
Rico: [00:10:45] No, it's interesting. Go ahead.
Sari: [00:10:48] Sorry Rico. It is really interesting. I mean, the film festival has a lot of films that
are international. We have films from Israel, you know, I have the list here, but it's a huge list.
We usually have a German films, a lot of German films. Spanish films, Japanese films. So we've
had the directors come in. It's been really exciting, but what I like about it is that I would not
otherwise watch a foreign film, just not my cup of tea. And here through the Atlanta Jewish film
festival, it's been curated for me then I know it's good. I know it's interesting. I know it's
something where I'm going to learn something about another culture and I love it. So during the
film festival, I'm watching international films. And you're right, Karl, it makes me feel more
connected and understand these other countries and the people living in them so much better.
And I don't know that I would do that otherwise.
Rico: [00:11:46] You know what's more about that too, is that because it's other countries and
people think Judaism or Jewish people are Israel or the United States. And they're not
understanding there are Egyptians that are Jewish. There are Brazilians that are Jewish. There
are Japanese that are Jewish. And that culture of Judaism mixed in with the other culture that
they grew up in or country they grew up in, right? Just makes it so much different and it adds so
much to that fabric of what's going on in their life because they might be Japanese, but they're
also celebrating Judaism in that country, right?
Sari: [00:12:26] Yeah. That's an interesting point. There's a film this year in the film festival,
which I'm really excited about. I'm going to try to see if I can find the page in this beautiful
program guide, that we love. It's our Bible for the festival. It's called They Ain't Ready For Me.
And it is about an African-American rabbinic student who decides to help save the people of
Chicago's South side. I mean, it looks so exciting. And the fact that's something else that's been
really interesting is learning more about the, not everybody's just one thing. One color, one
culture, one country. We're all, you know, a mix of everything and to explore all the different
corners of how different people can intersect those different identities is really fun and opens us
up.
Rico: [00:13:20] I noticed that you circled within that directory your movie. I've done the same
thing. But then I've gone to the website, which by the way, I've got to give you props for. That
website is phenomenal. It's easy, you can register for the movies. You register yourself, you
register for the movies you want to see. You can go back and check the times and stuff. And as
you're looking at the videos and actually you can look at trailers on the site too, or a description.
It's rare that you see a website works so well. To be able to keep you informed and in the ease
of use. So it's intuitive. You don't see that even on corporate websites, they'd probably spend a
lot of money. So on a nonprofit side, I'm just totally impressed. So I've just got to tell you that.
Sari: [00:14:09] Thank you. I have to give kudos to the staff. Kenny Blank is a phenomenal
leader. The staff is amazing. They've worked so hard on the ease of use and I was also
impressed, like everything's new this year. So going virtual, like we're on Apple TV. We're on
Roku. You can find us. You can find us on all of our Q and A's are going to be posted on
YouTube so you don't even have to buy tickets to the film. And yet you can access those
amazing question and answers where we have these phenomenal people talking about their
films and their journeys. And we're really trying to make it as accessible as possible. And I've
got to tell you, the staff really has out done themselves.
Rico: [00:14:52] And as a former film production manager, when I was in school and I used to
publish a fanzine back in Brooklyn for movies. I went to the Star Wars premiere and sat next to
Rex Reed, who was wondering who these kids were. I was with my siblings reviewing the movie
for the fanzine. Just to be able to see the Q and A part and understand how that movie was
made. Where people think, Oh, that's easy, or they have a predetermined a way that it was
done or something. And you realize, wow, that was an accident? That happened on set? That
was just improv when it looked like it was organic or something. So the sweet spots of seeing
how a movie is made.
Karl: [00:15:37] Today, they have all those extras on films. If you go on Netflix, you'll be able to
see the extra director's cut, directors comments, and so on. Well, you know, 20 years ago they
didn't have those things. And if you went to a film festival, you get to hear some of those
insights, those questions. You know, was that luck or was that planned and how did they think
through making a film? Which I'm pretty sure that those folks ended up being this generation of
filmmakers. And so for young kids out there right now and their families, if they've enjoyed film,
going on that website, and I think doing, circle the films that you want to take a look at and sign
up, get tickets and enjoy with your family. Make it a family experience. And listen to the Q and A,
and then have that discussion with your family about what you interpreted from the film.
Whether it's the technical, how it was made, or maybe it was the story of the plot, or questions.
That's a great COVID socially distant activity to do with the family that, you know, in years past,
you may not have been able to do as easily if you had to go out. But I got a couple of kind of…
Sari: [00:16:47] Before we leave this topic, it's a really good point. The things that are made
easier by going virtual in the past, you had to be in your seat for the seven o'clock showing, and
then wait afterwards for the setup to have the guests. This year, it's seamless and you have a
window. So the film festival is February 17th to February 28th. And during that time period,
tickets are on sale now AJFF.org. Which is, thank you for complimenting our website, that was
great. But you have a window now, so you don't have to watch it at a certain time at night. You
might be a morning person. You might want to watch it while you're working out. You might want
to watch it, you know, with other people, as you were saying, Karl. So there's a window within
which you can now screen it. And that really opens it up. And then the Q and A's will be there for
you.
Rico: [00:17:39] And not only that you can watch more than what you may have done before. So
last year before COVID, maybe you got to three of these movies, maybe you did the midnight
show. Which I'm going to watch that midnight horror movie, right? The Vigil. That's going to be
cool. I'm going to watch that I've been dying because that's the time to watch it. But this time I
can watch a half a dozen or a dozen if I want. I mean, it's so different than before. It's probably
opening it up to a wider audience than could otherwise have made the festival.
Karl: [00:18:09] And that was actually where, where I was going to ask, of the things that have
changed because of COVID. What are some of the things that just, you know, maybe might've
surprised the team and or blessings that, you know, things that you'd like to figure out and
incorporate and keep around, even beyond this period that everyone's socially distant.
Sari: [00:18:30] That's a great question. So when everything first hit, the real conundrum was,
do we hibernate or do we innovate? And we went with innovate. So we spent a lot of time
searching web platforms, figuring out what a virtual film festival would look like. Going to drive
ins, which was really fun. We got to test different drive-ins and for the first time ever, we're
having drive-ins at the Atlanta Jewish Film Festival. They're going to be at the Mercedes-Benz
stadium and the Home Depot backyard. And we're going to have three films. Shivah baby,
Spaceballs, we always bring back some great films that we love, and Little Shop of Horrors. And
we're having food trucks. We're having a donut truck. We're having giveaway bags. I mean,
we're trying to really bring the festival and the festivity into this experience. So that's definitely
something different than I really had fun with. But there's something else that happened that we
realized during COVID. First, we have hundreds of volunteers and they really wanted us to stay
on track. They wanted us to keep our schedule. They wanted to keep working in the film
evaluation and get the films curated for this upcoming festival. And doing all of our meetings on
Zoom, we not only became more accessible to new volunteers who otherwise couldn't have
gotten into our building. I never want to lose that voice at the table. Someone who maybe had
an accessibility issue or some kind of an issue that made it so that they could not be there in
person. Now they can participate. I never want to lose those voices. Those people who are
fresh to the table and let us see things from a different point of view. We've had a number of
new volunteers come on, who otherwise never could have been able to attend and participate.
And I don't want that to ever go away. It's been phenomenal. The other thing that we did is we
took our entire collection of every film that we've shown at the film festivals in years past. And
we uploaded it onto a platform on the internet. It's at AJFFRecommends.org, brand new
website. I'm particularly excited for the educational pieces. We have a lot of school partners,
great schools that are exposing their students to, like you said, Karl, these different viewpoints,
different countries, different cultures and then want to unpack it. And so we can recommend
films to them that they can get off the platform and help them unpack and create a way to
connect these students to the story on the screen. And then the final thing, which I'm so excited
about, is we created a filmmaker fund to help filmmakers struggling to help them get their films
to audiences. And we have our first film ever that has benefited from the filmmaker fund. And it's
premiering, it's world premiere is that the Atlanta Jewish Film Festival. And it's about the city of
Atlanta. It's called The City Too Busy to Hate. It's a great film and it's produced by three local
filmmakers who are phenomenal people and the film shows you things you would not have
otherwise seen. I got to see a few snippets of it and it was showing Holocaust survivors being
brought together during COVID, spatially distanced to listen to a concert. You know, the things
people did to really open their hearts and try to find ways for other people to be connected.
Because Atlanta is pretty awesome. The greater Atlanta is a pretty unique place and they, this
film explores different pockets of the community and how they tackled with COVID, but also how
they came together under COVID. Very exciting. And the filmmaker is going to keep going. I
love it.
Karl: [00:22:33] We always talk about innovating. When something external challenge is brought
in the organizations that thrive are the ones that figure out how to innovate. And some of the
best, you know, things that we see today comes out of hardship, where people have to figure
out a way. And I think you might've missed, you solved the one other really important challenge
that people have in enjoying film festival. You solved the babysitting challenge. Now today
instead of having to get that babysitter and go out there and see a film you could put the kids to
bed, you could put the kids in front of Disney. You can still enjoy the film in so many different
ways that's going to be important. You mentioned volunteers, hundreds of volunteers. Why don't
you give a little insight on the process to get the films selected and featured into the festival
each year.
Sari: [00:23:32] So I think this year we had about 500 films submitted. You can go on our
website if you want to submit a film. And then it goes to the film evaluation committee. And I
have served on the film evaluation committee and I did it one term and I was done. Because
you have to see a lot of really bad films to get to the good ones. And I want my film experience
to be curated. That's why I like the Atlanta Jewish Film Festival. These hundreds of volunteers
having thousands and thousands of reviews that they post online. And then they discuss them.
They come together and they discuss the films. And are they good enough as far as production
value? Is it a relevant story, is it timely, is it Jewish? That question comes up a lot. And then they
curate those films and they propose a list of films that they recommend for the festival. And then
that's what we weed through to get you the best of the best. So you don't have to be digging
through a bunch of different platforms. It's curated for you.
Karl: [00:24:35] Then I'm curious, the other part is the cost now. So the traditional model where
you buy a ticket and you show up and so on. How would the cost of the film and what are the
options for people to enjoy these films this year?
Sari: [00:24:50] Well, the great thing about the Atlanta Jewish Film Festival this year is that
when you buy a ticket, it's for whoever's in your house. So the ticket could be for five people. It
could be for ten people. It's whoever's in your pod can get it. You get a code and the code gives
you entrance into the film. The drive-in, you pay per car. And once you pay per car, you can
have as many people in your car as you want. You can show up for that screening. So the
prices are actually pretty good. And then the Q and A's are free. Anyone can watch a Q and A,
even if they haven't seen the film.
Rico: [00:25:27] Let me ask you something on the drive in part. If someone comes in with a
pickup truck and lays down the back and puts the all the blankets down, is that a good, is that
good?
Sari: [00:25:38] Don't make me laugh. You're making me laugh. That's good. I think we said any
vehicle, any vehicle.
Karl: [00:25:50] I can see school buses rolling in, people in school buses.
Sari: [00:25:54] Hey there is a donut truck coming with hot cocoa. So a school bus would be
very appropriate. But, yeah, so we tried to make it accessible. And, but we're also a nonprofit. I
mean, we're not making a profit off this. We're providing a service, we're part of our community.
And that's the thing that was amazing about this year. People wanted to support us. They said,
we don't want you to just survive. We want you to thrive. And it's been really beautiful to see
how many supporters came up and said, you're important to our experience of living in Atlanta.
You're important to our experience of being in Atlanta, Jewish and non-Jewish. And it's been
really exciting. And heartwarming, I guess, is the best word heartwarming to have so many
sponsors and supporters really care about us and volunteers who are willing to give their time. I
mean, we're a volunteer nonprofit and we have some of the most talented and amazing people
coming to help us. We're very, very lucky and we really appreciate it.
Karl: [00:26:53] We want to help continue that. So if people are out there watching this and they
want to get involved, whether it's through sponsorship and donations, whether it's through
volunteering their time, what are the ways that people could get involved? How do they reach
the organization?
Sari: [00:27:09] Well we are on Instagram, Facebook and Twitter. AJFF Atlanta is our hashtag,
AJFF Atlanta. So Atlanta Jewish films. But more importantly, I would go to the website. We have
one of our best committees is called community engagement. And it brings a cross section of
people, different religions, different races, different identities, different socioeconomic
backgrounds. And we come together to talk movies and how to bring people to films. I love that
committee, highly recommend it. We have a guest programming committee also, that's really
fun. A lot of celebrities because we pick who gets to introduce films, who gets to do the Q and
A's. So I would go to our website and check it out. Please volunteer, AJFF.org.
Karl: [00:27:58] That's fabulous. Well, I mean, we could talk about films forever. Are there any
that you have on your watch list? For folks that are new, you might suggest that they take a look
at? Give me one or two recommendations that I can put on.
Sari: [00:28:14] Okay, alright. So we have some phenomenal guests. If you guys seen the show
Unorthodox on Netflix, the actress who stared in it is brilliant. And we have got her attending our
festival and speaking to us, she's throwing in a film called Asia. And it's ASIA, and I'll see if I can
find it. But it's a phenomenal film about a woman and her daughter and their relationship which
can be really challenging. The other films I'm really excited about, Howie Mendell is our closing
night. He is coming to our festival via Zoom. We're interviewing him and he's great, and funny,
fun, fantastic. Who else is fun? There are so many, I mean, the one I mentioned to you earlier
They Ain't Ready for Me. Can't wait to see this, very excited. Okay, the horror movie is called
the Vigil. And the Vigil is having a midnight showing. And then of course we have a window to
watch it afterwards. If midnight is not your cup of tea. And I heard it's phenomenal. In Judaism,
when someone passes away, there's a tradition to have someone sit with the body. And the film
takes that experience and creates a horror film out of it. And I heard it was fantastic. We have a
film critic who's on our film, who chairs our film evaluation committee. He said this film was
fantastic. And Karl, to your point about the children and the babysitter problem, there's a film I
don't know if you can see it, it's called the Crossing. And it's about children who have to cross
over a wilderness during World War II in Norway, and it's great. Great films. So there are films
that are child-friendly including the drive-ins. I mean, the drive-ins are a great opportunity to get
out with your kids in a safe space.
Karl: [00:30:16] Oh yeah, Spaceballs is a classic.
Sari: [00:30:19] Spaceballs is a classic. I mean, it's the best and you know, our kids haven't
seen these movies. Our kids haven't seen Little Shop of Horrors and it's an event and you're out
and I've been to the Home Depot backyard at Mercedes Events theater. It's phenomenal. It's a
great space. It's open, it's, I felt really safe when I was there. I'm excited for the food trucks.
We're doing giveaways. We're making it festive because we want people to enjoy this and have
some fun.
Rico: [00:30:47] I think I would go for the food trucks too, you know? Kosher food, a couple of
knishes. I mean, it's just like, I'm just missing a few things from New York.
Sari: [00:30:58] Oh yeah. I wish, but there's no knish, but there are donuts. That's another thing
that we've added for the festival this year. We have home delivery of some gourmet meals, with
your movies. So when you order your tickets, it'll pop up and say, would you like a meal
delivered to your house? And if you buy opening night tickets, this is an insider tip. If you buy
tickets for opening night, you will get a free festival in a box delivered to your home. And inside
the box are treats, we want to support our restaurant partners who've been great to us for so
many years. I mean, we really want to make this fun and festive. So opening night festival in a
box drive in we're going to have some giveaways and some swag and lots of food and fun. And
we're really trying to make this an event. And so far, the audience is clamoring for this. We've
had an amazing response from our sponsors, amazing response from our audience saying, we
want you to, we want the show to go on. The show must go on. So AJFF this year has
reinvented, re-imagined. But we'll be here February 17th till 28th, and it's going to be a lot of fun.
So join us, please.
Karl: [00:32:11] Well I want to thank you so much for sharing about the Atlanta Jewish Film
Festival and all the ways that you bring people together through film and continuing the tradition
and innovating it in a lot of different ways. Sari, you have been excellent and a great
ambassador for the program that's coming up. And again, why don't you tell us the dates of the
film festival?
Sari: [00:32:38] Sure. It starts February 17th. Tickets are on sale now at our website, AJFF.org.
We are a nonprofit. And our closing night is February 28th. The opening night film Kiss Me
Kosher has gotten rave reviews, and we picked a comedy. We said, we must start with a
comedy this year. We need to lighten up. And then we end with a comedian, with Howie
Mendell. And he's coming in as a guest for the Atlanta Jewish film festival. So it's going to be
great.
Karl: [00:33:11] Fabulous. Well, thank you so much. Sari Earl, vice president of the Atlanta
Jewish film festival board. And you know, this year we need laughs. We need distractions. We
need to get out. And the film festival is giving us all of that this year for folks to be able to enjoy.
And so I definitely want to give two notes that I made for myself. This sounds like the ideal
Valentine's gift for folks. And the beauty of this is you could send this Valentine across the
country. People could enjoy it anywhere. So just through the realities of being virtual, people
could enjoy this from anywhere in the country, really. So really great idea for a gift. So thank you
so much for sharing everything you have today.
Sari: [00:34:00] Thanks for having me. Some of the films, just so you know, are geo blocked. So
they're only available in Georgia. A lot of the films are available anywhere in the United States of
America. So you just have to go to the website and check it out. But there are plenty of films.
And like I said, they've been curated. Like someone else, hundreds of times have viewed this to
make sure it was good and worth my time. So it's worth checking out.
Karl: [00:34:24] Fabulous. Well, thank you again. Thank you so much. Well I wanna say thanks.
Thanks everyone, the sponsor, Hargray Fiber for continuing to support the Capitalist Sage and
the other family of podcasts that we have. I'm Karl Barham with Transworld Business Advisors
of Atlanta Peachtree. Our business advisors are available to consult on your business, whether
you're looking to improve it or grow it, whether you're looking to exit your business. You can
contact myself or any one of our advisors to help to guide you through that path. Now's a great
time. The SBA is offering great rates and programs for people acquiring businesses. So if you
want to be your own boss, so you can watch more films at the time that you want give us a call.
And we could help you find the right business that fits what you're doing. Rico, why don't you tell
us a little bit about what you've got coming up.
Rico: [00:35:18] Sure, we just got our latest issue out of Peachtree Corners magazine. I showed
you guys that before. Faith and sports is the cover story. Lots of stuff in here, a lot of good
stories. The roller hockey Ogden rink, and the association along with stories about, from
education to summer camp, to the new redevelopment authority that the city has started, to
aging well resource guide. So that there's a bunch of good things in here. You can find all of it
almost online now at LivinginPeachtreeCorners.com. There's an article in here, a short piece on
the on the film festival as well. And we're going to be doing more of these types of stories
coming out over the next few weeks. If you want to find out a little bit more beyond what I do at
MightyRockets.com. That's content, marketing, marketing social media, and creative work,
creative services. Check that out. If you need me, you can find me on LinkedIn, Rico Figliolini. If
you can't spell that, just go to the website and you'll see it and you can find me almost
anywhere. So yeah, and from, and it's amazing that the three of us let's put us back on here,
three of us are all from Brooklyn or New York.
Karl: [00:36:31] Yeah. Absolutely, Brooklyn spreads out all over the country, right? They seem
like 30 something percent of folks in the United States came through Brooklyn. So here we are
reunited in Georgia.
Rico: [00:36:44] Right. Good to have you on Sari. Oh well, hold on. Can't hear you for some
reason.
Sari: [00:36:50] Thank you so much for having me. I really appreciate it. I had a lot of fun talking
with you guys. It was great. Really appreciate you hosting us and the Atlanta Jewish Film
Festival. Thank you.
Karl: [00:37:00] Our pleasure. Well everyone, go get your tickets. February 17 through 28, check
out the website. Get those tickets, send them out as gifts and support the local community and
just help bring people together. This is the Capitalist Sage podcast. Again, bringing you great
guests from the community here in all aspects of business, whether it's for-profit or non-profit.
We do not discriminate. We want to talk to everyone and share what people are doing to help
innovate and bring value to the community. So thank you everybody. And thank you, Sari, for all
you are doing for the community
Rico: [00:37:36] Take care guys.
From the Corporate World to Full-time Real Estate Investor and Author with his Son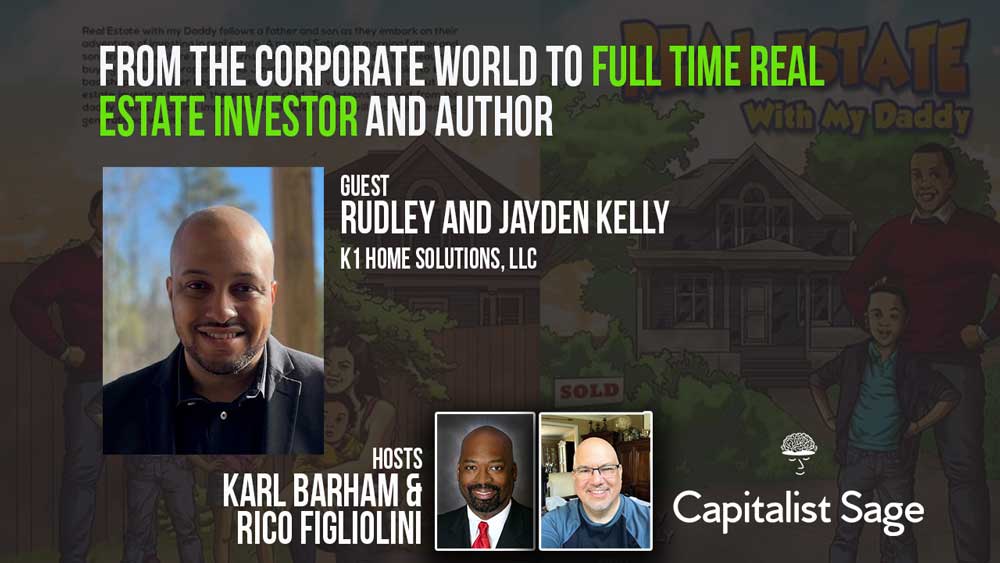 On this episode of the Capitalist Sage, Karl Barham and Rico Figliolini are joined by Rudely Kelly and his son, Jayden. Rudley is a real estate investor, a realtor and an author who with the help of his son, wrote "Real Estate with my Daddy", a children's book that explains the ins and outs of real estate to kids. Listen in on the inspiration behind this book and hear Rudley's expert insight into the real estate industry.
Book on Amazon
Website: K1HomeSolutions.com
Phone Number: 404-877-8088
Social Media: @RudleyKelly
"I'll have a conversation with the seller and just get an understanding of what is their true
motivation, what are they looking to gain out of selling this property? Because at the end of the
day, you don't want to walk away with someone feeling as if they were taken advantage of, or
didn't understand the process or anything like that. For me, I like to sleep well at night and I
want to make sure whoever I'm dealing with sleep well at night as well.

Rudely Kelly
Timestamp:
[00:00:30] – Intro
[00:03:09] – Inspiration Behind the Book
[00:04:03] – Rudley's Background
[00:05:26] – Educating Children in Real Estate
[00:08:36] – Finding Properties
[00:09:56] – Next Steps in a Property
[00:11:30] – Making House Flipping Profitable
[00:12:54] – Working with Contractors
[00:15:47] – Exiting Properties
[00:17:07] – Pros and Cons of Airbnb
[00:18:07] – How COVID has Impacted Business
[00:19:50] – Next steps for Rudley and Jayden
[00:26:22] – Closing
podcast transcript
Karl: [00:00:30] Welcome to the Capitalist Sage Podcast. We're here to bring you advice and
tips from seasoned pros and experts to help you improve your business. I'm Karl Barham with
Transworld Business Advisors. And my co-host is Rico Figliolini with Mighty Rockets, Digital
Marketing, and the publisher of the Peachtree Corner magazine. Hey Rico, how're you doing
today?
Rico: [00:00:47] Good karl. It's a great day.
Karl: [00:00:49] Absolutely. Why don't you introduce our sponsors for today's episode?
Rico: [00:00:53] Sure. Our sponsor is Hargray Fiber. They are an internet company that
provides services to small and large companies. And they're a main component in every
community they go into. So we're excited to have them as our sponsor and not only for this
show, but our other podcasts that we do and also support our Peachtree Corners magazine. So
what I want to tell you is that they have the Hargray Economic Stimulus plan, their own stimulus
plan. So if you qualify for it, you get one year free business, internet, and phone service. So you
should check them out and go to Hargray.com/business/economic-stimulus. Great partner to
have. They are not like the cable company and they're there when you need them. So check
them out. Thank you Hargray.
Karl: [00:01:50] Thank you so much, Rico for introducing our Sponsor Hargray today. Today's
guest is Rudley and Jayden Kelly. Rudley's a real estate investor, a realtor and an author. And
today we're going to talk a little bit about how to teach your children about investing. Real estate
investing, other types of investments, to our children. You've recently just launched and
published their first book, I'll kind of show it here. This is "Real Estate with my Daddy". It's
available on amazon.com. A very fun book for you to go through with your children and talk
about real estate. So we'll talk a little bit about this today and share some of the thoughts around
that. Hey Rudley, hi Jayden, how're you guys doing?
Rudley: [00:02:34] Good, doing great. How are you all doing?
Karl: [00:02:36] Oh, we're blessed. Thank you so much. And thank you for taking time out of
your busy schedules to be on the podcast with us today. Jayden how was school today?
Jayden: [00:02:48] Good.
Karl: [00:02:49] That's good. You're probably pretty used to doing your schoolwork and keeping
up with stuff. How did you get time to write a book with your dad?
Jayden: [00:03:00] Cause we were just home one Saturday afternoon. Went shopping, so we
just wrote a book for fun.
Karl: [00:03:09] Oh, that's fabulous. Rudley, why don't you tell us a little bit what sparked you for
doing that? Writing this book and introducing it to everyone.
Rudley: [00:03:19] Yeah, first and foremost,I appreciate you guys inviting us on this podcast.
It's a great venue here to kind of talk about business. But yeah, the whole premise behind the
book was to just help share the knowledge of real estate amongst, you know, younger children.
Kind of similar to the opportunity I had when I was younger to learn from my older brothers and
sisters and older cousins that invested in real estate. So my son, you know, obviously he's been
coming with me on looking at various properties, distressed properties and whatnot, since he's
been about two years old, right? And so we just wanted to kind of put it in the language of a
child for them to get a high level grasp of what investing in real estate is. And you know, we kind
of wrote it together and came up with something pretty cool.
Karl: [00:04:03] Yeah, it's definitely fabulous. Why don't I start by, how did you get into real
estate and what made you, what's your background and what brought you to where, what you're
doing today?
Rudley: [00:04:14] Yeah, so I started real estate. I've been heavily investing in real estate in the
past six years, but really bought my first property about 14, 15 years ago. And what kind of got
me started in that is, you know, kind of what I was mentioning a little bit prior to that I had some
good role models. My brothers, sisters, some older cousins, my parents, that all had some type
of footing within real estate. So my thing as a younger adult always wanting to try to figure out
how do I accelerate that and how can I get to that level sooner. So it started off with me buying
my first property right out of college. Primarily because I didn't want to move back home with my
parents at that time. So that was my motivation at the time, but kind of snowballed from there.
Got my real estate license and you know, invested in quite a bit of education on the flipping side
of the business. And just kind of took it from there.
Karl: [00:05:04] Oh, that's fabulous. I wonder Jayden, what's your favorite part of working with
your dad when looking at properties?
Jayden: [00:05:14] I get to help him build things.
Karl: [00:05:15] What's your favorite? Is there a particular room that you work on a lot? Kitchen,
bath, living room?
Jayden: [00:05:22] I usually work downstairs.
Karl: [00:05:26] Oh, that's fabulous. So as you started getting started in this, what are some of
the things you found that when trying to help educate your children about investing, you found
were some of the things, the challenges in doing that?
Rudley: [00:05:42] You know, I guess some of the challenge is in maybe some of the language
and the dynamics of what real estate is. So I think for me, what helped educate Jayden on it and
the rest of my children as well is just, you know, putting it in as, mostly in terms as possible. And
trying to equate it to maybe toys or things that they play with and understanding buying
something versus investing and saving and those types of things. But I think the biggest
challenge is just putting it in a language that resonates with them best. So it was fun for us to
write this book together so he can kind of help me along as I'm writing it to say, does that make
sense? Checking in with them and you know, getting a good understanding that you know, this
is something that a seven-year-old can understand
Karl: [00:06:25] Jayden, what do your friends think about you helping your dad out?
Jayden: [00:06:30] They haven't all checked the book out yet.
Karl: [00:06:35] They haven't checked it out? Well, we have to do something to help get them
the book a little quicker and get them into schools and everything else. One of the things that's
always fascinating, there's an aspect of this that goes around wealth building. Creating a legacy
and generational wealth. That, there has been a lot of discussion around that. What place, what
do you recommend for parents to start instigating that curiosity in their children? What are some
of the things you've been doing and what would you recommend to other parents that want to
get their kids interested earlier into business and/or investing.
Rudley: [00:07:14] Yeah. I mean, I think some of the biggest things is truly just exposing him to
it first, right? I think, exposure is the key. I know growing up you know, as looking at my parents
older, typically as parents, you're like, you know, this has grown folks business. Or this is, you
know, this is for adults, but I tend to not do that typically. I want to bring them into the fold. I want
to show them like, all right, this is what this costs. You know, how do you think we should go
about paying for this? You know, if you're having discussions over bills or things like that. Once
you get a little bit older, maybe not Jayden's age, but you know teenagers are a little bit older,
like sit down at the table with them and go over the bills and show them where their account is
coming from or where the funds are coming from and how to save and do those types of things.
So I think number one is exposure. Don't shy away from having those conversations, even
though they may not necessarily be a hundred percent ready for it yet. And then number two is
just continuing to get them excited. Find a piece of wherever in that education that you provided
them. Find what motivates them, or find something that they're interested in. And push them
towards that direction to learn a little bit more. So even if it's about stocks or anything like that
stuff that they buy all the time, you know, if it's Nikes, or they love Disney movies. Pull up the
Disney stock, take them through that, you know, let them learn a little about those things. So
find something that they resonate with and have that conversation about the investment part of
it.
Karl: [00:08:36] I'm going to ask the question about maybe a recent project that you guys
worked on together. How did you find a property, a particular example of property? What are
some of the ways you search for them? And is there an interesting one that you found in an
interesting way maybe with Jayden involved or others?
Rudley: [00:08:58] Yeah. So, you know, as you mentioned, I'm a realtor and investor. So from a
realtor perspective, I'm able to find properties on what's considered the MLS on market type of
properties. But from an investor perspective and kind of what we touch a little bit on the book,
I'm typically finding off-market properties or distressed properties. So some of the ways that I've
learned to go about finding those properties are certain lists that you'll purchase. Such as
people that are in distress situations, foreclosures, maybe probate, someone that's inherited a
property that lives out of state and they don't have anything to do, don't want anything to do with
the property. You know, eviction lists, tired landlords, all different types of lists that you can use.
I have a team of folks that make those calls and follow up and take action on those. And that's
pretty much how I go about finding the properties. But everything really falls into the follow-up
and making sure you're getting direct to the sellers and just establishing your credibility and
relationship with those sellers.
Karl: [00:09:56] Once you find a property, what happens next? If you identify a property and an
owner of the property, what do you typically do next?
Rudley: [00:10:06] So if I had the address and had the information at first, do some kind of
desktop analysis look at the area, look at the comps. If there's pictures, I try to look at the
condition of the property and run some preliminary numbers on where it makes sense for me to
purchase this property. But once I get to that point, I'll have a conversation with the seller and
just get an understanding of what is their true motivation, what are they looking to gain out of
selling this property? Because at the end of the day, you don't want to walk away with someone
feeling as if they were taken advantage of, or didn't understand the process or anything like that.
For me, I like to sleep well at night and I want to make sure whoever I'm dealing with sleep well
at night as well. So I really try to get a good sense as to what are their goals. If it's a probate
situation, perhaps, you know, they have other siblings in the family and maybe they need as
much money as they possibly can to split amongst those siblings, right? So I want to try to give
them the best possible offer I can. Or it could be someone in a situation that's like, I really don't
care about the price, I just need to get this out of my name as soon as possible. So that's
another motivation or a motivating factor that I can help them with. Okay, I can close within a
week if you need me to and get this burden off of you if you've got bills piling up all of those
types of things. So it really depends on the customer or seller first and start from there and work
my way backwards to seeing where we can, you know, where it makes sense for both parties.
Karl: [00:11:30] I'm curious as, once you acquire the property, there's a lot of people doing
flipping now especially in Georgia, in different cities, around different States around the country.
What do you, what are some of the things you've learned about doing it profitably when it comes
to once you've acquired the property?
Rudley: [00:11:51] Yeah. I mean, I think once you acquire the, well I just say, going a step back
even before acquiring the property, it's really just knowing your numbers. That would be the
advice I would give to any newbie investor out there or someone that's looking to flip homes, is
that try to take the emotional attachment out of it of just wanting to do a deal. Because that can
certainly hurt you in many different ways. And just be cautious as to what you're, what you're
going into, because there's a lot of shows, station TV. It's a lot of things out there and make it
look very glamorous, which you now it certainly can be at times, but know your numbers and
understand what you're getting into. And then once you actually do acquire the property,
continue to do your due diligence, continue to do your inspections. Work with your contractors
and always leave yourself, even whatever your budget do you come up with, have a
contingency. Because as much as you evaluate that property beforehand and do your desktop
analysis, once you open up the walls, you just, you never know what you're gonna run into. So
have a contingency. I like to have 5, 10% contingency overage in my budget for things that may
pop up.
Karl: [00:12:54] Are there things that you get to do and Jayden gets to help you with that you do
yourselves versus pushing out to contractors, subs?
Rudley: [00:13:05] I mean, pretty much we sub everything out to contractors or, you know,
general contractors that oversee the entire project. You know, there are a few little things here
and there that I may do just in essence of time. But I really want to focus my time on finding the
next deal, find the next opportunity or working with my buyer or seller clients on the realtor side
as well. So once I get a property, I've gotten to the point where I've been able to systemize it,
where I don't necessarily have to be there all the time, although I still have a pulse on it. So the
whole idea of getting into this business was to build a system. Where I just got more time to
family and do stuff like this, write a book with, you know, with the kids and do things like that?
Karl: [00:13:47] Can I explore a little bit into that? Oh go ahead Rico.
Rico: [00:13:50] Yeah, I just wanted to be able to ask about, because someone trying to get into
this that has no experience, right? I mean, you have a few years experience doing this stuff,
right? So someone's going to come in and they're going to hire a subcontractor that may be
overpriced, may take advantage of them. You know, they're putting down flooring, but maybe
the sub floor is supposed to be a certain level of subflooring. They might do something else.
How do you keep track of these things? Especially if it's out of state, like you're licensed in Ohio.
If you did that in Ohio, how would that work?
Rudley: [00:14:30] Yeah, great question. So, I mean, it's really about vetting out your
contractors. That's probably the hardest part of this business is just getting trustworthy, reliable
contractors that are insured, know what they're doing, and I have some integrity to them.
There's plenty of them out there, but you know, we have to find the right one. So the way that I
vet them, I have a very thorough process of certain questions that I ask. I want to make sure
that they're insured, that they truly are licensed. I can go on a specific website to see if they are
truly licensed, as they're saying. And then probably the best part of it or the most important part
is getting recommendations from others or from their actual work of people who have actually
worked with them. But not only just calling, you know, potential clients that they worked with
before in the past, if you're a local go to the site, go to their job sites. If they don't have any
current projects that they're working on, that's probably not a good sign.
Rico: [00:15:24] Sure.
Rudley: [00:15:25] Yeah, so I like to go on site and look at what they're doing at someone else's
flipper property, or even just a residential renovation.
Rico: [00:15:33] And I imagine as you do this, you probably accumulate a stable of contractors
that you can go back to.
Rudley: [00:15:39] Yeah, I've got a pretty good list of contractors that I use pretty consistently.
Rico: [00:15:46] Cool.
Karl: [00:15:47] I'm also curious about the exit of these properties. What are the different
options? I know one of the most obviously is you could sell it to someone for their home. What
are some of the other options you've explored and some of the pros and cons of those?
Rudley: [00:16:03] Yeah. So part of the reason why I got my real estate license was that I
wanted to just add another tool to my tool belt. You know, I started off as an investor first and
then got my real estate license. But I look at every opportunity as there's several different ways
to monetize that. So an exit strategy, number one, obviously could be doing a flip or selling it,
but it could also be doing it as a rental property or holding it as a rental property, or it could be
doing Airbnb. Or it can be a burst strategy, which I'm not sure if, your listeners maybe aren't
familiar with that. But burst strategy is basically buying the property, renovating it, renting it out,
and then refinancing it to get your cash back out that you initially put into the property. Because
once you renovate the property, you now raise the values of the property and you can refinance
and recycle that same catch. So there's many different exit strategies and you can do all of
those strategies. But yeah, it really depends on going back again to the numbers. What do the
numbers tell you to do with this property? And then start from there.
Karl: [00:17:07] What's the pro, I've heard people talking about Airbnb. Pros and cons of doing
that versus just a regular rental?
Rudley: [00:17:15] Yeah. So for Airbnb, they typically say you can receive anywhere from two to
three times the typical rent that you would get in a traditional rental market. So, you know, I've
been doing that and it's pretty accurate. You know, there is additional cost of doing that cause
you have to purchase furniture. You know, in most cases you're going into paying the utilities
and things like that. But it does give you a little bit more velocity in terms of cashflow as well as
the ability to check on the property a lot more than you would a tenant that you may have in
there for a year, and you can't get in there for an entire year. Barring any type of extenuating
circumstances. But with Airbnb it's constantly getting cleaned up after every guest, you can
check in on it and see if there's any repairs or maintenance that needs to be done. So I love
Airbnb. It's been a great model for us that we're continuing to just scale.
Karl: [00:18:07] I'm curious, on this past year with the pandemic, how has it impacted your
business? Flipping rentals, Airbnb, has this helped or hurt or is it? How did you navigate through
that over the past year?
Rudley: [00:18:21] Yeah I mean, different parts of the business definitely had different impacts.
So from a rental perspective, COVID definitely had an impact just based off the moratorium in
terms of not being able to evict or, you know, having a pause on that. So that definitely had an
impact, but I think what allowed me to not really be impacted as much is because of scale, I
have several properties. So when you have that economies of scale, it's not as much of an
impact as someone that may just have one property. And that tenant is out which leaves you
with a hundred percent vacancy. So that's helped me from that perspective. Airbnb you know
last year, I guess, right around this time now, Airbnb pretty much put a pause or a halt, at least
in the city of Atlanta for a period of time. So quite a few people, I'm sure. Kind of felt that a little
bit during that time, but right after that period, we actually kind of saw a significant increase
compared to last year's numbers. Just being that people there's just so you know, kind of
bundled up in house for so long that they were just ready to just do anything and just get out.
And what we found is that people aren't necessarily traveling, you know, miles and miles away.
They're literally booking Airbnbs down the street in their same neighborhoods just to get out of
the house and do something a little bit different. So the numbers of Airbnbs and, you know,
outside the perimeter in the suburbs and actually includes quite a bit.
Karl: [00:19:50] I know, it's especially, you know, the hotels have been hit hard. People have
flipped over to Airbnb's. And there was a section in the book that I saw where you kind of were
going through some of the numbers with Jayden. Jayden, I'm curious, I've got a question for
you. How comfortable are you in math and the numbers so far? Do you like doing math and the
numbers? So can you help your dad with figuring out which are good investments and not? Do
you like doing that part with the numbers? I'm curious, do you have any ideas, what you wanted
to do? Do you want to do this type of stuff when you get older or do you have some other other
aspirations?
Jayden: [00:20:41] I wanna do what Dad did.
Karl: [00:20:50] Good, why?
Jayden: [00:20:50] I don't know.
Karl: [00:20:51] Well, most people do what their dad and mom does. And so I think, you know,
Rudley you've been doing a great job of setting an example for not just Jayden, but with the rest
of the family and even in the community. And seeing how well people can do in shifting. I've got
another question around, you know, what are you seeing in the next five, six years? How does
this play out over time? Both for you and even as Jayden gets older, what are some of your
thoughts and wishes for him as you continue this journey?
Rudley: [00:21:27] Yeah, I mean, I think over the next five, six years you know, Jayden will
obviously, I'll continue to bring them along on the projects that I'm doing. And, you know, I think
obviously the information will start to be retained even a lot more so over time. And introduced
him to even books, you know, on a higher level for him to start reading himself. But yeah, the
next five or six years, you know, want to continue this trajectory. I want to continue to scale the
Airbnb side of the business, rental properties, continue to do flips to a certain extent. You know,
no one really for the most part, I can't speak for everyone, but I don't think people want to do
flips for the rest of their life. Because that's more active income, right? And definitely have to be
there and hands-on. But the idea is to take that active income and put it into passive income,
like rental properties and Airbnb property. So that's, that's what we're focused on over the next
five to six years, continue to just work towards that financial freedom and more of that passive
income so we can spend more time with the family.
Karl: [00:22:23] Yeah. I speak to a lot of people who are trying to get out of, you know, being
employed by someone else and becoming their own boss. Because we use the term often
BYOB, be your own boss. And part of that is creating, first it's taking the leap and starting
investing in starting the business and starting those. But at some point over the evolution, I've
noticed some business owners creating a system around what they're doing. And it's always
interesting to watch, you know, folks that are spending a lot of time in church activities and
charities, sometime playing golf in the community. And you wonder how can they run a complex
business and yet have time to do that. And I think some of it is, they figure out that way to one,
generate passive income, is one strategy is be able to do that. But two is building a system that
would be able to be able to let go of some of the day-to-day stuff. And they build a team and the
systems around to be able to do that. How far do you think you are in that journey and how
much further you gotta go?
Rudley: [00:23:36] Yeah. I mean, I think I'm getting close to that point where it's, you know,
pretty systemized. But being transparent, right, it's still a lot of hours still. A lot of time to put into
that. But that is the goal to get it a hundred percent systemized where, you know, you can take
or basically fire yourself, right? You want to fire yourself from your business at some point. So
yeah, no one, you know, I've recently, you know, left my corporate job and moved into doing this
full time. So, you know, no one wants to go from a job to another job, right? And that's
essentially what you're doing. You're more the technician, if you're hands-on and doing all the
work still at that point. So for a period of time, you have to do that to build up the business and
get things going the way you like it and build those systems. But at some point, you know, you
have to, you'll get burnt out if you don't don't fire yourself. So the goal is to fire myself at some
point.
Karl: [00:24:29] And Jayden might be ready to take over the mantle on some of that stuff. And
you could delegate to him.
Rudley: [00:24:35] Yeah, exactly. He'll be the systems manager.
Karl: [00:24:39] Well, that's fabulous. You know, I want to thank you and Jayden for coming in
and talking a little bit. Again I want to re-introduce, it's Rudley and Jayden Kelly, "Real Estate
with my Daddy". It's available on Amazon. I think there is a website that should be up soon as
well. But if you want a nice fun book to just start introducing real estate investing and numbers,
to have a nice book to read to your child at night. It's a great read and, and really I'm glad that
you got a chance to do this with Jayden. And you're building a legacy for your family that allows
you to do more stuff like this. So that's really, really good. So tell me about any projects you've
got working on or are there any new things you're working on currently?
Rudley: [00:25:29] Yeah, there's still properties. Every day, seeking out new opportunities our
Airbnb is going pretty well. So that's going to continue to be our focus for this book. You know,
we've got a great reception from it. So we're going to make this into a series and start
introducing some other aspects of real estate that, you know, younger children, or even adults
may not be familiar with so many different avenues of real estate to participate in. So we're in
the process of doing that as well. But other than that, building the business. As I mentioned, I'm
a realtor as well, so working with plenty of clients. So gives me the opportunity to kind of share
my investor knowledge as well as from a realtor perspective and work with these clients that are
looking for investment properties or just residential, so I can offer both avenues. So the focus is
realtor side, investing, and writing more of these books.
Karl: [00:26:22] That's fabulous. Well, we've known you and Jayden and the rest of the kids for
quite a while and enjoyed being part of your journey through this. So we're always excited to
see when you post another project completed through social media and other. How can people
reach out and contact you if they wanted to learn more?
Rudley: [00:26:44] Yeah, they can find me on Facebook under K1 Home Solutions or directly
under Rudley Kelly. Same thing on Instagram, under Rudley Kelly. Phone number business line
(404) 877-8088. And also our website, K1HomeSolutions.com.
Karl: [00:27:02] Awesome. Excellent. Well, thank you again very much. Jayden, I appreciate you
coming on the podcast today and look forward to seeing you again soon alright? Thank you.
We'd like to thank Rudley and Jayden for joining us. Rudley is a real estate investor, a realtor as
well as an author of "Real Estate with my Daddy" available on Amazon. Just want to thank him
for sharing some of his insights into his journey, into real estate investing. You know, as we talk
about on the Capitalist Sage very often, there's a lot of different paths to becoming your own
boss. And whether it's acquiring a business, whether it's real estate investing, we like to bring
different perspectives of people in our community that are doing these things. So as you can
see, not only has Rudley made the leap into doing this full time for his corporate job, he's
bringing his son along and his children along to learn about real estate investing. That's
something we can all learn from and start to do whenever possible. Rico, you've got some
experience with that. I think some of your children follow along in your pursuit as well, so.
Rico: [00:28:10] A little bit.
Karl: [00:28:12] So that's something that runs in the family. But what do you have going, coming
up Rico?
Rico: [00:28:18] Well, we just put out the latest issue of Peachtree Corners Magazine. It should
be hitting the mailboxes right about now.
Karl: [00:28:28] Faith in Sports, that's a great, great subject. Really good job again, Rico.
Rico: [00:28:34] Yeah, thank you. We're getting good reactions. It's online, it's on digital also,
right now. But 19,800 homes are getting the magazine this week in the mail. So between the
Faith and Sports and roller hockey and Girl Scouts, there's a whole bunch of other stories about
artists, local artists and stuff like that. So it's a full issue of content that I think people will be
interested in. They'll find something in there that will interest them. So we have that and then
we're also planning some more podcasts. So in the future, there's going to be one on Wesleyan
Artist's Market and the business of running a virtual art festival, right? And we're also doing
another one on Atlanta Jewish Film Festival, which is the business of running a film festival
virtually, right? So it was kind of neat. Well, those things will be coming up. So I'm excited.
Karl: [00:29:31] Fabulous, fabulous. Well I'm Karl Barham with Transworld Business Advisors of
Atlanta Peachtree. Our business advisors are available to consult with business owners.
Whether you're looking to improve your business, the value of your business, you're ready to
take a vacation or retire and you're looking to sell your business or you're looking to acquire. It's
a great time right now to acquire a business. The SBA as part of the care act are allowing some
unprecedented support for the economy to assist with small business. If you want to learn more
about that, ease the theater, reach out to me, KBarham@TWorld.com. Or you to go on our
website, www.TWorld.com/AtlantaPeachtree. We've got information around different lending
options that the SBA is doing including they are paying six months of a new SBA loan signed
before September. For anybody that closes on business acquisition using the 7A program.
That's just one of the many ways the SBA is helping support small business and keeping people
employed as we navigate through the pandemic response. So we'll be doing some more
webinars on those. We're out in the community. We're talking to folks and we're just trying to
help people navigate through this and find a successful exit when they're ready or grow through
acquisition. Rico what about anything going on, on the digital marketing side?
Rico: [00:31:05] Sure. Well, Mighty Rockets, my company is still doing a lot of consulting,
creative services, graphic design work. We just picked up another client. That's actually a
publication, they put out two publications a month here in the Metro area. So we're handling all
the creative work. So you know, anytime someone's looking for product videos, content work,
social media, or graphic design creative services, we're there. So feel free to go visit
MightyRockets.com. Or find me Rico Figliolini on linkedIn. Connect with me, send me a
message. I'd be more than happy to talk to you. So it's been a busy year in 2021 so far. So as
bad as things may be out there, it's not been a bad economy for us.
Karl: [00:31:54] Yeah it's good change. You know, there's a lot of change happening. So the
things change. People gotta communicate and get out there in their community. So grateful for
all that you do to help support that here locally in the community.
Rico: [00:32:07] I'm grateful for all the things I learned. Not only from you, because I've learned
a lot from you. And I know how to exit, I think my business at some point. But listening to people
like Rudley and his son and other people. I mean, these are great shows. I'm hoping people get
a lot of good, actionable things out of these episodes. And it's just a good thing. I look forward to
every episode now.
Karl: [00:32:29] Absolutely. Well, we've got more to come in the new year, so stay tuned
everyone. Thank you for joining us on the Capitalist Sag