The Legendary History of Peachtree Corners' Technology Park
Technology Park changed the face of Peachtree Corners forever. Thanks to a few key people who dedicated their lives to science, Peachtree Corners has become a technology hub that the rest of the country can look to for ideas and innovation. Residents are familiar with the person who started it all, they see his name on bridges and schools; Paul Duke is known as the "Father of Peachtree Corners."
Paul Duke's Mission
Back in the 60s, Paul Duke was on a mission to create a stable environment that would keep
Georgia Tech graduates in the state of Georgia. And because of the influx of technology jobs to the area, "Tech Park" ended up being the catalyst that put Peachtree Corners on the map.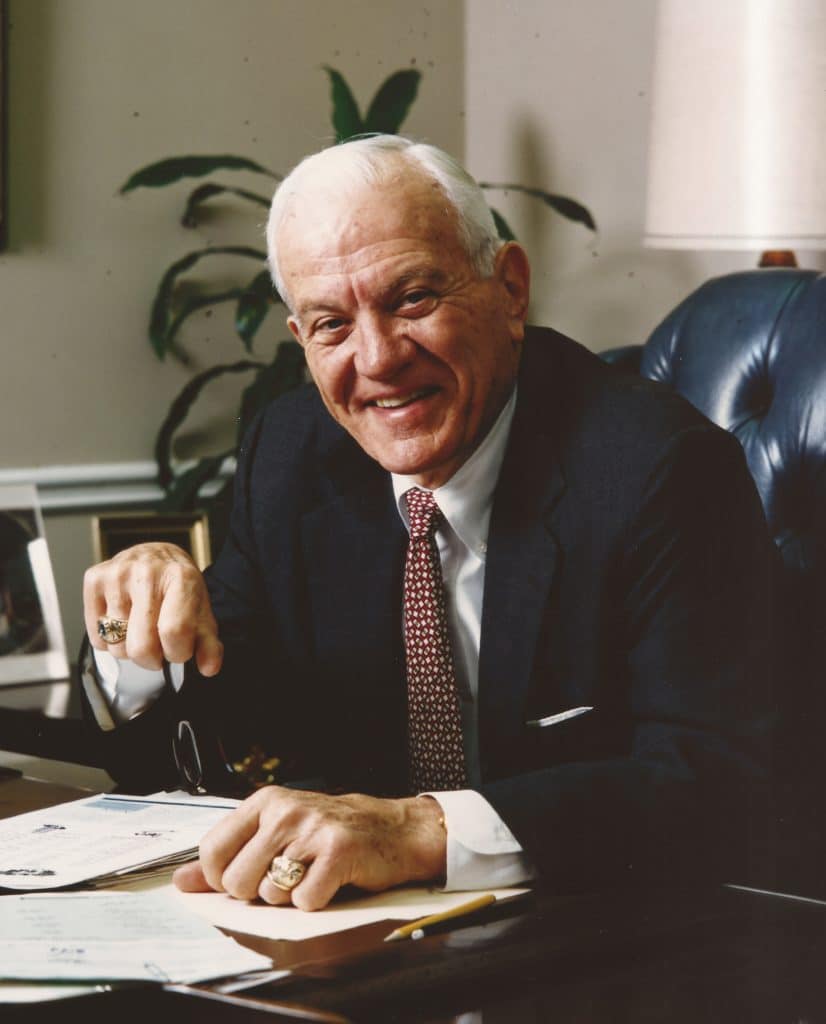 Duke modeled the idea after the "Technology Triangle" in North Carolina, but he knew that if they wanted to fill up these corporate buildings with engineers and scientists, they had to also build a desirable place for their families to live. So, as a member of the Georgia Tech National Advisory board at the time, Duke managed to raise $1.7 million for his vision.
"Paul was a dynamic and forward-thinking individual," Jim Gaffney recalled. "He was a visionary who wasn't any sort of braggadocio, he just wanted to produce good work." The late Terry Gaffney, who was a secretary to Paul Duke, described him as being a "quiet-spoken" man who worked hard behind the scenes and didn't seek to find praise for his efforts. Like Walt and his "Carousel of Progress," Paul Duke went forward into the unknown with nothing but his dreams for the future.
Technology Park and Early Communities
By the late 1960s and into the 70s, most of the major cities were dealing with riots and turmoil while Atlanta was booming. Technology Park, just outside of Atlanta, was thriving too and already housed big names such as Scientific Atlanta, GE and Hayes Micro-computer systems. In fact, the world owes a tip of the cap to Technology Park for the creation of the modem, which was developed right here by Dale Heatherington and Georgia Tech alum, Dennis Hayes.
The Technology Park side of the "Live and Work" idea was headed by another Georgia Tech alumni, Charles Brown. Together they managed the creation of Technology Park and turned the idea of Peachtree Corners from nothing but a whisper into a reality. "Peachtree Corners Inc." was not only the name of the development corporation created by Paul Duke himself, but it was quickly becoming a household name as well.
The arrival of the 70s meant phase two of Paul Duke's plan, which was creating a community desirable enough for the families of these great minds to live. Developer Jim Cowart broke ground on the first communities that would later be the modern-day Peachtree Corners; the North Manor, Peachtree Station, Revington, Lynnfield, Riverfield and Amberfield neighborhoods. The area was quickly becoming an attraction for young families and young tech companies alike.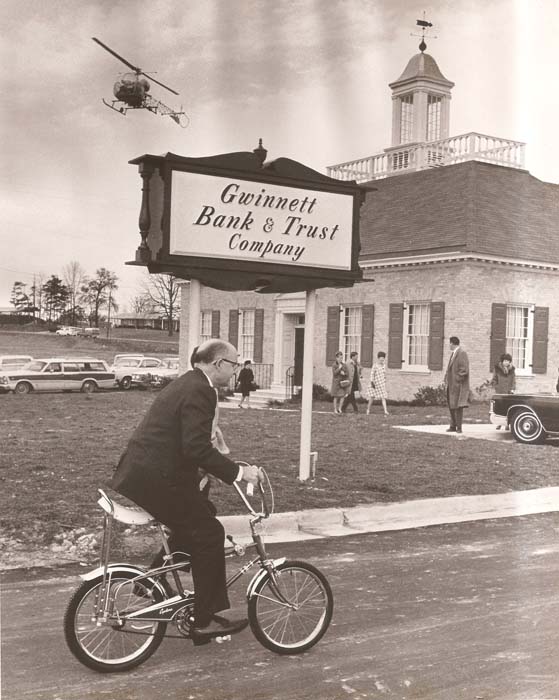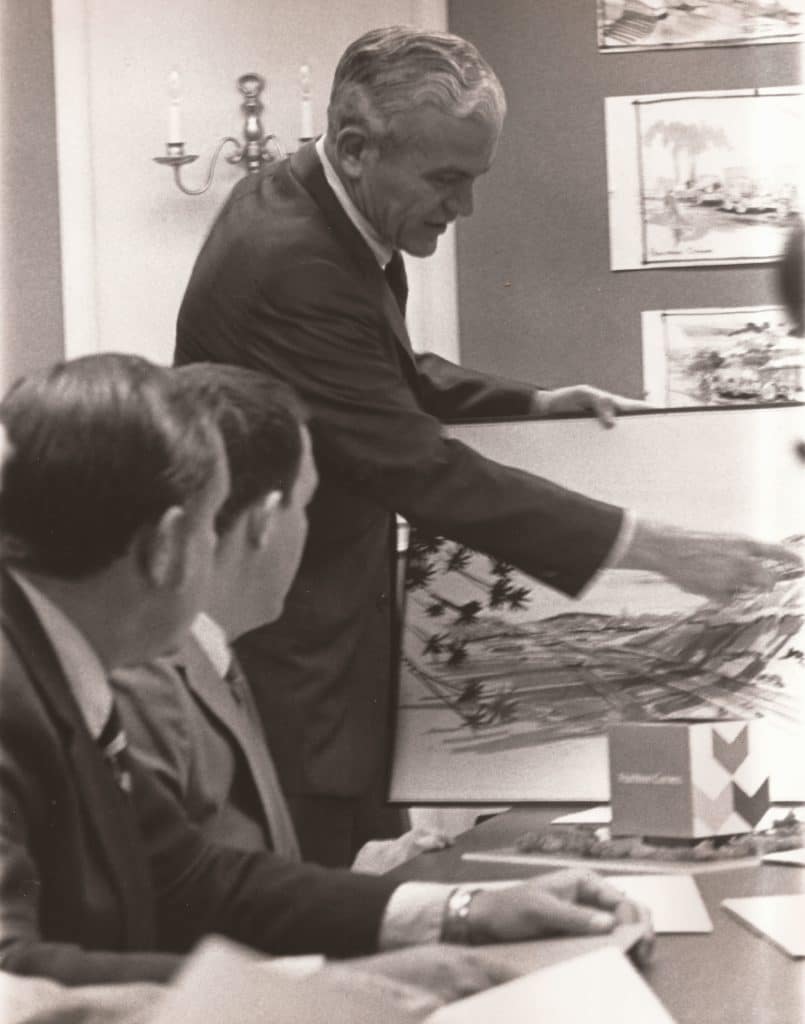 About a decade later, Jim Gaffney successfully blocked the "East Jones Bridge" widening project which would have cut the modern-day North Manor community in half. As you may know from a previous Peachtree Corners Magazine article featuring North Manor, that area is now a thriving community. But what you probably didn't know is that the same Charles Brown who helped build Technology Park was also one of the key individuals who helped Jim thwart those plans.
A Move for City Independence
By the late 90s, Technology Park's appeal caught the eye of the City of Norcross, and the city began making moves to acquire it for their own. They tried and failed many times to annex Technology Park right up to route 141, which would have cut the modern-day Peachtree Corners in half.
By the 2010s, all around there were whispers in the air of incorporating Peachtree Corners into a city. Norcross made one final attempt to annex Technology Park and that ended up being the final push that the United Peachtree Corners Civic Association (UPCCA) needed to protect its technology jewel. By 2011, Peachtree Corners not only became a city, but it was the largest city in Gwinnett County.
Over the years, Georgia Tech's relationship with Technology Park began to wane. The economic recession through the 80s and the subsequent housing crisis in 2008 had dulled the shiny new penny that once was the innovative technology city. So the new Mayor, Mike Mason, along with the new city of Peachtree Corners, looked for a clever way to bring back its luster.
The Seeds of Curiosity Lab
That was where the idea of an incubator hub was first conceptualized: a place where Georgia Tech would attract big name companies to come and research, mentor Georgia Tech students and develop new technologies. The name at the time was the "Prototype Prime Incubator Hub," which is now a part of what you may know as Curiosity Lab. And who better than to develop such a revolutionary idea, than the man behind "Technology Square" in downtown Atlanta, Wayne Hodges.
Hodges is not only the Vice-President Emeritus for Georgia Tech, but he was also the founder of the very first Technology Incubator in the country back in the 1980s. The Advanced Technology Development Center (ATDC) helped over 120 startup companies in the state of Georgia by developing their technologies and bringing them out of the garage phase. Hodges was serving as the president of the Georgia Advanced Technology Ventures (GATV) when they developed Technology Square in Midtown Atlanta.
Lovingly nicknamed "Tech Square" by the Georgia Tech students and faculty, it expanded the confines of Georgia Tech Campus across the highway and built a strong relationship between the University and big-name tech companies. Tech Square changed the face of Midtown Atlanta, not only making it a safer neighborhood, but also attracting tech giants to the area, exactly the kind of impact Peachtree Corners was looking for.
After his "semi-retirement" in 2009, Hodges was working at The Pendleton Group for Peachtree Corners outreach and economic development. The city approached Wayne, along with City Manager Brian Johnson, to develop the incubator for Technology Park. The idea was that the City of Peachtree Corners would be heavily involved in the project. Throughout his more than 30 years of working with Georgia Tech, Hodges remembers being constantly questioned about why Georgia Tech was not more involved in Peachtree Corners, and now this was his chance to change that.
The Lab and Park Blossom
Curiosity Lab was created in 2017, and in just a few short years, Technology Park zoomed to the forefront as a beacon of technology innovation. Now, Georgia Tech students can take classes there. There are also as STEM programs for the school fondly named after Paul Duke himself. Startups and major tech companies alike flock to Peachtree Corners to perform testing and research. Hodges remarked that he is just happy to be part of it.
"I love working with people who are willing to step up and get things done," Hodges said.
Johnson and Hodges are excited about a number of new innovations that are the first of their kind in the country and, in some cases, the world, including:
■ A 1.5-mile test track for autonomous vehicles
■ The first driverless shuttle deployment on a city street
■ The first 5G deployment in Metro Atlanta available for testing
■ The first tele-operated E-Scooters which you can call from an app and they drive autonomously to your location
■ The first "living" laboratory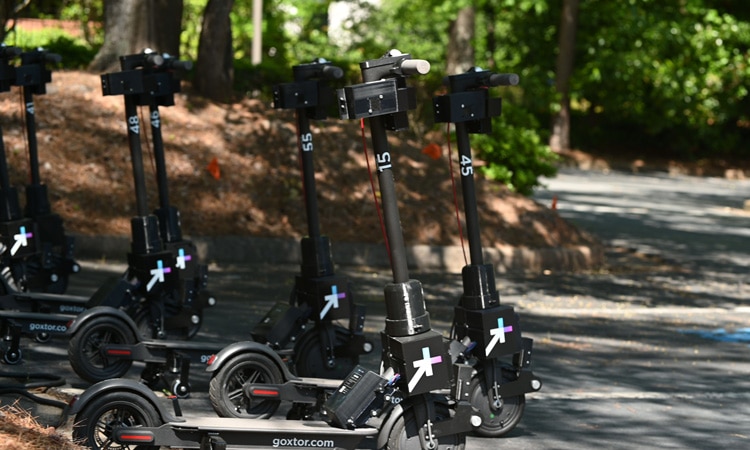 In fact, Peachtree Corners now has the first city roads ever to be insured for autonomous vehicles. Aside from the technologies that sound like they came out of a science fiction novel, the Curiosity Lab incubator now hosts about 15 new startup companies and counting. Once again, Technology Park has a thriving relationship with Georgia Tech and is paving the way for a new age of technology production all around the world.
But the bond between Technology Park and Peachtree Corners is far more impactful than most residents might know because the city might never have existed without those special people who were willing to step up and get it done.

5 Best Business Strategies for 2024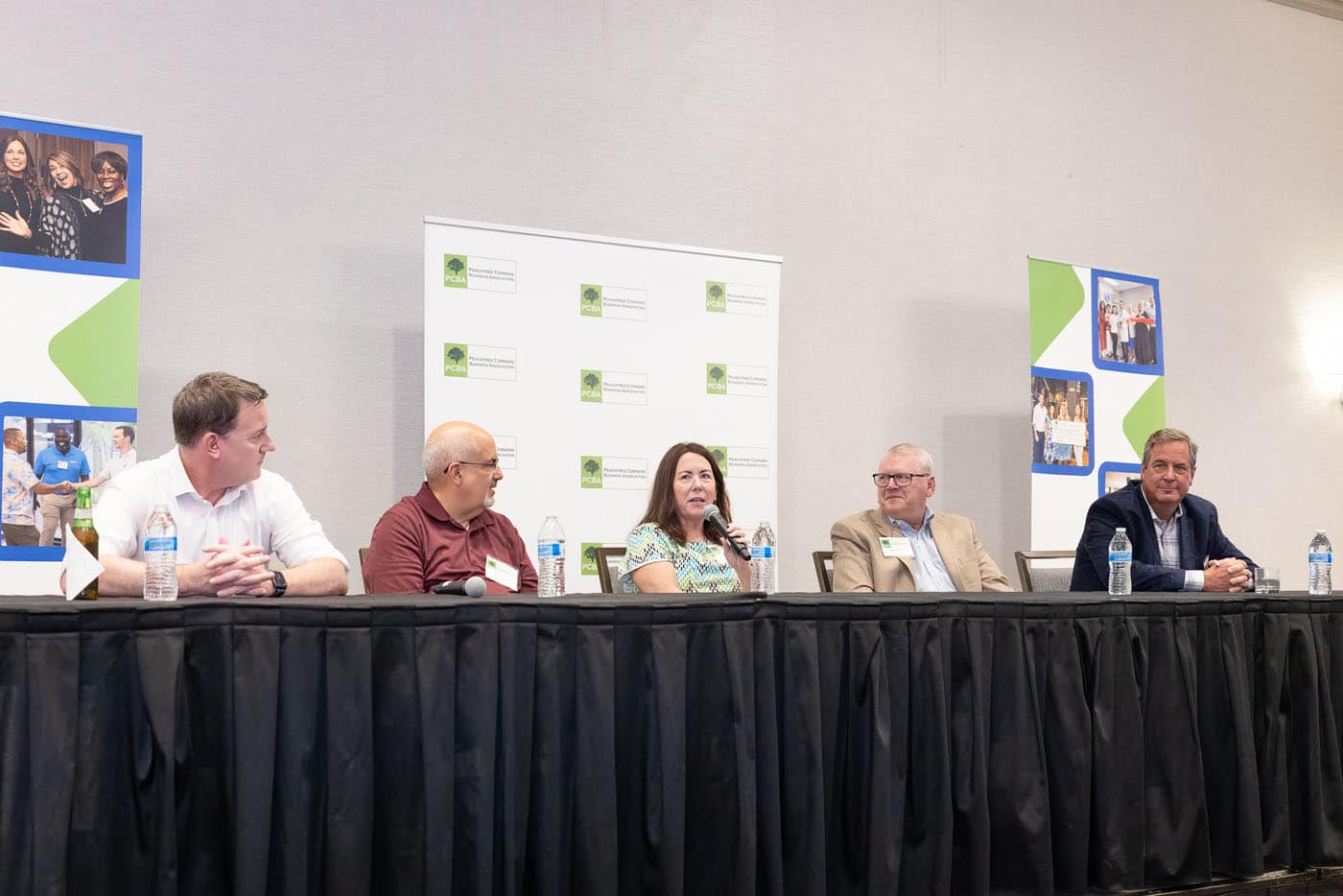 Peachtree Corners Business Association Speaker Series Panel Discuss Issues from AI to Leadership and Staffing
After 30 minutes of networking, light refreshments and 'death by chocolate' brownies courtesy of Marlow's Tavern, the Peachtree Corners Business Association (PCBA) After Hours Speaker Series Panel commenced.
This panel of local business owners and consultants gathered at the Hilton Atlanta Northeast on Thursday, Oct. 26, to discuss strategies and opportunities for business success in 2024 and beyond.
Moderator Amanda Pearch Marmolejo, owner and President of Forsyth Business Radio X, kicked things off by introducing the panel participants, which included: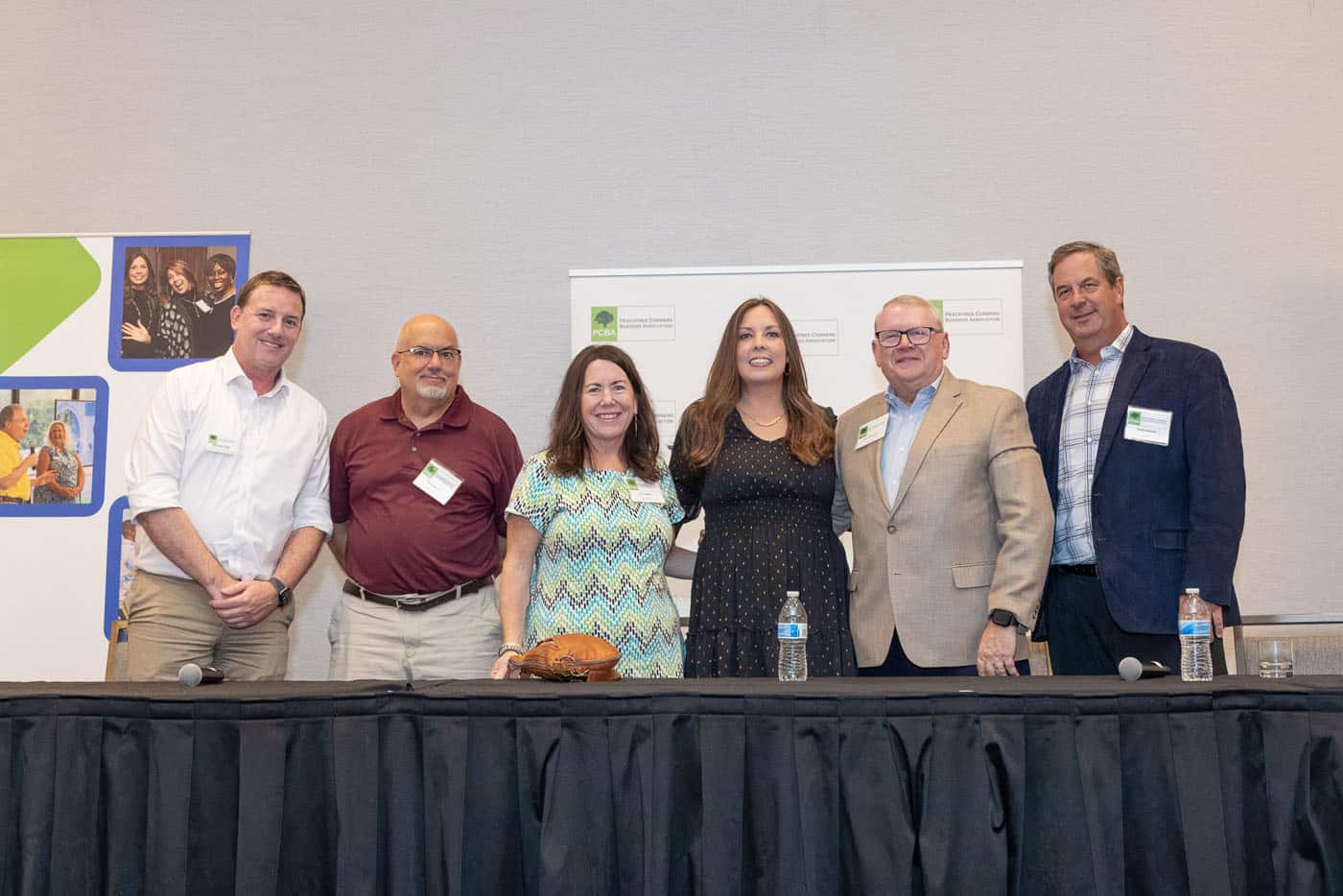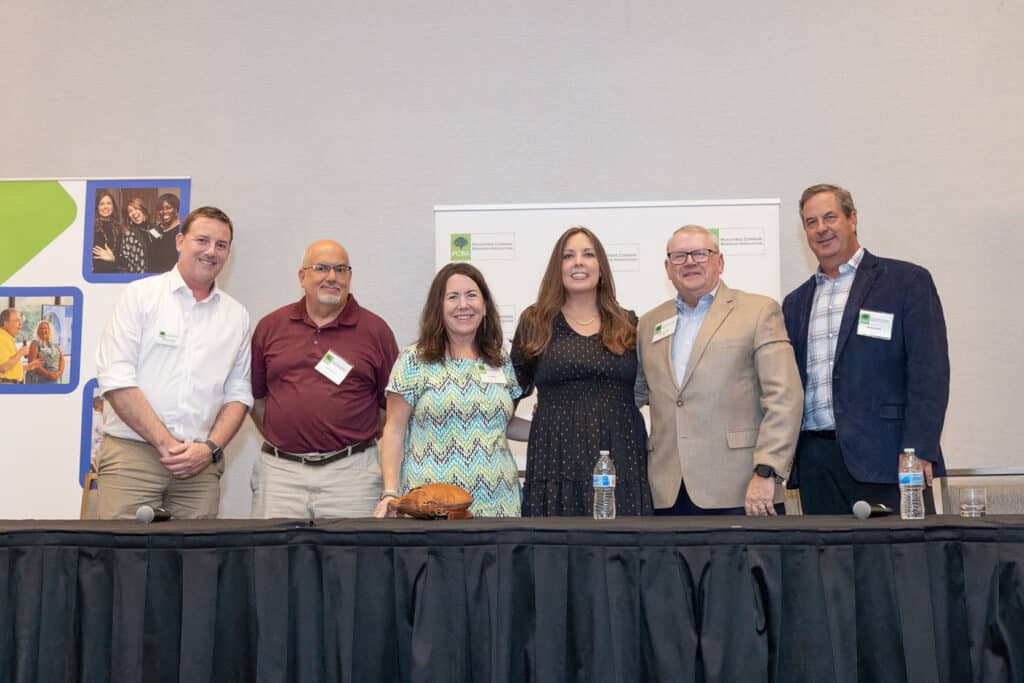 1. The importance of cybersecurity for businesses
Cybersecurity remains a top concern for small and medium-sized businesses. In fact, according to the Identity Theft Resource Center's (ITRC) recently published Business Impact Report, 73% of 551 surveyed small business owners encountered a cyberattack this year.
As the leader of technology solutions provider Rijoli, Gentry Ganote knows first-hand where businesses are the most vulnerable.
"What we're seeing is phishing attacks are really the number one nefarious act that's going on that we deal with on a daily basis. We provide security services for our customers, and we have spam filters and email filters and all kinds of artificial intelligence," said Ganote.
"But emails still get through, texts get through and people become susceptible to clicking on a link, putting their password in, changing bank records, giving money to the wrong people, and we see it every day," he added.
"If any of you guys hire interns, you should educate them quickly about scams that are out there. They don't know they're new to the workforce," Ganote explained emphatically.
2. Business succession and exit strategies
As some business owners head toward retirement or strive to preserve their legacy for future generations, transitioning both management and ownership is paramount.
As "The Profitability Coach," Bill McDermott has consulted many business owners on best executing their succession strategies.
"The particular work for a business owner is number one, identifying that there's value that can be transferred either to that seller, to the management team or to the outside buyer," said McDermott.
"Secondly, there's a growth plan that's required. Typically, there's a letter of intent or confidentiality agreement. There are asset purchase agreements, there are representations and warranties, and having an attorney is absolutely critical," he further explained.
"Selling a business in some ways is also selling real estate, except the numbers are bigger. So, it takes a business broker … it's a complex transaction, and there are a lot of moving parts, and there are a lot of important people that are part of that," he added.
3. Leadership, training and staffing
Industries like hospitality are innovating through adversity, developing new training programs to address service staffing shortages exacerbated by the pandemic and aiming to empower front-line employees through direct and tailored instruction.
Lisa Anders, the Executive Director for Explore Gwinnett, Gwinnett County's official tourism organization, shared her challenges and solutions in this area.
"We've been to a hotel recently. There used to be 30 employees; now there's 15 employees. And it is just a challenge. Pre-COVID, we had a full-time education director who worked on training and hospitality training. We had a very robust program … and just now we are reinventing it, and we're going to roll it out in 24,' but it's completely different," said Anders.
"We have a lot of research and a lot of conversations with our hotels and our other hospitality departments on the very frontline; the very front desk is the problem. People are under-trained and under motivated. It is just a problem," she added.
Yet, Explore Gwinnett is taking positive steps forward with its training efforts.
"We're instituting a new training program. We're going to be going into every single hotel district … going directly into those hotel districts and doing training one-on-one with our hotel partners and with frontline employees. Our hotels are super excited because it's not just customer service, it is learning how to de-escalate situations," Anders explained.
4. Content creation and podcasting
Podcasts have emerged as a powerful tool for storytelling and marketing. Drawing inspiration from a family history in journalism, McDermott leveraged the power of narrative to create a successful podcast that not only celebrates the entrepreneurial spirit but also serves as a cornerstone in his marketing strategy.
"Marketing is the number one weakness in any broken firm," McDermott said.
"I started a show, we just celebrated our 50th episode, and I was able to tell stories of business owners and professionals that advise them. Three years forward now, my podcast has become actually the linchpin in my marketing strategy. It is the number one thing that I do," he went on.
"Podcasting is actually a great way to get to know and trust people and a lot of my guests have now become clients," McDermott added.
Rico Figliolini, the founder of creative services company Mighty Rockets, echoed this sentiment.
"It's a great way to soft open a prospect. … If you want to get a lead prospect in your industry, you should become that authority of that industry," said Figliolini.
5. Artificial intelligence and technology
Increasing efficiency while maintaining the human element using AI applications is at the forefront of business strategy heading into 2024.
The legal realm is catching up with AI's transformative impact. Tools that once seemed futuristic are becoming standard, reshaping how legal professionals approach their work while maintaining the essential human touch through client interactions.
Michael Pugh, an attorney at the law firm of Thompson O'Brien, is witnessing this transition first-hand.
"The legal industry is just starting to incorporate AI … There's one program called LexisNexis where I can write a legal breach and upload it to Lexis, and it'll check my cases. It'll suggest other cases to incorporate; it'll analyze my arguments and tell me what percentage I'm likely to succeed," Pugh explained.
"That's a bit scary, but sometimes it's pretty cool. So, we're definitely going to be using more AI, but at the same time, people want to see who they're working with face-to-face. So, we do meet regularly with our clients," he added.
The next PCBA Business After Hours Speaker Series will be held on Nov. 16, 2023, from 5:30 p.m. to 7:30 p.m. Kathryn Stewart, owner of Performance Trucking, will discuss how she carved out her path as a female executive in a male-dominated industry.

Gwinnett Chamber to Host Multi-Chamber Mixer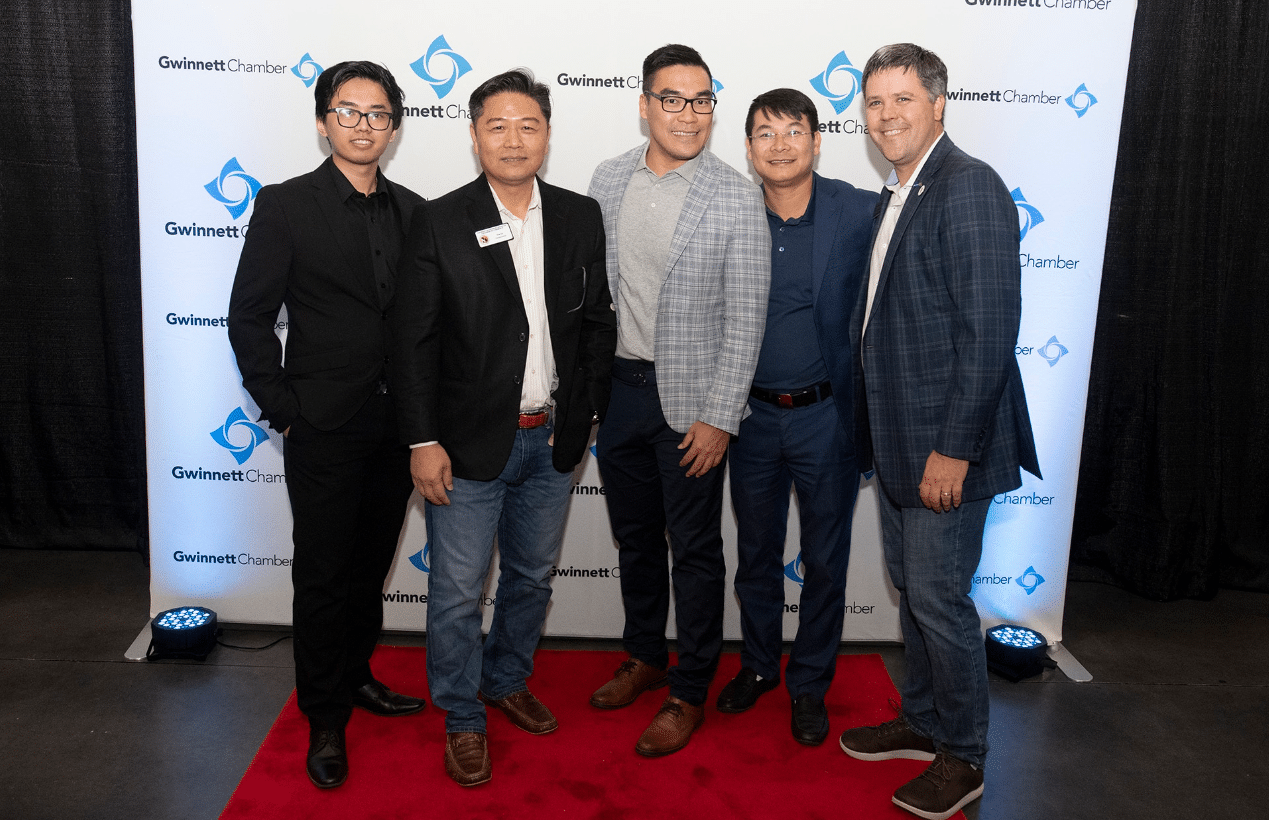 The Gwinnett Chamber is set to host the 2023 Multi-Chamber Mixer at After Hours, an end-of-year event designed to celebrate Gwinnett's inclusive business community.
The program will be held at the Gas South Convention Center on November 1, starting at 5 p.m.
This program brings organizations from around the world together to celebrate Gwinnett's diverse and international business community.
Partners in this event have historically included business groups such as:
The Georgia Indo-American Chamber,
Japanese Chamber of Commerce of Georgia,
Korean American Chamber of Commerce of Georgia,
Latin American Chamber,
German American Chamber,
French American Chamber,
Georgia Hispanic Chamber,
Georgia Pakistan Business Council,
Liberian Community Association of Georgia,
Atlanta Chinese Entrepreneurs Club and
the Italy America Chamber Commerce Southeast, Georgia Chapter
"Collaboration with these organizations enables connection and a deeper understanding of business needs in our region," added Gwinnett Chamber President and CEO Nick Masino. "We are pleased to partner with these entities in hosting an event designed to celebrate our collective success and ever-evolving growth opportunities."
Registration is required to attend and includes international food tastings, drink tickets and networking with more than 300 business professionals. To register, please visit GwinnettChamber.org/Events.

Insight Sourcing Unveils Refreshed Brand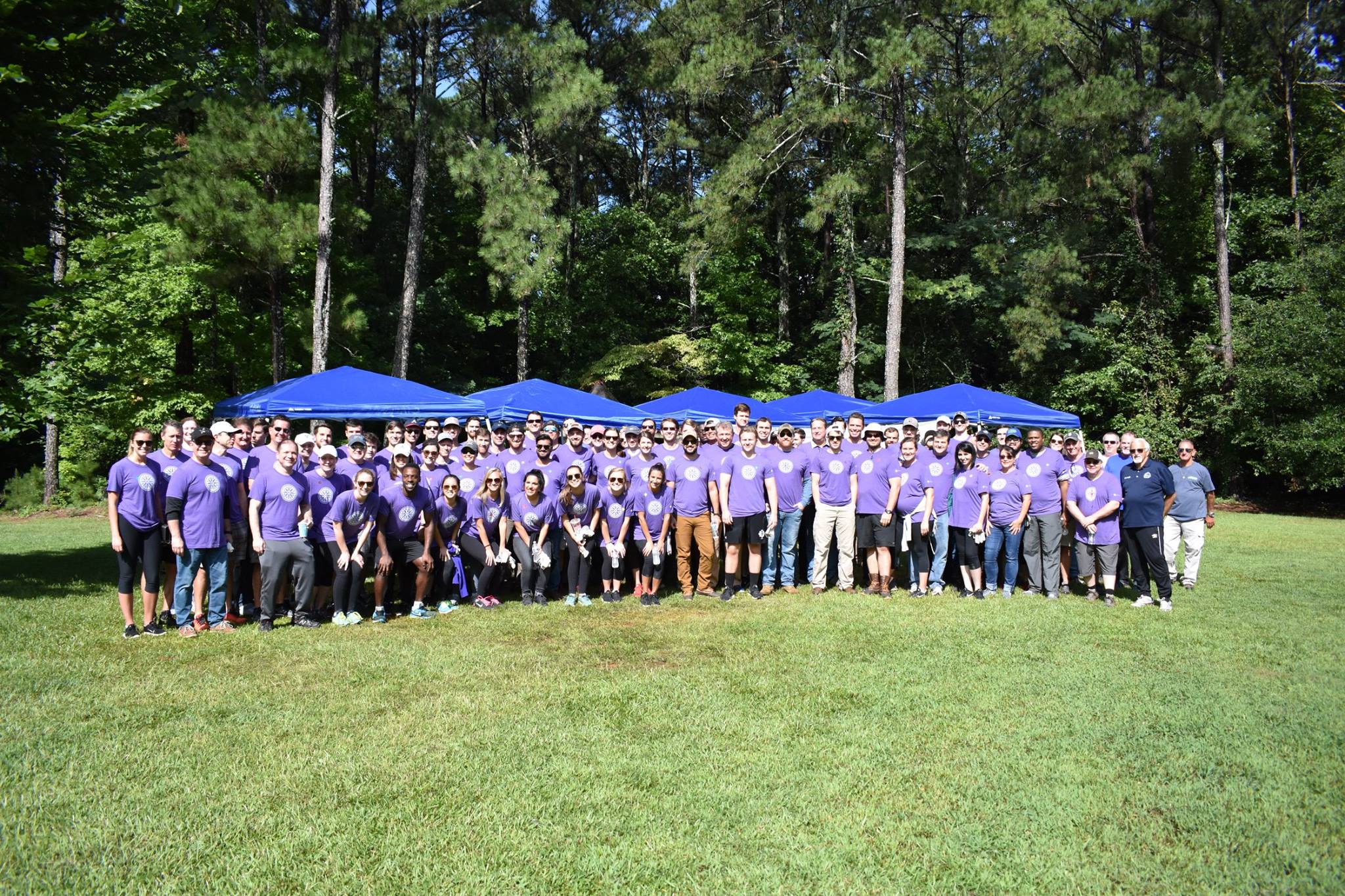 Insight Sourcing, a North American consulting firm focused exclusively on strategic sourcing and procurement-related services, is marking 21 years of client commitment with a brand refresh.
The firm has updated its visual identity with a new icon and font and is dropping "Group" from its brand name, previously Insight Sourcing Group.

The decision to refresh the brand underscores Insight Sourcing's dedication to the procurement and sourcing domain.
"Since day one, Insight Sourcing has remained innovative, agile and always ready to leverage market intelligence, and digital assets to meet the ambitious goals of our clients," said Tom Beaty, CEO of Insight Sourcing.
"We never rest in our pursuit of excellence, and neither should our brand. It reflects our deep appreciation for our past as well as the dynamic nature of our future," he added.
It's important to note that this refresh signifies a renewed pledge to clients and their needs. It does not signify a change of ownership or operating structure.
For further details about Insight Sourcing, visit the organization's website at www.insightsourcing.com.
Read more local business news here.