Taqueria Del Mar to give away Thanksgiving meals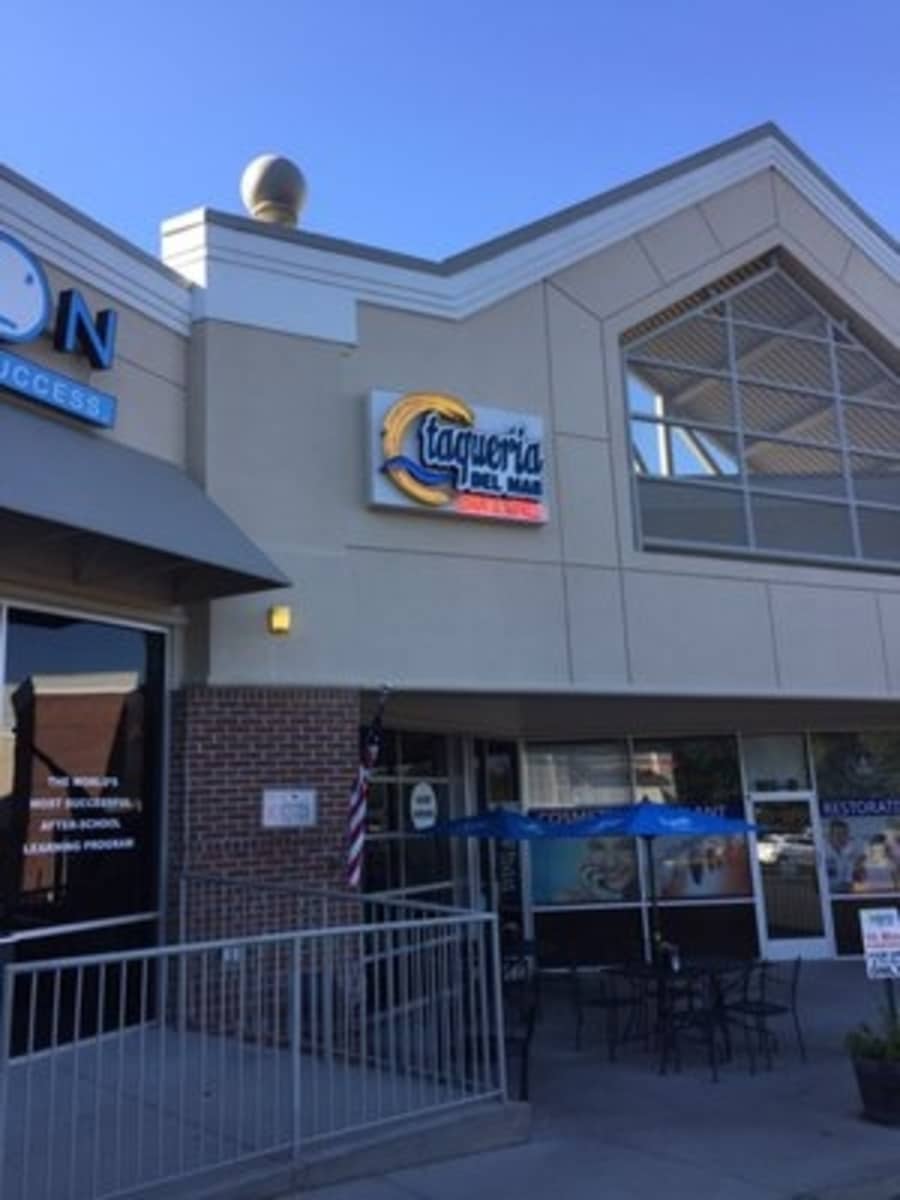 As Thanksgiving approaches, normally many people would plan to gather with friends and
families to celebrate the bountiful life most are blessed with. However, there are millions of
others who go without on Thanksgiving Day. Taqueria del Mar has decided to forgo
Tacos and Tostadas on Thanksgiving 2020 and instead turn their attention to Turkeys and
togetherness. This Thanksgiving, the restaurant wants to focus on "Unity in the Community".
"What we take most pride in is helping those that need help the most. We have always served a traditional Thanksgiving meal on Thanksgiving using the 'Pay what you can' format. Some guests simply don't want to cook at home, others can't afford to cook at home, and a lot are somewhere in the middle. All we wanted to do was offer a comfortable, judgement free setting where all could come together as a community and celebrate Thanksgiving," Owner Andrew Hoppen said.
Taqueria del Mar will be offering a traditional Thanksgiving dinner for free! They will
be offering a convenient "Take and Bake" one pan meal that feeds up to six people. Open to
everyone, we want to give back to those that may not have the means to celebrate Thanksgiving. They want to give back to the community that provides for us and our families each and every day.
So if you or anyone you know is in need, please contact Taqueria del Mar. We will also be offering the meal for six people to purchase for $50. As in past years, the business operates under the "Pay what you can" and "Pay it forward" principles – so if you can not afford to pay, we will not turn anyone away. And of course, if you can "Pay it Forward", your generosity is most appreciated. All proceeds will be donated to their sister charity, the Renewed Hope House of Wellspring Living, located in Duluth GA.
Source– City of Peachtree Corners Press Release
Southwest Gwinnett Chamber of Commerce First Friday Breakfast August, with speaker Nicole Love Hendrickson
Please join at Atlanta Tech Park on August 6 for the Southwest Gwinnett Chamber of Commerce First Friday Breakfast August, with speaker Nicole Love Hendrickson. 7:30- 8:00 a.m. will consist of networking, followed by breakfast and the speaker until approximately 9 a.m.
About Nicole Love Hendrickson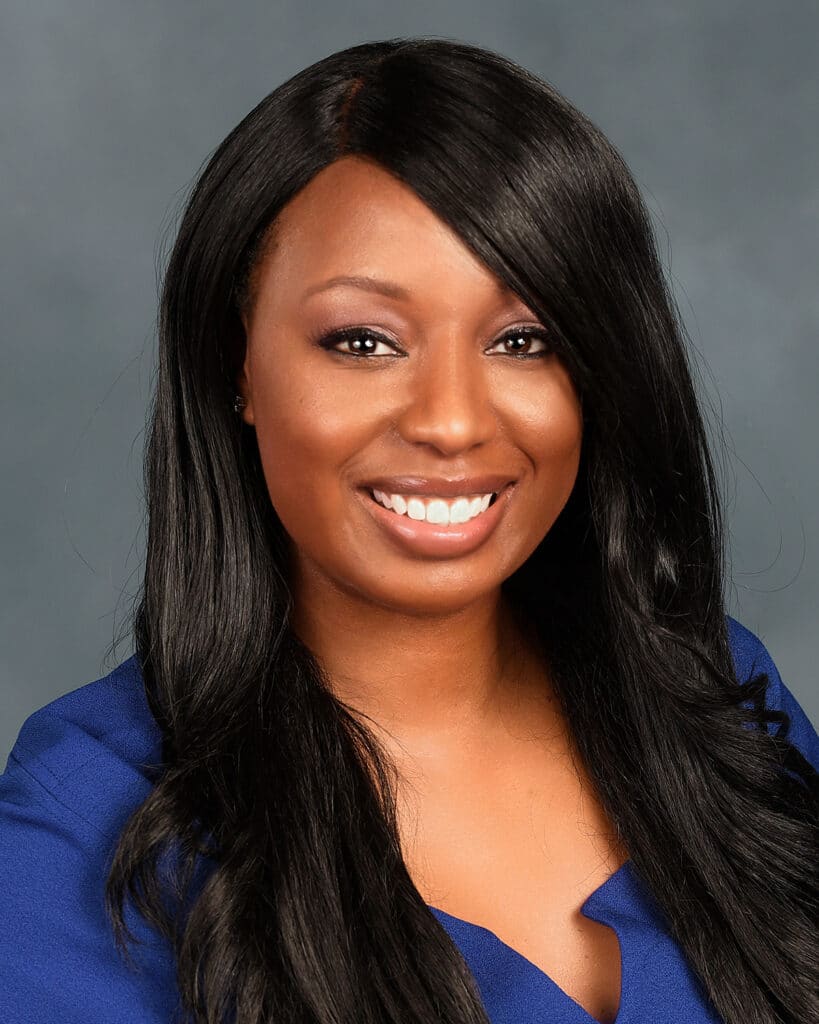 Chairwoman, Gwinnett County Board of Commissioners
She has served on the boards of the United Way Gwinnett Community Board, the Georgia Hispanic Chamber of Commerce, and the Aurora Theatre. She also served on the Children's Healthcare Community Board from 2013 to 2020 and chaired the board of the Gwinnett Young Professionals from 2017 to 2019. Nicole is a member of the Rotary Club of Gwinnett County, having held the positions of treasurer and public image chair.
Nicole is a 2010 graduate of Leadership Gwinnett, a 2016 graduate of the ARC's Regional Leadership Institute, and a 2016 graduate of the Georgia Hispanic Chamber's Cultivating Hispanic Leaders Institute.
Nicole was the recipient of the Gwinnett Chamber of Commerce Public Service Award in 2017, and Georgia Trend named her one of the state's Top 40 Under 40 in 2018. In the following year, she received the Trailblazer Award from the 100 Black Men of Metro Atlanta.Nicole earned a bachelor's degree in psychology from the University of Rhode Island and a master's degree in social work from the University of Georgia. A native of Rhode Island, Nicole moved to Gwinnett County in 2008. She currently resides in Lilburn with her husband and their son.
Registration and fees for the event
Register online at southwestgwinnettchamber.com and contact Beth Coffey with any questions.
Fees/Admission:
Includes a Breakfast Sandwich, Coffee & Juice
Register prior to noon Thursday, August 5, 2021 to reserve your seat.
$18 Members
$30 Non – Members
$20 First-time visitors
We're unable to accommodate walkups and we will not be doing an online presentation of this event.
Cancellation Policy: You can cancel with a full refund by noon August 4, 2021. After that date no refunds will be given, however substitution of an attendee is allowed if you are not able to attend the day of the event.
PCBA Business After Hours Speaker Series Networking Event at Atlanta Marriott Peachtree Corners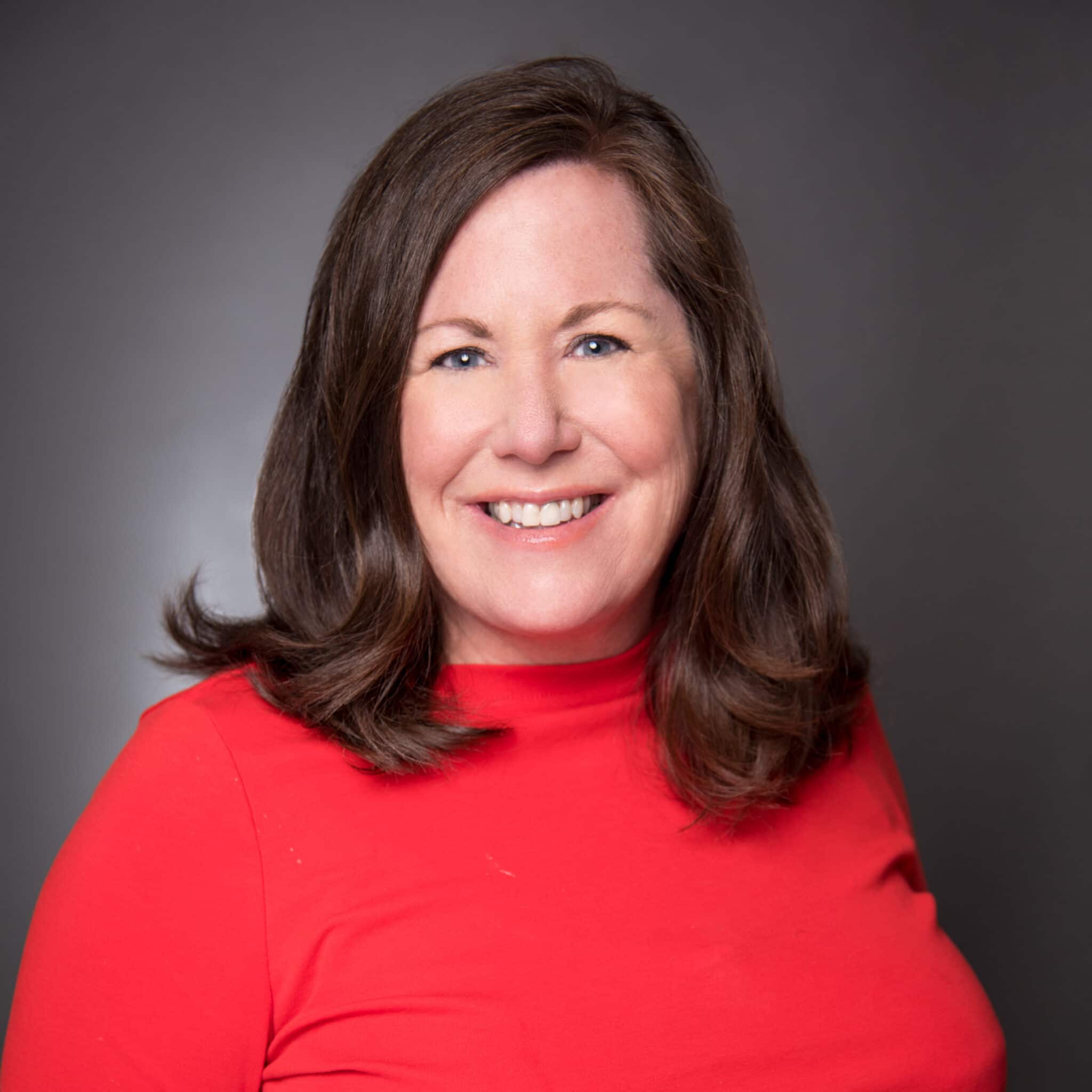 Please join in on Thursday, July 22 from 5:30 – 7:30 p.m, for the Peachtree Corners Business Association (PCBA) Business After Hours Speaker Series Networking Event. The event will be held at Atlanta Marriott Peachtree Corners, located at 475 Technology Parkway, Peachtree Corners GA 30092.

The speaker of the evening will be Lisa Anders, Executive Director of Gwinnett's Tourism + Film Office.  She will give updates on Gwinnett's hospitality industry, the post-Covid recovery as well as on Gwinnett's booming film/TV Industry.

Enjoy an evening of business networking, a variety of beverages and great food. 

The PCBA will be awarding a check to a deserving local charity, the Peachtree Corners Festival, to support their good works in our community. 

Come for the networking, have fun and see how PCBA impacts our community!
Event Registration – $30

Registration Required for Vendor Tables – Space is limited
Vendor Tables – Members – $100 – (includes 2 tickets to the event)
Vendor Tables – Non-Members – $225 – (includes 2 tickets to the event)
Explore Gwinnett Announces First Annual Gwinnett Beer Week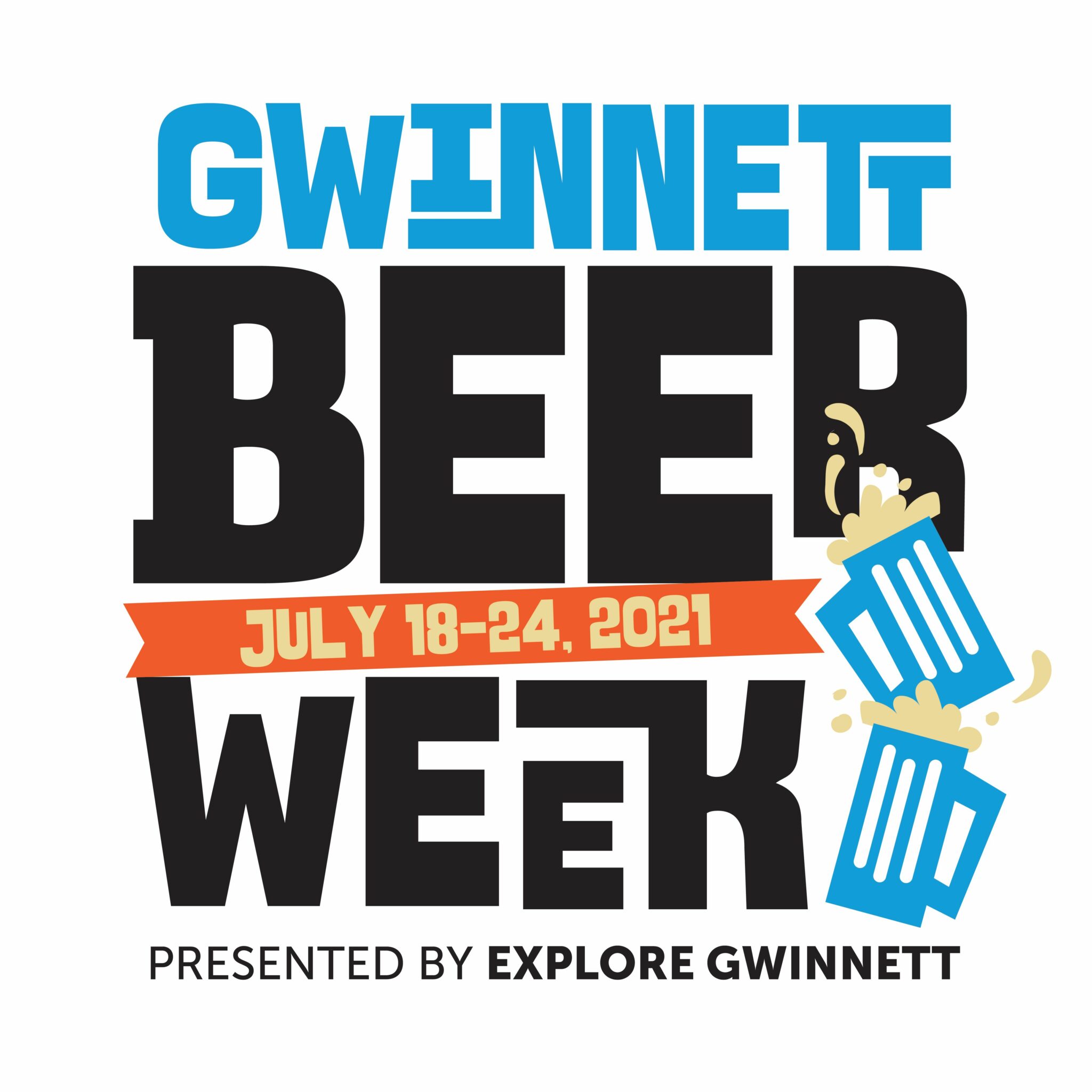 Explore Gwinnett, Gwinnett's official tourism and film office, is pleased to announce Gwinnett Beer Week, held July 18-24, 2021. Gwinnett Beer Week celebrates the 12 locally-owned breweries that call Gwinnett home, including familiar names from Peachtree Corners and Norcross. Many Peachtree Corners Magazine readers are proud patrons of Anderby Brewing, Kettlerock Brewing, Social Fox Brewing, and Cultivation Brewery.
"Gwinnett Beer Week provides an opportunity to celebrate Gwinnett's growing craft beer scene, said Victoria Hawkins, Explore Gwinnett marketing communications director. "Local craft breweries add to Gwinnett's destination appeal for visitors. We want to showcase them and all the events that they are producing."
Explore Gwinnett is producing 3 events during Gwinnett Beer Week.
-6S Brewing Beer + Chocolate pairing: Available all week at 6S Brewing. Pay $15 for a flight of beers and perfectly matched chocolates from the locally owned sweets shop, The Chocolaterie. Limited quantity available.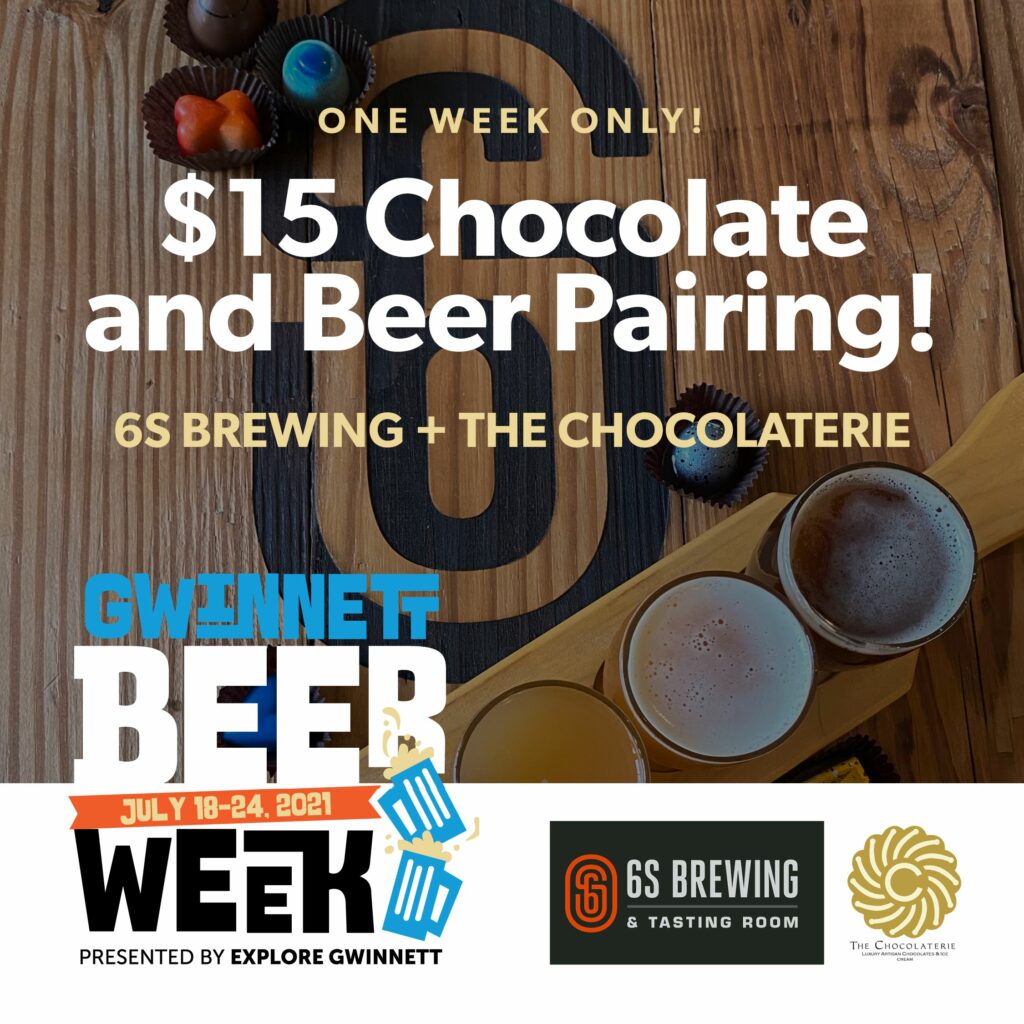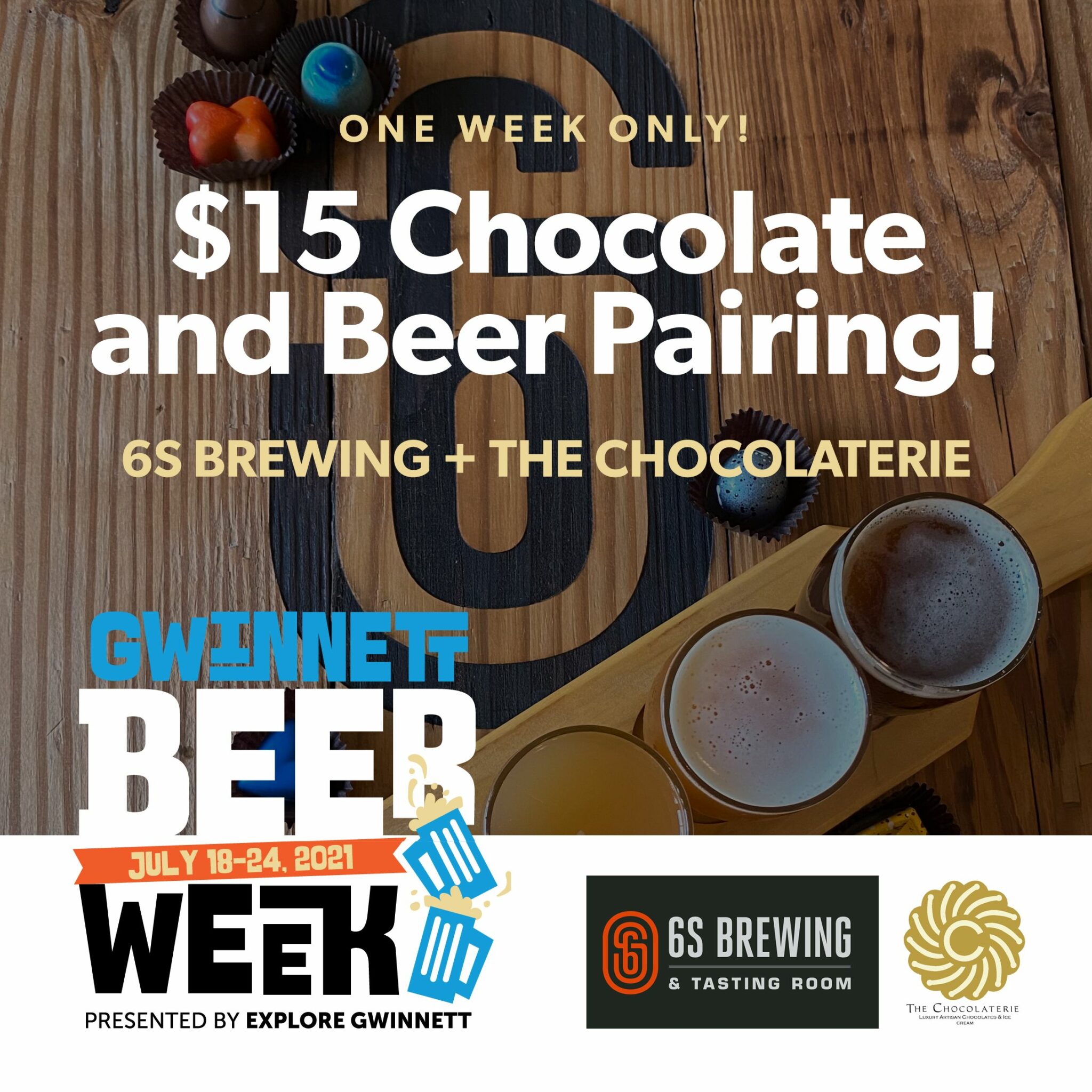 -Barks + Brews at Anderby Brewing: Dogs are welcome at this one day event on Thursday, July 22nd at Anderby Brewing. Free pet portraits by a professional photographer from 6:30-8:30pm. Gwinnett Humane Society will be on-site with adoptable dogs. Explore Gwinnett giveaways including Love, Gwinnett doggie bandanas and travel water bowls. Limited quantity.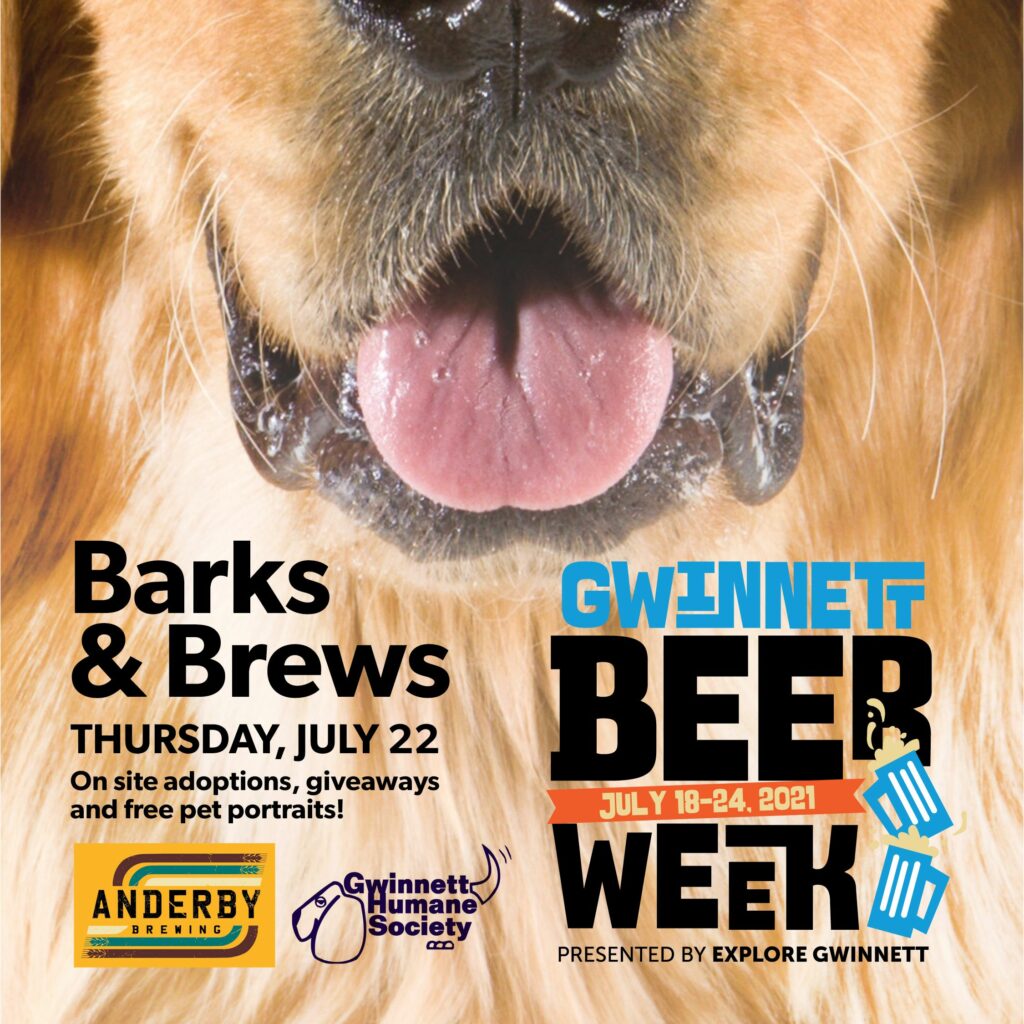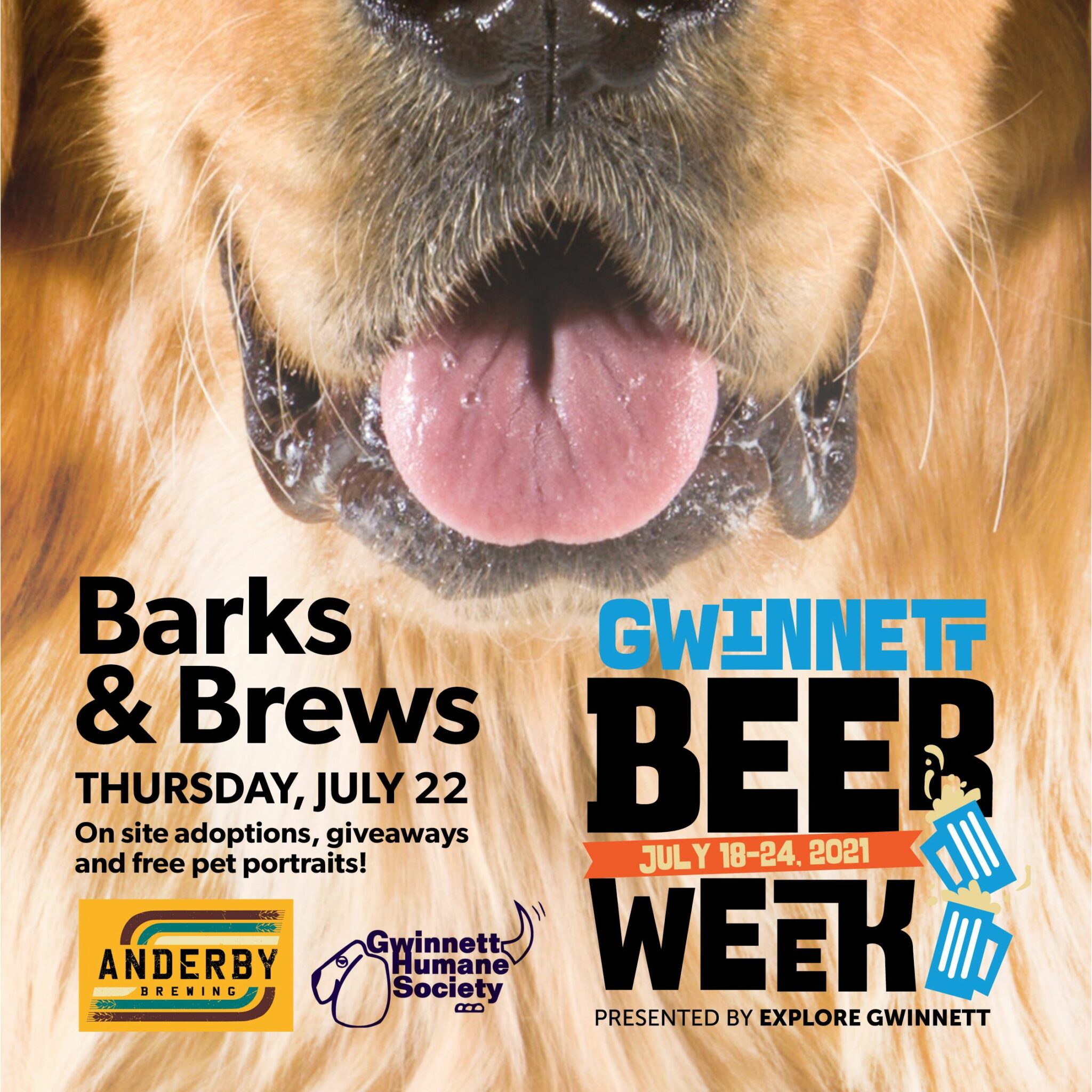 -Baseball and Beer Tour: Join Explore Gwinnett and Southern Beer Tours on a ticketed walking brewery tour in Lawrenceville. Add-on a Gwinnett Stripers suite ticket if you'd like to board the shuttle to Coolray Field after the beer tour for a ride to the baseball game. Food included during baseball game.
Visit GwinnettBeerWeek.org for a complete list of brewery events including live music, bingo, a car show and more.