Transit Referendum, Crooked Creek Trail, COVID-19 business grants and more from Peachtree Corners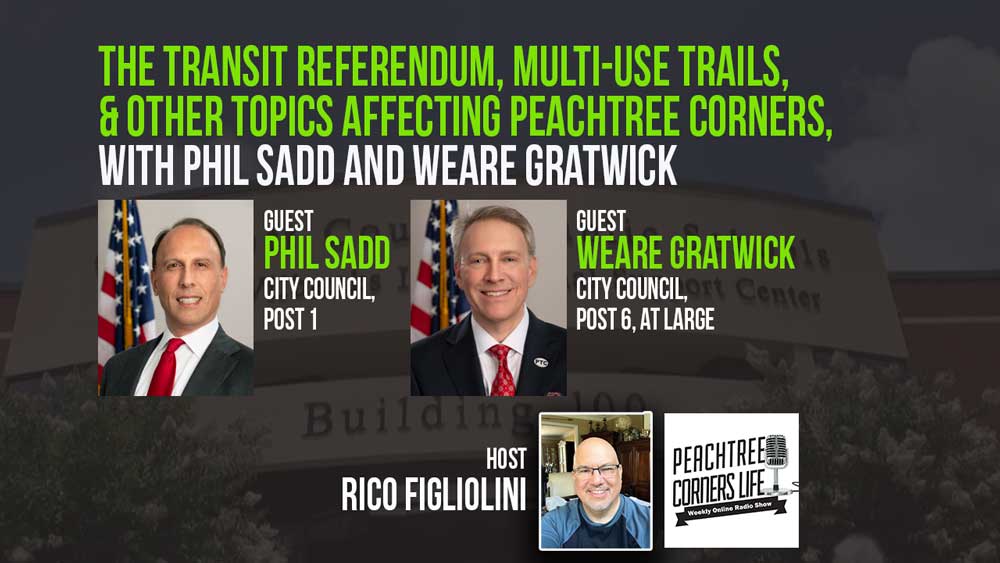 Why should you care about the Transit Referendum on the Nov 3rd Ballot? Plus, information on the Crooked Creek Trail, COVID-19 business grants, crime prevention initiatives and more. All with my guests, city council members Phil Sadd and Weare Gratwick.
Recorded live on Saturday morning, streaming as a LIVE simulcast.
From the Mayor's Desk- Addressing Power Outages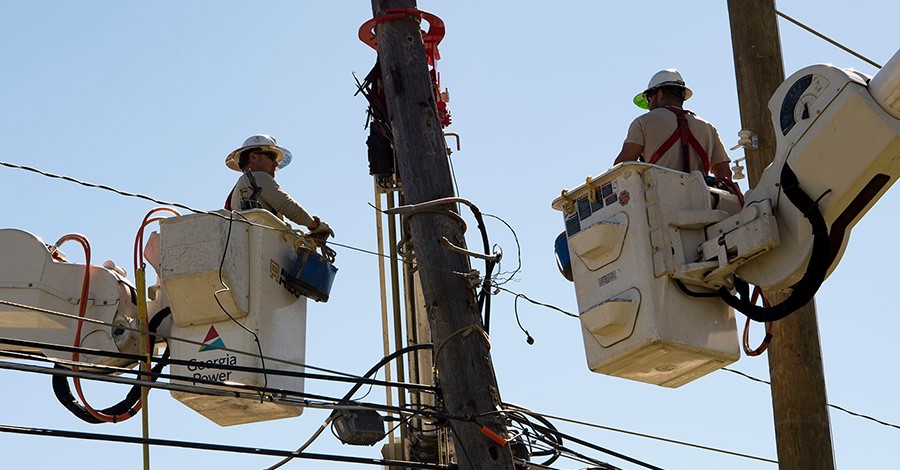 Why Are There So Many Power Outages in Our City?
When the electricity goes out in our homes, it disrupts everything. Power outages occur everywhere, and certainly Peachtree Corners has experienced quite a few outages of late. While the City does not control how Georgia Power manages power outages, there are several things that each of us as property owners can do to avoid losing electricity as often as we have in the past.
What are some of the main reasons our power goes out?
• Trees are the most common cause of outages. Anything from a broken limb to a branch
simply touching the line can cause a service interruption. During high winds, trees or debris often falls onto power lines and can cause significant interruptions.
• Animals, particularly squirrels, can affect your power supply.
• Snow and ice can cause outages as trees and power lines are weighed down by accumulations.
• Lightning strikes frequently cause trees to fall onto power lines, and those strikes directly onto towers, poles, distribution lines or transformers can cause lengthy outages.
Why does it take so long to fix a power outage?
When responding to a major outage, Georgia Power's crews first address problems along distribution lines that serve critical facilities such as hospitals, water filtration plants, and fire and police stations. Therefore, the time it takes to restore power can vary depending on prioritized locations related to public safety and health care needs. The volume of debris down in a storm can also adversely affect the time required for power restoration. Separate crews are needed to remove the cause of an outage, clear paths for other crews to access the locations and remove the debris so that new lines or equipment can be installed.
Why does my neighbor have power and I do not?
There are a couple of possible reasons. One, you may be on a separate feeder system or transformer from your neighbor. Another reason might be the service line to your home may have been damaged and in need of repair before your home can be reconnected.
Does Georgia Power have any plans to clear trees that could cause power outages?
Georgia Power representatives are planning on conducting extensive tree trimming in the city's rights of way this year and in the years to come as part of their Grid Improvement Program. They hope to be more aggressive with clearing vegetation that is directly adjacent to their electrical distribution system.
I have beautiful trees that grow near the right of way. How much will they be cut back?
Georgia Power representatives say they do their best to avoid trimming to the point of
jeopardizing the health of trees, however, keep in mind the ultimate purpose for cutting and
trimming trees that are close to power lines is to minimize power outages.
How often does Georgia Power plan on coming through our city to cut and trim trees that are
adjacent to the city's rights of way?
Georgia Power plans on a 36-month cycle of thorough tree pruning, but they will also do an
annual field inspection of their facilities and infrastructure to identify spot locations that need
additional effort.
What about tall, dead, or diseased trees that are on private property but do not hang over the city's right of way? Can they be trimmed or cut down by Georgia Power with the property owner's permission?
Georgia Power has tree arborists on staff who can come out at a property owner's request and
assess whether a tree is in danger of falling onto power lines. They can consider making
arrangements to have trees removed or pruned in coordination with a property owner's input.
What can we, as homeowners, do to ensure fewer power outages?
Keep trees or bushes on your property pruned back as far away as possible from your service
line and the lines along the road frontage.
Stay Safe
Mike Mason, Mayor
Source: City of Peachtree Corners Press Release
From the Mayor's Desk: Extending a Helping Hand to Our Small Businesses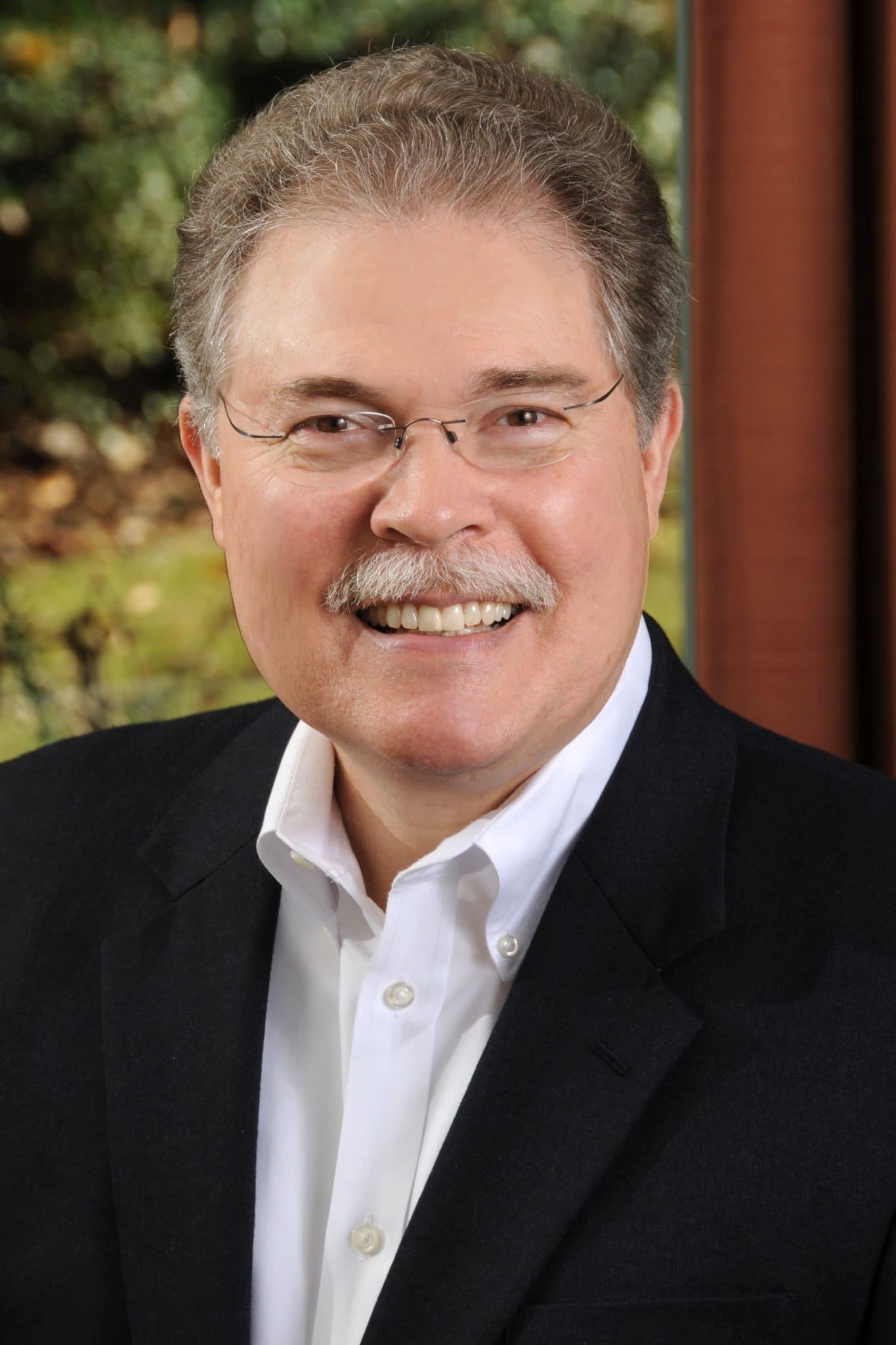 Since March of last year, the pandemic has upended the day-to-day lives of each of us including our small businesses which have suffered dearly trying to keep their doors open while also feeding their own families.
In late September, the cities in Gwinnett County were given federal grant money (CARES Act) to disperse in our communities. We had a short deadline of December 1st but were determined to help our small business community. As a result of a tremendous effort by the city staff, we were able to award federal grants totaling $2.66 million to 118 qualified local businesses. The funds will assist in providing relief to business operators that experienced a downturn in 2020 when they were forced to adjust their operations and/or shut down as a result of the pandemic.
The funds are part of monies received by the city from the Coronavirus Aid, Relief, and Economic Security Act, also known as the CARES Act, a $2.2 trillion economic stimulus bill passed by the U.S. Congress in March of 2020. The funds will help bolster our efforts to meet the needs of Peachtree Corners small business owners and operators most impacted by the pandemic.
The city targeted restaurants, retail stores, hair and nail salons, and fitness centers to receive the funds. Additionally, the city awarded funds to non-targeted businesses, such as medical offices and daycares, that met the criteria established by the city.
One recipient is Andrew Hoppen, owner of Taqueria del Mar. Andrew is also a resident. He told the city that ever since the pandemic, he's had to operate at 60-70% capacity based on prior years. As you may or may not know, the margin of profits for restaurants is typically 3-6% so it doesn't take an accountant to figure out that he would not have been able to continue operating his business much longer without the CARES funds.
Our small business community is the lifeblood of our city. And we are not alone, some 30.2 million small businesses operate in this country according to the Small Business Association Office of Advocacy.
Businesses may use the monies awarded to them by the city for rent, payroll, utilities, and inventory. Overall, restaurants received 50% of the total funds, nail and hair salons, 9%, retail stores 5%, fitness centers 4%, other targeted business 6%. Non-targeted businesses received 25% of the total. Grants ranged from $1,000 to $50,000.
The city received over 160 applications for the Small Business Assistance Program. City staff spent countless hours reviewing applications and communicating with businesses to get the required documents to make informed decisions and to comply with the CARES Act.
The $2.2 trillion CARES Act passed in March is the largest economic stimulus package in U.S. history amounting to 10% of total U.S. gross domestic product.
We all depend on the many small businesses in our city, and we are very pleased that the city has the opportunity to help this segment of our business community. These grants will also go a long way in helping our city's long-term economic recovery.
Most important, as we approach what has to be the strangest year in many, we were just grateful that we could help improve the lives of those struggling every day. Thanks to Gwinnett County for passing along the funding, and thanks to our staff for a real heroic effort in getting the checks processed. We hope it helps make life a little easier until this pandemic is over.
Please stay safe everyone.
Mike Mason, Mayor
An Interview with Judge Davis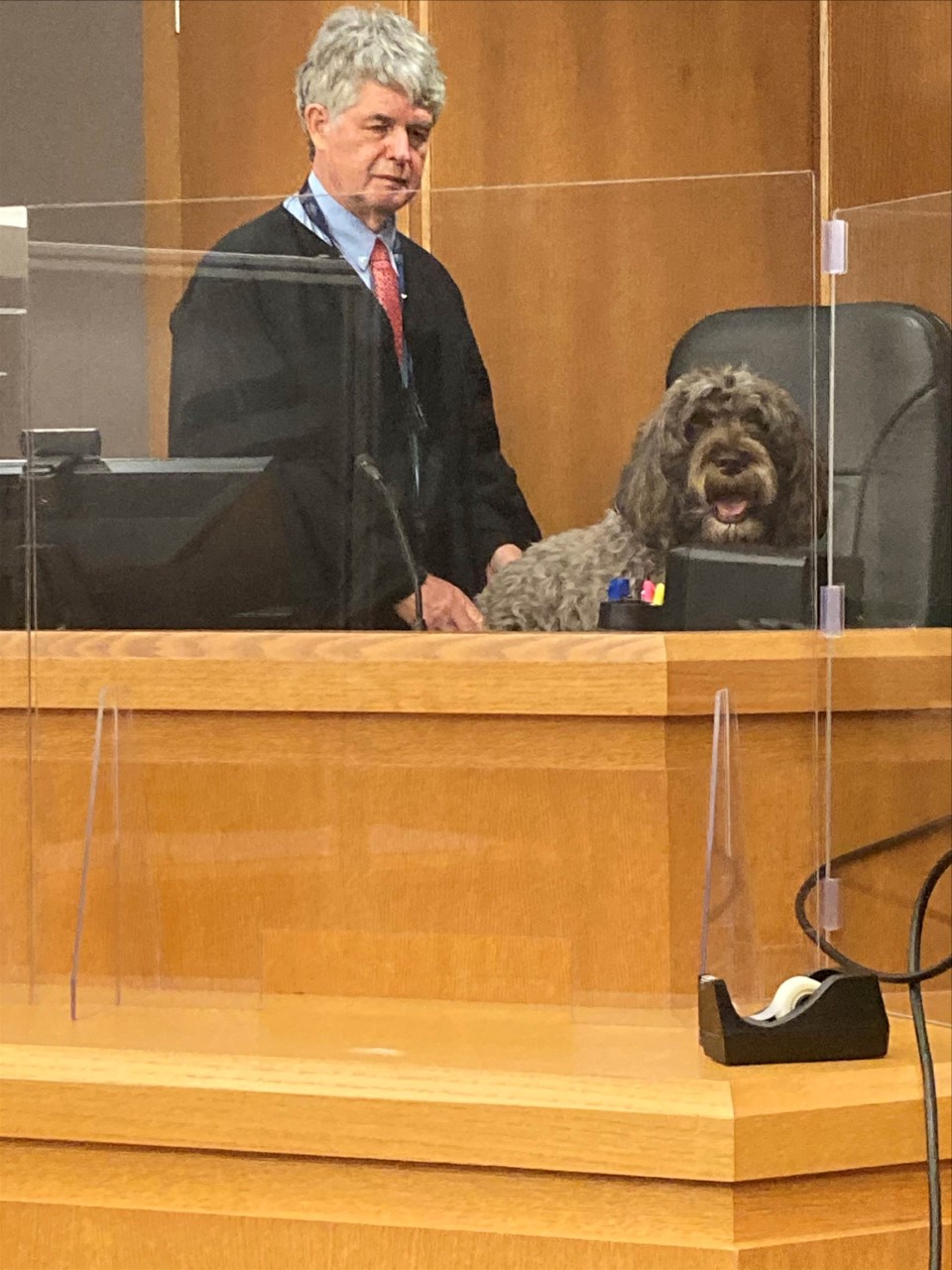 I recently had the pleasure of speaking with Judge Warren Davis about the history of Peachtree Corners, how he rose through the ranks and what he wants for the future of our great city.
When did you move to Peachtree Corners?
I first came to Georgia in the 1970s, but I bought the house in Peachtree Station in 1990. I loved the infrastructure of Peachtree Corners; the sidewalks were clean, parks were developing everywhere, and it was one of those few places that had good access to downtown with the traffic still being somewhat reasonable.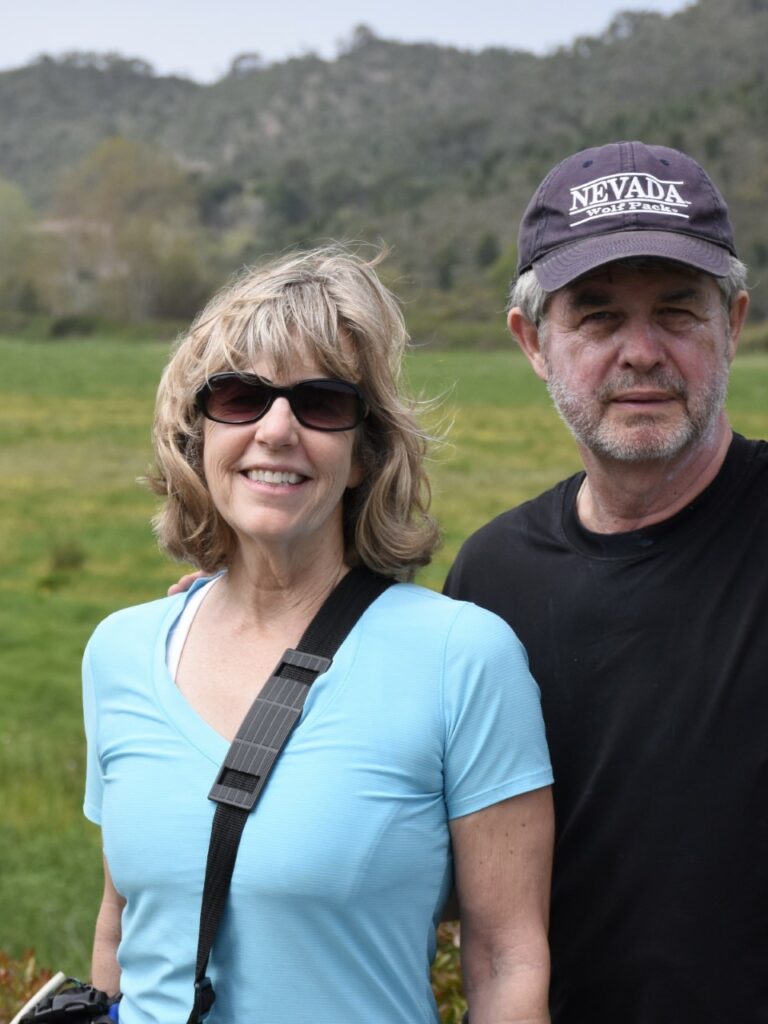 How did you become a judge?
I actually started as a patrolman for Gwinnett County Police Department, back when East Jones Bridge Road was still a dirt road and Jimmy Carter Road didn't even exist yet!
Gwinnett PD has a really great educational program, where they will pay for you to go to school, and you stay working for the department for at least one year after you graduate.
I used to be out on the beat, when it was rainy or cold, usually chasing down an abandoned car. And then I would go to court hearings and see the judge and think: he looks really warm and dry; maybe I'm in the wrong career.
So Gwinnett PD sent me to law school, and when I finished, I stayed another year and moved up from there. I owe my success to the Gwinnett County Police Department.
What makes Peachtree Corners so special?
It's the little things. When Peachtree Corners got its cityhood, we never had to reinvent the wheel. We kept the county organizations, like the police and fire departments, and didn't have to create our own.
When you live in a place where crimes against children and human trafficking are a huge part of your crime rate, it helps having officers who are trained in a unique field like SVU. That's something we would never have if we had to put our resources into a smaller police department. From a judge's standpoint, I can appreciate the skillset that Gwinnett PD brings to the table.
The beauty of Peachtree Corners is that when we became a city, we got to combine common areas with common interests. Gwinnett County has always been a leader and will continue to be. That leadership all began with Tech Park and the innovation it brought to the area. That niche brought top notch schools, plenty of medical centers to choose from and then all the shopping you could ever need within a few square miles.
Now we have a great support system. The YMCA helps people at all levels of the economic spectrum. We have many great church organizations, and three healthy, organic grocery stores all within 10 minutes of each other. Peachtree Station, and most Peachtree Corners developments, have a community pool, which people tend to bond around.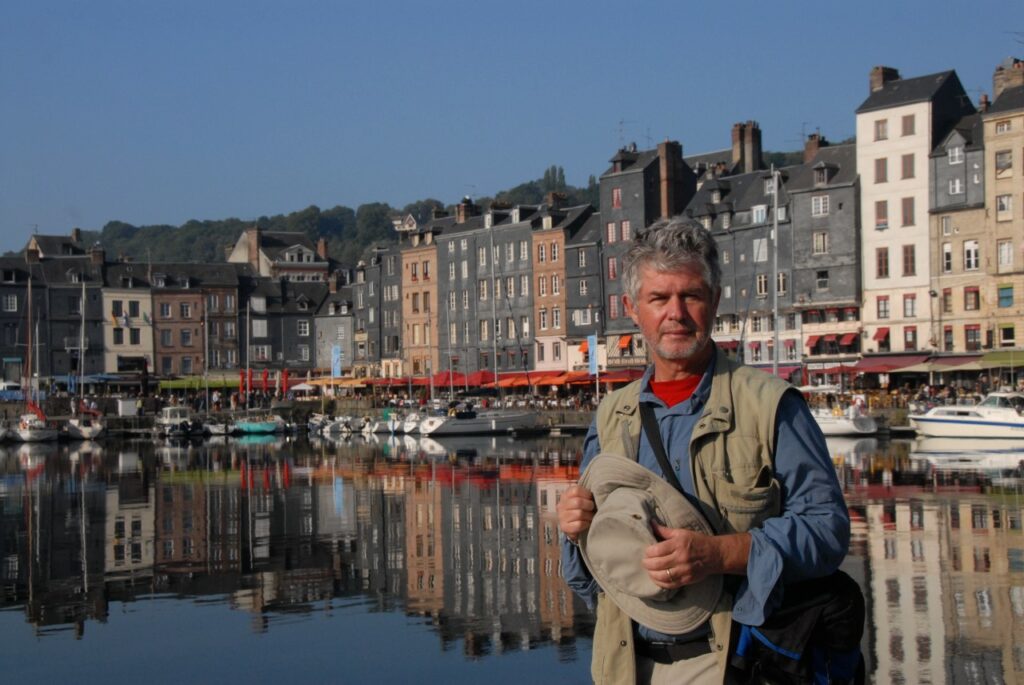 I hardly have a reason to go inside the Perimeter now, but when I do it is pulse-pounding and rare!
How has the pandemic affected your work?
I'm happy to say that we did better than most. As a judge, I legally have to be in a courthouse for hearings. So, I have been video conferencing court hearings from the same spot I always sit.
I'd say about 2% to 3% want to have their appearance in person, which is fine, because I just sit behind Plexiglass and everyone stays safe.
The only problem is that we cannot have jury trials for obvious reasons. I feel bad for those people who are awaiting sentencing, because we are about two years behind when it comes to trials now. Hopefully, we can get the system moving again soon.
What would you like to see for the future of Peachtree Corners?
Right now, we need to do what our ancestors did and just survive. We have great leaders working on the issues, looking at problems and making adjustments.
Peachtree Corners has always been willing to go out on a limb and try new tech — that's what built Silicone Valley — and I believe that's what our city is moving towards.
In the future, I want to see us keep striving towards better transportation. We already have great research studies and programs in place for timing stoplights and managing our traffic, not to mention the exciting autonomous driving system. But a great transportation system is so important because every great city has it, and eventually it becomes everyone's form of transportation.
I believe that the leaders of Peachtree Corners have a plan, and it's a good plan. We just need to keep doing it.