Backyard Escapes Pt. 2: The Garden Is the Happy Place of the Johnson Family in Amhurst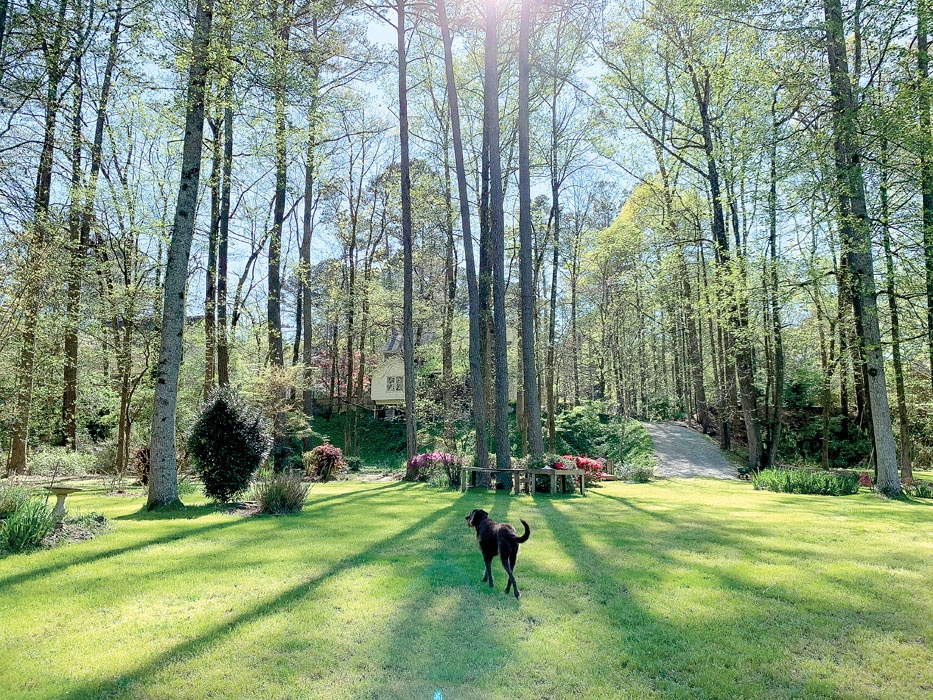 Imagine being able to retreat from the world on three acres of land, quite on-trend with the nostalgic return to bucolic aesthetics, in the middle of Peachtree Corners.
Since 2006, Shane and Alison Johnson have enjoyed this peaceful setting with their family, friends and pets, including a flock of chickens and, at one time, two roosters and a turkey.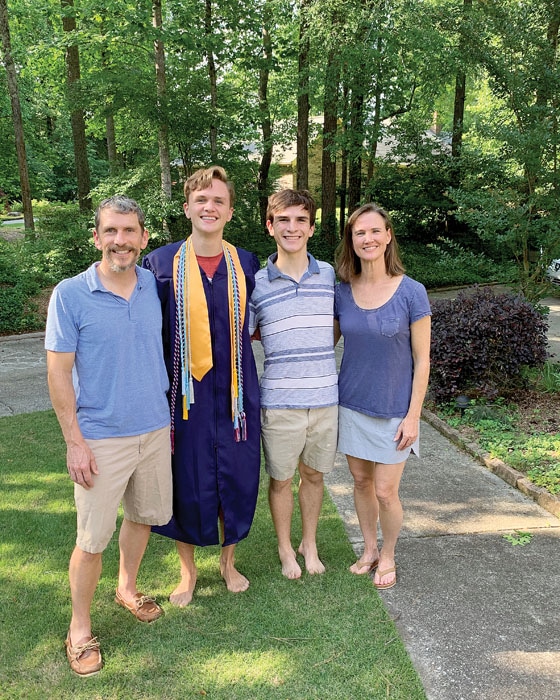 "It's a fairly distinct yard. Because it's on a flood plain, the lots can't be developed, so they're larger," Shane said. The original owners put a lot of work into the backyard and the Johnsons have maintained it superbly.
"We have a vineyard, different varieties of red and green indigenous muscadine — thick-skinned, juicy grapes, good for jellies. They're coming into season right now. I've never attempted to make wine, although the previous owner did," Shane said.
"As kids we'd collect as many as we could, and shove them all in our mouths," son Evan recounted.
The orchard includes peach, apple and pear trees. The property line extends beyond a verdant meadow. Trees line the creek bed at the back and another wooded section beyond the creek. The family visualizes building a bridge there.
"There's a pond with a small waterfall. Over the years we've had koi and goldfish. However, the heron always seems to find them. We just enjoy the beauty and the trickling of the water," Shane said.
A Fun Yard
The Johnsons make optimal use of their ample outdoor space. They've been able to play football, build a goal post to practice field goal kicking, sled down the hill, ride Go Karts, explore the creek and build forts and camps.
It's an ideal place for their Labradoodles, Walter and Theo, to run, play and splash around in the creek. "You can throw a tennis ball as far as possible. They'll bolt after it and come right back. It's perfect for them," Evan said.
Their 14 chickens produce a bounty of fresh eggs. The flock roams free during the day, digging up worms and bugs, and spends the night in a chicken coop. "The kids painted it, made a swing and a ladder for them to play on," Shane said.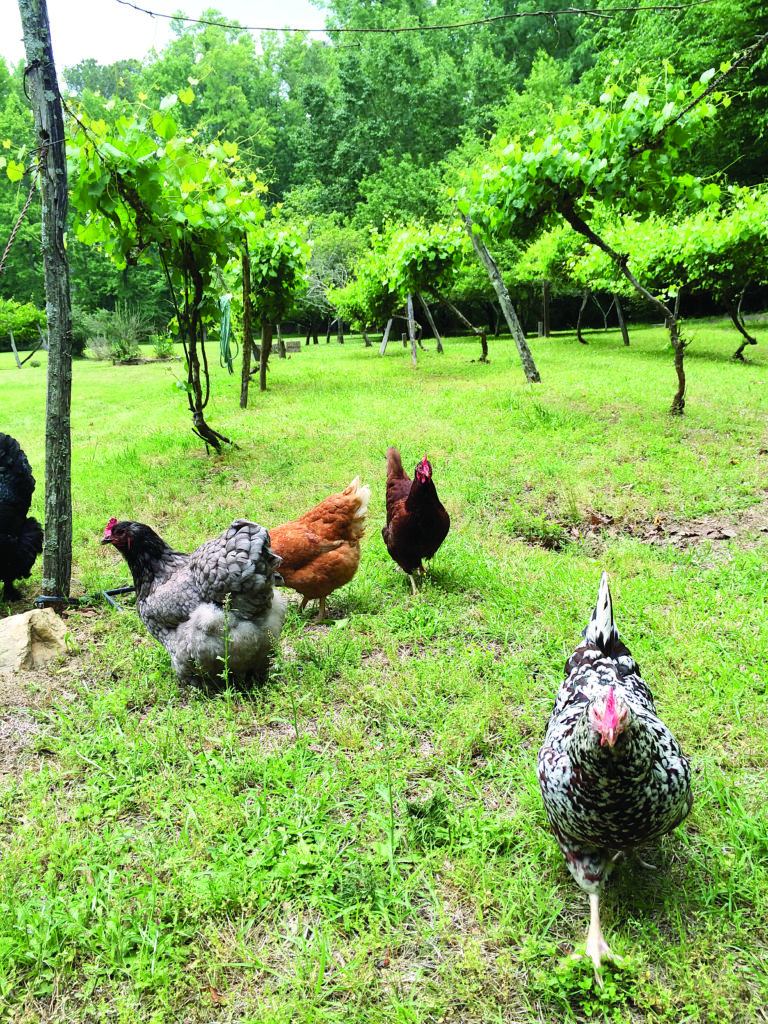 Before it was rehomed, the Johnsons had a gobbling alarm clock in Turkey Bob. When he didn't return one day, they worried.
"We had seen coyotes; we thought we lost him. Then a neighbor called and said, "We've had this turkey in our backyard for four days. I'm feeling really guilty about Thanksgiving. Can you come get him?" He must've been playing in the creek and realized what a great neighborhood Amberfield was. He took a little vacation, upgraded for a while," Shane chuckled.
There's been a wedding in the yard, and plenty of parties for the kids over the years. "It's a really good place to be. We love it. It's just so nice and peaceful in the evenings to be out there and enjoy the sunset," Shane affirmed.
To Every Time and Season Some Beauty of Its Own
"Springtime is amazing; April and May are pretty with the peach and apple blossoms. We have roses and blueberry bushes on the ends of the grapevines, a bunch of azaleas, annuals and perennial flowers coming in," Shane said.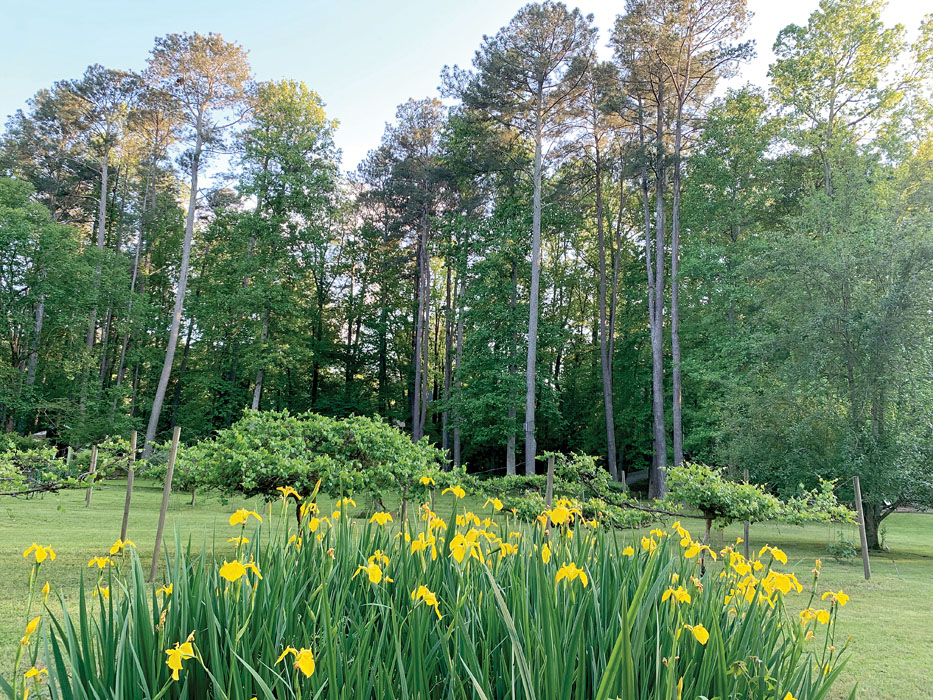 Wildlife Abounds
"The pear trees start out with a massive amount of fruit — bent branches from all the weight. Ultimately, most of them fall off. The deer come up and feed either in the mornings or at night, they're always around," Shane explained.
"They really like the grapes. They take out the figs pretty well. Apple trees: any fruit below five feet is taken out by the deer. Blueberry bushes: they're pretty good at eating those. Some survive. Any new growth, they'll chomp down on it.
"A baby deer was born in the yard, just down the hill, near the pond. That was really neat to see," he continued. "A young, playful coyote lived in our backyard for a couple of weeks right around Christmas. He played with our dog outside."
Turtles, snakes and frogs also inhabit the pond.
Pandemic Relief — Backyards for the Win
When prom was canceled due to COVID-19, Evan decided to host his own. He planned a romantic dinner on the deck for his girlfriend. With help from his parents, he prepared her favorite meal: cheeseburgers. Evan's older brother was their waiter.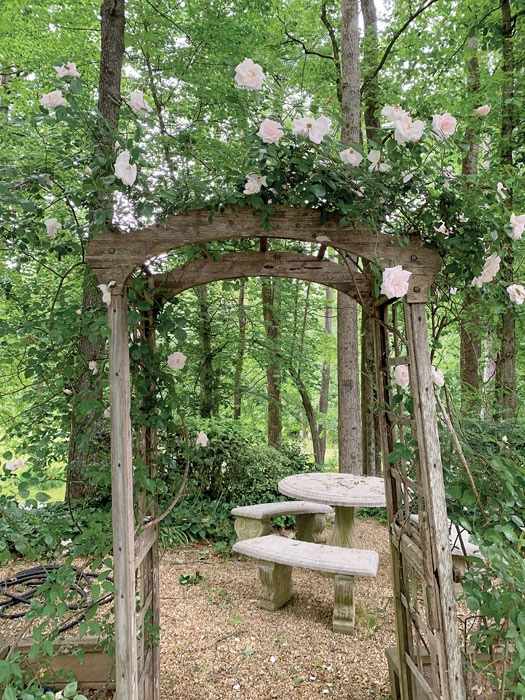 A freshman at UNC Chapel Hill, Evan is back from college to complete the semester virtually after just two weeks of university life. His office has large windows overlooking the backyard. "I have a great view. It's a pretty good deal," Evan said.
"It is a silver lining," Shane agreed. "I've been working from home since early March. I often sit on our back deck. It's a great office to have, in this cathedral of trees and open air. Especially in the spring, it was amazing to see it daily, all the flowers and everything turn green and bloom."
Gardening Is a Work of Heart
Shane said that keeping up with the garden involves passion. "It's so enjoyable and relaxing to be in the backyard. It's a labor of love," he said. "When the trees are dormant, we cut them back in late winter. There's always something happening whether it's trimming, clearing, or pruning bushes and grapevines. A lot of picking up sticks, and tree limbs on the ground."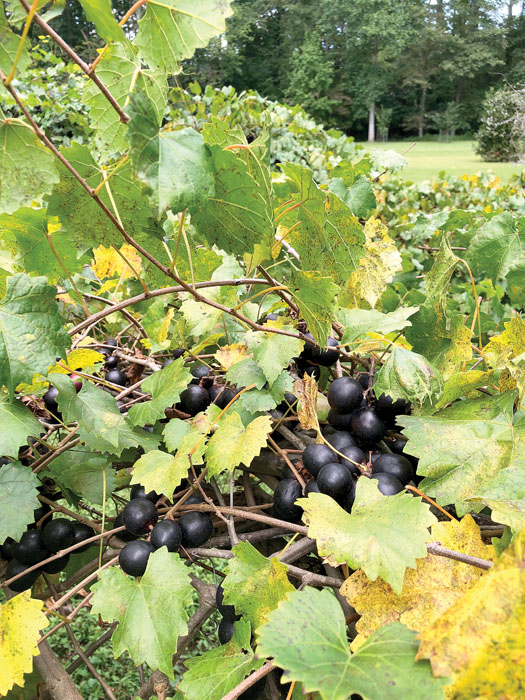 Over the years, the family has experimented with changing out some of the grapevines and fruit trees. "We had some plum trees that did very well until they died off a little. Some of our apple trees are struggling this year. It's always an adventure," Shane shared.
"We fertilize them. We try not to spray. It does make a difference but it's not very good for the environment," he continued. "This is more recreational; we're not trying to harvest any great bounty. There are more bugs, it's just part of the deal. Our peaches are beautiful, but then peach rot comes in and within a week they're all gone."
The disadvantage of having so many trees is sometimes they fall. "Our shed got destroyed by a tree. We tore it down and we're rebuilding," Evan reported. "We have a new porch and roof going. We're revamping it into a wood shop area."
Every spring, the family trims and cleans out the grapevines, cuts them back and clears out the property. "It takes quite a bit of maintenance but it's so rewarding and so beautiful," Shane said. "Especially at dusk in the evening, looking back at the house and the lights. It's very nice."
Talented Artists Needed for 2023 Gwinnett Multicultural Festival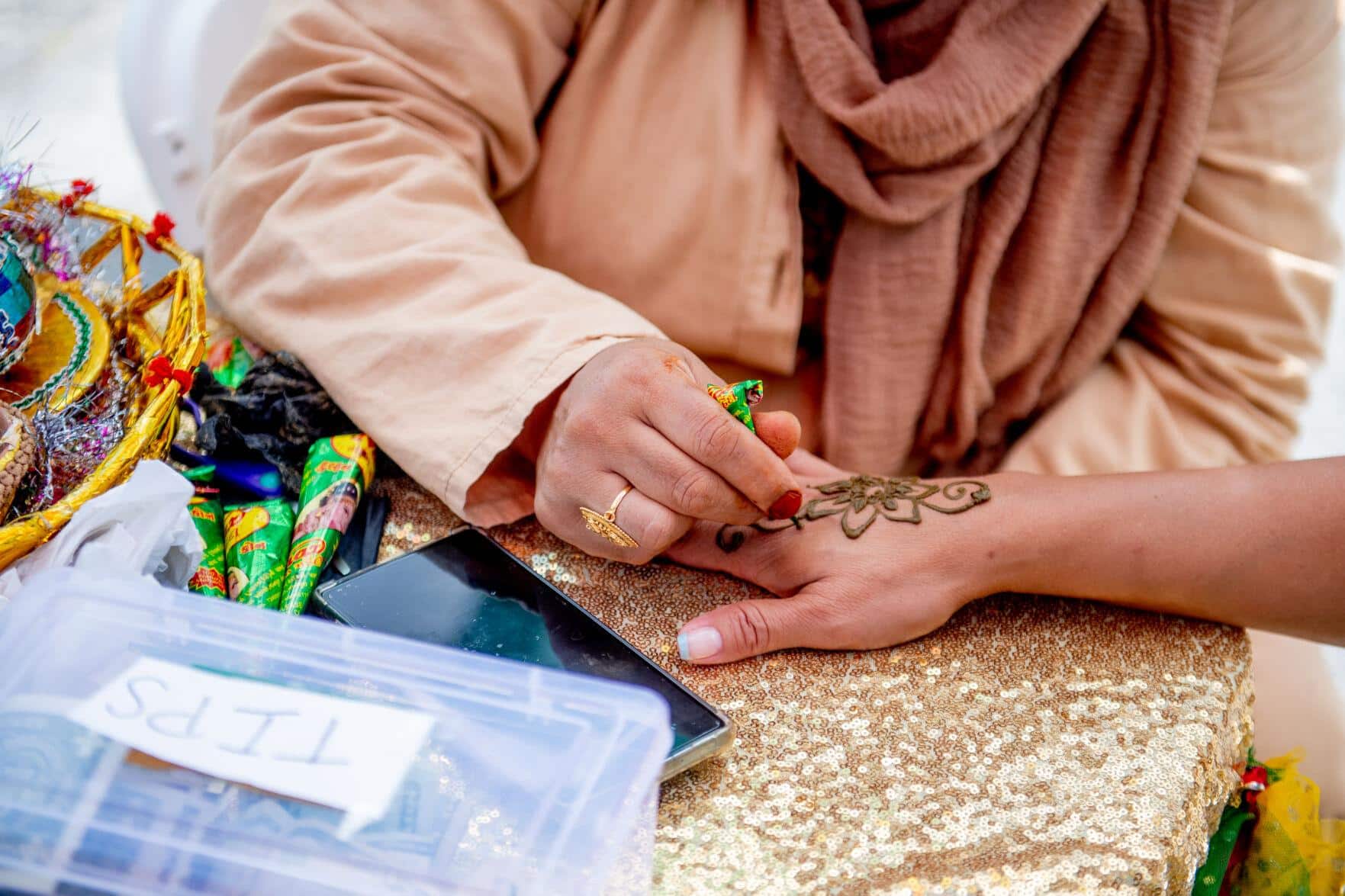 The 2023 Gwinnett Multicultural Festival is set for Saturday, May 13, 10 a.m.-2 p.m. Details will be released soon.
Photographers, painters, sculptors and artists are invited to exhibit their masterpieces at the 2023 Gwinnett Multicultural Festival. Performers — such as comedians, dancers, magicians, musicians and singers — are also invited to showcase their unique talents. 
Please note that while artists are welcome to exhibit their work, they will not be allowed to sell items at the event. However, they can let attendees know how and where to purchase the items at a later date.
Artistic exhibitors can access the festival performer application here. The deadline is Friday, April 14, 5 p.m.
Performers can fill out the performer application through this link. The deadline is Friday, March 31, 5 p.m.
Local businesses are also invited to support the Multicultural Festival with giveaways.
For more info, contact Outreach Manager Rachael Warnsley at Rachael.Warnsley@gwinnettcounty.com or call 770-513-5348.
Gwinnett County to Celebrate Earth Day with Community Recycling Event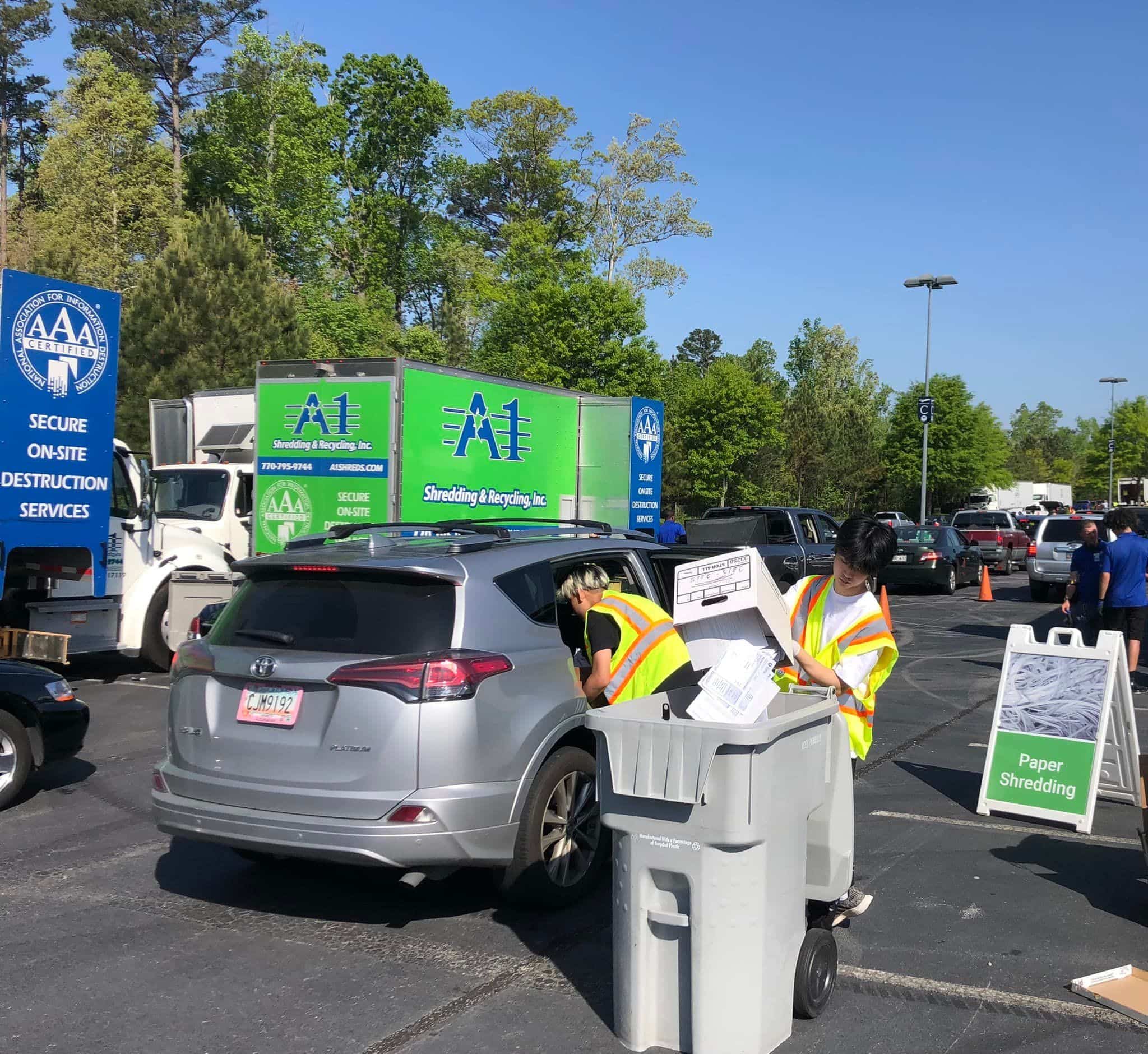 Gwinnett Clean & Beautiful (GC&B) and Gwinnett County Solid Waste are calling out to the public to start collecting tires, paint, electronics, clothing, sneakers and paper for this year's Earth Day Community Recycling. 
Over the last six years, GC&B has hosted a community-wide Earth Day-themed recycling event. Co-hosted with Gwinnett County Solid Waste, this year's event will take place Saturday, April 22, 9 a.m. to 12 noon at Coolray Field, 2500 Buford Drive in Lawrenceville.
"Celebrated by more than a billion people all over the planet since 1970, we are excited to participate in the world's largest environmental movement on Earth Day," said Schelly Marlatt, Executive Director of Gwinnett Clean & Beautiful.
"Designed to change human behavior and create opportunities for civic engagement and volunteerism, this year's theme is 'Invest in our Planet,' so we're asking our Gwinnett County neighbors to invest their time by either volunteering for this event or by combing through their closets, file cabinets, garages, basements, attics and storage sheds for items they no longer need that can be recycled into new products," she said.
"It's a win-win. Local residents get to declutter their homes, and we get to divert tons of items from our local landfills and give them new life!" Marlatt added.
During last year's event, Earth Day organizers helped 1,549 neighbors recycle 175,540 lbs. of items they no longer needed within the event's three-hour window. All told, 44,000 lbs. of electronics, 6,682 gallons of paint, 14 tons of tires, 2,720 lbs. of clothing and sneakers were collected for recycling, and 34,000 lbs. of paper were collected for shredding.
Beyond the all-important act of recycling, the Earth Day Celebration will include Touch-A-Truck, refreshments, a chance for residents to meet their haulers, opportunities to learn more about programs and services from various county departments, and more.
What to bring for recycling
Items collected that day will include latex and oil-based paints, electronics, tires, clothing, sneakers and paper for shredding.
Throughout the April 22 "rain-or-shine" event, the following items will be collected:
Paper for secure shredding — Limit to five copier paper boxes per vehicle.
Electronics — Recycling is free except for TVs, monitors and printers. There is a $15 cash fee per monitor or TV; and a $5 cash fee per printer. Projection/console TVs have a $35 cash fee.
Oil-based and latex paint — Please limit to 10 gallons per vehicle; cans must contain 25% wet paint.
Tires — Limit to eight tires per vehicle; no dealer tires.
Clothing and sneakers.
Materials should be placed in disposable containers or boxes. Containers cannot be returned.
Looking for volunteers
Volunteers are also needed for the event.
To register as a volunteer for Gwinnett County's Earth Day recycling event, visit the Volunteer Gwinnett page under the Employment tab at GwinnettCounty.com.
For more about this and other upcoming GC&B events, visit gwinnettcb.org. Questions may be directed to gwinnettcb@gwinnettcb.org or 770-822-5187.
UPCCA Community Service Scholarship Awards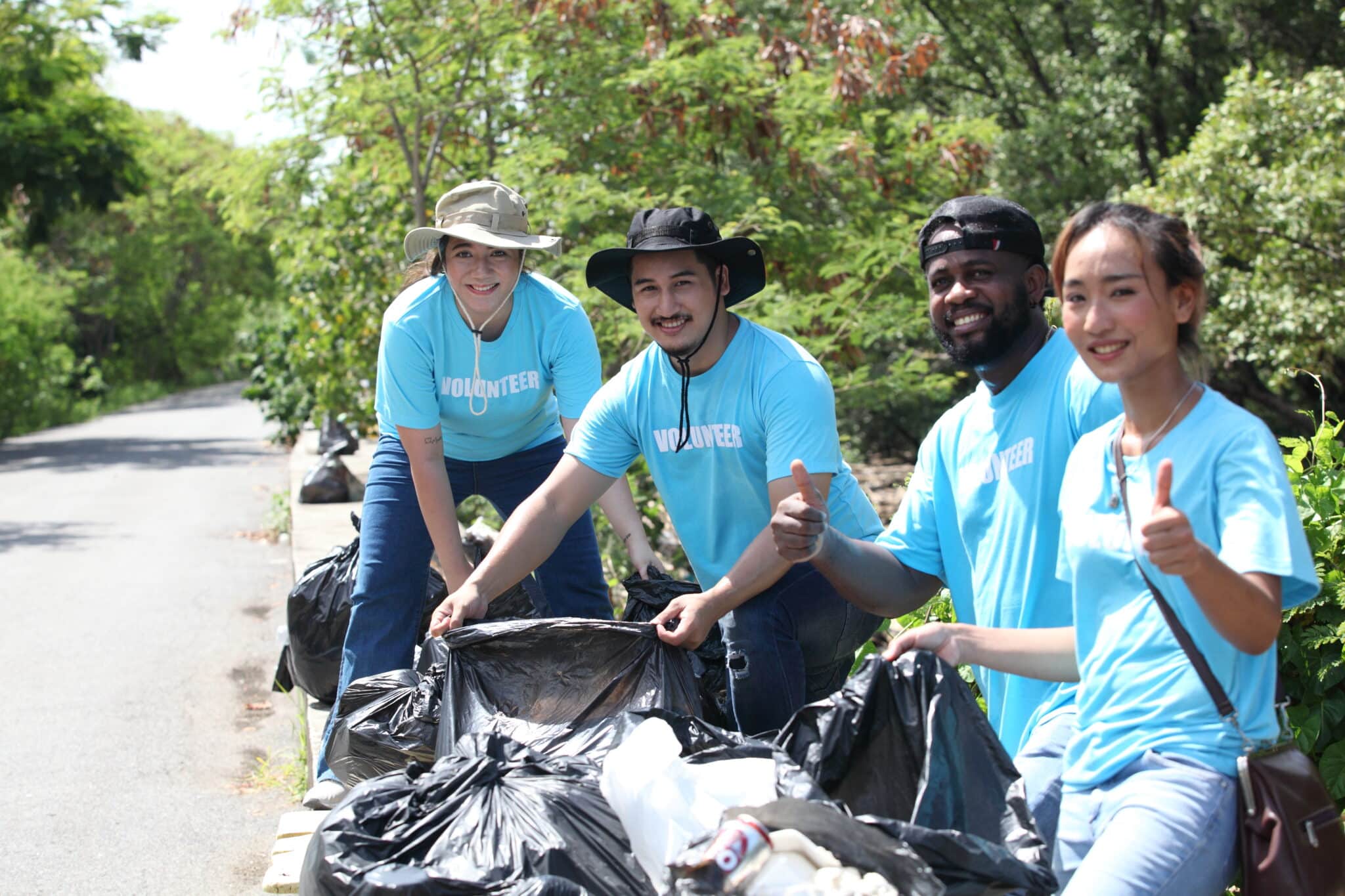 The United Peachtree Corners Civic Association (UPCCA) is again offering a Community Service Scholarship for high school seniors residing in Peachtree Corners. The 2023 scholarships will be awarded to students who have made the commitment to volunteer outside of school hours during their high school years.
New for 2023
Up to two UPCCA scholarships may be awarded.
The Debbie Mason Member Scholarship is a $1,000 scholarship. To qualify, the student or their HOA / neighborhood MUST be a member of UPCCA in good standing for the 2023 calendar year with membership fees paid on or before April 15, 2023.
If the applicant's HOA/ neighborhood is NOT a current paid member of UPCCA, they can contact their HOA, neighborhood board or president and encourage them to become a 2023 member.
Information for becoming a member of UPCCA can be found at upcca.org, or by contacting UPCCA president Matt Lombardi at 770-548-2989.
The Debbie Mason Community Scholarship is a $1,000 community scholarship in honor of Debbie Mason's commitment to serve her community. Students do not need to be a UPCCA member to qualify for this scholarship.
How to apply
High school seniors who meet the qualifications should:
1. Complete the Online Scholarship Application
The online application includes areas to upload documentation for the essay and service activities.
2. Write and/or video a 300-word essay about the community service work they have done that has had the greatest influence on them and why.
3. Include a Community Service listing of all activities they participated in while in high school.
Winners will be chosen strictly on their participation in community service.