Backyard Escapes Pt. 2: The Garden Is the Happy Place of the Johnson Family in Amhurst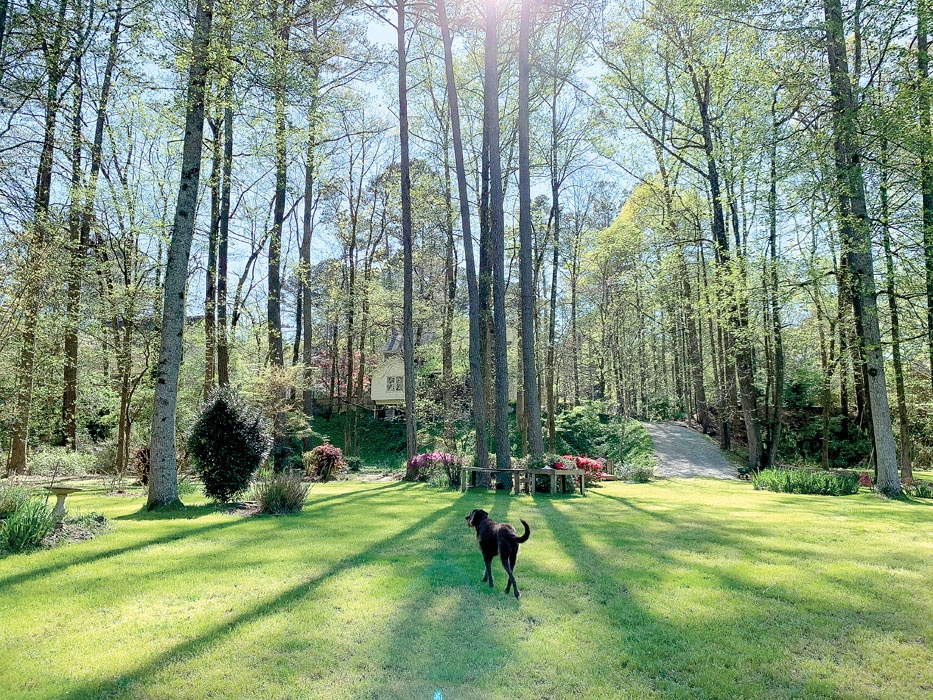 Imagine being able to retreat from the world on three acres of land, quite on-trend with the nostalgic return to bucolic aesthetics, in the middle of Peachtree Corners.
Since 2006, Shane and Alison Johnson have enjoyed this peaceful setting with their family, friends and pets, including a flock of chickens and, at one time, two roosters and a turkey.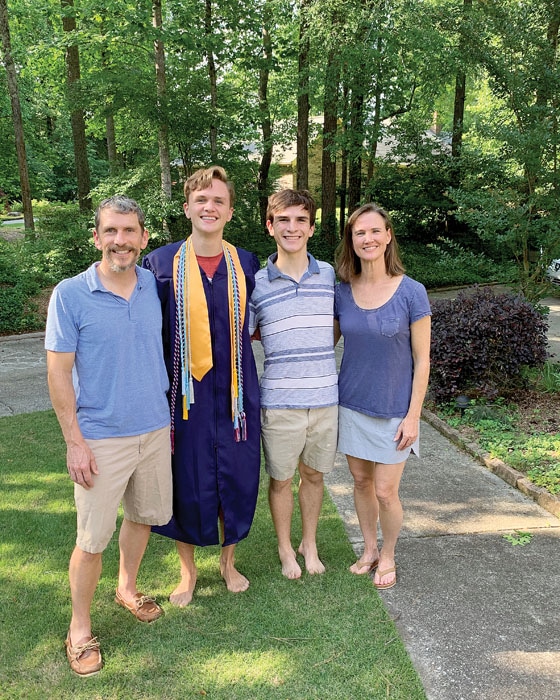 "It's a fairly distinct yard. Because it's on a flood plain, the lots can't be developed, so they're larger," Shane said. The original owners put a lot of work into the backyard and the Johnsons have maintained it superbly.
"We have a vineyard, different varieties of red and green indigenous muscadine — thick-skinned, juicy grapes, good for jellies. They're coming into season right now. I've never attempted to make wine, although the previous owner did," Shane said.
"As kids we'd collect as many as we could, and shove them all in our mouths," son Evan recounted.
The orchard includes peach, apple and pear trees. The property line extends beyond a verdant meadow. Trees line the creek bed at the back and another wooded section beyond the creek. The family visualizes building a bridge there.
"There's a pond with a small waterfall. Over the years we've had koi and goldfish. However, the heron always seems to find them. We just enjoy the beauty and the trickling of the water," Shane said.
A Fun Yard
The Johnsons make optimal use of their ample outdoor space. They've been able to play football, build a goal post to practice field goal kicking, sled down the hill, ride Go Karts, explore the creek and build forts and camps.
It's an ideal place for their Labradoodles, Walter and Theo, to run, play and splash around in the creek. "You can throw a tennis ball as far as possible. They'll bolt after it and come right back. It's perfect for them," Evan said.
Their 14 chickens produce a bounty of fresh eggs. The flock roams free during the day, digging up worms and bugs, and spends the night in a chicken coop. "The kids painted it, made a swing and a ladder for them to play on," Shane said.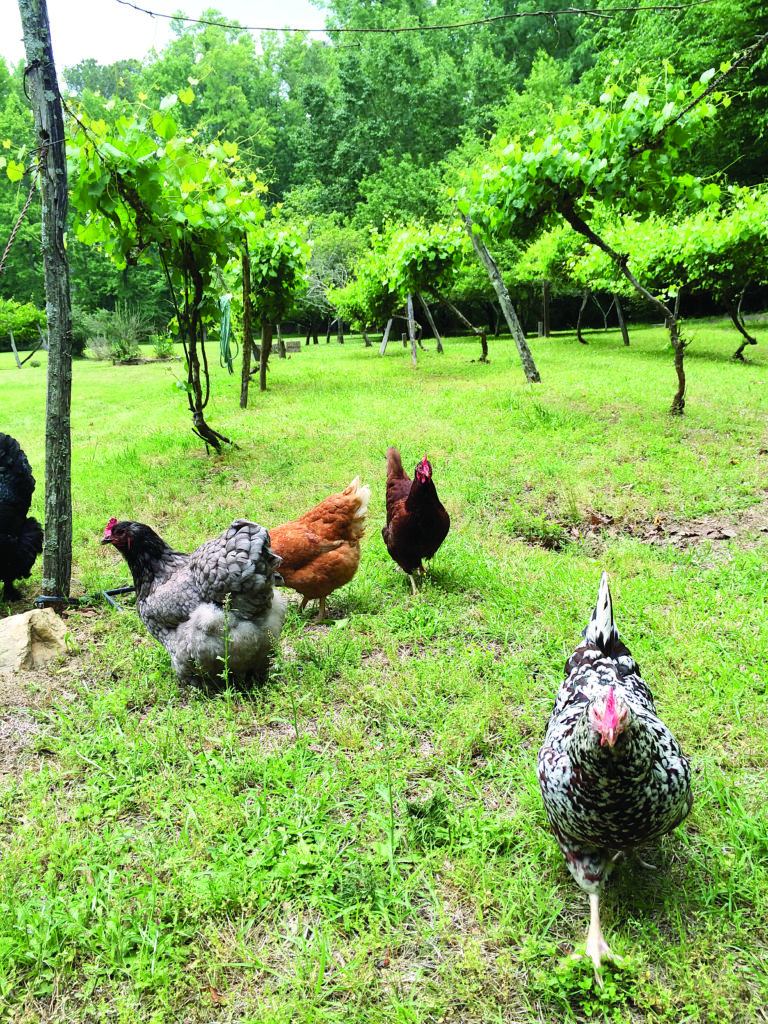 Before it was rehomed, the Johnsons had a gobbling alarm clock in Turkey Bob. When he didn't return one day, they worried.
"We had seen coyotes; we thought we lost him. Then a neighbor called and said, "We've had this turkey in our backyard for four days. I'm feeling really guilty about Thanksgiving. Can you come get him?" He must've been playing in the creek and realized what a great neighborhood Amberfield was. He took a little vacation, upgraded for a while," Shane chuckled.
There's been a wedding in the yard, and plenty of parties for the kids over the years. "It's a really good place to be. We love it. It's just so nice and peaceful in the evenings to be out there and enjoy the sunset," Shane affirmed.
To Every Time and Season Some Beauty of Its Own
"Springtime is amazing; April and May are pretty with the peach and apple blossoms. We have roses and blueberry bushes on the ends of the grapevines, a bunch of azaleas, annuals and perennial flowers coming in," Shane said.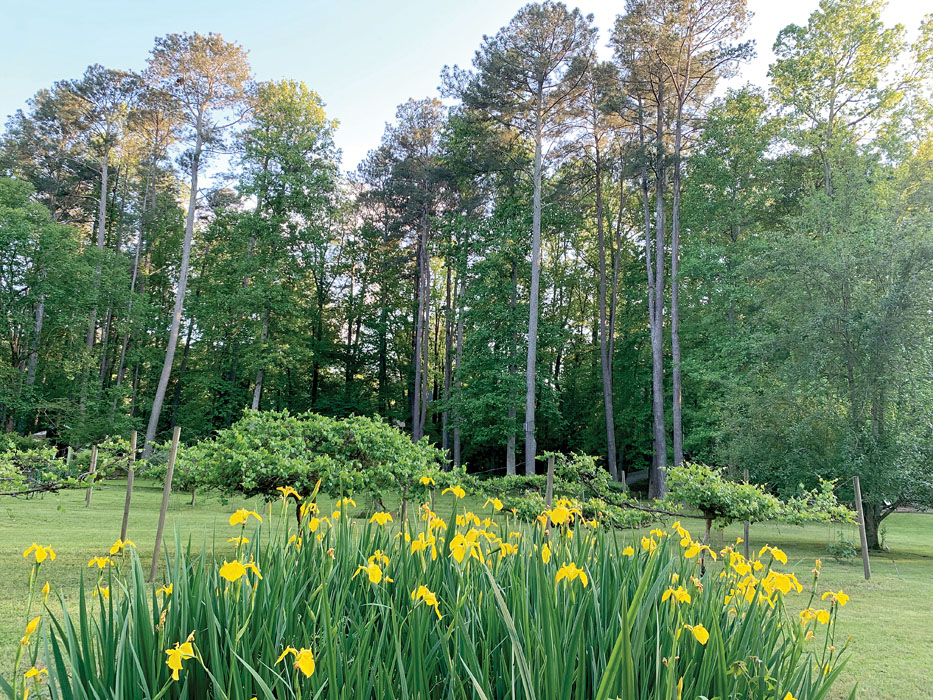 Wildlife Abounds
"The pear trees start out with a massive amount of fruit — bent branches from all the weight. Ultimately, most of them fall off. The deer come up and feed either in the mornings or at night, they're always around," Shane explained.
"They really like the grapes. They take out the figs pretty well. Apple trees: any fruit below five feet is taken out by the deer. Blueberry bushes: they're pretty good at eating those. Some survive. Any new growth, they'll chomp down on it.
"A baby deer was born in the yard, just down the hill, near the pond. That was really neat to see," he continued. "A young, playful coyote lived in our backyard for a couple of weeks right around Christmas. He played with our dog outside."
Turtles, snakes and frogs also inhabit the pond.
Pandemic Relief — Backyards for the Win
When prom was canceled due to COVID-19, Evan decided to host his own. He planned a romantic dinner on the deck for his girlfriend. With help from his parents, he prepared her favorite meal: cheeseburgers. Evan's older brother was their waiter.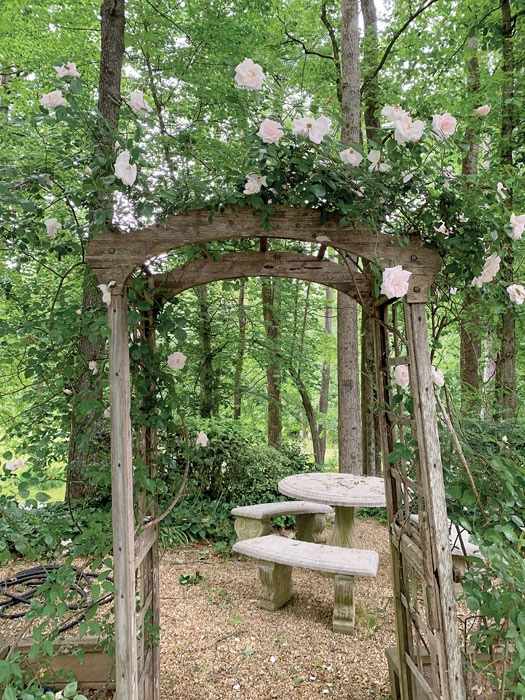 A freshman at UNC Chapel Hill, Evan is back from college to complete the semester virtually after just two weeks of university life. His office has large windows overlooking the backyard. "I have a great view. It's a pretty good deal," Evan said.
"It is a silver lining," Shane agreed. "I've been working from home since early March. I often sit on our back deck. It's a great office to have, in this cathedral of trees and open air. Especially in the spring, it was amazing to see it daily, all the flowers and everything turn green and bloom."
Gardening Is a Work of Heart
Shane said that keeping up with the garden involves passion. "It's so enjoyable and relaxing to be in the backyard. It's a labor of love," he said. "When the trees are dormant, we cut them back in late winter. There's always something happening whether it's trimming, clearing, or pruning bushes and grapevines. A lot of picking up sticks, and tree limbs on the ground."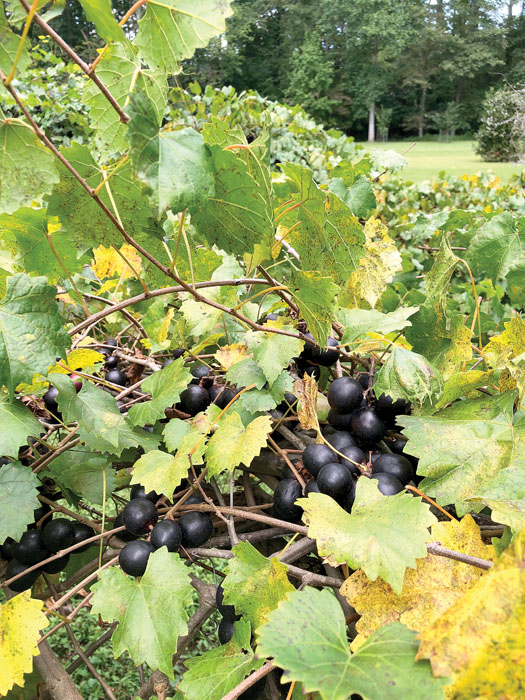 Over the years, the family has experimented with changing out some of the grapevines and fruit trees. "We had some plum trees that did very well until they died off a little. Some of our apple trees are struggling this year. It's always an adventure," Shane shared.
"We fertilize them. We try not to spray. It does make a difference but it's not very good for the environment," he continued. "This is more recreational; we're not trying to harvest any great bounty. There are more bugs, it's just part of the deal. Our peaches are beautiful, but then peach rot comes in and within a week they're all gone."
The disadvantage of having so many trees is sometimes they fall. "Our shed got destroyed by a tree. We tore it down and we're rebuilding," Evan reported. "We have a new porch and roof going. We're revamping it into a wood shop area."
Every spring, the family trims and cleans out the grapevines, cuts them back and clears out the property. "It takes quite a bit of maintenance but it's so rewarding and so beautiful," Shane said. "Especially at dusk in the evening, looking back at the house and the lights. It's very nice."
Backyard Escapes Pt. 5: If You're Lucky, You'll Discover Happiness in Your Own Backyard Like Bob and Lori Howard in Forest Hills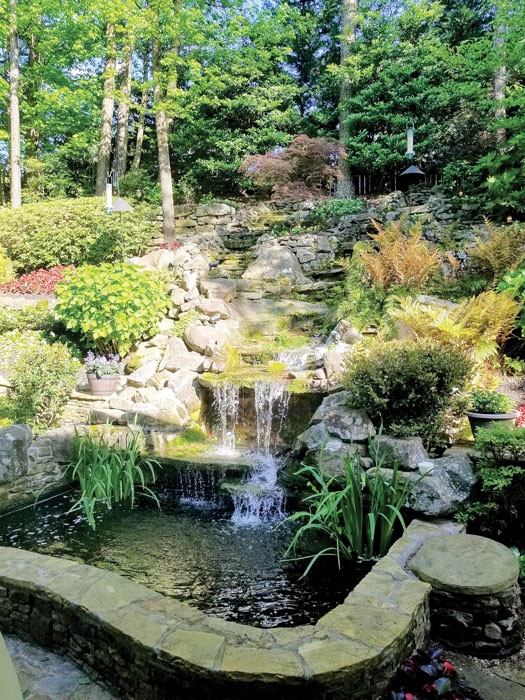 What if you could feel like you were in the north Georgia mountains every time you stepped outdoors? That was the inspiration for Bob and Lori Howard's posh backyard makeover upon settling into their retirement home.
An environmental engineer, Bob designed and supervised the transformation of their yard. A home designed for empty nesters doesn't come with the largest yard, but every square inch of this one is gorgeous.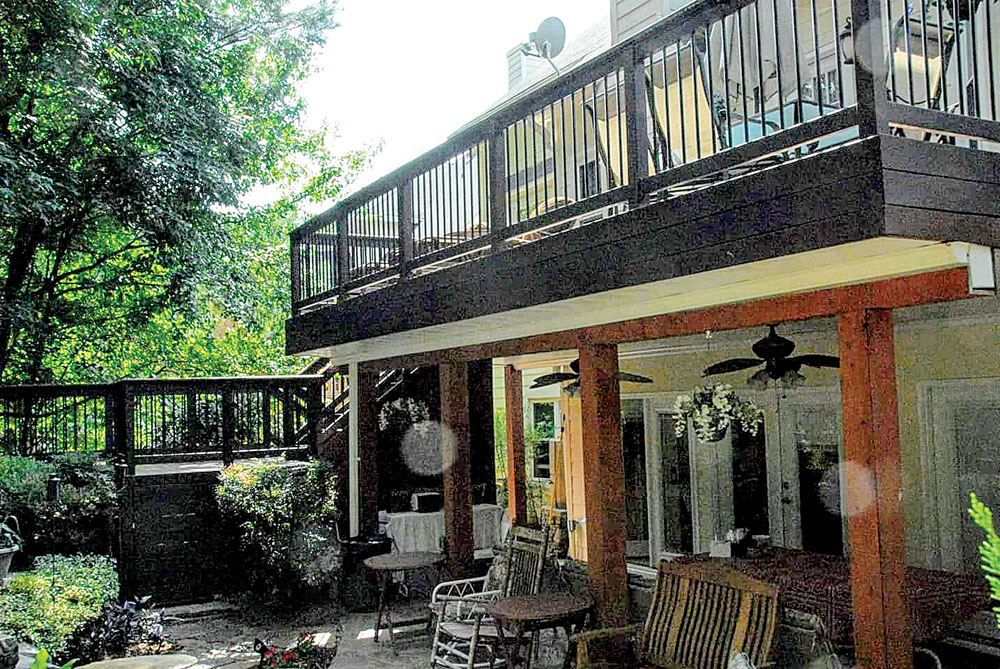 Taking advantage of the natural topography — their property slopes towards the back of the home — Bob had a vision of what could be there and brought it to life exquisitely. It's difficult to believe their yard once consisted of privet and a few short pine and other scrubby trees. "There was no landscaping. It was a cosmetic disaster," Lori recalled.
They were able to develop their outdoor space into a striking deck, a series of retaining walls and flowerbeds, a marvelous waterfall, koi pond and patio haven which they've been reveling in for 12 years.
"It's a comfortable place to be. We turn music on, have the waterfall going, drink a margarita and life is good," Bob said.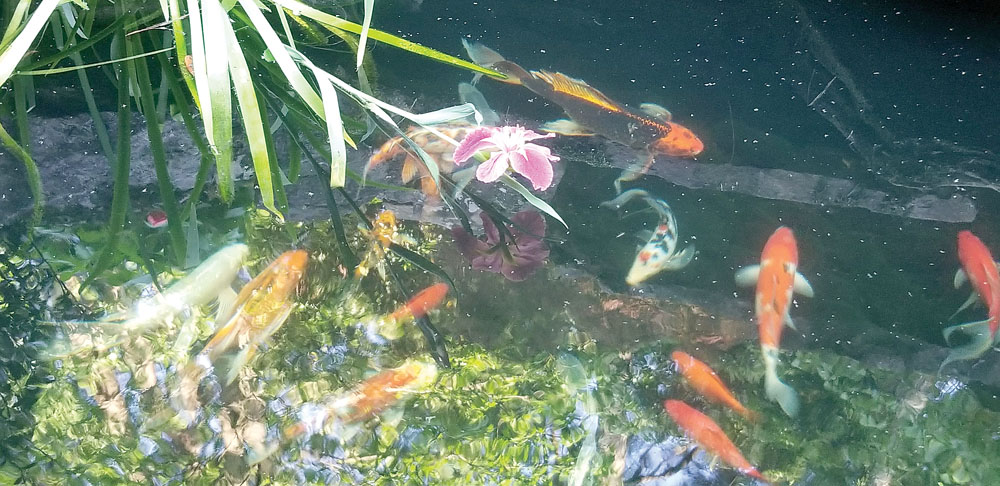 "We have under decking, ceiling fans, a fire pit and a warming light on the patio, so we can sit out almost year-round," Lori added.
Color changing landscape lights illuminate the waterfall at nighttime. From the patio, one has a breathtaking view of the waterfall.
Most evenings you'll find the Howards on their patio, listening to The Bridge on SiriusXM. "Bob also put in a sound system. I've had a live-in handyman for 40 years; I've been blessed," Lori smiled.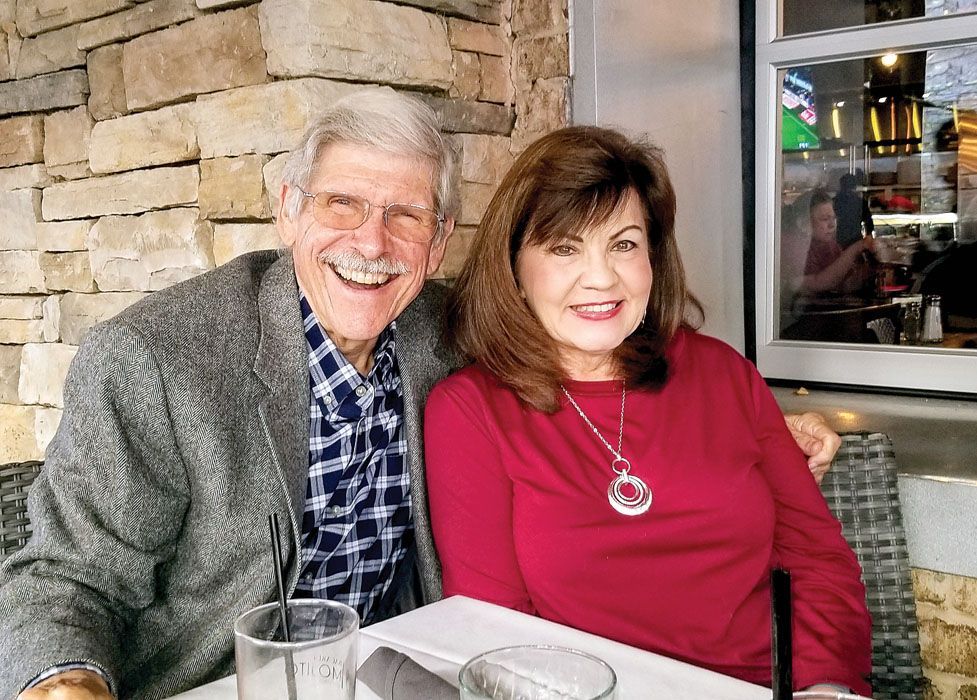 The Howards have been able to share their lovely surroundings with family and friends. Their friends were married here, they host neighborhood parties — not this year, of course. For their 70th birthday, they welcomed a large group of friends. A country western singer came from Nashville to perform for them.
"This is a good party house. It flows very nicely," Lori said.
Extreme Remodel
The stonework in the Howard garden is impressive. "There are probably 20 or 30 tons of stone and rock on the slope. I laid out where I wanted it with spray paint, bought the stone and the contractor, Nick Carillo, built it," Bob reported. The tiered, stacked stone retaining walls were built to create flat areas for planting flowerbeds.
Bob conceived the 3,500-gallon koi pond including the pumps, biological filter and UV light. "We have large koi. I designed it so the herons could not get access to fish," Bob said. "They can stand on the edge, but they can't get into the water to get any fish; it's over four feet deep."
A coyote's attempt at catching the fish was captured on their security camera. The fellow almost drowned after falling in, but he was able to scramble to safety.
Knock on Brazilian Wood
They originally had a poorly made deck that was falling off the house with nothing but earth underneath it — but Bob had plans to rebuild it. He selected premium Brazilian cherry wood for the new, sturdy deck. "I like the reddish color and it holds up longer than pressure-treated pine," Bob said. He designed and built the deck with his son's help.
"On our last deck, we used Trex composite wood. We love the way it looked but it holds a lot of heat in the summer," Bob said.
The new deck has a stair system with a boardwalk that goes over to the back slope. Steps lead to an area by the waterfall.
Carillo poured the foundation, reinforcing the sandstone patio for the posts. "I didn't want to have that much weight on the sandstone patio without having a foundation underneath," Bob said. "It has worked well. Knock on wood."
Pandemic Relief —Backyards for the Win
The couple hosted an engagement dinner for their youngest son and his fiancée in August. They've been able to gather with friends, one couple at a time, socially distanced on their patio. "That's how we've managed to do it, with people our age who have been quarantining and staying close to home like us," Lori said. "They wear masks when they come in. Outside we serve drinks, hors d'oeuvres and talk."
Gardening Is a Work of Heart
Amid a backdrop of hydrangeas, ferns, azaleas, Japanese maples and dogwoods, Carillo and his crew return every spring to plant annuals: begonias and impatiens. In the fall, they pull out the gardens and winterize the flowerbeds.
"Yearly, at the beginning of the season, I have to pressure wash and seal the sandstone patio," Bob said. "It has a water finish look; it's really quite beautiful."
The Howards have had four different homes in Peachtree Corners since 1984. This is their last. "You really want to have a nice backyard, a retreat you can enjoy," Bob said.
Gwinnett Tax Commissioner awarded CARES Act grant to cover convenience fees for 2020 online property tax payments

Gwinnett property owners have the opportunity to pay property taxes online using debit or credit cards without incurring added convenience fees, Tax Commissioner Richard Steele announced today.
"We wanted to make it as easy as possible for people to pay their property taxes safely," Steele said. "Obtaining this grant helps us do that, and I sincerely hope people take advantage of it during the pandemic to pay online from the safety of home."
The Gwinnett County Office of the Tax Commissioner was recently informed of its successful application for obtaining a CARES Act grant to cover the cost of convenience fees for online property taxes. Taxpayers who have already paid their 2020 taxes and incurred a convenience fee will automatically receive a refund of the fees via the card they used from payment processing vendor Value Payment Systems LLC.
Online payments can be made at GwinnettTaxCommissioner.com/pay and include these options:
· E-check, debit or credit card with no added convenience fees.
· Scheduling payments in advance, as long as the total is paid by the Dec. 1 due date.
Property owners who have questions or need assistance may contact the Tax Commissioner's Office 8 a.m. to 5 p.m. weekdays via email to Tax@GwinnettCounty.com, by phone at (770) 822-8800 or initiate a chat on any device from GwinnettTaxCommissioner.com.
Backyard Escapes Pt. 4: Come Gather in the Garden of Jay and Jill Lowe in Peachtree Station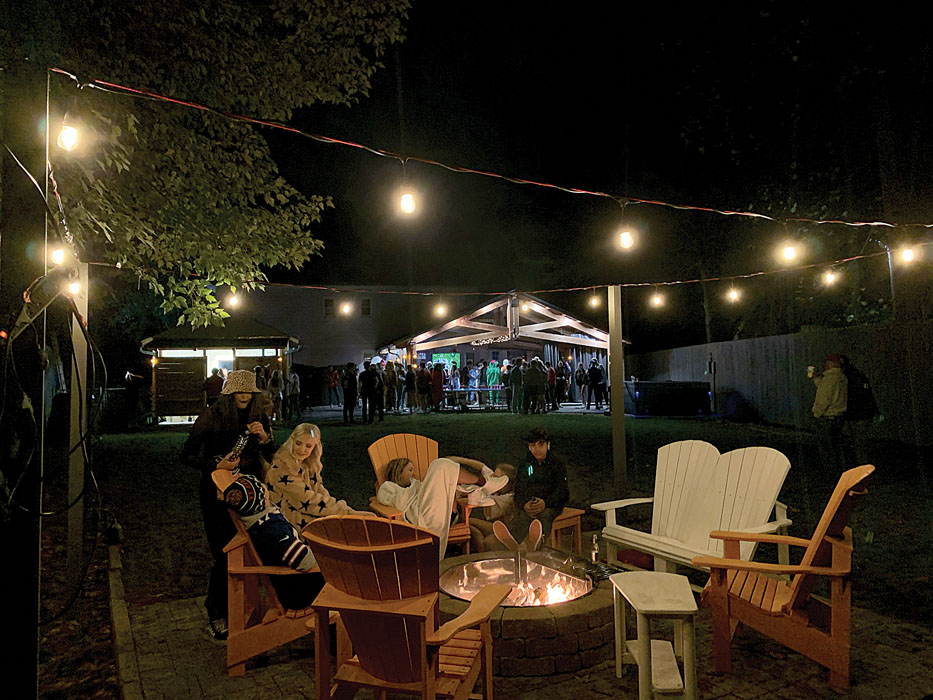 What if the weather couldn't ever foil your plans to spend time outside? That's the case at the home of Jay and Jill Lowe. Little remains of the teal green shuttered house they purchased 20 years ago. Their recent improvements include an architectural pavilion in the backyard— a sheltered center for gatherings and celebrations.
"This was Jay's vision," Jill said. "I gave him a hard time about the size of this space. I thought it was a little over the top. Actually, it's my favorite room in the house. I love it. It's big but it doesn't feel overbearing. It's perfect."
Jay designed the 30-foot x 30-foot all-cedar structure, acting as general contractor. It's equipped with LED lights in the ceiling, a granite bar countertop, a refrigerator, living and dining areas, a stacked stone gas fireplace, fans, heaters, outdoor curtains to enclose it, a Sonos surround system, two televisions and security cameras. The Lowes have this stunning space to entertain family and friends all year long.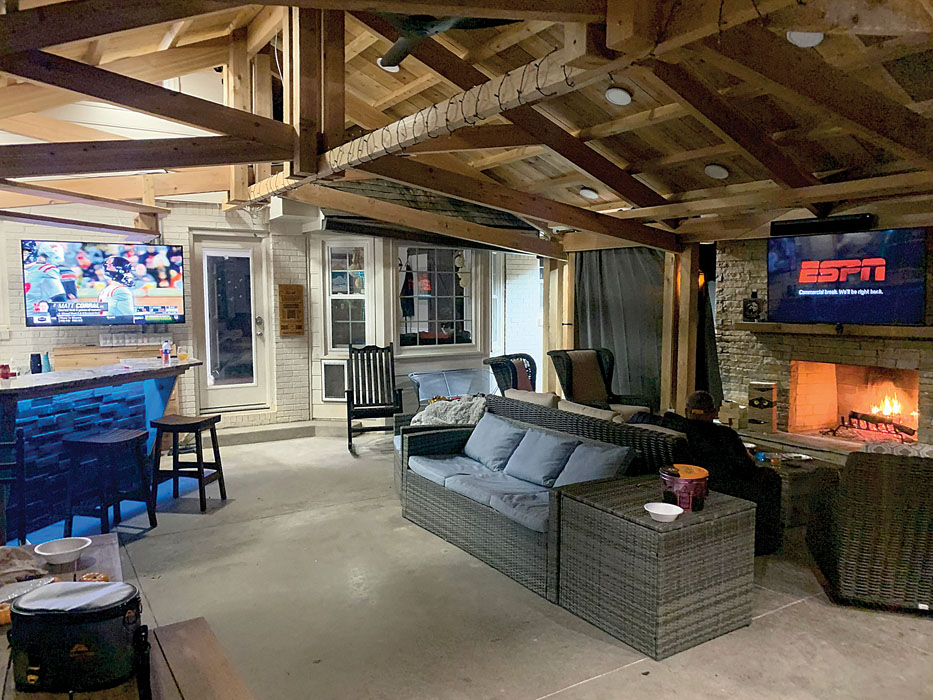 "We put an aluminum roof above the support beams because Jill likes the pitter patter of the rain," Jay noted. Insulation in the 17-foot-tall pitched roof helps to keep it from getting too hot in the summertime.
Their four dogs and kitten, Axel, like to spend time here as well. "We've had fires out here, watched movies and football games. I like the girls to have friends over, so I know where they are," Jay said.

A 600 square foot patio extends around the pavilion to meet a large, level lawn which stretches to the back of the long yard. On the left side of the patio, there is a large hot tub, and to the right, another unusual backyard structure.
When Nature Calls
An outdoor bathroom complete with sink, shower, urinal and toilet is available for guests visiting the party pavilion.
This prevents "a bunch of kids running in and out of the house," Jay said. Regarding using the outdoor restroom in colder weather, Jay said, "I like a wintertime shower; we use the hot tub a lot."
Fire Pit
The end of the yard opposite the pavilion is rounded out by a fire pit surrounded by string lights and a trampoline, which gets regular use. Orange accents like the Adirondack chairs convey the family's Tennessee affiliation.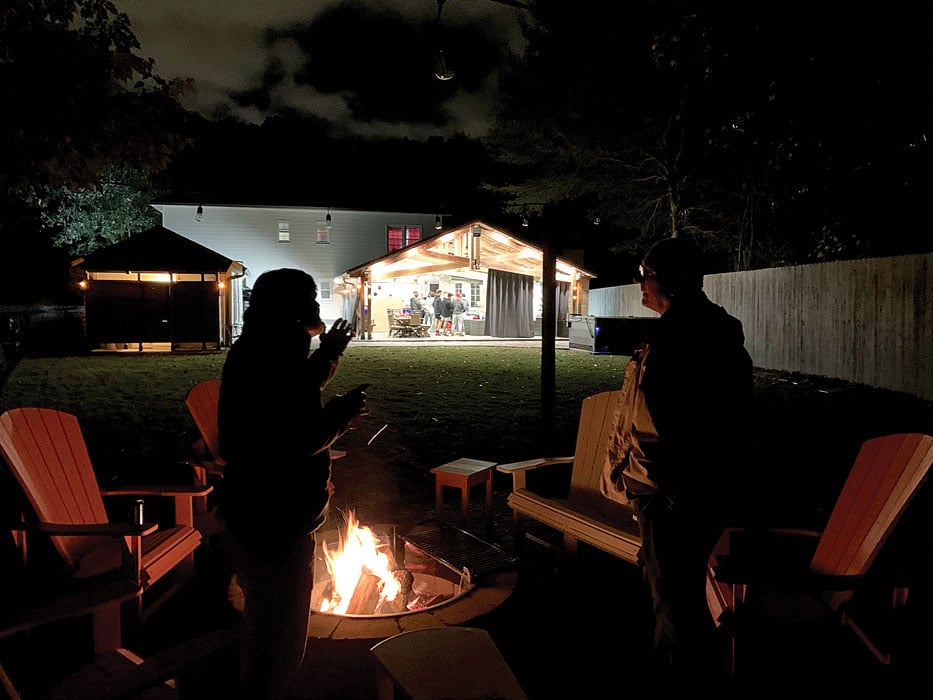 Extreme Remodel
Originally, the Lowes deforested the backyard, removing 65 trees. In 2018, the demolition of a huge back deck and sunroom made way for Jay's plans. His carpenter of choice is Mimi, a Taiwanese gentleman who has done plenty of work for the family over the years. "He's the hardest working, most intricate woodworker," Jill said.
From a muddy plot, to bringing in loads of backfill dirt, to laying the cement pad, the all-season pavilion was underway. Once the frame was up, Jay started building the fireplace. Then the interlocking brick patio was laid. The project was completed last October.
Pandemic Relief — Backyards for the Win
"We are so grateful for this space because it's made [living through a pandemic] a lot easier," Jill said. "We can come out here and play games: ping pong, corn hole, basketball."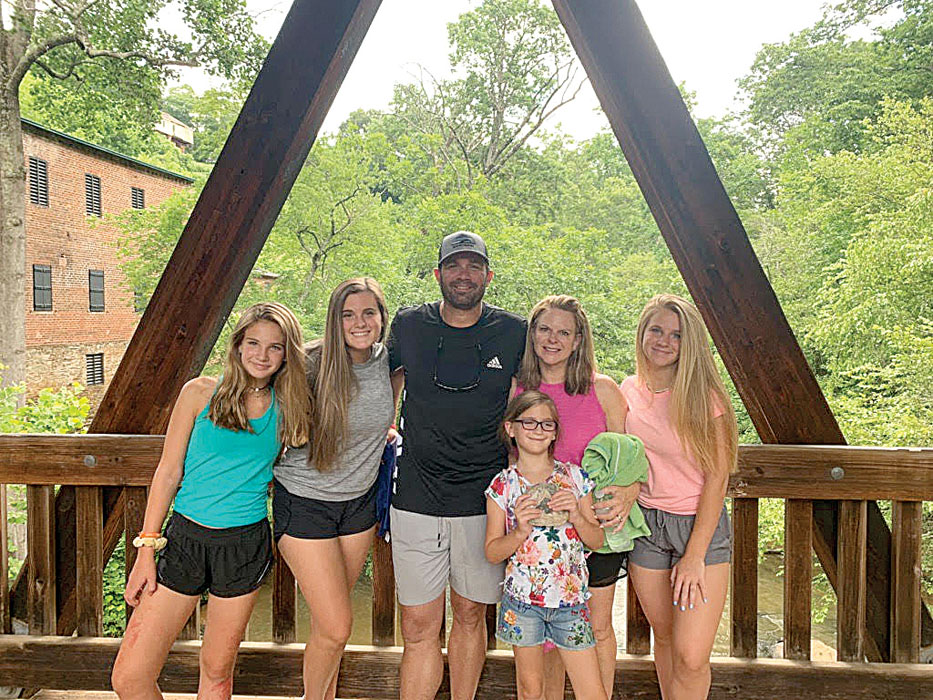 She said that their oldest child graduated this year and noted that it was a rough year for seniors. "We were able to host a little graduation party for her. We had tables and chairs spaced out. There's a lot of room. It's been great for us. It's been a blessing," Jill shared.