Backyard Escapes Pt. 2: The Garden Is the Happy Place of the Johnson Family in Amhurst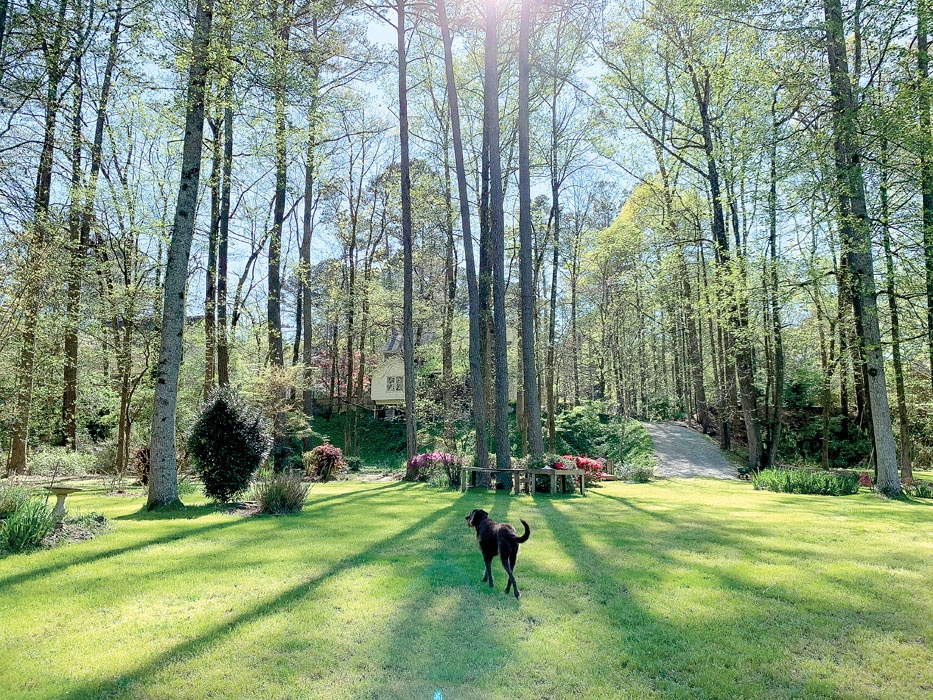 Imagine being able to retreat from the world on three acres of land, quite on-trend with the nostalgic return to bucolic aesthetics, in the middle of Peachtree Corners.
Since 2006, Shane and Alison Johnson have enjoyed this peaceful setting with their family, friends and pets, including a flock of chickens and, at one time, two roosters and a turkey.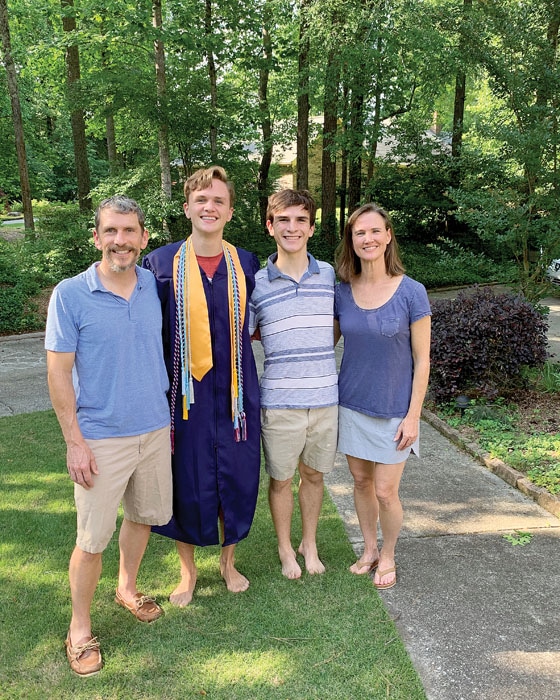 "It's a fairly distinct yard. Because it's on a flood plain, the lots can't be developed, so they're larger," Shane said. The original owners put a lot of work into the backyard and the Johnsons have maintained it superbly.
"We have a vineyard, different varieties of red and green indigenous muscadine — thick-skinned, juicy grapes, good for jellies. They're coming into season right now. I've never attempted to make wine, although the previous owner did," Shane said.
"As kids we'd collect as many as we could, and shove them all in our mouths," son Evan recounted.
The orchard includes peach, apple and pear trees. The property line extends beyond a verdant meadow. Trees line the creek bed at the back and another wooded section beyond the creek. The family visualizes building a bridge there.
"There's a pond with a small waterfall. Over the years we've had koi and goldfish. However, the heron always seems to find them. We just enjoy the beauty and the trickling of the water," Shane said.
A Fun Yard
The Johnsons make optimal use of their ample outdoor space. They've been able to play football, build a goal post to practice field goal kicking, sled down the hill, ride Go Karts, explore the creek and build forts and camps.
It's an ideal place for their Labradoodles, Walter and Theo, to run, play and splash around in the creek. "You can throw a tennis ball as far as possible. They'll bolt after it and come right back. It's perfect for them," Evan said.
Their 14 chickens produce a bounty of fresh eggs. The flock roams free during the day, digging up worms and bugs, and spends the night in a chicken coop. "The kids painted it, made a swing and a ladder for them to play on," Shane said.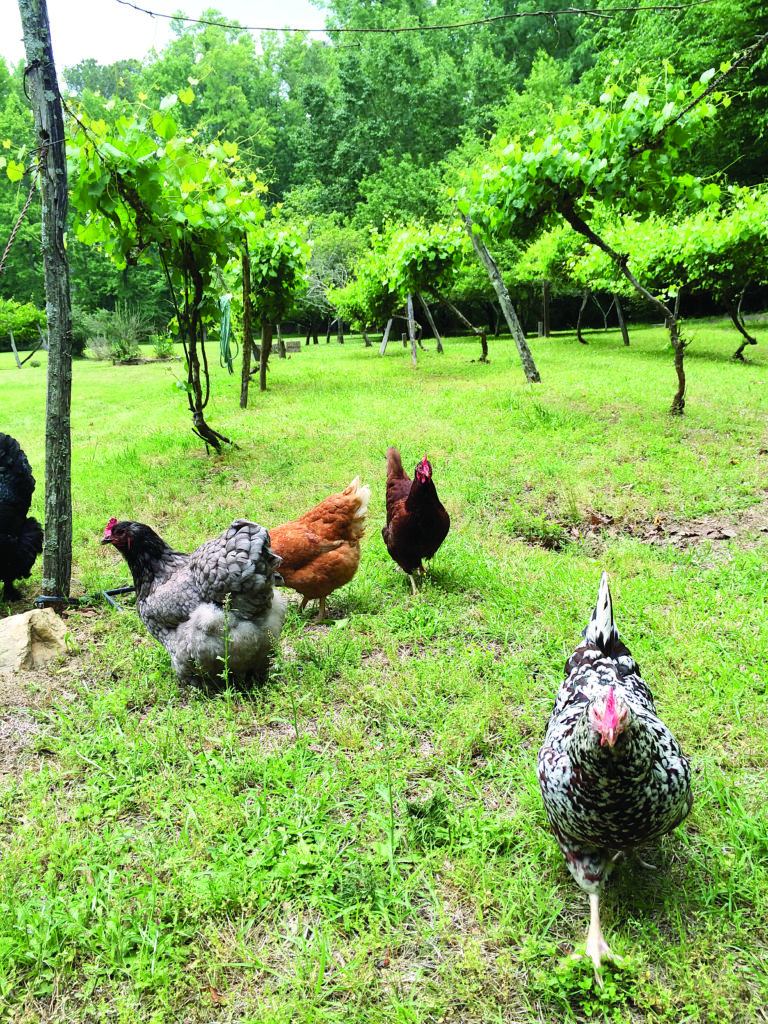 Before it was rehomed, the Johnsons had a gobbling alarm clock in Turkey Bob. When he didn't return one day, they worried.
"We had seen coyotes; we thought we lost him. Then a neighbor called and said, "We've had this turkey in our backyard for four days. I'm feeling really guilty about Thanksgiving. Can you come get him?" He must've been playing in the creek and realized what a great neighborhood Amberfield was. He took a little vacation, upgraded for a while," Shane chuckled.
There's been a wedding in the yard, and plenty of parties for the kids over the years. "It's a really good place to be. We love it. It's just so nice and peaceful in the evenings to be out there and enjoy the sunset," Shane affirmed.
To Every Time and Season Some Beauty of Its Own
"Springtime is amazing; April and May are pretty with the peach and apple blossoms. We have roses and blueberry bushes on the ends of the grapevines, a bunch of azaleas, annuals and perennial flowers coming in," Shane said.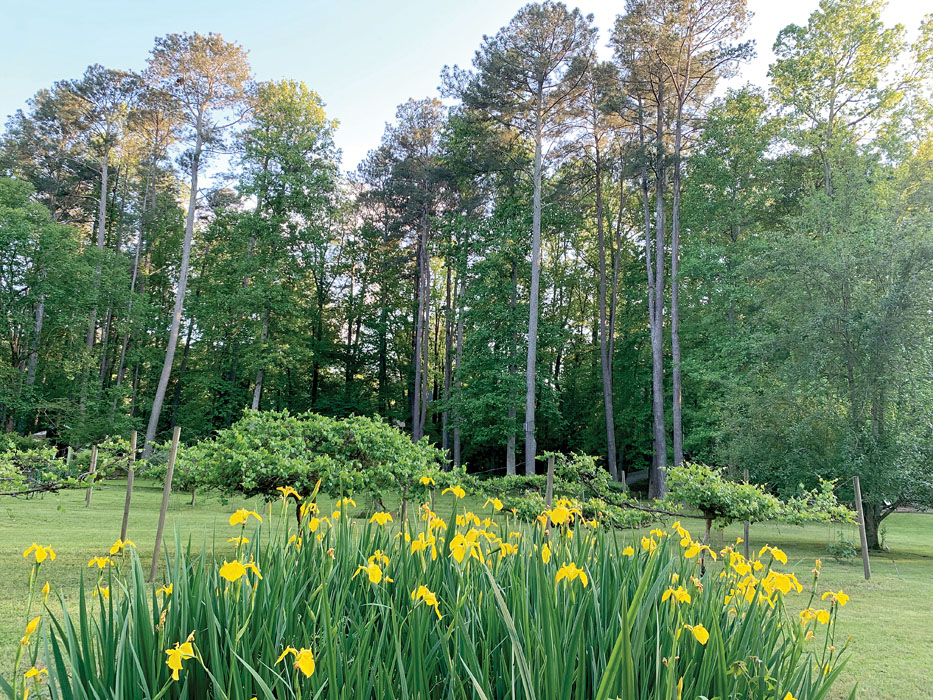 Wildlife Abounds
"The pear trees start out with a massive amount of fruit — bent branches from all the weight. Ultimately, most of them fall off. The deer come up and feed either in the mornings or at night, they're always around," Shane explained.
"They really like the grapes. They take out the figs pretty well. Apple trees: any fruit below five feet is taken out by the deer. Blueberry bushes: they're pretty good at eating those. Some survive. Any new growth, they'll chomp down on it.
"A baby deer was born in the yard, just down the hill, near the pond. That was really neat to see," he continued. "A young, playful coyote lived in our backyard for a couple of weeks right around Christmas. He played with our dog outside."
Turtles, snakes and frogs also inhabit the pond.
Pandemic Relief — Backyards for the Win
When prom was canceled due to COVID-19, Evan decided to host his own. He planned a romantic dinner on the deck for his girlfriend. With help from his parents, he prepared her favorite meal: cheeseburgers. Evan's older brother was their waiter.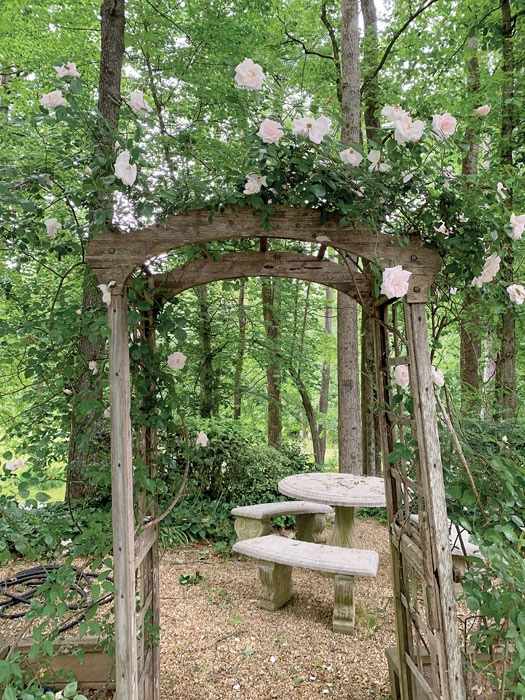 A freshman at UNC Chapel Hill, Evan is back from college to complete the semester virtually after just two weeks of university life. His office has large windows overlooking the backyard. "I have a great view. It's a pretty good deal," Evan said.
"It is a silver lining," Shane agreed. "I've been working from home since early March. I often sit on our back deck. It's a great office to have, in this cathedral of trees and open air. Especially in the spring, it was amazing to see it daily, all the flowers and everything turn green and bloom."
Gardening Is a Work of Heart
Shane said that keeping up with the garden involves passion. "It's so enjoyable and relaxing to be in the backyard. It's a labor of love," he said. "When the trees are dormant, we cut them back in late winter. There's always something happening whether it's trimming, clearing, or pruning bushes and grapevines. A lot of picking up sticks, and tree limbs on the ground."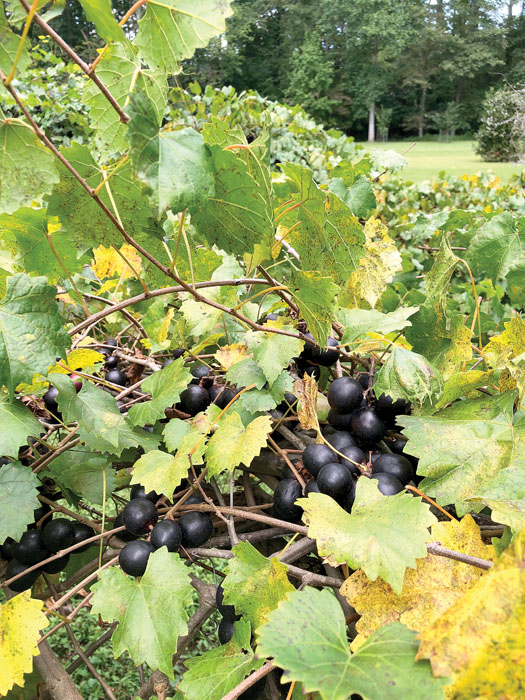 Over the years, the family has experimented with changing out some of the grapevines and fruit trees. "We had some plum trees that did very well until they died off a little. Some of our apple trees are struggling this year. It's always an adventure," Shane shared.
"We fertilize them. We try not to spray. It does make a difference but it's not very good for the environment," he continued. "This is more recreational; we're not trying to harvest any great bounty. There are more bugs, it's just part of the deal. Our peaches are beautiful, but then peach rot comes in and within a week they're all gone."
The disadvantage of having so many trees is sometimes they fall. "Our shed got destroyed by a tree. We tore it down and we're rebuilding," Evan reported. "We have a new porch and roof going. We're revamping it into a wood shop area."
Every spring, the family trims and cleans out the grapevines, cuts them back and clears out the property. "It takes quite a bit of maintenance but it's so rewarding and so beautiful," Shane said. "Especially at dusk in the evening, looking back at the house and the lights. It's very nice."
Run the Gauntlet of Fitness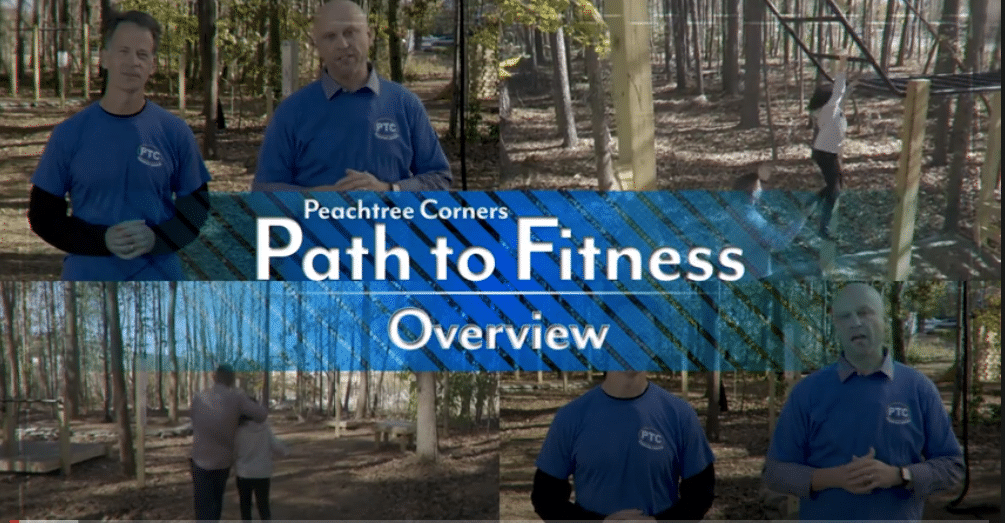 How the Path to Fitness was "paved"
As businesses, restaurants, and gyms close down, we struggle more and more to meet our need to stay healthy. Fortunately, Peachtree Corners City Councilman Alex Wright has teamed up with city manager Brian Johnson to construct the Path to Fitness in the Peachtree Corners Town Center. Path to Fitness is a unique green space that combines the fresh air of the outdoors with high-quality fitness equipment akin, or even superior, to that you might use in a gym.
Using their experiences at the U.S. Army's Ranger School, Wright and Johnson took note of the strenuous — but muscle-building — obstacle courses that were made to create herculean soldiers. They shaped wood and bent steel into stationary equipment to aid residents in developing their body both conveniently and efficiently.
Brian Johnson stated "…we had a certain institutional knowledge of certain things that we could create, so I asked Mike if he could create some of those as a way to help this group… come out here and enjoy some unique fitness equipment that could be integrated in their normal workout routine [and] help them work muscle groups that they wouldn't be able to normally work in another setting."
The Path to Fitness includes a number of pieces of high -quality equipment. According to Councilman Wright, "I have to say that there's a lot of excitement because they didn't really know what to expect! They're thinking, you know, just regular playground equipment, but we've got a 20-foot rope climb here… some very unique monkey bars."
Of course, the Path does not end there:  the trail also includes a few pull-up bars, a sit-up station, as well as a wall climb. It must be emphasized that the trail is meant for fitness, not for use as a playground. So make sure to supervise your children if you decide to substitute your YMCA subscription for a free walk on the Path to Fitness!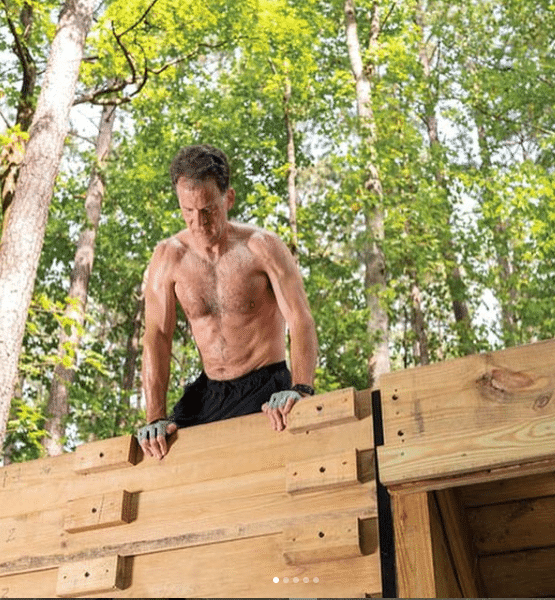 Some of the exercises you can do on the fitness trail:
Check out the full YouTube playlist of all the things you can do on the Fitness Trail at Peachtree Corners Network
Report an issue with the free Peachtree Corners Fix-it app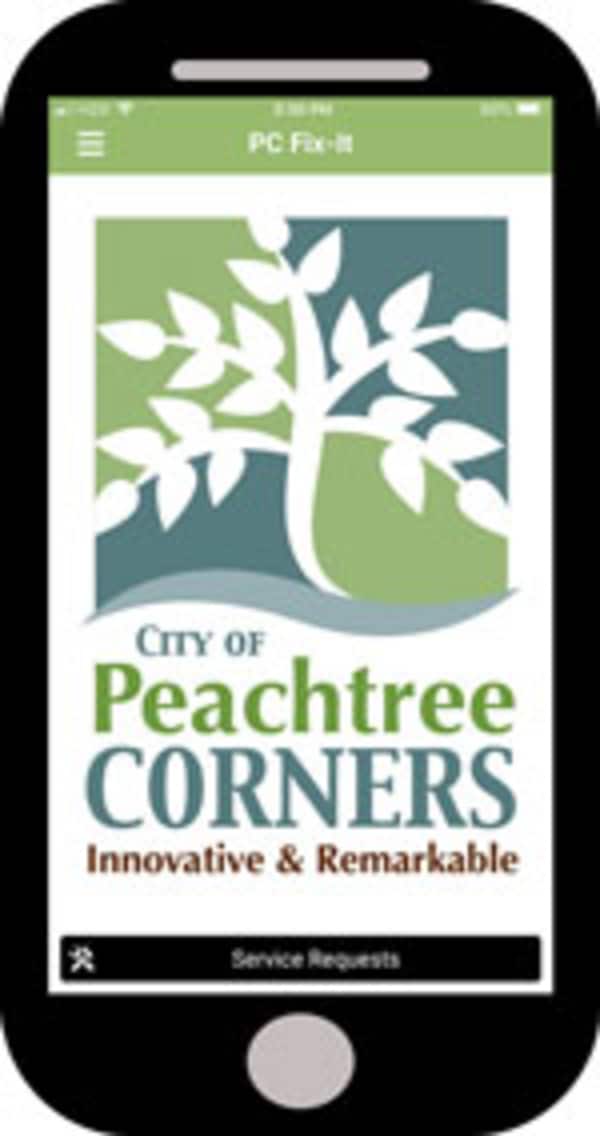 It's now easier than ever to report an local issue by using the free Peachtree Corners Fix-it app.
To Create a Report
Select "Create" from the menu.
Log in, create an account, or click "Create anonymously…"
Click the box under "Select a Report Type" and select a type from the menu that appears at the bottom, then click "Done".
Under "Where is the problem" click the map; set the location by entering an address in the search box or by clicking the location on the map, then click "Done".
Click in the box under "Tell us more details" to answer additional questions and/or enter a description of the problem. Please include the address.
Under "Add photos, video, or audio" click the paper clip icon to upload a file.
Click "SUBMIT".
To View the Status of a Report
Select "View" from the menu.
Select an item from the list, or click the map icon at the far right to see all reported issues on a map.
Click a flag on the map, then click the status box to see details of the report.
Tiffany P. Porter Takes Office as Gwinnett Tax Commissioner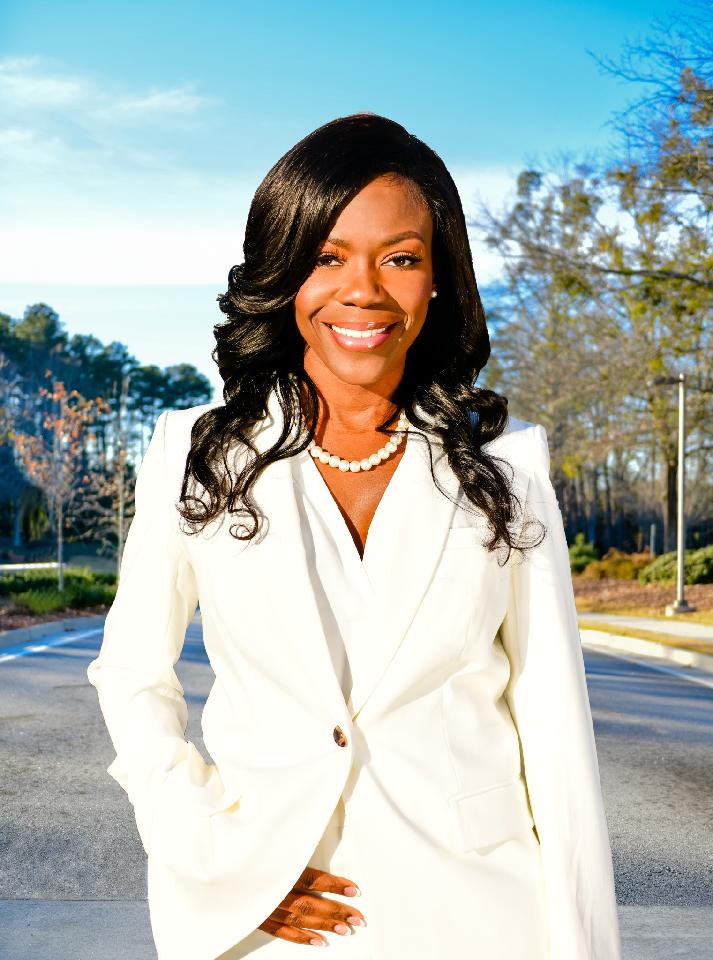 Tiffany P. Porter assumed the Office of the Tax Commissioner for Gwinnett County effective today, the first African American to do so in the county's history.
Porter campaigned on a platform of bringing a new type of leadership to Gwinnet that builds upon the legacy of past leaders.
"I'm honored that voters put their faith and trust in me," Porter said. "I believe in civic duty and promise to serve all Gwinnett residents to the best of my ability."
Prior to being elected tax commissioner, Porter served as the first African American judge in Duluth Municipal Court and had founded two law firms. In addition to serving on the bench and practicing law, Porter appears weekly as a legal analyst for the Court TV network.
Porter has a law degree from Emory University and was admitted in 2009 to the State Bar of Georgia. She also earned a master's degree in Business Administration from Georgia State University and a bachelor's degree from Hampton University, where she graduated with honors.
A 20-year resident of Gwinnett County and the mother of four, Porter is the first in her family to attend college and the first to earn a law degree. She is a 19-year member of Life Church International in Duluth, a 20-year member of Alpha Kappa Alpha Sorority, and a proud two-time breast cancer survivor.