Backyard Escapes Pt. 5: If You're Lucky, You'll Discover Happiness in Your Own Backyard Like Bob and Lori Howard in Forest Hills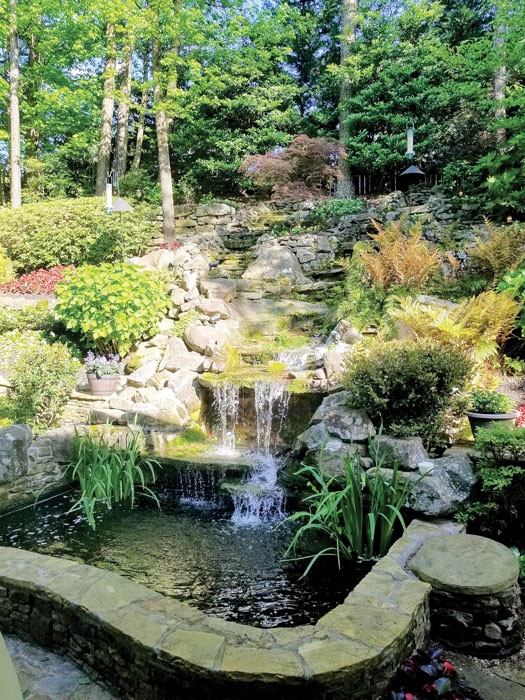 What if you could feel like you were in the north Georgia mountains every time you stepped outdoors? That was the inspiration for Bob and Lori Howard's posh backyard makeover upon settling into their retirement home.
An environmental engineer, Bob designed and supervised the transformation of their yard. A home designed for empty nesters doesn't come with the largest yard, but every square inch of this one is gorgeous.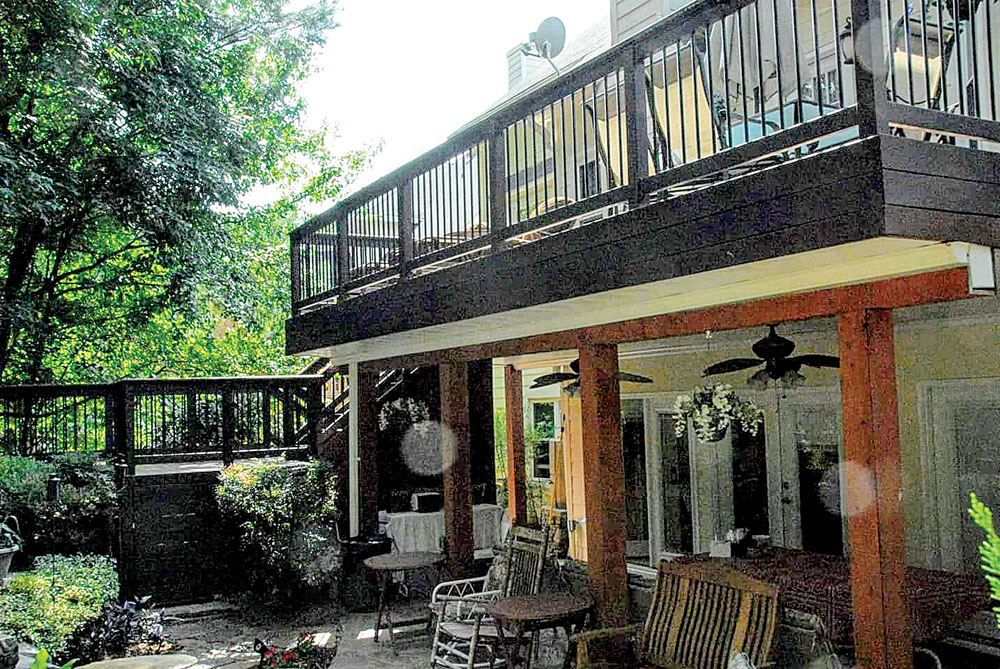 Taking advantage of the natural topography — their property slopes towards the back of the home — Bob had a vision of what could be there and brought it to life exquisitely. It's difficult to believe their yard once consisted of privet and a few short pine and other scrubby trees. "There was no landscaping. It was a cosmetic disaster," Lori recalled.
They were able to develop their outdoor space into a striking deck, a series of retaining walls and flowerbeds, a marvelous waterfall, koi pond and patio haven which they've been reveling in for 12 years.
"It's a comfortable place to be. We turn music on, have the waterfall going, drink a margarita and life is good," Bob said.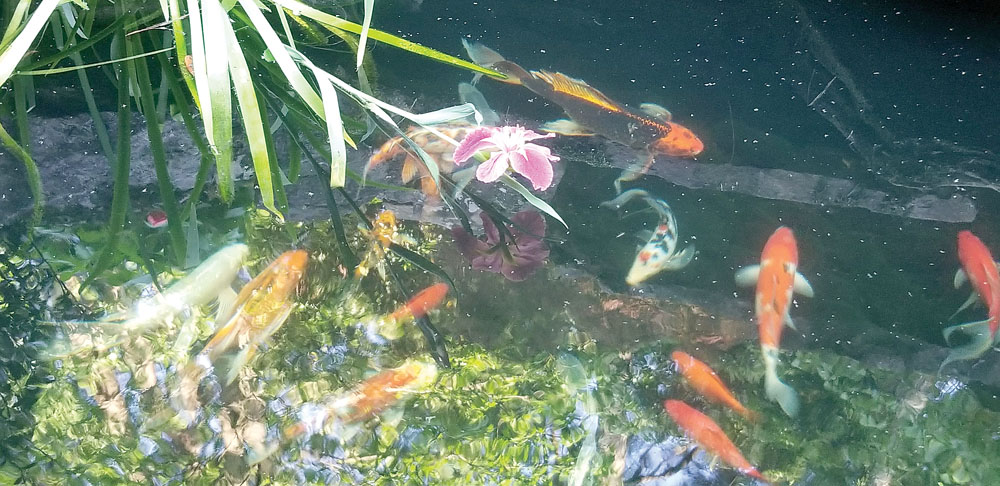 "We have under decking, ceiling fans, a fire pit and a warming light on the patio, so we can sit out almost year-round," Lori added.
Color changing landscape lights illuminate the waterfall at nighttime. From the patio, one has a breathtaking view of the waterfall.
Most evenings you'll find the Howards on their patio, listening to The Bridge on SiriusXM. "Bob also put in a sound system. I've had a live-in handyman for 40 years; I've been blessed," Lori smiled.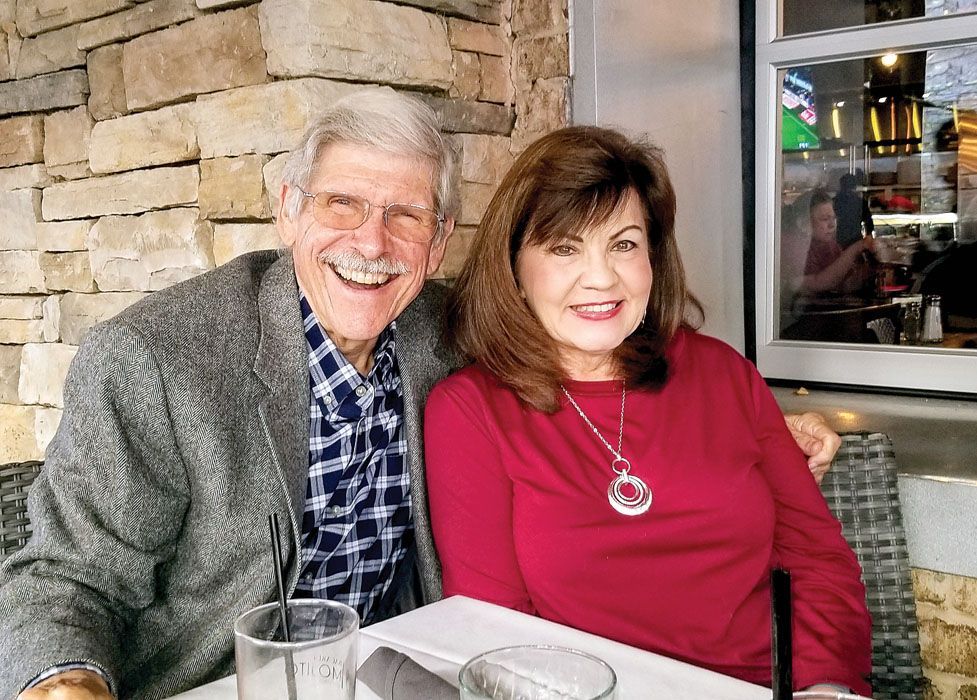 The Howards have been able to share their lovely surroundings with family and friends. Their friends were married here, they host neighborhood parties — not this year, of course. For their 70th birthday, they welcomed a large group of friends. A country western singer came from Nashville to perform for them.
"This is a good party house. It flows very nicely," Lori said.
Extreme Remodel
The stonework in the Howard garden is impressive. "There are probably 20 or 30 tons of stone and rock on the slope. I laid out where I wanted it with spray paint, bought the stone and the contractor, Nick Carillo, built it," Bob reported. The tiered, stacked stone retaining walls were built to create flat areas for planting flowerbeds.
Bob conceived the 3,500-gallon koi pond including the pumps, biological filter and UV light. "We have large koi. I designed it so the herons could not get access to fish," Bob said. "They can stand on the edge, but they can't get into the water to get any fish; it's over four feet deep."
A coyote's attempt at catching the fish was captured on their security camera. The fellow almost drowned after falling in, but he was able to scramble to safety.
Knock on Brazilian Wood
They originally had a poorly made deck that was falling off the house with nothing but earth underneath it — but Bob had plans to rebuild it. He selected premium Brazilian cherry wood for the new, sturdy deck. "I like the reddish color and it holds up longer than pressure-treated pine," Bob said. He designed and built the deck with his son's help.
"On our last deck, we used Trex composite wood. We love the way it looked but it holds a lot of heat in the summer," Bob said.
The new deck has a stair system with a boardwalk that goes over to the back slope. Steps lead to an area by the waterfall.
Carillo poured the foundation, reinforcing the sandstone patio for the posts. "I didn't want to have that much weight on the sandstone patio without having a foundation underneath," Bob said. "It has worked well. Knock on wood."
Pandemic Relief —Backyards for the Win
The couple hosted an engagement dinner for their youngest son and his fiancée in August. They've been able to gather with friends, one couple at a time, socially distanced on their patio. "That's how we've managed to do it, with people our age who have been quarantining and staying close to home like us," Lori said. "They wear masks when they come in. Outside we serve drinks, hors d'oeuvres and talk."
Gardening Is a Work of Heart
Amid a backdrop of hydrangeas, ferns, azaleas, Japanese maples and dogwoods, Carillo and his crew return every spring to plant annuals: begonias and impatiens. In the fall, they pull out the gardens and winterize the flowerbeds.
"Yearly, at the beginning of the season, I have to pressure wash and seal the sandstone patio," Bob said. "It has a water finish look; it's really quite beautiful."
The Howards have had four different homes in Peachtree Corners since 1984. This is their last. "You really want to have a nice backyard, a retreat you can enjoy," Bob said.
Norfolk Southern gifting historic Marco Polo railcar to Southeastern Railway Museum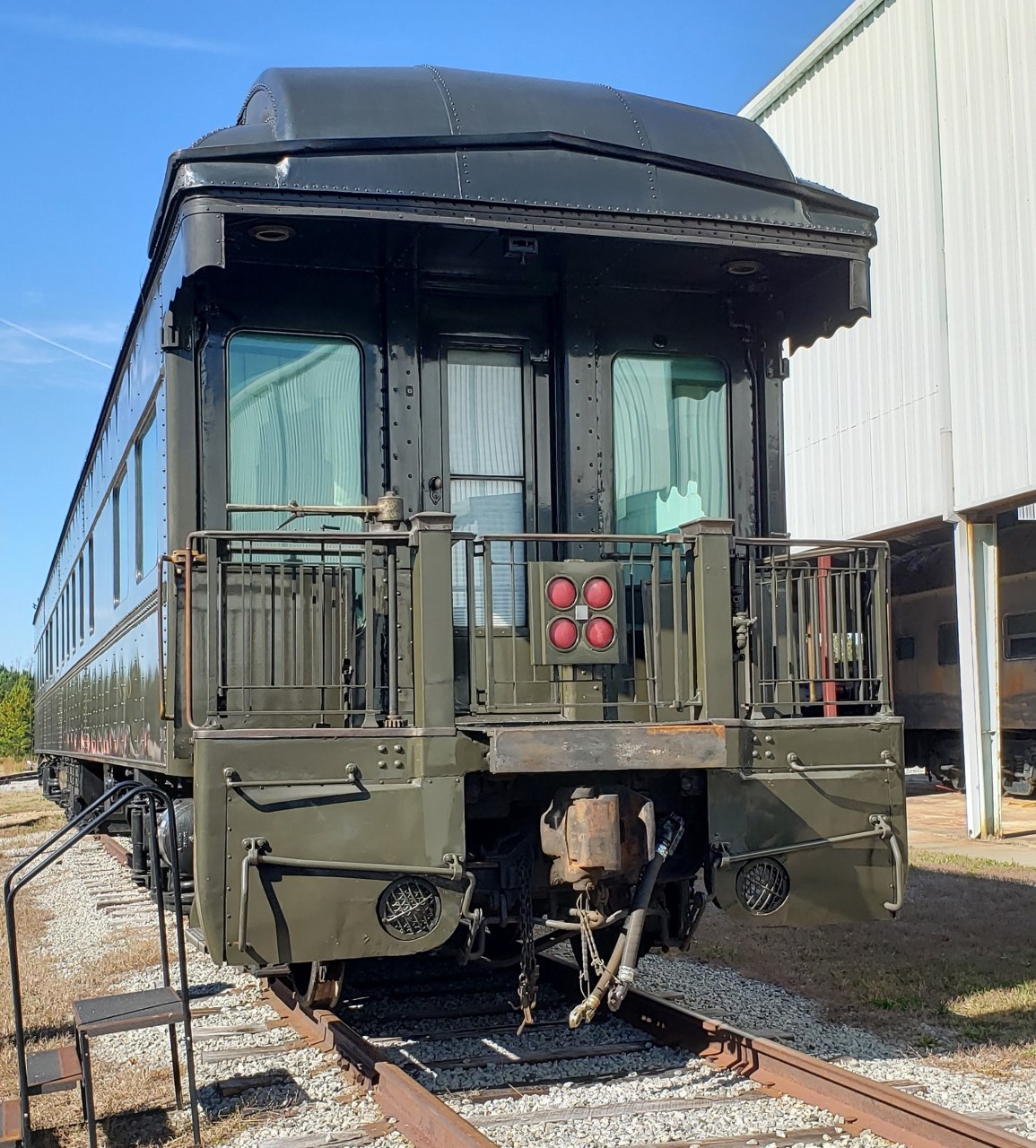 Norfolk Southern Corporation gifted the historic Marco Polo rail car, a car President Franklin D. Roosevelt used while in office, to the Southeastern Railway Museum in Duluth, Georgia.
The Pullman Company built the Marco Polo in 1927 as part of a small fleet of cars named for world explorers, reserving them for VIPs who chartered their own railcar. Roosevelt traveled in the car when he was governor of New York and later as president, using it on trips to and from Warm Springs, Georgia.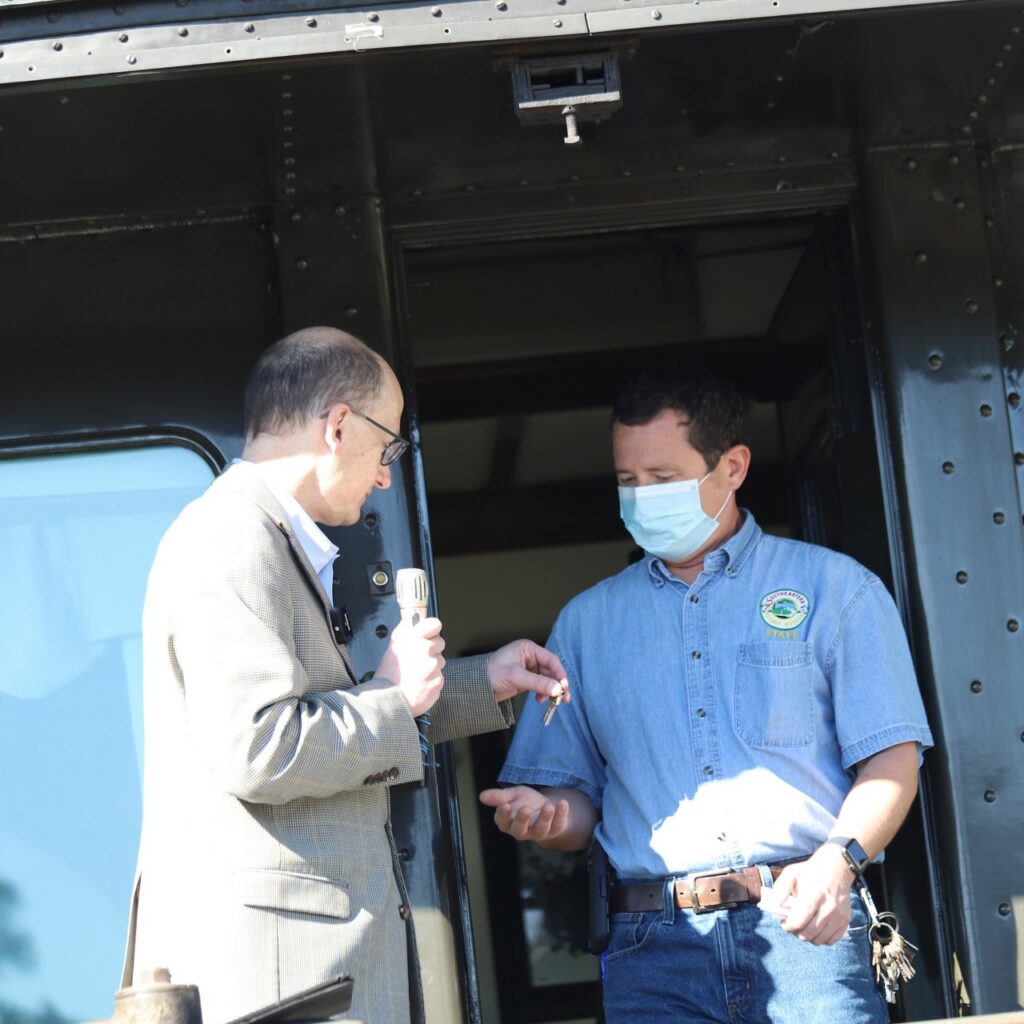 The car arrived at the museum at 11 a.m. on Nov. 14, and a brief unveiling ceremony followed. 

The museum displays the car on its 35-acre campus alongside the Superb, a Pullman car used by President Warren G. Harding.

"The Marco Polo is a critical piece of railroad history, and we are honored Norfolk Southern has entrusted us to help preserve the railcar and its story for future generations," said Sue Kelly, interim executive director of the Southeastern Railway Museum. "Railroads played an invaluable role in transporting presidents across the country. President Roosevelt had a unique connection to Georgia, and on his trips to Warm Springs, he regularly passed through Duluth and by what is today the museum, and we're excited to welcome the car back home."

The car also transported many dignitaries over the years, including Madame Chiang Kai-Shek, the wife of China's wartime president. She used the Marco Polo during a United States tour in 1943.

"The Marco Polo holds a unique place in Norfolk Southern history, and we couldn't think of a more appropriate location for the car to be displayed than at the Southeastern Railway Museum," said John Friedmann, Norfolk Southern VP Network Planning & Optimization. "As we move our headquarters to Atlanta, forging relationships with surrounding communities like Duluth and organizations dedicated to preserving railroads like Southeastern Railway Museum will be critical to making Atlanta feel even more like home."

The Central of Georgia, a Norfolk Southern predecessor railroad, bought the car in 1944 and converted it into an office. The Southern Railway assumed ownership of the car in 1963 after it merged with the Central of Georgia.

Over the years, the railroad has displayed the car, which was later renamed the Savannah, in Chattanooga, Tennessee, and at Union Station in Washington, D.C. For more than 25 years, Washington commuters walked past the Marco Polo, most not knowing the railcar's history as a predecessor to Air Force 1.

For more information about Norfolk Southern, visit norfolksouthern.com/. For more information about the Southeastern Railway Museum, visit southeasternrailwaymuseum.org/.
Source: Press Release from the Southeastern Railway Museum
Lawrenceville and Aurora Theatre celebrate "Topping Out" of new Lawrenceville Performing Arts Center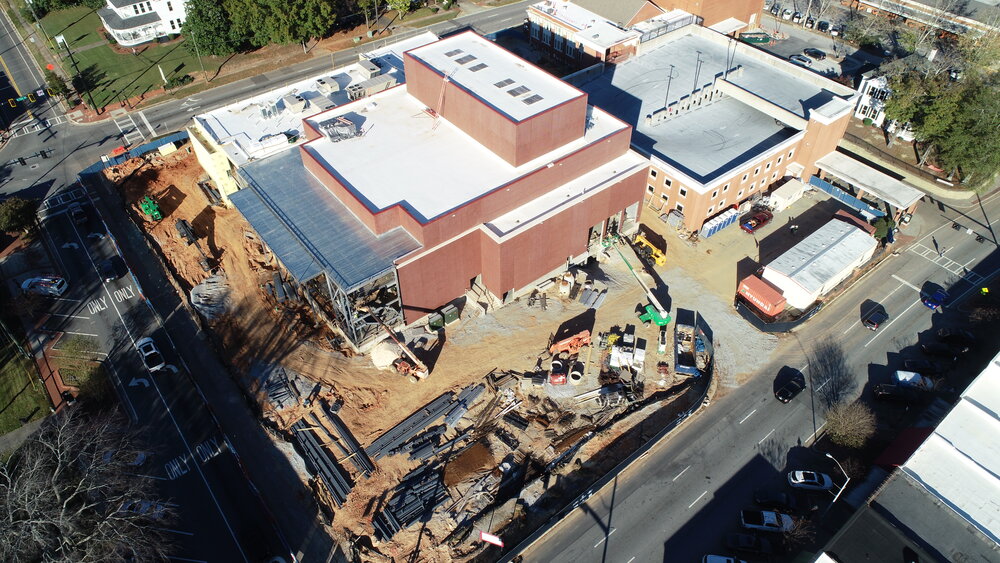 To commemorate the placing of the final structural beam for the expanded Lawrenceville Performing Arts Center (LPAC), the City of Lawrenceville Mayor and Council; Downtown Development Authority; representatives from the Aurora Theatre; Carroll Daniel Construction; Croft and Associates; and Community leaders gathered for a Topping Out Ceremony at the site of the new facility in Downtown Lawrenceville.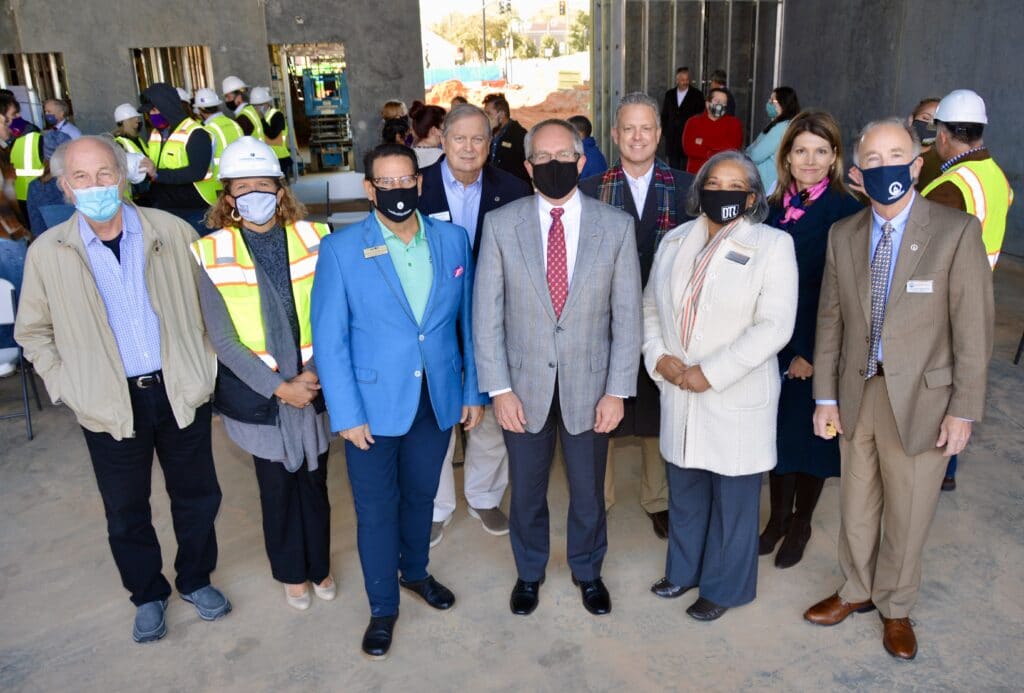 "The completion and grand opening of this facility will be a visual representation of Lawrenceville's commitment to the arts," said Mayor David Still. "A 15-year partnership with Aurora Theatre and many years of hard work on the part of numerous determined individuals have delivered a one-of-a-kind project placing Lawrenceville in the spotlight as an arts-centered community."
Construction began on the $35-million facility in June 2019 and continued throughout the recent pandemic. The 56,000 square-foot Lawrenceville Performing Arts Center will house a 500-seat theater; Cabaret; indoor and outdoor civic spaces; and rooms for office and educational programming. It will be home of the second largest professional theater company in Georgia and Gwinnett's only professional performing arts organization, Aurora Theatre. In October 2020, the City of Lawrenceville approved an additional $4-million in facility upgrades to improve air quality, offer hands-free devices, create a safe physical environment and provide appropriate sanitizing equipment for patrons, performers and staff.
Anthony Rodriguez, Co-Founder and Producing Artistic Director of Aurora Theatre shared, "The City of Lawrenceville believes in the power of art as a force multiplier that can transform community, and as the Lawrenceville Performing Arts Center prepares to open, the region will see that vision tangibly expressed … none of this would be possible without what is truly a remarkable and unprecedented partnership with the city that should serve as a model for communities nationwide."
Aurora Theatre is home to the highest level of artistic excellence in the region, serving communities and offering performing arts experiences that nurture a love of theatre in a multigenerational space. Leading the way as a performing arts venue despite industry challenges posed by the 2020 landscape, the regional theater has managed to find new platforms and open-air venues to host meaningful live events at a safe distance. While the theater is currently dark due to coronavirus concerns, Aurora Theatre continues to engage with audiences through alternative programming, including its Digital Series and Our Stage Onscreen performance initiatives.
Construction on the expanded facility is expected to be complete in the spring with a target date for opening in May 2021.
For additional information about the City of Lawrenceville, please visit lawrencevillega.org or follow the City on social media. For more information on Aurora Theatre, call the Box Office at 678.226.6222 or visit auroratheatre.com
Peachtree Corners New Town Center Pedestrian Bridge Opens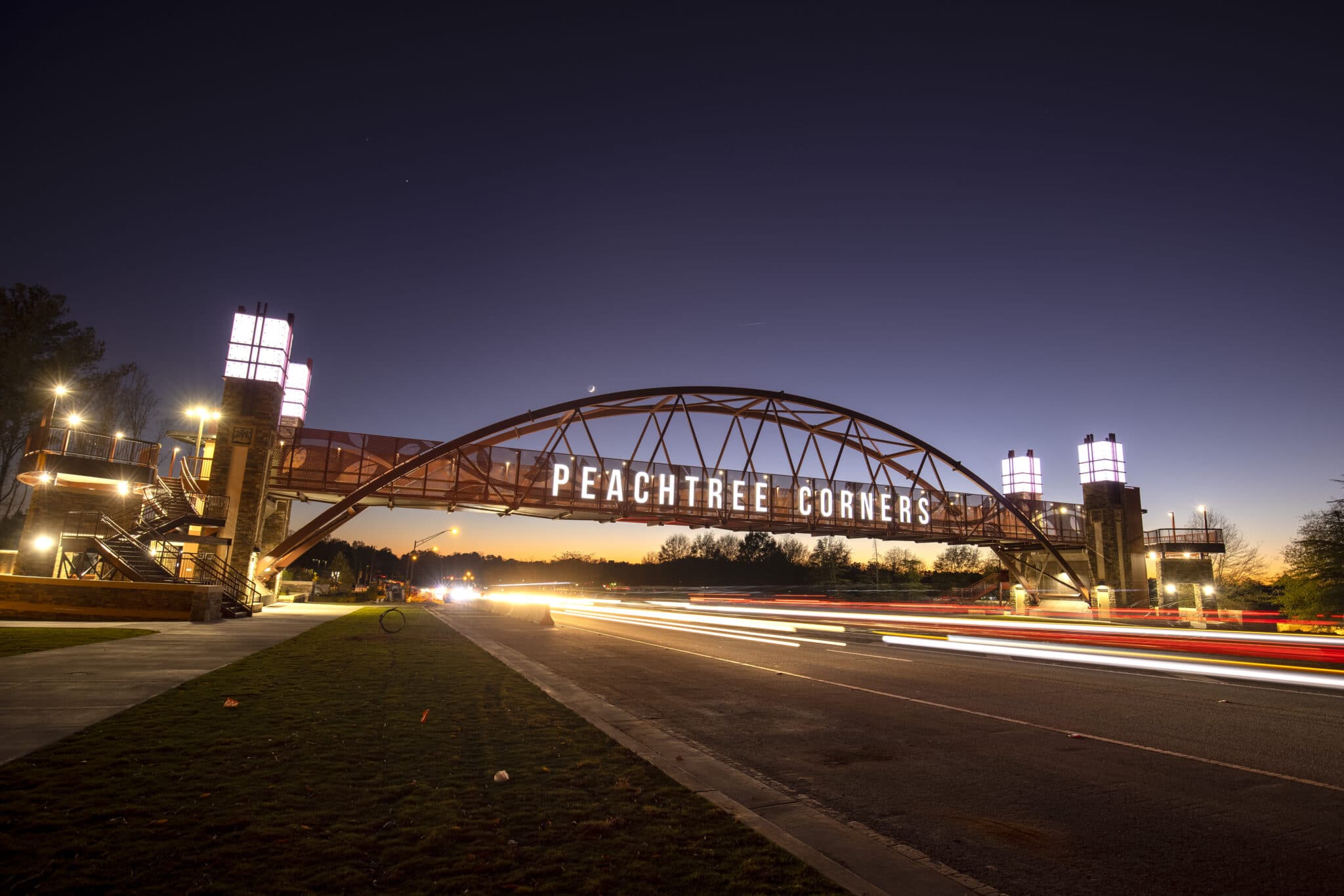 Late afternoon on November 17, Peachtree Corners celebrated the opening of its new pedestrian bridge. With a quick snip from a pair of oversized scissors by the mayor, the ribbon that stretched across the 14-foot walkway of the city's new pedestrian bridge fell away as he, along with the city council and invited dignitaries looked on.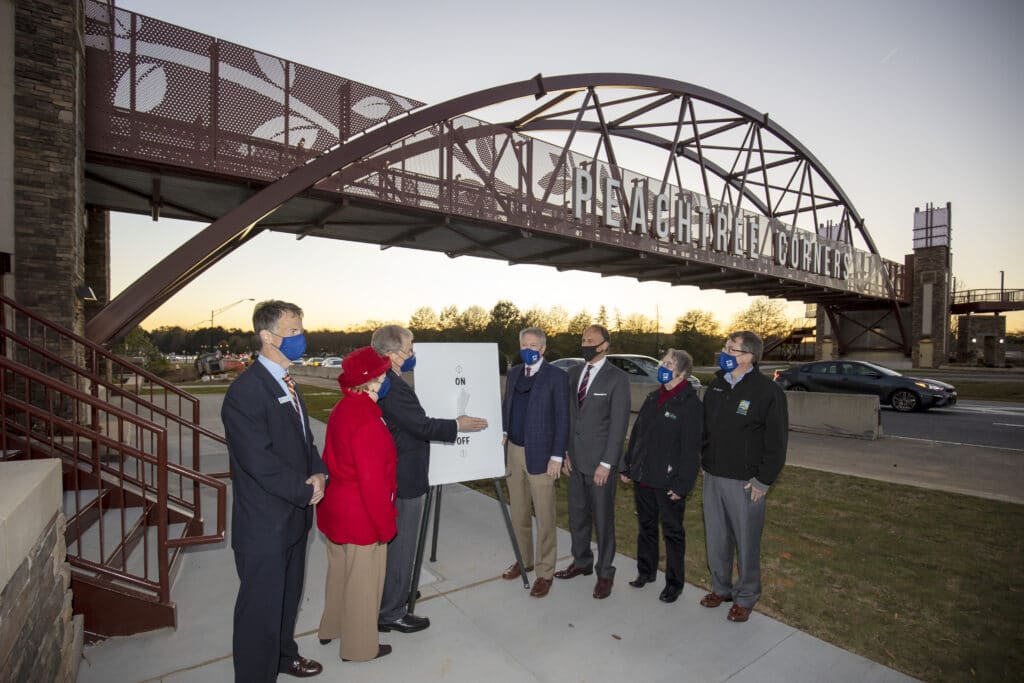 And with that, the city's long-awaited Town Center pedestrian bridge was finally officially open. It brought applause all around from Mayor Mike Mason, Council members Weare Gratwick, Phil Sadd, Eric Christ, Alex Wright, Jeanne Aulbach, Lorri Christopher, invited dignitaries and guests who had gathered in the center of the new bridge for the official celebration.
"We've waited a long time to experience this moment," said Mayor Mike Mason. "We are thankful that the city now has a safe way for our residents and visitors to cross over Peachtree Parkway to the Town Center. It was a real challenge to cross the road on foot, especially for families with young children in tow. Now everyone will be able to cross the road safely."
Prior to the bridge's deployment, pedestrian safety was a major concern for city officials.
"On the south end of Peachtree Corners, this corridor carries nearly 100,000 vehicles per day. That is second only to Interstate 85 as the heaviest volume roadway in Gwinnett County," Greg Ramsey, the city's Public Works Director.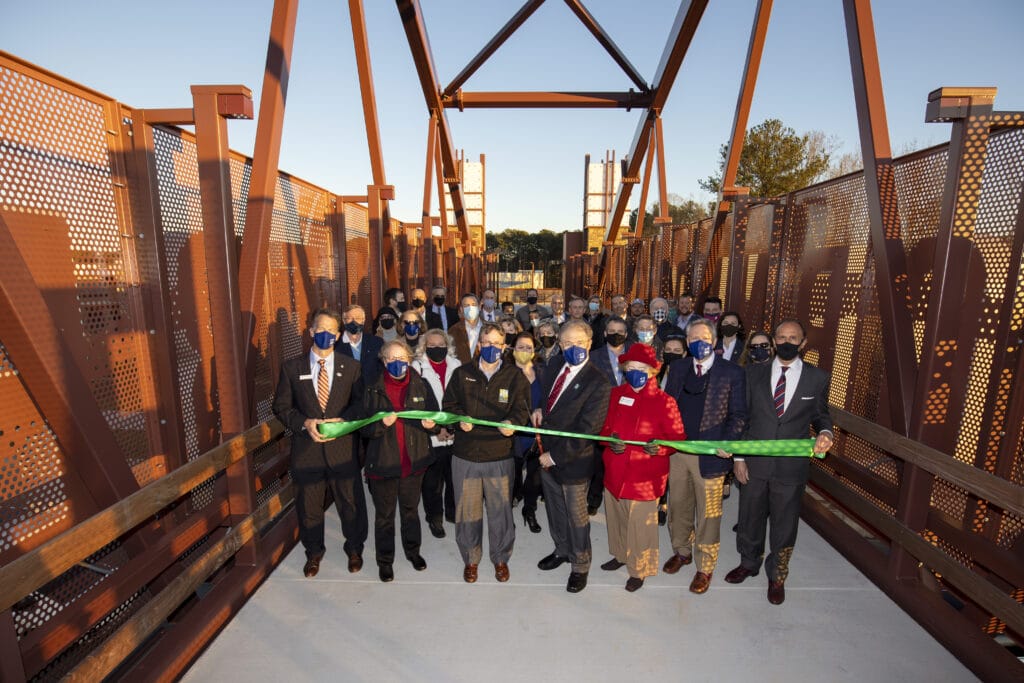 As a nod to the original Jones Bridge that once spanned the Chattahoochee River nearby, the new pedestrian bridge was designed to reflect the style of the historic bridge that a century ago carried traffic and pedestrians from Gwinnett to Fulton County. Taking a page from its history, the color of the old and new bridge are also the same.
While the city's new thrust arch style bridge is a reminder of days gone by, that's where the old and the new part ways. Designed by the local engineering firm of Michael Baker International, the new pedestrian structure features two elevators and two sets of stairs and connects the city's Town Center with The Forum shopping center. The Town Center bridge is approximately 45 feet high (from ground to the top of the arches) with a 190-foot walkway.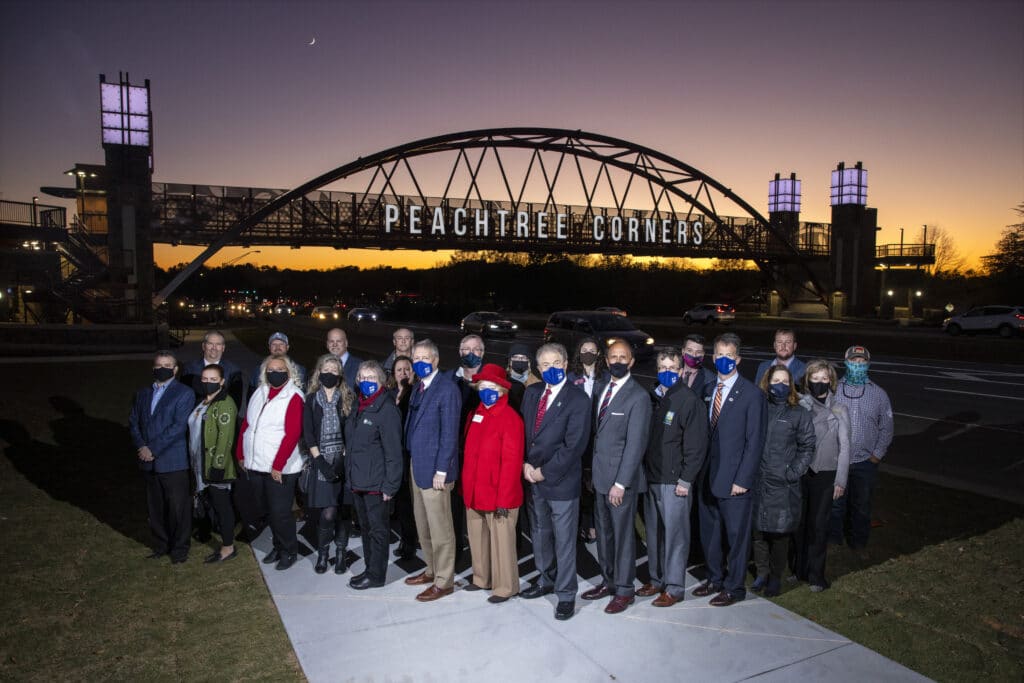 "The completion of this bridge not only provides a safe connection between two prominent shopping and entertainment districts," said City Manager Brian Johnson, "but it also provides an expansion opportunity for the city's multi-use trail system."
The idea for a pedestrian bridge evolved from one of the goals established in the city's first Comprehensive Plan. Adopted in 2013, the Comprehensive Plan identified five major goals
including the development of features that would "unify and connect" key parts of the city.
City leaders had already been discussing developing a Town Center on the 21-acre undeveloped property fronting S.R. 141 near the intersection with Medlock Bridge Road.
One major concern was how to safely connect what would become the city's downtown area with the existing Forum shopping center and the many residents whose homes were located on the west side of Peachtree Parkway. A pedestrian bridge would solve that dilemma and serve as a key link to Peachtree Corners' emerging multi-use trail.
"The bridge team is very happy to see this segment of the overall Corners Connector trail open
and available to the community," said Greg Ramsey, the city's Public Works Director. This is
now a safe and efficient crossing over a very busy highway, and its placemaking will serve the
community well into the future."
On-site construction began in fall 2019. By this time next year, the bridge will connect to a trail along the stream that is adjacent to the Town Center. That part of the Corners Connector Trail system will provide connectivity to existing trails along Peachtree Corners Circle and Medlock Bridge Road. Those trail segments connect to existing path infrastructure that stretches north to Duluth and beyond.
For the thousands of pedestrians who will use the new elevated walkway with its expansive view, the city's new bridge was well worth the wait.
Sources:
Press release by the City of Peachtree Corners
Gregory Ramsey, PE, Director of Public Works & Engineering