Lane Closures This Week, August 17-21, and Weekend Road Closure for the Pedestrian Bridge on S.R. 141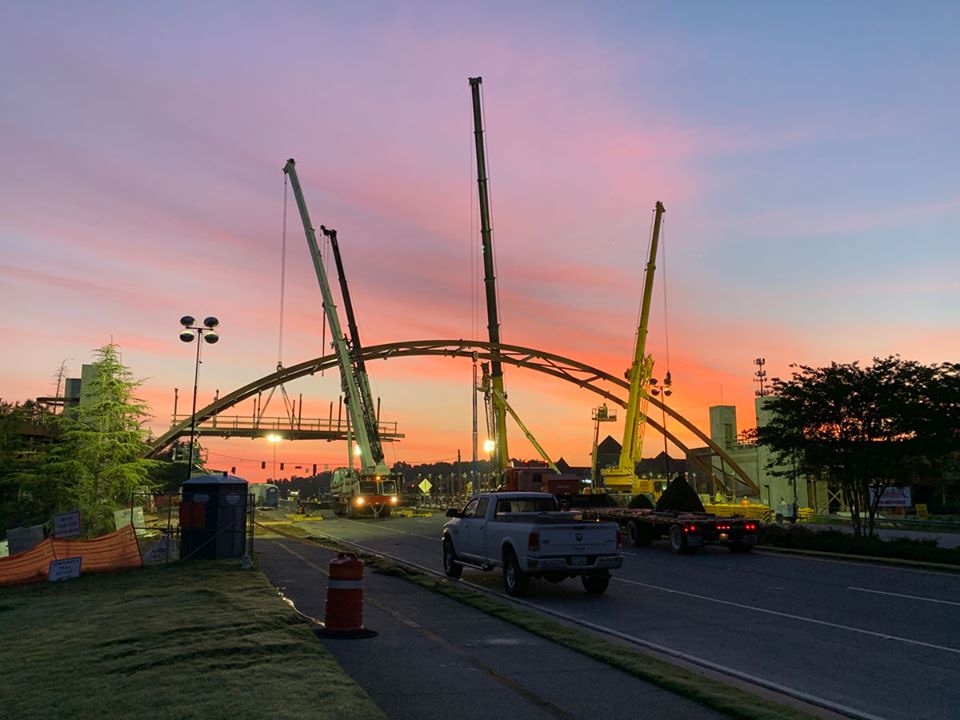 Construction on the pedestrian bridge that will connect the Town Center and The Forum is currently underway. To complete the project, a portion of S.R. 141 (Peachtree Parkway) between E. Jones Bridge Road/Medlock Bridge Road and Peachtree Corners Circle will be having single lane closures throughout the week and will also be closed to traffic next weekend.
During the closures, Medlock Bridge Road and Peachtree Corners Circle around the Town Center will be used as detours for both northbound and southbound traffic.
The schedule at this point, barring any weather delays, is for single lane closures to happen from Monday, August 17 through Friday, August 21 and will not require any detours. The complete road closure will take place Friday, from 9 p.m. August 21 through 5 a.m. August 24. This time will be used to install the pedestrian panels and other miscellaneous items.
Watch for message boards with the detour schedules. This schedule is, of course, subject to change should bad weather delay the installation plans.
Construction on the pedestrian bridge is expected to be fully completed by the fall. We will continue to update you on the progress.
Lawrenceville and Aurora Theatre celebrate "Topping Out" of new Lawrenceville Performing Arts Center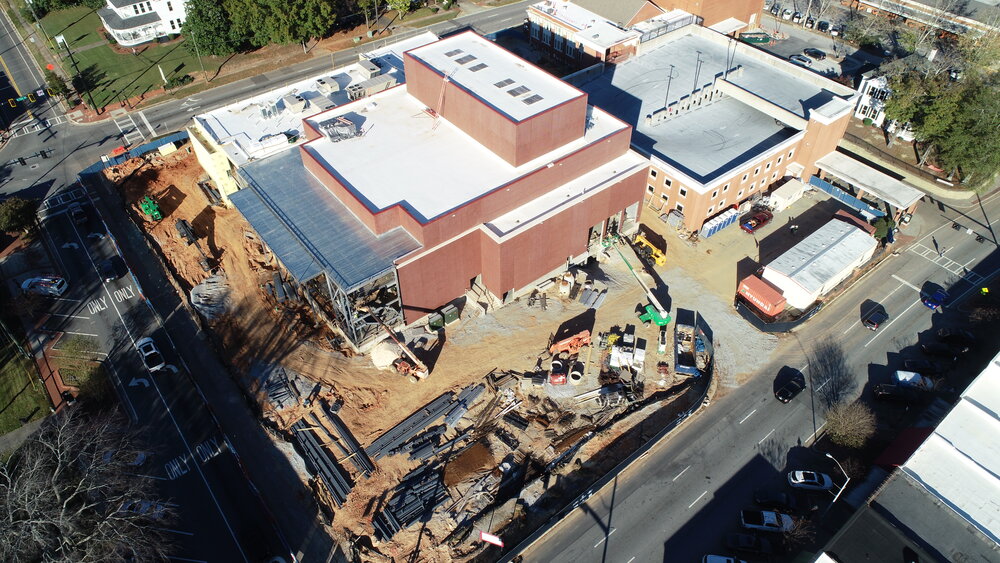 To commemorate the placing of the final structural beam for the expanded Lawrenceville Performing Arts Center (LPAC), the City of Lawrenceville Mayor and Council; Downtown Development Authority; representatives from the Aurora Theatre; Carroll Daniel Construction; Croft and Associates; and Community leaders gathered for a Topping Out Ceremony at the site of the new facility in Downtown Lawrenceville.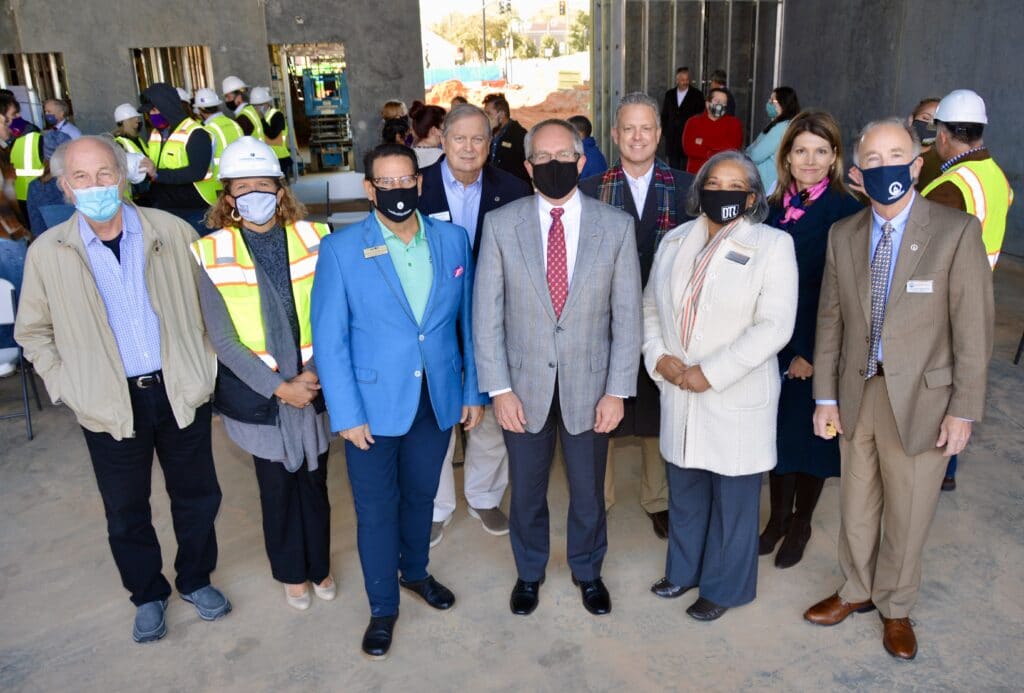 "The completion and grand opening of this facility will be a visual representation of Lawrenceville's commitment to the arts," said Mayor David Still. "A 15-year partnership with Aurora Theatre and many years of hard work on the part of numerous determined individuals have delivered a one-of-a-kind project placing Lawrenceville in the spotlight as an arts-centered community."
Construction began on the $35-million facility in June 2019 and continued throughout the recent pandemic. The 56,000 square-foot Lawrenceville Performing Arts Center will house a 500-seat theater; Cabaret; indoor and outdoor civic spaces; and rooms for office and educational programming. It will be home of the second largest professional theater company in Georgia and Gwinnett's only professional performing arts organization, Aurora Theatre. In October 2020, the City of Lawrenceville approved an additional $4-million in facility upgrades to improve air quality, offer hands-free devices, create a safe physical environment and provide appropriate sanitizing equipment for patrons, performers and staff.
Anthony Rodriguez, Co-Founder and Producing Artistic Director of Aurora Theatre shared, "The City of Lawrenceville believes in the power of art as a force multiplier that can transform community, and as the Lawrenceville Performing Arts Center prepares to open, the region will see that vision tangibly expressed … none of this would be possible without what is truly a remarkable and unprecedented partnership with the city that should serve as a model for communities nationwide."
Aurora Theatre is home to the highest level of artistic excellence in the region, serving communities and offering performing arts experiences that nurture a love of theatre in a multigenerational space. Leading the way as a performing arts venue despite industry challenges posed by the 2020 landscape, the regional theater has managed to find new platforms and open-air venues to host meaningful live events at a safe distance. While the theater is currently dark due to coronavirus concerns, Aurora Theatre continues to engage with audiences through alternative programming, including its Digital Series and Our Stage Onscreen performance initiatives.
Construction on the expanded facility is expected to be complete in the spring with a target date for opening in May 2021.
For additional information about the City of Lawrenceville, please visit lawrencevillega.org or follow the City on social media. For more information on Aurora Theatre, call the Box Office at 678.226.6222 or visit auroratheatre.com
Peachtree Corners New Town Center Pedestrian Bridge Opens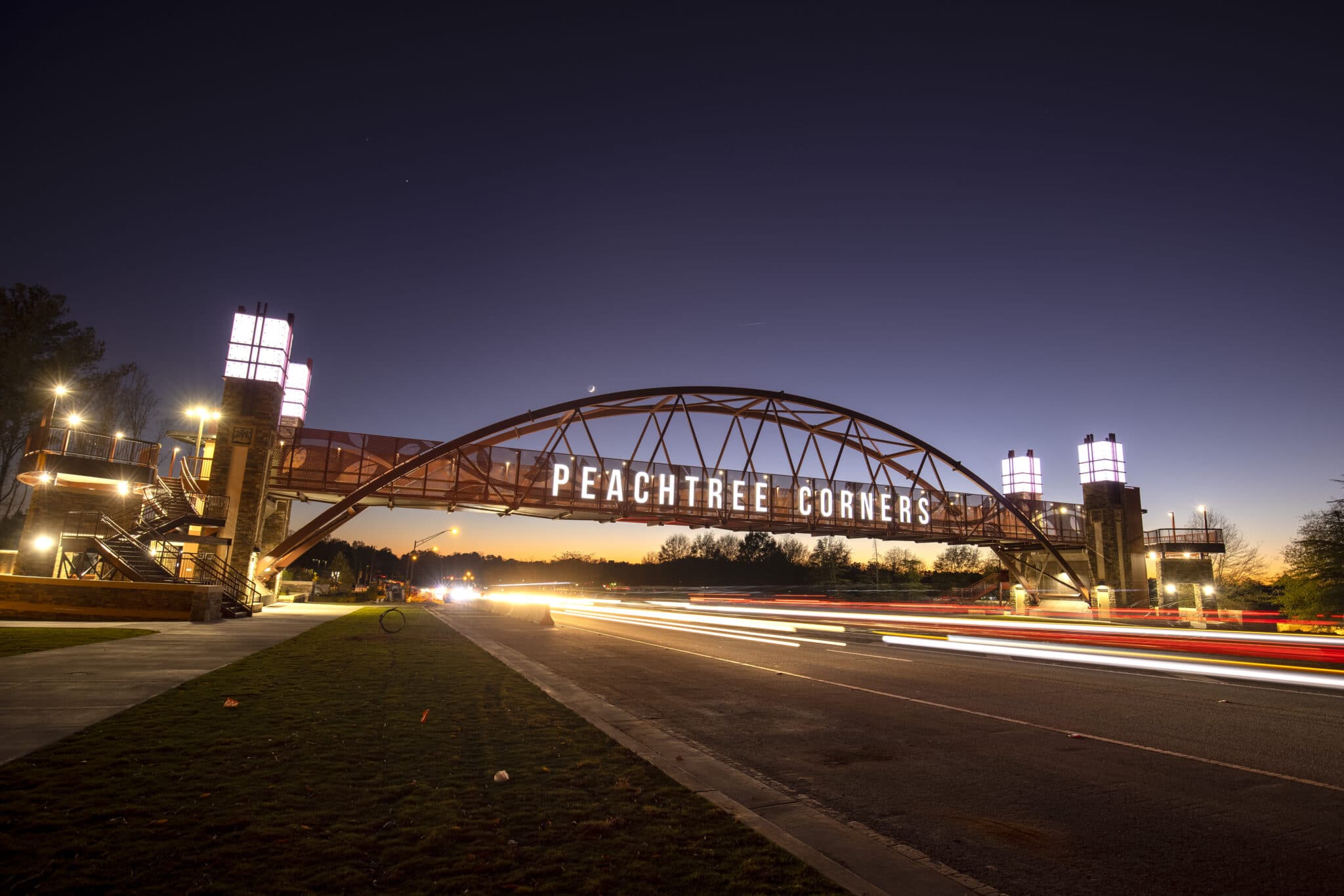 Late afternoon on November 17, Peachtree Corners celebrated the opening of its new pedestrian bridge. With a quick snip from a pair of oversized scissors by the mayor, the ribbon that stretched across the 14-foot walkway of the city's new pedestrian bridge fell away as he, along with the city council and invited dignitaries looked on.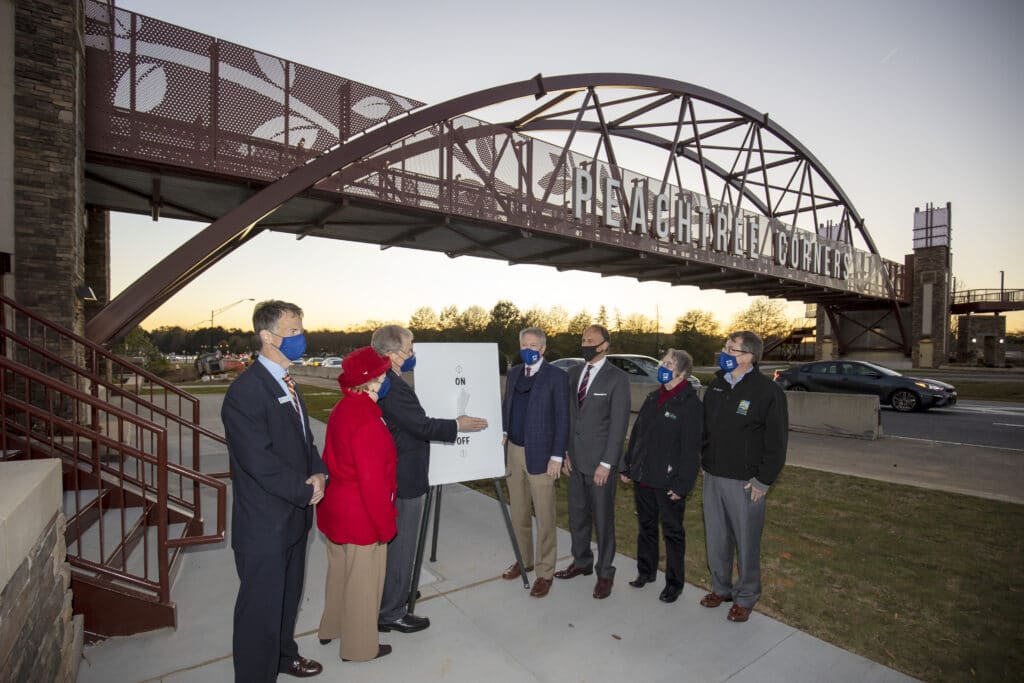 And with that, the city's long-awaited Town Center pedestrian bridge was finally officially open. It brought applause all around from Mayor Mike Mason, Council members Weare Gratwick, Phil Sadd, Eric Christ, Alex Wright, Jeanne Aulbach, Lorri Christopher, invited dignitaries and guests who had gathered in the center of the new bridge for the official celebration.
"We've waited a long time to experience this moment," said Mayor Mike Mason. "We are thankful that the city now has a safe way for our residents and visitors to cross over Peachtree Parkway to the Town Center. It was a real challenge to cross the road on foot, especially for families with young children in tow. Now everyone will be able to cross the road safely."
Prior to the bridge's deployment, pedestrian safety was a major concern for city officials.
"On the south end of Peachtree Corners, this corridor carries nearly 100,000 vehicles per day. That is second only to Interstate 85 as the heaviest volume roadway in Gwinnett County," Greg Ramsey, the city's Public Works Director.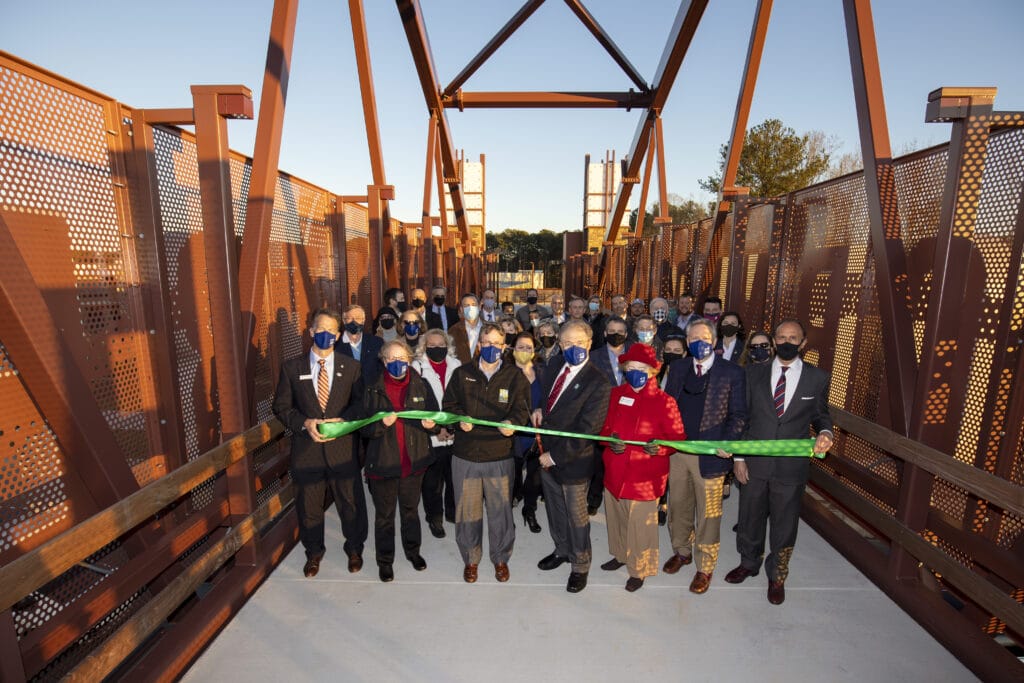 As a nod to the original Jones Bridge that once spanned the Chattahoochee River nearby, the new pedestrian bridge was designed to reflect the style of the historic bridge that a century ago carried traffic and pedestrians from Gwinnett to Fulton County. Taking a page from its history, the color of the old and new bridge are also the same.
While the city's new thrust arch style bridge is a reminder of days gone by, that's where the old and the new part ways. Designed by the local engineering firm of Michael Baker International, the new pedestrian structure features two elevators and two sets of stairs and connects the city's Town Center with The Forum shopping center. The Town Center bridge is approximately 45 feet high (from ground to the top of the arches) with a 190-foot walkway.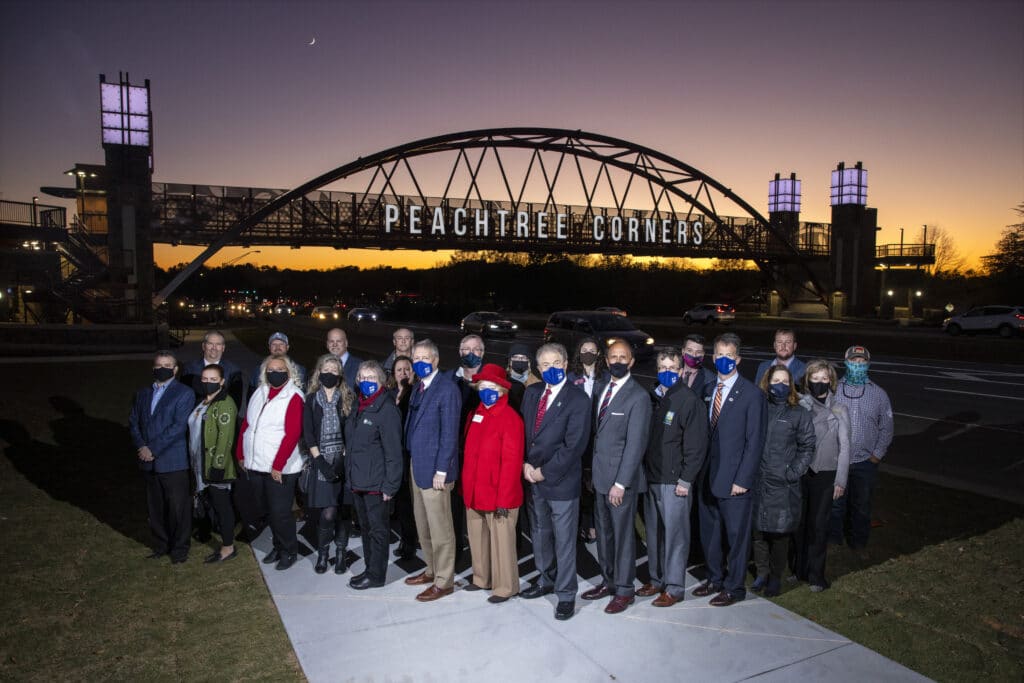 "The completion of this bridge not only provides a safe connection between two prominent shopping and entertainment districts," said City Manager Brian Johnson, "but it also provides an expansion opportunity for the city's multi-use trail system."
The idea for a pedestrian bridge evolved from one of the goals established in the city's first Comprehensive Plan. Adopted in 2013, the Comprehensive Plan identified five major goals
including the development of features that would "unify and connect" key parts of the city.
City leaders had already been discussing developing a Town Center on the 21-acre undeveloped property fronting S.R. 141 near the intersection with Medlock Bridge Road.
One major concern was how to safely connect what would become the city's downtown area with the existing Forum shopping center and the many residents whose homes were located on the west side of Peachtree Parkway. A pedestrian bridge would solve that dilemma and serve as a key link to Peachtree Corners' emerging multi-use trail.
"The bridge team is very happy to see this segment of the overall Corners Connector trail open
and available to the community," said Greg Ramsey, the city's Public Works Director. This is
now a safe and efficient crossing over a very busy highway, and its placemaking will serve the
community well into the future."
On-site construction began in fall 2019. By this time next year, the bridge will connect to a trail along the stream that is adjacent to the Town Center. That part of the Corners Connector Trail system will provide connectivity to existing trails along Peachtree Corners Circle and Medlock Bridge Road. Those trail segments connect to existing path infrastructure that stretches north to Duluth and beyond.
For the thousands of pedestrians who will use the new elevated walkway with its expansive view, the city's new bridge was well worth the wait.
Sources:
Press release by the City of Peachtree Corners
Gregory Ramsey, PE, Director of Public Works & Engineering
City of Peachtree Corners to Install Safety Cameras with License Plate Technology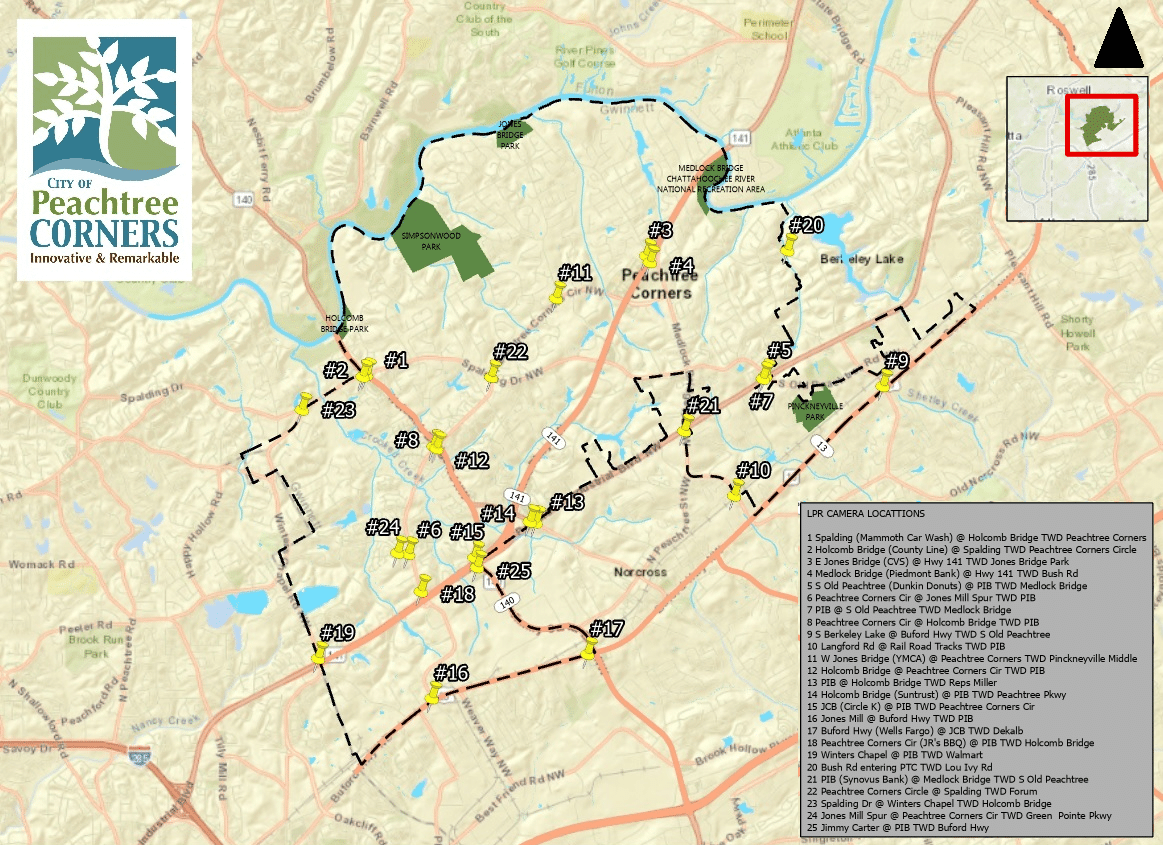 At its October meeting, the Peachtree Corners City Council unanimously approved a contract for 25 license plate reader (LPR) cameras to be installed at major ingress/egress points to capture vehicles entering and exiting the city.
The information collected by the cameras will assist Gwinnett County Police Department
(GCPD) in investigating cases such as those involving stolen vehicles, entering autos, thefts,
property damage and more. Data will be stored in a cloud server for 30 days and will only be
accessed by GCPD
"The City Council and I consider community safety of utmost importance," said Mayor Mike
Mason. "The Gwinnett County Police Department provides excellent service to our residents
and businesses, but we felt there was more that we could do to enhance the safety of our city."
The solar-powered cameras will be mounted on 10-foot poles and positioned to capture
vehicles entering and exiting the city. The locations of the 25 cameras were selected by the
GCPD based on criteria such as traffic counts, crime rates, and types of activity in the
immediate area. A map showing the locations is included.
More Details:
• The cameras will take still photos of objects that enter the camera's field of view. For vehicles, data from the captured image will include a timestamp, a vehicle's make and model, color, and license plate number.
• GCPD will use the information captured by the cameras to identify vehicles that are associated with illegal activity or are of interest to authorities. A real-time alert will be sent to GCPD Officers for vehicles that meet the criteria.
• The cameras will operate 24 hours per day and will also capture non-vehicular images such as that of pedestrians and cyclists.
• The cameras are not designed and will not be used for speed or red-light enforcement.
• LPR cameras help police solve more crimes and reduce criminal activity.
"This installation of LPR cameras will help fill the gap in camera coverage that currently exists in the area and is a great example of the city using technology and innovation to help GCPD protect our community," said City Manager Brian Johnson.
Roughly one-third of police departments in the metro area use LPR camera technology to address crime. Earlier this year, an LPR camera located in Gwinnett County helped police apprehend a man wanted for murder. Police were alerted that a vehicle driven by the suspect had just passed through a particular intersection and they were able to apprehend the suspect and make an arrest. In Sandy Springs, an LPR camera assisted police in capturing an alleged porch pirate who was later connected to hundreds of cases of mail fraud across the country. And in Cobb County, LPR cameras helped local police capture criminals that later were connected to other unrelated crimes.
"These cameras have become an extremely valuable resource for the police department when it comes to solving crime," said Corporal Collin Flynn, of Gwinnett Police Department's Public Information Office. "Officers are able to use the footage from these cameras to identify vehicles immediately after a crime occurs. This technology has been instrumental in solving a multitude of crimes in Gwinnett County and has helped officers recover over 100 stolen vehicles."
Installation is expected to take 6 – 8 weeks and will begin in December. The city will lease the cameras for $2,500 per camera, maintenance, repairs and replacement are included.