Places to Order Food to-go and Delivered from Local Restaurants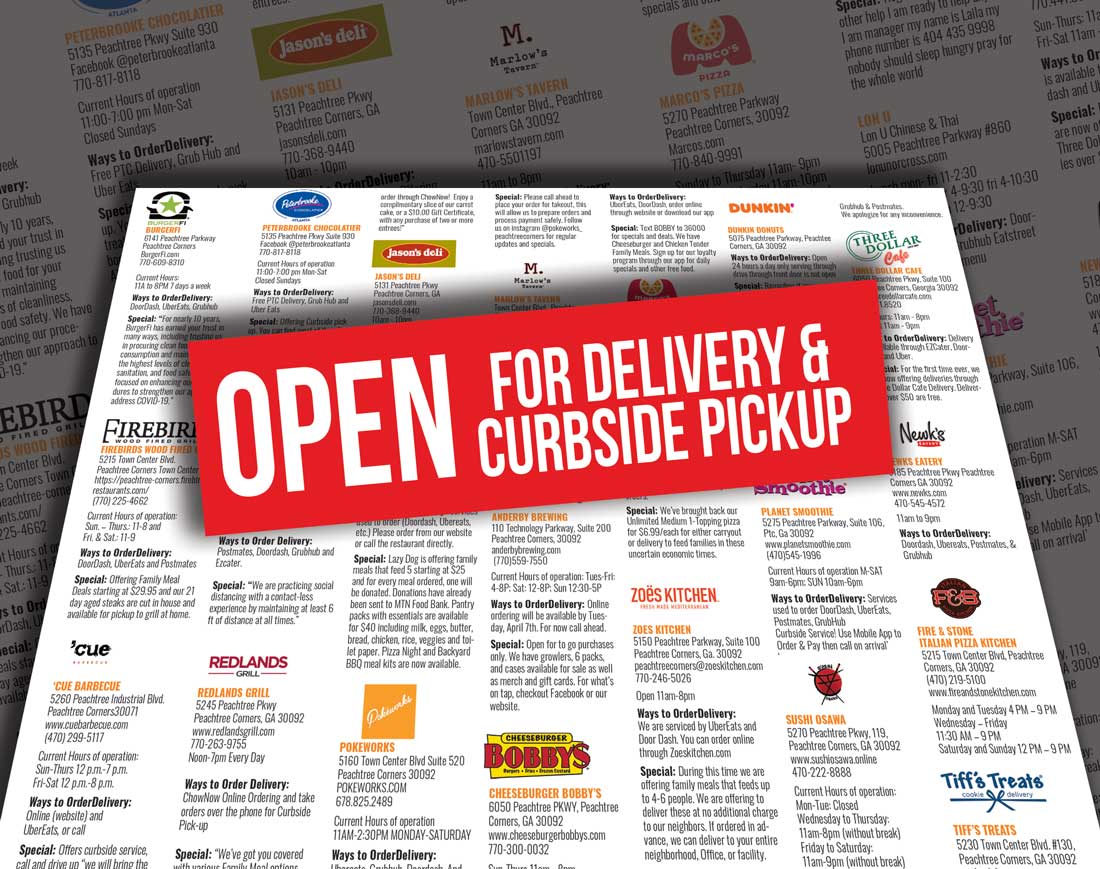 Order your food in or curbside pickup while "stay-at-home" order in effect
Please check the restaurant website, social sites or call for updated information. This list of 22 restaurants and food places was last updated 4/7/20.
BurgerFi
6141 Peachtree Parkway, Peachtree Corners
BurgerFi.com | 770-609-8310
Current Hours: 11A to 8PM 7 days a week
Ways to OrderDelivery: DoorDash, UberEats, Grubhub
Special: "For nearly 10 years, BurgerFi has earned your trust in many ways, including trusting us in procuring clean food for your consumption and maintaining the highest levels of cleanliness, sanitation, and food safety. We have focused on enhancing our procedures to strengthen our approach to addressing COVID-19."

---
Firebirds Wood Fired Grill
5215 Town Center Blvd., Peachtree Corners Town Center
(770) 225-4662 | https://peachtree-corners.firebirdsrestaurants.com/
Current Hours of operation:  Sun. – Thurs.: 11-8 and Fri. & Sat.: 11-9
Ways to OrderDelivery: DoorDash, UberEats and Postmates
Special: Offering Family Meal Deals starting at $29.95 and our 21-day aged steaks are cut in house and available for pickup to grill at home.
---
'cue Barbecue
5260 Peachtree Industrial Blvd., Peachtree Corners30071
www.cuebarbecue.com | (470) 299-5117
Current Hours of operation: Sun-Thurs 12 p.m.-7 p.m. Fri-Sat 12 p.m.-8 p.m.
Ways to OrderDelivery: Online (website) and UberEats, or call
Special: Offers curbside service, call and drive up "we will bring the food out to you."
---
Peterbrooke Chocolatier
5135 Peachtree Pkwy Suite 930, Peachtree Corners
Facebook @peterbrookeatlanta
770-817-8118
Current Hours of operation: 11:00-7:00 pm Mon-Sat Closed Sundays
Ways to OrderDelivery: Free PTC Delivery, Grub Hub and Uber Eats
Special: Offering Curbside pick up. You can find most of their Easter treats with an order form on Facebook Album (Easter 2020).
Also Free Local Delivery to PTC.
---
Beard Papa's Peachtree Corners
5215 Town Center Blvd. Suite 620, Peachtree Corners, GA 30092
www.instagram.com/beardpapasPC
770-807-0564 for Curbside pick-up
Hours: Monday-Thursday from 3:00pm to 8:00pm, Friday-Sunday from 1:00pm to 8:00pm
Ways to Order Delivery: Postmates, Doordash, Grubhub and Ezcater.
Special: "We are practicing social distancing with a contact-less experience by maintaining at least 6 ft of distance at all times."
---
Redlands Grill
5245 Peachtree Pkwy, Peachtree Corners, GA 30092
www.redlandsgrill.com | 770-263-9755
Hours: Noon-7pm Every Day
Ways to Order Delivery: ChowNow Online Ordering and take orders over the phone for Curbside Pick-up
Special: "We've got you covered with various Family Meal options, listed on our menu and available to order through ChowNow! Enjoy a complimentary slice of our carrot cake, or a $10.00 Gift Certificate, with any purchase of two or more entrees!"
---
Jason's Deli
5131 Peachtree Pkwy, Peachtree Corners, GA
jasonsdeli.com | 770-368-9440
Hours: 10am – 10pm
Ways to OrderDelivery: Doordash as a delivery. Offering to Pick Up & To-Go Service along with Delivery and Curbside Service.
---
Lazy Dog Restaurant & Bar
5224 Peachtree Parkway, Peachtree Corners, GA 30092
470-735-4501 | www.lazydogrestaurants.com
Current Hours of operation: Mon – Fri 11am – 9pm, Fri & Sat – 9am – 9pm
Ways to OrderDelivery: Services used to order (Doordash, Ubereats, etc.) Please order from our website or call the restaurant directly.
Special: Lazy Dog is offering family meals that feed 5 starting at $25 and for every meal ordered, one will be donated. Donations have already been sent to MTN Food Bank. Pantry packs with essentials are available for $40 including milk, eggs, butter, bread, chicken, rice, veggies and toilet paper. Pizza Night and Backyard BBQ meal kits are now available.
---
POKEWORKS
5160 Town Center Blvd Suite 520 Peachtree Corners 30092
POKEWORKS.COM | 678.825.2489
Current Hours of operation: 11AM-2:30PM MONDAY-SATURDAY
Ways to OrderDelivery: Ubereats, Grubhub, Doordash, And Postmates
Special: Please call ahead to place your order for takeout, this will allow us to prepare orders and process payment safely. Follow us on instagram @pokeworks_peachtreecorners for regular updates and specials.
---
Marlow's Tavern
Town Center Blvd., Peachtree Corners GA 30092
marlowstavern.com | 470-5501197
Hours: 11am to 8pm
Ways to OrderDelivery: Services used to order (Doordash, Ubereats, etc.) Delivering ourselves
Special: We have always been about cleanliness and sanitation and now doing both twice as often and following CDC guidelines. We are practicing non-contact delivery and curbside service. We thank you for your continued loyalty and support.
---
Anderby Brewing
110 Technology Parkway, Suite 200 Peachtree Corners, 30092
anderbybrewing.com | (770)559-7550
Current Hours of operation: Tues-Fri: 4-8P; Sat: 12-8P; Sun 12:30-5P
Ways to OrderDelivery: Online ordering will be available by Tuesday, April 7th. For now call ahead.
Special: Open for to-go purchases only. We have growlers, 6 packs, and cases available for sale as well as merch and gift cards. For what's on tap, check out Facebook or our website.
---
Cheeseburger Bobby's
6050 Peachtree PKWY, Peachtree Corners, GA 30092
www.cheeseburgerbobbys.com | 770-300-0032
Hours: Sun-Thurs 11am – 8pm, Fri-Sat 11am – 9pm
Ways to Order Delivery: UberEats, DoorDash, order online through the website or download our app
Special: Text BOBBY to 36000 for specials and deals. We have Cheeseburger and Chicken Tender Family Meals. Sign up for our loyalty program through our app for daily specials and other free food.
---
Marco's Pizza
5270 Peachtree Parkway, Peachtree Corners, 30092
Marcos.com | 770-840-9991
Hours: Sunday to Thursday 11am- 9pm, Friday and Saturday 11am-10pm
Ways to Order Delivery: Delivery, Carryout, Doordash and Ubereats.
We are open for delivery or carryout. Consumers can now seamlessly order Contact-Free delivery by phone, or through the Marco's Pizza app or online at Marcos.com, where you can indicate this in the delivery instructions box as you place your orders.
Special: We've brought back our Unlimited Medium 1-Topping pizza for $6.99/each for either carryout or delivery to feed families in these uncertain economic times.
---
Taqueria del Mar
5075 Peachtree Parkway #105a – next to single
taqueriadelmar.com . 678.820.9836
Current hours: 12-8 pm 7 days a week
Ways to order: download our app – taqueria del mar in all app stores, call, or come in
Special: We are currently featuring family take and bake meals, in addition to our full menu. We also have the "pay what you can program" where we will happily feed anyone in need for little or no payment at all.
---
Zoes Kitchen
5150 Peachtree Parkway, Suite 100, Peachtree Corners, Ga. 30092
peachtreecorners@zoeskitchen.com | 770-246-5026
Hours: Open 11am-8pm
Ways to Order Delivery: We are serviced by UberEats and Door Dash. You can order online through Zoeskitchen.com
Special: During this time we are offering family meals that feed up to 4-6 people. We are offering to deliver these at no additional charge to our neighbors. If ordered in advance, we can deliver to your entire neighborhood, Office, or facility.
---
Dunkin Donuts
5075 Peachtree Parkway, Peachtree Corners, GA 30092
Ways to OrderDelivery: Open 24 hours a day only serving through drive-through front door is not open
Special: Regarding if you need any other help I am ready to help anyone I am manager my name is Laila my phone number is 404 435 9998 nobody should sleep hungry pray for the whole world.
---
LON U
Lon U Chinese & Thai
5005 Peachtree Parkway #860, Peachtree Corners
lonunorcross.com
Hours: Lunch mon- fri 11-2:30, dinner mon-thur 4-9:30 fri 4-10:30 sat 4-10:30 sun 12-9:30
Ways to OrderDelivery: Doordash Ubereats Grubhub Eatstreet Beyond menu Q menu
---
PLANET SMOOTHIE
5275 Peachtree Parkway, Suite 106, Ptc, Ga 30092
www.planetsmoothie.com | (470) 545-1996
Current Hours of operation M-SAT 9am-6pm; SUN 10am-6pm
Ways to OrderDelivery: Services used to order DoorDash, UberEats, Postmates, GrubHub
Curbside Service! Use Mobile App to Order & Pay then call on arrival'
---
Sushi Osawa
5270 Peachtree Pkwy, 119, Peachtree Corners, GA 30092
www.sushiosawa.online | 470-222-8888
Current Hours of operation: Mon-Tue: Closed
Wednesday to Thursday: 11am-8pm (without break)
Friday to Saturday: 11am-9pm (without break)
Sunday: 11am-8pm (without break)
Ways to Order Delivery: We are available for takeout by phone: 470-222-8888 or Online order (10% off Promotion) Ubereats, Doordash, Postmates & Grubhub
Special: Sushi Osawa is available for takeout Order Online www.sushiosawa.online ( 10% off promotion, check online for detail) or call 470-222-8888 ( we will not accept walk-in orders) We are delivery partnered with DoorDash, UberEats, Grubhub & Postmates.
---
Three Dollar Cafe
6050 Peachtree Pkwy, Suite 100, Peachtree Corners, Georgia 30092
www.threedollarcafe.com | 770.441.8520
Hours: Sun-Thurs: 11am – 8pm, Fri-Sat 11am – 9pm
Ways to OrderDelivery: Delivery is available through EZCater, Doordash and Uber.
Special: For the first time ever, we are now offering deliveries through Three Dollar Cafe Delivery. Deliveries over $50 are free.
---
Newks Eatery
5185 Peachtree Pkwy Peachtree Corners GA 30092
www.newks.com | 470-545-4572
Hours: 11am to 9pm
Ways to OrderDelivery: Doordash, Ubereats, Postmates, & Grubhub
---
Fire & Stone Italian Pizza Kitchen
5215 Town Center Blvd, Peachtree Corners, GA 30092
(470) 219-5100 | www.fireandstonekitchen.com
Hours: Monday and Tuesday 4 PM – 9 PM
Wednesday – Friday 11:30 AM – 9 PM
Saturday and Sunday 12 PM – 9 PM
---
Tiff's Treats
5230 Town Center Blvd. #130, Peachtree Corners, GA 30092
cookiedelivery.com | 470-387-1200
Current Hours of Operation: Monday-Friday 9AM-10PM, Saturday & Sunday 10AM-10PM
Ways to order delivery: We are a delivery service, and do not use other third-party delivery services.
Special: "We are open for delivery and pickup (order in advance only) and continue to follow all guidelines and local ordinances. All of our deliveries are now interaction-free. We are not accepting walk-in orders or selling individual cookies at this time."
---
Kiko's Tacos & More
3435 Medlock Bridge Rd, Peachtree Corners GA 30092
770-441-1818
Hours of operation
Mon-Fri 11-9, Sat & Sun 12-9
Special:
We are currently offering free Lunches from 11 am-2 pm for those in need. We also have curbside pickup, just call ahead to order!
Friday Night Markets Coming to Town Green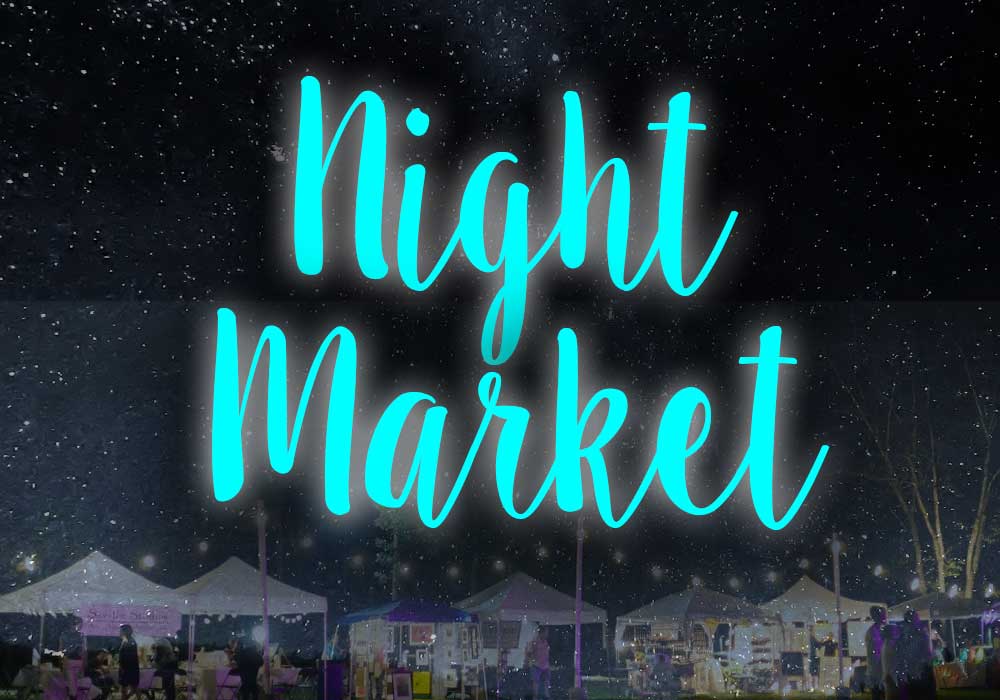 Peachtree Corners' latest planned event, The Night Market, will take place once a month on Fridays beginning in May through October from 6:30 p.m. – 9:30 p.m.on the Town Green at the new Town Center.
The Night Market will feature local farmers with fruits vegetables and natural meats, gardeners with fresh flowers and herbs and makers of all sorts of edible home goods from desserts and bread to local raw honey and homemade sauces jellies, and soaps.
A select number of local artists will also be featured monthly and showcase their locally created fine art and premium hand-crafted goods.
We are expecting an attendance of more than 500 at each for this event. Our vendor fee will be $25 per event for a 10′ x 10′ space. The dates for each month are May 8, June 19, July 10, August 7, September 11, and October 9.
If you are interested in being part of the group of vendors displaying homegrown and handmade items at the Night Market, please use this link to apply: https://www.eventeny.com/events/The-Night-Market-407/
Live music will be featured at each Night Market to add to the entertainment of the evening. Access the City Calendar for details on which band will be playing for the May, June, July, August, September and October Night Markets.
The Town Green is located at 5140 Town Center Boulevard.
6 Places to Eat Asian Food in Peachtree Corners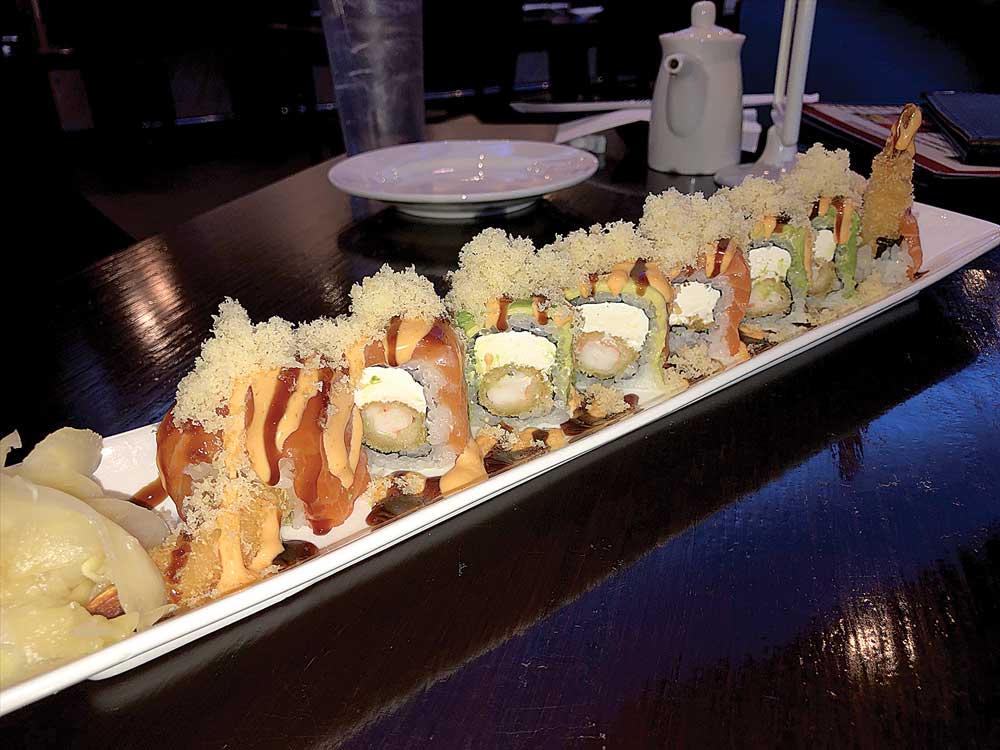 Aomi Japanese Restaurant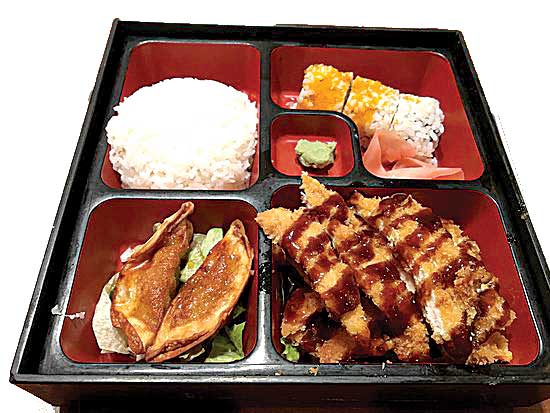 The new go-to lunch dish at Aomi Japanese Restaurant is the Chicken Katsu Bento Box. This chicken explosion is deep-fried after being breaded in their signature Japanese panko, then served with shrimp and vegetable tempura, crunchy shrimp rolls, two-piece gyoza and soup or salad. Aomi has not only perfected their lunch menu, but also their hibachi show at night! Offering a variety of meats and sides, Aomi covers all tastes for every customer.
5145 Peachtree Parkway, Suite 470A, Norcross 30092
aomijapanese.com/norcross.html
Lon U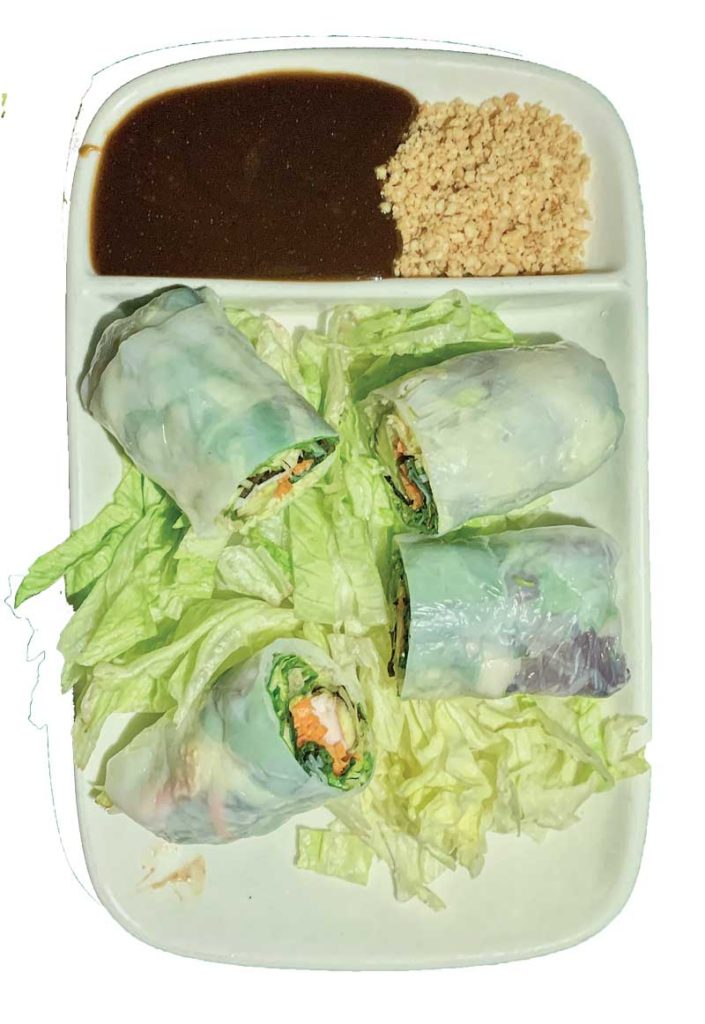 Pictured is an authentic appetizer for a Thai-style meal. The Basil Rolls are a combination of chicken, shrimp and avocado, layered in carrots, cucumbers and basil leaves. Finally, it's wrapped in soft rice paper and served with a hoisin-peanut dipping sauce. You'll experience every layer of flavor in each bite. It's a perfect way to start off your dining experience at Lon U.
5005 Peachtree Parkway, Suite 860, Peachtree Corners 30092
lonunorcrosstogo.com
Royal Bistro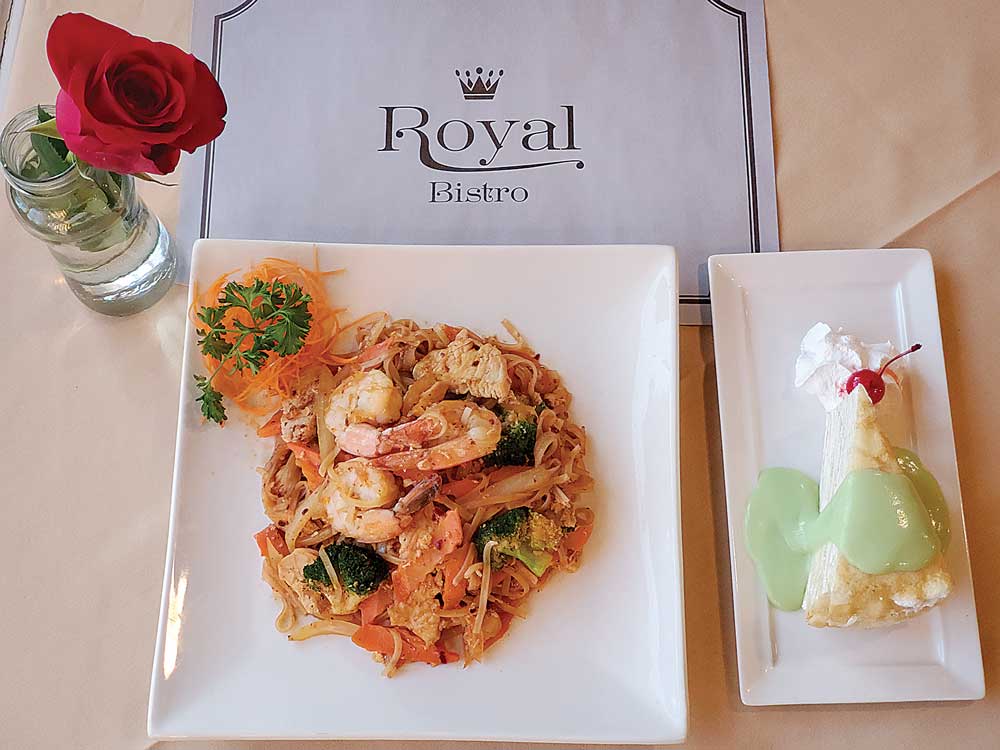 If you love a tasty blend of sweet, spicy and salty, then this is the dish for you! Recommended by the Royal Bistro chef, the lava noodles are lightly fried and accompany chicken, shrimp, eggs, white onions, carrots and broccoli in a homemade roasted chili paste sauce. This delightful meal can be prepared mild, medium, hot or Thai hot upon request.
6365 Spalding Drive, Suite A, Peachtree Corners 30092
royalbistro.net
Sushi Mito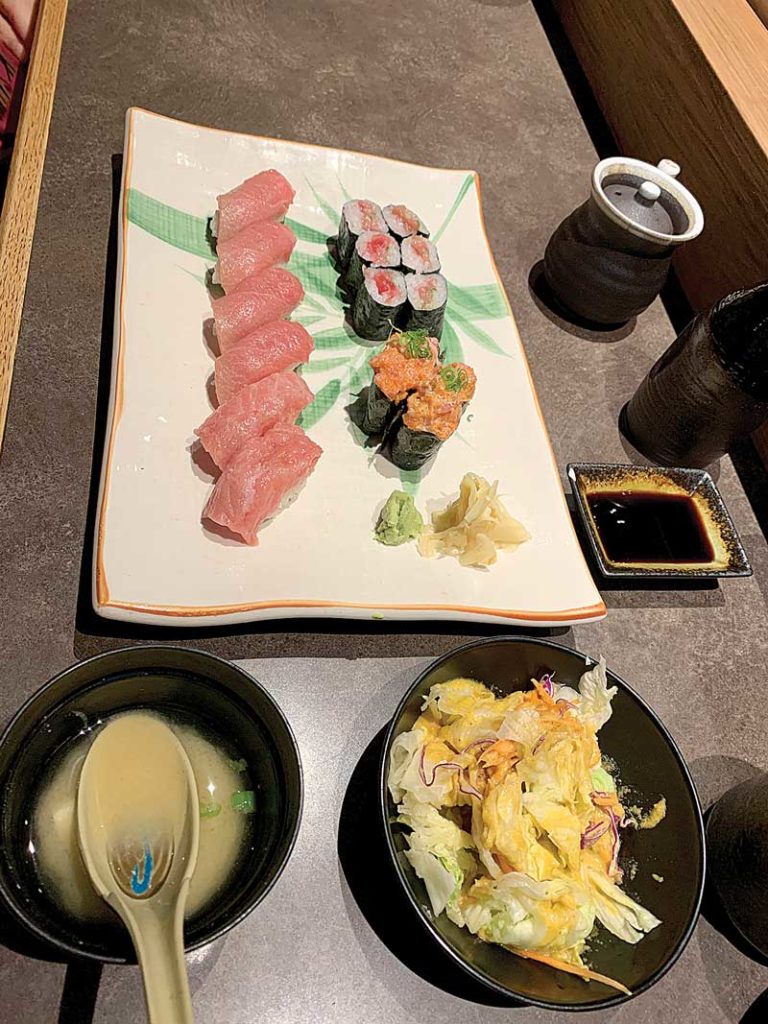 Sushi Mito, serving traditional Japanese cosine for 25 years, is proud to announce that they have a new special menu featuring the highest quality BlueFin Tuna. In Sushi Set A, toro and o toro nigiri, the most desired part of the tuna fish, is served with miso soup, salad and green tea. The menu is filled with different BlueFin combinations to suit every sushi lover's preference.
6470 Spalding Drive, Peachtree Corners 30092
sushimito.com
Sushi Osawa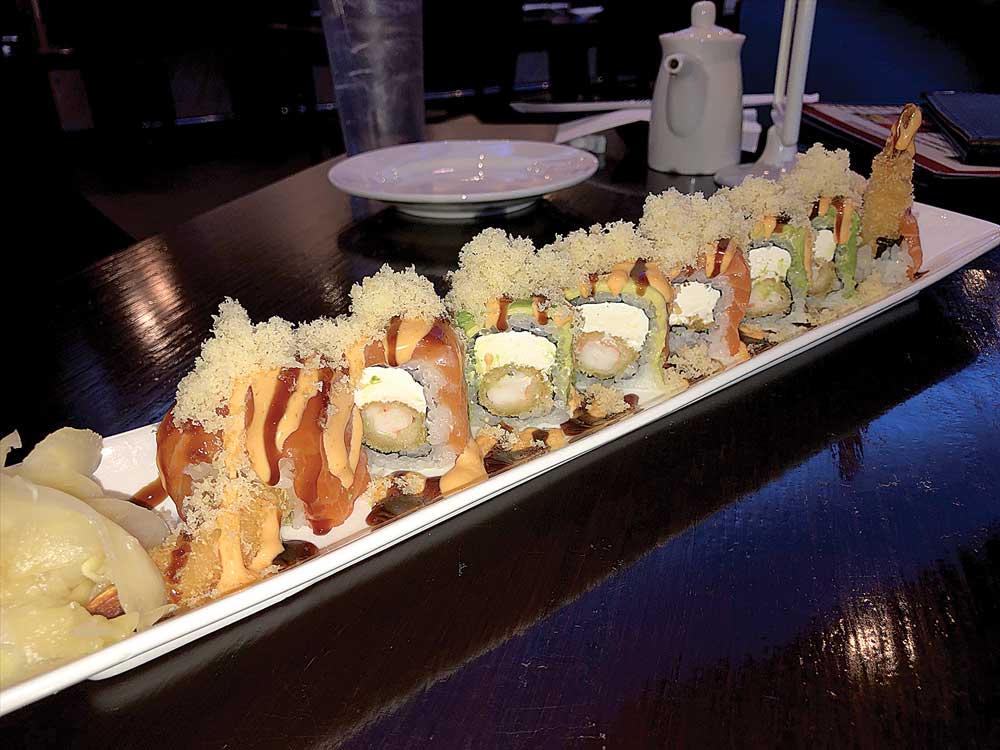 Offering an assortment of rolls, Sushi Osawa is the perfect spot for sushi lovers. The Super Crunch roll is a delicious showstopper that includes shrimp tempura and cream cheese. To top it off, this roll is wrapped in salmon or avocado, spicy mayo, eel sauce and crunch. Sushi Osawa also offers an all-you-can-eat menu, allowing customers to get their fill.
5270 Peachtree Parkway, Suite 119, Peachtree Corners 30092
sushiosawa.online
Taqueria Tsunami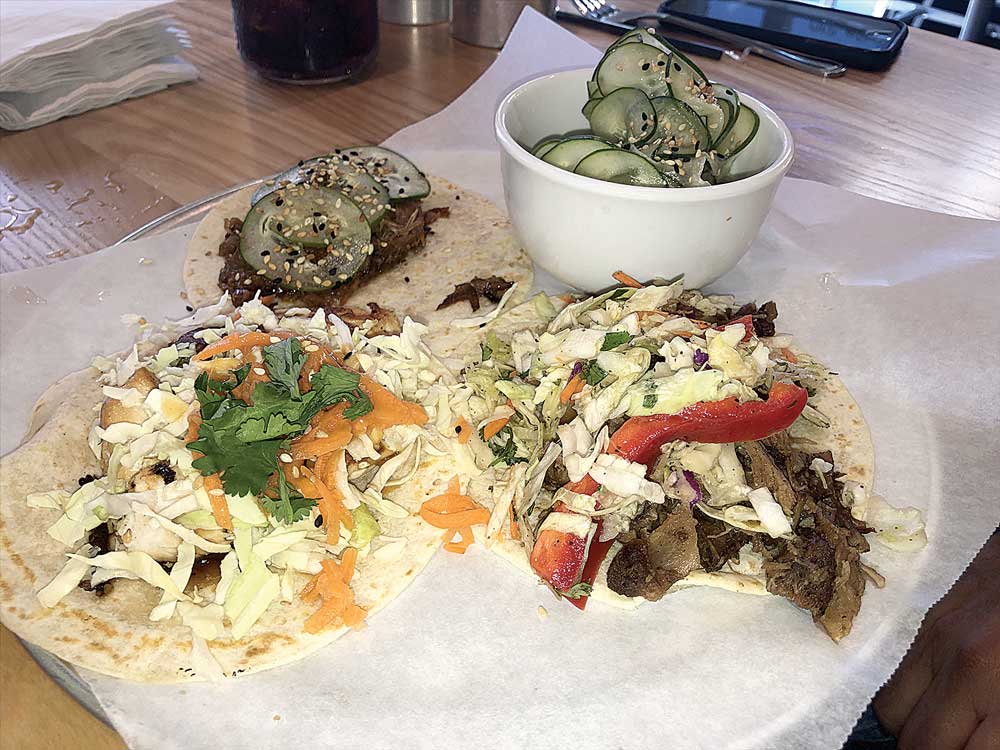 At Taqueria Tsunami, the Quatro is the way to go; you get to select three favorite tacos and a side from their delicious menu. Three highly recommended dishes are the BBQ Short Rib taco smothered in Kogi BBQ sauce; the Thai Chicken taco with cabbage and carrots; and the Rising Sun pork taco topped with Asian slaw. To complete your ultimate meal, add a side of the cucumber salad for an amazing balance to your tacos.
5160 Town Center Boulevard, Suite 510, Peachtree Corners 30092
taqueriatsunami.com
New Restaurant, Townhomes, Specialty Grocery Store Under Construction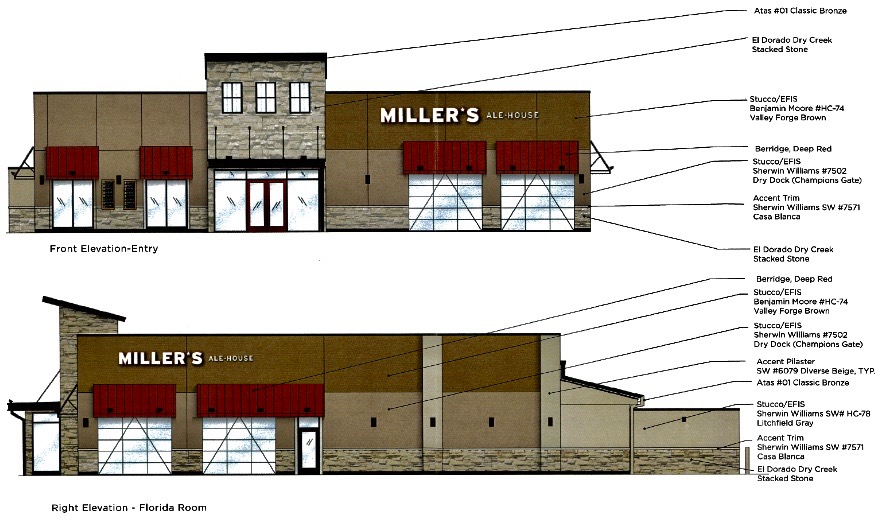 Miller's Ale House, a 7,000 square-foot restaurant, will soon break ground at its new location on Peachtree Parkway. The sports bar will be located on an out-parcel next to Taco Bell in the Peachtree Parkway Shopping Plaza. The north corner of the existing shopping center (where an existing emissions inspection station is located) will be razed for a parking lot for the restaurant. The new restaurant is part of a chain based in Orlando, Florida.
Town Center Townhomes: The first five of the 72 planned townhomes adjacent to the Town Green are now under construction. Foundations have been poured on the new 3-story brick townhomes which will offer three- and four- bedroom/3.5-bathroom floor plans. Features include brick exterior, two-car garages, gas fireplace and stainless-steel appliances, granite counter-tops in the kitchen. The development is named 5200 at Town Center. The sales office is located at the Stonington community located at 3544 Medlock Bridge Road. A full list of amenities and prices are included on the builder's website.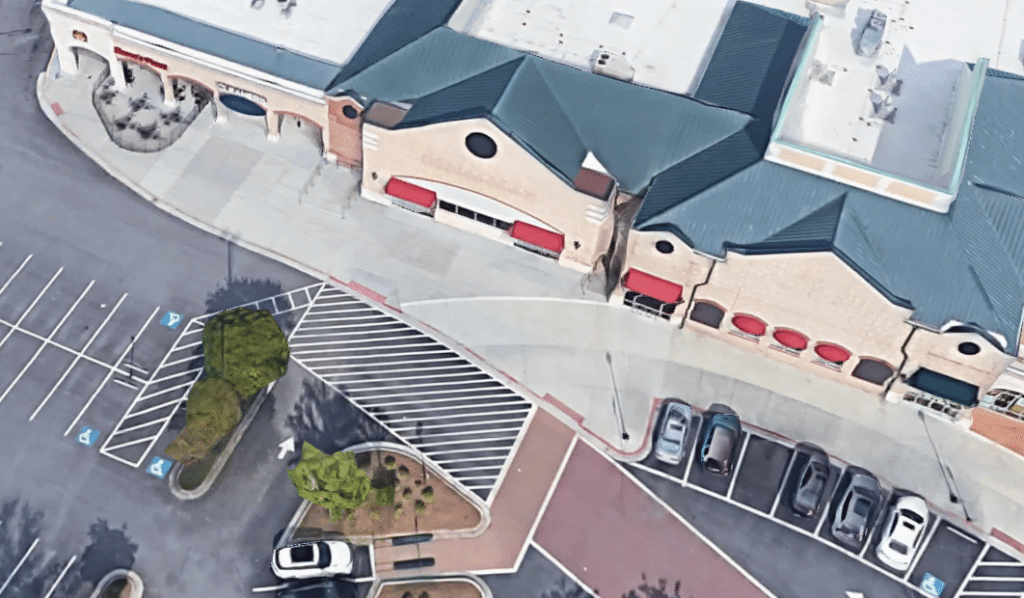 Lidl, the German discount grocer, will open in the former Earth Fare space in the Interlochen Shopping Center at 5270 Peachtree Parkway. Work is currently underway in the 23,500 square foot space but the company has not yet announced an opening date for its new Peachtree Corners location. Along with fresh produce, the discount grocer sells meat and poultry, frozen foods, bakery items, health and beauty and household essentials. The first modern Lidl store opened in 1973 in Germany; today the company operates 10,800 stores in 32 countries including more than 70 stores in the United States.
Information courtesy City of Peachtree Corners