Drive-Thru Flu Shot Clinic at City Hall, Oct. 29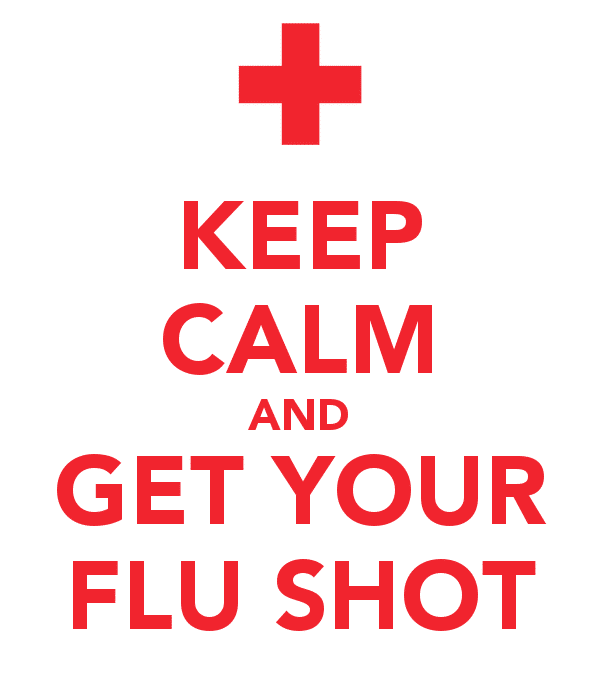 Have you gotten your flu shot yet? The Gwinnett, Newton, Rockdale Health Department is providing a drive-thru flu vaccine clinic.
When: Thursday, Oct. 29 from 7:30 a.m. – 1:30 p.m.
Location: Parking lot of City Hall, 310 Technology Parkway. Look for directional signs.
Appointment Required: Make your appointment online at gnrhealth.com/getaflushot
Cost: Flu vaccines are provided at no cost through most insurance plans, Medicaid and Medicare. Please bring your insurance card. The Health Department also has low cost options for uninsured customers.
Who can get the flu shot? This vaccine is for adults 19 and older. Children 18 years or younger can make a vaccination appointment at the Lawrenceville Health Center. Please call 770-339-4283 for information.
Are there high-dose shots for those 65 and over? Vaccines for seniors are available at the Health Center in Lawrenceville. Call 770-339-4283 for information.
For questions or assistance in making your appointment, please call Gwinnett Health Department at 770-339-4260.
Run the Gauntlet of Fitness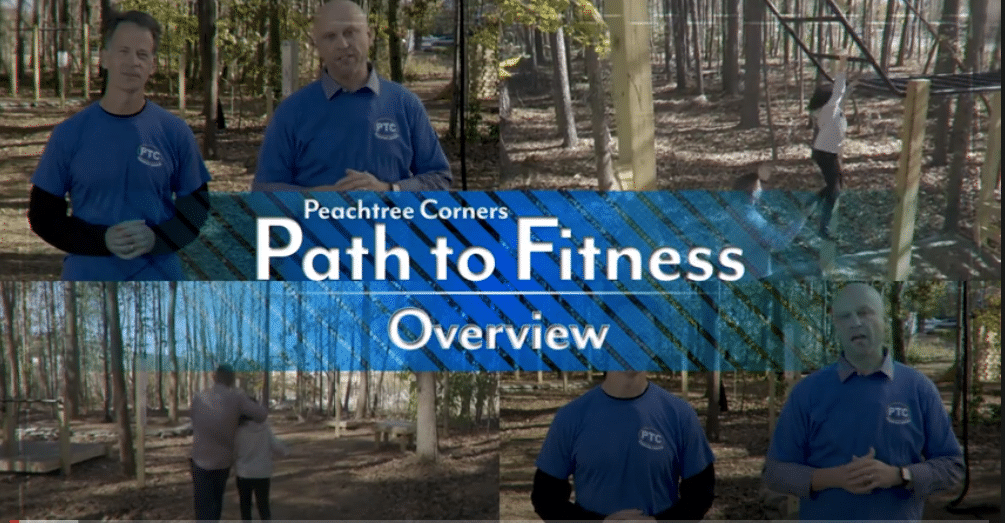 How the Path to Fitness was "paved"
As businesses, restaurants, and gyms close down, we struggle more and more to meet our need to stay healthy. Fortunately, Peachtree Corners City Councilman Alex Wright has teamed up with city manager Brian Johnson to construct the Path to Fitness in the Peachtree Corners Town Center. Path to Fitness is a unique green space that combines the fresh air of the outdoors with high-quality fitness equipment akin, or even superior, to that you might use in a gym.
Using their experiences at the U.S. Army's Ranger School, Wright and Johnson took note of the strenuous — but muscle-building — obstacle courses that were made to create herculean soldiers. They shaped wood and bent steel into stationary equipment to aid residents in developing their body both conveniently and efficiently.
Brian Johnson stated "…we had a certain institutional knowledge of certain things that we could create, so I asked Mike if he could create some of those as a way to help this group… come out here and enjoy some unique fitness equipment that could be integrated in their normal workout routine [and] help them work muscle groups that they wouldn't be able to normally work in another setting."
The Path to Fitness includes a number of pieces of high -quality equipment. According to Councilman Wright, "I have to say that there's a lot of excitement because they didn't really know what to expect! They're thinking, you know, just regular playground equipment, but we've got a 20-foot rope climb here… some very unique monkey bars."
Of course, the Path does not end there:  the trail also includes a few pull-up bars, a sit-up station, as well as a wall climb. It must be emphasized that the trail is meant for fitness, not for use as a playground. So make sure to supervise your children if you decide to substitute your YMCA subscription for a free walk on the Path to Fitness!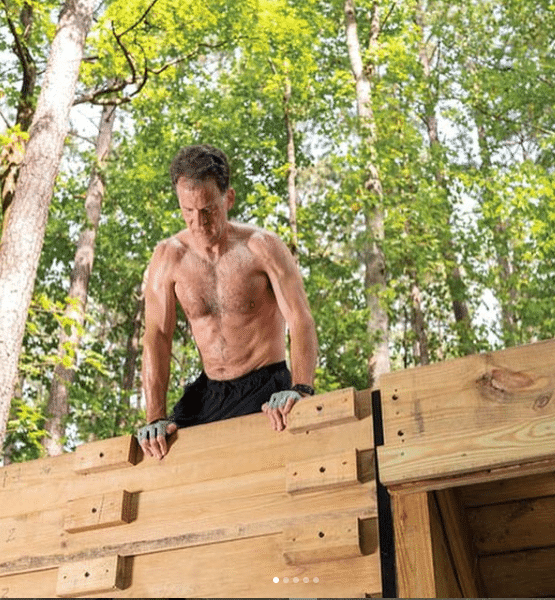 Some of the exercises you can do on the fitness trail:
Check out the full YouTube playlist of all the things you can do on the Fitness Trail at Peachtree Corners Network
Take a Winter Walk: Trails and hiking in and near Peachtree Corners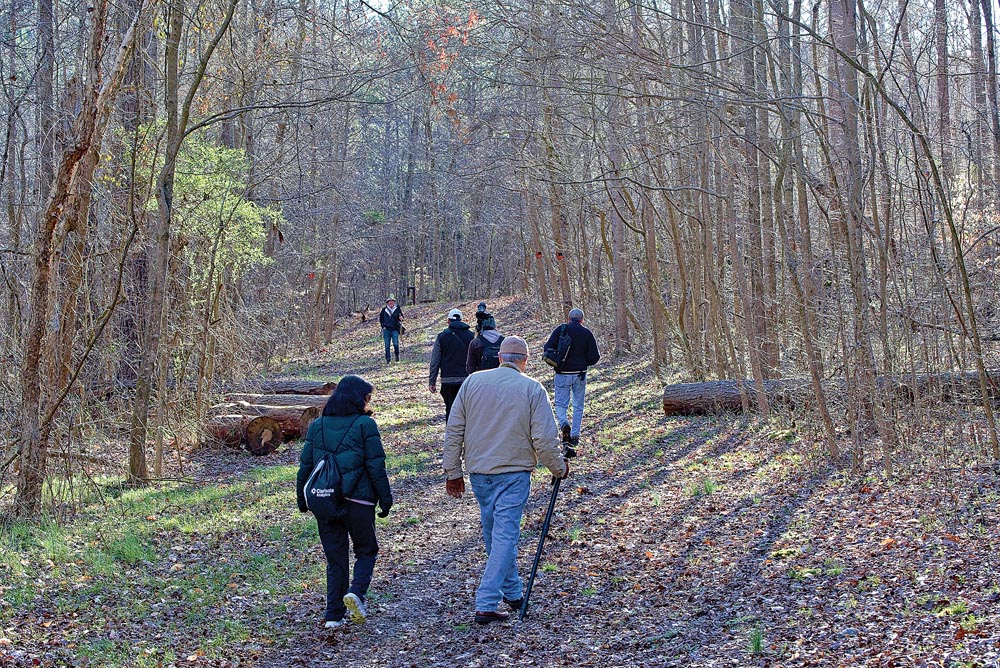 Many people have been searching for an outdoor exercise alternative to allow for six feet or more of space between walkers, runners and families. If you are looking for a new place to get in your steps, refer to this list of nearby trails and hiking spots.
Corners Connector Multi-Use Trail in Peachtree Corners
In August, the City of Peachtree Corners unveiled the first section of its multi-use trail and announced the new name: Corners Connector. When completed, the entire trail will span 11.5 miles. In several in-person and online surveys, citizens ranked multi-use trails among the most desirable and valued community recreational assets.
The city envisions that the Corners Connector will not only serve as an alternate means of travel but will also be a linear park offering unique amenities and programs for its residents. The new 1/3-mile section of the trail runs around a portion of the 7-acre Technology Park Lake.
"This is an exciting moment for our city," said Mayor Mason during the ribbon cutting event. "We hope our citizens, and those who work here in Tech Park, enjoy this new amenity. We look forward to celebrating each section of our "Corners Connector" trail as it is completed. We are also conducting feasibility study now to add a 3 ½-mile walking trail along Crooked Creek. We hope to have more news on that proposed section soon."
The city also plans to install a total of six round-shaped Button Art sculptures, each depicting a theme based on the area of town in which it is located. Button Art, Inc. is a nonprofit created to further the love of art in Gwinnett County. The project was inspired by Button Gwinnett, the county's namesake.
Simpsonwood Loop Trail in Peachtree Corners
Simpsonwood Loop Trail is named after donor Ludie Simpson who donated over 200 acres on the Chattahoochee River to a Methodist church, which was later acquired by Gwinnett County. It is a haven for birdwatchers and wildlife lovers, intended as somewhat of a reserve rather than a heavily trafficked community park.
Features of note include the Chattahoochee River and an old chapel used as a wedding venue. This trail offers activities and terrain for all skill levels.
Learn more at alltrails.com/trail/us/georgia/simpsonwood-loop-trail.
W. P. Jones Park Nature Trail in Peachtree Corners
For a short, straight forward track to get in your steps and walk the dog, the W.P Jones Park Nature trail fits the bill. It's a .7-mile loop that is accessible year-round.
Learn more at alltrails.com/explore/trail/us/georgia/w-p-jones-park-nature-trail.
Pinckneyville Park and Baseball Complex Trail in Peachtree Corners
Pinckneyville Park and Baseball Complex Trail is a 1.2-mile, lightly trafficked, paved loop trail that features a lake. It is very accessible to strollers and wheelchairs, though sometimes certain sections are closed for re-pavement.
It's one of two trails within Pinckneyville Park, located within the park's Baseball/Softball Complex. It travels along the complex perimeter, encircling a dog park, skate arena, picnic pavilions and ball fields. Its wooded segment crosses a brook, a steep hill, and runs alongside a pond and a railroad.
Learn more at alltrails.com/trail/us/georgia/pinckneyville-park-and-baseball-complex-trail.
Pinckneyville Park Soccer Complex Trail in Norcross
The yin to the other Pinckneyville Park trail's yang, this one is slightly longer at 1.7 miles. It's also paved and situated in a pretty forest setting. It has many of the same offerings and much of the charm as the other, and it serves people in many ways. Another worthy point of note: there are two public restrooms situated amongst the trails that are available to visitors.
Learn more at alltrails.com/trail/us/georgia/pinckneyville-park-soccer-complex-trail.
Medlock Bridge Trail — Chattahoochee River National Recreation Area in Peachtree Corners
Medlock Bridge Trail is a 1.3-mile loop trail located in Duluth; it's great for a short stroll. It's also kid-friendly and dog-friendly, though dogs should be kept on leash.
Jones Bridge Unit — Chattahoochee National Recreation Area in Johns Creek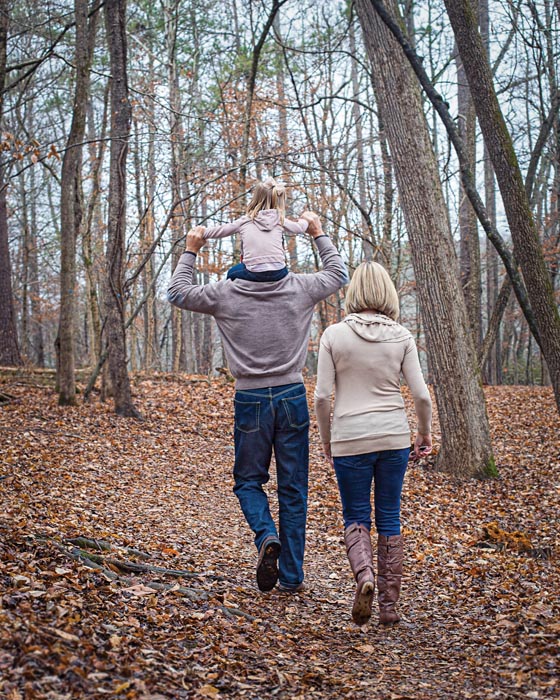 Not so way-down-yonder on the Chattahoochee River is the Johns Bridge Unit Trail, which takes visitors along the river with excellent view. Round trip, it's 4.6 miles, with mild hilliness that is suitable for most families and pets.
Learn more at atlantatrails.com/hiking-trails/jones-bridge-park-trail/.
Garrard Landing Park Loop in Alpharetta
What makes this park unique is the effort taken to truly make it accessible for nature lovers of all types and abilities. It is a 1.2-mile loop situated on mostly soft surface, but it also offers a hard surface ADA compliant portion perfect for strollers and wheelchairs that runs along a manmade lake.
The half mile segment along the Chattahoochee River is nice and shady, with an observation deck. The rest of the trail meanders through an open meadow and features a cascading stream, covered bridge and pond. You can customize your path with interconnecting segments of trail.
Learn more at alltrails.com/trail/us/georgia/garrard-landing-park-loop.
Vickery Creek Trail at Roswell Mill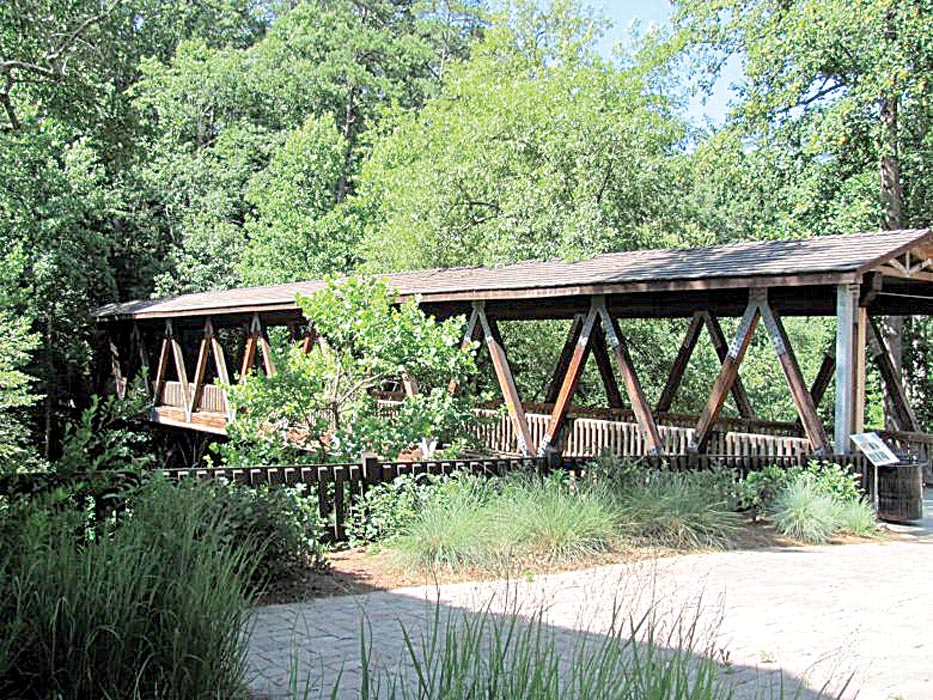 For beautiful greenery and your daily dose of Southern history, Vickery Creek Trail delivers. Nestled beside two historic Roswell mills, the trail features a covered bridge and a breathtaking waterfall. Part of the Chattahoochee River National Recreation Area, the entire trail has a roundtrip span of 4.7 miles. Note that the terrain is moderate, and the area is dog friendly.
Learn more at atlantatrails.com/hiking-trails/roswell-mill-vickery-creek-trail/.
Need for emergency disaster lodging and blood donors surges amid COVID-19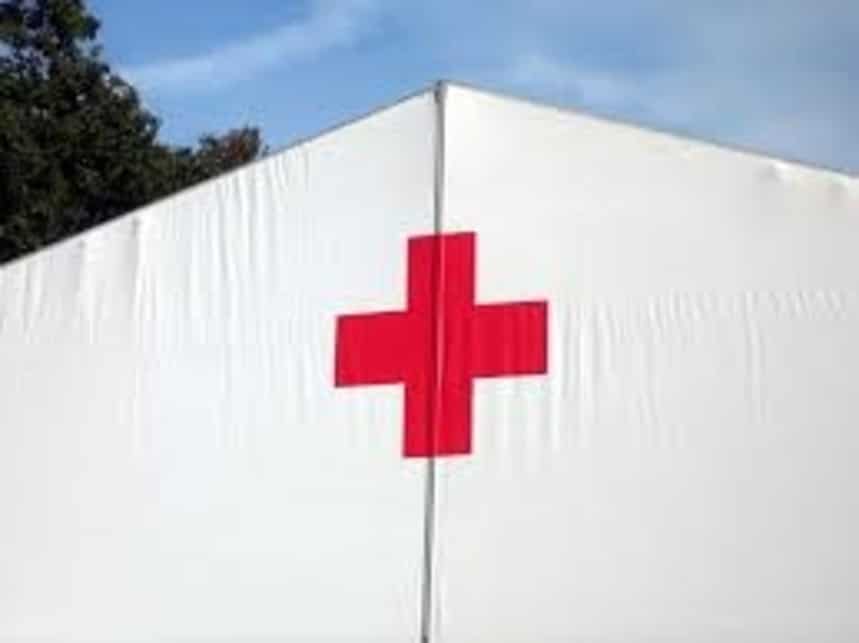 Facing a relentless disaster season, families in the U.S. have spent more nights in emergency lodging in 2020 than in any other year over the past decade.
More than 1 million times this year, a person relied on the Red Cross for a safe place to sleep after a disaster in the U.S. That's more than four times the annual average from 2011 to 2019. 
"As the coronavirus pandemic wears on, disasters like residential fires in Georgia — plus a relentless wildfire and hurricane season – have upended hundreds of thousands of lives here and across the country," said Danella Hughes, Disaster Officer for Georgia's Red Cross. "Through it all, more people are stepping up as Red Cross volunteers to help others — even as they cope with these events and COVID-19. It's a true testament to the humanitarian spirit of people in Georgia and in our country." 
Thousands of people throughout Georgia have been impacted by home and apartment fires, severe storms, and tornados, which ripped through the state in the spring displacing over 200 families. The post-landfall paths of Hurricanes Sally, Delta, and Zeta also directly impacted hundreds of families across the region, causing flooding, downed trees, power outages, and damage to homes.
This year (through September), Georgia Red Cross volunteers have aided over 8,000 people affected by residential fires, including a massive apartment complex fire in Atlanta at the Avana on Main, where nearly 300 people received assistance. Statewide, the Red Cross has responded to 1,765 fires –17 of those at apartment buildings — to help people affected with emergency needs for lodging, food, clothing and personal items. During the pandemic, volunteers are working virtually and in-person, following CDC and Health Department guidelines to ensure their safety and that of clients served.  
Darrell Stafford is among the residents displaced by the blaze that destroyed the Buckhead apartment building in August during the COVID-19 pandemic. Dozens of Red Cross disaster workers from across the state sprang into action to help him and his neighbors.  
"I was in a state of shock for days," said Stafford, a fourth-floor resident of the building at the time of the fire. "Emotional support was one of the most valuable things the Red Cross provided. Throughout the years, you're aware of the Red Cross and how they step up to help, but to see it happening in real-time and have things run as smoothly as they did – it surprised me."
 This year, more than 70,000 people across the country joined the Red Cross as volunteers — who represent more than 90 percent of its workforce. In Georgia, new volunteers have stepped up in extraordinary numbers as the state grapples with the pandemic. The region has seen its number of new volunteers double this year in comparison to 2019. Young people have played a crucial role in disaster response – with Millennials and Gen Z representing more than half of new Red Cross volunteers across the country. 
Additionally, the Georgia Red Cross has sent out over 250 volunteers on nearly 600 deployments as part of relief efforts across the country in 2020. Local responders have helped people devasted by the California and Oregon Wildfires and across the southern United States battered by an unforgiving hurricane season.
Nationwide, 75 percent of new volunteers also stepped up at a pivotal time to fill mission-critical positions, such as shelter and health workers addressing urgent disaster needs, as well as blood donor ambassadors and transportation specialists helping to provide cancer patients, trauma victims and others with lifesaving blood. 
In 2020, Red Cross blood drive cancellations tripled nationwide compared to the year prior — mostly due to COVID-19. Since March, over 50,000 blood drives were canceled as the pandemic forced schools, businesses and community organizations to close, impacting over 1 million blood donation appointments. Still, people rolled up their sleeves — more than a half-million of them giving for the first time. 
Blood donation is an essential service. The Red Cross follows the latest public health guidelines, as well as has put additional precautions in place to ensure everyone's safety.
This pandemic has also caused the Red Cross to adapt its collections to include plasma from COVID-19 survivors to potentially help those battling the virus recover. Thousands of COVID-19 survivors have stepped up to share their potentially lifesaving antibodies by giving plasma. Since April, nearly 25,000 COVID-19 survivors have rolled up a sleeve — many of whom are new to blood donation. Their donations have enabled the Red Cross to ship nearly 50,000 units to hospitals across the country treating COVID-19 patients.
 To learn more, visit RedCrossBlood.org .