LifeLine Animal Project Holds Two Frightfully Fun Howl-o-ween Events Online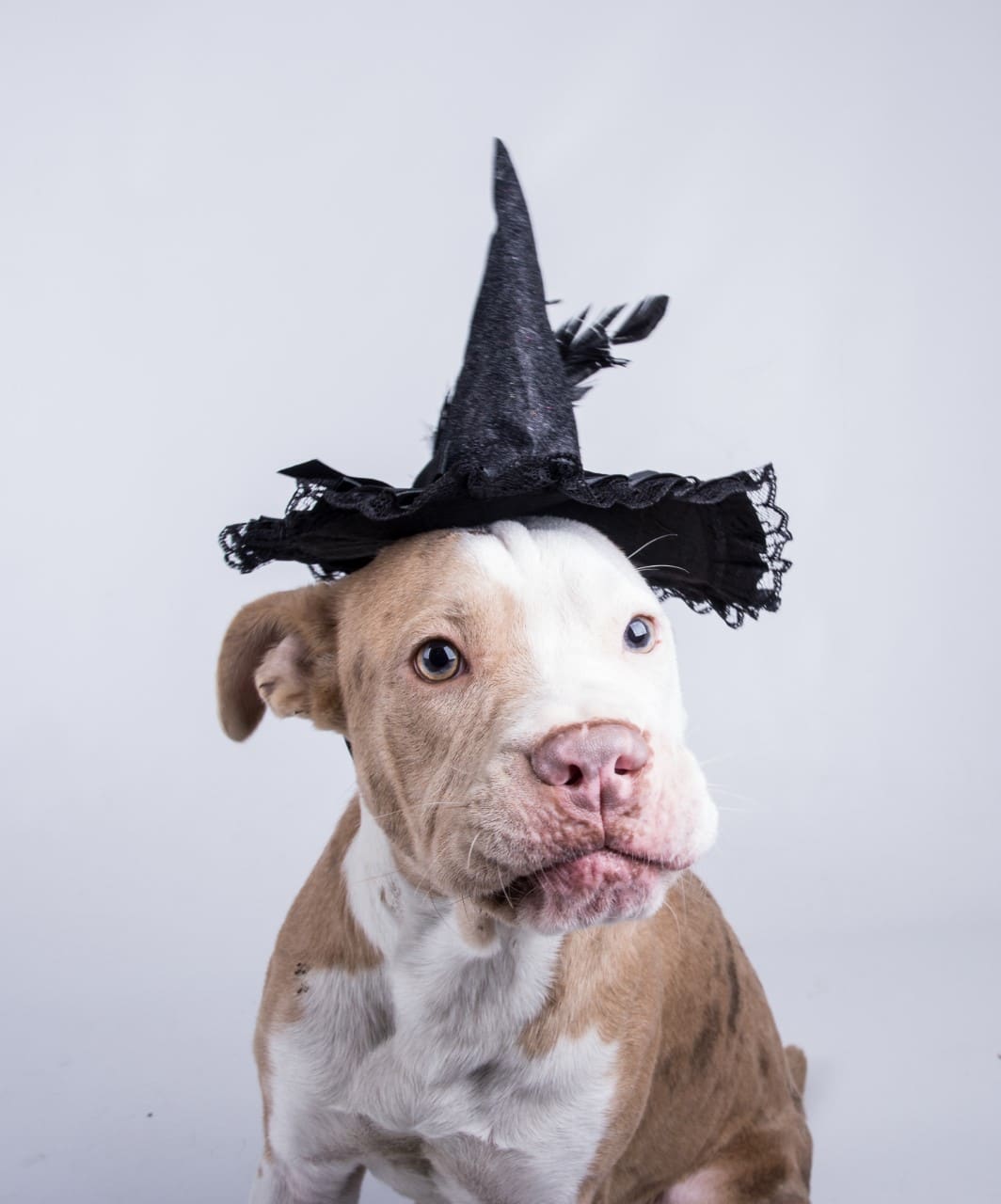 LifeLine Animal Project celebrates Halloween safely with two dog gone fun virtual events:  a Halloween Digital Foster Showcase and a Doggy Cooking Class.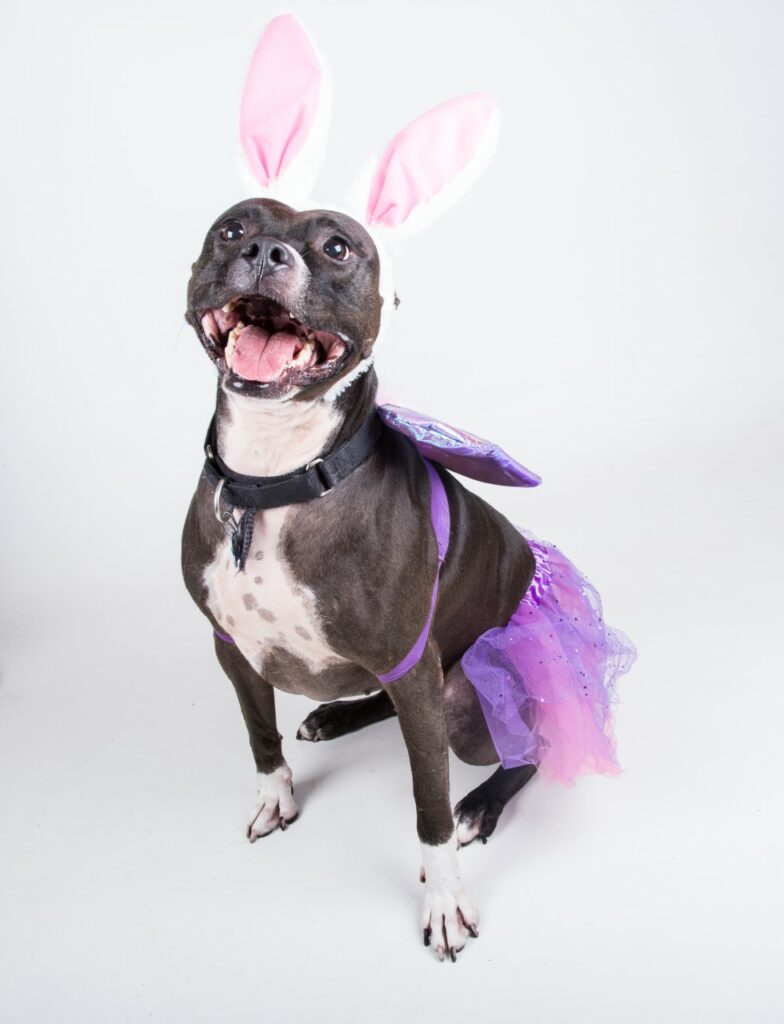 The Foster Showcase featured five adoptable dogs showing off their spookiest Halloween costumes and took place October 24. The video can be viewed at Facebook.com/LifeLineAnimalProject. The dressed-up dogs showed off their tricks for treats, while their foster parents gave everyone an overview of their personalities. 
LifeLine will also be holding a free Doggy Halloween Cooking Class, taught by Big Daddy Biscuits Owner Lauren Janis, on October 30, 1 p.m.  Lauren will teach attendees how to make doggy doughnuts, joined by Barista Hayley Stein of Hodgepodge Coffeehouse, who will teach attendees how to make a superb pour-over coffee (for humans).  An adoptable dog from LifeLine will be on hand to sample the freshly baked doughnuts.  To tune in, please visit the LifeLine Animal Project Facebook page.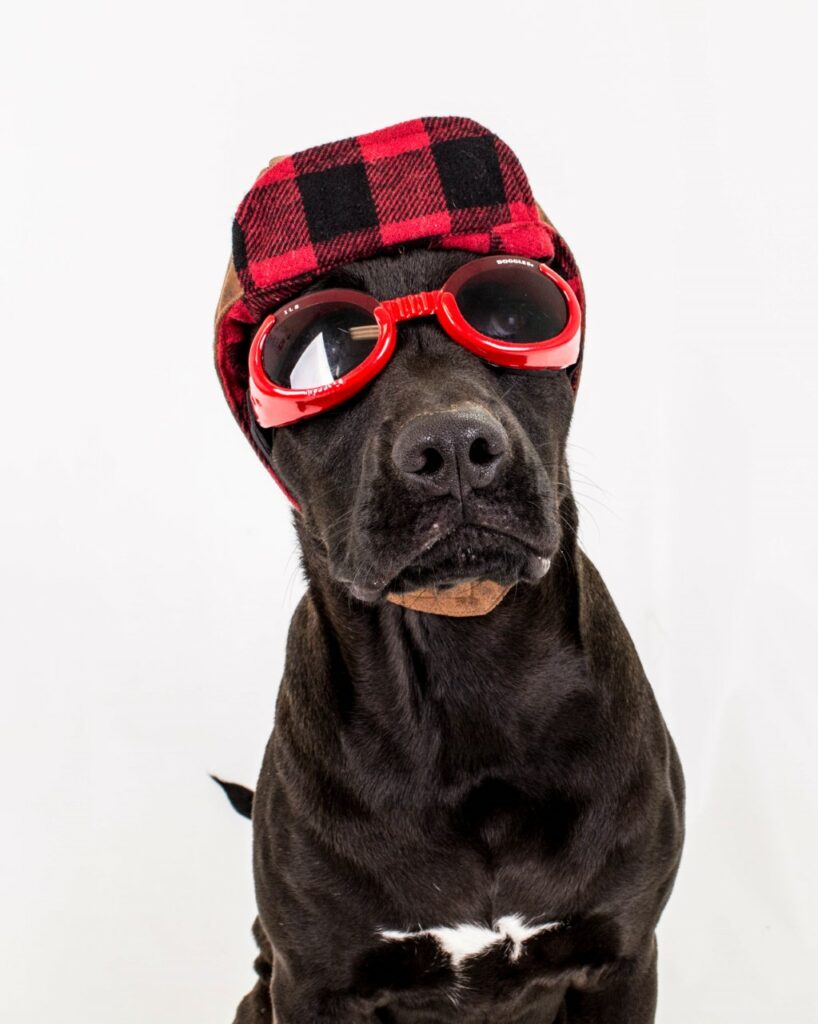 Gwinnett Animal Welfare joins national effort to 'Clear the Shelters'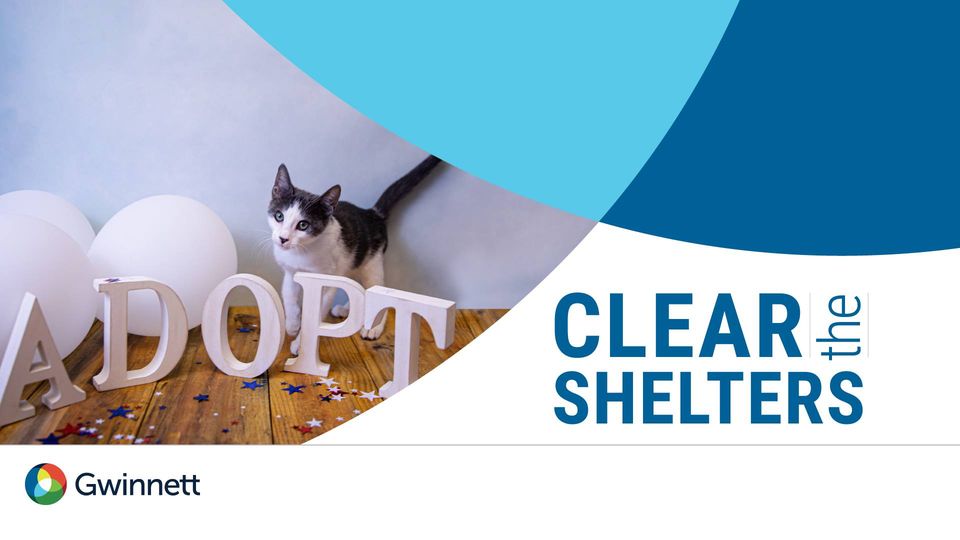 Gwinnett Animal Welfare and Enforcement joins shelters and rescues across the country to find forever homes for shelter pets during the Clear the Shelters adoption drive.
Since 2015, more than 411,000 pets have been placed in loving homes because of the campaign.
"Like shelters all over the country, our hope is to find happy forever homes for the many great pets in our care," said Animal Welfare and Enforcement Manager Alan Davis. "We would love to literally clear our shelter."
From Aug. 23 until Sept. 19, adoption fees will be waived and all the animals will be spayed/neutered, vaccinated and microchipped. Most pets can go to their new homes the same day as adoption. The County will also host its fun-filled Clear the Shelter Celebration on Saturday, Sept. 18, from 11 a.m. until 4 p.m. There will be music, pet vendors, face painting and more!
Those interested in adoption, can view available pets on Facebook or visit GwinnettAnimalWelfare.com to complete the adoption application before coming to the shelter for a meet-and-greet.
The Bill Atkinson Animal Welfare Shelter is located at 884 Winder Highway in Lawrenceville.
Tails on Trails Club is a Waggin' Good Time

Dogs need exercise too, so sign up your four-legged best friend for the Georgia State Parks and Historic Sites' Tails on Trails Club. Membership comes with a t-shirt for you and a bandana for your dog, so you'll both go exploring in style. You'll also get a checklist to keep track of your progress as you hike more than a dozen state parks across Georgia. There's no rush to finish the quest; Bailey can stop and sniff all along the way! Dogs must be kept on a leash, and pet-friendly accommodations are available at most Georgia State Parks.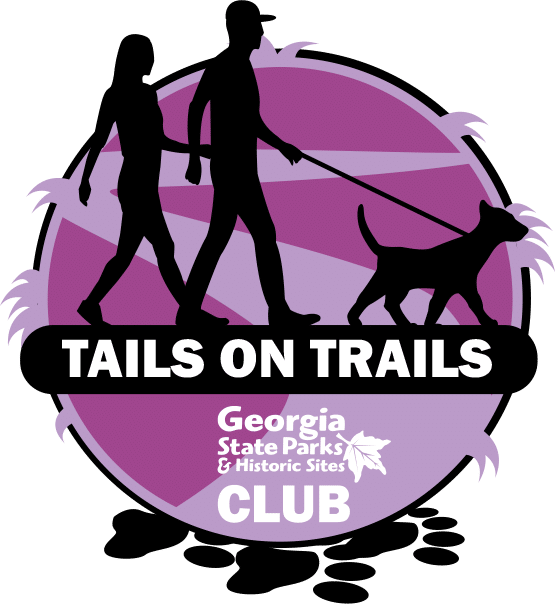 Bring Your Pup On A Tail-Wagging Adventure
With lakes, mountains, forests and more in between, hikers and their four-legged friends are challenged to explore trails at Georgia State Parks.
We'd love to see your photos! Tag #GaStateParks and #TailsOnTrailsClub.
---
Members Brag All The Time With An Exclusive Club Shirt
Membership is $20. Join the club by purchasing Tails on Trails Club membership online and we'll mail you your own club shirt and a matching bandanna* for your pet to wear while you hike. You will receive a digital checklist so you can keep track of your accomplishments (This checklist can be downloaded from your email invoice or from your account profile page). Hike 12 of the 42 participating parks below with your furry companion to earn bragging-rights and a certificate of completion.
You don't need a dog to be able to complete the challenge on your own. No time limit applies, so hikers can take as long as they wish to complete the requirements. Dogs must be kept on a maximum 6′ leash when in a Georgia State Park. Please clean up after your pet. Refer to Pets at State Parks for more information. Dog-friendly cottages are also available.
---
* Please note, due to a shortage from our supplier, the Tails on Trails bandannas are now hunter green but have the same design as before. The shirts are still purple.
Source: gastateparks.org
Get Lucky with $25 Pet Adoptions throughout March!- Lifeline Animal Project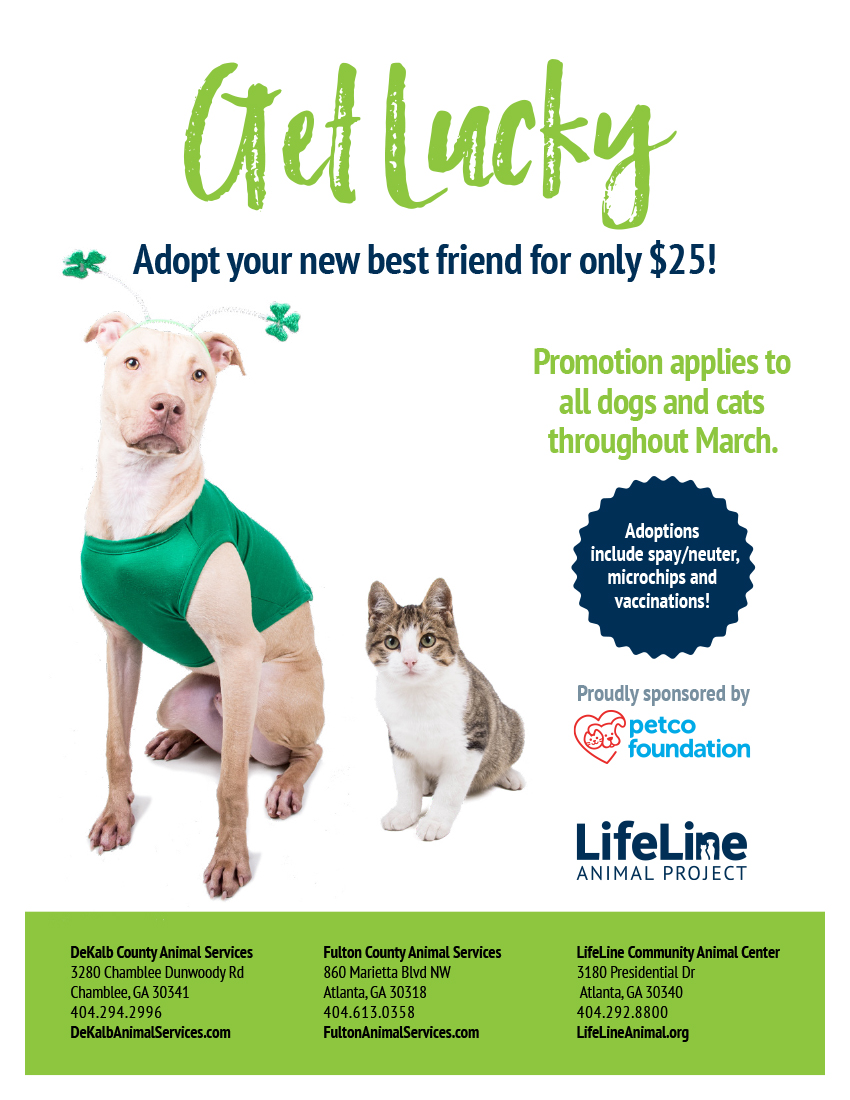 Need some good luck? You don't need a four-leaf clover to get the luck of the Irish this St. Patrick's Day. LifeLine Animal Project invites you to take advantage of their "Get Lucky" adoption promotion and adopt a wonderful dog or cat now through March 31 for only $25!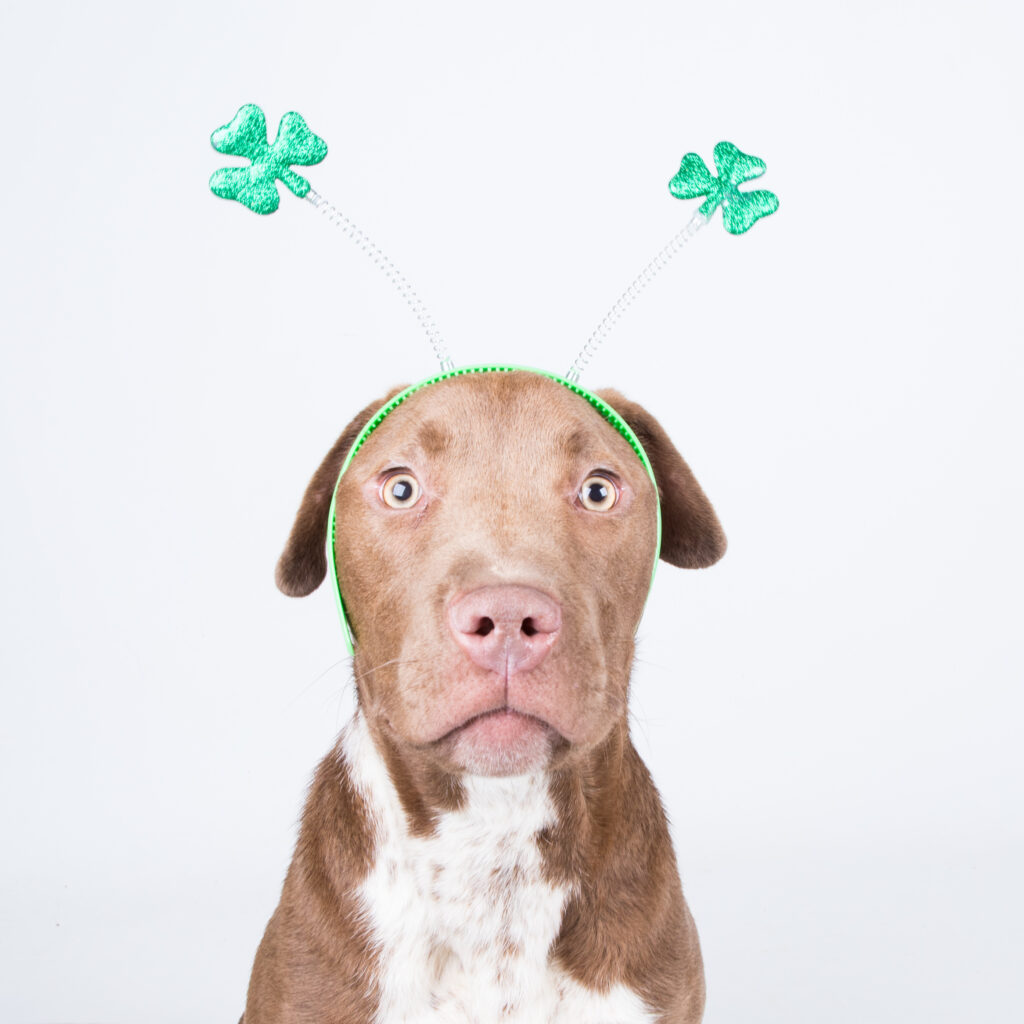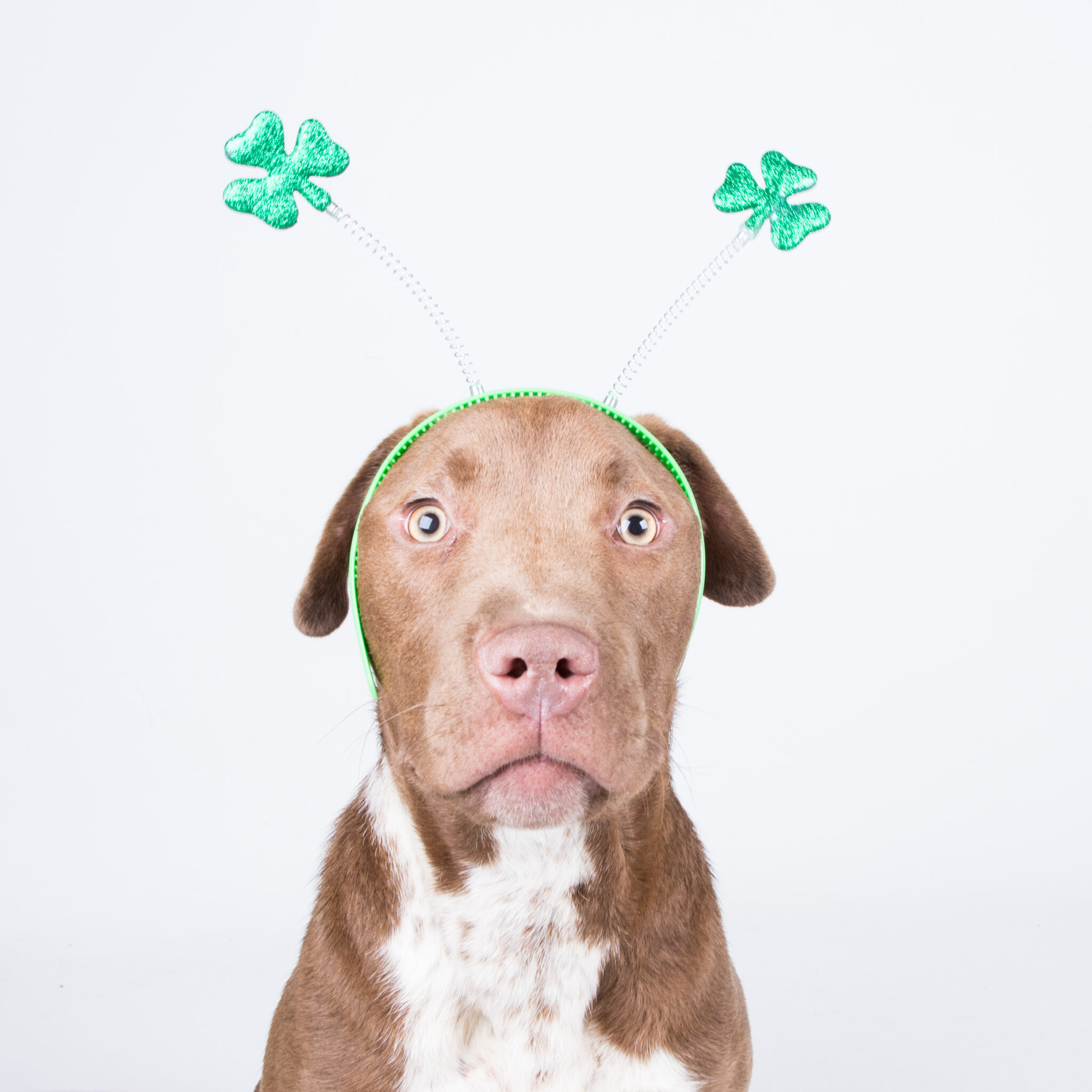 Participating shelters include the LifeLine Community Animal Center, Fulton County Animal Services and DeKalb County Animal Services. The promotion is also valid on all dogs and cats in foster homes. All adoptions include the pet's spay or neuter, microchip and vaccinations, a $350 value, for no additional cost. Potential adopters will be screened to ensure pets go to loving homes.
There are so many great dogs and cats who can't wait to meet you and will make wonderful and loyal new family members! To view available animals, please visit LifeLineAnimal.org/adopt. You may also visit the shelter wearing a mask (which is mandatory). However, since the number of guests allowed inside at once is limited, there may be a wait. To view the shelter addresses and hours, please visit LifeLineAnimal.org/shelters.