Nabilah Islam's Run for Congress, District 7 [Podcast]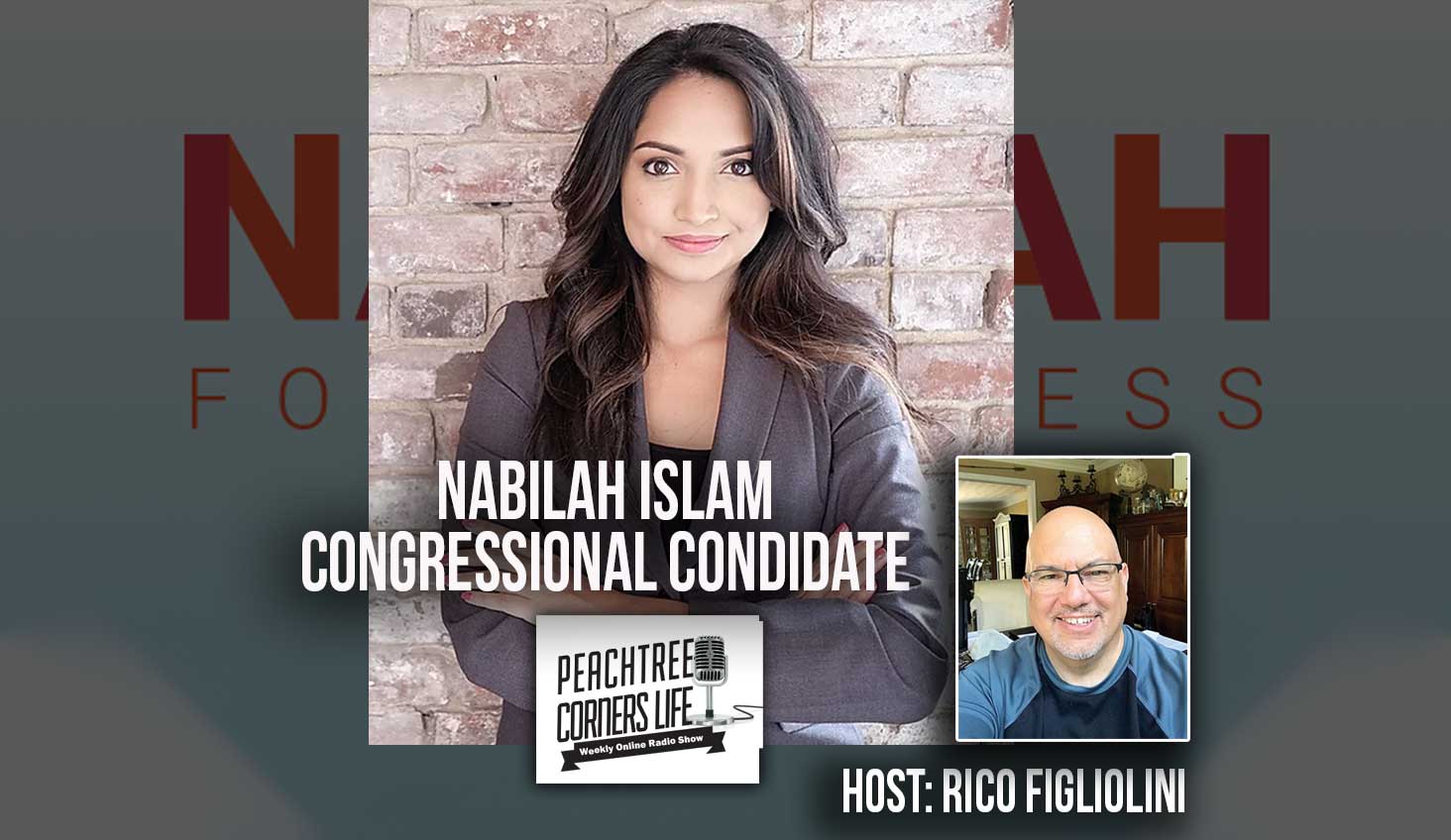 Summary:
On this episode of Peachtree Corners life, Rico Figliolini live streams with Congressional Candidate, Nabilah Islam to talk about her life, her family, and her campaign. Listen in as she shares her thoughts on the coronavirus, immigration reform, Medicare for all, and much more.
Resources:
Website: ​www.NabilahForCongress.com
Social Media:
https://www.facebook.com/NabilahForCongress
https://www.instagram.com/nabilahforga07/
@NabilahforGA07
"I talk about how we need comprehensive immigration reform, how we need a pathway to citizenship for the 11 million undocumented people in this country. We actually have the highest number of DACA recipients in Gwinnett County, in the entire state… I believe that they should be protected and they should have a pathway to citizenship as well. You know, these folks are our neighbors. These folks are startups, small businesses, and go to school with our children. So I feel like they should have a pathway to citizenship."

NAbilah Islam

Timestamp:
[00:00:30] – Intro [00:03:27] – Nabilah's Campaign History
[00:05:21] – More about Nabilah
[00:08:26] – Issues Nabilah is Fighting for
[00:09:02] – Her Opinions on the Handling of COVID-19
[00:11:38] – Immigration Reform
[00:15:40] – Medicare for All
[00:18:01] – More on Immigration
[00:21:41] – Education
[00:27:17] – The Presidential Race
[00:28:32] – Virtual Campaigning
[00:33:44] – Closing
Rico: [00:00:30] Hi everyone. This is Rico Figliolini, host of Peachtree Corners Life. I appreciate you guys joining us on this live stream shooting. Shooting, well, the streaming video streaming out of Peachtree Corners, the City of Peachtree Corners, one out. Before we get into it and tonight's guests want to just say, you know, be safe out there. Do what you are supposed to be doing. We're supposed to be making sure that we're not putting ourselves out there and letting us house via community hall. And I'm sure if you have it, if you don't have it, you don't want to catch it. Coronavirus is a real deadly pandemic and we should take this seriously. And in the coming days it looks like it's going to be even more serious, in the next 48 hours. We may even see this country locked down to a degree. I mean, they're moving towards that, right? And so the States have already done it. So sheltering in place in the Northern California, Northern Bay area for three weeks is mandatory, for example. So it's not beyond reason for us to see something like that happen on a national scale, which it probably needs to, because otherwise we're just reinfecting everyone as we cross state lines. So it's a good place to be. So I want to introduce one of our sponsors, Hargray Fiber. I want to say thank you to them for being a sponsor here. They are the backbone of one of the biggest places and icons in Peachtree Corners, which is Curiosity Lab at Peachtree Corners. It's a one and a half mile mobile track that is open to anyone to bring in their experiments, data, cars, anything that has to do with mobility, IOT to be able to use that track in a living lab. 5G enabled, the ability to do your work and discover how your product or service can do really well. So the backbone of that, but actually bringing in the internet through that, through for the 5G enabled set up is Hargray Fiber. So I just wanna do a shout out to them. HargrayFiber.com was where you can find them. So let's get to my guest tonight. We'll bring it right on. There you go. So my guest today Nabilah Islam, she is a candidate for Congress, District Seven. A couple of weeks ago we, interviewed Carolyn Burdell and, now Nabila Islam is another candidate in that race. So welcome Nabila.
Nabilah: [00:02:56] Rico, thank you so much for having me today, I appreciate it.
Rico: [00:02:59] Sure. Appreciate you coming on, especially with things going on. So how was your day today?
Nabilah: [00:03:05] Well, you know, I am being diligent about practicing social distancing in our campaign. I suspended all in-person campaigning. So I've just been virtually working with my staff and virtually campaigning and doing this podcast virtually as well. So, to be able to communicate with voters and make sure that we're still getting our message out.
Rico: [00:03:27] Right, now you've been involved in campaigns before. You said, what type of campaigns have you been involved in?
Nabilah: [00:03:34] I've worked on all sorts of campaigns. I actually got very interested in working on campaigns when, you know, growing up in Gwinnett County, I just felt like I never saw anyone that reflected the diversity of this County or the values that we have. And so I got right out of college, I worked on a city council campaign for a candidate named Andre Dickens. And he was a long time candidate and he ran a grassroots campaign and he was able to
overtake an incumbent. And I worked for Jason Carter when he ran for governor back in 2014. And then on a presidential race, I worked for Secretary Clinton when she ran for president. And then most recently I was at the Democratic National Committee, the DNC, to help rebuild a party after we lost to Donald Trump.
Rico: [00:04:23] All within the congressional district that you're in now or in various parts?
Nabilah: [00:04:29] In various parts. I did work, one of my first democratic campaigns was for Pedro Marine, House Democrat. He was, at the time, the only Latino Democrat in the entire state legislature and his district had recently been gerrymandered, and he was losing his seat. And I knocked on doors on his campaign, knocked on 2000, over 2000 doors, and luckily he won his reelection. So I did that. And, I also, rechartered the Gwinnett County Young Democrats back in 2013. I realized that there wasn't a leadership pipeline for young people to get involved. So I opened up that channel. And since then, several people from that group have either gone on to become elected officials themselves or they have actually managed campaigns. So I'm very proud of that organization.
Rico: [00:05:21] Cool. So tell us a little bit more about yourself, also personal and a little bit, where are you from education wise and all that too.
Nabilah: [00:05:28] Sure. So I'm the daughter of working class immigrants from Bangladesh. And so both my parents, you know, moved to this country to seek the American Dream. My mother actually grew up in a small village in Bangladesh, in a tin-hut home with, you know, mud floor, no running water, no electricity. And they worked really hard to give me and my brother a life that they never had. And you know, I attended Gwinnett County schools all my life. I'm a proud central Gwinnett High School graduate. I actually grew up in Norcross where one of my mother's first jobs was working at the Hardee's off of Steve Reynolds. So she worked there until I was five years old. And, she worked at a warehouse for over a decade. And I actually grew up in Lawrenceville where I mentioned, I graduated from central Gwinnett High School. And I actually went to Georgia State University, got a degree in marketing, and became the first person in my family to graduate from college. And so, my family was very education oriented and either wanted me to become a doctor, an engineer, or a lawyer right out of college. And I did none of those things. But I thought it was very important to, to have a voice at the table and to, you know, jump into political campaigns because I feel like that's where so many of the decisions are made that affect our lives on a day to day basis. And so I thought that work was very important.
Rico: [00:06:52] Well, what do you think inspired you to go down that road? Because politics is not, everyone thinks that young people are more politically oriented to a degree. Sanders certainly thought that, but they're not, they're not showing up for his campaign, unfortunately, at least this time around, it seems. So what, what inspired you? I mean, someone? An event? What got you there?
Nabilah: [00:07:12] You know, I often get asked that question and I always say, think back to the time that my mother actually took me to Bangladesh and you know, took me to the village she grew up in when I was five and seven years old. And being such a young child, you know, I grew up in America. I was born in Atlanta and I had never seen abject poverty like that. And like, you know, I had cousins who had holes in their clothes. I had, they were, you know, taking showers in dirty water. Their water had arsenic in it. It was like, it was a lot for my little child-like mind. And I remember learning at the time that the president of Bangladesh was a Bengali woman that looked like me. And I told my mom when I was a little kid, I was like, when I grow up, I want to be just like her so that I can be able to help poor people. Well, and of course I can't run for office in Bangladesh because I wasn't born there. But I've carried that on into my life as an adult. And for me, I think it's so important to show compassion. To show love and compassion to your community and to be there for your neighbor. And, that's why I think I've gotten really involved in political campaigns and wanting to make sure that everyone has a voice at the table.
Rico: [00:08:26] Now you, a lot of your issues that you talked about are the, anyone that wants to know more about you can go to NabilahforCongress.com where they can find the issues that you've talked about and quite a few of them mirror of Sanders issues, right? Medicare for all, immigration reform, economic equality. Actually you believe in universal basic income, I believe or no?
Nabilah: [00:08:54] I believe right now we need some emergency universal basic income. So families need relief during this coronavirus pandemic.
Rico: [00:09:02] What do you think? How do you feel about what's going on now with the legislation that's going through Congress and in the Senate, this relief package. Writing a check and making sure it gets out there. Minutian kept saying it needs to be this week, tomorrow. I mean, they want to be able to send $1,000 to every family. At least every family that's not a millionaire let's hope cause they don't need the money. What do you feel about that package? So these specific things in there that, that you liked, that you don't like, that you would do differently.
Nabilah: [00:09:35] So I've seen various versions of what people have wanted for a relief package. I think that it's the right thing to do to give relief to the American people, especially working people who are suffering from the economic downturn because of this pandemic. So many people are being laid off. They're losing jobs. They don't know how they're going to pay their mortgage. They don't know how they're going to pay their health insurance. My own mother was actually laid off two days ago from her job. I mean, she called me up saying, if you, I don't know, like, I don't know how I'm going to survive, basically. And so I think it's the right thing to do to offer relief. Now, you know, if it's $1,000 a month for a working person, you know, I've heard people tell me that, you know, that's not enough. I don't know if I'll be, my rent is higher than that. And so we're gonna have to figure out ways in how we provide relief to people so that they don't have to suffer or go into debt because of this pandemic.
Rico: [00:10:32] Yeah. I don't know if the third guy, actually, unless I misunderstood, it's just a thousand dollar check. Unless they've changed this. I know Sanders had said there should be $2,000 a month until we get through with this. I don't know if that's the doable thing. But this would be a good enough reason to go further into debt, I would imagine to be able to do that.
Nabilah: [00:10:55] I think this pandemic is going to be longer than a month. I was just listening to Governor Cuomo. He did a podcast on the daily where he seems to think that we're at, this pandemic is going to peak in 45 days. It's going to get worse before it gets better. And so, I'm afraid that because of our late, you know, figuring out solutions, coming to this problem late in the game, later in the game, is making it so that it's gonna take longer for us to recover. So I think families are unfortunately probably going to be hurting for more than a month.
Rico: [00:11:38] Yeah, no, for sure. I mean, they've been talking about it. As far as the effects of it, at least as far as 18 months and maybe waves of, of it coming back at us, especially when we reopen the borders. If that's the case, and travel begins again, you know, we may see this come back again. People coming from different parts of the world. I mean, they may be bringing it with them. I mean, so what about the issue of, in fact, let's talk a little bit about that immigration reform, closing the borders, doing different things. I mean, obviously I'm assuming you're not for what Donald Trump has done. How would you handle that, that side of it? Cause the, we do, we should have borders right?
Nabilah: [00:12:26] Yes, no I agree that we should have borders. We're a sovereign nation. Now as far as… We're asking people that are abroad that are Americans to come home soon. I think that we are going to have to monitor the situation very, very closely, in making sure that people that are coming into the country aren't carrying more cases of the Coronavirus. And so, I saw that they started testing, earlier this week. In making sure that people didn't test positive.
Rico: [00:13:32] Fine, immigration. I mean, certainly, you know, being a, you're running for Congress, you'll be one out of hundreds of them. Some of them may be leaving. I mean, there's so many, I don't know how many of them have caught the Coronavirus already at this point. It seems at least two, if not three. And they're, you know, quantitating the…
Nabilah: [00:13:56] I know that we have one in the State Legislature.
Rico: [00:14:00] I'm sorry?
Nabilah: [00:14:00] I know that one of our State Senators has the Coronavirus.
Rico: [00:14:04] Yes, I saw that too. So I mean, no one's immune to this. Anyone can get this, that everyone's going to get really sick from it. Not everyone's going to need a ventilator. I think that says something about 2% of the population that gets it may get to that point. It's a
possibility. So I mean, there will be a lot more deaths as well as we go out, because unfortunately that's the nature of the beast right now.
Nabilah: [00:14:34] No, I was just saying, no I agree with you. I think what we need to do is ramp up testing. I think a lot of people are carrying the coronavirus and don't know it, because they're asymptomatic. And we need an upper testing significantly to identify who has it and who doesn't so that they can properly softcore team.
Rico: [00:14:51] What would you say to the young people out there that are on the Florida beaches now? They're not all young down there also, you know, thirties and forties down there. Which could be younger but, what would you say to them?
Nabilah: [00:15:04] I would say go home, stay home. I think young people have this notion that they're invincible, that you're young and what they don't. What more of these folks need to understand is that you could be carrying this virus without even knowing it and passing it onto someone that is elderly whose immune system would be compromised and therefore die. And that's what we're seeing in Italy is that 90% over 95% of the people there that have died in the coronavirus is 60 years or older. So be mindful of others. Please.
Rico: [00:15:40] Yeah. Those are attacks I can say, cause my heritage is Italian, but they love to kiss and hug, and that's probably how they spread it really fast. All right, let's get on to Medicare for all you know, that's obviously, you know, one of the comebacks that someone said about Italy's that it's a, this was in, is a debate with Bernie Sanders, is that Italy has pretty much Medicare for all, right? And yet their exposure to it was greater than any other Western nation outside, you know, from China certainly. So, and that, that's climbing there. Did it work? That network, is that even relevant? Is that the same thing or is it something different?
Nabilah: [00:16:25] So I, you know, I have heard of that and I will say that it depends where you're implementing the system. Like, cultures are different. For example, in Italy, families live together. You live with your parents. There are, there's more density. And so when one person gets sick in the household, it spreads to everyone. And so what, and then there's an older, Italy has the oldest population in Europe. And so, I mean, they were just, it was a perfect storm for that virus to come in and wreak havoc. I think the single payer healthcare system in America would address the fact that so many people are losing their jobs right now no longer have access to healthcare because they can't afford it, because their health insurance was tied to their employer. This is, you know, people are understanding why this is a problem. And in this district, about 20%, you know 130,000 folks don't have health care, including myself. And, it's particularly dangerous. It's really dangerous now because folks are terrified of getting this virus because yes, testing is free. But like treatment could run up into the thousands. You know, the medical debt, two thirds of medical debt. In this country, people go into debt because two thirds of it is from medical debt. And so, it's a huge issue and I think Medicare for all will address it. Two-thirds of families go bankrupt because of medical debt.
Rico: [00:18:01] Do you think, well the debate with some people is, there are about 11 to 12 million illegal immigrants in the United States. That number varies out a bit, depending on which side of the aisle you're on and who you are. But we know that there's millions and certainly probably over 10 million. They, likely not, don't have enough money to go to the hospital. They likely will not go to the hospital, especially with what's going on with ICE and all that lately, especially in States that support, you know, the support, that aspect of it and that, that I understand is being suspended. Now, ICE will not do that. And at this point, supposedly the suspended going after, immigrants that are not felons or not related to arrests. So then they're going out searching at this point, at least this is what I understand from CNN. So at some degree, you know, everyone has to verify the facts, I guess. But, you know, the fact is that they don't, you know, that's where the problem is too, right? Cause if you, you can't get the test if you have it and you don't know and you're not able to go to the hospital, you're spreading it. Great, so having a system in place makes sense then. I've always argued that whether, and people always say, especially Republicans, might say, well, they're illegals, they shouldn't have it, and I always said, well, then we'll have a pandemic at some point because they will not be able to go to the hospital. Makes sense. You have a fear, may not want to be able to go. So there's some of that, aside from the young people in Florida that just can't get it together, they think that they're, that they're immortal. Where else can you go with immigration? I mean, at this point it takes years. I mean, I met someone that his whole family from, I think it was Argentina, they had applied like eight years ago, nine years ago, and nine years later to get the approval to come as a family and they had to wait nine years. Does that make any sense?
Nabilah: [00:20:16] No, it doesn't. My mom actually sponsored her older sister and all of my cousins that I saw when I was a little girl in the village, and it took them about 11, 12 years. And so we have a very complicated immigration system. We need to simplify it. Families shouldn't have to wait that long to reunify. I, and I think that, you know, this district is one of the most diverse districts in the country. Gwinnett itself is the fourth most diverse County in the country. And when I talk about immigration reform, I talk about how we need comprehensive immigration reform, how we need a pathway to citizenship for the 11 million undocumented people in this country. We actually have the highest number of DACA recipients in Gwinnett County, in the entire state. And so, you know, I believe that these people that grew up just like me, you know, probably came to this country when their parents brought them at one or two. I went to school with a lot of them. I remember, you know, they would, you know, we would talk about how they were going to figure out how, Oh, you're going to go to college. And like they were just as American as me. It was just heartbreaking that my life had a different trajectory than theirs, but I believe that they should be protected and they should have a pathway to citizenship as well. You know, these folks are our neighbors. These folks are, you know, startups, small businesses, and go to school with our children. So I feel like they should, they should have a pathway to citizenship.
Rico: [00:21:41] All right. Talking about children and talking about education, I mean, part of what you say is that the education, I think is, we all agree is a great equalizer. It puts that benchmark. We're all there. I mean, money does help in many ways. Colleges you attend,
whether it's private or public, does help being around the different financial level of people does help right to a degree. I've heard that all the time. Well, and you see it in movies, popular movies to Harvard. If you attend Harvard, you're expected to start a business, right? And if you attend Kennesaw state or a GSU, you know, would you say the same thing. You know, so from which school? My son went there also. He commuted, he did his graduate work and graduated from there. Education can be different for different people, right? Cause you, you get all, you want to be one thing, you graduate and then you end up doing something else. And yet you're saddled with the debt of the institution, right? Whether it's $20,000 or it's $100,000. So how would you handle that? I mean, do you believe in free education, state and state in public schools? Do you believe in forgiveness of debt and a few forgiveness of that someone has to pay for that, right? It just doesn't go away. Mythically I mean, tell me.
Nabilah: [00:23:18] I, like you said, like I, and I've, I think I've got it on my website, is that education is one of the greatest equalizers, and I believe that everyone should be afforded the opportunity to you know, have a good education. So right now you have a free education from K – 12. I believe that we can make that from K – 16. So yes, I believe that, I believe in free college. and I also believe that, you know, we have about one point 4 trillion in student debt. If people are saddled with that. I myself am saddled with $30,000 in college debt as well. I'm running full time for Congress. So this is, this is literally my full time job. And in order to do it, because running for office is cost prohibitive. It's, the system's not really designed for working people to run. And I put my college loans into four prayers, which basically means that I'm accruing interest. And then I will have to, at the end of my forbearance period, we will be paying more. And I think what's happening, I've been talking to my peers, and all throughout the district it's pretty, this is actually a pretty young district. So the average age in Gwinnett is 35. And, you know, they've been telling me that they've been putting off starting, you know, families, they've been putting off buying homes. And this is not, this is not something that's unique here. This is something that is affecting, you know, our generation all over the country. With that being said, I, you know, our government has you know, spent trillions of dollars. For example, our president spent about $2 trillion for weapons, during the time that we were on the, maybe on the brink of war with Iran. And if you had instead, you know, he could have used that money to forgive, cancel student debt. So the money is, it's is there when it comes for, you know, war. I think we need to prioritize the budget and, you know, taking care of working people who give so much back to our community.
Rico: [00:25:29] Now you talk about forgiveness of that and no, Bernie talks about that too. I know that back four years ago when you ran, I felt that Bernie-Burn also, even though I'm a Republican here in the South, I used to be a Democrat up in New York. You know, they say when you get older, you buy a house, you have kids. You become a little bit more conservative and stuff. I didn't really become conservative. I think it just changed my views on some things. But I still do feel about personal responsibility, right? If you take out a loan, you should pay the loan. If we forgive those loans and we go and provide free education should there, there should be certain requirements, right? I mean, I always felt like the hope scholarship was great. If you had a 3.0 and you kept that 3.0 you kept the hope scholarship. You didn't keep the 3.0 you'd
lose it. Made sense to me, right? If you can't do the work, then you might as well not be in school. Would there be requirements in what you're looking at and it, would it be a straight forgiveness of debt? Would that be depending on income? Would that be, what would that be? How would that look?
Nabilah: [00:26:38] So, ideally, I would love to see a plan where we can finally cancel student debt. And I understand that that might take longer. So I've seen, you know, as various presidents have and running on different student loan cancellations on certain amounts of that they would allow it to be canceled. I would love to just start the process of being able to forgive student debt. And, we could, you know, perhaps prioritize different career paths in doing so. But eventually I'd love to see the ability for the US Government to be able to cancel the debt overall.
Rico: [00:27:17] With the presidential race going the way it is. I mean, everyone's doing what you're doing, right? They're not, I shouldn't say everyone, I don't know. Most people are not in a stadium. I don't think that Trump will be in one soon. I think he's gonna do what he's doing away from it. I think he's taking this, this whole thing seriously as well at this point. But do you, who would you support? Biden or Bernie? Or whoever the nominee is, if you became…?
Nabilah: [00:27:47] You know, whoever the nominee is. I think, you know, every. It's understood at this point, that Biden will probably be the likely nominee. And so, you know, I'm going to support whoever the nominee is, vote blue no matter who. With that being said, I am someone who's, like you mentioned earlier, some of my policies do mirror Senator Sanders in the progressive policies that I'm advocating for. But I feel like we need a different leadership and I'm really hopeful that we will be able to elect a democratic president.
Rico: [00:28:32] What are you finding out there when you're campaigning? You know, obviously you're doing virtually now. I don't know if you're holding virtual watch parties or what have you been doing inside? What are you doing? How are you doing it virtually?
Nabilah: [00:28:48] You know, campaigning during a pandemic is uncharted territory. You know, it's something that you can't really call up someone and be like, Hey, what did you do when this happened? So, we suspended it all, in-person campaigning on person canvassing door to door. I just need to think it was safe for my volunteers or my staff or my community. As this virus is extremely contagious, you know, it is deadly. So we are completely virtual. Now we operate a, I'm doing Google Hangouts with my team every single day. We are doubling down on text banking, phone banking. We're going to have two virtual town halls that we're scheduling for next week so that people can essentially meet me via, you know, Skype and be able to ask me any questions that they have. I think nothing can ever replace face to face contact, you know? Earning of someone's vote and asking for it. But I think with people self-quarantining and being home and being on their phones, and there's a lot of anxiety about what's happening, people are paying attention to the news. And I, so we're going to make sure that we're communicating with as many voters as possible.
Rico: [00:29:59] So the primary has been pushed out, right? We pushed to May at this point, and I don't even know if most people understand that the primary that was going to happen this month was really just the presidential primary, the May primary NASC and have the presidential and the local statewide and local races and all that. I don't know how many people would have known that young people might've voted in the primary that tend not to vote on the, on the local level, they tend to vote more national. But now the opportunities there are to be able to vote down that ticket and get what they got on that ticket in one day and through that. So, how you know, and quite a few people, I've already done an absentee ballot. No, they're going to be allowing that to continue on and hopefully they don't push the primary out past May is anything possible. And even if they don't, it's going to be long six foot apart lines of people going to vote. We will encourage people to do absentee ballots. Have you done anything along those lines to help people to enable that to be easier for them?
Nabilah: [00:31:08] So, as you mentioned, the presidential primary has been moved to May 19th. So we're expecting a much larger turnout, with the presidential and all of our downfall elections. With that being said, I think, you know, I've been telling folks that I really think this pandemic is going to get worse before it gets better. I don't think, I think it would be irresponsible to ask people to wait in, you know, three, four hour lines, you know, crunched together and, you know, I think that would just be a scenario for just spreading the virus. And so, I think, you know, I've been hearing that, will most need, well, I've been hearing that we'll probably most likely be moving to a vote by mail. Now that's nothing permanent, but I feel like a lot of States are moving that way. With that being said, if the state does mail in request, if, you know, if you want to vote by mail, they need to mail it to everyone. Not age group to keep it there.
Rico: [00:32:08] Would you say everyone that's registered?
Nabilah: [00:32:10] Everyone that's registered, yes. So I've been hearing that, you know, there are thoughts of just sending it to people that are 60 and above. And I think that it should be sent to all registered voters, and so that everyone has equal opportunity to ask for a ballot in, you know, mail it in.
Rico: [00:32:33] We're, are there any other issues that will be live that you would like to speak about that we haven't touched on?
Nabilah: [00:32:44] You know, we touched on, I think everyday working class immigrants, and I grew up in Gwinnett County. You know, the majority of my life went to public schools here who work low wage jobs here, as did my parents. And so, you know, this is a working class district and I understand the day to day issues that people are going through at an intimate level. And I think it's very important that the people that lead us also live among us and understand, you know, our lives. And I also really truly believe that this is a district that deserves to have a reflective representation of our diversity and our values. And that if Democrats want to flip the seat in November, we're going to need a candidate. And that's exciting. That brings out young
voters and brings out minority voters and all sorts of folks in it has an inspiring message so that people come out and vote. And, I'm trying to be the voice for this community.
Rico: [00:33:44] Cool. Then let's end it here. Tell us, ask for the vote. We got one minute to ask for the vote and then tell people where they can find more information about it. Nabilah: [00:33:58] Okay. Well, if you're watching this, if you liked what you've heard, I would love to earn your vote. I'd love to be your first Congresswoman in this district and flip this district blue and represent it with progressive policies that are going to uplift our families in the working community here. You can learn more about my campaign, at my website: www.NabilahForCongress.com​. And I also have very active social media. So check me out on Twitter, Instagram, or Facebook: @Nabilahforga07
Rico: [00:34:34] Cool. Stay there for a minute. I just want to sign off with everyone. So I want to thank everyone that's either watching this live or end up watching this on, during the next four days as we boost this out. And that may find this either on YouTube or as a podcast on iHeartRadio, Spotify, wherever you find this, just rate us on this podcast. If you want to share this, go to the Facebook page Peachtree Corners Life. If you're not all in there now, and you can share this video out to your friends and let them know about this podcast and about the interview that we've done today. So thank you very much and we'll see you next time.
Official drop boxes available for absentee/advance by mail ballots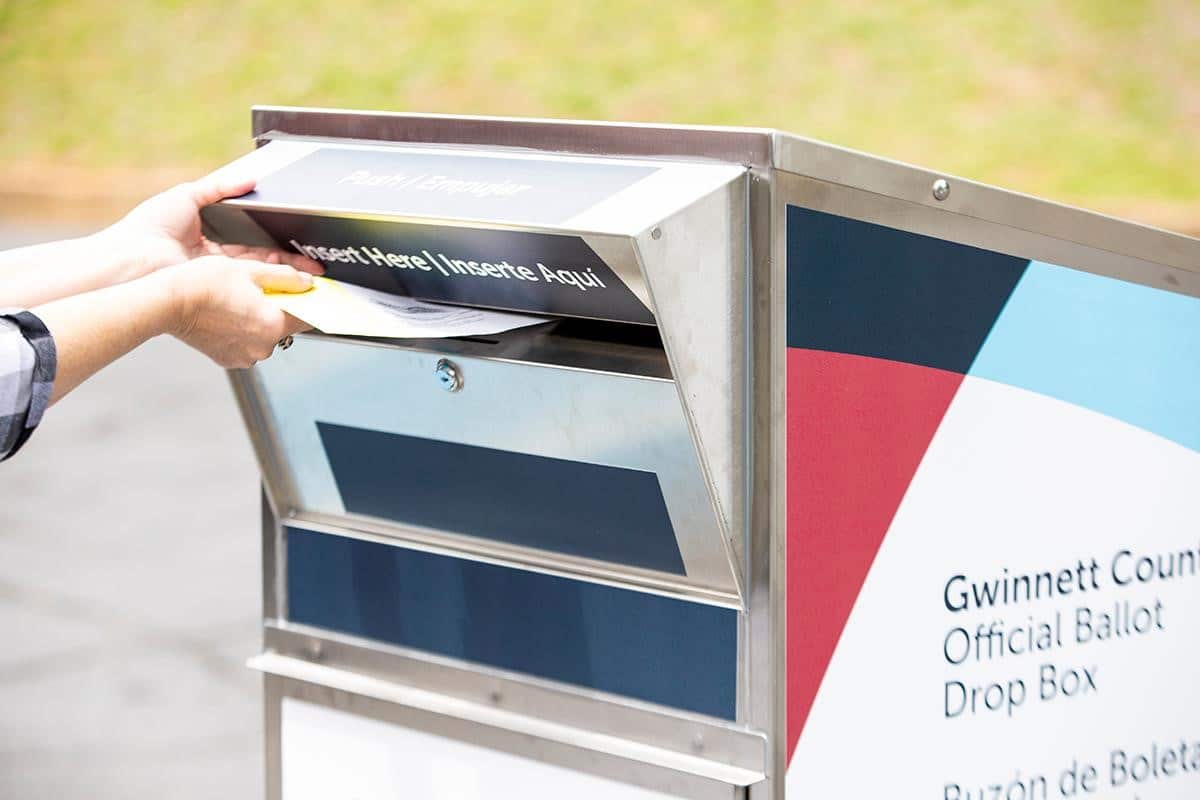 Eight official ballot drop boxes are now in place across Gwinnett County to provide eligible voters with a new way to return absentee/advance by mail ballots for the June 9 Presidential Preference Primary, General Primary, and Nonpartisan Election. No postage is necessary on ballots placed in the drop boxes. The secure drop boxes are monitored by video and available 24/7 at these locations:
Voter Registrations and Elections Beauty P. Baldwin Building, 455 Grayson Highway, Suite 200 Lawrenceville
Multiple options to cast your ballot for the June 9 elections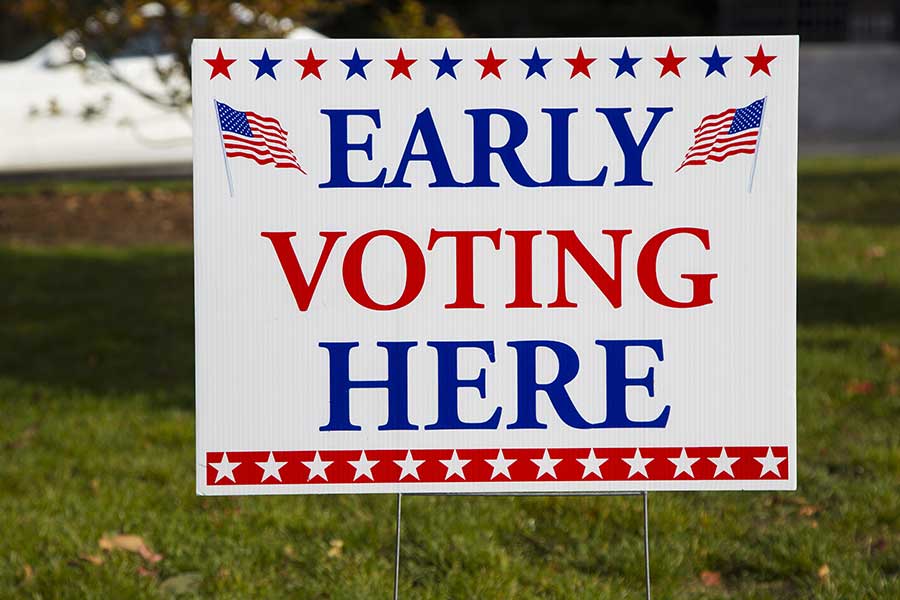 Voters are not limited to Election Day to cast their ballot in the June 9 Presidential Preference Primary, General Primary, and Nonpartisan Election.
Eligible voters may vote advance in person every day, including weekends, through June 5 at the Gwinnett Voter Registrations and Elections Beauty P. Baldwin Building, located at 455 Grayson Highway in Lawrenceville. The office is open for advance voting Monday through Saturday from 8:00am to 5:00pm and Sunday from noon to 7:00pm.
Voters can also cast their ballots advance in person every day, including weekends, through June 5 at the Gwinnett County Fairgrounds, located at 2405 Sugarloaf Parkway in Lawrenceville (use the Davis Road entrance) Monday through Saturday from 7:00am to 7:00pm and Sunday from noon to 7:00pm.
Satellite voting will be offered daily from Saturday, May 30 through Friday, June 5 from 7:00am to 7:00pm at four satellite locations.
Bogan Park Community Recreation Center, 2723 North Bogan Road, Buford
George Pierce Park Community Recreation Center, 55 Buford Highway, Suwanee
Lenora Park Gym, 4515 Lenora Church Road, Snellville
Lucky Shoals Park Community Recreation Center, 4651 Britt Road, Norcross
To check the status of your voter registration and see a sample ballot, visit My Voter Page at mvp.sos.ga.gov. For more information or to stay up-to-date with elections in Gwinnett, follow @GwinnettGov on Facebook, Twitter, and Instagram or visit GwinnettElections.com.
Lee Thompson run for Gwinnett Commission Chair [Podcast]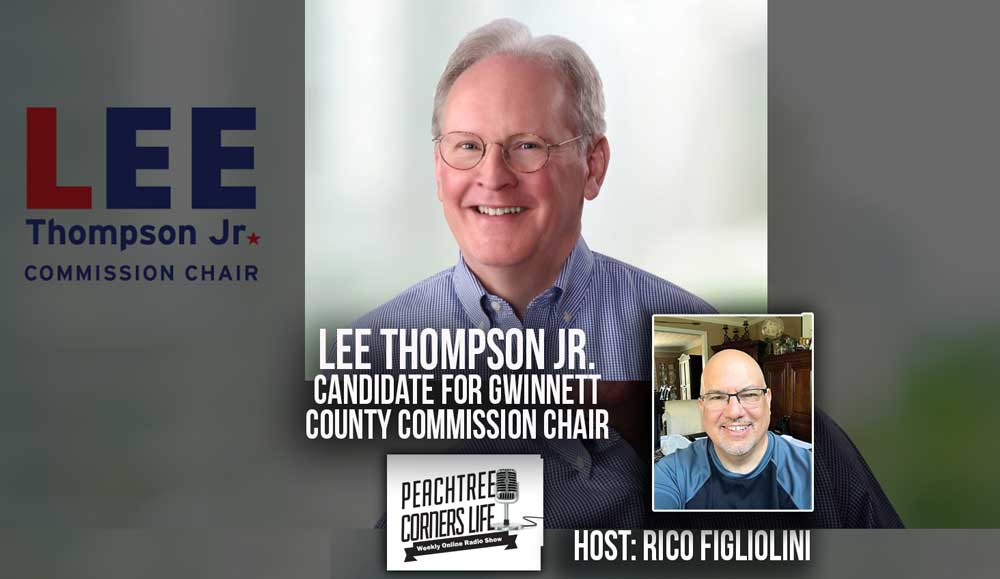 With the election coming closer, Rico Figliolni sits down with County Commissioner Chair Candidate Lee Thompson Jr. in this episode of Peachtree Corners Life podcast. Here, they discuss issues on transportation, affordable housing, immigration, and ethics in politics. Hear about Lee's history in Gwinnett County and his views on where the county is going.
Resources:
Website: https://www.leeforgwinnett.com
"I believe this is an extremely important election when we come in as a County commission in January of next year, you're going to have five county commissioners and the longest-serving county commissioners are going to have two years tenure. I believe it's very important that the person who's in the chairman's position as the leader of that commission has a good and solid understanding of local government in the issues that have to be addressed by the local government."

Lee Thompson Jr.
Topics can be listened by timestamp:
[00:00:30] – Intro
[00:03:10] – Lee's Background
[00:05:21] – Political Changes in the County
[00:09:13] – New Challenges for a County Commissioner Chair
[00:12:42] – Working with Education
[00:14:48] – Property Taxes
[00:16:07] – Re-Opening the State
[00:19:56] – Transportation
[00:22:45] – Affordable Housing
[00:25:51] – Immigration
[00:28:12] – Ethics and Transparency
[00:31:43] – Campaigning During COVID-19
[00:35:13] – Election Issues
[00:37:56] – Closing
Podcast Transcription
Rico: [00:00:30] Hi everyone, this is Rico Figliolini host of Peachtree Corners Life. I appreciate you guys joining us in the city of Peachtree Corners. We're doing our podcast as usual, socially safe. Not in the studio that we normally would be like Atlanta Tech Park, where we've been doing a lot of podcasts before. COVID-19 hit. We have a special guest today. We're going to be discussing a bit about politics in Gwinnett County, but before we get there, I do want to just say thank you to our sponsor Hargray Fiber. They've been a sponsor of the family of podcasts that we do not only Peachtree Corners Life and Capitalist Sage, but the other shows that we do as well. So I want to say thank you to them. You can find out more information about Hargray Fiber, which is a leading fiber optic company in the Southeast. They provide fiber cable. They're not the cable guy, they're not Comcast, they're not AT&T, they're right in your community. When they come into Peachtree Corners, or Conyers, or Valdosta, they are right in their offices there. You don't call up an 800 number that's going to be like somewhere in LA LA land. Your tech support's right in your community. They're a great place that provide not only the consumer side, but the business side, which is what HargrayFiber.com does. So check them out. They have a 90 day free internet connection available, and also some tools that can get you online. Free tools that can help you do your work online in teleworking. If you're getting challenges somewhere else, they're the guys to go to. HargrayFiber.com so check them out. Now to our guest, Lee Thompson. Lee, welcome.
Lee: [00:02:08] Thank you very much. I appreciate you having me.
Rico: [00:02:10] I appreciate you coming out. I know, coming out, see? Everyone's, everyone's out here doing campaigning in the virtual world, right?
Lee: [00:02:20] I walked down the hall to another room, so.
Rico: [00:02:23] That's funny. They set you up and you could just keep going. Was it Biden that was doing the virtual tour. I was wondering how he was going to do that from the basement, but it's amazing. Everyone's Zooming. Is that, that's a new thing for you or not?
Lee: [00:02:42] Well, it certainly was before this pandemic started. But, now that we've been doing that, I've been, I think in three or four city council meetings that way. I've been in three or four forums that way. So I've done it quite a bit now.
Rico: [00:02:56] Cool. So for those that don't know Lee Thompson. Why don't you tell us a little bit about you? Obviously I think there's six or seven democratic candidates running in the primary.
Lee: [00:03:08] Five Democrats and three Republicans,
Rico: [00:03:10] Okay five Democrats, okay, cool. So tell us a little bit about yourself and your background and stuff.
Lee: [00:03:16] Sure. I'm a lifelong resident of Gwinnett County. Grew up in Lawrenceville, attended Central Gwinnett High School, after that I obtained a degree, undergraduate degree from Mercer University. I have a law degree from the University of Georgia Law School. I have lived in Lawrenceville throughout my life and have practiced law in Lawrenceville since 1981. I started practicing law in 1981. For the vast majority of that time, our firm has been specialists in local government law. I've been the city attorney for the city of Sugar Hill, the City of Duluth, City of Grace, City of Lawrenceville. We have in the past also served for Snellville and the city of Auburn. And we also represent the Gwinnett County Board of Education and we've represented that entity since 1983. And so we've seen a lot of changes over the years. And so, that's what I've done for a living my entire career. I'm also active in the community. I was actually in the first class of Leadership Gwinnett, that was in 1985 and 1986. I was in my late twenties and was selected to that class of Leadership Gwinnett. I have been active in the Democratic party. I've been on the executive committee of the Gwinnett Democratic party for over 30 years. I've been on the state Democratic party committee for over 20 years. And I've been in a number of civic organizations, I actually was one of the founding members of the Gwinnett Tech Foundation and was also a founding member of the Central Gwinnett Cluster Foundation and serve on the board of directors of the Justice Center of Atlanta. Which is a nonprofit organization that provides mediation service and provides mediation training for people all over the United States.
Rico: [00:05:21] And that's interesting. I mean, the democratic, I mean, me coming from New York it's all Democrats up in the city of New York. Unless you were on Staten Island, Long Island, and then there were Republicans. So there was never a Republican to be found in the boroughs, right? And when I moved down here in '95, being a Democrat in Gwinnett County, you are lonesome, we never crossed paths that way. I ended up becoming a Reagan Republican or Reagan Democrat, however they call it. But the Republican party for the most part was what the county ran on right? During the early, I mean, most of the years, but when I moved here in '95, it seemed that way.
Lee: [00:06:04] Well, certainly since '95 that has been true. Prior to that, actually when I was in college and then a young lawyer in politics, there were actually a lot of Democrats in office here in Gwinnett County. I actually was the campaign manager for Bartow Jenkins, who was the last Democrat to serve on the Gwinnett County Commission before Ben Ku and Marlene Foskey were elected last year. I was his campaign manager. I also worked on the campaign staff of Ed Jenkins, who was a Democratic Congressman who represented the County up until, I believe it was 1992. The Republicans swept most of the County offices in 1984. And so, since that time, most of the County wide offices have been held by Republicans.
Rico: [00:06:53] I think there was a Gingrich along that time maybe, right? Yeah, but politics has changed in, in the County. I mean, I've seen it since '95 since I moved here. Urbanized, Gwinnett has become more urbanized, right? A lot more minorities. Very different from the way it was in the late, mid, late nineties, I think, more Democratic. Well at least what democratic leaning, maybe not democratic voters, but we're getting there, it seems right. It's taken a couple of decades. Are you, are you finding it easier to meet more Democrats along the way? Different
types of Democrats? You know, there's Asians, there's African-Americans. I mean, it's a big potpourri of ethnicity in Gwinnett County, right?
Lee: [00:07:49] It is, and definitely, I mean I've seen the entire change. I actually grew up in Gwinnett County, so I was going to school in the seventies in Gwinnett County when it was basically a rural community. My grandparents lived down on Pleasant Hill road, which at that time had a lot of farms and even some dairies on it. And so, I've seen it change from a rural community to a suburban community now to an urban community. It's become much more diverse. It's one of the most diverse counties in the United States at this point. And that's, that's been a very good thing. And it has been good for the Democratic party. The Democratic party has grown in the last few years. I was actually elected as state representative in 2008 when President Obama got elected. I ran against the three-term incumbent here in Marksville, was able to win that seat in 2008. I then lost it in 2010 when the Republicans swept in statewide races. But then have remained active in the party. And I've seen actually they split my old seat up into six different districts in the Lawrenceville area. And I was happy that by this last 2018 election, four of those six seats that have parts of my old district are now held by Democrats.
Rico: [00:09:13] Wow. It has changed a lot it seems. So politics. Politics has changed a bit too, right? Since even a decade ago. I mean, we're more concerned about transportation coming in. I've seen more challenges on that Marta wants to be able to come in, although it was recently defeated. COVID-19 has also opened up a lot of different other challenges as well. So what do you find with, you know, what challenges do you think a County chairman will have coming into office considering reduced revenue that's happening because of COVID-19 and in health issues. So what challenges will an elected official County Commissioner, County Chair face when they take office?
Lee: [00:10:03] Well, they're going to face a lot of, of issues. They're going to face the issues that they already had, which are transportation, how to deal with transportation, how to deal with land use planning and infrastructure, and all of the issues that were already there. But they're now going to be facing that, having to deal with probably substantially reduced revenues. One of the things that we've already seen is the effect on businesses. Obviously with restaurants being closed with a number of retail businesses being closed, that we've had a reduction in sales tax revenue. And that sales tax revenue is probably going to continue to be reduced. Sales tax revenue in Gwinnett County is mainly used for those special purpose local option sales tax to fund capital projects. So what is probably going to happen is we're probably going to have to see how long that reduced sales tax revenue goes on. And see if there's going to be enough money to fund the projects that were planned out for this loss in the last referendum and see if we're not able to fund those projects, which projects are we going to put priority on and which projects are going to have to be delayed or which projects where we might have to come up with a different funding source. We also really don't know yet how this is going to affect other revenue sources. When I was in the state legislature I went in in January of 2009, a few months after the economic collapse of 2008. And I found at that time the state was often trying to balance the budget by cutting funds that it was providing the local governments. And so we
don't, the state hasn't even adopted its budget for the coming fiscal year, which starts July one. So we don't have any idea if the state is going to be cutting back the County funds. And so we'll just have to kind of wait and see the ultimate effect this has. But obviously it's going to change planning and we're going to have to be very strategic in our financial planning next year. Once we see how much we are actually affected by this.
Rico: [00:12:09] I think I just heard something about the governor's office saying to all the departments about cutting back 15% across the board. Something along those lines.
Lee: [00:12:18] That's correct. I think they sent out a memo to ask them to cut their budgets about 14%.
Rico: [00:12:23] Across the board, no matter.
Lee: [00:12:27] When they had originally asked them to cut a 6% or 4% I believe it was earlier, there were certain places that were exempted like education and other areas. As I understand it from this last memo, there are no exemptions.
Rico: [00:12:42] So how does the County work hand in hand with education, for example, and other areas within the County? Obviously school kids are home. They're home through the summer. They should be coming back in the Fall if things go well. School buses have to run school lunches. There's other services that the County provides separate. I mean, obviously you're not, County Commission doesn't deal with the school board per se. But there's auxiliary services that have to be provided that the County coordinates right? With school system, with the health department.
Lee: [00:13:16] They do. And of course, as I said, our firm represents the Gwinnett County Board of Education. So we see it from the education side and obviously the decisions about policy and how to operate schools are all done by a separate elected body separate than the County Commision. They're done by the school board and the superintendent of schools. But yes, there's coordination that has to go on between transportation. Transportation projects that provide intersection improvements and sidewalk improvements and those types of things around schools. And obviously, going on now, the school system has continued to deliver lunches despite the fact that it has children who are not in school. For your title one schools they have continued to provide lunches to those individuals. When we get to the summer and they may not have those lunches or if we face something in the fall where people may not be able to go back to school, that's obviously an issue that we all have to deal with and all that. If you, I, I'm very close, my office is very close to the Lawrenceville co-op. They give out food on Monday, Wednesday, and Friday. During the week of spring break, the line from the Lawrenceville co-op extended back over two blocks of people waiting to get in to pick up food that week. So that's a real issue where we have to deal with our social services and our health and human resources. Divisions of the County have to step in and try and help on some of those issues.
Rico: [00:14:48] And property taxes is another issue too I'd imagine. Property tax has to be paid towards the end of the year and stuff. Do you think that there may be challenges there? Are we looking at not a second wave of, well, second wave of economic impact even, but we're looking at the County have challenges there then? Because that would affect budget as well.
Lee: [00:15:12] It would. And we could be looking at that. I think it may be a little bit too early to tell that for sure. It's going to, we're going to have to see how drastic this economic downturn is from the virus. If it lasts long enough and we begin to have people having evictions, we begin to have people moving out of buildings and leaving the buildings vacant. All of those things obviously can have a downturn on property values and can affect property taxes. I don't know if we'll see it so much this year in the property taxes, and because those property values were really set at the beginning of the year in January. Unless we see people who are not able to pay their bills, we may see Gwinnett County actually has a very high collection rate on their property tax bill. So it'll be interesting to see if that goes down this fall when, when those property taxes actually come to you.
Rico: [00:16:07] Come, when, Governor Kemp back in, I think it was April 21st, somewhere around there, mid April, decided to start opening up the state slowly. I don't know if it was slowly, but it was announced that it's going to open up. The rules, the executive order, he placed, said sure, salons. He has salons, nail places that can open up, but there were no obviously anyone that looked at that and looked at the CDC guidance would be like, you can't open these things up. I know that you were sort of opposed to the opening up of the state at that point. How do you, how do you see it coming along now? I mean, are you still, how do you feel about the opening and the continued opening right now? Summer camps, for example, not overnight camps, but summer camps are going to be allowed. The movement to 10 persons in a group and stuff like that. How do you see that affecting Gwinnett County? Are you for that? Are you, you know, what's your take on that?
Lee: [00:17:09] I'm still concerned about it. I had two problems when Governors Kemp did that and put out a short statement about that when he did it. The first was that I thought it was a little bit too early for some of the reasons you just cited. There were some obvious businesses in there that you really couldn't keep social distancing that it was difficult for them to abide by the guidelines. Secondly, the issue of that, every time the governor has put out an order, he's preempted any kind of local action. So, in other words, if the city of Atlanta wants to do something differently, or Gwinnett County, a County of almost a million people, thinks it needs to have different rules than a County in South Georgia that has 20,000 people, he preempted any ability to do that. And I found that disturbing. You know, I hope we're not going to see an uptick and the second wave of the virus. I think it's a little bit too early to see to know that. I have been impressed by people, I think showing common sense. And a lot of people just saying, you know, I'm not comfortable going in and sitting in a restaurant right now. I'm still going to pick up, or I'm not comfortable going to a particular area. And the people who have opened up at least, you know, hair salons, one person salons where they say, okay, I'll take one person at a time. I'll use disposable capes, I'll disinfect everything after this person leaves. Everybody wears masks and
gloves while they're in here, you know, so I have been pleasantly surprised by some of the common sense I've seen of people trying to make sure that they apply common sense to the openings that they have done.
Rico: [00:19:04] That's interesting. I've been out there a little bit. I've been doing a lot of Instacart ordering, so costco deliveries, Publix delivery. Well, not Ingles. But when I do go out there though, it's interesting the mix of different things, right? I see a lot of people with masks, and then at some places you see no one wear masks. So I just, you know, and I think my fear is that the longer we do this, the more lax people become. Because, you know, that's just the nature of, I think people, right?
Lee: [00:19:38] So I would agree with your comments. I've seen the same thing. We've, when we have people come into our office, we still have our doors locked. We let people come in as they need to for a specific, to sign some papers or something. We wear a mask. We've asked people to wear a mask. Some people do, some people don't. So yeah.
Rico: [00:19:56] You know, and moving forward, obviously I think business has to start moving at some point. Intelligently yes. Um, because we, people need to make money. They have to pay their bills. I think everyone starts feeling the hurt at some point. Individuals as well as business owners. And also opportunities have been found because some people figure they don't need that 10,000 square foot office. They could use 2,000 square feet and everyone could be, you know, out there doing zooming you know and stuff. That could have a bad effect on commercial real estate in the country. You know, there's that. There's also, you know, transportation. I'm sure Marta is going to come back up again. I don't know when the cycle is, maybe even in November if there's something on the ballot, I guess. How do you feel about Marta coming back and, or transportation along those lines? Is that something you would be welcoming and how would that be affected? You know, how can we do that? Maybe with even limited budgets?
Lee: [00:21:07] Yes, it's something I would actually welcome. I've actually lived here long enough that I've voted for the Marta referendum in 1990 when it came along. It was defeated in 1990. I voted for Marta referendum last year when the referendum came out, I think it needs to be put back on the ballot. I think it was unfortunate that it was put on the March ballot rather than the November ballot, that the last vote, I think that was done for purely partisan politics. And that was a sad thing. It is something that we need. We need public transportation, and we need to do it because what that referendum actually provides is a 1 cent sales tax that's going to last for about 30 years. That will provide a guaranteed funding mechanism for transportation and we might differ a little bit on the plans and which plan is a better plan and what we should have. I hope that we don't try and wait for the perfect plan before we get that funding source in place because we need to put the funding source in place and get some type of public transportation going in this County. I've, when I was a state representative, I also supported the T Splice bill. It wasn't a perfect bill, I didn't like it, but I voted for it and I'd hoped the County would vote for it in 2010 unfortunately we didn't. And now we saw it was another 10 years
before we got anything else on the referendum. So the longer we put these things off, the less money we have going towards transportation over the years.
Rico: [00:22:45] I agree with you to a degree. I mean the T Splice is a little different probably because you can always adjust that budget where that money goes to some degree, whereas the larger transportation plan might be different, right? Heavy rail versus light rail? You know, where are you going to put the transportation hubs? I mean, some of those things can be decided later, obviously, but there's always a plan that people look at initially. I think that was why that plan failed. As well as being politically put into the wrong month to be voted on. So I agree with you there. That just killed it. They just, that was just dumb. But it was made on purpose to be defeated I think at that point. But anyway, you know, COVID-19 is actually qualifying everything we talked about now. Transportation, are we going to be doing that type of thing? How do we continue development, you know, and providing affordable housing? I'm assuming that, you know, as any Democrat, I don't know if you're progressive or more conservative, but how do you feel about affordable housing when it comes to further development in the County? Do you feel that it has to be regulated in there, incentivized? How do you feel about that as far as people being able to afford to live in a place near where they're working?
Lee: [00:24:09] Well, I think it is a demand that we have to respond to in the County, and it should be a high priority of providing affordable housing and work force housing. I've actually been involved in a project in downtown Lawrenceville as the city attorney, that I think provided a good example of how we might do some things. The city of Lawrenceville took about 30 acres near its center and is actually redeveloping that for a number of mixed uses. It's apartments, condominiums, single family, retail, restaurants. As part of that the development actually wiped out some old public housing that was built in the fifties and sixties. And what Lawrenceville did was part of that plan is take part of the money that came from the development of that. And we actually built a, I think they lost 30 some odd units in public housing. They actually built 40 some odd units of new housing, and relocated those people as part of the project. They also have several projects that their housing authority has done where they've been mixing projects where there's affordable, supplemented housing being mixed in with regular market rate housing. And so there are a lot of creative ways to do this. And I think we've got to continue to look at those creative ways, engage the private sector in doing that, and work along with our public sector and our housing authorities and our other authorities that we have that can provide the type of housing we need.
Rico: [00:25:51] Okay. What about immigration and the policies that are right now in place, like programs like 287G and you know, the impact that has on the immigrant population. How do you, where do you stand on that issue?
Lee: [00:26:07] I think that's a bad program. I actually put out a, you can go to my website and my Facebook page. I think I actually put something up on Facebook in like August of last year when they were having some of the hearings and discussion about that. That is a program that's
bad for a couple of reasons. Number one, it's bad economically. We spend about $3 million a year on that program and we don't get any substantial return from it, I think. And the second is, it's bad from a psychological standpoint. It sends a bad message to our immigrant community in saying that I think it leads to profiling. I think it leads to a negative feeling of the immigrant community that they're being discriminated against, and I think they are being very often as a result of that program. And, so I think we need to get rid of the program. I think we also need to make sure that the programs that were put into effect in Gwinnett County are welcoming and inclusive programs. And I can actually tell you a story. When I was a state representative back in 2009 and 2010, I actually got complaints about some of law enforcement running roadblocks near churches that were having Spanish mass or a Haitian community. And I think that was a direct result of 287G types of programs back at as long ago as 10, 12 years ago.
Rico: [00:27:37] Wow. I know a lot of the, I've interviewed, I think two sheriffs, candidates that are running for Gwinnett County. They both obviously want to take, you know, stop the 287 G program.
Lee: [00:27:49] And I would say the sheriff has the most control over that program. And so I think electing one of these good Democratic candidates we've got for sheriff would go a long way towards stopping that program.
Rico: [00:28:00] Do you have a particular candidate that you favor?
Lee: [00:28:03] I actually do. You can check their financial records and see which one I gave money to.
Rico: [00:28:12] Alright, sounds good. Talking about financial records, we're heading towards the end of our time together. So I want to take it on ethics and transparency, which is on your website. And, you know, Gwinnett County government for a long time, I'm sure. I was on the planning commission for three years, I think, under Burton, when he was commissioner representing this area. And, although I never was personally involved or seen any ethics issues, you know, you always heard things. You know, that might've fell along the border a little bit of like, you know, someone rezoning a place, a hundred acres then flipping the property to a developer, all of a sudden that's going to develop that. So a lot of farmers became millionaires over in the early nineties and late eighties, even going into the late nineties, a little bit because of things like that. And there were, I'm sure there was even one County commissioner, I won't name them, that was connected directly to developers and ended up having to give up a seat and was prosecuted at some point. But, you know, things like that happen in politics. I don't think anyone's led to think things like that doesn't, you know, doesn't happen on a regular basis. What would you change? So then there would be more transparency and more honesty maybe brought to the process. What could we do there?
Lee: [00:29:42] Sure. Well, the first thing is you need to enforce the rules that exist. There are ethics rules that exist for both politicians to disclose their personal financial disclosure
statements and who's giving them campaign contributions. All those things. People need to comply with those. They need to file them on a timely basis and they need to file them and be open about that. Second thing is we actually need to, I believe, revise our internal processes in the County about how zonings are handled. One of the things that the ethics statutes say is that if somebody is an applicant in a zoning, they're supposed to disclose whether they've given campaign contributions to someone within a certain time period. Well, if you come up and you're going to buy a piece of property and rezone it and you put it in an LLC, that's never existed before. Never owns anything other than that piece of property, obviously you've never given any campaign contributions, but it can be owned by five people who have given lots of campaign contributions. That's circumventing those rules and regulations. And we just need to, and that would be very simple to just make you disclose certain things when you file applications, make sure you know who the applicant is, make sure you know who the owner is. Make sure you have the types of disclosure that needs to be done, and so I would certainly push for those types of rules changes in our zoning process.
Rico: [00:31:08] Is that something that has to be voted on or is that something the County Commission Chair can across the board like an executive order? Can you actually do that yourself without any?
Lee: [00:31:19] I could not do that by myself. I would have to have a majority of the County commission agreed to change the regulations about that.
Rico: [00:31:25] Okay. Well, there's a couple of Progressive's I think on the County commission now, right? It should be easier maybe.
Lee: [00:31:31] Well, we certainly have two Democrats on there already. So the, you know, the hope is we'll have five Democrats next year when we come into session in September, I mean in January.
Rico: [00:31:43] Right, right. Alright. I don't have a problem with that necessarily, but although some of my listeners will be a bit problematic with that. COVID-19 has changed the way politics works. So let's talk a little bit just quickly about that, how you've been campaigning, because it's like you're not a, I mean, even still now, I don't think you could go out in really more than 10 people, I guess. So how are you campaigning? How is that process working for you now?
Lee: [00:32:14] Well, it's been a very interesting process. We came up with the campaign plan really before the first of the year last fall, and about eight weeks ago, we just said, well, this isn't going to work out. So, because it involved a lot of door to door, knocking on doors, having meets and greets in neighborhoods, doing fundraising at gatherings. And in fact, I think the last event I had like that was over in Peachtree Corners. I had an event back in February, and I think that was about the time the virus hit a week or two after that.
Rico: [00:32:47] Right. That was when it was growing, I think.
Lee: [00:32:49] That's right. We started shutting things down. So, it's really shifted the campaign. We've had to do a lot of telephone work, had to do, we're sending out texts, doing a lot of social media. Putting things on Facebook, Twitter, Instagram, and we're sending mailer pieces out.
Rico: [00:33:11] And you're doing a lot of virtual, I've noticed that, doing a lot of virtual candidate forums organized, which is pretty good. Organized, like one of them was organized by the Asian American advocacy fund, another one by the Gwinnett African-American caucus.
Lee: [00:33:25] Correct.
Rico: [00:33:26] Really niche. I mean, social media allows you to actually be able to niche down some of these things and reach certain segments of the population better, I think.
Lee: [00:33:34] And that has been fascinating and is actually, when you say that, I think the response to some of this has been actually better than you'll get at a public meeting. I know we were at one virtual forum that one of the CID was doing, I think they had 160 some odd people watching at one point. We had one with the chamber of commerce this morning that lasted for about an hour and a half. The commission chair candidates, and they told us they had had between 100-200 people register for that and they expected even more to come on that. I actually participated in NAACP meeting earlier this week about virtual zoom call. I participated in the Asian American Advocacy fund forum that you were talking about last week. So I've participated in four or five of those types of forums and they've been very well received and it's been enjoyable for the candidates to get a chance to actually talk with each other and share our views with the public.
Rico: [00:34:38] You know, I think the opportunity, maybe you can't do the door to door handshake, which is always the best thing for a politician, to be able to do door to door because that's really pulling out that vote and meeting people in person. But you're right. I mean you don't, you probably wouldn't have gotten that as many in person visits to a forum then you can online because people would be like, I can do that. I'm here, I'm home. It's just the zone right in there, you know? So maybe it could be good.
Lee: [00:35:06] That's right. And then you have the same as you do with these, they get posted somewhere and people see them after the fact as well.
Rico: [00:35:13] So it's been an interesting process with hope. And I mailed in my ballot also. So did that I think it was last week I mailed the ballot in. And hopefully what 7 million, 6, 7 million people got in the state of Georgia, got the application for the absentee ballot. I think a million of them responded, which was unusual because normally it would be a hundred thousand or something like that, be a really small number. So, it'll be interesting to see how this is going to
all pan out and how they're going to be able to count those ballots. So I don't suspect we'll know the winner for a few days.
Lee: [00:35:49] Well that'll be interesting. In fact, there's a lawsuit pending I saw just now that was kind of playing off the Wisconsin lawsuit as to whether ballots are going to have to be counted. Do they have to be received by seven o'clock on election day or did they just have to be postmarked?
Rico: [00:36:05] Yes, and that was the question I had now, besides the fact that there was no pre stamped or pre-metered return, which really, I mean, that's, I think the state should have done that.
Lee: [00:36:16] I agree with you. In fact, Stacey Abrams put out a statement about that, and I put out a statement agreeing with her.
Rico: [00:36:21] It's ridiculous that they did not do that. They printed all those valid applications and not do that? That makes no sense to me. But yes, I had the same question of, is it post marked that day or it has to be there before that day? And what if the post office gets it wrong? I mean, I've published Peachtree Corners magazine and I can't tell you how sometimes every once in a while we'll get someone say, I didn't get that, or I got it three weeks later and it's like, you know, I pay the rate I pay. It gets, it's supposed to be delivered legally and officially within three days and not like a week later. So that's what I'm wondering right now.
Lee: [00:37:04] And I think the secretary of state contends that the rule is it has to be in the election office by seven o'clock on election day. The Supreme court, when they approved the Wisconsin decision that they approved earlier this year. Actually allowed, a federal judge has said, as long as it was postmarked by the day and it came, then you still had to count it. So that's probably going to be an issue that's going to be argued back and forth between now and election day. This is going to be an interesting election cause I do think you're going to have a lot of people voting by mail, which extends it out for the candidates as well. Normally you have a three week process where people are early voting. We have about a six week process cause as you say, you've already voted and yet we're still more than, you know, just a month or so out from the election.
Rico: [00:37:56] Which becomes a problem though because if I voted and let's say you know, let's say the candidate I'd like, I'd like someone else now it's too late. You can't do anything about it. So you really do have to be careful the candidate, as long as you campaign, as long as you can. We've come at the end of our time. So normally what I ask a politician to do is give our audience, ask for the vote, tell them, give me about a minute or so, and I'll put you on screen by yourself. Why they should be voting for you Lee.
Lee: [00:38:32] Alright, well thank you very much. So first of all, thank you for letting me do this and for having me here today. It's been very nice, I appreciate it. I would ask for your vote for
County commission chair because I believe this is extremely important election when we come in as a County commission in January of next year, you're going to have five County commissioners and the longest serving County commissioners are going to have two years tenure. I believe it's very important, that the person who's in the chairman's position as the leader of that commission has a good and solid understanding of local government in the issues that have to be addressed by local government. I believe I'm that candidate. I have almost 40 years of experience as a local government attorney representing some of the largest cities in Gwinnett County and representing the Gwinnett County school board, the largest employer in Gwinnett County. I have a great knowledge of County and city government. I have a knowledge of zoning, which is about 50% of what County commissioners do. And I've done zoning throughout my career for over 30 years. I believe I have the talents and the ability to do the job and to do it well. And I also have a passion for Gwinnett County. I grew up here. I want to see our County prosper. I want to see our County become inclusive. I want to see our County become leaders in regional transportation and doing the types of thing this County needs to do. And I would appreciate your vote and your support.
Rico: [00:40:10] Thank you, Lee. Hang in there with me while we sign off. I want to thank everyone for watching Peachtree Corners Life. More podcasts to come. Elections are not over. So I might have another candidate or two from a variety of places you never know. So I appreciate you guys hanging in there with us, listening to the issues. Make your choices. If you haven't voted yet, you need to do this. 2020 is truly an important year on so many different levels. And if you've been affected by COVID-19, I pray and hope that your family and you and the people you are with, that you know that things turn out well and stay strong. We'll be with you. We're all in this together. Thank you.