Need for emergency disaster lodging and blood donors surges amid COVID-19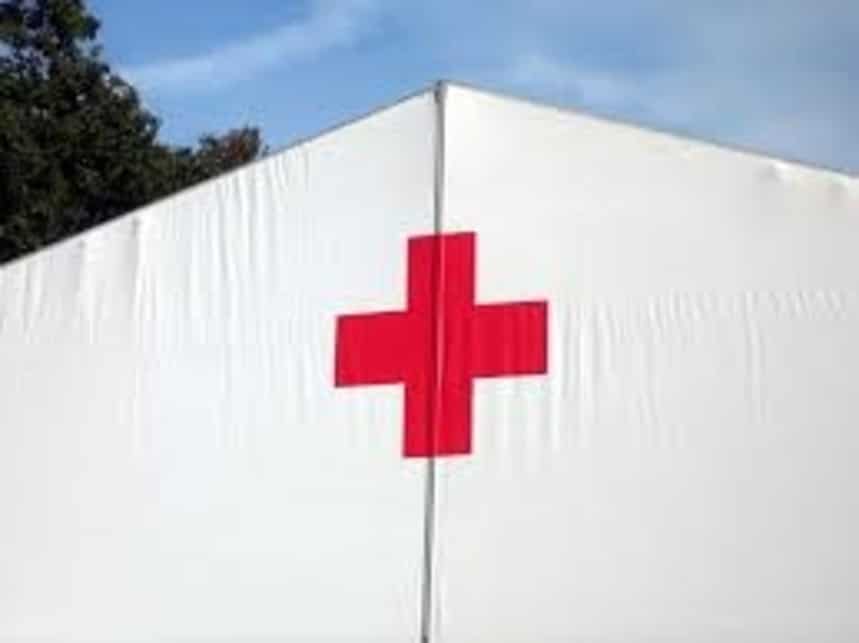 Facing a relentless disaster season, families in the U.S. have spent more nights in emergency lodging in 2020 than in any other year over the past decade.
More than 1 million times this year, a person relied on the Red Cross for a safe place to sleep after a disaster in the U.S. That's more than four times the annual average from 2011 to 2019. 
"As the coronavirus pandemic wears on, disasters like residential fires in Georgia — plus a relentless wildfire and hurricane season – have upended hundreds of thousands of lives here and across the country," said Danella Hughes, Disaster Officer for Georgia's Red Cross. "Through it all, more people are stepping up as Red Cross volunteers to help others — even as they cope with these events and COVID-19. It's a true testament to the humanitarian spirit of people in Georgia and in our country." 
Thousands of people throughout Georgia have been impacted by home and apartment fires, severe storms, and tornados, which ripped through the state in the spring displacing over 200 families. The post-landfall paths of Hurricanes Sally, Delta, and Zeta also directly impacted hundreds of families across the region, causing flooding, downed trees, power outages, and damage to homes.
This year (through September), Georgia Red Cross volunteers have aided over 8,000 people affected by residential fires, including a massive apartment complex fire in Atlanta at the Avana on Main, where nearly 300 people received assistance. Statewide, the Red Cross has responded to 1,765 fires –17 of those at apartment buildings — to help people affected with emergency needs for lodging, food, clothing and personal items. During the pandemic, volunteers are working virtually and in-person, following CDC and Health Department guidelines to ensure their safety and that of clients served.  
Darrell Stafford is among the residents displaced by the blaze that destroyed the Buckhead apartment building in August during the COVID-19 pandemic. Dozens of Red Cross disaster workers from across the state sprang into action to help him and his neighbors.  
"I was in a state of shock for days," said Stafford, a fourth-floor resident of the building at the time of the fire. "Emotional support was one of the most valuable things the Red Cross provided. Throughout the years, you're aware of the Red Cross and how they step up to help, but to see it happening in real-time and have things run as smoothly as they did – it surprised me."
 This year, more than 70,000 people across the country joined the Red Cross as volunteers — who represent more than 90 percent of its workforce. In Georgia, new volunteers have stepped up in extraordinary numbers as the state grapples with the pandemic. The region has seen its number of new volunteers double this year in comparison to 2019. Young people have played a crucial role in disaster response – with Millennials and Gen Z representing more than half of new Red Cross volunteers across the country. 
Additionally, the Georgia Red Cross has sent out over 250 volunteers on nearly 600 deployments as part of relief efforts across the country in 2020. Local responders have helped people devasted by the California and Oregon Wildfires and across the southern United States battered by an unforgiving hurricane season.
Nationwide, 75 percent of new volunteers also stepped up at a pivotal time to fill mission-critical positions, such as shelter and health workers addressing urgent disaster needs, as well as blood donor ambassadors and transportation specialists helping to provide cancer patients, trauma victims and others with lifesaving blood. 
In 2020, Red Cross blood drive cancellations tripled nationwide compared to the year prior — mostly due to COVID-19. Since March, over 50,000 blood drives were canceled as the pandemic forced schools, businesses and community organizations to close, impacting over 1 million blood donation appointments. Still, people rolled up their sleeves — more than a half-million of them giving for the first time. 
Blood donation is an essential service. The Red Cross follows the latest public health guidelines, as well as has put additional precautions in place to ensure everyone's safety.
This pandemic has also caused the Red Cross to adapt its collections to include plasma from COVID-19 survivors to potentially help those battling the virus recover. Thousands of COVID-19 survivors have stepped up to share their potentially lifesaving antibodies by giving plasma. Since April, nearly 25,000 COVID-19 survivors have rolled up a sleeve — many of whom are new to blood donation. Their donations have enabled the Red Cross to ship nearly 50,000 units to hospitals across the country treating COVID-19 patients.
 To learn more, visit RedCrossBlood.org . 
Get the Vaccine, Not the Virus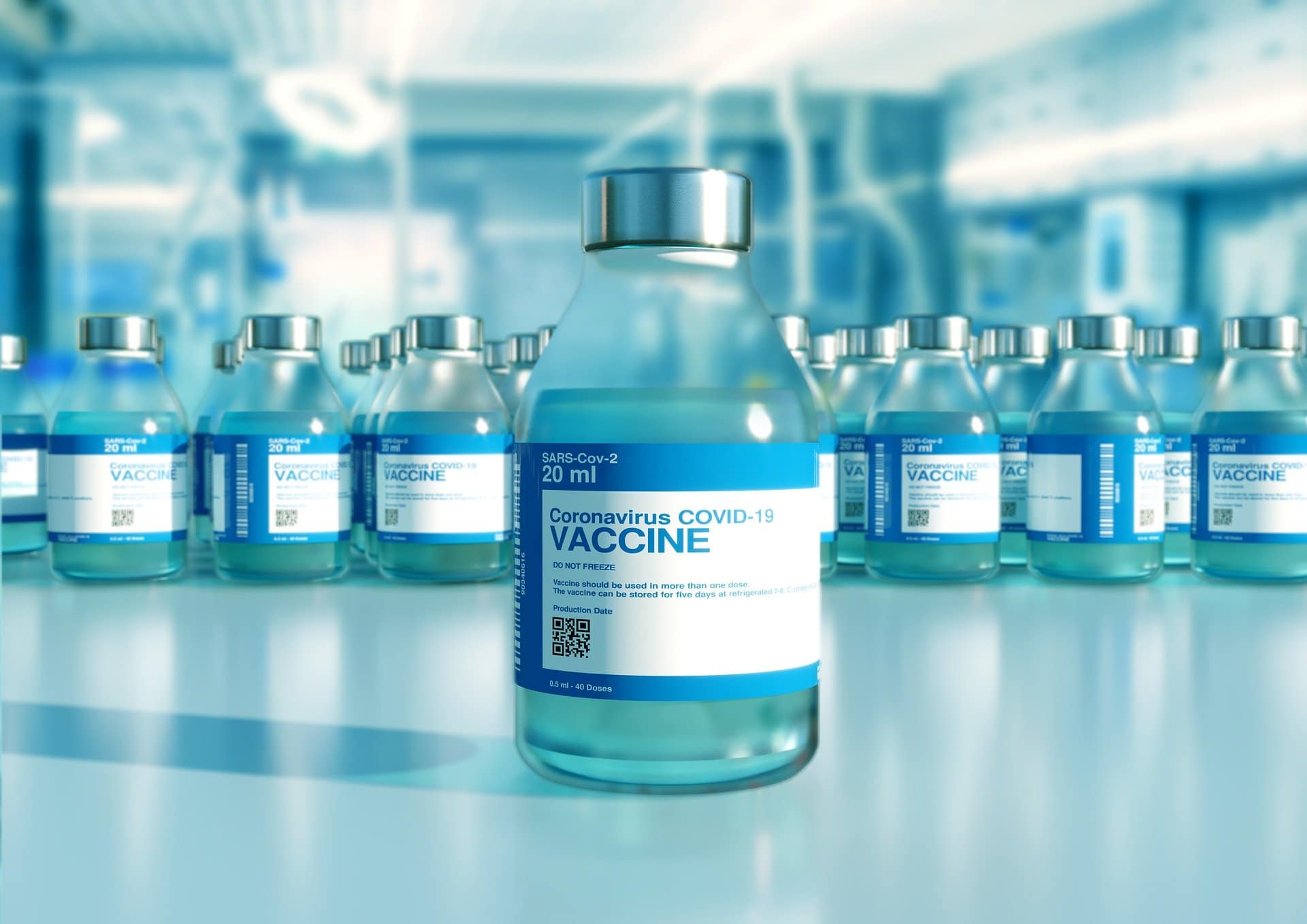 Get your free COVID-19 Vaccine
Get the Vaccine, Not the Virus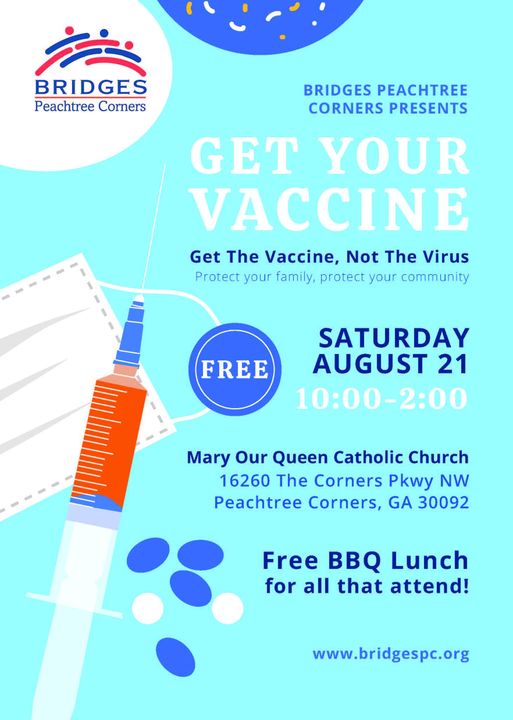 Protect your family, protect your community
WHEN:  Saturday, Aug. 21, 10 a.m. – 2 p.m.
WHERE: Mary Our Queen Catholic Church, 16260 The Corners Pkwy, NW, Peachtree Corners, GA 30092
Free BBQ Lunch for all who attend
Presented by: Bridges Peachtree Corners Presents:
Questions: bridgespc.org
Medical Technology Company Intuitive Expanding in Peachtree Corners, Adding Approximately 1,200 New Jobs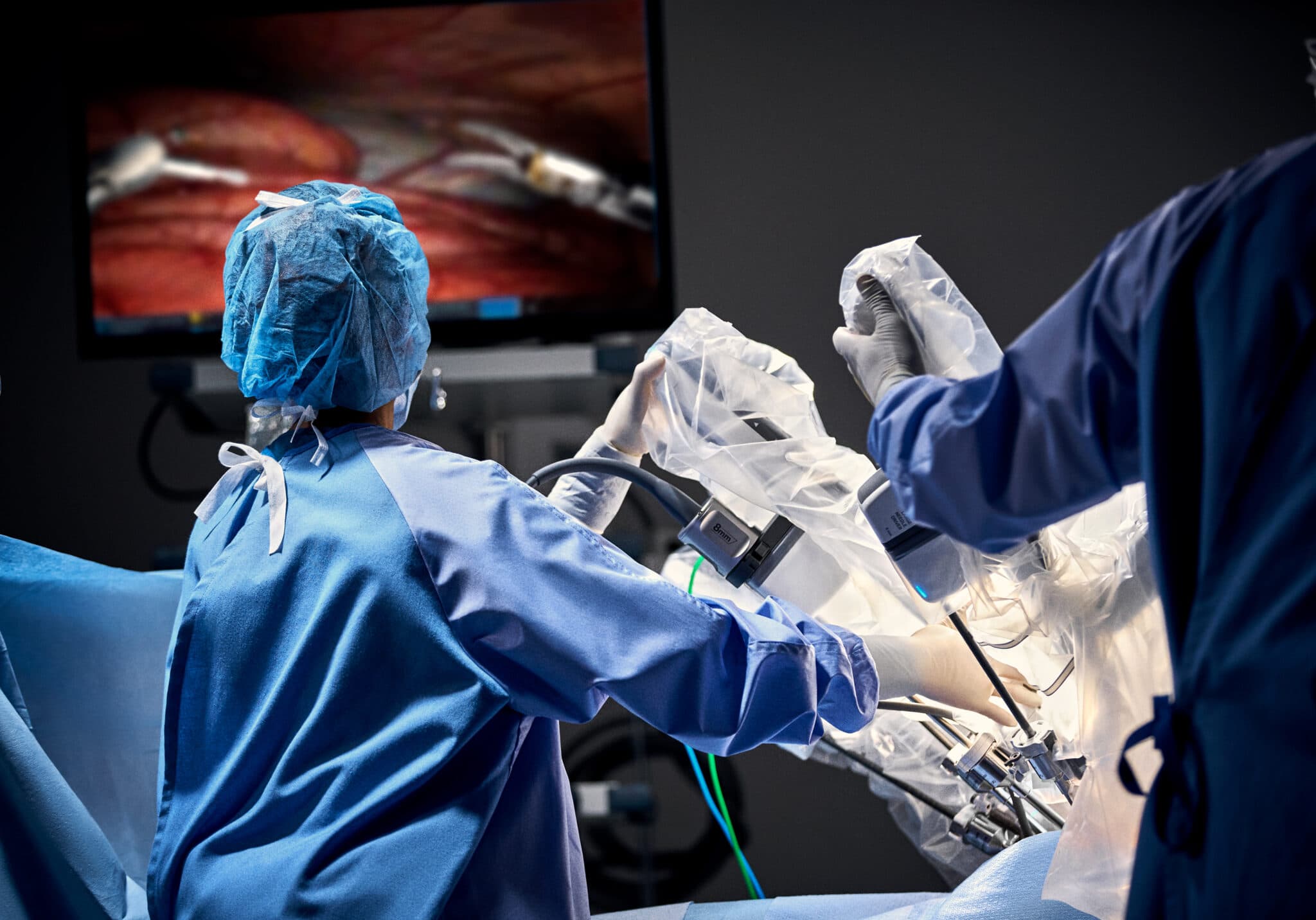 Today, Governor Brian P. Kemp announced plans by Intuitive, a pioneer in robotic-assisted surgery and a global leader in minimally invasive care, to invest more than $500 million in its current campus in Gwinnett County, creating approximately 1,200 jobs in Peachtree Corners.
The expansion will add to the approximately 180 professionals already based at Intuitive' s offices in Peachtree Corners. Present in Georgia for a decade, the company plans to grow its campus to include more than 750,000 square feet of manufacturing and engineering operations, state-of-the-art training facilities for surgeons and hospital care teams, and administrative offices.
"We were thrilled to learn Intuitive has chosen to expand their presence in Gwinnett County," said Governor Kemp. "With our advanced medical environment, dynamic workforce, pro-business policies, and thriving economy, Intuitive made the right decision in choosing Georgia. The Peach State continues to attract world-renowned companies like Intuitive, and this huge investment coming to the new Peachtree Corners campus will benefit hundreds of hardworking Georgians across metro Atlanta."
Headquartered in Sunnyvale, California, Intuitive is the manufacturer of the da Vinci robotic-assisted surgical systems and Ion bronchoscopy system. Surgeons worldwide have completed more than 8.5 million surgical procedures using Intuitive's da Vinci systems. Growing demand for robotic-assisted technologies around the world fueled this expansion.
"Intuitive needs a highly educated, committed, and diverse workforce; quality infrastructure; and the right geography to meet the rising demand for minimally invasive surgical technologies," said Gary Guthart, CEO of Intuitive. "We've found that here, and we're excited to continue to grow in the state. We are committed to hiring a diverse and inclusive workforce as we expand our presence in Georgia."
Intuitive is expected to open its new campus in phases, with completion by 2024. Intuitive plans to hire for a variety of roles in manufacturing, production, distribution, engineering, sales, training, and customer service. Individuals interested in future careers with Intuitive are encouraged to check careers.intuitive.com/us/en as opportunities with the company become available.
"We are thrilled that Intuitive recognized the benefits of being located in Peachtree Corners, and we are grateful to have their growing campus in our city," said Mayor of Peachtree Corners Mike Mason. "Peachtree Corners is a major regional technology hub with great homes, great schools, and great community amenities, so we are confident that Intuitive will be very pleased with their decision to expand their presence here."
"We are thrilled Intuitive chose Gwinnett County for this extensive expansion," said Gwinnett Board of Commissioners Chairwoman Nicole Love Hendrickson. "This project will bring a significant number of jobs to our community and will provide excellent career opportunities for our talented and diverse workforce."
The Georgia Department of Economic Development's Life Sciences division supports and strengthens the life sciences industry. Georgia provides global access, innovative talent, and resources for research and development, and is home to more than 2,000 life sciences companies and organizations. The state's diverse life sciences industry employs more than 68,000 people across biotech, biopharma, medical devices, research, animal sciences, cybersecurity, and more.
Free COVID-19 Vaccines in Peachtree Corners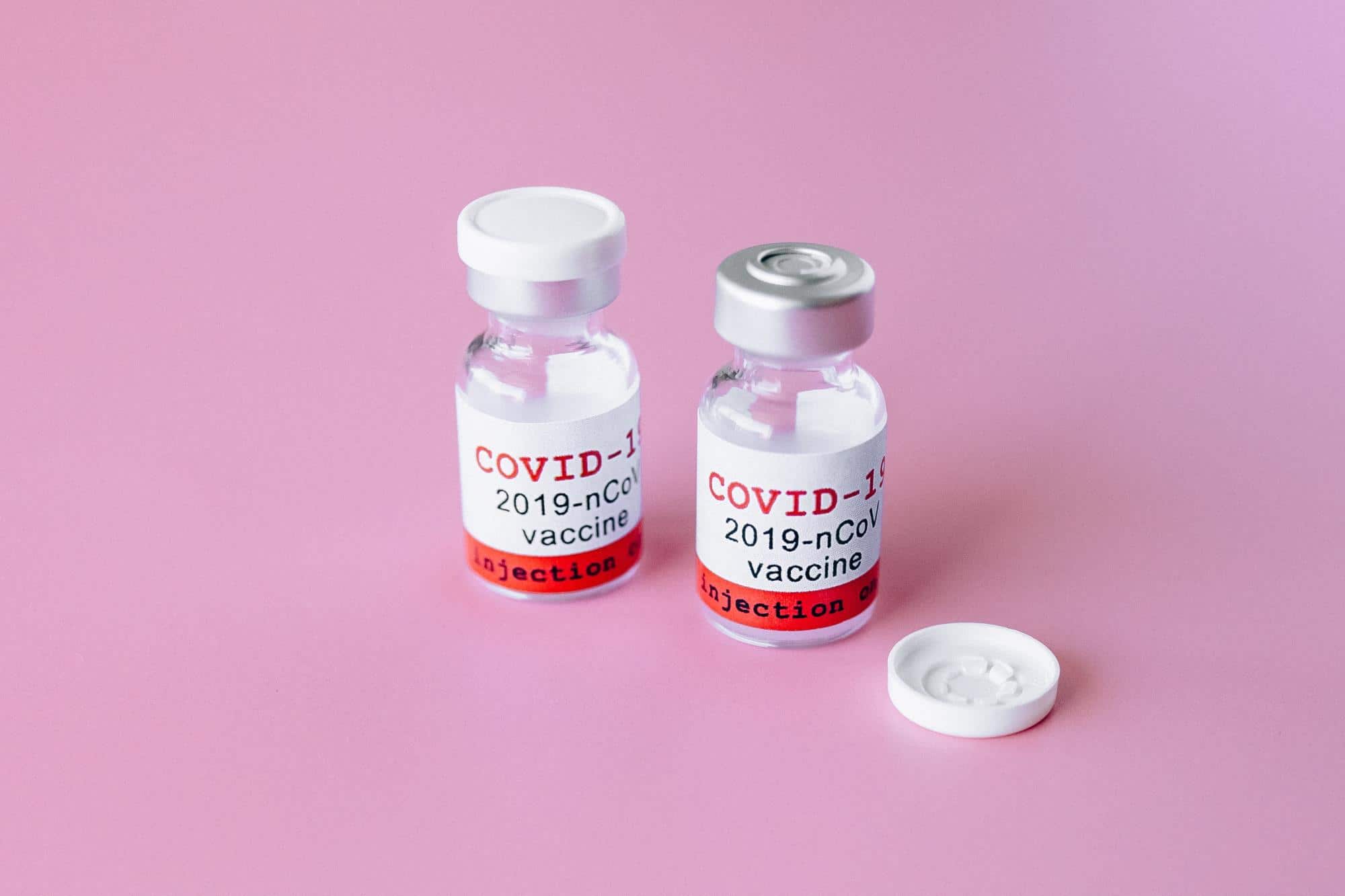 Veritiv, located at 6600 Governor's Lake Pkwy in Peachtree Corners, is hosting free coronavirus vaccines on Friday, July 16 from 11:30 a.m.- 4 p.m. in cooperation with the Georgia Department of Health. 
You will be able to choose between the Pfizer vaccine (two doses required) and the Johnson & Johnson (one dose only) vaccine. 
Please note the Pfizer vaccine can be administered to those 12 years of age and up, where as the Johnson & Johnson vaccine is only available to those 18 years of age and older. There is no charge for either vaccine. 
Use the entrance under the red awning near IT. Register at gnrhealthvax.coreresponse.org and select "Veritif" under Select Location. 
For questions email kimberly.thompson@veritivcorp.com