Wesleyan (45) at Mt. Pisgah (14) [Photo Gallery]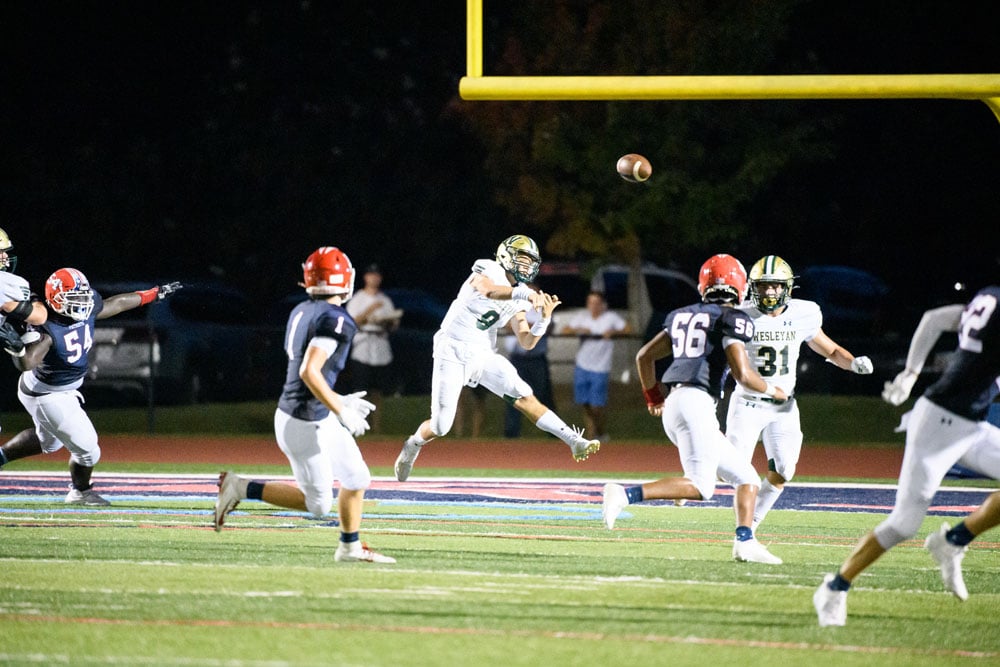 Wesleyan School starts the year with a 1-0 record.
The Touchdown Club of Atlanta Week 1 Offensive Player of the Week sponsored by Ansley Atlanta is Weslelyan Football's Wide Receiver Cooper Blauser who set a Wesleyan receiving record with nine catches, 229 yards, and 3 TD's in a 45-14 win over Mt. Pisgah. Wesleyan is ranked #4 in A-Private.
Photos courtesy of Brian Morgan, Wesleyan School.
Wesleyan Varsity Football vs. Mount de Sales Academy [photos]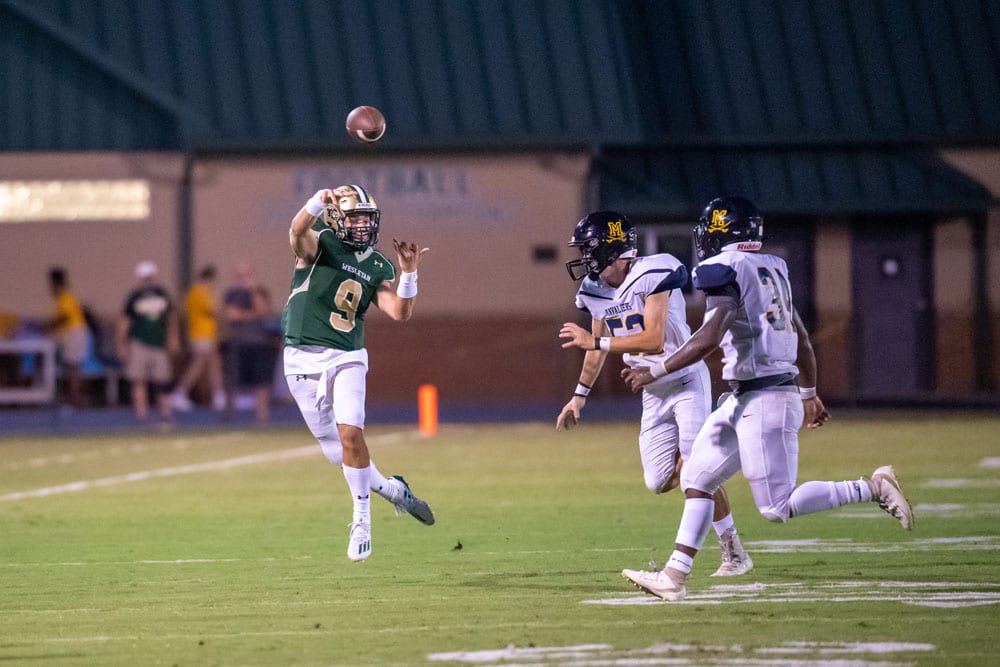 The Wesleyan School varsity football team won Friday's home non-conference game against Mount de Sales Academy (Macon, GA) by a score of 24-0.
Photo gallery courtesy of Brian Morgan, Wesleyan and Brianography.
Greater Atlanta Christian School names Coach Dave Martin as Head Softball Coach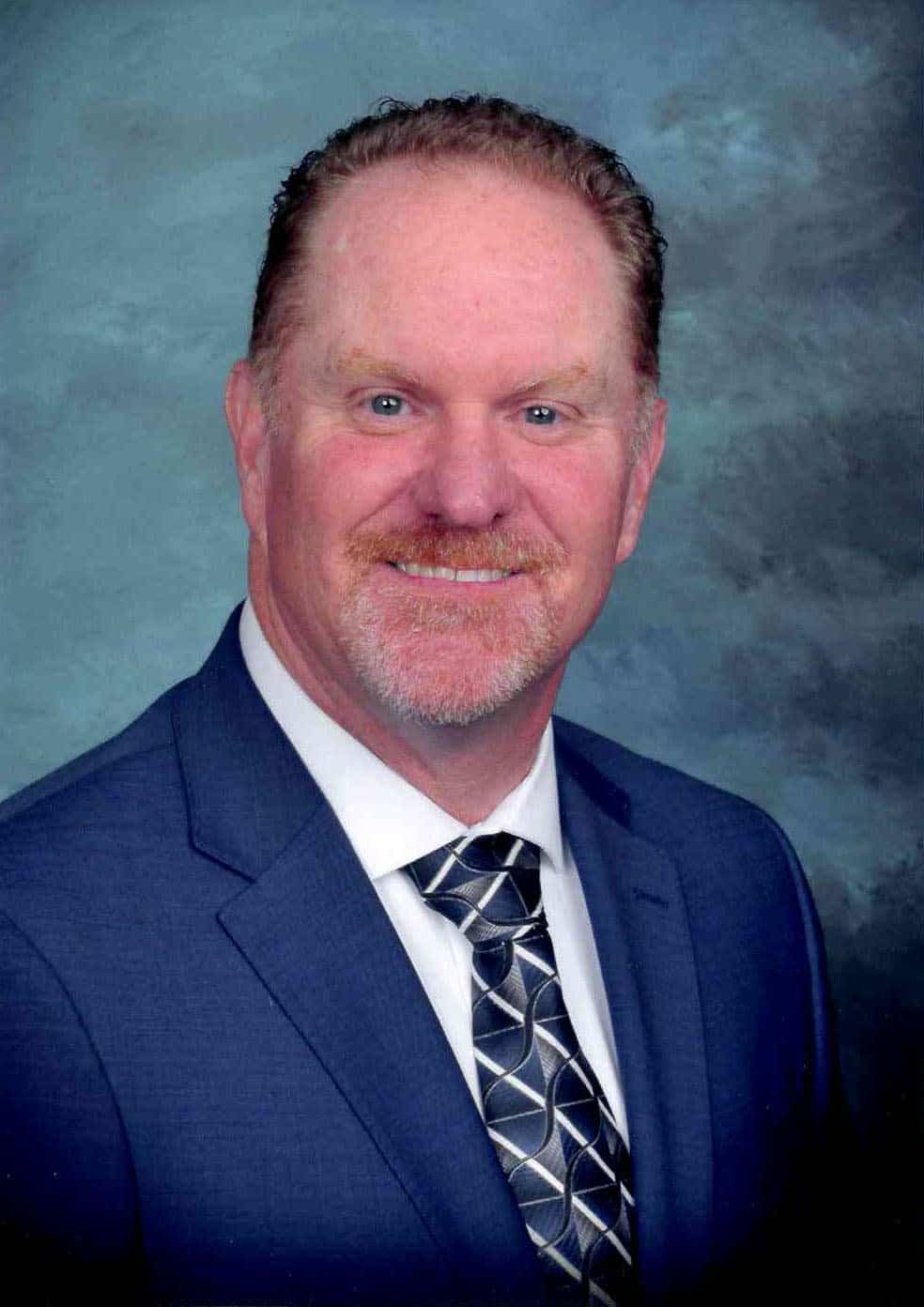 Greater Atlanta Christian School announced Coach Dave Martin as the new Head Softball Coach earlier this week.
"Coach Martin is a great fit for GAC and our campus culture. He is coming from Saddleback Valley Christian School in San Juan Capistrano, California, where he spent over 20 years in Christian education as a teacher, coach, and administrator. He has a passion for the game of Softball with 18 seasons of Softball coaching experience. In addition to coaching his high school teams, he has also coached club Softball for a number of seasons. He is an experienced and highly-recommended program leader who has a passion for skill development and seeing his athletes grow through the game of Softball. We believe the Lord has led Coach Martin to GAC to guide our program for the coming years," shared Athletic Director Tim Hardy.
Coach Martin has many notable accolades, such as 4 San Joaquin League Championships, three times San Joaquin League Softball Coach of the Year, and serving as the Assistant Athletic Director at Saddleback Valley Christian for 12 years.
Coach Martin shared in an email, "I am beyond blessed and excited to join the GAC family. I am a firm believer in the value of Christian education, which is why all three of our children attended SVC preschool through high school. I love Softball. The pace of the game, the competition, along with the passion with which the athletes play fuel my desire to get on the dirt each and every day.
Likewise, I am a huge proponent and fan of women's sports. The life-long benefits are amazing. I have experienced this first hand as I've had the joy of coaching my daughter in high school and following her athletic career through college. Too many girls quit playing sports in middle school due to a lack of validation through their experiences. I hope to foster a culture at GAC that draws girls to the game of Softball, developing a passion and love that will keep them playing as long as possible."
Please join GAC in welcoming Coach Martin and his wife, Christina.  
Sports Turf Installs High-Performance Natural Grass Field at Wesleyan School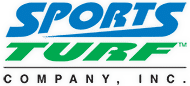 Sports Turf Company, a specialty sports construction and surfacing company, recently renovated Wesleyan School's natural grass field in Peachtree Corners, Ga. The new field from Sports Turf is embedded with innovative technologies and solutions that enhance the natural grass field while optimizing its integrity and performance advantages. 
Sports Turf installed TifTuf Bermuda, which is the latest "Tif" released from the University of Georgia turfgrass breeding program. After two decades of rigorous testing, this drought-resistant turfgrass required 38 percent less water than other varieties. TifTuf's growth allows for faster establishment and quicker recovery compared to other Bermuda grasses making it the leading sports field product. 
Along with the TifTuf installation, Sports Turf designed a full underdrain system, sand-based rootzone and irrigation system. The TifTuf Bermudagrass was installed to increase the durability of the multipurpose facility and to help move water away at a faster rate through the underdrain and rootzone systems. This elite natural grass field can receive a large amount of rain and traffic while remaining playable all season.
"I applaud Wesleyan for bucking the trend of moving towards artificial turf that we have seen in many recent projects," said Sports Turf Company President Todd Wiggins. "Rather than watering the field from a municipal source or a well, it's received from irrigation supplied by the campus detention pond. This speaks highly to the environmental stewardship of Wesleyan's overall campus design."
Sports Turf Company specializes in construction and installation of all different types of sport surfaces including natural grass and artificial turf football, baseball, soccer fields, tennis courts and track surfaces.
For more information about Sports Turf Company, please visit www.sportsturf.net or find them on Facebook and Twitter at @STCFieldBuilder.