Aging Well: A Senior Citizen's Resource Guide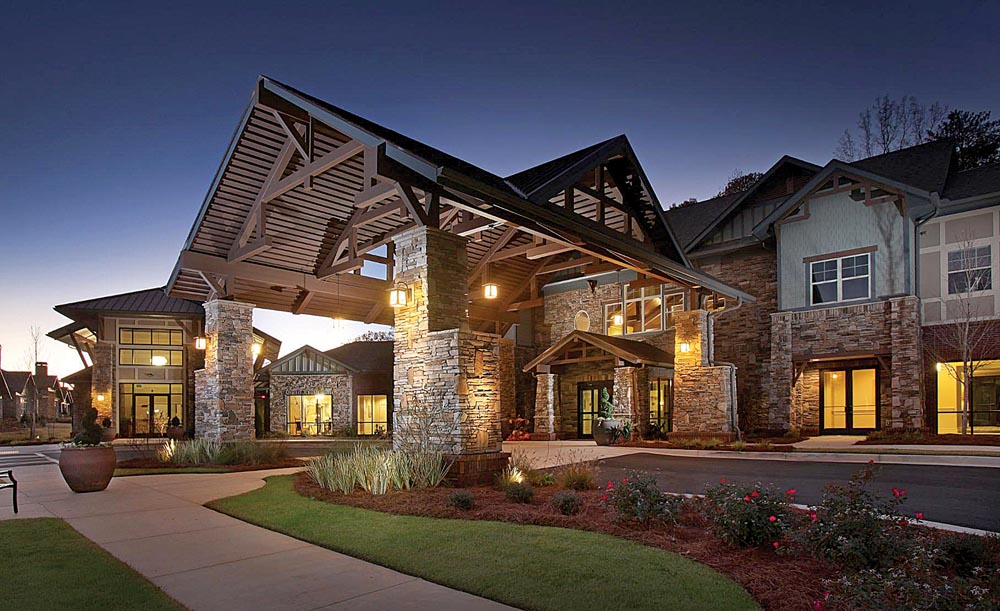 The golden years are meant to be filled with meaningful shared experiences with family and friends, but in the chaotic times that we currently find ourselves, it takes a fair amount of extra effort to make sure the mind stays sharp and the body keeps active. That's why we have compiled a helpful roadmap to local resources for senior citizens in and around Peachtree Corners, ranging from thriving residential communities to senior centers and at-home care.
This guide mentions many services typically offered, but for the most up-to-date information, please contact the businesses directly.
Residential Facilities
Village Park Peachtree Corners
Make your home just around the corner. Village Park Peachtree Corners provides all of the comforts and services of premier senior living within minutes of The Forum and other local shopping, dining and entertainment favorites. Choose between many living styles, from independent or assisted living to memory care — or in one of the luxury bungalows and cottages.
"Cottages and bungalows offer the same designer finishes, 10-foot ceilings, patios, natural stone countertops, full kitchens, gas fireplaces and washers and dryers; however, bungalows are stand-alone homes that include garages, while cottages are garden-style homes with designated parking spaces and closer proximity to the main building," explained Kari Samuelson, COO of Galerie Living (Village Park Senior Livings' Parent Company).
Cottages residents receive two meals a day and weekly housekeeping, included in their fees, while bungalows have customizable dining and housekeeping options. All residents have access to the amenities, including a heated pool, fitness center, full-service salon, courtyards, library, theater, club rooms, coffee bar and full-service restaurant.
More than simply focusing on the comfort and happiness of the residents, Village Park has made it a top priority to keep residents healthy during these tumultuous times.
"Village Park is grateful to be one of Georgia's first senior living communities to receive the COVID-19 vaccine, with over 95% of residents vaccinated for COVID-19 in December 2020," Samuelson said. "We are continuing to follow the safety guidelines provided by the CDC and are looking forward to the new possibilities the vaccine brings to our communities."
For more about Village Park Peachtree Corners, visit villageparkpeachtreecorners.com or call 770-416-0502.
The Mansions at Sandy Springs
For a comfortable place to call home in Peachtree Corners, The Mansions of Sandy Springs is an excellent option. In addition to the standard features that one would find in most reputable establishments, Mansions has a few standout luxuries, such as a washer and dryer in every unit, as well as a balcony or patio for all units. Pet lovers who can't bear to part with Fido appreciate that small pets are allowed for a nominal one-time fee. But as nice as the personal utilities are, the communal benefits are equally so.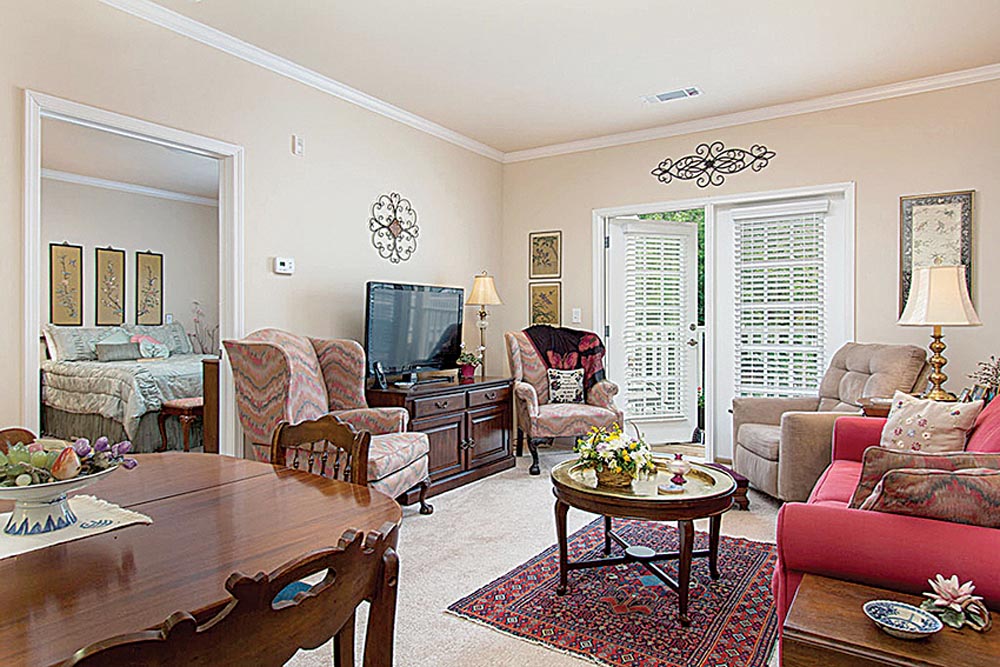 The dedicated activities director makes sure to keep residents entertained, currently bringing in entertainers and performers once a week on Fridays, along with planning in-house activities and off-site outings. (Of course, outside trips are put on hold until it is safe to resume them.)
Some highlights of the Friday Follies include guitarists, pianists and soloists. Mansions also often hosts special speakers, some of whom are residents or from local organizations. One notable resident has given several talks on behalf of the Sons of the American Revolution, for example.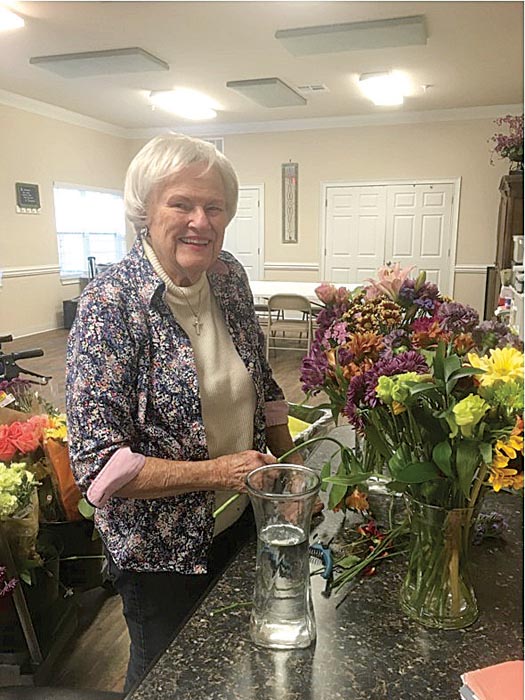 Besides providing entertainment, Mansions has gone the extra mile — or hallway — to continue connecting with their seniors, holding exercise classes in the hallway for safe social distance and delivering daily surprise goodies to raise spirits during times of isolation. Fortunately, residents are now able to move around more freely than they were in months prior, but it's nice to see how the community has banded together.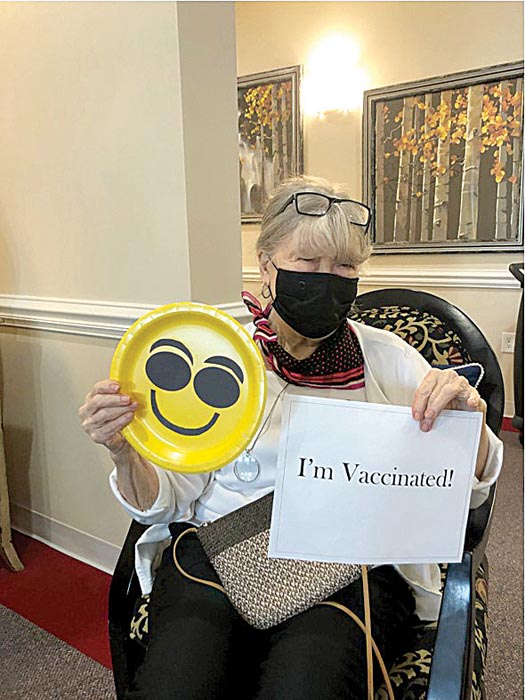 When asked about how to stay healthy and happy during these times, Director Debbie Brennan had this advice: "Stay mentally healthy, stay social. If you can go outside and take a walk, that's a great thing."
Brennan is especially excited about the new walking trail that recently opened in Crooked Creek Park, which Mansions sometimes takes residents to walk along if they are physically able.
For more about life at the Mansions of Sandy Springs, visit mansionsseniorliving.com, then select the Sandy Springs community for contact information.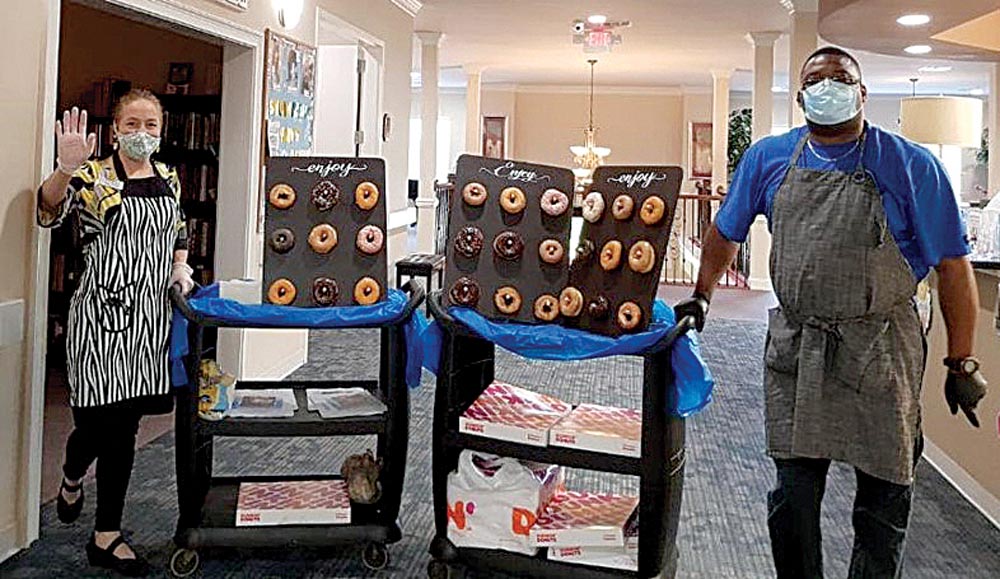 Vineyard Johns Creek
This brand-new assisted living and memory care facility is slated to open July 2021, pending occupancy approval. Currently, interested persons can schedule a private tour. Sales Director Jennifer Farine expanded on pioneering approaches that they plan to implement at Vineyard Johns Creek.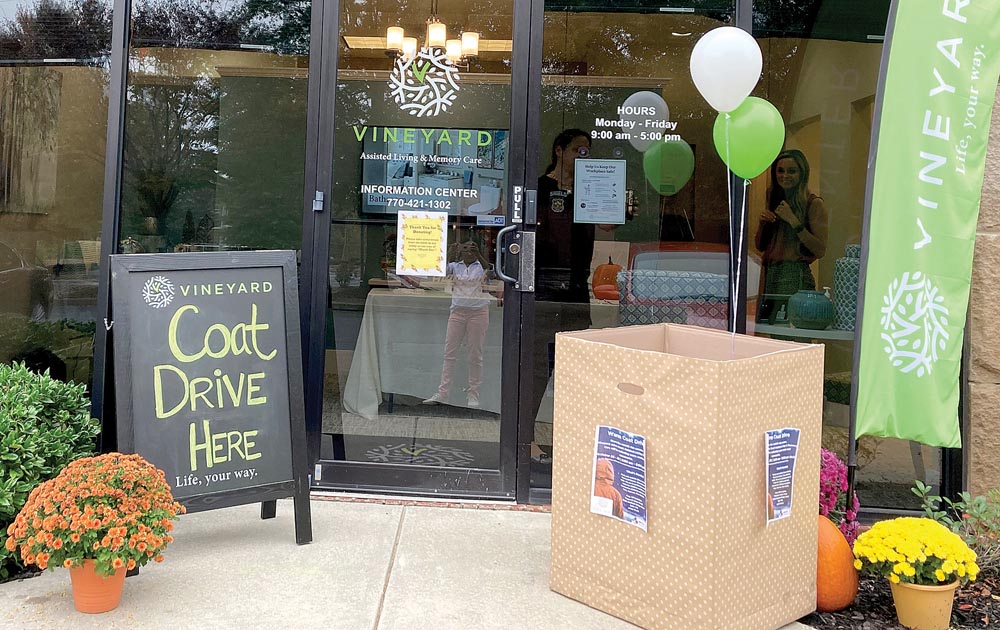 For instance, the dining room will be open for residents from 7 a.m. to 7 p.m. every day for their meals, instead of only at designated eating times, allowing for more independence and freedom of choice. In-room concierge style dining service is also offered, as well as an open community kitchen. Other amenities include a RENEW Salon and Spa, movie theatre, library, gym and more.
In light of recent health concerns, a telehealth room will be in place to allow for safe medical consultation, in addition to traditional medical care monitoring. Farine even mentioned the use of Amazon Echo smart speakers in resident rooms for entertainment as well as communicating with staff. Talk about utilizing technology to create a brighter tomorrow for our seniors today!
For more about Vineyard Johns Creek, go to vineyardjohnscreek.com or call 470-329-7688.
Parc at Duluth
Over the past 18 years, Parc at Duluth has provided an attentive independent and assisted living community, with 135 apartments for independent residents and 35 assisted living units.
For residents with an interest in superb cuisine, this is the place to be, offering a full-service white tablecloth dining experience. Other notable features include weekly housekeeping and linen cleaning and 24/7 concierge service. A licensed personal trainer leads exercise classes, and a personal training experience is included in residential costs. Seniors can relax by the pool with a fun beach read or join in water aerobics.
Resident participation numbers in scheduled activities have been limited due to health concerns and to allow for social distancing. Visitors are currently allowed for independent residents, with prior reservation to avoid too many outside people in the building at one time.
Additional support from the local community has been a welcome source of comfort as well. Towards the beginning of shutdown, the National Guard came in several times to assist in a deep clean of common areas. Schools in the area also want to make sure that residents know that the community cares.
"Notre Dame Academy has been a great support, providing residents with cards and entertainment in our courtyard," said Suzanne Nicol, Director of Sales and Marketing. "It has been a really great relationship here in the community."
In warm months, the staff held outdoor events as much as possible, and as the weather cooled, they got creative finding space to allow for safe enrichment, such as hallway bingo and other unique modifications. (Restrictions have since relaxed to allow for more traditional interactions.)
In May 2020 during Mother's Day Weekend, Parc at Duluth held a Drive Through Car Parade with over 100 families smiling and cheering as they drove around the perimeter of the complex.
"The biggest thing for seniors right now is to find a way for some type of safe social interaction, which is one of the most important things for our residents, being socially engaged instead of stagnant," Nicol said.
For more information on Parc at Duluth, visit parcatduluth.com or call 770-622-6880.
At Home Care
A Hand to Hold
With its main office located at 3459 Holcomb Bridge Road in Peachtree Corners, A Hand to Hold is a leading provider of professional, reputable at-home care with dedicated A Hand to Hold Care managers.
The caregivers are experts in geriatric care with specialties in nursing, mental health and social work. The company carefully selects employees who are fully insured, drug tested and come with worker's compensation coverage.
For more information, visit ahandtohold.com or call 770-992-5820.
Home Care Matters
Searching for compassionate live in and hourly caregivers? Over the years, Home Care Matters has won several awards from trusted organizations for their quality service, including SeniorAdvisor.com, Caring.com and Best of Home Care. Home Care Matters is family owned and operated, licensed, bonded and fully insured.
They offer a range of services for varied needs, from companionship and personal care to individualized independent living plans based on medical needs. 24-hour on call service is available for their clientele. To learn more, visit homematters.com or call 678-828-2195.
Senior Centers
First Senior Center
First Senior Center is located in Norcross, and just so happens to be the first senior daycare in Georgia that is Vietnamese owned and operated. It boasts a diverse community of senior citizens from all walks of life, with staff catering to seniors who speak numerous different languages. Their clients consist mainly of Southeast Asians from Vietnam, Cambodia, Laos, Korean, Thailand, Burma and China, according to Founder Von Tran.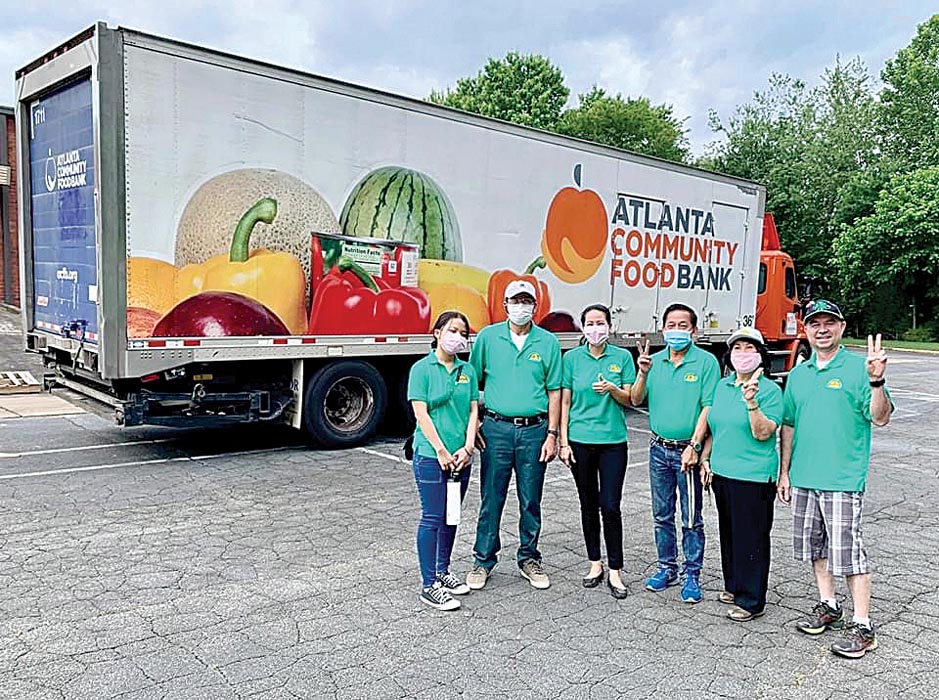 "First Senior Center supports the health, nutritional, social and daily living needs of older adults, so they can continue to live safely in their homes and communities for as long as possible," Tran said.
The center takes a personalized approach to keep the people it serves healthy and happy. "Our Adult Day Health program is unique in that we employ individual-directed programming that provides our members with activities tailored to their specific needs and interests," Tran said. "Our Day Program is filled with activities and occasional outings, moderate exercise and programs throughout every day."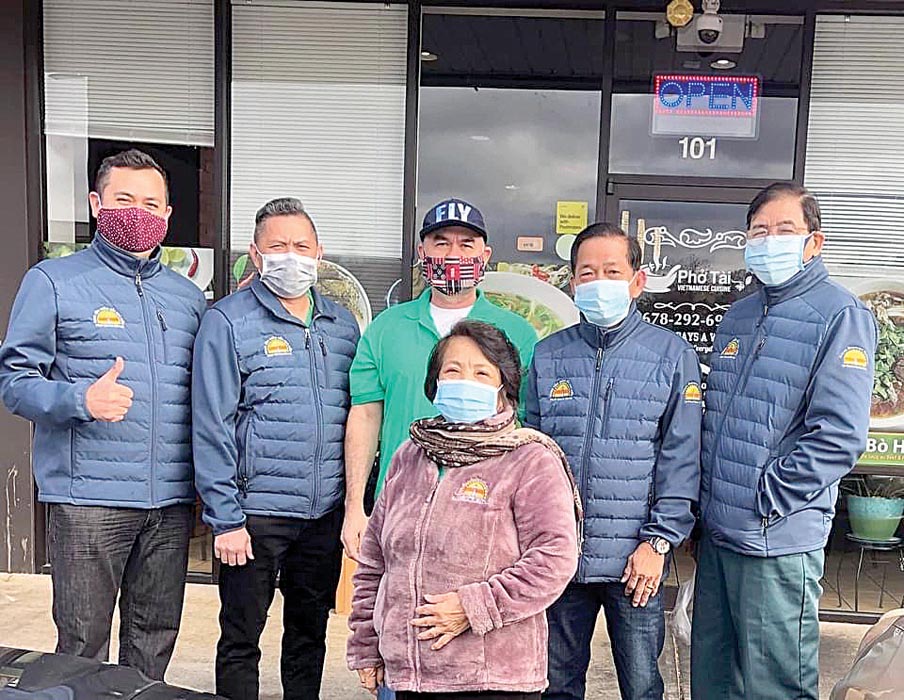 As of January 1, the center resumed its normal activities while adapting to current needs, including offering telehealth through Zoom. Nutritious breakfasts, lunches and snacks are provided with dietary restrictions noted and planned for.
The center also made sure that clients had delicious meals throughout the shutdown, delivering 34,000 lunches and over 94,000 pounds of groceries over the last nine months in fresh and storable food, according to Tran. Partnerships with non-profits like Atlanta Community Food Bank helped bridge the food security gap. Going the extra mile for our elderly is always in style.
To see if you or a loved one could benefit from First Senior Center, visit firstseniorcenter.com or call 470- 289-2222. Additionally, the center is seeking community support to meet senior needs, so please reach out with potential assistance ideas.
Norcross Senior Center
The Norcross Senior Center is one of many services offered to Gwinnett County seniors age 60 and over by Gwinnett County Senior Services. For the safety of their clients, all operations and programs have been suspended at the center, and other Gwinnett County centers, with hopes of reopening once it is safe to do so.
During normal operating times, seniors receive services and participate in activities that support their independence, enhance their dignity and quality of life, meet their diverse needs and interests, reflect their experience and skills, and encourage community involvement and socialization.
Services may include transportation to and from the center, breakfast and lunch, and individual counseling. Activities may include educational and fitness classes, arts and crafts, recreational interests, volunteering, day trips, basic haircutting and more. Some activities and day trips may require minimal fees.
Seniors must apply to become a participant at the center. For more information, including how to apply and application requirements, visit the Senior Services page at gwinnettcounty.com.
Peachtree Corners Family Takes On 'Family Feud'!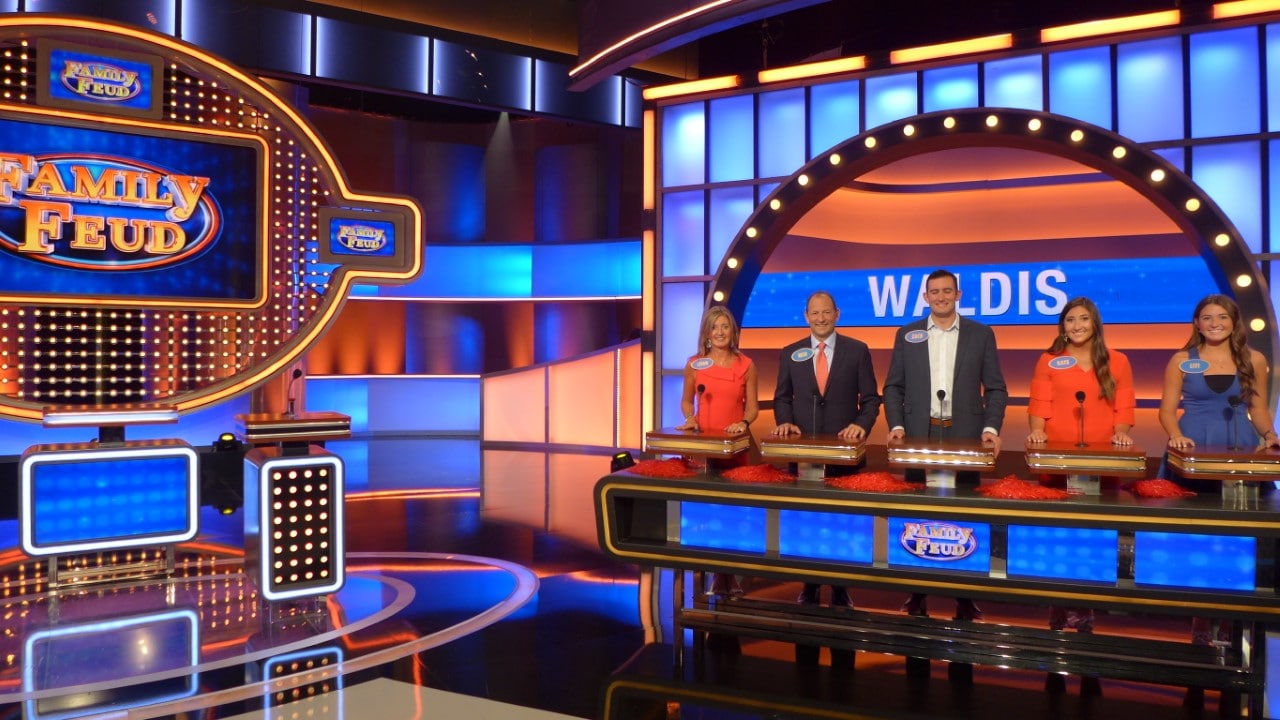 Survey says that the Peachtree Corners Waldis Family had a wild time at Tyler Perry Studios last September playing a game of Family Feud with the larger-than-life Steve Harvey! Their episode will air on ABC, March 2 at 7 p.m. But the story of how this all came to be is almost as disorienting and fun as the filming experience itself.
"Back in May, something popped up on Facebook saying they were looking for families in the Atlanta area. As a joke, I just sent in our information. Then they contacted me about three weeks later to get more information and at that point, I started thinking 'Oh my gosh, this could actually happen.' And it just kind of evolved from there," Leigh Waldis said.
Leigh, her husband Rich, and their teenage daughter Olivia are Peachtree Corners residents. The Waldis' also have two grown children who came home to have this unique family experience. Leigh served as the 'head of the family' in the game, as the first person in line to answer questions.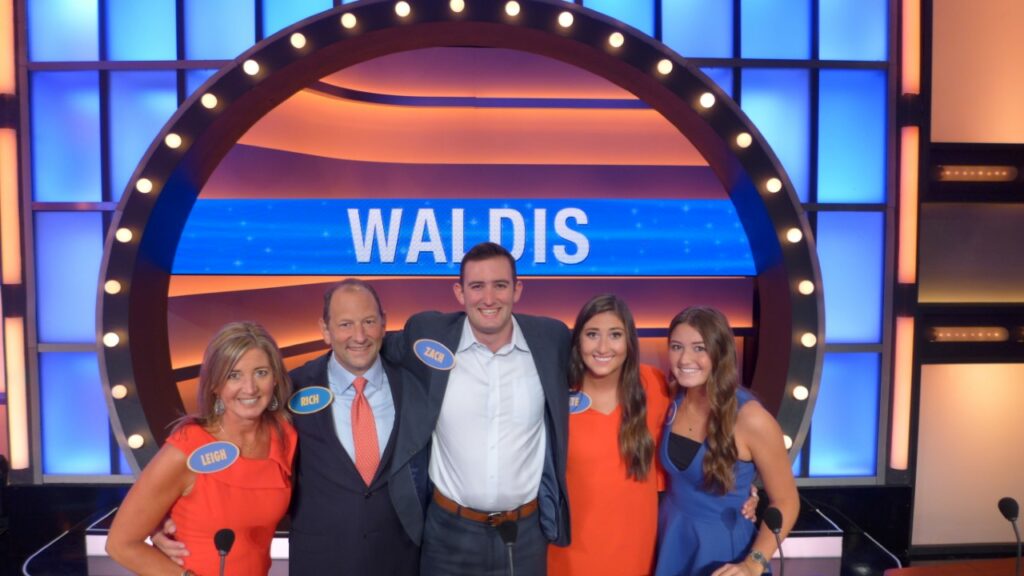 For those not familiar with the popular ABC game show, Family Feud is a survey based trivia style game in which two families compete against each other to guess how a survey of 100 people might answer a certain question, ideally coming up with the most popular answer for the most points. The first to 300 points wins, continuing to the lightning round for the possibility of a $20,000 cash prize. Hosted by beloved comedian Steve Harvey and often filmed in the Atlanta area, this show is a home favorite for many families, including the Waldis'. So joining in the Feud for real must have been a real treat.
"First of all, Steve Harvey is every bit and more funny than you see. The experience was interesting because of the Covid thing. Normally, there would be participants actually watching in the audience or people that are just there to view. Instead, it was the actual families who were the audience, so that kind of made it more fun bonding with the other people that were playing," Waldis said.
In order to get everyone together for the show, the studio flew their daughter Kate (23) in from Texas and their son Zach (24), who is commissioned in the Air Force and required leave time. He is a 2nd Lieutenant training to be a pilot at Laughlin AFB in Del Rio, Texas. Their youngest child Olivia (17) also played and she is a senior at Duluth Highschool.
Leigh noted how "well-orchestrated" the entire process was. The Waldis family immersed themselves in the strange world of Family Feud for two days, September 3 and 4. Day 1 consisted of a try-out with one other family, with a few test questions given to see how the families would react. Then they spectated the rest of that first day. Harvey breaks off a good deal during the taping and interacts with the audience, ad-libbing any particular entertaining tidbits that come to mind, "sort of like you are getting a four hour comedy show out of him," according to Leigh.
The safety restrictions related to Covid19 were strictly upheld and therefore might have complicated the experience but did nothing to dampen the enthusiasm of the family as they had a true view behind the curtain.
"It's kind of crazy but fun. We just went in with a mindset of, 'No matter what happens, we were just going to make the best of it and have the best time'."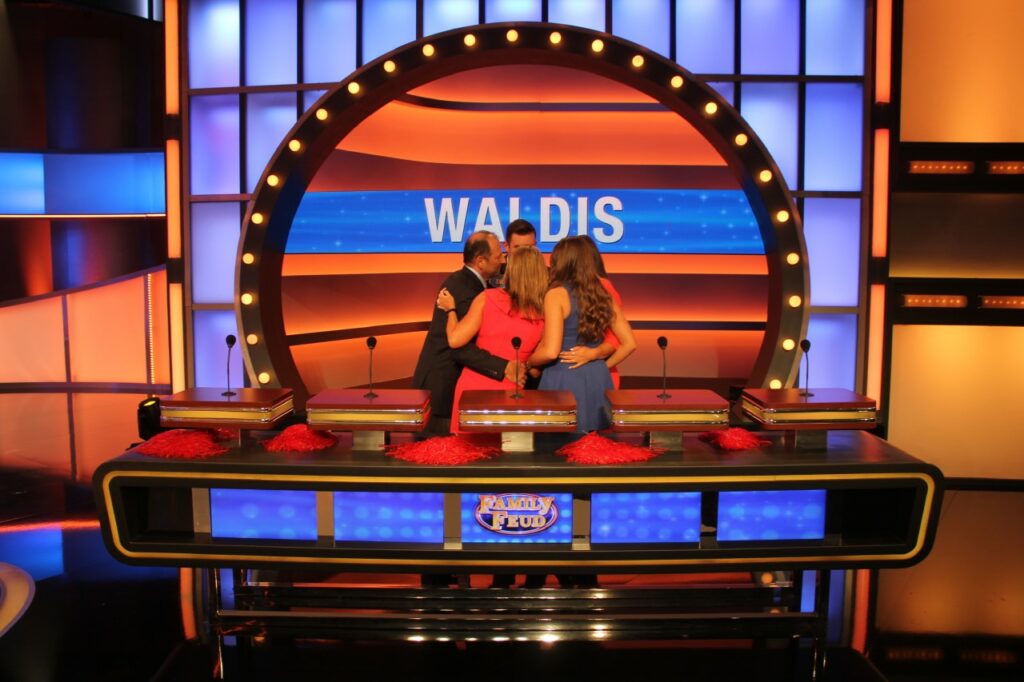 It takes about an hour to film each show, with four shows typically filmed each day. They shave that down to about 22 minutes, so the Waldis family is curious what will make the cut and what won't, as it was "a whirlwind" in the moment.
Watch March 2 at 7 p.m. on ABC to cheer the Waldis family on and see how they fare. The City of Peachtree Corners will also be showing the episode live on the big screen, at Peachtree Corners Town Center. The big screen is located adjacent to the stage so people can gather on the Town Green in front of the screen to watch. This is not an official city event, but just a low-key way to join in the fun.
Medlock Bridge, Bush Road Improvements Underway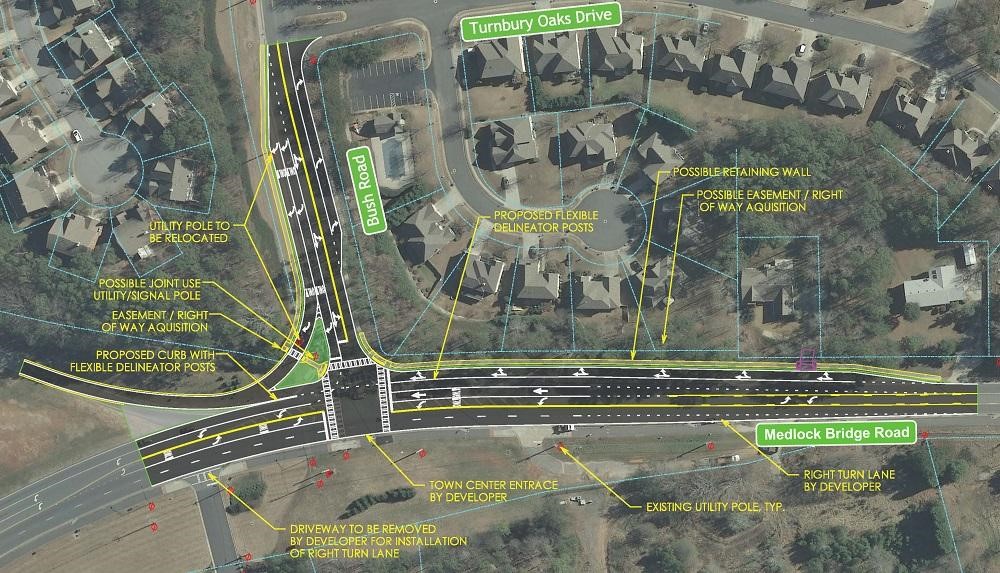 Construction is underway now on a project that will improve the traffic safety, operations, and
capacity of the intersection of Medlock Bridge Road at Bush Road. The project generally
consists of roadway widening, some full depth asphalt pavement, milling and inlay, concrete
curb and gutter, concrete median, concrete sidewalk, signing, pavement marking, storm
drainage improvements, retaining wall, traffic signal installation and grading.
For the westbound Medlock Bridge Road portion of the intersection, the final project will result in:
• a left turn lane onto Town Center Drive
• a through lane that will become a left turn lane onto southbound Peachtree Parkway
• a through lane that will continue across Peachtree Parkway to become East Jones Bridge Road
• a through-right lane that will allow traffic to turn onto Bush Road or continue onto the
slip lane to northbound Peachtree Parkway
Other major improvements in the project will add safety and capacity improvements to Bush Road. Southbound Bush Road will include a through-left lane for traffic to cross over Medlock Bridge Road onto Town Center Drive or turn left onto Medlock Bridge Road. Bush Road will also include two right turn lanes, one intended for accessing southbound Peachtree Parkway and the other for accessing northbound Peachtree Parkway.
Sidewalks and pedestrian crossings will be included for all approaches to the intersection. A new traffic signal will also be added that will include the latest traffic engineering technology. The project will also include walls, guardrails, fencing and landscaping additions.
Following a public bid process to procure a qualified construction contractor, Peachtree Corners' elected officials awarded the work to Vertical Earth, Inc. of Cumming, GA, for approximately $1.2 Million. The contractor will have 180 workdays to complete the project. Funding for the intersection improvements will come from the 2017 Transportation SPLOST.
Source: City of Peachtree Corners release
An Interview with Judge Davis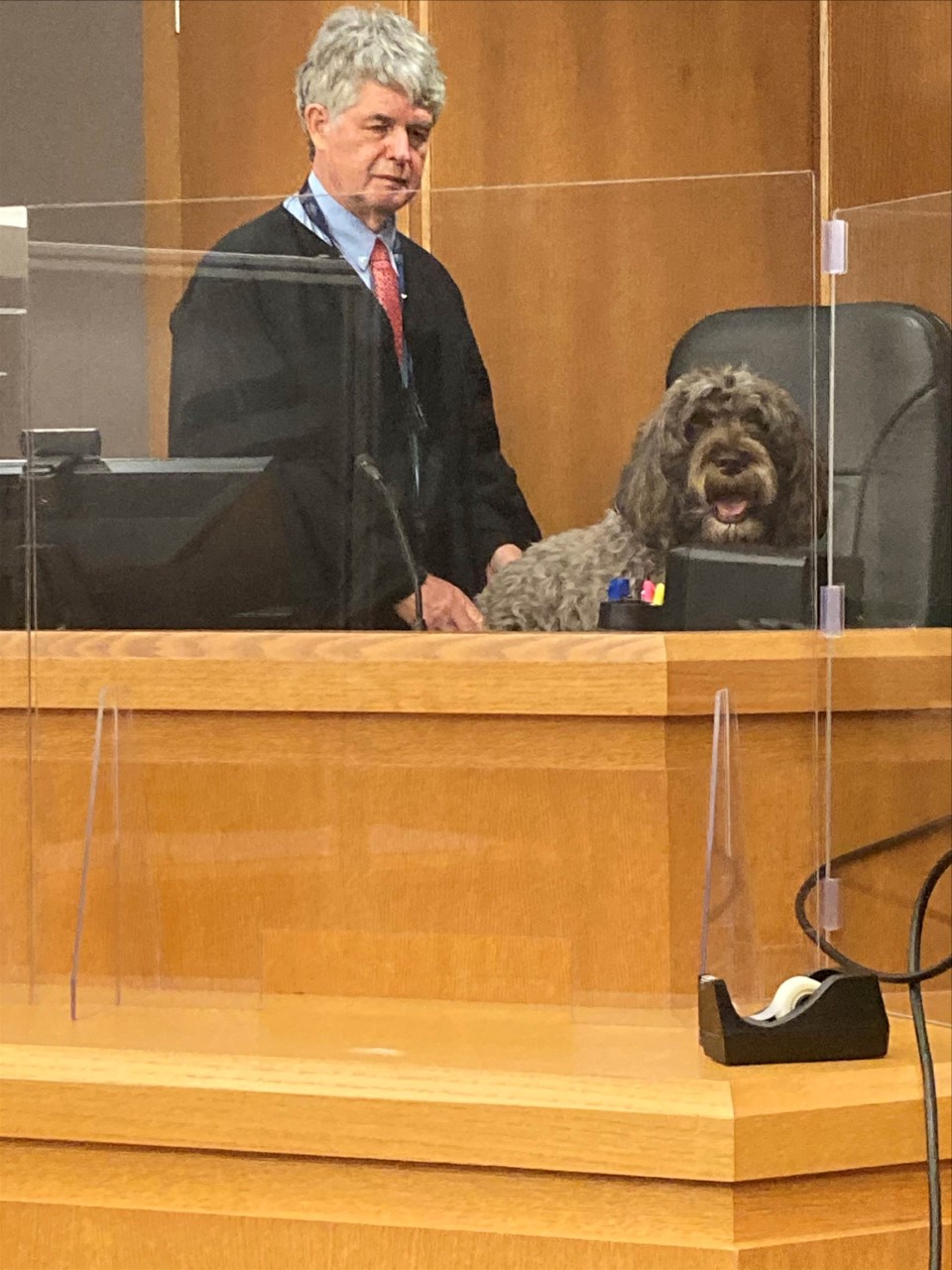 I recently had the pleasure of speaking with Judge Warren Davis about the history of Peachtree Corners, how he rose through the ranks and what he wants for the future of our great city.
When did you move to Peachtree Corners?
I first came to Georgia in the 1970s, but I bought the house in Peachtree Station in 1990. I loved the infrastructure of Peachtree Corners; the sidewalks were clean, parks were developing everywhere, and it was one of those few places that had good access to downtown with the traffic still being somewhat reasonable.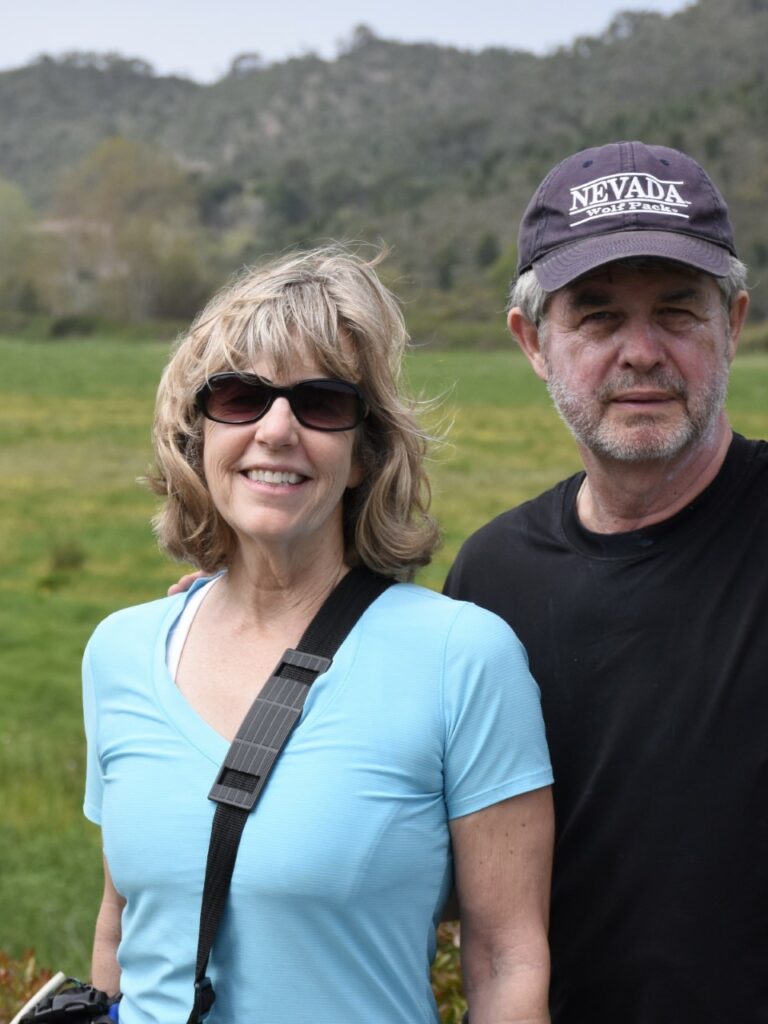 How did you become a judge?
I actually started as a patrolman for Gwinnett County Police Department, back when East Jones Bridge Road was still a dirt road and Jimmy Carter Road didn't even exist yet!
Gwinnett PD has a really great educational program, where they will pay for you to go to school, and you stay working for the department for at least one year after you graduate.
I used to be out on the beat, when it was rainy or cold, usually chasing down an abandoned car. And then I would go to court hearings and see the judge and think: he looks really warm and dry; maybe I'm in the wrong career.
So Gwinnett PD sent me to law school, and when I finished, I stayed another year and moved up from there. I owe my success to the Gwinnett County Police Department.
What makes Peachtree Corners so special?
It's the little things. When Peachtree Corners got its cityhood, we never had to reinvent the wheel. We kept the county organizations, like the police and fire departments, and didn't have to create our own.
When you live in a place where crimes against children and human trafficking are a huge part of your crime rate, it helps having officers who are trained in a unique field like SVU. That's something we would never have if we had to put our resources into a smaller police department. From a judge's standpoint, I can appreciate the skillset that Gwinnett PD brings to the table.
The beauty of Peachtree Corners is that when we became a city, we got to combine common areas with common interests. Gwinnett County has always been a leader and will continue to be. That leadership all began with Tech Park and the innovation it brought to the area. That niche brought top notch schools, plenty of medical centers to choose from and then all the shopping you could ever need within a few square miles.
Now we have a great support system. The YMCA helps people at all levels of the economic spectrum. We have many great church organizations, and three healthy, organic grocery stores all within 10 minutes of each other. Peachtree Station, and most Peachtree Corners developments, have a community pool, which people tend to bond around.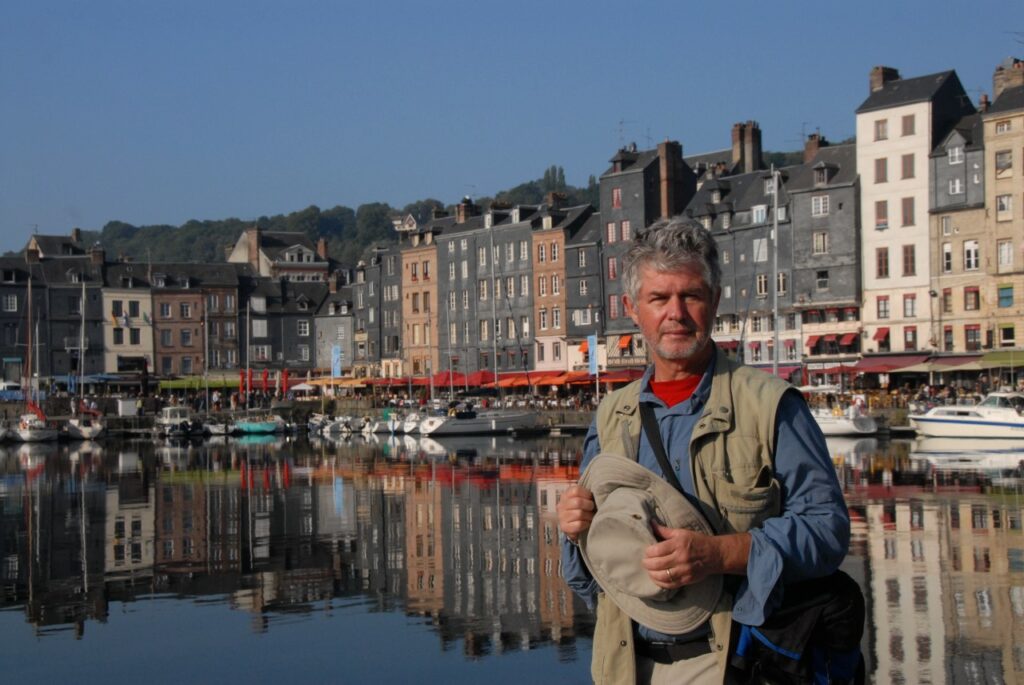 I hardly have a reason to go inside the Perimeter now, but when I do it is pulse-pounding and rare!
How has the pandemic affected your work?
I'm happy to say that we did better than most. As a judge, I legally have to be in a courthouse for hearings. So, I have been video conferencing court hearings from the same spot I always sit.
I'd say about 2% to 3% want to have their appearance in person, which is fine, because I just sit behind Plexiglass and everyone stays safe.
The only problem is that we cannot have jury trials for obvious reasons. I feel bad for those people who are awaiting sentencing, because we are about two years behind when it comes to trials now. Hopefully, we can get the system moving again soon.
What would you like to see for the future of Peachtree Corners?
Right now, we need to do what our ancestors did and just survive. We have great leaders working on the issues, looking at problems and making adjustments.
Peachtree Corners has always been willing to go out on a limb and try new tech — that's what built Silicone Valley — and I believe that's what our city is moving towards.
In the future, I want to see us keep striving towards better transportation. We already have great research studies and programs in place for timing stoplights and managing our traffic, not to mention the exciting autonomous driving system. But a great transportation system is so important because every great city has it, and eventually it becomes everyone's form of transportation.
I believe that the leaders of Peachtree Corners have a plan, and it's a good plan. We just need to keep doing it.