Getting to Know the Family at Station #4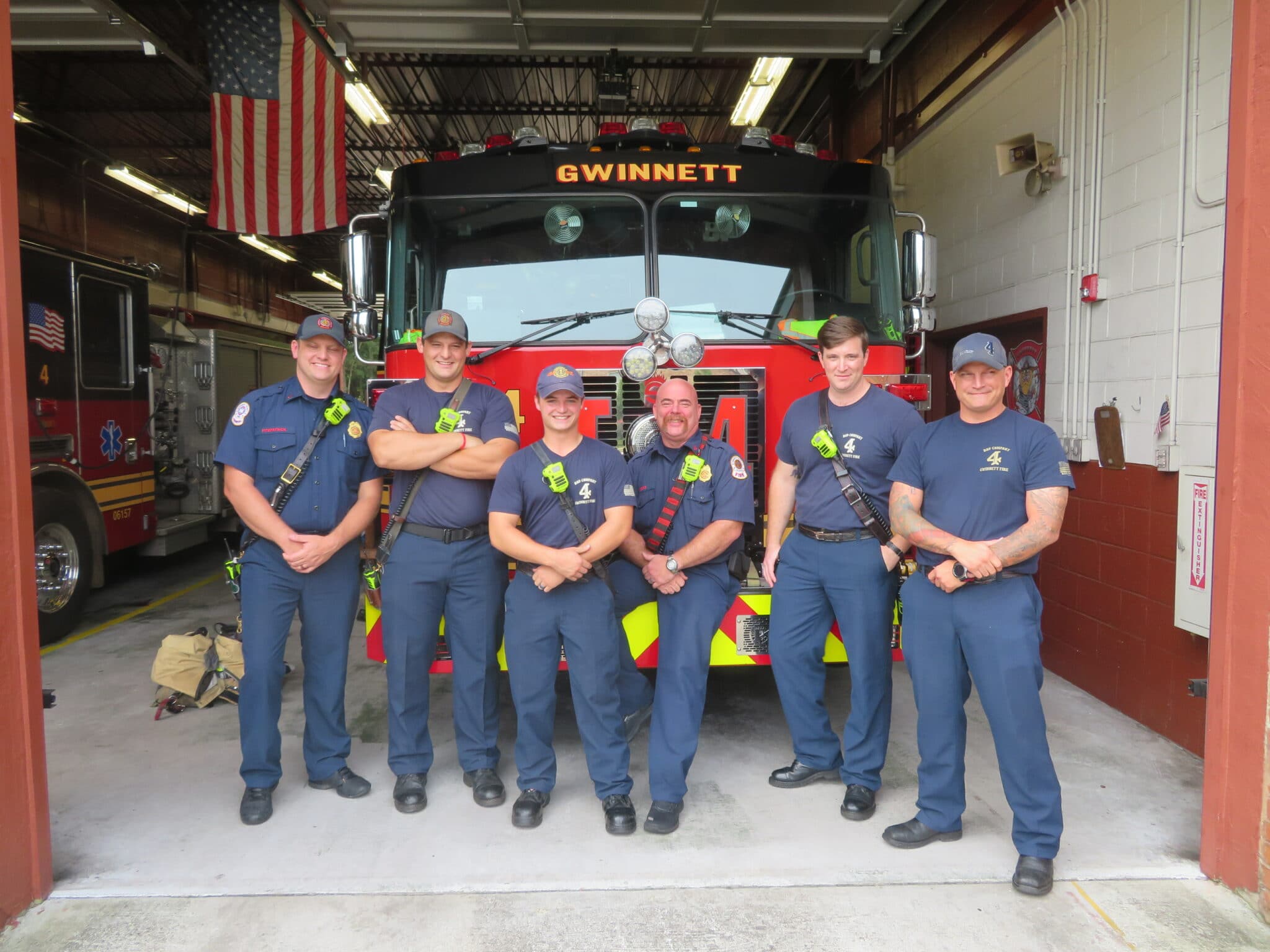 It's a dream for many women to spend a day in a firehouse. For this author, I will never forget my day of getting to know the incredible servicemen at Station #4 in Peachtree Corners.
As I sat down with them, they were receiving calls and requests. One man walked in asking for jumper cables and was back on his way within minutes. Your local Fire Department really does it all! In fact, when Station #4 was demolished by the tornado in 1998, the crew continued to work out of a trailer in the parking lot.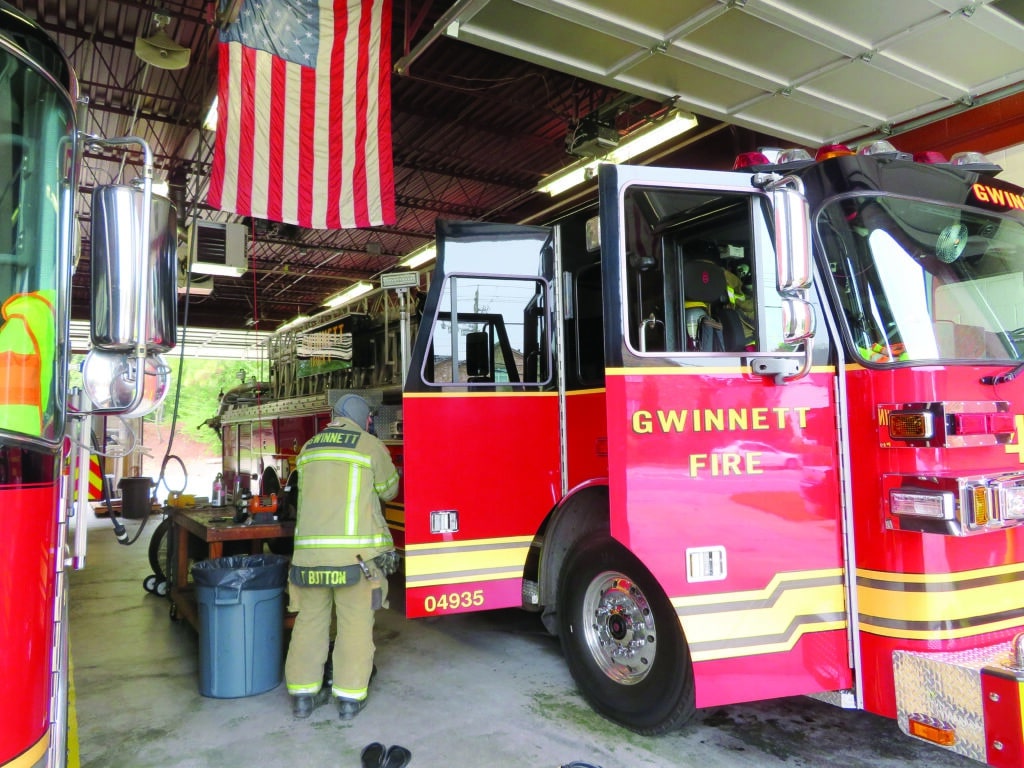 In the wake of the 20th anniversary of 9/11 and Fire Prevention Week, observed during the first week of October, it's time you get to know your local firefighters / lifesavers / superheroes.
Busy heroes
Station #4 is one of the busiest fire stations in the county. In fact, Adam D'Alessandro said that some nights, he ends up sleeping on the truck. Last year during COVID, they didn't even see a drop in calls, just a change in the types of calls they received.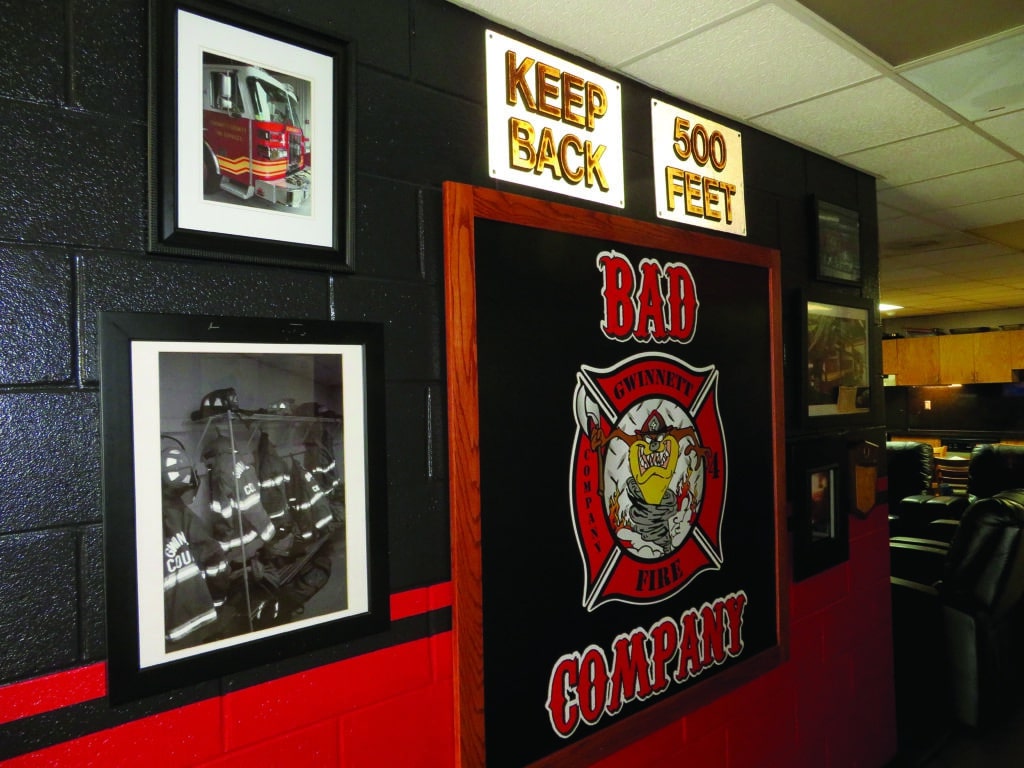 D'Alessandro has been at Station #4 for a year and a half. He didn't originally want to be a firefighter; instead, he started out in the Gwinnett County Parks and Rec department, in the aquatics sector.
He said that in all the years he would have an emergency and need to call 911, Station #4 would always show up to the pool, so he got used to working with the people he would later call his family.
In case our readers are wondering who answered the call for the "runaway pig" story that swept the nation, Captain Brian Rogers remembers it well. The pigs were on their way to a robotics arm lab to be tested under robot arm surgery before the truck carrying them flipped. He stated that, "that isn't the only highway runaway animal call we have gotten."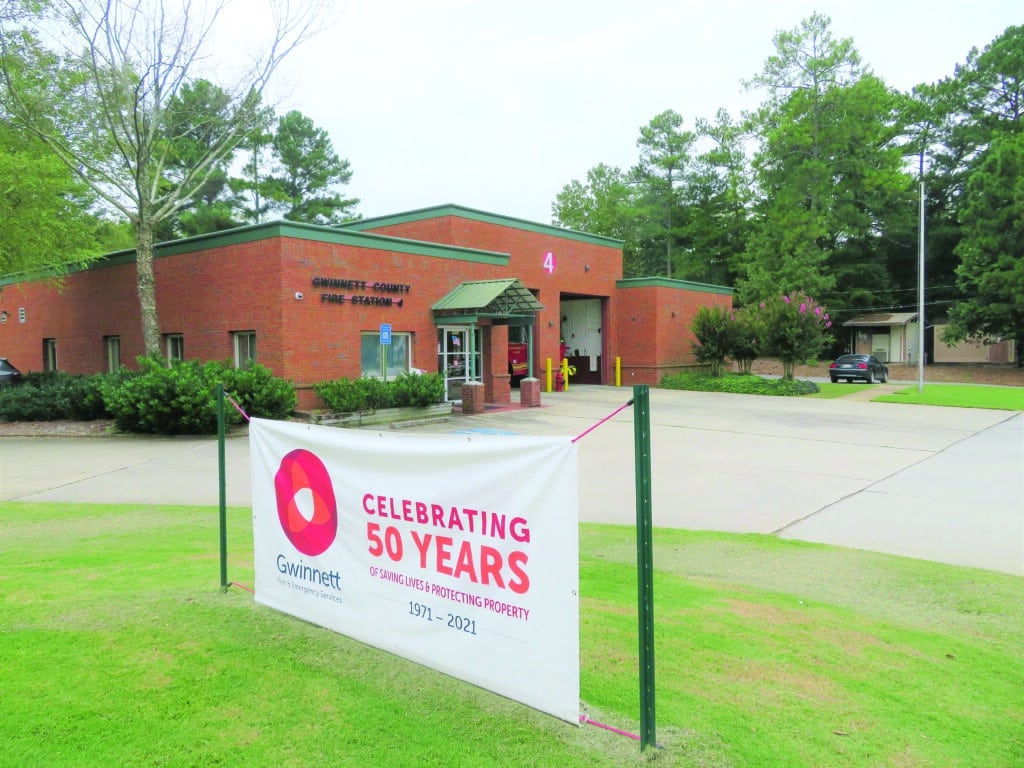 Captain Rogers lives up to his Marvel superhero name — Captain America's "secret" identity is Captain Steve Rogers — and maintains that firefighters are humble individuals who don't like talking to people about themselves and aren't looking for praise. Still, firefighters are "ordinary people who do extraordinary things."
Captain Rogers has been at Station #4 since 2015, and he has been a firefighter for Gwinnett County since 1998, so he has seen a change in the types of calls firefighters are responsible for.
"Whoever thought back then that this would be a thing?" he asked, looking back over the many ways the fire department has changed — from fires to EMS to hazmat, then terrorism, and now pandemics and whatever else may come along.
In fact, when he graduated from college, through the firefighter college tuition reimbursement program, one of the papers he wrote was titled, "When the UFOs land, the Fire Department will be the first to arrive."
As the list of tasks for your neighborhood firefighter gets longer, Captain Rogers has noticed a generational change. The younger generations seem to put more value on being with their families and loved ones than trying to supplement their income with another side job.
Did you know that firefighters work an average of 800 more hours a year than the average American? And most members of the department have young children to go home to and care for once their shifts are over.
Captain Rogers said he thinks it's because the younger generations watched their parents work hard and dump everything into their jobs, only to have it ripped away in the crash of 2008. He likes to say that "they aren't in it for the income, they are in it for the outcome."
More members of the family
Isaac Smith, aka "Tiny Tim," aka "The Rookie," knows that he's part of the family, even though he has only been part of Station #4 for a few months. Smith is fresh out of the academy, having completed "Fire 1 and EMT training," and looking to go back to school for "Fire 2" shortly. He said that he got into becoming a firefighter because "you get to serve the public and get paid. They also take physical fitness very seriously."
This author was there to witness the firefighters putting on their full gear and oxygen masks just to work out in the gym! Smith loves the opportunity to work with such a close-knit group, and he has made it his priority to learn and gain experience while "learning his new family."
When asked whether firefighters really are good cooks, Smith assured me that if you don't go into the fire department being a good cook, you will certainly leave as one.
Travis Button is one such great cook, and apparently being the "Truck Tailboard" means you also have to be the best chef. Like the front position in a bobsled, Button "has to work harder than anyone; he is the first one to show up, and the last to leave."
Button checks every inch of the firetruck at the beginning of his shift. He has been hand chosen as the eyes and ears at the back of the truck, and he is the one who cooks and cleans for his crew at the end of his shift. Button said that his biggest struggle, since joining Station #4 a year and a half ago has been "not letting the job become your life." With over 1700 hours of overtime under his belt, that can't be easy.
Button has his paramedic certification, on top of his Fire 1 & 2, and EMT certifications, which means he has the highest non-hospital medical certification you can get. He mused that the funniest call he ever got was the "gas leak" they investigated that turned out to be a litterbox.
Brian Gaeth had been a firefighter for 11 years for the Gwinnett County Fire Department. Just two months ago, he transitioned into his role as Public Information Officer. Gaeth handles breaking news requests from the press and social media presence. He said the biggest struggle from the past year was navigating the nuances associated with COVID, since a fire department is essentially a family unit, and they spend the same amount of time together as a real family.
Working closely with the Gwinnett County Communications Department, Gaeth is gearing up for Fire Prevention Week and just got finished coordinating for Gwinnett Fire to observe the 9/11 anniversary at the Gwinnett County Fallen Heroes Memorial, where they can be found every year.
Keith Fitzpatrick, who is the current Lieutenant for the C-shift at Station #4, opened up about some of the less gratifying parts of the job. Fitzpatrick has worked at Station #4 for a year and a half. Before that he earned nine years of experience as a medic.
He is a member of the Critical Incident Stress Management (CISM) program, which offers regular counseling to help combat the trauma that firefighters are exposed to. The organization meets with firefighters who have experienced extreme emotional strain in hopes of preventing depression and suicide.
Fitzpatrick spoke of the firefighter gene that ran in his family. At the age of 17, he got to go on his first ride-along with his cousin. His father begged him not to become a firefighter, knowing how dangerous the job was. But, he said, years later his dad came around when he saw how much the job meant to him.
Captain Rogers let me in on a Station #4 tradition: whoever is featured in the press has to buy ice cream for the rest of the crew. Well, guys, looks like you're having an ice cream party this week!
What you need to know about Fire Prevention Week
According to Adam D'Alessandro, "Families need to make a plan, especially families with young kids. And don't forget that we install smoke detectors for you for free."
Keith Fitzpatrick added, "This Fire Prevention Week will focus on knowing the sounds of fire safety. If your smoke detector is beeping, have the batteries replaced. If the fire alarm is going off, don't think it is a drill, just get outside."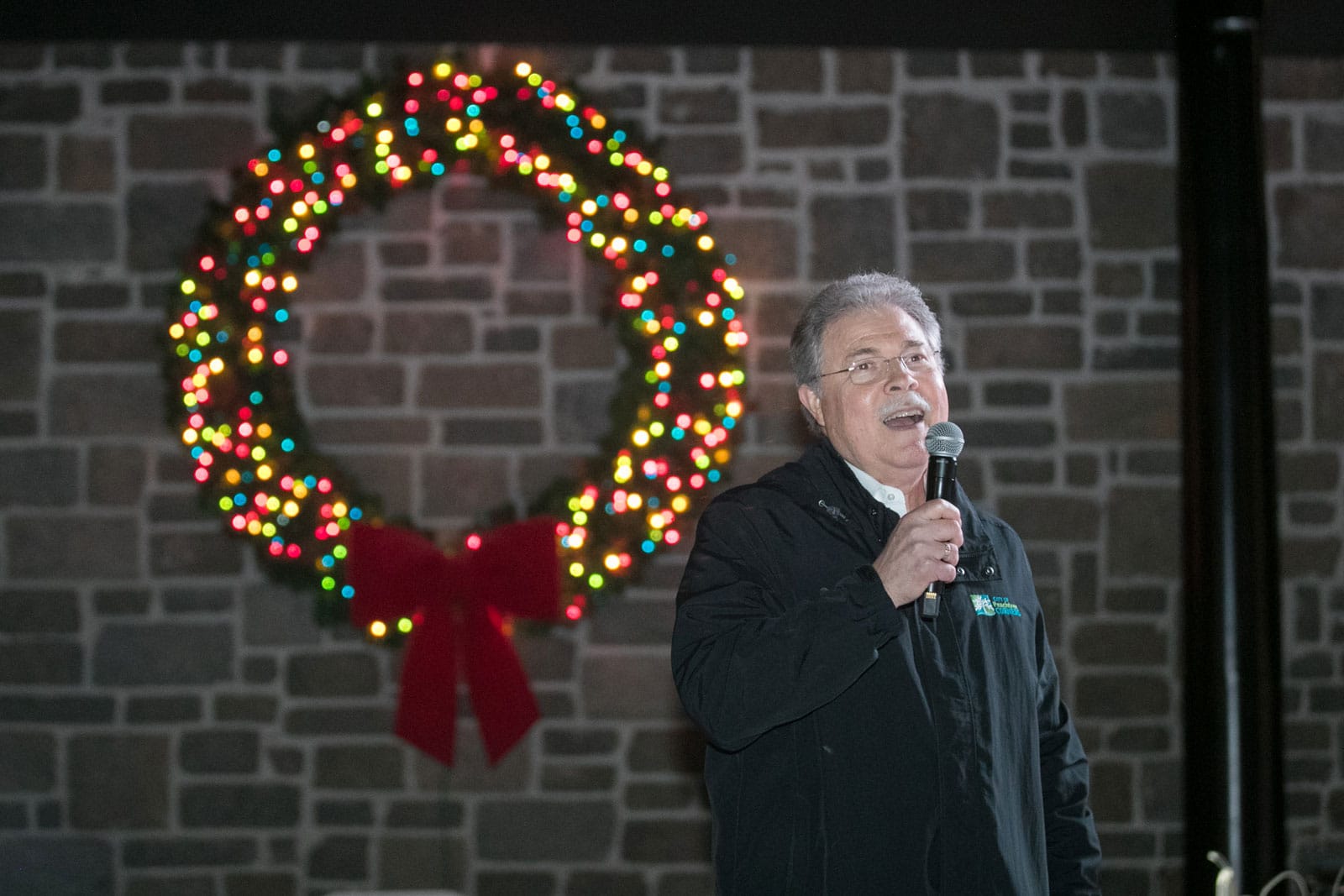 December 3, 6-8 p.m.
Mark your calendars for the Town Green's 3rd annual Holiday Glow! Celebrate the season during this free event. Event attendees can cozy up with complimentary hot chocolate while enjoying a holiday sing-a-long and giant bubbles over the Town Green.
A very special guest from the North Pole will help to light up the Town Green and then introduce a rocking holiday concert! Take pictures in front of Santa's Peachtree Corners Camper and leave a letter in his mailbox. The Town Green will feature different light up displays including a Menorah and a unique digital holiday tree. So, bring a lawn chair and come enjoy the lights and the songs of the season with neighbors and friends.
GETTING THERE
Park and Walk
Free parking is available in the Town Center Parking Deck or on-street within the Town Center.  Additional parking is available in the parking areas off Davinci Court off Peachtree Corners Circle (3720 Davinci Ct, 3715 Davinci Ct or 2745 Davinci Ct). You'll cross Peachtree Corners Circle and access the Town Green via a mulch path with string lights.
Ride Share
Ride share drop off and pick up location is The Piedmont Bank, 5100 Peachtree Parkway.
PROHIBITED ITEMS
For the safety and convenience of all guests the following items are prohibited on the Town Green.
Glass Containers
Fires or Barbecue Grills
Hard Sided or Large Coolers
Large or over-sized bags/back packs, luggage, or duffel bags
Fireworks or Sparklers
Smoking, Vaping or use of any tobacco products
Illegal Substance or Drugs
Pets or Animals with the exception of service animals
Flying Objects including but not limited to: Sports Balls, Flying Discs, Beach Balls, or Drones
Tents, tables or staking. No items can be affixed to any park infrastructure
Guests are expected to behave respectfully and in accordance with Town Green policy, state and local laws. Any guest that is acting in a manner that is deemed unsafe can be subject to eviction.

Holiday Events at the Forum on Peachtree Parkway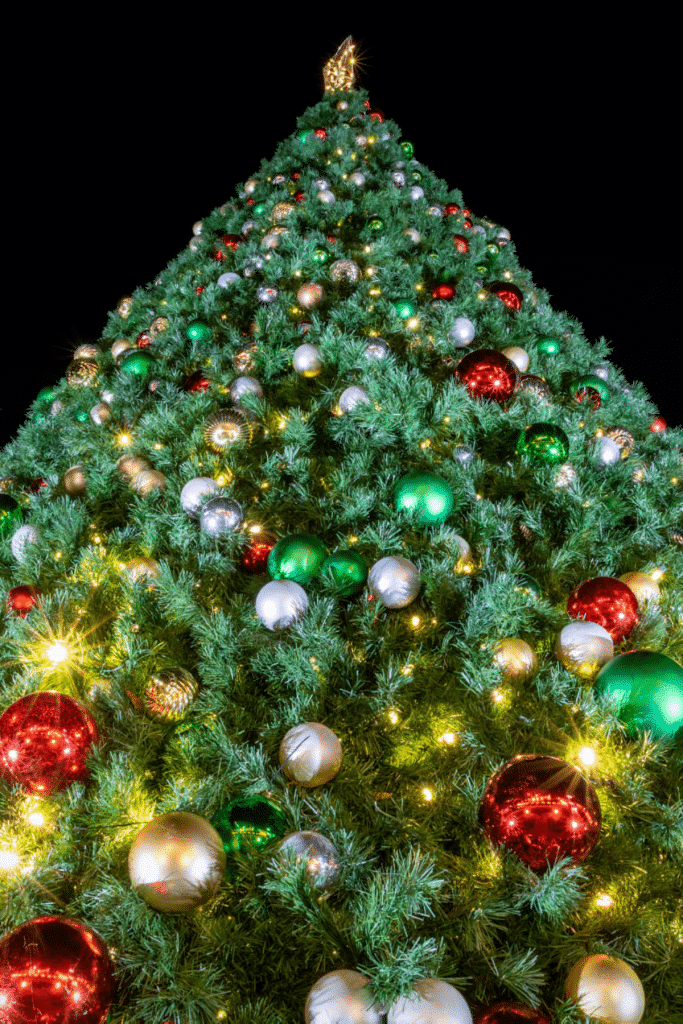 Lights Up
November 27, 2021. 4-7 P.M.
The time is here. Join The Forum on November 27th for the annual tree-lighting event, Lights Up!
This year's event will feature live holiday music with Layne Denton, Adam Komesar and the JJ Weeks Band from 4:00 – 6:30 p.m. and a bunch of other fun for your family to enjoy, like Rudolph, Hermey & The Abominable Snowman, snowfall, kid's crafts, a special holiday vendor market, hot chocolate with Peterbrooke, face painting and glow fun and a holiday photo booth. Save the date now and join us for the countdown to Christmas! Santa will enter the stage for our tree-lighting countdown at 6:45 p.m, so make sure you're present. Following the event, he will be available for photos at Swoozies until 8 p.m.
More details to come at theforumonpeachtree.com
Holiday Cookie Workshop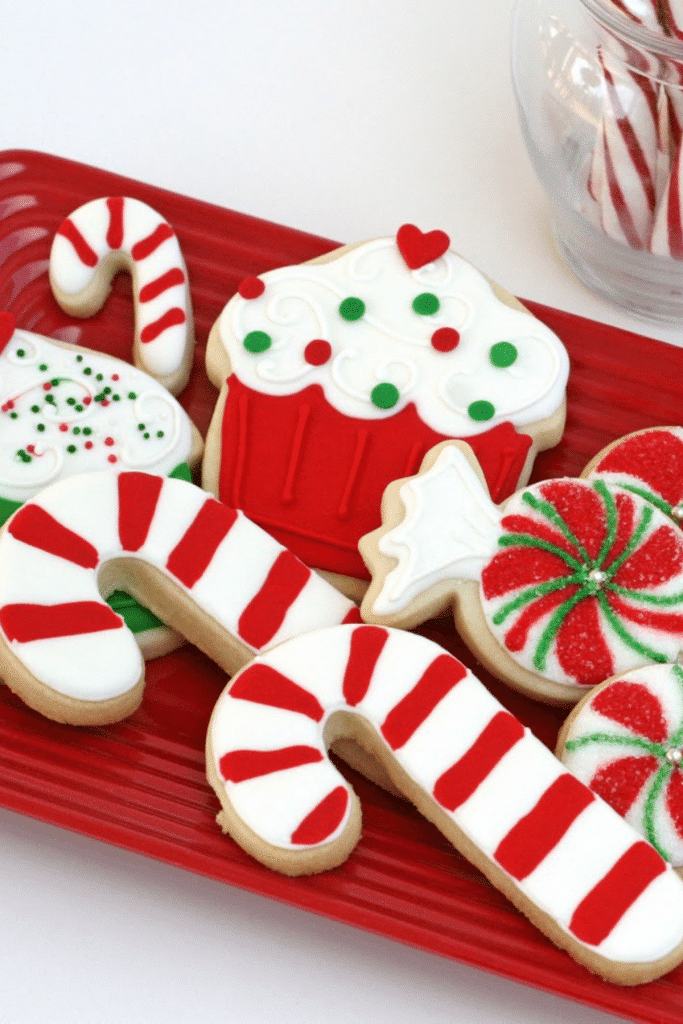 DECEMBER 4, 2021. 10:30- 11:30 A.M.
Join at Mojito's at The Forum for a holiday cookie workshop with Twin Kookies! Each ticket includes holiday cookies, icing and sprinkles for one along with decorating instruction.
They'll also have a surprise (don't tell the kids!) halfway through the workshop with a special visit from Santa and Mrs. Claus! Book your tickets now. They can't wait to decorate with you!
Register now at: https://bit.ly/3wF6BVs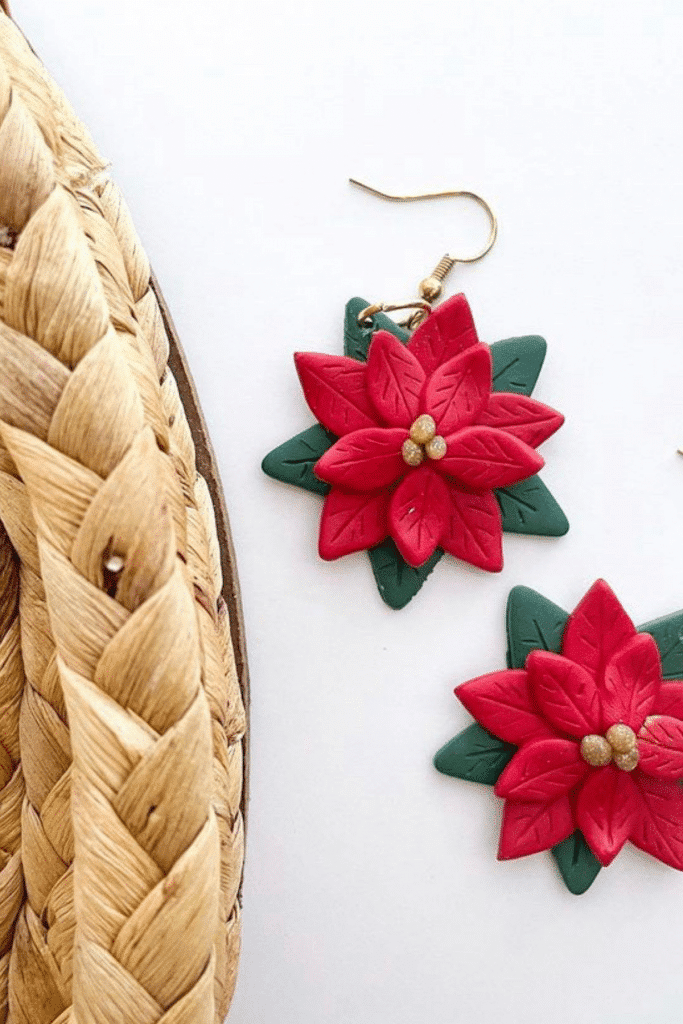 Merry Market Days
December 18-19. 12-6 P.M
It's the final event of the holiday season at The Forum! Join for an indoor two-day holiday market on Dec. 18-19 jam packed with endless holiday gift shopping options. This market will feature over 50+ local artisans and makers showcasing their products. If you want to buy local this year, here's your chance!
Guests can also enjoy food, hot chocolate, photos with Santa on Sunday, live Christmas music with Adam Komesar and a free children's craft corner, perfect to keep the kiddos busy while parents shop. You won't want to miss this one. Mark your calendars and join us for the final shopping weekend of the 2021 holiday season.
Merry Market Days will be held from 12 – 6 P.M in the former Kinnucan's space located next to Aomi Japanese. See you there, shoppers!

43 Compete in the City's First Peachtree Corners Decathlon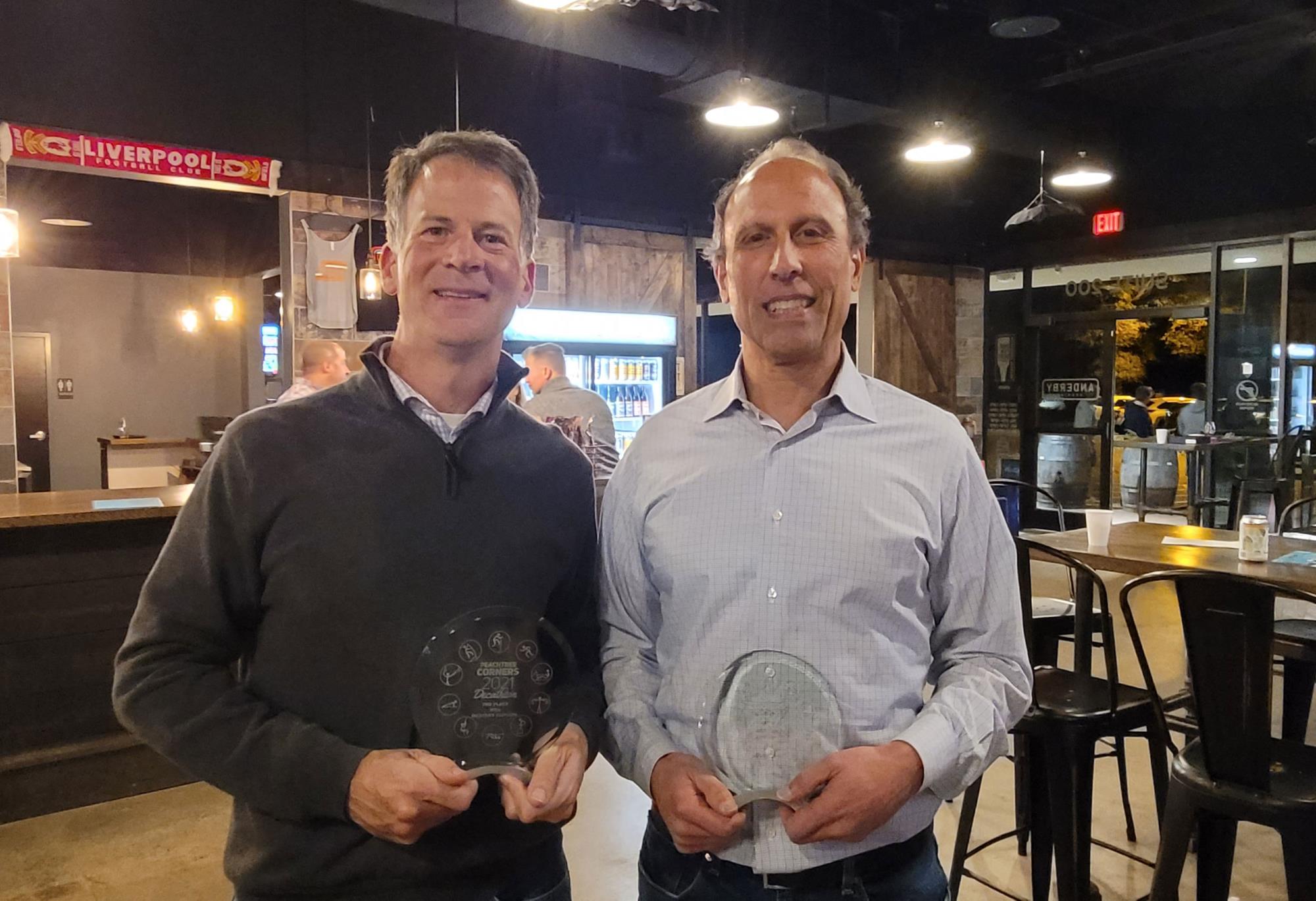 On Saturday, November 6th, the City of Peachtree Corners hosted the Inaugural Peachtree Corners Decathlon. This event brought together numerous members of the community who competed in 10 events on the Town Green Path to Fitness.
A total of 43 competitors took the challenge head-on and competed in the following 10 events: Wall Climb, Bender, Row, Rope Climb, Box Jump, Rope Traverse, Multi Rig, Sandbag Carry, Burpees, Run.
Aside from the fun had by all, the following competitors made the podium and were recognized at the award ceremony hosted at Anderby Brewing.
Top 3 Men 40 and Under
First Place – TJ Fox
Second Place – Taylor Latham
Third Place – Jeff Seelig
Top 3 Women 40 and Under
First Place – Rachel Watters
Second Place – Megan Young
Third Place – Abby Hancharik
Top 3 Men Over 40
First Place – Gary Welch
Second Place – Alex Wright
Third Place – Phil Sadd
Top 3 Women Over 40
First Place – Kristin McEwen
Second Place – Lauren Evans
Third Place – Jasna Marker
The City of Peachtree Corners thanks all of those that competed and attended to make this a fantastic event.
The Peachtree Corners Path to Fitness is open to the public and is located at the Town Green in Town Center at 5200 Town Center Boulevard in Peachtree Corners.