Late-Summer Adventures at Georgia State Parks & Historic Sites in September
Exploring Pretty James H. Floyd State Park

Tucked away in northwest Georgia is pretty James H. Floyd State Park, often considered a hidden gem by campers. At just 561 acres, the park is filled with ways to enjoy the great outdoors, such as fishing, kayaking, geocaching, picnicking and birding. Hikers can explore the Marble Mine Trail and a connection to the 335-mile Pinhoti Trail. Four cozy cabins are nestled on a hilltop above one of the park's lakes, perfect for a quiet getaway.
Try Your Hand at Disc Golf

Ready for a twist on golf? Check out our disc golf courses where you play with Frisbee-style discs rather than a ball and clubs. Holes begin from a tee area and end with a metal basket, often with trees adding extra challenges. Whoever completes each hole with the fewest throws wins. Players enjoy friendly competition, pretty scenery and good exercise. Best of all, it's the kind of game that most ages can play together. Find disc golf courses at Cloudland Canyon, Fort Yargo, Georgia Veterans and Richard B. Russell state parks.
Kolomoki Festival is October 9

Kolomoki Mounds State Park near Blakely is gearing up for its biggest event of the year. The 51st annual festival will include performances by the Bo Henry Band, an antique tractor parade, a fly-boarding performance, crafts and food vendors. You'll learn about primitive skills such as flint knapping, hide tanning, ax throwing, archery, pottery and more while visiting one of the most significant Woodland Indian sites in the Southeast.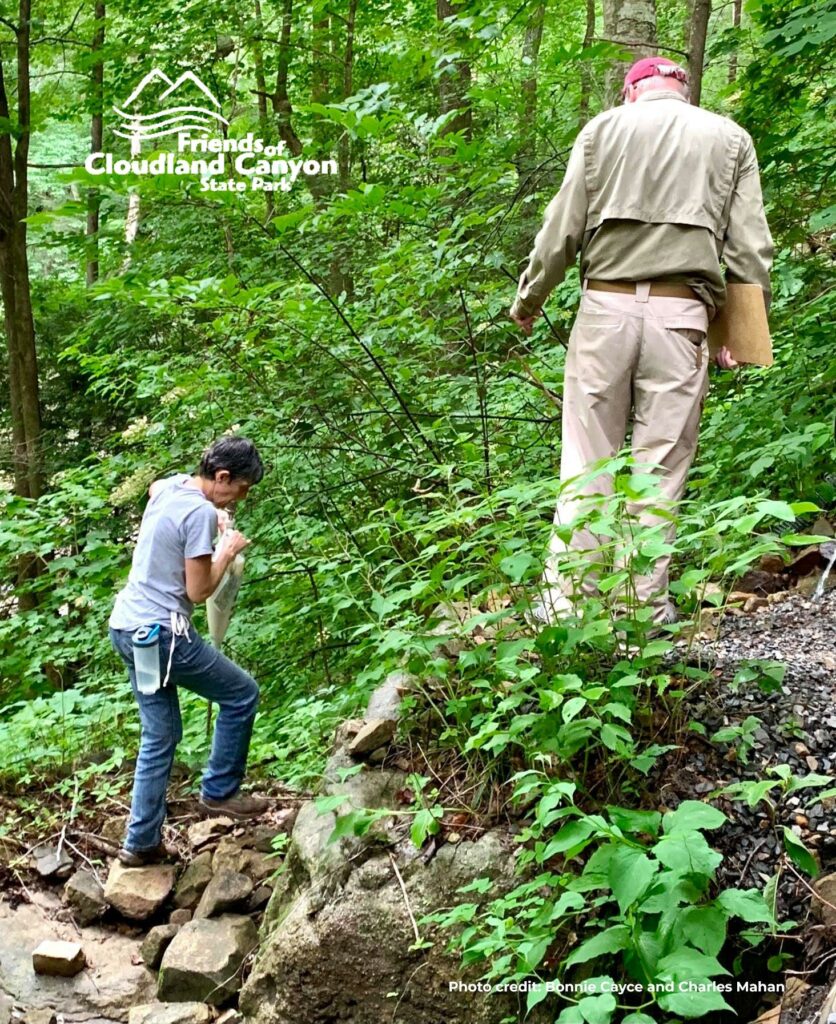 In celebration of National Public Lands Day, Georgia's State Parks & Historic Sites are inviting citizens to volunteer for a variety of projects on Saturday, September 25. All across the Peach State, outdoor enthusiasts can help with projects that aid in the preservation of our parks and natural landmarks. The statewide "Your State Parks Day" is sponsored by Friends of Georgia State Parks & Historic Sites, a nonprofit organization dedicated to preserving and enhancing the state's natural and historical treasures. (Insider tip: Your annual Friends membership includes a ParkPass and discounts.)
Coach Mark Richt to Headline Neighborhood Cooperative Ministries Celebration

An evening of celebration, inspiration, and community building is coming up on Tuesday, October 5th at Atlanta Tech Park in Peachtree Corners. Neighborhood Cooperative Ministries is hosting the "Putting the Pieces Back Together" event to raise awareness and support for those affected by the Covid-19 pandemic. Beloved former University of Georgia football coach Mark Richt will headline the event, sharing a message of hope, as the organization answers their charge to help those in need get back on their feet.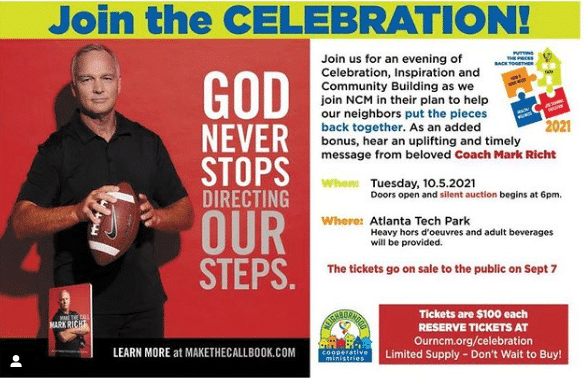 2020 brought dire need to the community, with the number of individuals served by the Co-Op increasing by almost 50%. Over $1 million was provided in direct aid to clients, an almost 70% increase from the previous year. Food distribution exploded with an increase of an astounding 104%. "Our organization is needed now more than ever," explains Shirley Cabe, NCM Executive Director. "Coach Richt's message couldn't come at a better time as an increasing
number of our families are struggling in the aftermath of the pandemic. 2020 was both the best and worst of years for us. The worst in terms of community need, but the best in terms of supportive generosity. We are grateful to our donors who make it possible for us to provide community assistance and we celebrate what has been accomplished. Our future vision includes lofty goals to continue ministry and making a difference in our neighbor's lives."
As the Neighborhood Cooperative Ministries completes their capital campaign, the organization has a unique opportunity to exponentially accelerate their assistance capability. Through challenge grants, 2 Atlanta foundations will provide a 275% match to NCM for Beyond the Building campaign designated donations that are received by mid November. This would allow the Co-Op to be able to turn $200,000 into $750,000. Better service to clients through a one-stop ministry experience is the vision of the organization. Funds raised will be used to accomplish evolving the organization into a center with multiple non-profit providers co-located in their 45k square foot building.
Neighborhood Cooperative Ministries (NCM) is a faith-based, non-profit, ecumenical ministry dedicated to providing emergency assistance to families in Norcross, Peachtree Corners, Doraville and Tucker, Georgia in Gwinnett County. NCM is supported by 24 local churches and numerous businesses, civic and social organizations, foundations, and individuals. NCM was started over 30 years ago to provide services to low income and homeless families. Initially NCM's focus was on providing food, financial assistance, gas vouchers and funds for prescriptions. Many new ministries have been added focusing on personal sustainability including job readiness classes, on-site hiring events, money management courses, health fairs, as well as children's programs, case management, and spiritual programs. NCM also partners with many outside agencies to help meet client needs and develop better ways to serve the community.
The evening of Q & A with Mark Richt will also include a silent auction with a variety of baskets, trips, and event tickets. For more information about the upcoming fundraiser event and a comprehensive look at the mission and scope of Neighborhood Cooperative Ministries, visit ourncm.org.
Peachtree Corners Festival 2021 Photo Gallery and Videos
This past weekend, the 10th annual Peachtree Corners Festival brought the community together for food, fun and music galore! Check out some of the good times that were had, with vendors, performers and more.
Vendors and Community
CYT Atlanta performs number from upcoming production of 'Newsies'.
Cars, Cars, Cars
These beautiful, elegant vintage cars will give you car envy.
Vendors Part 2
Learning bike riding safety from DDS.
Vendors Part 3
Explore Gwinnett Awards Nearly $100K Through Gwinnett Creativity Fund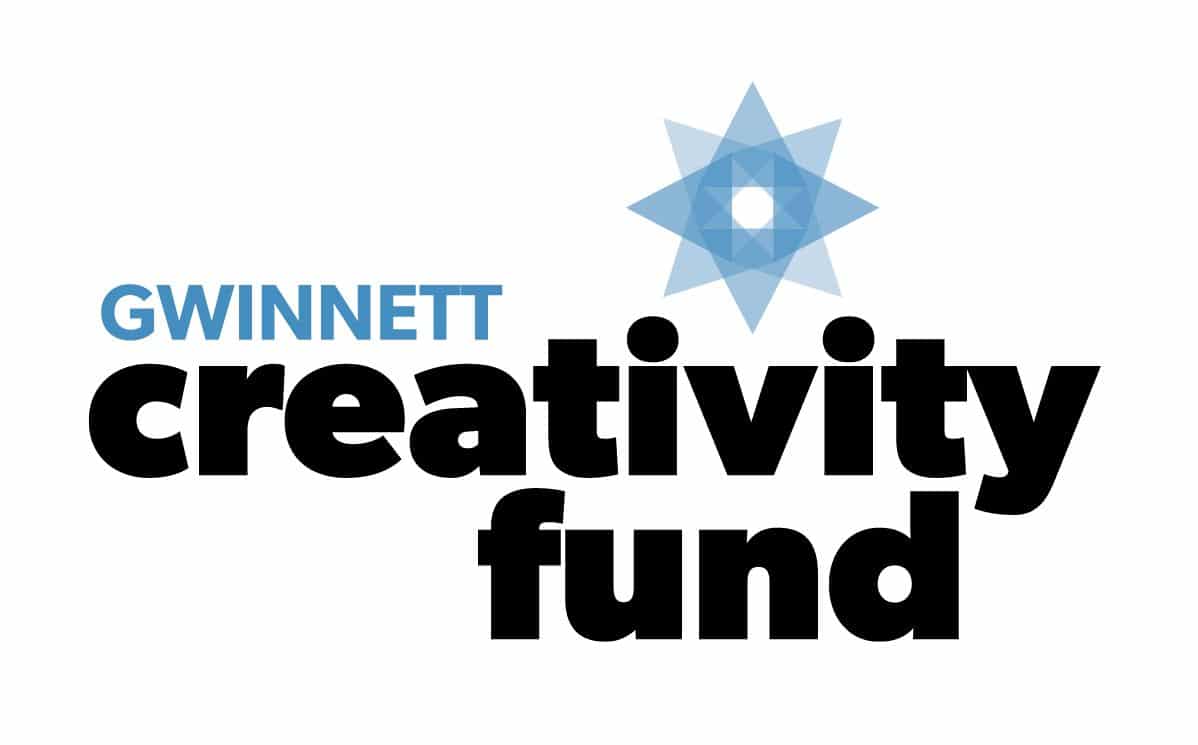 Explore Gwinnett reaffirms its commitment to the arts by awarding a total of $97,400 in grants to 10 Gwinnett County nonprofit arts organizations through the Gwinnett Creativity Fund. Gwinnett Creativity Fund Project Grants provide financial support for Gwinnett County arts and cultural initiatives taking place from August 2021 throughout the first quarter of 2022.
"We were highly impressed with the quality of projects for this grant cycle and we were pleased to grant more funds than this time last year," says Lisa Anders, Explore Gwinnett executive director.
Non-profit organizations receiving project grants through the 2021 Gwinnett Creativity Fund Project Grant include:
• Spectrum Autism Group: $3,000 grant to support "Women on the Spectrum" monthly arts workshop for adult women with Autism.
• Atlanta International Night Market: $10,000 grant to support art, dance and performance initiatives the September 2021 International Night Market in downtown Lawrenceville.
• Artworks! Gwinnett: $15,000 grant to support the 2022 Artworks Strategic Master Plan which will identify arts needs in the community.
• Hudgens Center for the Arts: $15,000 grant to support a landmark public art mural on the Hudgens campus.
• Live Arts Theatre: $2,000 grant to support "My Shot", a dance workshop for underserved audiences featuring an acclaimed professional "Hamilton" touring show ensemble member.
• Suwanee Performing Arts: $4,900 grant to support "Bard at the Barn," a multi-day, outdoor Shakespeare production at Gwinnett's bluegrass mecca, Everett Brothers Music Barn in Suwanee
• Gwinnett County Public Library: $15,000 grant to support a first-time photography exhibition, open to all library members. Juried exhibition, with curatorial support from the High Museum of Art.
• Button Art: $2,500 grant to support a new signature button, a public sculpture along Buford Highway.
• Suwanee Public Arts Commission: $15,000 grant to support their "Amphitheater Stage Wings", accessible and functional public art
• Aurora Theatre: $15,000 grant to support their production of "Song and Dance," one of the region's first major post-COVID productions
Individual organizations' budgets range from $30,000 to over $3 million.
"I am so proud that we were able to financially support some arts initiatives that cater to special needs adults, underserved schools, first responders. As an organization, we are committed to pushing the arts forward in Gwinnett," says Anders.
More details can be found at GwinnettCreativityFund.com.