What Are You Doing this Summer, Peachtree Corners?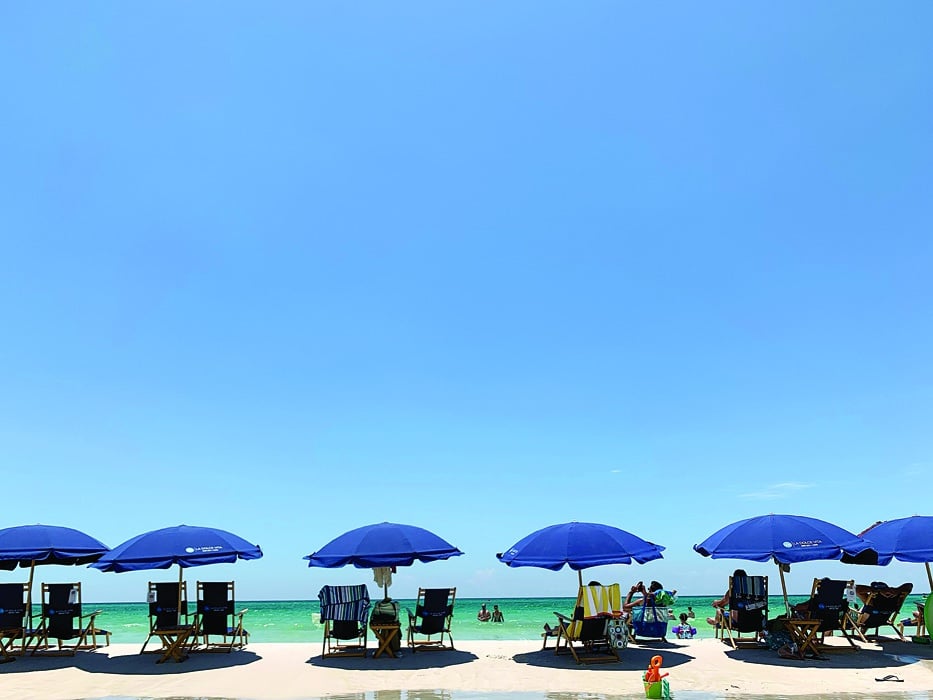 Geographically blessed, we can pretty much stay put or head in any direction from our city and end up someplace nice for summer vacation. Whether you're on a budget or seeking five-star accommodations, there is something to guarantee a fun summer getaway for all Peachtree Corners families.
Wisdom from a travel advisor
Luxury Travel Advisor Jeanne Derderian shared some vacation trends. When travel became complicated due to COVID-19, area residents flocked to road trip destinations like Charleston, Kiawah Island, Blackberry Island, Amelia Island and the Florida panhandle, she said.
Why use a travel advisor? "We have access to discounted rates and perks like complimentary breakfast and resort credit," Derderian shared.
With ever-changing travel requirements for each state and country, it makes sense to have a professional manage the details. "I've always handled tours, hotels, restaurant reservations and spa appointments, but now there's a lot more to do because of COVID. You have to follow the rules exactly or you won't get in," she said.
From perfectly timed COVID tests to downloading apps — in Iceland for example, visitors must use an app that tracks them during their stay — Derderian can make your trip seamless. Find her on Facebook (@JeanneLargayTravel) and on Instagram (@jeannederderian).
A sign of the times
Before the pandemic, Europe was the most popular summer destination. "I'm advising clients not to book Europe now. People are still locked down," Derderian said. "You want to have the full experience. If museums, excursions and restaurants are closed, it's just not the same."
Now more than ever, with people avoiding cities and destinations abroad, she is being asked to help with beach trips as U.S. beaches become increasingly crowded.
"Everyone wants to go to the beach or to the mountains. There aren't enough hotel rooms to rent. There is not much availability nowadays," she warned. "For a beach, I'd consider Mexico or an island, if you're comfortable getting on a plane."
Top beach destinations include Florida's gorgeous panhandle, Watercolor Beach, Rosemary Beach and the Keys. Other favorites include South Carolina beaches, like Myrtle Beach and Hilton Head, as well as Georgia's Sea Island.
"All of the trips that were booked for last year got canceled. They've since been rebooked, so there's not a lot of availability through 2023," Derderian explained.
Supply and demand have driven prices up, she noted. The luxury hotel in Watercolor Beach and The Pearl in Rosemary Beach are more expensive now. The same room she booked for someone in Jackson Hole last year costs double this year. Nonetheless, she is certain the hotels will be sold out.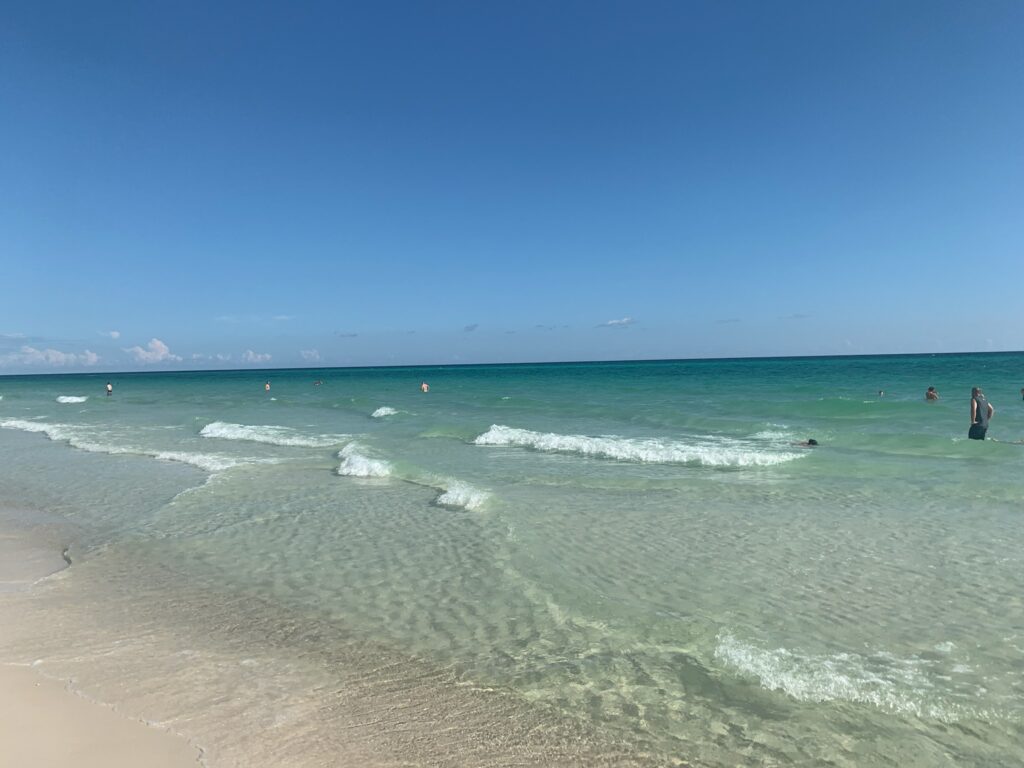 Travel tips from a pro
■ Plan ahead for a rental car. Cars are difficult to get and they're expensive. For a recent Yellowstone Trip she booked, rental cars were going for $6,000 a week. Whereas a rental car was once a last-minute consideration, Derderian suggests securing a rental before you even purchase flights. "Rental car companies sold off their fleets when the pandemic hit. There are very few cars available. It's something you really need to consider up front and make sure you're comfortable incurring the cost," she said.
■ Among the top places to visit this summer is Iceland. "Iceland just opened up, that could be a great place to go," Derderian said. "U.S. cities like New York and Washington, D.C. — the prices are good, and they're starting to open up." National Parks, not necessarily the best-known ones, should be explored, she added. "If you're willing to be a little more adventuresome, the Faroe Islands are open to vaccinated Americans, and there are not many cases of COVID there." The trick today, according to Derderian, is to find the sweet spot — a place that's open, and relatively safe.
■ If you're seeking U.S. beach or mountain destinations, it won't be easy to find something available — and it'll be expensive. "Make a good friend who has a home there," she said. "Otherwise, it's going to be hard." But it may well be worth it. "You can rent a home in Blue Ridge," suggested Derderian. "It's just gorgeous. We have a mountain home there, and it's only two hours away."
As for Derderian's own summer plans? She'll be heading to Aruba at the end of May to celebrate her mother-in-law's 86th birthday. Multi-generational family trips is another trend. Later, she and her husband will check out an all-inclusive adult resort in Cancun.
A woman's work is never done! Some college visits will be planned, if campuses open up, and in July, she's hoping restrictions will be lifted in Greece.
See the USA
Beach, please! Is the beach your happy place? Head south, to northwest Florida. Just a five-hour road trip away or a one-hour flight, the Florida panhandle offers 200 miles of white sand beaches with crystal waters guaranteed to scratch anyone's itch for a beach getaway.
Along the beaches in South Walton, Florida scenic route 30A stretches between Destin and Panama City, dotted with upscale beach towns boasting views of the Gulf of Mexico's turquoise waters, and sugary white sand beaches. Jennifer Hathaway and her family love to escape there.
"The beautiful beaches, great restaurants and cute boutiques of 30A are a great option for Peachtree Corners families. Our favorite is Rosemary Beach," Hathaway said. "It's family-friendly. It looks like a European village with a town square and cobblestone pathways. The vacation homes and condos reflect the same architecture."
Why 30A gets an A+
The area offers tennis, fitness centers, pools, yoga on the green, standup paddleboard (SUP), kayak and bike rentals, private golf courses, concerts on the green, movie nights and kid friendly events, so it's appealing to all ages.
Beach service includes chair and umbrella rentals and bonfires at night. Restaurant options range from fine dining (Restaurant Paradis) to casual (Cowgirl Kitchen). "Our favorite is La Crema Tapas and Chocolate — fabulous food, wine and delicious chocolate desserts," Hathaway said.
Ample green spaces and boardwalks provide easy access from vacation homes to beaches, restaurants and shops. The beach towns in this area (Seacrest, Alys, Watersound, Seagrove, Seaside, Watercolor, Grayton Beach, Blue Mountain, Dune Allen) are connected by sidewalks where people can stroll, jog and bike.
Hathaway shared, "With so many cute beach towns, each with its own style and personality, great restaurants, coffee and ice cream shops, wine bars, breweries, bookstores and cute boutiques, everyone will find their perfect beach on 30A!"
There are only two types of Peachtree Corners residents, those who have been to 30A and those who will go to 30A.
The mountains are calling, and I must go!
If you prefer higher elevations and cooler temperatures for some relief from the Georgia summers, that segment of the Appalachian Mountains in northeast Georgia is a must. Quaint mountain towns and stunning views await in historic towns like Ellijay, Blue Ridge, and Blairsville. For those willing to travel outside of Georgia, other beautiful mountain destinations are not too far away.
Brevard, NC
A three-hour drive away from their Peachtree Corners home, Brevard, North Carolina has drawn Jay and Susan Polokoff for over 20 years. The condo they recently inherited from Susan's parents is located in a valley overlooking a river and a golf course. The community is an Audubon Conservatory — a nature lover's dream for bird watching, gardening and wildlife sightings.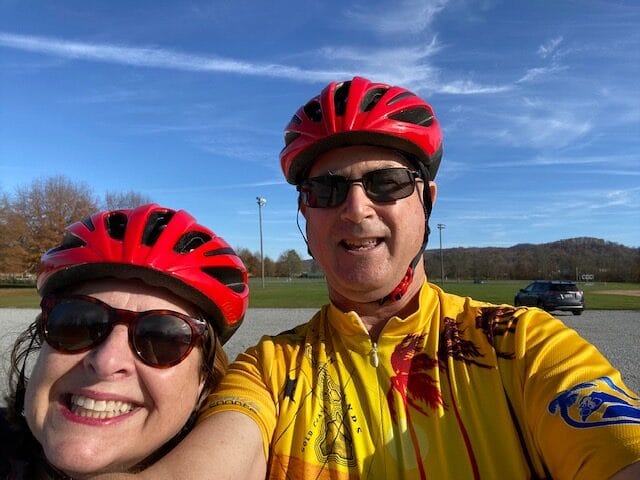 Once a retirement destination, Brevard has seen an influx of young families moving in since the pandemic. Many are second homeowners from all over.
"It's a great mountain community with just about everything you'd want to do. There's access to hiking. There are five natural spring-fed lakes, perfect for swimming and kayaking," Susan said. "Brevard boasts nice restaurants, an old-fashioned downtown area with a movie theater, candy and ice cream shops, an art gallery, breweries and a farmers market on Saturday mornings."
Jay enjoyed the Brevard Music Center bringing in guest conductors every year, until COVID struck. Visitors can hike in the DuPont State Recreational Forest where many scenes of the 2012 blockbuster "The Hunger Games" was filmed.
It's also a draw for mountain bikers. This small town of 8,000 boasts four bike shops. "We like to ride bicycles. They built the Brevard Bikeway that goes from downtown into Pisgah National Forest. You don't have to ride with traffic for the most part," Susan said.
Motorboats are not allowed on the spring-fed lakes, only canoes, kayaks and paddle boards. The water is clear and like glass.
The Polokoffs like to spend a week or long weekends in Brevard. Their 32-year-old daughter enjoys visiting and hiking there, too. With Jay on the cusp of retirement, they plan to spend more time there in June, July and August.
Waynesville, NC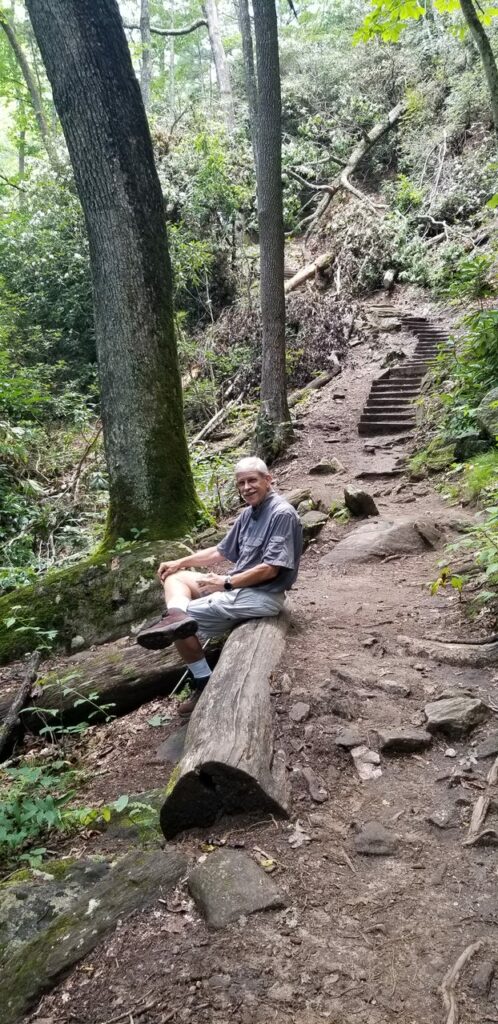 Every June, Bob and Lori Howard plan a two or three-day hiking trip to Waynesville, North Carolina. They like to stay at the Waynesville Golf and Country Club, and one of their favorite hikes is nearby Flat Laurel Creek.
To learn about the Flat Laurel Creek hike, visit hikewnc.info/besthikes/black-balsam/flat-laurel-creek.
Travel Abroad
Ocho Rios, Jamaica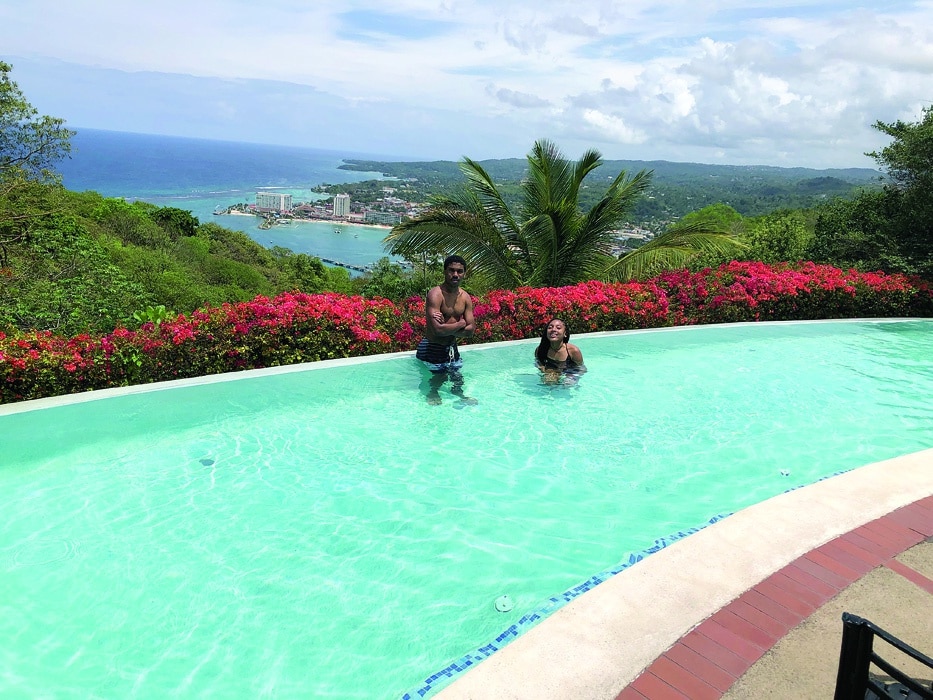 Prudence Franklin and her family enjoy summer visits to Ocho Rios, Jamaica about every three years. Franklin grew up in Oracabessa, where the 12 original James Bond novels were written and where two of the Bond films were made.
"There's a beach called the James Bond Beach," Franklin said. It's on the north shore. On the outskirts of Ocho Rios, in Brighton, one can visit the Blue Hole, a natural limestone sinkhole and mineral spring with azure waters 20 feet deep, which Franklin describes as "the Garden of Eden."
In Ocho Rios, you can swim with the dolphins, tour in glass bottom boats and enjoy a roller coaster-like bobsled ride through the rainforest in homage to the 1988 Jamaican Bobsled team from the movie, "Cool Runnings."
"The people are friendly, really relaxed and laid back. Your vacation can be as active or quiet as you like," Franklin shared.
Franklin and her family prefer active vacations. They like to incorporate learning something new on their travels. When heading to Tennessee for example, they'll stop along the way and visit Indian reservations where they can see artifacts and learn about The Trail of Tears.
Ambergris Caye, Belize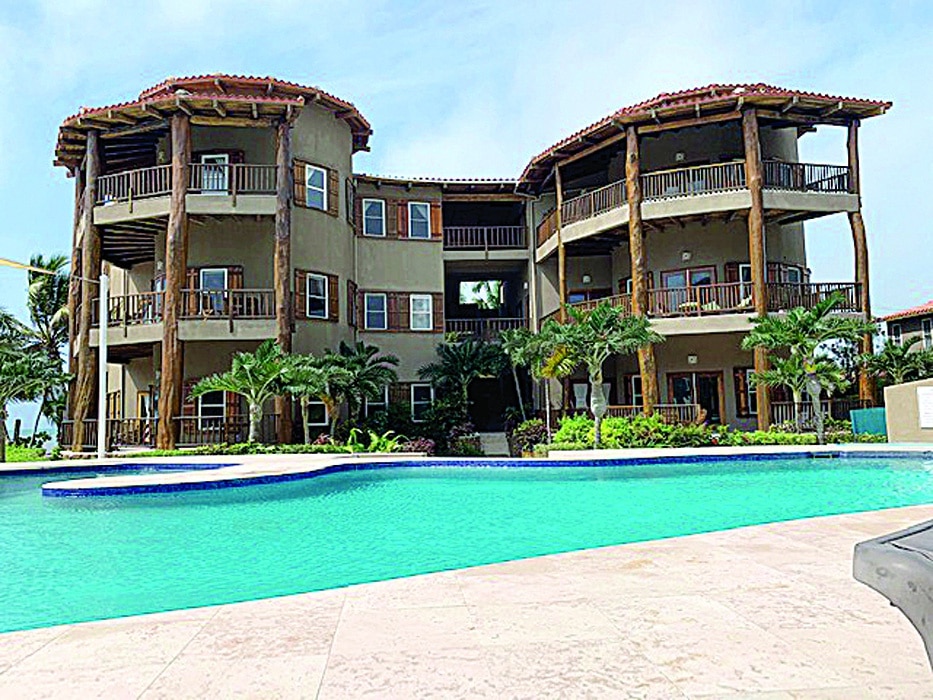 How about visiting a place where local wildlife includes toucans, parrots, jaguars and monkeys? Evan Hanson loves Belize so much, she purchased a condo on Ambergris Caye, an island off of Belize in Central America, east of Guatemala. Belize is becoming a favorite vacation and retirement spot.
"If you love the beach or outdoor activities, this is the place for you," Hanson stated. Besides relaxing on the beach, possible activities include snorkeling, scuba diving in the world's second largest reef, fishing and swimming with the sharks, stingrays — and if you're lucky, manatees and whale sharks. There's also sailing, kayaking, ziplining, cave tubing, spelunking, visiting Mayan Ruins or the zoo, and hiking by waterfalls.
Belize encompasses a multitude of cultures. Everyone is bilingual because the official language is English. "You can speak Spanglish and fit right in," Hanson said.
The local cuisine is characterized by its Jamaican and Caribbean influences. Fish is prevalent. During lobster season, lobster is both abundant and affordable. Belizean fry jacks (fried dough) — sweet or savory — are a local breakfast favorite.
"What I love most about Ambergris Caye is the people — they are the nicest — followed by the ocean," Hanson said.
Ambergris Caye is a party town, with lots of fun bars on the water. One of Hanson's favorites is a place called Truck Stop, a bar with live music, games, a pool and food trucks. During the high season, large crowd of locals and tourists gather there.
Hanson's condo, just steps from the ocean, may be available for your summer vacation! Visit indigobelize.com/beachfront-condo-4a/.
Staycation
Fun on the Hooch!
"My family and friends love to play on the water and there's nothing more convenient than the Chattahoochee River which runs right through Peachtree Corners," said Sonia Lee. Activities include playing on the rocks at Jones Bridge Park and kayaking down the river.
"My friends and I also love to have moms-only floats down the river," Lee shared. For the past several years, she has organized a Beach Day for her kids and their friends at Buford Dam Park on Lake Lanier.
In an effort to "give back" to the river which provides so much enjoyment, they volunteer regularly at the bi-annual Sweep the Hooch event to help clean up the parks along the river, as well as the Chattahoochee itself. To get involved visit chattahoochee.org/sweep-the-hooch/.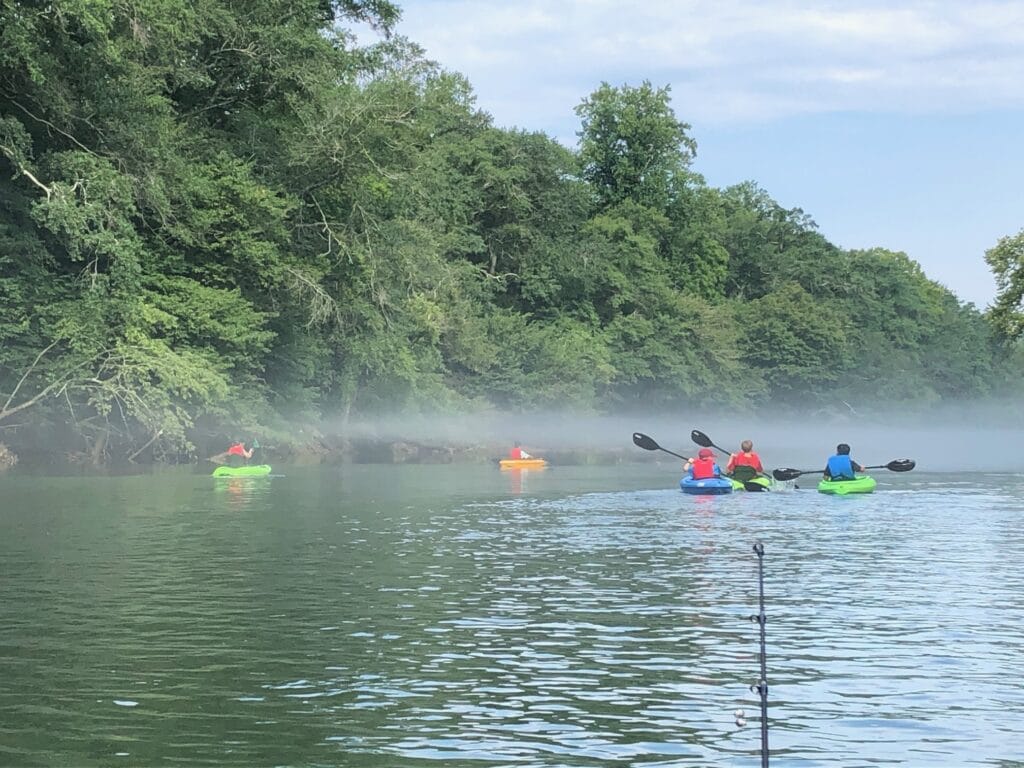 For more local summer activities visit exploregeorgia.org/city/peachtree-corners.
As the old adage goes, travel is the only thing you buy that makes you richer. Whether you're traveling internationally, across the U.S. or staying in Georgia this summer, there are plenty of opportunities to get out and visit something new. I hope you do, and I'm wishing you all a safe and amazing summer!
Once a year, go someplace you've never been before. — Dalai Lama

Interactive Nature-focused exhibit to open in Gwinnett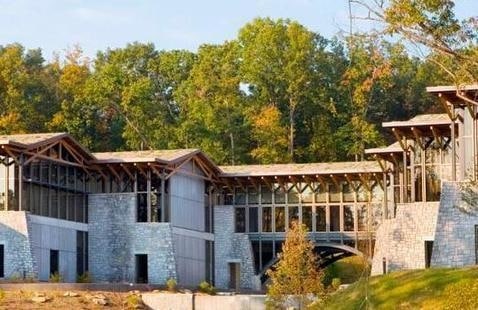 Indoor, interactive, immersive.
That's the only way to describe the Pathways Through the Piedmont exhibit approved by the Board of Commissioners Tuesday for its design and construction.
The display will showcase Gwinnett's award-winning parks and beautiful landscape – including granite outcrops, rock mounds and waterways.
"The exhibit is intended to assist the learners during K-12 Programs and our visitors in developing a greater appreciation for the natural world in Gwinnett," said Community Services Director Tina Fleming.
Pathways Through the Piedmont will be housed at the Gwinnett Environmental and Heritage Center. It's funded by the 2017 SPLOST and a legacy gift from the Gwinnett Environmental & Heritage Foundation.

Halloween and October Experiences at Gwinnett Parks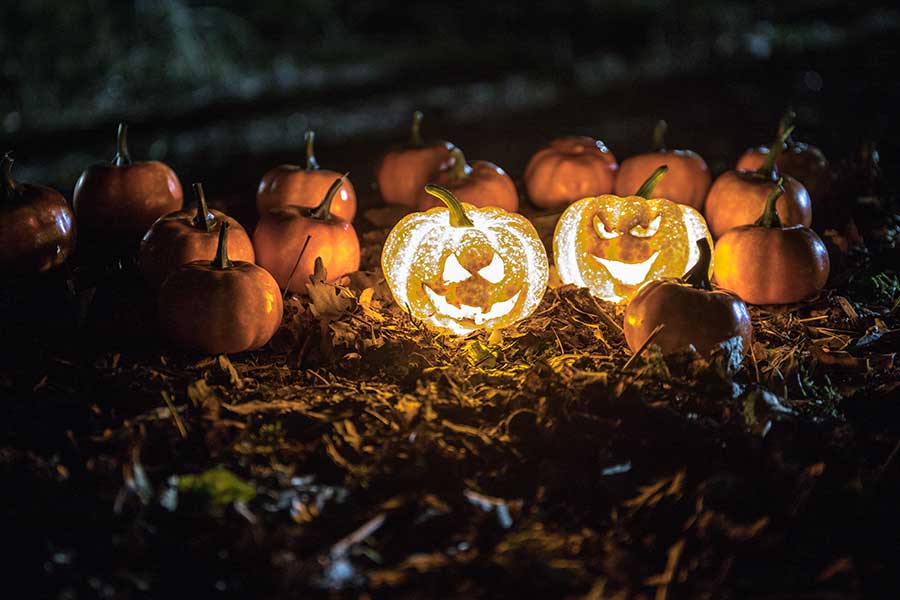 October 22
Little Ghostly Gathering
10:00am – noon • Ages 2 – 5 • $5/person
Rhodes Jordan Park Community Recreation Center
100 East Crogan Street, Lawrenceville • 678.277.0890
Halloween Boo Bash
6:30pm – 9:00pm • All Ages • $5/person
Lucky Shoals Park Community Recreation Center
4651 Britt Road, Norcross • 678.277.0860
Mummy & Son Ball
7:00pm – 9:00pm • Ages 4+ • $11/person
George Pierce Park Community Recreation Center
55 Buford Highway, Suwanee • 678.277.0910
October 28
Walk Among the Stars – Hollywood
6:00pm – 8:00pm • All Ages • Free
Rock Springs Park
550 Rock Springs Road, Lawrenceville • 770.417.2210
October 29
Spooky Pond Party
6:00pm – 8:00pm • All Ages • $12/person
OneStop Centerville
3025 Bethany Church Road, Snellville • 678.277.0228
October 30
Monster Menagerie
1:00pm – 3:00pm • Ages 5+ • Free
OneStop Norcross
5030 Georgia Belle Court • 678.277.5400
Halloween Fest
2:00pm – 5:00pm • All Ages • Free
Bogan Park Community Recreation Center
2723 North Bogan Road, Buford • 678.277.0850
Party Like a MonSTAR
7:00pm – 10:00pm • All Ages • $10/In-person, $5/Virtual
OneStop Buford
2755 Sawnee Avenue, Buford • 678.225.5360
Active Adult 50+
Virtual Haunted House
1:30pm – 3:00pm • Free, must regsiter to receive link
Prime Timers Pointe at George Pierce Park • 678.277.0910
Bethesda Park Senior Center • 678.277.0179
Line Dance Costume Ball
6:00pm – 8:00pm • $8/person
Bethesda Park Senior Center
225 Bethesda Church Road, Lawrenceville • 678.277.0179
October Experiences
October 22 | 5:00pm – 8:00pm
Moonlight on the Mill
All ages | $5/person
Freeman's Mill Park
Lawrenceville | 770.904.3500
October 23 | 10:00am – noon
Diwali Macrame Lamp Craft
Ages 12+ | $31/person
Lilburn Activity Building
Lilburn | 678.277.0875
October 23 | noon – 4:00pm
Harvest Homecoming
All ages | FREE
McDaniel Farm Park
Duluth | 770.822.5450
October 23 | 7:00pm – 9:00pm
Paint & Sip – Amicolola Falls
Ages 18+ | $24/person
Lilburn Activity Building
Lilburn | 678.277.0875
October 29 | 6:30pm – 9:30pm
Cheers! Adventurous A'fares! – Murder Mystery
Ages 21+ | $35/person
Gwinnett Historic Courthouse
Lawrenceville | 770.822.5450

Gwinnett Clean & Beautiful Welcomes 2021-2022 Green Youth Advisory Council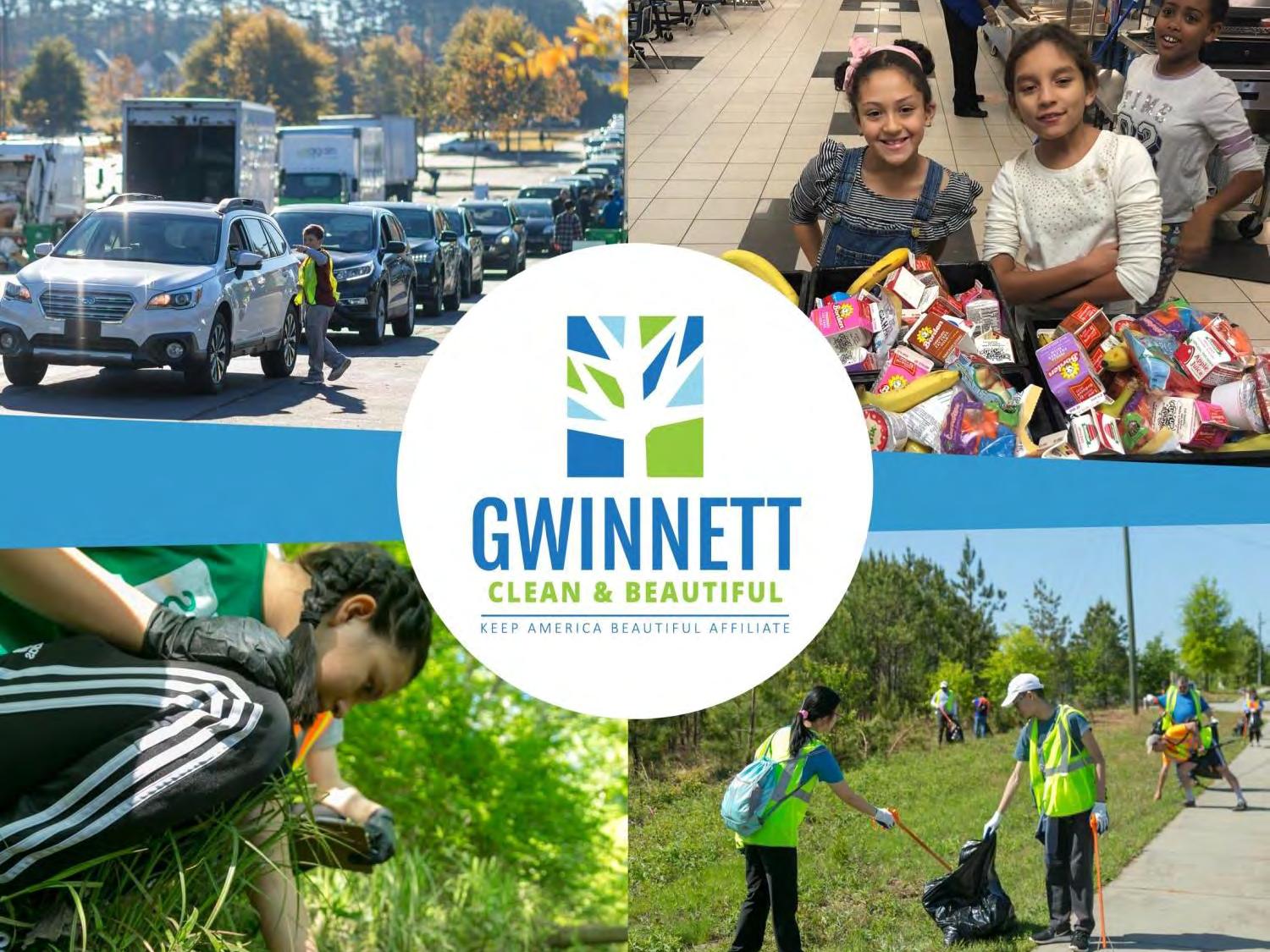 With a vast number of its programs and events either involving local youth or geared to families, school green teams and civic groups like Girls & Boy Scouts of America, it makes all the sense in the world to look toward youth leaders for key insights on how to engage a new generation of environmental stewards. To that end, Gwinnett Clean & Beautiful (GC&B) – a Keep America Beautiful affiliate – is proud to have its own Green Youth Advisory Council to help evolve programs and engage other young people within the community. The applications are in and the eco-focused nonprofit is proud to announce its Class of 2021-2022 Green Youth Advisory Council members.
The newest members of Gwinnett Clean & Beautiful's Green Youth Advisory Council are:
Cynthia Bui, Senior – Mountain View HS
Diya Lakwani, Senior – McClure Health and Science HS
Daeun (Ella) Lee, Sophomore – Mill Creek HS
Mary Morris, Senior – North Gwinnett HS
Arshan Rafiq, Sophomore – Peachtree Ridge HS
Stephanie Ramos, Senior – Paul Duke STEM HS
Amay Shah, Junior – Gwinnett School of Mathematics, Science and Technology
Shivali Singh, Freshman – Gwinnett School of Mathematics, Science and Technology
Trevor Spake, Junior – Brookwood HS
Palice Zimmerman, Junior – Archer HS
Plus the eleven returning members:
Ariella Ayenesazan, Sophomore – Peachtree Ridge HS
Suraj Chatoth, Junior – North Gwinnett HS
Danielle Chun, Sophomore – Mill Creek HS
Hannah Cook, Senior – Brookwood HS
Tanner Dilworth, Senior – Mountain View HS
Daniel Jung, Senior – Mill Creek HS
Emily Laycock, Senior – Mill Creek HS
Jack Prewitt, Junior – Gwinnett School of Mathematics, Science and Technology
Miles Simmons, Junior – Archer HS
Samara West, Senior – Paul Duke STEM HS
Logan Zimmerman, Senior – Discovery HS
Gwinnett Clean & Beautiful's High School Green Youth Advisory Council (Green YAC) is a unique hands-on opportunity for high school students from diverse backgrounds to participate in an environmental and sustainability service-learning and leadership development program. Participants will contribute to and inform Gwinnett Clean & Beautiful on projects that impact local and global environmental challenges while acting as ambassadors and leaders for youth service in their communities.
The Green Youth Advisory Council will provide the opportunity to:
Develop leadership skills while engaging in creative work focused on litter prevention, beautification, community greening, waste reduction and recycling, food insecurity and more
Collaborate with like-minded peers with unique perspectives from across the county
Assist with design and implementation of environmental program initiatives for engaging youth in community service
Act as an ambassador in their school and community through engaging youth and county leaders by promoting sustainability, environmental literacy, and civic engagement
Earn service hours and a letter of recommendation for college, employment, etc.
Seniors will be considered for a $1,000 post-secondary scholarship