Film Industry is Coming Back! Ozark, Disney and More Shot in the City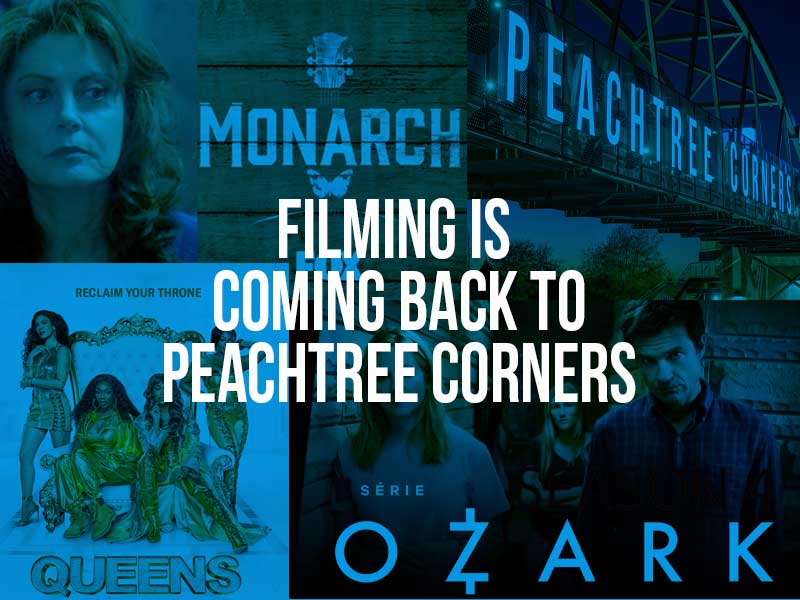 We are glad to see the film industry back up and running and, once again, filming in
Peachtree Corners. We have had 13 requests from production studios so far this
year, which is about the same as in 2019. Obviously, 2020 was a bust, with only one
Capital 1 commercial in January.
But the industry is winding back up, which is good to see. Blue Cat Productions
filmed in Peachtree Corners six times over the past year. You may know their work:
the series Ozark. The series Monarch also filmed in Peachtree Corners this past
summer, and most recently ABC Signature, a subsidiary of Disney Television
Studios, filmed some shots for the series Queens at The Forum shopping center.
A representative from Disney toured City Hall on Nov. 18 for another series.
Apparently, they are interested in filming a new series that involves an FBI agent.
They were looking for a meeting room with "gray government walls." It's called
Class of 09 and it's an FX/Hulu miniseries about the FBI that follows agents in the
years 2009, 2019, and 2065. It is under the Disney umbrella since they own Fox,
who owns FX. They need to make the front of City Hall look like Arizona, however,
which could be interesting.
We mentioned to the Disney folks that if they don't get exactly what they are
looking for, we do have an extended reality production studio in town that I'm sure
could give them a hand, Music Matters Productions. A lot of people know about
Eagle Rock Studios in Gwinnett County, near Norcross, but they may not realize all
the film activity taking place in Peachtree Corners.
We like to have film crews here because they often bring with them a lot of people
who need to eat and need a place to stay. This benefits our hotels and restaurants.
So, our city staff strives to review film permit applications the same day they are
received. Sometimes we have questions, like "Are you going to blow up any stuff?"
Ozark used some pyrotechnics a few years ago in Technology Park when they were
blowing the windows out of a building. Obviously, we don't want residents or
businesses to be disturbed, which is why we like the studios to let us know when
they are planning to do some filming here. In fact, we require it, actually. We
require that neighbors be notified and that police officers be on hand for any road
closures to help direct traffic. On occasion, we have had to say "no" because it
would be too disruptive to people or businesses or create safety concerns. But
overall, I think Peachtree Corners has a pretty good reputation for being
accommodating to the film industry.
If you have some vacant space in a shopping center or office building, the film
studios may be interested in renting it for a few months, perhaps longer. Our staff
can get you connected with the right people if you are interested in leasing space to
Disney or other studios. Just take some photos of the building, inside and out, and
send them to our economic development staff. Maybe the film studios will give
Peachtree Corners a mention at the end of the flick.
Stay safe, Mike Mason, Mayor
Source: Mayor's Letter
Peachtree Corners named Finalist for Gwinnett Chamber Small Business Awards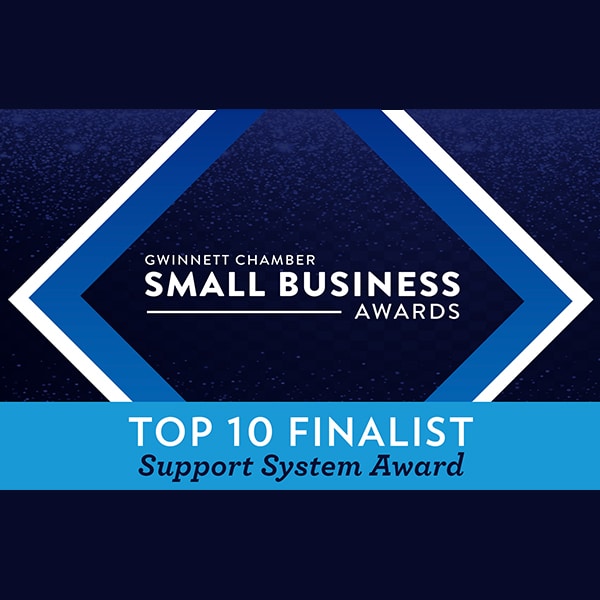 The City of Peachtree Corners has been named a finalist for the 2022 Gwinnett Chamber Small Business Awards. The annual awards program is designed to recognize entrepreneurs and small businesses in the greater Gwinnett region. This year's program will be held at 12Stone Church in Lawrenceville on Friday, December 9, 9 a.m.
"We are honored to be a finalist for the Support System Award by the Gwinnett Chamber," said City Manager Brian Johnson. "As a city government, we are dedicated to supporting our small business community.
"We put a large focus on their success by offering many free tools including grant programs, incentive programs, streamlined planning and development, and local organization support," he added.
Honoring individuals and organizations alike, there will be awards in 10 categories:
Community Contributor Award,
Culture Creator Award,
Emerging Entrepreneur Award,
Founder Award,
Launch Award,
Minority-Owned/Woman-Owned Small Business Award,
Small Business Award (0-5 employees),
Small Business Award (6-24 employees),
Small Business Award (25+ employees, and
Support System Award.
"Small businesses account for 90% of all businesses in Gwinnett and are a critical component to our thriving economy," shared Nick Masino, President and CEO of the Gwinnett Chamber. "We congratulate Peachtree Corners on their designation and look forward to celebrating with them at this upcoming awards program."
For more information on this event or to register to attend, visit GwinnettChamber.org/Small-Business-Awards.
Town Hall Hosted by Peachtree Corners Councilman Phil Sadd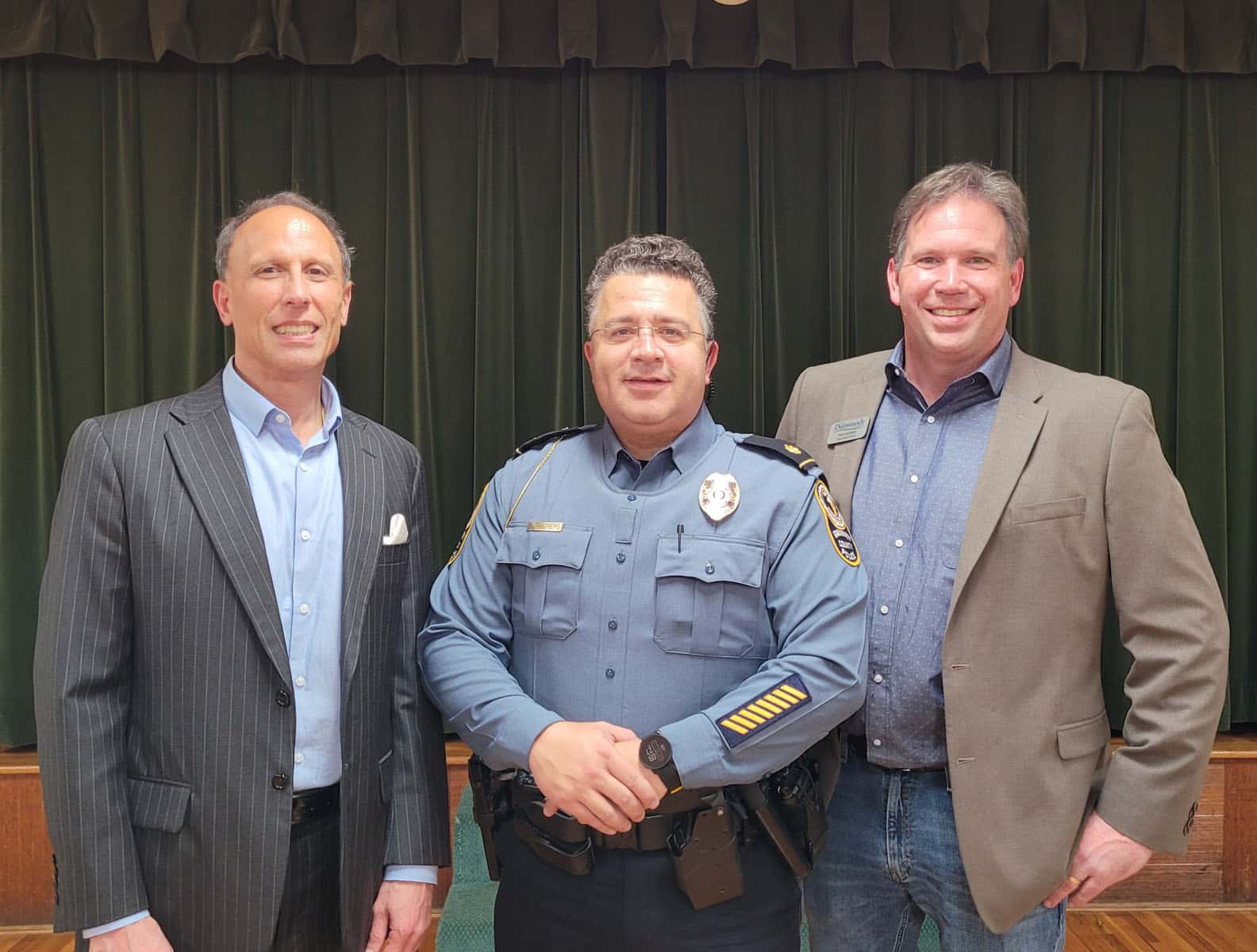 Peachtree Corners Councilman Phil Sadd held a town hall meeting at the Winters Chapel United Methodist Church on Nov 2. It was attended by a group of approximately 75 residents.
As part of the presentation, Sadd invited Gwinnett County Police Department's Major Edward Restrepo and Dunwoody Councilman Tom Lambert to be part of his panel.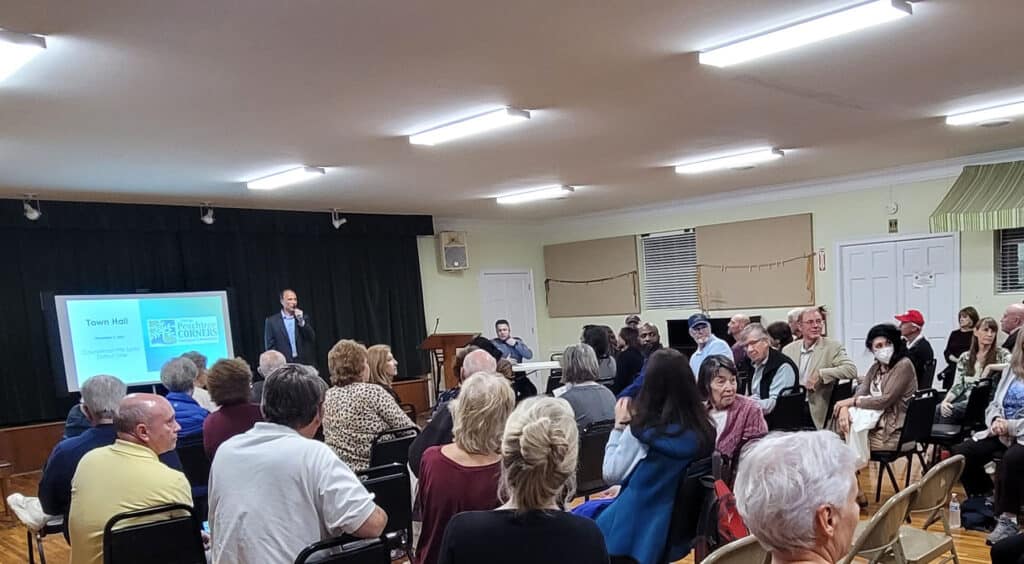 The presentation included information regarding a variety of topics. They included:
The Forum current state / future vision,
Key Construction Project Updates (including Spalding Drive widening; Winters Chapel / Spalding Drive; River Exchange / Holcomb Bridge; New Town Farms neighborhood; and Winters Chapel intersection at Dunwoody Club Drive),
Multi-use trail update,
Peachtree Corners Town Center update,
Curiosity Lab Innovation Center update,
What is on the November 8 ballot, and
Peachtree Corners Crime Prevention Initiatives.
The audience had the opportunity to ask questions of each panelist. Major Restrepo gave them greater insight on how the use of technology has enabled the police to quickly apprehend criminals and prevent future crimes.
According to feedback from one of the attendees, Major Restrepo's explanation of how law enforcement works to contain and control crime in our area was not only helpful but very encouraging. They said they went home feeling more secure and less concerned about crime control in the area and in the entire county.
Councilman Sadd began holding these town hall meetings in 2013. He believes that they are an important part of representing the city's residents.
"I believe that it is very important to meet with constituents and residents to provide them with information regarding the city," said Sadd. "These types of events not only allow me to provide our residents with information and answer questions, but also allow me to hear directly from them about their concerns, appreciation and what they expect from the city in the future."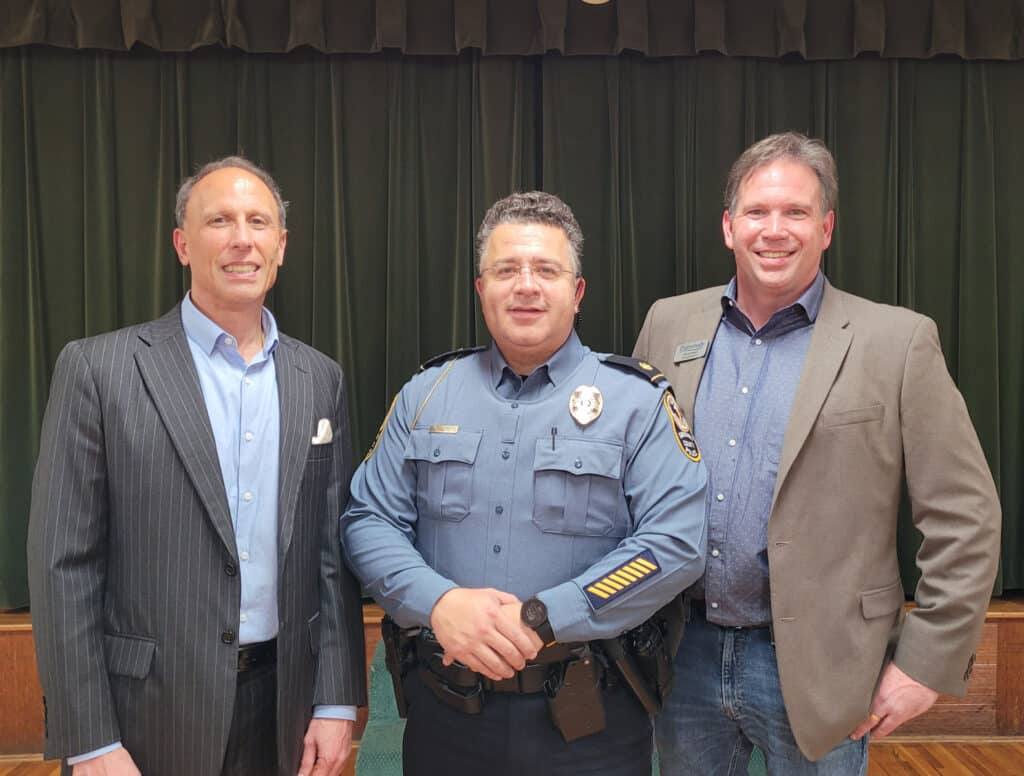 In addition to the audience, there were several local leaders and elected officials that attended the town hall. Attendees included:
Georgia House Representative Beth Moore,
Peachtree Corners Councilman Eric Christ,
Peachtree Corners Councilman Joe Sawyer,
Board of Education District 3 Representative Mary Kay Murphy,
Georgia State House Candidate Scott Hilton,
Georgia State House Candidate Ruwa Romman,
Georgia State Senate Candidate Austin McDonald,
Peachtree Corners DDA Representative Tim Le,
Peachtree Corners Planning Commission Member Alan Kaplan,
Peachtree Corners Zoning Board of Appeals Member Marcia Brandes, and
Winters Chapel United Methodist Pastor Steve Ring.
As it is an election year, Sadd spoke about the importance of voting. Sample ballots were made available to those in the audience at the completion of the program.
Peachtree Corners Enlists IMS to Conduct Pavement Survey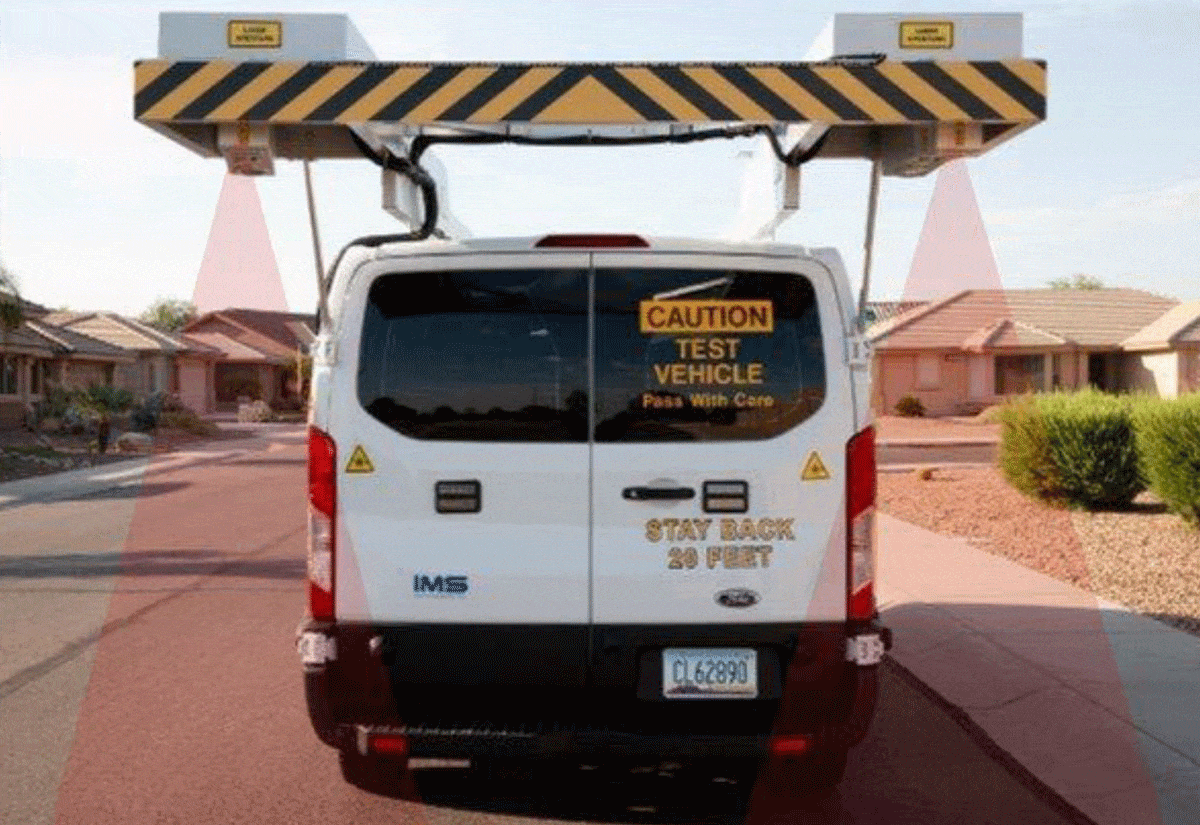 Residents of Peachtree Corners will soon have an objective assessment of the town's pavement. Using funds dedicated to infrastructure management, the City has contracted with Infrastructure Management Services (IMS) to conduct the pavement survey.
The company has over 30 years of experience in the field of pavement management and has helped municipalities throughout the United States and Canada. IMS will be responsible for completing an objective pavement condition survey as well as a budget and rehabilitation analysis.
IMS survey vehicles hit the streets in early October using their Laser Crack Measurement System (LCMS-2). The LCMS-2 is a 3D imaging sensor that collects continuous 3D pavement imagery along with rutting and roughness measurements.
How it works
The LCMS-2 will determine surface distresses including load cracking, block cracking, rutting, raveling, reflective cracking, loss of section, bleeding, edge distress and patched areas. Information will be collected on a segment-by-segment basis. The collected data and imagery will be linked to the City's existing GIS data system.
Once the data has been collected, the City will create a work program using a Pavement Condition Index (PCI) that will rate road segments between poor and excellent. The City will then use the PCI rankings to create an infrastructure work plan based on actual road conditions.
This data-based planning will allow Peachtree Corners to provide more efficient and equitable repairs and maximize the City's repair budget.