Clean Eatz: Tasty, Healthy and Easy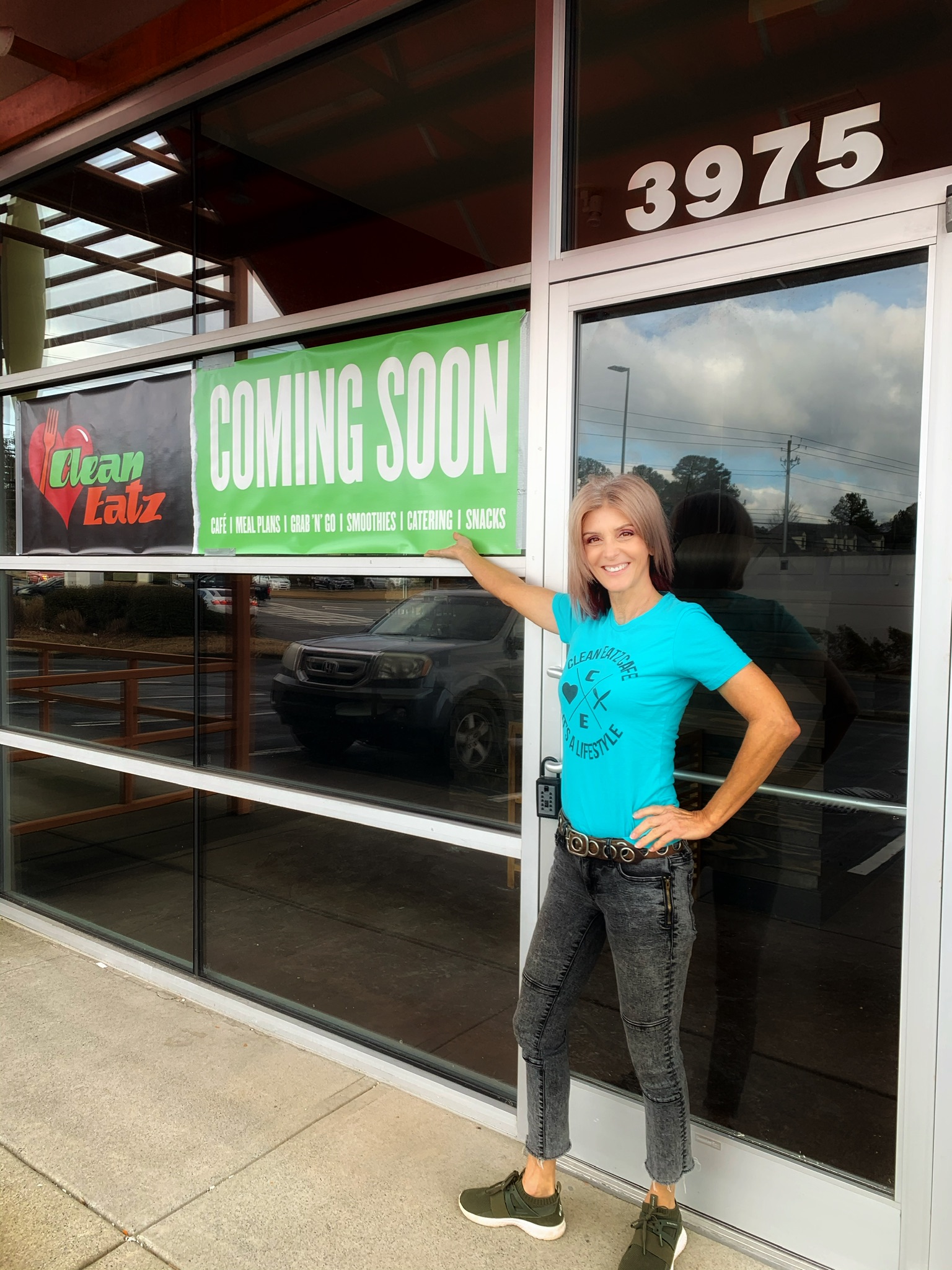 Clean Eatz, a healthy cafe that offers meal plan services, is coming to Peachtree Corners in late April 2021. Clean Eatz started construction on March 15 and will open tentatively around late April. The cafe will be open for two weeks before meal plans are offered.
When talking to owner Nancy Glass, she said what attracted her to Peachtree Corners was the active lifestyle displayed by the community. "When you go on the Peachtree Corners website it's all 'family, community, outdoor Living." It's all about active living! There's this feeling of family and that everyone is in it together." Clean Eatz's mission "is to help be the first step you take to living a healthy lifestyle," as well as giving the community "the tools needed [in maintaining a healthy diet] by preparing properly portioned sized meals with a balance of protein, carbs and fats." Meal planning has become popular in recent years for busy adults with families and others always on the go, especially in light of the pandemic.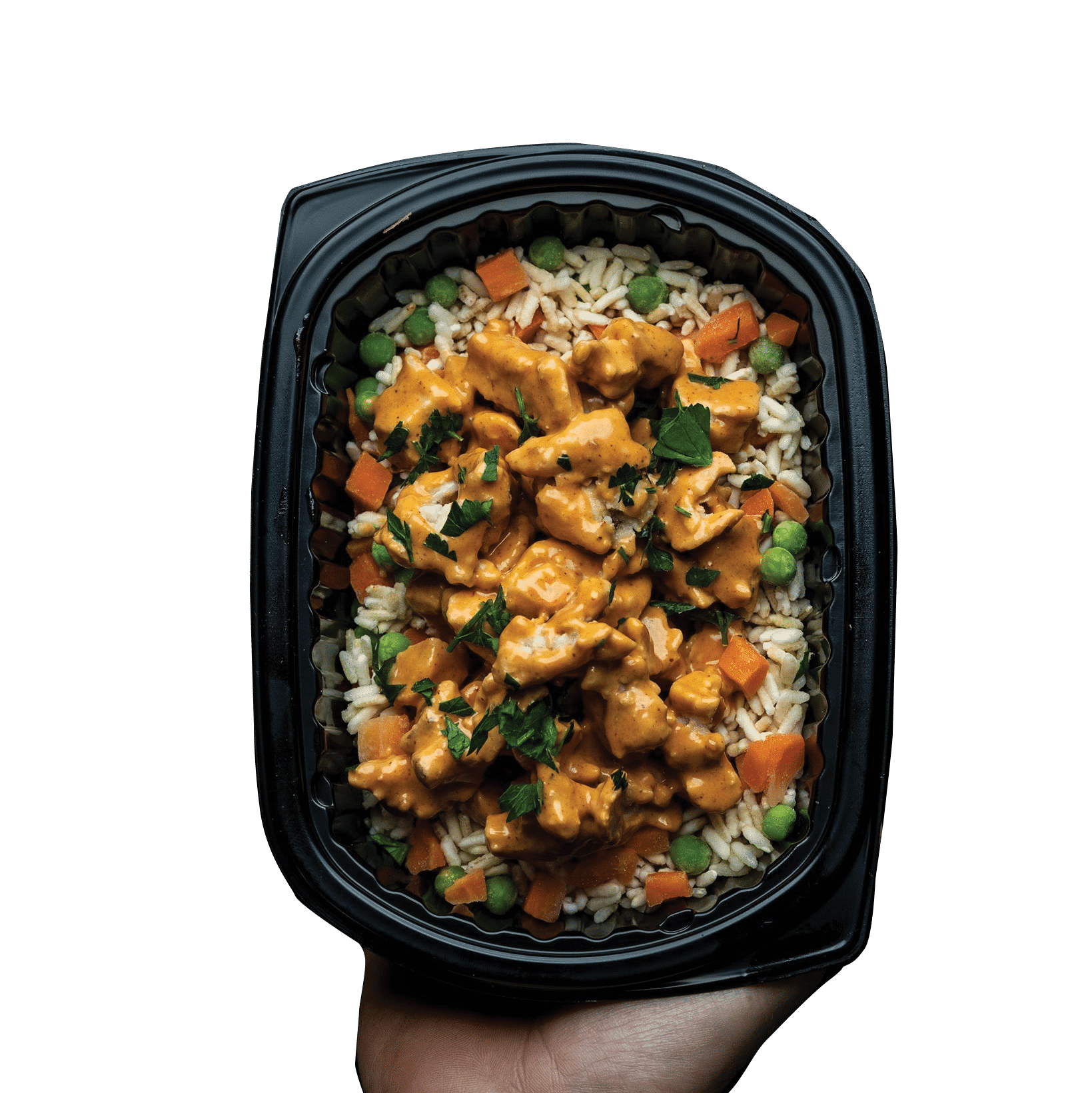 "COVID has brought on this whole new environment to our family dynamic," Glass said. "So at the end of the day, whether you're a parent or a single working adult, you just want to take a moment to breathe without having to stress about dinner. With a meal plan, you have nutritious meals ready-to-eat, which make it easier to maintain a healthy lifestyle… We simplify life!"
High on nutrition, low on cost and commitment
The Clean Eatz Meal Plans offers nutritious, personalized meals for those with active lifestyles at an affordable cost. Meal plans come in 5, 10, 15 and 21 meal options, and prices start at $38 for five meals ($7.60 per meal), and if you order 21+ meals, the price goes down to $6.10.
"Clean Eatz puts their money where their mouth is! If we say it's affordable, we will make it affordable," Glass said. The meal plan menu changes weekly but it is adaptable to each person's dietary needs, such as gluten-free, low or no-carb or extra protein. Meal plans can also be shipped to your house as well as picked up in-store.
The meal plans are also low commitment. "We don't take your credit card [information] or bring you into any contracts," Glass explained. "If we offer you a tasty, nutritious meal, it will be a delight. You will want to come back."
Wealth of options
In addition to meal plans, they have a separate cafe dining menu that provides "a balanced look at food while giving you several options." And they offer frozen grab-and-gos as an alternative to what is on the weekly meal plan menu, including gluten-free cauliflower crust frozen pizzas. They also provide catering, great for events like athletic competitions and after-school sports. Glass mentioned she had already been contacted by a CrossFit gym nearby to cater later in the summer.
On the cafe menu, there is a wide variety of smoothies that can work as a snack or a meal replacement when "First Form" protein powder is added. Customers can build their own burger choosing between turkey, salmon, black bean or bison and customize it any way they want.
Glass invites everyone to come by and grab some "Good for You Nachos" (sweet potato fries topped with shredded beef, guacamole, salsa, green peppers and red onion) or boneless wings or buffalo cauliflower bites as a snack. "Build a Bowl" options allow customers to choose and customize their meal to their liking — with a base, protein, veggies, sauce and spice.
Simple and tasty
About the menu, Glass said, "We've taken your favorites and made them good for you — tasty, delicious!" They also offer salads, wraps and kids' menu options such as "Pizza Rollz" and "Boneless Wingz".
Clean Eatz features healthy and balanced meals that taste good, while also offering variety to their meal plans and menus, making them stand out against other often bland diet programs. Their menu includes Keto and Celiac-friendly options, as well as choices for people who are on a diabetic diet.
"It's not easy going into the grocery store and know how to put a recipe together that is balanced and has all the necessary nutrients. We take away all the guesswork," Glass said. She added that it can be difficult to maintain a healthy lifestyle, and that's where Clean Eatz can help. "We're here to create a plan and then create a community."
Ahead of opening, everyone is invited to sign up for meal plans at cleaneatz.com/locations/peachtree-corners-ga. Once Clean Eatz is open, customers will receive an email notification with a menu on Thursday, with a reminder, to place their orders by Sunday.
For more information about Clean Eatz, follow @cleaneatzpeachtreecornersga on Instagram and Facebook.

Grub Up! Food Trucks in and near Peachtree Corners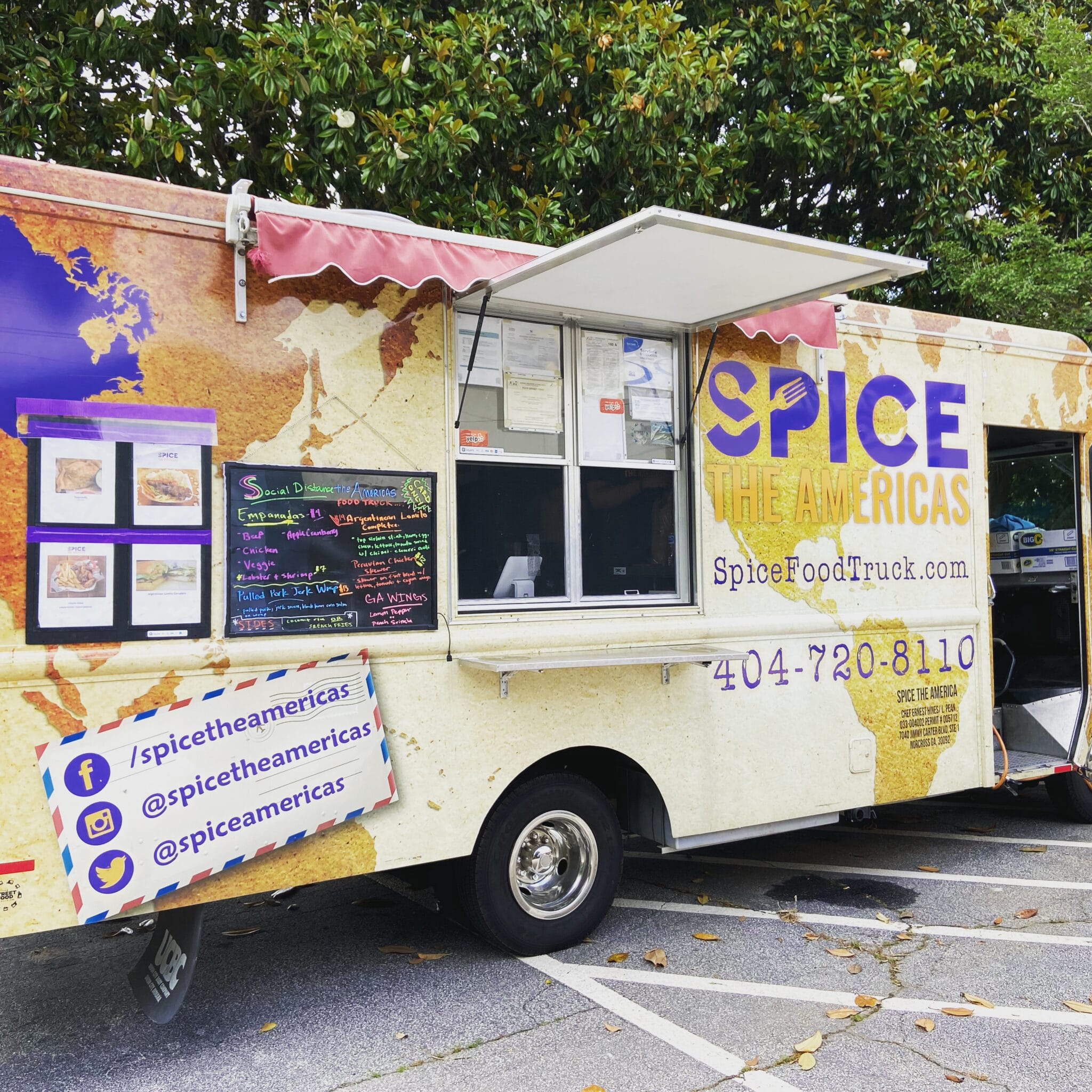 Good food is on the move. When the hunger pangs hit and you want something filling and fun, a food truck is the place to be. But the problem with mobile food of course is "Where exactly is your new favorite lunch going to be parking next?"
The spices, smells and sensations are closer than you think. Here's a heads up for when, where and what you can chow down.
110 Technology Parkway, Suite 200, Peachtree Corners 30092
Go to facebook.com/AnderbyBrewing/ for details, or visit AnderbyBrewing.com, click on 'More,' then 'Events,' for more food truck dates and info.
August 13. 5-8 p.m. — Spice the Americas is a food truck and caterer that features cuisine infused with international influences prepared by Chef Ernest Hines. Chef Ernest is experienced in a wide range of catering, from weddings to small gatherings. He also specializes in a wide variety of food themes, with a focus on South, Central and North American fusions.
August 12, 15. — Pizzeria Azzurri offers a variety of brick oven pizzas and wings.
August 24; September 3, 7, 14. 4-9 p.m. — Nana's House, one of the newest food truck vendors, specializes in cake jars and quesadillas.
August 19; September 9. 4-9 p.m. — Lil Pizza Truck is a returning favorite that serves up a variety of wood fired pizzas.
August 20, 26, 31. 5-9 p.m.; September 11, 25. 2-9 p.m.; September 21. 5-9 p.m. —D Lumalu Food Truck brings Latin American Fusion cuisine. Their menu includes a variety of burgers, sandwiches, pizzas and, of course, dessert.
August 27. 5-9 p.m. — Lobster Dogs Food truck rolls up with the best lobster rolls and stuffed avocados in Georgia!
August 21. 3-9 p.m.; September 18. 1-6 p.m. — Southern Roots Backyard BBQ specializes in BBQ. Their menu items include ribs, pulled pork sandwiches and brisket.
August 28. 1- 8 p.m.; September 16. 5-9 p.m.; September 24, 4-9 p.m.— Southern Grace Kitchen will be serving up a variety of southern-inspired dishes such as Shrimp & Grits, Pulled Pork Mac & Cheese and Chicken Biscuits.
575 Riverside Drive, Roswell 30075
Everyone is invited to an array of different food trucks, live music and fun for the whole family. Bring your blankets and chairs and enjoy dinner in the park. Visit their Facebook page "Food Truck Fridays at Riverside Park" to find out more.
August 27 — Bento Bus, Mercedes Benz, Q'Paso, Gotta Have It, Chick-fil-A, Steel City Pops, Repicci's Italian Ice & Gelato. Entertainment TBA.
September 24 — A Little Nauti, Azzuri Pizza, Kajun Asian, The Patty Wagon, South of Philly, Steel City Pops, Sweet Jeanius. Entertainment TBA.
3137 Main Street, Duluth 30096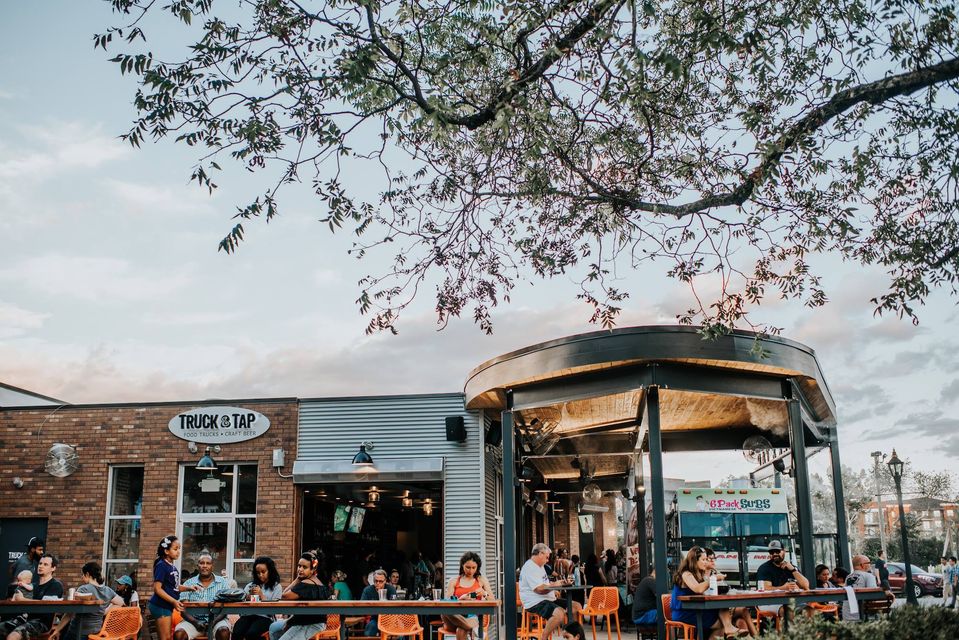 This unique hangout offers a rotating lineup of food trucks and craft beer carefully selected by their in-house Certified Cicerone. Truck & Tap partnered with PREP, the South's largest Food Truck Commissary, to bring trucks specializing in everything from lobster rolls and BBQ to NY-style pizza and Asian-fusion cuisine.
Truck & Tap locations are found in Duluth, Alpharetta and Woodstock. Go to truckandtap.com for more info, including hours and food truck menus.
• August 10, 17, 25 — Chuy's Tacos
• August 11, 28 — Yaardie Eats
• August 12 — 6PackSubs Vietnamese
• August 13, 29 — Meatballerz
• August 14, 16, 31 — Strange Taco Bar
• August 15, 24 — The Breaded Pig
• August 18, — C'est Tout Bon 2 Eat
• August 19 — My Vietnamese Food Mobile
• August 20, 30 — All Around the World
• August 21 — Q'Paso Latin Grub
• August 22 — Sunshine Alchemy
• August 23 — Lowco Motion
• August 26 — Kajun Asian
• August 27 — Choate BBQ
To advertise in the food section of the magazine or others, please contact Julie Davis at julie@livinginpeachtreecorners.com

Explore Gwinnett Announces First Annual Gwinnett Beer Week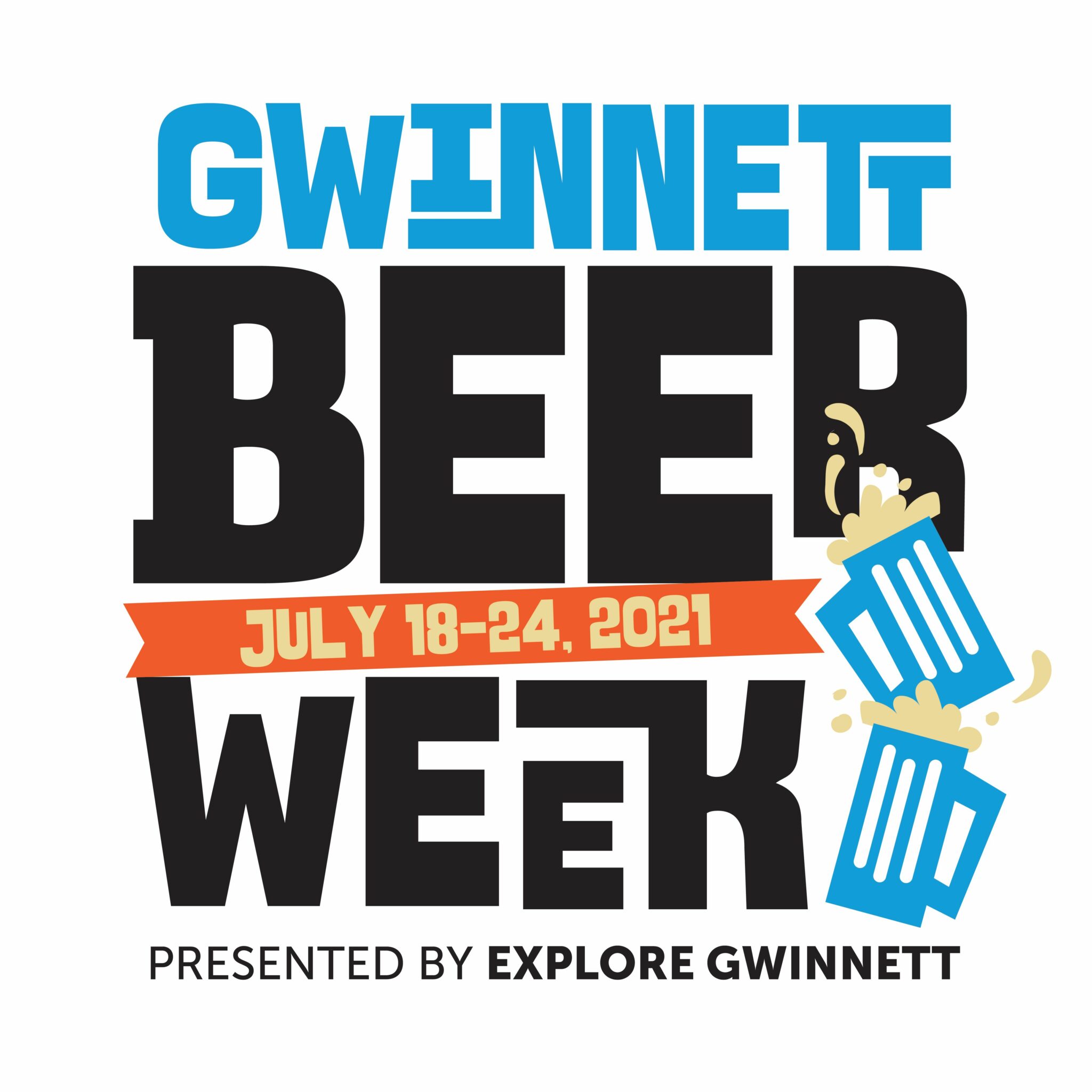 Explore Gwinnett, Gwinnett's official tourism and film office, is pleased to announce Gwinnett Beer Week, held July 18-24, 2021. Gwinnett Beer Week celebrates the 12 locally-owned breweries that call Gwinnett home, including familiar names from Peachtree Corners and Norcross. Many Peachtree Corners Magazine readers are proud patrons of Anderby Brewing, Kettlerock Brewing, Social Fox Brewing, and Cultivation Brewery.
"Gwinnett Beer Week provides an opportunity to celebrate Gwinnett's growing craft beer scene, said Victoria Hawkins, Explore Gwinnett marketing communications director. "Local craft breweries add to Gwinnett's destination appeal for visitors. We want to showcase them and all the events that they are producing."
Explore Gwinnett is producing 3 events during Gwinnett Beer Week.
-6S Brewing Beer + Chocolate pairing: Available all week at 6S Brewing. Pay $15 for a flight of beers and perfectly matched chocolates from the locally owned sweets shop, The Chocolaterie. Limited quantity available.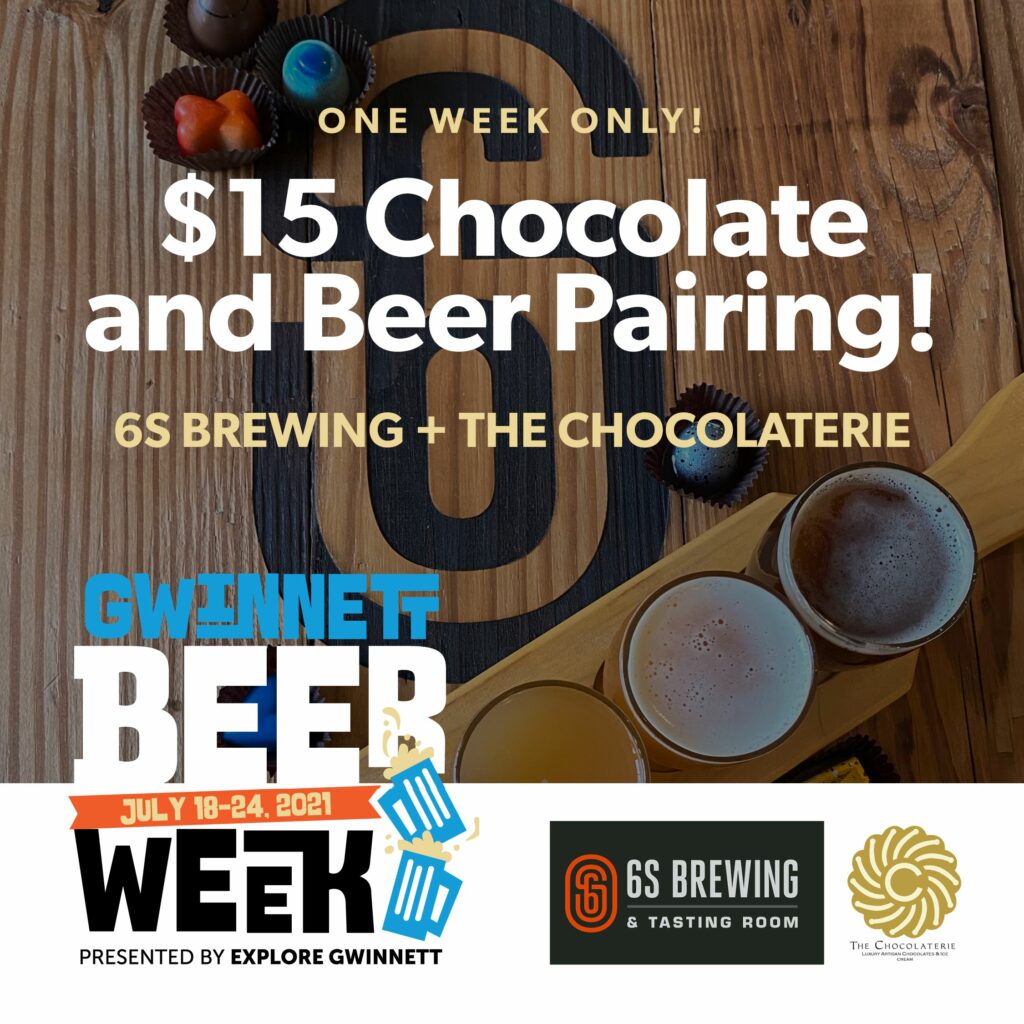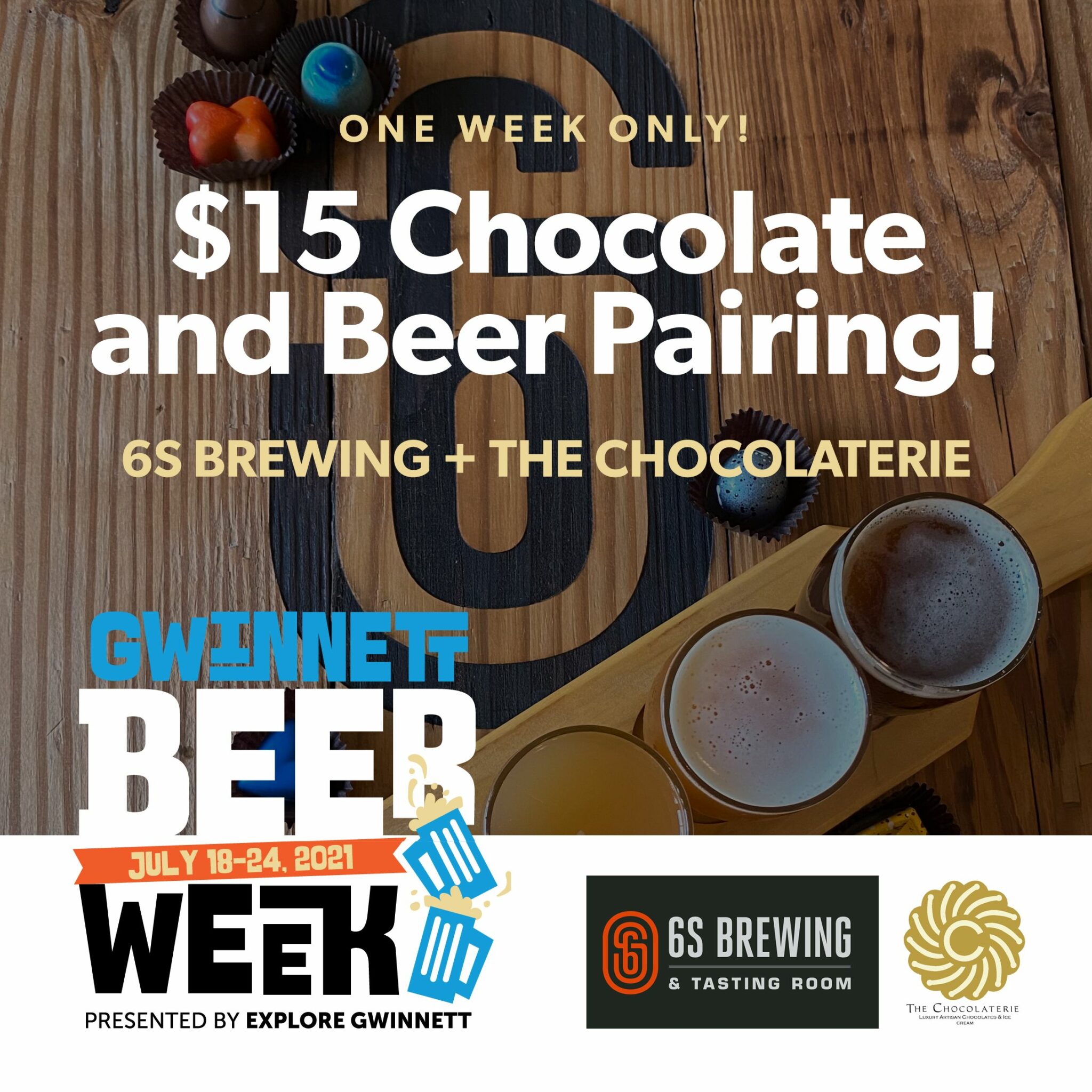 -Barks + Brews at Anderby Brewing: Dogs are welcome at this one day event on Thursday, July 22nd at Anderby Brewing. Free pet portraits by a professional photographer from 6:30-8:30pm. Gwinnett Humane Society will be on-site with adoptable dogs. Explore Gwinnett giveaways including Love, Gwinnett doggie bandanas and travel water bowls. Limited quantity.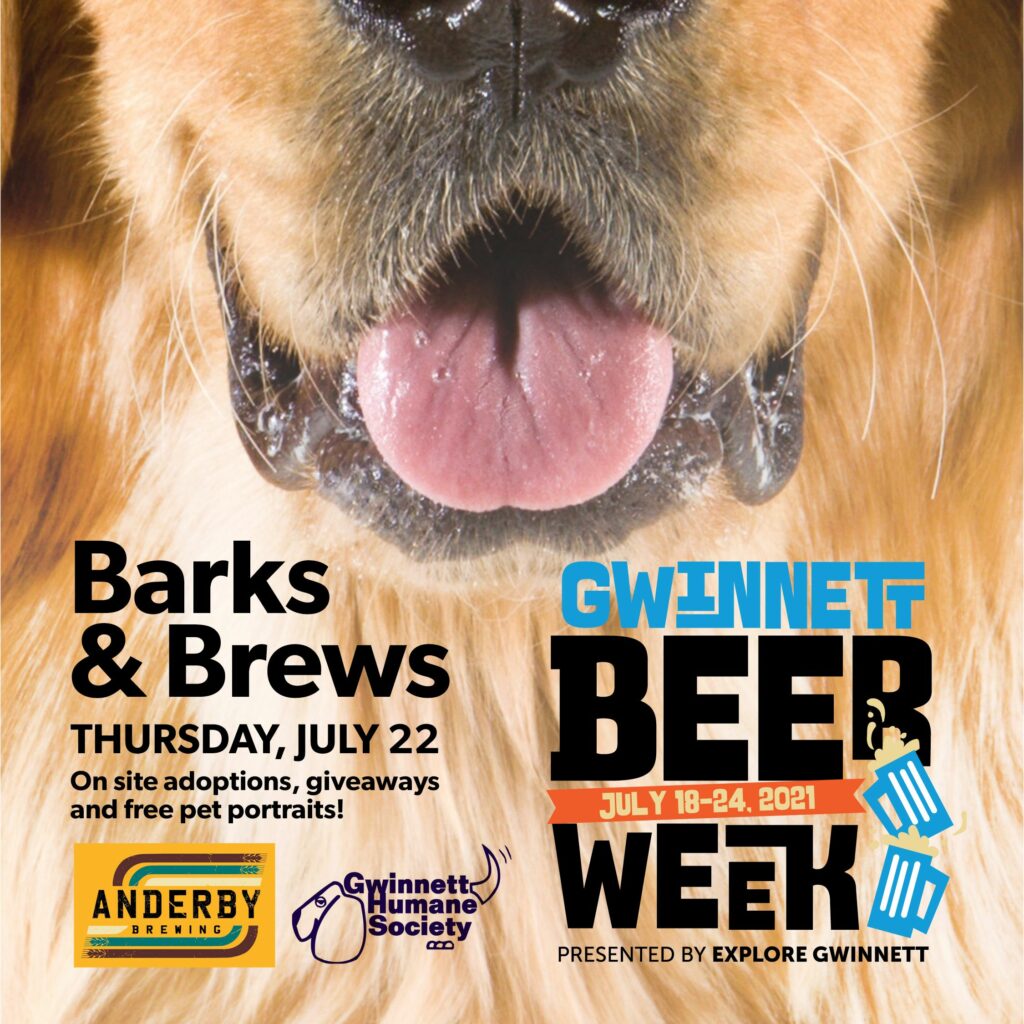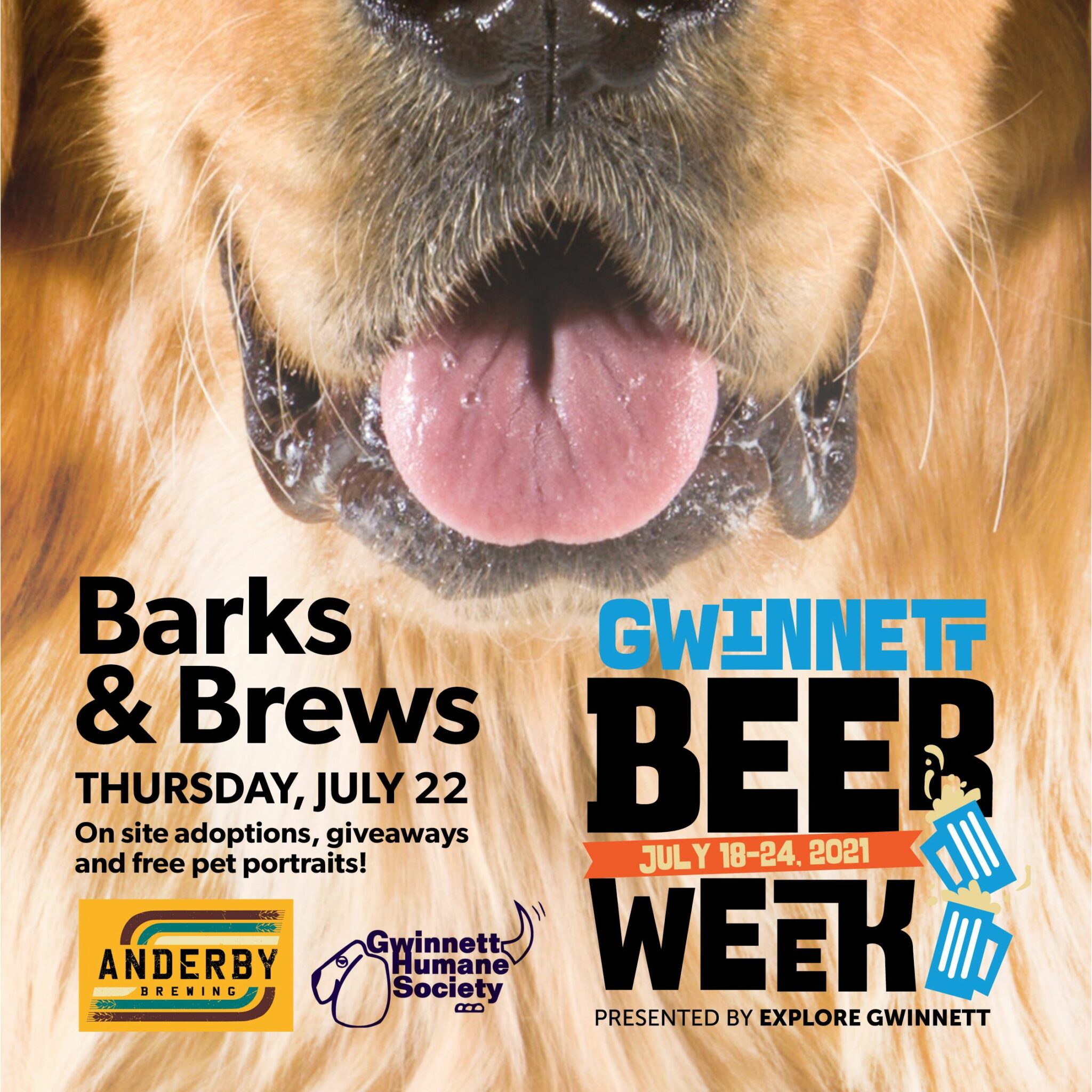 -Baseball and Beer Tour: Join Explore Gwinnett and Southern Beer Tours on a ticketed walking brewery tour in Lawrenceville. Add-on a Gwinnett Stripers suite ticket if you'd like to board the shuttle to Coolray Field after the beer tour for a ride to the baseball game. Food included during baseball game.
Visit GwinnettBeerWeek.org for a complete list of brewery events including live music, bingo, a car show and more.

Equality Eats Here — Peachy Corners Café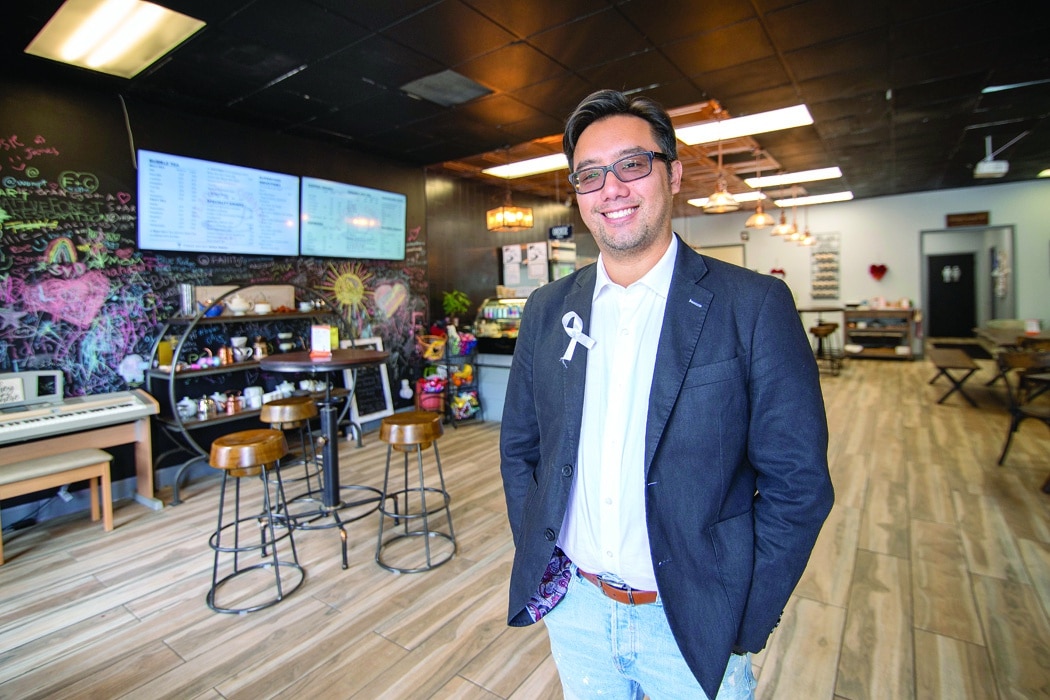 Tucked away in the Spalding Center complex on Spalding Drive, the charming front patio decked out with string lights welcomes you to Peachy Corners Cafe. The menu features favorites like espresso drinks, drip coffee, tea and pastries, and also includes a variety of bubble tea and smoothies. Mellow music lends the space a relaxed vibe, while a chalk wall covered in doodles and rolling cart stacked high with board games suggests the kid-friendly fun that takes place here.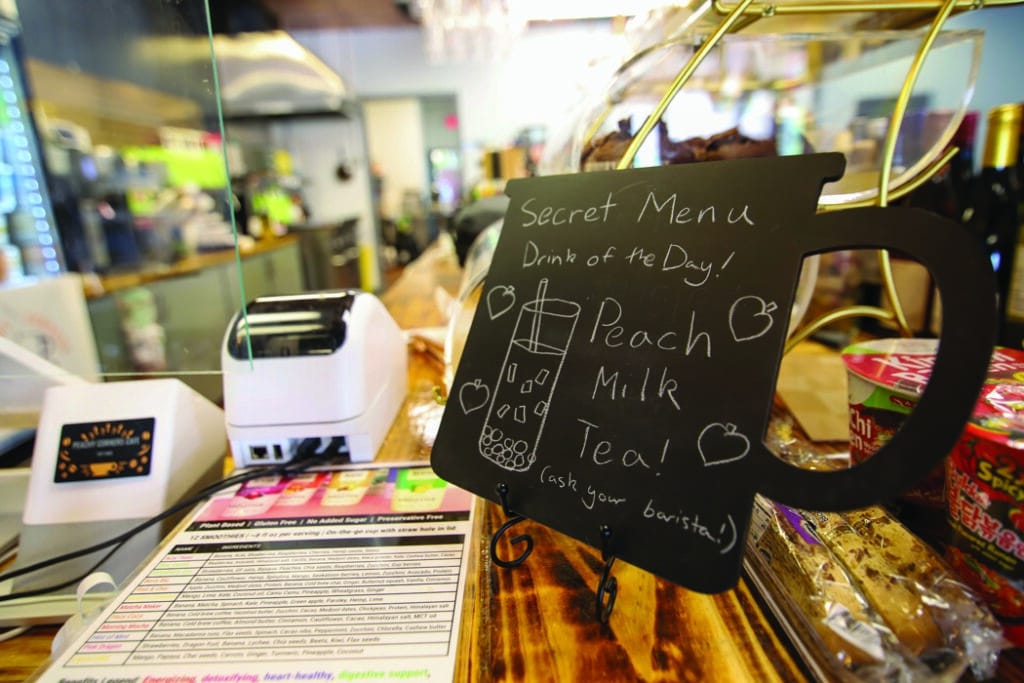 Owner Long Tran opened Peachy Corners Cafe with his wife Susie Martono-Tran in January of 2020. "My wife has always wanted to open a bubble tea shop since I met her," explained Long, who was inspired to open a cafe when he struggled to find good local coffee during his sons' karate lessons across the street. "We decided to merge the two and sell really good coffee and really good bubble tea and thought that could work. There's something to it because we are still here, despite the pandemic."
Trial by fire
2020 was quite a challenging time to open a coffee shop. "We had no idea," said Long, shaking his head at the memory. Peachy Corners Cafe was among the first restaurants in the area to shut their doors as the information they received from their friends and loved ones who live in other countries gave them advance notice as to the severity of COVID-19 and what to expect. From mid-March to early June the doors at the cafe remained closed and their fledgling business could have been in serious trouble. Fortunately, they had an idea that allowed them to stay afloat during those early days of the pandemic.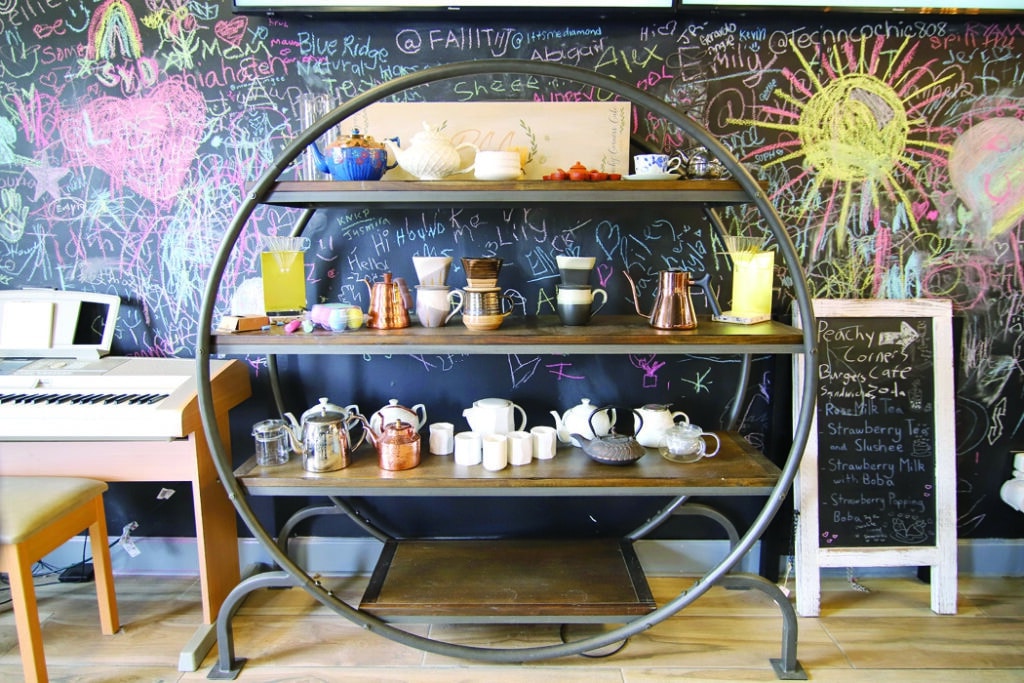 They began making drinks to donate to healthcare professionals and first responders, and quickly word got out about these charitable acts. The community responded positively, with many regular customers stepping up to donate funds that allowed Peachy Corners Cafe to give back to those on the front line, find a use for their perishables so they would not go to waste and operate in such a way that they did not lose money on the products they already had on hand before the shutdowns. "We didn't make money off the donations, but it kept us from losing money as well," explained Long. "I think that was very crucial to us, and it also became a way for us to continue engaging with the community and get our name out there as a new business."
It was important to Long to take precautionary action in response to COVID-19. Not only did he want to keep his family safe, he also wanted to ensure that he had the necessary supplies like hand sanitizer, plexiglass dividers and upgraded filters for the cafe's HVAC system which would ensure his staff and customers would also be safe when they eventually reopened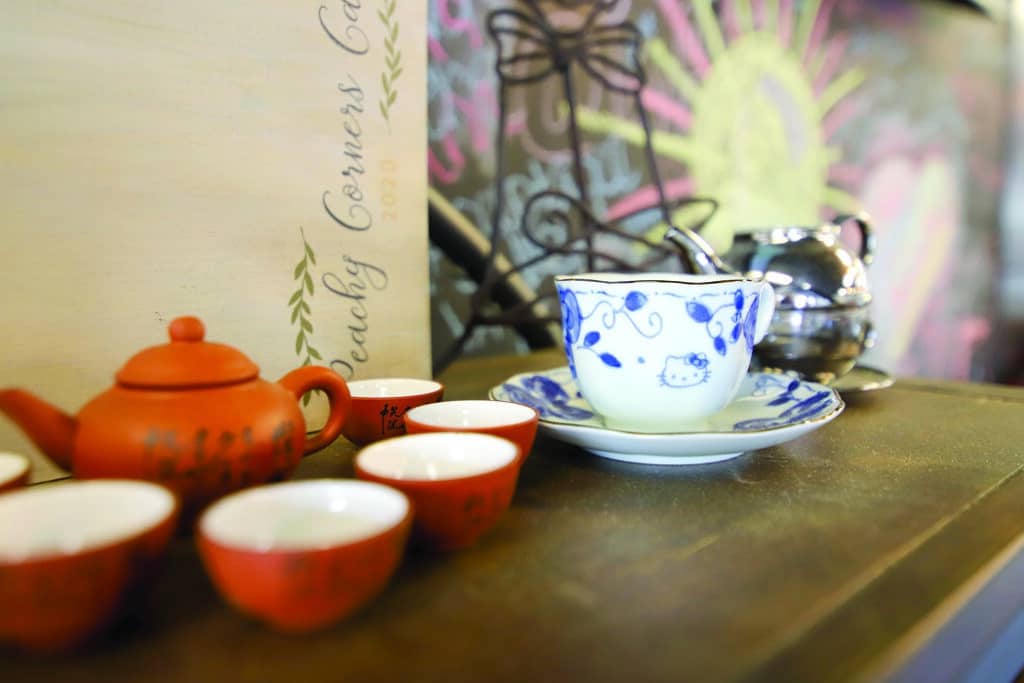 .Their efforts seem to have paid off. None of the staff has gotten sick, and these days the customers have started coming in again. "By the end of July, we saw business slowly return, and now I think we are starting to get a sense for the potential of what this space might be." Peachy Corners Cafe has a loyal following and Long knows many of the regulars by name. Popular among working professionals during the day, there are also a lot of families and kids that frequent the cafe after school.
No space for hate
Since the beginning of the pandemic, there have been those who have blamed Asian countries for the origin and spread of the COVID-19 virus. When those views were expressed in the media, the idea quickly took hold and Long witnessed a variety of responses from microaggressions and boycotting all the way to outright intimidation and violence.
"Atlanta has got this great community and great sense of community, but recently it seems there has been a rise in resentment," said Long. "With rhetoric from our elected leaders, regardless of which political side they are on, when you are trying to score political points by going after North Korea or China, you can inadvertently paint targets on the backs of your Asian American citizens."
Locally, the response to these ideas has been largely passive-aggressive rather than outright aggressive, unlike the hate crimes frequently taking place in cities like San Francisco and New York where Asian Americans are literally being attacked on the streets without provocation.
Throughout the pandemic, and amplified over the last four years, the rise in racism and hate crimes has set the stage for prejudice, hatred and fear. Armed protestors took to the streets of Chinatown in Chamblee last summer, telling Chinese business owners and citizens that they were not welcome.
Businesses on Buford Highway are receiving hateful phone calls or prank calls — and some have even had rocks thrown through their windows. Last spring 'Wuhan plague' plaques began popping up on signs and businesses throughout the city that depicted Winnie The Pooh eating a bat. These incidents represent a growing hostility towards Asian people as a whole, and ultimately culminated in the brutal slaying of eight people — six of whom were Asian women — working at historically Asian spas in March.
Long said he has heard reports of an increase in hatred and intimidation toward his Asian customers, especially teenagers and kids who have noted increased bullying at school. "I consider myself very fortunate," said Long. "I think Peachtree Corners has been amazing and supportive of all of its businesses. I haven't necessarily experienced anything like that, we haven't gotten those phone calls to our cafe. But we have had times when a customer walks through the door and walks out, and I have no idea if it's because of me."
Making a difference
Not one to simply stand by and witness these upsetting trends and devastating losses, Long has taken an active role in helping the Asian American communities heal and find solidarity in the face of what is often overwhelming fear and worry. Though he does not lead any nonprofits, Long is well connected with a number of the organizations and community leaders that are making a difference. By leveraging those connections, he has helped to engage volunteers, spread information about the efforts of nonprofits he admires, like Stop AAPI Hate, and organize demonstrations such as the Stop Asian Hate rally which drew over 3,000 attendees to the Liberty Plaza in Downtown Atlanta. Long also organized a candlelight vigil for the victims in Dunwoody and a cultural celebration in Decatur which aimed to both educate and celebrate Asian American culture.
Back in April, Long was asked by the Democratic Party of Georgia to introduce President Biden during a drive-in rally at the Infinite Energy Center. During his speech, Long talked about his experience as the son of Vietnamese immigrants, the ways in which COVID-19 has affected the Asian American community and the recent election of two Democratic senators in Georgia. The fact that the rally happened to take place on the 46th anniversary of the Fall of Saigon during the Vietnam War cemented the importance of speaking on these issues for Long.
What can we do?
In addition to donating to causes such as Stop AAPI Hate, Long also has been advocating for local Asian-owned businesses by posting reviews online and encouraging people to frequent those restaurants and shops. He created and distributed Equality Eats Here stickers to display on the doors of eateries that are safe places for all people. Long also recommends talking to your kids about bullying and how to ensure their Asian American classmates don't feel alone during these trying times.
"On a micro level, within our community, I would encourage people who live in Peachtree Corners to get to know the owners of local small businesses," said Long. "It means even more when it's an Asian or a Black-owned business and you get to know the owners by name. There's a bond that you build, and it becomes harder to let all the hate and fear come into play when you personally know someone."