Gwinnett County offers $100 Gift Cards at community wide Covid-19 Vaccination Event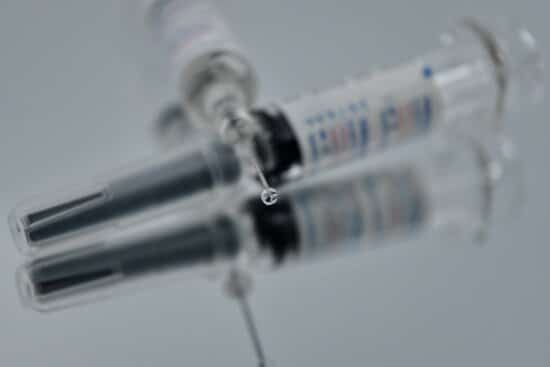 December 10, 11 & 12
As the year comes to a close, Gwinnett County, working with groups across the community, encourages its residents to finish 2021 strong with a COVID-19 vaccine or booster. The County is offering $100 Visa gift cards, while supplies last, to people ages 5 and up who receive a COVID-19 vaccine at the Finish Strong Together community-wide vaccine incentive event this weekend. The Finish Strong Together partners include the Gwinnett, Newton and Rockdale County Health Departments, Piedmont Eastside, Emergent Testing and COVID Care Georgia.
From Friday, December 10 to Sunday, December 12, Finish Strong Together partners will host vaccine clinics throughout the Gwinnett community. With a variety of locations and available hours, a dedicated website has been created for the event. Visit FinishStrongTogether.com for specific location, hours and appointment information.  Appointments are strongly encouraged.  
Vaccines are free. ID and insurance cards are not required but encouraged. People without insurance or ID will not be turned away. People should also bring their CDC vaccination card if they've already received at least one dose of a COVID-19 vaccine.
"Whether it's a first shot, second dose or booster, for adults or children, we want to make sure all of our residents have the opportunity to receive the COVID-19 vaccine," said Dr. Audrey Arona, district health director for Gwinnett, Newton and Rockdale County Health Departments. "We have worked with partners across this community to ensure that there are vaccine locations close to where our residents live, work and shop and that there are extended hours to remove barriers to getting the much-needed vaccine."
Any Gwinnett resident who gets a vaccine at one of the participating locations will receive a $100 gift card while supplies last. The County is using federal funding from the American Rescue Plan Act to pay for the vaccine incentive gift cards.
"We are pleased to be a part of this community-wide event and to provide an extra push with the incentive of holiday spending money at the end of the year to ensure we reach all of our residents," said Gwinnett County Board of Commissioners Chairwoman Nicole Hendrickson. "It is so important to our community that we are diligent and finish 2021 strong together by encouraging our family, friends and neighbors to get vaccinated this weekend."
Vaccines for ages 5 and older:
Emergent Testing (Drive-Up Service) – 3110 Lawrenceville-Suwanee Road, Suwanee, GA 30024. No appointment necessary but pre-registration for contactless service is available.
Piedmont Eastside Medical Plaza 2 (Walk-In Service) — 1800 Tree Lane, Suite 250, Snellville, GA 30078. Appointments are strongly encouraged but not required.
COVID Care Georgia, Plaza Las Americas (Drive-Up Service) – 733 Pleasant Hill Road, Lilburn, GA 30047. Appointments are strongly encouraged but not required.
Vaccines for ages 12 and older:
Gwinnett County Health Department Gwinnett Place Mall Vaccination Site (Appointment Walk-In Service) — in the former Sears at Gwinnett Place Mall — 2100 Pleasant Hill Road, Duluth, GA 30096. Appointments are strongly encouraged but walk-in clients will be served, as able, based on open appointment slots.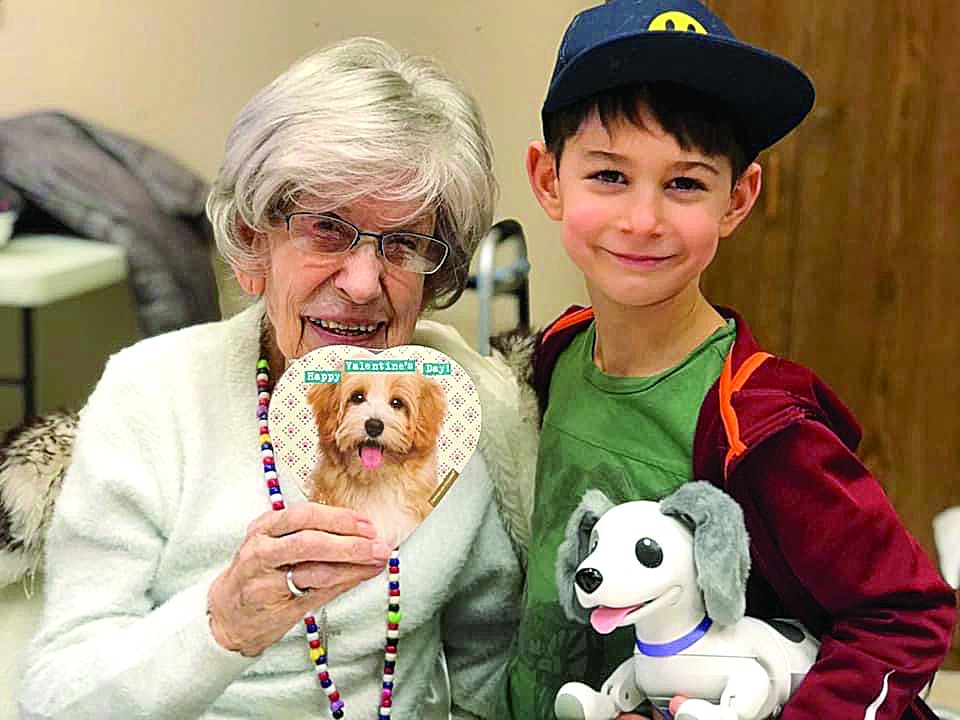 Susan Kearns, Director of Happy Hearts Respite Care, would like to spread the word about a ministry held at Peachtree Corners Baptist Church Mondays, 10 a.m. to 3 p.m. Families can drop off their live-in aging loved ones and have time to run errands, rest and reboot.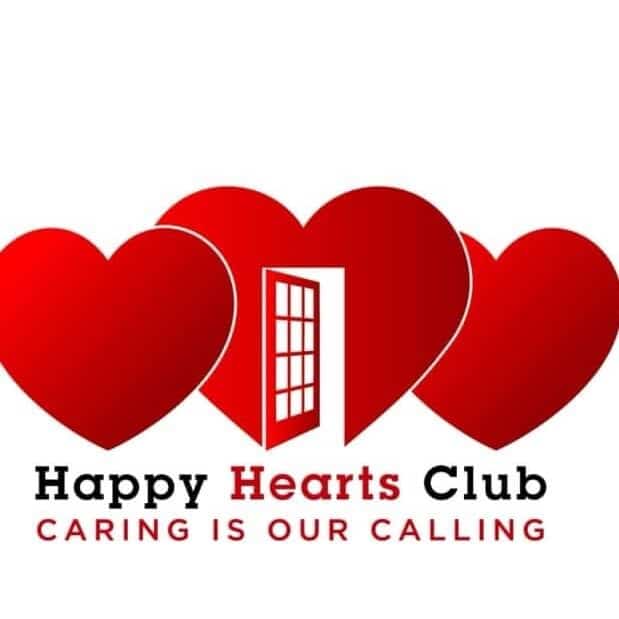 Meanwhile, elders enjoy breakfast, conversation, devotions, music, games and exercise in Fellowship Hall. Sports like balloon volleyball, beanbag and basketball toss get everyone moving. Visits with the preschool babies, lunch and crafting are all part of the fun-filled day.
The second graders from
Cornerstone Christian Academy regale them with performances and work on projects with the seniors. Canine friends, Pancake and Pork Chop, present their tricks during pet therapy sessions, bringing smiles to all. Email Susan Kearns at Snraek@comcast.net.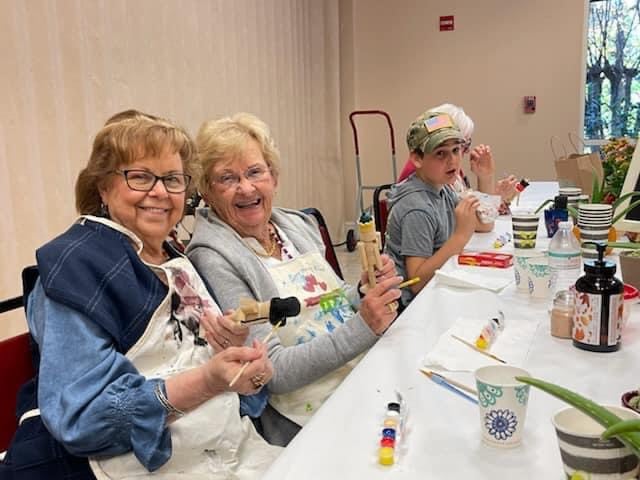 Kiana Mills, Memory Care Director of The Mansions at Sandy Springs Assisted Living & Memory Care, is happy to shed light on the positive behavioral outcomes that daily goings-on and engagement can provide for seniors. Residents at The Mansions, located in Peachtree Corners, enjoy participating in a structured day with meaningful activities and opportunities to make good use of their time. Activities include trivia, group games, sensory engagement, gardening, music therapy and cooking.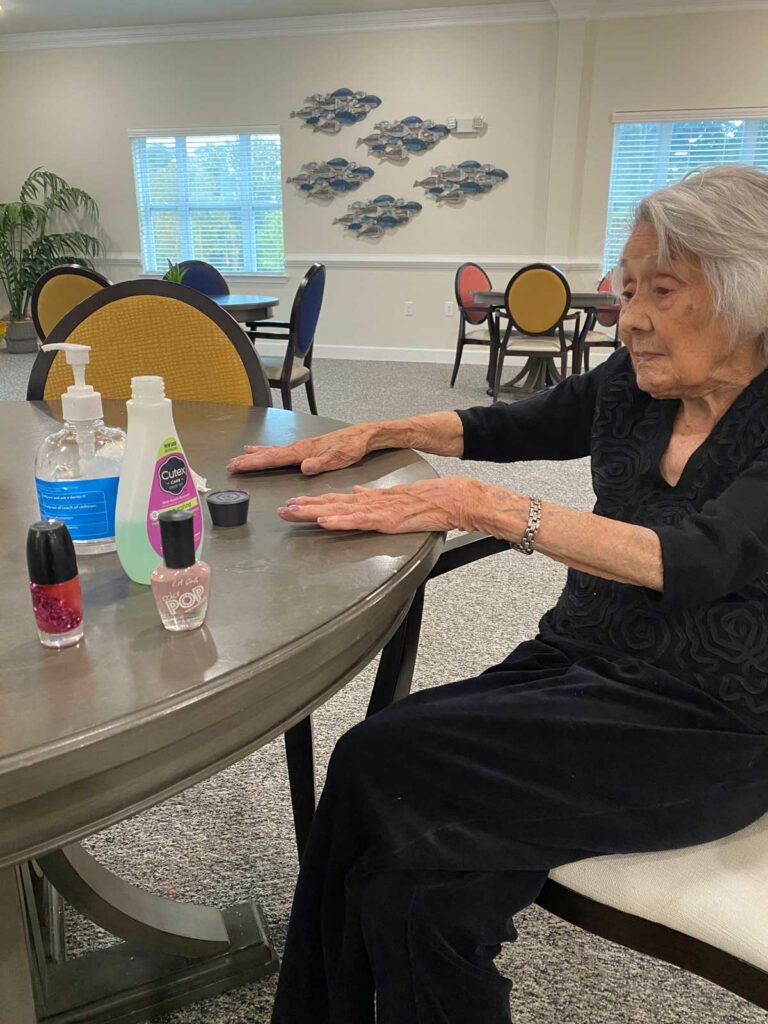 "We go the extra mile by tailoring our activities to the interests and abilities of our residents. This has allowed us in many ways to reduce some of the difficult behaviors displayed by seniors with dementia so that they have a wonderful quality of life," Mills said.
Email Mills for more info at KMills@themansionsatsandysprings.com.

Winning at the Game of Life in Peachtree Corners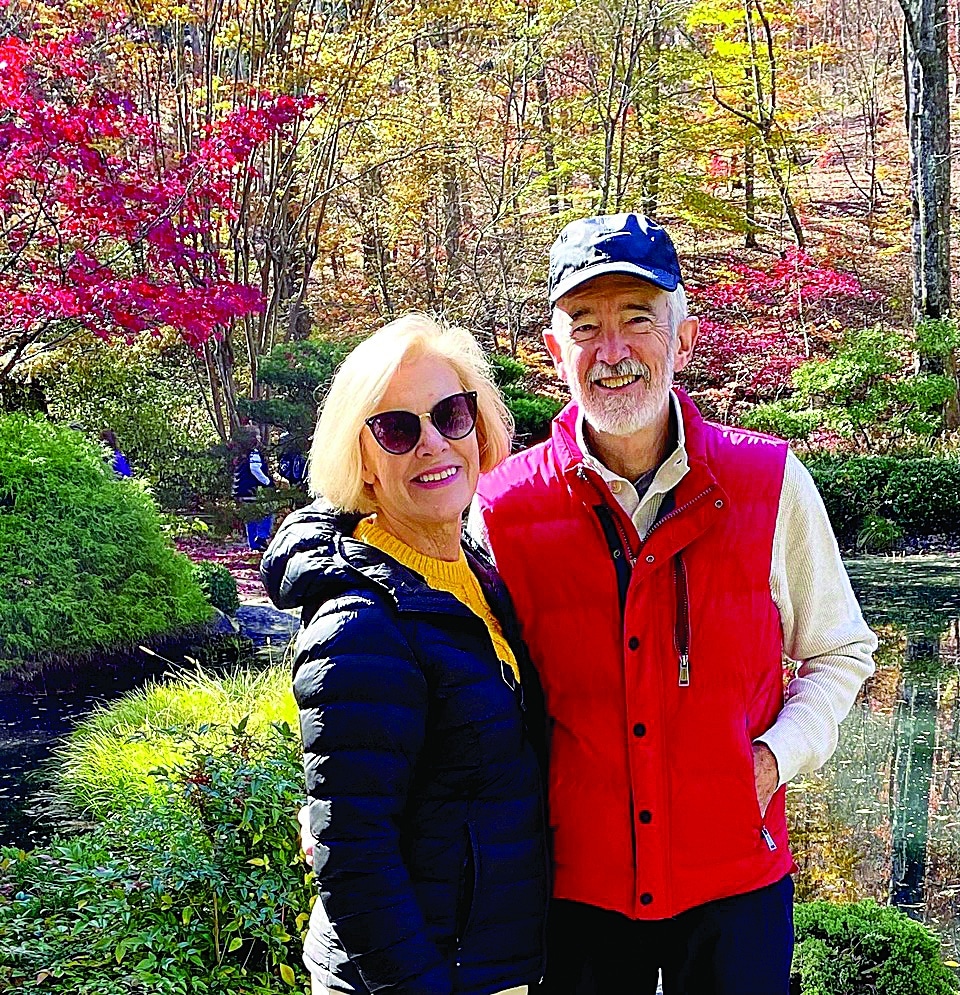 A brief chat with Gerrie Wydeven makes you want to be her when you grow up. Turning 72 this March, she admittedly struggles to call herself a senior. It could be because she is the poster woman for someone who has done life right for a long time, and is continuing to live it to the fullest, reaping the rewards of her good habits into her retirement years.
Wydeven has been making fitness a priority for over 30 years, alternating exercises to include strength training, stretching and aerobics. "My favorite gym activity was attending different classes at the old Gold's Gym, and the two subsequent buyouts. Now I do a similar routine at home four to five times a week since the gym has closed," she said.
She and her husband, Tim Nolan, walk two to three miles four to five times a week — usually in their neighborhood, yet they also drive to various Gwinnett and Fulton parks for a change of scenery.
Along with working out, making small tweaks to her diet like eliminating sugar in coffee, limiting the use of butter and oils, reducing sodium, maximizing proteins, minimizing carbs and limiting unhealthy choices have kept her at a healthy weight. "I try to eat the magical foods like blueberries, spinach and nuts as often as possible," Wydeven added.
Rolling with the punches
A broken foot from slipping on the stairs — a common injury among mature adults — has caused Wydeven to tread more carefully on steps or any uneven surface. She added balancing exercises to her routine and invested in better walking shoes.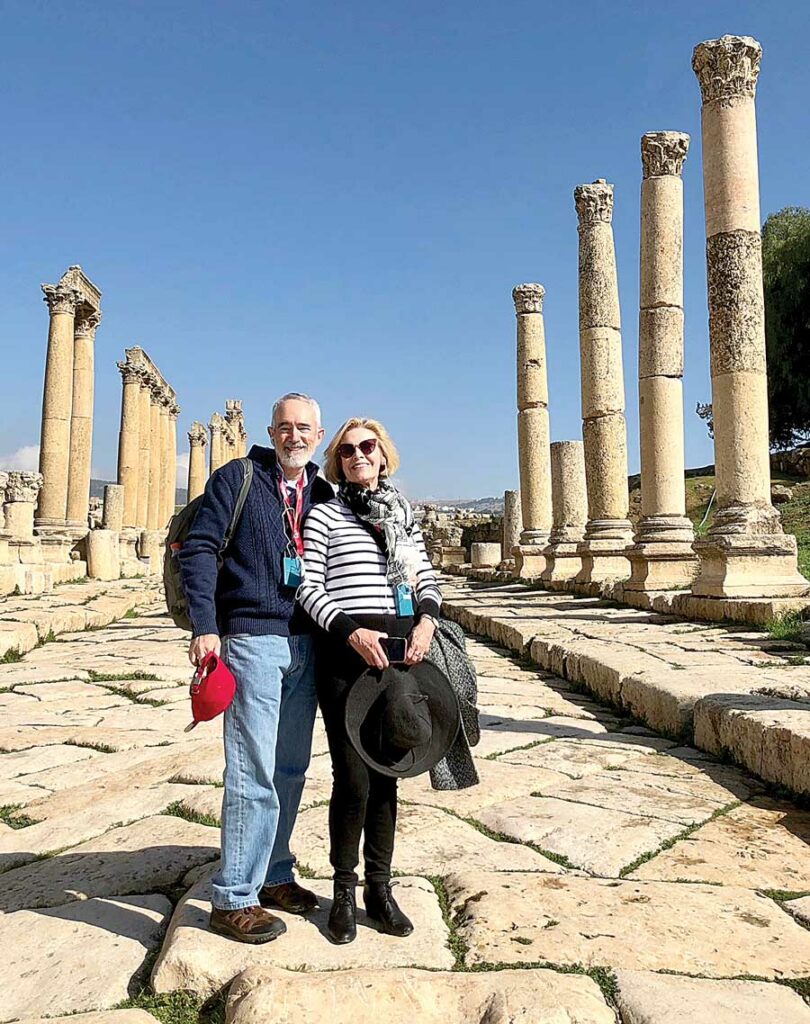 Keep an active mind
Wydeven considers herself a lifelong learner. "I love discoveries that make me appreciate the wonders of this world and recognize that there's so much more to know and incorporate in my worldview," she said.
Free online courses available from Yale and Harvard have stirred her curiosity. She's taken about 14 over the years. Of note were two Yale courses: Epidemics in Western Society since 1600 (useful given our recent COVID experience) and African American History — Emancipation to the Present. A favorite Harvard course is Justice. "Everyone can do these courses at their own pace; they're easy to access," Wydeven said.
An avid reader, Wydeven read almost 80 books last year. She belongs to her neighborhood book club and is a voracious user of the local library.
Feed your soul
Wydeven and Nolan travel both domestically and abroad more than most. She sites Mark Twain in defense of her wanderlust: "Travel is fatal to prejudice, bigotry and narrow-mindedness." Some favorite destinations include Istanbul, Morocco, San Francisco, Peru, Amsterdam and Paris.
When traveling, they opt for walking tours and visits to parks and gardens. They've taken over 30 in San Francisco alone. "Walking tours wonderfully combine exercise and learning experiences," Wydeven said.
Hobbies
A passion for scrapbooking and photography collided in the creation of over 40 travel journals over the past 15 years. Last year's journals highlighted the mini and domestic trips they were limited to because of COVID. Wydeven enjoys using Facebook to share her photographs too.
Relationships – the secret to healthy aging
"My husband, daughter, son and their families/significant others give me joy every day — they are the reason I am a happy camper and very seldom get down. I have a close relationship with my sister as well," Wydeven shared.
She maintains friendships throughout the country from her days of traveling for work as a senior manager with the federal government.
Purpose
Finding meaningful things to do with your newfound time after retirement is key to aging well. Wydeven Designs was her business finding, refurbishing and selling heirloom quality upholstered furniture.
"For 15 years, I scoured estate and garage sales, Craigslist and thrift shops to find high-quality, reasonably priced chairs, settees, chaises, loveseats and ottomans," she said. "I bought discounted fabrics, learned how to chalk paint, developed relationships with the upholstery shop, shippers, woodwork refinishers and clients throughout the country. I loved doing this and was always amazed with the before and after transformations and the joy of happy customers! Over this period, I maintained three different websites and a blog, selling through Etsy, eBay, One King's Lane and directly."
Art classes are something she's had time for since retiring. She's been sketching with colored pencils for ages and sells her work online. "I need something to motivate me to create this art. Another adventure to keep me busy," Wydeven smiled. Her artwork is available at etsy.com/shop/WydevenDesigns.

And Just Like That, 60 Became the New 40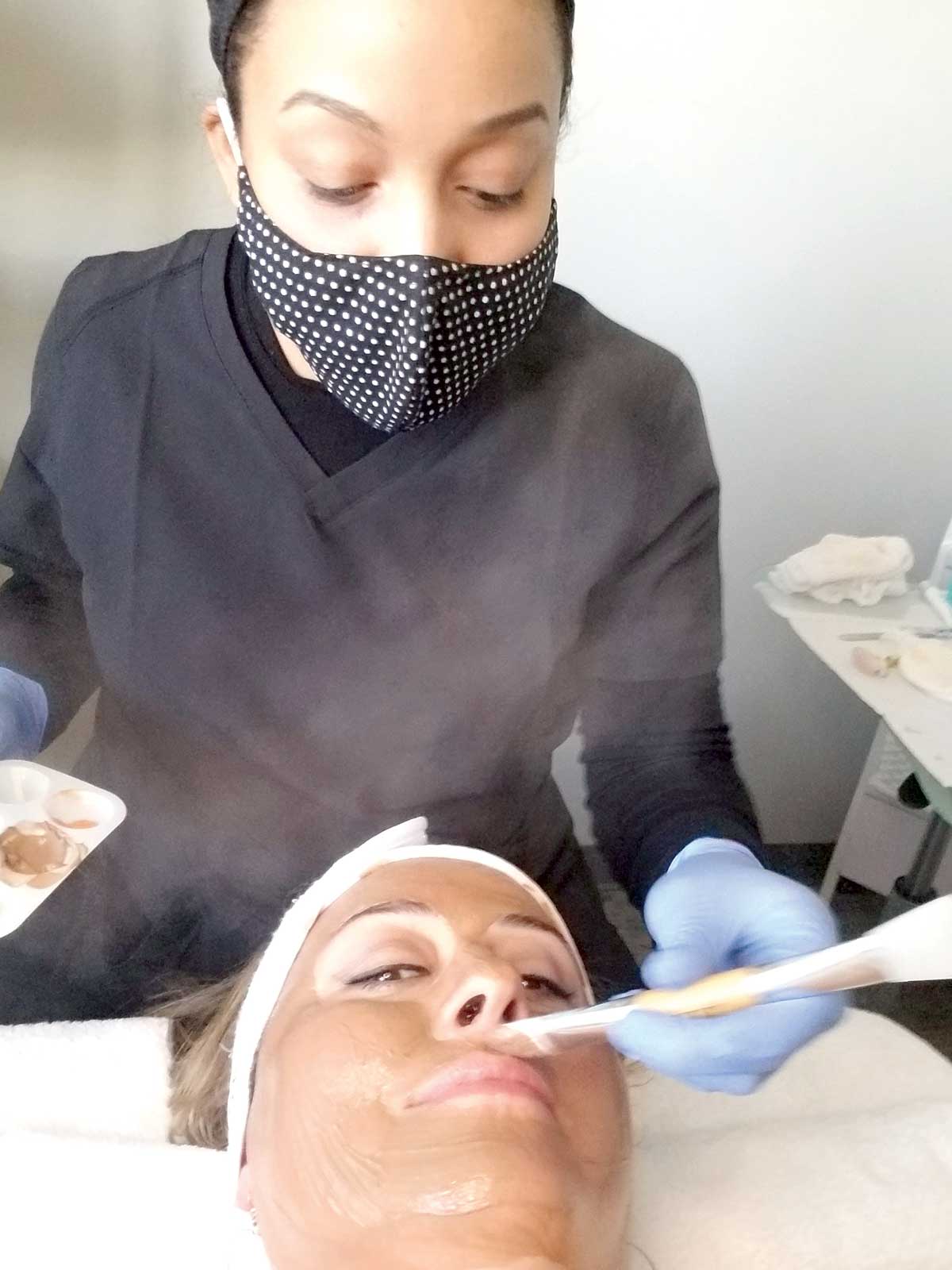 Better self-care, from anti-aging treatments and coiffures to dental, fitness and eating
It blew my mind when I saw Journalist Flora Gill's tweet in early January exposing how drastically our perception of "women of a certain age" has changed over the last two decades. The eye-opener: In season one, the Golden Girls characters were younger than the current Sex and the City actresses. Let that sink in.
I wondered how Baby Boomers, the fastest growing segment of the population, felt about being "seniors" since they look rather different — let's say, better — and live significantly longer than people aged 58 to 76 did just one generation ago. With a sizeable Peachtree Corners crowd enjoying their golden years, I set out to discover how today's "60 is the new 40" phenomenon is taking shape in our city.
Better self-care throughout our lives undoubtedly contributes to our longevity. More active lifestyles, healthier choices, improved nutrition and tending to our intellectual, emotional and spiritual needs all contribute to our long-term health.
Let's look at how some local individuals and organizations are helping us put our best foot forward now and as we step into our twilight years.
---
Skincare treatments fight Father Time
Suburban Med Spa offers an array of services that cater to self-care for every season of the year and of life. Aesthetician Taylor Olson has a background in medical aesthetics. She regaled me with knowledge about their anti-aging treatments while giving me a divine skin polishing facial, the first step in determining a client's skin concerns.
"Aging is inevitable but preventative measures can be taken. Good skin is part what you do at home, but you should also be in the care of an aesthetician who can devise the right treatment plan," Olson said.
Spa services and products are tailored to address each client's specific goals. Many are unaware of the multitude of options available to treat issues like enlarged pores, acne scars, rosacea, sunspots, skin laxity, loss of volume, collagen and elastin.
For a good at-home regimen, arm yourself with medical grade skincare lines carried by the spa like Vital C by Image Skincare, Clayton Shagal, and Obagi. They'll produce better results than over the counter products because they contain more of the most proven active ingredients. Each product Olson applied felt luxurious and smelled delightful — fragranced only by plant botanicals. They can be pricey, but as Aesthetician Blanca Verner said, "The best accessory is good skin," so it's absolutely worth the investment.'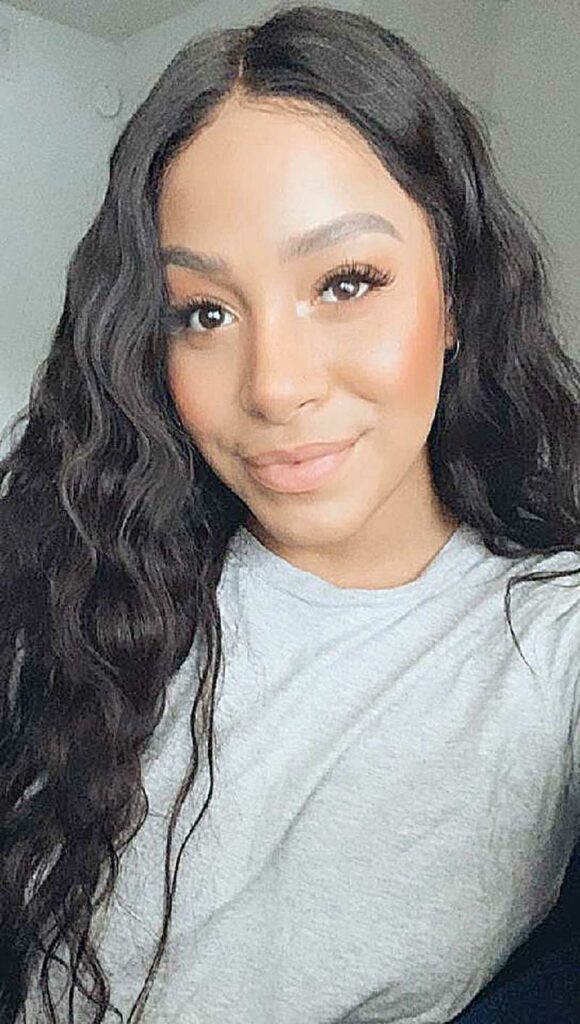 "Our most popular skin care product for ages 55 and up is the Neo Therapy Neck & Décolleté Tightening Cream by Neocutis. There are over 100 plant stem cells and growth factors in their products, skin building blocks like collagen, elastin, peptides — the most potent form you can buy," Olson shared. The formula was originally created in Switzerland for pediatric burn victims. Aesthetic dermatology swooped it up when skin began to regenerate from third-degree burns in just two weeks. Users can expect improvements in texture, fine lines and wrinkles.
Combat changes in aging skin in the treatment room with photo rejuvenation— an Intense Pulse Light (IPL) skin-tightening laser targeting areas of skin laxity where you're losing plumpness and have more lines and wrinkles. It tightens the skin and treats age and sun spots by triggering the body's natural response to heal wounds and regenerate the skin. Your body interprets it as a sunburn, so it sends peptides, collagen and elastin to rebuild — all things that make your skin look youthful. It's great for crow's feet around the eyes; it's non-invasive and delivers results.
Next in the arsenal against aging skin? "Acids are an aesthetician's best friend," Olson chuckled. Glycolic, salicylic, or lactic — they all treat different things. For those who are sensitive to lasers, chemical peels are ideal. The best anti-aging peel containing the highest grade of acid in a chemical peel was developed in Italy: the PRX-T33. "When women come back in four weeks for their follow-up, it looks like eight years were removed from their face. It's insane how tight and plump the skin is. We call it Botox in a bottle," Olson described.
The big guns in the fight against stubborn lines and wrinkles are injectables. Clients who don't mind needles go next door to see
Dr. Singhal, M.D., who owns the practice. He and his PA Amber administer filler injections like Botox and Juvéderm to rejuvenate the face by smoothing away facial lines and wrinkles, creating fuller lips and shaping facial contours.
Visit suburbanmedspa.com or call 678-282-0051.
---
The latest in senior coiffures
Gone are the bouffants of yesteryear. Today's older adults opt for crowning glories that help them turn back the hands of time. Color-wise, anything goes! COVID had seniors embracing their grays, but according to Senior Colorist Faith Harding at Van Michael Salon, those same people are opting for some lowlights now to add dimension to their haircuts and break up the gray.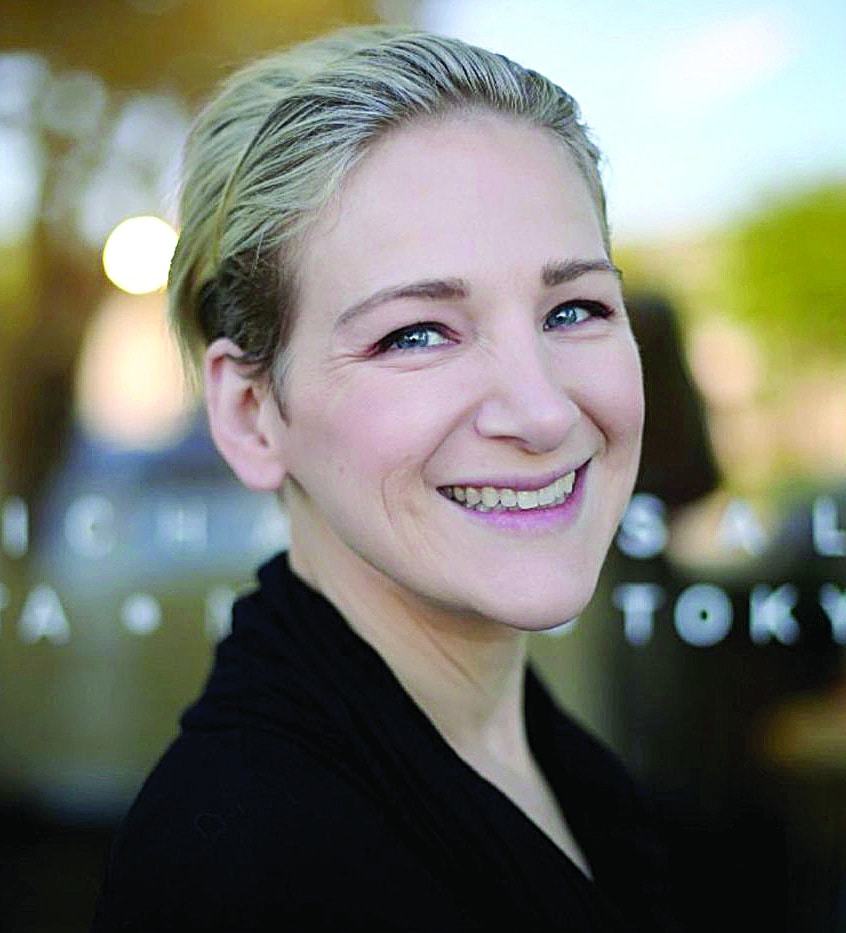 "We see more experimenting with fashion color," Harding added. Her one rule to avoid looking dated: "Extremes like all black or all white age you. Anything in between is fair game."
Stylist Ginger Rowland has noticed that undercuts on bobs — cutting short or shaving under the hair — have become popular among women of a certain age. "We have more seniors coming in to have their hair blown out for parties, or adding extensions for a new look," Rowland said. The salon offers services for thinning hair and balding.
Visit vanmichael.com or call 678-987-3600.
---
Brushing and flossing regularly keeps seniors smiling
Kristina Dawson, DMD of Peachtree Corners Dental
Associates sees patients of all ages. Her recommendations for the oral care of the 60+ group are routine visits and daily maintenance at home. A dental team will monitor any changes.
"As we age, we become more susceptible to dry mouth, cavities that form on the root surfaces of teeth and it's important to manage any systemic disease that can affect the oral cavity," Dr. Dawson said. She feels prevention is key, along with early, conservative intervention when necessary.
Thinning enamel may cause teeth to yellow with age. For a brighter smile, patients may consider an at-home whitening kit or an in-office procedure.
Visit peachtreecornersdmd.com or call 770-448-5666.
---
The silver fox's den
What's new about where mature folks dwell these days? Seniors Real Estate Specialist (SRES) Certified Agent Amy Fuchs of FamilyHomesGa at Keller
Williams Chattahoochee North feels seniors are living their "best lives ever." Contrary to what was the norm just a few years ago, downsizing is not always the way to go. Fuchs shared some exciting new developments.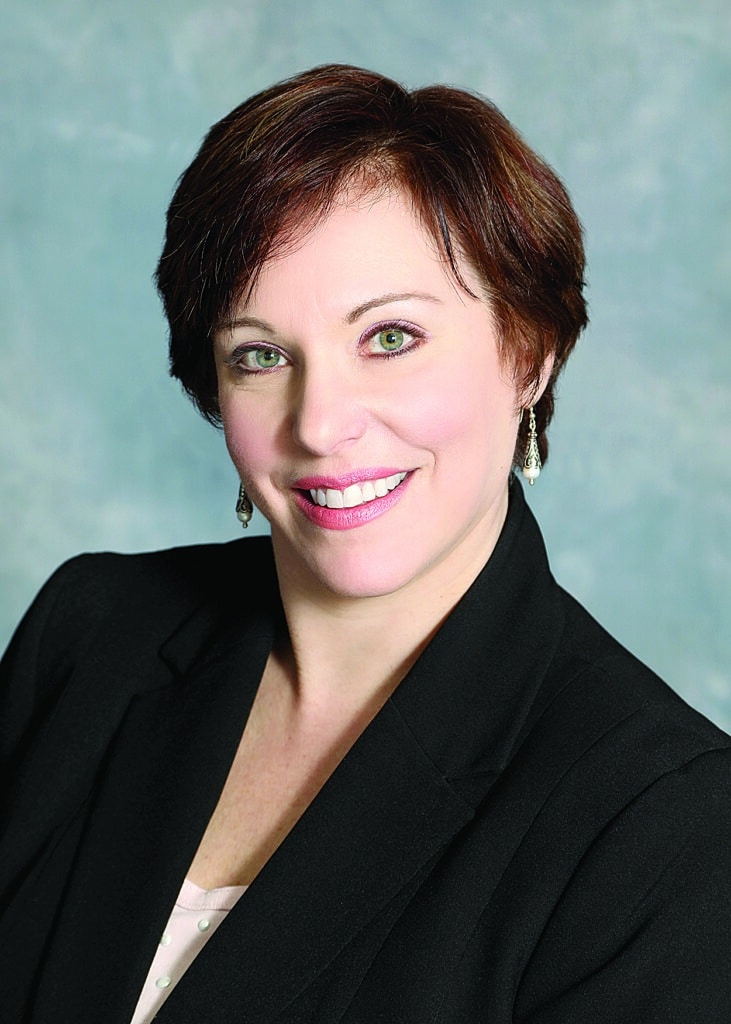 1. Upsizing: "Yes, I said upsizing," Fuchs affirmed. Many are purchasing larger homes with the primary bedroom on the main floor for obvious convenience, yet they also want extra bedrooms, media rooms and play areas to enjoy when extended family and the grandchildren visit.
2. New construction near city centers: Live/play areas appeal to seniors who enjoy being within walking distance to all the action. Peachtree Corners Town Center is a popular example. With dozens of restaurants, Sprouts, nail salons and boutiques, the new construction around the center is a trendy spot for all ages.
"We often think of ranch style homes as the most popular among seniors, that isn't necessarily the case anymore. Townhome living offers low maintenance and proximity to city centers. Seniors and builders are adding elevators to their options; it's no longer a feature available only in the luxury market," Fuchs said.
3. 55+ communities: Both as rental and purchase options, these communities are becoming lifelines for widows and widowers wanting to open up their lives after the tragedy of losing a spouse. Fuchs explained, "Instead of sitting in a big house and looking back, wonderful people wanting to be social and move forward are finding joy in the activities and social aspect these communities offer."
The Silver Fox section on their website is dedicated to the 55+ crowd with tips, properties and vendors that appeal to their needs, Fuchs added.
Call Amy directly at 404-439-1031.
---
You're not too old and it's never too late
Adults are staying young longer in large part by adhering to today's health directives to keep active. City Councilman Alex Wright (51) works out regularly with a unique, mixed age (20-70) group of athletes. They've been making good use of the Fitness Trail in Peachtree Corners since the pandemic shut down the YMCA.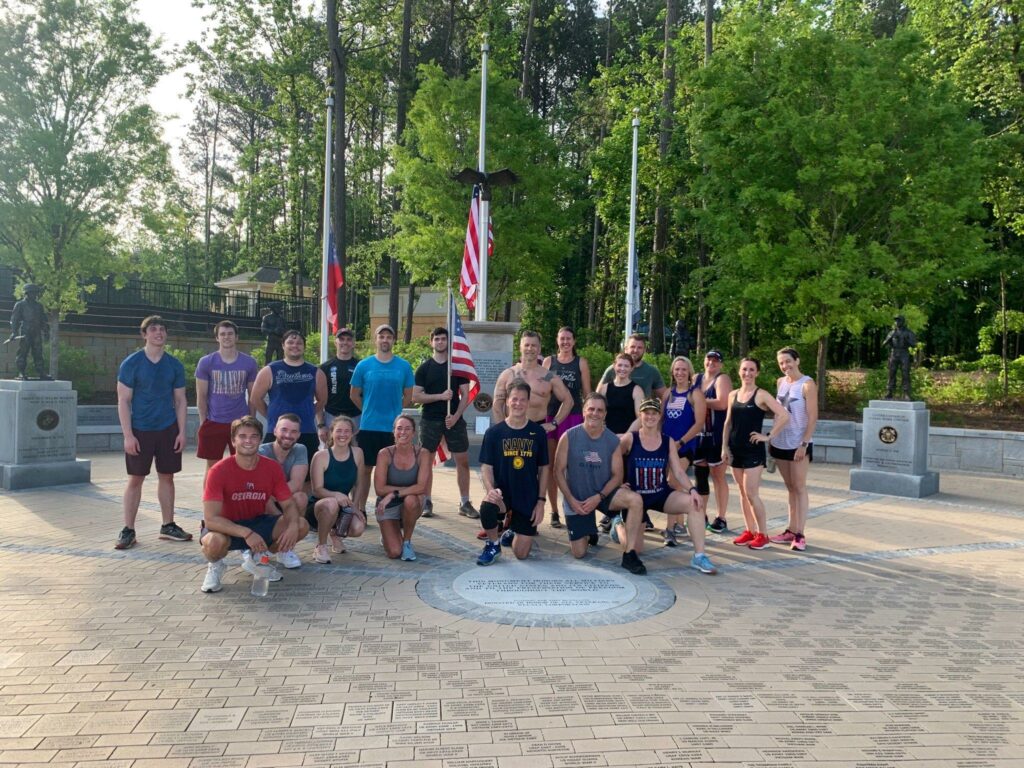 At the height of closures, they were meeting seven days per week. Currently, various groups are meeting once or twice a week in the winter for boot camp style, or HIIT (High Intensity Interval Training) workouts, since they've been able to return to the gym. Some focus on cardio, some train for Spartan races and others concentrate on obstacles.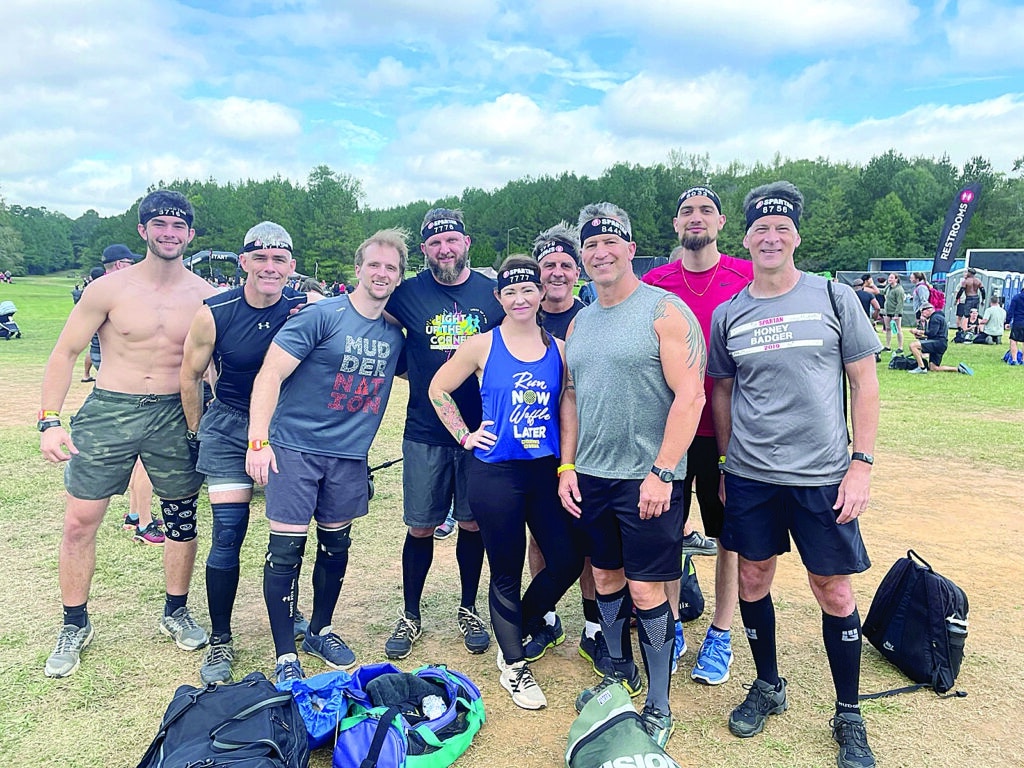 Anywhere from four to 20 people gather as early as 5:30 a.m. for strength, cardio and body weight workouts using obstacles on the trail and equipment they bring along like dumbbells, kettlebells, medicine balls, ropes, sandbags and jump ropes. Strength exercises include kettlebell swings, dumbbell presses and sandbag snatches.
Running with a 30 lb. ball or a weighted vest, burpees, mountain climbers, rope slams and jump rope constitute cardio work. Obstacles on the trail include rope climb, wall climb, rings and the rope traverse.
"Some can outperform people 20 to 30 years younger. They've taken good care of themselves and put in the daily work," Wright revealed. Like Rich Woodfield (63) who competes in Spartan races and seldom misses a workout. "He didn't start exercising until his late forties. It's never too late," Wright said. He also mentioned Amy Massey and Kristin McEwen who are in incredibly good shape at 50+, and 71-year-old Terry Evans, who participated in the November decathlon and works out daily at CrossFit.
Email Alex directly at ajwright1115@gmail.com to join the athletes.
---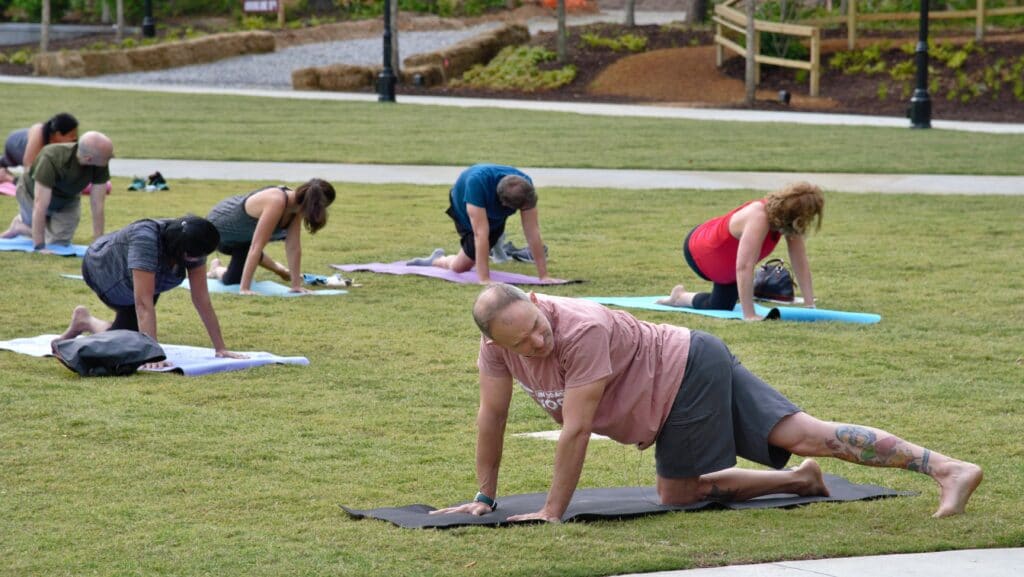 Flexibility = longevity
If kettlebells, tire flips and rope climbing are not your speed, try exercise that's not as jarring on your joints. David Penn, founder of Sun Dragon Yoga, can ameliorate the daunting physical challenges that aging can present. Yoga is a brilliant way to maintain muscle mass, flexibility and balance.
Practicing yoga comes with an added benefit: it's instrumental in the reversal of cognitive decline and Alzheimer's disease prevention.
Sun Dragon Yoga has been offering classes tailored to seniors in the Peachtree Corners area for six years. As a member of the Alzheimer's Research and Prevention Foundation (arpf.com), Penn incorporates research-based, results-producing findings into daily classes.
Within a few weeks, members notice increased strength, greater flexibility, improved balance and overall well-being in mind, body and spirit — there's a reason why yoga's popularity is growing. "Two 45-minute classes a week can change your life," Penn exclaimed.
Visit sundragonyoga.com or call 313-303-0096.
---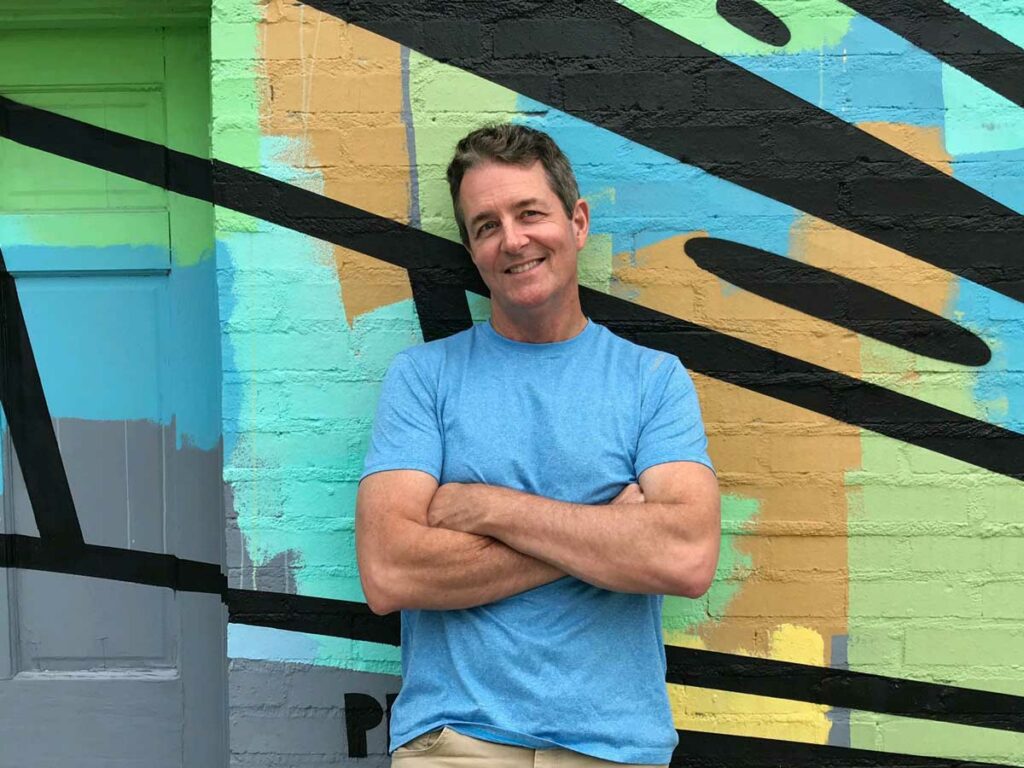 Train to independence
Certified Personal Trainer Mick Danskin trains a general clientele but found a niche working with elders. "Seniors want to stay in their homes and remain independent for as long as possible. Although some of them have seen physical therapists, the amount of care they receive is limited by insurance. With fewer limitations, I'm free to correct their issues, usually by visiting clients twice weekly for one-hour sessions," Danskin explained.
Seniors receive a 10-session discount at $60 per session (regularly $80), which includes a free in-home assessment. Clients with heart conditions must provide a doctor's release prior to commencing an exercise program.
Danskin specializes in correcting muscle imbalances, posture, lack of flexibility and strength issues to help seniors live safely independently. Some of his clients recovering from illness or surgery find themselves unable to overcome postural problems. "I've helped several people gain functional strength, energy and re-learn how to walk," Danskin said.
He works through customized stretches, balance and strength exercises which improve joint discomfort. "Movement and exercise stimulate bone density, staving off osteoporosis. The recommendation for otherwise healthy seniors would be at least 30 minutes of moderate to vigorous exercise, five days a week," Danskin shared.
Call Danskin at 678-491-0332.
---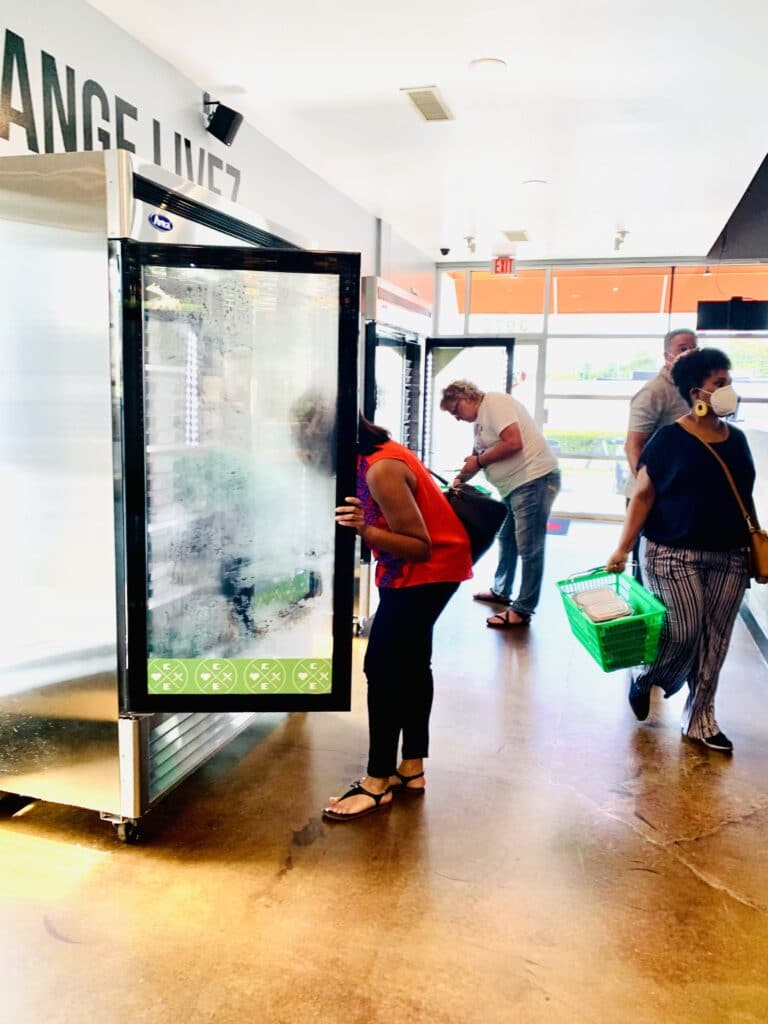 Healthy eating prolongs life
The owner of Clean Eatz, Nancy Glass, has the answer for seniors who want to remain autonomous without the hassle of cooking for one or two people. Properly portioned, health-conscience, prepared meals are ideal for anyone interested in healthy eating made easy.
Clean Eatz sources quality ingredients to offer the customers affordable, nutritious meals. Nothing is fried and no salt or oil are used in their meal preparation — only sodium-free seasonings and gluten-free sauces.
"We offer weekly meal plans as Toplow as $6.52 a meal. The meals are prepared and fresh. You select what you want from a menu that changes weekly. Then, just heat and eat! It's like having a personal chef. No dishes to wash, no grocery shopping, just enjoy," Glass beamed.
Customers make their selections for the week and the entire order goes home with them. There are five entrée options for lunch, dinner or breakfast, and a sixth item for breakfast. You can order any quantity of each meal and skip meals you don't want.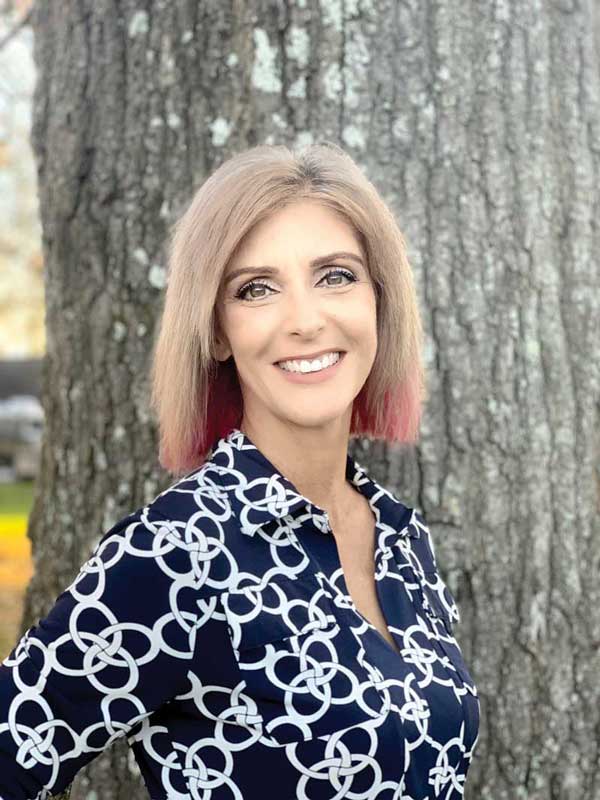 The Grab N Go freezers are stocked with meals that were made fresh in the café and then frozen. They can cater to all dietary needs: vegan, vegetarian, pescatarian, extra protein (great for maintaining muscle), low carb and BASIC. BASIC meals are prepared with no seasonings or sauces, allowing for customization when you take them home.
Shareable family meals containing four servings are priced at $17.99. Grab N Go meals are readily available to boost your weekly meal plan recipes, providing additional variety in case you need more or want to try something new.
Fresh, hot, made-to-order items are available from the café menu. Burgers, build your own bowls, salads, wraps, flatbreads and smoothies are available for dine in, to go or delivery through UberEATS. The average price is $8.79.
"Clean Eatz is here to help anyone striving for a healthy lifestyle. Once you've taken that first step, it becomes a way of life. Small improvements lead to BIG changes. You'll start to feel better and notice the changes in your body," Glass said.
Visit cleaneatz.com or call 678-833-5353.
The cultural shift in attitude towards what it means to be older is evident in Peachtree Corners, our little microcosm of society. Better knowledge of self-care trends, proper food and fitness régimes, and maintaining social connections all contribute to staving off cognitive and physical decline. Enjoy your extended active years, for 60 has indeed become the new 40!