Waste Management to Temporarily Suspend Yard Waste and Bulk Service Collection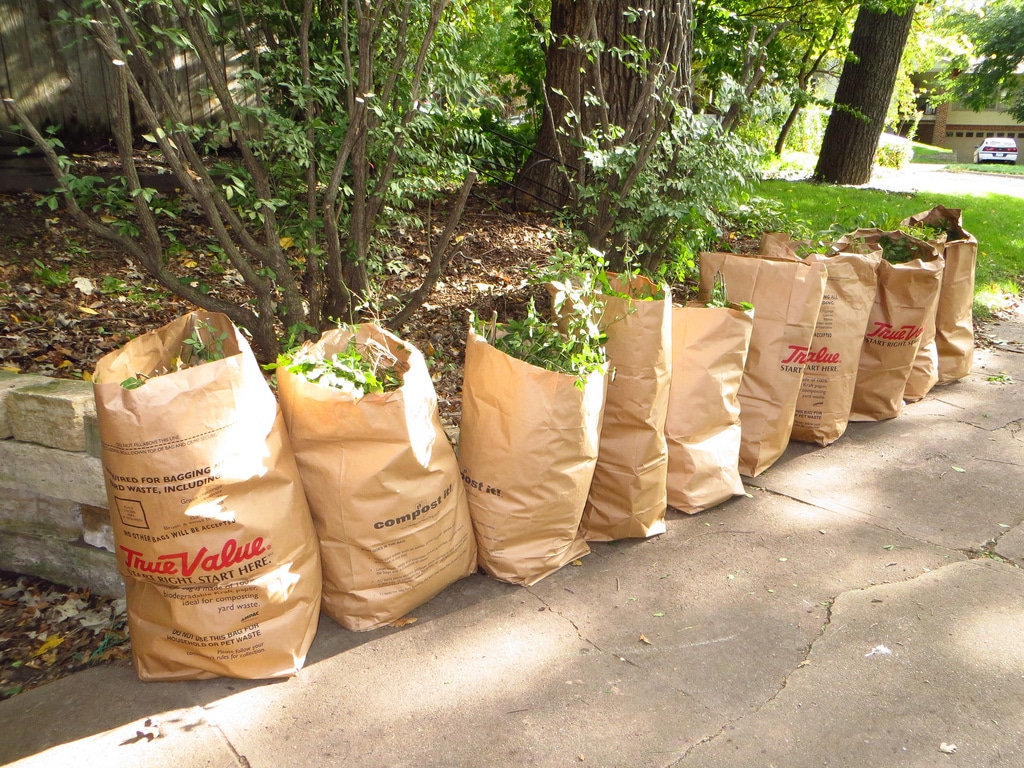 The city has received the following information from Waste Management:
Due to an increase of coronavirus cases in Georgia, we're implementing a number of precautions as recommended by the Centers for Disease Control and Prevention (CDC) and other federal, state, and local authorities, including social distancing for our drivers and helpers.
As a result, yard waste and bulk service will be postponed temporarily in Peachtree Corners. We expect to resume this service and collect these materials once conditions have been mitigated, and the CDC and other government authorities and company officials have determined it is safe to resume normal services.
Please make sure your MSW & Recycling container is accessible for service on your service day.  Please do not overfill your container as overflowing carts/bins create an increased safety and health risk to our drivers during this time. Any waste material outside of the cart will not be collected. We apologize for any inconvenience that this may cause.

Community forum to address crime, safety issues in Peachtree Corners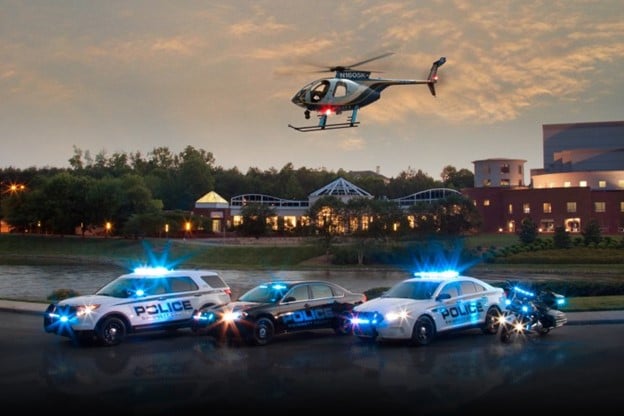 UPCCA hosts annual COPS program to allow face-to-face dialogue among residents, stakeholders and law enforcement.
Overnight car break-ins and vandalism, ruffians blocking key intersections and putting lives in danger with reckless stunts, bullying and name-calling at schools escalating to terrorist threats and violence – none of those scenarios are what Peachtree Corners residents want to see in their community. To inform residents and stakeholders of law enforcement actions to curb and eliminate this type of lawlessness, United Peachtree Corners Civic Association invites everyone to its annual C.O.P.S. Program. Set for 7 p.m. Thursday, May 26 at Christ The King Lutheran Church, 5575 Peachtree Parkway government officials and police agencies will discuss crime prevention and present local Peachtree Corners crime statistics.
Among invited presenters are Mayor Mike Mason, the new Gwinnett County Chief of Police J.D. McClure, Major Edward Restrepo, commander of the West Gwinnett Precinct, MPO Andres Camacho, District 1 Community Oriented Police Service, a Gwinnett County Schools resource officer and other community leaders who will be available for questions and answers.
"With all that's going on in the world now, we are thankful to have our lovely pocket of relative peace here in Peachtree Corners," said Matt Lombardi, president of UPCCA. "But there's a perception that it's gotten worse for crime in the last few years."
Like many suburban areas of the country, Peachtree Corners has been victim of so called "takeovers" where groups of teens and young adults converge on a usually busy intersection and show off stunt driving like doing "donuts" and "drifting." With no regard to traffic or vehicular safety, there are often fireworks and sometimes weapons discharged as well as kids hanging recklessly out of cars.
Recently, a combined effort from several local law enforcement agencies took down one weekend gathering, but with school out and summer almost in full swing, it's inevitable that more will come.
That's one of the major topics that will be discussed at the meeting, said Lombardi, along with a look at license plate readers, the effects of crime on property values and other issues.
One topic that has been on the minds of some, said Lombardi, is the question of whether it's time for Peachtree Corners to have its own police force. As it is now, Gwinnett County police provide protection as well as the Gwinnett County Sheriff's office.
Instead of leaving the question lingering, this is an opportunity for residents to speak their minds.
"UPCCA is one of the few organizations in metro Atlanta that brings people to face-to-face with the law enforcement community," said Lombardi. "It's important to know who's protecting you and your property and how it's being handled."


Information: upcca.org

Peachtree Corners Partners With Israeli Startup To Advance Smart City Technology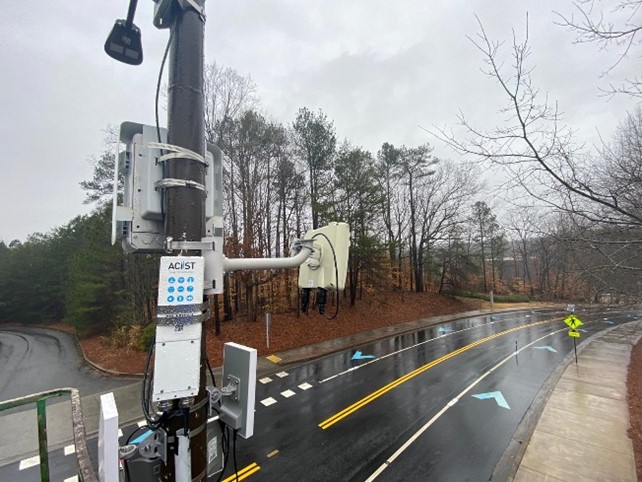 ACiiST will help the city with a connected infrastructure without tearing up roads or investing in miles of cables.
As one of the country's first smart cities powered by real-world connected infrastructure, Peachtree Corners recently announced a partnership with Israeli startup ACiiST – Smart Networks, the manufacturer of SD-LAN network solutions optimized for connecting outdoor cameras and sensors through a robust networking system. This partnership provides Peachtree Corners with connected infrastructure network solutions via fiber that allow various mobility technologies on Peachtree Corners' smart city streets to communicate with minimal digging, saving the city and residents time and money.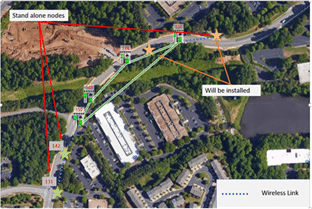 Installed in Technology Parkway earlier this year, ACiiST's technology spans across a half-mile of Peachtree Corners' "city street of the future," allowing deployed technologies and smart infrastructure with cameras, wireless links and other communication equipment, to be streamed directly to the Curiosity Lab's IoT Control Room, the first of its kind to be implemented in a city in the United States. Communication between the smart infrastructure and the IoT Control Room is possible via self-managed ACiiST Polarity units that create a low latency, high performance and fully manageable network.
"Working with ACiiST to demonstrate their technologies at Curiosity Lab is another great example of how international companies are showing great interest in the most unique real-world smart city ecosystem in the country," said Brandon Branham, Peachtree Corners Assistant City Manager and CTO. "We are able to demonstrate to other cities across the country the unique network connectivity, redundancy and monitoring capabilities of ACiiST's technology through this implementation on public infrastructure. This is a true testament of how the partnership between Israel and Curiosity Lab offers startups a one-of-a-kind experience to bring their products to the North American market."
ACiiST's network solutions allow Peachtree Corners to have a more secure smart city environment and make informed decisions based on data, such as traffic management. This solution also makes it easier for new edge devices such as cameras, radar sensors, digital signs, V2I access points and more, to be deployed and installed as smart infrastructure across the city street of the future, supporting the Curiosity Lab and Peachtree Corners' position as one of the leading smart cities in the United States.
"It was clear from the very first time we met with the Peachtree Corners management team that we are talking with leaders who want to promote positive change – with smart roads and streets as a platform to better manage their public spaces. They are open-minded to the implementation of new technologies, and we are happy to have our network solutions in action at the most unique smart city environment in the USA," said Sagi Gurfinkel, ACiiST Co-Founder and CEO. "The ACiiST network is already installed as the connectivity platform for multiple cities in Israel, Africa and the European Union, and we are excited to now add the United States to this list."

Bourdeaux Brings Big Check To Peachtree Corners Mobility Hub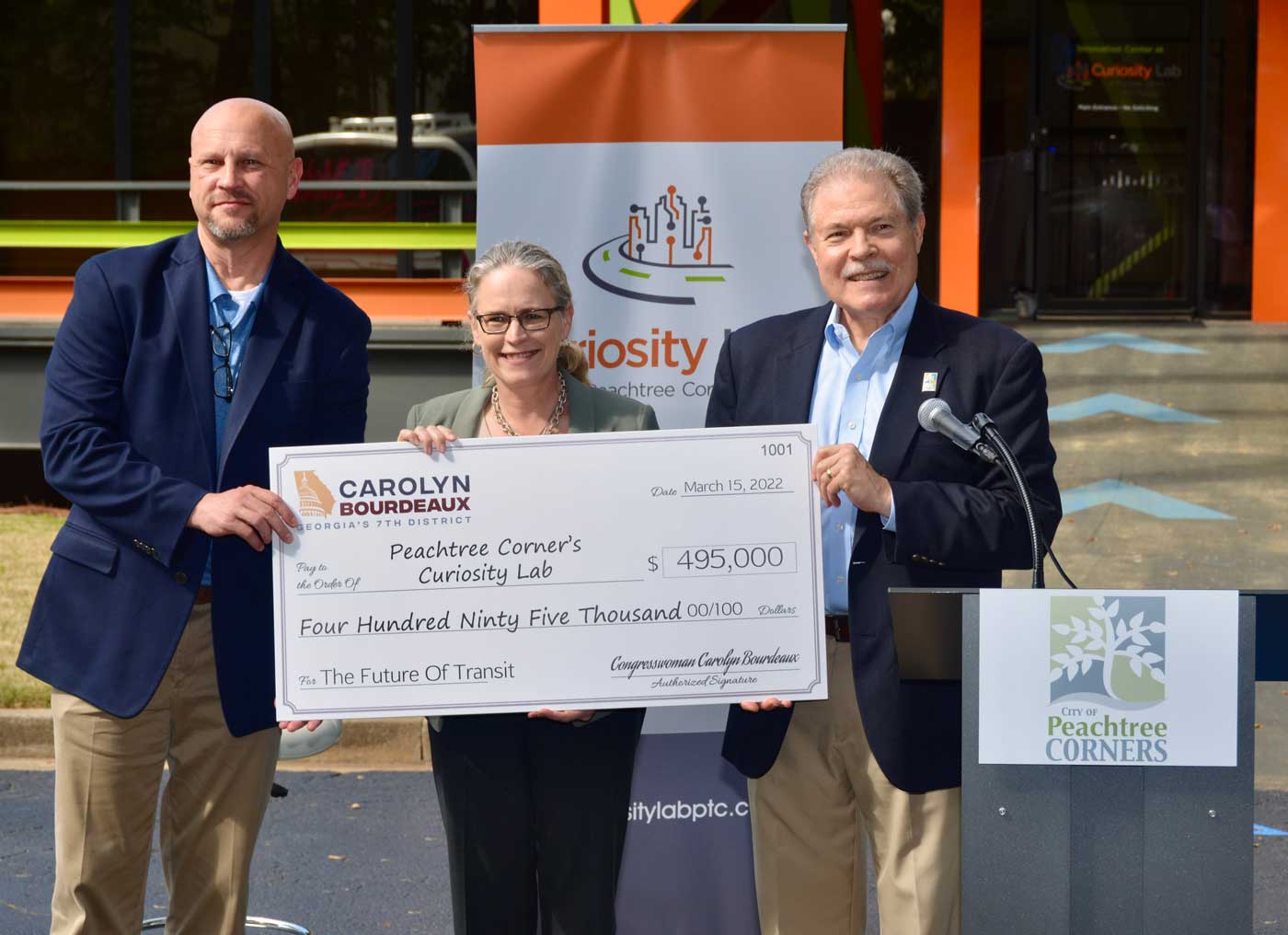 Federal funds will help further establish the city a leader in the smart city space.
There aren't many of us who can write a check for nearly half a million dollars, but Rep. Carolyn Bourdeaux came to Peachtree Corners Curiosity Lab on May 3 to do just that. Even though it wasn't from her personal bank account, she worked hard for more than a year to ensure that the people in Georgia's 7th Congressional District got the funding to continue developing the smart technology that has put it on the map.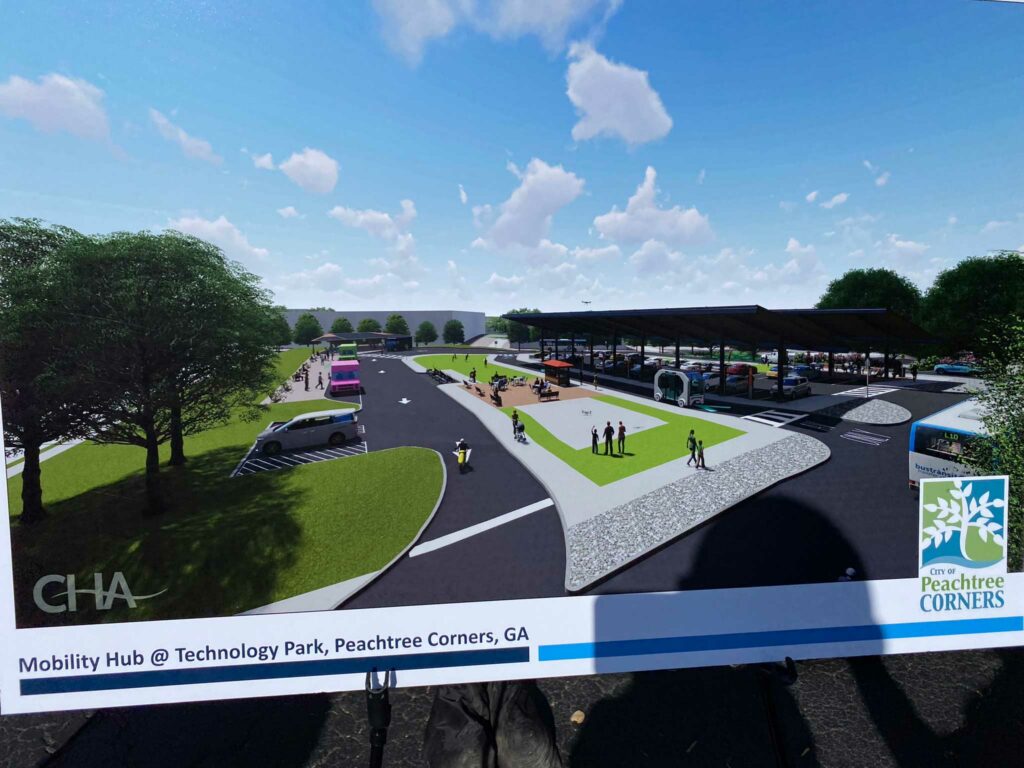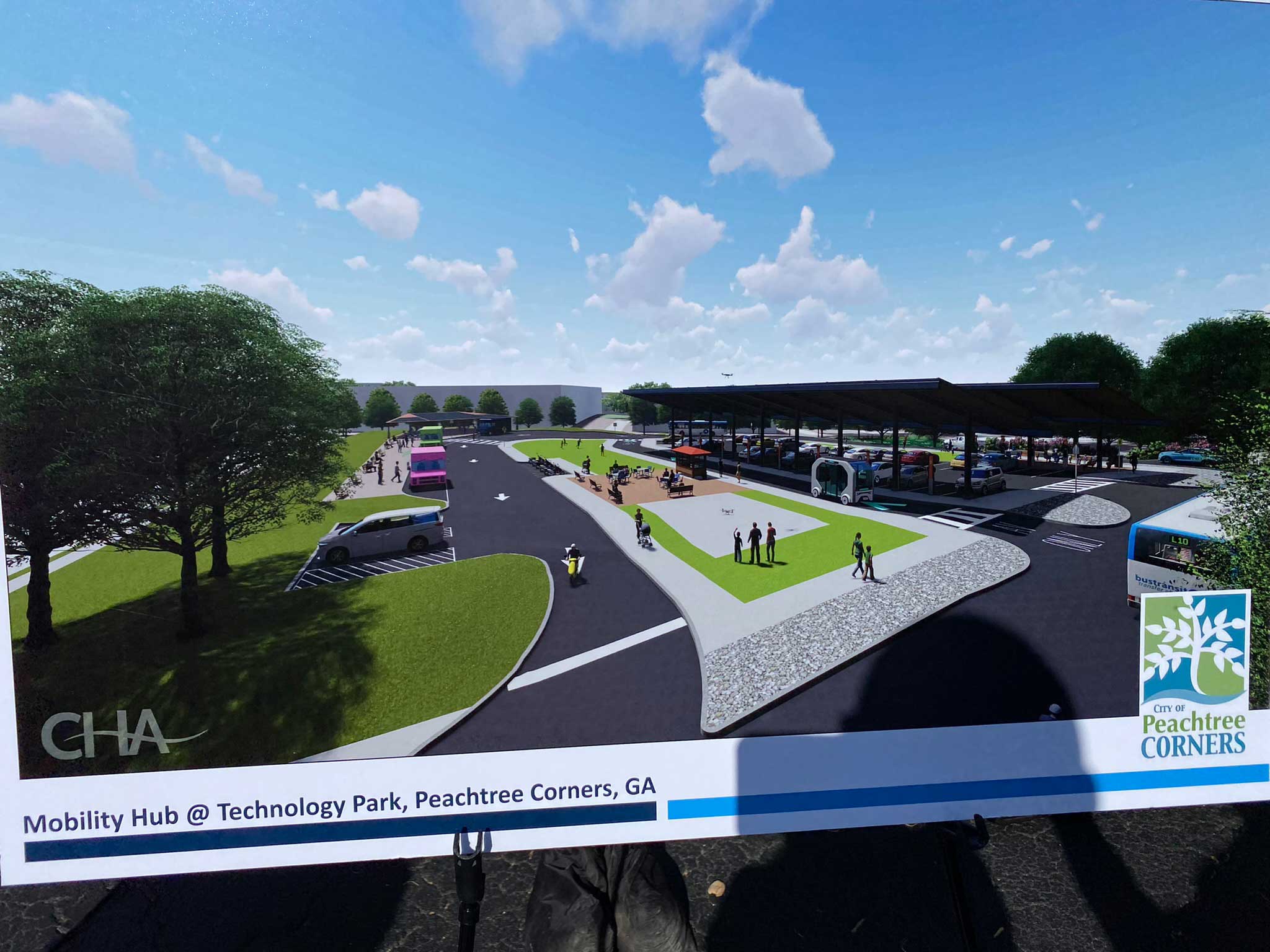 In spring of 2021, Bourdeaux submitted 10 funding requests for important community projects to the House Appropriations Committee. The recently passed Consolidated Appropriations Act of 2022 includes funding for all 10 of her community projects, including $495,000 for Peachtree Corners' Curiosity Lab Mobility Hub. This funding will allow the tech companies housed there to continue their work on improving community transit options to better accommodate autonomous vehicles, drones and other clean-energy vehicles.
"I am honored to be able to present Peachtree Corners' Curiosity Lab with almost half a million dollars to improve this mobility hub that they are developing. We want to do this because we really need to innovate around transportation. And we need to innovate in ways that promote the green economy," she said. "And it's important that our community be on the forefront of this."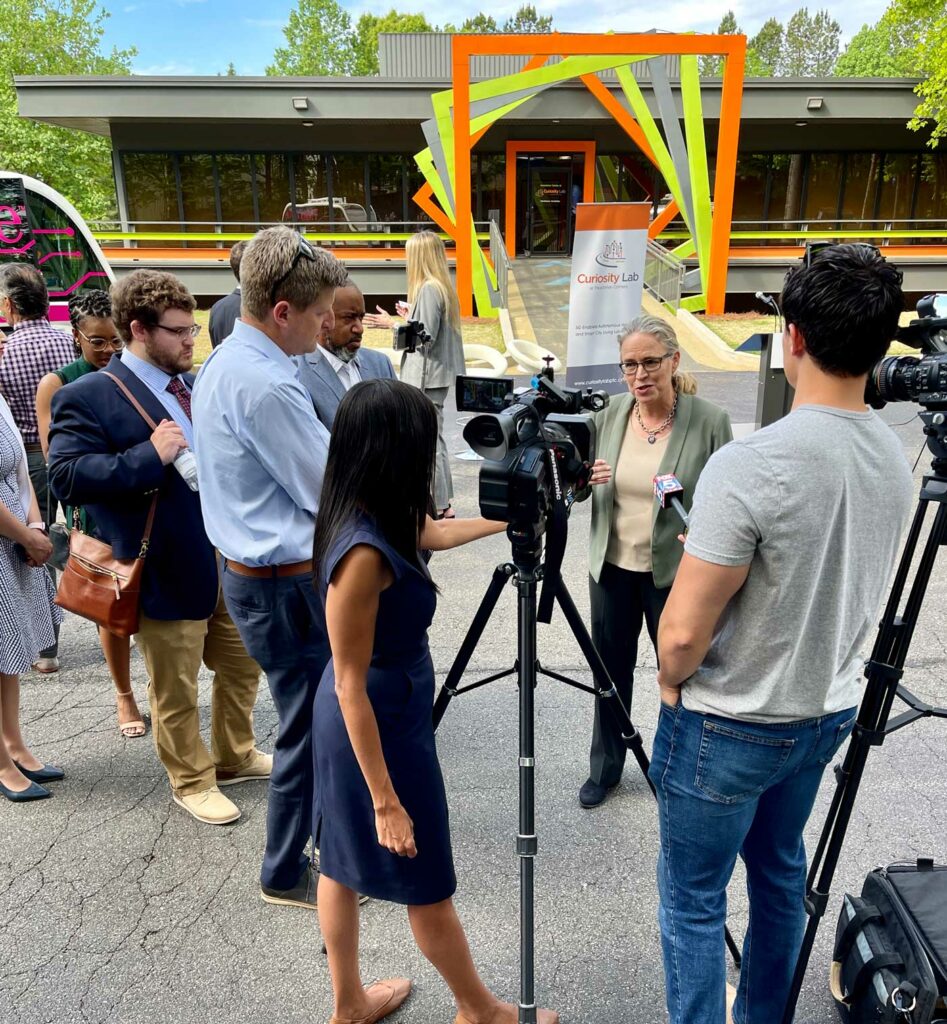 Bourdeaux pointed out that this funding will be used for sitework and furniture furnishings, as well as providing docking and refueling stations for solar electric power and other alternative energy vehicles. With these federal dollars, the innovators at Curiosity Lab will help accommodate mass transportation while integrating bicycle and pedestrian access.
The technology isn't just cool space-age gadgetry. It's a solution for cost-effective last mile connectivity for low-income individuals who may need to ride public transit and have been paying a higher rate than others. It can be an equalizer for the have-nots to become closer on par with the haves.
Peachtree Corners City Manager Brian Johnson agreed that federal support is paramount in this type of undertaking.
"These kinds of things only happen when you do have the support all the way up to the federal government," he said. "Some of this stuff like autonomous vehicles, which are regulated by the National Highway Transportation Safety Administration, and drones, which are regulated by the FAA, fall under the U.S. Transportation Secretary."
Johnson added that at the insistence of Bourdeaux, U.S. Secretary of Transportation Pete Buttigieg personally visited the Peachtree Corners facility to gain first-hand knowledge of what's possible.
"There is a rendering of a property that again is only a couple 100 yards up the road on our track and it is going to create an electric vehicle multimodal facility," Johnson said. "So, all things electric vehicle are going to come together at this one location thanks to these resources that the congresswoman helped us get."
What was once only a dream — and a prototype — is already functioning here. Everything from electric buses and autonomous vehicles fast electric vehicle charging stations to electric bikes and scooters are all coming together at one location to help with mobility in a more sustainable, environmentally friendly way.
Bourdeaux is proud of what's happening locally, not only for what it's doing to further the community, but also for how it can affect the entire world.
"Just this morning, my sister texted me that in India and Pakistan there are parts of those countries that are 120 degrees. Right now. That's not survivable for human beings over a long period of time; we really do face this threat of climate change," she said. "So, we need to get out there and innovate in these kinds of ways that promote that green technology. And by doing that, by doing good things like that, our economy will also flourish."