Restaurant Family Takes Gamble on Fusion Venture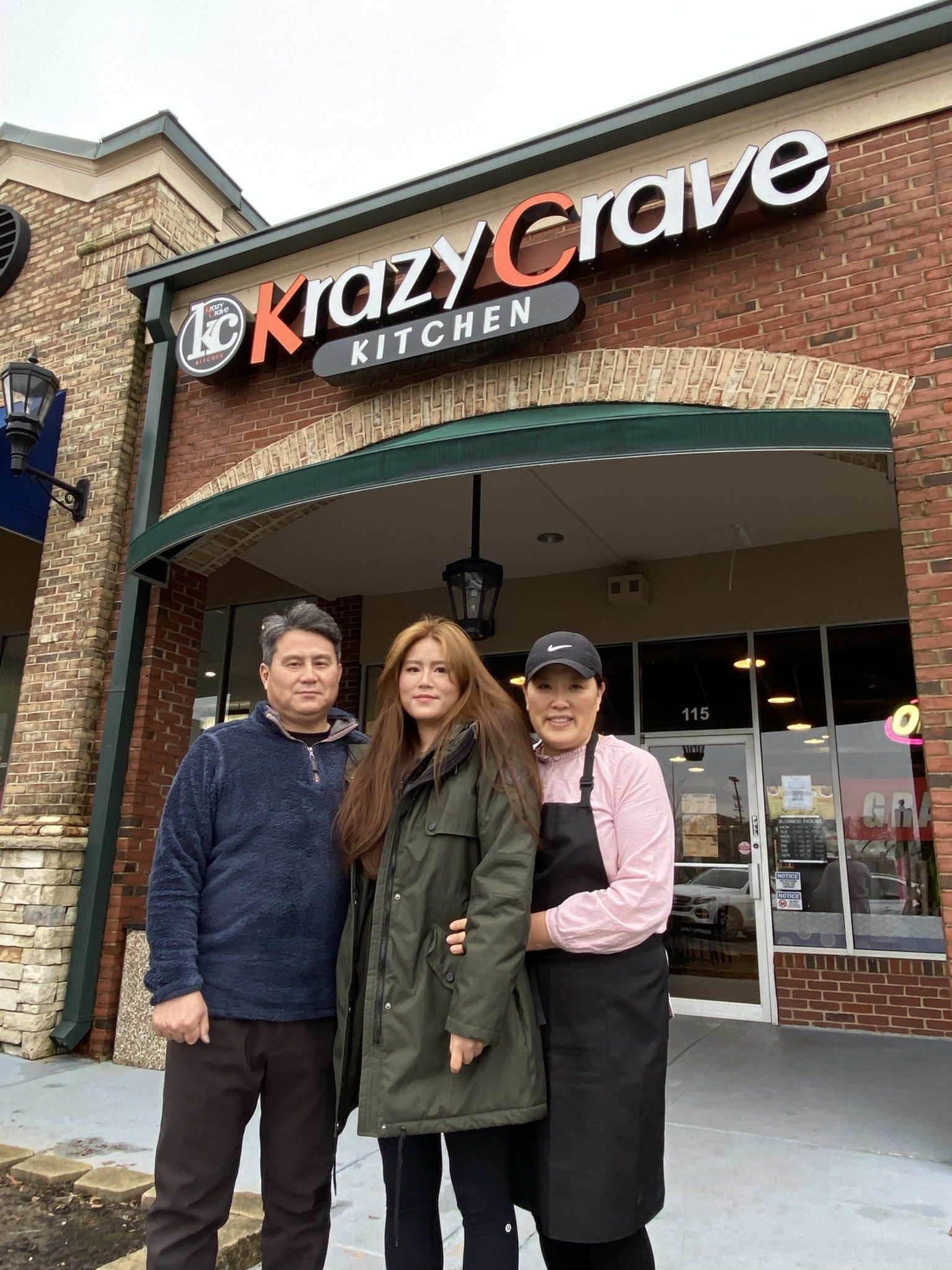 Krazy Crave offers a collection of traditional and fusion Korean cuisines
With 15 years of success at SDK Tofu & BBQ on Buford Highway, the Shin family had a vision of fusing traditional Korean cuisine with flavors more familiar to American palates. On Christmas Eve, that dream came to fruition with Krazy Crave Kitchen in the Village at Peachtree Corners Growing up in the restaurant business, daughter Chloe Shin wanted to create food that was more easily accessible to a diverse customer base.
"Most of our customers at the old restaurant were Chinese and Korean with a few people of other races," said Chloe Shin. "When you look at the diversity in this area, we wanted to appeal to more people."
Her parents James and Jennifer Shin agreed to roll the dice and sold their Doraville location for one in a complex that should attract a wide variety of patrons. Less than 10 miles north of the old restaurant, the current eatery is near a Flying Biscuit Café and a Lidl grocery store at the busy intersection of Peachtree Parkway and Peachtree Corners Circle.
So far, the crowds haven't followed.
"It's really slow, but we haven't been here long," said Chloe Shin. "We're doing a lot of marketing and advertising and working to get the word out. Once the customers try our food, they'll be back."
Nourishing body and soul
For novices, she suggested the Korean barbecued short ribs and the Korean pancake. The ribs are a flame-grilled, thin-sliced beef that's first marinated in a special barbecue sauce. The pancakes are made from tempura batter and come with two toppings — Chloe Shin said her favorites are calamari and chives or shrimp and vegetables.
With the increasing Asian population in the area, Chloe Shin said her family probably could have done fine with their former restaurant, but the 28-year-old said she wanted to take her food to the next level.
"We believe that eating isn't just about feeding your body. It's about nourishing the soul, too," she said, reciting the restaurant's mission. "And life is too short for mediocre soul food. We make sure every dish that we serve satisfies your entire being. Crispy, savory, sweet, juicy, satisfying. Whatever you crave is what we want to serve."
Krazy Crave Kitchen
5270 Peachtree Parkway, Suite 115
Hours: 11 a.m. to 9 p.m. Wednesday through Monday; closed Tuesday
Service options: Dine-in, curbside pickup and no-contact delivery
krazycrave.com, 770-837-3545

Kettlerock Brewing Announces First Anniversary Event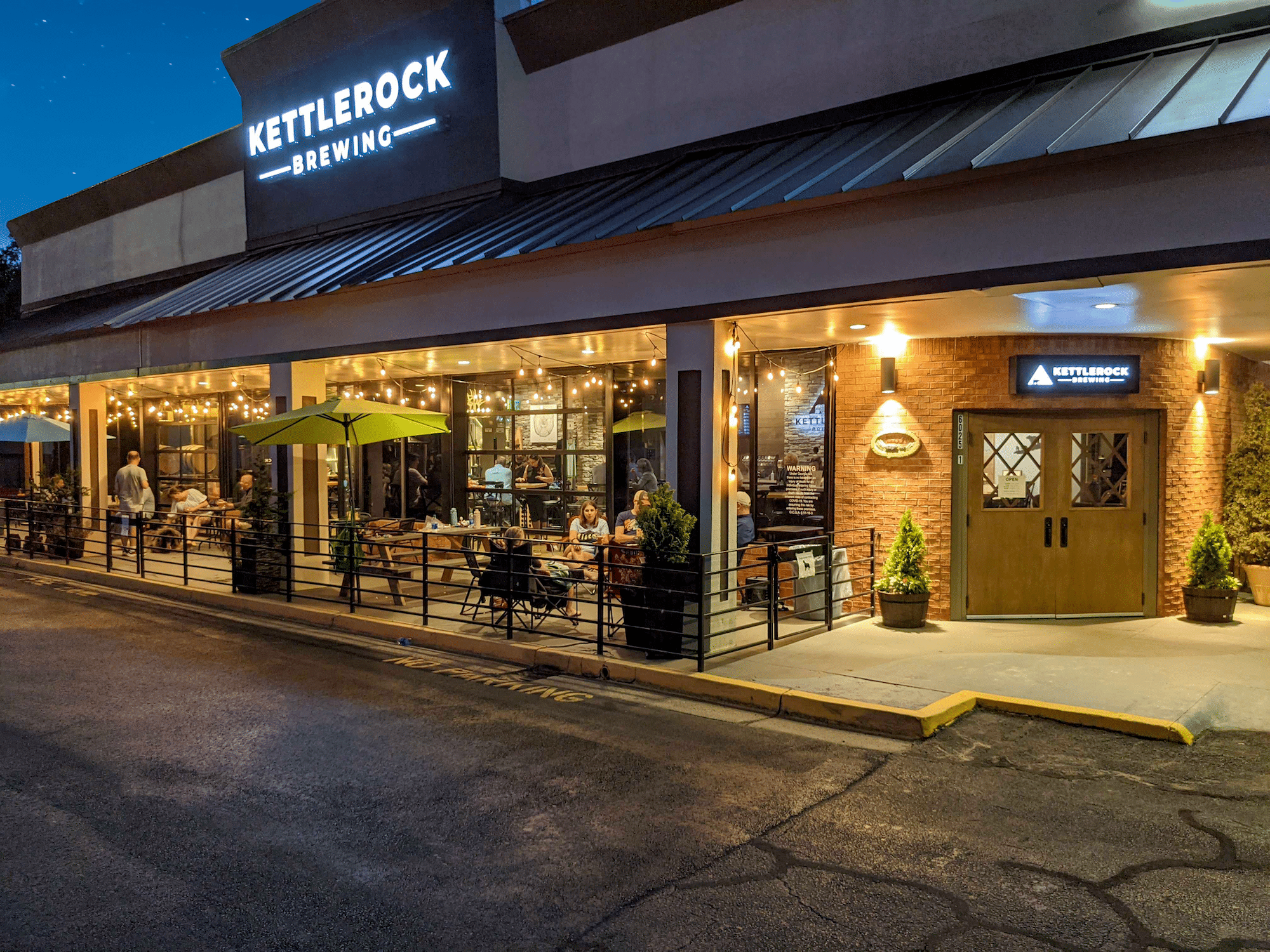 Kettlerock Brewing is hosting its first-anniversary celebration from May 13 to 15, 2022, and is inviting the community to join them for this festive occasion.
Kettlerock Brewing is located in Peachtree Corners at 6025 Peachtree Parkway, Suite 1.  On May 14, 2021, they opened their doors for business, with a mission to provide excellent craft beer in a comfortable, attractive setting, and to engage our community.  
For the one-year celebration, they have giveaways and live music on Friday.  On Saturday, there will be a full day of events and activities, including an arts and crafts area, food vendors, and live music in the evening. The goal, according to the Kettlerock team, is to provide a community-oriented event to celebrate Peachtree Corners and Kettlerock's first year as a small, family-owned business in the Peachtree Corners community. 
On Saturday, May 14, they are releasing their anniversary beer.  The release of Bear on the Roof celebrates the first year of accomplishments for Kettlerock Brewing.  The delightful bourbon barrel-aged beer is based on their popular Bear Tracks wee heavy Scottish ale, to combine the soft and silky bourbon notes with the natural honey and caramel flavors of the malt-forward wee heavy.
Kettlerock Brewing focuses on creating a "balanced and interesting beer that is both delicious and approachable." They have a strong core set of beers in a range of styles such as IPA, Belgian, Blonde Ale, Stout, Wee Heavy, and a rotating selection of intriguing seasonal beverages.  The brewery strives to be a focal point of the community, both informally and as a location for events.  
Find additional information at KettlerockBrewing.com or follow them on Facebook or Instagram.

A Passion for Latin: Peachtree Corners' Newest Latin American Restaurant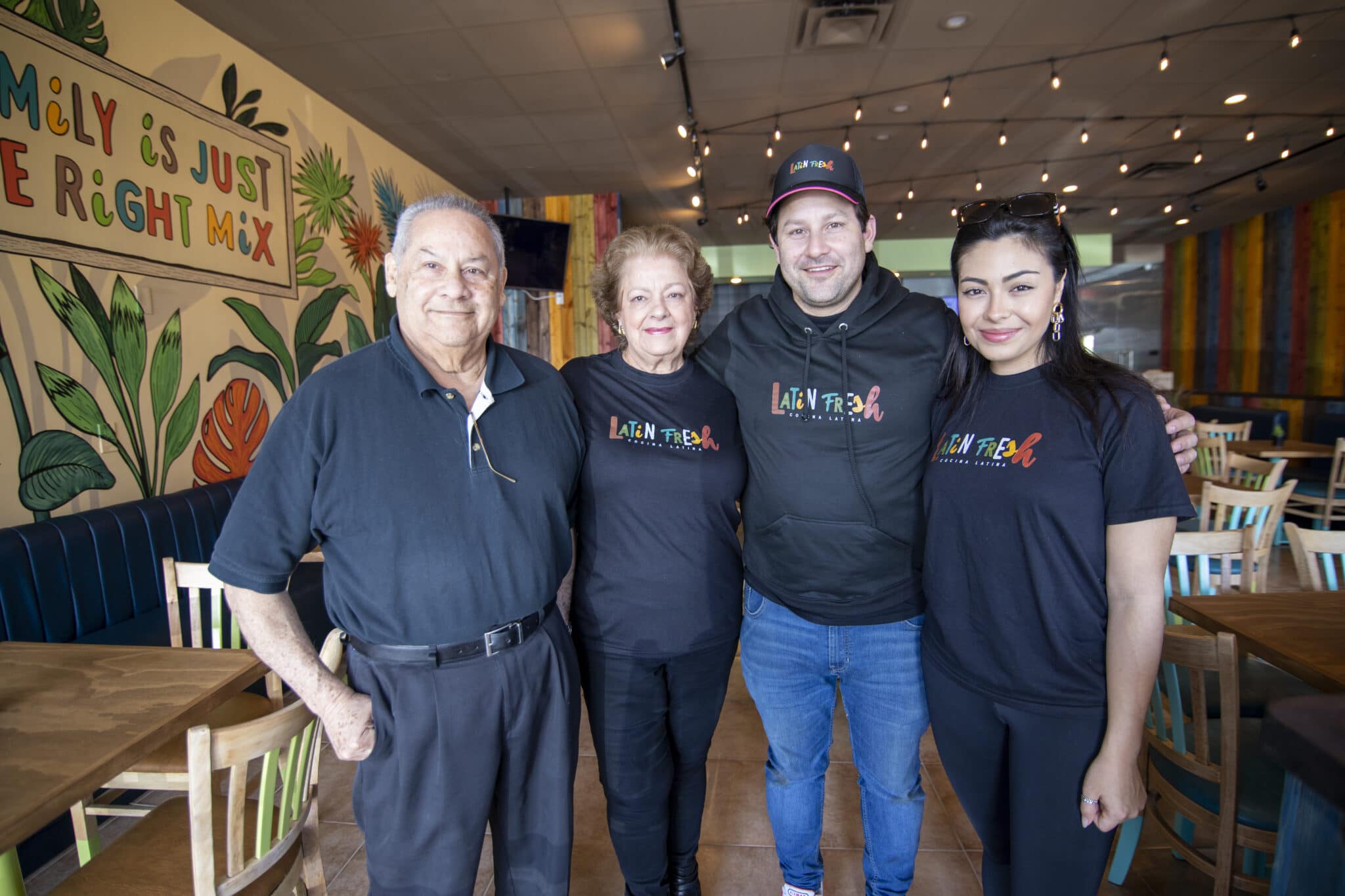 It was a sunny and warm spring day when I pulled up to Latin Fresh on South Old Peachtree Road. Pops of color alluded to the tropical vibe I was about to encounter in this charming and innovative restaurant.
Latin Fresh, open only since January 24, 2022, is a restaurant unlike any other in the area. Offering traditional dishes that hail from Latin American countries such as Brazil, Peru, Colombia and Venezuela, the menu is fresh, bold and creative.
For many Southerners, Latin American food might be synonymous with burritos, tacos and other Mexican or Tex-Mex dishes. That's something that the family behind Latin Fresh wants to change.
"I realized there were a lot of Mexican restaurants," said David Aaron who co-owns the restaurant with his fiancé Juanita and his parents Jay and Ofelia. Aaron, who recently moved to Peachtree Corners from Colombia, hopes to provide a menu that not only speaks to his personal passion for Latin cuisine but also offers an opportunity for locals to expand their palates.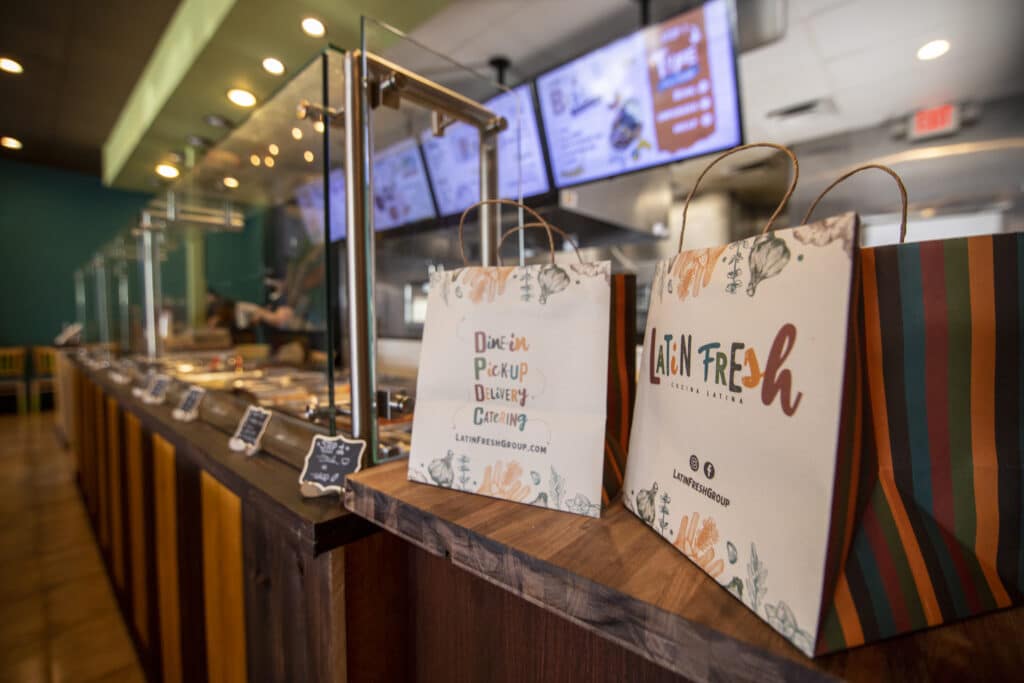 A variety of flavors and experiences
"No Latin American country is exactly the same; we are all full of colors, cultures, music, traditions, dialects, all across Latin America. Latin America is composed of Central America, the Caribbean, South America and every single country is completely different," Aaron explained.
Fortunate enough to travel extensively, Aaron has been able to see firsthand the variety of cuisines in the 33 countries that comprise Latin America. "The food in Colombia on the east side is completely different to that on the west, the south or the north side," he said. "It's completely different, and that's just one country."
Aaron, a chef who has been working in the restaurant industry for 21 years, has cooked in settings that range from cafeterias to Michelin Star restaurants. He grew up in Miami with his parents and a large, vibrant family.
Aaron's father Jay was a pilot and when he retired, he opened a restaurant. He used his cooking skills to raise money for foundations he cared about as well as feeding his large family from his home kitchen.
"We had something like 70 first cousins, my mother has 15 siblings," said Aaron. "We always had people coming to the house and my father was always cooking, trying different things, always homey foods and done from scratch. If he wanted a tomato sauce, he would cut the tomato and make it himself."
Beyond his father's obvious love for cooking, Aaron noted the financial element to making food from scratch. If you're buying ingredients, as opposed to prepared goods, you can often stretch your dollar to create larger batches of food which is essential when you're cooking for dozens of people on a given day.
"I have never been to cooking school, never ever, just learned from my mom," explained Jay Aaron, David's father. "When I came here, I was 20 years old. I never cooked in my house, but when my mom came here and saw that I was cooking, she couldn't believe it. I like it. I really enjoy it, it's really important that I enjoy whatever I do."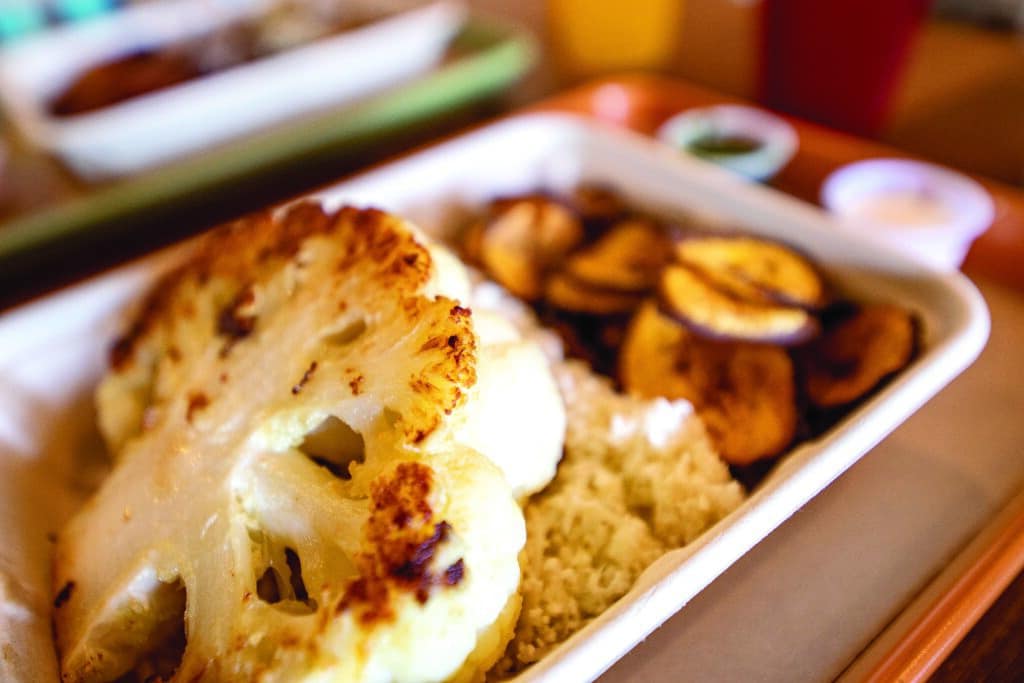 The road to Peachtree Corners
At the onset of the pandemic, David Aaron was working in Miami and his catering business took a huge hit due to canceled events and ongoing shutdowns. As a result, he relocated to Colombia where he took a more hands-on approach in one the restaurants owned by his restaurant group.
While this restaurant in Colombia was incredibly successful, he and his fiancé Juanita Mesa decided they wanted to find somewhere in the States to settle down. Juanita's background in hospitality — which led her to live in Australia, South Africa, Spain, London, Canada — and her ability to speak five languages has offered her a unique perspective, and it was with careful consideration that she chose this area.
Considering it to be family-friendly and inviting, they saw the area was also ripe for a dynamic Latin restaurant concept. "I think what's special about it is it's family," Juanita explained. "It's what Latin America is all about; we are all about having our family together. David and his parents, you can't get closer to family than that. His sister lives 40 minutes away and having that support of being able to ask questions — they know the area — that was super important to us."
Aaron's parents relocated from Miami to be closer to their family and grandkids here and are deeply involved in the venture.
The feel and flavors of home
"The idea behind Latin Fresh is that everything is fresh, everything is cooked from scratch," said Aaron. Customers are able to choose a base, a protein, a side and a couple of sauces. "In Latin America you drench everything in sauces," Aaron explained with a laugh.
Whether you prefer an empanada, a bowl or a wrap, you can craft a unique and delectable dish with flavors you may have never experienced before. Friendly and knowledgeable staff are there to walk you through all the different options, explaining the ingredients and origins of all the menu items to find a dish you're sure to love.
"It's very homey flavors to us, which we know is probably not homey to our customers," said Juanita. "We want people to be able to come here and taste things and feel at home like when we went into our mom's kitchens growing up. Having that, not only in the food but also the service, to have people who can approach you like family, like a friend, to be able to ask questions."
Describing such a varied menu can be tough, but Aaron considers it a kind of Latin American soul food. "It's food that warms the heart."
In fact, the very design and aesthetics of the restaurant have been chosen to evoke a familiar feeling, like that of walking into a Latin friend's house. Along one wall, a large mural was painted by a Colombian artist who the team flew in. The opposite wall is covered with wooden planks in colors that were carefully chosen to be light, bright and joyous.
Family owned and operated, they hope that Latin Fresh is approachable, cozy and comfortable, both for local Latin neighbors and those unfamiliar with Latin American cuisine.
A fresh, family concept
Another key tenet of the Latin Fresh concept is sustainability. All of the restaurant's furniture was refurbished, and they source their food and juices locally and from independent farmers whenever possible. Even their plates, forks and cups are all ethically made from compostable materials.
"Fresh is the concept; we don't use canned products, preservatives or GMOs. We are big on that," said Aaron. "I'm a big vegan activist; I think it's the future of food. All our bases and sides are vegan, and then we have three vegan protein options."
A family affair, it is not uncommon to see Aaron's father working in the kitchen, his mother ensuring everything is just right on the line, Juanita manning the phones and answering questions. "To serve people is my favorite," said Aaron's mother Ofelia.
If you're fortunate enough to meet the family, you'll find they are friendly and approachable, ready to offer unique insight to their one-of-a-kind menu.
During my visit I was fortunate enough to be able to sample several dishes, and I have to say that they were each incredibly unique, flavorful and delicious. Every ingredient, though vastly different in origin and preparation, was so thoughtfully prepared it seemed as though they were destined to be paired with one another.
The drinks, made from tropical fruits — many of which I had never tried before — were delightful. I found myself cycling through the offerings, sampling sauces and going back for seconds of every dish. Thoroughly stuffed and feeling the love, I headed home with several boxes of delectable Latin soul food. What an experience.
Peachtree Corners is truly lucky to have Latin Fresh in the neighborhood.
For more information visit latinfreshgroup.com

Three Peachtree Corners offerings are among the unique, limited-edition burger creations highlighted during the seventh annual celebration.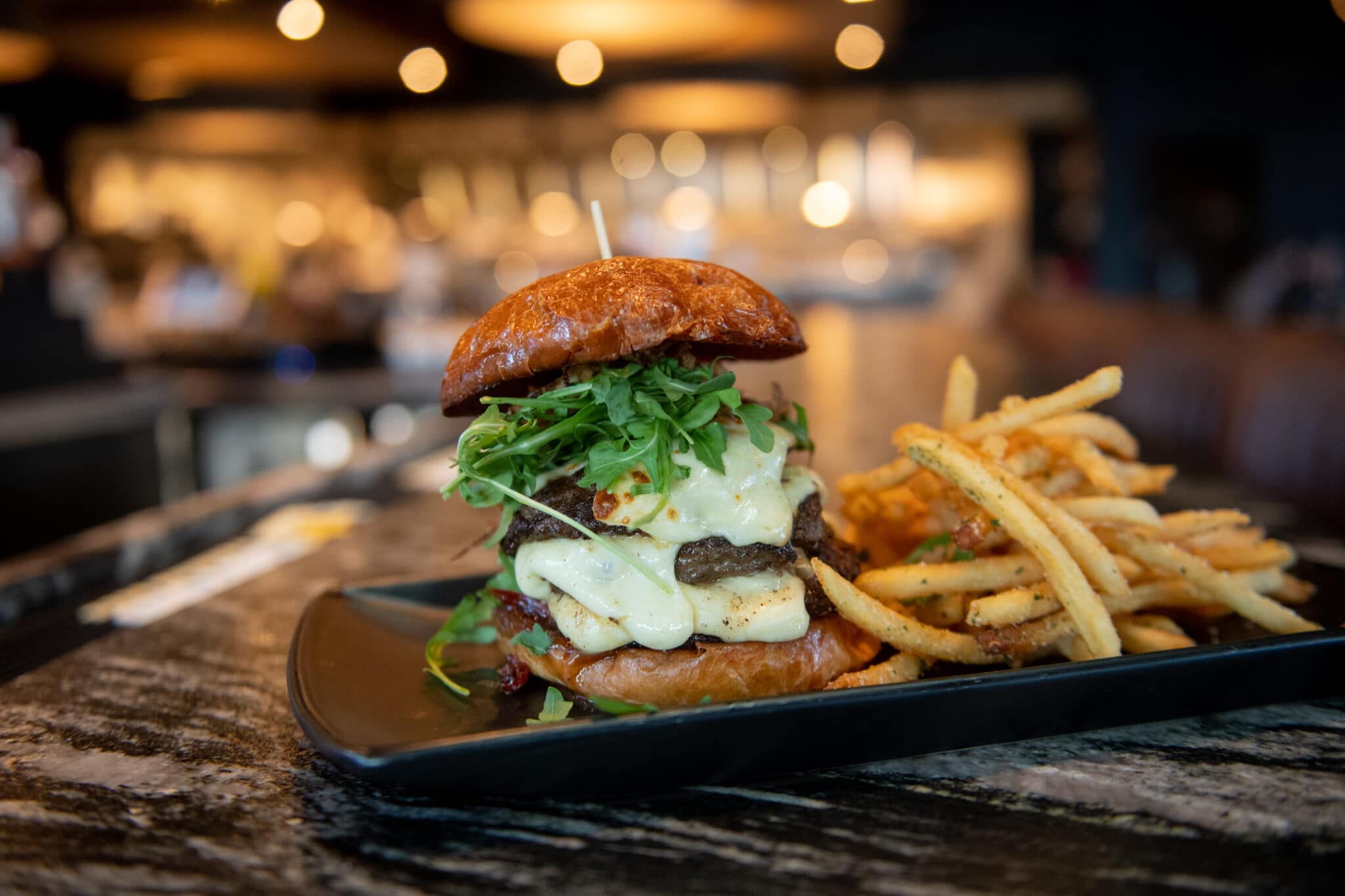 Explore Gwinnett will host its seventh annual Burger Week beginning Sunday, March 13 through Saturday, March 19. During the week-long celebration local restaurants will offer limited-edition burger creations and a side for $10. Locals and visitors are invited to try as many of these unique culinary delights as they would like throughout the week for lunch and dinner to support the community's locally owned eateries.
"With so many amazing restaurants in our community to showcase, we look forward to the creative and delicious burgers that Gwinnett Burger Week brings each year," said Explore Gwinnett Executive Director Lisa Anders. "We are excited for both locals and visitors alike to experience the culinary talent that Gwinnett County has to offer as they try out new dining spots and return to old favorites to sample limited-edition menu items."
 This year, there are 17 participating restaurants in Gwinnett Burger Week, each featuring an off-menu burger that will be exclusively available throughout the week. Three of those mouth-watering eats are from Peachtree Corners restaurants: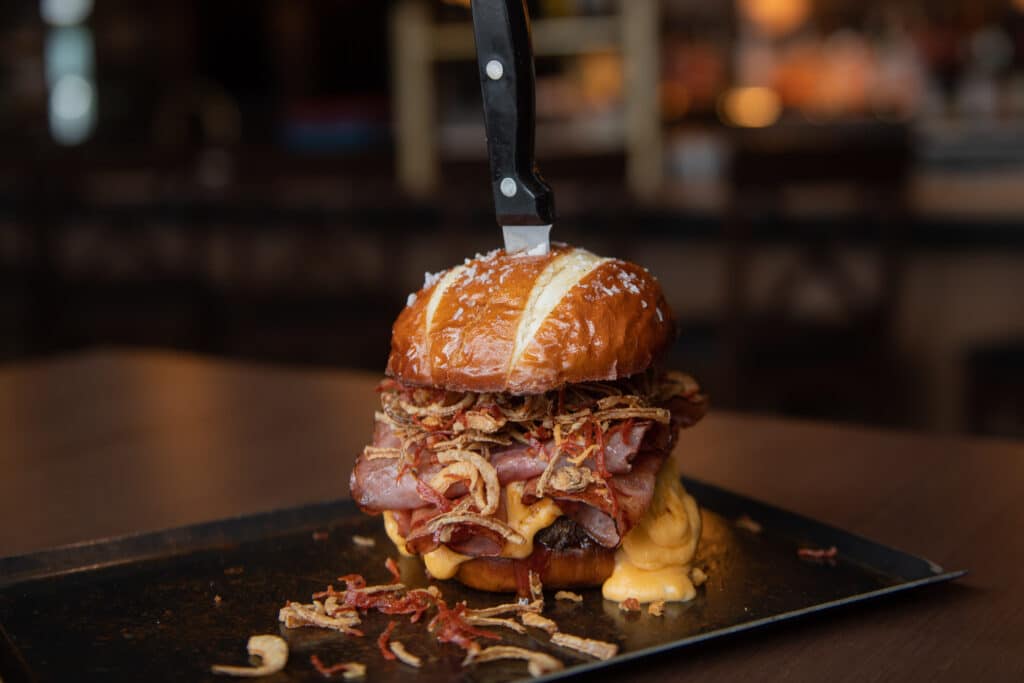 The Boss Hog, at Uncle Jack's Meat House is a blend of prim beef, sweet and spicy barbecue sauce, seared Black Forrest ham, smoked gouda, cheddar fondue, crispy serrano peppers and shallots on a sea salt pretzel bun. It is served with hand cut French fries.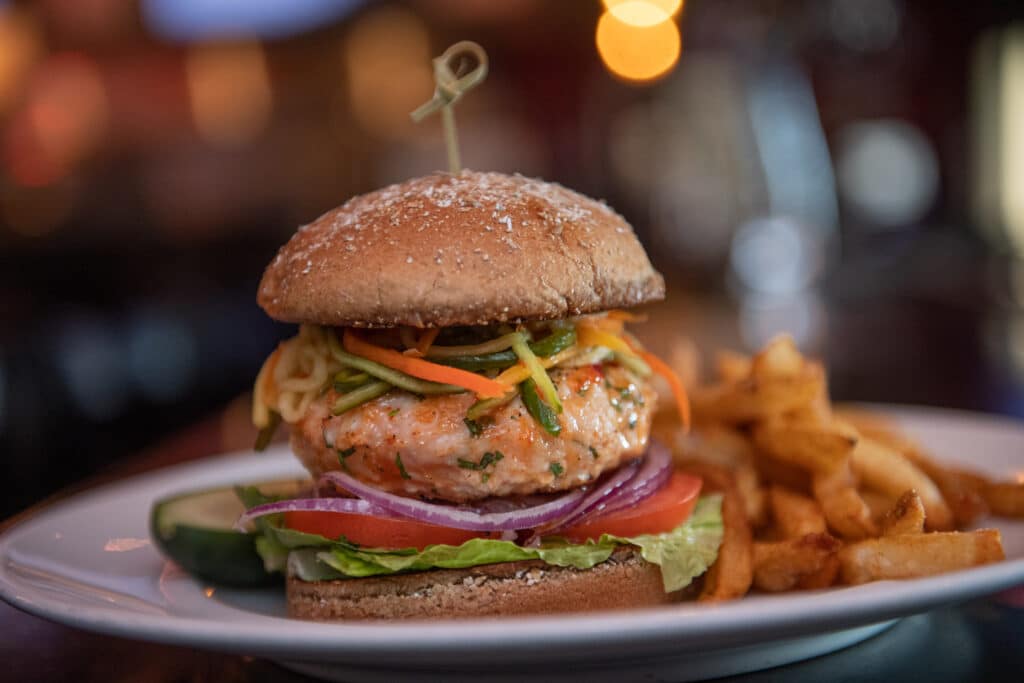 Grilled Turkey Burger at Marlow's Tavern is created with romaine lettuce, Roma tomatoes, sliced red onions, pickled julienne carrots and cucumbers, sweet chili sauce on a wheat burger bun. It is served with Tavern fries.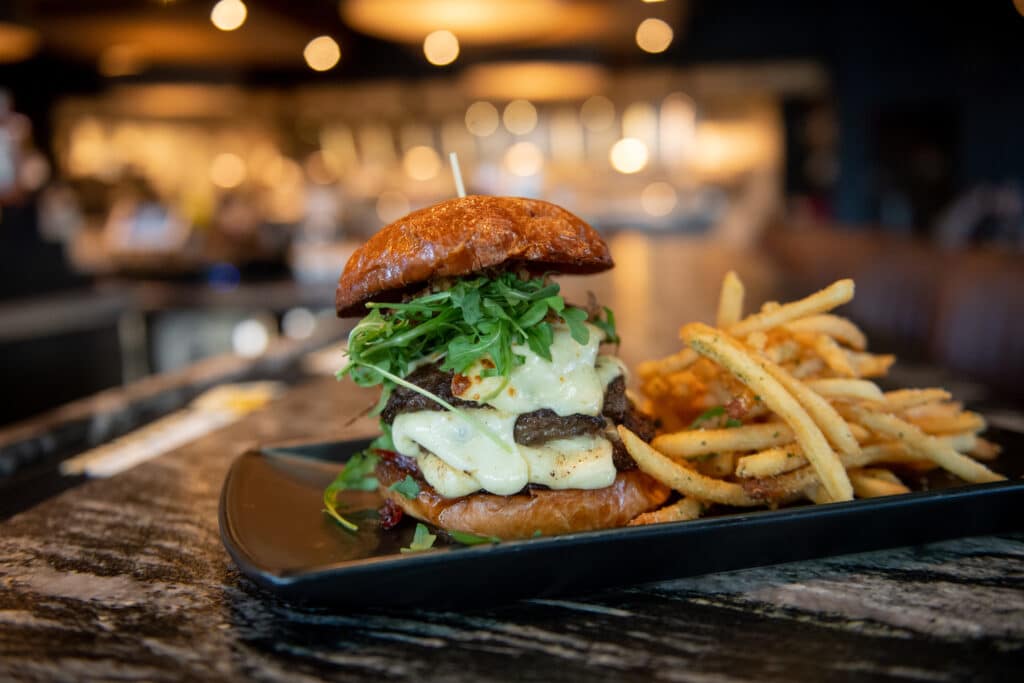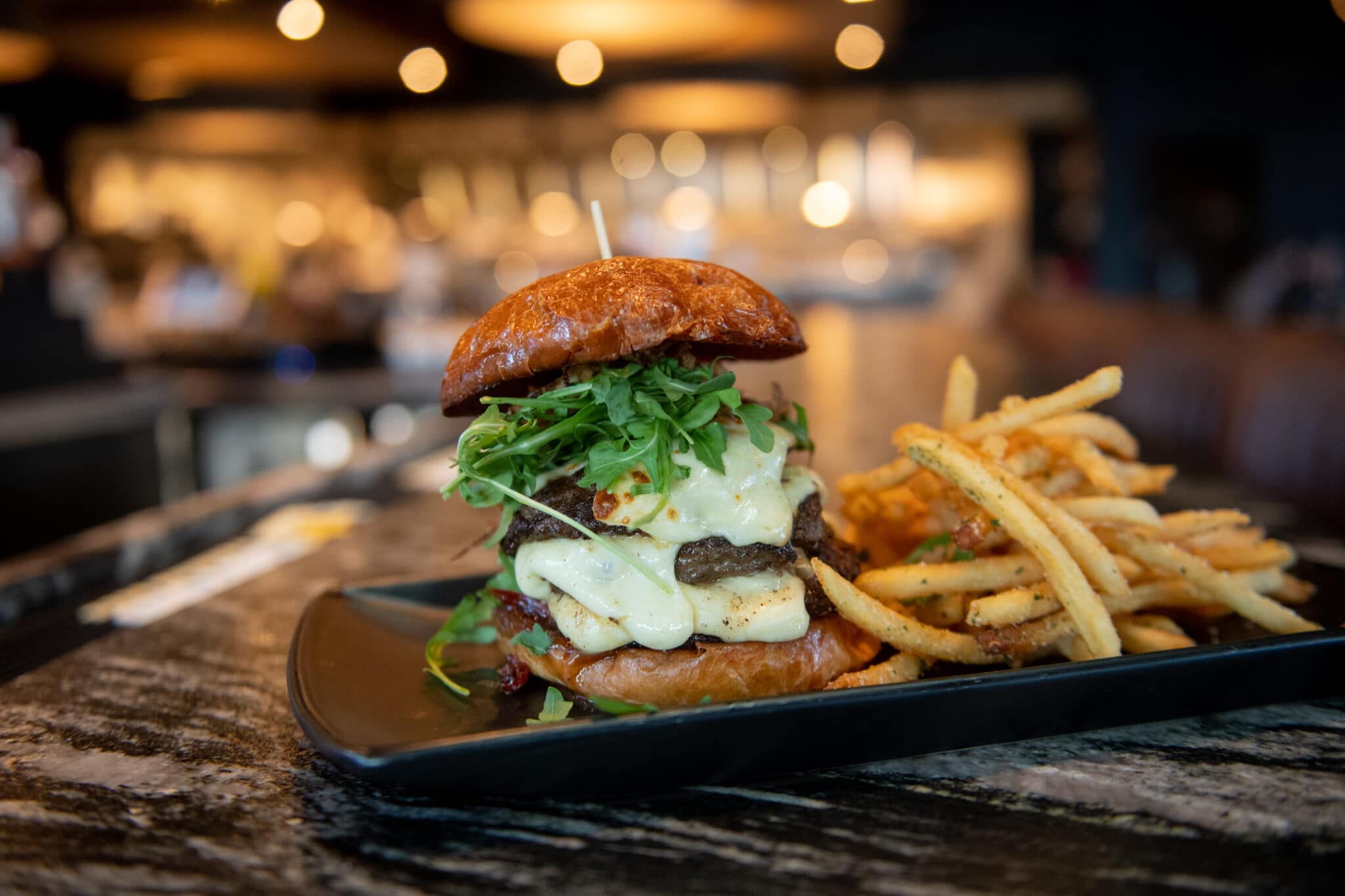 Death by Peaches at Stäge Kitchen & Bar features ghost pepper yuzu aioli, peach pepper jam, aged white cheddar, dill pickle, arugula, fried onion, brioche bun. It is served with tater tots.
The limited-time burgers are available for dine-in, and many restaurants will also offer a to-go option. Diners are also invited to use the hashtag #GwinnettBurgerWeek on their social media postings throughout the week.
For more information about Gwinnett Burger Week, go to ExploreGwinnett.org/Gwinnett-Burger-Week.