GAC Announces New Head Volleyball Coach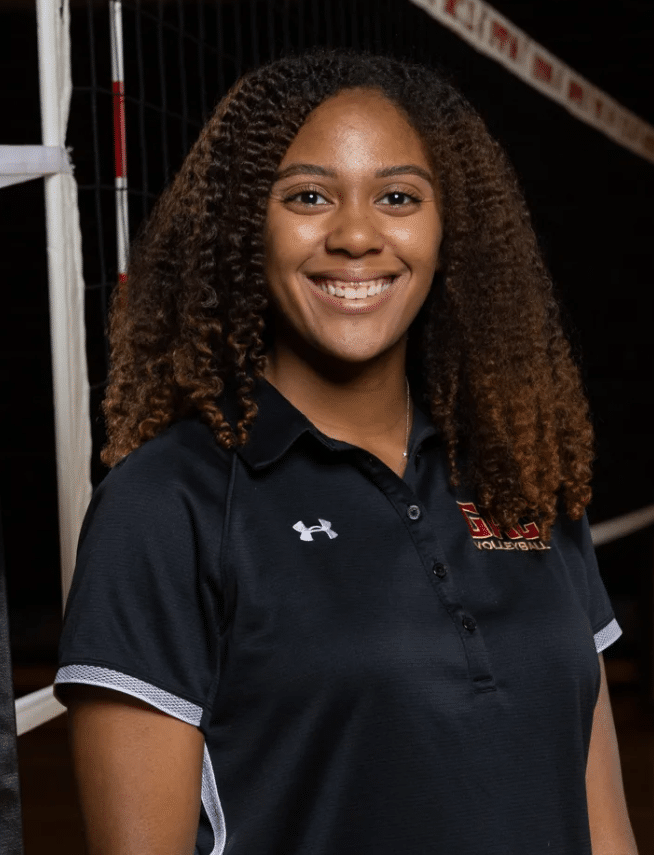 The Greater Atlanta Christian School (GAC) Athletic Department has announced that Crystal Lee will take the helm as the new Head Volleyball Coach at GAC.
"I am excited to announce that we have selected Crystal Lee as our new Head Volleyball Coach," said GAC Athletic Director Tim Hardy. "Crystal Lee embodies the characteristics we want in a head coach at GAC. First, she has a strong Christian faith that guides her daily life.
"Second, she has a natural ability to connect with student-athletes and foster trust through relationships. Third, she loves Volleyball and has a passion for using the game to develop her athletes as people, as well as players. Finally, she has a clear vision for the future of Spartan Volleyball."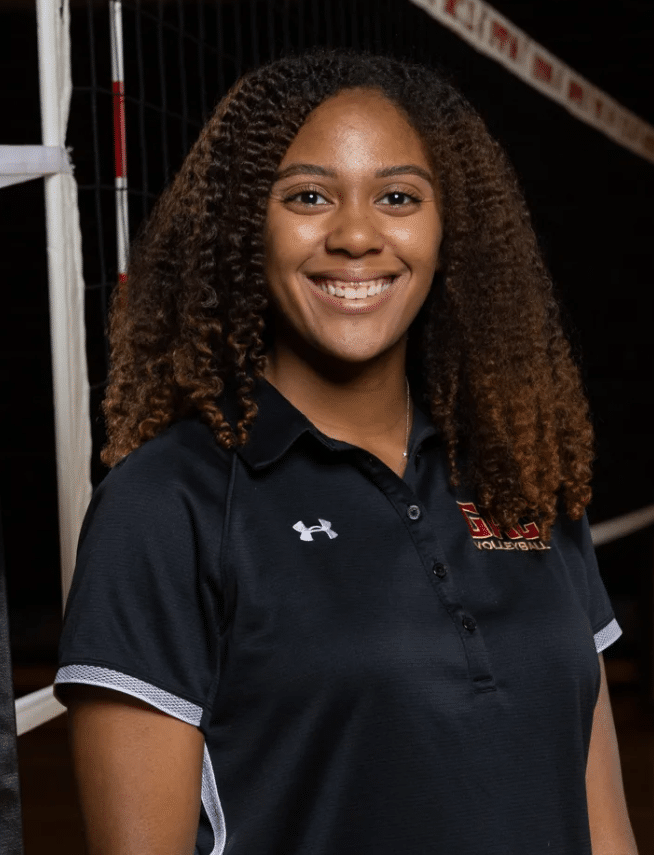 Coach Lee was a GAC Varsity Assistant Coach during the 2022 season and played an instrumental role for the Spartans' state championship team. She previously coached at Johns Creek High School from 2019-2021, and she coached club Volleyball at 575 Volleyball and A5 South as well. Coach Lee also played collegiate Volleyball at Georgia State University from 2015-2018.
"I am honored and privileged to serve as the head coach of this program, and I look forward to inspiring and developing these young women not only as exceptional athletes but also as outstanding members of the community. It is my prayer that these young women will be guided into successful lives after GAC, regardless of whether or not they pursue athletics," Coach Lee said.
"As an assistant last year, I witnessed the program's success, but I was most inspired by the guiding principles that embody GAC's mission. The rich tradition of academic, spiritual, and athletic excellence of GAC is a place that I am honored to be a part of, and I'm humbled to take on this role," she added.

Wesleyan's Druw Jones '22 Drafted by the Arizona Diamondbacks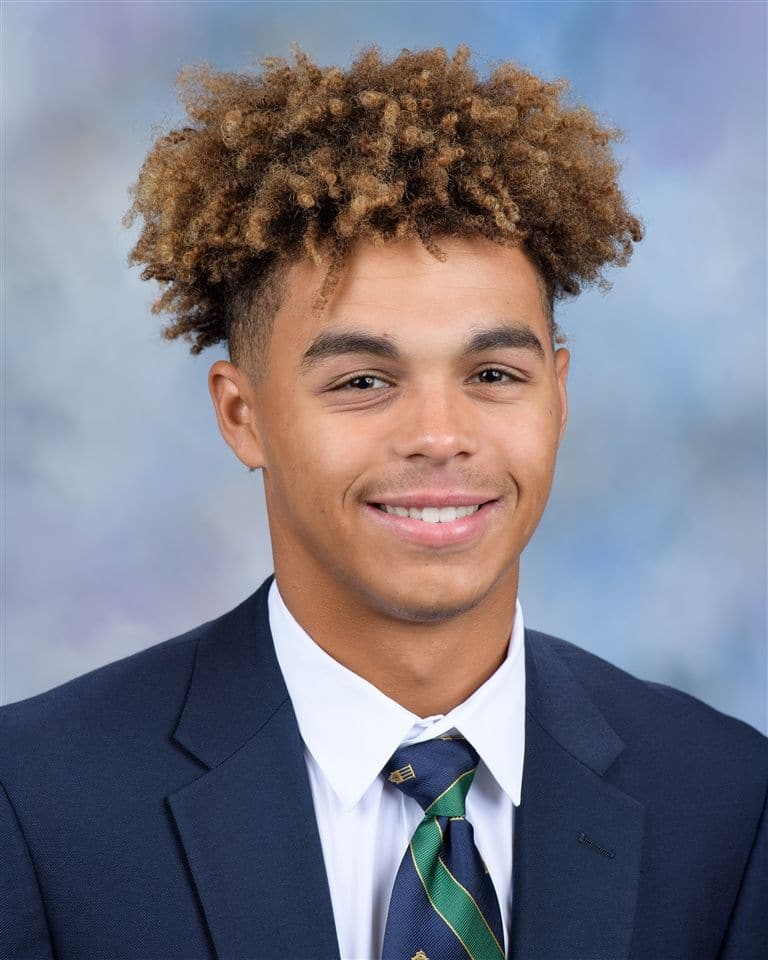 Wesleyan School graduate Druw Jones '22 was drafted by the Arizona Diamondbacks as the second overall selection in last night's Major League Baseball draft.
A Wesleyan evergreen who attended Wesleyan from kindergarten through twelfth grade, Jones completed his high school baseball career alongside his teammates and coaches when the team won the state championship in May of this year. This summer, Jones was named the Gatorade Georgia Baseball Player of the Year, and he is a two-time Gwinnett Daily Post high school baseball player of the year. Jones currently holds Wesleyan School records for career and single season batting average, as well as most hits."Coaching Druw in high school has been a delight," said Brian Krehmeyer, Wesleyan's varsity baseball coach. "Not only is he an incredibly gifted player, but he is also a great teammate. I could not be more thrilled for Druw and his family."
In his senior season, Jones finished the season with a .570 batting average, 13 homeruns, 72 runs, and 32 stolen bases.

A Look Back on the Year in Athletics at Norcross High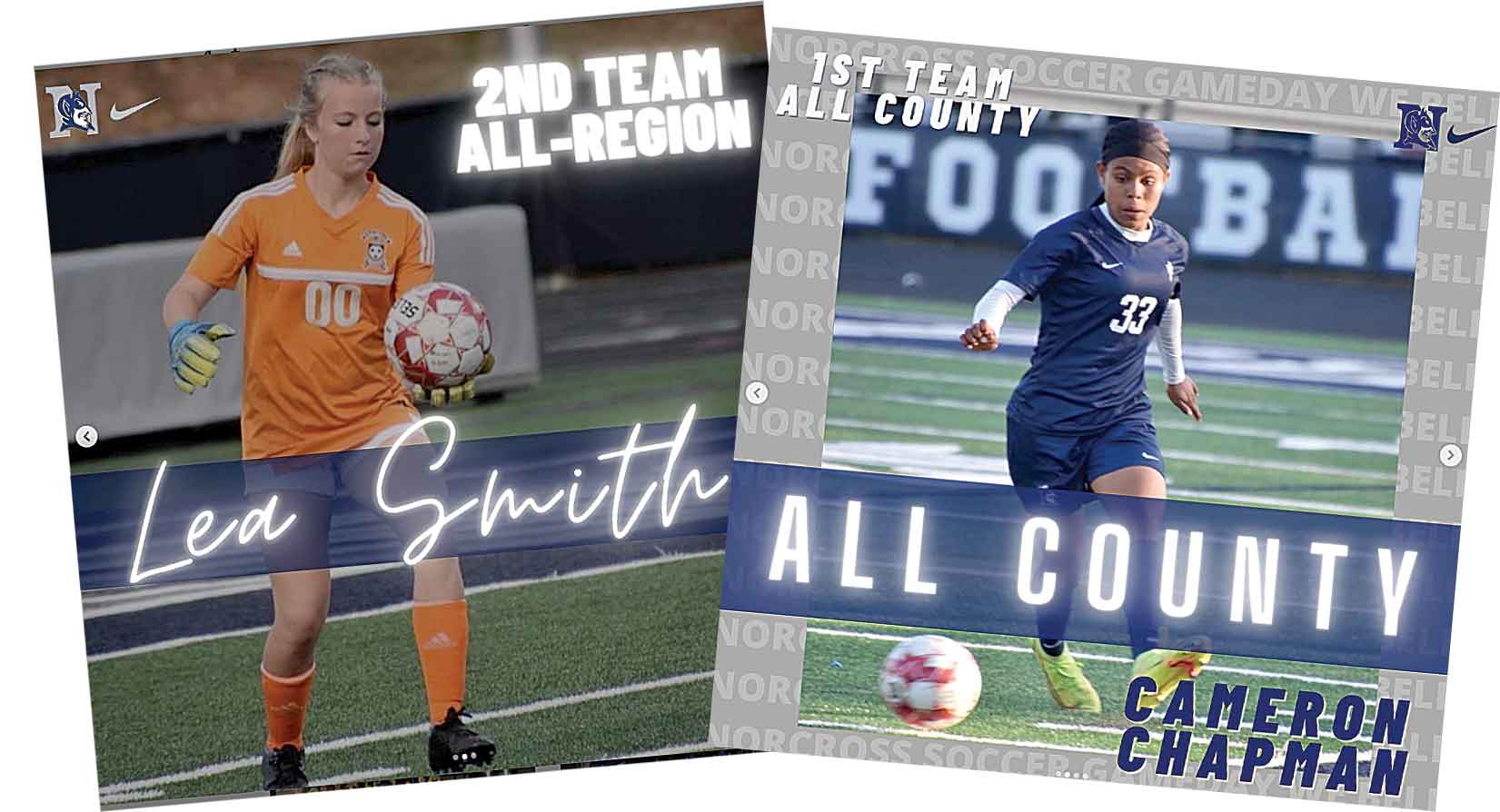 The Norcross High boys' and girls' basketball teams capped off another memorable year for Blue Devils athletics by winning state championships in March. The two programs have 10 state titles between them, all coming within the last 20 years, and this season was the third time both teams have won the title in the same season.
Boys' coach Jesse McMillan and girls' coach Ashley Clanton both said their teams came into the season with talent but not much experience. Both coaches watched their teams grow up quickly as they faced early tests in the first half of the season before hitting their peak in early February.
The boys' team won 11 of their last 12 games to close out the season, finishing with a 26-6 overall record and a 10-2 mark in Region 7-7A. The Blue Devils won the title game 58-45 against division rival Berkmar, a team that had beaten Norcross three times during the regular season.
The Blue Devils were led by junior guard London Johnson, who is ranked by 247 Sports as the 27th best prospect for the 2023 recruiting class and is the third-ranked player in the state. According to 247, Johnson has offers from 18 Division I schools, including Alabama, Clemson, Georgia, North Carolina, Southern California, Arizona State, Cincinnati, Auburn and Georgetown.
He averaged 18.7 points per game along with 3.3 assists and 1.8 steals. On the inside, Jerry Deng helped lead the Blue Devils with 14.7 points per game and 8.1 rebounds per game. Deng is a three-star recruiting prospect, according to 247, and has offers from Georgia State, Mercer, Georgia, East Carolina and Akron.
With a menacing defense, the girls' team finished unblemished in region play at 13-0 in Region 7-7A and 26-5 overall as they went on to defeat Harrison High of Kennesaw, Ga., 41-37 in the championship game. The Lady Blue Devils held their opponents to under 30 points nine times and gave up an average of 39.3 points per game throughout the season.
Senior forward Zaria Hurston propelled the Lady Blue Devils, averaging 18 points and 10 rebounds per game. She was named the 2022 Girls' Basketball Player of the Year by the Gwinnett Daily Post.
More sports success at NHS
The Norcross football team finished 8-4 in 2021 after going 13-1 and making the state semifinals in 2020. The Blue Devils made noise with a near upset of Lowndes, losing 35-34 in a thriller in the second round of the state playoffs. Standout junior receiver Nakai Poole averaged 58.6 receiving yards per game and hauled in 11 touchdown catches on the season. He has not earned a star ranking yet, according to 247 sports, but has early offers from 23 Division I programs, including LSU, Ole Miss, Georgia Tech, Auburn, Cincinnati, Virginia Tech and Virginia.
The girls' volleyball team won its fourth consecutive region title in Georgia's highest classification, earning a perfect 6-0 mark in Region 7-7A. The Lady Blue Devils came on strong in the second half of the season after an 8-15 start that included a six-game losing streak. But starting with a 2-1 win over Chamblee High on Sept. 9, the Lady Blue Devils reeled off 11 straight victories and defeated Dunwoody 3-0 in the region title game before falling to Roswell High in the first round of the state tournament.
The girls' soccer team also had a successful season, tallying a 13-5-1 record and finishing second in Region 7-7A at 9-3. The Lady Blue Devils won seven of their last nine games and earned a first-round playoff win over Milton before losing 3-2 to North Paulding in the second round. Cameron Chapman led the way with 23 goals and eight assists on the season, while goalkeeper Leah Smith made 81 saves.
The girls' and boys' tennis teams both made the state tournament, with the girls falling in the first round, while the boys made a run to the state quarterfinals before losing to North Gwinnett.
Featured in our June/July issue of Peachtree Corners Magazine

Norcross High Re-establishes Tradition of Winning State Titles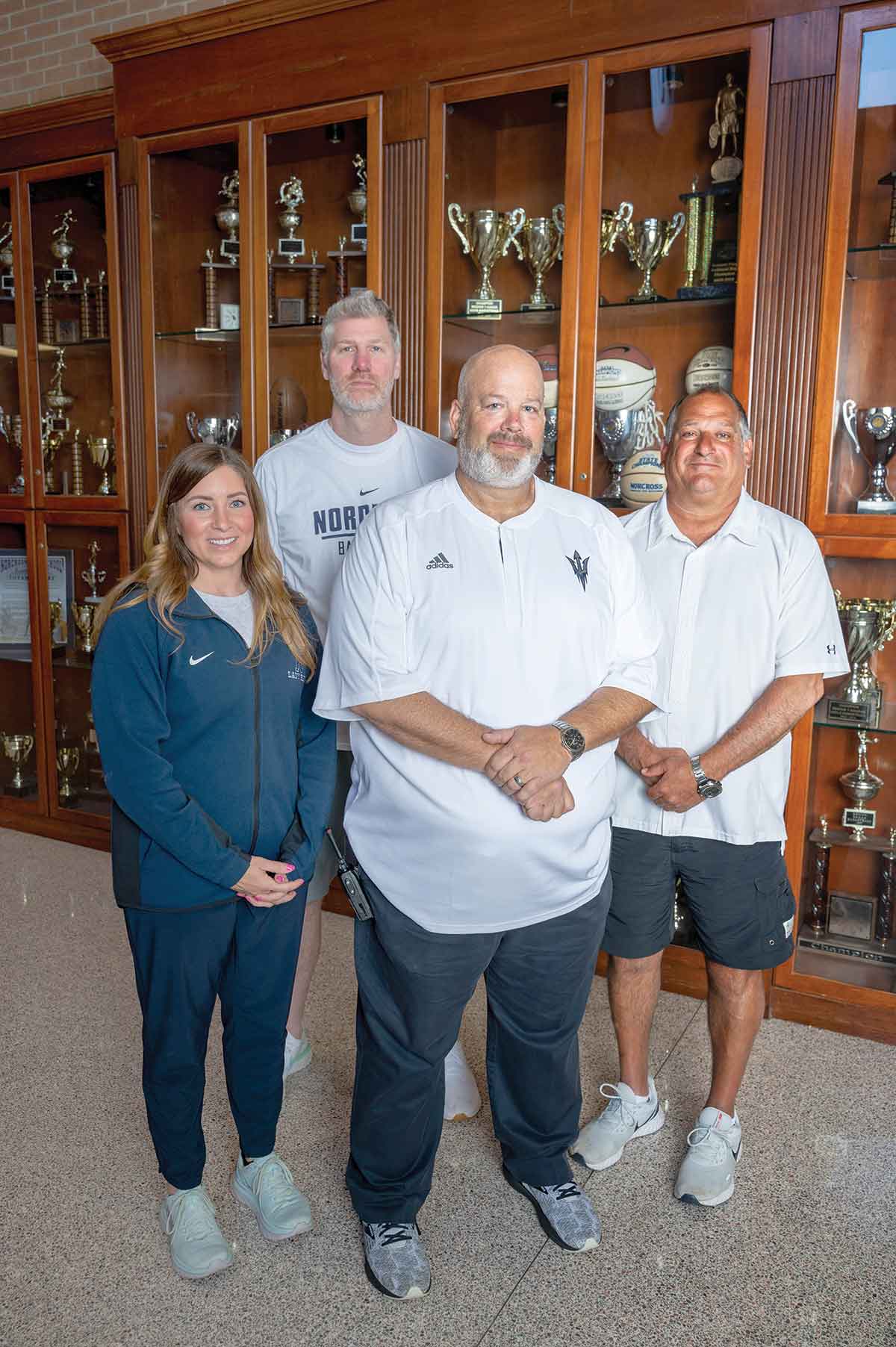 A look back at the athletic success of a powerhouse program
In 2013, Norcross High School athletics enjoyed a banner year that saw a total of four state championships. First, the girls' and boys' basketball teams won state titles. The boys' golf team followed in the fall, and finally, the football team won its second straight state championship in December.
Blue Devil sports peaked that year, and the four state titles were the result of top-tier coaching hires made years beforehand. Under names like former girls' basketball coach Angie Hembree, football coach Keith Maloff, former boys' basketball coach Eddie Martin and his successor, Jesse McMillan, the Blue Devils amassed 10 state championships from 2005 to 2013, a stretch rarely seen anywhere in high school athletics.
But after that unforgettable year in 2013, the Blue Devils came up empty. McMillan has led the boys' basketball team to four semifinal appearances and finished state runner-up twice. Hembree also finished state runner-up twice, and Maloof's football team made it to the semifinals in 2020. But another title eluded them, and some began to wonder if the glory days had passed.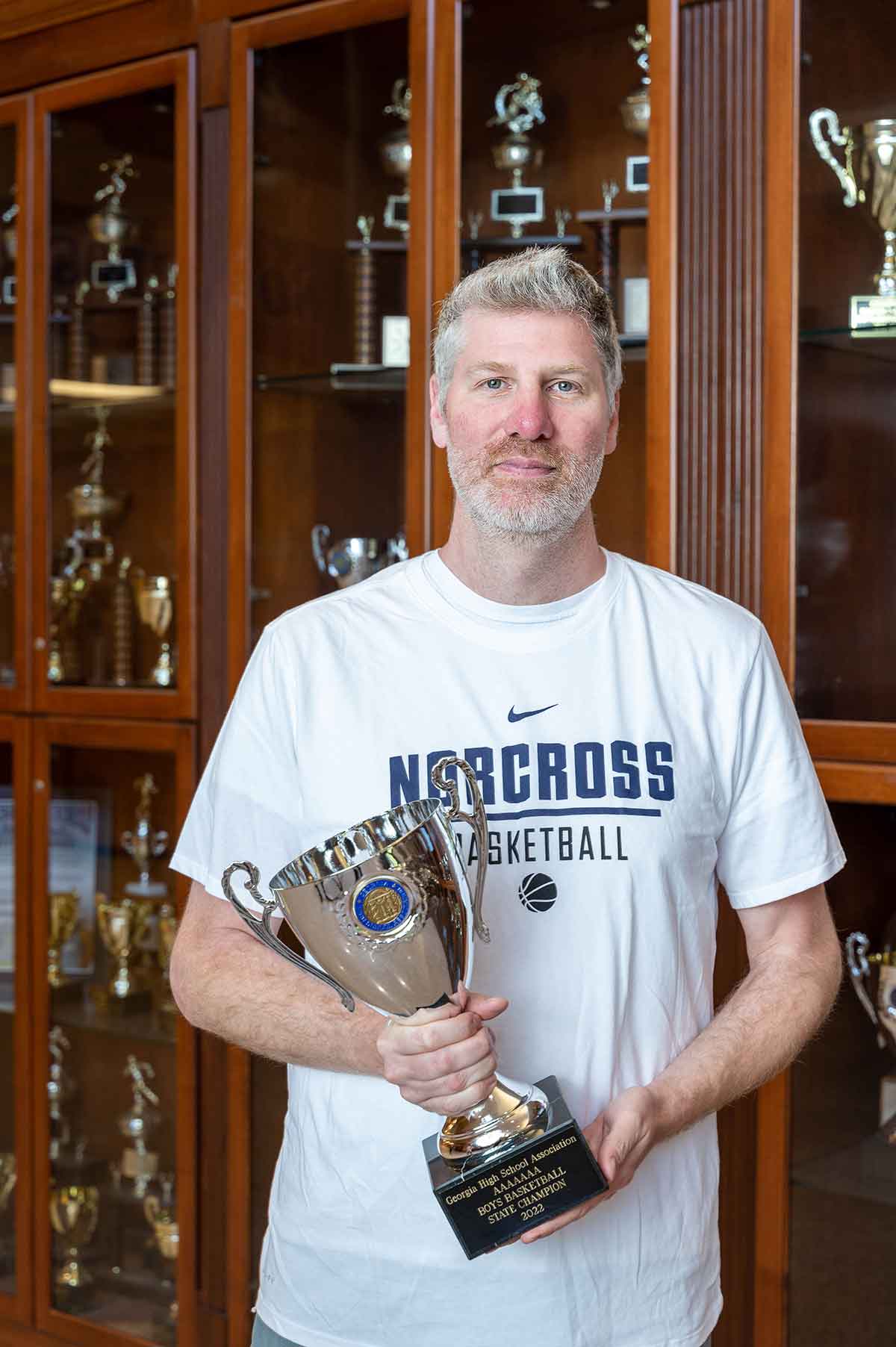 "I thought maybe our window had closed," McMillan said.
But the boys' and girls' basketball teams put those fears to rest in March when they both found their grooves and made runs to the state championship games in Macon, Ga. The boys knocked off Berkmar 58-45, and the girls outlasted Harrison High 41-37 to claim the sixth overall title for the boys and the fourth overall for the girls.
"I've spent my adult working life here at this school, so it's something I personally take great pride in," McMillan said. "It's a community thing for us. I was an assistant coach when we started this run of success, and it's been a lot of pressure at times to maintain that because you want to keep the program at the level it's accustomed to. It was hugely rewarding for me to win that championship and get back to where we should be."
If winning another title was important for the boys' program, it may have been even bigger for the Lady Blue Devils. For the last 15 years, the team has been synonymous with Angie Hembree, who retired from coaching due to health concerns in 2018. To fill Hembree's shoes, Norcross athletic director Kirk Barton brought in Ashley Clanton, who played as a point guard at Penn State and DePaul before starting her coaching career in Chicago.
Clanton didn't know much about the high school basketball scene in Georgia, but in three seasons she has catapulted the Lady Blue Devils back to the top spot in Georgia's highest classification.
"It's one thing for one coach to come into a school and win a state championship, but to have two separate coaches win at the same school, that means the school itself has some things in place that are working," Barton said. "It speaks volumes to the community and the kids who are here."
Making the right hires
Clanton is just one in a line of impressive hires Barton has made since he became the school's athletic director in 2007, and former athletic directors Mike Emery and Nathan Franklin made before him. When he makes a hire, Barton said the most important things he looks for are a coach's ability to teach and their potential for longevity in establishing a winning program.
"I think the most important thing we do as athletic directors is hire good coaches," Barton said. "I've never fired a coach for wins and losses. We've let people go for not doing right by the kids. When you do right by the kids, wins and losses tend to take care of themselves. I think that's the biggest reason we've been successful is that we've had a lot of coaches in place for a long time."
The longest-tenured of those coaches is head football coach Keith Maloof, who took the job at Norcross in 1999 after three successful seasons at Tucker. Maloof laid the foundation for not only a successful football program, but a successful athletic department, Barton said.
Before Maloof, Norcross football had only two 10-win seasons in team history. By 2005, the Blue Devils went 7-4 and made the state playoffs for the first time since 1994. The next year, they went 12-1, with their only loss coming in the state quarterfinals. Since 2005, the Blue Devils have won back-to-back state titles in 2012 and 2013, have only missed the state playoffs once and have had six seasons with 10 or more wins.
The next big hire came in 2002, when former athletic director Emery persuaded Eddie Martin to come to Norcross after spending 20 seasons and earning 350 career wins at Brookwood.
The impact was instantaneous. Martin led the Blue Devils to the state quarterfinals in his first season. Two years later, Martin and the Blue Devils won their first of three consecutive titles. By that time, Barton, who came to Norcross as an assistant football coach under Maloof, had taken over as athletic director.
     As far as coaches were concerned, Barton was set at football and boys' basketball — until Martin delivered him some unexpected news. He had accepted the head coach opening at Greater Atlanta Christian, where he went on to win four more state titles before moving over to Buford, where he led the Wolves to two state championships. He finished his high school career with nine state championships and 852 wins and is now an assistant coach at Georgia Southern.
Barton interviewed several candidates from in-state and out-of-state to replace Martin but gave the job to Martin's top assistant, McMillan, who was originally hired by Martin's predecessor, Dave Corder.
"Coach Martin is still one of my closest friends and my coaching mentor, but as an assistant coach, you're never prepared for what goes into coaching a high-level program," McMillan said. "You think it might not take as much work for it to happen, but then you realize everything that goes into it. It's a daunting experience when you're younger.
"I think it was finding a balance of things. Not too many things had to change in regard to system and expectations. It was trying to connect to the kids differently. I had only been seen as the assistant coach, so it was trying to find ways to change that perception."
Just a year before, former athletic director Nathan Franklin, who served in the position for less than a year before accepting another position, and former principal Jonathan Patterson, made another splash hire by landing Hembree, who had won three state titles at Collins Hill and coached WBNA superstar Maya Moore before coaching at the University of Miami as an assistant for three seasons.
Barton said he learned Franklin and Patterson had heard Hembree was interested in coming back to the Atlanta area, and they immediately picked up the phone. Barton took over as athletic director later that year, and it didn't take long before he realized they had made the best possible hire.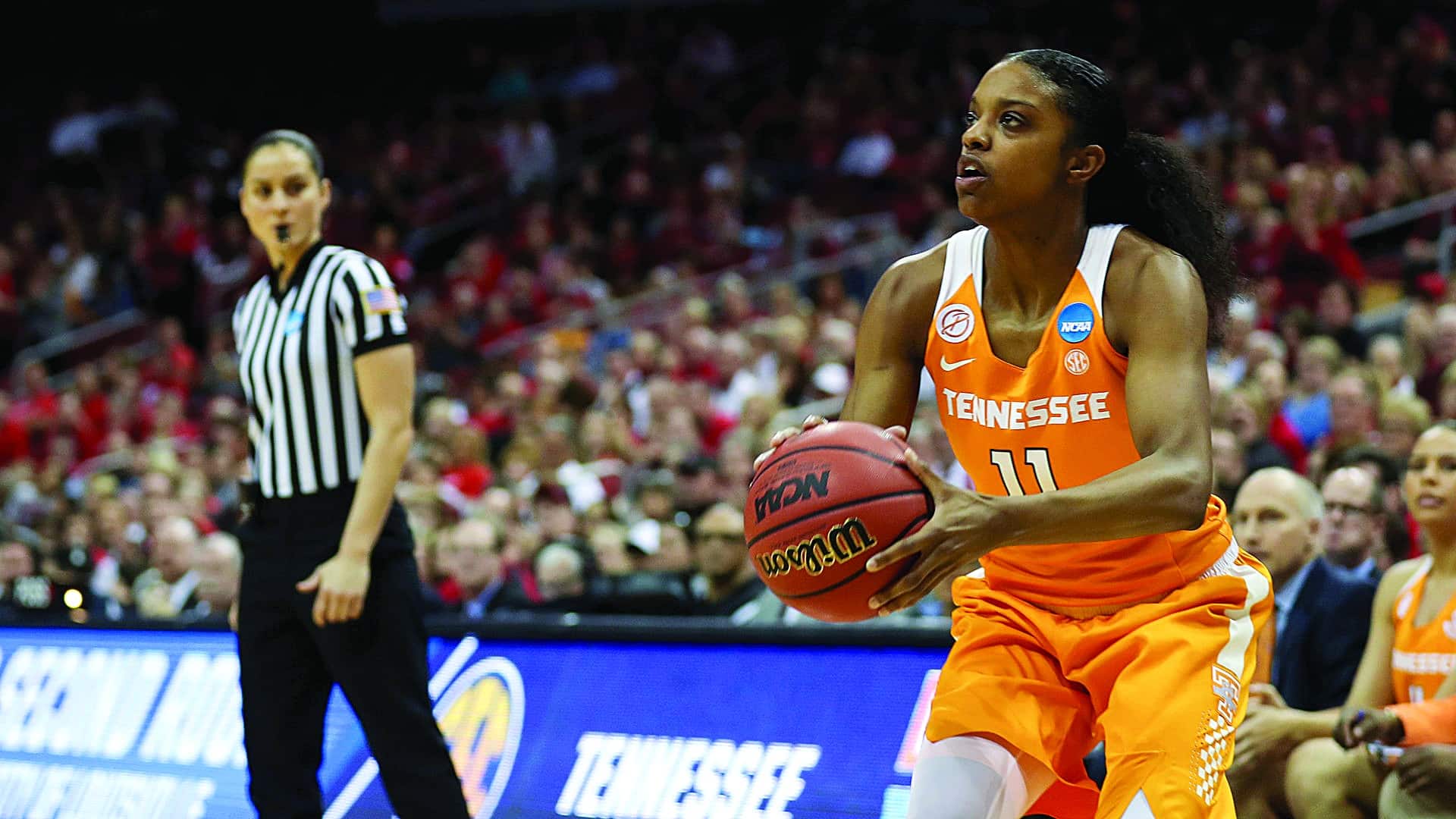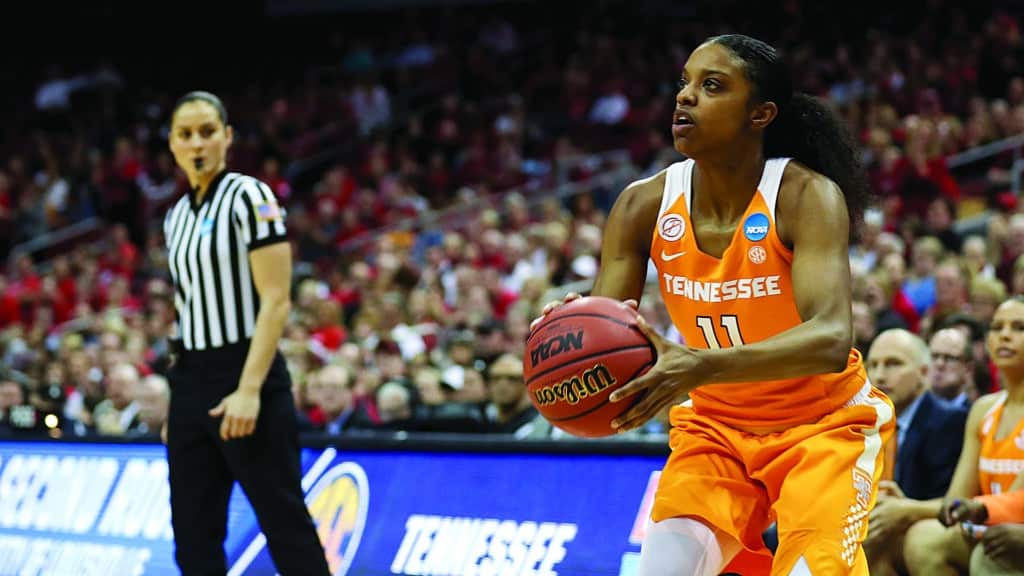 A year later, a young player named Diamond DeShields walked through the doors as a freshman, and a new dynasty was created. DeShields became the school's all-time leading scorer with 2,324 career points and went on to star at the University of Tennessee and later became the third overall pick in the 2018 WNBA Draft. She now plays for the Phoenix Mercury.
With DeShields leading the way, the Lady Blue Devils won state titles in 2010, 2011 and 2013, giving Hembree six titles for her coaching career. Meanwhile, McMillan led the boys to state championships in 2011 and 2013. The latest championships in 2022 became the third time the boys' and girls' programs have won state in the same season. Norcross is the only school to do that in Georgia's largest classification.
"It really is unbelievable that we've been able to do that multiple times," McMillan said. "It really comes down to that there's a culture within our entire school and there's an expectation for success in all of our programs. The players may be different, but most years we've been very comparable in our level of success."
Supporting one another
In the 10 seasons that Hembree and McMillan coached together, from 2008-2018, the girls' basketball team compiled a 265-48 record with three state titles, and the boys went 253-59 with two championships. McMillan said the two programs have always had a supportive relationship built on mutual respect between McMillan and Hembree.
"It was fun having great teams with her. Boys' and girls' programs are separate to an extent, but you're still in the gym together, you're still on the road together," McMillan said. "It's huge when the two coaches are on the same page and see eye to eye and know what they want to do with their programs.
"I've been at other schools where there is a bit of disconnect between the boys' and girls' programs, so when the kids see the adults acting like adults and working together and respecting one another, our guys respected everything Coach Hembree did because of our relationship."
Even though Hembree has since retired, that relationship and respect between the two programs has carried over with Clanton helming the girls' program.
"This past year, I feel like our relationship has grown tremendously," McMillan said of Clanton. "She's very impressive. She came from out of state, didn't have experience or background with our history or culture. She's hit the ground running and done it her way. The girls absolutely love her."
Clanton had ties to the area, and she said the move was right for her because her husband was already working for an Atlanta-based company that often required him to travel from Chicago. Her brother, RJ Luke, is the defensive line coach at North Gwinnett High school.
The biggest challenge for Clanton was being hired just before the COVID-19 pandemic began, and McMillan said the boys' and girls' teams didn't practice much together. That changed this past season, and neither coach believes it's coincidence that the result was two more championships.
"We work really well together," Clanton said of McMillan. "I think we're both quiet people in general. I think we both respect what each other is doing.
"I like to take credit for his wins because I feel like my girls had a positive impact on his boys, and he likes to claim the opposite. They really helped nurture each other in a way. I think there's a competitive nature between the two groups, too. If one won a big game, the other had to match them."
When Clanton first arrived at Norcross, she started learning about the school's history of success in athletics and sought out Hembree to understand the girls' program and expectations.
"I sat and spoke with her quite a bit when I first got the job," Clanton said. "We talked x's and o's, everything under the sun.
"I've taken over a couple of programs in the past that weren't as successful and you have to build it up, and that takes a lot of work. I almost think it's a bigger challenge. I think that's what's most exciting to me. People say, 'You're going into a program that's been so good for so long; must be easy.' This is the tougher thing to do."
Clanton runs her program her own way, and the players have responded to her, but that's something that couldn't be done without the support of Barton and the other coaches at the school, she said.
"It's a winning culture, something we take a lot of pride in," she said. "You've got a lot of people with a lot of years under their belt. I like to sit with other coaches and talk about what they're doing. Having a lot of people with a lot of success and experience around you isn't going to do anything but make you better."
Stars in the halls
Starting with Martin's tenure as boys' basketball coach, Norcross athletics has seen dozens of athletes move on to successful college athletic careers, and more than a few have played or are playing their sport professionally. Jodie Meeks, Al-Farouq Aminu and Gani Lawal all played under Martin and were first- or second-round NBA draft picks. Meeks played collegiately at Kentucky, while Aminu starred at Wake Forest and Lawal played at Georgia Tech.
McMillan's tenure saw the rise of Jeremy Lamb, who led Connecticut to the 2011 NCAA national championship and currently plays for the Sacramento Kings, and
Jordan Goldwire, a standout guard at Duke and Oklahoma.
Hembree had DeShields, former Ohio State star and current Connecticut Sun forward
Shayla Cooper and Dearica Hamby, who became the all-time leading scorer and rebounder at Wake Forest and was the No. 6 overall in the 2015 WNBA draft. She plays for the Las Vegas Aces and was named the WNBA Sixth Woman of the Year in 2019 and 2020.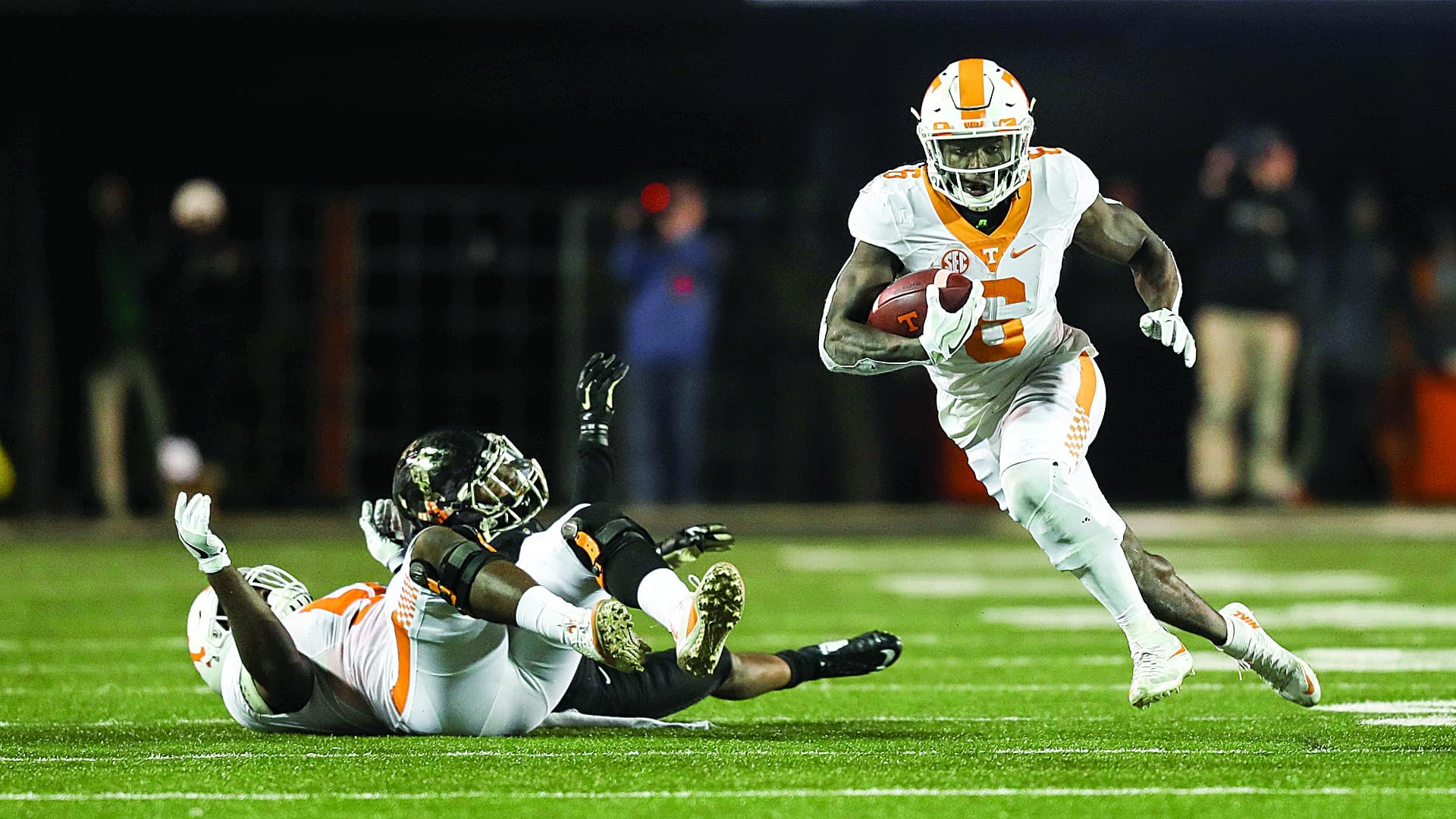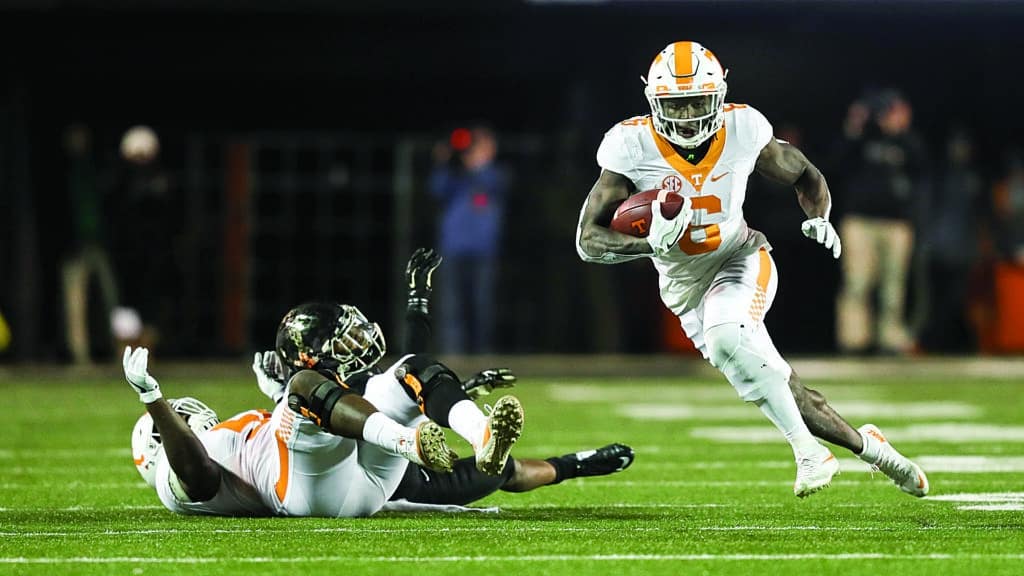 Maloof coached nine players who would go on to play in the NFL, including New Orleans Saints star running back Alvin Kamara, New York Giants defensive end and former University of Georgia standout Lorenzo Carter and New York Giants offensive guard and former University of Florida star Max Garcia.
"That really shows the mix of the kids at this school," Barton said. "At that time, we had, I want to say, five NFL players on campus, two NBA players, three WNBA players and a professional male golfer and a female professional golfer, all at the same time.
"We probably should have enjoyed it more than we did, but we had to wait four or five years down the road, and then all of a sudden — wow! we had a lot of talent walking down those halls at that time."
Measuring success
Barton knows that athletic success expands beyond just the big three of football, boys' basketball and girls' basketball. He makes sure everyone remembers the golf team was the team that made 2013 even more special with their state championship. He believes the volleyball team, which has won four straight region titles, is close to competing for state championships. Boys' tennis made it to the state quarterfinals this season. He believes the right coaches are in place at every program.
"We keep working," he said. "I've got good coaches in those positions. They're just a step away, and hopefully they'll be able to get there soon."
But as it is, Barton also knows very few schools have accomplished what Norcross has over the last two decades, and he hopes this era is just the foundation for the success they'll see in the future.
"Norcross has a very different dynamic about it," Barton said. "I've had people tell me Norcross High School is not like any other school, and I believe it."
---
NHS State Championship Teams (Since 2005) 
Boys' basketball 2005-2006 Head coach Eddie Martin
Boys' basketball 2006-2007  Head coach Eddie Martin
Boys' basketball 2007-2008  Head coach Eddie Martin
Girls' basketball 2009-2010  Head coach Angie Hembree
Boys' basketball 2010-2011  Head coach Jesse McMillan
Girls' basketball 2010-2011  Head coach Angie Hembree
Football 2012  Head coach Keith Maloof
Boys' basketball 2012-2013  Head coach Jesse McMillan
Girls' basketball 2012-2013  Head coach Angie Hembree
Boys' golf 2013  Head coach Chris Hall
Football 2013  Head coach Keith Maloof
Boys' basketball 2021-2022  Head coach Jesse McMillan
Girls' basketball 2021-2022  Head coach Ashley Clanton
---
Notable NHS Players
Alvin Kamara | Football | 2008-2012
■ Current running back for the NFL's New Orleans Saints
■ Tallied 4,238 rushing yards and 47 rushing TDs along with 3,263 receiving yards and 20 TD receptions in five seasons with the Saints
■ First running back in NFL history with at least 500 rushing yards and 500 receiving yards in first four seasons of his career
■ NFL Offensive Rookie of the Year | 2017
■ Drafted in the third round at No. 67 overall in the 2017 NFL Draft
■ Finished with 1,168 all-purpose yards and 13 touchdowns as a junior at University of Tennessee
■ University of Tennessee | 2015-2016
■ Hutchinson (Kansas) Community College | 2014
■ University of Alabama | 2013
■ Under Armour All-American Game participant | 2013
■ Member of the 2012 Norcross football state championship team
■ Rushed for 2,265 yards and 26 touchdowns senior year in 2012
Diamond Deshields | Girls' basketball | 2009-2013
■ Current member of WNBA team Phoenix Mercury
■ Third overall pick in the 2018 WNBA Draft (Chicago Sky)
■ University of Tennessee | 2014-2017
■ Averaged 17.3 points, 6.6 rebounds and 3.8 assists per game as redshirt junior
■ University of North Carolina | 2013-2014
■ ACC Rookie of the Year at the University of North Carolina
■ Naismith Girls' High School Player of the Year | 2012-2013
■ McDonald's All-American | 2012-2013
■ Member of 2009-2010, 2010-2011, 2012-2013 Norcross Girls' basketball state championship teams
■ Scored a school record 2,324 points in her Norcross career
■ Scored a school record 858 points in her senior season
■ Made a school record 125 assists in her senior season
■ Made a school record 148 steals in her senior season
Jeremy Lamb | Boys' basketball | 2007-2010
■ Current guard-forward for the NBA's Sacramento Kings
■ Averaged a career best 15.5 points per game and 5.5 rebounds per game as a member of
the Charlotte Hornets
■ Drafted No. 12 overall in the first round of the 2012 NBA Draft by the Houston Rockets
■ Member of the 2011 University of Connecticut men's basketball national championship team
■ Averaged 17.7 points and 4.9 rebounds per game as a sophomore at UConn
■ Averaged 20 points and 6 rebounds per game at Norcross
Max Garcia | Football | 2006-2009
■ Current offensive guard for the NFL's New York Giants
■ Drafted 133rd overall in the fourth round by the Denver Broncos in 2015 NFL Draft
■ Member of the 2016 Denver Broncos Super Bowl 50 championship team
■ Started 32 consecutive games over the 2016 and 2017 seasons
■ University of Florida | 2012-2014
■ University of Maryland | 2010-2011
Tiffany Clarke | Girls' basketball, track and field | 2005-2009
■ Vanderbilt University | 2009-2013
■ Associated Press First-team All-SEC selection | 2012-2013
■ Ranked third in the SEC her senior season in scoring (16.6 points per game) and rebounding (8.5 points per game)
■ Owns Norcross school record with 450 rebounds in a season
■ 858 career rebounds at Norcross are fourth-most in school history
■ Collected 23 rebounds in one game her senior season
■ Set school records for most blocks in a game and in a season
■ Won the Class 5A triple jump state title and became the first female student-athlete at Norcross to win a track and field state championship