Jane Park, Women's Golf and the 67th KPMG Women's PGA Championship [Podcast]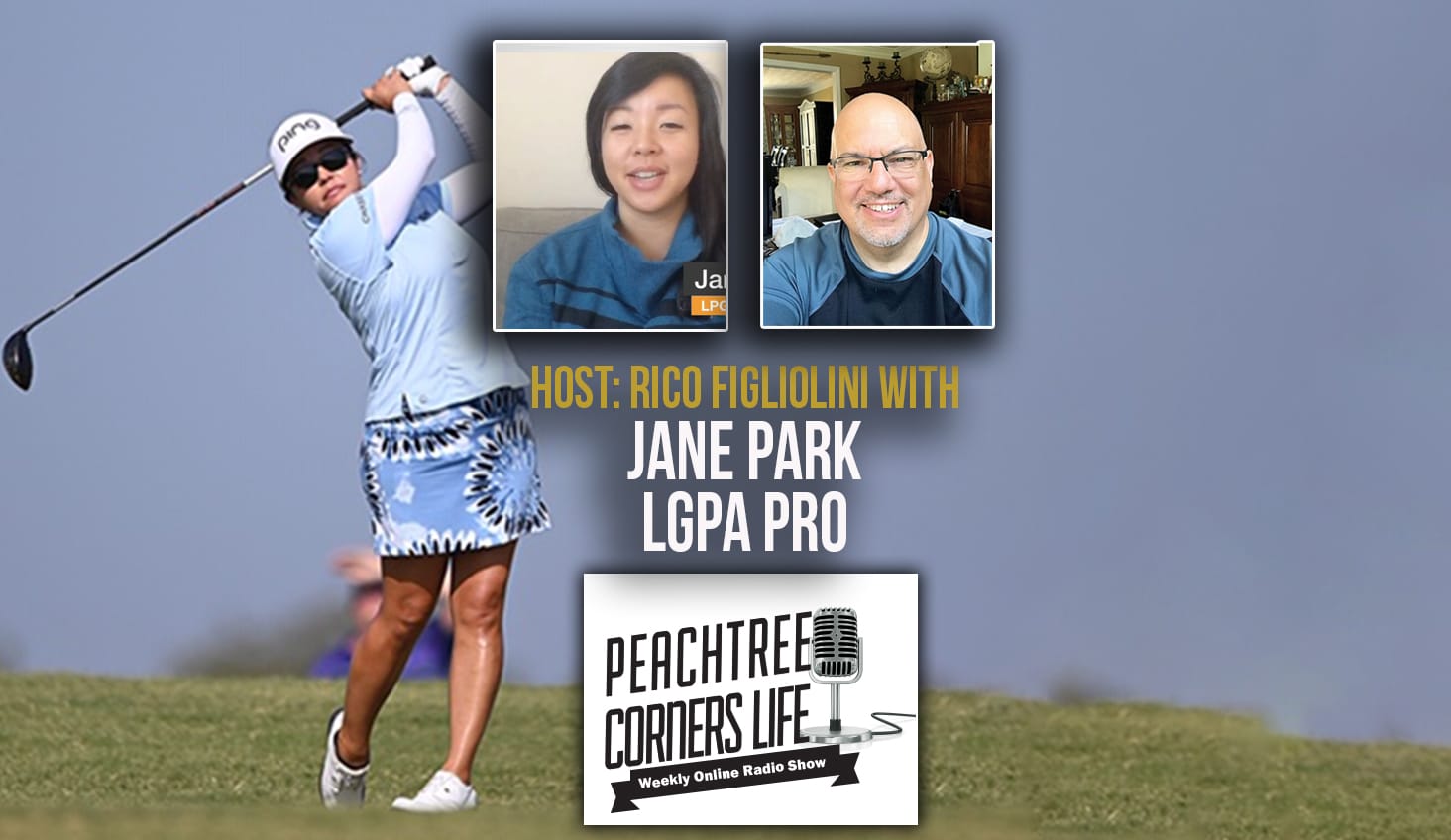 In this episode of Peachtree Corners Life, Rico Figliolini video chats with Jane Park, pro golfer and upcoming player in the 67th KPMG Women's PGA Championship. Coming to Atlanta in 2021, this championship golf tournament will have the largest purse in women's golfing history. Listen in as Rico and Jane talk about her history in the sport, training at a young age, her preparation for this historic event, and her life in Georgia.
But, obviously, with the work that KPMG does with their leadership summit and their charitable initiative to help future girls get development and advancement and empowerment through women's golf. It could be a great stepping stone to empowering little girls and women and helping us maybe reach that equal pay in the golf life.

jane Park
Major championship golf returns to Georgia in 2021 when the Atlanta Athletic Club hosts the 67th KPMG Women's PGA Championship. The event combines an annual major championship with the KPMG Women's Leadership Summit and an ongoing charitable initiative called the KPMG Future Leaders Program – all focused on the development, advancement, and empowerment of women on and off the golf course.
Founded in 1898, this will be the second women's major championship hosted by Atlanta Athletic Club, which was the site of the 1990 U.S. Women's Open, won by Betsy King. The 2021 KPMG Women's PGA Championship will be played on the Highlands course, which has also played host to three PGA Championships – 1981 (won by Larry Nelson), 2001 (David Toms) and 2011 (Keegan Bradley) and the 1976 U.S. Open won by Jerry Pate.
The KPMG Women's PGA Championship – a collaboration between the PGA of America, KPMG and the LPGA – offers a purse among the highest in women's golf. It is broadcast in partnership with NBC and Golf Channel.
Podcast Transcript
The championship began in 1955 and was known as the LPGA Championship from 1955 to 2014. Since 2015, the KPMG Women's PGA Championship has been played at Westchester Country Club, Sahalee Country Club, Olympia Fields Country Club, Kemper Lakes Golf Club and Hazeltine National Golf Club. The 2020 championship will be played at Aronimink Golf Club in Philadelphia with Australia's Hannah Green defending her title against the strongest field in golf.
Rico: [00:00:30] Hi everyone. This is Rico Figliolini, host of Peachtree Corners Life here in the city of Peachtree Corners in the great state of Georgia. Today this morning, at nine'o'clock. If you're listening in soon, we're starting with a really cool guest. She's been in the pro golf business, if you will, for, since she was 11 years old. So I'm going to introduce Jane Park with me. Jane Park. Hey, Jane. Jane is a pro golfer with the PGA. Great. Thank you. And we're discussing today, the reason we're talking, she lives in Woodstock, close enough to Peachtree Corners that we could say she's, she's part of the city, if you will. And because there's going to be a returning championship that she's going to be part of coming in 2021 and coming just a few minutes North of us at the Atlanta Athletic club, and that's the 67th KPMG women's PGA championship that's returning to Georgia. It's actually going to have the largest, a women's purse, I think right.
Jane: [00:01:44] Yes. One of the largest women's purses. First place is $645,000. So that's a good.
Rico: [00:01:55] That's a great pay though. Yes, for sure. And I think the whole purse takes like 3.8, 5 million.
Jane: [00:02:02] I think it's about 4.3 million..
Rico: [00:02:05] Wow. Okay. That's grown even more than before. So this is the largest Women's purse, if you will, in history it seems.
Jane: [00:02:16] I think there's one that's slightly bigger, but this is definitely one of the biggest.
Rico: [00:02:21] And that's a shame because really, I mean, since title I forget, was titled on a title 11. Women have, girls have grown into sports like soccer and other sports coffers. No, no different than that. I believe there are high schools that have women's golf teams in stuff, and yet the purse's continued to be smaller than the men's it seems sometimes. And I, and I'm sure you would love to see that a little bigger.
Jane: [00:02:51] Yeah, for sure. For sure. Maybe a, you know, one day. One day the ladies can play for just as much as the men, but unfortunately, I don't think I'll see it in my lifetime. But, obviously, you know, with the work that KPMG does with their leadership summit and their charitable initiative to help, you know, future girls get, you know, development and advancement and empowerment through women's golf. It could be, you know, a great stepping stone to empowering little girls and women and helping us maybe reach that, you know, equal pay in the golf life. So hopefully one day.
Rico: [00:03:34] Yeah, that would, that would be the right way of going. Now you, you started, you're born in Chicago. You started at 11 years old putting cuffs with, tell me a little bit about that.
Jane: [00:03:50] I was at a law firm was the, well, you know, when I first started I didn't really have a love for the game. My older brother was playing. He's three years older than I am and he was playing and had my dad as a coach. So I pretty much just followed along. And, it was kinda my dad to take me to the golf course and babysit me. So I just got super bored one day just rolling down the hills, you know, like being a kid. So my dad just put a club in my hand and I guess I was a natural when I first started. So he focused his attention, he shifted his attention from my brother to me. So that's kind of how I got started. You know, hitting a couple balls a day and then kind of making it, you know, hitting more balls, every day. But you know, eventually I wanted to get a scholarship to school. She's a big Heller family and my goal was to get to UCLA and I was able to reach that goal, so I was very happy about that.
Rico: [00:05:04] Well that paid for college, and I'm assuming that.
Jane: [00:05:07] Yes, yes, it did. It did. Yeah.
Rico: [00:05:11] I'm curious now, because obviously you're the natural in the family, it seems that your brother's still like, does he play golf still?
Jane: [00:05:22] He does not, I beat him. I think that was when his love for the game kind of went, okay, well if my little sister can beat me, then I probably shouldn't really do this anymore. Wow.
Rico: [00:05:36] That's cool, yeah. Every kid in the family is different. You know, they all, we all have different aspirations in silence. God knows I have three kids and they will differ from each other. Well, they're older now, so think of this. They will graduate and they live at home, but you know, it's okay. I don't mind the noise around the house. But the, so you, I think, you've been playing for 13 years now.
Jane: [00:06:08] Yes. So this'll be this coming 2020, will be my 13th season. So 13th year on the professional tour.
Rico: [00:06:17] I'm sure at the beginning it wasn't that easy. Right? I mean, a lot more practice.
Jane: [00:06:21] You know what, I actually got really lucky my first few years. I actually had a few good results and I didn't really go through the growing pains, if you might say. You know, being a newbie on tour. But, you know, the growing pains came a few years after where when I thought, you know, "Oh, I played so well my first few years. It's just going to be a smoother ride from here now." But, you know, all golfers will know that you go into kind of slumps and you know, you play well a few weeks and then all of a sudden the next week, you can't. Even make contact with the ball sometimes. So, you know, it's definitely been a learning process. I definitely learn something different every year that I'm on tour. And I'm very, very thankful that I've been able to have, you know, a pretty relatively long career out here on the LPGA compared to, you know, some of the other players on tour.
Rico: [00:07:28] You know, it's interesting to me. I mean, I'm sure you know, you would think younger people, I mean, you're not old. You're young still 24 maybe or something. Are you like 23?
Jane: [00:07:42] 33
Rico: [00:07:46] Oh well, sorry.
Jane: [00:07:48] That's okay. It's very flattering.
Rico: [00:07:52] But still 33 is not old.
Jane: [00:07:53] I mean, you know, it's not in golf age. I'm pretty ancient actually.
Rico: [00:07:59] Oh, man. All right. Well, you know what? It's like the Alta tennis players right there. They age at 70 they'll still be on the court as long as they could spot that ball. So, you know, learning every year, new things I used still. So do you, I heard that recently you were being coached by someone here in Georgia as well. The, does that help having, is it like anything else? Like, you know, sales is like that. Other sports is like that where you need to revisit to a coach to teach you a little bit more?
Jane: [00:08:35] Yeah. I think it's itself, it's all part of, you know, as a professional, you're trying to reach perfection and obviously it's not possible. But the aspect of trying to get better every day, if you need someone to kind of guide you, because if I'm doing it, if I'm doing this all on my own, then I honestly don't really have, I don't really have enough knowledge to teach myself. So having someone who, and my coach, his name is Scott Hamilton, and he's up in Cartersville, Georgia. And he's, he teaches many, many players on the men's tour and a few on the women's tour as well. But he's so knowledgeable and just kind of gives me, you know, a drill or two to work on between our lessons. So it just kinda, it's almost like kind of keeping someone interested with a little tidbit to work on, you know, so you know, if he didn't have any type of guidance or any type of direction then it would be hard to really work on something to improve yourself.
Rico: [00:09:46] So every young person or parent watching this as they have young kids at sports, they know that they need a coach somewhere.
Jane: [00:09:54] But also you can't have, you need to be careful that you don't find the wrong coach. Cause there's a lot of them out there.
Rico: [00:10:01] Oh yeah. With thanks. Just like any other business. So, when you started out younger than, I mean, your dad was your initial coach, I guess. When did you actually get a coach? A real, not a real coach, but like a professional coach. At what point did that happen
Jane: [00:10:21] You know, I was very lucky in that my father was a huge golf nerd. And he read every single book known to man. And, you know, in terms of golf. So he read, you know, Jack Nicholas, his book, he watched videos and tapes and he learned the fundamentals that way. And, you know, just like any other sport, the fundamentals are the most important foundation of whatever game you're playing. So he had, he was very knowledgeable in terms of trying to teach me those basics and you know, got me pretty far. But my first coach was, his name is Scott Wilson, and I started working with him when I was about 15. So I would say I had my first PGA professional coach at 15. So, yeah, in a long time since then.
Rico: [00:11:19] You do you have, do you do, if you had, I don't know if you have children yet or not, and if you do, if you end up, would you encourage them to be in the same sport?
Jane: [00:11:32] Absolutely. I think, I would. My husband is actually is super into golf. He's actually a golf caddy on the women's tour, so we get to travel together. But yes, he loves golf. And I think he would love nothing more than to go play golf with his little girl or his little boy.
Rico: [00:11:53] Right, right. Yeah, that would be cool. Yeah let's get back a little bit to the KPMG and then we'll talk a little bit more about that. You, your growth as well, but I don't, I just want to make sure that we cover the championship well enough here. Tell me a little bit more about the KPMG women's PGA championship that's going to be coming in 21 to Georgia, to the Atlanta athletic?
Jane: [00:12:18] Well, the KPMG women's PGA, it's one of five LPGA majors and the men only have four majors, but you know, the ladies, we've got five. So I mean, that's a little better, I guess. It's a pretty unique collaboration of the PGA of America, the LPGA and KPMG. And for, I think it's, I think this is going to be its sixth year as a major. But they basically, you know, the three of them. The three, PGA of America, LPGA and KPMG come together and just host this world class event. And the first time I played the KPMG, I think, I remember thinking to myself, wow, I feel like a PGA tour player, which is. You know, it's an experience that you can never get unless you were a player in a PGA tournament. But you know, from beginning to end, it's first-class. We get, you know, our own courtesy car. They have world-class chefs that come in and cook for us. Breakfast, lunch, and dinner. I mean, I just, I'm getting hungry thinking about it now. But, you know, 2016 was its inaugural KPMG event. The first KPMG women's PGA and, you know, it's one of the strongest fields in all of the LPGA schedule. And yeah, I mean, there, it's going to be broadcasted on NBC and golf channel. It's going to be on some major networks and you know, pure, if you're out in the Atlanta area and if you want to see some really great golf, please come to Atlanta athletic club in 2021 and we're giving you a very large heads up on this, so there's no reason you can't make it.
Rico: [00:14:23] Yes. The, they've had some big tournaments at the Atlanta athletic club.
Jane: [00:14:31] Yes.
Rico: [00:14:32] I'm looking forward to it. I'm not, you know, anyone that knows me, I'm not a golfer per se, but I can drive the ball a little bit. Prof is good for me, but I don't mind being on the green watching. That'll be cool to be up to be out there. So are you, you know, you have, you have two years or a year and a half, I guess, working towards that. Right? There's going to be 400 players, the guests that run through that now. So what are you planning on doing to get ready for it?
Jane: [00:15:08] Well, I'm, I mean, I've played the Atlanta athletic club I think only once or twice. And it's quite far from where I live. But I might be making a few trips over there. There's obviously so much history there. It goes into the golf course. It's got a world-class practice facility, which is amazing. And they've hosted, you know, numerous men's majors and, you know, their most recent men's major that they held at this course was won by Keegan Bradley, the PGA championship in 2011. So, and they also had the U.S. men's amateur championship there in 2014. So it's definitely one of those major championship rotation golf courses.
Rico: [00:16:00] So if you've, for parents that have young kids maybe interested in golf and stuff, or sports, but golf in particular, probably. What would you say to them? What would the, what would Jane Park's advice be?
Jane: [00:16:17] My advice would be a few things. Find a good coach, someone who's knowledgeable, someone who knows what they're talking about. But mostly, I would say make the sport fun for your kid, because obviously, you know, a lot of, a lot of kids and parents and kids have a goal, maybe more of the parents school to, you know, get them, get the kid in a sport and get a scholarship to college, which is huge. But you know, even if the kids' aspirations are just to get a college scholarship, that it's a lot of pressure to put on a kid. And, I've seen so many young players, young talented players who just get burned out so quickly because of the pressure that they feel from their parents, from their coaches. And just, you know the kids are very, very competitive nowadays. I don't know if you've noticed, but kids are very competitive and that's not a bad thing. But I think a lot of positive energy and a lot of, you know, the right type of support, you know. Be a parent and let someone else be the coach because I've seen this way too many times where the parent becomes the coach and there is no distinction between a parent and a child. It's just a parent and a coach, or sorry, a child and a coach.
Rico: [00:17:49] That makes a lot of sense. Yeah. I've had my kids go through baseball, soccer, lacrosse, if it's sports. You learn better, I think a child learns better from a coach than this sometimes. Cause you take it, it's a different space to take it
Jane: [00:18:07] 100%.
Rico: [00:18:08] Yeah. I can agree with that. Just a couple of… We're getting towards the end of our time and I want to be able to let you go on time, but I thought maybe we should, we could go
through a couple of quick things. Jane Park and her personal interests and stuff. Do you have a dog?
Jane: [00:18:30] I don't have a dog.
Rico: [00:18:31] You don't have a dog.
Jane: [00:18:33] I cap away too much, so I can't take care of a dog.
Rico: [00:18:40] Do you have a favorite food or foodie thing that you want?
Jane: [00:18:42] I am a foodie. I honestly, whenever my mom's around when she's around right now, she's here in my house. I ate Korean food for breakfast, lunch and dinner. My mom was born in Korea. Yes.
Rico: [00:19:00] You get to eat authentic Korean.
Jane: [00:19:02] I will not turn down a Chicago deep dish though. I mean, you put that in front of me and it will be gone.
Rico: [00:19:09] Chicago?
Jane: [00:19:10] Oh yeah.
Rico: [00:19:10] Yeah. My parents were born in Italy, so growing up with the town.
Jane: [00:19:15] Wow. I'm so jealous. I've never been to Italy and it is on my bucket list and I just eat pasta.
Rico: [00:19:23] You need to go. She's telling me she took the year off and she traveled the world and her favorite, one of her favorite places was Italy. So actually it's not, we need some, sorry, she's Korean. Her husband is so different. Are you a waffle house fan?
Jane: [00:19:39] Yeah. I have one that's almost walkable to my house. Oh, real big.
Rico: [00:19:44] Cool. What's your favorite part of Georgia? Do you like about your, what? Why did you move to Woodstock?
Jane: [00:19:53] Well, honestly, my favorite part of Georgia is we get four seasons here. And so I moved here from California, and obviously it's beautiful in California. It's 75 and sunny every day. But, you know, moving here, I saw snow, you know, for, not for the first time, but I mean, coming from California, you never really see snow. But, you know, waking up one morning and then having everything covered in snow, I mean, that's just, it's so beautiful. I love that we get
fall. I mean, fall is so beautiful and in the state of Georgia. But mostly, I mean, I came here because obviously the cost of living is great compared to California, but also, Atlanta Hartsfield is a great airport to my out of tour work. I mean, it's awesome everywhere, you know, nonstop.
Rico: [00:20:54] So it's definitely a hub for everyone. My son just left this morning to go to Miami I think for work and it's, it's a great place to go from. All right, hang in there for a minute. We're going to close it out through our Facebook live stream to our fans out there who share, if you all watching, this has been Jane Parks. She's a LPGA pro golfer. You can follow her actually. What did you, what Instagram?
Jane: [00:21:23] Instagram. I'm @TheJanePark. And on Twitter I'm the same @TheJane Park.
Rico: [00:21:29] the Jane Park. That's amazing that you got that. That was cool. So follow her on Instagram and you can scroll through until whenever, and you can see her playing in 2021, that the 60, 57th, KPMG women's PGA championship at the Atlanta athletic club. Thank you guys.
Nabilah Islam's Run for Congress, District 7 [Podcast]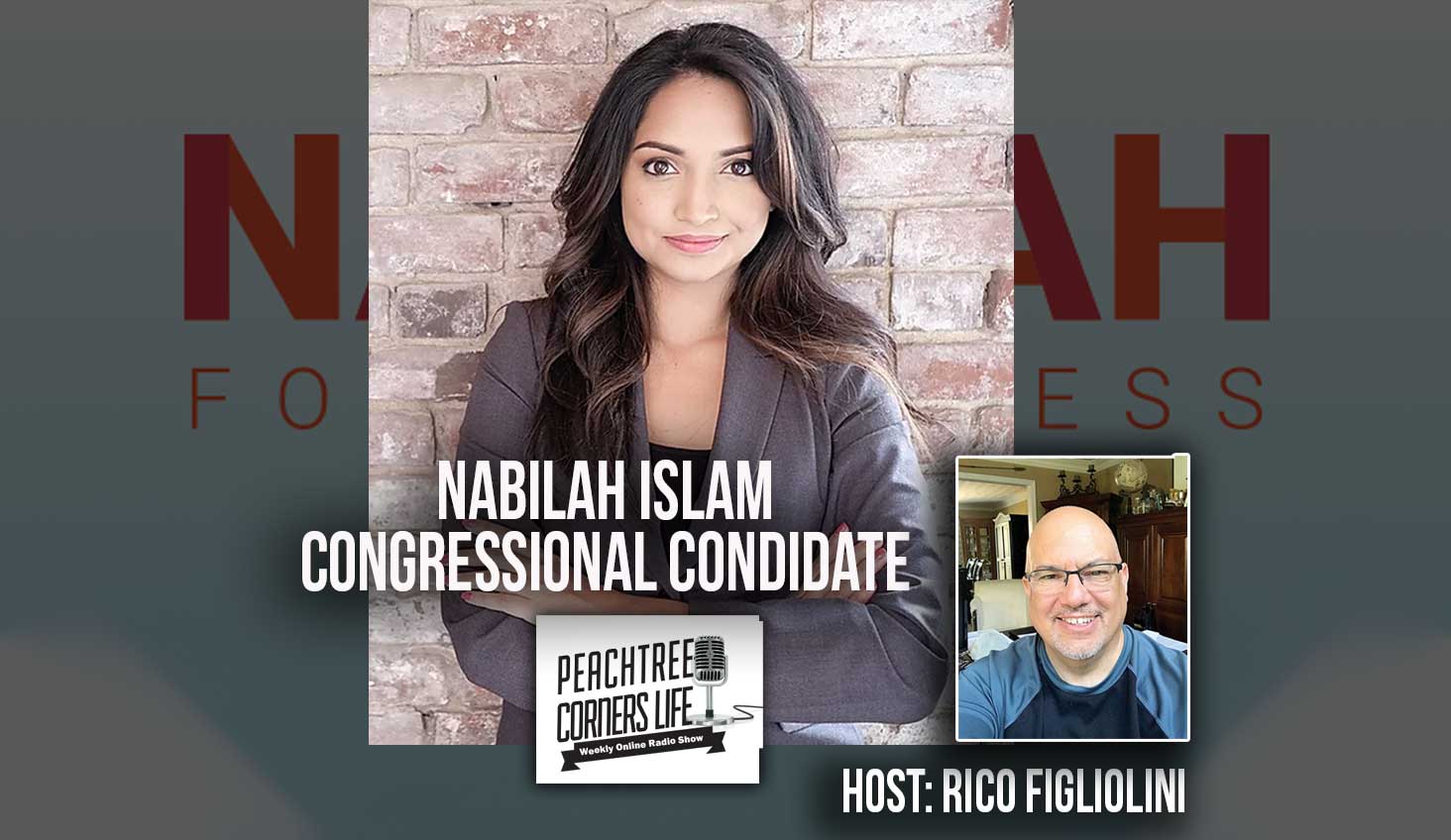 Summary:
On this episode of Peachtree Corners life, Rico Figliolini live streams with Congressional Candidate, Nabilah Islam to talk about her life, her family, and her campaign. Listen in as she shares her thoughts on the coronavirus, immigration reform, Medicare for all, and much more.
Resources:
Website: ​www.NabilahForCongress.com
Social Media:
https://www.facebook.com/NabilahForCongress
https://www.instagram.com/nabilahforga07/
@NabilahforGA07
"I talk about how we need comprehensive immigration reform, how we need a pathway to citizenship for the 11 million undocumented people in this country. We actually have the highest number of DACA recipients in Gwinnett County, in the entire state… I believe that they should be protected and they should have a pathway to citizenship as well. You know, these folks are our neighbors. These folks are startups, small businesses, and go to school with our children. So I feel like they should have a pathway to citizenship."

NAbilah Islam

Timestamp:
[00:00:30] – Intro [00:03:27] – Nabilah's Campaign History
[00:05:21] – More about Nabilah
[00:08:26] – Issues Nabilah is Fighting for
[00:09:02] – Her Opinions on the Handling of COVID-19
[00:11:38] – Immigration Reform
[00:15:40] – Medicare for All
[00:18:01] – More on Immigration
[00:21:41] – Education
[00:27:17] – The Presidential Race
[00:28:32] – Virtual Campaigning
[00:33:44] – Closing
Rico: [00:00:30] Hi everyone. This is Rico Figliolini, host of Peachtree Corners Life. I appreciate you guys joining us on this live stream shooting. Shooting, well, the streaming video streaming out of Peachtree Corners, the City of Peachtree Corners, one out. Before we get into it and tonight's guests want to just say, you know, be safe out there. Do what you are supposed to be doing. We're supposed to be making sure that we're not putting ourselves out there and letting us house via community hall. And I'm sure if you have it, if you don't have it, you don't want to catch it. Coronavirus is a real deadly pandemic and we should take this seriously. And in the coming days it looks like it's going to be even more serious, in the next 48 hours. We may even see this country locked down to a degree. I mean, they're moving towards that, right? And so the States have already done it. So sheltering in place in the Northern California, Northern Bay area for three weeks is mandatory, for example. So it's not beyond reason for us to see something like that happen on a national scale, which it probably needs to, because otherwise we're just reinfecting everyone as we cross state lines. So it's a good place to be. So I want to introduce one of our sponsors, Hargray Fiber. I want to say thank you to them for being a sponsor here. They are the backbone of one of the biggest places and icons in Peachtree Corners, which is Curiosity Lab at Peachtree Corners. It's a one and a half mile mobile track that is open to anyone to bring in their experiments, data, cars, anything that has to do with mobility, IOT to be able to use that track in a living lab. 5G enabled, the ability to do your work and discover how your product or service can do really well. So the backbone of that, but actually bringing in the internet through that, through for the 5G enabled set up is Hargray Fiber. So I just wanna do a shout out to them. HargrayFiber.com was where you can find them. So let's get to my guest tonight. We'll bring it right on. There you go. So my guest today Nabilah Islam, she is a candidate for Congress, District Seven. A couple of weeks ago we, interviewed Carolyn Burdell and, now Nabila Islam is another candidate in that race. So welcome Nabila.
Nabilah: [00:02:56] Rico, thank you so much for having me today, I appreciate it.
Rico: [00:02:59] Sure. Appreciate you coming on, especially with things going on. So how was your day today?
Nabilah: [00:03:05] Well, you know, I am being diligent about practicing social distancing in our campaign. I suspended all in-person campaigning. So I've just been virtually working with my staff and virtually campaigning and doing this podcast virtually as well. So, to be able to communicate with voters and make sure that we're still getting our message out.
Rico: [00:03:27] Right, now you've been involved in campaigns before. You said, what type of campaigns have you been involved in?
Nabilah: [00:03:34] I've worked on all sorts of campaigns. I actually got very interested in working on campaigns when, you know, growing up in Gwinnett County, I just felt like I never saw anyone that reflected the diversity of this County or the values that we have. And so I got right out of college, I worked on a city council campaign for a candidate named Andre Dickens. And he was a long time candidate and he ran a grassroots campaign and he was able to
overtake an incumbent. And I worked for Jason Carter when he ran for governor back in 2014. And then on a presidential race, I worked for Secretary Clinton when she ran for president. And then most recently I was at the Democratic National Committee, the DNC, to help rebuild a party after we lost to Donald Trump.
Rico: [00:04:23] All within the congressional district that you're in now or in various parts?
Nabilah: [00:04:29] In various parts. I did work, one of my first democratic campaigns was for Pedro Marine, House Democrat. He was, at the time, the only Latino Democrat in the entire state legislature and his district had recently been gerrymandered, and he was losing his seat. And I knocked on doors on his campaign, knocked on 2000, over 2000 doors, and luckily he won his reelection. So I did that. And, I also, rechartered the Gwinnett County Young Democrats back in 2013. I realized that there wasn't a leadership pipeline for young people to get involved. So I opened up that channel. And since then, several people from that group have either gone on to become elected officials themselves or they have actually managed campaigns. So I'm very proud of that organization.
Rico: [00:05:21] Cool. So tell us a little bit more about yourself, also personal and a little bit, where are you from education wise and all that too.
Nabilah: [00:05:28] Sure. So I'm the daughter of working class immigrants from Bangladesh. And so both my parents, you know, moved to this country to seek the American Dream. My mother actually grew up in a small village in Bangladesh, in a tin-hut home with, you know, mud floor, no running water, no electricity. And they worked really hard to give me and my brother a life that they never had. And you know, I attended Gwinnett County schools all my life. I'm a proud central Gwinnett High School graduate. I actually grew up in Norcross where one of my mother's first jobs was working at the Hardee's off of Steve Reynolds. So she worked there until I was five years old. And, she worked at a warehouse for over a decade. And I actually grew up in Lawrenceville where I mentioned, I graduated from central Gwinnett High School. And I actually went to Georgia State University, got a degree in marketing, and became the first person in my family to graduate from college. And so, my family was very education oriented and either wanted me to become a doctor, an engineer, or a lawyer right out of college. And I did none of those things. But I thought it was very important to, to have a voice at the table and to, you know, jump into political campaigns because I feel like that's where so many of the decisions are made that affect our lives on a day to day basis. And so I thought that work was very important.
Rico: [00:06:52] Well, what do you think inspired you to go down that road? Because politics is not, everyone thinks that young people are more politically oriented to a degree. Sanders certainly thought that, but they're not, they're not showing up for his campaign, unfortunately, at least this time around, it seems. So what, what inspired you? I mean, someone? An event? What got you there?
Nabilah: [00:07:12] You know, I often get asked that question and I always say, think back to the time that my mother actually took me to Bangladesh and you know, took me to the village she grew up in when I was five and seven years old. And being such a young child, you know, I grew up in America. I was born in Atlanta and I had never seen abject poverty like that. And like, you know, I had cousins who had holes in their clothes. I had, they were, you know, taking showers in dirty water. Their water had arsenic in it. It was like, it was a lot for my little child-like mind. And I remember learning at the time that the president of Bangladesh was a Bengali woman that looked like me. And I told my mom when I was a little kid, I was like, when I grow up, I want to be just like her so that I can be able to help poor people. Well, and of course I can't run for office in Bangladesh because I wasn't born there. But I've carried that on into my life as an adult. And for me, I think it's so important to show compassion. To show love and compassion to your community and to be there for your neighbor. And, that's why I think I've gotten really involved in political campaigns and wanting to make sure that everyone has a voice at the table.
Rico: [00:08:26] Now you, a lot of your issues that you talked about are the, anyone that wants to know more about you can go to NabilahforCongress.com where they can find the issues that you've talked about and quite a few of them mirror of Sanders issues, right? Medicare for all, immigration reform, economic equality. Actually you believe in universal basic income, I believe or no?
Nabilah: [00:08:54] I believe right now we need some emergency universal basic income. So families need relief during this coronavirus pandemic.
Rico: [00:09:02] What do you think? How do you feel about what's going on now with the legislation that's going through Congress and in the Senate, this relief package. Writing a check and making sure it gets out there. Minutian kept saying it needs to be this week, tomorrow. I mean, they want to be able to send $1,000 to every family. At least every family that's not a millionaire let's hope cause they don't need the money. What do you feel about that package? So these specific things in there that, that you liked, that you don't like, that you would do differently.
Nabilah: [00:09:35] So I've seen various versions of what people have wanted for a relief package. I think that it's the right thing to do to give relief to the American people, especially working people who are suffering from the economic downturn because of this pandemic. So many people are being laid off. They're losing jobs. They don't know how they're going to pay their mortgage. They don't know how they're going to pay their health insurance. My own mother was actually laid off two days ago from her job. I mean, she called me up saying, if you, I don't know, like, I don't know how I'm going to survive, basically. And so I think it's the right thing to do to offer relief. Now, you know, if it's $1,000 a month for a working person, you know, I've heard people tell me that, you know, that's not enough. I don't know if I'll be, my rent is higher than that. And so we're gonna have to figure out ways in how we provide relief to people so that they don't have to suffer or go into debt because of this pandemic.
Rico: [00:10:32] Yeah. I don't know if the third guy, actually, unless I misunderstood, it's just a thousand dollar check. Unless they've changed this. I know Sanders had said there should be $2,000 a month until we get through with this. I don't know if that's the doable thing. But this would be a good enough reason to go further into debt, I would imagine to be able to do that.
Nabilah: [00:10:55] I think this pandemic is going to be longer than a month. I was just listening to Governor Cuomo. He did a podcast on the daily where he seems to think that we're at, this pandemic is going to peak in 45 days. It's going to get worse before it gets better. And so, I'm afraid that because of our late, you know, figuring out solutions, coming to this problem late in the game, later in the game, is making it so that it's gonna take longer for us to recover. So I think families are unfortunately probably going to be hurting for more than a month.
Rico: [00:11:38] Yeah, no, for sure. I mean, they've been talking about it. As far as the effects of it, at least as far as 18 months and maybe waves of, of it coming back at us, especially when we reopen the borders. If that's the case, and travel begins again, you know, we may see this come back again. People coming from different parts of the world. I mean, they may be bringing it with them. I mean, so what about the issue of, in fact, let's talk a little bit about that immigration reform, closing the borders, doing different things. I mean, obviously I'm assuming you're not for what Donald Trump has done. How would you handle that, that side of it? Cause the, we do, we should have borders right?
Nabilah: [00:12:26] Yes, no I agree that we should have borders. We're a sovereign nation. Now as far as… We're asking people that are abroad that are Americans to come home soon. I think that we are going to have to monitor the situation very, very closely, in making sure that people that are coming into the country aren't carrying more cases of the Coronavirus. And so, I saw that they started testing, earlier this week. In making sure that people didn't test positive.
Rico: [00:13:32] Fine, immigration. I mean, certainly, you know, being a, you're running for Congress, you'll be one out of hundreds of them. Some of them may be leaving. I mean, there's so many, I don't know how many of them have caught the Coronavirus already at this point. It seems at least two, if not three. And they're, you know, quantitating the…
Nabilah: [00:13:56] I know that we have one in the State Legislature.
Rico: [00:14:00] I'm sorry?
Nabilah: [00:14:00] I know that one of our State Senators has the Coronavirus.
Rico: [00:14:04] Yes, I saw that too. So I mean, no one's immune to this. Anyone can get this, that everyone's going to get really sick from it. Not everyone's going to need a ventilator. I think that says something about 2% of the population that gets it may get to that point. It's a
possibility. So I mean, there will be a lot more deaths as well as we go out, because unfortunately that's the nature of the beast right now.
Nabilah: [00:14:34] No, I was just saying, no I agree with you. I think what we need to do is ramp up testing. I think a lot of people are carrying the coronavirus and don't know it, because they're asymptomatic. And we need an upper testing significantly to identify who has it and who doesn't so that they can properly softcore team.
Rico: [00:14:51] What would you say to the young people out there that are on the Florida beaches now? They're not all young down there also, you know, thirties and forties down there. Which could be younger but, what would you say to them?
Nabilah: [00:15:04] I would say go home, stay home. I think young people have this notion that they're invincible, that you're young and what they don't. What more of these folks need to understand is that you could be carrying this virus without even knowing it and passing it onto someone that is elderly whose immune system would be compromised and therefore die. And that's what we're seeing in Italy is that 90% over 95% of the people there that have died in the coronavirus is 60 years or older. So be mindful of others. Please.
Rico: [00:15:40] Yeah. Those are attacks I can say, cause my heritage is Italian, but they love to kiss and hug, and that's probably how they spread it really fast. All right, let's get on to Medicare for all you know, that's obviously, you know, one of the comebacks that someone said about Italy's that it's a, this was in, is a debate with Bernie Sanders, is that Italy has pretty much Medicare for all, right? And yet their exposure to it was greater than any other Western nation outside, you know, from China certainly. So, and that, that's climbing there. Did it work? That network, is that even relevant? Is that the same thing or is it something different?
Nabilah: [00:16:25] So I, you know, I have heard of that and I will say that it depends where you're implementing the system. Like, cultures are different. For example, in Italy, families live together. You live with your parents. There are, there's more density. And so when one person gets sick in the household, it spreads to everyone. And so what, and then there's an older, Italy has the oldest population in Europe. And so, I mean, they were just, it was a perfect storm for that virus to come in and wreak havoc. I think the single payer healthcare system in America would address the fact that so many people are losing their jobs right now no longer have access to healthcare because they can't afford it, because their health insurance was tied to their employer. This is, you know, people are understanding why this is a problem. And in this district, about 20%, you know 130,000 folks don't have health care, including myself. And, it's particularly dangerous. It's really dangerous now because folks are terrified of getting this virus because yes, testing is free. But like treatment could run up into the thousands. You know, the medical debt, two thirds of medical debt. In this country, people go into debt because two thirds of it is from medical debt. And so, it's a huge issue and I think Medicare for all will address it. Two-thirds of families go bankrupt because of medical debt.
Rico: [00:18:01] Do you think, well the debate with some people is, there are about 11 to 12 million illegal immigrants in the United States. That number varies out a bit, depending on which side of the aisle you're on and who you are. But we know that there's millions and certainly probably over 10 million. They, likely not, don't have enough money to go to the hospital. They likely will not go to the hospital, especially with what's going on with ICE and all that lately, especially in States that support, you know, the support, that aspect of it and that, that I understand is being suspended. Now, ICE will not do that. And at this point, supposedly the suspended going after, immigrants that are not felons or not related to arrests. So then they're going out searching at this point, at least this is what I understand from CNN. So at some degree, you know, everyone has to verify the facts, I guess. But, you know, the fact is that they don't, you know, that's where the problem is too, right? Cause if you, you can't get the test if you have it and you don't know and you're not able to go to the hospital, you're spreading it. Great, so having a system in place makes sense then. I've always argued that whether, and people always say, especially Republicans, might say, well, they're illegals, they shouldn't have it, and I always said, well, then we'll have a pandemic at some point because they will not be able to go to the hospital. Makes sense. You have a fear, may not want to be able to go. So there's some of that, aside from the young people in Florida that just can't get it together, they think that they're, that they're immortal. Where else can you go with immigration? I mean, at this point it takes years. I mean, I met someone that his whole family from, I think it was Argentina, they had applied like eight years ago, nine years ago, and nine years later to get the approval to come as a family and they had to wait nine years. Does that make any sense?
Nabilah: [00:20:16] No, it doesn't. My mom actually sponsored her older sister and all of my cousins that I saw when I was a little girl in the village, and it took them about 11, 12 years. And so we have a very complicated immigration system. We need to simplify it. Families shouldn't have to wait that long to reunify. I, and I think that, you know, this district is one of the most diverse districts in the country. Gwinnett itself is the fourth most diverse County in the country. And when I talk about immigration reform, I talk about how we need comprehensive immigration reform, how we need a pathway to citizenship for the 11 million undocumented people in this country. We actually have the highest number of DACA recipients in Gwinnett County, in the entire state. And so, you know, I believe that these people that grew up just like me, you know, probably came to this country when their parents brought them at one or two. I went to school with a lot of them. I remember, you know, they would, you know, we would talk about how they were going to figure out how, Oh, you're going to go to college. And like they were just as American as me. It was just heartbreaking that my life had a different trajectory than theirs, but I believe that they should be protected and they should have a pathway to citizenship as well. You know, these folks are our neighbors. These folks are, you know, startups, small businesses, and go to school with our children. So I feel like they should, they should have a pathway to citizenship.
Rico: [00:21:41] All right. Talking about children and talking about education, I mean, part of what you say is that the education, I think is, we all agree is a great equalizer. It puts that benchmark. We're all there. I mean, money does help in many ways. Colleges you attend,
whether it's private or public, does help being around the different financial level of people does help right to a degree. I've heard that all the time. Well, and you see it in movies, popular movies to Harvard. If you attend Harvard, you're expected to start a business, right? And if you attend Kennesaw state or a GSU, you know, would you say the same thing. You know, so from which school? My son went there also. He commuted, he did his graduate work and graduated from there. Education can be different for different people, right? Cause you, you get all, you want to be one thing, you graduate and then you end up doing something else. And yet you're saddled with the debt of the institution, right? Whether it's $20,000 or it's $100,000. So how would you handle that? I mean, do you believe in free education, state and state in public schools? Do you believe in forgiveness of debt and a few forgiveness of that someone has to pay for that, right? It just doesn't go away. Mythically I mean, tell me.
Nabilah: [00:23:18] I, like you said, like I, and I've, I think I've got it on my website, is that education is one of the greatest equalizers, and I believe that everyone should be afforded the opportunity to you know, have a good education. So right now you have a free education from K – 12. I believe that we can make that from K – 16. So yes, I believe that, I believe in free college. and I also believe that, you know, we have about one point 4 trillion in student debt. If people are saddled with that. I myself am saddled with $30,000 in college debt as well. I'm running full time for Congress. So this is, this is literally my full time job. And in order to do it, because running for office is cost prohibitive. It's, the system's not really designed for working people to run. And I put my college loans into four prayers, which basically means that I'm accruing interest. And then I will have to, at the end of my forbearance period, we will be paying more. And I think what's happening, I've been talking to my peers, and all throughout the district it's pretty, this is actually a pretty young district. So the average age in Gwinnett is 35. And, you know, they've been telling me that they've been putting off starting, you know, families, they've been putting off buying homes. And this is not, this is not something that's unique here. This is something that is affecting, you know, our generation all over the country. With that being said, I, you know, our government has you know, spent trillions of dollars. For example, our president spent about $2 trillion for weapons, during the time that we were on the, maybe on the brink of war with Iran. And if you had instead, you know, he could have used that money to forgive, cancel student debt. So the money is, it's is there when it comes for, you know, war. I think we need to prioritize the budget and, you know, taking care of working people who give so much back to our community.
Rico: [00:25:29] Now you talk about forgiveness of that and no, Bernie talks about that too. I know that back four years ago when you ran, I felt that Bernie-Burn also, even though I'm a Republican here in the South, I used to be a Democrat up in New York. You know, they say when you get older, you buy a house, you have kids. You become a little bit more conservative and stuff. I didn't really become conservative. I think it just changed my views on some things. But I still do feel about personal responsibility, right? If you take out a loan, you should pay the loan. If we forgive those loans and we go and provide free education should there, there should be certain requirements, right? I mean, I always felt like the hope scholarship was great. If you had a 3.0 and you kept that 3.0 you kept the hope scholarship. You didn't keep the 3.0 you'd
lose it. Made sense to me, right? If you can't do the work, then you might as well not be in school. Would there be requirements in what you're looking at and it, would it be a straight forgiveness of debt? Would that be depending on income? Would that be, what would that be? How would that look?
Nabilah: [00:26:38] So, ideally, I would love to see a plan where we can finally cancel student debt. And I understand that that might take longer. So I've seen, you know, as various presidents have and running on different student loan cancellations on certain amounts of that they would allow it to be canceled. I would love to just start the process of being able to forgive student debt. And, we could, you know, perhaps prioritize different career paths in doing so. But eventually I'd love to see the ability for the US Government to be able to cancel the debt overall.
Rico: [00:27:17] With the presidential race going the way it is. I mean, everyone's doing what you're doing, right? They're not, I shouldn't say everyone, I don't know. Most people are not in a stadium. I don't think that Trump will be in one soon. I think he's gonna do what he's doing away from it. I think he's taking this, this whole thing seriously as well at this point. But do you, who would you support? Biden or Bernie? Or whoever the nominee is, if you became…?
Nabilah: [00:27:47] You know, whoever the nominee is. I think, you know, every. It's understood at this point, that Biden will probably be the likely nominee. And so, you know, I'm going to support whoever the nominee is, vote blue no matter who. With that being said, I am someone who's, like you mentioned earlier, some of my policies do mirror Senator Sanders in the progressive policies that I'm advocating for. But I feel like we need a different leadership and I'm really hopeful that we will be able to elect a democratic president.
Rico: [00:28:32] What are you finding out there when you're campaigning? You know, obviously you're doing virtually now. I don't know if you're holding virtual watch parties or what have you been doing inside? What are you doing? How are you doing it virtually?
Nabilah: [00:28:48] You know, campaigning during a pandemic is uncharted territory. You know, it's something that you can't really call up someone and be like, Hey, what did you do when this happened? So, we suspended it all, in-person campaigning on person canvassing door to door. I just need to think it was safe for my volunteers or my staff or my community. As this virus is extremely contagious, you know, it is deadly. So we are completely virtual. Now we operate a, I'm doing Google Hangouts with my team every single day. We are doubling down on text banking, phone banking. We're going to have two virtual town halls that we're scheduling for next week so that people can essentially meet me via, you know, Skype and be able to ask me any questions that they have. I think nothing can ever replace face to face contact, you know? Earning of someone's vote and asking for it. But I think with people self-quarantining and being home and being on their phones, and there's a lot of anxiety about what's happening, people are paying attention to the news. And I, so we're going to make sure that we're communicating with as many voters as possible.
Rico: [00:29:59] So the primary has been pushed out, right? We pushed to May at this point, and I don't even know if most people understand that the primary that was going to happen this month was really just the presidential primary, the May primary NASC and have the presidential and the local statewide and local races and all that. I don't know how many people would have known that young people might've voted in the primary that tend not to vote on the, on the local level, they tend to vote more national. But now the opportunities there are to be able to vote down that ticket and get what they got on that ticket in one day and through that. So, how you know, and quite a few people, I've already done an absentee ballot. No, they're going to be allowing that to continue on and hopefully they don't push the primary out past May is anything possible. And even if they don't, it's going to be long six foot apart lines of people going to vote. We will encourage people to do absentee ballots. Have you done anything along those lines to help people to enable that to be easier for them?
Nabilah: [00:31:08] So, as you mentioned, the presidential primary has been moved to May 19th. So we're expecting a much larger turnout, with the presidential and all of our downfall elections. With that being said, I think, you know, I've been telling folks that I really think this pandemic is going to get worse before it gets better. I don't think, I think it would be irresponsible to ask people to wait in, you know, three, four hour lines, you know, crunched together and, you know, I think that would just be a scenario for just spreading the virus. And so, I think, you know, I've been hearing that, will most need, well, I've been hearing that we'll probably most likely be moving to a vote by mail. Now that's nothing permanent, but I feel like a lot of States are moving that way. With that being said, if the state does mail in request, if, you know, if you want to vote by mail, they need to mail it to everyone. Not age group to keep it there.
Rico: [00:32:08] Would you say everyone that's registered?
Nabilah: [00:32:10] Everyone that's registered, yes. So I've been hearing that, you know, there are thoughts of just sending it to people that are 60 and above. And I think that it should be sent to all registered voters, and so that everyone has equal opportunity to ask for a ballot in, you know, mail it in.
Rico: [00:32:33] We're, are there any other issues that will be live that you would like to speak about that we haven't touched on?
Nabilah: [00:32:44] You know, we touched on, I think everyday working class immigrants, and I grew up in Gwinnett County. You know, the majority of my life went to public schools here who work low wage jobs here, as did my parents. And so, you know, this is a working class district and I understand the day to day issues that people are going through at an intimate level. And I think it's very important that the people that lead us also live among us and understand, you know, our lives. And I also really truly believe that this is a district that deserves to have a reflective representation of our diversity and our values. And that if Democrats want to flip the seat in November, we're going to need a candidate. And that's exciting. That brings out young
voters and brings out minority voters and all sorts of folks in it has an inspiring message so that people come out and vote. And, I'm trying to be the voice for this community.
Rico: [00:33:44] Cool. Then let's end it here. Tell us, ask for the vote. We got one minute to ask for the vote and then tell people where they can find more information about it. Nabilah: [00:33:58] Okay. Well, if you're watching this, if you liked what you've heard, I would love to earn your vote. I'd love to be your first Congresswoman in this district and flip this district blue and represent it with progressive policies that are going to uplift our families in the working community here. You can learn more about my campaign, at my website: www.NabilahForCongress.com​. And I also have very active social media. So check me out on Twitter, Instagram, or Facebook: @Nabilahforga07
Rico: [00:34:34] Cool. Stay there for a minute. I just want to sign off with everyone. So I want to thank everyone that's either watching this live or end up watching this on, during the next four days as we boost this out. And that may find this either on YouTube or as a podcast on iHeartRadio, Spotify, wherever you find this, just rate us on this podcast. If you want to share this, go to the Facebook page Peachtree Corners Life. If you're not all in there now, and you can share this video out to your friends and let them know about this podcast and about the interview that we've done today. So thank you very much and we'll see you next time.
Floyd M. Scott Running for Gwinnett County Sheriff [Podcast]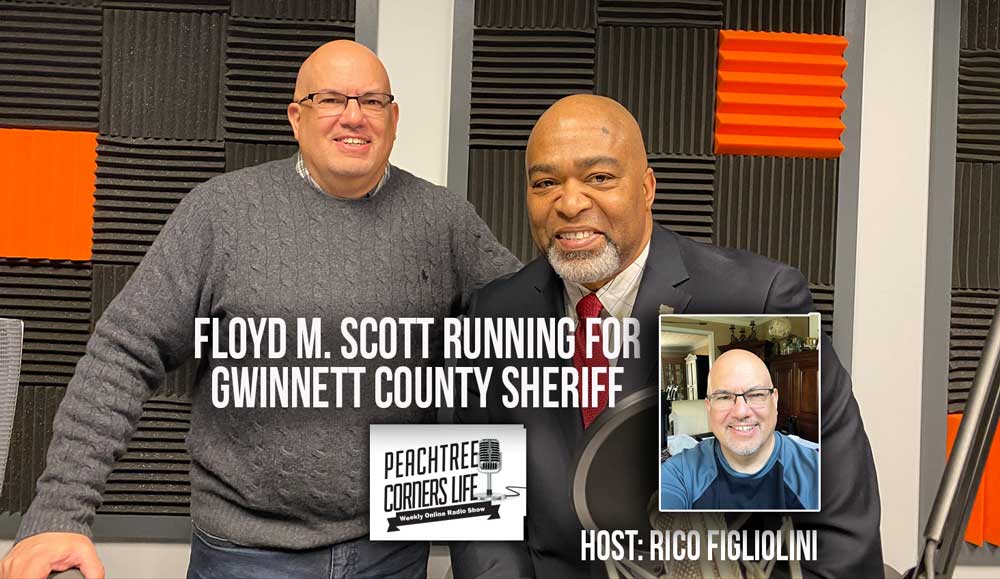 Forty plus year veteran Floyd M. Scott shares with host Rico Figliolini why he is running for Gwinnett County Sheriff. Recorded at Atlanta Tech Park, in the City of Peachtree Corners GA
Resources:
Website: FloydScottSheriff2020.com
[00:00:30] – Intro
[00:03:21] – About Floyd
[00:06:02] – 287g Program
[00:11:34] – Police Morale
[00:19:29] – Recruiting
[00:20:38] – Changing the System
[00:27:38] – Seeing the County change
[00:30:50] – Gwinnett County Sheriff Responsibilities
[00:33:43] – Mental Health Departments and Jail numbers
[00:35:41] – Budgets and more changes
[00:38:15] – Officer Integrity
[00:41:54] – Closing
"…My profession is a passion that I love and I wouldn't trade it for anything. You know, it's just something that once you get it in your system, it's something that you just want to, it's all about servitude. You know, I'm a servant. I've been a servant all my life. You know, I went into the military as a servant and now retired as a servant."

Floyd Scott


Podcast Transcript
Rico: [00:00:30] Hi everyone. This is Rico Figliolini, host of Peachtree Corners Life. I want to welcome you here tonight. We're at Atlanta Tech Park where we do all our podcasts from. Atlanta Tech Park is an innovation hub with over 70 companies here. A place that can fit over a hundred companies here. These are startups that are in the city of Peachtree Corners here. Atlanta Tech Park, growing, doing high tech stuff. And this place has event space, has Financial Fridays, Wine Wednesdays, they have a whole bunch of things going on here and seminars. The big April, the event in FinTech that's going on as well. So check out their website: AtlantaTechPark.com, and you'll find that more events that are going on here. This place is actually on a road that's becoming more famous as we go. And it's Curiosity Lab at Peachtree Corners. It's a one and a half mile, 1.7 mile track. That allows a 5G, Sprint 5G enabled and allows autonomous vehicles to be able to run on it in a live laboratory environment, in a place that people are walking, driving. I mean, you, if you're a company looking to do work in the autonomous vehicle area or on the internet of everything where technology speaks to everything that can be on a street, just think about it. You know, it could be apps, could be cars to talk to other cars, of course, talking to apps, like poles, crossing areas, maybe solar powered roads that can energize an electric car. This is what can be done here. It's a very unique place, and even though it's 5G enabled, that means wireless, right? Broadband. The main hub, if you will. The backbone of what brings the internet here is really still fiber and our lead sponsor is Hargray Fiber. They are essentially the backbone of Curiosity Lab at Peachtree Corners, and they are a company known in Southeast and expanding in Southeast, bringing in solutions both to small businesses and enterprise solutions where they can bring fiber cable to your business and be your IT company in that business situation and bring voice, internet and everything you need in, in a better way than I believe Comcast and some other companies can do. So check them out at HargrayFiber.com and Atlanta Tech Park. Now to introduce my host, my host, my guest today. We're talking to, let me introduce him here. There you go Floyd Scott. He's running for Gwinnett County sheriff, and we're going to have the chance to be able to talk to you. Floyd, thank you for coming.
Floyd: [00:03:10] Thank you for having me here.
Rico: [00:03:11] I appreciate you coming on the show. I want to be able to you know, find out a little bit about you, you know, so tell our audience a little bit about Floyd Scott.
Floyd: [00:03:21] Well, I've been in public service for over 40 years. I was, I'm retired military actually. I was military police, and so it was an easy transition for me to actually go into law enforcement here in Gwinnett. I've been in Georgia since 1993. I've been policing in Gwinnett County for close to 24 years. I was with the Gwinnett County police department. And I just retired from the Munich County Sheriff's office after 17 years. And the only reason why I retired was so that I could run for the sheriff cause it needs to be changed. Gwinnett County is a very diverse County, we speak over a hundred different languages and some say that we are the most diverse County in the nation. I believe that.
Rico: [00:04:05] Certainly the most diverse County in the state of Georgia. For sure. So, you know, that's a long 40 year, 40 plus years of service. Didn't you ever get, didn't you ever get tired of it?
Floyd: [00:04:16] Well, as my profession is a passion that I love and I wouldn't trade it for anything. You know, it's just something that once you get it in your system, it's something that you just want to, it's all about servitude. You know, I'm a servant. I've been a servant all my life. You know, I went into the military as a servant and now retired as a servant.
Rico: [00:04:36] Do, so do, I guess, you know. So tell us a little bit, since we're going there, tell us a little bit about your belief system, about you know, your values and how you base your decisions when you work.
Floyd: [00:04:50] Well, I'm a man of faith. I'm a family man. First I have, I'm actually well vested in here in Gwinnett County because I have seven children. And they live here, and I have eight, seven of them live in Gwinnett County. One decided to go to Alpharetta, but I actually have five that are in the household. And I have two that are adults. They live in Gwinnett County. So I'm well vested. And I believe that the people that I love near and dear, I want them to feel safe. So, I also want citizens in Gwinnett County to feel safe as well, you know?
Rico: [00:05:26] So, okay. Do, are any of your kids? Do they say, dad, I want to be, I want to get into law enforcement? Do any of them say that?
Floyd: [00:05:36] Well, I have four beautiful daughters that they look up to me. I think what they do right now is they go to school and they talk to the teachers and they talk to their classmates and they say, my dad is going to be the next sheriff of Gwinnett County and they'd be running around talking, talking to the teachers. It's funny. I love it, you know.
Rico: [00:05:56] So, why, why are you seeking office? Why do you want to be the Gwinnett County sheriff?
Floyd: [00:06:02] Well, I believe in rebuilding relationships within the community. I believe in rebuilding the trust between the citizens of Gwinnett County and law enforcement, you know, as I'm in that there's been some injustices that have appeared that are occurring in Gwinnett, and there's some injustice that are occurring in the County Sheriff's office. For instance, the 287g program, for instance.
Rico: [00:06:29] So explain that to people that don't know.
Floyd: [00:06:32] Well, what it is, is a contracted agreement between the sheriff of Gwinnett County and immigration. What it does is anybody that's an undocumented immigrant that comes here in Gwinnett County and is arrested by any of the local police that are here, including the Sheriff's office, and they are undocumented and they get arrested, whatever the incident may
be, if it's just a traffic citation of traffic, driving without a license or no insurance, and they get arrested and they went to Gwinnett County jail, they have a team of workers that are there, that are dedicated to immigration and that they find that they are undocumented. Then they will be handed over to immigration for deportation.
Rico: [00:07:24] Ice, essentially, right?
Floyd: [00:07:25] Ice.
Rico: [00:07:25] Ice, which is what I think many people might know it as.
Floyd: [00:07:29] And the thing of it is, some of these people that are undocumented, they left that country for a better life. Some of them even escaped that country for a better life, and a lot of crimes are going unreported because the undocumented immigrants feel that is, they would rather endure the crime that's being committed against them instead of reporting it to the police and have the police, I guess, check them out and find out that they are undocumented and then deport them.
Rico: [00:08:11] Have you come across stories like that where people have been deported for really minor offenses and torn away from their families?
Floyd: [00:08:18] Oh yeah. You got some people that I'll actually leave them at home in the morning, going to work like normal. And they get pulled over by the police for whatever the reason may be and it, and they could be making a wrong turn or making a turn without putting the signal on, or is, it could be a very or varying, different things that could happen. And they pull them over and they don't have a driver's license, so.
Rico: [00:08:45] Now 287g is enforced, it's voluntarily enforced by the County.
Floyd: [00:08:52] Yes, it's an, like I said, it's an agreement between the Gwinnett County sheriff and immigration. So if the sheriff decided that he didn't want it anymore, then it would be gone.
Rico: [00:09:05] And there's no repercussions?
Floyd: [00:09:07] There's no, there's no repercussions whatsoever. So that's why when I do become the next sheriff of Gwinnett County, that's one of the first things that I'm going to be doing away with.
Rico: [00:09:16] Do you find that the police officers that are tasked to this? I mean, most people, I guess that they used to seeing police shows and stuff and or reality shows even, and they may be aware that, you know, you get a collar, you have to spend time at the jail processing that collar. For example, the person that you brought in arrested, do you find that a big waste of time for the Sheriff's department to be doing that?
Floyd: [00:09:43] In most cases I find it to be a waste of time because I don't think that the 27 week program should even be there because like I was there before, the 287g program was even there. And we had a system in place that we would contact a consulate of whatever nationality that we had put in the jail. And then we notify that consulate. If the consulate wanted them, they would come and get him. And if they didn't want him, then we would do a background check on him to make sure that they didn't have any violent crimes or anything like that. If they had a violent history, then yes, we would notify. But if it was a minor crime, like, like for instance, no driver's license or no insurance, and we wouldn't still notify that consulate, but if the consulate said, nah, we're not going to come get him, then we would just release them back into the public cause they were no threat to the public.
Rico: [00:10:35] Right. But they still come to court, I guess later.
Floyd: [00:10:38] They would if they didn't pay that fine. Usually when they, when they were born to the, to the jail for no driver's license, they were bought because they couldn't sign the ticket because they didn't have, they couldn't verify the address from where they were. So they would bring them in. So they would pay that fine. If they paid that fine and got released for, you know, for instance, it was no driver's license and they paid a fine, right. Or no insurance. They paid that fine and they would be released. They didn't have to have a court date because they already paid the fine. The court date was set up so that they could go before the judge and, right. Hey, what? I was fine. I needed the payment if they paid it.
Rico: [00:11:17] So Floyd M Scott becoming sheriff first day, 287g would be out the door.
Floyd: [00:11:22] 287g would be gone.
Rico: [00:11:24] Gone. Okay. All right. So, yeah. Obviously that's the single most important issue at this point, it sounds like.
Floyd: [00:11:34] Well, that's one of the, that's one of the things that, I'm emphasizing strongly. But I also, the morale within the jail itself, you know, like I said, I was here for 17 years. I left on August 19th, 2019. Six months prior to that, I knew I was going to be running for sheriff, but nobody knew in the Sheriff's office, so I was going around to all the deputies that worked in the housing units, and I was talking to the deputies that were working the streets and I was asking them if they had a way of changing something to make their jobs easier. What would they do? And they would give me ideas. So I was already, I guess you could say interviewing them to find out what is going to make that the new system around. And that's what I carried, that's what I'm carrying with me now.
Rico: [00:12:31] Okay. So what would be the first thing that Floyd M. Scott sheriff would do? The first 90 days? I mean, what would you start with? Give me the top three or four things that you'd want to start accomplishing.
Floyd: [00:12:43] One of the things that I would do immediately in addition to the 27g is I would allow the deputies to wear beards.
Rico: [00:12:52] They can't wear beards?
Floyd: [00:12:53] They can't wear beards at this time unless they're in a specialized unit. Then a specialized unit, but I would allow them to wear beards. I wouldn't get it. They'd have, I'd have regulations on it. They couldn't grow it beyond probably an inch or so, but of course that would let them grow up because we have a lot of deputies that have, I guess, trouble shaving. They have razor bumps and it is painful. It's my whole military career. I had to have a shaved profile.
Rico: [00:13:24] Some people just don't want to shave. I mean, I just cut this down a little bit, but it's been like…
Floyd: [00:13:29] As long as it's neat. As long as it's neat and it's trimmed nicely, I don't have a problem with it.
Rico: [00:13:36] All right, so dress code that, that being part of dress code though, you would address that. What other things would you address?
Floyd: [00:13:43] I know that there is a, you got, deputy ones, the ones that I'm not, that have no desire to be certified deputies to walk around and carry guns or work at the courthouse or anything like that. They love working in the jail. They call it deputy ones, three months. Then you've got deputy twos and then you've got deputy, master deputies.
Rico: [00:14:06] So deputy ones work in the jail system and don't carry weapons.
Floyd: [00:14:10] They don't carry weapons. The only thing would they, the thing of it is you got some of them that's been there for like 10, 11, 12, 15 years. And then you have a young officer that comes in and they, I guess they're at that point, other than the pay for performance, that's the only raise they get is each year where a deputy that goes through the mandate Academy and gets certified. It's a pay grade increase and also have the opportunity to go and get tests for corporal, test for master deputy, test for sergeant and go up the ranks. Well, the ones that don't have a desire to go to mandate, they don't have that option. So I've, that's one of the things that I want to bring. I want to have a rank structure for the DSO that there would be pay parity for, because you got some of these DS ones that have one set of training, right? The deputies that are going to mandate. And they have more knowledge in how to work in the jail then, then, then the young guys that are coming through.
Rico: [00:15:20] Sure. Experience counts for something, right?
Floyd: [00:15:21] Yes.
Rico: [00:15:22] But the DS2s are carrying weapons.
Floyd: [00:15:25] And they carry, they carry weapons once they leave the jail.
Rico: [00:15:28] Right. And are they, I mean, they are, obviously the pay grade is different also because they're more likely, something will, likely would happen. I mean, the more hazardous duty, if you will.
Floyd: [00:15:39] You got some that any jail that has the capabilities of carrying weapons, but yet they'll go into the locker room and they'll change into civilian clothes and you'll never know that they were deputy two. But all the DS ones they have to dress down where you don't recognize them because they don't carry guns and we, they're forbidden to walk around in their uniforms outside of the jail.
Rico: [00:16:08] Because they don't carry guns.
Floyd: [00:16:11] They don't carry guns in. That's one of the first things that a person would, there's wanting to do harm. He's going to seek the person that looks like my law enforcement.
Rico: [00:16:19] Right. So that makes sense to me. All right, so, and what would, is there, what else would you do? That's the, the next?
Floyd: [00:16:25] Well, I know that, we don't have our own training facility. We pretty much share a train facility within Gwinnett County police. I would like to. I'd have to talk to the board of commissioners about it. It wouldn't be something that I could make happen but something that I can bring to their attention. You know, we don't have our own shooting range. We gotta we have to, rely and share the shooting range of the Gwinnett County police. Where we could, develop our own shooting range. That way we can train our deputies to shoot because they, some of them have problems with shooting and yeah, we'll tell them to go to these shooting ranges that are, that you have to pay, but we don't give them the fundamental training that they need sort of before they go to the Academy.
Rico: [00:17:13] Is there a formal training with the Cornell Police Academy?
Floyd: [00:17:17] There is a formal training with the police Academy and then they go through like training scenarios, and they go and shoot, we prove the 40 hour actually scheduled to go to the range or go to the Academy. But then you got some of the ones that have been certified that still have trouble shooting. Yeah, so and the only time that they even go and shoot that weapons
is if they're slated to go to the range and then that's got to be whenever they can get it going during the day. It's usually Monday through Friday doing certain set hours that the police department is open. Well, if we had our own range. You got people that work at night, they got certified instructors that can take them into a range in the jail or in a facility that is right outside the jail and teach them how to shoot when they have that downtime.
Rico: [00:18:12] Let me ask you something. I know the Cornell police sometimes there's, there's always problems with hiring. There's, they're always short. They're, they train police. Within two or three years. Those police officers may leave to go to another County. It's good to know the police department because better pay, maybe better benefits. Maybe better, more out. Let me, I'll be finding that to be the case also in the Sheriff's department right now.
Floyd: [00:18:38] Yes. The morale is not as at the level that it should be at the level that I would like for it to be. I know from all the training and leadership classes that I've gone through, if you show your people that you care for them and that you care about their wellbeing, they don't care about the pay. You can give them as much as much money as you want to, and they are still unhappy. If they feel that you don't care about that, right, then they're going to leave regardless. They're going to go somewhere with somebody cares about them.
Rico: [00:19:10] Yeah. So you're finding that level of morale is really like that.
Floyd: [00:19:15] Yes, I've experienced it.
Rico: [00:19:17] Okay. So if, so, your vision and goal for the, for the office and what you want to accomplish is really sounds like, to me it's really morale based.
Floyd: [00:19:28] Yes.
Rico: [00:19:29] It's changing the system. So then, so would this also, would you, how would you improve? Do you think we have enough Sheriff's deputies? Do we, should we improve the recruiting as well?
Floyd: [00:19:40] The recruiting system is good. The repeating, the recruiters that we have in place right now, they're very, they're very good at what they do. And, they will continue to, to excel and bring people in. It's just the retention part of that. And I feel that a majority of that retention has to do with us actually caring for them. The people that don't, we bring in. Also the leadership. A lot of people forget where they come from. You know, I worked my way through the ranks. I've never forgotten where I came from. And I can go and, if I have any problems, I'll go and ask a deputy one who works in our housing unit or out on the street constantly and knows it inside and out and say, Hey, well how do you do this? How do you do that? I don't get this big head to the point where I'm the big man, so I don't need to ask you what, you know how to do this, but that person knows how to do that.
Rico: [00:20:38] Sure. So what did you, have you found anything surprising when you've been out in the field like that? Asking deputies those questions, anything surprising that you found? Floyd: [00:20:48] What I've found is, first of all, they're shocked that they mean, you are asking me? Oh wow. I feel they feel, they feel part of the system. You know, they feel, they feel valued. And that's all I'm trying to do is I'm just trying to bring value. I want you to feel that you are included in the process, you know? And not the, we are up here at the top and we are just gonna rain down. I want to know what you would have to say. So, and that's what, that's where a lot of things have been lost in this place, is that once you get into these high ranking positions, you feel that you got to make all the decisions and you don't want anybody else to make them. And then if the decisions are made from below you, then you might feel that you're inadequate, but I don't feel that way.
Rico: [00:21:46] Do you feel some people do feel, some people have been in the system way too long?
Floyd: [00:21:51] Yeah.
Rico: [00:21:51] That sort of sounds like, yeah. Do, do you think the Sheriff's department or the sheriff, the County sheriff should have either a term limit also?
Floyd: [00:22:01] I think, I think it should be three terms. Three, three elections, and that's it. I don't think they should be in there until either they die in office or they are there until they've been there 30, 40 years or whatever. I think it should be a three term limit.
Rico: [00:22:21] It's funny, I was doing some research before this interview of impact county sheriffs across the country and you either die in your, your office essentially, or you hand it down to your son or family member in some counties. It's, I was reading that and I was like, man, that's unbelievable. It's so, junior can take the job of… I can see that in certain counties, you know, maybe not in the cities areas, but where they literally handed that to family members or they die in office because they've been there so long. What, what, what's the vision and goal that you, or i'm sorry, not the vision and goal. What's the quality and experiences that you feel is the best core candidate for this office?
Floyd: [00:23:05] Well, first of all, it has to be somebody that's actually worked at the Sheriff's office that knows the constitutional responsibilities of the sheriff. And have a love and care for the employees that work for the sheriff. You got civilians. We've got over, I think it's the last eight, 800 plus officer's deputies as well as civilians. You want them to come to, to work and not dread coming to work, but coming to work to be productive because they enjoy being in the environment. What I've experienced, and just from being a supervisor and being a manager at the Sheriff's office, where you got some people that drive up in the parking lot and they'll sit there and they'll contemplate. Wow, I've got to go in and should I call in sick because the morale
is that bad? Well, I, I want them to feel wanted. I want them to feel welcome and I want them to feel that the production, the work that they do is valued. I want them to feel valued.
Rico: [00:24:17] I can see how if someone is, is angry or is now feeling valued. How'd that would really, be a detriment to the way they work their job as well. If they have anger.
Floyd: [00:24:32] Well, you're going to have, you're going to have people that will have, you're going to have a bad day. They're going to come in and they want everybody to feel the way they feel. So they're going to come in with a certain attitude. And they're going to try to, and the thing of it is you've got to have those strong leaders, be it ranked leaders or chosen leaders amongst the peers, because you've got peer leaders too, as well as rank leaders that can go going and talk to a person in and say, Hey, what's going on?
Rico: [00:25:06] Does the county sheriff do like other corporations, do they do, I imagine they do reviews on a regular basis, right?
Floyd: [00:25:13] What they have the annual, they have, if there's a, a deputy that is in trouble. They got programs that set up that they can seek counseling without anybody knowing. You know, and the responsibility of the supervisors is to see that. And it also is each one of the deputy's responsibility to see if one of their peers or somebody that they feel is going through something that somebody is made aware of it.
Rico: [00:25:47] You see where I'm going with that question, right? Because I mean, in a normal corporate environment, all right, someone doesn't do the job, right? Paper falls off. File gets lost, things happen. It's different in a law enforcement where lives are at stake and some cases even if it's a little different, right?
Floyd: [00:26:04] Absolutely.
Rico: [00:26:05] You want to weed out some people that you know shouldn't be maybe that particular job, but you know, they could do that job better. Sounded like saying we're going to weed out everyone that's bad, but I'd say let's put them into the right place, but they might work better.
Floyd: [00:26:18] Yeah. We, we have a system. Well, I believe in the system that if you're not used to being around people that cause this, law enforcement is a people oriented business for me. You gotta care about the people that you, that you are talking to. Otherwise you, you know. We can put you in a place where you don't really have to talk to people. You don't have to have any encounters with people at all. But, that's one of the things that the supervisors would have to find in, in, and weed them out, and to sit back and sit down and have a conversation with them. I mean, as this a profession that you really want to be in, I mean, considering this is a public service, right?
Rico: [00:27:03] And some of them may be carrying weapons, right? You have to have the right, well, emotional stability and sleep.
Floyd: [00:27:10] You're absolutely right, because one thing about being in the law enforcement arena, one minute, I tell him all the time, I would tell him all the time, one minute you could be helping an old lady across the street, and the next moment you can be in a fight for your life. So you gotta be really prepared mentally for that.
Rico: [00:27:38] Then you've been, you've been in this county a long time, 23 or 24 to 24 years. That's almost as though they've been here since 95, so 23 years. The county's changed a lot. I mean, I mean, you've seen it firsthand, obviously even better because you've worked in, in the system. What, what, what do you think are the pressing things? What areas of the County and what, what, what do you think needs more attention? They may not be getting that now. I mean, there's more gang activity. Maybe there's more crime, I don't know. And depending on who you talk to, what part of the county you're, you're talking about things change.
Floyd: [00:28:19] Well, I know when I was honestly out there on the streets policing Gwinnett County, the areas that were bad, but the demographics have changed. And people have transitioned from those locations. When I first started back in 2001 in with the police department, Norcross was a very, very heavy gang drive by shootings constantly. Cause my first week there I had to deal with three drive by shootings, you know, and people getting killed from gang disjoint, gang size. Well the crime is slowly moving. Well, the 85 corridor. And what we got to do is we just got to, yeah. You just got to focus. You know, when they got the, the crime stats, they got to do the crime stats, the comp stats that they do to, do to an area. And I even have an app on my phone that any crime that committed that I'll get briefed. Brilliant. So you can know what areas though most crimes are ridden.
Rico: [00:29:30] Not just college, you're talking about incident reports.
Floyd: [00:29:35] Actual incident reports where we got, okay, well, larceny was committed here, you got the aggravated assault or domestic violence, or you know, even a heavier crime then that and now they actually have apps that you can actually wherever your address is, we can have it within however many mile, 10 mile radius of your home.
Rico: [00:29:59] I have one now. It's, I forgot what it's called, this crime mapping. It'll, every morning I would get something and I'll say, one crime, one incident or five. It's just about four. The interesting part is, at least in this area, I don't, I see less break-ins percent, unless you're on a main road. Which always tells me that it's just an easy in and out, but I don't see a deeper into a community. And I see a lot of just stuff happening in like, parking lots and office, spray cans and stuff like that.
Floyd: [00:30:31] One of the other amazing things that are happening, is they have these tag reader cameras put in neighborhoods that, that can afford to have them in their neighborhoods. And then I guess in some of the, the industrial locations that they have as well.
Rico: [00:30:50] You know, the city of Peachtree Corners is actually putting the license plate identification cameras throughout, at least the main roads that are city owned, if you will. And then anyone that wants it and their homeowner association that can go at it and the city will put it there, as long as they pay for it in their property taxes prorated on all that. You were talking before about constitutional mandate, so just for those that don't understand, because. County sheriffs from jurisdiction to jurisdiction take care of a variety of things. It's not always the same in every County. Some of them manage jails as their main priority, some of them, because they do that, then they may be the largest provider of mental health services in the County just because of the nature of the beast. They perform evictions, sometimes running car office, variety of things in different counties. What is the constitutional mandate for the Gwinnett County sheriff? What would, what are you tasked to do? What's your responsibilities?
Floyd: [00:31:47] Our responsibility is the jail. Maintain security of the jail. The courthouse. Make sure that we have an adequate amount of deputies that command that courtrooms, so that the judges will have security in the courtrooms. We, service the warrants, the civil papers. We are actually in charge of the family violence, the temporary protective orders that are put in place. Whenever it is a family violence order for a temporary protective order, it comes to the Sheriff's office. We control the family violence orders that come down. And we also, maintain the sex offenders. And there's, there's an app out there too. You go to the Gwinnett County Sheriff's website, you can actually tap into the sex offenders. So you will know who, if there's a sex offender in your neighborhood or anywhere close proximity to you.
Rico: [00:32:50] Because they have to be registered for a period of time. Floyd: [00:32:51] They have to be registered and monitored. They actually go on. I've done it. I've actually went out to these, registered sex offenders homes to make sure that they were home. If they're not home, then we go into front of the judge and we'd say, Hey, this is, this person wasn't here at the time he was supposed to be here, and then the order, the judge issues an order, we'll go get them and bring them back in before the judge. The judge is going to say, if you can maintain, you know your probation in your home that you registered for, then you can stay here, not jail.
Rico: [00:33:24] Well thing is there, does that expire at some point? I guess they have to probation or did they say . Floyd: [00:33:30] It all depends on the seriousness of the crime and I'm sure there's times they can go and get their charges expunged. But it all depends on the severity of the crime.
Rico: [00:33:43] What, with going back to a little bit about what I said about some maturity sections in health, mental health services, I would imagine in the jail system. Have you seen the
growth of that, of people that you know how, or have some mental issues and you have to provide services? Does, the County does do that?
Floyd: [00:34:06] We have a 24 hour mental health, so we have mental health workers that are there 24/7. At one point, I was told that we were like the third largest mental health facility in the state of Georgia. I mean, because we, we have so many mental health, we have a, we have a unit that's dedicated to mental health. And of course there are other mental health cases that you'd seen any time in the housing unit when the deputies in the housing unit and somebody acting out of character or they just been sentenced to something. Well, they've been sentenced to a crime that they've committed. Then we usually, it's an automatic red flag that pops up and we'll have mental health go on and check them out, make sure that they are okay.
Rico: [00:34:56] How many, how many, how many prisoners are incarcerated in?
Floyd: [00:35:02] There can be right now that could be anywhere from 1,800 to 2,600 at any one given time, but it's pretty much been on the low end. It's been around 2000. Rico: [00:35:16] Okay. Is that a trend that we're seeing, or is that just?
Floyd: [00:35:20] Well I hope it's, it's one of those things that it's going to slowly go on a decline. You know what I mean? If you look at the ratio of people that are in Gwinnett County as opposed to who's in the jail, that's a small number.
Rico: [00:35:34] It is surprisingly small, actually. We have almost a million people and surprise. It's only that's, yeah.
Floyd: [00:35:40] Yeah.
Rico: [00:35:41] So, it's interesting to me that the Gwinnett County sheriff is not just a law enforcement person, but you're as such way ahead of, you're like the CEO of a company really.
Floyd: [00:35:51] Absolutely.
Rico: [00:35:52] Cause you handle and you take care of the budgets. I mean, you have one big budget and I don't know where the money comes from, if that… Floyd: [00:36:01] On the board of commissioners we erect from, they pretty much go before the board of commissioners and let them know. From, well, the years before. And you know, here's a trend, what we've used in has been times when we didn't use all the money and we actually turned it back into the County and let them know we've saved this amount of money. We didn't need it. So we return it back to you.
Rico: [00:36:25] Do you think there's any major renovation or major work that has to be done? Capital improvements?
Floyd: [00:36:30] I, well, that's one of the things that I want to bring. Is at the jail, we need a parking deck. The parking on Wednesdays, they have a court, that administrative court. And the parking lot is bad. They have, we have an overt, we had an extended parking lot that's way up the Hill around the corner that you have to park at and then walk, you know, walk through the parking lot. And, you know, it's just, this is tedious. But if we had, The capital improvement would be that I suggested. I've already talked to some of that board of commissioners, and this made a suggestion that we would, if you will, build a parking deck for the employees so that they can have it. That way you can free up all that extra parking lot for the citizens.
Rico: [00:37:21] They could have control acts.
Floyd: [00:37:22] The control for the employees and they won't have to worry about that car is getting bad in the last, because there's been plenty of times when we've had to be run out to them in the parking lot because somebody's car has been broken into or we find somebody that's using. We've had people try to OD in the parking lot.
Rico: [00:37:43] Tried to OD on purpose?
Floyd: [00:37:45] Yeah, they, we got them with the needle in the arm. And they're out and we have to give them that Narcan. Yeah. They bring them back.
Rico: [00:37:52] Said that Narcan could be done as many times as you feel like it's, you get that high and get that Narcan four or five times, six times and just keep going until the last one might not work or this. The sad part about that I mean people are getting used to it. It says, is there any, anything that I've missed, Floyd, that you want to share with us?
Floyd: [00:38:15] One of the things that, that's near and dear to me. I know there, I've been doing this business for, like I said, for over 40 years. But I don't think, I don't think any handle any law enforcement agency has ever gone and actually apologize to the citizens for some of the wrongs that have been done to them by law enforcement. You know, I feel that if any person or a loved one or a friend that they may know that ever been wronged by the law enforcement or for whatever reason. I wanted to apologize to them. I know we are, we are held by a high standard. I mean, we, we are, we give an oath to uphold the laws of the land. And we were supposed to treat every citizen with dignity and respect. And if anybody was ever treated less than what we are mandated in that we've sworn to do. Then I wanted to apologize to them and just ask for their forgiveness for all of law enforcement, because we're not all bad. No, we're not all bad. Yes, because a small percentage of us do that. You know, unfortunately we see it in the news and we capture it on video and believe me, that's one of the things I want, I, I applaud is the fact that we do have the body cams. Because what it does is it eliminates, because when I used to work out on the street, if somebody filed a complaint against you, then you had to prove that right then that it wasn't true. No matter how much integrity you have, right? You still have to prove it, but that body cam pretty much speaks for you as well.
Rico: [00:40:04] And I think that's helpful because it seems to me that, you know, if someone's going to like to be a criminal that's lying more than an honest another person, let's say. Cause they want to get out of what, what happened maybe? So that body cam is worn by sheriffs as well, not just police.
Floyd: [00:40:18] It's worn by the sheriffs. They have, we even got inside of the jail with the rapid response team.
Rico: [00:40:25] Okay, so this way they can prove that whatever they're doing this course to be doing that.
Floyd: [00:40:30] Oh yeah, absolutely. That's one of the other things that, I will, revamp is the rapid response team because they got a lot of controversy around them for ELA. So we're going to, it's going to be a total retraining, reeducation, because I've seen the tactics. I wasn't always happy with all the tactics, but I will say that once I become the sheriff that, that will be a revamping of the rapid response team. We, it's definitely needed because we got, scenarios that, where the rapid response team was very needed. When I grew up, we, we, we grabbed a couple of deputies. Hey, let's go get this person correct. Now they actually train. So we make sure that the training is consistent and that they're there to help get the person on the control and down. That's it. After they get him under control and taken away, it needs to be, then they back down. We've had some incidents where it's been in the news where you have a person that's mentally ill and you've got four guys on him and then you punch them in the face. I mean, that doesn't make sense.
Rico: [00:41:46] No, that doesn't. It really doesn't. If they can't control a person with four people. That's just doesn't make sense.
Floyd: [00:41:53] Yeah.
Rico: [00:41:54] We've been talking to Floyd M. Scott, the candidate for Gwinnett County sheriff. Where can we find out about you?
Floyd: [00:42:03] Well if you go to FloydScottSheriff2020.com you will find my webpage. I'll pop right on up and May 19th…
Rico: [00:42:14] May 19th election day. And that's primary day too.
Floyd: [00:42:18] Primary day, Floyd Scott.
Rico: [00:42:20] So go, go to that. And if you can't remember that, just Google Floyd Scott for sheriff. And that will come up too, cause that's what I did. This was a pleasure having you on.
Floyd: [00:42:31] Absolutely. Thank you.
Rico: [00:42:33] And I want to thank everyone for joining us. Want you to remember about HargrayFiber.com our lead sponsor as well as Atlanta tech park here in the city of Peachtree Corners. And don't forget to get your next issue of Peachtree Corners magazine. It should have hit your mailboxes in the past week or so. And if it hasn't, let me know cause then I have to get back on the post office. But thank you guys. Appreciate it. Thank you Floyd.
Floyd: [00:42:57] Thank you.
Tara's Journey with Mesothelioma, Banning Asbestos in Georgia and the Mission [Podcast]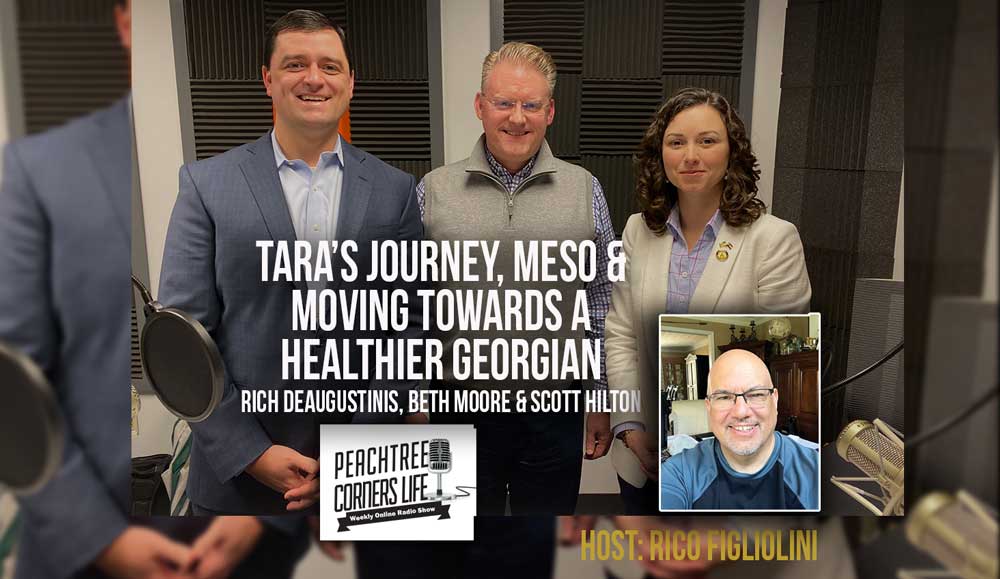 On this very special episode of Peachtree Corners Life, Rico Figliolini sits down with Rich DeAugustinis to talk about the cause and effect of asbestos as Rich shares the heartwarming story of his wife Tara's battle with mesothelioma. Join them as well as Georgia State House Representative (District 95) Beth Moore and Scott Hilton (Executive Director for the Georgians First Commission under the Office of the Governor) about their mission with The Asbestos Free Georgia Bill.
Related Links:
Learn more about Tara's story: https://www.curemeso.org/blog/tara/
Learn more about Mesothelioma: CureMeso.org and Cancer.gov
Beth Moore: Beth.Moore@house.ga.gov and MooreForGeorgia.com
Scott Hilton: (404) 950-8902 and @ScottHiltonGA
Rich DeAugustinis: (404) 547-8153 and Rich@DeAugustinis.com

Show Notes:
[00:00:30] Introduction
[00:04:00] Tara's Story
[00:08:06] Introduction of guests; Beth and Scott
[00:11:11] Learning more about Mesothelioma
[00:16:54] How Rich got involved
[00:21:47] Banning asbestos in Georgia
[00:27:59] Next steps
[00:34:14] Setting up a National Patient Registry
[00:41:36] The Asbestos Free Georgia Bill
[00:44:16] Closing
MORE RELATED LINKS:
Tara's Meso Journey
This is a collection of the blog updates that Tara and I wrote during her journey. They provide excellent context on what happened and the consequential impact on our family.
My YouTube Video about Asbestos & Mesothelioma
A video I did in Dec 2018 explaining Tara's mesothelioma journey and death, and the link to current news re: asbestos tainted Johnson & Johnson's baby powder. Also, this coverage from 11 Alive following my video…
GA Asbestos Ban Press Conference
This is the YouTube link to the press conference we had on Sept 26 (Meso Awareness Day) to announce our intentions to propose a ban on asbestos in GA, and an article from the GDP on the press conference.
https://www.reuters.com/investigates/special-report/usa-health-fda-talc/
Podcast Transcript:
Rico: [00:00:30] Hi everyone. This is Rico Figliolini host of Peachtree Corners Life. I appreciate you guys coming on and listening to our show. This is an evening here in the city of Peachtree Corners, and actually this podcast room is at Atlanta Tech Park in Tech Park, Atlanta. We're on the Mobility Road here. The Curiosity Lab at Peachtree corners is a 1.7 mile track. Autonomous vehicles can run here. It's a live living lab that interacts with people on the road with cars on the road, and it's used and it's owned by the city to allow other companies to be able to come here and do the work of internet of things, mobility, anything that has to deal with your phone, mobile devices, cars, autonomous vehicles and all that. So Atlanta Tech Park is on that road, and I want to introduce a lead sponsor of ours called Hargray Fiber. They understand business is unique and every business needs a unique package to be able to be successful and Hargray Fiber is a major player in the Southeast. They provide customized solutions for hundreds of businesses throughout the Southeast. They are based in Hilton Head, they are very community friendly. They reach out to the communities that they go into. They provide fiber to the small businesses, to also enterprise level businesses. Looking for a full suite of IT services, including voice, TV and internet connectivity. So no matter what business or industry you're in Hargray Fiber, which is the backbone of Curiosity Labs at Peachtree Corners. Believe it or not, even though it's 5G enabled and it's wireless and all that, you still got to bring the internet and buy some way and Hargray Fiber does that through their fiber. So if you want to find out more information, please visit HargrayFiber.com. So now that I've gotten introductions out of the way, we have a good group of people here. I want to be able to introduce our first, first of three guests here, and that is Rich DeAugustinis.
Rich: [00:02:31] Good evening. How are you, Rico? Yes, DeAugustinis is indeed…
Rico: [00:02:34] DeAugustinis. And mind you, I tried that before we went on, so sorry about that Rich. So we're here really on a serious note, we're going to be discussing a little bit about, you know, the word is asbestos. And, I think anyone that is familiar with that word and old enough to understand where that word came from and all that, thought like me, maybe that it was banned a long time ago in the seventies and eighties. It has not been done, at least not in the United States. And Richard, we're going to talk about the asbestos journey, which is a journey that, it's a short journey, but provided a spark I think at the end of it that you really have taken ownership of wanting to make Georgians healthier and provide a path to that safety net, if you will. And I want to talk about that. So, Peachtree Corners Magazine has a profile on the asbestos journey. So if you haven't gotten a copy in the mail and every household in the city has, should be. If you haven't, let me know. Otherwise, you could go online at LivingInPeachtreeCorners.com. Find the digital edition there and you can read that story along with others in Peachtree Magazine. And, you know, the comments on this. If you've seen it on Facebook, I'd love to know a little bit more about your journey as well, if you're familiar with this. So Richard, tell us, tell us. Start from the beginning.
Rich: [00:04:00] Actually four years ago, this coming weekend, cause it was my daughter's winter break four years ago this coming weekend, Tara had her initial onset of symptoms. We were at Disney, for Aubrey's winter break and Tara was, we thought she just had a cold that had
turned into pneumonia. And she said, I'm just going to stay in bed, you guys go enjoy Disney. So unfortunately, Aubrey and I went and enjoyed Disney for a few days. And we would come back after each day and I would insist that we go back to Atlanta and she would say, no, I'm fine. And she got progressively worse and progressively worse. By the time we did get back to Atlanta, it was very serious, and we went to Emory Johns Creek the next day. And, it turns out she had a tremendous amount of fluid around her right lung. It's called a pleural effusion. And that pleural effusion was caused by Meso, but at the time, we didn't know that. We went through a series of, pretty quick doctor's appointments. I will tell you that was a huge blessing because there are some folks that don't have a clear diagnosis mesothelioma for over a year because it doesn't always present in obvious fashions. It's really hard to confirm what it is because it is so deep in the body. But we were blessed that she had a clear diagnosis and about a three to four week timeframe, she had to have exploratory surgery to get it. But we had that clear diagnosis and then quickly had to have a plan of attack to, for her to try to, to overcome it.
Rico: [00:05:48] So that came on fairly fast. It's not like you're not feeling well over several months and stuff. It just sounds like it came on quick.
Rich: [00:05:56] It's, I'm told it's, often called the sudden disease because it can lie and wait literally for decades cause the length of time from exposure to asbestos to when the initial onset of symptoms can take place, is, can be anywhere from 20 to 50 years. Which is why it's very, very difficult to say what caused it and how you address that, right? Because cases that we're seeing today could have started two to five decades ago, right?
Rico: [00:06:37] That's interesting. If anyone that watches CNN on a regular basis, maybe Fox, and there's two better, don't watch that on a regular basis. Might notice the Meso commercials that always come on every morning. It's always there. And they talk about, you know, I know a little bit about, you know, where they started from and really armed forces, the ship yards and all that. And that's why, you know, they're still advertising it now. And then it dawned on me why they, you know, 30, 40 years later, people can be diagnosed with that. And, but it's not just that, it's, it's in your wife's case, you believe it was talc, then?
Rich: [00:07:14] Yes, I do. Incidentally Meso is the most litigated disease today, in modern society in the United States. Which is why there's roughly 3000 new cases a year, the probability of living longer than about 18 months, is probably 5% to 10%. It is a very, it is one of the five deadliest cancers out there. And, just, when you hear the word Meso it's with reasonable certainty, you know, it's likely going to be a death sentence. The number of actual survivors of Meso, are very, very small and obviously very blessed, to have gotten past it.
Rico: [00:08:06] The mortality rate is very high. Yeah. Let me also introduce our other guests here as well. We have Scott Hilton, a representative of governor Kemp's office, I believe in the, and obviously the title we'll throw that up because that's the only way I'll see it, Executive Director of the Georgians First Commission.
Scott: [00:08:25] Yeah, I appreciate the introduction Rico and to have an opportunity to lead the Georgian's First Commission, but that honestly, really here more in my role is as a private citizen and really a fan of Rich and his family having a joined in the journey after, Tara's death, and gotten to know Rich, just personally here I am one of his biggest fans and some borders and just so impressed by the passion and compassion he puts into this fight in preserving her life and legacy. And so I'm honored to, to be able to do whatever I can, just use whatever knowledge, that little knowledge I have to help support Rich and this effort to, to really bring a solution to help end this, disease, and to help bring comfort for other people. So really proud to be here today.
Rico: [00:09:12] Rich was sharing with me ahead of time, like four or five years ago, you guys started getting real close a little bit, on, on your relationship about Tara and about, this journey you're taking out like this. I mean, it's not just a journey. I mean, you own this, you really want to make sure that, this, this passes and people are educated. And, and are aware of this disease as well as what, asbestos can do and that it's not banned in the United States.
Rich: [00:09:40] Yeah, absolutely.
Rico: [00:09:40] Also want to introduce Beth Moore, State Rep for District 95. And, I appreciate you being here too, Beth.
Beth: [00:09:48] Yeah. Thank you, Rico. It's always nice to be on your podcast, so thanks for having me back.
Rico: [00:09:52] We're going to have to bring it back again when we talk about e-sports, but, that's another time. But, you know, tell us a little bit about, you know, what, you know, how you came to this. How Rich and this whole thing came to you because you're sponsoring a bill in the house then?
Beth: [00:10:07] I am. Yes. Well, you know, Rich is a model constituent in that he identified a problem in the community. In this case, it's the availability of asbestos containing products still being sold in Georgia, and then came with a solution, which is that we can provide a legislative solution to this problem. And he came in and visited me at my office this summer, and told me about Tara's story. And I mean, it was by the time he got done showing me the pictures and telling me the story, I felt like I knew her. And that I wanted to be on this journey with him to find a solution that would prevent other situations like the one that Tara went through from happening to other families here in Georgia. So it was, it was an easy sell for me. It was hard to learn the story and, but, I'm also honored to know Tara's story through Rich and to work with him and my good friend Scott Hilton on bringing legislative solutions to this issue.
Rico: [00:11:11] I'm glad that you guys got together for this. Let's go back to Rich for a second to the, if you want to hear about Tara's story. Where can they go to? As far as anyone listening, we'd like to…
Rich: [00:11:24] There is a, probably the best way to, to, to understand it is, there is a series of blog posts on the Meso foundation website. In fact, the article in Peachtree Corners, magazine has the link to it.
Rico: [00:11:39] Has the link to it. Now we're going to put that link in the podcast show notes. So listening, watching this, are they up to scroll down or just go to the website and you can find that there and read the not daily, but the weekly or somewhat weekly, monthly posts.
Rich: [00:11:52] It was, it really came about where as most people in this situation, especially modern society today, you, you just have a lot of, a lot of people that are interested in. Knowing what's happening and social media and the internet being what it is, affords you a, an efficient way to communicate that. So we, I just did Facebook and CaringBridge posts and it became an outlet for me, frankly, because when you're going through that the emotion, the, mean, you're, you're shell shocked. You feel like you're walking across the battlefield. I saw the movie 1917, a few weeks ago. It's a great movie. The reason I mentioned that is that, the, I, that was the first time since when Tara was sick that I actually felt I had the visceral feeling, same emotional feeling that I did back then. But those posts for me and also for Tara gave an outlet for us to just share what was on our heart about what was literally happening to her, what she was experiencing, what we were trying to do to overcome the disease and how we were feeling about that. And, the Meso foundation were gracious enough to, you know, help to package those together. Kind of an easy to read format. So it's easy to read to understand her story. Yeah.
Rico: [00:13:18] Yeah. And that story started back in 2000 was it? 2016
Rich: [00:13:24] February of 2016.
Rico: [00:13:26] '16 and, and, long time, but it's been three years now since she passed. And you know, I mean, I know to lose someone even three years later. I mean, it's, it's tough. It doesn't go away.
Rich: [00:13:43] It is.
Rico: [00:13:43] And there's probably things you see sometimes that just reminds you of deeply about, about these issues.
Rich: [00:13:51] Grief is something that doesn't go away completely. You, you learn to carry it, you learn to manage it. You learned to put it into positive things, or some choose to put it in a negative thing. So I don't recommend that. But, you, you have, you have a choice, right? You press forward with life. And, Tara, for those that knew Tara, they, she was the, the ultimate project manager. And she, she could boss CEOs around and they would just snap their heels and whatever you need us to do, ma'am. And she had a clear set of directives, for Aubrey and
for me, even as she was, going home to Jesus. It was, this is what I want you to do. This where I want you focused. I don't want you worrying about me. So, and, I am in part, honoring her, and part honoring that, but, but what really motivates me to do what I do is having had a, a first, I had a front row to watching someone suffer through mesothelioma and no human being should ever have to have literally everything that they are taken away from them, breath by breath over 15 months. Physically, mentally, emotionally, and I just don't want that to happen to other, other human beings. It's, there is no acceptable cost to some of the choices that have been made over the last several decades by corporations and by our government, there is no acceptable cost to, you know, we, we need to, we need to draw a line on this and, acknowledge this, this, substance for what it is and ban it.
Rico: [00:15:41] This is unlike other chemicals. environmental issues where it could be parts per billion or parts per million that are acceptable levels. This is not an acceptable, acceptable level, right? I mean, whatever particles are there will if it affects you, it is. Your system will be, will have a high fatality rate.
Rich: [00:16:04] It is settled science that asbestos causes mesothelioma. And it is settled science that there is no safe amount of exposure that you can be exposed to.
Rico: [00:16:19] When you, when you found out this was Meso what did, did you know what Meso was?
Rich: [00:16:23] No. And most people, when they hear that word, they have no idea what it is. In fact, generally the reaction is: Isn't that the disease that the commercials are on Saturday mornings and late night about because the, all those, all those legal marketing firms and law firms are trying to find a very small number of clients to sue. To the legal dimension this is a whole different, whole different conversation, but the, yeah, it's…
Rico: [00:16:54] It's hard to get it out there. Right. So now you, you got to a certain point, you found out what it was, you did a lot of research. Did you get involved, well you got involved with the foundation of Meso, is it meso.org? That the, so what did you do at that point? I mean, I mean at the point that you, you know, Tara was still here. Were you involved in that or did you get involved in that later?
Rich: [00:17:22] So I was motivated initially to get involved with, I, I joined several support groups for caregivers because I was Tara's caregiver. And I'm trying to deal with the reality of being a nurse, having a full time job, being a dad, managing the house, all those sorts of things. And needed help from other people that were walking through this as well, or had walked through it before. And that grew my awareness as we were walking through and you know, as I was walking alongside Tara as she fought, that grew my awareness of these advocacy organizations out there and the Meso foundation in particular. You know, she, Tara's journey was, she went through, after that initial surgery to identify her diagnosis, she went through six rounds of chemotherapy. And I would be remiss if I didn't mention, Winship Cancer Institute,
part of the Emory Network. Amazing organization, doctors Sam Chetty and the other doctors that took care of her, just an extraordinary, care and support. But she went through six rounds of chemo, that was followed by a massive surgery in August of 2016 where her right lung was removed. Half of her diaphragm was removed and half of her, pericardi which is the sack holds your heart was removed. Ostensibly, this surgery would remove 99% of the Meso within her body, and it was successful. That was followed by about, four to, I think it was about four to five weeks of radiation. Which should have killed the rest of the, the Meso that was left from the microscopic amounts left in her body. The problem was it had gotten into the lymph system and jumped over to her remaining lung, and then it basically went into overdrive when it got there. And that's ultimately what took her. So it was, you know, just enduring through all of that. Taking care of her, trying to meet her needs, that I became aware of these, these advocacy organizations and became motivated. You know, the more you understand the fact that this disease is preventable, this is a preventable tragedy that's happening in slow motion. To yet admittedly a few thousand people a year, but it's a few thousand that it shouldn't happen to them. And those few thousand turn into tens of thousands and hundreds of thousands when you look around the world.
Rico: [00:20:12] It's not like a contagious disease that's, that's what you're really getting at. It's more like we're doing it to ourselves really.
Rich: [00:20:18] Absolutely. We, we make, we make the choice to pull asbestos out of the ground and do things with it, right? We let companies make stuff. We let, they're still raw asbestos is actually still exported by three or four countries in the world, Russia, I think India and China still export it. There's not much imported into the United States anymore. That's very much on the wane. But the doesn't mean the risk has gone away because there's, there's risk from legacy asbestos in, in, older buildings. and, and some, some frankly, unusual and unexpected places. For example, consumer products. If, if you do a Google search on asbestos in, and, and, and a teenage girl's makeup or asbestos in crayons, there's, there's some really unexpected places that you find asbestos turning up, largely because they're products that are manufactured overseas. And imported into the United States and aren't, it doesn't require testing. They're largely unregulated industries that, end up, you know, with these, these unexpected exposures. And frankly, as these things happen, you'll, there are, you know, Claire's and Justice are two retailers that both had products that were tested and confirmed to contain asbestos within the last couple of years. We won't know the real cost of what happened with those products for decades to come.
Rico: [00:21:47] You know, if there's a good part to this consumer products, a little easier to remove, right? Because you can put the pressure on you know we can put the pressure on that, right? But the business to business is a whole different story. So how, how do you think Scott, Beth? How do you think, you know, the state of Georgia should? I asked that question, I asked the question before the show about you know, where do you mine it? Do we have mines in the state of Georgia that mine asbestos itself like that, or talc rather, that might be near asbestos veins. We don't have any data on any of that stuff. But we do have the data that exists on the,
so right now and on some products that exist here. So is it easy enough to ban this in the state of Georgia? As one state versus, you know, the United States. How do we do that?
Beth: [00:22:43] So there are kind of two competing sets of laws here that we're having to navigate. On the one hand, federal law is what governs interstate commerce under the commerce clause in the constitution. So, you know, we, we hadn't put all of the options on the table, how we might go about proposing a state law, which is of course the, the level of government in which I serve. And you know, it was, the legislative council came back and said, you cannot ban, asbestos, or as best as containing products from being imported or, prevented from being able to travel through the state of Georgia. Because that's interstate commerce. Only the federal government would be able to do that. So, the port of Savannah, right? That's in the state of Georgia, but it's, it's governed by federal law. So Georgia can't, you know, prevent asbestos, or asbestos containing products from coming through the port. But where we may have leverage, and what we're going to try to do, is propose a piece of legislation that would prevent retailers and that may include wholesalers from being able to sell asbestos containing products within the state of Georgia. So while it may travel from the port of Savannah to other States that allow those types of products to be sold, it could not be sold in Georgia. And anyone who violates that provision would be, could be, pursued under a civil penalty and have to pay a fine.
Rico: [00:24:11] Do you think this is a good model piece of legislation for other States to follow? I mean, it would have to be, it will, it will be tested in court at some point. I mean, the industry will sue to say, you know, you can't do that. I mean, are you creating this as a model piece of legislation? Other States might be able to follow?
Beth: [00:24:29] So one of the tips when you are devising legislation is to look and see what other States are doing. And so we modeled, what will ultimately become our proposal here in Georgia on what other States have done. I would imagine that if all 50 States passed the same or similar piece of legislation that that would do away with any market demands for these types of products. You know, the other way to do it would be for Congress to get its act together and to pass a nationwide solution for this. But until they do, we have to go state by state.
Rico: [00:25:04] If I remember right, there was a piece of not legislation but regulation out of the EPA during the 80s. About almost doing that, but it was never quite followed through. And it was a, it was essentially a ban, but it was stopped at some point. It was late eighties I think.
Rich: [00:25:20] There's, there's, there's pending federal legislation that is actually passed out of committee and will at some point, I don't know exactly when we'll have a full load on the, on the House floor. And it's, I don't remember the exact number of the bill, but it's called, it's Our Ban for short, but it's a, it's a, it would be a federal ban on asbestos weather where that goes, we don't know. But, and there's a number of reasons for, to ban asbestos in the state of Georgia. It's, I mean, we need to do it to protect the health of our citizens. We need to do it to send a message to, frankly, frankly the federal government. But also organizations that make whatever
the nature of the organization is, when you're making choices that affect human beings and the state of Georgia and ultimately the United States of America, you need to, you need to know that products that contain asbestos, whether you know that it contains asbestos or not, that that you're liable for that, that you're accountable, you're accountable to know. You're accountable for the safety of all Georgians.
Scott: [00:26:35] You know Rico, I think legislation is one angle that we can take. I think the most important thing we can do right now is just bring awareness to the issue. And I, and I think this is what we're grateful for you and, and what you're doing. And I know the governor issued a proclamation declaring September 26 of last year mesothelioma day here in Georgia. And speaking with Rich and getting to know him and his family. I was shocked to learn how many products still had some form of asbestos in them. And so I think if we can bring awareness to this issue, let people know, you know companies react to a consumer demand. I mean, you look at all the companies right now that are making environmental friendly products, sustainability, even the nutrition facts on the back of products. And so, when consumers stand up and raise their hand and say: No, we do not want this. And so it's just bringing that message of awareness, to consumers that, Hey, you've got this really bad stuff in your products and we're not going to stand for that. So again, grateful for what you're doing and for what Rich is doing. I think Tara's project manager management skills must've rubbed off on him because he is taking a very, direct and aggressive approach to this. And I love it. Cause if anybody's going to beat me so that it's going to be Rich and, and his family just going after it. And so, again, we're here to do whatever we can to bring awareness to products that have asbestos in them.
Rico: [00:27:59] So what's the next steps? Now the legislation is, well, the bill, I should say, the bill is there. So what's the next step on this?
Beth: [00:28:08] Sure. Well, first of all, I want to thank Scott for his comments about education and advocacy on this issue because that is in fact, part of the bill that we've drafted is that it contains language that would require the state government to provide educational materials on the dangers of asbestos. This could be something as simple as a landing page on the environmental protection division's website. You know, so that there is a statement put out there, you know, by the state of Georgia, acknowledging that asbestos is a carcinogen, you know, that has no place in the markets here in Georgia. Procedurally where we are is we just got the revised draft of the bill back last week. Literally the day that the legislature decided to adjourn for two weeks. But I've already started talking with some of my fellow legislators about this issue. They all have the same response, which is, wow, I didn't realize asbestos is still legal and can be sold in Georgia. There's, without calling out any of my fellow legislators, there are some within the chamber who have medical backgrounds. And those are the first ones that I approached about this. Certainly anybody who knows the medical science behind mesothelioma will attest just as Rich can that it is a horrific disease.
Rico: [00:29:27] How many sponsors do you have?
Beth: [00:29:29] So, so because we adjourned on the day, I got it back. We're still searching for cosponsors. But, we do have a lot of interests in the bill. So the first day we get back, I'll be hitting the floor and getting those signatures. You know, we can get six top signatures on the bills. So I will seek out six.
Rico: [00:29:48] And then not to get too much in the weeds, but once you have that, what's required actually to get this bill across?
Beth: [00:29:55] So, so whether we get co-sponsors right off the bat or not, the bill is ready to go and it's ready to be dropped in the hopper, which means that it will receive a bill number. So next time we talk, I'll be able to tell you and your audience look out for house bill, X, Y, Z, whatever the number we get is. At that point, the, procedurally, the speaker has to announce it twice in the chamber, and then it gets assigned to a committee. We don't yet know which committee this bill would be assigned to. We have some ideas and you know, we're going to have conversations with the folks who serve on that committee so that we can prime them as to what this bill is, what it does, and hopefully be able to get rich down to the Capitol to provide testimony about it.
Rico: [00:30:37] Obviously, there'll be public testimony that once it gets into committee, I guess.
Beth: [00:30:41] Yes.
Scott: [00:30:42] And this is where awareness is so important. You know, we draft literally thousands of bills every year, and ultimately only about 200 get signed by the governor. And so, those are the precious few that really rise to the top of, of urgency that they need to be fast and to state law. And so that's the importance of, of Rich and the work he's doing. And, and what we're doing here tonight is to get the word out that, Hey, this is an important issue and ought to be taken under consideration by the general assembly.
Rico: [00:31:08] So Rich, what is your next step then? Now, now that the bill is where it is at, this point what do you want to be doing?
Rich: [00:31:15] The advocacy work I'm doing is really focused on, as, as Scott mentioned, awareness, right? It's important. This is a hideous disease and no one should have to suffer through it. And, because there's not a, because of who's left behind, which aren't all that many. It's important that those that do have a voice stand up and say, no, this is not acceptable. That's all I'm trying to do. And I'm trying to do that, I'm trying to do that on Capitol Hill in Washington DC. We're trying to do that under the gold dome here in Atlanta, politically speaking. I'm also trying to engage healthcare organizations, as an individual and on behalf of the Meso foundation to expand access to care. We could here in the Southeast, use a world-class mesothelioma program. There are some Meso doctors in the Southeast. There are clinical trials in various places, not so much in Atlanta. When Tara got to the advanced stages of her disease and needed, basically had to progress beyond what they call the standard of care into clinical
trials. We actually had to take her to Memorial Sloan Kettering in New York City. And Dr Marjorie Zauderer, who is now the chair of the board of the Meso Foundation, incidentally, was her doctor there. But we, there's an opportunity for us to have a world-class, mesothelioma program at one of the cancer centers in Atlanta. Atlanta is just being the transportation hub, the center of the Southeast, than it is. Logically, this would be a place where all anybody affected by this disease in our adjoining States could get the best care.
Rico: [00:33:11] Does the, you know, I have no idea. Does the VA handle for the veterans, do they have a program in this system to be able to handle that?
Rich: [00:33:20] I have to confess, I don't have a whole lot of visibility into what the VA does, but I do know that mesothelioma is a problem for veterans, especially veterans of certain foreign Wars, within the last, 30, 40 years. Even longer than that. So that, that is, but I, I don't have visibility into specific doctors and the nature of that program.
Rico: [00:33:43] It's a whole, you know, to be able to, you, you were fortunate enough to be able to go to New York. Tara was able to go out there. Other people may not have that, that ability to be able to do that, and without enough advanced programs here in the state of Georgia, in Atlanta, that that's difficult for other families. So it makes sense to be able to do that. Do you find, are you finding good reception from some of the medical institutions here in the city of Atlanta?
Rich: [00:34:14] I'm, I'm finding good reception and interest in understanding the story, understanding the opportunity. Meso candidly, mesothelioma being what it is and the, the rather small incidents. Medicine is a business. Just like, you know, beverages is a business. Politics is a business. It's a business, right? So you have to, there you have to look at the market and demand and calibrate resources accordingly to meet that market demand. So it's an uphill battle, but it's one that I am fully resolved to, to make progress on. So I'm in conversation with a number of organizations that access to health care piece is something that's for me in terms of my goals, it's a longer term goal for me to work with the right organizations to achieve. Shorter term I'm focused on asbestos ban and Georgia focused on, the development of a national patient registry. For me which we've been very successful getting initial funding to get that set up.
Rico: [00:35:19] And what does that, what does that do?
Rich: [00:35:22] So the…
Rico: [00:35:22] What's the point of that?
Rich: [00:35:24] With rare cancers, it's been demonstrated that when you set up a patient registry to gather data and information about the disease. So think from initial diagnosis to, how you know, what treatments that that patient is going through, how they respond to them,
gathering all that data, putting it in one centralized place where doctors and mesothelioma programs could access. Where pharmaceutical companies and biotech companies could come and access that data.
Rico: [00:35:56] So that doesn't exist already?
Rich: [00:35:58] That exists for certain rare diseases. It does not exist yet in full bloom for mesothelioma. We, we do have, we received an appropriation for 2020, sorry, for 2019 to study it. A recommendation has been developed in collaboration with the CDC. I think it's NIOSH, part of CDC. And now we're, we're in the process of seeking further funding to actually begin to build out that.
Rico: [00:36:34] Would that go through CDC then or is that?
Rich: [00:36:37] Correct. There's a part of CDC that I think is, I think it's called NIOSH. that, national, I'm not even going to try to remember the full name of the acronym, but it's part of the CDC and that, that's where, as we all know, and, and we should all be very, very proud that the CDC is right here in Georgia and the city of Atlanta. It's a gem. And what it does for society today is extraordinary. My hope is in the coming years that we can also be able to point to that and say, there's a national patient registry, that you know, hopefully five or 10 years from now, it'll, it'll result in, you know, it would be a huge win if we could turn mesothelioma from a death sentence into a chronic disease that can be managed. That one can live with.
Rico: [00:37:25] It's interesting because, if you look at systems like Watson and AI, some of the machine learning going on, I mean, they take that type of data. They've already proved profiling cancers, I think it was breast cancer that I saw the research on, from different countries interesting enough different countries provide different parameters to that cancer. Because of our environmental issues and such, so UK and the United States, they were able to actually come up with the right profiles that were similar. And provide the right type of treatment recommendations better than some of the doctors that were, they were compared to. So, I mean, I can see a registry like that working really well over the next year or two, but it needs to be put together to, it's like the norovirus that's out there without the information. They can't treat it. So let's. What, what, you know, we know, we know we have to do this. You know, education is the biggest part. Like I said, I mean, I was ignorant except for the Meso commercials on CNN that ran during, CNN, on Sunday mornings. It's hard to get that information in and it's a long journey. I remember working with Chuck Schumer at one point in New York city where we were trying to ban PCBs that was used in the transformers that sat on top of light poles for electrical use. It took years to be able to acknowledge it, to be able to find the right way to do it, to be able to find the right way to get rid of it, and to actually ban it all out. I mean, it took years. Do you, do you expect to be able to take care of that and be there and until the, until you can get this done?
Rich: [00:39:09] I will invest energy in this for a long time. What that exactly looks like, I can't tell you. I'm pressing on with my life as Tara very specifically asked me to do. She asked me to find
love again. I've done that. And she asked me to be a great dad to Aubrey. I'm doing my best to do that.
Rico: [00:39:34] She's a great kid. We had her as a 20 under 20 kid cover story, and she's a great kid.
Rich: [00:39:40] I'm very blessed to be her father. So I, you know, I'm pressing on, but I can't, you know, if I've learned nothing, if I've learned nothing else in the last four or five years, it is that, is to live in the present, to live in today. And to be present for those you love. I learned that very much in the 15 months. The last 15 months of Tara's life and I don't try to spend a whole lot of time, I have a plan for what I want to go do with Meso advocacy and especially as activism, but I don't, I don't know what that's going to look like three, five, 10 years from now.
Scott: [00:40:19] I'll tell you, Rico is, I think about Rich. He's going to accomplish so much around Meso his biggest legacy, honestly, is the impact he has around those around him, as, as it deals with the concept of death, dying and grieving. Witnessing his journey, he just has this peace about him that really passes all understanding and which I can only explain through his faith in Jesus Christ. And I think for anyone who has lost a family member, a spouse, a loved one, I encourage you to sit down and meet with Rich. He just blows me away every time we talk about it because he's just an incredible witness. And, and instead of agonize, he's organized, you know, and, and, again, I can only explain that through his faith. And I think that's what's gonna allow him to accomplish incredible things. But, but again, I'd encourage those listening today who have lost someone or are grieving, you know, spend time. Grab coffee or breakfast with, sorry, Rich, I'm putting you on the spot with a lot of people. His story is absolutely captivating and it's worth a meeting.
Rico: [00:41:33] Yes, for sure.
Rich: [00:41:34] Thank you, Scott. Thank you. Appreciate that.
Rico: [00:41:36] So, Beth, what's in the future here? Where, where do we, maybe after everyone comes back in two weeks, it's going to be interesting.
Beth: [00:41:45] I think we're going to go with the working title of the Asbestos Free Georgia Bill. And we're going to be, actively educating fellow lawmakers about the dangers of asbestos. you know how it is highly correlated with mesothelioma. And if anybody out there listening to your show right now wants to know, you know, how this applies to their life, I would, I would encourage them to take a look at the class action lawsuits against Johnson and Johnson right now. They are, paying out now literally billion dollar settlements over the contamination of their baby powder products. And in fact, I originally wanted to talk about the connection of baby powder to his own story.
Rico: [00:42:30] Sure.
Rich: [00:42:32] Yeah, I would be remiss if I didn't identify what, what we believe to be, Tara's exposure, right? We believe Tara was exposed to asbestos tainted Johnson's baby powder from basically birth until, probably nine or 10 years old. It was, it was used, it was used on her. And one, I mean, one naturally would assume with a product like that, that it's entirely safe. It's certainly marketed that way. But we believe that that was, that was the sole long-term exposure that she had to asbestos. We, we are litigating. And as with most litigation matters that's all I'll comment on it, in the scheme of things. But, what I would share with your audiences, your takeaway should be that this is not something that happens over there. This is not something that just, Oh, wow, that's interesting news. This is something that happened to a friend, a neighbor. This is something that is happening today. Google Johnson and Johnson's baby powder and, there was a lot of it that was recalled by Johnson and Johnson because the FDA tested it and found it to contain asbestos. This is, this is a problem. It's a problem of today. It's not a problem of yesterday. It's a problem we should all be concerned about. And that what you read in the headlines is what happened to Tara DeAugustinis and it started 50 years ago.
Rico: [00:44:16] Thank you, Rich. I appreciate you sharing the story with us. For those that want to learn more about Meso you could go to CureMeso.org. There's the National Institute of Health as well that has information there at Cancer.gov. And of course in the show notes of this show, to be able to find all these related links and the resources. And if anyone wants to reach out to you, Beth, where can they find you? So if they want to be able to help or provide expertise or whatever that you may need and help with this bill. Where can they reach you?
Beth: [00:44:54] Sure. You can reach me at my official legislative email, which is Beth.Moore@house.ga.gov a quick go to, to find me online is MooreForGeorgia.com. And for anybody out there listening, thinking about you know, think about lobbying your local representatives. I should say that our state Senator Sally Harrell is also working with us on this bill. She has shown great support for it and she will be working on carrying this bill over on the Senate side and finding partners to help us with the other chamber.
Rico: [00:45:30] Excellent. Scott?
Scott: [00:45:31] Yeah. The governor has me running all over the state, so cell phones, usually the best. (404) 950-8902. Just send me a text, give me a call. I'd be happy to talk to you, @ScottHiltonGA, and most, social media stuff. So look me up, I'm happy to talk to you.
Rico: [00:45:49] Excellent, Rich? People want to get in touch with you about?
Rich: [00:45:53] I'm glad to talk to anyone about this and, and what, what Scott mentioned earlier. Easiest way to reach me is, call or text (404) 547-8153. On social media as well, you can look me up there or Rich@DeAugustinis.com.
Rico: [00:46:11] Excellent. We spent almost an hour discussing Tara's journey, Meso in a great, good, good way of learning exactly what's going on. And I hope that the bill becomes legislation. I'm sure you do, Rich. And that we can let more people know about this. So I want to thank everyone for joining us. Again, look down into the show notes eventually on the website LivingInPeachtreeCorners.com. Pickup Peachtree Corners magazine and you can read the story about Tara and you can find the links on that page as well. So appreciate everyone being with us tonight and whoever listening to the podcasts on Apple podcasts and iHeartRadio and Spotify and SoundCloud and a whole bunch of places wherever you can find podcasts, you can do that. This will be out there, share it with your family and friends and let people know. Thank you everyone.