Jane Park, Women's Golf and the 67th KPMG Women's PGA Championship [Podcast]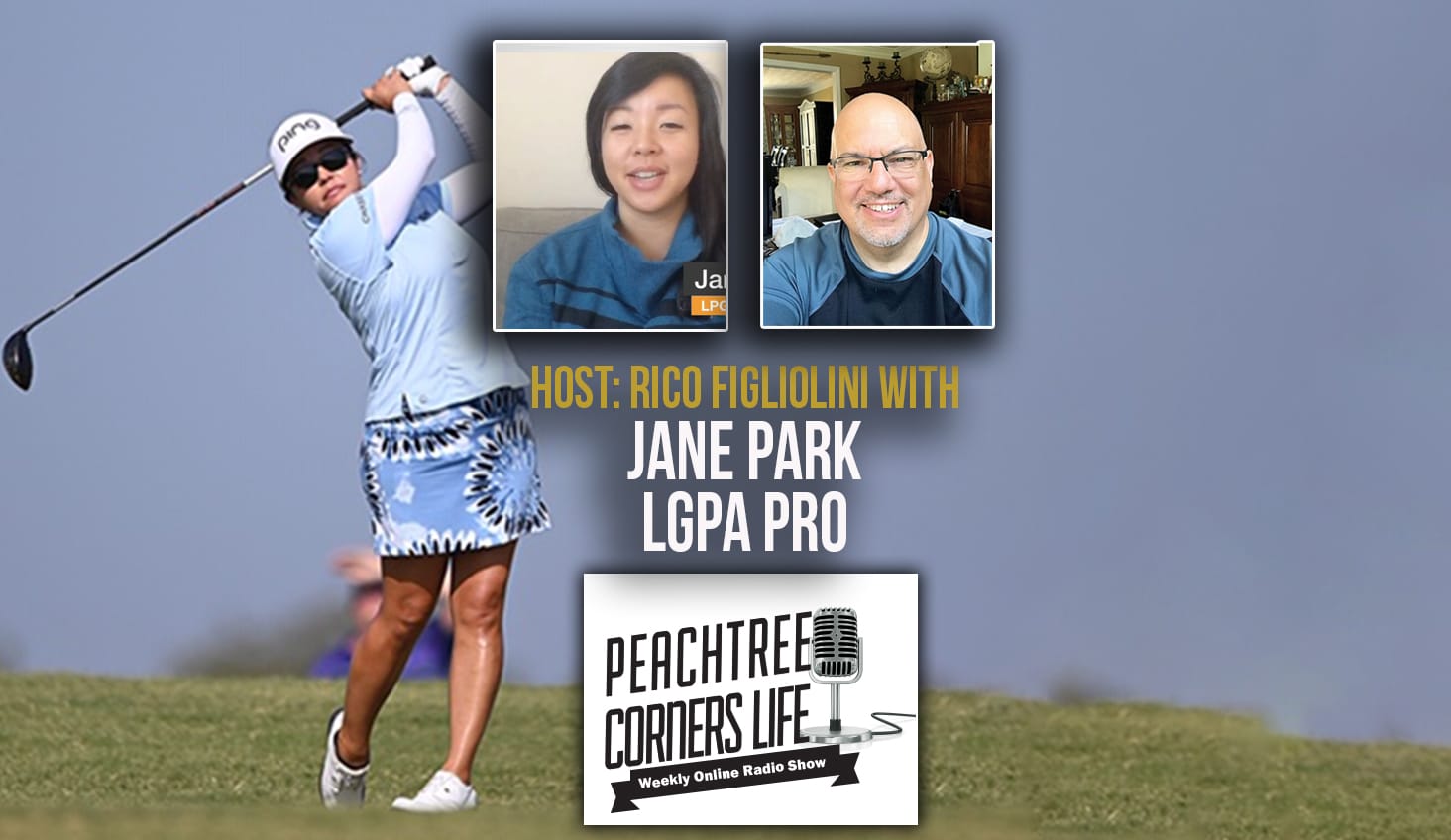 In this episode of Peachtree Corners Life, Rico Figliolini video chats with Jane Park, pro golfer and upcoming player in the 67th KPMG Women's PGA Championship. Coming to Atlanta in 2021, this championship golf tournament will have the largest purse in women's golfing history. Listen in as Rico and Jane talk about her history in the sport, training at a young age, her preparation for this historic event, and her life in Georgia.
But, obviously, with the work that KPMG does with their leadership summit and their charitable initiative to help future girls get development and advancement and empowerment through women's golf. It could be a great stepping stone to empowering little girls and women and helping us maybe reach that equal pay in the golf life.

jane Park
Major championship golf returns to Georgia in 2021 when the Atlanta Athletic Club hosts the 67th KPMG Women's PGA Championship. The event combines an annual major championship with the KPMG Women's Leadership Summit and an ongoing charitable initiative called the KPMG Future Leaders Program – all focused on the development, advancement, and empowerment of women on and off the golf course.
Founded in 1898, this will be the second women's major championship hosted by Atlanta Athletic Club, which was the site of the 1990 U.S. Women's Open, won by Betsy King. The 2021 KPMG Women's PGA Championship will be played on the Highlands course, which has also played host to three PGA Championships – 1981 (won by Larry Nelson), 2001 (David Toms) and 2011 (Keegan Bradley) and the 1976 U.S. Open won by Jerry Pate.
The KPMG Women's PGA Championship – a collaboration between the PGA of America, KPMG and the LPGA – offers a purse among the highest in women's golf. It is broadcast in partnership with NBC and Golf Channel.
Podcast Transcript
The championship began in 1955 and was known as the LPGA Championship from 1955 to 2014. Since 2015, the KPMG Women's PGA Championship has been played at Westchester Country Club, Sahalee Country Club, Olympia Fields Country Club, Kemper Lakes Golf Club and Hazeltine National Golf Club. The 2020 championship will be played at Aronimink Golf Club in Philadelphia with Australia's Hannah Green defending her title against the strongest field in golf.
Rico: [00:00:30] Hi everyone. This is Rico Figliolini, host of Peachtree Corners Life here in the city of Peachtree Corners in the great state of Georgia. Today this morning, at nine'o'clock. If you're listening in soon, we're starting with a really cool guest. She's been in the pro golf business, if you will, for, since she was 11 years old. So I'm going to introduce Jane Park with me. Jane Park. Hey, Jane. Jane is a pro golfer with the PGA. Great. Thank you. And we're discussing today, the reason we're talking, she lives in Woodstock, close enough to Peachtree Corners that we could say she's, she's part of the city, if you will. And because there's going to be a returning championship that she's going to be part of coming in 2021 and coming just a few minutes North of us at the Atlanta Athletic club, and that's the 67th KPMG women's PGA championship that's returning to Georgia. It's actually going to have the largest, a women's purse, I think right.
Jane: [00:01:44] Yes. One of the largest women's purses. First place is $645,000. So that's a good.
Rico: [00:01:55] That's a great pay though. Yes, for sure. And I think the whole purse takes like 3.8, 5 million.
Jane: [00:02:02] I think it's about 4.3 million..
Rico: [00:02:05] Wow. Okay. That's grown even more than before. So this is the largest Women's purse, if you will, in history it seems.
Jane: [00:02:16] I think there's one that's slightly bigger, but this is definitely one of the biggest.
Rico: [00:02:21] And that's a shame because really, I mean, since title I forget, was titled on a title 11. Women have, girls have grown into sports like soccer and other sports coffers. No, no different than that. I believe there are high schools that have women's golf teams in stuff, and yet the purse's continued to be smaller than the men's it seems sometimes. And I, and I'm sure you would love to see that a little bigger.
Jane: [00:02:51] Yeah, for sure. For sure. Maybe a, you know, one day. One day the ladies can play for just as much as the men, but unfortunately, I don't think I'll see it in my lifetime. But, obviously, you know, with the work that KPMG does with their leadership summit and their charitable initiative to help, you know, future girls get, you know, development and advancement and empowerment through women's golf. It could be, you know, a great stepping stone to empowering little girls and women and helping us maybe reach that, you know, equal pay in the golf life. So hopefully one day.
Rico: [00:03:34] Yeah, that would, that would be the right way of going. Now you, you started, you're born in Chicago. You started at 11 years old putting cuffs with, tell me a little bit about that.
Jane: [00:03:50] I was at a law firm was the, well, you know, when I first started I didn't really have a love for the game. My older brother was playing. He's three years older than I am and he was playing and had my dad as a coach. So I pretty much just followed along. And, it was kinda my dad to take me to the golf course and babysit me. So I just got super bored one day just rolling down the hills, you know, like being a kid. So my dad just put a club in my hand and I guess I was a natural when I first started. So he focused his attention, he shifted his attention from my brother to me. So that's kind of how I got started. You know, hitting a couple balls a day and then kind of making it, you know, hitting more balls, every day. But you know, eventually I wanted to get a scholarship to school. She's a big Heller family and my goal was to get to UCLA and I was able to reach that goal, so I was very happy about that.
Rico: [00:05:04] Well that paid for college, and I'm assuming that.
Jane: [00:05:07] Yes, yes, it did. It did. Yeah.
Rico: [00:05:11] I'm curious now, because obviously you're the natural in the family, it seems that your brother's still like, does he play golf still?
Jane: [00:05:22] He does not, I beat him. I think that was when his love for the game kind of went, okay, well if my little sister can beat me, then I probably shouldn't really do this anymore. Wow.
Rico: [00:05:36] That's cool, yeah. Every kid in the family is different. You know, they all, we all have different aspirations in silence. God knows I have three kids and they will differ from each other. Well, they're older now, so think of this. They will graduate and they live at home, but you know, it's okay. I don't mind the noise around the house. But the, so you, I think, you've been playing for 13 years now.
Jane: [00:06:08] Yes. So this'll be this coming 2020, will be my 13th season. So 13th year on the professional tour.
Rico: [00:06:17] I'm sure at the beginning it wasn't that easy. Right? I mean, a lot more practice.
Jane: [00:06:21] You know what, I actually got really lucky my first few years. I actually had a few good results and I didn't really go through the growing pains, if you might say. You know, being a newbie on tour. But, you know, the growing pains came a few years after where when I thought, you know, "Oh, I played so well my first few years. It's just going to be a smoother ride from here now." But, you know, all golfers will know that you go into kind of slumps and you know, you play well a few weeks and then all of a sudden the next week, you can't. Even make contact with the ball sometimes. So, you know, it's definitely been a learning process. I definitely learn something different every year that I'm on tour. And I'm very, very thankful that I've been able to have, you know, a pretty relatively long career out here on the LPGA compared to, you know, some of the other players on tour.
Rico: [00:07:28] You know, it's interesting to me. I mean, I'm sure you know, you would think younger people, I mean, you're not old. You're young still 24 maybe or something. Are you like 23?
Jane: [00:07:42] 33
Rico: [00:07:46] Oh well, sorry.
Jane: [00:07:48] That's okay. It's very flattering.
Rico: [00:07:52] But still 33 is not old.
Jane: [00:07:53] I mean, you know, it's not in golf age. I'm pretty ancient actually.
Rico: [00:07:59] Oh, man. All right. Well, you know what? It's like the Alta tennis players right there. They age at 70 they'll still be on the court as long as they could spot that ball. So, you know, learning every year, new things I used still. So do you, I heard that recently you were being coached by someone here in Georgia as well. The, does that help having, is it like anything else? Like, you know, sales is like that. Other sports is like that where you need to revisit to a coach to teach you a little bit more?
Jane: [00:08:35] Yeah. I think it's itself, it's all part of, you know, as a professional, you're trying to reach perfection and obviously it's not possible. But the aspect of trying to get better every day, if you need someone to kind of guide you, because if I'm doing it, if I'm doing this all on my own, then I honestly don't really have, I don't really have enough knowledge to teach myself. So having someone who, and my coach, his name is Scott Hamilton, and he's up in Cartersville, Georgia. And he's, he teaches many, many players on the men's tour and a few on the women's tour as well. But he's so knowledgeable and just kind of gives me, you know, a drill or two to work on between our lessons. So it just kinda, it's almost like kind of keeping someone interested with a little tidbit to work on, you know, so you know, if he didn't have any type of guidance or any type of direction then it would be hard to really work on something to improve yourself.
Rico: [00:09:46] So every young person or parent watching this as they have young kids at sports, they know that they need a coach somewhere.
Jane: [00:09:54] But also you can't have, you need to be careful that you don't find the wrong coach. Cause there's a lot of them out there.
Rico: [00:10:01] Oh yeah. With thanks. Just like any other business. So, when you started out younger than, I mean, your dad was your initial coach, I guess. When did you actually get a coach? A real, not a real coach, but like a professional coach. At what point did that happen
Jane: [00:10:21] You know, I was very lucky in that my father was a huge golf nerd. And he read every single book known to man. And, you know, in terms of golf. So he read, you know, Jack Nicholas, his book, he watched videos and tapes and he learned the fundamentals that way. And, you know, just like any other sport, the fundamentals are the most important foundation of whatever game you're playing. So he had, he was very knowledgeable in terms of trying to teach me those basics and you know, got me pretty far. But my first coach was, his name is Scott Wilson, and I started working with him when I was about 15. So I would say I had my first PGA professional coach at 15. So, yeah, in a long time since then.
Rico: [00:11:19] You do you have, do you do, if you had, I don't know if you have children yet or not, and if you do, if you end up, would you encourage them to be in the same sport?
Jane: [00:11:32] Absolutely. I think, I would. My husband is actually is super into golf. He's actually a golf caddy on the women's tour, so we get to travel together. But yes, he loves golf. And I think he would love nothing more than to go play golf with his little girl or his little boy.
Rico: [00:11:53] Right, right. Yeah, that would be cool. Yeah let's get back a little bit to the KPMG and then we'll talk a little bit more about that. You, your growth as well, but I don't, I just want to make sure that we cover the championship well enough here. Tell me a little bit more about the KPMG women's PGA championship that's going to be coming in 21 to Georgia, to the Atlanta athletic?
Jane: [00:12:18] Well, the KPMG women's PGA, it's one of five LPGA majors and the men only have four majors, but you know, the ladies, we've got five. So I mean, that's a little better, I guess. It's a pretty unique collaboration of the PGA of America, the LPGA and KPMG. And for, I think it's, I think this is going to be its sixth year as a major. But they basically, you know, the three of them. The three, PGA of America, LPGA and KPMG come together and just host this world class event. And the first time I played the KPMG, I think, I remember thinking to myself, wow, I feel like a PGA tour player, which is. You know, it's an experience that you can never get unless you were a player in a PGA tournament. But you know, from beginning to end, it's first-class. We get, you know, our own courtesy car. They have world-class chefs that come in and cook for us. Breakfast, lunch, and dinner. I mean, I just, I'm getting hungry thinking about it now. But, you know, 2016 was its inaugural KPMG event. The first KPMG women's PGA and, you know, it's one of the strongest fields in all of the LPGA schedule. And yeah, I mean, there, it's going to be broadcasted on NBC and golf channel. It's going to be on some major networks and you know, pure, if you're out in the Atlanta area and if you want to see some really great golf, please come to Atlanta athletic club in 2021 and we're giving you a very large heads up on this, so there's no reason you can't make it.
Rico: [00:14:23] Yes. The, they've had some big tournaments at the Atlanta athletic club.
Jane: [00:14:31] Yes.
Rico: [00:14:32] I'm looking forward to it. I'm not, you know, anyone that knows me, I'm not a golfer per se, but I can drive the ball a little bit. Prof is good for me, but I don't mind being on the green watching. That'll be cool to be up to be out there. So are you, you know, you have, you have two years or a year and a half, I guess, working towards that. Right? There's going to be 400 players, the guests that run through that now. So what are you planning on doing to get ready for it?
Jane: [00:15:08] Well, I'm, I mean, I've played the Atlanta athletic club I think only once or twice. And it's quite far from where I live. But I might be making a few trips over there. There's obviously so much history there. It goes into the golf course. It's got a world-class practice facility, which is amazing. And they've hosted, you know, numerous men's majors and, you know, their most recent men's major that they held at this course was won by Keegan Bradley, the PGA championship in 2011. So, and they also had the U.S. men's amateur championship there in 2014. So it's definitely one of those major championship rotation golf courses.
Rico: [00:16:00] So if you've, for parents that have young kids maybe interested in golf and stuff, or sports, but golf in particular, probably. What would you say to them? What would the, what would Jane Park's advice be?
Jane: [00:16:17] My advice would be a few things. Find a good coach, someone who's knowledgeable, someone who knows what they're talking about. But mostly, I would say make the sport fun for your kid, because obviously, you know, a lot of, a lot of kids and parents and kids have a goal, maybe more of the parents school to, you know, get them, get the kid in a sport and get a scholarship to college, which is huge. But you know, even if the kids' aspirations are just to get a college scholarship, that it's a lot of pressure to put on a kid. And, I've seen so many young players, young talented players who just get burned out so quickly because of the pressure that they feel from their parents, from their coaches. And just, you know the kids are very, very competitive nowadays. I don't know if you've noticed, but kids are very competitive and that's not a bad thing. But I think a lot of positive energy and a lot of, you know, the right type of support, you know. Be a parent and let someone else be the coach because I've seen this way too many times where the parent becomes the coach and there is no distinction between a parent and a child. It's just a parent and a coach, or sorry, a child and a coach.
Rico: [00:17:49] That makes a lot of sense. Yeah. I've had my kids go through baseball, soccer, lacrosse, if it's sports. You learn better, I think a child learns better from a coach than this sometimes. Cause you take it, it's a different space to take it
Jane: [00:18:07] 100%.
Rico: [00:18:08] Yeah. I can agree with that. Just a couple of… We're getting towards the end of our time and I want to be able to let you go on time, but I thought maybe we should, we could go
through a couple of quick things. Jane Park and her personal interests and stuff. Do you have a dog?
Jane: [00:18:30] I don't have a dog.
Rico: [00:18:31] You don't have a dog.
Jane: [00:18:33] I cap away too much, so I can't take care of a dog.
Rico: [00:18:40] Do you have a favorite food or foodie thing that you want?
Jane: [00:18:42] I am a foodie. I honestly, whenever my mom's around when she's around right now, she's here in my house. I ate Korean food for breakfast, lunch and dinner. My mom was born in Korea. Yes.
Rico: [00:19:00] You get to eat authentic Korean.
Jane: [00:19:02] I will not turn down a Chicago deep dish though. I mean, you put that in front of me and it will be gone.
Rico: [00:19:09] Chicago?
Jane: [00:19:10] Oh yeah.
Rico: [00:19:10] Yeah. My parents were born in Italy, so growing up with the town.
Jane: [00:19:15] Wow. I'm so jealous. I've never been to Italy and it is on my bucket list and I just eat pasta.
Rico: [00:19:23] You need to go. She's telling me she took the year off and she traveled the world and her favorite, one of her favorite places was Italy. So actually it's not, we need some, sorry, she's Korean. Her husband is so different. Are you a waffle house fan?
Jane: [00:19:39] Yeah. I have one that's almost walkable to my house. Oh, real big.
Rico: [00:19:44] Cool. What's your favorite part of Georgia? Do you like about your, what? Why did you move to Woodstock?
Jane: [00:19:53] Well, honestly, my favorite part of Georgia is we get four seasons here. And so I moved here from California, and obviously it's beautiful in California. It's 75 and sunny every day. But, you know, moving here, I saw snow, you know, for, not for the first time, but I mean, coming from California, you never really see snow. But, you know, waking up one morning and then having everything covered in snow, I mean, that's just, it's so beautiful. I love that we get
fall. I mean, fall is so beautiful and in the state of Georgia. But mostly, I mean, I came here because obviously the cost of living is great compared to California, but also, Atlanta Hartsfield is a great airport to my out of tour work. I mean, it's awesome everywhere, you know, nonstop.
Rico: [00:20:54] So it's definitely a hub for everyone. My son just left this morning to go to Miami I think for work and it's, it's a great place to go from. All right, hang in there for a minute. We're going to close it out through our Facebook live stream to our fans out there who share, if you all watching, this has been Jane Parks. She's a LPGA pro golfer. You can follow her actually. What did you, what Instagram?
Jane: [00:21:23] Instagram. I'm @TheJanePark. And on Twitter I'm the same @TheJane Park.
Rico: [00:21:29] the Jane Park. That's amazing that you got that. That was cool. So follow her on Instagram and you can scroll through until whenever, and you can see her playing in 2021, that the 60, 57th, KPMG women's PGA championship at the Atlanta athletic club. Thank you guys.
Rabbi Yossi Lerman, talking about Chabad of Gwinnett, Community Outreach and his New Book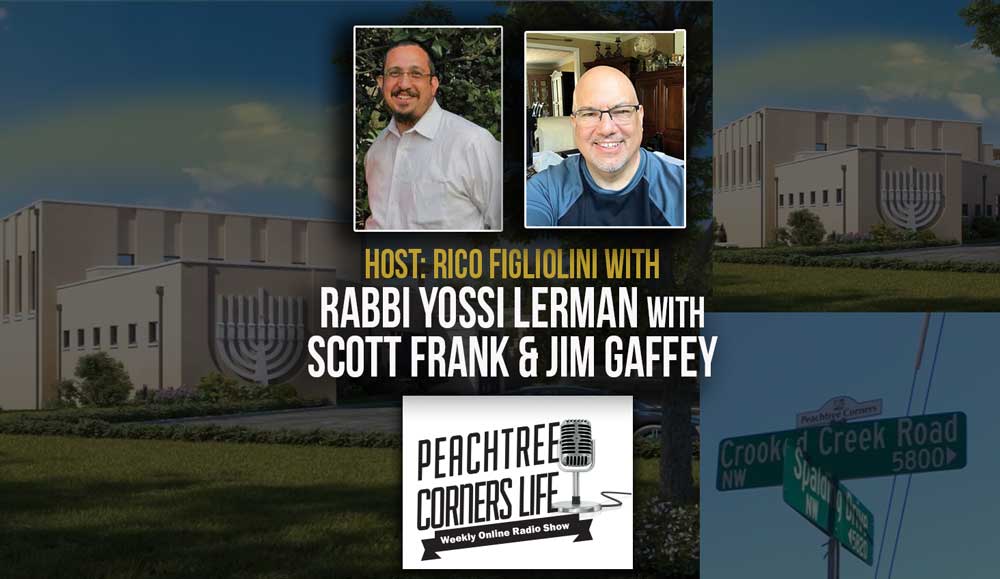 Rabbi Yossi Lerman and co-author of "Less Stress, More Joy," with co-author Scott Frank and Jim Gaffey, President of the Men's Club Outreach of Mary Our Queen Catholic Church, all joined Rico Figliolini to discuss Chabad of Gwinnett, their philosophy, outreach, their planned Chabad Enrichment Center in Peachtree Corners.
Recorded at Atlanta Tech Park, in City of Peachtree Corners, Georgia
Resources:
Chabad Website: www.ChabadOfGwinnett.org
Rabbi Yossi's Phone: (678) 595-0196
Mary Our Queen Website: https://maryourqueen.com
Jim Gaffey's Phone: (770) 364-6359 Buy their book:
Podcast Transcript
Rico: [00:00:30] Hi everyone. This is Rico Figliolini host of Peachtree Corners Life and publisher of Peachtree Corners Magazine. I appreciate you guys joining us and we have a special guest today. But before we get to that, I just want to acknowledge our sponsor here at Atlanta Tech Park in the City of Peachtree Corners, we're in that podcast studio, Atlanta Tech Park is an accelerator, huge place. Lots of startups and mid size companies ready to be pushed out of the nest. And they're doing a lot of high tech stuff here. This actually sits on Curiosity Lab at Peachtree Corners, which is a stretch road about a mile and a half. That is an autonomous vehicle track that's alive, living track. The mobile, IOT type technology companies can come here and experiment in life environment to see how their equipment, software and such works. So just a great opportunity to be in a great place in the city of Peachtree Corners. Now to get to my guest today, my guest today is Rabbi Yossi Lehrman. Thank you, Rabbi for coming. Rabbi Yossi Lierman is head of the Chabad of Gwinnett. And, we're going to be discussing a little bit about that, the philosophy and the outreach. Scott Frank also is chairman of the building committee for Chabad of Gwinnett. They're creating a Chabad enrichment center. So it's, it's a piece that's going to be, like many of our faith institutions providing a lot of good outreach and, and good places here in Peachtree Corners. And Jim Gaffey, who is president of the men's club at the Mary Our Queen Church. Jim, thanks for being here.
Jim: [00:02:05] Thank you Rico.
Rico: [00:02:06] Good community support from local church?
Jim: [00:02:08] That's correct.
Rico: [00:02:09] Excellent. Scott, thank you for being here as well. So Rabbi, tell me a little bit about, tell me a little bit about yourself? Where, where you come from and who you are.
Rabbi Yossi: [00:02:18] Well, sure. My best topic to talk about myself because I should know myself. I consider myself a very lucky person. I am married. We've been married for 32 years to my dear wife Esther, and we've been blessed with seven children. And, by now all of my kids are out of the house. They've established, many of them married and established their life, and in school and in a direction of life. And so I am a person that, every day I wake up and I ask myself a simple question, what can I do to enrich someone's life? I might use a little philosophical question here because we're adults and we can think about this. And if we can answer this philosophical question, I think we can answer the most important question of life. Okay, here's the question. A zebra.
Rico: [00:03:38] A zebra?
Rabbi Yossi: [00:03:39] A zebra. Is a zebra white with black stripes? Or is the zebra black with white stripes? Okay. That's the question that I'd like to pose here today, and of course that could
be expanded. Am I a good person sometimes doing wrong things? Or am I a bad person sometimes doing good things?
Rico: [00:04:17] I haven't heard it that way before. Interesting.
Rabbi Yossi: [00:04:19] Or, we continue to expand. Am I a physical human being sometimes having a soulful spiritual experience? Or in fact am I a soul, a spiritual being in a physical body having a physical experience?
Rico: [00:04:49] Wow. No, that's getting deep now. That is deep though. I like that.
Rabbi Yossi: [00:04:59] My point is, of course, is that we, we we're always looking for the positives. And that's something that as an organization and as a movement, our movement is Chabad. Chabad is an international educational and cultural humanitarian organization. Chabad is more or less throughout the entire world. We have over 5,000 offices throughout the world.
Rico: [00:05:34] Now so the people understand cause it's, lots of Baptists, a lot of Catholic. Like so Jewish people, I grew up in Brooklyn, you know, it was just, they were my best friends and everything. Is Chabad a separate sect of the Jewish community. How is that, how would that relate to that?
Rabbi Yossi: [00:05:52] Good question. Chabad is mainstream Judaism. And Chabad has utilized a secret formula. And this secret formula is known as Kabbalah. Kabbalah is available and Kabbalah is a school of thought that does delve deeper into the realities. Like the black stripes or the white stripes, or am I good or bad in essence, or am I a soul or am I a body? So that is Kabbalistic thinking. And, so Chabad has utilized lots of the Kabbalistic teachings. For one purpose, and that is to enrich people's lives. And so, our teachers, our Chabad teachers in our generation, I'm a follower of Rabbi Menachem M. Schneerson. To many he's known as the Rebbe. Probably one of the greatest dynamic teachers and leaders of Jewish world in our century. He is the one motivating, inspiring all of his followers, including many of his Rabbis around the world. And the message is one of let's bring light. And if you will take a look. I'll show you what I'm thinking about. When you ask people what kind of symbol, when they think of Judaism, what comes to mind in an image, in a physical form? Let me ask you that question. What kind of?
Rico: [00:07:53] The Star of David.
Rabbi Yossi: [00:07:54] The Star of David. Thank you very much. That's the Israeli flag. But most people don't realize is that there's actually no biblical reference or sources to the Star of David.
Rico: [00:08:07] Really? I never knew that.
Rabbi Yossi: [00:08:08] Yeah, so that's another good question. Another topic is the Star of David. The Star of David is very Cabalistic. But mainstream Jewish symbols in fact, if you go to Israel, you'll find this on the main building of the Congress, the Knesset, and that's a candelabra. People know about Hanukkah. Hanukkah is the Menorah, the candelabra. We use the candelabra as our logo. Okay.
Rico: [00:08:44] And we'll have that logo on our show notes. So this way listeners can see it too.
Rabbi Yossi: [00:08:48] And so our message is, is that, I'm not trying to convince anybody anything they don't already know or they don't already have. What we're all about is to turn the lights on. Turn the lights on, allowing people to see for themselves. They're going to discover on their own what's going on around them. What's a good decision. What's not a very good decision. What's healthy and what's not healthy. And that light that I'm talking about comes from the Torah. That's of course the Bible. We consider that to be the most sacred, divine study an object that we have on planet earth.
Rico: [00:09:37] So Torah, like the Bible, like for gentiles, I guess. So that would be the same sort of, or not in comparison.
Rabbi Yossi: [00:09:47] Right. We have one Bible.
Rico: [00:09:50] So, we've talked a little bit about the philosophy about Chabad, and I, and I don't want to neglect that out of that philosophy. You guys, you both have co-authored a book, so I'll, I'll show this up here. "Less Stress, More Joy." So Scott Frank and, and Yossi here, Rabbi, co-authored this book because they came out of that philosophy of, of harmony, of peace, of outreach. So tell us, give us a minute or two on this, on the book? Why and what, what, what is it for?
Rabbi Yossi: [00:10:27] We, we actually, I, Scott and I came about this, from our own personal life and our own personal experience, as a member of Chabad joy was always the ultimate experience. If you're not joyful, then you're really not experiencing life. And we are very strong into clear your mind and heart from all negative emotions. And that's what we teach. Chabod is a very big game. Education, the word Chabad is a Hebrew word, and we'll just say that it means knowledge. So we're very much into how to turn the lights on. Information, knowledge.
Rico: [00:11:29] Would you say the Kabbalah also informed the book a little bit? That whole?
Rabbi Yossi: [00:11:32] Yes. The answer is yes. For coming from, my contribution to the book, it came directly out of the studies of the Torah in Kabbalah and Hasidut.
Rico: [00:11:45] How long have, Scott, how long have you been involved with, with Rabbi Yossi, with Chabad of Gwinnett, with this part of the faith, if you will?
Scott: [00:11:54] Yeah, it goes back, I think it goes back to 2012 is when we first met. And, and to be honest with you, I had never met an Orthodox Rabbi before. And, I actually went to a Rosh Hashanah dinner and, shook his hand and I thought that would probably be the last time I ever spoke to him. It's interesting. He, he followed up with a phone call to me and said, would you mind having lunch? And, I'm one of those people, and this gets into the book, that believes like everything kind of happens for a reason. And anybody that asks me for lunch, I go to lunch with, or I'll meet with them. So I've met with an Orthodox Rabbi for lunch. I thought he was asking for money. I thought he was going to try to maybe get me to join his Orthodoxy. I didn't know what he wanted exactly, but I went with an open mind and a peaceful heart. And, we turned out I had more in common than we expected. At least I had expected. I'd never met someone who, 24/7 was giving his life and his family's life to helping people. He very much was, caring about me. And, we, we, we connected. I think we connected in a way he didn't expect either. But he, he comes out from Torah and Kabbalah. I come at it, I wasn't raised very Jewish, and I come at it from self help books and from, you know, conferences and radio shows and podcasts. So, but we both had the same goal, which is, trying to live a joyful life. Trying to help people. And, and we actually started on a monthly lunch, which, over the last few years has now become a weekly meeting. And, and we realized that we could together help people in a way that we don't know that anybody else has because we come at it from, from different places. And, together we have come up with this peace, harmony, joy approach to living a better life.
Rico: [00:13:47] That's funny. I'm a, I think Jim can appreciate this. I'm a, I'm a former Catholic. Grew up Italian Catholic, Brooklyn. I mean, you can't, unless you're Irish, you can't get further into the church, I guess. But then I moved South, began, became a Reagan Democrat, although that's sort of gone by the wayside. Baptist born again Christian. But I was a non-practicing Catholic and I'm somewhat of a non-practicing Christian right now. So I see what you said before you've learned from self help books from, from, you know, going that route. So what was the biggest takeaway that you learned from the Rabbi doing this book? What's the thing that you learned probably the best out of it? But what came to fruition from it?
Scott: [00:14:37] The biggest thing I learned was that. You know, on the outside, he looks like a Orthodox Rabbi. He almost looks unapproachable. I mean, he is such a, a man of God. And, and, and he's such a spiritual person. And yet, on the inside, he's just like all of us. He has feelings, he has experiences, and he is striving to have a better life, a wonderful life, just like all of us.
Rico: [00:15:08] Rabbi, what about you? You know, working with Scott on this book? Is there anything different that you, that was surprising that you learned?
Rabbi Yossi: [00:15:17] I was very surprised. It's almost like saying, I know why I'm doing this, and for me it's like a calling. And I associate that calling to God. But then I found this individual who didn't seem like he was engaged in any religion. Yet, he's just like me. Where he is, devoted 24/7 to the cause. All Scott wants to know is how can I make this world a better place? And I said, that's, that's what I want to do. And we're both about the same age. And we realized.
If not now, when? So I was very inspired by that, and I felt that while I'm sometimes unapproachable and people expect things from me, but if Scott says it and he'll share with them the same message, people are gonna listen. And so, that was the big aha moment. Plus, I think that we both took our system and we applied it in our, in our factory. Which means we actually had a laboratory and see how this works and the laboratory is the Jewish community in Gwinnett County, where we started giving classes, started giving workshops. I see my role as step one; Let's peacefully relax. Let's calm down. You can't talk to somebody who is stressed out. Who is all over the place, who's juggling 25 balls and on the phone, you can't talk to somebody. That's a person who is just not available. So I find my role, as, as helping people peacefully calm down, relax. Step one, peace.I've, I studied, and I want to mention that in the Bible it says in this week's Torah. It says, the very first thing that God said to Moses, the very first words coming out of God to Moses, okay? Everybody wonders what did God say? He said Moses, take off your shoes. Take off your shoes? What, what, what advice is that? And I always read into that. These one of interpretations. Relax. This is, this is like, like your bedroom. You could take your shoes off here. You know, you can take off your, your armor, you can, you can relax. So I saw this happen in our community. I saw people coming and why are they coming? To relax. They're coming as if they're going to a shrink or they're going to therapy. First step, peacefulness. Second step, bringing people together. Harmony. We do this on a daily basis, filling up a room with people, making sure that there's peace in the sense of there is harmony, that there is respect for each other, appreciation for each other. And I do need to control that together with the peace and then the harmony. We reach joy. So, that's the story here where we not just had the idea and how we strive for this, but we actually put this to the test and then came the book.
Rico: [00:19:24] So for those that would like to pick it up. It is less stress, more joy, and you can go to PeaceHarmonyJoy.org.
Scott: [00:19:31] Or Amazon.
Rico: [00:19:32] Or Amazon, right.
Scott: [00:19:33] And by the way, we're in for $3 and 58 cents we're no profit. That is the minimum that Amazon will sell a book for $3.58 you can have that book too.
Rico: [00:19:41] Excellent. So that's where you would go for this, and you should visit actually ChabadGwinnett.org also find our a little bit more about Chabad Enrichment. So let's talk a little bit about that. How long has Chabad of Gwinnett actually been? When was it founded? How long has it been around?
Rabbi Yossi: [00:19:56] Yeah. Chabad just celebrated 18 years in Peachtree Corners. Which is Peachtree Corners today, it was Norcross. So we moved out 18 years ago. And I remember the day we moved out because that was a very, very significant day in American history. The day Chabad of Gwinnett was born was 9/11. We were coming from such a dark place, a place of
fear, a place of hate, of uncertainty. I knew right away what my mission is. I figured if 11 people can cause so much panic into the world, well we can bring, we can find 11 people to bring more peacefulness into the world. And so Chabad was born 9/11, and significantly that is right in the high holiday season of our Jewish New Year. For me, the mission and the cause is so clear and so obvious. The numbers really speak for itself. Gwinnett County has a Jewish population of about 10,000 Jewish homes, I know that because I have the data. In fact, I'm probably the only one who has this data and nobody's getting it because this comes from a place of trust. People trust me with their information, right? They know, the Jewish community knows, I'm there for them. And so it's more than, Chabad is much more than a synagogue. That's for the records. Chabad is more of an enrichment center and enrichment can apply to everyone, including Jews, including non-Jews, including all of those faith because our message is universal.
Rico: [00:22:22] It's interesting because Gwinnett County is probably the most diverse county state of Georgia. So when I moved here myself in '95, I didn't realize how diverse it was. Especially at Peachtree Corners or this area before originally called Norcross. Probably not as diverse as the rest of the County, but became more so as it went through more urbanized actually, and it's going to get more urbanized. Do you see that changing also the way Chabad Enrichment Center will focus? I mean, this, this county is changing.
Rabbi Yossi: [00:22:58] It's changing, and I think that it's, it's, it's a healthy situation it's a healthy condition where minorities should take care of themselves. Which means that if somebody needs something, they need a doctor. They need a reference for an attorney, they will turn to me and say, rabbi, who do you know? Because you're going to go to somebody of your own ethnic or whatever background. So, we take care of each other and that's why I consider ourselves the enrichment program and we are dedicated to enrich the quality of life, whether it's material, emotional, physical, or mental. We cover it all. And the picture is there's only one other synagogue in the entire Gwinnett County.
Rico: [00:24:01] Is it the one on the border? Beth Shalom? Or are you talking about another one?
Rabbi Yossi: [00:24:06] Beth Shalom is not in Gwinnett County. The other, the one English speaking synagogue is in Snellville Georgia and that's Beth David. It's a reform temple. I've been there a number of times because I would love to see them grow. In fact, I would love to see more synagogues in Gwinnett County. My, I'm sitting at a level where I want to see more, more activity in Gwinnett County. So we have 10,000 Jewish families and one synagogue. What's wrong with that picture?
Rico: [00:24:40] Yeah, that's hard to service, if you will, that, that population, right?
Rabbi Yossi: [00:24:45] So, we Chabad is, is the perfect match for this scenario. In other words, if you brought in a conservative temple, some Jews might say, I'm not conservative, or they might just say, I'm unaffiliated. Don't you get it? I don't want to be affiliated. That's why I moved
out to Gwinnett County. Chabad represents too many. It's for people to go to when you need help. Chabad has a very, very interesting, just an open mind of accepting everyone, appreciating everyone. And like I said earlier, it's really about, I am always looking for what's positive in you. I want to help you be the best you are. And so I'm, I'm a gold digger. What does that mean? I know there is gold here. We gotta dig, but we haven't found it yet. No problem. Dig deeper. I know there's good in every individual. I know there's a soul in every individual. I know that there is a soul in every encounter and every experience. There's good in everything. So, right now Chabad is it in Gwinnett County.
Rico: [00:26:16] Well that's good. So I'm going to segue now into a quiet, strong man here. Jim Gaffey has been quiet, here and just listening in with us, but he's been a supporter, right? You've been a bit of a supporter of?
Jim: [00:26:32] Yes, since I first found out about them through actually Scott Frank's mother and I are friends.
Rico: [00:26:39] It's a small world.
Jim: [00:26:44] And I was approached, by the way, Scott Frank's mother introduced Scott to the Rabbi in a Rosh Hashanah meal. Inherently my background is very inclusive. Who grew up similar to you in a community in Brooklyn, at the border of Flappers and Crown Heights, and many of my friends came from a Chabad background. And when I first moved here in 1980 that was not what I found. It was almost a singular community of one background from one faith. However, we have over the last 30 years, built our own community, a Catholic community are represented here, and the Peachtree Corners area at Mary Our Queen Catholic church. So that was the basis of how I came to understand the Chabad and its attempts to grow. We're here for full support of that growth. The men's club, as you have been a speaker at the men's club, we've had many different diverse backgrounds as speakers. And for us, this was a natural progression of our outreach in the community. Presently there are nine congregations around us. Why not the Chabad of Gwinnett?
Rico: [00:28:07] Sure.
Jim: [00:28:08] And so that's the initial answer to your question. Why are we here? And what are we doing? Is to support them and welcomed them into our community.
Rico: [00:28:16] I totally appreciate that. Cause you know, like you growing up in New York, every, every other block was either a church or a synagogue. At least from where I came from in Brooklyn.
Rabbi Yossi: [00:28:29] Can I, can I interrupt for a moment? Because I think this, this, this should go public. The fact that we're sitting here together and we're talking about a Jewish
organization and Jim Gaffey is here and to support. This is messianic, this is, this is amazing. And, publicly on behalf of the Jewish community and the Jewish world, I want to say thank you.
Jim: [00:28:54] You're welcome.
Rabbi Yossi: [00:28:55] And your, your, your, your commitment and devotion is so real. We, we, we feel it. We really appreciate it.
Jim: [00:29:03] Oh, you're welcome.
Rico: [00:29:05] Jim has been a great supporter of so many different things, so I totally agree with that. And whether it's from the church or anywhere in the community, he's always been a connector. So Jim has always put me to someone or brought me in somewhere, and it's an interesting bit of a journey. Every once in a while we'll be not talking for months and then all of a sudden I get a text from Jim. By the way, did you know? And so always someone in there trying to help out. So I appreciate that. So I look forward to the next men's meeting and I'll ask you about that at the end of the show. Who's up next, by the way? For the next era. I'd like to put that out. So we've talked a bit about the Chabad itself, about the Enrichment Center about the book, about the outreach. I want to talk a little bit about what's going on now with the, the idea of creating another faith institution, if you will, building a structure here in Peachtree Corners. I mean, we have like, like you said, we have nine in, right? Baptist, Protestant, Presbyterian, a variety. There's no reason there should not be a Chabad Gwinnett Enrichment center in this area as well. And you guys own a piece of land that's on Spalding drive. Just so that people are familiar where, where it is, it's sort of a triangle-ish piece that is across from village park. And I was there this morning to meet some people. And it's down the road from up the road depending on how you look at it from Peachtree Elementary. So not a great corner, but a, a corner that can be adjusted if need be, but you own a piece of land there. And actually another piece that came, came to fruition that married up with it now almost. And that's where you're looking to do the enrichment center. Am I?
Rabbi Yossi: [00:30:55] Yes. Yes, thank you. So, it was clear, it was clear to us from the get go that a facility was necessary. A physical structure that has the right space and the amenities of an enrichment center. That could include a library. That could include a kitchen to help feed people, naturally a sanctuary, a place to have classes. So back in 2006, we're doing the, the search, we're looking around, we're looking around. We always knew that, that Norcross is going to be our base. As I keep talking about Gwinnett, but we knew that Norcross has the biggest, largest Jewish population of Gwinnett. And so Norcross is where I parachuted out. I actually looked in the paper, looking for a house for rent, and called the number and came, and I rented a house in the, in the neighborhood of Peachtree Corners. And from, they want to be that, so we will need such a facility. Right now we're renting space on Holcomb Bridge.
Rico: [00:32:21] The office building? Or structure?
Rabbi Yossi: [00:32:23] We have approximately, I would say about 2000 square feet.
Rico: [00:32:28] I can't tell you how many churches have rented, started out in technology park let's say, or places like that. And then became like, had their own place.
Jim: [00:32:35] That's exactly what our church did.
Rabbi Yossi: [00:32:39] And as they say, you build them, they will come. We have outgrown our facility. We're bursting at its seams. Frankly, if you were, if you were interested in making a bar mitzvah for your son, I wouldn't have space for you. I wouldn't have space for a service vote. 150, 200 people. So I call, what do we call that? That's like, you're not equipped. How can you call yourself a center if you're not able to facilitate?
Rico: [00:33:11] And it's not like you can, a bar mitzvah for those that might not know, it's like confirmation for the Catholic faith or something along those lines. But it's also kosher. You need to have a kosher kitchen, so you can't just find that anywhere. It's not like it's going to pop up, so.
Rabbi Yossi: [00:33:30] And I'm talking about lifecycle events, which is, which is a big, big draw. Why do people go to synagogue? Why do they go to a Rabbi? It's typically, one of the big ones is life cycle events. Life cycle events, it starts from birth. It could be circumcision, it could be hebrew school. It can be bar or bat mitzvah, could be marriage. It can be life after that, educating children. I'm also a, life coach. I personally coach people life and life issues. And then of course, I'm involved with people as the age, which is a very big subject. Take a look at Spalding drive and what's going on there? And we're having these all a senior assistant living. Need funerals is what brings up a lot of people to the rabbi. So we knew right away we need a facility. We bought the property. For us it was ideal because it's on Spalding drive. We looked around, I said, there's churches everywhere, so this is like the headquarters. This is perfect. The land was, ONI, and so we bought it. And immediately we went to the…
Rico: [00:34:52] ONI is, for those that don't know, office, industrial. Which are already allowed to build a faith institution on an ONI zoned property.
Rabbi Yossi: [00:35:01] Exactly. We went to civil engineering, we went to full architectural engineering, which you could see on our website. Again, we have actual drawings on our website, and then the economy dropped and literally pledges disappeared. And now it's, it's, it's almost a 10 plus years after that. And luckily, and God blessed me to have Scott Frank. And Scott is the chairman, the chairperson of the building campaign. He has a lot of experience leading groups. A lot of experience pointing to the top of the mountain and getting the crowds there. Let's go. So he's leading our campaign. So what happens next or next question?
Rico: [00:36:00] No, I'm sorry. I was going to say, since you had the building committee, do you want to speak to that, Scott?
Scott: [00:36:06] Sure, yeah, we're, you know, basically about three years ago we kicked off the building campaign. We actually resurrected again back to 2006, right before the recession. They had a, before I was affiliated with this, Chabad Gwinnett had, architectural drawings for a two story, 12,000 square foot building, he described our property correctly. It's kind of a triangle shape. The building is actually kind of triangle shaped, but it's a beautiful structure. And so we, we pulled those out about three years ago. Full civil engineering drawings, I mean, everything that's ready to go to permitting. And now we just simply needed the money. And 10 years later, it's, it's does cost a lot more money. So we started, fundraising again, and we started talking to the city and really getting all the, the, the, wheels in motion. And, and so we've raised a lot of money and we still got more to raise, but, but it's coming along nicely. And, and we, you know, again, you go to our website, you can see the future structure and we're excited.
Rico: [00:37:03] Do, do you foresee, when do you foresee if everything comes together when the shovel hits the dirt?
Scott: [00:37:09] Yeah. Well, our, our, our goal here is in the next few years, honestly. but, but was interesting, and this was kind of a, a gift from above. A little over a year ago, the property next door freed up. So we're raising this money, by the way, we're talking, it's going to cost several million dollars to build our enrichment center. And so, and we're raising money, but it's, you know, it's taken some time. The house next door opens up. And, and, you know, we've always had our eyes, you always looking to expand, right? You always have in your eyes on properties. But the house next door, we've known the people for many years. They said they'd be willing to sell it to us when they eventually were willing to move. And so they signed a contract with us, early last year for a set price. And, but they said, we're not planning to move anytime in the near future. But good news is when you had that property in the future. A few months later, we got an email, that the husband there had been ill recently. They're, they're fairly elderly and they were going to move into assisted living. So, last year we actually became proud owners, in May, of the property next door. Which actually is going to allow us to move into a building sooner. And, and with some, some relatively minor expansion have something much better than the building in the office park.
Rico: [00:38:29] Really, wow.
Jim: [00:38:30] If I might add, that replicates or almost mirrors the experience of Mary Our Queen there. We moved into a, originally a mission out of All Saints in Dunwoody, into an office park. Then we were able to buy land on East John's bridge road, that became actually a soccer field for all the Catholic churches, all the Catholic schools in the Atlanta area until we could get our wherewithal. Then we concentrated on actually switching, getting the property at Corners Parkway and Crooked Creek just down the street from the Chabad's property and then the market collapsed. We were gonna move the church from Buffalo. That's a long story that's been out there, everybody's aware of that. It was a real struggle through the economic decline, we
kept focused, we kept our prayers, towards, towards our goals. I was partially involved in keeping those goals from our original concept. Now we've opened a tremendous sanctuary.
Rico: [00:39:41] Beautiful too.
Jimi: [00:39:42] By the way, people in the community should be aware when a church opens and opens a sanctuary, everything around it is enriched. If I could borrow a word, ours was over a $9 million commitment. The Chabad's commitment is over $3 million. That's committed into the community. That raises, yes it has traffic issues. Those issues can be addressed, but it raises the standard in the community and certainly raises the value of every home in the community. It's stabilizes communities. So I just wanted to show that this, there's a mirroring. And I remember when Peachtree Corners Baptist church was two double-wides on that property. I also remember United Methodist Simpson, Simpson United Methodist. Two double-wides in the Simpson community. As you know, I've been involved in all of these things at the very beginning, actually helping them put out a folding chairs through friends. We need some, we need some help, could you bring us some guys? We built the Peachtree Corners, First North Manish women tennis club, the same way on property donated by Jim Couch. So to see them now struggling, it was like, of course we're going to help you. Of course, we're going to help the Chabad. Of course, we want you here in our community. There's almost no disagreement with that. We tend not to even understand how you could not want to continue to build this very diverse, inclusive community. It's not just because of our shared backgrounds. Rico, to me, it's just something that you do. How could you not want that level of investment in community?
Rico: [00:41:42] Yeah, no, I totally agree with you. And you know, maybe it's my experience. you know, I was on a planning commission in Gwinnett County at one point for a few years and I, that was early on, I think it was late nineties, early two thousands, and I got exposed to NIMBY, not in my neighborhood type of deal where it didn't matter what it was. When people move into a place and they don't want anything changing and it's like they want to be the stop gap, the last person that comes in. And nothing after that. But I think that's changed a bit. I think there are more people that understand that, you know, the world is different. The world changes and we need to be inclusive. We need to be able to look at, I agree with your faith institutions, provide a stable place in the community and only enriches. We'll take that word also, the community, just like any other. So it's institution. We have nine here in Peachtree Corners.
Jim: [00:42:41] Yeah, that's true. So I can remember when they didn't want to have the steeple on Peachtree Baptist Church.
Rico: [00:42:48] Yes, I remember that.
Jim: [00:42:49] I also remember when the, when there was a sports building that was converted into a church and there was an uproar at each one of those things along the line. There was
some resistance in the size of facility that we were building on a 15 acre property that we owned. So these are just to match your words first, resistance, then realization of the positive aspects of this.
Rico: [00:43:19] Go on Rabbi, I'm sorry, we're not leaving you out of the conversation.
Rabbi Yossi: [00:43:30] I'm here to actually, we are already in the Peachtree cCorners structure or neighborhood. We've been here for 18 years.
Rico: [00:43:38] It's not like you're just dropping in.
Rabbi Yossi: [00:43:40] We're not just knocking on the door asking, please let me in. We are here. And the community we serve, at least the ones that is living nearby. We have about 500 families in Peachtree Corners City. And I, I want you to understand that when we, we use names like Chabad of Gwinnett, there's a reason we say the locations because we're here to stay. I'm not moving to another location if something else comes up. And so I want to see Peachtree Corners succeed because this is where my home is, and I'm here to build and make this place a place where you and I can raise our children and bring our families together. So location is critical. I'm the one in charge of Gwinnett and I, do everything to make Gwinnett the best place to live.
Rico: [00:44:51] You know, I think as far as this, because there would be a, an involved rezoning. To the residential piece of property that just came in, right? So it's adding to an INO property already that exists where you can already build on a, so you could build if you wanted to. I mean, this is not the point. The point is, I think some people were afraid of too much traffic in the area. Now granted, there's a church up the block there's village park. Is the post office. There's the fire department, there's a technology park, there's a charter school down the block, there's traffic on that road. And it's actually not bad. I mean, I've, I drive through that nine, eight, seven in the morning. And so, you know, yes, Peachtree Corners elementary is down the block also. And so there's some, some traffic issues there. There is that corner part that we talked about at the beginning. That's a bit of a line of sight issue there and I think that is something that can be addressed at some point before development probably begins where they can fix that over there and probably needs to be, because that line of sight is bad there and just traffic's sake. Even if nothing got built in that corner that needs to be fixed. So I, if that's the only issue really, and it seems to be the over driving this year as far as traffic goes, then I myself personally can't see a problem with it. I mean, heck, we're putting 900 units of active living on East Jones Bridge Road. In addition to what's already there and actually no one said anything about that. And I'm surprised cause I originally thought people would be upset with that, that there would be that much more traffic on that road, but everyone's fine with that. So, yeah, I mean, you're doing the right things. I think you've done some public meetings. I believe you've been to the planning commission. In fact, I think the planning commission recommended approval on the, on the rezoning.
Rabbi Yossi: [00:46:46] Yes. So the members of the planning commission recommended rezoning and there was a open meeting on November 15th, and that's where things turned around a bit. The story behind that is that it was during the Jewish holiday. So none of us were there. And so weirdly, there was one side on the side of the neighbors, who are, are not comfortable with change and it's you described. And so, the members of the council committee, recommended five to one to deny approval for the rezoning. It came as a shock to us, especially the number of five to one. It's like, it's like a big statement and I felt that wasn't fair. And so we are where you are very, very aware of what's the situation today. And, one of the things we are doing is to communicate and to share with the community who we are to give you more than one point of reference. The issue of traffic, and I would agree, I spend too much time in traffic. Our service is held Saturday morning, or as we call it, Shabbat morning. Probably most people are still asleep. Or having their first cup of coffee, that's when we are doing services. Primarily that's, that's going to be the focal point of a, of a congregation, of service. And that is Saturday Shabbat. And so there's not much traffic going on the Shabbat, or it's going to be a class in the evening, let's say about eight o'clock in the evening. So yes, there's, there's going to be traffic and we are allowed to bring traffic because that ONI Prisa property, allows us to build today. And to bring a measured amount of traffic. But that's the point is that we want to do this in a peaceful way where everyone agrees and everyone sees, sees our passion, and everyone sees our vision. I'm looking for partners. I'm always looking for people to partner with me. I can't do it alone. I wasn't supposed to do it alone. I'm going to make others into leaders. And the first thing about being a leader is. Do you care?
Rico: [00:49:47] So now you're taking some time. You're going to be helping out people, publicly educating people about Chabad. You'd probably, there's going to be another, city council.
Scott: [00:49:59] March 24th at seven o'clock, the city council will make their final vote with the mayor. So we're doing everything we can between now and then to bring the community together, understanding peaceful conversations, harmonious conversations, really to understand the diversity of this community and that there's, there's wonderfulness in all of us. And so over the next 60 days or so we are, we're going to do some amazing things in this community to bring us together. So that on March 24th it's an easy decision.
Rico: [00:50:22] And also to address, I'm sure there'll be some addressing of, of one of the critical issues, I guess that was brought up so then you can address the community's concern or the neighbor's concerns about traffic in that area. So I mean that, that makes sense. I think once those things are addressed, obviously. And I think they're legitimate things to be addressed, right?
Scott: [00:50:42] Yes.
Rico: [00:50:42] Yes. So we're at the end of our time together.
Scott: [00:50:47] So fast.
Rico: [00:50:48] I know, right? Some people think we don't have enough to talk about, but this you could go on and on things. And I do appreciate the, the sharing of the philosophy Rabbi, of Scott you being here as well. And Jim, of course, always good to talk to you.
Jim: [00:51:04] And I'd like to answer your questions. The next public event that we're holding is the 20th, which is next Monday. And that's Mayor Mike Mason is our speaker.
Rico: [00:51:13] Excellent. He's a good speaker.
Jim: [00:51:18] And in February, and this is available on websites on the 17th of February, 16th, 17th, February. We have the, the Writer Bill Torpey of the Atlanta journal constitution will be our speaker for our February meeting. And then in March, although we don't have a complete confirmation on this, person that I've met several times has agreed to be a speaker, and that's the, the former Atlanta pitcher John Smoltz will be our speaker. And then progress from there. If we get lucky enough, maybe the Rabbi be our speaker.
Rabbi Yossi: [00:51:55] If you're lucky! I think I might have been invited, am I not?
Jim: [00:52:07] Oh yes, you are.
Rico: [00:52:08] By the way they can go to or Google Mary Our Queen and just click on men's club or the events tab. And then as far as Chabad of Gwinnett, it's ChabadofGwinnett.org. And people could go there and find out a little bit more about Chabad.
Rabbi Yossi: [00:52:24] And contact me. Call me. I am not hiding. I want to be right there with you. I mean, I'm one who wants to create relationships and I'm a people's person and I want to connect.
Jim: [00:52:38] Rabbi, what's your phone number?
Rabbi Yossi: 00:52:40 595-0196 Rico: [00:52:46] You're a brave man.
Scott: [00:52:49] And by the way, he helps people in all religions. He really is a people guy.
Rico: [00:52:54] It's funny, when I was in Brooklyn, I had my own Rabbi. I would always go, it wasn't a real Rabbi, he was Jewish, but it was, he was my Rabbi. The go to guy that I would always ask questions.
Jim: [00:53:05] I'm always hoping, I'm (770) 364-6359. If you want to know why we're supporting the Chabad, give me a call.
Rico: [00:53:16] Excellent. And of course you guys know where to reach me, my email address is rico@mightyrockets.com. But my phone number is out there also. It's in the magazine, Peachtree Corners magazine, where we're working on a new article, a new magazine. There'll be coming out February or March. So look for that. This was a great podcast. I just want to put one more time, Less Stress, More Joy in your life. It's a good place to be, no matter who you are.
Scott: [00:53:44] Amazon.com, $3.58.
Rico: [00:53:46] Thanks, Scott. Thank you guys. Appreciate you joining us. Thank you.
Jim: [00:53:51] And Rico thank you so much.
Rico: [00:53:53] My pleasure.
Exploring Fitness & Friendships [Podcast]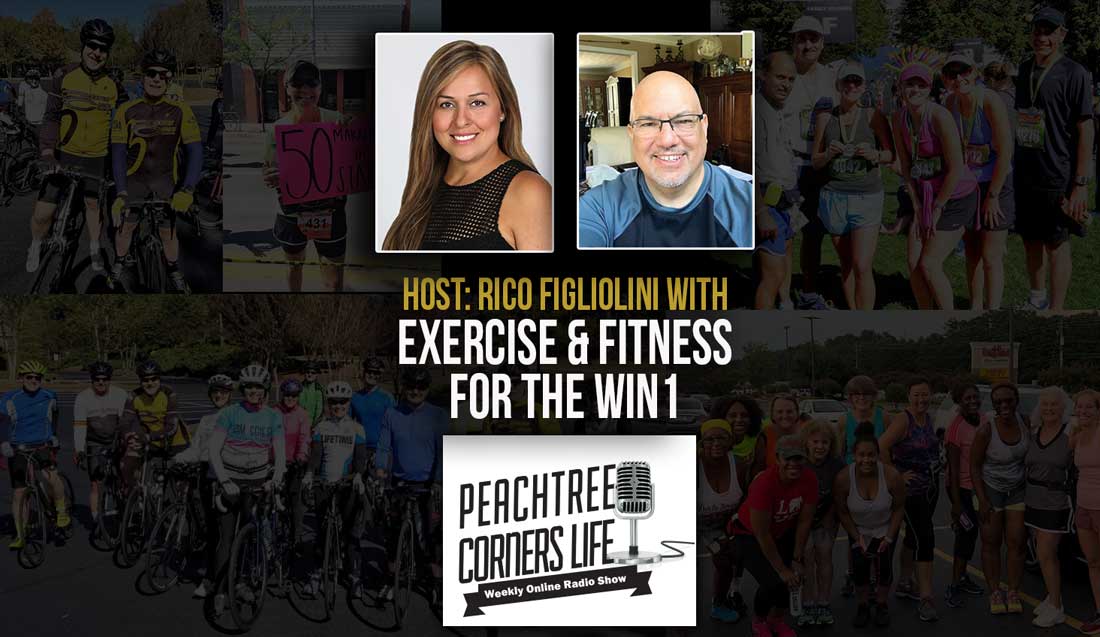 Summary: There's more to fitness than just getting healthy, especially when you're in one of the three amazing groups that are featured in today's episode of Peachtree Corners Life. Join Rico Figliolini and Patrizia Winsper, and our many guests from the fitness groups; the Renegade Runners, Black Girls Run, and PC3. Hear about the commonalities and personal bonds that come from pushing the boundaries of fitness.
Resources:
Renegade Runners: John Fervier, JohnFerver@gmail.com
Black Girls Run: Prudence Franklin, https://blackgirlsrun.com/pages/runninggroups
PC3 Website: Randy Bailey, http://pc3cycling.com
PC3 Facebook: https://www.facebook.com/groups/112799162224098/
Podcast Transcript
Rico: [00:00:00] Hi everyone. This is Rico Figliolini, host of Peachtree Corners Life, and publisher of Peachtree corners magazine. Thanks for joining us tonight at six o'clock here at Atlanta Tech Park. Atlanta Tech Park is an incubator. It's actually an accelerator, a place, a technology hub situated in Tech Park, Atlanta, which is a sponsor of ours. And this is where we're doing the podcast from. They provide a variety of things as far as workspace for almost a hundred companies that can be here. Conference rooms, areas to meet like boardroom areas. And plus they do events every week. There's something going on here, whether it's a Friday financial meeting where they bring in a venture capitalists or other people to teach how to get financing or people that actually do finance and they do wine Wednesday, you know, things like that, which is kinda neat. But really the big thing here is that it's all about tech. It's all about startup businesses and to accelerate your business. So what I want to thank them for providing that space to us. It's a great place to be. It's cool. It's a good place to collaborate. We have some guests today who are great. This is going to be a great conversation. I believe that now exercising, friendship and about, the way we can feel better every day. And we're going to have our feature writer Patricia Winsper that wrote our current feature story. From in Peachtree corners magazine and then this issue. And you'll find that online, by the way, on LivingInPeachtreeCorners.com. So I'm going to turn this over to Patrizia.
Patrizia: [00:02:00] Thank you so much, Rico. I'm so pleased to be here this evening, and every time I do a story for the magazine, just like I told the mayor the other day, I realize how many great things there are to love about living in Peachtree Corners. And I had the pleasure on this story of meeting three awesome citizens in our refined city, and let me just go ahead and go around and introduce you to them. Prudence Franklin, we have Prudence here and she heads up the BGR group. I'll have her discuss that later and just give us the scoop on what BGR is. Prudence by day is a software engineering director. Hi Prudence, thank you so much for joining us and thank you all so much for joining us in this in the midst of all the holiday crazy. Just take a little break and sit with us and listen to some feel good news about what's going on in our great city. And then joining us here we have mr John. Tell me how you pronounce it, and I know I messed that up. I'm pronouncing it in French and I just can't un-frenchify it because I'm a French teacher by trade. So John Fervere in my mind, but in yours is…
John: [00:03:10] I'll answer to anything but generally we go by Fervere.
Patrizia: [00:03:10] Fervere. Okay. And John, by day you're a Waffle House executive, and then on your spare time you head up the Renegade Runners. Peachtree Corners last but not least we have Randy Bailey. Randy Bailey is a software sales engineer by day, and on his spare time he has PC3 which stands for Peachtree Corners Cycling Club.
Randy: [00:03:38] That's close. Actually, don't call me a software engineer. You're going to scare all of my colleagues on a software sales exact, so.
Patrizia: [00:03:49] All right. We'll leave all the engineering up to three. All right, so let's start with our elevator sales pitch on what BGR is.
Prudence: [00:03:59] Okay. So BGR is short for black girls run. Now, I don't want anybody to be fooled by the black girls part of it because this group is open to all women of all races, all sizes, all shapes. The Black Girls Run is a nationally based organization. That started and they targeted black women because of the disproportionate number of black women who have diabetes, high blood pressure, who struggle with obesity. And a lot of women are intimidated by running groups. You know, when you look at Atlanta Running club and you look at people doing marathons and half marathons, you know, there are these skinny people who are running and can do seven minute miles. People are intimidated by that, and so BGR started so that they can reach women of all different levels. And go and BGR, you know, of all levels and competency levels are welcome to join us. So we welcome walkers, jog, walk, people who line. And one of our motto is no woman left behind. So when the runners are finished we all wait at the end for all the walkers and everybody could come in so that we can celebrate and just let everybody know and feel they were accomplishment and know that we were celebrating them for what they did at that particular time. When we go out.
Patrizia: [00:05:33] I love it. I love that Peachtree Corners is a diverse city and you welcome a diverse group of women, whether it's ethnicity or athletic ability, and I can attest to everything she said because it's true. Prudence was the most competent runner that evening, and she ran circles around all of that. She did for the very last one to come back and we were all welcome. Great.
Prudence: [00:05:59] And then age as well. I mean, Karen is walking like in her seventies and she comes out and she does grade and she, you know, she, I think she spoke to you and that, you know, she does it for the friendship, the comradery. You know, her husband passed away, you said going, she does this for you on social outlet. So you know. There's are so many functions that this thing performed.
Patrizia: [00:06:22] We're going to get into that aspect of these groups because obviously on the surface level, it started off as, "Hey, let's do a story on some exercise groups in Peachtree Corners," and quickly, I learned after a few interviews that there was a lot more involved than just the fitness and the physical fitness part of this component. We're going to get back to that later, but I love how black girls run started because of the, you know, historical, elevated levels of what, hypertension and heart disease among the black women, right. Among Americans in their communities. And then you've now opened it to empower all women all get out there and let's all get healthy. Okay. Sounds good. Okay. John elevator spiel on the Renegade runners.
John: [00:07:08] Elevator spiel. I, you know, I hate to even call us a running… Really, we transitioned sort of from a running group, which leads you to believe that we were training all the time, more of a social group that just likes to run and, and running as the common link that a lot of us have together. Well, we have all levels of runners. We have a lot of different groups of Renegade, I guess would be the overall name. But we have subgroups of the different names. We have different levels of activity. Oh, it's from runners to people that are really serious about
it. We have people that have never run a marathon. We had people run over 50 marathons. So it was just a wide variety of people that enjoyed each other's company. And we do a lot of things outside of the Saturday morning runs that are, we just had a Christmas party, different groups. We get together for other events. We've traveled across the country together, to run races. And so it's more of a social group anymore than it is running. Although we still run it. We're still walking. We have to, we just had a good time and enjoy each other's company. You gave a show.
Patrizia: [00:08:14] Why is that number 50 important? 50 marathons?
John: [00:08:17] Well, it's important to some people, not me, but there are a lot of runners whose goal is to run a marathon in every state, and we actually have somebody who was in our group who ran 50 marathons in 50 different States in the same year.
Rico: [00:08:32] No, no, no. I'll do the, I do the walk. I do the walk and run. So I walk mainly and then run the cul-de-sac.
John: [00:08:37] And our group does the walk-run method to it and we transitioned away from the Galloway group many years ago. So we have runners that have run just a few marathons and they'd just run one marathon. I've run 12 marathons. We haven't ever run 30 marathons, so it's, we have all different levels of running. We have people that will run 5Ks and 10Ks. So that, whatever you feel like doing, in fact, our motto is, do whatever the hell you want.
Randy: [00:09:09] You got a shirt with that on it?
John: [00:09:14] It's a common thing. We changed quite a bit. We're not quite as structured as a, is what the Galloway group was. And that was the genesis of our, they said, our motto. And so we, one example is the Galloway group does something called the magic mile. Well, they will, all the runners run a mile and your time on the mall dictates what group you're in. Three, pay Creek. We turned that into mimosa mile. They would go out in the parking lot. We'll do another one, with screwdrivers at the end of the run.
Rico: [00:09:50] I have to tell you that one. That was actually my birthday recently.
John: [00:09:55] Yeah, we had screwdrivers, so that was the most as well we've had, that's regardless after the run.
Rico: [00:10:01] So this sounds like a fun group. Maybe I'll join you.
John: [00:10:05] Fun is a main point of it. If you can't have fun or, where'd you get upset about stuff or you couldn't scan, you wouldn't belong in our group at all.
Patrizia: [00:10:14] What I love, and there is a common thread that unites all three of these diverse groups, is that we don't necessarily have to be intimidated cause that's what strikes a chord of fear in me. How can I join these runners? They're athletes. I can't even run around the block without feeling like I'm dying, you know? But you have a bunch of different levels in your country. Sorry. Where are they?
John: [00:10:37] So we started with being, well, we may have a walking group and…
Patrizia: [00:10:38] What do we call them again?
John: [00:10:40] The wild and wonderful walkers.
Patrizia: [00:10:46] Then there was the med group.
John: [00:10:48] My group is a five-one group tour run for five minutes and walk for a minute unless there's hills. And then we walk a lot more and we're the Renegade runners. We have our, a fast group, which is "Lazy Sucks." And they went a little bit faster and a little bit longer. And we have the slower group, which is the "Slackers" and you know, they're running the roughly two minutes and then walking them at it is a little bit slower pace. So it's, any pace group that you really want. And even my group, the renegades we'll have, we usually break up into two groups to where you ended up with some faster runners and some slower ones, and that's how you feel that day and how much you got to drink the night before. That way dictates.
Patrizia: [00:11:36] So wonderful. So we don't have to feel intimidated. In other words, if we want to, you know, decide it's time to get active, it's time to meet some people in our community and join one of these groups. There's room for all of us at all different competencies.
John: [00:11:48] Well, you know, we all started at zero. We did one time, none of us are runners and we all ran our first mile. I ran my first mile and could barely make it. And you know, you get to the point to where you're going to run 10 miles and it seems like nothing. And that sounds like a lot to people that don't run, but after you do it and get used to it, it's just normal. Right? So we all start at zero.
Patrizia: [00:12:11] Fantastic. I love that. It's inspiring. Randy, tell us about PC3 now. We've got a vehicle involved.
Randy: [00:12:19] So as you said, there are a lot of parallels. As I listened to, John and Prudence there are a lot of parallels in kind of what the glue that holds the group together. But PC3, just to give an overview of it, we've actually been a cohesive group for over 20 years. So we started with, back in the early nineties to date myself, we started as a few triathletes that exchanged the emails to figure out how we're going to ride together on Sunday. And then in the mid nineties Fowler YMCAs came to town and Fowler supported our efforts. I got drawn into teaching spin classes in, and I can tell you when somebody approached me as an outdoor
cyclist and said; "Hey, I've got this great thing I want you to try. We're going to go in a room full of exercise bikes, turn on some music and work out," and my reaction to that was that as easy you. but as thing I've ever heard subsidiary, obviously I'm not a good stock picker either because I got that one entirely wrong. That's subsequently, I've taught spin classes at the Y for over 20 years. As well as other places. And we started at that point to become a real group. So people coming off the spin bike that wanted to take the next step and people from the community that found out about us through the Y. So suddenly it became a real group. Today we've got over 600 members. So it's a pretty good sized group. We do primarily organized road rides from occasionally from the Y, but we're now starting our rides from lifetime fitness and feature corners, bigger parking lot. And all of a sudden they're also very supportive of us. And again, like Jonathan, Patrizia said, my trainer said, sorry. And my group is made up of, of everybody from that. You know, timid person coming out of spin class who just wants to dip a toe in the water to the multiple Ironman competitors and folks that have ridden across the country. You know, done a 4,000 mile cross country ride, things of that nature. So it really is a mix of different kinds of riders and we welcome everybody, whether you're a beginner or whether you're an iron man triathlete. We do a lot of social events. The social aspect is really, really a big part of what we do. So we don't name our rides after drinks, I'm going to have to rethink. That's sort of a branding thing and it probably is a good marketing tool. So I like that strategy. We do often end our rides with a, you know, a sort of a happy hour, which you've now earned from having been out exercising for a few hours. But it's very social. We do Christmas parties. We do those kinds of things as well. So you know, we want to welcome everybody into the group.
Patrizia: [00:15:17] That's something you shared with me when I first interviewed you struck me. You mentioned all the different levels. Once again, so beginners right. Pro athletes and then some who are so athletic, they're actually joining you on their off days. So you ride 20 or 30 miles back and then put their bike in the car and go for a run.
Randy: [00:15:40] We always have a few nationally ranked cyclists and triathletes in the group, and it always makes me feel very sad when we get to an end of a ride. And I have busted it as hard as I could go. And the person riding next to me, she says; "Well, that was a nice, easy ride. Now I'm going to go run 10 miles if nothing else." But yeah, that is true.
Patrizia: [00:16:03] Absolutely. And we've already touched upon this just a little bit. Rico, and I'd like to share with you all a video of an interview I did with Councilman Weare Gratwick, he's actually the mayor pro tem, so he would step in for our mayor. In the absence of Mike Mason are there in Peachtree Corners, so I'm dying to make the joke, Rico. I haven't done it with him yet, but I'm dying to tell him one day, "Who do you think you are, the mayor?" It was actually Weare who inspired me to take the twist on this story. I realized quickly that it wasn't just about the physical activity that these different groups are involved in. It's actually about bonds, they're creating the friendships they're creating in these groups. And then I started getting curious about it and did some research on loneliness, and I learned actually that loneliness is actually really
bad for you. You can develop physical health issues related to loneliness just as easily as smoking, just as easily as hypertension, so it actually can shorten your lifespan. So this little clip that we're about to show here with Weare Gratwick talking about a 27 year friendship he's had with his dear friend and his dear friend, his doctor.
Rico: [00:17:30] Okay. So they've had a good relationship.
Patrizia: [00:17:32] They don't maybe want to admit that they've been doing stuff for that long, that they started running, then switched to cycling because it was a little easier on the joints.
Rico: [00:17:42] So why don't we, why don't we go to that?
Weare: [00:17:46] We go out for an hour and usually we'll do that on average three or four times a week. And it's as much for physical exercise as it is for mental health, I guess you would say. We've had many deep conversations on many rides. Everything from business decisions that we've both faced to personal things going on in our lives. And so, you know, it's been, it's something I have always enjoyed and has been a big part of both of our lives, I think for many years. Hopefully we'll be able to continue that at some point. I guess we'll get to a little the bike and then perhaps a walk. We'll see.
Patrizia: [00:18:28] There's nothing wrong.
Weare: [00:18:30] Not at all. I know there's several people around Peachtree Corners. We pass walkers all the time, so yes.
Patrizia: [00:18:35] That's right. I was in one of those groups running with the BGR group. I'm more, I have to be honest, I did less running and more walking, but it was right along Peachtree park.
Weare: [00:18:50] It really is great that we've got a community where there are so many people that are able to participate in exercise activities that are out in the Valley, in the city. I know it was working very hard to extend. Both sidewalks as well as our multi-use trails throughout the city. And as we continue to expand those, that's going to be more opportunities for people to walk, jog, ride bikes.
Patrizia: [00:19:16] Well, since you, you clearly have experience with this, and you must be in the know. Why don't you tell us some of the great trails we should check out whether we're biking or walking or jogging?
Weare: [00:19:26] Well, I'll start at the top, which is, you know, right here in technology park where we have the autonomous vehicle track right out in front of here. Our curiosity lab, which, you know, another magazine is going to do features on. And so as part of that autonomous track, we have autonomous vehicle lanes, which scooters are allowed in there. I'm sure bicycles
are allowed in there. And we do have the, that's really the initial genesis of the multi-use trails because we have widened sidewalks into whether 12 feet wide, you know, throughout tech park. So you can start there. And I know we're working to connect to the lakes back there. There's a couple of lights back there. We'll have, you can actually access, so if you want to get on that Lake, it's big enough to fit a canoe or kayak. And so our multiuse trail will apply into there as well. And we'll continue around the loop around the city as we, it's a little bit of a slow process because you've got to find access to the property where you've got to right away to put it through and you know, people have to want it there too. So yes, long into the future, it's hard to, hard to guess. I don't know the answer to that question. As soon as we could possibly get there and know that it's high on our priority. And in the area
Patrizia: [00:20:48] And in the area nearby, what are some things? Biking trails?
Weare: [00:20:49] Well, so biking trails, stats. Not biking trails per se, although, you know, Simpsonwood park is a great place to run. It's a great place to walk and we do bike through there, but we tend to go through the neighborhoods, whether it's through North Manor, it can be saying there, we can be seen in Amber Fields, we can be seen in River Field and just different neighborhoods interior that Peachtree Corners.
Patrizia: [00:21:14] Wonderful. Well, thank you so much for sharing. So as you can see, I'm developing those personal bonds with people, with friends, having confidence. It's actually just as good for your health as the actual exercise you guys are out there doing, right? We do groups. So Prudence, do you have some friendship stories or some stories along those lines from the BGR group?
Prudence: [00:21:44] Absolutely. Corey Valentine is another engineer who runs with the group. I mean, she and another lady by the name of Nadine. Three of us are engineers and one morning nobody had showed up except the three of us on a Saturday morning and through running and resharing what we did, we realized all three of us are engineers. And really like, what are the odds, you know, nobody else showed up except the three engineers. Anyways, so inquire about in kind of NY, we formed a friendship. When you go out, we talk about our kids. I mean, I'm divorced, she's married, you know, we give each other advice and comfort. And so we, we've developed quite a bond. Same thing with some of the other ladies. We might not have, we're not seeing each other often as much, but some of them would live in my neighborhood, live in an adjacent neighborhood. So one, one day, Debbie, she knew something that she could try. I mean, so yeah, we have been having some real friendship around.
Patrizia: [00:22:53] Like your group on that was it. And she shared with me how her husband's passed away and she joins your group besides playing on two different tennis teams, by the way. And I had a hard time keeping up with her. I'm not gonna lie, she was in way better shape than I am, let's be honest. But she shared with me that, you know, she finds comfort in running with you guys and the comradery is nice cause you know, I mean it must be lonely after being married for so many years, the same person and then suddenly losing him.
Prudence: [00:23:31] Yeah. So one of the things we have, one of the goals we have you, we're gonna… For me, I wanted to lose 10 pounds before the holidays cause you shouldn't have put weight on over the holidays. And I'm giving myself some wiggle room. So one of the things you said after I got to make a little meet when I was going insane, and so that's coming.
Patrizia: [00:23:50] Oh, very good. All right, John, so fitness is not just physical. Let's talk about what your group does in terms of friendships and bonds and socializing outside of just the exercise part of it.
John: [00:24:14] Well, I have to go back to the losing late part because I always think about people that run and they want to lose weight for running or exercising and riding bikes or whatever. I think about myself, I've been running now for over 20 years and gained almost 20 pounds. And actually it's probably the only one in America that actually gained weight running marathons. So it doesn't work for everybody. Just imagine where you, you know, it's amazing how much you actually, or how close you get to people when you spend that much time with the ones that… We've traveled all over the country together from, you know, we ran a marathon, South Carolina. I mean, California, I've run in Colorado, we've run in Utah. We've run in South Dakota and New York and just all over the country. Some of our runners have gone to Hawaii and Alaska and run. And so when you're, when you're spending the whole weekend or several days with people and you're out on the course for five or six hours running with them. You talk about everything you run out of things to talk about. You ended up talking about a lot of personal stuff and getting to know people and you become really good friends with them. I said we, we'd go to parties together, we go out to dinner together occasionally. We do things like that and we all have downtimes in our life when things happen. When you have tragedies in your family or sicknesses or or whatever, and we're always there to support each other because we've known each other for a long time now. And even the new members of the group will. They quickly integrate into the, you know, the whole thing. And so I think that's really important. One of my favorite trips that I went on was to Sioux Falls, South Dakota. I think I have dozens who have ever run the marathon. And after, some ran a half marathon seminar in the fall, but that evening we decided to go to dinner together and we got a car and the guy showed up and the first thing they do is open the trunk. He had a full bar in his trunk.
Patrizia: [00:26:08] Hmm. So it's all about drinking
John: [00:26:11] It's all about drinking. All about drinking, always comes back to that dinner, have a good time. Call the guy up. You can pick this up at dinner and then we took a two hour tour of Sioux Falls, South Dakota, which is almost impossible to do unless you have a full bar in the back of the car. It was just a great social exercise type event.
Patrizia: [00:26:38] I'm just astounded that they can run and drink.
Rico: [00:26:42] I would be stumbling.
John: [00:26:43] Talking makes it so much easier though. It does, you know, the bad thing that we're running long distances when you're by yourself and you don't have anybody to take it away, you know, to help you through that and to, you know, send your mind some place else. You've gotta think about the pain and all that. But when you're talking about it, you're saying, think about I kinda, you know, long run to me is almost like going on a long car ride. Do you remember the start? Do you remember the finish? But you don't remember anything in between because you just zone out and when you're on for four or five hours or three hours, it's the same thing. You know? You remember the start to finish and barely anything in between. And a lot of that has to do with the talking and interacting with other people too. And this makes it so much easier. And you think it's hard, but it's really not. If you're running at the right pace.
Rico: [00:27:30] And it's funny to me the, okay, so I'm not a runner, obviously. I mean, I might drink, but I might not be able to run as well as you guys. I do spin class. I like that idea of looking stationary. I don't have to get hit by a car.
Randy: [00:27:42] You can't fall off. I've had two people fall off the spin bikes, but you have to really work to fall off.
Patrizia: [00:27:50] I think that only happened in the movies, that really happened?
Randy: [00:27:45] A real life example.
Rico: [00:27:53] Yes, there are people out there, I guess.
Randy: [00:27:58] I had this one guy who came into my spin class and this guy was an avid mountain biker, didn't know him when he came in first spin class, and this fly wheel makes the pedals keep turning, so you can't stop suddenly. And I'm trying to give this guy this, the, you know, sort of the coaching; here's what you have to be aware of. And he just brushed me off the side "I know what I'm doing here." Well, that 10 minutes into the class, he got up to a higher rate of speed and he tried to stop and literally, I kid you not over the handlebars. It scared me. I thought the guy, you know, hurt himself, he left my spin class and never came back.
Patrizia: [00:28:28] Well, he must've been, bless his heart.
Randy: [00:28:35] That just seems like way too much work for me.
John: [00:28:37] It's just way too much work.
Rico: [00:28:38] Well, and it was wondering about that too. I was wondering about the, you know, when you're running, you're talking to each other, like you said, unless you're running out of breath, maybe you're next to each other, you're talking a little bit more difficult depending on the ride.
Randy: [00:28:49] I would tell you, the actually the opposite. One of the things that I find interesting, and I did 2,500. More pastry. So I've done some running in my life, but I'll tell you on the bike. One of the things in relation to the idea of friendships and relationships is if you ride, and not that everybody does this, so you don't have to be able to ride the bike a hundred miles. But if you do, that's a five or six hour commitment of time and you spend that riding with other people and really is of place where you get into, as you were saying in John's serious conversations with people, you know, you find common ground that you didn't know you had. You're talking about the kids and the problems with, you know, raising your kids and the challenges outside of cycling. So that's one of the things that I think is really a benefit to biking over running is the fact that you can, you have opportunities to chat.
Rico: [00:29:48] Not racing necessarily but…
Randy: [00:29:50] No not all of it. A lot of it's not, a lot of it is social. It's a very social sport. So if we go on a two hour ride, you know, for 30 minutes of that, those of us who care to be competitive, go out and try and win the race up within a bike ride. There are races, many races, right? So every time you come to a hill, there's an opportunity to attack the gill. Beat your buddies up the hill, get bragging rights. But in between that, there are those times when you're riding along at sort of at a jogging pace or intensity. And those are the places where you get into conversations about how are the kids and you know, where are you? Are you a redecorating your house like you planned to do? And all of those kinds of conversations.
Patrizia: [00:30:30] It's a tremendous amount of time. Think about it that I met, I've met with Donna. When we talked and she told me, when you run for five hours with someone, it's like you become, your running has been, you know, everything about this person. You know, all of his ups and downs, all of his, you know, woes. You just really have to bond over a five hour conversation, running or cycling.
John: [00:30:57] A lot of wives get a lot of running lines.
Rico: [00:31:06] So it's a safe Prudence for you. I mean, do you find that, you know…
Prudence: [00:31:10] Absolutely. I mean, and it's so rewarding when you're, you know, you're having that conversation. Are you giving someone advice? Whether it's about where, and then you follow up, whether it's the next week or a few days later, Hey, how'd it go? And the person said, you know, work, thank you so much. You know, it's just so much other than just demeaning.
Rico: [00:31:32] Do you find younger people also trying to join up a little bit with PC3 or?…
Randy: [00:31:41] I have had, in fact, I've had youngsters that could be a lot of the oldsters that were in there in their mid teens come out and ride with this one young guy that rode with us
while he was in high school and big guy, very, very large guy, a very, very strong and, and he rode with us and took off. I don't know what, 75 pounds. And so I've got kids in their teens, a few. I've got some riders in their twenties. The typical rider is somebody either in their thirties who's a serious cyclist, and they're 40s who has discovered the inevitability of bad knees. Or somebody that's in their 50s or 60s and even beyond. I've got some folks that have ridden with us in their seventies and that can be humbling too, by the way. Cause some of those riders are extremely strong cyclists.
Rico: [00:32:34] And it's funny, it's like tennis a little bit because I do a mixed tennis and I'm not, I never played tennis until two years ago. So I mean short of, you know, hitting the ball once in a while, but there are seven year olds. I can place that hit the ball where I cannot get it, so I can appreciate what you're saying.
Patrizia: [00:32:53] So they said it's going to take a few days, then you're all out there, you're running, you're walking, you're cycling. The truth of the matter is you're all on the roadways at some point in your excursion, you more than others, right? There have been more than others. So let's talk about sharing the road with motorists and let's talk about measures you take to try to keep your group safe. I can speak for a previous group because she ran around. I wasn't kidding when I said she runs ripples around all of us. So we were all running. We were midway through, I think the journey. And then Prudence decided to run all the way back to her car and all the way back to us. And you brought us what, Prudence, that keep us safe at night lamps because it's dark in the winter, it gets dark so early. And so we need those lamps so that we can see the pavement. The any competing command, K and M cars can see us and it really, it really did help us. You know, when it's pitch dark out there and you're running by, you know, a forest right beside the sidewalk. There are bears and around this. So it was nice to have the headlamps.
Randy: [00:34:15] We do, they do. And again on the pavement with the traffic. And so 90% of the time there are paths, but 90% of the time we're out on public roadways. So as we talked about when we talked before. I do a couple of things. Number one, let me start by saying being hit by a car doesn't feel good. And I can tell you from firsthand experience, actually, I was hit by a truck and a boat. But it's, you're, if you're a cyclist. You will always 100% of the time lose that collision, you will lose that contest. So what we tried to is we make ourselves as visible as possible. Like as Prudence mentioned. And, beyond that, really bright clothing. I have a flashing front light. I have a flashing rear light. Lime green and you know, very, very bright clothing. And then beyond that, it's good to be in a group. So for somebody who wants to try biking out, it's a lot easier to see 20 cyclists than it is to see one. And so that, that sort of, well, my buddy said at some point, he said, I love to ride with you because you look like a garbage truck. He said, well, you know, the flashing lines, you got two rear flashing lights and a couple of front flashing lights. He said, you're impossible to miss. And that's the goal.
Patrizia: [00:35:42] Like a Christmas tree.
Randy: [00:35:44] I would have liked that analogy for me, but I didn't get to pick it. But yeah, so, it's really important to do that. And then related to that is you as a cyclist or as a runner, you need to pay attention to the rules of the road. You need to understand what the motor is expecting of you. So you know, learning to ride on the proper side of the road, which not everybody does. Learning to run on the proper side of the road, which not everybody does. You know, learning to obey the traffic rules all of those things also help. And just keep you out of a situation where you know, you're vulnerable too.
Patrizia: [00:36:25] A lot of people don't really even know about that. I researched because I was talking to these guys. So as a runner, you're supposed to run against traffic to see the cars coming out, right? As a cyclist, you're considered a vehicle and you need to run along with traffic. And I think some motorists might not know that and there might be a sense of sort of like irritation about that feeling.
Randy: [00:36:47] When I taught on the road, let me say the, in Peachtree Corners, this is a, it's a wonderful community to ride in because 95% of the people that we encounter out there are cordial and they've, not only did they recognize a ride, but they, you know, they appreciate what we're doing. So people tend to be friendly and cordial and accommodating. Still need to follow the rules though, because even if somebody is trying to be accommodating, if they can't predict what you're going to do, it's not necessarily a safe situation. So it's you know, it's important that we ride in a way that's following the rules. For example, a lot of people don't know you cannot ride where you're not supposed to. It's against a lot of riding your bike on the sidewalk. If you're over 14 years old and sometimes somebody is aggravated, roll down the window, ride on the sidewalks, well, in reality, that's against the law and in reality, you're seven times more likely, statistically to be hit. If you're riding a bike on the sidewalk, then if you're riding a bike on the street because visibility's more limited and people aren't accustomed to people going at 20-25 miles an hour on the sidewalk.
Rico: [00:37:59] So because you're crossing into sections at that point, even roads.
Randy: [00:38:02] Yeah, for sure.
Rico: [00:38:04] What do some people do? The, is it the Common trail, which is like a 50 mile run and this way you're not even on the public street.
Prudence: [00:38:18] You drive to, I know a couple of people that do that. They drive to, to there sometimes and they want to go for a long flat run.
Randy: [00:38:22] It's just a great resource. And the BeltLine is a great resource. It doesn't completely eliminate the, you know, you still have to watch her to do it. She'll have to ride safely. But yeah. Oh, it does. If it's a good place to start learning to ride because you're not contending with the fact that you've got to deal with traffic as much. You still have no cross streets, so you still have to pay attention.
Rico: [00:38:43] Yeah, for sure.
Prudence: [00:38:44] And, and people should never see that because you have the green light or you have the goals of an extreme that traffic is gonna stop. And you know, a lot of them say, just pause, look and see if the person is going to honor that before you go.
Randy: [00:38:57] Yeah.
Rico: [00:38:57] It's the same thing if for pedestrians, kids crossing the roads, especially with during school time, people just, they want to creep out. Right in front, they cut through the crosswalks.
John: [00:39:06] I always want to make eye contact with the driver when I'm crossing the street. Especially if they're turning and I never step out until I've made eye contact when they know that I'm there. You know, we were perfectly happy to let the cars have the roads if they let us have the sidewalks. So we've got that bill with them. But there are some great off-road ones too. I mean, Peachtree Corners and Simpsonwood yes. And you can go back in there and do some great trail running there.
Randy: [00:39:33] A Riverside park down in Roswell.
John: [00:39:34] We go down there in the summertime cause it's a lot cooler down there and run the Big Creek green lakes. There's some great things.
Rico: [00:39:43] You know, cornet County has a lot of great parks.
John: [00:39:47] Peachtree Corners is a great area to run in cause there's a lot of neighborhoods. You rarely have a problem in the neighborhoods. We don't have sidewalks and districts station, but the traffic is slow and everybody can see you and it's, and then you know when you're going along, the major roads are usually a bike pass along. The sides are running paths. And so it's. We rarely ever have to get on the road outside of the neighborhoods, and though it's pretty safe around here, actually.
Patrizia: [00:40:11] Yeah. So I know Randy used survived your sort of brush with death and that harrowing accident you described to me. That was in 2015 and unfortunately one of your group members was not as lucky. Is Mike Rachelson. Why don't you tell us a little bit about his situation, what you guys will be doing?
Randy: [00:40:32] Very, very sad situation for us. Mike was a personal friend of mine and as well, a very personal, a very popular member of our group. Retired recently, and as a challenge he had ridden cross country a couple of times and the summer, this past summer that just ended. He did a solo ride starting in Vance in British Columbia, down the continental divide all
the way from Canada to Mexico. Was the route, and Mike found friends along the way and they rode together. And when they were literally 34 miles from the Mexican border, he was rear ended by a car in New Mexico and killed. So, you know, I don't want to disincentive anybody cause I, I'll tell you first of all that that's a very, that's a challenging thing to do is drive in the open by yourself. A lot of the time I'm in an unfamiliar territory, but you know, a great loss of our group, a great guy, but he was doing what he loved. I will tell you that. And so as an outcome of that, we as a group, we're in the process of putting together an event, which we think is going to be, we haven't set the date, for next May. We're going to do a tribute ride for Mike, and we're gonna, we're going to ride those last 34 miles to, you know, to complete his journey for him and honor his effort and honored his friendships. So, you know, another good example of the great friends that you have in a group like this is, you know, and unfortunately, life has changes, but Mike was a great example and a great guy, a good friend
Patrizia: [00:42:19] That really was, that touched me deeply when you told me that story and I read about it and I just wanted to share with, you know, the Peachtree Corners, residents driving out there. The motor is the importance of sharing the road and maybe some people really don't know. I mean, until I asked you, I really didn't know 100% what is the proper way to pass a cyclist on the road?
Randy: [00:42:41] Yeah, that's a good point. Another one of those things that, that are codified in our traffic law is that in order to be legal, you need to allow a cyclist three feet of clearance. And that's not a whole lot. And typically on a lot of roadways, you know you can do that. If I'm on the white line, on the right hand side of the road and not even leave the line that you're in. So the law says you need to give the cyclist that you're passing three feet of clearance. Well, it also says that as cyclists can take the line of if we need to for safety purposes. But the thing that I would tell folks around the community, and I tell people this all the time, is we're not, you know, our agenda is to stay out of your way. Nobody wins when we get in your way. So we're not going to take up a road just to take up a road. We stay to the right. We stay on the shoulder. But if you want to pass us and you can't wait until, Oh, there's a place where we can get over out of your line, just give us that three feet.
Rico: [00:43:39] You know what I, that reminds me, of it was in Duluth, the Duluth area, and I saw a police car, I think it was the Duluth police. There were on active duty. I realized later they were actually run the cop, if you will. And there was this huge 20, 30 group of cyclists run behind them. And I realized later what they were doing. They had that police escort to be able to waive the right, it was more than 30 cyclists, I think, on the thing. And it wasn't like an event or anything. So, you know, I'm not saying that that's a normal thing. That might've been something I went on, but that was an interesting way of doing that. And you know, people do get, you know, they want to take that road and they want to get to where they're going. And because of smartphones now, and social media, I've seen people, weave through an app-driven up to them, and I've had stupid excuses given to me. One guy, I called right up next to him and I rolled down my window. Adam rolled down his and like, what are you doing? You've been weaving since
Pinckneyville middle and he says, I'm putting on my socks. And I'm like, well, what are you an idiot?
Randy: [00:44:49] So that was sort of a rhetorical question.
Rico: [00:44:52] Yes.
Randy: [00:44:54] So that's just one person.
Rico: [00:44:55] But I've seen people do that and they're looking at the phone, even on the highway. So someone today doing that.
Randy: [00:45:00] And it just, you know, one of the worst things that I, when I'm on my bike and I'm riding, and particularly if I'm by myself, where, you know, I'm not as likely to attract somebody's attention if they're distracted. They still look at somebody coming for me. And seeing them looking down, right? Not looking where they're going, but looking down at obviously their phone in their lap. And one of the things that we do, another safety features that we always advocate that you wear or buy or have on your handlebar rear view there so you know what's behind you. You know what's coming up from behind. And I've had the same thing happen with people approaching me from behind and I'm a little extra nervous about that because I've experienced getting fit from the rear. So it's, you know, it's again, my ask is that if you're in your car, drive like the person on the bike that you might not see is your wife, your son, your, you know, your neighbor.
Patrizia: [00:45:58] Right.
Rico: [00:46:00] Well this has been a great conversation. We're at the tail end of our time together, God knows, I think someone said, I don't know if we have enough to talk about, but there is the, we could go on probably for an hour, but we're at the tail end.
Patrizia: [00:46:17] So maybe you want to get a head start on your new year's resolutions and you realize it's time to combat not only a sedentary lifestyle, but loneliness. And what better way than to join one of these groups or other groups that you know, take place and meet regularly in Peachtree corners. So if we have listeners and readers out there who want to join your group. How, how can they get in touch with you, Prudence? What's the best way?
Prudence: [00:46:41] You know what I've had since you wrote the article, I've had two people reach out to me on LinkedIn, so having that is fine, Facebook is fine.
Patrizia: [00:46:52] So yeah, we can feel free to reach on LinkedIn and Facebook. And John, how should they get in touch with the Renegade runners?
John: [00:46:57] I'll just give them my personal email. You can email me at JohnFerver@gmail.com.
Patrizia: [00:47:09] Thank you, John. And Randy, if people want to find PC3, what should they do?
Randy: [00:47:13] Oh, we're in all the social media channels. So, the easiest way I would suggest people go to Google and then Google on PC3 Cycling. And that should pull up my website. That should pull up our Facebook group page. I think it pulls up my Twitter feed as well. And my contact number is on all of those pages. So you can feel free to reach out to me and you know, if you have any questions about anything that we do or whether you would fit in with the group, the answer is yes. But I'll convince you of that. If you'd just reach out to me.
Patrizia: [00:47:53] Well, this has been delightful and I'm so pleased to have met all of you. Thank you so much for joining us. The Peachtree Corners residents. If you have wonderful ideas for future stories that we should feature in few Peachtree Corners magazine, you could reach me on social media, either Facebook or Instagram at Patrizia Winsper.
Rico: [00:48:19] And he's recording his magazine. So you should have gotten this in the mail about a week ago. So if you haven't, please let me know. Come onto Facebook page at Peachtree Corners Life, Facebook. And otherwise you can visit us on LivingInPeachtreeCorners.com and that's where you find the digital edition, our other podcasts, like other episodes. Peachtree Corners Life, Capitalist Sage, the Ed Hour and Prime Lunchtime with the City Manager. So feel free to join us and thank you for being with us.
Patrizia: [00:48:50] I so look forward to meeting other residents and working on other stories. Rico's already given me my next assignment. Let's talk about the good things you're doing in Peachtree Corners.
Lorri Christopher, Her Vision for Peachtree Corners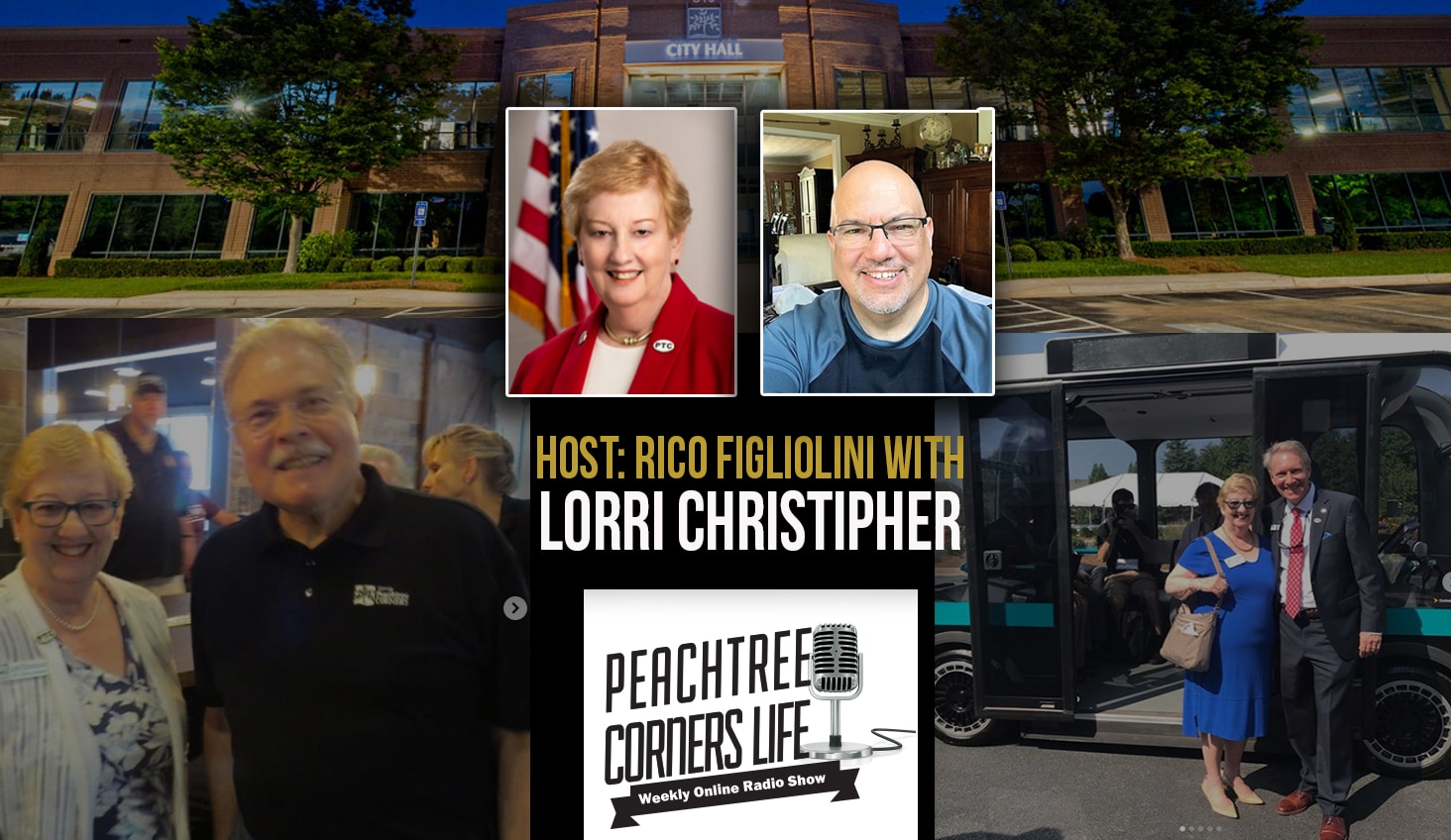 On this episode of Peachtree Corners Life, we get the chance to hear from Lorri Christopher. Lorri was one of the original founding city council members of Peachtree Corners. Listen in as Rico and Lorri discuss technological advances in the City, park improvements, and why she is running for re-election to Post 5 city council.
Resources:
www.Re-electLorri5.com
www.PeachtreeCornersga.gov
Social Media:
https://www.instagram.com/lorrichristopher/
https://twitter.com/lorri504
Facebook
Rico: [1:01] Hi everyone. This is Rico Figliolini, I'm the host of Peachtree Corners Life. I appreciate you joining us. Whether it's Facebook live or if you're listening to us on iTunes or Spotify or iHeart Radio, thank you for joining us. Before we get into our guest today, I just want to say thank you to Atlanta Tech Park here in Tech Park Atlanta in the city of Peachtree Corners right on this miraculous one and a half mile road, that's part of the Curiosity Lab at Peachtree Corners, which is the autonomous track that just opened just recently. But Atlanta Tech Park is an accelerator similar to some degree to Prototype Prime down the block which is an incubator. Curiosity Lab at Peachtree Corners, Bright and Prototype Prime is part of that. Now the original was separate, but now it's all together. Thanks Lorri. But we are in the podcast studio here at Atlanta Tech Park, and I want to thank them for allowing us to use the studio. It's a great place lots of things here. Lots of workshops, the ability to find and connect and network here is unbelievable. Next month is going to be a tech showcase that's happening November 14th I believe. An ATS I believe it is and you can find information on LivinginPeachtreeCorners.com or just Google Atlanta Tech Park and their website will pop up. So thank you for these facilities for us to use and now for my guest today a City Council Person. City Councilman, we discussed how we should do that right. City Councilman, Lorri Christopher. Lorri, thanks for joining me.
Lorri: [2:38] It's an honor to be with you.
Rico: [2:40] I appreciate it. Lori is the original, one of the original, founding city council people that started with the city of Peachtree Corners and actually prior to the city. So why don't you tell us a little bit about that and about yourself?
Lorri: [2:53] Well a little bit about me. I've lived in Peachtree Corners since 1983, the whole time. I worked in Peachtree Corners in the 70s and 80s in the Summit Building. We had our technology firm, Boris, was located there where we developed financial applications for the world, but we had over 400 people in that facility. So I've seen Tech Park when it was at its heyday. I've seen it since and it is so exciting, about what's happening now.
Rico: [3:25] Yes, it's like full circle almost right?
Lorri: [3:28] We're getting there.
Rico: [3:29] Lorri has an impressive background, I've got to say. MBA Emory Finance, Georgia State, Global Commerce, e-commerce. IT graduate work at Georgia Tech, Hofstra University, Undergraduate math. A long history not only of schooling but also of a long history of being involved in all sorts of things. She's back from Africa, 14 days there as well.
Lorri: [3:56] Well I was there doing a service project with a school. We had partnered with the local Rotary Club, the Arusha Rotary Club in Tanzania, and they had identified a number of projects that they needed help with. And so along with three other people, we went over with some money and some computers.
Rico: [4:18] And you told me you lugged in your luggage, actually.
Lorri: [4:20] We took them all over in our luggage and they all made it. And we were fortunate to be involved with a group that wanted to give in that community as much as our area wanted to give in terms of making the project a success. Sometimes you get engaged in these projects and it's a one-way street. But the people we worked with were equally as committed in spite of the challenges that they face. And that's kind of how I view some of the things sometimes we face as a city councilman because we'd like to do everything but our funds only go so far.
Rico: [4:59] This is true and the good part is that the city's somewhat debt free of things, right?
Lorri: [5:04] We are.
Rico: [5:05] Yeah, the town center we're debt free there?
Lorri: [5:07] The town center is debt free.
Rico: [5:10] The millage rate is zero.
Lorri: [5:12] That's true.
Rico: [5:13] For a small city that's only, how old are we now? Six years old? Well what it says seven there.
Lorri: [5:19] We're seven plus years old. And the bottom line is we've been able to do some things that we hadn't planned because we didn't plan to buy the property where the Town Centre is now. We had other initiatives in place at that time, but because of the citizen input and desire, they did not want that turned into garden-style apartments. So we ended up buying the property and we tried for a long time to sell it. That didn't go really well. We were just coming out of a recession. And so the city chose to build a town center there as a place for people to gather and be together. And it's debt free. The other thing is how fortunate can we be when we bought the town hall, our city hall, because we have a tenant on the top that pays the rent for us. So our mortgage basically is being paid by a tenant. So in my opinion, we work really hard at keeping the millage zero and being fiscally responsible.
Rico: [6:31] It's interesting, one of the few cities that haven't built their own city hall for example, lots of cities around here, Duluth, Suwannee, others. Not saying that's a bad thing for them to do, but they went out they built their own city halls and stuff. And rather you took, the city decided to take a building already existing in technology park, in the hub of the city.
Lorri: [6:53] Well it was important to us to bring Tech Park back and make it successful again because it was the heart of the area during the 80s and early 90s. And it attracted people to our community. And if we had made an investment in Tech Park, I don't think we would look that
good because we're asking business to do it and we wouldn't. And then to renovate something that's there, I think it's an important thing to do.
Rico: [7:25] Yeah. And I mean, it's proof in the pudding if you will. I mean we went from a twenty-six percent vacancy rate and we're now, we're under 20. 19 I think. So things are coming back.
Lorri: [7:37] Property taxes, property appreciation has gone up over 10% during the period we've been a city.
Rico: [7:46] Now do you think that you, do you think that's part of what the city's done? Do you think that the reason for that?
Lorri: [7:52] Well it's some of the things the city has done has spurred innovation. Have spurred growth in the city and attracted people to our community. And we're trying to create places where people can live, work, and play because they don't really like getting caught in traffic. The challenge we have is we have a major highway running through the middle of the city that we have no, really, control over other than figuring out if we can do anything to maximize the thruway part. So we've worked on light streaming so that we partner with our neighbors and Johns Creek and further north to sync up the lights to keep things moving when it goes through.
Rico: [8:42] Because it's the Georgia State Highway, I believe isn't it?
Lorri: [8:45] It's a State Highway, yes. We have, in our city we have state highways, we have County highways, and we have city highways.
Rico: [8:53] Three different governments to, trying to figure out how to work together.
Lorri: [8:57] And we have collaborated a lot because we partnered with the state in getting the access road improved to get onto 285. We've partnered with them, another, the county on street projects both in sidewalks and in highways and paving. So no City can exist as an island.
Rico: [9:22] For sure. Do you think that I mean, let's go to sidewalk infrastructure investment, for example. We've had 20 million dollars invested in 2015 alone. In roads and sidewalks Splost is a big part of that.
Lorri: [9:37] Yes it is.
Rico: [9:38] And that's coming up again, I believe?
Lorri: [9:40] There'll be a Splost initiative in about a couple years. In the hope. See the whole deal of us becoming a city as most people probably remember was, we weren't getting Splosts.
Rico: [9:53] It was a part of the area.
Lorri: [9:54] We're the largest city in population in the area. And so our citizens were paying into Splosts every year before we became a city. Well that same investment did not come back to us as an area. And the only way that would happen is if we became a city. So that was one of the reasons we became a city, in addition to being able to manage code enforcement and planning and zoning.
Rico: [10:24] Now we did have back, I guess a certain time before the city. We did have a commissioner that was a city commissioner that lived in Peachtree Corners. And we currently also have, well actually.
Lorri: [10:38] No we don't have one living in the city now.
Rico: [10:41] Now we don't, but we did in Linette Howard.
Lorri: [10:43] For many years yes. I mean we had people looking out for us but you're talking a six to one vote.
Rico: [10:51] It's a big difference and we do have a good Commissioner now in Ben Cooper though, I would say. But I would assume he would be in favor of another Splost update again of reupping it.
Lorri: [11:02] Well we would be in, we were in favor of Splost because some of the things we've been able to do have been primarily funded by Splosts. The city's revenues come from franchise fees, business licenses, and other types of fees associated with being a city. And Splosts. But Splosts generates for us around nine to ten million dollars a year.
Rico: [11:28] And they're mainly for roads, sidewalks, transportation?
Lorri: [11:30] Well it had been part of roads, transportation, sidewalks. The county handles education, the county handles police force, but I think it's important for people to know how that works. But we have intergovernmental agreements also with the county for other services that we don't provide.
Rico: [11:50] Are there services that you think, that you think the city should take over. I know we recently took over water, I think water and sewage, we took that over. Just before Peachtree station had the road fall out. I forget which road it was.
Lorri: [12:06] But that was an obligation of the county.
Rico: [12:09] At the time.
Lorri: [12:10] And they provided us some money to do that because it was their obligation before that.
Rico: [12:17] Before that but fortunate enough that was already being looked at at the time and plans were in place.
Lorri: [12:25] Plans were in place.
Rico: [12:26] Correct.
Lorri: [12:27] We had to improve some of those plans but it worked. We also preserved, helped acquire Simpson Wood.
Rico: [12:34] Simpson Wood park, right? Lorri: [12:35] Yes. Because, see the county was able to only invest so much in Simpson Wood Park. And if the city had not assisted them in that process that would probably be a development today.
Rico: [12:49] Because I think of the way that was zoned would have probably allowed two or three plus homes to be built there. And that's right across from, for those that don't know, is right across from Simpson Wood United Methodist. And actually was the retreat for Simpson United Methodist.
Lorri: [13:05] Well I've known that property for a long, long time. Being in the city a little while. We raised our kids here. They all graduated from Norcross High School.
Rico: [13:16] Right? Wow, okay.
Lorri: [13:18] Our oldest kids were at Peachtree Elementary when Brooks Coleman was principal.
Rico: [13:25] Yeah. Yeah.
Lorri: [13:28] So then they all went to Summer Hour. And then our daughter, who's the youngest, she ended up at Pinckneyville after a year at Summer Hour. And then they all went to Peachtree Elementary and then she ended up at Brookley Lake Elementary one year and the next year at Simpson.
Rico: [13:44] Simpson yeah, probably when it opened I guess, right? So what do you, you know, there's been so much accomplishment. You know people that know, listen to me on these podcasts and know, I don't have problems with anything for the most part that the city has done. Maybe the original plans for the pedestrian bridge, I had a bit of an issue with, but I didn't have
an issue with the bridge. I had an issue with the size of the bridge, the design, the money being spent, correct. Now that's been paired down by more than half from the original estimate.
Lorri: [14:18] Absolutely. You can see where, you can see the progress beginning on the bridge.
Rico: [14:22] And it's starting that, right because they put up the blocks and stuff. So when… So they're starting to level out the ground, I think right?
Lorri: [14:29] Well what'll happen is they build the infrastructure for the bridge. And then one weekend, they'll put up the arches.
Rico: [14:39] Because it's a prefab, right?
Lorri: [14:41] It's a beautiful bridge in terms of representing what we're familiar with in our city. So I was primarily, very honestly, in favor of a tunnel.
Rico: [14:52] Really? Like the Johns Creek Tunnel?
Lorri: [14:54] Well, I've seen a lot of tunnels internationally and they work very well. And it doesn't… let's say if they wanted to add two lanes say to 141, it's then going to affect the bridge. It wouldn't affect a tunnel, but it would affect the bridge. So that was some of the reasoning I had, but I'm very happy with the final design we came up with for the bridge. And I feel it'll be well used. And it wouldn't have made sense to start the bridge till we got the Town Center there.
Rico: [15:29] Sure. The bridge to nowhere would not have been good.
Lorri: [15:32] No. they had that up in Gainesville originally. In fact, they just finished their bridge.
Rico: [15:37] Right. So the bridge is going to be coming up and then I know there are plans for an offshoot pedestrian sort of walkway for the botanical gardens park and stuff.
Lorri: [15:38] It'll be like botanical gardens but it'll be a park type place. It'll be beautiful.
Rico: [15:56] Now and you know, listen. The city has done a lot of things. They bought the park of Simpson wood.
Lorri: [16:04] They assisted it.
Rico: [16:06] They assisted it, correct. It was a million dollars plus and Gwinnett County fitted most of the money actually for it. And it's a Gwinnett county park not a city park.
Lorri: [16:16] The parks are Gwinnett County Parks, but we are very blessed in our city. Because we have four parks on the Chattahoochee River. And have wonderful places for people to play and enjoy. We do really need though some play space in the south side of town.
Rico: [16:39] Where in the south side do you think?
Lorri: [16:40] I think that we could find some property around Mechanicsville and around that area over on, you know, toward the Winners Chapel and that side. Jimmy Carter area. Because those kids really don't have access to the type of amenities that are on this end of town and I think that's something that we need to work with. The county does parks, and we just need to help provide a little incentive and initiative to do that. Now the other thing though that's coming in, they've got the design for, is the upgrade of Simpson wood park.
Rico: [17:17] Right the master plan for that. But they're still keeping it a passive park.
Lorri: [17:21] Oh, it's always going to be a passive park.
Rico: [17:23] They're just expanding on the…
Lorri: [17:25] They're going to add a couple overlooks. They're going to improve the trails.
Rico: [17:31] In fact there's going to be a paved trail and the multi-use trail.
Lorri: [17:33] There's going to be a multi-use paved trail and also there will be a playground but it's going to be very interesting, the play space. Because it's going to be in the trees. Now you take these little children, it gets a little warm in the summer. And every playground is out there in the hot sun.
Rico: [17:56] Yeah, for sure. Lorri: [17:57] And we've found a design for a play space that is in the trees.
Rico: [18:03] So when you say in the trees, you mean like under the tree canopy.
Lorri: [18:06] It'll be under the tree canopy.
Rico: [18:08] Because I'm thinking tree tops, but under the tree canopy. And you're right most Gwinnett parks are not built that way. Gwinnett County Parks tend to clear a space and put the play, playground area in an open space. So this would be under the canopy where it makes more sense.
Lorri: [18:27] Well see the other part of it is that it protects the environment when you do that. I'm kind of a green person and you know every day today we hear more and more and more
about being green. But it means a lot for the future of our children and grandchildren, and now I'm a great-grandmother so I'm even more concerned about it. But I think that that's an ideal way to do that. There are two types of parks in Gwinnett. There are passive parks and active parks. And so Simpson Wood is a passive park which means very little development in the park and keeping the trails and that available to everyone to play. And Jones Bridge Park, which was the first County Park. I don't know if most people know that.
Rico: [19:20] Probably not that I would think. That makes sense though.
Lorri: [19:22] That was why it has been redeveloped because it's totally different than many of the other parks. But they have been bringing it back into that type of stage.
Rico: [19:32] In the last couple of years they have just renovated that whole area. When are they releasing the master plan for Simpson Wood then. Or I thought there was still some more work to be done on it?
Lorri: [19:43] Well the plan is done. See the funding is in the next block.
Rico: [19:49] So nothing's going to happen for the next year or two. Or two years, I guess, right?
Lorri: [19:53] Right. But the park is open and available to the public.
Rico: [19:56] Oh, yeah for sure and it's a great place for shots and photography in there. We've done some videos in that area.
Lorri: [20:01] We've hosted arbor days there.
Rico: [20:03] Yeah. It's a beautiful chapel building there as well.
Lorri: [20:06] Oh it is.
Rico: [20:09] So to go back to a little bit about you know, the county has services that are… Some of the services are being supplied like Gwinnett police does the policing. Gwinnett fire…
Lorri: [20:20] Fire, police and the emergency.
Rico: [20:23] So they do all that. We've taken over the sewage and the sewage services from the county. So we get funded for that. Those dollars come directly to us now and then we can spend that money here based on per capita.
Lorri: [20:38] And care of the problems that might exist in the city. And when you have some places we have more than 40 and 50 year old instructors to deal with.
Rico: [20:45] For sure. And so are there any other services that you think that the city should take over also that the city may provide or that you see in the future that the city should provide.
Lorri: [21:00] Well, I think we have some challenges in a couple areas. One, we don't have enough senior housing in the community for what's projected to be the number of seniors. Statewide we've seen the numbers just dramatically grow. I think that's important. And like I said, I think we need some more play space that you know, what we need to do is encourage and partner with the county. To get play spaces for people that don't have play spaces. So kids have a chance to get outside and be safe.
Rico: [21:39] You took you know, I mean, I know Brookhaven was just that… a Brookhaven candidate forum. And they're talking about pocket parks.
Lorri: [21:46] Yeah, we have we have a pocket park. Yeah, we have one pocket park down behind the condominiums. Where, you know, down behind that area where Lynn Williams lives?
Rico: [22:01] Yes, yes. I know Crooked Creek?
Lorri: [22:03] It's a little further than Crooked Creek. You know, we're putting in multi-use trails and we'll see things improve when those trails go in and gets down really toward Crooked Creek, not all in Tech Park. So that'll happen. I think that you know, we've had some people say we need more affordable housing. But that's a challenge. And when you think about affordable housing you got to find the right way to do that. Because what happens is if you have too much affordable housing, it decreases the property values of people in the community. So any decisions we make in that area have to be very carefully thought-out. We do have on the calendar some potential development over in the Mechanicsville area. It could be supportive of that type of development.
Rico: [22:59] Now, I noticed that other cities are talking about the same thing, affordable housing. Because you want to be able to have people that can work in the community. And work in jobs that are local jobs. And it gets expensive to live even in the city of Peachtree Corners it could be expensive to live, for a family. Let's say, a family of two or three. Is there, I mean, there are ways to adjust for that though now. Are there any suggestions you have?
Lorri: [23:28] Well, I think you have to find a developer that's interested in taking advantage of some of the resources that are available that permit affordable housing and acquiring the property. We face some of the same challenges when it comes to apartments. Our city has spent probably seven and a half years trying to incent and try to acquire some ancient old apartment buildings that don't need to be here. But the challenge is that because of our education system, which is so wonderful, those places are full. So a landowner doesn't feel like he has to be inspired to do something different.
Rico: [24:12] Right. When there's 95 percent occupancy. I mean, you know full rental.
Lorri: [24:16] But I think it's important that the public should understand what the challenge is there. Because we couldn't afford to buy them at the current rate.
Rico: [24:28] Right and no one else wants to buy them, actually because it's expensive too. Because to be able to buy that usually, there's a cycle, right? So things go bad, property values dro, and then all of a sudden you can buy that property.
Lorri: [24:42] Well, we did that with our city hall.
Rico: [24:46] That's right. Lorri: [24:47] And we did that in acquiring the Prototype Prime Building.
Rico: [24:49] That's right, and that was through a grant so that was pretty much, it was for free if you will. Also so that was no debt also on that one. Lorri: [24:57] So we've worked very hard at being fiscally responsible. In trying to deliver good things to the citizens. There are still many things. You know, there are a lot of things that we need to think we can do but we have to figure out how we fund them and moving forward.
Rico: [25:16] Are there other things that you'd like to see done that we haven't. That's on the board maybe or on your?
Lorri: [25:21] Well, you know, we've… There's a lot of people who have asked a lot of questions about a second bridge. And we have in the comprehensive plan, plans for a second bridge that bridges the gap from the hill down to Holcomb Bridge.
Rico: [25:38] That's right. So and that was in the master plan actually too.
Lorri: [25:40] That's in our comprehensive plan.
Rico: [25:43] So is that going to be coming at some point?
Lorri: [25:46] We have we have a strategic planning meeting coming up in November. Where we'll look and see what the things are that are most possible for the coming year. But we're going to be focused on bringing the community together. I think the other thing we need to do is find more ways to engage more citizens. I mean, we have 4, over 43,000 people in this community. And there are opportunities for us to collaborate and come together and address many things, like the Peachtree Corners Business Association does a lot for our community. The United Peachtree Corners Civic Association brings all of the homeowners together. But we need to have other groups like, thinking about an art center and a music center for our city. That would be important.
Rico: [26:41] So there's an art Council right?
Lorri: [26:44] Yes. We have an art council.
Rico: [26:47] We have a plan, I think, out of them. Or at least a study that was done. Lorri: [26:49] Yes we do. We have a start of a plan.
Rico: [26:52] And that is near and dear to my heart because I would love to see an art center actually built with a theater in it. And an event hall probably, that could be used as a gallery as well.
Lorri: [27:05] Those are things that have always been particularly interested in.
Rico: [27:09] Do you have a particular place you'd like to see that? Lorri: [27:12] Well, we have a little property that we acquired near the town center.
Rico: [27:16] that would be a perfect place, right off the town center. Right. That would be cool.
Lorri: [27:20] It'll be interesting. I'd like to hear the citizens input really, on what they would like us to do with that property. Because some would like to see us expand the town green and some might be more interested in an art center or that. And I think it's important to get citizens' input on what we do.
Rico: [27:41] Sure, makes a lot of sense. And I think there was a study so there was a survey that was done.
Lorri: [27:45] Yeah, there was a study. We do check the citizens out and ask him to tell us. Right now we're working very hard to figure out, I've got a lot of questions on the Michigan U-turn.
Rico: [27:58] Oh the roundabout you're talking about?
Lorri: [28:00] No, not the roundabout. They're looking at the intersection at East Jones and 141, which is the most trafficked intersection in the city. And the proposal has been because the state would fund the majority of it to do Michigan U-turns. There's a lot of concern about that and…
Rico: [28:26] It's a little different. I've been in Detroit where they, where I used one several times and it was… you had to get used to it because it was a lot different than what you might see here on the East Coast.
Lorri: [28:37] It is but there are some of them, in other areas of the state, and they are successful. And I really think it will increase safety.
Rico: [28:49] So you think that might be coming. Couple of those, or at least one of those.
Lorri: [28:54] Maybe, maybe not. Because a lot of people… See the other thing is it'll change the whole corner there dramatically. It'll tie up traffic dramatically for a while.
Rico: [29:07] While they construct it.
Lorri: [29:08] So those are concerns but I think safety should be our first concern.
Rico: [29:12] I mean, you know, listen to the construction of something is always a one-time thing anyway. So it's the outcome, whether the outcome is going to be for better or worse is what it's about. All right, cool. There were a few other things. So the cities is involved obviously with the Curiosity Lab at Peachtree Corners, the autonomous vehicle track. City council was visionary, thinking of visionary ways to bring the city forward when it first started by funding some of these things. Originally with Prototype Prime as an incubator and then evolving that into much more.
Lorri: [29:40] We're very fortunate to have three incubator environments in our city. I mean, I've always believed in that because I grew up in the technology industry since 1965. And if you don't have a way to do innovation, you're not going to grow. Because you're creating new jobs or creating opportunities for people. And that's what Paul Duke saw when he came here back in the 80s.
Rico: [30:18] So do you, what do you see happening over the next couple of years? What more beyond what citizens might see now with the autonomous track and all that?
Lorri: [30:27] Well the autonomous track was built primarily to attract industries that were related to the autonomous vehicles. And all the technology that goes along with it. What other things could be autonomous? That's the question you can ask. You know, and like we saw in the dedication, The Drone delivering a package? You've got people talking about autonomous scooters. And the whole thing about autonomous scooters is what they want to be able to do is get the scooters back where they belong after they've been used.
Rico: [31:07] Right. Seeing those scooters drive around by themselves, heading back home.
Lorri: [31:12] So that's a part of the autonomous area. But what other developments are going to occur in medicine? And in Healthcare? And areas like that, that are also areas for innovation.
Rico: [31:27] Biomedical, pharmaceutical. Or are you talking about retail medicine?
Lorri: [31:30] Well in telemedicine. And the extensions of telemedicine that might enable people that don't get access to Medical Services to have them. I'm totally excited that Gwinnett Medical located their operations in our city. I've been pushing for that since I was a counselman because we didn't have any of that here.
Rico: [31:54] And Northside just took that over. So yeah, they're getting bigger. The northside is getting bigger in the North part of Atlanta as well.
Lorri: [32:04] Very much so.
Rico: [32:06] The issues that arise sometimes from some of these developments and stuff; privacy issues. I talked with Brian Johnson on one of the podcasts on Prime Lunchtime with The City Manager about doing, about the cameras and license plate identification cameras as well as facial recognition type cameras for security. We talked about how those could be put out in different parts of the city and even in near different neighborhoods in front of different neighborhoods.
Lorri: [32:39] And the neighborhoods can make a choice on whether they want to do that or not.
Rico: [32:44] Do you find that as a good thing?
Lorri: [32:47] I think safety is important. And you know, it's kind of like some deterrents serve to keep people safe. So I mean the good people aren't going to mind you putting out a camera.
Rico: [33:04] But there's privacy to a degree.
Lorri: [33:07] But the access to those devices are limited. And the information is protected and encrypted. So that it isn't like it's wide open access for everybody.
Rico: [33:21] Right. And we talked a little bit about that.
Lorri: [33:24] The city is not going to track how many times you come and go home a day.
Rico: [33:30] No I'm sure the city won't be doing that. But you're right there will be restrictions on its use from what I understand from Brian Johnson.
Lorri: [33:39] No question about it. I mean the use is only for safety and for crime prevention.
Rico: [33:48] And we want to stay ahead of that. I mean we the city hasn't had real… I haven't heard. I mean I keep watching my crime…
Lorri: [33:55] We just had a murder last night.
Rico: [33:57] Yes, we did. That's right.
Lorri: [34:02] And it's sad. But there's some of the problems like the opioid crisis and those items. I mean those are things that we need to.. it's not a city responsibility but to be cognizant enough and aware of in able to help drive solutions to those type of problems. It's like with all, we have a number of hotels here. The other area we've got to be concerned about is human traffic. Most people don't really believe there's a human trafficking problem.
Rico: [34:40] Because they're not aware of it or they're just not looking.
Lorri: [34:42] They don't see it. I mean I've worked with a number of organizations over the years and I'm very aware of that type of environment.
Rico: [34:53] Do you think Gwinnett County police are doing a good job with that?
Lorri: [34:57] I think they're doing all they can do. I mean the big job there is education because you know, see something do something. You have to do that.
Rico: [35:13] For sure. It's a tough, it's a tough question, right.
Lorri: [35:17] The other thing that I'm not quite sure how to address, but it requires funding, is I mean when I sit here there's about 200 homeless kids at Norcross High School. We don't have any Rainbow Village in Peachtree Corners. This is something that the city, you can get some grants and money and things behind something like that so that we could have a facility to do that. I have been involved in a number of the homeless people I've run into since being a councilman when I've gotten calls and gone to see in what we do. Currently at least they take them downtown to the shelter in downtown Atlanta. But most of them don't, but they have to agree to go. They don't want to go because we have really nice people in Peachtree Corners and they generate the revenue here.
Rico: [36:15] So do you foresee maybe a shelter of some sort in Peachtree Corners?
Lorri: [36:18] Well, I think we should have some place where people get help and support. With a population of 43,000 the largest one with nothing. I think that's something that we could, we need to think about and how we could go about it.
Rico: [36:35] I mean that could be a private-public… public-private
Lorri: [36:38] Public-private partnership.
Rico: [36:41] What other issues are on your mind that you'd like to talk about?
Lorri: [36:49] Well, the only things I would like to say is; I appreciate the citizens of the city giving me the opportunity to serve them. I would like to continue to serve them if it's their choice. And hopefully everybody will go vote. I'd like to have them both for me, but I'd be equally honored if they went to vote. Because it's a privilege we have that not a lot of people have. I think it's extremely important to do that. And I want to say how much I enjoy serving with my fellow councilman. We have a really good team and without the team goals that we've had, we would never have been able to accomplish what we have in this short period of time. I'm thrilled to be a part of Peachtree Corners.
Rico: [37:40] And I'd be remiss to not say that you're being opposed in re-election.
Lorri: [37:46] That is true.
Rico: [37:47] And there's other candidates like the mayor or other servants of the city that are running unopposed. You're actually the only one being exposed right now.
Lorri: [37:57] That's because I have a large seat. That means anybody can run against me. Rico: [38:01] Correct. So you're not stuck in a post. So anyone in the city can actually vote for you.
Lorri: [38:08] Yes everyone in the city can vote in this election
Rico: [38:12] And this election obviously November 5th.
Lorri: [38:14] Well it the polls are open now from 9:00 to 4:00 Monday through Friday, until November 1st at City Hall. And then election day it's 7:00 to 7:00 at City Hall.
Rico: [38:28] So advance voting. Absentee voting?
Lorri: [38:32] Absentee voting. In fact, if anybody needs an absentee ballot, I'll be happy to get one to them. I took them over to Village Park last week. I told them I would come back and get them and deliver them.
Rico: [38:46] Very good. So they can find more information about you and at www.Re-ellectLorri5.com. All right.
Lorri: [39:05] Or the committee to re-elect Lorri Christopher on Facebook.
Rico: [39:09] On Facebook, cool. And if they want to reach you, I mean on Twitter you're @Lorri504. And they really can find and reach out to you through any of those.
Lorri: [39:20] They can also reach out to me from the city site.
Rico: [39:23] Okay. So go to the City of Peachtree Corners.
Lorri: [39:26] www.PeachtreeCornersga.gov Rico: [39:29] You got it. That's cool. I think we've covered quite a bit. I appreciate you coming out. Lorri Christopher running for re-election for City Council of the City of Peachtree Corners.
Lorri: [39:42] And please invite everyone to vote. It's their privilege.
Rico: [39:45] And don't forget when you vote at City Hall because that election day is at your precinct for… I think there's, no actually there's nothing.
Lorri: [39:54] There's no precincts. There's no voting except at city hall this year. Rico: [40:00] At City Hall this time this year. Yeah, very good. Thank you Lorri.
Lorri: [40:04] Thank you.
Rico: [40:05] Thank yo