Cliff Bramble: A Culinary Adventure through Italy

Noble Fin Owner Talks Food and Travel with Rico Figliolini
In this episode of Peachtree Corners Life, host Rico Figliolini sits down with Cliff Bramble, restauranteur, and owner of Hungry Hospitality, a restaurant, and hotel consulting firm. He has just gotten back from a delicious trip to Italy, and he shares his experience with some of the great, Italian food he enjoyed eating there. Cliff and Rico talk bistecca, proscuitto, paninis, and pizza, and Cliff also shares how he planned and maximized his trip. Enjoy the episode, and maybe have a snack nearby, because you'll definitely be hungry by the end of this episode!
"There's a lot of asking people, a lot of asking the locals, and if you go into Florence or even Rome and you see people with their menus in their hand and they're trying to flag you in, that's probably not the one to go to. You want to ask a local, 'Hey, where do the locals hang out?'"

Cliff Bramble, Noble fin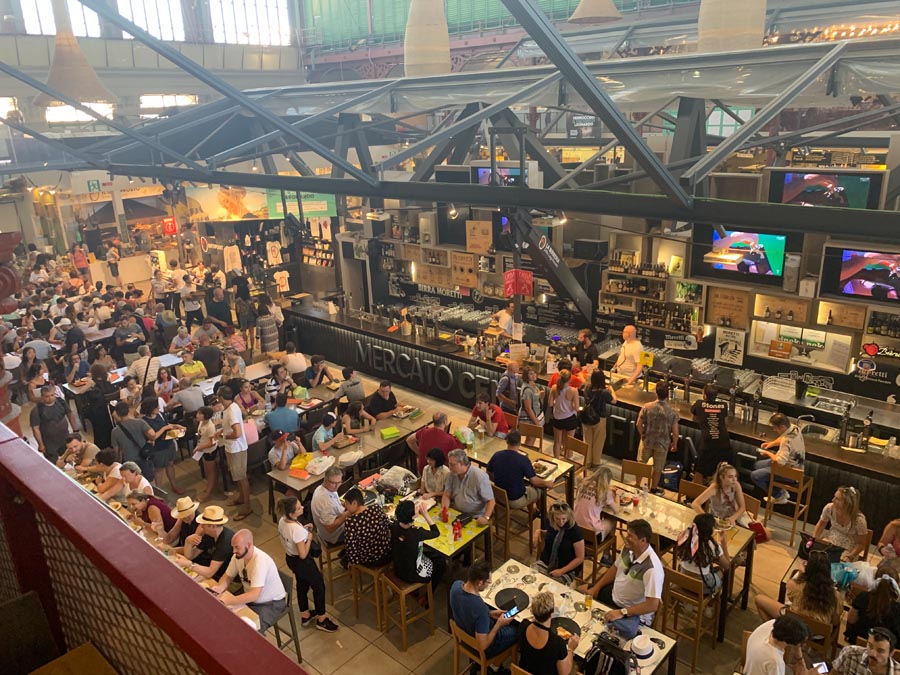 "And at one point we were standing up looking at – she said, two million dollars worth of proscuitto above our heads. And it was pretty cool. And so we went in there, we were fortunate – we tried the black hoof proscuitto, which they slice more on the Spanish style – only about two or three inches at a time. And then we tried the twenty-four month and thirty-six month. And I will tell you – they melted – they melted in our mouths. It was really good."

Cliff Bramble
Transcript of the podcast:
Rico [00:00]: Hey everyone, this is Rico Figliolini, Peachtree Corners Life and Peachtree Corners Magazine. We have a really good guest – we're gonna get into a conversation today with Cliff Bramble from Noble Fin.
Cliff [00:11]: Hi everybody. Thanks for having me.
Rico [00:14] : Yes – this is going to be fantastic. He's been to a place that I've been to, but the continent that he went, and part of the country, but not in the same as him, so we're gonna talk about that in a few minutes, but ahead of that, I just want to thank a few people – a few sponsors that we have.
So Atlanta Tech Park first, because Atlanta Tech Park here in Peachtree Corners is our sponsor with this podcast room, where we're doing this out of. It's an accelerator. One of our other sponsors, Prototype Prime, is an incubator. So when you get to that start-up space and your startup and you get grown a little bit more, you come to a place like this. Lots of workshops here, driven by a lot of talented people, a lot of office space, event spaces, while right down the block is Anderby Brewery, I think it's called? And there's a bunch of places – and this road that we're on, actually, is the autonomous track that's going to be featured at the Smart City Expo, who by the way, we are a media sponsor for. And that's happening in September – September 11th, 12th, and 13th. Smart City Expo – that's actually based out of Barcelona, it's the world expo. This is the first North American expo that's happening. We're a media sponsor for them. And the city here will have the first and probably only off-site demo from that expo showing people this track, the abilities of what they use here, how this track in timeless fashion and smart technology can be a great use for a lot of different companies. So that's that.
And one last mention is Gwinnett Medical Center. I gotta say – they are a new sponsor. They're entering Peachtree Corners now – in fact, today, when we're taping this, is their grand opening day. and if you want to learn more about their services offered at GMC Primary Care and Specialty Center at Peachtree Corners, you need to visit GwinnettMedicalCenter.org/PTC. Now that I've gotten all that out of the way – a mouthful – we're – let's get into sort of the meat of it, the meat and potatoes, but not the potatoes, right?
Cliff [02:21]: Lots of meat.
Rico [02:23]: So this is a culinary adventure. Cliff owns Noble Fin restaurant, and he owns a company called Hungry Hospitality, which is a consulting firm.
Cliff [02:33]: Yes, restaurant and hotel consulting firm.
Rico [02:36]: So you help other businesses – I mean, you have a successful restaurant here in Peachtree Corners, and you help other businesses?
Cliff [02:43]: Well, yeah, I help other businesses, I do a lot of different things, from human resources to financials – there's a lot of avenues in a restaurant that people need help or guidance with, so I try to help them out using my forty years of experience, so, hopefully I can help someone.
Rico [03:01]: Excellent. But the topic today, of course, is close and dear to my heart cause I love food. The doctor tells me I need to stop eating so much pasta, but, you've been to Italy lately.
Cliff [03:09]: I have. I have, and I will tell you – we had the fortunate experience of being able to eat at a lot of different areas throughout Rome and Florence and Cinque Terre – we went all the way down to Amalfi and Positano and Praiano, so we were very fortunate to eat a lot of different areas in a lot of different areas and experience a lot of the different culinary delights throughout Italy.
Rico [03:36]: That is cool. And that is a place I would love to go – the Amalfi coast is supposed to be beautiful.
Cliff [03:41]: The Amalfi coast is fantastic, but when you go there, you better wear sneakers. There's a lot of stairs. If they tell you there's twenty stairs, there's two hundred.
Rico [03:49]: Really? Wow.
Cliff [03:52]: Oh yeah. There's a lot of stairs, and they have – they've been there probably two hundred years.
Rico [03:56]: Yeah, and I saw one of the videos you posted to Instagram. You said "be careful" and I saw this car whizzing by.
Cliff [04:03]: Oh yeah, so in Amalfi and Positano and Praiano, there's really a two lane street, and on that two lane street, there's little white – six inch of white stripe on the left hand and right hand side of the street. So you have six inches to really stay on the right and left hand side before those cars whiz by. And, um, you could be in a little tiny car coming by or a little moped or vespa coming by, or you could have a big Sita bus. It's s-i-t-a bus, it's a local bus, and they whiz by pretty quickly, so you have to pay attention.
Rico [04:35]: No you've – so where was the first – the first actually the picture we have. I gotta show this, we'll show that first picture. This is – this was the Bistecca?
Cliff [04:46]: Oh, the Bistecca Florentina, yes. So in Florence, everybody is – well a lot of people were in Florence – you're going to have a Bistecca Florentina. And, interestingly enough, they have them cooking from gas, coal and also wood in different areas over there, and this one restaurant that I went into – I think you probably see the pictures up there now.
Rico [05:10]: It's a little late – I don't see it on this.
Cliff [05:14]: Yeah, so, you know, the picture will be coming up. But interestingly enough is – the cool part is that they will slice the steak for you, the one that you want, and they're going to cook it right over there. We went and we said, "Hey, as a family, we have to go and at least try one of these." And I will tell you, it was a great experience. Very succulent, very moist, nice and salty. It was a great adventure.
Rico [05:38]: So you just picked out which one you want in that picture?
Cliff [05:41] : Yeah. Ours was a big old ribeye, and, so as much as there's a lot of flavor in it, some people say, "Hey, I'm a filet person," but the ribeye that we had there – it was awesome. And the way they cook it – it's, you know, Florence is known for the Bistecca Florentina.
Rico [05:56]: You know, and how do you find Italian restaurants? Restaurants outside the US anyway – how do you find?
Cliff [06:03]: It's tough because there's so many of them, but, you know, there's a lot of asking people, a lot of asking the locals, and if you go into Florence or even Rome and you see people with their menus in their hand and they're trying to flag you in, that's probably not the one to go to. You want to ask a local, "Hey, where do the locals hang out?" And I did find one place in Florence beside the Bistecca or the steak one – it was a little tiny place that seated about fifteen people, and then I had the best lasagna I've ever had for six euros. It was the best lasagna. And we tried to go back there at nighttime, but we could not find the place because it was in a little alley, and nobody was around.
Rico [06:43]: Oh, that's funny. It's like these moving places. Must feel like Harry Potter – the walls close.
Cliff [06:47]: Well, it was so hot there, we just wanted to be somewhere between walls so the sun wasn't coming in. But you ask a lot of local people and just cross your fingers that they – that they know.
Rico [06:58]: You know, that's cool. And those small places – obviously fifteen seat place – you wonder how they make any money.
Cliff [07:03]: You know, I was wondering that myself. And you know, there's a lot of places throughout all of Italy, and they're only under fifty seats. So in America, we have these large restaurants that have a hundred and fifty seats, and over there there's no question – I thought the same thing. I'm like, "Wow, they have to serve a lot of people here." Either that or they're not paying much rent.
Rico [07:23]: Yeah well – I know in Sicily, where my wife comes from, that some of the places we went to – they own the building. They live upstairs, maybe. And they just open a – its been in the family for a hundred years.
Cliff [07:35]: Yeah, that's awesome. And I met a – actually, somebody who's exactly what you're saying. And she was in Manarola. And I went to her place probably three or four times in the morning, and then I – she had this Mac Daddy espresso machine. It was like, you know, and I said "Man, that machine has gotta go for fifteen, twenty thousand dollars." She goes, "eighteen thousand euros." And so I spoke with her, and she said, "Hey, this is my family's house, and we've had this for fifty years." And same thing, exactly what you're saying. So it was cool. She was a very nice person.
Rico [08:07]: The next one that we have is the panini. The panini photo. Tell us – so everyone knows paninis here, I think. If you go out a lot, you might get a panini at, I don't know, Atlanta Bread Company.
Cliff [08:21]: Oh yeah.
Rico [08:22]: But is that a panini?
Cliff [08:24]: Well, you know what, it's different. You know how they always say, "Tastes different in Italy?" You know, the paninis there – there's a lot of them that are counter. So you walk up to the counter and the paninis are there. And basically the nice part is, they're with fresh bread that is just coming out of that little oven, because the ovens are behind them. And they have slices of proscuitto, proscuiito cotto, or they also have – one of my best paninis that I had over there was proscuitto and brie. So it was a proscuitto on a nice focaccia, and then they took a nice slice piece of brie, about five inches long, and they put it on there. But then they toasted it on the panini press.
Rico [09:01]: I've got to try that.
Cliff [09:03]: I will tell you what – that was, like, four euros. You know, the best deal you can get.
Rico [09:07]: What's the conversion rate right now?
Cliff [09:09]: It's twenty cents less. So it was about four dollars and sixty cents.
Rico [09:12]: That's cheap.
Cliff [09:12]: It was inexpensive and you get a great sandwich. So the paninis – a lot of people will go to Italy and say, "Hey, I don't know where I'm gonna go, what am I going to eat?" But if you're going through the train stations or the bus stations or even some of the food malls, you're gonna see that there's all types of places that you can just walk up to and say, "I'll take the buffalo mozzarella and the tomato." You know?
Rico [09:34]: Right, right. It's nothing like, if you live in New York, you get the hot dog stands in the corner. So you don't find no paninis.
Cliff [09:40]: Yeah, yeah, You'll find – you'll probably find the paninis, but they're gonna charge you fifteen dollars for it. So in Italy, I will tell you – you can eat pretty inexpensively at these places and have some pretty good food.
Rico [09:51]: Healthy food too, I mean, compared to what you see in street food here sometimes.
Cliff [09:55]: Yes. As a matter of fact, it's interesting – I don't think we had one fried item all the – as I think about it, we have – I mean granted we had pizza. we had to have some pizza. But you know, in America, yeah there's no question. It's different.
Rico [10:08]: Yeah. It's, uh, yeah. And, you know, I think – I don't know. Part of, I think also, food, and maybe we're getting close to it, is that there's a lot of free range or more like farm to table over there. Because they're so close to so many places, right?
Cliff [10:22]: Yeah, they're definitely – it's regional. A lot of regional places, so. I will tell you, when you go around different parts of Italy and you eat at different areas, a lot of the times, I said, "Man, in America, we're on the right track because we're doing a lot of the same items." But I will tell you – they taste a lot better over there.
Rico [10:39]: Yeah, well no doubt. I gotta believe that just being out there – the air – wine?
Cliff [10:46]: The wine's always good. I mean – the wine, every region has their own wine. If you're in Florence, you know, granted it's in Tuscany. So you have a bunch of different Tuscan wines. However, if you go to the little tiny place in Amalfi, they have their own wines, and it's an Amalfi wine. So everyone – different area, regional – they do have specific wines for the regions.
Rico [11:06]: Now that's interesting. Did you ever try rice balls out there?
Cliff [11:11]: The arancini? Actually, yes. We did have one arancini, it was really good. But, I will tell you, the arancini that we get here in America are about – maybe about three inches, two and a half inches. They were five and six inches over there. So you could have a happy meal. If you ordered two arancini, the rice balls, you would have been pretty full.
Rico [11:30]: Yeah, I miss those things. So, let's see. Going on, we have the Mercato Centrale.
Cliff [11:37]: Mercato Centrale was actually in Florence. And, you know, interestingly enough, it was really hot there. It was 103 degrees and we were trying to find somewhere to be inside. So we sat well right, right down by the Duomo, and so the Mercato Centrale is pretty well known in that area. And it's basically a food hall, you know, American style food hall, you know, venue hall. But this place here had everything under the sun from – you know, you could get chicken. You could get biscotti. You could get, um, any type of gelato, coffee, pizzas all over the place. Truffles – they had black truffles over there. I mean, on one of the pizzas – they were shaved on one of the pizzas. But the image that you'll see – I will tell you. This place was really big, and it was jam packed with people. And it was a cool place. You could get it – you could go from stall to stall to stall, and it was a lot of fun in there.
Rico [12:32]: Is there any place here in the States that comes close to that experience?
Cliff [12:36]: Well, you know what, with all the food halls going up, you look at Krog street market – Krog street market, they've done a great job with them. They've done a really nice job with that place over there, and, you know, are they modeled after some of these places in Europe? They could be because, they really could be. But at the same – I think they started earlier than we did in America. But there's – you know, you go to Thaniel Hall – same exact thing. And even in Chicago, they just opened up a really big food hall. But there's two and three under works here, and there's a new one that's going to be going up in Athens in the next year, which is going to take up a whole building over there. So it'll be interesting.
Rico [13:13]: Even one of them at here, outside the perimeter up here would be nice, huh?
Cliff [13:17]: Yeah.
Rico [13:18]: Not enough people, maybe.
Cliff [13:20]: Yeah, we need a few more people. And a bike line, you know, a line with ten thousand people on it every day. Like the bell line!
Rico [13:26]: Actually, I was saying, when I went to Pawn City Market, I thought that was close to some degree, you know.
Cliff [13:32]: Absolutely. Because Pawn City Market, there's so much going on down there, and all – they have two floors of all food and now on top of them, they've got all of the big tech companies going on and the new Kroger that just is opening at the big building that's going right next to it, and all the tech companies that are moving over there. So Pawn City Market is definitely a great little spot. Yeah.
Rico [13:53]: I think once they do the apartment complex up in Town Center, there might be three hundred people.
Cliff [13:59]: Yeah, maybe.
Rico [14:01]: But in regards, yeah, it's tough out there. But um, so, Italy. And you've been to Florence and you've been Amalfi. What's the pizza margherita?
Cliff [14:11]: Pizza margherita. So we ended up in Naples. Naples was really –
Rico [14:15]: How'd you like Naples?
Cliff [14:17]: You know, Naples was really nice. I have to tell you – we stayed in this place called Hotel Bellini, which was – when I made the reservation they had warned us, "Hey, this is a sketchy area, don't be afraid of you see graffiti." And I'm like, "ahh, I'm used to that," you know? So we ended up staying at this one place, and it was really in the middle of all the different shopping areas around there. And so we went to this place called Sorbelo – I – there's two really, really great places for pizza. There's a lot of places. But there's number one and number two. We ended up going this place – I believe it was called Sorbelo Pizza. But the cool part is, you're walking down the road and there's restaurant after restaurant going everywhere, and you know, you've got the Italian center that actually looks like a little red chili. In Naples, that's where they came from. But, so we went to the Sorbelo Pizza, but you go put your name in to the guy who's standing outside across the street, and he'll call you – across the street because there's fifty people in front of you or behind you. And it's like a little machine. So basically, he'll tell you, "Hey I'm going to call your name and number in Italian." So you have to pay attention. And also, you have to understand exactly a little of what he's saying. So he called our number and we went into the Sorbelo pizza, and the cool part is – they have these two big ovens that are – they use a combination of gas and also wood. But when you order that pizza, it's to your table in four or five minutes. And they – this place had a dumbwaiter that – actually, the pizza was made down below, they'd put it in the dumbwaiter, it came up top, and they deliver it right to your table. And they actually have another one in New York City, but the pizza there – Naples is known for the pizza margherita. And I will tell you – the pizza there was really good. And it's pretty big. The difference is, there's so many five or six euros compared to in America, where the same pizza would be twenty-six or twenty-seven dollars.
Rico [16:12]: Yes, yes.
Cliff [16:13]: So a little different. But the pizza's the best.
Rico [16:15]: Yeah, yeah, you know – people always wonder about that. I mean, you know, even I think about that. You know, you talk about Europe and you talk about how expensive it is to live there because gas is expensive.
Cliff [16:25]: Oh yeah, gas was not – they sell it by the liter. Two bucks a liter.
Rico [16:27]: So over here that would be, like, eight – eight dollars. So, but, food's cheap?
Cliff [16:33]: The food – I will tell you – I personally found, being in the restaurant business, I found that the food was very inexpensive. When you go out for lunch for four people and you spend forty euros, which is, like, fifty dollars, and you have a pretty good meal –
Rico [16:48]: For four people?
Cliff [16:49]: Four people. So, and even all of the – if you went there tomorrow, I would say, "Hey Rico, you can go get a panini with proscuitto on it and brie for lunch, and maybe get a pizza for dinner, and you're going to spend twelve euros. And if you want a bottle of water – most of the bottles of water are two euros, maybe three euros at the most."
Rico [17:06]: Really? Over here you have to pay way more for that. And those are big bottles, they're not the little ones?
Cliff [17:10]: Yeah. Everybody in Italy – no matter where you go – you're gonna be ordering bottled water.
Rico [17:16]: Did you find that when you stayed – so did you book on AirBnb or anything like that?
Cliff [17:21]: Two of them were – uh, let's see. I think one of them was an AirBnb in Cinque Terre, and that was awesome. The guy was really cool – his name was Paolo. And he was really cool. He met us at the bottom of the stairs, and I knew afterwards why he met us at the bottom. Because there was, like, four hundred and fifty stairs to go up.
Rico [17:41]: And you had to carry all of your bags up that way?
Cliff [17:44]: Yeah. He helped us. And he said, "Man, these are heavy."
Rico [17:47]: Well, you're out there for ten days, I'm sure. The kids didn't bring five pairs of shoes, I hope.
Cliff [17:54]: No. But that AirBnb was a nice place. And the air conditioning worked. You know, in America, we have air conditioning. In Italy, they have air conditioning, but it's their style of air conditioning. And at the AirBnb that we stayed at, it was really nice. The guy – it was a nice place, and he was a really nice guy.
Rico [18:11]: How long did you stay there?
Cliff [18:12]: Two nights.
Rico [18:13]: That's not so bad for the flight of stairs.
Cliff [18:15]: It wasn't that bad, because we overlooked, I think it's the Tyrrhenian Sea? And we got to – you know, what we needed to eat was a lot of different espresso that we had. We had espressos, and, we had more espressos and cappuccinos than we wanted to, but it was fun, you know? Ate a lot of different food.
Rico [18:34]: There's no point in sleeping when you're in Italy.
Cliff [18:36]: No, we had to get up early.
Rico [18:39]: And you didn't do bus tours, right? This was, like, you did your own thing.
Cliff [18:42]: Yeah, we did our own thing. We set it up, and, we took – I bet you we did twenty, twenty-five hours of setting it up. So we would land in one area, and we would take the thing that's called the Frecciarossa train. The red train. And we would take that to wherever we needed to go. And one part – we did land in Salerno where we had to take the boat over to Positano. Which was really cool, because you get to see all of the coast all the way up the fifteen, twenty minute right. And we were supposed to have – we had a taxicab waiting for us with our name on it for the family. And we missed that one. We missed that one by an hour because we went up eight hundred stairs instead of going up the seventy stair level. That was a challenge, but, we figured, you know – but we set it all up and, you know, we spent twenty, twenty-five hours getting it together. It worked out really well.
Rico [19:36]: Yeah, you know travel, it changes, it's just the general bookings and everything.
Cliff [19:39]: We booked all of our own stuff, and, you know, a few people have asked me, "Hey, you know, how come you didn't use a travel agency?" And we've been there a couple of times. But we really know where we wanted to go. And the difference, I think, with what we did compared to some of our friends who went there with travel agencies and with tours – the tour guide will take you to Florence and you're there for two hours and, okay now it's time to go to the next place. So we stayed and we kind of felt like we were living in there and living like the locals.
Rico [20:07]: Yeah, and that's better, I think
Cliff [20:09]: It was fun. And you know, I will tell you – I would definitely – I would do it tomorrow.
Rico [20:12]: Yeah I'd do it tomorrow too if I could. I need your itinerary.
Cliff [20:19]: I'll give it to you! It's a long one.
Rico [20:21]: I'll duplicate that one. Um, figs. Now, I have a beautiful fig tree in the back, but these figs from Italy – these figs are beautiful!
Cliff [20:30]: So the figs in Italy – you know, the figs in Italy – the trees are ten, twelve feet. And without a question. And the leaves – when I was walking up in one area, it was in – it was in Cinque Terre, where I was walking up this big alley going up to the BnB. And I'm looking, and I can see these giant lemons that are on the trees. And then right next to it, they have the fig trees. And these figs – they're probably three, four inches wide. And they're all green, and I will tell you what – we had a couple of them. They were awesome. And sweet and tasty – I mean – you could just pick them right off the tree. Just like anywhere else, but it's an Italian fig, and it's almost like a small baseball. So, I have some in my backyard, but they're only the size of quarter.
Rico [21:18]: Oh wow, that is small. Mine – yeah ours are a little bigger than that. Yeah, ours are probably a good two-inches – an inch and a half to two inches wide. But that was, like I mentioned before, before we started doing this, there was a clipping from an Italian fig tree. So that was why. But, you know, with the American soil, American air – maybe something's different.
Cliff [21:40]: Well, I don't know. But I will tell you – a lot of my relatives many years ago when I was growing up, they would go to Italy and they'd come back with a little piece of a tree. And they know how to take that tree, put it in water, and let it grow a little bit. And then they'd plant it, and next thing you know, it was growing in our backyard.
Rico [21:57]: My father was the one with the green thumb. Yeah, cause this thing traveled from Italy to California and to us eventually by a few years. But now it's been there twenty years.
Cliff [22:08]: Italian fig tree.
Rico [22:09]: Yeah, lovely. Sweet, sweet stuff. Yeah. And I don't know what people – can you cook with figs? I don't know. Or is it just – with some fruits you can.
Cliff [22:18]: Yeah, I mean, you can. I mean, but there's a lot of people – a lot of chefs definitely take them, slice it in half, they'll put a little goat cheese on them, or they'll put a little honey on it as well. And just eat them the way they are. Yeah.
Rico [22:30]: And then the cotta cheese. Uh, proscuitto's a salty meat.
Cliff [22:35]: Proscuitto. We – I'll tell you what. The proscuitto – we were fortunate. We went to Parma. And Parma is – if you don't or are not familiar with Parma – Parma is in the middle of the country of Italy. And we were coming from the coast – northern coast. So we rented a car. And that was the only car that we rented for almost a day. And, you know, when you're driving through the hills of Italy, you're – you're going – they're not hills, they're mountains. So that particular day it was 105 degrees, and we were dying to get where we going in the middle of Parma, and we really didn't know where we were going, but we finally got to this proscuitto ham factory. And the really nice part was, the people were really nice. They waited for us – instead of getting there at 12, we got there at 1. And she still was nice enough to take us to this ham factory. And the ham factory – it's called Rosa DiAngelo. And basically, they have hogs that live in the wild. And so the black hogs, which in America, you don't see a lot of them being imported, especially for the proscuitto. They are from Spain, but – so she – they have the white hogs and the black hogs. And the black hoofs and the white hoofs. But she took us to where they, um, in their facility, where they brined everything and they took the pepper and they put it all over it. And at one point we were standing up looking at – she said, two million dollars worth of proscuitto above our heads. And it was pretty cool. And so we went in there, we were fortunate – we tried the black hoof proscuitto, which they slice more on the Spanish style – only about two or three inches at a time. And then we tried the twenty-four month and thirty-six month. And I will tell you – they melted – they melted in our mouths. It was really good.
Rico [24:28]: I love proscuitto. You know, most people just think of proscuitto as these thin slices. They don't see the whole – the leg, which is what was hanging above your head.
Cliff [24:39]: Oh yeah, they were hanging above our heads. They actually sell – this company and themselves – they only sell the legs themselves. They did sell them. And they were from 750 euros to 1500 euros. And, but this company did not import or export anything into America. They were – it was interesting. They would sell those to the local people, but in order to – their business is really in slices. So they slice it all, and they put them in these packages and they sell them all over Italy.
Rico [25:09]: Yeah, I'm not surprised. I mean, when you get Public's and you get the proscuitto that – the little slices – you look – if you get eight slices in a little pack for, like, ten dollars –
Cliff [25:18]: And you want paper thin – you know, sometimes when you go to Public's – we always laugh about it. But, you know, my family – we've had holiday discussions over a deli in the South, compared to going to a deli in the North. And hey, I want my proscuitto really really thin, and there's a reason for it, you know.
Rico [25:35]: It's the texture is what it's supposed to be. It's amazing. Well, I don't know about you. Well, I'm first generation American. So my parents came from Italy. So in New York, there used to be a place in a train station that had live animals. I'd go with my mom. I was little. I was ten, twelve years old. I'd go with my mom, she'd pick up the chickens or the rooster she'd want. Whatever, like the rabbit – my dad would eat rabbit. And they'd take those little, beautiful animals that we would say, "Oh mom, look, beautiful!" They'd take them to the back, and they'd come out all packaged and wrapped up in paper.
Cliff [26:15]: It's fresh!
Rico [26:16]: But, it was, you know, it's a different, I don't know. Just, it's not like Purdue, that's for sure. It's a different food print.
Cliff [26:26]: Yeah, there's a lot of chicken here in Georgia, but at the same time, it – you know, there's still places that you can find that – I don't think there's much in America, but maybe at Buford highway you can find more places. But at the same time, in Italy, I will tell you – there were two or three places that you could actually go. One place was in Naples, actually, come to think about it. When you look at the store, it was all fresh fish. So there was octopus in the little tiny water bin that had air going into it. And you would order a cone of calamari. So they would take it – as soon as you order it, they take it, they chop it right up, they fry it, they stick it right in a cone, and here you go.
Rico [27:01]: From fresh the fresh water?
Cliff [27:03]: Right from the water. That was pretty cool.
Rico [27:05]: Did you order them?
Cliff [27:07]: My wife did. She liked it, but she only ate half of it. I don't know why, but maybe it was a little thick.
Rico [27:13]: Yeah, you like the little ones. The little ones are better, right? Well, you know, you've – it's cool to be able to go to Italy. And, you know, to all the parts outside the US. Because really, food is so much different.
Cliff [27:27]: It really is. And I will tell you – you know, they always say, "espresso tastes better in Italy. Cappuccino tastes better in Italy." And one thing I found out why the espresso tastes a little better was – in America, we have a little packet that's about two inches of sugar. And in Italy, I found out that the package of sugar are about four inches and they're filled with sugar. So each one of those sugars that I put into my espresso was really equated to four sugars here in America. And no wonder it was so good!
Rico [27:55]: And you can't have sugar in real good espresso. It should be drank with no sugar.
Cliff [28:00]: Well we – well you know, we had a lot of – even my son, he had his first cappuccino in, I think it was some place in Florence. And it was funny. I had a good expression on his face of three little – he went to taste it. And the third one was, "This is pretty good."
Rico [28:16]: Yeah. My first son was like that. And the in-laws, when they lived with us. They passed away, but, they would give him an espresso when he was, like, six years old. They put the sugar in it, and then they put milk. So he had this much espresso and that much milk. But he – he grew up with espresso.
Cliff [28:34]: They would teach – were training him.
Rico [28:35]: Yeah. Just like they do in Italy. In – what was the drinking age in Italy?
Cliff [28:41]: Eighteen. Yeah. So my daughter was very lucky. We were in one place and she said, "I'm eighteen so I get to order wine." And she ordered wine, so she had a good time, too.
Rico [28:53]: She ordered responsibly.
Cliff [28:55]: She did order responsibly. And over there, it's, you know, it's a whole different world. It's a lot of fun. You can drink your way through Italy, you can eat your way through Italy, or you can just travel and have a great time.
Rico [29:07]: You were doing a bit of Bourdain at the –
Cliff [29:11]: Yeah. Yeah, he's a little more creative than I. He goes a little more creative with eating some of those items. It was – I don't know if I would have eaten the grasshoppers. There were some areas that we went to where we could have gotten food like that, but –
Rico [29:24]: Did you see other, I mean, you know people don't think of ethnic – are there ethnic neighborhoods of foods in Italy? Think, Italian food, right? But did you see other types of ethnic foods?
Cliff [29:35]: In Italy?
Rico [29:36]: Besides McDonalds.
Cliff [29:37]: I really didn't. Even in the train stations it was all a lot of the same items. The, like, in Florence for example, at 7 AM, the mozzarella trucks are driving all over the place. They're going from place to place, handing out and delivering the mozzarella. And then they have the pastry trucks. And a lot of the places that you go to throughout the daytime, they have a lot of the same pastries. And they all come from one or two of the different companies. And they're out delivering all the time. But as far as different types of food – I have to tell you, I wasn't looking for it.
Rico [30:11]: Chinese food, Hawaiian food, no?
Cliff [30:12]: There was, no, there was a Chinese restaurant that we went by at one point and there were a few people in there. But we weren't looking for that.
Rico [30:21]: Yeah, of course not. But it's interesting to see if other places have that. Cool. So, we are – we went through – I wish I had more of the pictures, actually, online. But we can share it because there were a lot more pictures. So what I'm going to do – I'm going to post show notes to this, so when you go to my website, LivinginPeachtreeCorners.com, you'll see a gallery of some other pictures that Cliff shared with us.
Cliff [30:46]: Absolutely.
Rico [30:47]: Of the proscuittos – I think we have the proscuittos hanging.
Cliff [30:50]: Yes, yes.
Rico [30:51]: We had that. So we had other pictures as well. So, and, I shared the link to Noble Fin, which is where you can visit. Because August 5th is oyster day.
Cliff [31:00]: National oyster day is this Monday. But I'm gonna tell you – I'll give everybody – just because you're listening to this. If you come in Saturday, we're gonna do national oyster day on Saturday. Dollar oyster. It's called Rock n'roll, Rockefeller, our raw oysters, from 4-7 at the bar. But last year, on national oyster day, I think we went through twenty five hundred oysters in four hours.
Rico [31:22]: So, last time I had oysters was in Manhattan back at, two decades ago. Yeah. Oysters and whiskey, I think.
Cliff [31:32]: Every oyster – we had a gentleman who brought his ten year old son in a couple weeks ago. And he, interestingly, he said "Hey, he eats oysters." And what the little kid did was smell it first, and then he ate it, which was very, very smart. Because, some people, if you don't smell it first – every one we open, we have to smell it. But for this kid, he was very smart, he smelled it first. You want to make sure it's perfect.
Rico [32:01]: I think every little kid wants – yeah they smell, "Does this smell good?" before they eat it.
Cliff [32:07]: They know if it's not good.
Rico [32:09]: So would there be anything different you'd do? That you didn't for – if you went back again? Anything different that you'd share that you would do, that you learned along the way?
Cliff [32:18]: Sometimes – when we went to Rome for a day and a half. And I think that was plenty. Florence – we always like to stay at Florence a little longer, cause Florence is so beautiful, and we got to see a lot of different things over there. We didn't go to Venice this time – we had been there previously. But, you know, more importantly is, if you go through little AirBnbs and you find the nice ones, or the small hotels, because the places that we stayed in all had probably under forty rooms, maybe even under thirty. But you get to know a lot of the people. So, you know, I like to say – say, if we do anything different, we would probably stay in Manarola or Cinque Terre. One region, more days. Amalfi – we were there for four nights – four or five. That was pretty cool, I mean, it's a beautiful area. So, if you don't want a touristy trap place where you're going from place to place every single night, you know what? Stay in some places in some areas two or three nights instead of one. Or maybe four nights. And take day trips to different places.
Rico [33:28]: How'd you do the day trips? Was that, like, did they have Uber type of rides?
Cliff [33:31]: They didn't have Uber. For example, in Amalfi, we stayed in a place called Praiano, which is south of Positano and north of Amalfi. So they have the little bus called the Sita bus. And it's not little, it's a big old bus. And that bus was only one dollar eighty in euros, for example. And you could take it thirty, forty miles. The challenge is, during the summertime, there's a lot of people on it. So we took a lot of – we lived like the locals. Just jumped on that little bus and waited.
Rico [34:04]: Okay. Sounds cool. We've been here with Cliff Bramble, owner of Noble Fin and Hungry Hospitality, sharing his advice on restaurants and all sorts of business aspects of the restaurant business, which is a difficult business, I'm sure.
Cliff [34:22]: It is. It is. Restaurant business is a tough business no matter where you go. It's a tough business. You're trying to please everybody and trying to make sure everyone's having a good time, and that's the goal.
Rico [34:34]: Yeah. Cool. Cliff, thanks. Appreciate you coming out.
Cliff [34:38]: Thanks for having me.
Rico [34:39]: We've been here. Check out my Facebook page that you're on if you're watching this. Or you maybe watching this on Youtube or some of the other channels. But the website is LivinginPeachtreeCorners.com. You'll find links, show notes, more pictures from this. I'll be posting to Facebook as well. And again, I want to thank Gwinnett Medical Center for being a sponsor of this show, and some of the podcasts we do, including Capitalist Sage, which is twice a month. So thank you guys, appreciate you being with us.

Henri's Bakery and Deli Celebrated its Grand Opening this Weekend [Photos]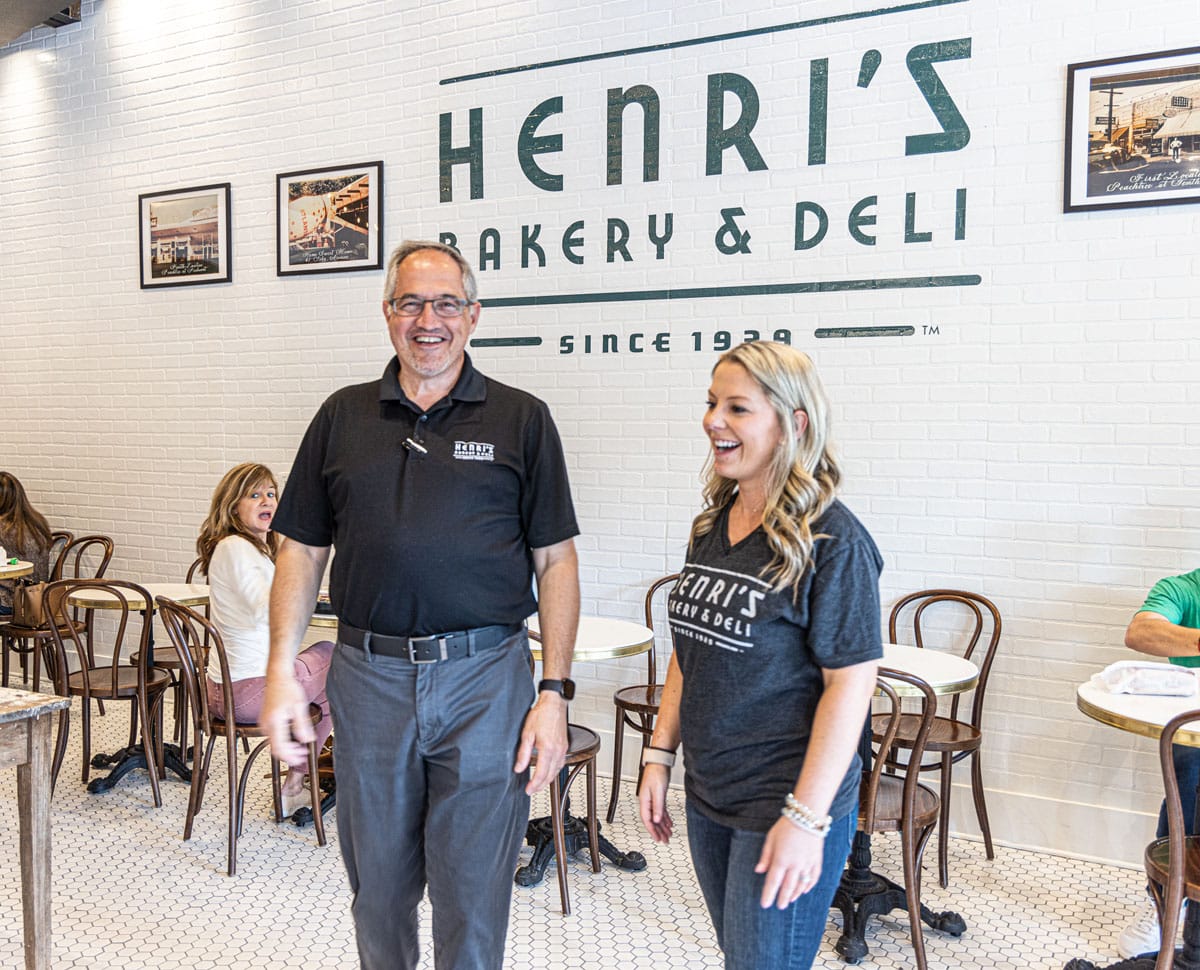 This past weekend, Henri's Bakery and Deli celebrated the grand opening of its newest location in Peachtree Corners, marking a new chapter in the story of this Atlanta-based institution. Since 1929, Henri's has been synonymous with indulgent pastries, savory sandwiches, and scrumptious baked goods.
The addition of the Peachtree Corners location brings their irresistible offerings to an even wider audience. The event saw a great turnout, with customers eagerly lining up to taste Henri's famous Po' Boy sandwiches and European-style pastries, as shared on their Instagram page.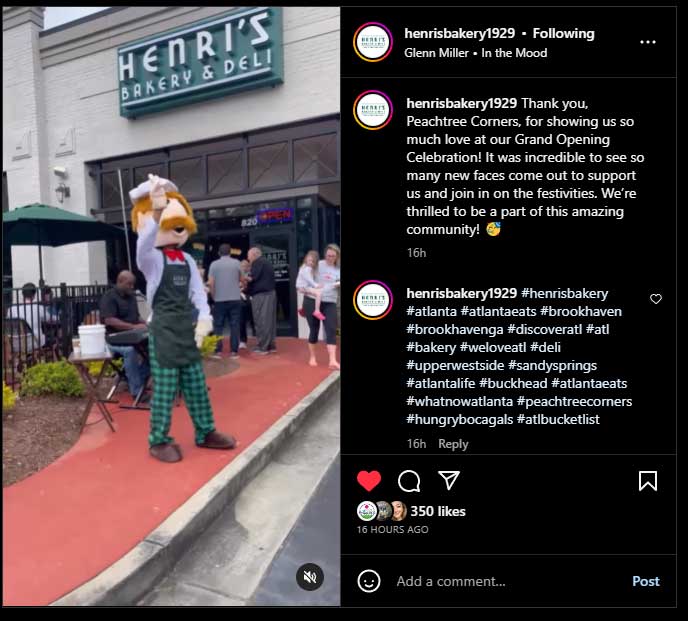 The grand opening featured an array of festivities, including live music, free samples, and a ribbon-cutting ceremony to inaugurate the new location officially. Patrons savored Henri's mouthwatering creations and were reminded of this family-owned bakery's rich history and enduring legacy.
The launch of Henri's Bakery in Peachtree Corners is a testament to the brand's continued growth and popularity among generations of Atlantans. As they expand their footprint, they maintain their commitment to serving delectable, high-quality culinary delights that have made them a cherished part of Atlanta's food scene for nearly a century.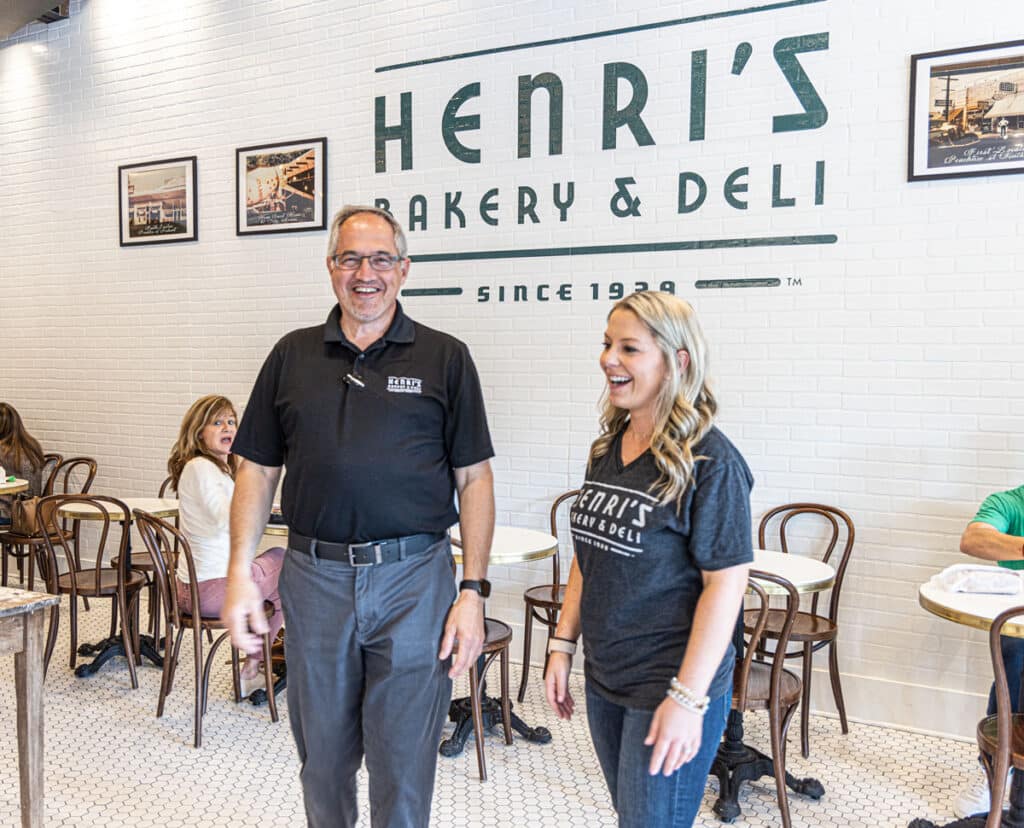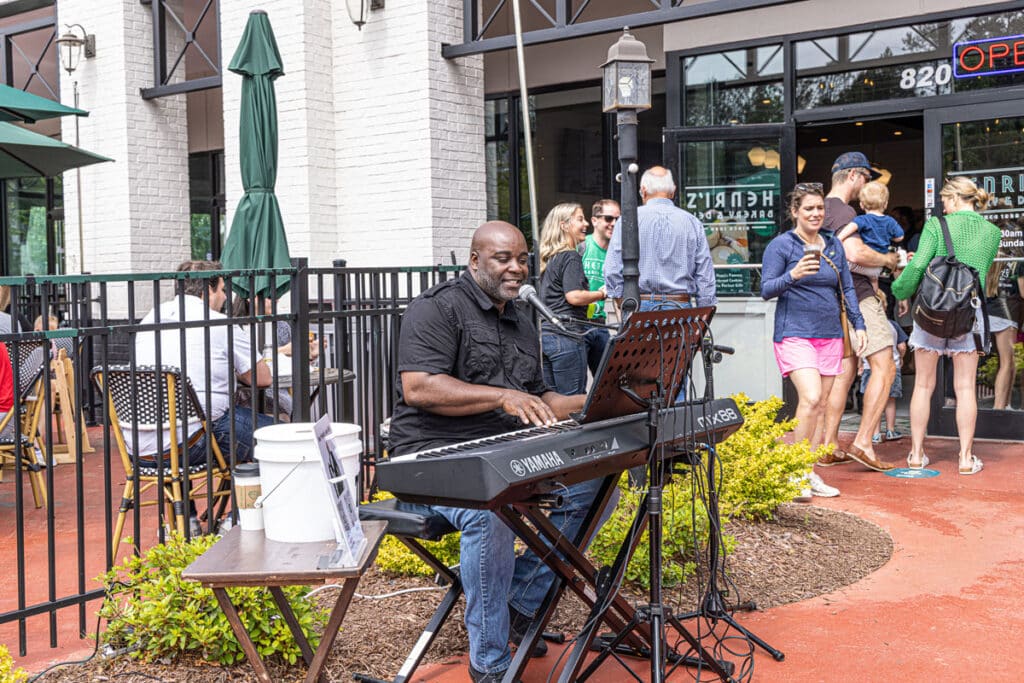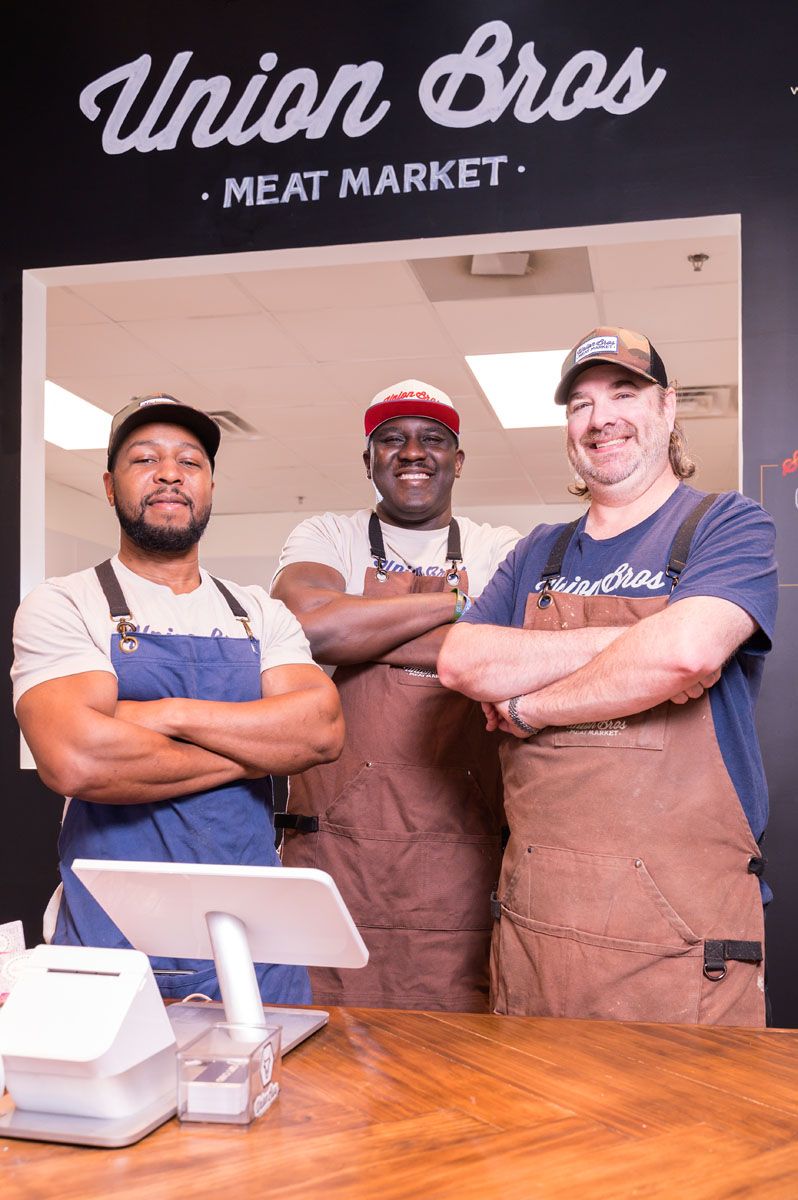 New-style butcher shop aims to help make family mealtime a fun bonding experience.
With his business just past the six-month-old milestone, Jared McFadden hopes the concept of sharing good food that's locally sourced will resonate with Peachtree Corners residents.
Union Brothers Meat Market opened in September 2022 and along with his staff and family, McFadden is looking to bring a new culinary experience to the area. The philosophy behind the butcher shop stems from getting away from the divisiveness that's been driving people apart.
"The goal to bring people together. And we think food is a great vehicle to do that," McFadden said. "The goal isn't to change people's opinion, but I feel like, if you understand where somebody is coming from, I think it just makes you more aware, more sensitive, and could hopefully bring unity.
"So that's where the name 'Union Brothers' came from — a way to hopefully unify people, family, friends, whatever, together around an amazing meal," he explained.
When you think about it, sharing food is a great equalizer, he added, because everybody is around a table with no hierarchy.
"It's just great food and a great bottle of wine and being able to share fellowship together," said McFadden.
The 'make it better' guarantee
Even though his background isn't in culinary arts or food management, McFadden believes his experience in Human Resources (HR) is a natural foundation.
"I'm in the people business," he said. "So if you come to the shop, one of the first things we say is, 'I want you to have an amazing customer experience.'"
The store is set up to make shopping and choosing the components of a meal convenient. Even though there is an entire wall of spices, rubs and flavorings, there is always someone who can help suggest the right cut of meat for each occasion — and include everything that should go with it.
"We have a 'make it better' guarantee — not even just to make it right, but to make it better," said McFadden. "We want people to have a better experience through our shop."
To ensure the experience lives up to the shop's guarantee, McFadden surrounds himself with people who know the meat industry well.
"Our lead butcher, Carey Wise, has 25-plus years of experience. Chris Baler [the butcher apprentice] also has a ton of experience as well," McFadden said. "I handle the customer experience side, and I have folks who really understand the meat side of the business."
McFadden, father of three girls and member of Perimeter Baptist Church, said, "I've always been very passionate about community. That's why …I ended up back in Gwinnett County."
Well before the pandemic hit, he'd had the idea of combining his "foodie" passion with his people-pleasing persona. "I love going to different shops in the city and wanted to bring something a little different to Peachtree Corners," he said. "There are some great shops around here who do similar things, but I wanted to have a little bit of a different twist."
Bonding over meals
One example of his innovations is Union Brothers concept of providing all the ingredients for an amazing family meal. It's an idea that came to him during the COVID-19 pandemic.
"We just spent [time making] a lot of meals at home. Then we began to think of trying to cook something different," he said. "One of the downfalls of our culture over the last 40 years is getting away from the family dinner, …microwaving something and then everybody sits around the TV."
McFadden is adamant about getting family time back. It is important to not just eat together. He said that preparing meals together is one of the most satisfying bonding experiences.
In addition to locally sourced meats, Union Brothers carries produce, charcuterie, desserts, seasonings, wines and cooking utensils from nearby and/or small businesses. "As much as we can, we try to work with vendors who were either from Georgia or minority business owners," he said.
With all the great foods and items the shop offers, McFadden doesn't want customers to feel intimidated by high-quality products. A weekly newsletter offers cooking tips and advice on meal planning and wine pairings.
This summer he plans to add cooking demonstrations, he said.
"Mealtime should be enjoyable, and we want customers to know that now you have someone who can help you make the most of it," said McFadden. "We even give out our phone number so you can text us with questions."
Union Brothers Meat Market
5275 Peachtree Pkwy. NW, Ste. 105, Peachtree Corners
unionbrosmeatmarket.com, 770-601-3696

Gwinnett Burger Week Set for March 19-25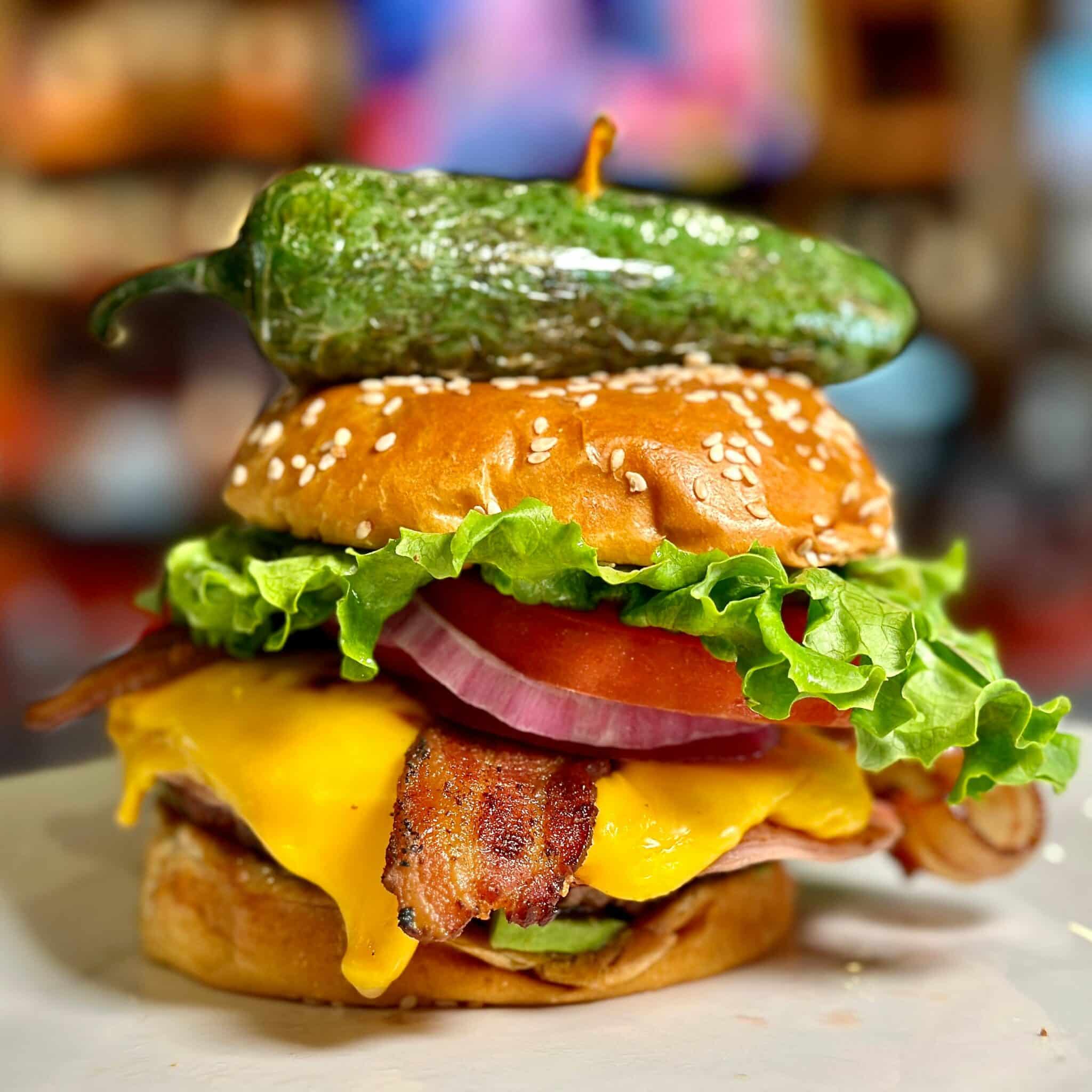 Eighth annual celebration will feature limited-time, chef-created burgers at 25 locally-owned restaurants.
Explore Gwinnett has announced the return of its eighth annual Gwinnett Burger Week will take place from March 19 to 25. The weeklong celebration will feature limited-time burger creations for just $10 at restaurants across the county.
"We can't wait to celebrate the return of Gwinnett Burger Week and look forward to trying new and unique recipes while supporting our locally owned eateries," said Explore Gwinnett Executive Director Lisa Anders.
"This highly anticipated event is an excellent opportunity for locals and visitors alike to experience delectable chef-crafted burgers from some of the best restaurants in the area, at an affordable price."
This year, 25 restaurants are participating in Gwinnett Burger Week, each featuring an exclusive off-menu burger throughout the week. A sampling of this year's offerings from some Peachtree Corners area participating restaurants include:
The Pepper Ranch Burger at Marlow's Tavern: a hearty hamburger topped with Pepper Jack cheese, fried jalapeños, and smoked chili cream, served on a wheat bun.
The Jack Jack Burger at Uncle Jack's Meat House: two three-ounce smash wagyu beef patties, each with double-stacked cheese and with secret sauce on the bottom bun, topped with onion, pickle, bacon, and tomato relish purée, all on a buttered potato bun.
The Mexican Burger at B&W Burgers, Buns & Brews: a half-pound ground beef and pork patty with ham, bacon, cheese, avocado, onions, lettuce, and a grilled jalapeño.
Participating restaurants include:
Lawrenceville
o Cosmo's Pizza + Social
o Local Republic
o McCray's Tavern
o Parkside District
o Scrum-did-dly-ump-tious
o The Boujee Southerner Eatery
o Uncle Jack's Tavern
o Universal Joint
o Village Burger
Buford
o Diesel Tap House
o Over The Top Burger Bar
o Parma Tavern
o Tannery Row Ale House
o The Dawg House
Duluth
o Local on North
o Marlow's Tavern
o Uncle Jack's Meat House
Peachtree Corners
o Marlow's Tavern
o Uncle Jack's Meat House
Suwanee – Craft Burger by Shane
Loganville – Philanthropy Grill and Ale House
Sugar Hill – The Diner at Sugar Hill
Norcross – B&W Burgers, Buns & Brews
Dacula – Old Fountain Tavern
Lilburn – 1910 Public House
For additional information on the limited-time burger offerings, visit ExploreGwinnett.org/Gwinnett-Burger-Week.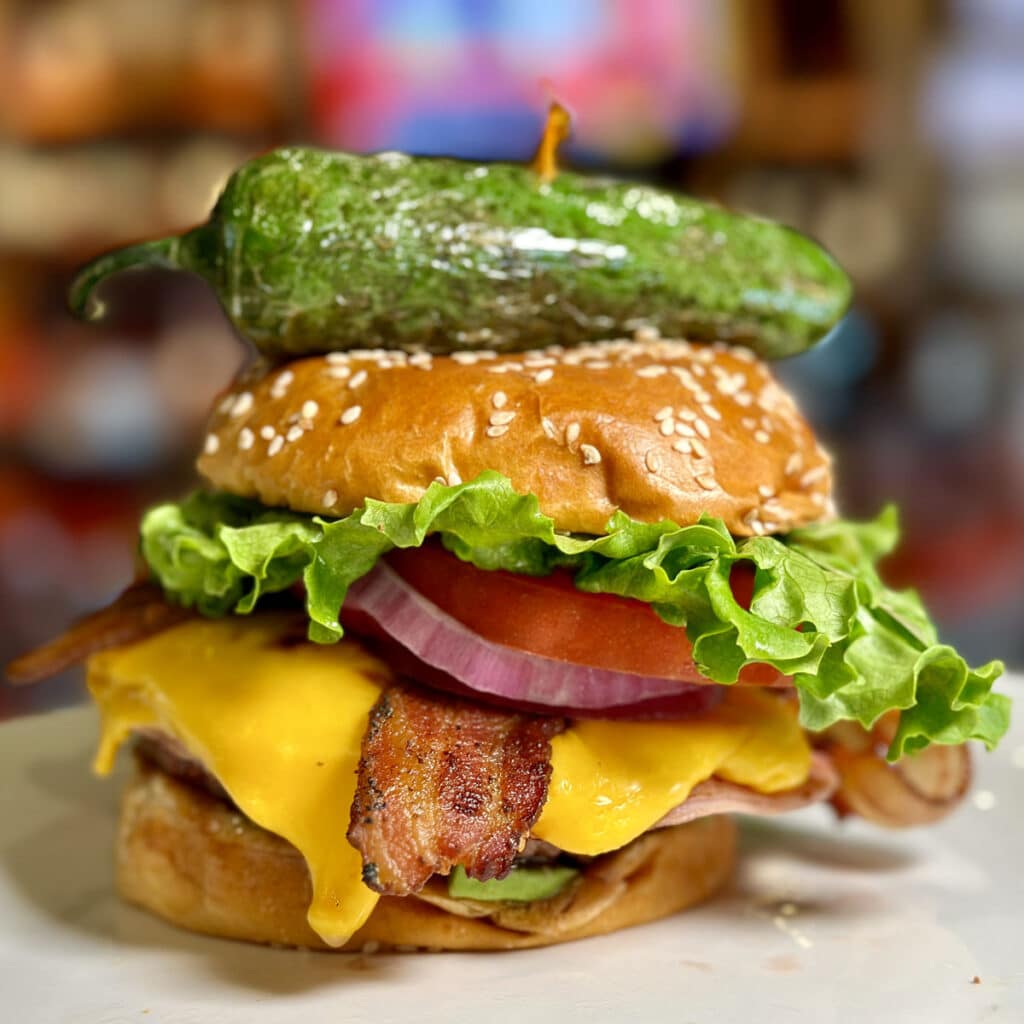 All participating restaurants will have the chance to win the "People's Choice" award for Gwinnett's best burger, which will be selected by participating diners. There will also be an optional "Judge's Choice" award; restaurants choosing to participate will bring their burger to the Explore Gwinnett office for the judges to taste and score. 
Get details about this year's competition at ExploreGwinnett.org/Gwinnett-Burger-Week/voting.