The ED Hour: What it takes to Remove Barriers from Education

A discussion about removing the educational barriers that students may face in any school system. Joining your hosts Alan Kaplan and Rico FIgliolini are Eric Thigpen, Pamela Jemerson and Dr. Kimberly Bennett from Gwinnett County Public Schools.
Career Exploration Night, Presented by the Rotary Club of Peachtree Corners [Photos]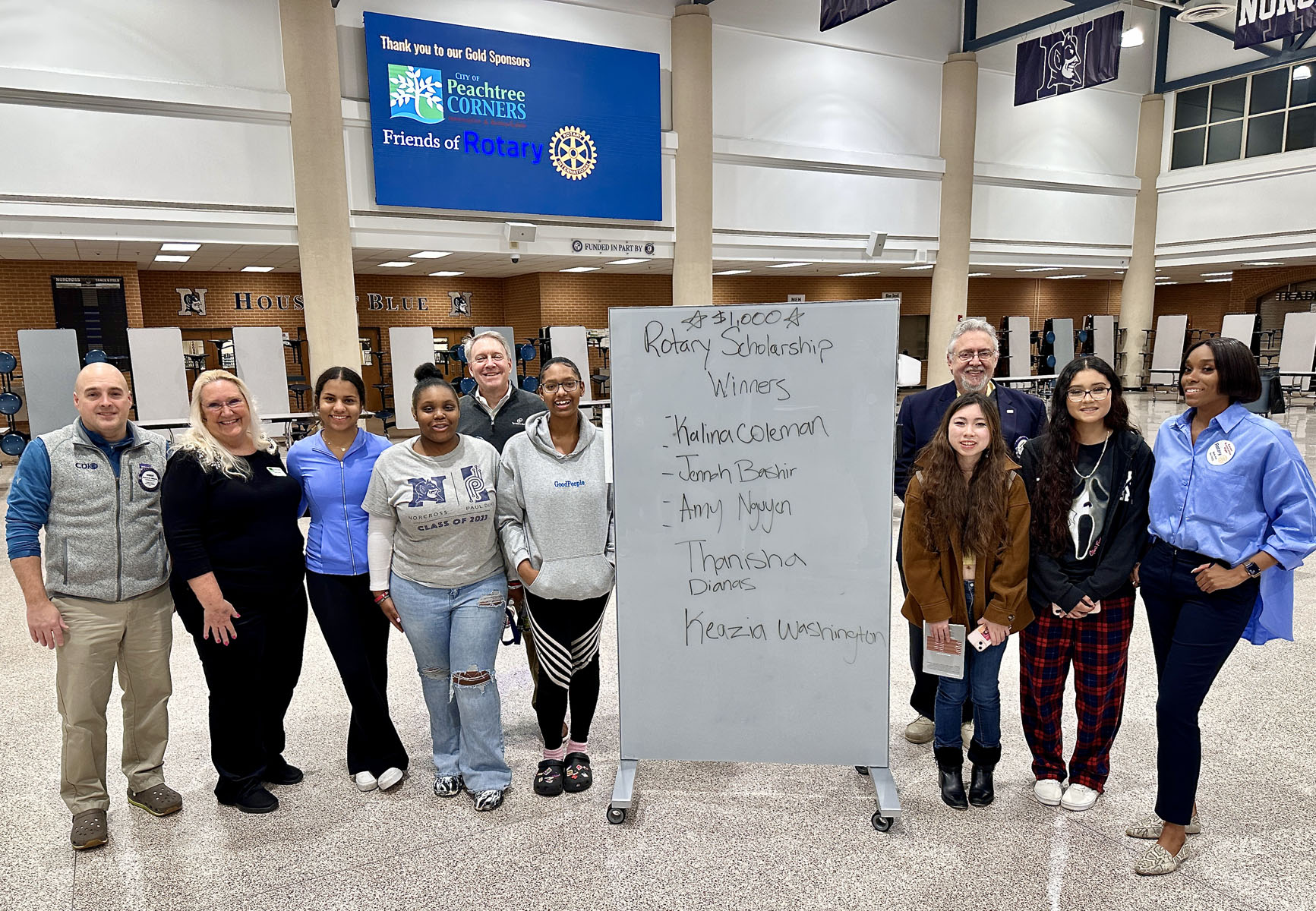 Career Exploration Night was presented by the Rotary Club of Peachtree Corners, Peachtree Corners Business Association and the Southwest Gwinnett Chamber of Commerce.
At the event, students from Norcross High School and Paul Duke STEM High School learned about many different career paths and met with experts in the fields of healthcare, public safety, Film/TV, Sports management and many others.
At the end of the event, five students received a $1,000 scholarship. They included: Kalina Coleman, Jennah Bashir, Amy Nguyen, Thanisha Dianas and Keazia Washington.
Photography by Bruce Johnson
SWGC First Friday Breakfast Meeting with Billy Boughey [Photos]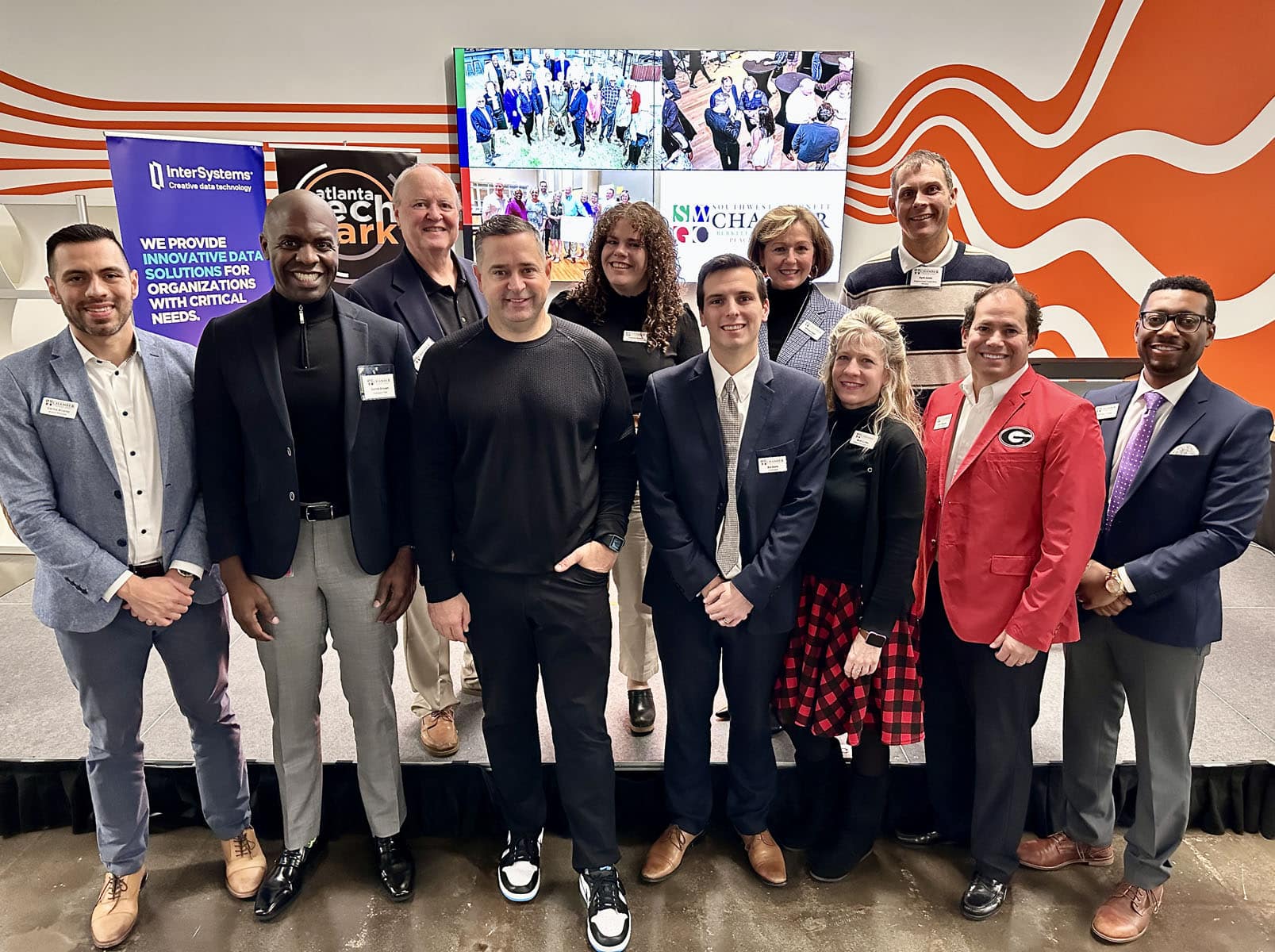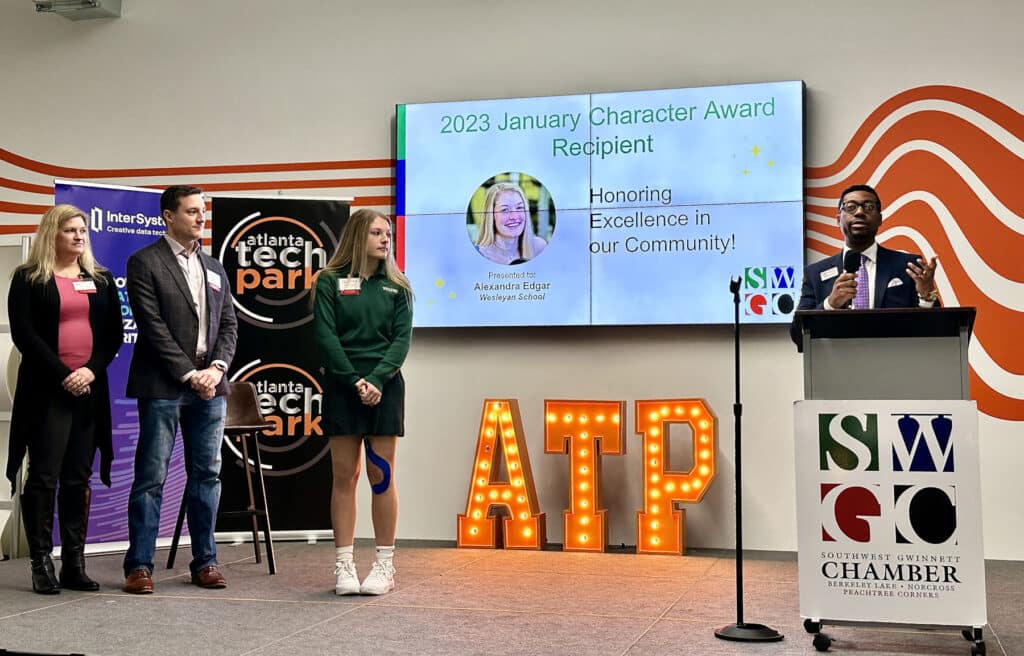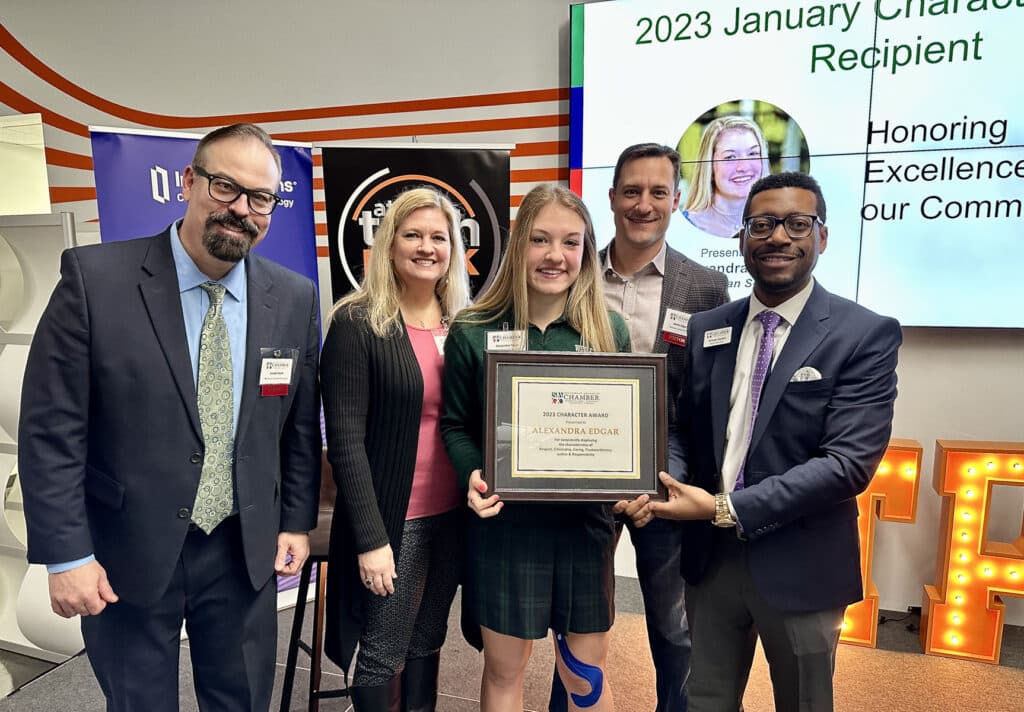 Photography courtesy of Bruce Johnson
He noted: Wow, you couldn't ask for a more motivational speaker to kick-start the year!
Billy Boughey is the Founder and President of the Atlanta-based company Elevate Experiences. His talents include keynote speaking, culture coaching, and consulting groups on company culture.
His first book, released in January 2020, titled Culture Reconstructed, is a start-where-you-are guide to building a remarkable team. Billy also hosts his own podcast titled Created for Experience, sharing how experience shapes your future. He's a certified consultant through Kolbe Corp and enjoys using this assessment to coach people on how to work more effectively in the workplace.
Billy has been featured on FOX 31 Denver, FOX Houston, and in Forbes and worked as a keynote speaker and large-scale emcee includes notable organizations such as Chick-Fil-A, Mcdonald's, Coca-Cola, Kroger, and more. His vision is to build a world with no unequipped leaders and he infuses that passion into every speaking event. His high-energy message will inspire ways to motivate and equip your organization to make your team members smile and customers rave.
Source Southwest Gwinnett Chamber
SWGC Recognizes Local Student with Character Award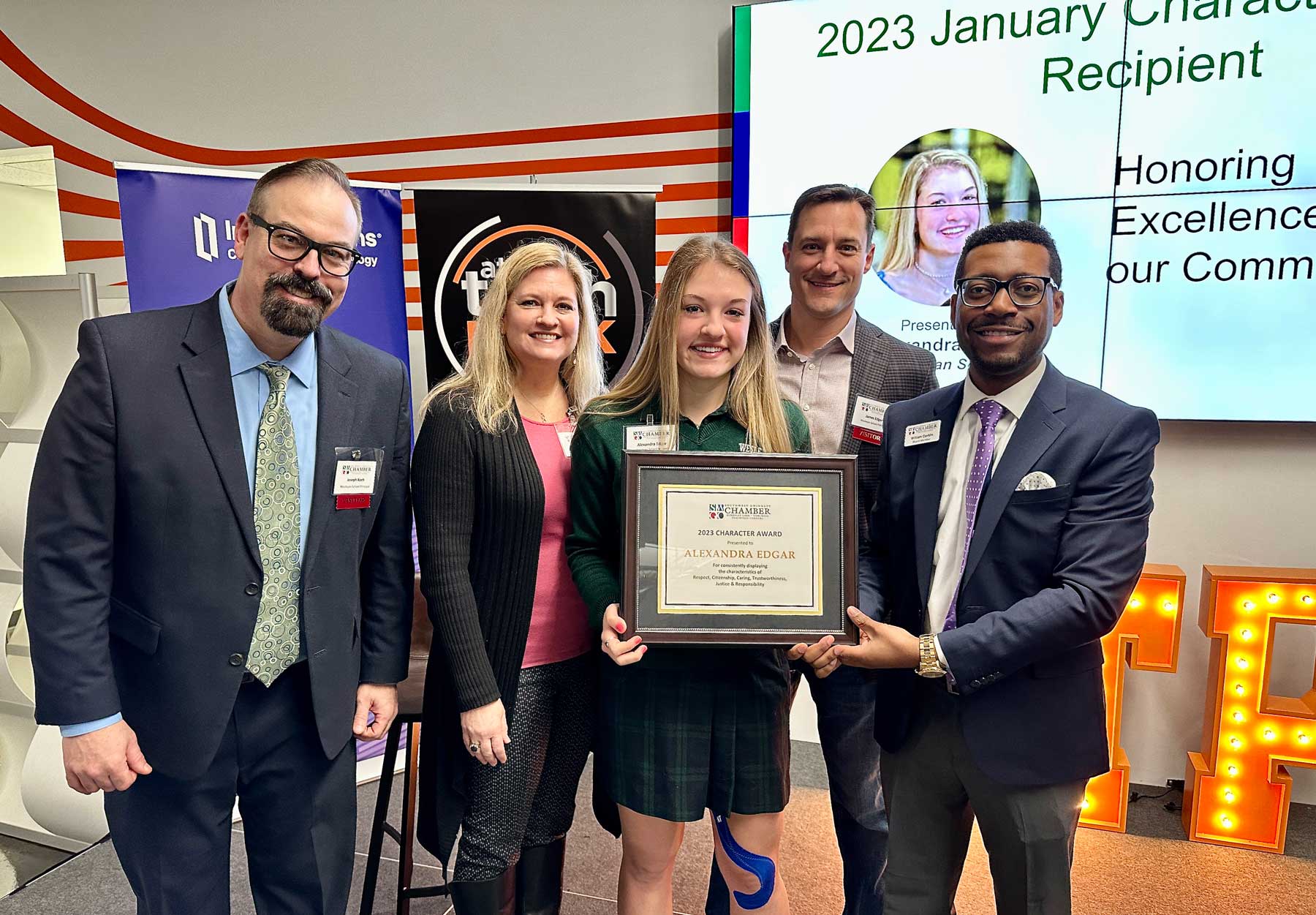 The Southwest Gwinnett Chamber (SWGC) recently held its monthly First Friday breakfast at Peachtree Corners' Atlanta Tech Park, the organization's signature monthly networking event drawing local business professionals.
During the breakfast, SWGC presented its Character Award to Wesleyan School's Alexandra Edgar. Chamber Board President William Diehl gave the award to Alexandra, who was joined by her parents, James and Jennifer Edgar, and her Wesleyan High School Principal, Joseph Koch.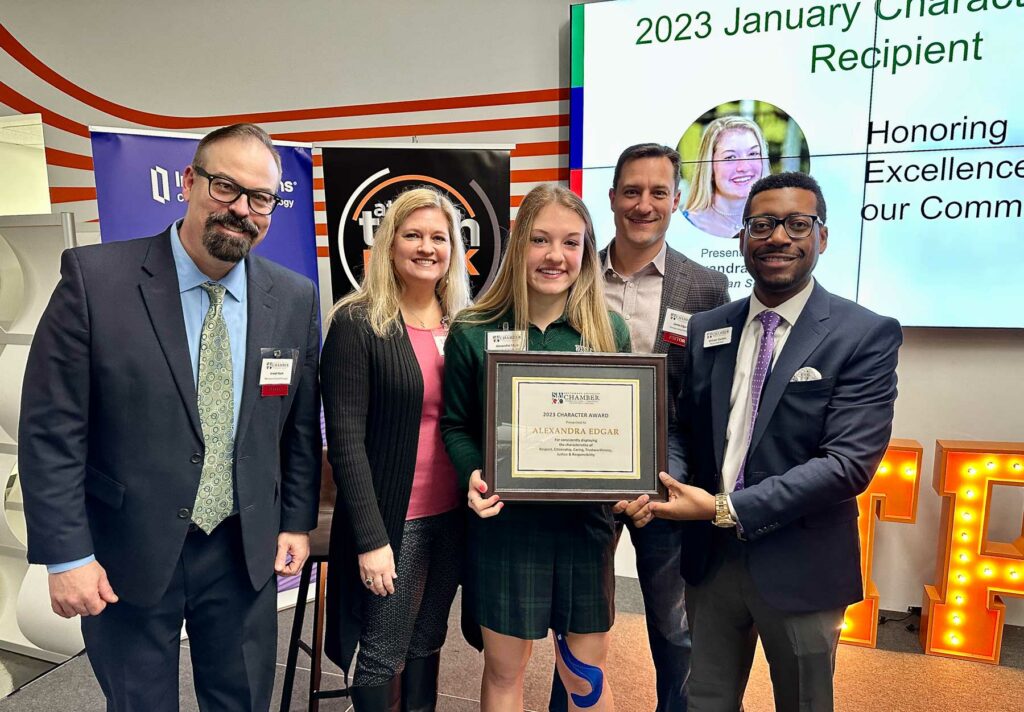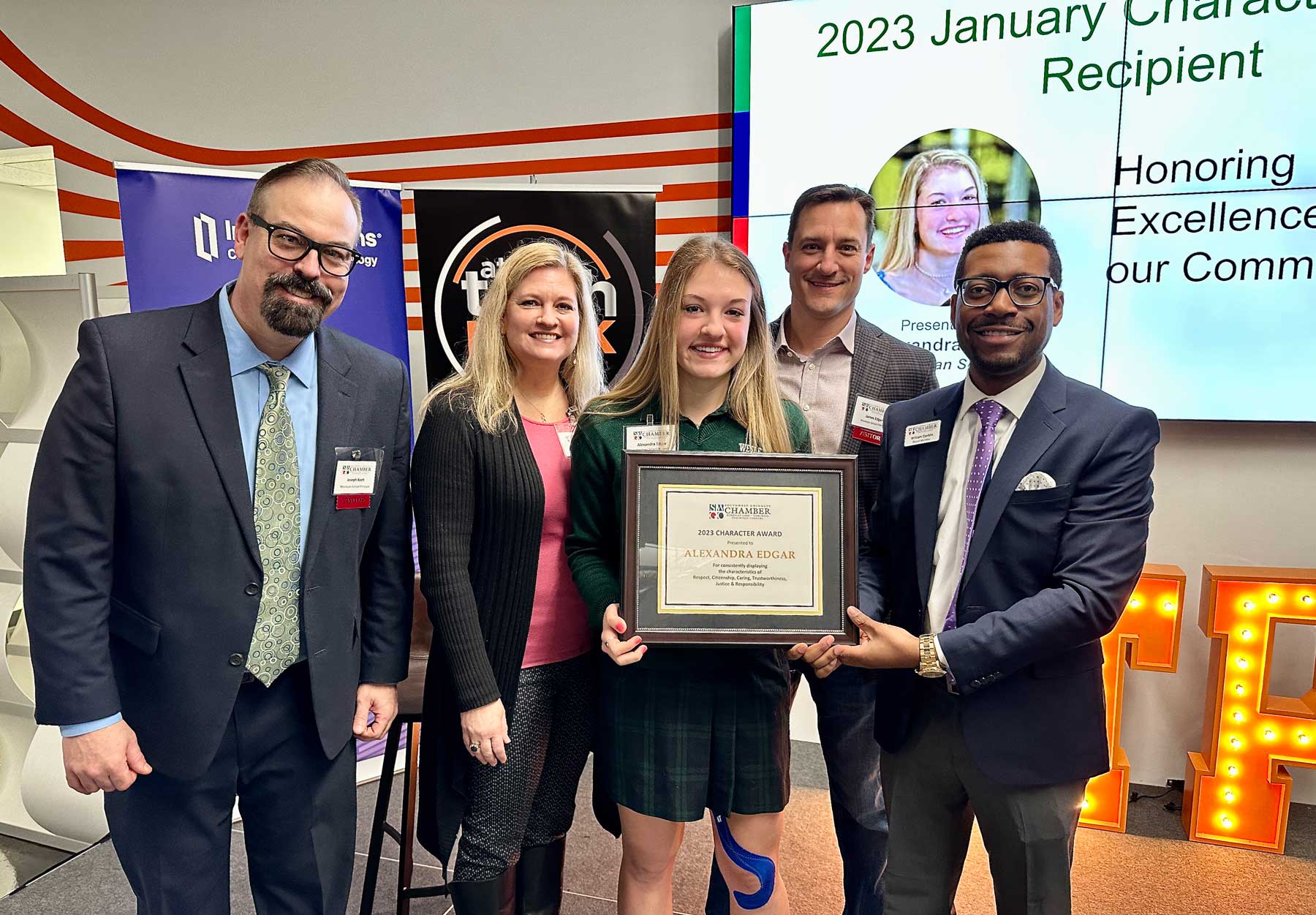 "Alexandra was chosen as a leader because of her kindness to others, ability to follow through with commitments, and setting positive examples," said Principal Koch. "She co-founded a club at Wesleyan that focuses on encouraging and serving different groups each month and over her high school career she has participated in several additional service organizations.
"This year, she was selected by the faculty to be a peer leader for the freshmen class," Koch added.
Since beginning high school, Alex has focused on attending the Naval Academy or a college where she can participate in Navy ROTC with her goal to join the Navy following graduation. Alex is a leader in all aspects of her life, whether on the volleyball court, in the classroom or participating in her many service organizations.
The Character Award
The SWGC created the Character Award to recognize outstanding area high school students whose attitudes and actions embody the chamber's mission, passion and commitment to excellence and community action.
The award celebrates a student's outstanding character, with a special focus on the following characteristics at home and in his or her community.
Respect: listens to others, appreciates differences, can state opinions without denigrating those of others.
Citizenship: observes rules, does their fair share, is respectful of authority at home, school and the community.
Caring: takes time to extend themselves to others, acknowledges the feelings of others, treats everyone fairly without regard for their gain or loss of social standing.
Trustworthiness: truthful, sincere, honest, stands up for their beliefs, does not spread rumors, returns what is borrowed, keeps promises.
Justice/Fairness: treats everyone with equal respect and fairness, does not take advantage of others' mistakes or shortcomings, takes only their fair share, waits for their turn.
Responsibility: thinks before acting, accepts consequences of decisions (no excuses), tries hard and does not quit.
Each month, a selected student is recognized at a chamber event and presented with an award. Applications for Character Award consideration can be made by submitting a completed form to william.corbin@norcrossqa.net.