Renowned Junior Tennis Academy Opening at Life Time Tennis Facility
Academia Sánchez-Casal to open its fourth location in Peachtree Corners
Well known for its top-notch junior tennis academy, Academia Sánchez–Casal and Life Time Athletic and Tennis, a premier facility with over 25 courts in Peachtree Corners, have announced a partnership to offer junior tennis players a venue for those who aspire to play at the college or even professional level.
Academia Sánchez-Casal (ASC) is led by world renowned coach and former No. 1 doubles player Emilio Sánchez Vicario. The academy, founded in 1998 and headquartered in Naples, Florida, has locations on three continents, Europe, Asia and North America.
To celebrate the partnership, ASC and Life Time Tennis are hosting a grand opening and ribboncutting ceremony on Friday, March 8 from 6:30 – 9 p.m. The public is invited to attend the event which will feature a world class doubles exhibition with Emilio Sánchez Vicario, Pavel Slozil, Luke Jensen and Mikael Pernfors. And on Saturday, March 9, a complimentary junior clinic will be held from 9 a.m. to noon.
Academia Sanchez-Casal school in Naples, Florida

Academia Sanchez-Casal school in Naples, Florida

Academia Sanchez-Casal school in Naples, Florida
"There are only a handful of tennis academies with an international reach," said Bill Rennie, Life Time's general manager. "With its strong ALTA presence, the metro area has long been known as the tennis capital of the South with a number of strong junior players. We are extremely pleased to partner with ASC on providing a premier junior tennis academy."
Both Life Time and ASC have developed numerous tennis players of all levels and are wellknown for their unique training systems. ASC, which has international hubs in China and Spain, has developed several elite players including Svetlana Kuznetsova, Andy Murray, Grigor Dimitrov and Daniela Hantuchova.
"As the Executive Director of USTA Southern and as a member of Life Time – Peachtree Corners, it is most exciting to have a tennis academy of international acclaim coming to the area," said USTA's John Callen. "The Sánchez-Casal Academy will bring outstanding training opportunities to the most complete tennis and fitness facility in the state. Under the leadership of Bill Rennie, General Manager, Life Time – Peachtree Corners, will continue to be a real Gold Star for the city and one we are all proud to call our own. Lifetime continues to show its leadership as the premium tennis and fitness brand in the U.S. and the Sánchez-Casal Academy will underscore that position."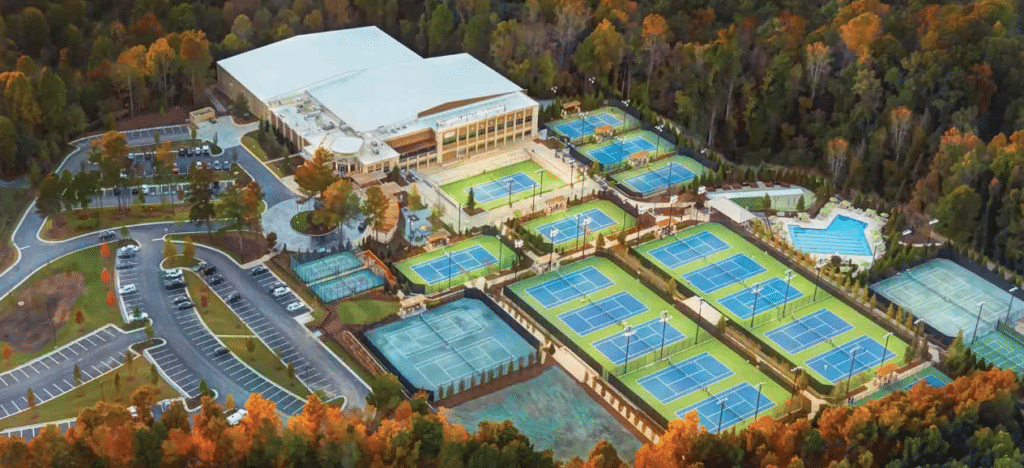 Life Time Athletic and Tennis at Peachtree Corners is one of over 140 Life Time facilities in the U.S. and Canada. The Peachtree Corners location offers 28 indoor and outdoor tennis courts and a 2,600-seat outdoor tennis stadium.
"We are thrilled that this renowned tennis academy will be located in Peachtree Corners," said City Manager Brian Johnson. "This will be a tremendous value for not only our community, but a destination for inbound tennis players regionally, nationally and internationally."
Life Time Tennis is located at 6320 Courtside Drive in Peachtree Corners, telephone: 770-4496060. The ASC-Life Time Tennis Academy will begin training junior players on April 15. For more information visit: https://www.sanchez–casal.com/
Georgia Unified Invitational Brings Together Swimmers for Competition and Fun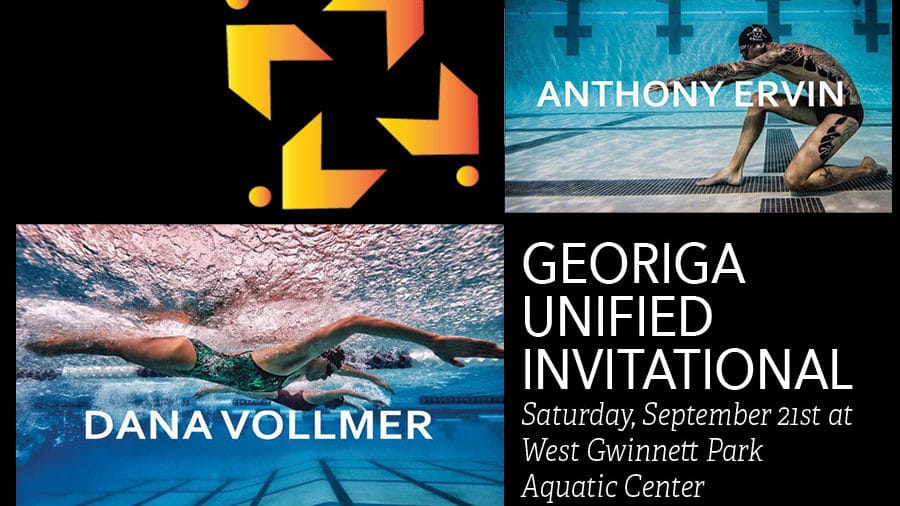 Competitive swimmers are invited to participate in the 2019 Georgia Unified Invitational (GUI): Celebrating the Olympian in All of Us, to be held September 21 at West Gwinnett Park Aquatic Center.
"This event is all about bringing together many different groups. The purpose is really to drive home that they're all one," said Kai Akubo Smith, AngelfishGA/ATAQ, Area 18 Agency for Special Olympics Georgia. "With Special Olympians leading the way, GUI celebrates the Olympic spirit in all of us, recognizing that everyone has daily struggles and challenges to conquer."
The invitational, a sanctioned Special Olympics and USA Swimming observed traditional sprint swim meet, is open statewide this year to all qualifying athletes of Special Olympics, USA Swimming, Paralympics, YMCA and US Masters, as well as uncertified athletes who have been certified through GUI.
"Uncertified athletes are swimmers who swam for summer league, middle or high school swim teams," Smith explained. "They will need a letter from their summer league coach, verifying their times and their ability to perform race starts off the block."
In addition to racing each other, athletes will have the opportunity to race against some of the top swimmers in the world, including 2016 Rio Olympic Gold Medalists Anthony Ervin and three-time Olympian, Gold Medalist and former world record holder Dana Vollnmer. The fun doesn't stop with the swim meet. Participants can continue their good time at the Victory Village, which is open to the public.
"There will be a DJ cranking out hot tunes, a pool party, food trucks, local artisans and much more," Smith said. "So save the date, participate, donate and celebrate at the 2019 Georgia Unified Invitational!"
GUI—pronounced "GOO-wee"—was formed to provide greater access, exposure and opportunities for athletes with intellectual disabilities seeking to participate in traditional sporting events.
The admission fee for the pool party is a $10 donation. All donations are directed to Special Olympics Georgia.
West Gwinnett Park Aquatic Center is located at 4488 Peachtree Industrial Boulevard, Berkeley Lake, Ga. 30092. Visit georgiaunified.com for more information.
Peachtree Corners Swim Teams Shine at 2019 County Championships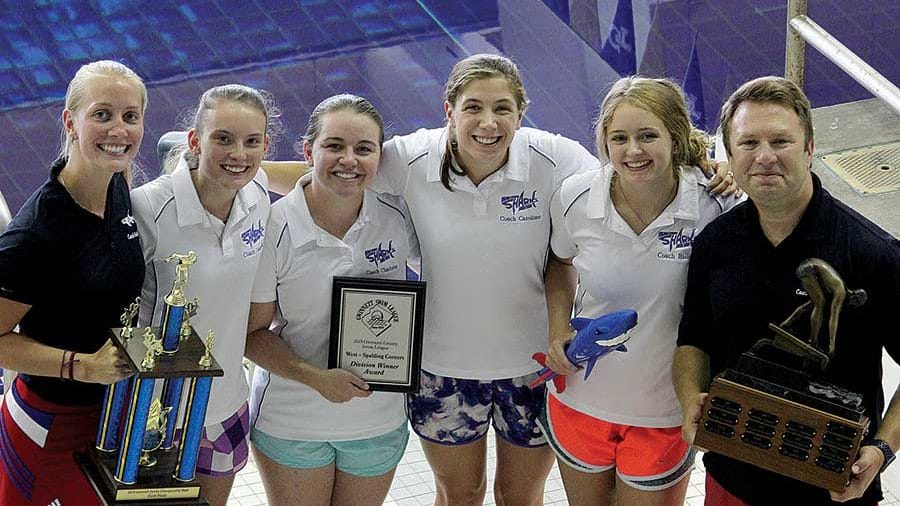 One year after finishing third and two years after finishing second, the Spalding Corners swim team decisively claimed their first Gwinnett Swim League (GSL) Championship on Sunday July 14 at the McAuley Aquatic Center at Georgia Tech.
The championship was the first by a Peachtree Corners area team in over a decade.
Seeded third entering the Championship weekend, the Sharks pulled ahead in the final session on Sunday afternoon to earn their first title ahead of the Lansmoore Lasers from Suwanee. The Thunderbolts, Wild Timber and Chateau Elan rounded out the top five.
"This meet was not only won because of the coaches," said Spalding Corners Co-Coach Willie Hildebrand afterwards. "It was won because of our swimmers and our parents. Our swimmers did what they were set out to do and they swam their best, making their best times."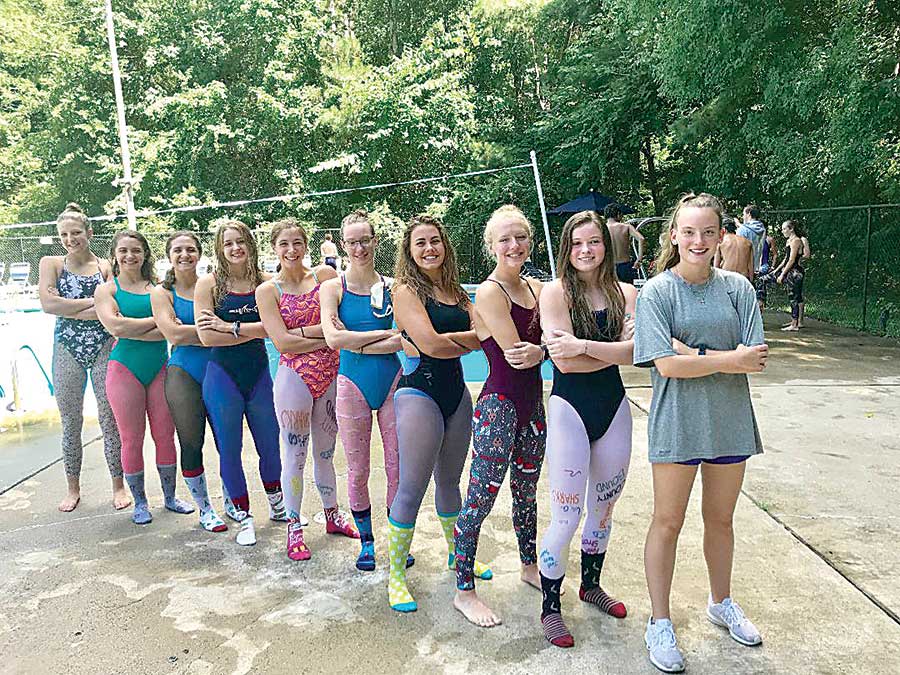 "We knew that it was going to be a very close meet between our team, the Thunderbolts and Lansmoore," added Hildebrand. "All three coaches knew that it was going to be a dogfight from the first session to the last. We were seeded third place for the meet. So, we still had a bit of a hill to climb (to win the championship)."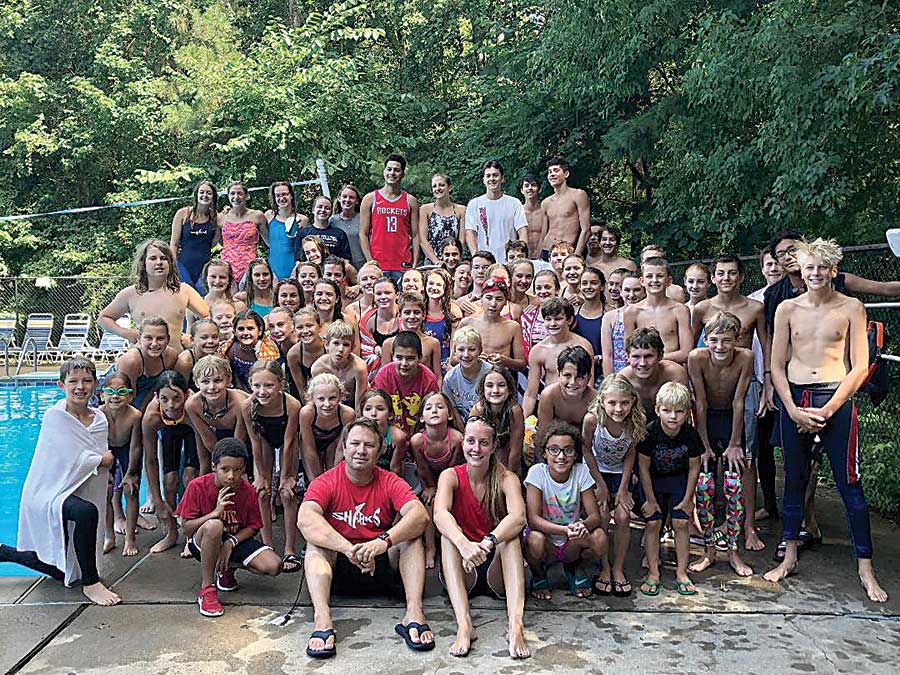 Spalding Corners finished ahead of 3 other local teams — Peachtree Station (8th place), Fields Club (14th Place), Peachtree Corners (16th Place) — to wrap up a very strong performance for all Peachtree Corners area summer swim teams. "This is the first time a team not from the Northern Division has won County in over 11 years," noted Hildebrand.
In all, over 2000 swimmers from 43 different teams across Gwinnett County competed over two days at the venue which hosted the 1996 Olympic Swimming & Diving competitions.
"There was no particular standouts as to any age group or swimmers explaining how we won (the championship). It came down to every swimmer showing up, every parent bringing their kids and every coach doing a whole lot of work for the last two months," said Spalding Corners Co-Coach Kailyn Dunn.
"We had many times where we were ranked first before county, but this is the first time we have ever actually had a relay finish first," added Hildebrand. The 8-and-under boys' relay team (Kolton Regina, Braxton Romeyn, Tony Martelli and Lawson Parton) won both the freestyle and medley relays. Savannah Moss, also 8 and under, won the Girls' 25 Freestyle event for Spalding Corners with a time of 16.60 seconds.
Catie Choate (Fields Club) and Emma Livezey (Peachtree Station) finished first and second in the Girls 13/14-year-old age group. Choate swept three events (50-yard Freestyle, 50-yard Backstroke and 50-yard Butterfly) while Livezey won the 100-yard Freestyle, took 2nd place in the 50-yard Freestyle plus 3rd place in the 50-yard Backstroke.
Berkeley Hills' Ryan Qi won the overall Boys 7/8-year-old division, sweeping three individual events – 25-yard Backstroke, 25-yard Freestyle and 50-yard Freestyle. Peachtree Corners' Tripp Wiggins took 3rd overall in the Boys U6 division with a pair of third place finishes in the 25Y Backstroke and Freestyle. ■
— Special to Peachtree Corners Magazine by Sonny Pieper, with Marilyn Whitmer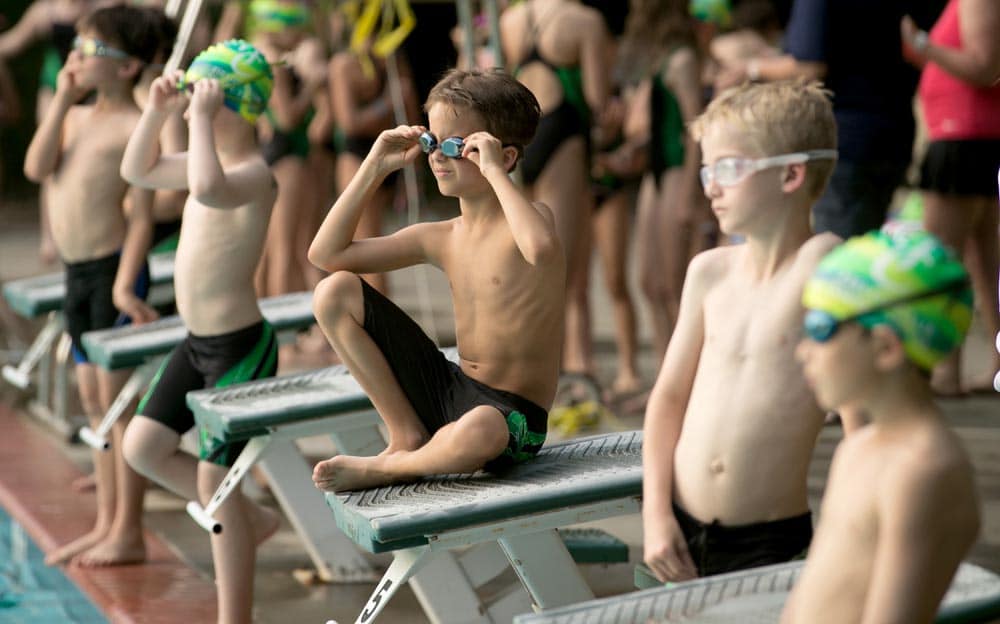 A Summer of Rivalries, Friendships & Family
The start of summer can be marked by a handful of familiar sounds: water splashing, kids squealing from the chilly temperatures, coaches' whistles, parents hustling and that infamous heat-opening honk. Yes, it's time for summer swim team.
Peachtree Corners is fielding five teams, together including hundreds of swimmers, for the Gwinnett Swim League's competitive — but still fun — Western Division.
Bragging rights, along with a sportsmanship award and invitations to the county meet, are on the line for the Fields Club, the Rapid Barracudas, the Peachtree Corners WaveRunners, Peachtree Station Piranhas and Spalding Corners Sharks, along with the Berkeley Hills Barracudas from Duluth.
For Susan Brooks, Peachtree Station's head coach, there is no better way to spend Thursday nights in the summer than when the people of the community draw her back to the pool year after year.
"If I didn't love y'all, I wouldn't keep doing this," Brooks said as she prepared for her 20th swim team season.
Brooks was not alone in her sentiments, which echoed across teams and generations in Peachtree Corners. Many swimmers now in high school recalled fond memories of starting swim team in their early elementary school days. Swimmers evolve and grow, becoming junior coaches and mentors to their peers. Some even become head coaches.
"I'm looking forward to bringing the experience and enthusiasm that helped me stick with swim team all these years," said Colton Kryski, who started swimming with the Rapid Barracudas about 14 years ago. He is now entering his inaugural season as the team's head coach. "I hope to leave something behind that will stay past my years as coach."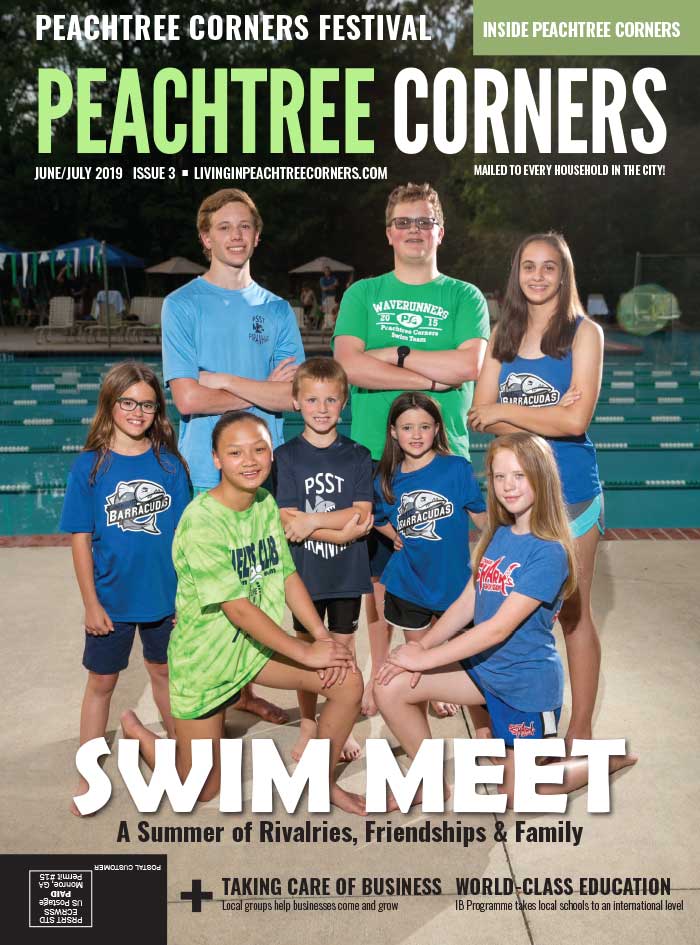 Friendly competition
Spalding Corners has recently dominated the swimming landscape in Peachtree Corners: Over the last six seasons, the team has amassed a 36-0 record under co-coaches Willie Hildebrand and Kailyn Dunn.
But for many in the area, even the coaches, the sport is more about personal bests and camaraderie. It's made possible, in part, because the neighborhoods are so close together geographically, with five of the division's six teams sharing a ZIP code.
"The rivalries are more for the kids," said Jessica Sapough, the registrar for the Peachtree Corners WaveRunners. "Peachtree Corners is like a small town, so you have a meet with 350 kids, but all the kids go to the same school or are friends with the kids they're swimming against."
Coaches said their top priorities for swimmers were to see improvement in the pool and in the kids' confidence. Nothing, they said, beats the joy of watching young swimmers sharpen their strokes, or the celebration of a relay team that crushed its record.
"It's just as good to watch the 4- and 5-year-old make it across the pool for the first time as it is to watch a kid going off on a college scholarship and Olympic trials," Sapough said.
Aidan Rickaby, Peachtree Station Piranhas Mock Swim Meet at the Riverfield Swimming pool Friday May 17, 2019, in Peachtree Corners, Ga. (JASON GETZ/Getz Images)

Peachtree Station coach Susan Brooks Mock Swim Meet at the Riverfield Swimming pool Friday May 17, 2019, in Peachtree Corners, Ga. (JASON GETZ/Getz Images)

Emma Fass, Jones Bridge/River Station Rapid Barracudas Mock Swim Meet at the Riverfield Swimming pool Friday May 17, 2019, in Peachtree Corners, Ga. This is for the June/July issue of Peachtree Corners Magazine. (JASON GETZ/Getz Images)
Community wide
Swim season is more than a series of summer meets; planning for the teams starts as early as January, long before people are even thinking about getting in the water, and Gwinnett Swim League requires more volunteers than many others.
"It doesn't work without the parent volunteers," said Melanie Willenborg, team manager for the Fields Club. "They're the key element to make the whole team experience flow: the starter, the timers, bullpen volunteers and so much more."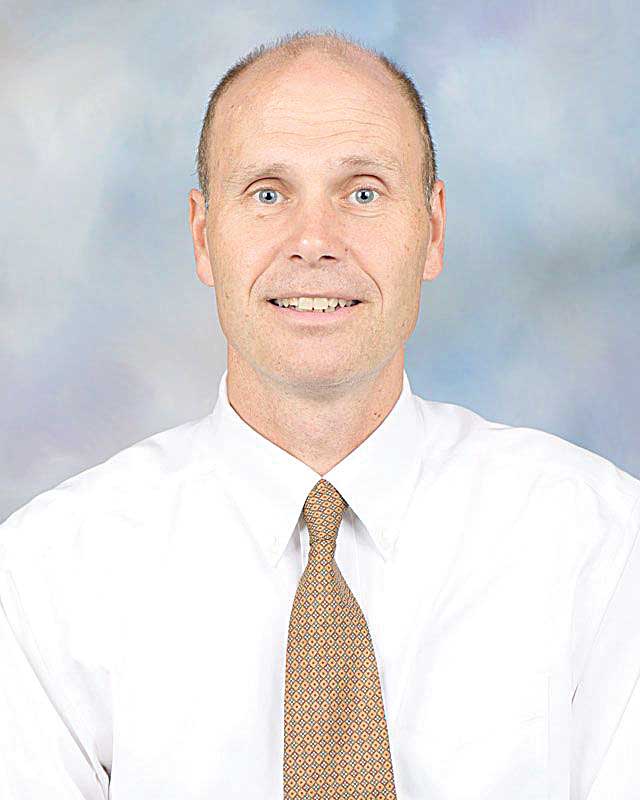 Jason Erb, head coach of the Field Club and Lower School Principal at Wesleyan School, said he would love to see the former swim team parents come back and be involved. Even though their kids are grown, he hoped they might like to volunteer again and reinvest in the community where they have fond family memories.
And for new families, the swim season can be a valuable way to quickly plug into the community. Come summer, it's often a safe bet that neighbors with kids will be at a meet on a Thursday night. Those nights often give way to a common bond among families as they cheer on each other's kids, summer after summer.
"It's like a giant tailgate party for kids," Sapough said. "They're eating candy and sitting on towels hanging out and doing their thing, and then they go swim. What's not to like?"
Character building
Parents and coaches alike see swim team as one of the most valuable ways for children to spend their summers. Not only are the kids learning a skill that could prove life-saving, they're getting exercise, hanging out with kids of all ages, contributing to a team and developing the talents that can improve their performances.
"Our mission is to build community and character through competitive swimming," said Erb, adding that he focuses on resilience and overcoming hurdles through hard work and self-improvement.
Those lessons go beyond the pool, but so does the talk about sportsmanship and swimming etiquette.
"We encourage our swimmers to stay on the pool deck until all relays are finished and stay in the water until the race is over and shake hands afterward," said Spalding Corners co-coach Dunn.
As the swimmers age through the program, there are also opportunities for them to mentor the younger kids and become junior coaches, offering new ways to grow and be challenged.
"We want to make every kid feel important," Hildebrand said. "We want to make the pool a second home to them. The swimming will go, but it's the memories of having fun that will go beyond."
Fun for the whole family
Unlike most youth sports, age and gender matter only so much.
"Swim team is an equalizer because a 5- or 6-year-old can earn just as many points for a team as an 18-year-old about to go D-1," said Kryski. "It's a good environment for the older kids to set a good example for the younger ones and push them to be better."
For year-round swimmers, the summer league is a chance to cut loose while staying in shape. But for many families, swim team is about participating in a sport that celebrates individual and group efforts — while adding in the fun of obstacle courses, greased watermelons, parent relays and occasional pie-ings of the coaches.
"It's great to win," Brooks said, "but it's more fun to enjoy the spirit of the team and the cheers." ■
(Photos by JASON GETZ/Getz Images)
Correction: The print edition had Swimmer Profile for Emma Fass in correctly noted as Emma Sass. We apologize for the error.