Three Wesleyan Artist Market Artists Profiled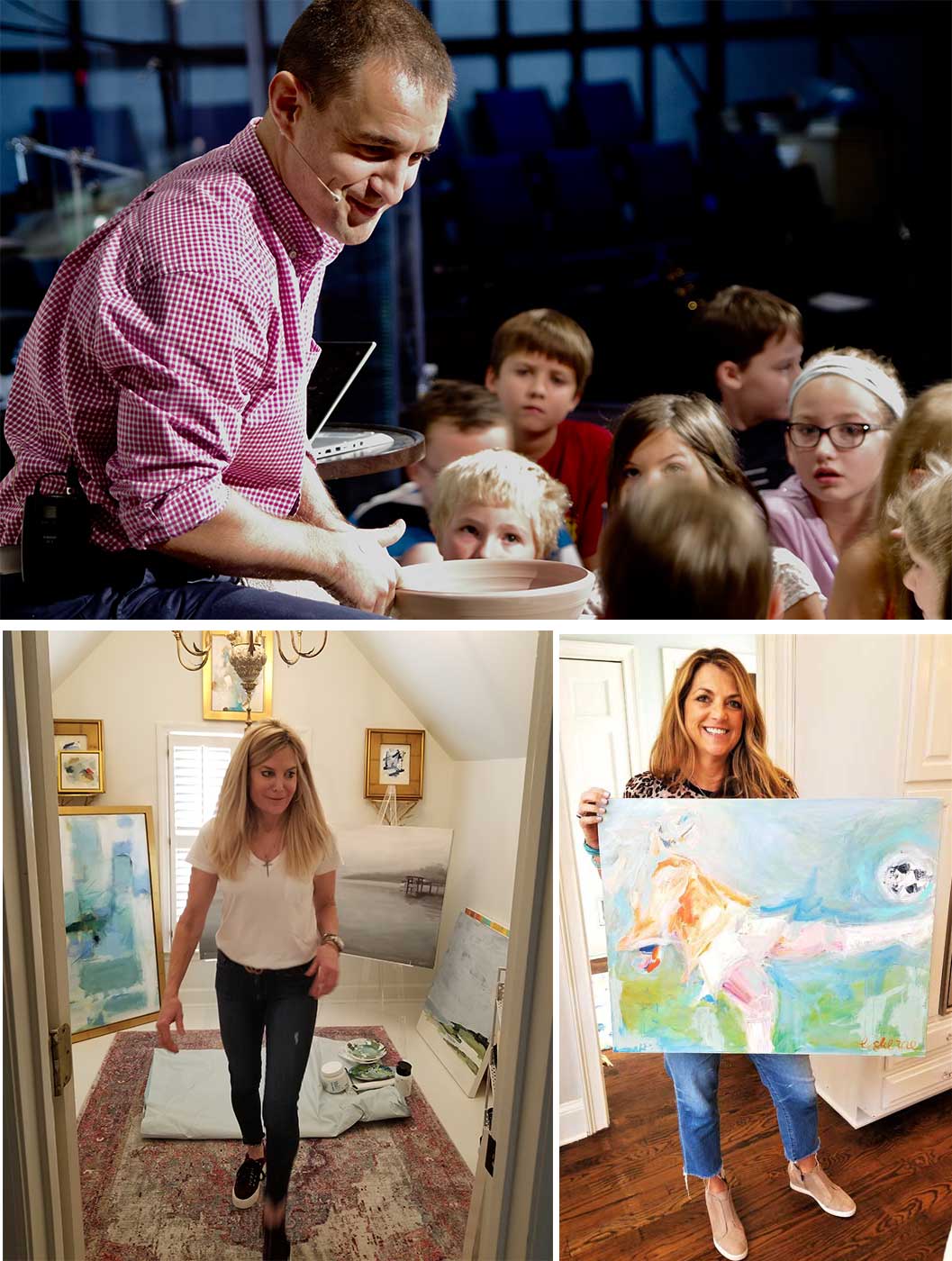 Editor's Note: Even though the Wesleyan Artist Market was canceled in April due to the coronavirus Pandemic you can still view their work online. The show plans to return next year on April 22-24, 2021.
This article appeared in the April/May 2020 issue.

Mother Nature in all of her springtime glory inevitably awakens our artistic side. Most of us don't create art, but we certainly enjoy visiting artist markets where one can take in professional expressions of creativity and talent across a broad variety of artwork.
My imagination was sparked while meeting the artists behind three inspiring bodies of work. They're among 80 artists scheduled to exhibit at the ever-popular Wesleyan Artist Market (WAM) planned for this past April.
For 22 years, artists have been submitting portfolios, hoping for a coveted spot in the show. The panel gets more selective every year, guaranteeing an exhibition that exceeds all expectations.
Caryn Crawford
Mixed Media and Oils
On the Wesleyan Artist Market
This would have been Caryn Crawford's fourth year exhibiting at the market she describes fondly: "It's a real privilege and honor to be a part of such a great experience in the community. You're bridging student artists with the regional artists they bring in. It's great to speak with students, encourage them and see what's going on there. That's been really fun."
Crawford loves to see so many gifted artists come together using different media. Since proceeds go to the Wesleyan Arts Alliance, supporting student programs, facilities and art education at the school, she loves being a part of "giving back to something wonderful."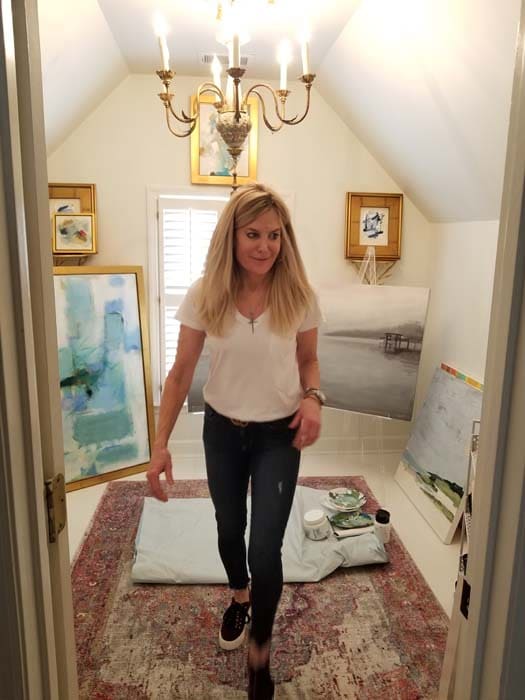 The Making of an Artist
Crawford grew up in the culturally rich city of New Orleans. As a young girl she recalls always having a paintbrush in hand and enrolling in every art class available. She loved visiting art galleries with her mother. "It was a neat place to grow up and to see art everywhere," she recalled, evoking the colorful vibrancy of the street artists' works.
Crawford has been a decorative painter for 20 years, working on wall textures, murals and ceilings. Today, she and a partner work on projects more likely to involve "Frenching-up furniture pieces."
In a natural extension, Crawford progressed into abstract art paintings using acrylics and mixed media about 10 years ago. "Mixed media involves using different materials on the canvas like oil pastels or even objects from outside; pieces of glass or cut-up tissue paper, for example," she explained. Primarily, she creates paintings using acrylics and oil pastel crayons.
Crawford enjoys the thrill of challenging herself beyond her comfort zone. Recently, she's been painting with oils, working on landscapes and impressionist style paintings.
"It's been beneficial later in my career to train under some regional painters as mentors. Teresa Gerard is an abstract painter I love to work with. I see her about twice a year. Weekly, I meet with James Richards in his studio in Tucker, doing oils," Crawford said.
She loves the ability to blend oils, finding the vibrancy and tone of the colors fun to work with. Since starting to do more landscape work, Crawford finds that oils allow her more time.
"It's been great to expand a little bit. Oils are a whole different world," she said. "They allow me to have more time to play on the canvas, to accomplish what I want. You want your eyes to be drawn to it from a distance. Oils help to accomplish it."
Inspiration
Having been so abstract, Crawford suspects she's drawn inspiration from the outdoors, from different colors and the environment.
"You don't know what you're looking at in an abstract painting, but you are looking at something. You usually can't see that in a painting. You have to ask each artist about it. Those shapes and colors do represent something," she clarified.
The low country and the east coast of northern Florida inspire her landscapes. "I paint on Amelia Island a lot. It's fun," she smiled.
A former Wesleyan parent and artist, Crawford said, "I'm so thankful that I'm asked to do this every year. It's neat to see everybody's gifts. They come from above. I feel like any gift I have is from above, and I'm very thankful for this opportunity to share it with others in the community."
Commissions
The best way to contact Caryn Crawford is through Instagram, @caryncrawford, or on her website, caryncrawford.com. Depending on the time of year and how many shows she's doing, one can usually expect a commission to be completed within a month or two.
Every commission is a source of inspiration, as well as a challenge, Crawford noted. When someone says, "Can you paint this?", a lot of times, it's the first time you've painted it. It involves a little research. "It's great to work alongside mentors to help me through some of that process," she shared.
Leslie Rae Cannon
Acrylic
On The Wesleyan Artist Market
A former Wesleyan parent, Leslie Rae Cannon volunteered at the show before participating in it as an artist. After nine years, she is still thrilled to receive the congratulatory email about being selected as one of its vendors.
She shared her enthusiasm for the show, "You'll be inspired. Wesleyan goes outside of our little community, pulling in brand new artists and giving them their start. They really raise the bar on quality art. They're constantly reevaluating, trying to make it even better."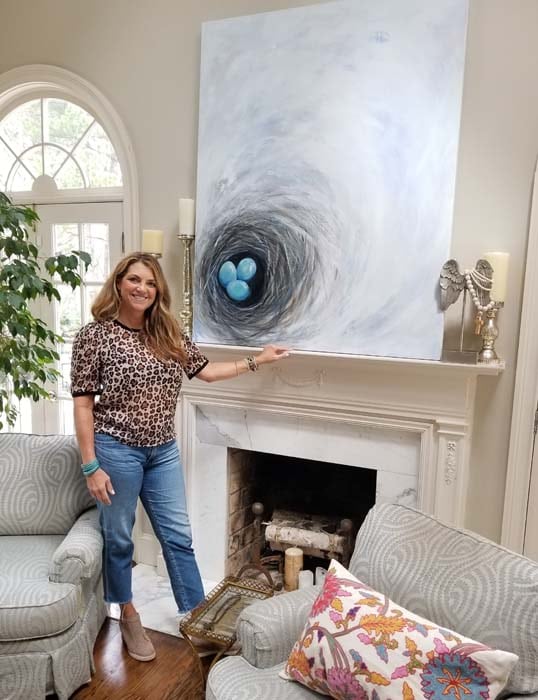 Besides it being her first real art show, it's her favorite because Wesleyan spoils vendors. "When you arrive, a hoard of volunteers (parents, teachers, students) come out and take your art to the booth," Cannon said. "The hospitality is sweet. It's the most comfortable, warm feeling being in that show."
As a mom and former art teacher, Cannon shared another thing she loves about the show: being interviewed by students. The Fine Arts classes tour the exhibits and students get to choose an artist. "I love being picked for an interview," she exclaimed.
"My kids were educated there, so I enjoy giving back. I love the fact that these kids have access to art as part of their everyday life. They won't ever be afraid to try something. The art they're exposed to and the different classes they have access to are wonderful. It's endless what they can do, and they have great teachers," she added.
Cannon enjoys the student artists, "They're phenomenal! So many of them eventually become professional vendors in the show. I've been able to follow one girl in particular; I've even purchased some of her prints. She's very creative and paints on anything that will stay still long enough. I can't wait to see what becomes of her. I'll be able to say, "I knew her when.""
The Making of an Artist
"I've been drawing since as long as I can remember. My parents set up a desk in the living room when I was little. My dad worked for an office supply company. My biggest treat would be when he brought home new glue, paperclips or Scotch tape; I would go to town. I remember drawing very young," she recounted.
A native of DeKalb, Cannon took the limited elementary and high school art classes available to her at the time. She knew she wanted to use her creativity in some way and studied oils, acrylics and watercolors at Presbyterian College.
"I majored in art, but my dad was adamant that I also have a job. When I graduated in the 80s, social media didn't exist. To be a prominent artist, you needed to be in a gallery and know people. The starving artist was a real thing," Cannon explained.
So, she majored in education and taught in Gwinnett County for 10 years. Cannon shared proudly, "Kids would leave 5th grade with no fear of painting or sculpting; they'd been exposed to it as a regular class since kindergarten."
After her second child, she stayed home and began to dabble in her own art. With young children in the house, the fumes from oil paints didn't seem like a good idea — nor did their drying time. Depending on the environment and number of layers, it could take days or weeks to dry. This clashed with her preference to work fast, so she started painting with acrylics and never looked back.
Well known for her nests, Cannon loves thick paint, vibrant colors and large, loose brushstrokes. She includes texture and drips in her paintings, ranging in size from small to extra-large.
Cannon hopes to share the joy of art with adults who are afraid to paint. She plans to assemble groups to get over their reservations. She revealed what she'd convey, "Get your hands dirty, make a mess, play, enjoy it! Just have a relaxing, fun, non-threatening time."
Inspiration
Having always been drawn to birds and nests, Cannon remembers a comment her mother-in-law made decades earlier. It powerfully echoed back to her the first time her eldest son came home for a visit from college, "All my chicks are in the nest." She recalled those words and the sentiment resounded with her more than ever before.
Cannon created her first huge painting of three eggs in a nest, representing her children. Upon seeing it, her husband left a note which read: "The drawing over the mantle is beautiful. DO NOT SELL."
aturally, she took it to her next show and ended up selling it for more than her original asking price.
Since then, she recreates that painting for the mantle every year, and every year, she inevitably sells it.
"Nature inspires me, and I also like the human figure," she said. While she is fond of painting nudes, she likes them to be a little abstract. "They're not very detailed, you can hang them up without having to put a box over certain parts."
Commissions
Contact Leslie Rae Cannon on Instagram or Facebook, @leslieraecannon_art. Commissions are fully customizable. The number of eggs in the nest can reflect your family size; colors and backgrounds can be customized. Cannon enjoys working with interior designers, and will match paint chips, swatches of wallpaper and upholstery to match your room.
Depending on the canvas size and her commission schedule, she can usually turn pieces around in two to three weeks if nothing else is going on. "I ask a lot of questions to get a feel for what you like," Cannon said. "I adore incorporating individual touches that would be unique to your piece."
Michael Tablada
Ceramics
On The Wesleyan Artist Market
For Michael Tablada, The Artist Market represents his busiest time of year. It's also the only time he makes "normal pieces," like mugs, vases and bowls.
He described the show, the only one he participates in yearly, as a great community event and an exciting time. "It's an invitation to come see a gathering of artists — from the community and from several states away — who participate. Over the years, there's been a great mix of beautifully executed, high-end art and crafts made by self-taught individuals. Though they exhibit a wide range of work, the content is family-friendly."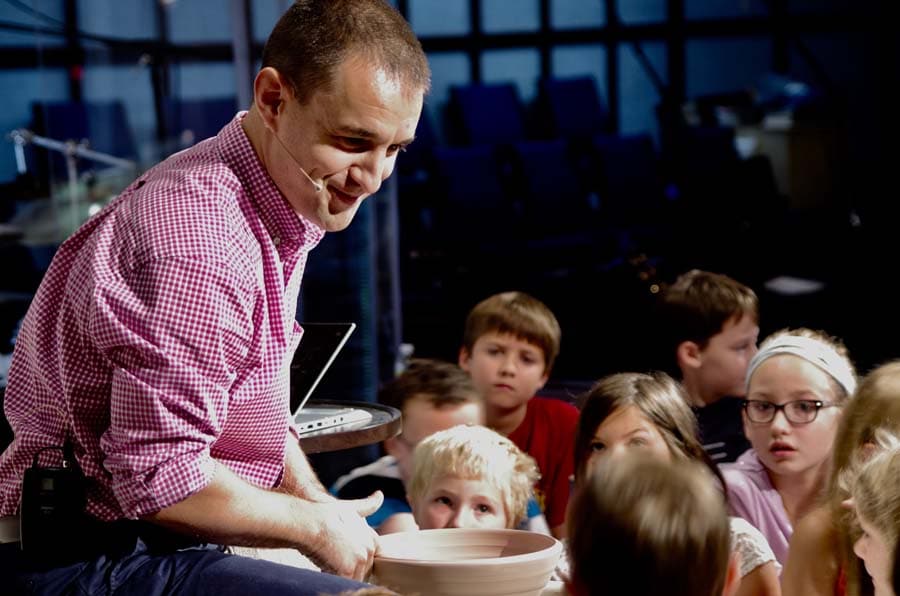 The show also provides an opportunity for students to exhibit and sell their art. It's fascinating to see what middle and high schoolers can accomplish, Tablada added.
"We have top notch facilities and a plethora of media we work through," he said. "Middle school classes are doing advanced painting techniques. High school classes are able to get on the wheel and create large-scale pottery exploring a variety of techniques."
Proceeds from the show are used to grow the amazing facilities at Wesleyan. Whether it's upgrades for studios, an opportunity for a student trip or a guest speaker. "We try to bring in outside influences. The Wesleyan Arts Alliance advocates for the arts, helping us strive for the best student programs," Tablada explained.
Several students have unbelievable talent. Some are selling artwork made in class; then they go home and make more to sell. Others make baked goods or jewelry on their own. One student, who graduated last year, had a soap business she had started in middle school. She created her own self-sustaining business and has an online store.
The Making of an Artist
Tablada grew up in Alpharetta, Ga. He discovered his love for clay at Auburn University and started creating art in 2003. "I love how the slightest touch can change the look of the clay; it's easily manipulatable," he explained. "It can be anything you want it to be. I enjoy working with such a versatile medium because of all the possibilities."
While telling Bible stories at school or before a congregation in church, Tablada creates pottery. Fusing music, visual art and the spoken word, he aims to elicit emotion using the gospel. "I enjoy combining elements to make as big an impact with the artwork as I can," he said.
Tablada loves presenting. "Students go to chapel and many attend church, too," he said. "To break up that rhythm by including pottery and music, they get mesmerized by the art. Before they know it, they're captivated by the message as well. I love to draw emotions out of people as they connect with the experience. It's pretty unique to be able to do that in a live setting."
The process used to create his pieces is emblematic. Distressing the vessels represents sin, for example. Conversely, waves and blue glaze represent baptism. The story behind his creation dictates the methodology used. For example, throwing stones at the vessel "Criminal on Cross" while it's being made represents the crowds who threw rocks at Jesus.
Conversely, the "John the Baptist" pitcher is laying down on a bed of waves. The figure is undisturbed while being dunked under the water. This represents how John the Baptist fully accepted the will of God and laid down his life for Him.
Inspiration
Tablada's art is spiritual. A strong Christian faith is the backbone of his work, he said, and it wasn't until after college that his faith really blossomed at Wesleyan. Until then, he had always considered himself a Christian but never truly explored what that meant.
"I started reading the Bible and the words came to life as I asked to know God personally. Being surrounded by a community of believers at Wesleyan played a big part in my faith journey," Tablada said.
For the last 10 years, his artwork has centered around illustrating Bible stories in a novel way. "I give my pottery human characteristics represented in Bible stories. Each piece is derived from stories in scripture," he shared.
His vessels start off whole and utilitarian. One could actually use them as a bowl, a vase or a pitcher. But when he distresses them, they become worn, representing sin.
"Just as our sins eat away at us, removing the original function God had intended for us, the same is true for the vessels. After distressing them to varying degrees, they are no longer able to hold liquid or to be used. Or maybe the piece becomes so fragile it's about to break," he said.
Tablada described his creative process. "I get new ideas about how I can turn a piece of pottery into a representation of something from the Bible. Whether it's to teach a lesson for a presentation or to create a finished work of art." He added that he likes to work on some pieces in the classroom, opening the door for faith-based conversations.
Commissions
Visit Tablada's website — michaeljtablada.weebly.com — to learn more. Popular designs on his website are recreated upon demand — all handmade, of course.
Biblically themed pieces that are duplicated often include elements to make each one unique; forms, sizes, textures or colors may vary.
"I take commissions for unique pieces often ordered for Christmas, birthdays or one-of-a-kind wedding gifts. These have included coffee sets, sculptures and biblically-themed book ends." A consultation with the artist ensures pieces are created to inspire the recipient.
'Late Boomers': Local Author publishes book about enterprising seniors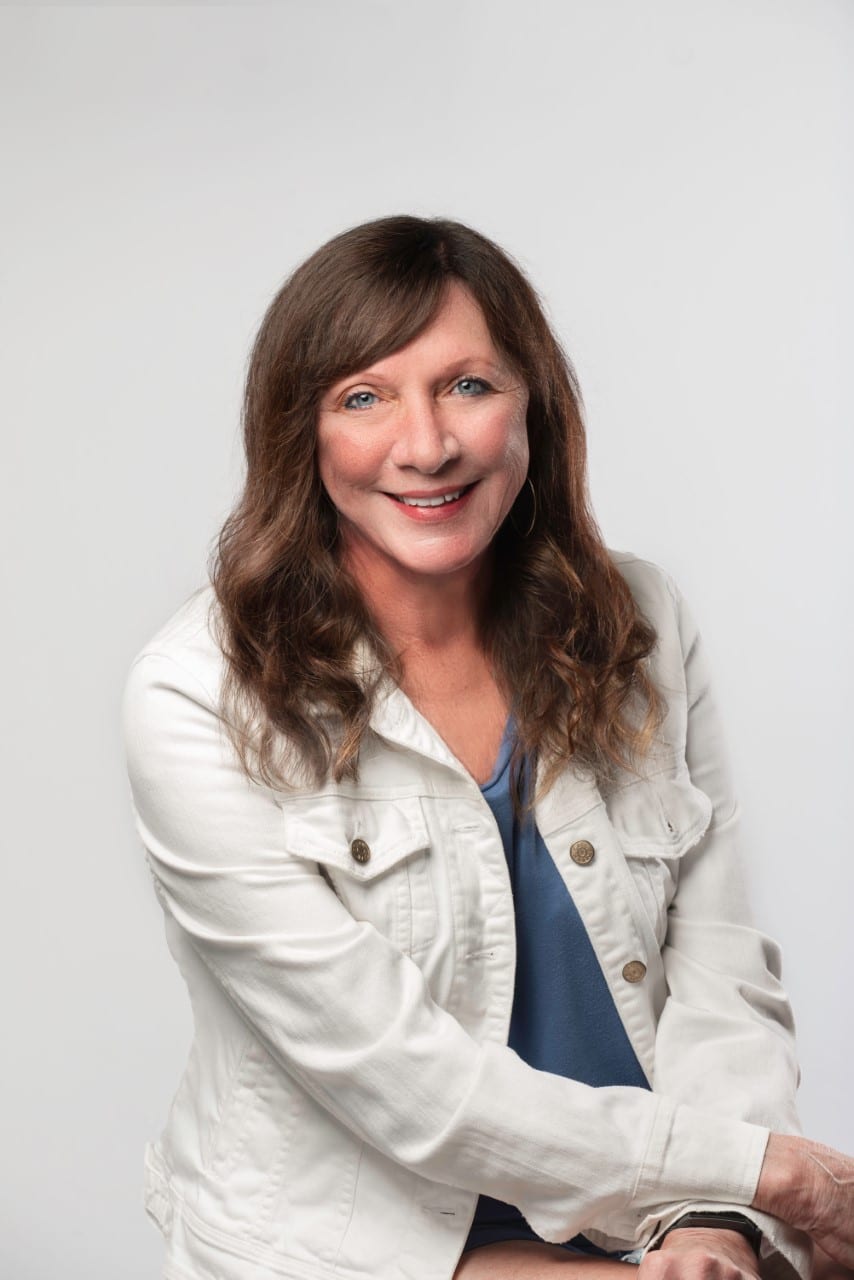 Long time Peachtree Corners resident Jeri Bernstein has recently published a book partly inspired by her interactions with residents in a large retirement community in Buckhead. As a freelance advertising copywriter, Bernstein would periodically write community posts for their websites that would essentially profile the life stories of select residents.
She noticed just how interesting the lives of these experience peoples were and continue to be. And most specifically, she found herself drawn to those that made late-in-life pivots. A sixty-something friend retired from teaching last fall and started a new job as a Delta Flight Attendant. If her friend could do it, so could others. So Bernstein did some research and dug into the thick of it. Out of that process came "Late Boomers: Inspiring stories of people who've done life-changing things later in life."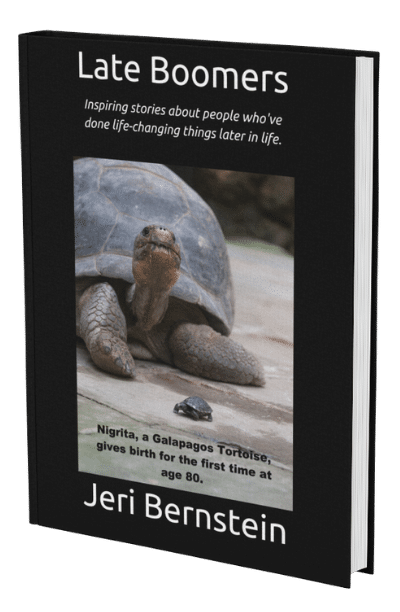 "In my book, using the same process that I use for the people at the retirement community, I wrote about Ginny who set out to do just one pull-up and now is the oldest female competitor on the America's Ninja Warrior TV show. I told the story of a Maryland couple in their 80's who started a stand-up comedy club…and they had never even set foot in a comedy club. I searched out and interviewed 16 fantastic people and wrote their stories to inspire others to keep on going–age is just a number. And accomplishment never gets old," Bernstein says.
Some might say Bernstein herself take after the very role models that she depicts, choosing to write a full-length non-fiction book instead of her copywriting comfort zone.
If you would like to purchase a copy, Late Boomers can be found on Amazon or at LateBoomersRock.com
Local Author Publishes 2nd Children's Book, Raymond the Rooster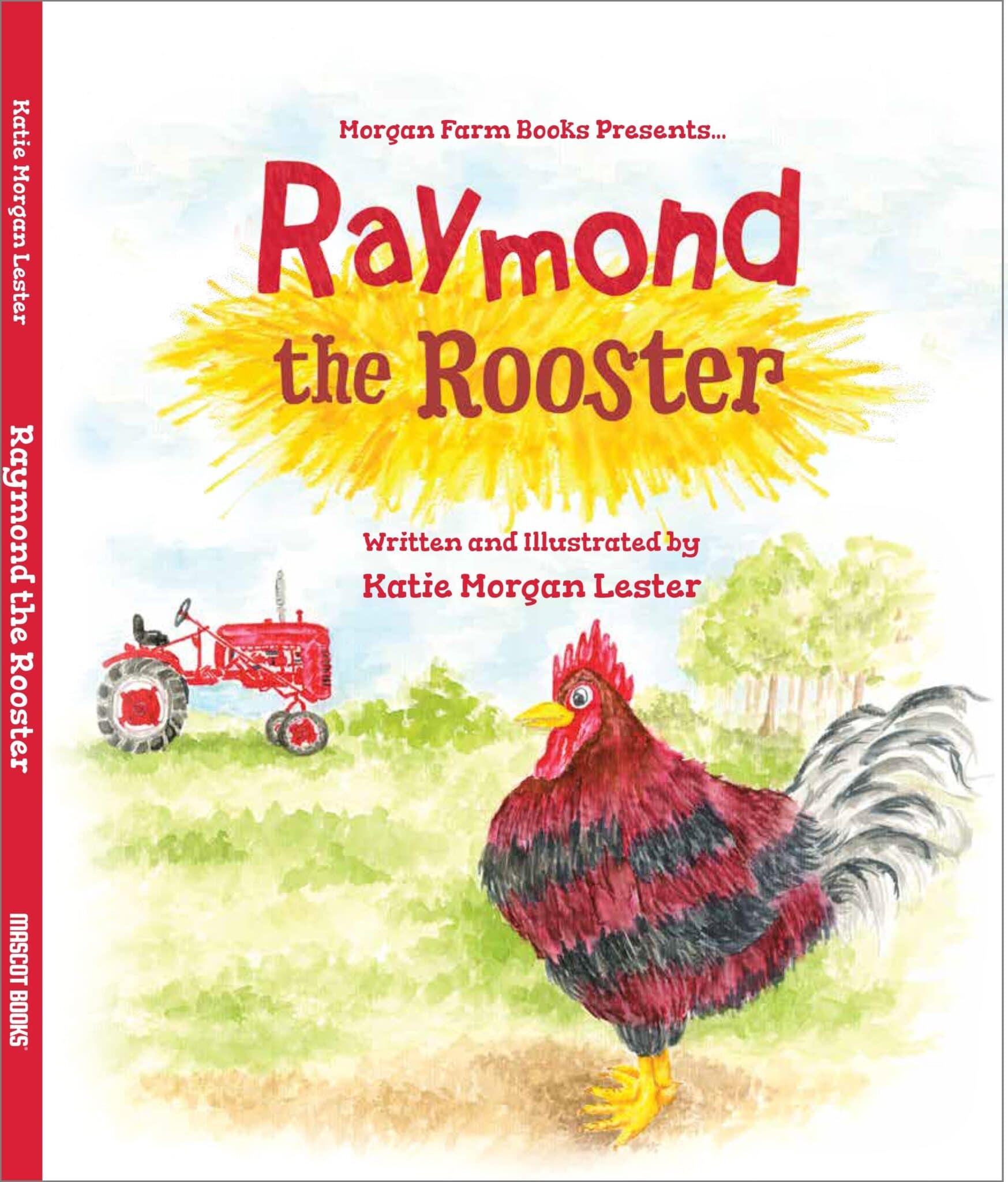 Katie Morgan Lester and her husband Mark have lived in Peachtree Corners for about 15 years, with their seventh grader Brandon who attends Pinckneyville Middle School. Lester grew up on a South Carolina farm with a charming cast of animal characters so captivating that she decided to share them with the world in two children's books.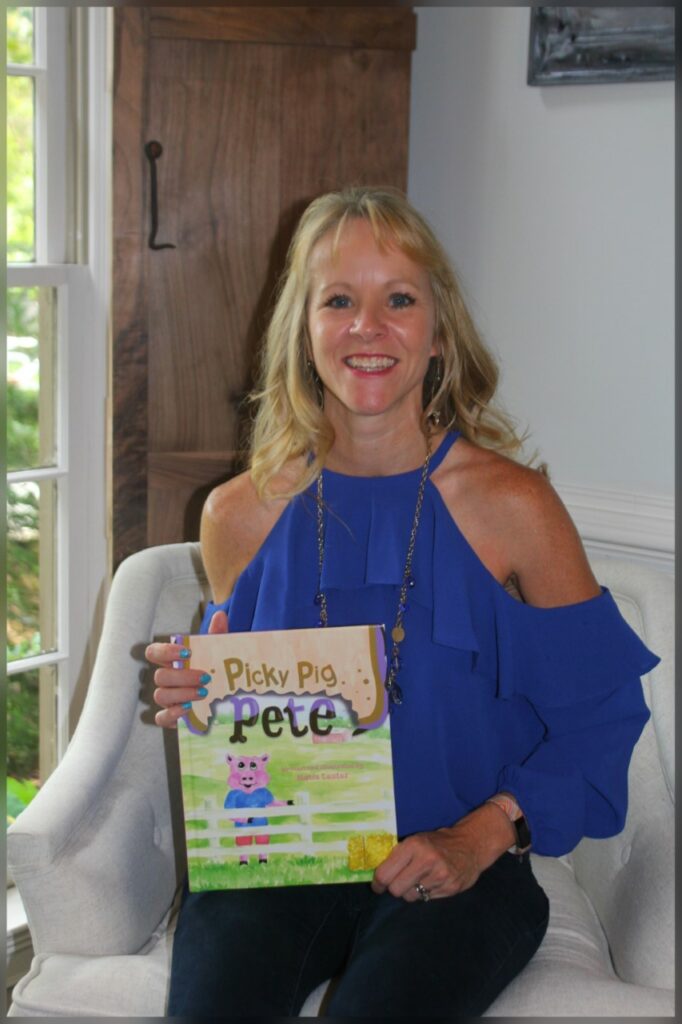 "I have a degree in studio art from Furman University and have always loved doing illustrations, murals and children's décor," Lester said.
The first book, Picky Pig Pete, was inspired by her picky eater son and teaches kids to try something new. Her recently released second title, Raymond the Rooster, is somewhat of a spinoff of the first in that the title character Raymond appeared in the first story as well.
"Like my first book, Raymond the Rooster has rhyming text with watercolor pages, but with a message about friendship & inclusivity, that 'friends come in every color, shape and size.' I include photos of the real Raymond the Rooster at the end of the book," Lester said.
Lester is available for in-person or virtual visits featuring Picky Pig Pete and Raymond the Rooster books. To order your own copy of one or both books, go to morganfarmbooks.com. Lester offers to provide an inscription for any child that would like one and to sign each book.
Peachtree Corners Photography Club Highlights our City for Photography Festival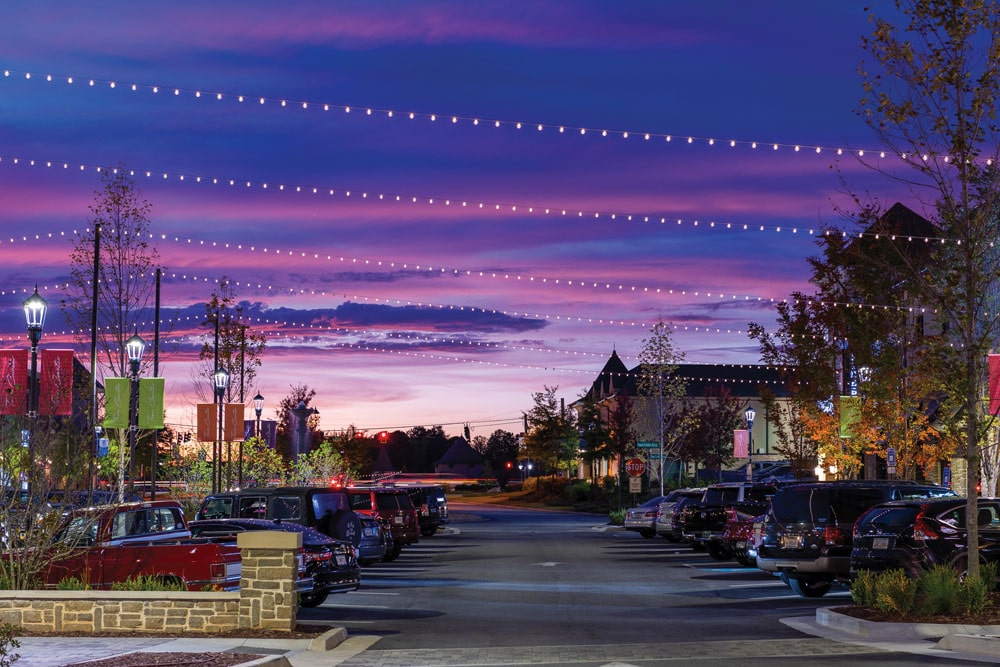 If a picture is indeed worth a thousand words, then the Peachtree Corners Photography Club (PCPC) must have a good deal to say.
The Atlanta Celebrates Photography (ACP) Festival is the largest annual community-oriented photo festival in the U.S, and our local photography club has decided to participate in the ACP Festival for the first time in 2020.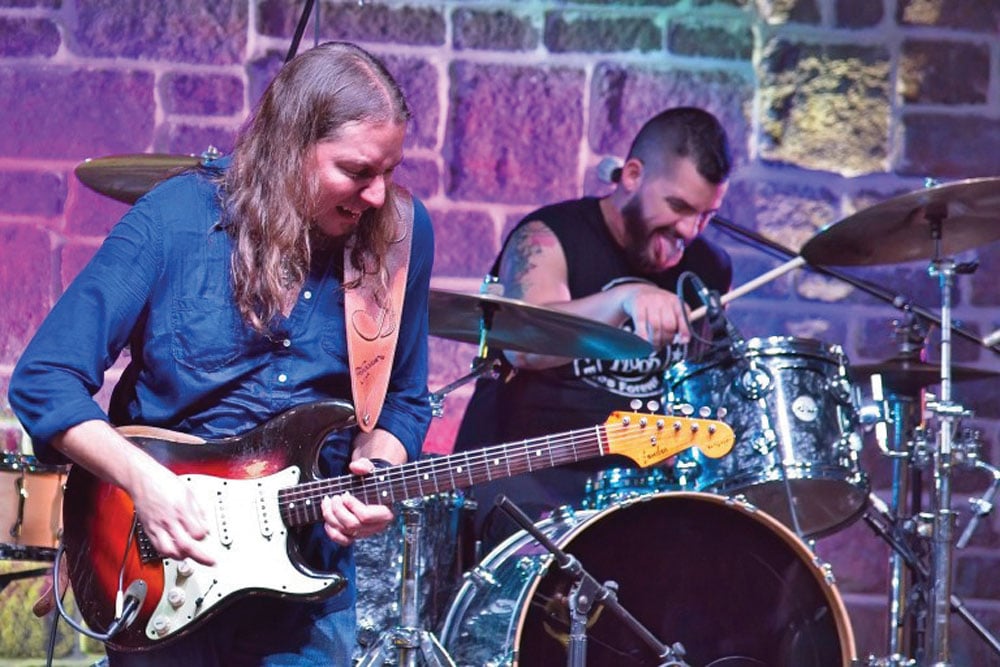 "Our club is fairly new, having been founded just in 2017, and we have not yet the resources and connections to stage a physical exhibition," said Ludwig Keck, webmaster for PCPC. "With the opportunity to participate virtually this year, it made sense for us to join in on the action. Our club has also grown this year and we have a lot of great photographers and images we would like to share beyond our own group."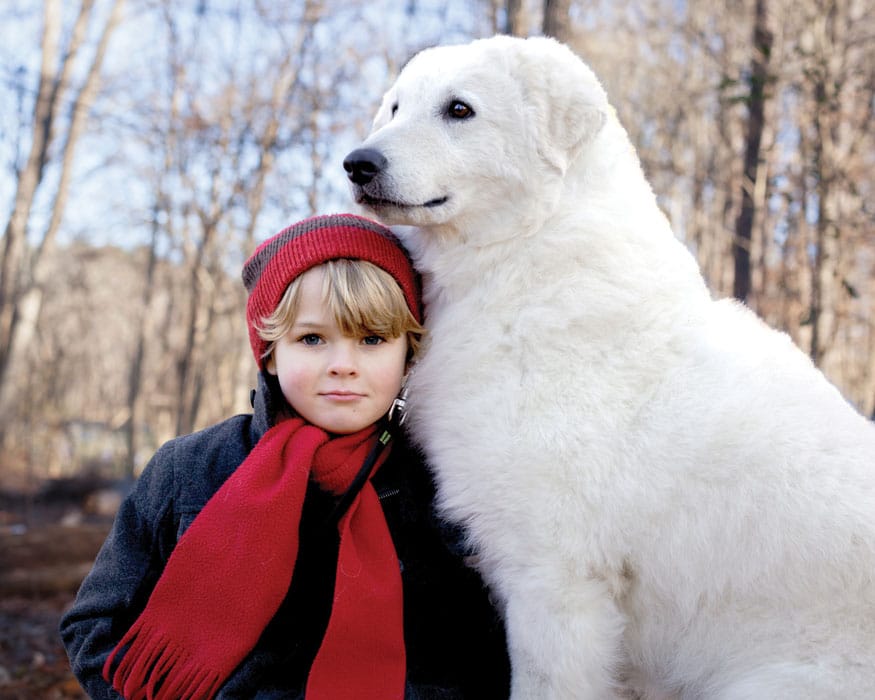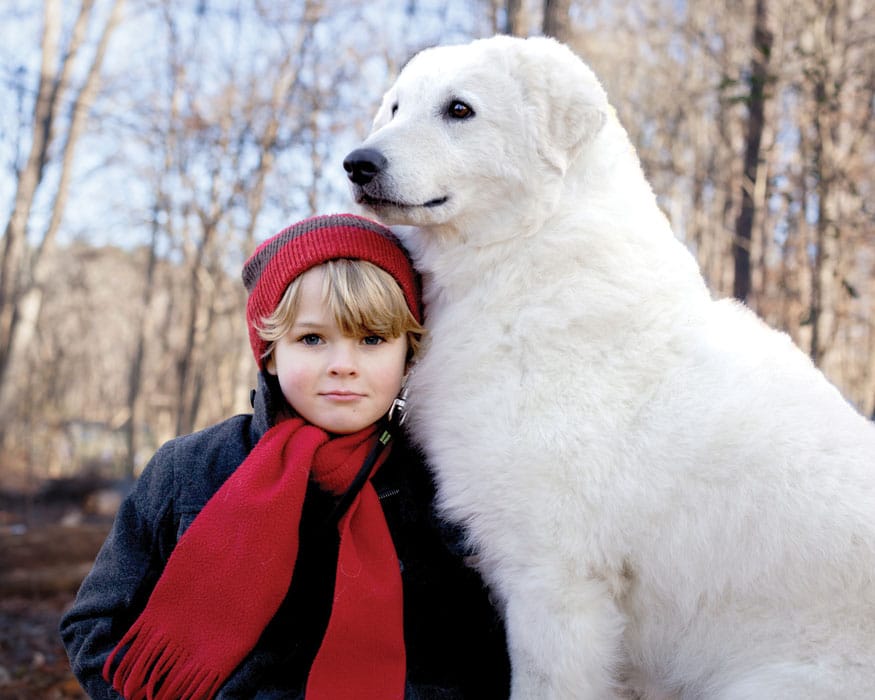 A showcase of Peachtree Corners life
The general theme that the PCPC selected is "Scenes Around Peachtree Corners," at ACP Listing #45. The organization issued a call for entries among their members, hoping to encourage club participation in this and other club activities, as well as foster learning opportunities. The full gallery can be found at gallery.pcphotoclub.org.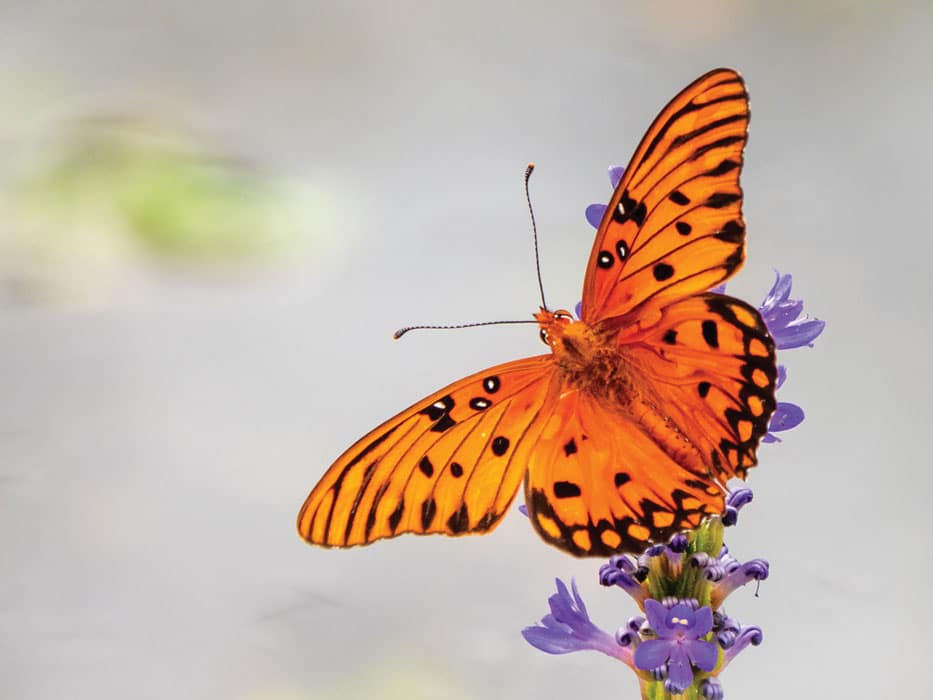 The online gallery boasts several entirely virtual-related events through ACP. Online livestreams are held periodically, with four more scheduled in recent weeks. On October 17 and 31, as well as November 14 and 28, photo enthusiasts will have a chance to meet the photographers and view new content as the gallery is officially refreshed to allow for more entries.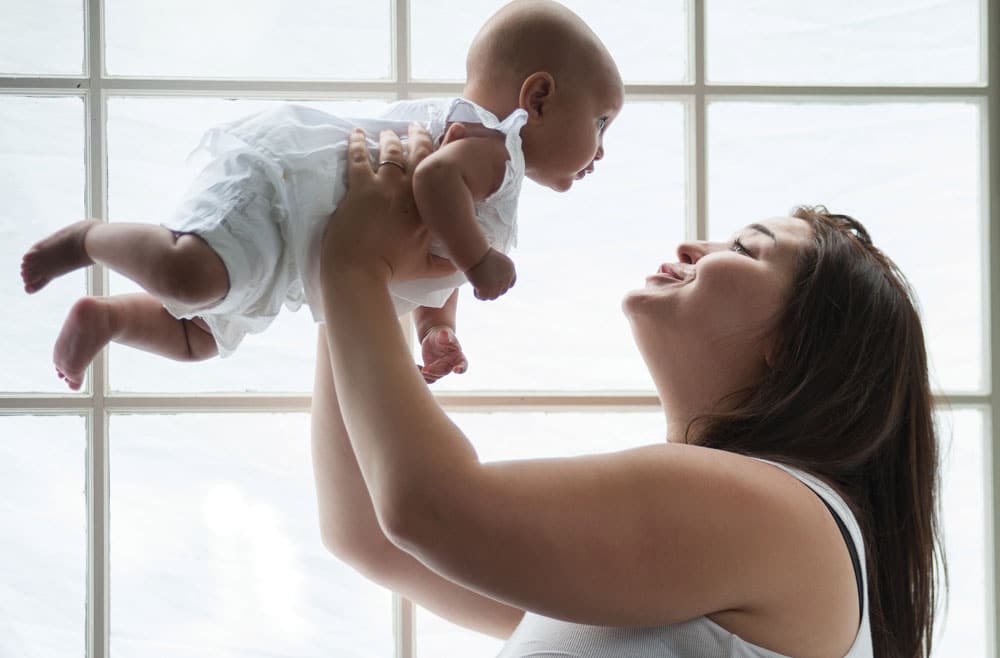 "We hope to show the visual diversity of Peachtree Corners," Keck explained, "from the wildlife and sports activities in the Chattahoochee River, Jones Bridge Park, Pinckneyville Park and Simpsonwood, to community events and festivals like the nearby British Car Fayre and the Peachtree Corners Festival (archives), as well as our beautiful spaces like the new Town Green, the Veterans Monument and the architectural wonder of Mary Our Queen Catholic Church."
A showcase of photography talent
The participating members show their wide range of skill, artistry and creativity in their contributions. Club President Tracey Rice serves on the ACP board, and is proud to have helped PCPC take a step forward.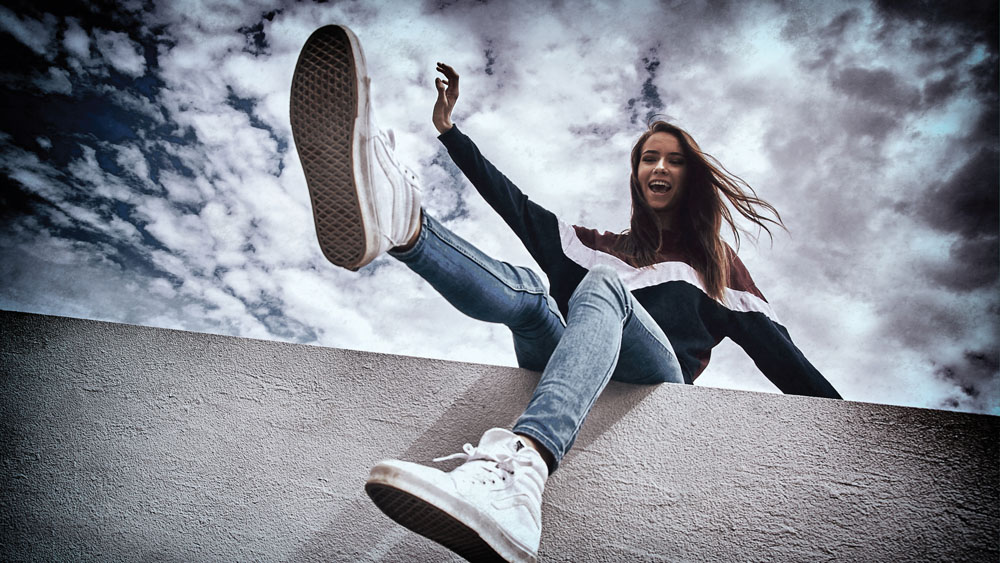 "Our club board has worked very hard this year to grow the club, add more structure and continually raise the bar on the quality of speakers and programming we offer to our members. We were able to pivot with the pandemic and have continued our monthly club meetings via Zoom since April," Rice said. "I am a member of two other photography clubs and ours is very special because it is still young and relatively small, which allows everyone an opportunity to have a role in shaping the organization and our programming."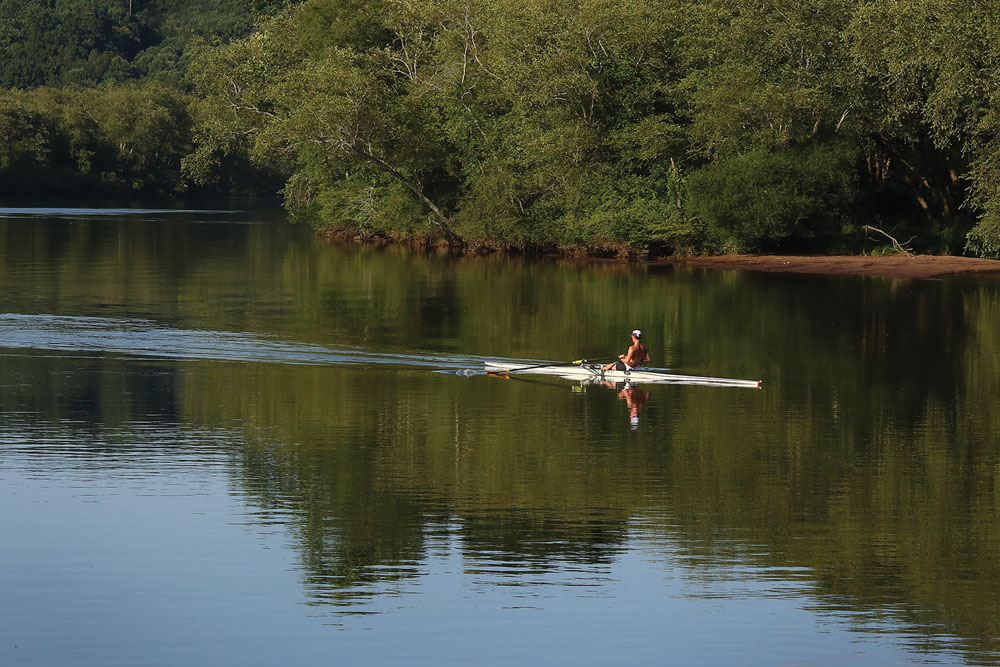 Members of this burgeoning collective come from all walks of life, united in one noble pursuit: the perfect shot. "Photography connects people, and we need that connection even more than ever this year as we socially distance ourselves," Rice continued. "Everyone who has a smartphone has a camera, but not everyone takes good pictures."
Participating Photographers to Check Out
The full list of participating photographers, along with biography information and selected photos, can be found at gallery.pcphotoclub.org/photographers/.
Here are a few highlighted Peachtree Corners Photography Club members.
Tracey Rice, PCPC President
traceyricephotography.com
Tracey Rice combines her unique combination of global marketing expertise from a 33-year career at Fortune 100 companies like The Coca-Cola Company and Texas Instruments, with her technical expertise in commercial photography to assist her clients to create the perfect images for every need.
Ludwig Keck, PCPC Webmaster
ludwig.gallery
Now retired from an engineering career that connected him to photography, electronics and computing, Ludwig Keck now enjoys imaging the pleasant bits of the world around him. He devotes his spare time to helping others in photography and computer skills.
David Dunagan, PCPC Vice President
flickr.com/photos/daviddunaganphotography/
David Dunagan has lived in Peachtree Corners for 32 years. Once he retired in 2014, he took up photography as a hobby, with an emphasis on nature photography.
Brian Walton, PCPC Themes & Critiques
instagram.com/briantakesphoto/
Brian Walton pursues photography as an art form as well as a vehicle to capture moments in time to help preserve the legacy of people, places and things. He is passionate about portraits, fashion, macro photography, experimental techniques and editing.
Bob Chadwick, PCPC Field Trips
norcrosspics.com
Bob Chadwick is a long-time Peachtree Corners resident, having moved to the area with his family in 1992. An avid hobbyist, he started with film back in the 1980s. He was a staff photographer for the Gwinnett Stripers and has shot sports for the local high schools.