Medlock Bridge, Bush Road Improvements Underway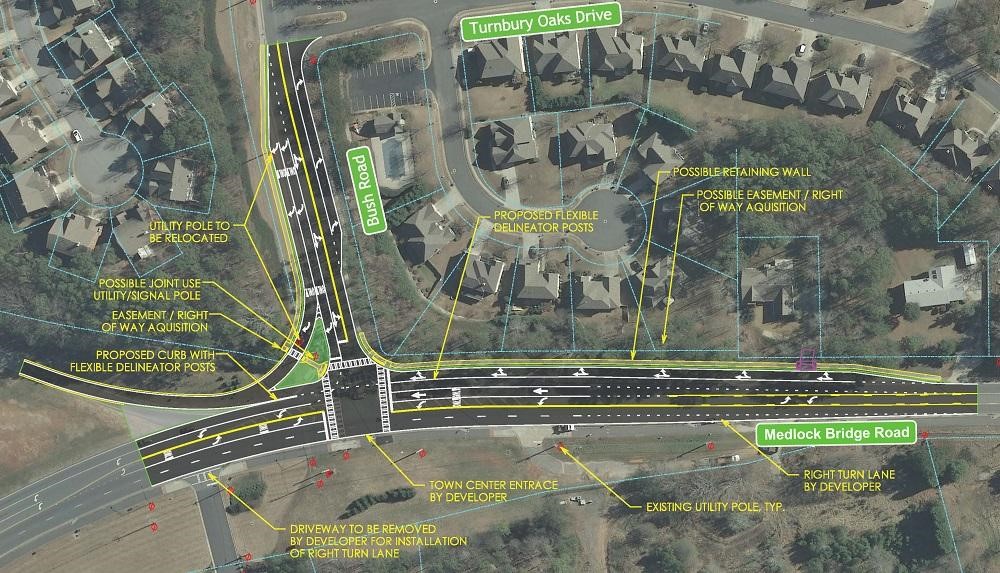 Construction is underway now on a project that will improve the traffic safety, operations, and
capacity of the intersection of Medlock Bridge Road at Bush Road. The project generally
consists of roadway widening, some full depth asphalt pavement, milling and inlay, concrete
curb and gutter, concrete median, concrete sidewalk, signing, pavement marking, storm
drainage improvements, retaining wall, traffic signal installation and grading.
For the westbound Medlock Bridge Road portion of the intersection, the final project will result in:
• a left turn lane onto Town Center Drive
• a through lane that will become a left turn lane onto southbound Peachtree Parkway
• a through lane that will continue across Peachtree Parkway to become East Jones Bridge Road
• a through-right lane that will allow traffic to turn onto Bush Road or continue onto the
slip lane to northbound Peachtree Parkway
Other major improvements in the project will add safety and capacity improvements to Bush Road. Southbound Bush Road will include a through-left lane for traffic to cross over Medlock Bridge Road onto Town Center Drive or turn left onto Medlock Bridge Road. Bush Road will also include two right turn lanes, one intended for accessing southbound Peachtree Parkway and the other for accessing northbound Peachtree Parkway.
Sidewalks and pedestrian crossings will be included for all approaches to the intersection. A new traffic signal will also be added that will include the latest traffic engineering technology. The project will also include walls, guardrails, fencing and landscaping additions.
Following a public bid process to procure a qualified construction contractor, Peachtree Corners' elected officials awarded the work to Vertical Earth, Inc. of Cumming, GA, for approximately $1.2 Million. The contractor will have 180 workdays to complete the project. Funding for the intersection improvements will come from the 2017 Transportation SPLOST.
Source: City of Peachtree Corners release
Peachtree Corners Receives Residents to see 15% Savings on Flood Insurance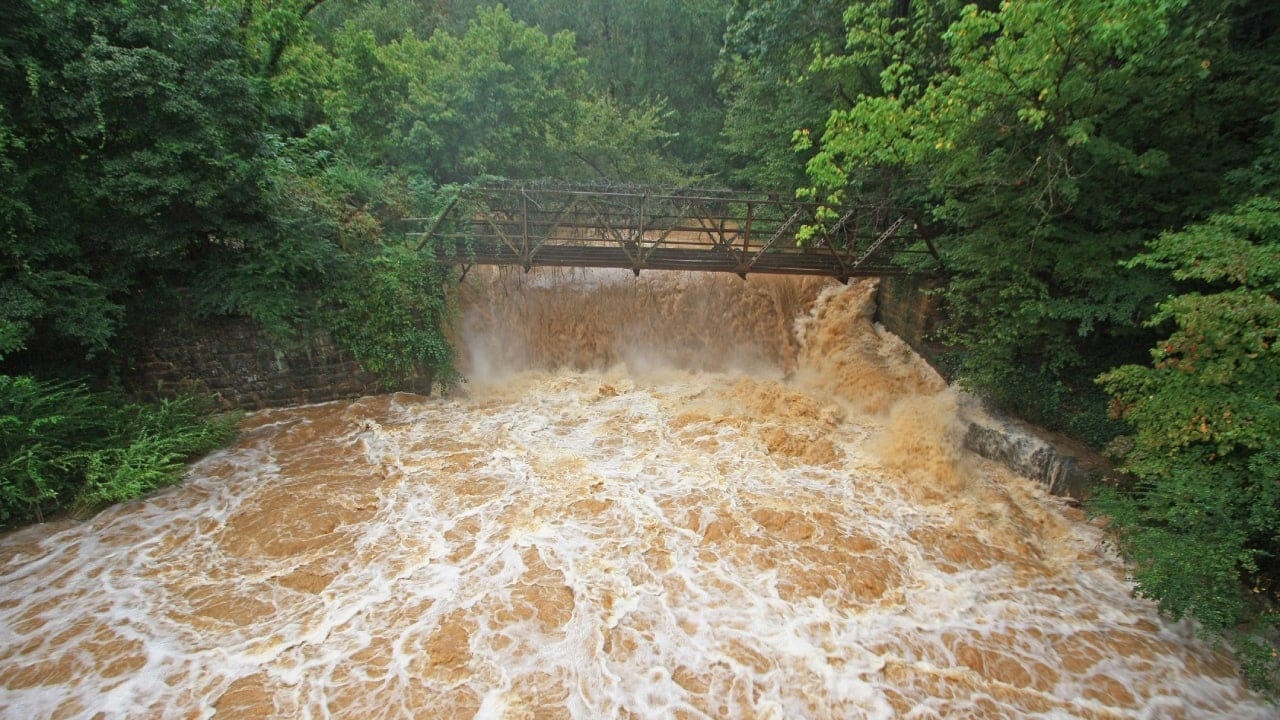 On September 13, the City of Peachtree Corners received a letter from the Federal Emergency Management Agency (FEMA) that they have received an increase to Class 7 rating in the National Flood Insurance Program (NFIP) Community Rating System (CRS).
The increase in rating from the City's prior rating of Class 8, will mean that residents will see a 15% discount on their flood insurance premiums. This 15% discount will be 5% more than the prior discount they received for the Class 8 rating.
A portion of the letter reads as follows:
"Congratulations! The Department of Homeland Security, Federal Emergency Management Agency (FEMA), has determined that the City of Peachtree Corners will increase to a Class 7 in the NFIP CRS. The floodplain management activities implemented by your community qualify it for a 15 percent discount on flood insurance premiums for most NFIP policies issued or renewed on or after April 1, 2023. This savings is a tangible result of the flood mitigation activities your community implements to protect lives and reduce property damage."
In CRS communities, flood insurance premium rates are discounted to reflect the reduced flood risk resulting from the community's efforts that address the three goals of the program:
Reduce and avoid flood damage to insurable property
Strengthen and support the insurance aspects of the National Flood Insurance Program
Foster comprehensive floodplain management
"I commend you on your community actions and your determination to lead your community to be more disaster-resistant," said Federal Insurance and Mitigation Administration CRS Coordinator William Lesser. "This commitment enhances public safety, property protection, and protects the natural functions of floodplains, and reduces flood insurance premiums."
Ratings are determined through the completion of activities that fall under the following categories:
Assessing any community flooding issues
Development/Maintenance of Mapping and flood data
Managing new development to minimize future damage
Developing a floodplain management plan for your community
Reducing flood losses to existing
Improving emergency preparedness and response
Implementing public information activities
The CRS program is a voluntary incentive program that recognizes and encourages community floodplain management practices that exceed the minimum requirements of the NFIP. Currently, over 1,500 communities participate nationwide.
Light up the Corners [Video]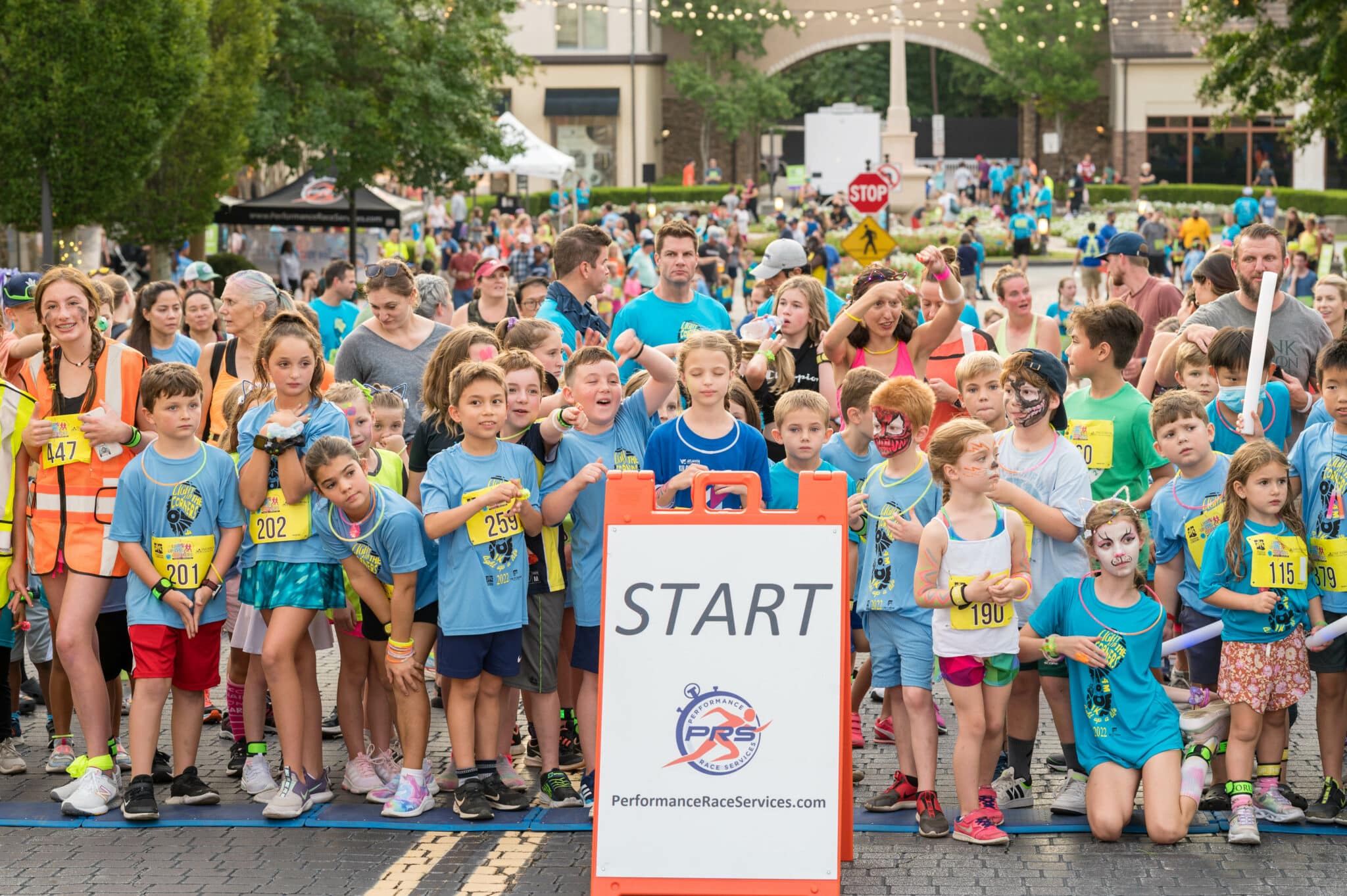 Here's a chance to experience LIGHT UP The Corners again through our short video, created for Peachtree Corners Magazine by George Hunter (Rannulf.Media). The Forum Peachtree Corners was a great supporter of the event that raised funds for Robert D. Fowler Family YMCA located in the City of Peachtree Corners, Georgia
Interested in Gwinnett History?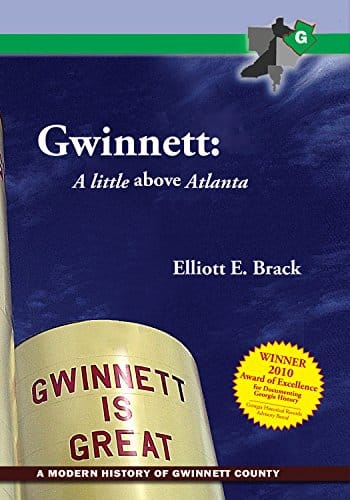 Gwinnett: A Little Above Atlanta is available as an ebook on Amazon and Barnes and Noble
Now re-printed in its third edition, Gwinnett: A Little Above Atlanta, the award-winning history of Gwinnett County, is once again available for purchase. It had sold out of its first two printings. The book won the 2010 Award of Excellence in Documenting Georgia History from the Georgia Historical Records Advisory Board. The book is available at Liberty Books, on the Historic Courthouse Square, in Lawrenceville. The hardback is also available at Old Town Antiques in Lilburn.
This modern Gwinnett history book was first published in 2008, with a second edition printed in 2011. The book concentrates on the growth of Gwinnett County since 1950, though a short section of the book highlights the county's earlier history. Included in the book are 143 tables with lists of officials holding offices in Gwinnett and its cities, plus extensive demographic information about the county. Two previous histories of Gwinnett by J.C. Flanagan took the history of Gwinnett up until 1950.
The history of Gwinnett is also available as an e-book from Amazon or Barnes and Noble for $9.95.