Ukraine, Peachtree Corners Connected by Family, Ministry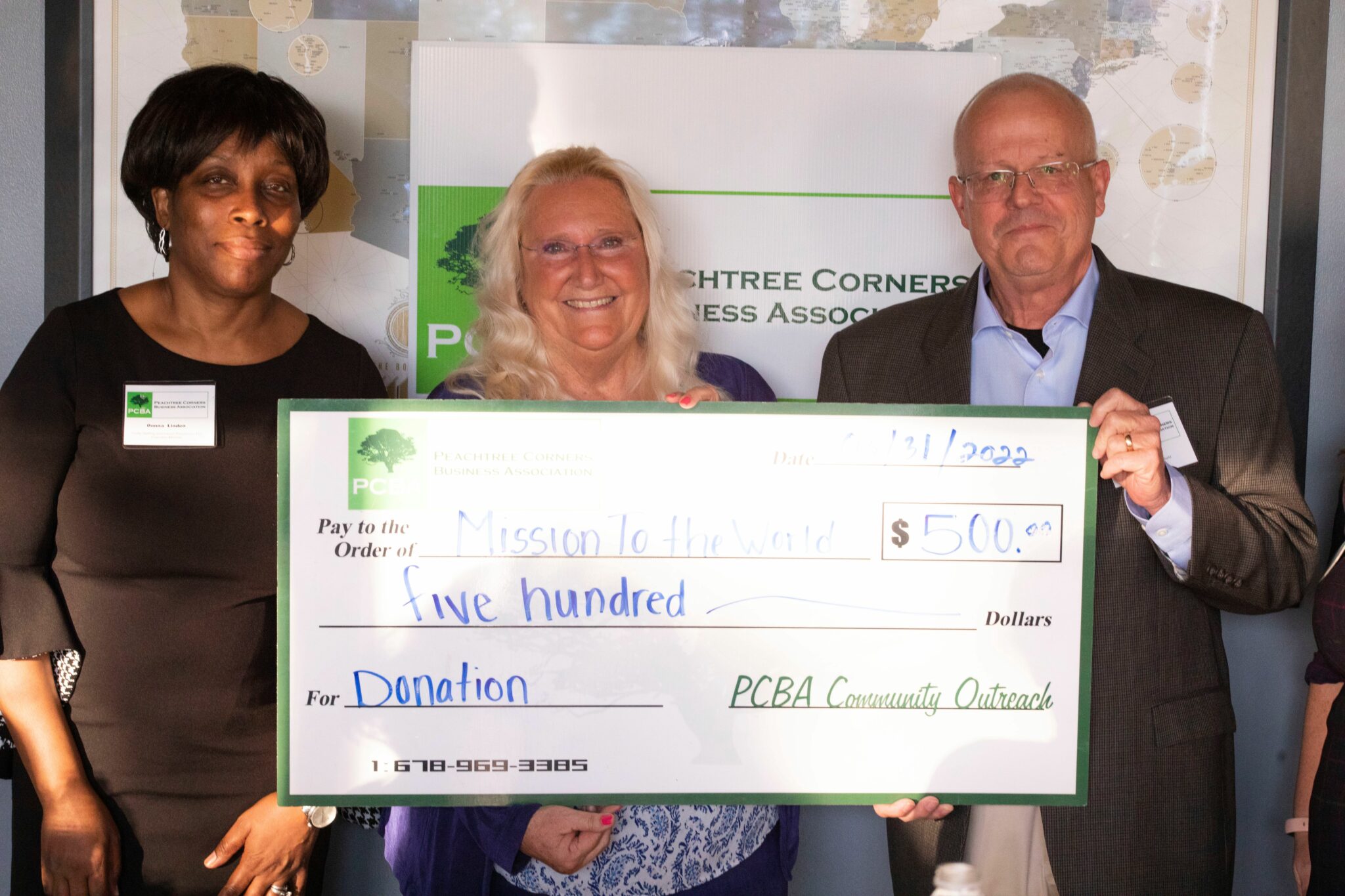 Resident recounts anguish of family fleeing war-torn country; non-profit shares details of mission work.
With the continued war in Ukraine, people all over the world are concerned about the fate of civilians who are finding themselves as collateral damage in Russia's push to control the country. Many, however, have family and other loved ones still in Ukraine or struggling to find refuge in other countries.
One Peachtree Corners resident, Alan Kaplan, has been active on social media and other platforms educating his neighbors about the challenges. Most recently, he spoke to members and guests of the Peachtree Corners Business Association (PCBA) at its Business After Hours Speakers Series.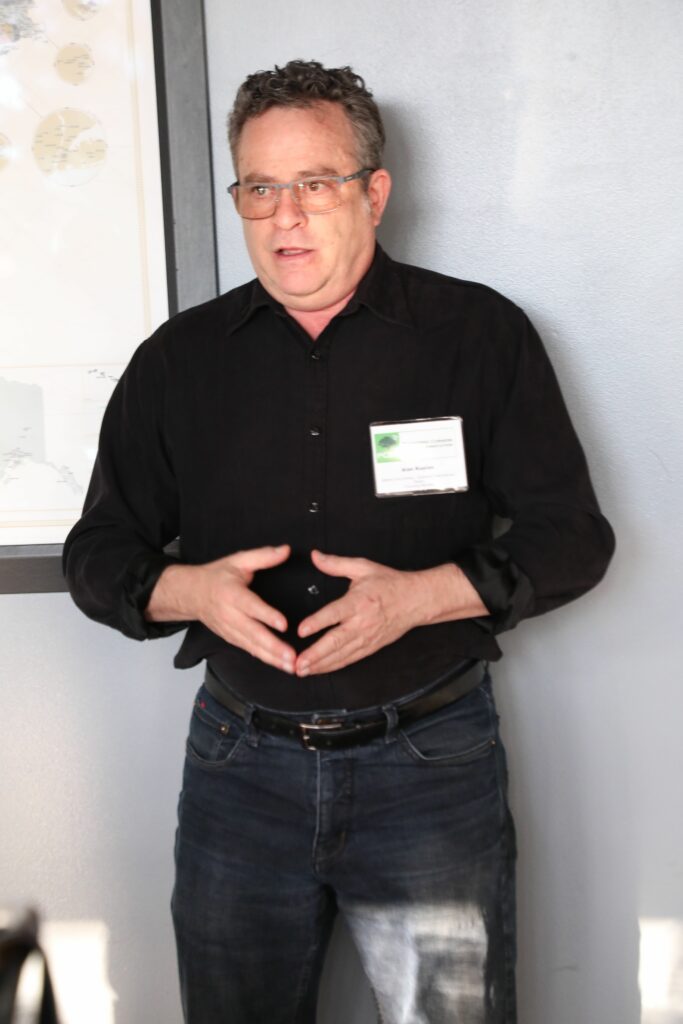 Kaplan's in-laws are Ukrainian citizens. When the first attack occurred, the family had been prepared to leave their home in Kyiv, but so were thousands of others.
"I remember my wife Zhenia telling my sister-in-law to go and pack," Kaplan told the crowd of nearly 50 attendees. "They thought it was an overreaction but about March 3, my sister-in-law (Irina) and my handicapped 14-year-old niece (Veronika) went to board a train for a 14-hour train ride to a western city in Ukraine."
The crush of people was so great, his brother-in-law (Valentine) lifted the girl above the throng and waded through to get his wife and daughter on the train.
Kaplan's mother-in-law (Lubov), who wasn't ready to abandon her home, was convinced three days later to get on a bus out of the country. Fortunately for her, she missed the initial bus because what normally took 30 minutes from her house to get to this location was kind of tricky. It took three hours due to all the road checks and the traffic.
"The initial bus just dropped people at the border and you'd end up on another type of bus where they were distributed, typically to Romania or to different places," said Kaplan.
"But the bus she ended up on was sponsored by a synagogue. And it went from one synagogue in Kyiv all the way to the capital of Moldova. So rather than being in a large evacuation refugee center, she ended up sharing a room with three other people in one of the classrooms in the synagogue."
Although his mother-in-law was safe, the family didn't have consistent communication with her, so they had no idea where she was. She was at the synagogue for 10 days.
"We knew that she was getting on a bus. We didn't know where she would end up. We didn't know where she was going," Kaplan said. "Thankfully, we were able to keep in touch periodically by cell phone."
Mass evacuations
Kaplan explained that at the time, the U.S. had no established refugee status for Ukrainians. Of course, his 82-year-old mother-in-law was welcomed to live with his family, but it wasn't that simple.
"The United States still doesn't have a good process in place to bring refugees here, particularly refugees with family members here," he said. "We can sponsor them, bring them here and take care of them, but that really wasn't in place, much less any social programs."
Once in Moldova, Lubov was in contact with an Israeli consulate. "We were able to get her visa and the opportunity to go to Israel," said Kaplan.
After 30 days in Israel, Lubov was eligible to receive a place to stay social service benefits to help support her in her new life. "She'll have some means to be able to take care of herself. And she'll have other programs available to her," Kaplan explained.
Once she's established in Israel, she can visit family in the United States for many months at a time and the Kaplans can go there to see her.
"So thankfully she's now stable and in a great place," said Kaplan.
Irina and Veronika, Kaplan's sister-in-law and niece, are still in western Ukraine.
"We've been talking with them about making a change because I don't think any of us fully understand the future of Ukraine," he said. "What's been holding her up is that her husband, my brother-in-law, can't leave for a couple of reasons."
Besides the manifests—most Ukrainian men ages 18 to 60 have been banned from leaving the country in anticipation that they may be called to fight—he has an elderly mother who is in extremely ill health and is in no condition to make the journey.
Kaplan teared up a little as he continued. "As difficult as this story is for my family personally, it's one of the best stories there. Look at the people that are in the towns that can't get out. They don't have water. They don't have electricity. That's a true tragedy. We're lucky."
He added, "We're grateful for everybody coming together in this situation. … I appreciate everybody's care and focus on what's going on."
Besides Kaplan's account of his family's peril, PCBA invited Cartee Bales, Senior Director of Field Operations for Gwinnett County-based Mission To the World (MTW), to share his recent experiences after returning in late March from the Ukrainian region where he was providing compassionate relief for those impacted there.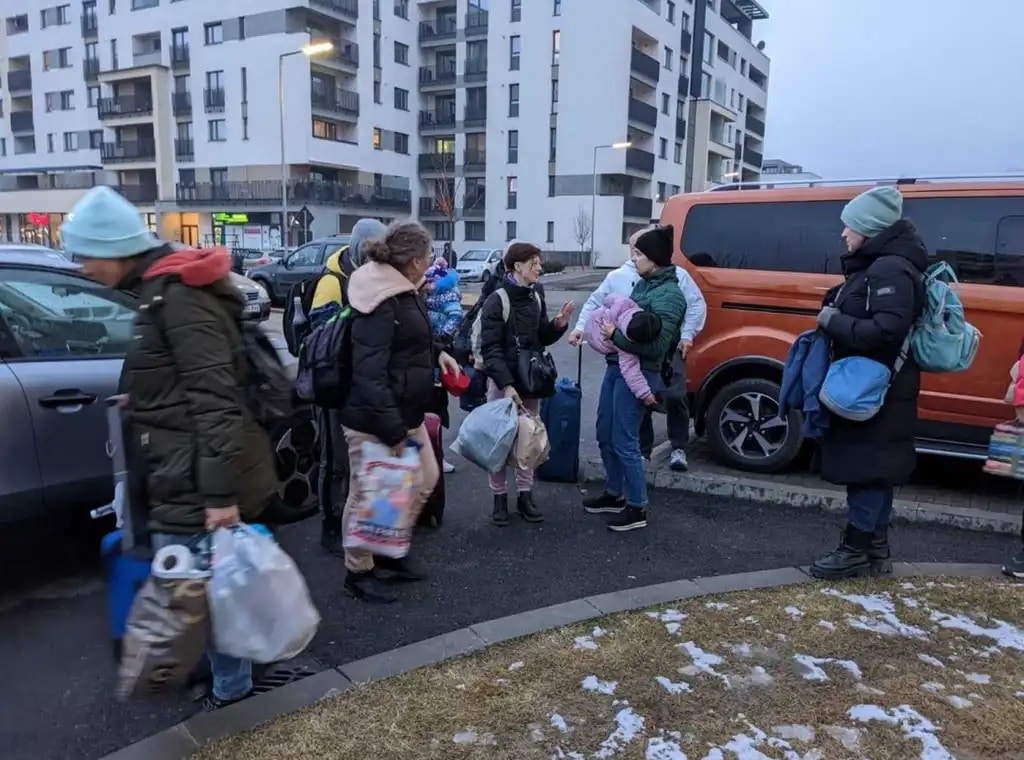 Mission of compassion, caring
Bales said he was all too familiar with the tragedies suffered in Ukraine right now. He had returned to the U.S. less than a week before attending the PCBA event on Thursday, March 31.
"There is incredible suffering that's taking place (in Ukraine) right now," he said. "But it's a beautiful heartbreak because so many people are engaging to help rescue people and to help them begin to rebuild their lives."
As an arm of the Presbyterian Church in America, Mission To The World has 600-plus people working at countries throughout the world.
"We're doing everything from training pastors and starting seminaries and planting churches to running large AIDS/HIV clinics, running anti-sex trafficking programs… and a number of other things that address suffering in the world," said Bales.
Ukraine is now one of those places, as people stream out from ground and missile attacks. Even though, unlike Kaplan, his family isn't personally affected, it still takes a toll on the human spirit.
Bales said it's heartbreaking to see "the flow of people with their one (suitcase)—and that's if they're allowed to take their possessions," he said.
He saw them not only in Ukraine but also wandering the streets of places like Bucharest, Krakow and Warsaw, having escaped the war, but not knowing the next chapter of their fate.
"We've had teams working in the region in Ukraine and Russia for decades. And when Russia invaded Ukraine, which was unexpected until it finally happened, we began forming caravans of people in their cars—and in any kind of vehicle—to go together," he said.
Because of rationing, each motorist was allowed only three liters of petrol a day—that's less than a gallon. And the journey out of the country or to a safer part of the country was often hours away.
"By the time we get to a border crossing, it's nine to 12 hours in line just to get across," Bales added.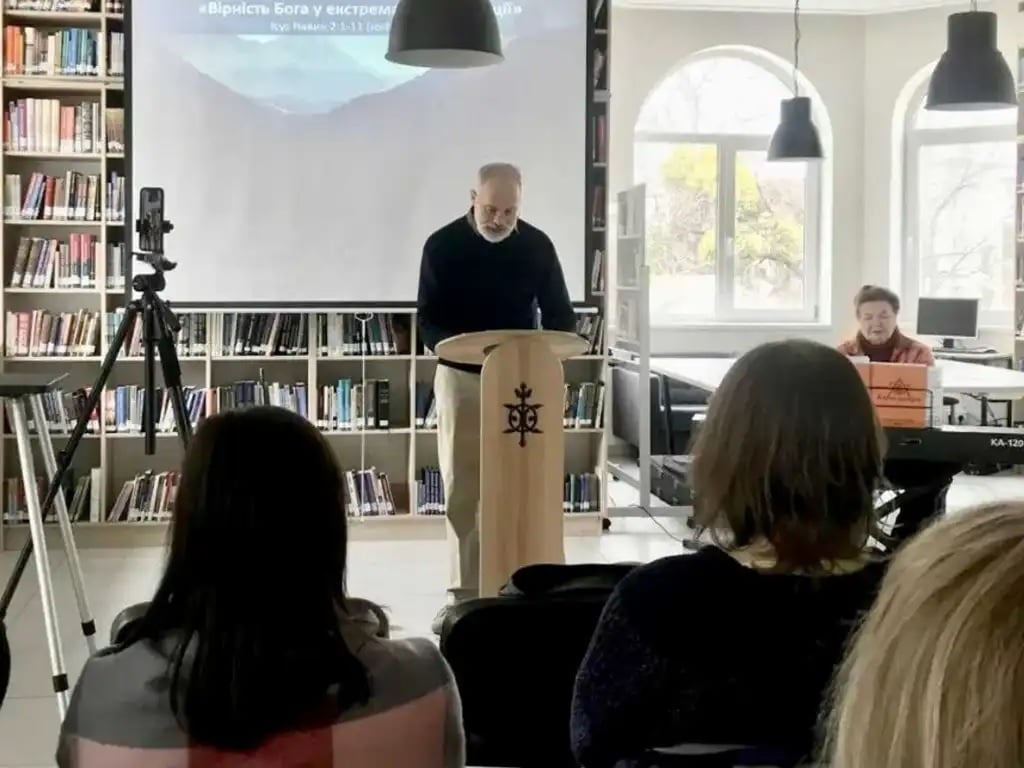 Homeless refugees
Bales' team made it into Lviv and rented every space they could find in every house and every hotel. They discovered that many who fled left keys to their home with a note saying anyone was welcome to use it.
"We've been fortunate to take advantage of that," said Bales. "And those were just temporary stops. Because people then need to get out of the way. So our teams in Krakow have been getting supplies that are needed in Ukraine."
And the vans aren't just delivering supplies; they are also evacuating people who want to leave.
"It's beautiful to see how the world is coming together, standing there on the border and seeing Israel and Ireland and India and USA and all these countries with hot food and clothes, a safe shelter for women and children, and toys for kids just to help them begin rebuilding what's been lost," said Bales.
To help keep the mission going, PCBA donated $500 to MTW and included a one-year membership to the association.
"When we have these opportunities for things that go beyond our business networking, it reinforces these relationships that were built out of business. Our professional relationships are as much about the people as they are about the businesses, and I've never seen a business succeed without community," said PCBA President Lisa Proctor.
That's why she was excited to bring Kaplan and Bales to the mixer. She wanted to emphasize that the community is just around the corner as well as half a world away.
Information about PCBA: peachtreecornersba.com
Information about Mission To The World's involvement in Ukraine: mtw.org/ukraine-crisis.
Peachtree Corners Receives Residents to see 15% Savings on Flood Insurance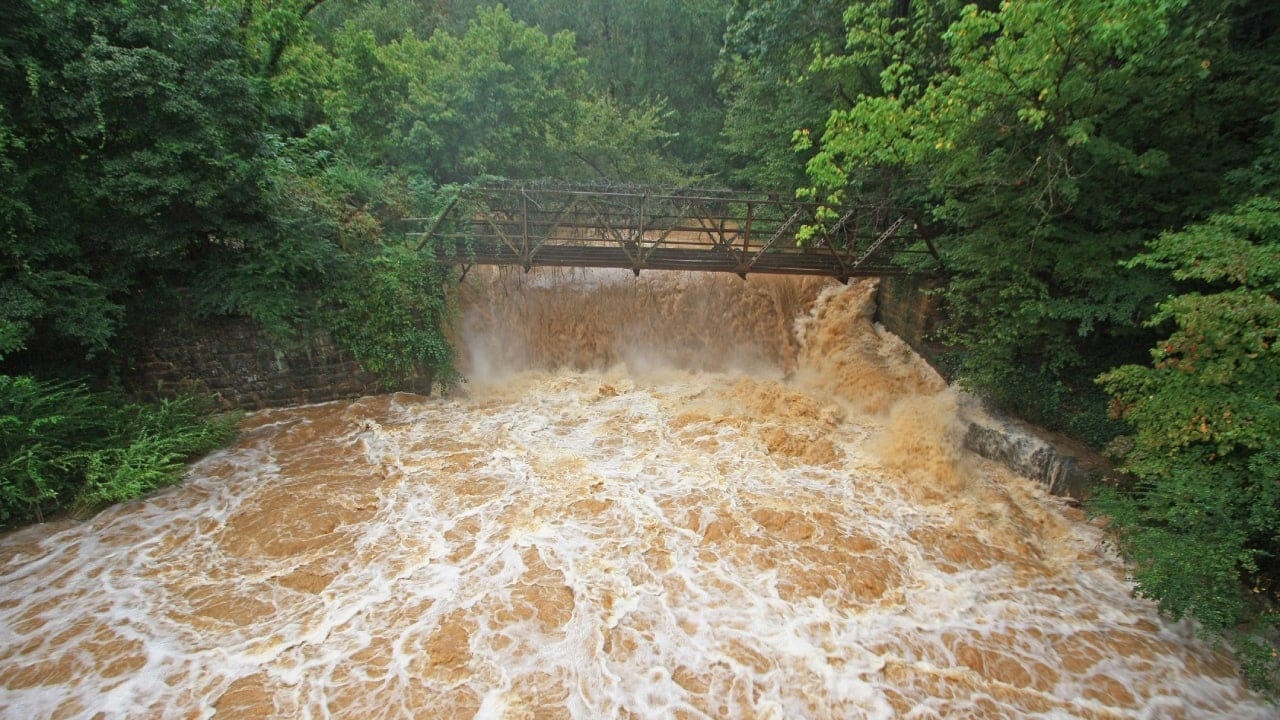 On September 13, the City of Peachtree Corners received a letter from the Federal Emergency Management Agency (FEMA) that they have received an increase to Class 7 rating in the National Flood Insurance Program (NFIP) Community Rating System (CRS).
The increase in rating from the City's prior rating of Class 8, will mean that residents will see a 15% discount on their flood insurance premiums. This 15% discount will be 5% more than the prior discount they received for the Class 8 rating.
A portion of the letter reads as follows:
"Congratulations! The Department of Homeland Security, Federal Emergency Management Agency (FEMA), has determined that the City of Peachtree Corners will increase to a Class 7 in the NFIP CRS. The floodplain management activities implemented by your community qualify it for a 15 percent discount on flood insurance premiums for most NFIP policies issued or renewed on or after April 1, 2023. This savings is a tangible result of the flood mitigation activities your community implements to protect lives and reduce property damage."
In CRS communities, flood insurance premium rates are discounted to reflect the reduced flood risk resulting from the community's efforts that address the three goals of the program:
Reduce and avoid flood damage to insurable property
Strengthen and support the insurance aspects of the National Flood Insurance Program
Foster comprehensive floodplain management
"I commend you on your community actions and your determination to lead your community to be more disaster-resistant," said Federal Insurance and Mitigation Administration CRS Coordinator William Lesser. "This commitment enhances public safety, property protection, and protects the natural functions of floodplains, and reduces flood insurance premiums."
Ratings are determined through the completion of activities that fall under the following categories:
Assessing any community flooding issues
Development/Maintenance of Mapping and flood data
Managing new development to minimize future damage
Developing a floodplain management plan for your community
Reducing flood losses to existing
Improving emergency preparedness and response
Implementing public information activities
The CRS program is a voluntary incentive program that recognizes and encourages community floodplain management practices that exceed the minimum requirements of the NFIP. Currently, over 1,500 communities participate nationwide.
Light up the Corners [Video]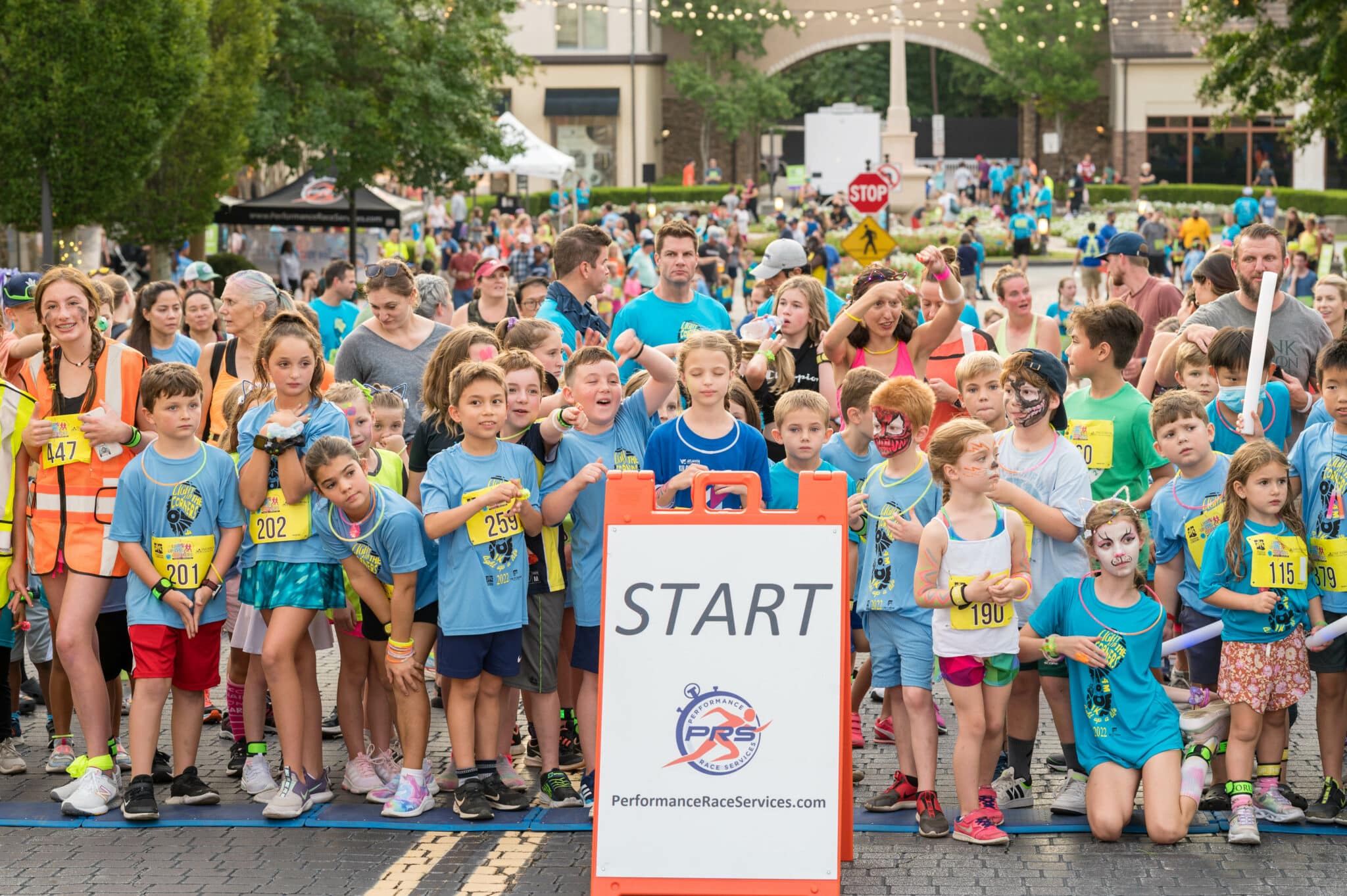 Here's a chance to experience LIGHT UP The Corners again through our short video, created for Peachtree Corners Magazine by George Hunter (Rannulf.Media). The Forum Peachtree Corners was a great supporter of the event that raised funds for Robert D. Fowler Family YMCA located in the City of Peachtree Corners, Georgia
Interested in Gwinnett History?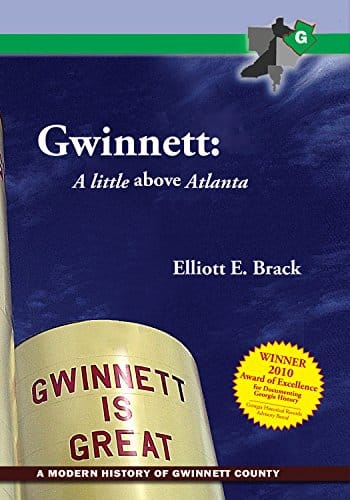 Gwinnett: A Little Above Atlanta is available as an ebook on Amazon and Barnes and Noble
Now re-printed in its third edition, Gwinnett: A Little Above Atlanta, the award-winning history of Gwinnett County, is once again available for purchase. It had sold out of its first two printings. The book won the 2010 Award of Excellence in Documenting Georgia History from the Georgia Historical Records Advisory Board. The book is available at Liberty Books, on the Historic Courthouse Square, in Lawrenceville. The hardback is also available at Old Town Antiques in Lilburn.
This modern Gwinnett history book was first published in 2008, with a second edition printed in 2011. The book concentrates on the growth of Gwinnett County since 1950, though a short section of the book highlights the county's earlier history. Included in the book are 143 tables with lists of officials holding offices in Gwinnett and its cities, plus extensive demographic information about the county. Two previous histories of Gwinnett by J.C. Flanagan took the history of Gwinnett up until 1950.
The history of Gwinnett is also available as an e-book from Amazon or Barnes and Noble for $9.95.