Peachtree Corners Explores New Kind of Law Enforcement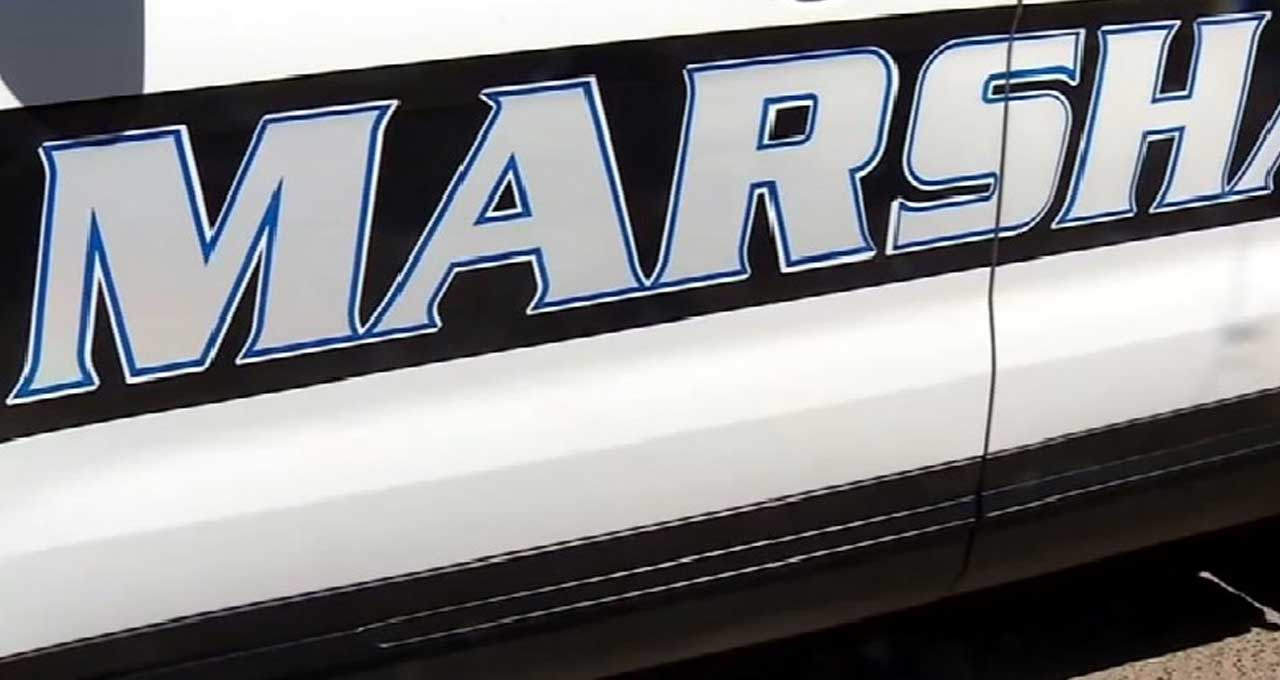 City Marshals may become a new hybrid between code enforcement and police officer.
The City of Peachtree Corners is growing its reputation as an incubator for smart technology. It is poised on the cutting edge of putting that genius to practical applications such as driverless shuttles and electric vehicle charging systems that may one day make it possible to drive from coast to coast without stopping to charge. However, the city is still in the shadow of recent violent crimes.
Several incidents this year have worried residents, government officials and city stakeholders that the quaint metro Atlanta bedroom community is becoming a target for murders and robberies. A man was shot and killed in the middle of a botched carjacking in July. In November, a Norcross High student was shot and killed in broad daylight near the school.
City leaders are testing and deploying smart technology, such as license plate readers and an extended video system using government, commercial business and home security cameras. Still, residents aren't sure that's enough.
The system has been scaled across the city and, to date, has helped recover more than $3 million in stolen property, and it has helped detectives solve multiple cases.
But some residents are asking to supplement the new-fangled stuff with some old-fashioned solutions such as employing a city police force. While that idea hasn't been quashed entirely, the prohibitive costs make it somewhat unattractive in a city that assesses no personal property tax.
City considering marshals
Peachtree Corners isn't looking at a crime wave of the magnitude the city of Atlanta faces every day. However, the most recent incidents, along with a rise in property crimes, is concerning. To address those concerns, the city is look at a compromise of sorts.
City Manager Brian Johnson recently spoke to Peachtree Corners Magazine during the Peachtree Corners Life podcast. He said the city is considering activating a city marshal system. Instead of a full-on police force, this could be a little different and still have the authority of the police.
"We have had some unfortunate incidents of late with deaths. There's been some other crime and it's not uncommon as we densify. As Metro Atlanta grows, Peachtree Corners is growing. And the more people you have in an area, there's just more opportunities for bad actors," said Johnson.
"So, there's this unfortunate rise in these kinds of things. And, you know, property crime is still our main criminal activity type here, but we are just becoming more and more of a target for bad actors," he said.
Johnson pointed out intersection takeovers. One of the most egregious happened around Easter Sunday.
"You've got these car clubs that are seizing control of an intersection and doing all sorts of dangerous things with automobiles," Johnson said. "Even the failed carjacking that resulted in that death was a group of teens who specifically were targeting communities that had more affluence and better automobiles that they could do that slider crime where, you know, somebody's pumping gas, or in this case, filling air in their tires not near the driver's side, and they slide into the seat."
He added that oftentimes, in those instances, the cars are still running, or the keys are left in the ignition.
Even with the increased crime-fighting efforts, there is the perception that crime has catapulted in a short span of time. But Johnson pointed out that the technology is working — especially the camera system.
"In the case of these two murders, our LPR [license plate recognition] cameras, the Fūsus network, …ended up being the method in which the police were able to identify the gunman — and find the gunman. So, they work," said Johnson. "Unfortunately, they were used after a crime was committed. We'd like to do things to prevent it, but those are examples of what we've done so far."
Gaps and potential solutions
The Peachtree City Council tasked Johnson with seeking out expert opinions of what other solutions may deter crime. Although Gwinnett County Police Department's (GCPD) West Precinct is doing a good job with the resources it has, it is handcuffed with staffing shortages and the policy constraints that countywide police departments have.
"There are sometimes gaps in the ability to direct resources based on Peachtree Corners' specific needs," said Johnson.
The two considered options were to start up a Peachtree Corners Police Department, which would be redundant at times, based on the current service that Gwinnett PD provides when it does have the resources, or look for a different kind of law enforcement office.
"This gap is kind of between code enforcement officers, which are specifically oriented to enforcing local code and local code only, and law enforcement that's enforcing state law," Johnson explained. "There is a gap. The gap can be filled if we started up what we're calling a City Marshal office, very similar to what Sugar Hill has."
He noted that the positions would be filled by Peace Officer Standards and Training (POST) certified officers.
"The intent here is to have some people who are able to fill this gap by the authority vested in their position. And be able to have them controlled by the city so that they can be directed in areas that might be really important to Peachtree Corners," Johnson said.
A good example of how this would work is the Norcross High incident. The victim had been off campus during school hours.
"There is a truancy problem of students cutting class and cutting through the woods into the back of businesses that border Norcross High School," he said. "Those businesses are being adversely affected. The shooting was an unfortunate result of it. But the truancy continues on with students trespassing and doing things like destroying property, dealing drugs, doing drugs."
An internal city marshal would be a deterrent to crime and a service to the businesses, he added.
"I can tell the city marshal, 'I want you to go out to the school and I want you to do a presence patrol during the hours where there are gaps in these kids' schedules …I want you to be driving around the back of those businesses,'" said Johnson. "This will allow us to detain somebody until a Gwinnett Police Officer gets there to arrest them."
At this point, it looks like there would be three city marshals, Johnson said. The marshals wouldn't be needed 24/7, as Gwinnett Police would continue to provide the majority of police protection.
Need and benefits of city marshals
In his last newsletter for the year, City Councilman Alex Wright further clarified the need for city marshals and how the officers would fit into Peachtree Corners' public safety plans.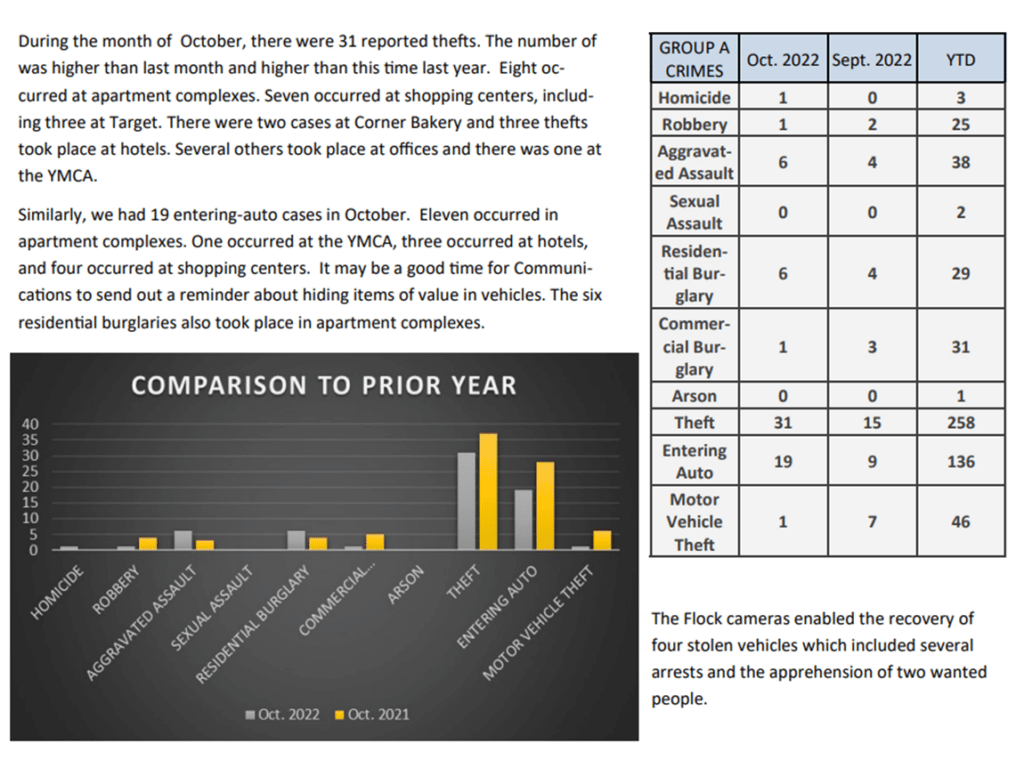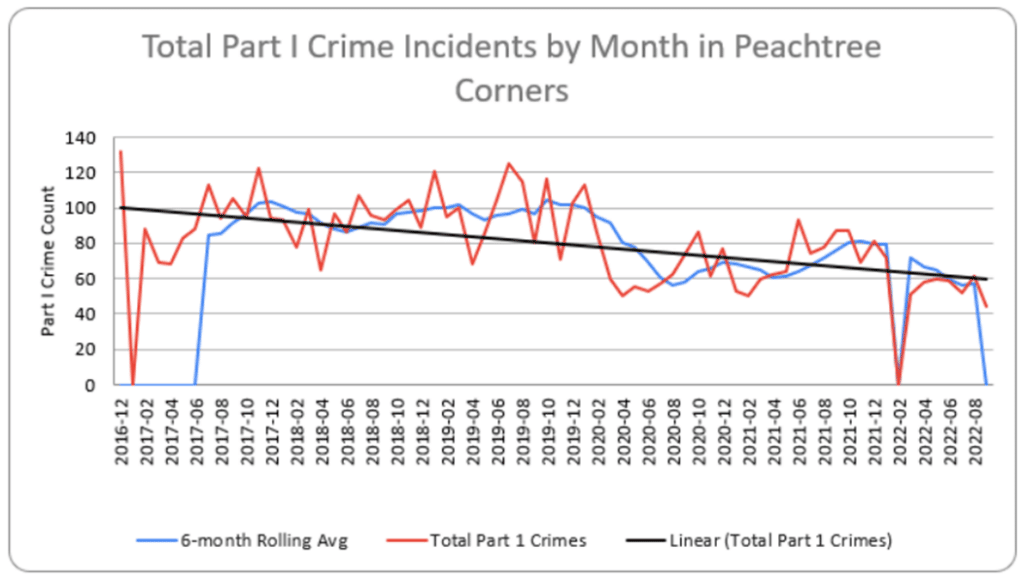 Wright was quick to point out that despite perception, crime has decreased in Peachtree Corners. Robbery, commercial burglary, theft, entering autos and motor vehicle theft are all down this year from the same period last year.
And the cameras are working. According to the city's crime report, they aided in recovering four stolen vehicles and apprehending two wanted people.
The concept isn't new. Other Gwinnett County cities — Sugar Hill, Buford and Berkeley Lake — utilize city marshals.
Wright gave examples of situations that have created the need for the city marshal program.
The legal department at Gwinnett County has instructed the GCPD not to enforce city specific ordinances. An example of how this is a problem was when a large, loud party held in a residential neighborhood.
A resident called the police. The police showed up, but since the ordinance they were violating was a city-specific noise ordinance, the police had been instructed not to intervene. So, the party proceeded.
In this instance, a city marshal would be empowered to enforce the ordinance and, if necessary, issue orders to cease and even make arrests, with the same powers as a police officer. A code officer cannot do that.
Unruly behavior at the Town Center is another example. The off-duty police officer is not actively patrolling. He is sitting in his car — and the city has no authority to direct him.
A city marshal would be able to enforce city ordinances and keep the peace.
Peachtree Corners Launches Second Phase of Connect Peachtree Corners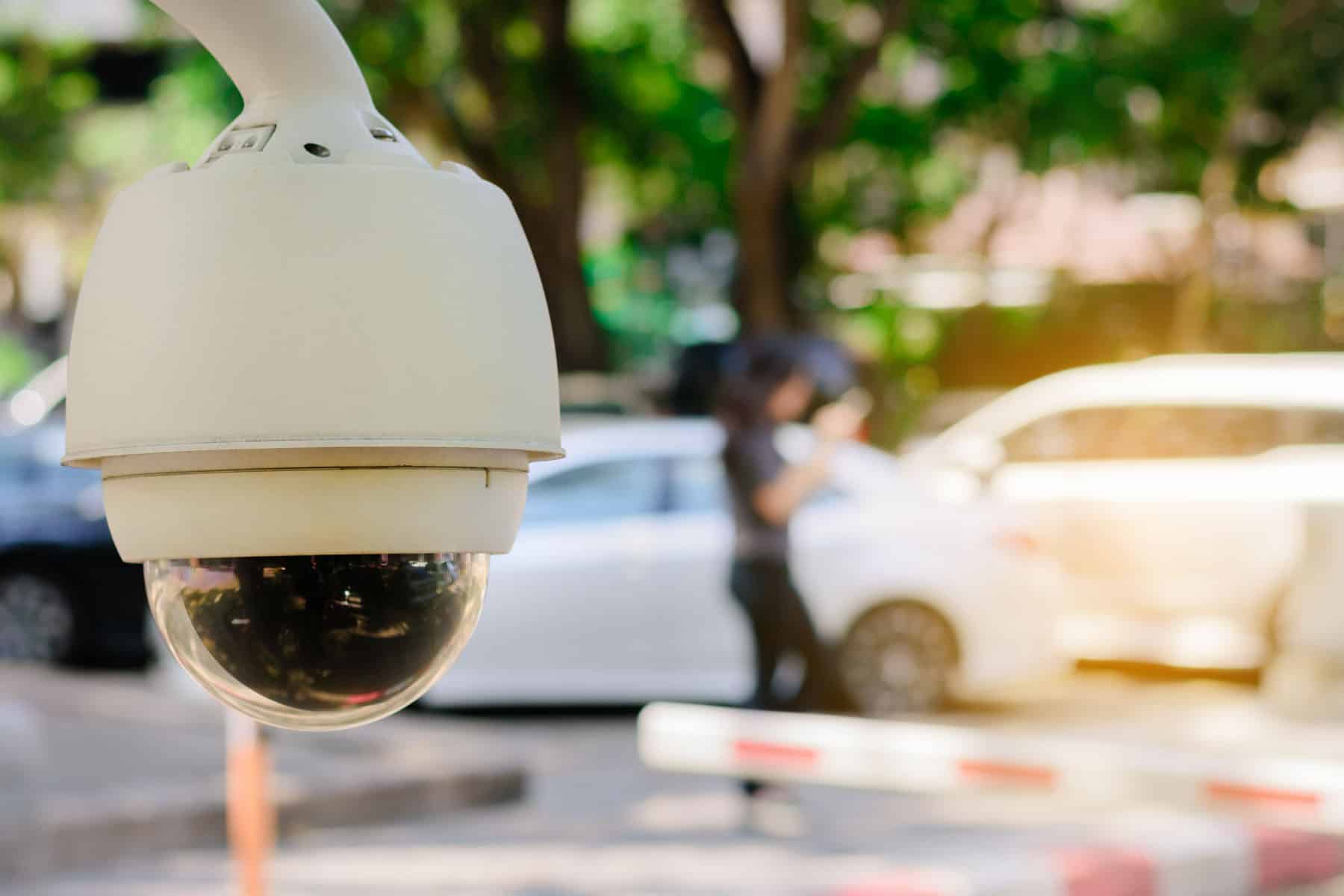 In January 2023, the City of Peachtree Corners announced its partnership with Fusus through their Connect Peachtree Corners residential Camera Registry program.
In March, the City announced that it is expanding the partnership through the offerings of the FususCORE Camera Integration Program.
"As a city government, we take the issue of public safety very seriously. There are not many things more important," said City Manager Brian Johnson. "This partnership and programs will allow us to support law enforcement with a new technology tool and will lead to increased public safety throughout the City."
Fusus provides enhanced public safety services to local businesses and residents. A nationally recognized public safety technology provider, Fusus has operated out of its headquarters in Peachtree Corners since 2019.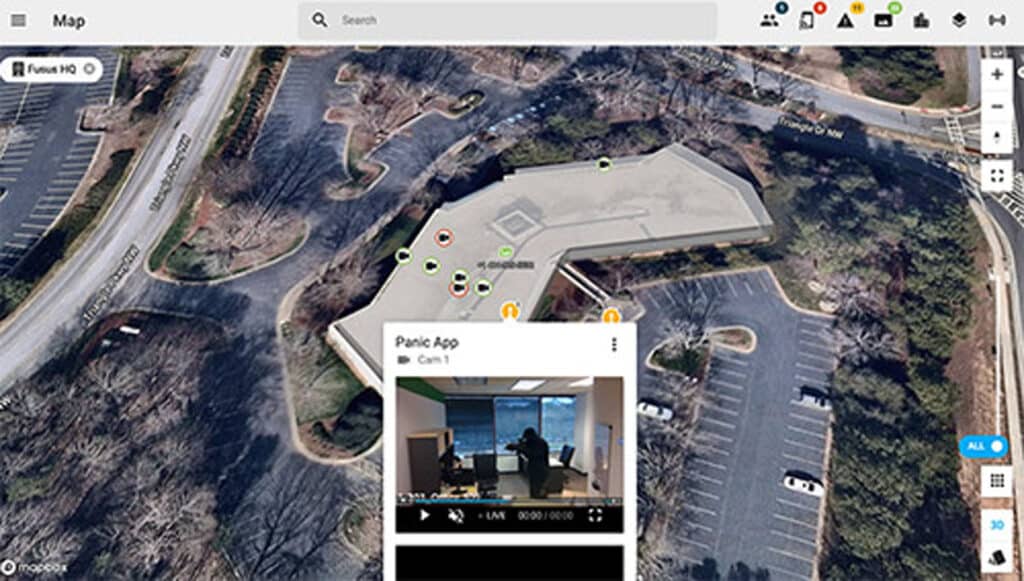 Why and where to register
For businesses, Fusus enables greater workplace safety for staff and customers. The platform improves law enforcement's ability to investigate a crime when it does happen, as well as rapidly respond in case of emergencies.
Security cameras are a crime deterrent. Sharing camera feeds with law enforcement creates a force multiplier. Knowing where a business' cameras are located via FususREGISTRY, or having the ability to access their cameras on alert via FususCORE, reduces investigative time and increases public safety.
In an active shooter situation, seconds count. Fusus virtual and physical panic buttons allow a business' staff to quickly trigger an alert to law enforcement. Camera integration enables responding officers and 911 centers to look inside buildings and gain a rapid awareness of the situation.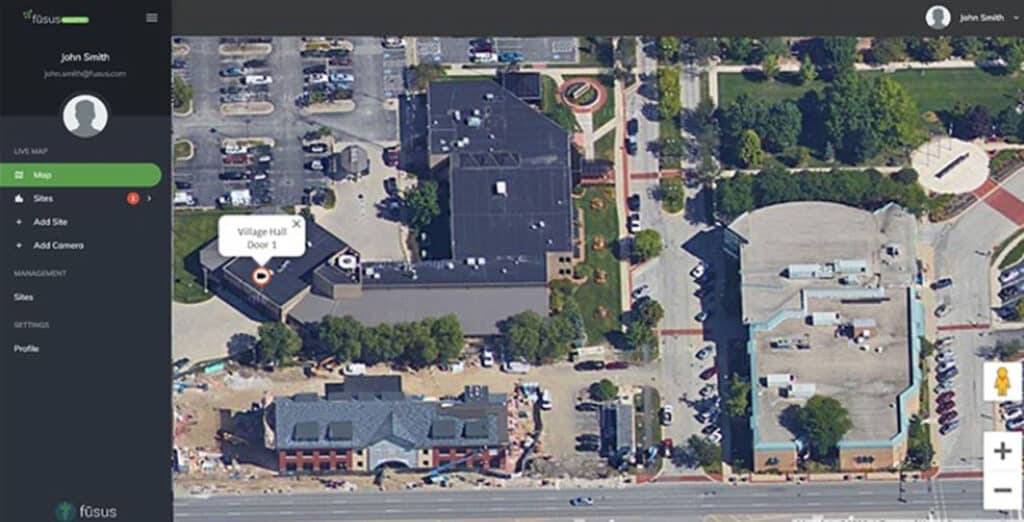 Fusus is inexpensive and easy to set up. Their FususCORE device simply plugs into a business' network; within seconds it discovers and connects to all the cameras. The software easily networks multiple buildings.
Businesses that integrate with a FususCORE set their own preferences and remain in control of their camera systems. Businesses can choose to share camera feeds on a real time or case-by-case basis.
The system keeps cameras private yet allows businesses to share them directly with law enforcement, at their discretion, when an emergency arises. At no time will any third-party, outside of Fusus and local law enforcement, have access to any camera feeds integrated into the system. For more information, visit connectpeachtreecorners.org/camera-integration.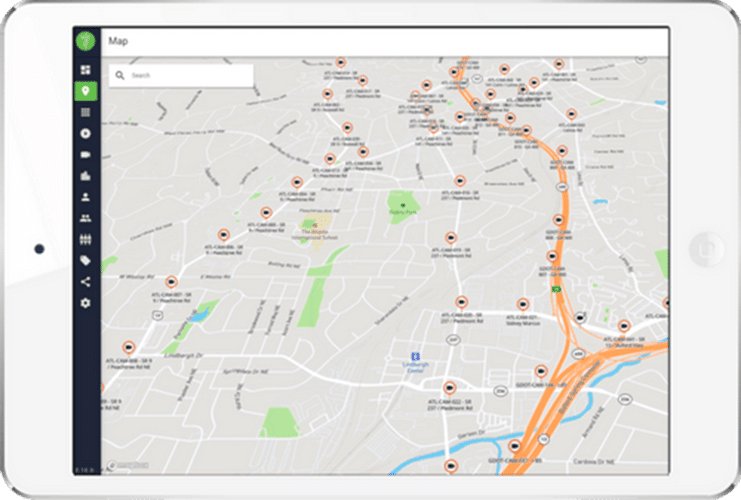 Peachtree Corners City Council Recognizes GCPD Officers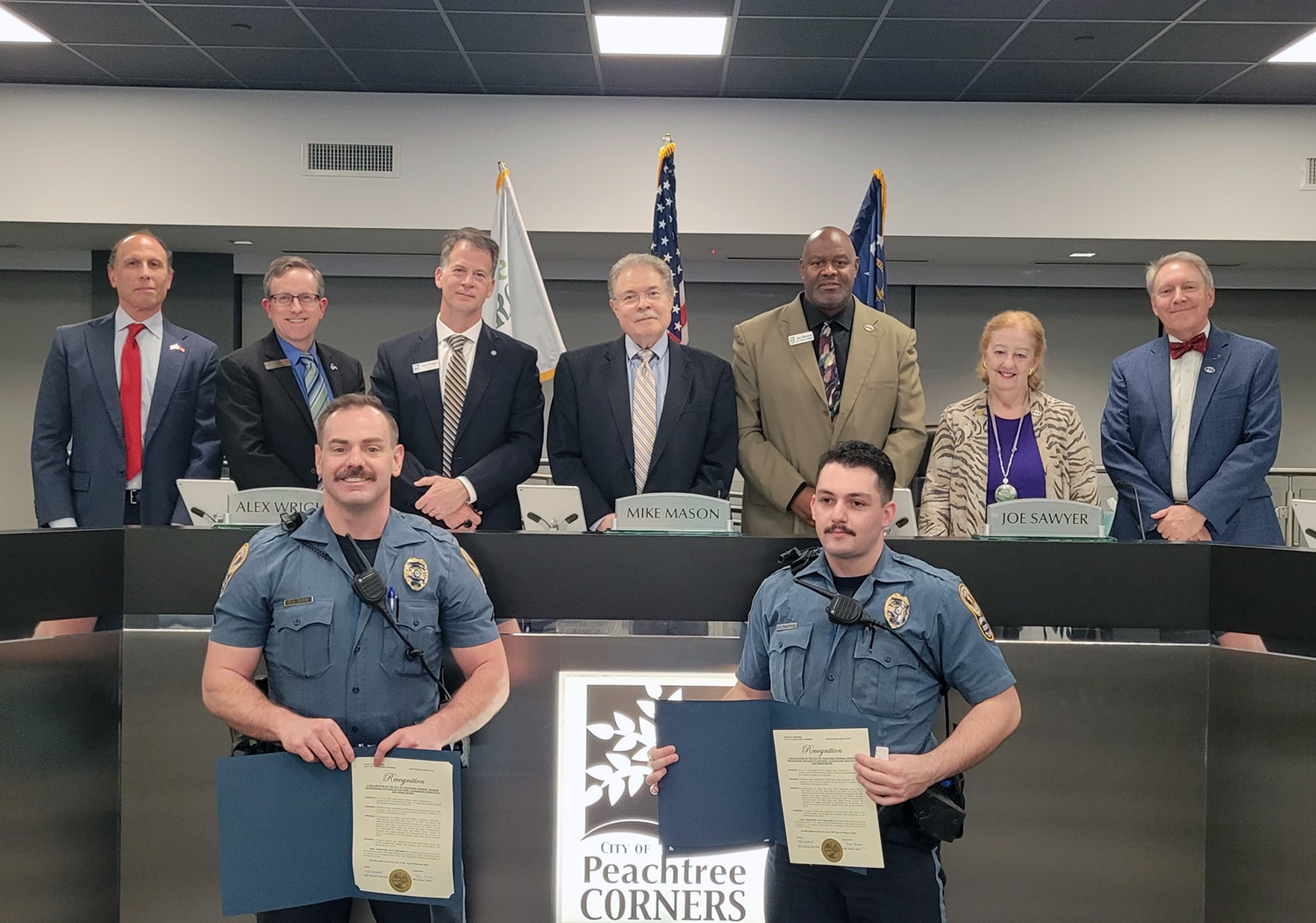 During the Council Meeting on February 28, the City of Peachtree Corners recognized three Gwinnett County Police Department Officers — Officers Dillon Burk, Aleksandar Panayotov and Amber Brown — for their actions last November.
The three officers worked quickly to stop alleged suspects involved in victimizing Peachtree Corners businesses.
City Manager Brian Johnson issued the following Proclamation:
A Declaration of The City of Peachtree Corners, Georgia Recognizing Officers Dillon Burk, Aleksandar Panayotov, and Amber Brown
WHEREAS, On Nov. 8, 2022 West Precinct officers were dispatched to a burglary at the SS Food Mart and Vape. A video was obtained showing four suspects smashing the front door.
WHEREAS, Detectives were contacted by Officer Burk, who recognized one of the suspects in the video as a juvenile he had previously been arrested on a shoplifting call alongside an adult.
WHEREAS, On November 12, Officer Burk and Officer Panayotov performed a traffic stop on a car with plates that did not match the vehicle. The driver was the adult female previously arrested for shoplifting with the juvenile. There was a book bag in the car that the officers recalled seeing in the burglary video. The female was taken to headquarters and interviewed by Officer Burk and Officer Brown. During the interview, the suspect disclosed her involvement in the burglary, as well as the location of the stolen goods, which were at the juvenile's home.
WHEREAS, A search warrant was obtained and stolen items were found. The female suspect was charged with burglary and contributing to the delinquency of a minor.
NOW, THEREFORE, BE IT DECLARED by the Mayor and Council of the City of Peachtree Corners that these officers be recognized for their good police work, for without it, the suspects would have likely continued victimizing businesses in Peachtree Corners.
SO DECLARED on this the day of 28th day of February 2023.
Peachtree Corners Partners with Fusus to Launch Connect Peachtree Corners Camera Registration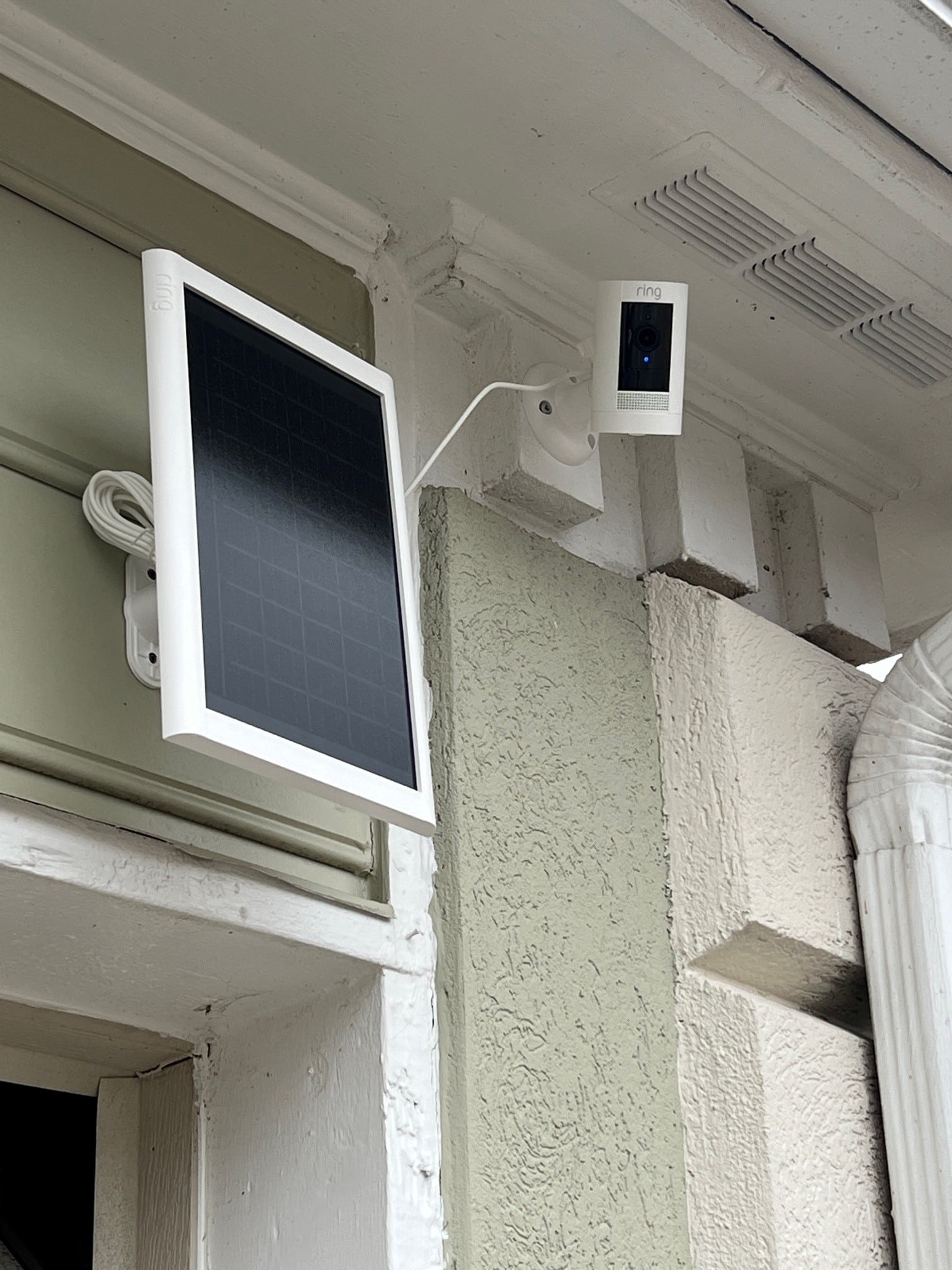 The City of Peachtree Corners has partnered with Fusus to provide enhanced public safety services to local businesses and residents. Fusus is a nationally recognized public safety technology provider that has operated out of its headquarters in Peachtree Corners since 2019.
Fusus is currently in use by cities and agencies nationwide including the Atlanta Police Department. The partnership between Fusus and the City will increase the efficiency of law enforcement and public safety responses by building a community-based public safety ecosystem.
The partnership begins with the launch of Connect Peachtree Corners, a tool that allows residents to register the location of their private home security cameras. The registration of a camera is completely optional and does not provide access to the camera to anyone.
The camera registration simply allows for the creation of a city-wide camera map for use by law enforcement. If a crime occurs in the city, law enforcement will be able to reference the map, and if they feel it is beneficial, they may contact a homeowner to request access to footage.
"We're excited to partner with the City of Peachtree Corners to create increased public safety innovation found in most major cities, right here in our backyard. And where more appropriate than our hometown, the "Silicon Orchard," to provide some of the most progressive, cutting-edge community safety tools available," said Chris Lindenau, CEO of Fusus.
Peachtree Corners residents and businesses are encouraged to visit Connect Peachtree Corners Residential Camera Registry to learn more about the program, access the frequently asked questions and register their security cameras.
"As a city government, we take the issue of public safety very seriously. There are not many things more important," said City Manager Brian Johnson. "This partnership and associated camera registry program will allow us to support law enforcement with a new technology tool and will lead to increased public safety throughout the City."
The Fusus platform and the Connect Peachtree Corners camera registry will serve as a central point for our local law enforcement and first responder agencies. It will bring all personnel and emergency operations centers under one umbrella and provide them with video and data information that will integrate directly with 911 Computer Aided Dispatch (CAD) systems.