All My Rowdy Friends Play Cornhole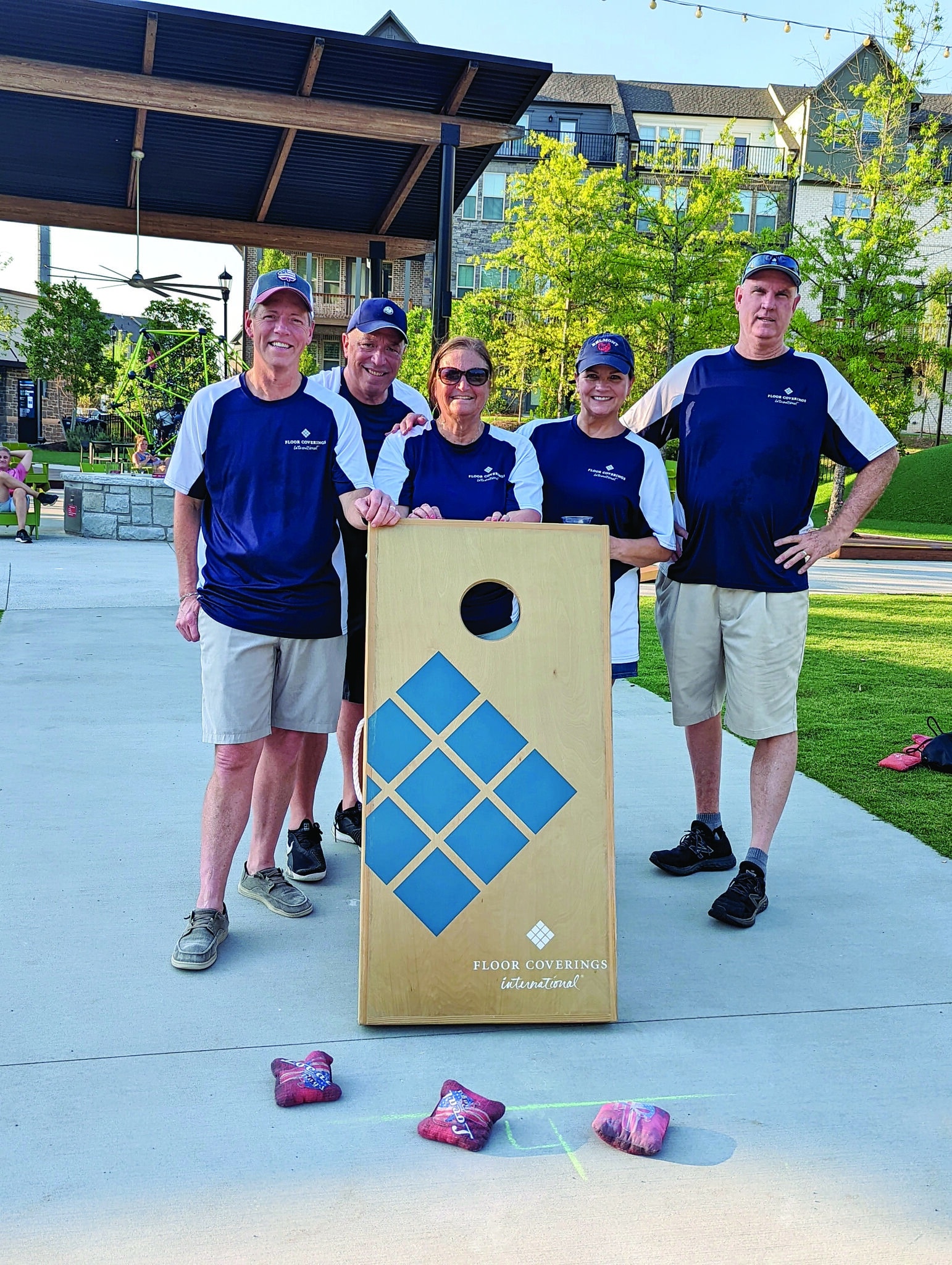 It may be debatable how much of a sport cornhole is, but you can play with a beer in one hand – how bad can that be?
Hanging out with friends and co-workers after a long day can involve more than eating and drinking. With the CornholeATL Cornhole League hosting games four times a year at Peachtree Corners Town Center, you can add tossing bean bags at a small hole to the mix.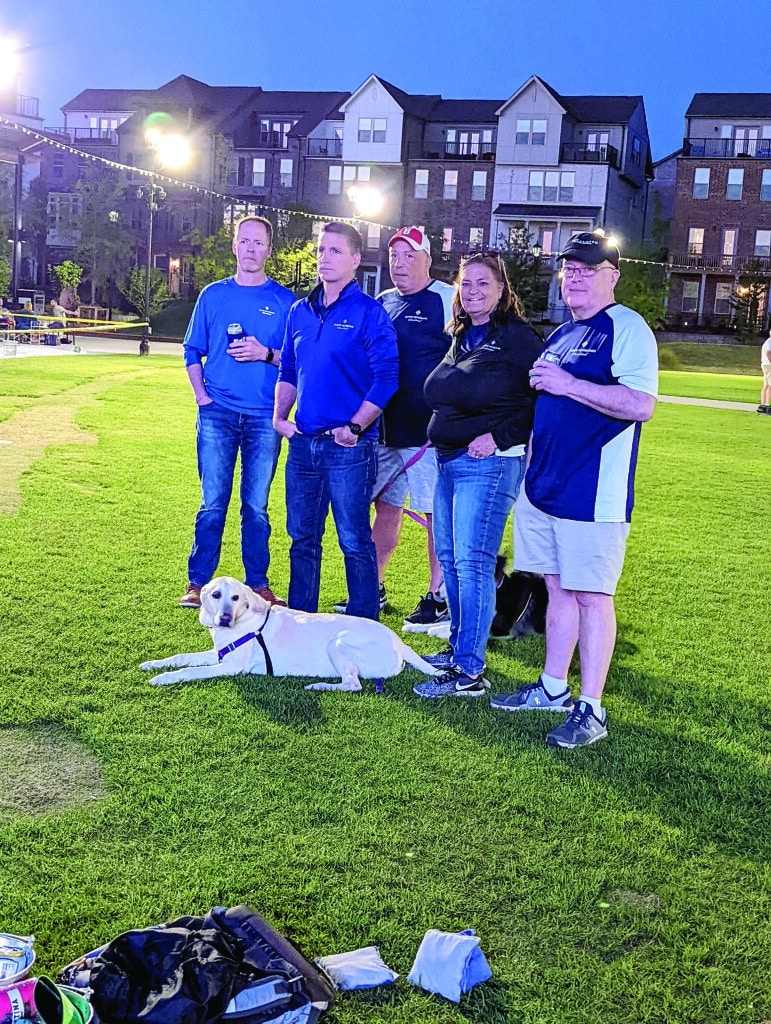 The state's largest and fastest-growing cornhole league is back for another season of fun. CornholeATL's Fall League starts in August and, as always, there are four different divisions of play to accommodate all skill levels.
Make friends and have fun
Jeff Brawand, Owner of CornholeATL, moved to metro Atlanta from Cincinnati, Ohio in 2007 to work for Delta Airlines. "Growing up in Ohio, cornhole is everywhere," he said. "When I moved to Atlanta, I was looking for a way to meet people."
He tried kickball games and soccer and things like that, but as he got older, he was looking for an outlet where he wouldn't get hurt or seriously injured. "I got to the point where I said to myself, 'I don't need to be sliding anymore. I'm just trying to meet new people and meet new friends.' And so, I started the cornhole league, CornholeATL, in 2011," he said.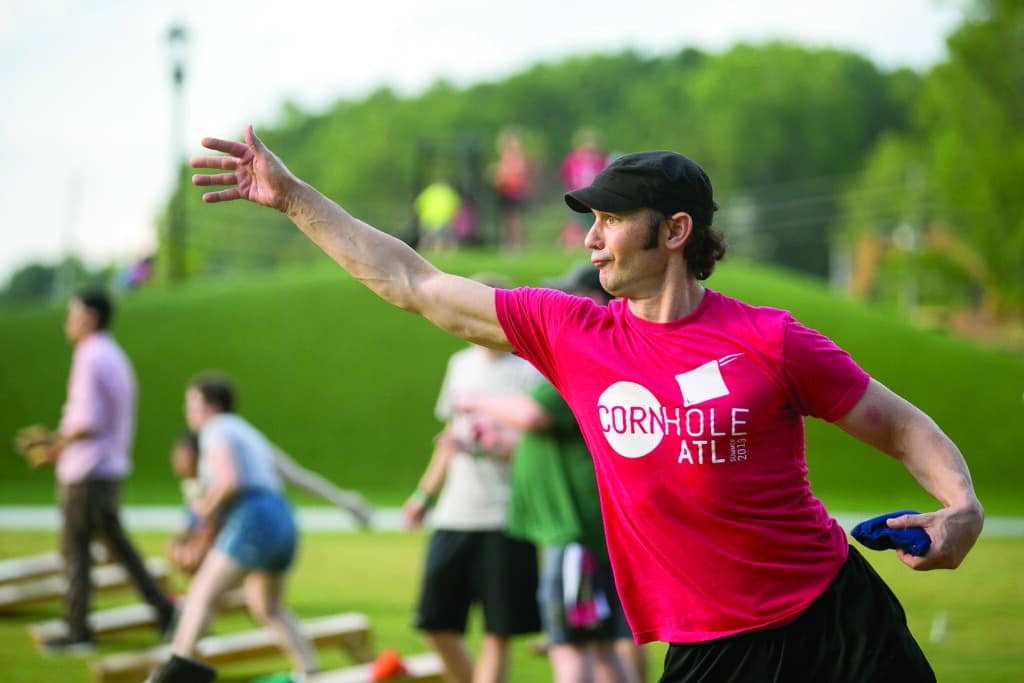 The league started in Virginia Highlands in a public park. A few years later, Brawand said he "pivoted to playing at bars, mixed use developments and open green spaces."
He likes the fact that players are surrounded by different sorts of restaurants at Town Center and there's plenty of space to spread out and have fun. "It's a lot easier than having to play in a public park where people are bringing out coolers," Brawand said. "It's easier to play at a venue where people could just buy drinks, buy food and kind of spend their money on site."
One of the first mixed-use developments where CornholeATL set was Avalon in Alpharetta. "They love it because we're bringing people on a night where it might not be as busy," noted Brawand. "But now people are coming out playing cornhole. They're grabbing dinner with their friends beforehand; they're grabbing drinks during and after the games. So it kind of just built up the area a little bit more."
The league came to Peachtree Corners about three years ago, when teams started forming outside the Perimeter. "It's been really successful outside the city," Brawand said. "There's a lot of stuff to do already [in Atlanta] and so it does great here because people might not have as much to do. And when they get home, they probably don't want to have to go downtown. They want to be able to stay in their area."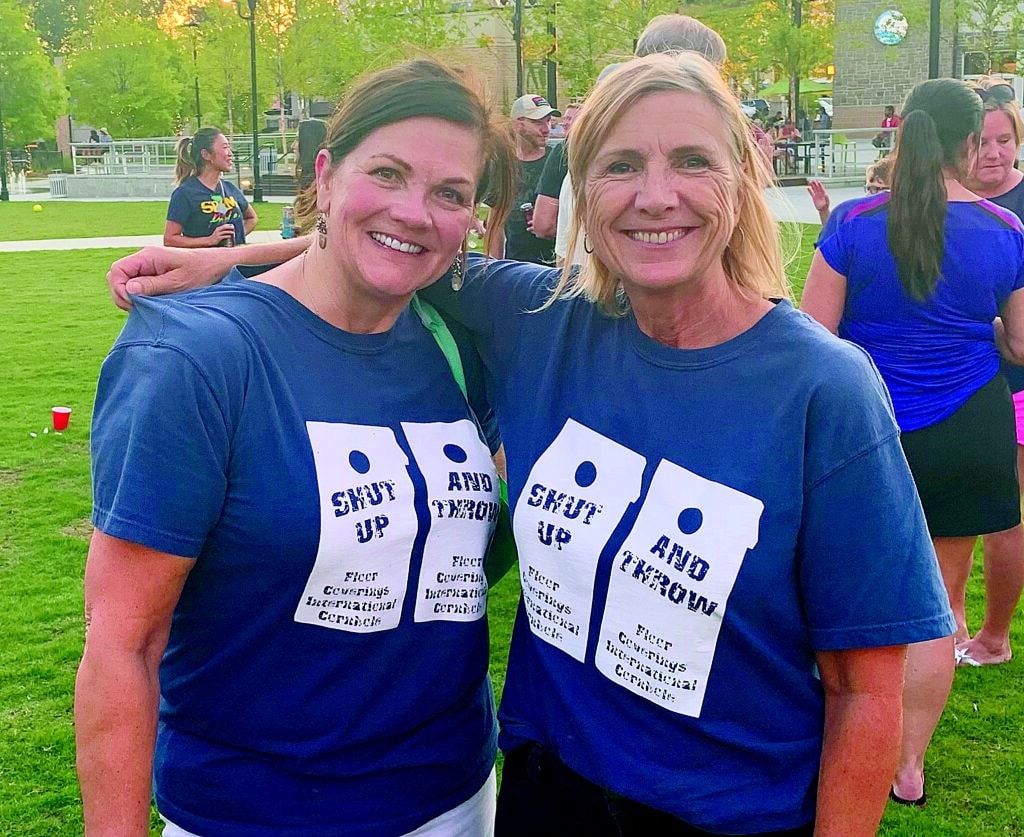 When North American Properties General Manager Tim Perry presented his company's vison for The Forum, events like the cornhole league were what he said the property will endorse. Brawand stressed that working with the Town Center staff has been a great experience and the seasons have been quite successful.
How it works
Each season of CornholeATL lasts seven weeks and there are four cornhole seasons a year. "We do it spring, summer, fall and winter," Brawand said. "The first six weeks are the regular season, and the last week – week seven — is the playoffs for that location."
Each league has four divisions: beginner, intermediate, intermediate-plus and advanced. That way people with similar skill levels compete against each other. It would be kind of like having Charles Barkley or Michael Jordan playing pick-up basketball.
"You basically can go to our website and kind of see the skill level you would be best suited," Brawand said. "If you're barely hitting a board, then you're probably a beginner. But if you're getting all four in the hole or on the board, then you're probably advanced."
At the end of the day, the goal is to have fun, said Brawand. "That's our focus. And that's why we call it a cornhole league as opposed to a tournament. The word tournament kind of has a negative vibe that might be a little bit more competitive.
"So it's a league; it's a social league. The beginners will only play beginners all season long, even when it comes to the playoffs. Beginners only play the beginners in their division in the playoffs so you're never playing up or down, which makes it a little bit more approachable."
Jackie Adams, Senior Director of Operations of New Franchise Development at Floor Coverings International has been on a CornholeATL team at Peachtree Corners Town Center since the league came there. "It's super chill and a good way to relax and unwind with friends after work," she said.
In an era when not as many companies sponsor bowling or softball, the relatively small cost to pay for employees to form a cornhole team is quite attractive. "The company reimburses us for our registration, and we have t-shirts made every season," said Adams. "And since the teams are so small, we always have enough people to play."
Within the six weeks of regular play, a team needs at least two people to be present to play or the game will be forfeited, Brawand explained. After two forfeitures, the team is out of the league. "We don't want to waste people's time," he said. "It's a commitment, but a small one."
Championship play
After a winner is declared for each division within a league, the winning teams move on to the state championship to play the winners of the other leagues. Right now, there are 45 leagues in the state from as far east as Athens, as far west as Carterville, as far south as Fayetteville and as far north as the outlets near Cumming.
The farthest leagues could be a couple of hours' drive from Atlanta, so the championship games are rotated around the area, although they're usually held in the city.
"We just did the spring tournament in Woodstock, and the summer one will be in Acworth," said Brawand. Last year one of the championships was held in Peachtree Corners.
"It's a blast. Everyone comes out from around the whole state," he continued. "There are usually around 350 people playing and they all bring some spectators because it's a big event with big prizes and big trophies."
Some of the coveted prizes have been tailgating chairs that say "Champions" on the back, which can be pretty cool when you're hanging out at a Bulldogs or Falcons game.
"We pride ourselves on being a social league and having those divisions," said Brawand. "It's more of a social thing than a sport. You come out and have a good time. And you can toss the bean bag with one hand while you have your choice of beverage in the other."
Sign up now to play cornhole this fall
Registration for the CornholeATL Fall League is open until August 22. Sign up at cornholeatl.leaguelab.com/league/52593/detail. For more info, email info@cornholeatl.com.

How to Attend Major League Pickleball's Upcoming Tournament in Peachtree Corners, Sept. 21-24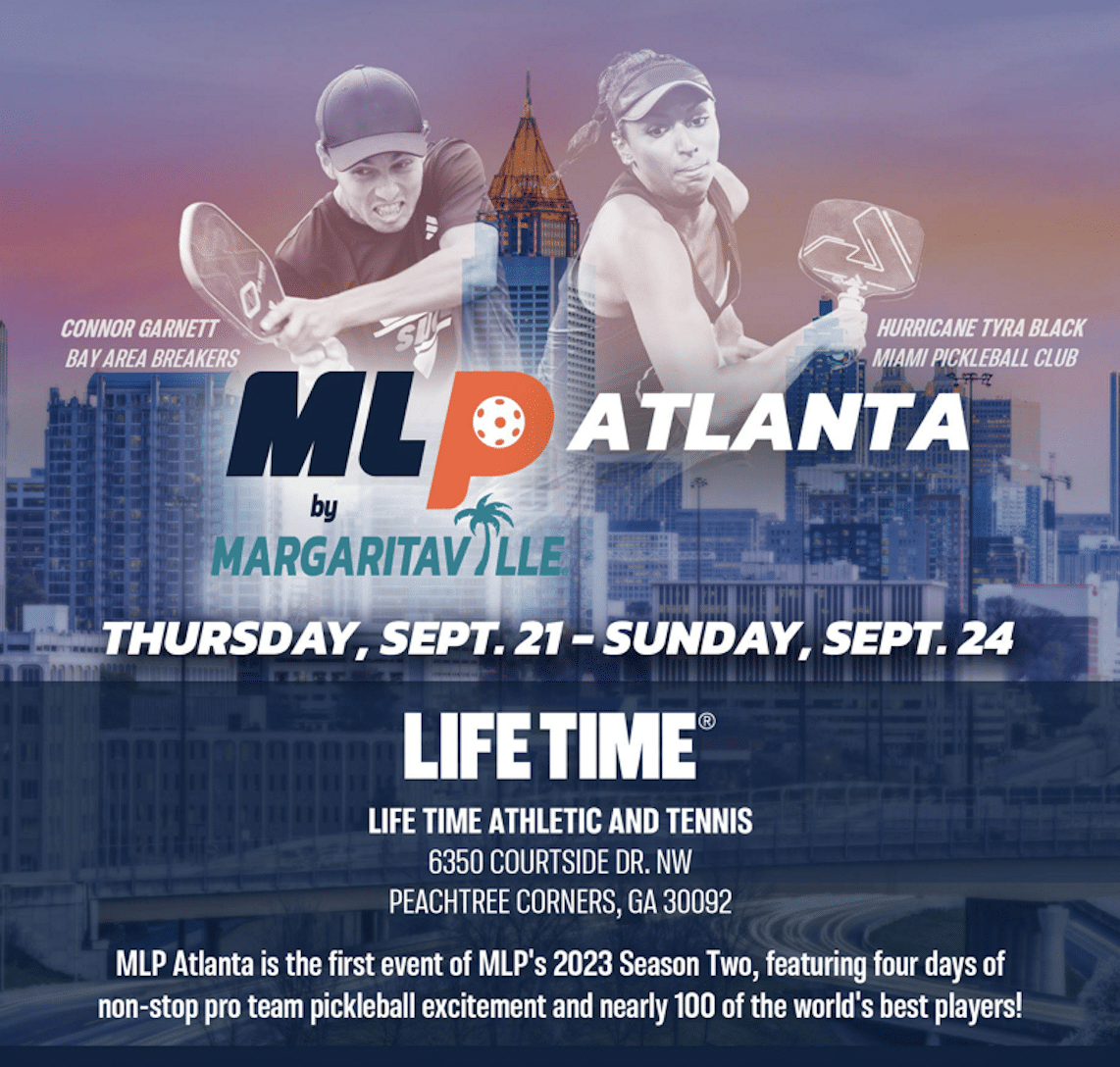 Major League Pickleball (MLP) will be showcasing its first of three events of the 2023 Season 2 schedule with the MLP Atlanta tournament later this September.
MLP is a team-based professional pickleball league and is at the forefront the fastest-growing sport in the United States.
MLP features nearly 100 coed athletes in the sport, learner-friendly scoring and the largest payouts in prize money across pro pickleball.
The MLP Atlanta schedule will begin with Media Day, Wednesday, September 20. Tournament action will take place from Thursday, September 21 through Sunday, September at Life Time Peachtree Corners, 6350 Courtside Drive NW, Peachtree Corners, Georgia 30092.
Fans interested in attending the event can purchase tickets here.
Live streaming coverage of the event can be found on MLP's official YouTube Channel.
For more information on Major League Pickleball, visit the official website and follow MLP on Facebook, Twitter, Instagram, TikTok and YouTube.

Peachtree Corners Gears Up for Its Third Annual Decathlon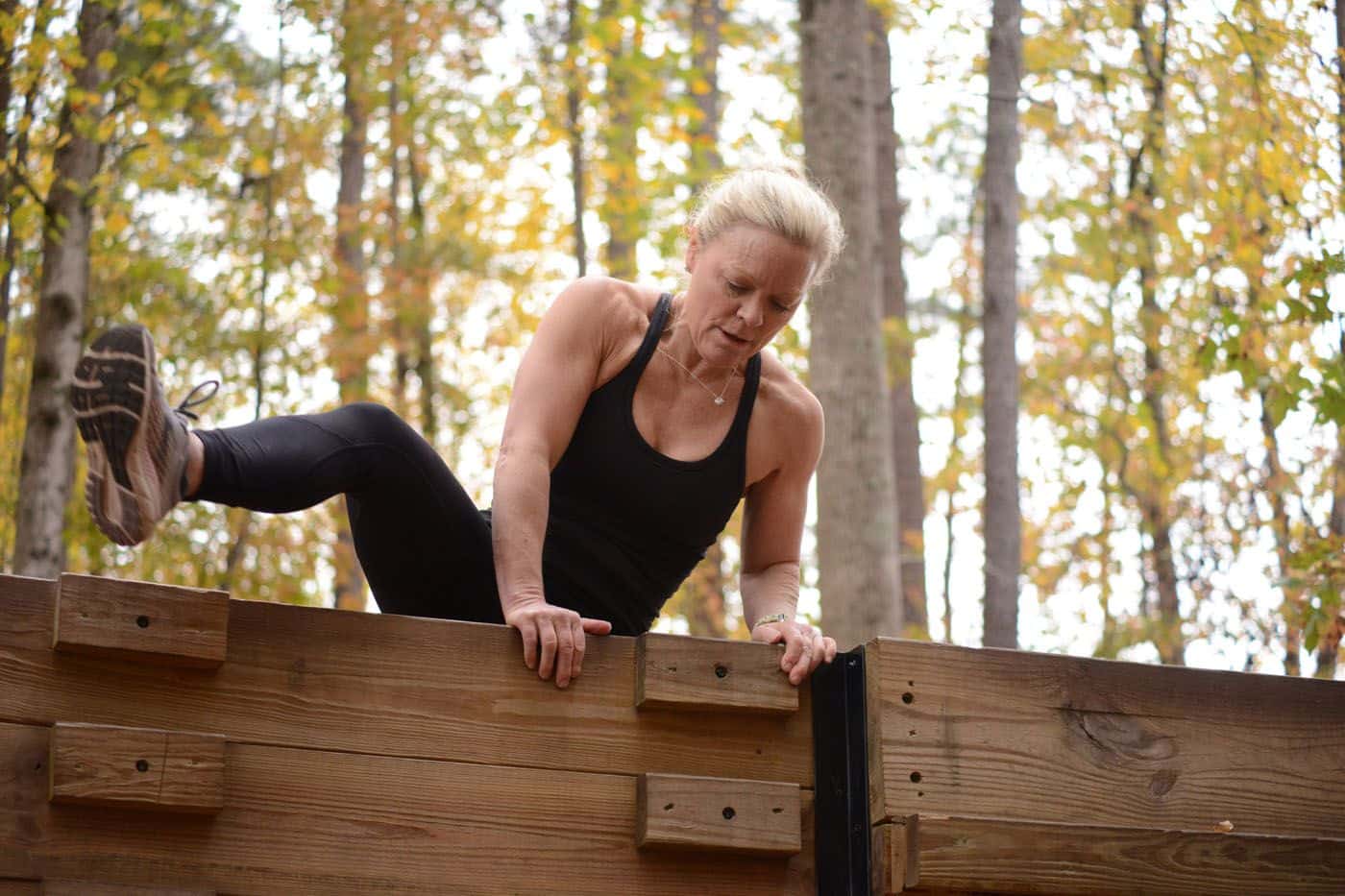 The highly anticipated third annual Peachtree Corners Decathlon is set to take place on Saturday, October 21, 2023. The event, held just off the Peachtree Corners Town Green at the Path to Fitness area, will bring together 72 participants vying for glory in 10 challenging events. 
This year's competition promises to be bigger and better, with an added team component and an impressive award ceremony scheduled at the Curiosity Lab Innovation Center.
Though the event has sold out, it was open to men and women aged 18 and older. The Decathlon is known for its intense physical challenges that test participants' endurance, strength and agility.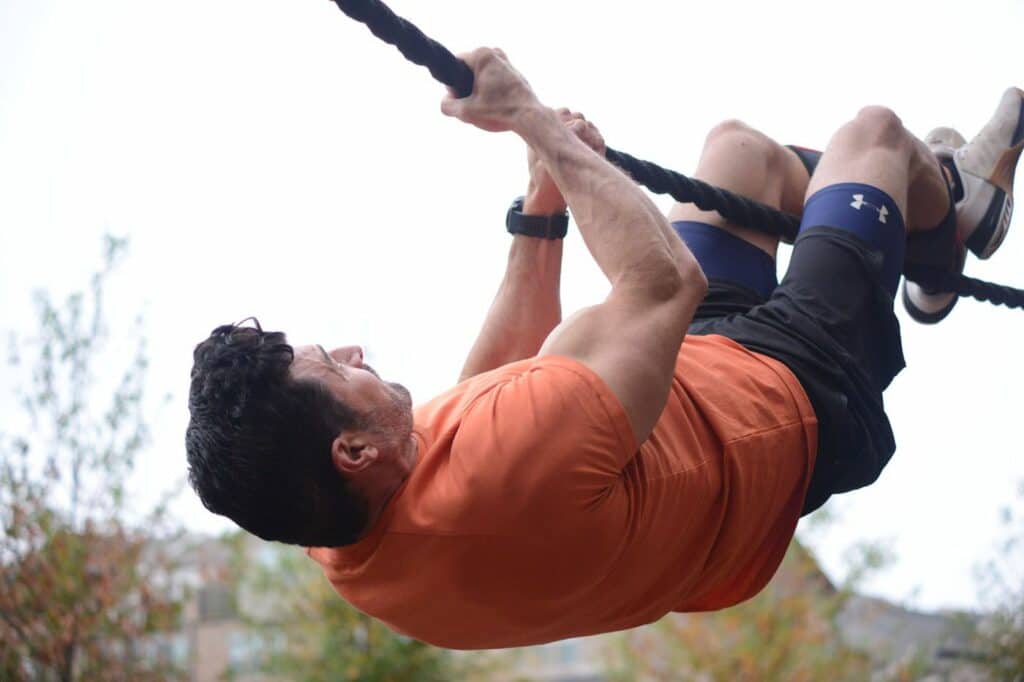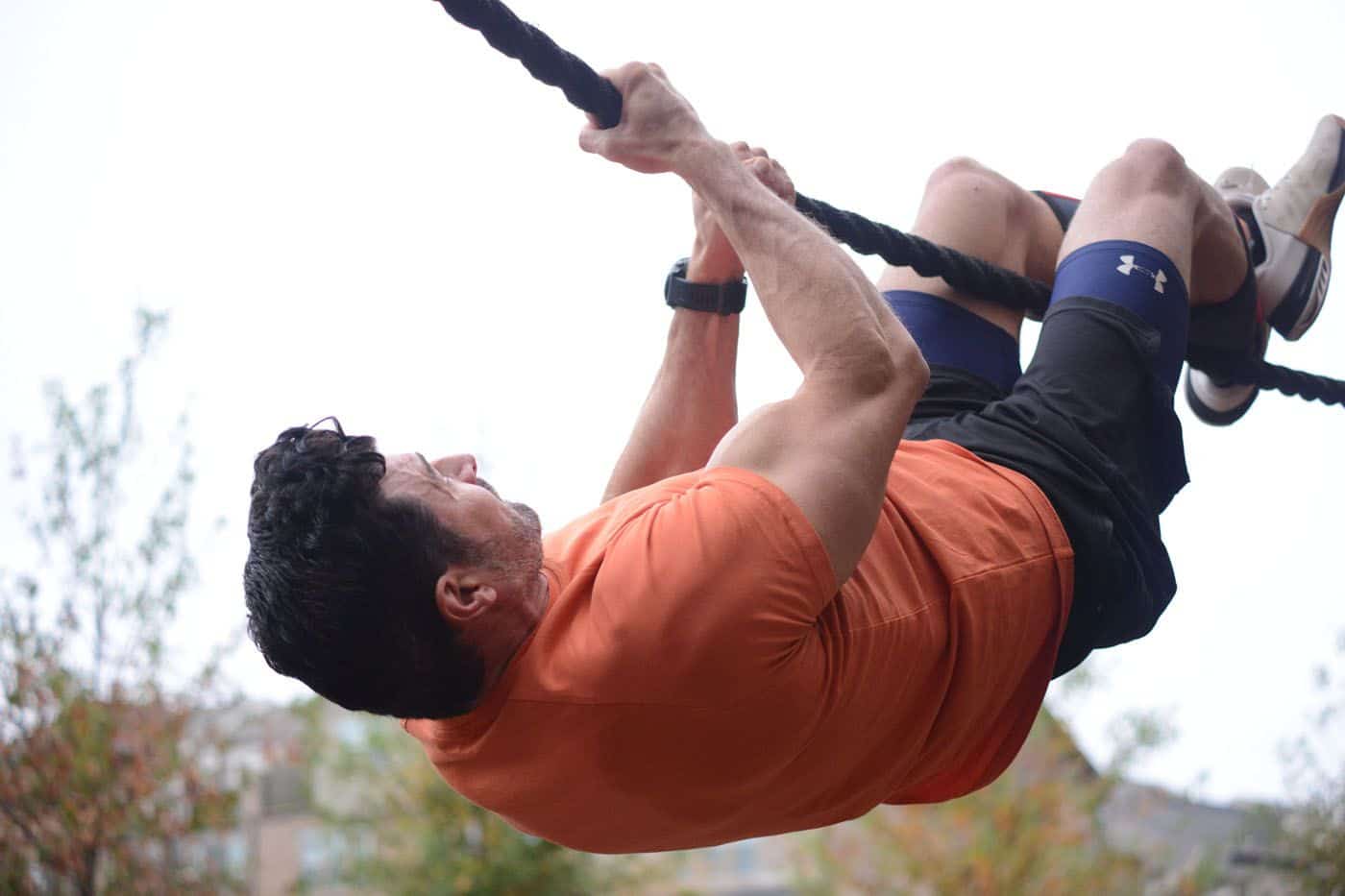 Athletes will compete against one another through a series of 10 exercises. These include the wall climb, bender, row, rope climb, box jump, rope traverse, multi-rig, sandbag carry, Olympus wall and, to finish it off, a 1/3 of a mile run.
With a rolling start every five minutes, the competition will begin promptly at 8 a.m. and continue until 2 p.m., providing a day of non-stop action. Spectators are highly encouraged to come and watch the event this year.
Building on past success
For the past three years, the Decathlon has been put together by an organizing committee composed of Alex Wright, Rich Woodfield, Jennifer Bonacci, Emily Fenn and Kristin McEwen. However, there are a number of people without which the event could not function, such as city staff and volunteers.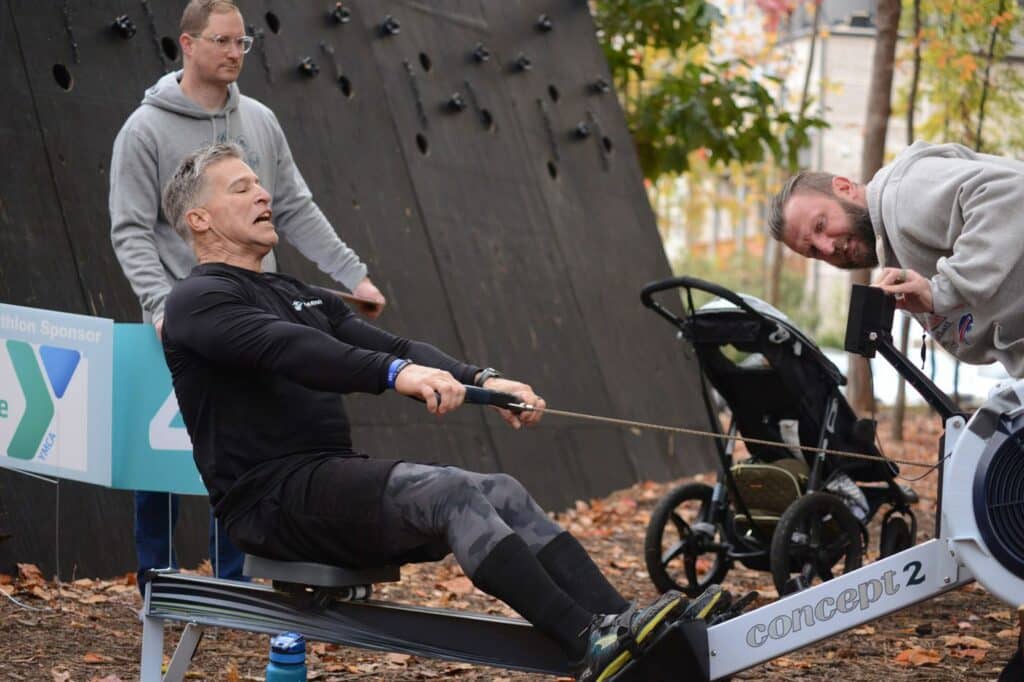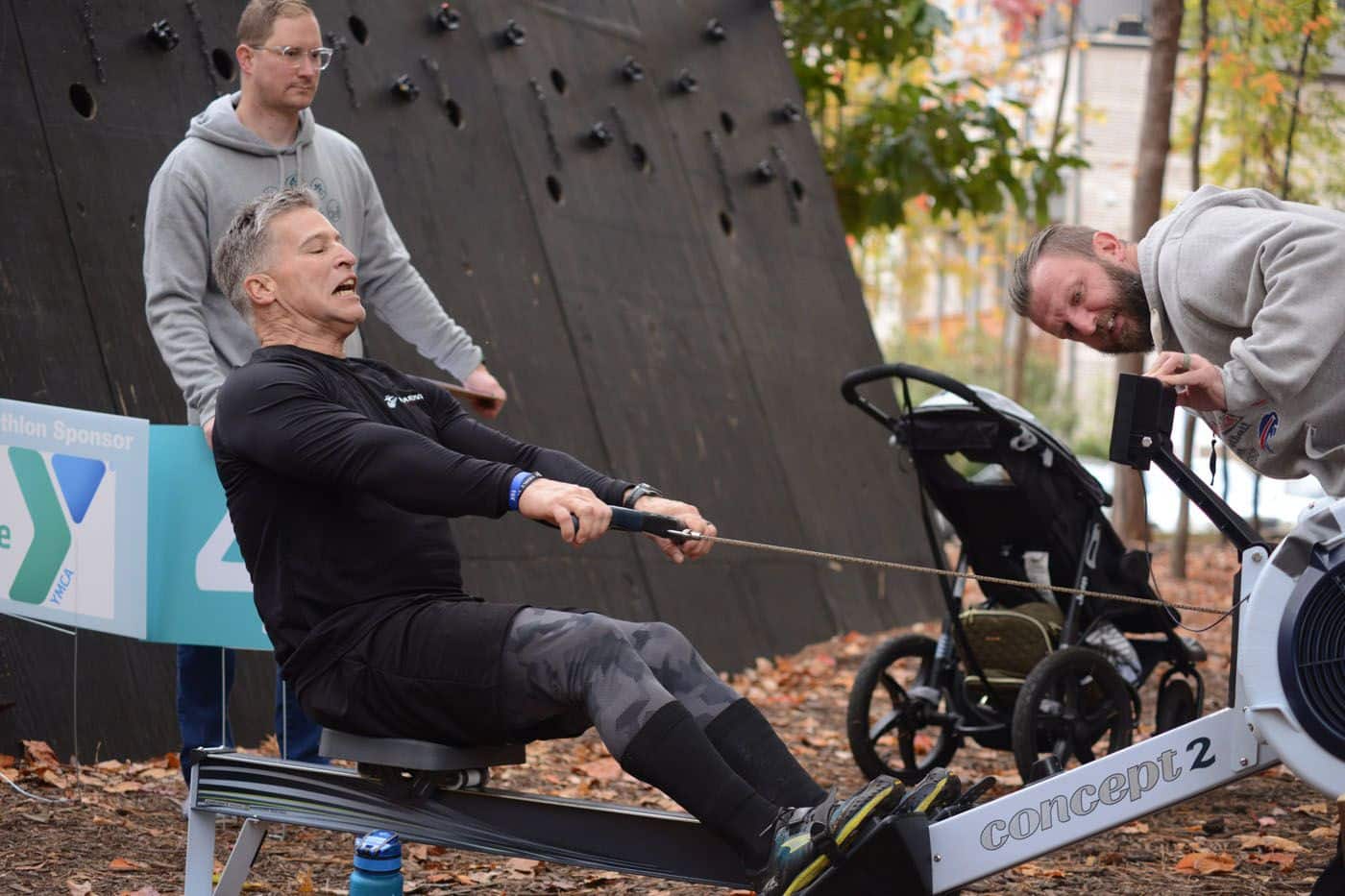 "I'm really excited about this year's event," said Wright. "The first year, I was mainly concerned about just having a decent turnout. Last year, it was building on the foundation we had built, but mainly just having things run smoother and more professionally and continuing to grow the number of racers. This year, I think what you are going to see is an elevated level of competition."
Wright was excited that the event sold out so quickly, revealing that the organizers had done a good job getting name recognition for their event in such a niche athletic field. With that, the Decathlon is starting to see some greater competition coming with the growing name.
"One of new things this year is the "Top Gym" competition," said Wright. "To qualify, a gym must have at least three female and three male competitors. The gym that has the best composite ranking (overall female ranking by combining the top three female finishers from their gym and the same for the men) wins Top Gym."
"We are having a really, really nice trophy built that the winning gym will get to keep for the year," he said, adding that the gym name and year it won will be engraved on the trophy.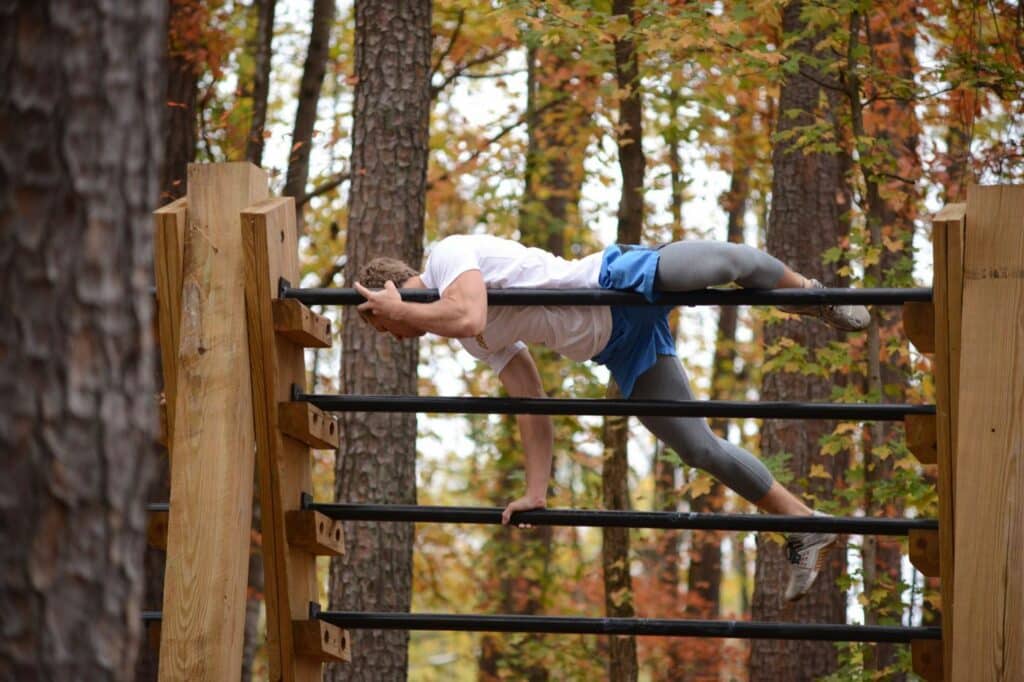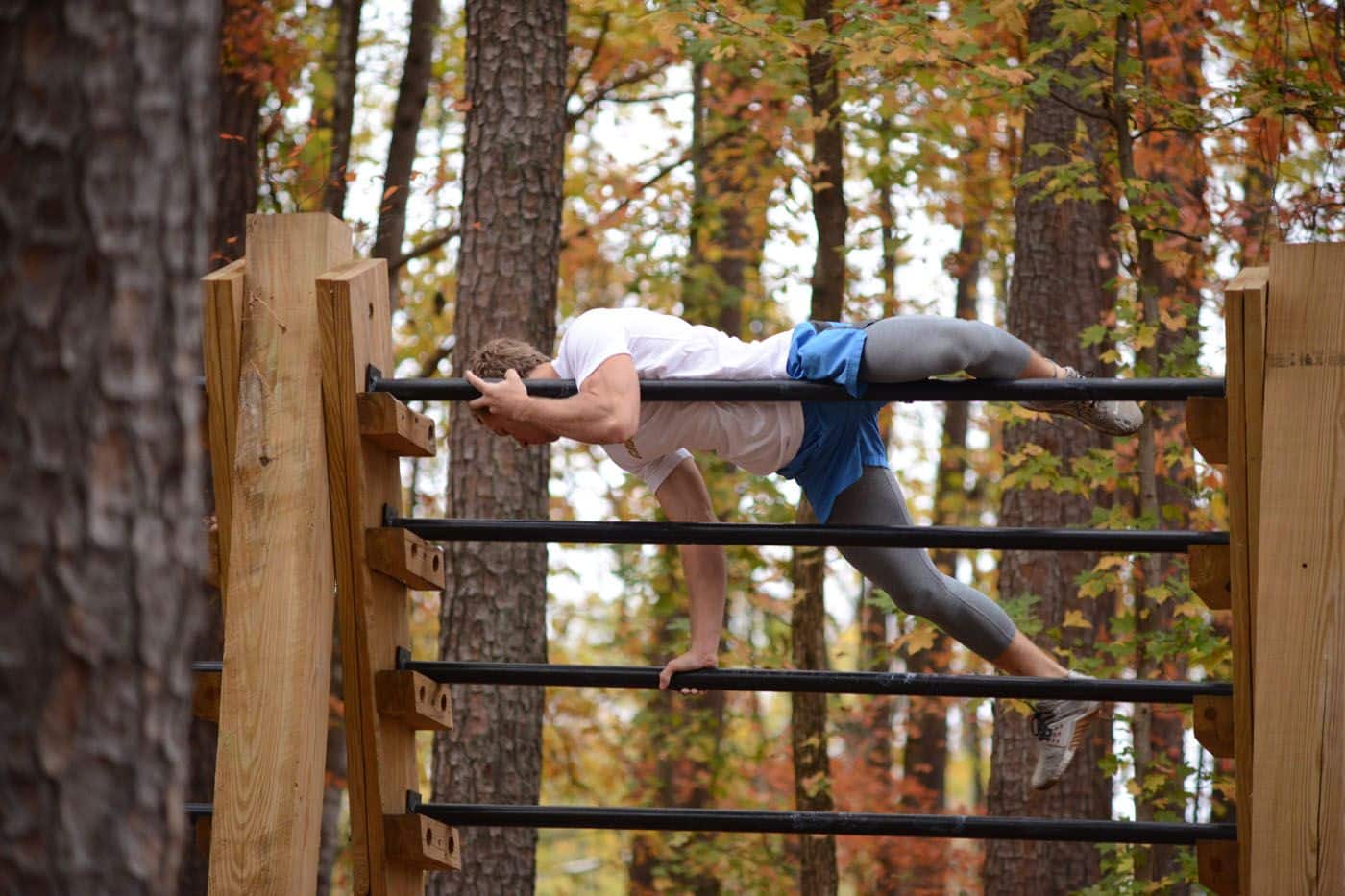 Spectators very welcome
Aside from the splendor of trophy winning, the PTC Decathlon has become an exciting community event, attracting sports enthusiasts and spectators alike.
The competition not only promotes physical fitness but also fosters a sense of community and wholesome competition among participants. It offers a platform for athletes to showcase their skills, push their limits and leave a lasting mark in the history of the PTC Decathlon.
The Decathlon has an emphasis on community even amidst its strong competition. Make sure to come out and watch this year's competition on October 21.
Find more details about the Decathlon at peachtreecornersga.gov/265/PTC-Decathlon.

Premier Racquet Sports: A Holistic Approach to Tennis Pro Shops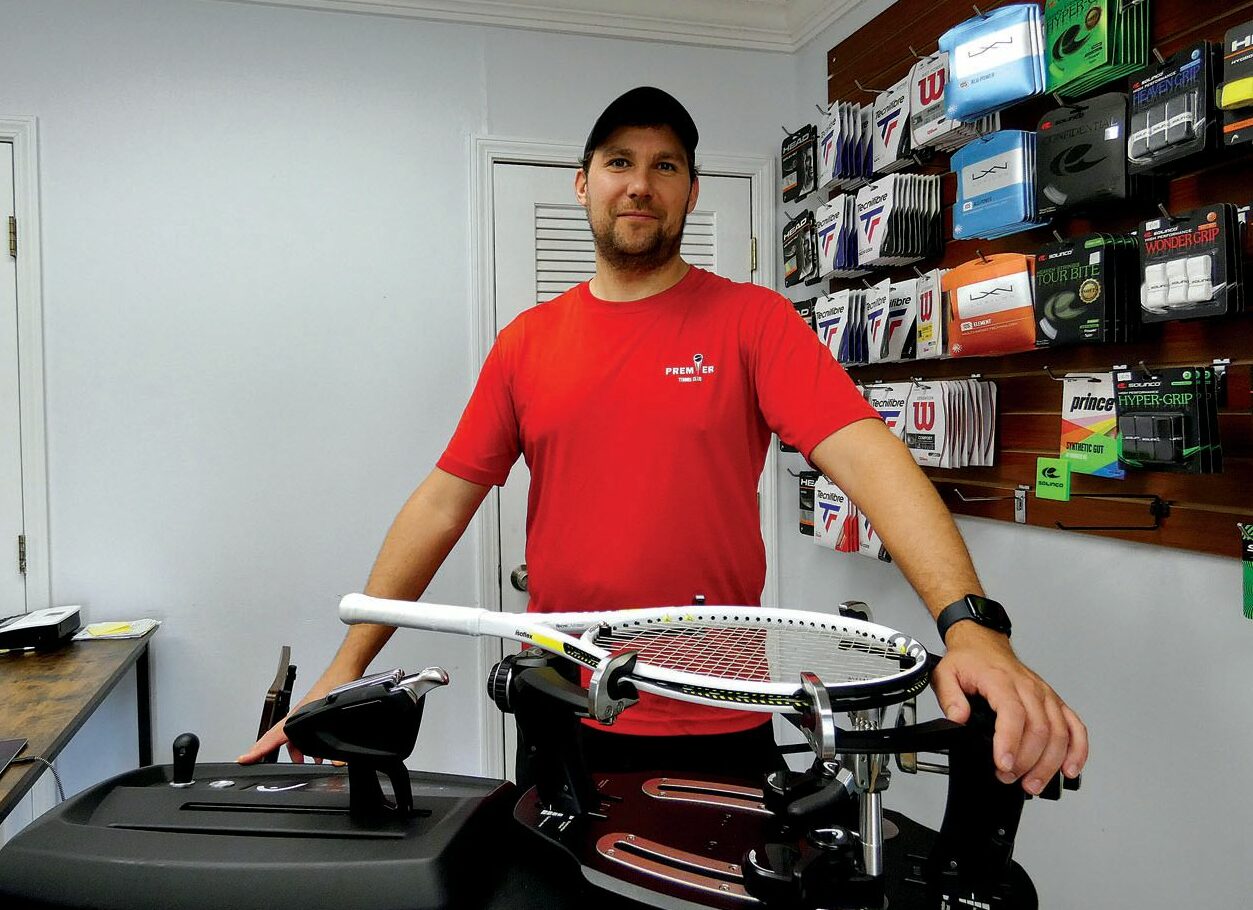 Calling all racquet sport lovers! Premier Racquet Sports, a tennis pro shop, recently opened on March 15 in Peachtree Corners off Spalding Drive.
This is Premier Racquet Sports' second location in Atlanta, the other being in Dunwoody. However, this pro shop brings something unique and special to the competition wherever it lands.
Founded by Corey Matney, with partners Claude Badowski and Bobby McMahan, Premier Racquet Sports is a shop with an emphasis on a community-driven approach to the racquet sports industry.
In an industry where it can be overwhelming and daunting to adventure into the realm of pro shops, Premier Racquet Sports aims to break the status quo by making tennis available to all.
"Our goal is anyone who comes in, whether you've never played tennis before, never played pickleball before, or you are basically a professional, you will have time spent with you explaining what's the best kind of choice for you," said Badowski. "Learning about customers as a person and trying to really build a relationship makes it so that we can help people long term rather than just transact with them."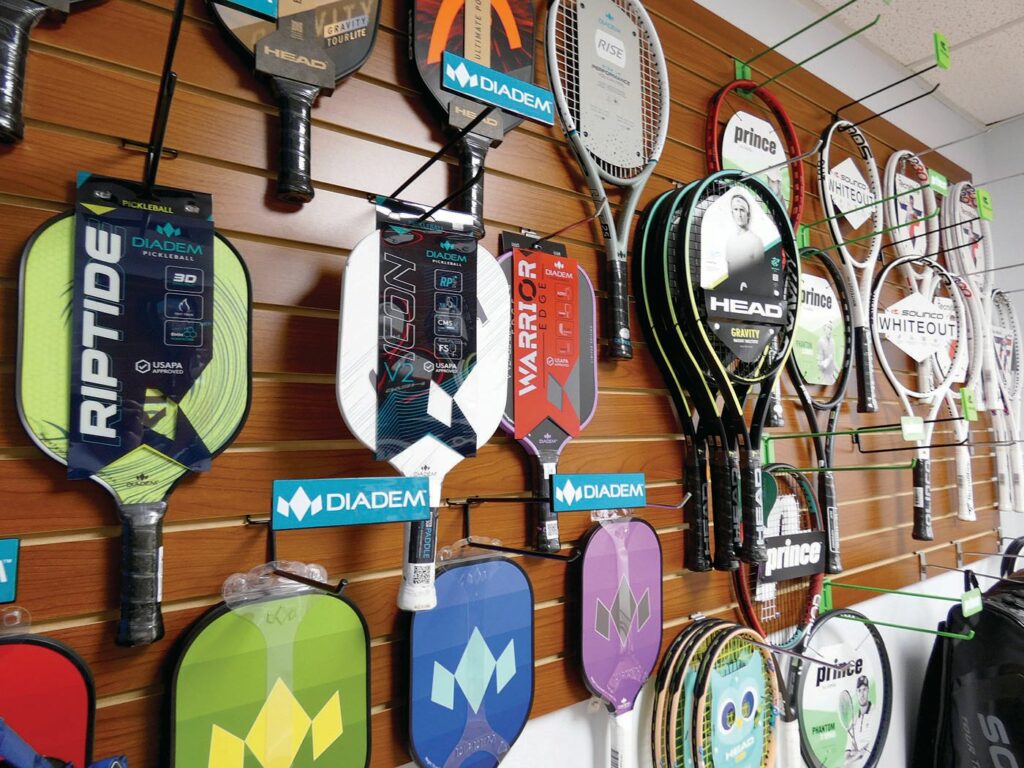 More than a business
Matney began stringing rackets in high school to be able to afford tennis lessons and eventually went into college playing Division I tennis. Not only did a passion for the sport drive him to create Premier Racquet Sports, Matney also found an intense need for a friendly business based in the racquet industry.
"…to be able to offer the community high-level technical services and be able to have everyone feel like they're getting the same treatment that a professional tennis player would when they come into a tennis shop, and meet their needs," said Matney.
As a long-term tennis player, Matney found that service at pro shops could feel impersonal, furthering his drive to create a pro shop that was more than just a shop.
One way the shop has accomplished this objective is through occasions such as demo days, events where the shop will demo rackets and bags while also running free tennis drills.
"It's a great chance for people to talk to us about what's the best racket for them and what's the best string for them to hit with it," said Badowski. "They get to feel the difference, because there's hundreds of rackets out there and thousands of string and string combinations. It's very rare for people to be able to try them all and get instant feedback …they can feel the difference."
Additionally, Premier Racquet Sports will have their next demo day on July 14. This event will feature all Wilson products as well as Wilson's new racket called the Shift.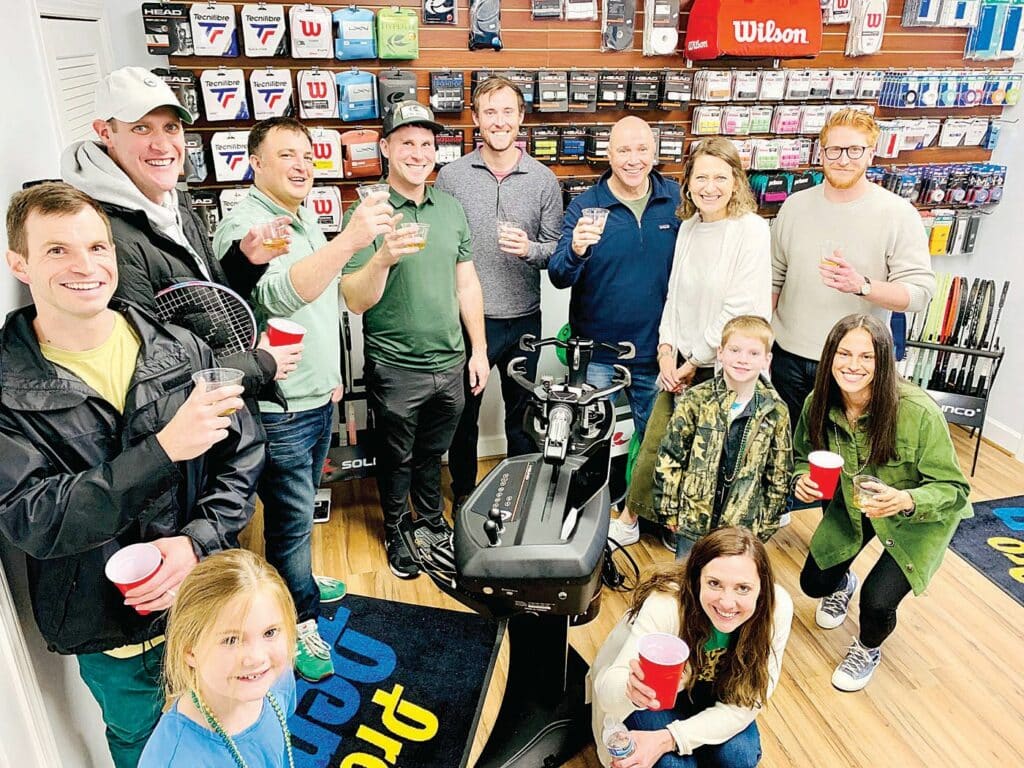 In-store action
However, this level of care and concern extends beyond their demo days. By walking into Premier Racquet Sports, customers are making their choice of supporting a business that keeps their clients in high regards.
"All of us enjoy being able to help players explore and go down the pathway of finding the right equipment for them," said Matney. "This is mostly stringing, but also rackets, shoes or any portion of the necessary tennis items; just being able to have that connection to the player and have them know that we are a sounding base for their questions and will help them find what they need."
Premier Racquet Sports prides itself on its collection of all things tennis. Within their store, they carry all major brands, rackets, shoes, grips and over 250 varieties of string. They claim to be able to have anything a player may desire shipped to their store within two days, too.
Welcome Premier Racquet Sports to the Peachtree Corners community by stopping by, whether you are a tennis expert or a novice.
Learn more about Premier Racquet Sports here.