The Vote to Expand MARTA and What It Means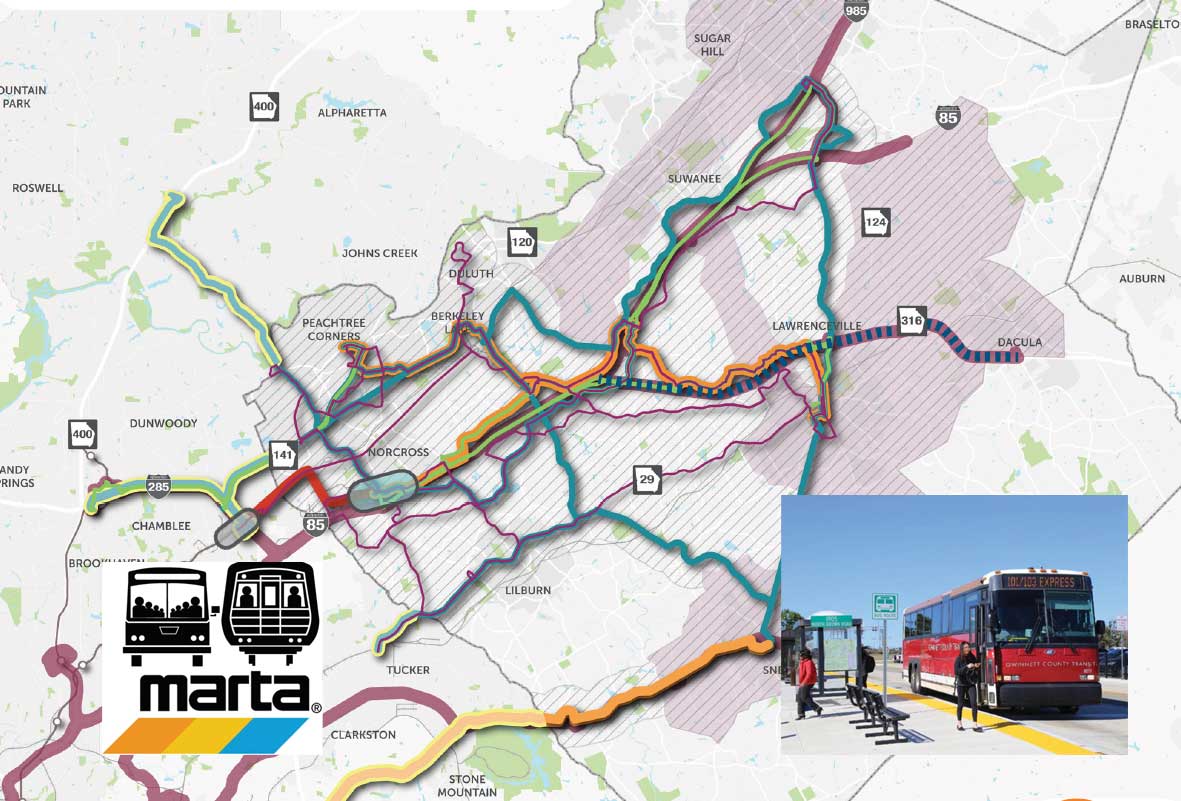 On March 19, Gwinnett County voters will be asked to vote "yes" or "no" on this question: "Gwinnett County has executed a contract for the provision of transit services, dated as of August 2, 2018. Shall this contract be approved?"
Go Gwinnett, a registered ballot committee, wants to make sure voters understand just what a "yes" or "no" vote means to Gwinnett County and its future.
What "yes" or "no" means for Gwinnett
A "yes" vote for the Gwinnett MARTA expansion will connect the county to the rest of the metro Atlanta region, giving residents more options to get to their destinations, whether for work or play and will offer new customers the opportunity to frequent Gwinnett's shopping and entertainment venues.

The expansion will be funded by a new one-cent sales tax that will be used solely to benefit residents of the county. "Gwinnett's money stays in Gwinnett," said Brian Robinson, spokesperson for the Go Gwinnett campaign. "All tax dollars collected will return to the county for local projects."
A "no" vote will prevent the expansion, and that won't decrease traffic. It will, however, limit the opportunities of how residents and visitors can move through Gwinnett.
More transit options
There's no question that the current road traffic is already strained, and it's only going to get more congested as Gwinnett grows. The partnership with MARTA will bring more options for commuters.
"More transit options will help reduce traffic congestion on the roads and provide faster commutes for riders as well as those on the roads," Robinson said. "Gwinnett would benefit early on from double local bus and express routes, more park-and-ride lots, flex "on demand" services, "direct connect" routes and more paratransit services." Exciting new bus rapid transit options will follow.
Additionally, the MARTA contract would extend the heavy rail line from the existing Doraville station to a new multi-modal transit hub hear I-85 and Jimmy Carter Blvd.
Something for everyone
Not only will approval of the MARTA contract make lives easier for residents and ensure smarter growth, but it also will offer more independence and inclusion for seniors and disabled residents — and bring in more Millennials.
"Fast and attractive transit options will help our county attract and keep the Millennial and Generation Z workforce critical to our economy, our schools and our neighborhoods over the next 40 years," Robinson said.
New transit hubs will drive smart growth around those areas and boost Gwinnett's tax base by spurring redevelopment of aging retail centers. The expanded transit options will also attract new high-paying jobs. Many of metro Atlanta's biggest economic development announcements have come from companies that demanded close access to transit for their employees.
Money and decision-making stay here
Every penny from the one-cent sale tax goes right back into Gwinnett County. "The 1 percent sales tax approach means that 25 to 30 percent of the dollars generated will come from people who live outside the county," Robinson explained. That means that Gwinnett will get 100 percent of the benefit with only 75 percent of the cost.
The expansion is based on Gwinnett's plan for transit expansion and its contract with MARTA. That contract has special provisions that protect the county.
"Gwinnett maintains local decision making on transit projects and service standards, and Gwinnett will attain three seats on the MARTA board, increasing our voice and oversight in regional decisions," Robinson said.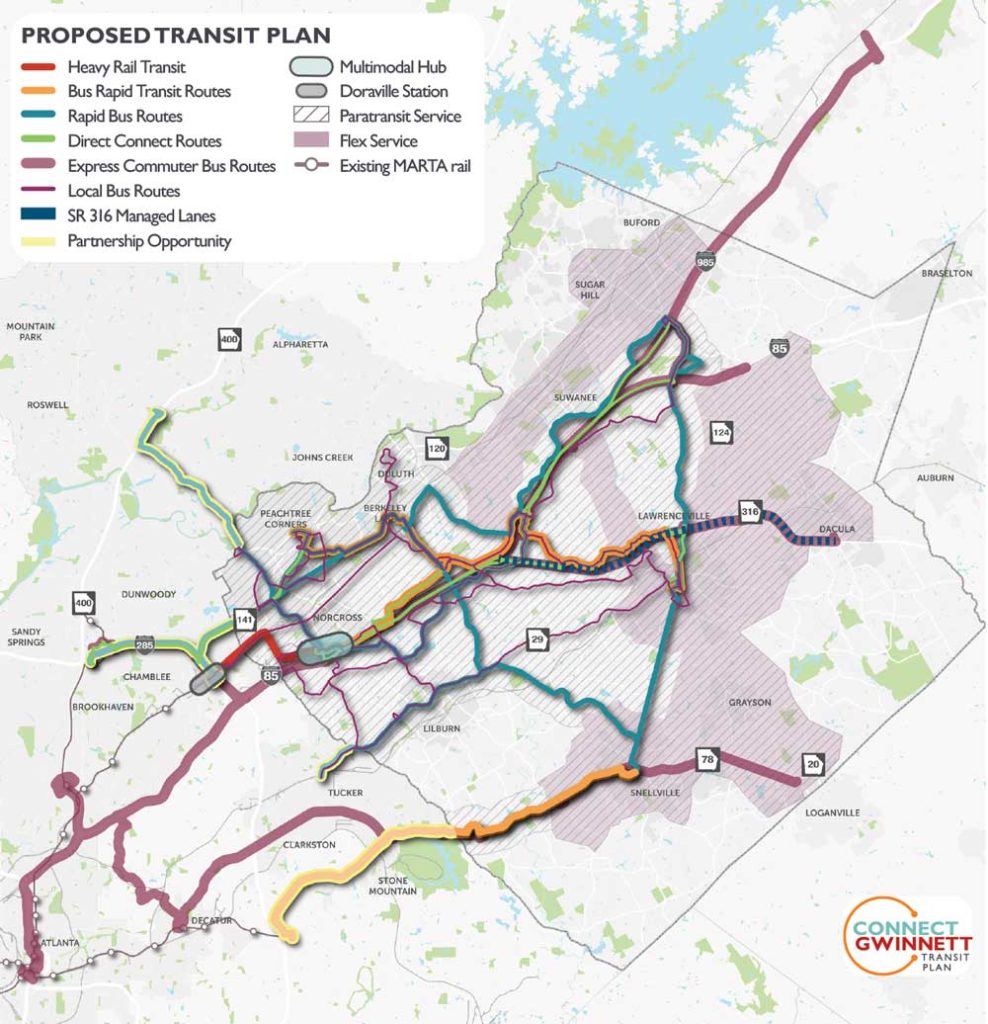 Why MARTA?
Some residents may question why Gwinnett should partner with MARTA, rather than Gwinnett County Transit, to expand local services. Robinson pointed out that what MARTA offers is a higher capacity to build out new infrastructure, and MARTA has the most knowledge and expertise to develop bus rapid transit, light rail and heavy rail in the State of Georgia.

Additionally, working with MARTA is essential so that the system that is developed in Gwinnett can connect to existing transit infrastructure as efficiently as possible.
Partnering with MARTA to expand access to transit and offer more transit options is an important part of making Gwinnett County a better place to live, work and raise a family. ■
Get Out and Vote!
► Election Day is Tuesday, March 19.
► Early voting begins Monday, Feb. 25 at the Gwinnett Justice Administration Center, 75 Langley Drive, Lawrenceville 30046. Starting Monday, March 4, early voting is available Monday through Sunday, 7 a.m.-7 p.m., at every early vote location until Friday, March 15.
► Visit gogwinnett.org for updates and more information.

Finnish Company Moves U.S. Headquarters to Peachtree Corners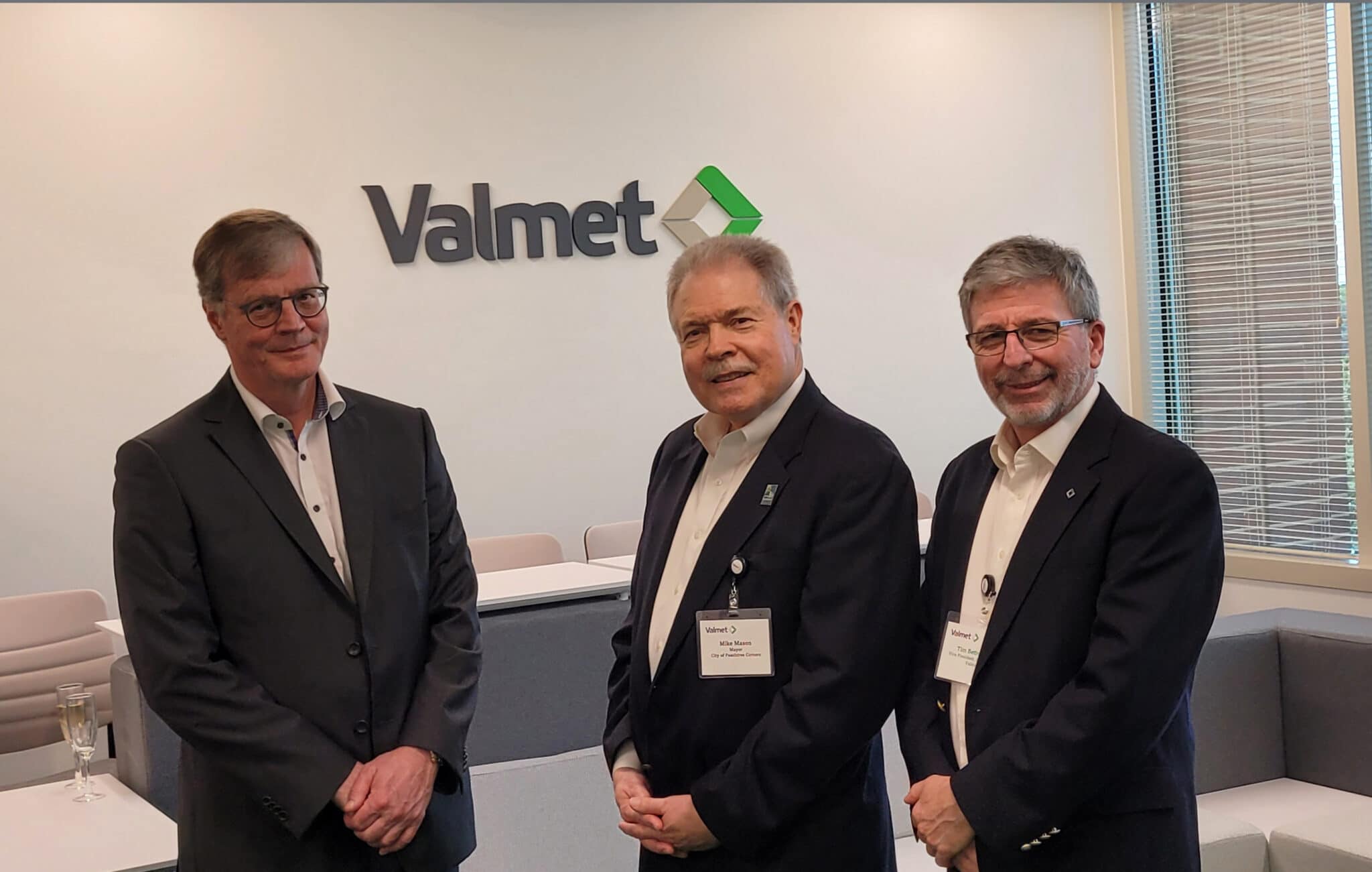 Valmet's corporate mission of sustainable energy and carbon-neutral production fits in with local goals.
The appealing aspects of Peachtree Corners led leaders of Valmet, a Finnish-based global developer and supplier of process technologies, automation and services for the pulp, paper and energy industries, to move its headquarters to the city.
"In about March of last year, we started thinking about relocating our office from Duluth to somewhere else," said Jukka Tiitinen, Valmet area president, North America. "To find a new home for our North American headquarters that represents our values and represents the flavor and nature of our company, we took quite a bit of time to go and visit different neighborhoods, different areas and looked at different buildings. And we settled here. …I don't see how we could have done any better. This is fantastic."
The company cut the ribbon on its new offices on May 11 with local dignitaries, media and the Valmet CEO Pasi Laine, who came in from Finland for the occasion.
Laine explained how Valmet didn't have early successes in the North American pulp and paper industry. In 1988, the company had some business interests here, but the capital activities were on the decline and continued that way for decades.
"We weren't selling too many machines and didn't have too many partners," he said, adding that Valmet didn't give up on North America and kept strengthening the business through several mergers and acquisitions.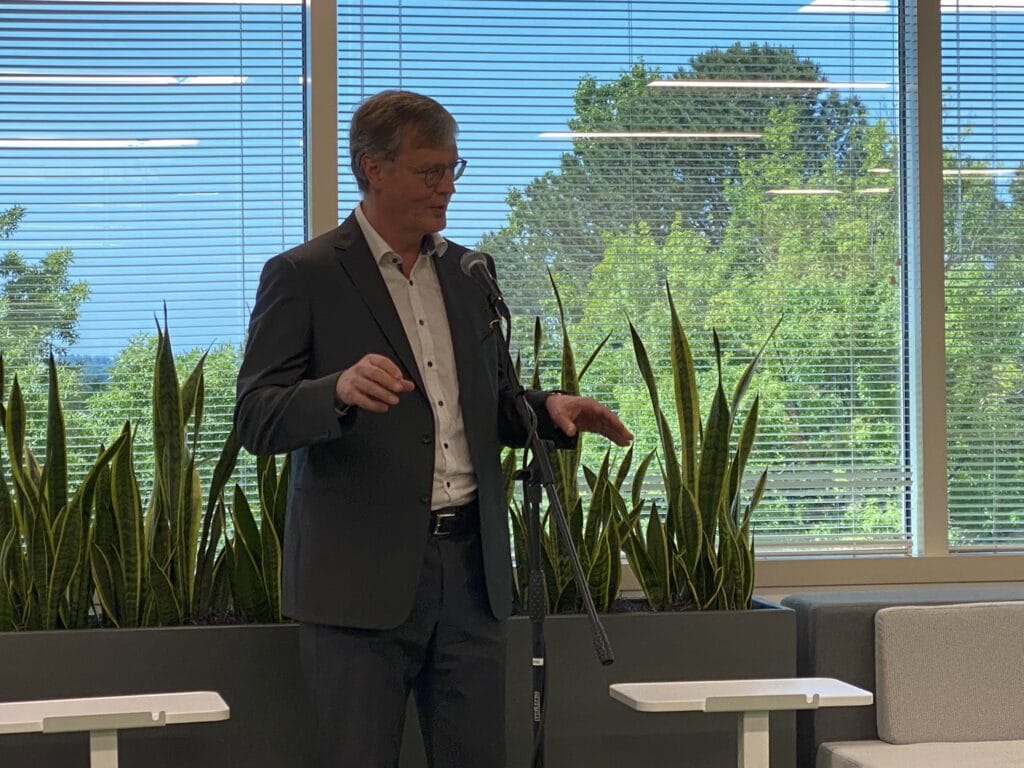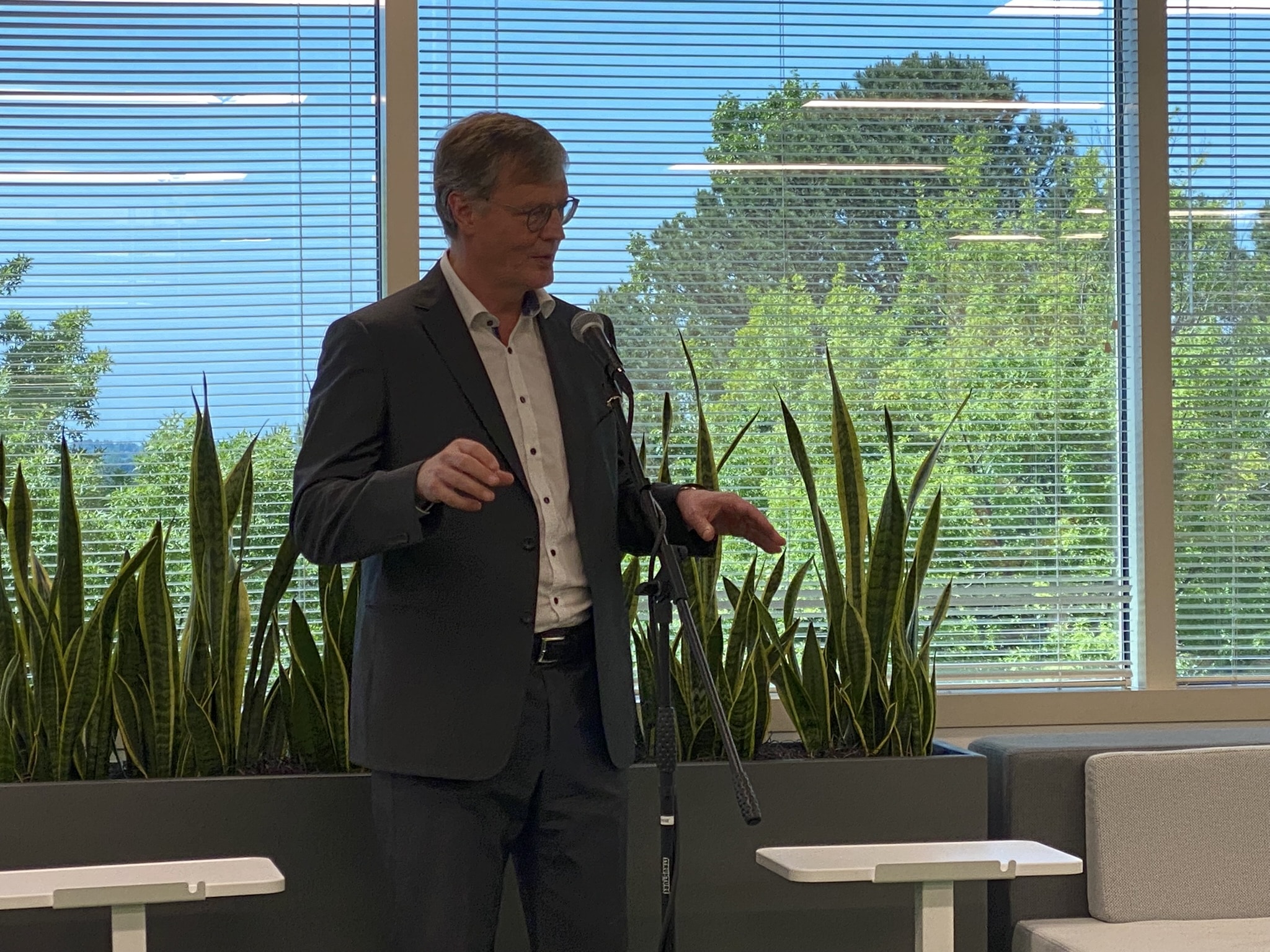 Part of the issue, Laine said, was that there were a lot of small businesses in the group that wanted their own processes and procedures. They wanted to maintain their old identity, offices and even logos. "It was practically impossible to get the people even in automation," he said, adding that the North American customers weren't seeing any continuity.
But the company continued to invest and improve production through technological advances and a management style that had come together in a "learning cluster" of sorts. Now, 30 years later, Valmet has added some of the state's and the country's major players in the industry as partners. Household names like International Paper and Georgia Pacific have Valmet machines and staff working in their plants and mills.
"Now, currently, we have about 2,000 people here, we have big business under civilian revenue and a lot of lot of customers and good personnel as well," said Laine. "Now we have learned how important it is to work with each other, talk with each other and learn from each other. And I think that's the big change that has happened over the decades in the company."
Like-minded neighbors
The collaboration Valmet has seen with Curiosity Lab and other endeavors in Peachtree Corners is the exact business model the company projects. Laine's interactions with local CEOs have shown that maintaining the status quo isn't good enough any longer.
"They were saying that it's not a good strategy anymore just to maintain the old machines and run them out. They started to say that they have to start to invest to make a difference. And today, we have a totally different situation than 10 years ago. Most of our customers are believing that it's worthwhile to invest in North America," said Laine.
The company isn't limited to paper products like tissue, boxes and the like. Valmet is organized around five business lines: services, pulp and energy, paper, automation systems and flow control. The company serves five geographical areas, North America, South America, EMEA (Europe, Middle East and Africa), Asia Pacific and China.
With more than 220 years of industrial history, Valmet has a strong track record in continuous improvement and renewal, and has more than 17,000 employees worldwide. The combined company net sales in 2021 were approximately 4.5 billion euros which converts to about $4.7 billion in U.S. currency.
Valmet's continuing mission is to convert renewable resources into sustainable results. This means that its technology and services make it possible for customers to manufacture sustainable products from renewable resources.
"We believe that technology plays a crucial role to mitigate climate change and global warming. Our target is to enable 100% carbon-neutral production for all our pulp and paper customers by 2030," according to corporate statements. "We believe that technology plays a key role in mitigating climate change and global warming in the transition to a carbon-neutral economy. Valmet has a long track record in providing solutions that convert biomass into renewable energy and recyclable products such as pulp, paper, board and tissue. We have also developed and commercialized new biomass conversion technologies for producing new bio-based end products such as biogas, biofuels and biomaterials."
Peachtree Corners Mayor Mike Mason agreed that Valmet fits in with the local business climate of companies that are working to change the world for the better.
"Welcome to the community — and most importantly, thank you for making the decision to come here," Mason said. "And from talking with your leadership, hearing what you do, you make, what's important to you about this decision, you made the right decision."

PCBA Panel Gives Insights into City's Growth, Development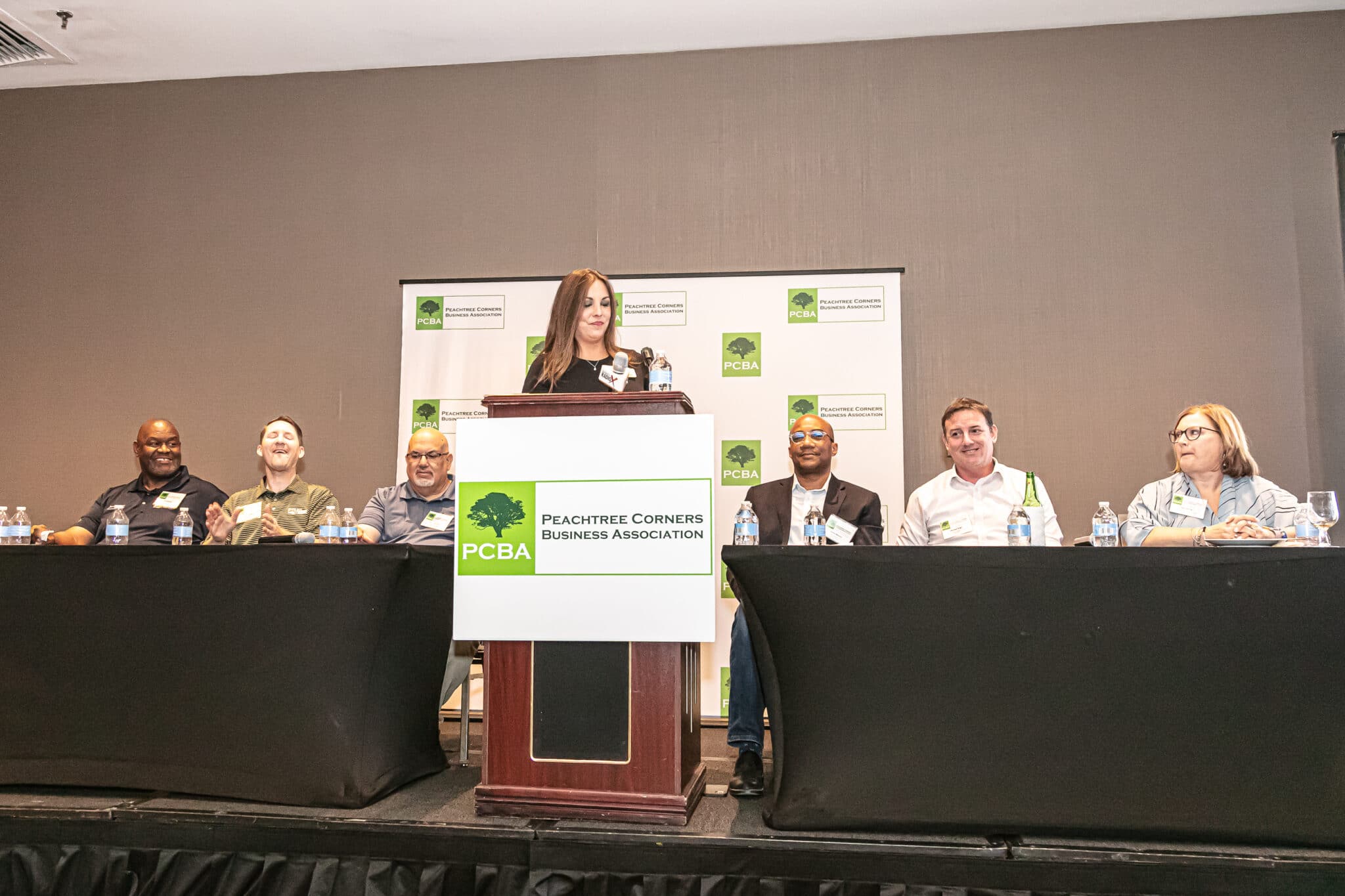 Visionaries see smart expansion for Peachtree Corners.
In a city that's a hotbed of economic development, technological advancement and residential properties, it's important for residents and stakeholders to keep informed about what's going on today and what's planned. To aid with that undertaking, Peachtree Corners Business Association convened a panel of local influencers at its April Business After Hours Speaker Series at Atlanta Marriott Peachtree Corners.
Moderated by Amanda Pearch, the CEO and principal of Forsyth Business RadioX, a community focused company that produces, promotes, distributes and markets online radio shows and podcasts for businesses, the panelists were a diverse mix of local movers and shakers which included:
Joe Sawyer, Peachtree Corners City Councilman at Large, a resident of Peachtree Corners since 1994. He recently became the first person of color elected to the City Council. Sawyer has owned Alpha & Omega Carpet Cleaning in Peachtree Corners since 2001 and has been a preacher since 1998.
Sue Storck, with North American Properties, the general manager for the Forum on Peachtree Parkway. She has been in property management since 2007 in Florida and Georgia.
James Winston, the director of construction at AHS Residential, a company that develops, builds and manages multifamily housing in metro Atlanta. He has 17 years of experience in real estate development.
Michael Pugh, a partner at the law firm of Thompson, O'Brien, Kappler & Nasuti, P.C. He concentrates his legal practice on the representation of businesses, banks, credit unions and commercial finance companies in secured transactions, financial workouts, asset recovery and liquidation and lender liability defense in both state and federal court, including federal bankruptcy court.
Louis Svehla, communications director for the city of Peachtree Corners.He has years of experience in journalism and public relations.
Rico Figliolini, a longtime Peachtree Corners resident and the publisher and executive editor of Peachtree Corners Magazine. He is also a creative director and social media strategist, three-time magazine publisher and podcast host.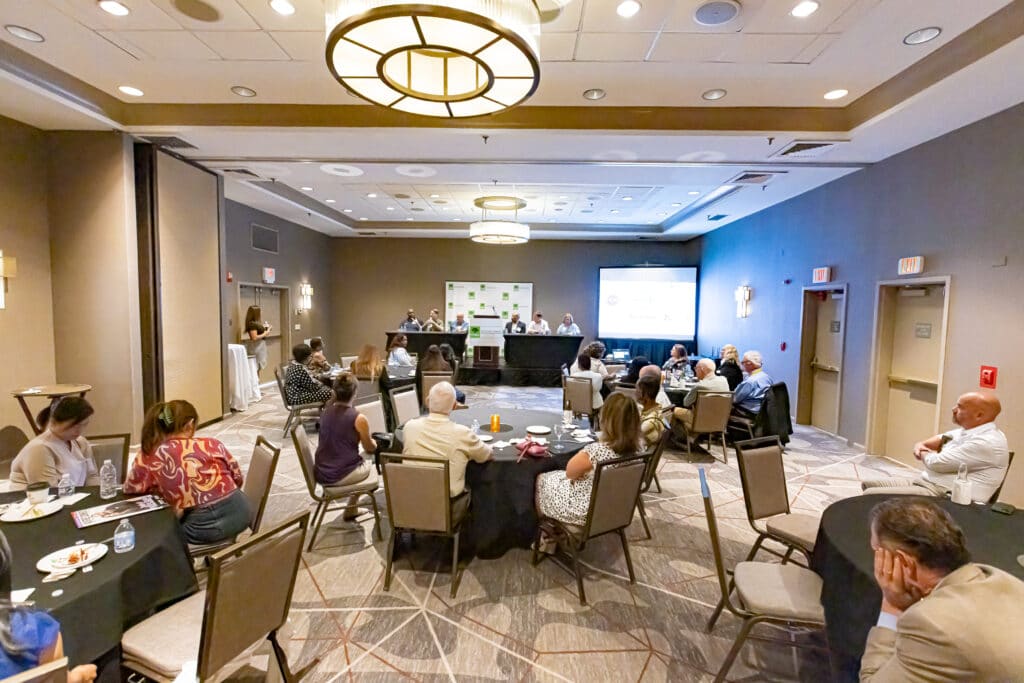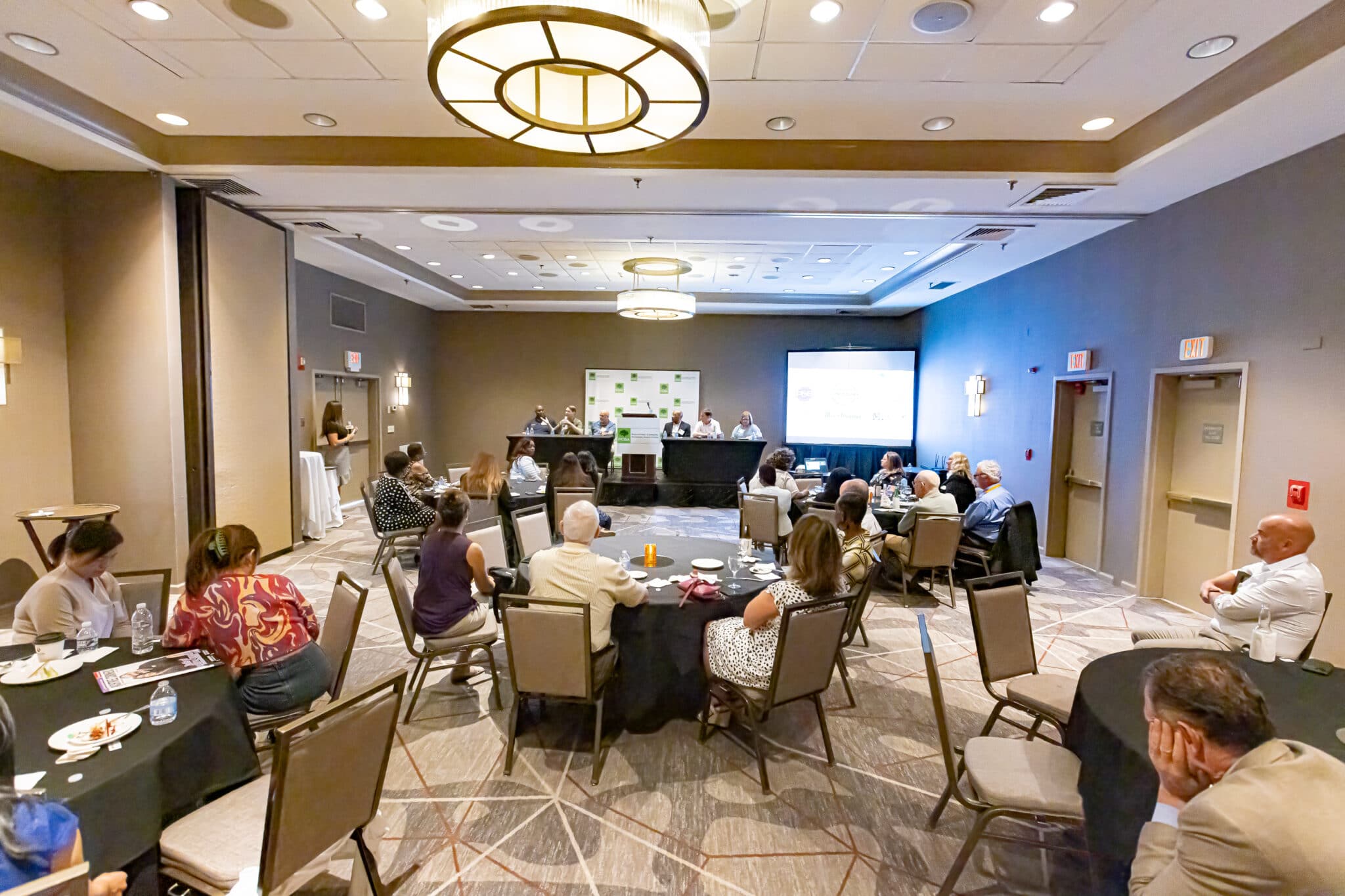 Growth opportunities
The group started off discussing some identifiable opportunities for growth in Peachtree Corners. With so much emphasis on what's happening in the northern part of the city, Sawyer said developers need to start looking to the city's south side.
"There's a lot of opportunity for growth on the south side," he said. "You see the townhomes going up and you haven't seen houses going up for a long time. That's where the next wave of growth will come."
Svehla agreed. "I think redevelopment is really the big thing. Joe got it completely right. Housing is probably not going to happen unless it's redevelopment of older neighborhoods," he said. "Just like what's happening with The Forum, the future is multi-use type facilities."
Pearch parlayed that response into a question for the home builder. "Well, the prediction is we're going to find very efficient and innovative ways of finding solutions for this housing problem that we have," Winston responded. "We know everybody is looking for… housing that's reasonably priced. We have a way of building and approaching our projects that I think is going to fit into the fabric of what this whole community is looking for. They're trying to be innovative, looking for something that's going to have an impact to the community. And we're doing just that by rehabbing, basically, an existing property."
Storck expanded on that concept with what's happening right now with The Forum. "On our side, it's experiential. …This is probably a very overused phrase, but 'live, work and play' is a trend that works," she said. "With our tenants, we have a built-in customer base. The restaurants have built-in patrons, but it's about an experience. Shopping is not… what it used to be. You don't go window shopping anymore; you have a destination. So, our plan and our goal are to bring that opportunity to the property, to be able to host larger events and gatherings, whether it's a tailgate party… or the Christmas tree lighting or concert series or a fitness series."
Talking about developers dove-tailed into Pugh's business. "One of the biggest advantages for Peachtree Corners is that it's close enough to the city [of Atlanta] so that people inside the perimeter are comfortable coming here, and since it's not in downtown Atlanta, we get people who don't want to fight traffic in town," he said.
All those factors feed into each other, said Figliolini. Having a publication that's focused on the lifestyle of a community that fulfills the demand for a high quality of life with entertainment, retail and employment opportunities nearby allows him to put more emphasis on the message than the medium.
"Print is sort of a dying business. I can say this because I've been in the business for a long time," Figliolini said. "We curate news in the community and people consume it in a variety of ways. Whether it's Twitter, Instagram, Facebook, Tik Tok, it doesn't matter. …Advertising is a long game. …Companies come to us. We have several corporate sponsors that are supporting local journalism, for example, so they're not necessarily buying advertising as much as supporting news."
Accolades and suggestions for the city
The panelists gave their perspective on what Peachtree Corners is doing right and what the city should do more of. Among the top recommendations is preparing the area for changes that have already been indicated. For example, the uptick in highly skilled jobs is affecting employment rates. Supply chain issues are challenging consumerism and access to technology is making a difference on how people live their lives.
"Roughly 65% of the existing labor force is almost set to retire," said Winston. "So, we have to replenish that, and we also have to find ways to manage that and to find innovative ways of doing construction. We know we're going to have challenges with the labor, in addition to all the materials. …Everybody is reading the articles about how prices are going up."
Sawyer pointed out that Peachtree Corners is growing in smart ways and every new development is people centered. "I think we are probably one of the smartest cities, as far as technology. …What other city in the South has an app that, when you sit at a red light, the app on your phone tells you when the light is changing?" he said.
"A couple of months ago, we had Transportation Secretary Pete Buttigieg here to study our transportation sector," added Svehla. "Everybody wants to come to Peachtree Corners because of all the innovative things that are going on here. I'm working to try to give Raphael Warnock an opportunity to see Curiosity Lab. …We don't really have to reach out to anyone anymore because the word is out that we're the most diverse city in the state."
Perspectives on the future
In looking ahead, all the panelists agreed that Peachtree Corners has a solid future outlook and growth strategies. Pearch asked the panelists where Peachtree Corners, in general — and their industry, specifically — will be in three years, five years and 10 years.
Storck said, "The retail world is different, because some ways, the retail world hasn't changed. We still have the brick and mortar as well as Amazon, so there are parts that will stay the same. But I think in three years, we are we are going to be fully redeveloped and we are going to be moving at a very fast pace. [The Forum] is going to be hosting 200-plus events a year and we are going to have opened quite a few new retailers. In five and 10 years, we'll still continue that course. Because everything is cyclical and we go through changes, we have to adapt as well."
Pugh added, "The legal industry is the dinosaur of all industries. If the legal world has adopted something, it's been adopted across the board. I think that law firms' sizes are going to shrink. I think that office space is going to shrink, and I think more and more attorneys and more and more businesses are going to go paperless. …I think that more and more are going to start incorporating the use of [artificial intelligence] in their in their work, where typically you would have a new associate coming out of law school doing research eight hours a day. You now have a computer program that does it for you."
Winston noted, "Nowadays, with an age of social media, [job seekers] are able to see so many other options more easily, and people are able to tailor it to make it more marketable. That's not always what you see in the construction industry. …You could start off learning mechanical, HVAC work, plumbing or electrical and branch off into a completely different sector of that same industry, or branch off more into real estate, because it really is part of the same pie at the end of the day."

Peachtree Corners Partners With Israeli Startup To Advance Smart City Technology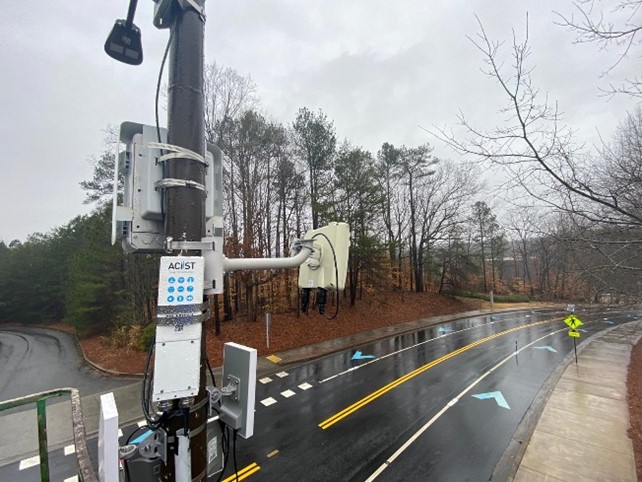 ACiiST will help the city with a connected infrastructure without tearing up roads or investing in miles of cables.
As one of the country's first smart cities powered by real-world connected infrastructure, Peachtree Corners recently announced a partnership with Israeli startup ACiiST – Smart Networks, the manufacturer of SD-LAN network solutions optimized for connecting outdoor cameras and sensors through a robust networking system. This partnership provides Peachtree Corners with connected infrastructure network solutions via fiber that allow various mobility technologies on Peachtree Corners' smart city streets to communicate with minimal digging, saving the city and residents time and money.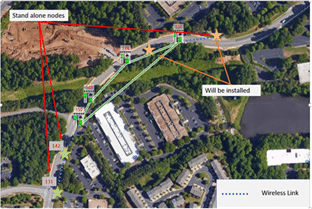 Installed in Technology Parkway earlier this year, ACiiST's technology spans across a half-mile of Peachtree Corners' "city street of the future," allowing deployed technologies and smart infrastructure with cameras, wireless links and other communication equipment, to be streamed directly to the Curiosity Lab's IoT Control Room, the first of its kind to be implemented in a city in the United States. Communication between the smart infrastructure and the IoT Control Room is possible via self-managed ACiiST Polarity units that create a low latency, high performance and fully manageable network.
"Working with ACiiST to demonstrate their technologies at Curiosity Lab is another great example of how international companies are showing great interest in the most unique real-world smart city ecosystem in the country," said Brandon Branham, Peachtree Corners Assistant City Manager and CTO. "We are able to demonstrate to other cities across the country the unique network connectivity, redundancy and monitoring capabilities of ACiiST's technology through this implementation on public infrastructure. This is a true testament of how the partnership between Israel and Curiosity Lab offers startups a one-of-a-kind experience to bring their products to the North American market."
ACiiST's network solutions allow Peachtree Corners to have a more secure smart city environment and make informed decisions based on data, such as traffic management. This solution also makes it easier for new edge devices such as cameras, radar sensors, digital signs, V2I access points and more, to be deployed and installed as smart infrastructure across the city street of the future, supporting the Curiosity Lab and Peachtree Corners' position as one of the leading smart cities in the United States.
"It was clear from the very first time we met with the Peachtree Corners management team that we are talking with leaders who want to promote positive change – with smart roads and streets as a platform to better manage their public spaces. They are open-minded to the implementation of new technologies, and we are happy to have our network solutions in action at the most unique smart city environment in the USA," said Sagi Gurfinkel, ACiiST Co-Founder and CEO. "The ACiiST network is already installed as the connectivity platform for multiple cities in Israel, Africa and the European Union, and we are excited to now add the United States to this list."