The Vote to Expand MARTA and What It Means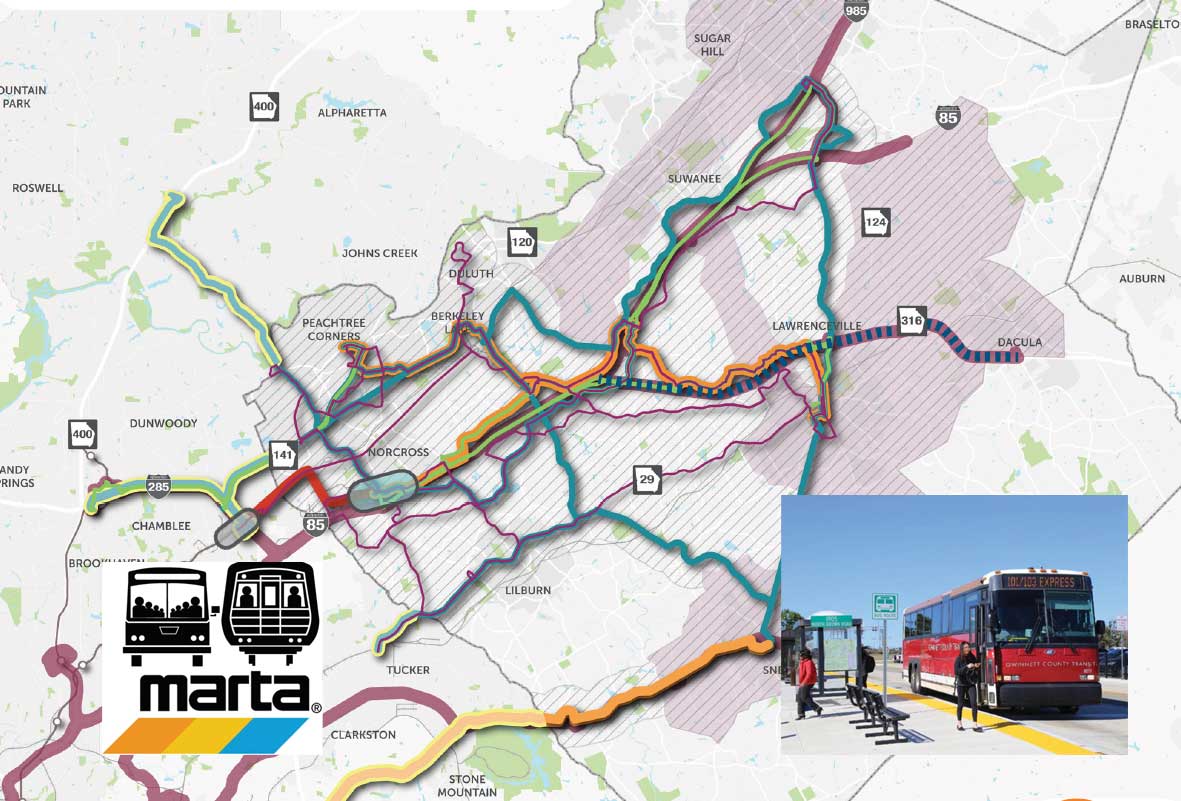 On March 19, Gwinnett County voters will be asked to vote "yes" or "no" on this question: "Gwinnett County has executed a contract for the provision of transit services, dated as of August 2, 2018. Shall this contract be approved?"
Go Gwinnett, a registered ballot committee, wants to make sure voters understand just what a "yes" or "no" vote means to Gwinnett County and its future.
What "yes" or "no" means for Gwinnett
A "yes" vote for the Gwinnett MARTA expansion will connect the county to the rest of the metro Atlanta region, giving residents more options to get to their destinations, whether for work or play and will offer new customers the opportunity to frequent Gwinnett's shopping and entertainment venues.

The expansion will be funded by a new one-cent sales tax that will be used solely to benefit residents of the county. "Gwinnett's money stays in Gwinnett," said Brian Robinson, spokesperson for the Go Gwinnett campaign. "All tax dollars collected will return to the county for local projects."
A "no" vote will prevent the expansion, and that won't decrease traffic. It will, however, limit the opportunities of how residents and visitors can move through Gwinnett.
More transit options
There's no question that the current road traffic is already strained, and it's only going to get more congested as Gwinnett grows. The partnership with MARTA will bring more options for commuters.
"More transit options will help reduce traffic congestion on the roads and provide faster commutes for riders as well as those on the roads," Robinson said. "Gwinnett would benefit early on from double local bus and express routes, more park-and-ride lots, flex "on demand" services, "direct connect" routes and more paratransit services." Exciting new bus rapid transit options will follow.
Additionally, the MARTA contract would extend the heavy rail line from the existing Doraville station to a new multi-modal transit hub hear I-85 and Jimmy Carter Blvd.
Something for everyone
Not only will approval of the MARTA contract make lives easier for residents and ensure smarter growth, but it also will offer more independence and inclusion for seniors and disabled residents — and bring in more Millennials.
"Fast and attractive transit options will help our county attract and keep the Millennial and Generation Z workforce critical to our economy, our schools and our neighborhoods over the next 40 years," Robinson said.
New transit hubs will drive smart growth around those areas and boost Gwinnett's tax base by spurring redevelopment of aging retail centers. The expanded transit options will also attract new high-paying jobs. Many of metro Atlanta's biggest economic development announcements have come from companies that demanded close access to transit for their employees.
Money and decision-making stay here
Every penny from the one-cent sale tax goes right back into Gwinnett County. "The 1 percent sales tax approach means that 25 to 30 percent of the dollars generated will come from people who live outside the county," Robinson explained. That means that Gwinnett will get 100 percent of the benefit with only 75 percent of the cost.
The expansion is based on Gwinnett's plan for transit expansion and its contract with MARTA. That contract has special provisions that protect the county.
"Gwinnett maintains local decision making on transit projects and service standards, and Gwinnett will attain three seats on the MARTA board, increasing our voice and oversight in regional decisions," Robinson said.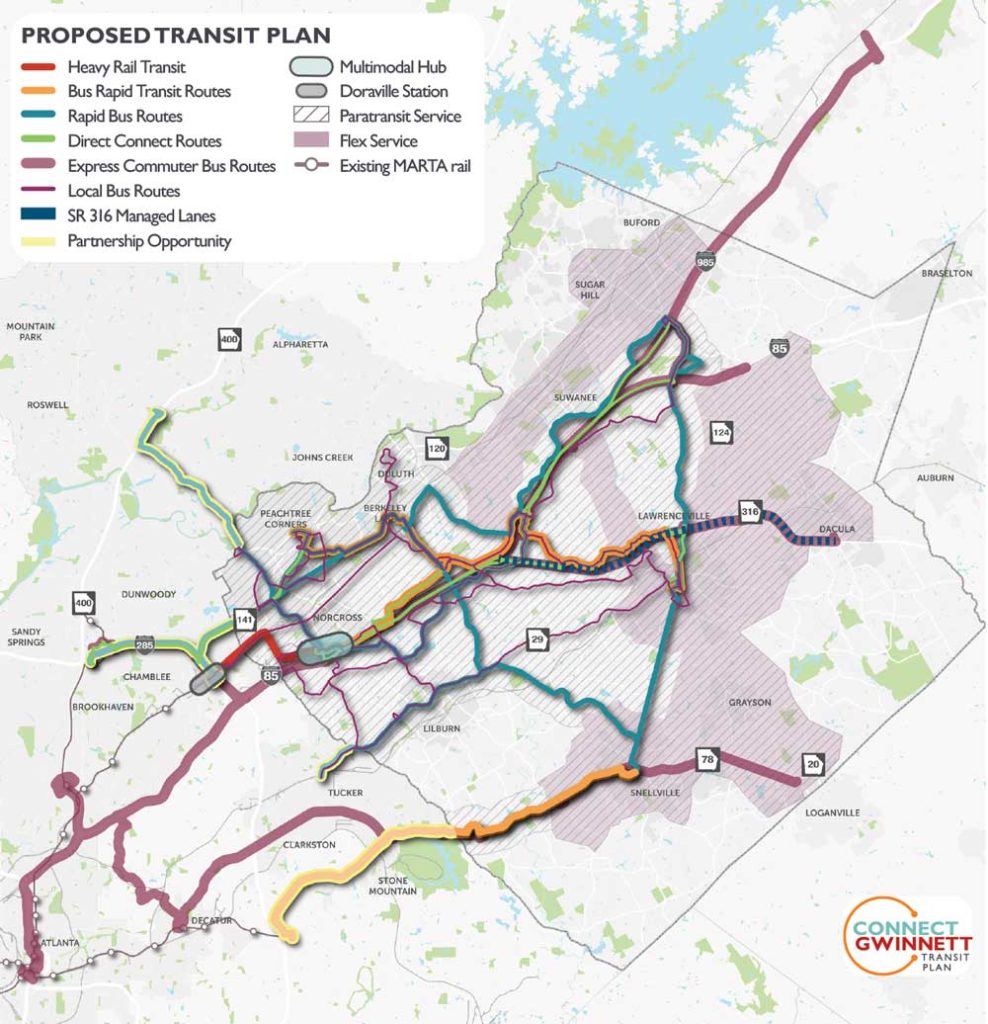 Why MARTA?
Some residents may question why Gwinnett should partner with MARTA, rather than Gwinnett County Transit, to expand local services. Robinson pointed out that what MARTA offers is a higher capacity to build out new infrastructure, and MARTA has the most knowledge and expertise to develop bus rapid transit, light rail and heavy rail in the State of Georgia.

Additionally, working with MARTA is essential so that the system that is developed in Gwinnett can connect to existing transit infrastructure as efficiently as possible.
Partnering with MARTA to expand access to transit and offer more transit options is an important part of making Gwinnett County a better place to live, work and raise a family. ■
Get Out and Vote!
► Election Day is Tuesday, March 19.
► Early voting begins Monday, Feb. 25 at the Gwinnett Justice Administration Center, 75 Langley Drive, Lawrenceville 30046. Starting Monday, March 4, early voting is available Monday through Sunday, 7 a.m.-7 p.m., at every early vote location until Friday, March 15.
► Visit gogwinnett.org for updates and more information.
Insight Sourcing Group Commits to 100% Renewable Energy by 2030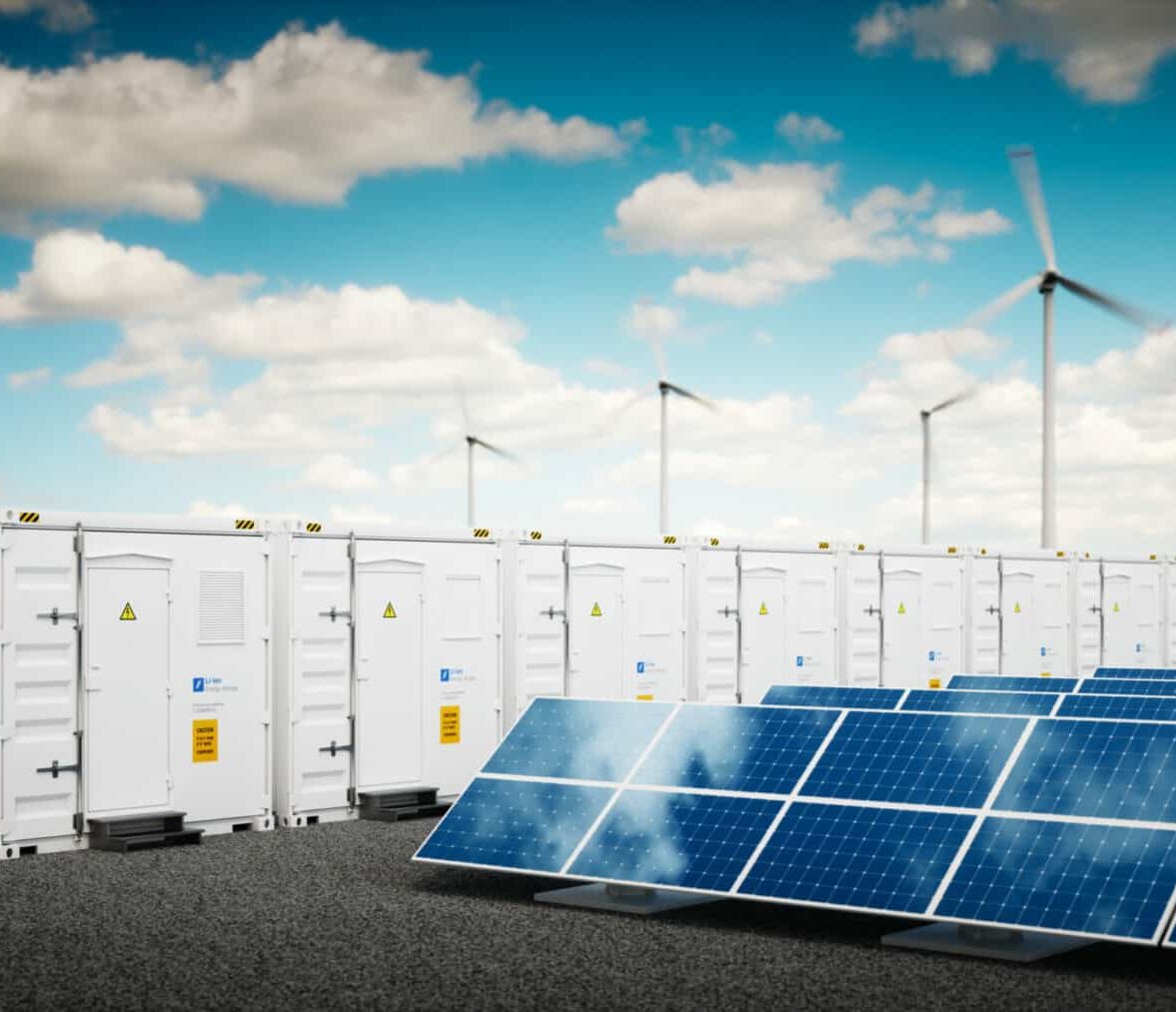 Sustainability initiative aligns with the same environmental standards it helps clients attain.
Insight Sourcing Group (ISG), a consulting firm located in Peachtree Corners, is focused on strategic sourcing and procurement-related services. Following a comprehensive analysis by Insight Energy, a subsidiary of Insight Sourcing Group that recently expanded, ISG set a 100% renewable energy goal for 2030.
The goal includes a commitment to sourcing its electricity from renewable sources at its Peachtree Corners headquarters beginning in 2022.
"Not only do we apply the same standards to ourselves that we help our clients achieve, but we also sought to pull back the curtain on this process and bring some transparency to this increasingly important service offering," said Brent Eiland, President of Insight Sourcing Group. "I commend the work of ISG's Internal Sustainability Committee led by Brandon Owens, Vice President of Sustainability at Insight Energy."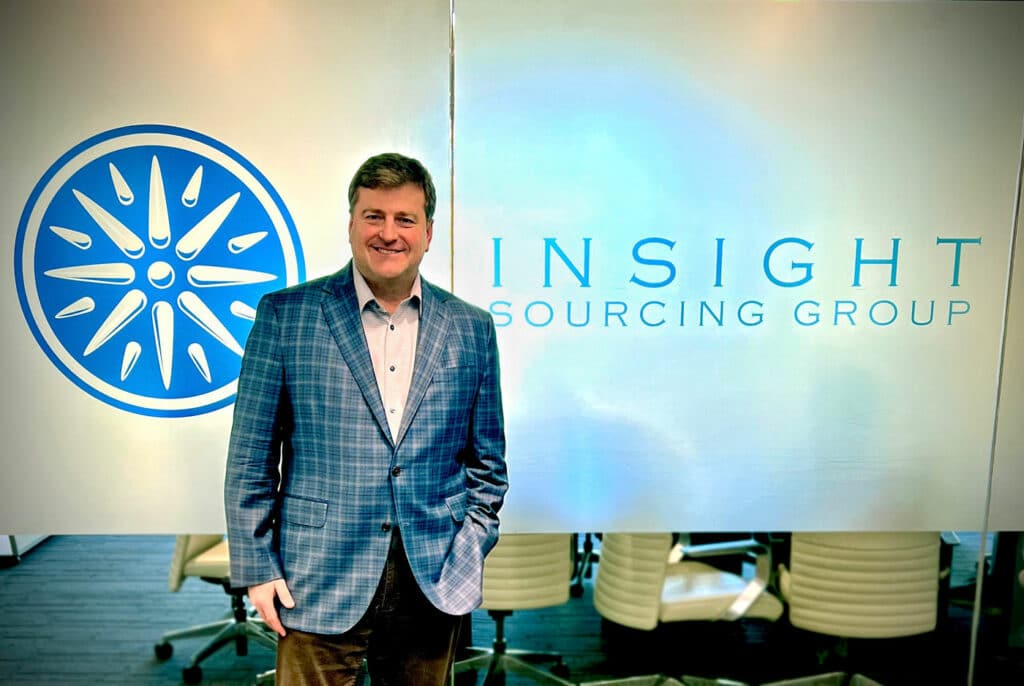 As part of the initiative, ISG conducted a measurement of its Scope 1, Scope 2 and selected Scope 3 emissions categories. Based on the findings, ISG developed a roadmap to achieve 100% renewable energy and established a plan to measure and reduce Scope 3 emissions, which are indirect emissions like business travel.
The Sustainability Committee also identified opportunities to reduce emissions from employee commuting via hybrid work models and a carpooling incentive program. Waste identification and reduction posed another opportunity to improve sustainability; internal audits revealed an opportunity to reduce the use of single-use paper cups.
Furthermore, ISG's procurement of Renewable Energy Credits (RECs) will certify the generation and consumption of renewable energy via wind or solar power.
Digital Technology Innovators Join Forces to Launch New Virtual Production Studio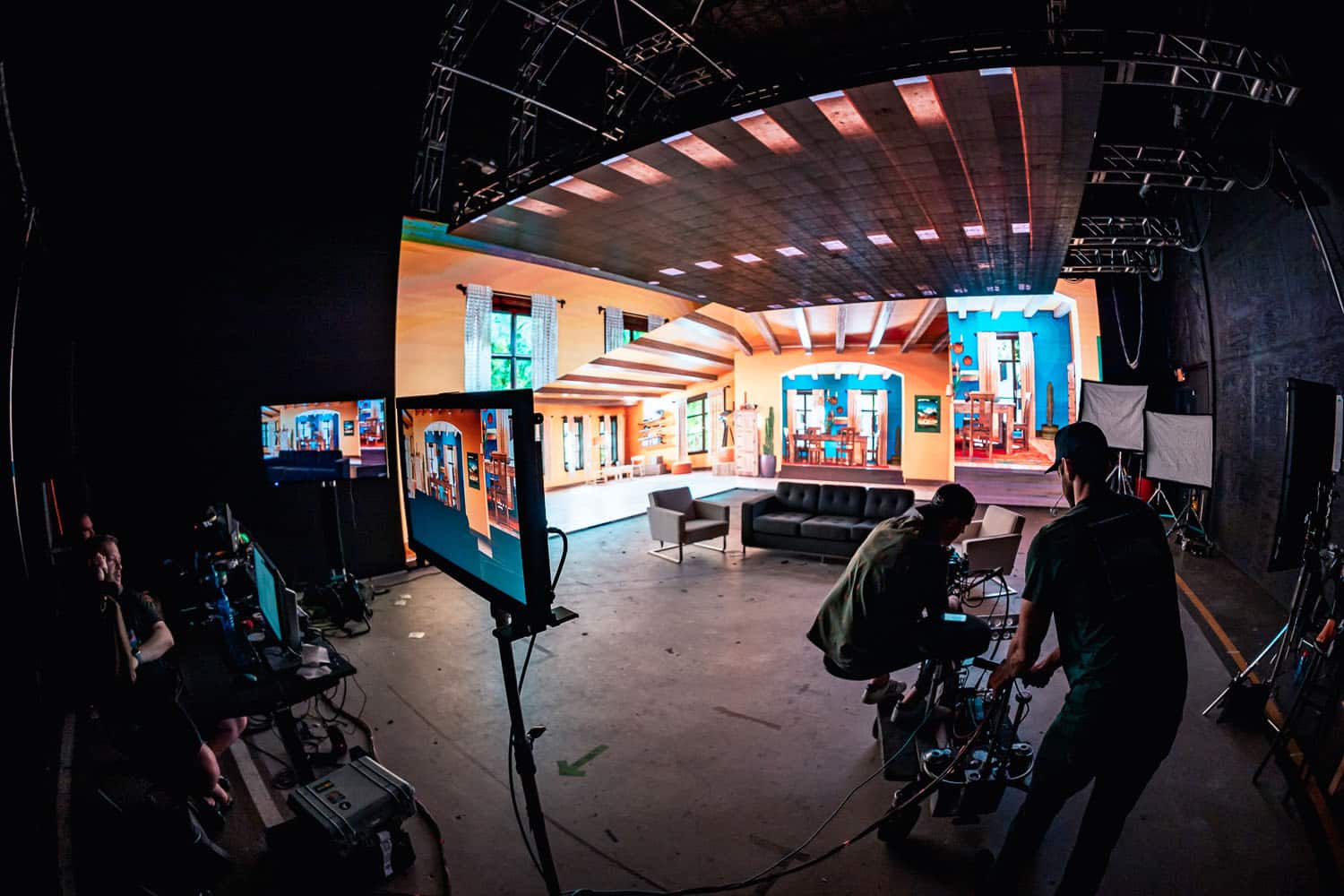 Everyone wants to have a taste of virtual reality. It can take you to far-away realms as you sit comfortably within your own room. Reveal XR, one of America's top virtual industries, provides this technology in its virtual production studios.
The company brought together Atlanta-based Music Matters Production and 3D animation and immersive content studio TRICK 3D to launch the newest Extended Reality (XR) studio in the state, Reveal XR — Atlanta, located at Eagle Rock Studios in Norcross, Ga
There has been a need for Virtual Reality (VR) and Augmented Reality (AR) in the area, so Chad Shockley, Aaron Soriero and Chad Eickhoff joined forces to meet the growing XR production demands.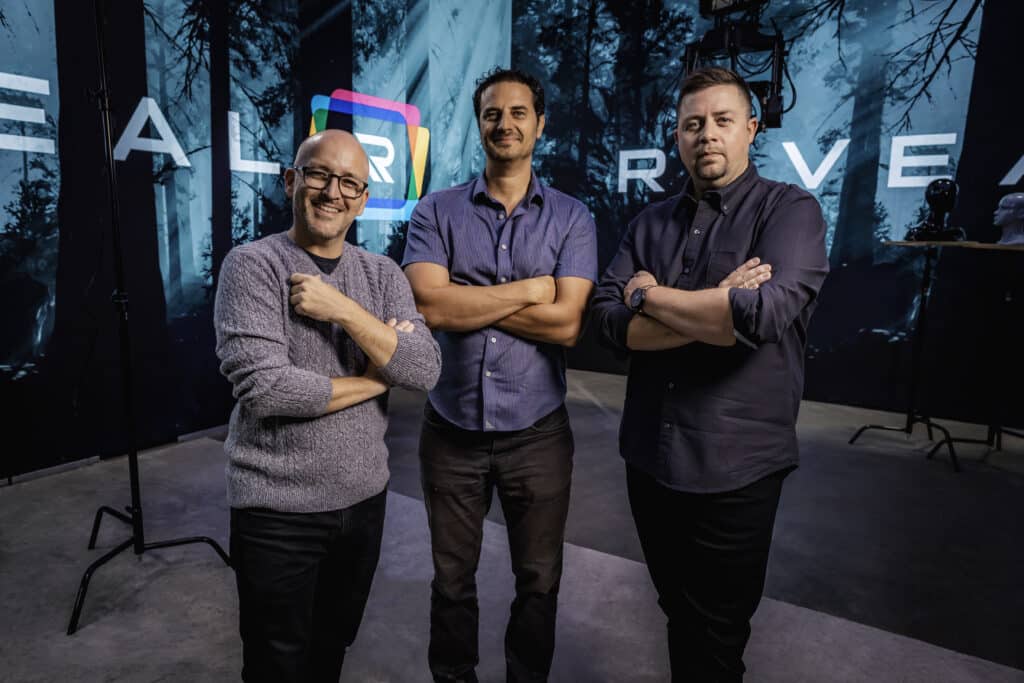 The three tech entrepreneurs opened Reveal XR — Atlanta, a highly accessible and multifaceted virtual production studio in Eagle Rock Studios.
Eickhoff said, "Today's brands need to connect with a digital-first generation of customers and, as such, the demands for creativity in content production is huge."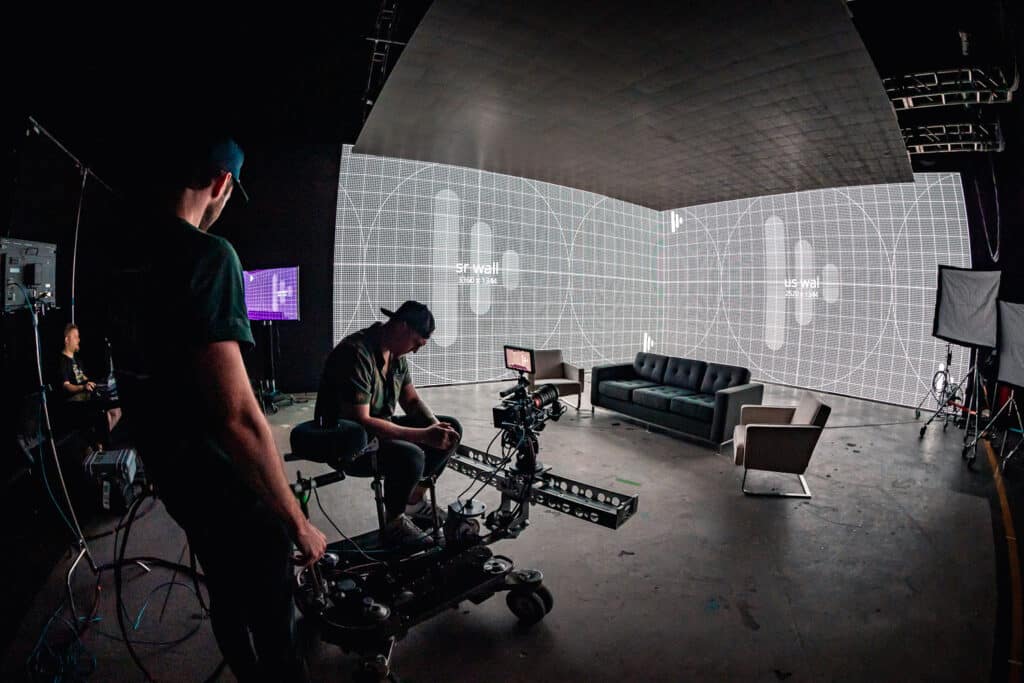 Some additional Facts and Specifications of the Studio:
As of the announcement, Reveal XR Atlanta is available for booking for brand, commercial, TV, film, and music productions.

Technical Specifications
● 35' x 75' sound stage at Eagle Rock Studios – full acoustic treatment and air conditioned
● 33' wide, 13' tall main LED wall, 25' wide, 13' tall wing LED wall, optional 3rd LED
wall up to 13' tall and 18' wide
● Absen PL 2.9mm pitch main walls – 90 degree configuration, next-generation Novastar
MX40 processing
● 18' x 20' LED ceiling, Absen X5 5.2mm pitch – high-bright, height adjustable
● Available ROE BM4 4.4mm Matte LED floor, 18' deep, 24' wide, high weight capacity
● Stype RedSpy Camera tracking system
● Disguise VX4+ for 4k 60fps compositing, RXII render nodes, uncompressed 10 bit video
workflow
● Available RED Komodo and RED Raptor camera packages
● Available Supertechno Technodolly automated telescoping crane
● Flexible staging and lighting options within the studio
● Full height truck docks and plentiful gear handling spaces
● Dedicated green spaces storage areas.

Names and Titles:
▪ Chad Shockley, owner Reveal XR
▪ Aaron Soriero, owner of Music Matters Productions
▪ Chad Eikhoff, owner of TRICK 3D

Location of Reveal XR Atlanta:
▪ At Eagle Rock Studios –
6269 Best Friend Rd, Norcross, GA 30071
Gate 4, E8
Cradlepoint, Bosch and T-Mobile Collaborate to Deliver IoT Solutions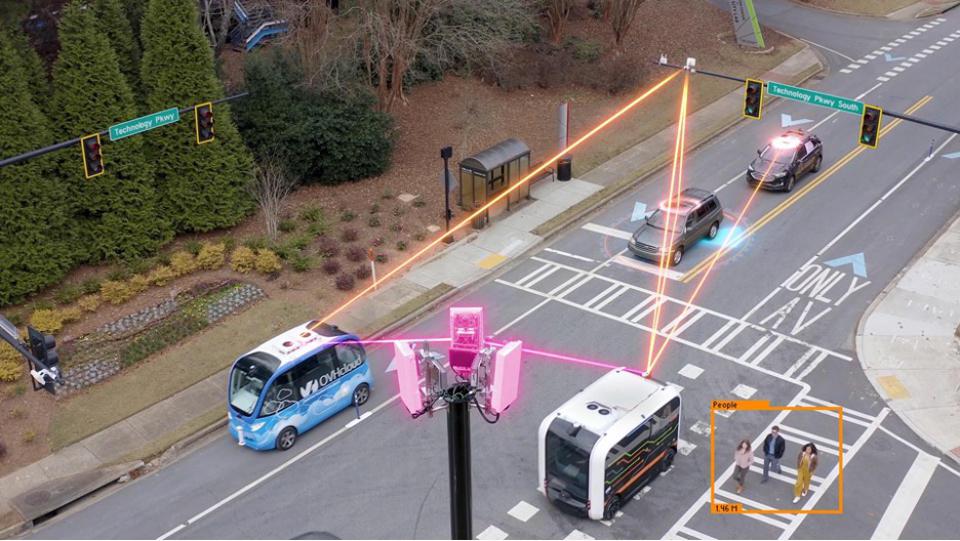 Advanced IoT Connectivity with 5G Wireless WAN Technology
Cradlepoint, the global leader in cloud-delivered LTE and 5G wireless network edge solutions, recently announced a collaboration with T-Mobile and the Curiosity Lab at Peachtree Corners to enable advanced IoT connectivity solutions, such as autonomous vehicles, robotics and AR/VR, using 5G Wireless WAN technology. The solution, developed by Bosch and Cradlepoint, leverages the high performance of T-Mobile's industry leading 5G network — America's largest, fastest and most reliable 5G network — with Cradlepoint's purpose-built wideband adapters and routers to facilitate near real-time parking and safety monitoring at Peachtree Corners, Georgia, one of the nation's first smart cities.
Companies and public sector entities are well positioned on the value of 5G cellular IoT connectivity, particularly when it comes to securing, managing and enhancing smart cities. Unlike traditional fiber connections that take months to deploy, cost thousands of dollars and have long-term commitment contracts, Cradlepoint's 5G Wireless WAN solutions enable an entire ecosystem of IoT partners to immediately deploy solutions with the security and remote management capabilities needed to support IoT deployments at scale.
"Real-world deployments of IoT are challenging the status quo of existing solutions. Couple that with the trend of businesses leveraging 5G technology to transform, and you'll see how this advanced connectivity is remodeling the enterprise," said Todd Krautkremer, Chief Marketing Officer, Cradlepoint. "Cradlepoint, T-Mobile and Bosch are at the forefront of this evolution, furthering IoT and 5G deployments for projects of all sizes."
"Improving safety, efficiencies and anticipating the needs of customers is what best-in-class smart cities can accomplish when powered by 5G and with innovators like Cradlepoint," said Chris Melus, Vice President of Product Management with T-Mobile for Business. "It's rewarding to see concepts from the Curiosity Lab, leveraging our 5G Advanced Network Solutions suite prove true value in the real world."
The solution uses near real-time IoT technology developed by Bosch in conjunction with T-Mobile's Ultra Capacity 5G network and Cradlepoint 5G hardware to assist Peachtree Corners shoppers and visitors in finding open parking as well as available charging stations for electric vehicles.
"In collaboration with T-Mobile and Cradlepoint, and our continued joint effort with the Curiosity Lab in the City of Peachtree Corners, we are demonstrating a scalable, affordable, adroit AIoT solution to serve the community," said Lewis Stallworth, Business Development, Bosch Security Systems, LLC. "The flexibility of this solution was only possible with this technology-forward collaboration and is changing the conversation of what is possible when there is a need for parking management, retail management, community safety and true community operational analytics."
In addition to improving the Peachtree Corners visitor experience, the technology also enables city planners to make real-time informed decisions on parking capacity, infrastructure planning, traffic management and security safeguards based on data around events happening throughout the city.
"Through our work with Cradlepoint, Bosch and T-Mobile, we are now able to better manage our public spaces. Cradlepoint devices having high-speed connectivity through T-Mobile's 5G is key – these devices now allow us to use smart parking applications through the Bosch cameras in our Town Center, while also providing a safety and security layer for our police department." said Brandon Branham, CTO and Asst. City Manager, Peachtree Corners. "The analytics these devices provide help us to better communicate with our residents about parking and safety in our downtown area."
To learn more about Cradlepoint's work with T-Mobile, Bosch and the Curiosity Lab at Peachtree Corners, please visit: https://resources.cradlepoint.com/success-stories/smart-city-uses-5G-for-connected-intersections-and-innovative-parking.