Heaven & Associates PC & Alvarez CPA & Associates Announce Merger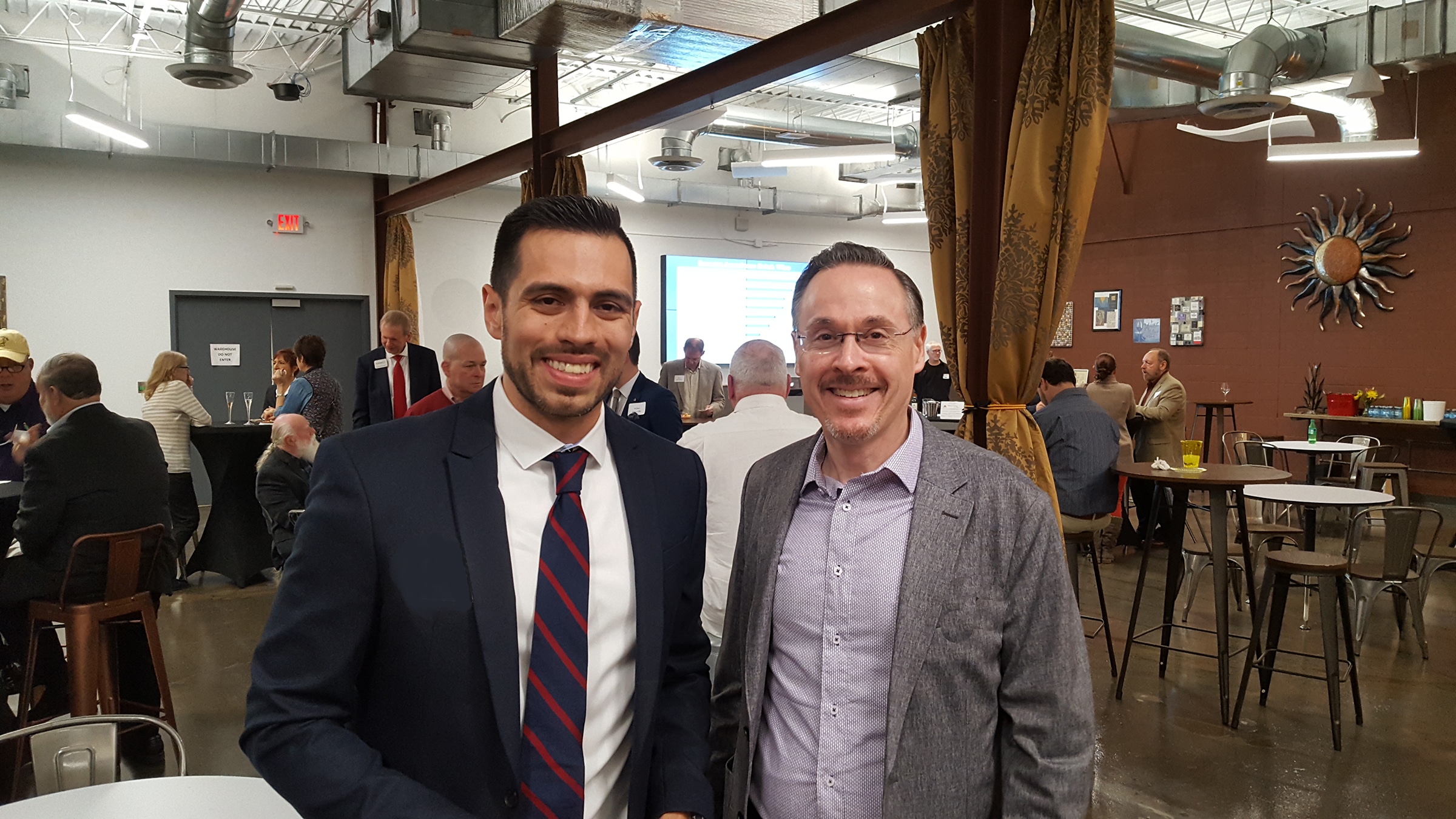 The accounting firms of Heaven & Associates P.C. and Alvarez CPA & Associates announced a merger, which is projected to make the combined firm one of the largest independent accounting firms based in Gwinnett County. The merger became effective January 1, 2019
The combined firm will operate as Heaven & Alvarez, LLC and will be located at 4720 Peachtree Industrial Blvd., Ste. 201, Norcross, GA, 30071.  It will have approximately 10 staff members, including 2 partners, Ranae Heaven and Carlos Alvarez.
"The merger brings together two established accounting firms and creates a genuine alternative to the regional and mid-sized accounting firms in the metro-Atlanta marketplace, said Ranae Heaven." "The culture of both firms is highly compatible, with similar client service delivery models that focus on a value-based personal service approach."
"I sought to merge with a similarly growing firm to expand the services offered to my clients, and also have the added benefit of tapping into Gwinnett's large Spanish speaking population," said Carlos Alvarez. "Our practice expands the services offered to clients in the areas of small business accounting services such as payroll, part-time CFO services, and strategic business and succession planning."
Feature image, Ranae Heaven and Carlos Alvarez
Kimberly Beaudin, CEO of the College Football Hall of Fame, Guest at SWGC [Photos]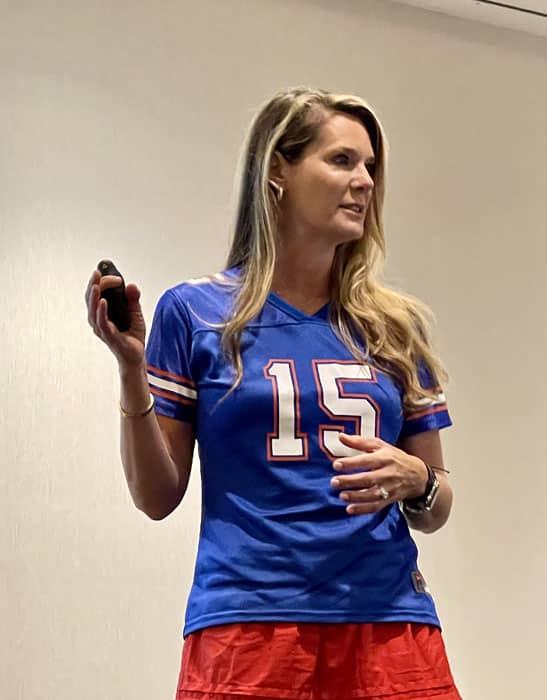 Beaudin was the Speaker at Southwest Gwinnett Chamber's "First Friday" Meeting at the Norcross Crowne Plaza Hotel
Kimberly Beaudin (CEO of the College Football Hall of Fame was the guest speaker.
Coach Mark Richt and Matt Stinchcomb (GA Bulldog player and college football HOF inductee) were also in attendance

Kimberly Beaudin is the President & Chief Executive Officer of the College Football Hall of Fame, a national nonprofit organization and top-rated experience based in Atlanta, Georgia.  Beaudin joined college football's mecca in June 2015 as the Vice President of Marketing and Communications.  With over 20 years of experience in leading brand development and marketing strategy, she was promoted to oversee the sales operations of the business in March 2016.
 
Beaudin was named President & CEO of the Hall of Fame in March 2020, making her the first female leader of the storied institution.  In her role, Beaudin's primary focus is on philanthropic development and she leverages her vast experience in partnership sales, strategic marketing, community and public relations and event and group sales to ensure a sustainable future for the Hall.
Photos by Bruce Johnson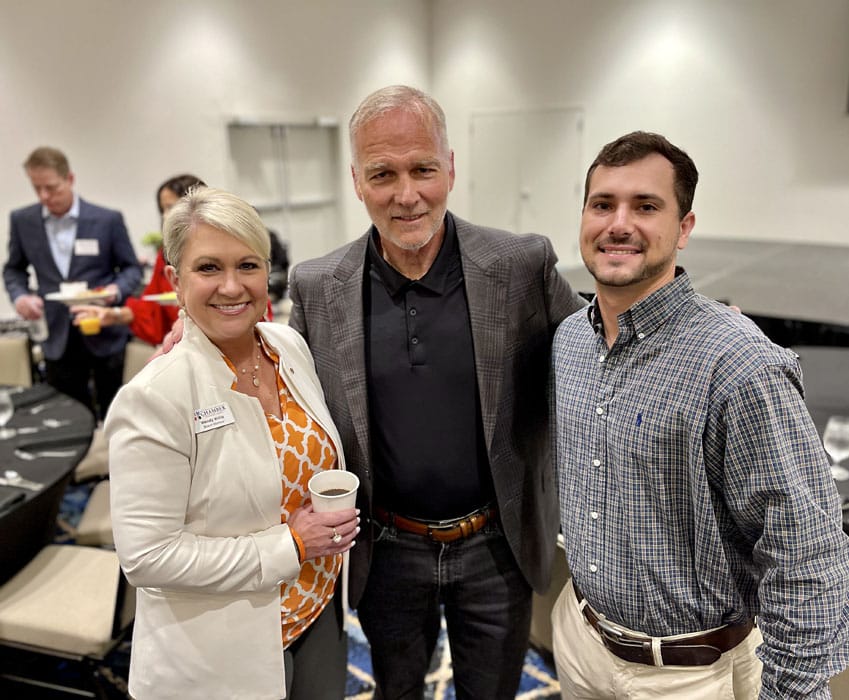 Peachtree Corners Business Association Donates to Neighborhood Cooperative Ministry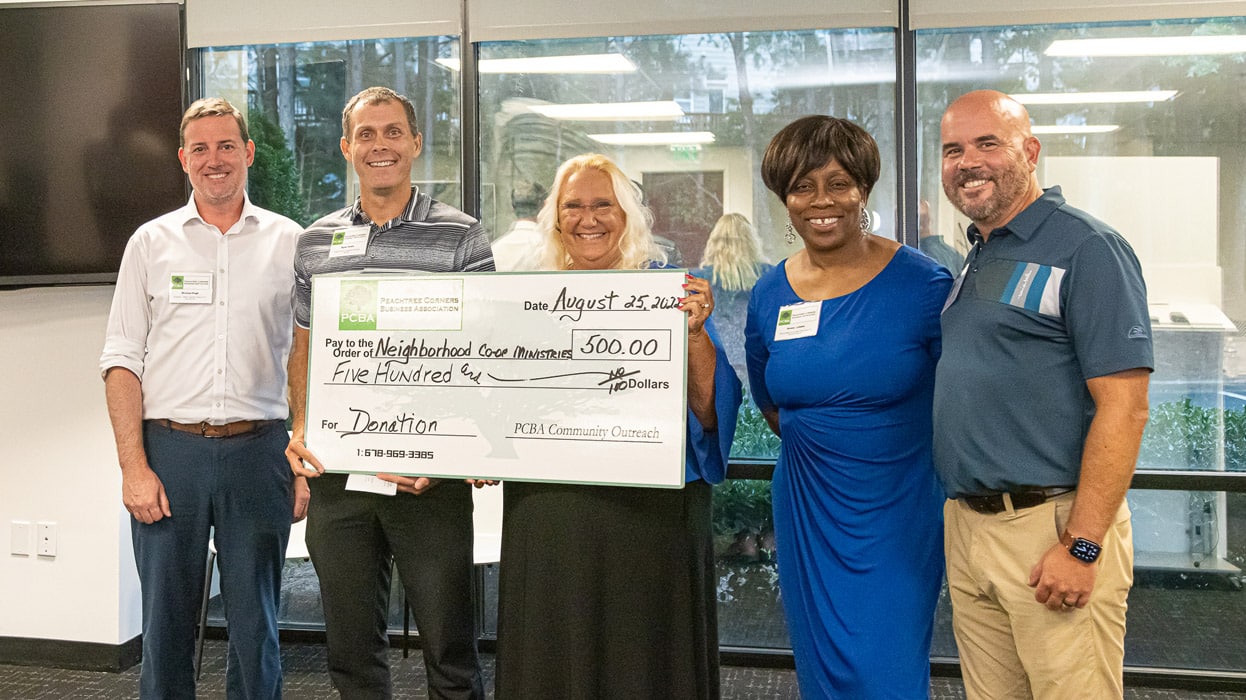 The Peachtree Corners Business Association (PCBA) awarded a check for $500 to Neighborhood Cooperative Ministries at our August PCBA Business After Hours Networking event. The PCBA was able to combine our "No Pressure Networking" event with doing good in the community!
The Neighborhood Cooperative Ministries provides physical (food & clothing, health), financial (rent & utility assistance, temporary hotel stay, job ministry) or spiritual assistance (counseling, prayer and church connections) to those in need.  Helping those in crisis by collaborating with the community to offer programs and services that transform lives through the love of Christ, Neighborhood Cooperative Ministries serves at-risk Gwinnett County residents from Doraville, Norcross, Peachtree Corners, and Tucker as well as Greater Gwinnett through community partner referrals and various funding cycles.
"The PCBA is pleased to award a check for $500 to the Neighborhood Cooperative Ministries to contribute to their ongoing need of restocking their pantry and providing financial assistance as part of our Community Outreach," says Lisa Proctor, PCBA President. Our Outreach Committee and Board are committed to supporting our community as our businesses continue to grow.

For more information about the association call 678-969-3385, email membership@peachtreeba.com or visit https://www.peachtreecornersba.com
The Secrets to Israel's Start-up Ecosystems Success Through the Eyes of a PTC Local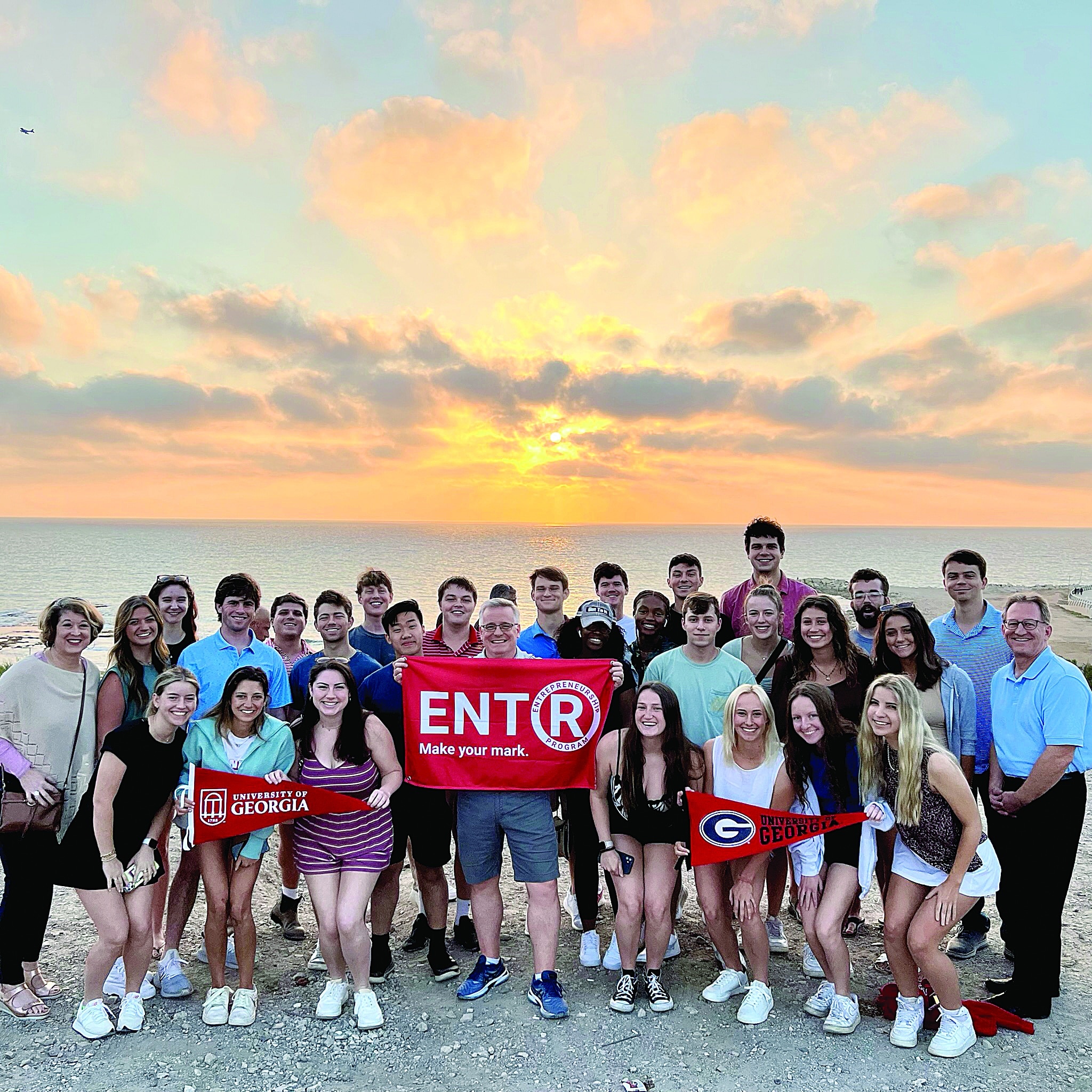 UGA entrepreneurship students seek the secrets to Tel Aviv's startup success.
Contribution by Stevie Bramble
About 6,000 miles across the Pacific Ocean, perched on the easternmost part of the Mediterranean Sea, lies Tel Aviv, Israel, a seemingly small entrepreneurial society that has transformed the start-up ecosystem worldwide. Israel has attracted large multinational companies such as Google, IBM, Apple and Fujitsu to their nation due to their start-up success, and it's continuing to grow today.
The successful start-up nation attracted University of Georgia's first study abroad group of Entrepreneurial students to spend time and learn about the ecosystem of entrepreneurship. They spent weeks studying the social and institutional infrastructure that supports one of the world's busiest start-up hubs. By visiting companies such as Monday.com and Overwolf, the students received an abundance of entrepreneurial knowledge from CEOs and employees in the tech sector.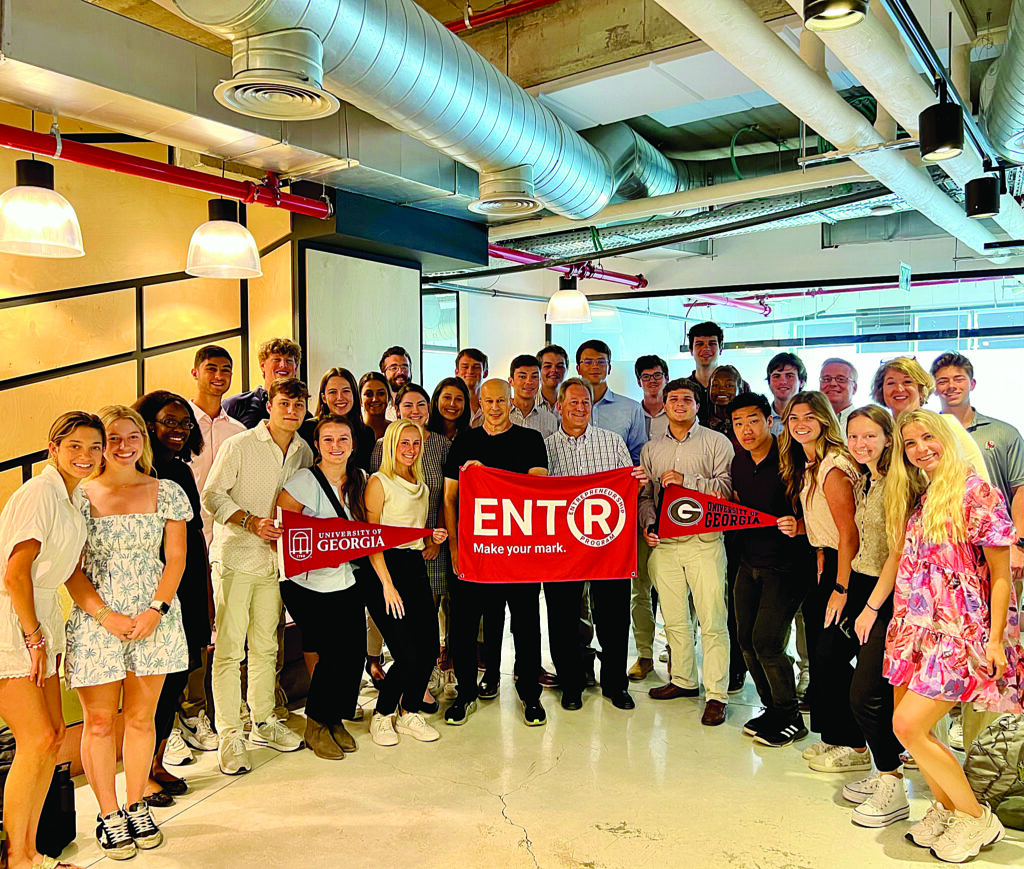 "I wasn't sure what to expect in Israel. However, I was so overwhelmed with the amount of knowledge I was able to grasp in three weeks," said Stevie Bramble, a rising UGA fourth-year student studying marketing and entrepreneurship. "Everyone in the cohort was excited to learn about this unique business environment, and the community was willing to teach us about it."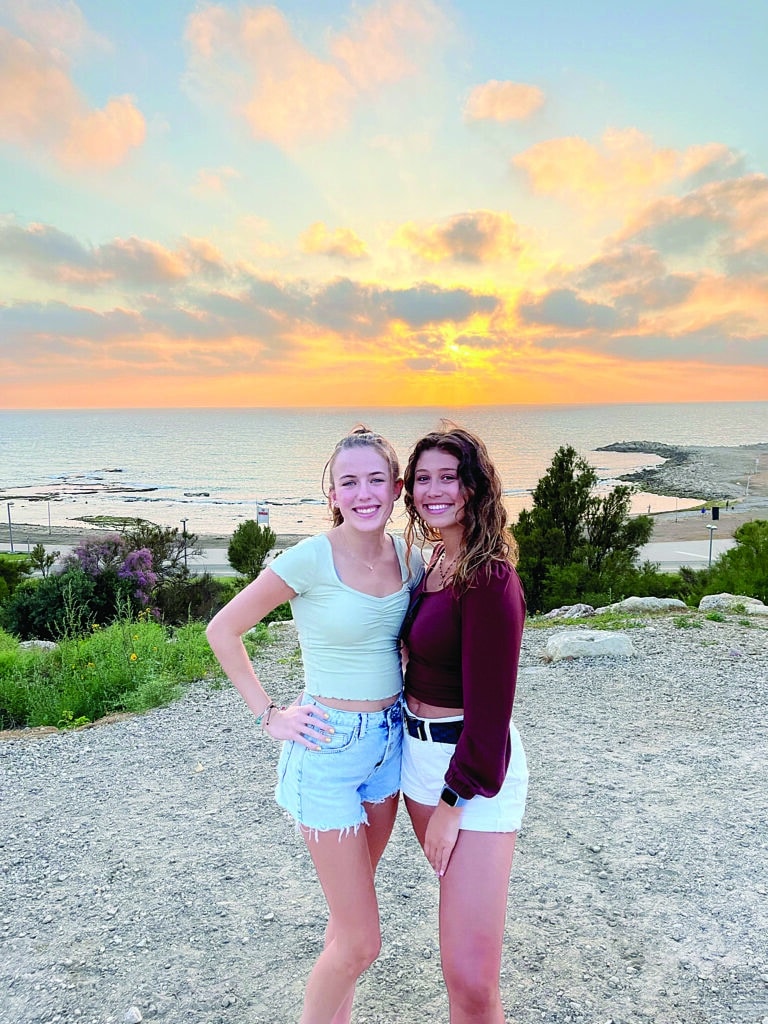 Bramble was one of 28 students who participated in the study abroad Maymester in Tel Aviv, partaking in two courses: The Study of Diverse Entrepreneurship and Innovation Ecosystems. Although the majority of students are pursuing a degree through the Terry College of Business, the trip included all majors.
Some other students are majoring in engineering, fashion merchandising, communications and international affairs. The program ensured a mix of people from all over UGA's campus to embrace differences.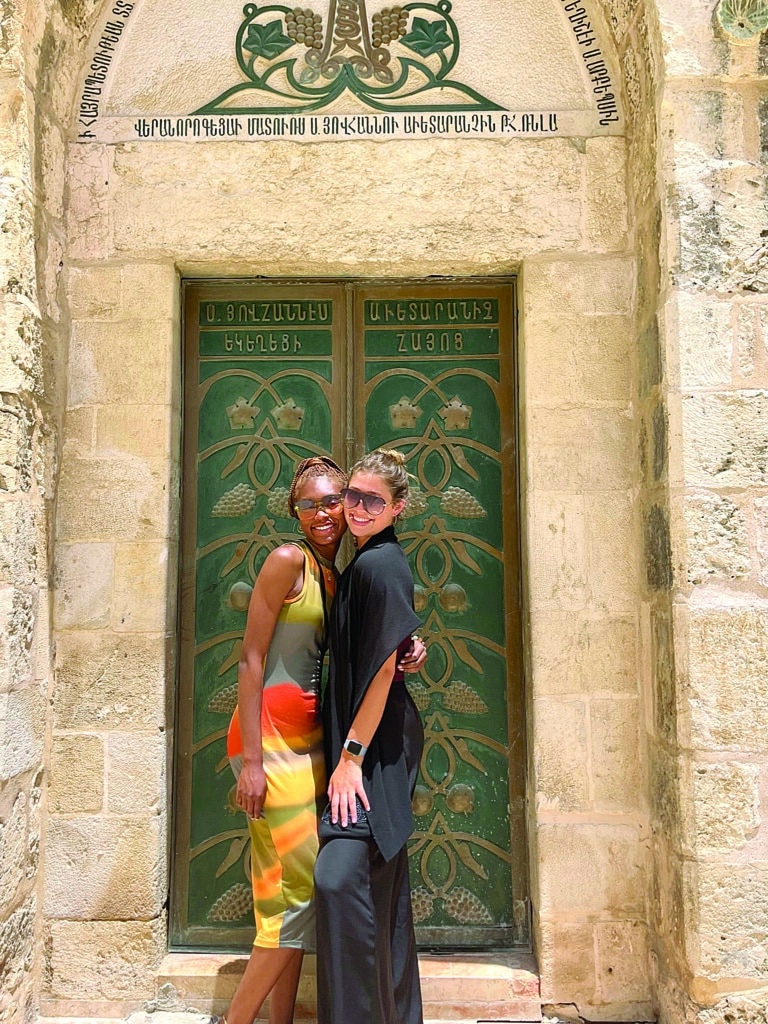 Survivalist engine
According to Shahar Sorek, Israel is a "survivalist engine." Sorek is the CMO of Overwolf, one of the businesses the students visited, and he spoke on Israel's ecosystem. He mentioned that the Israeli people have persevered through hardship and furthermore, have produced a community of assertive and risk-taking individuals motivated to work hard and survive for the future.
Right: At the Overwolf Office in Tel Aviv. Top row: Lindsay Mangum, Alex Boulogne, Kaleb Thibodeaux, Laura Neely, Ben Brown and Nina Boone; bottom: Stevie Bramble.
Left, Shahar Sorek, CMO at Overwolf
Adding on to this, Bramble learned that Israel has a military service that all Jewish men and women are required to partake in, called the Israel Defense Forces (IDF). After their 18th birthdays, they must serve for two to three years before pursuing any secondary schooling or leaping into the workforce. While Americans cringe at the words 'mandatory military time,' Israeli's embrace it.
"The army brings people together because everyone in Israel has to do it," said Hannah Laskow, the influencer marketing manager of Overwolf. " Israel is only 74 years old so it is pretty small, creating a tight community that is willing to lean on one another."
Laskow met with Bramble one-on-one during the trip to discuss Israel's ecosystem in depth. She mentioned that the IDF has different sectors, including, but not limited to, a tech sector and a combat sector.
The tech sector is where most of the multinational companies such as Google and IBM recruit. It's imperative to Israel's ecosystem to require the IDF due to the massive amount of talent being injected into society constantly.
In the Study of Diverse Entrepreneurship course, the students had the opportunity to create a plan to maintain Israel as a major hub for start-ups. One of the groups came up with a plan to create technology boot camps for individuals coming out of the IDF who participated in non-tech sectors to gain tech knowledge and fix the lack of talent issue. The students were able to solve some real-world issues happening around them, and it was reported to be one of their favorite projects.
In Israel, to be risk-tolerant is to survive. That's why the majority of individuals are able to go anywhere and meet others who share an entrepreneurial mindset with ideas and thoughts like their own.
Bramble and the rest of the group met with creators of start-ups, ranging from small local incubators to larger global companies, including Monday.com and Overwolf. Some of the speakers had taken multiple businesses public and now run large tech incubators. The group took away key points toward understanding the 'survivalist engine' they call Israel.
The key to success: failure
According to the students, there was one standout speaker. Yuval Tal, founder and president of Payoneer and BorderFree, made time in his busy schedule to talk to the UGA students about his new tech incubator, Team8, and how to survive in a fast-paced start-up nation like Israel.
The student's key take-away from his speech was the acceptance of failure. Tal mentioned that start-ups take risks, and with risks comes failure. He drove home the point that success doesn't come without many failures.
"Having the drive to keep going is what matters the most," said Tal. The students presented him with questions about Israel's ecosystem, teamwork and his own personal failures.
Tal mentioned his biggest failure was letting go of people and regretting it down the line. Tal hinted that one person he let go went on to start their own business and become successful in the sector he was working in himself. The lesson for the students was that it takes courage to work with and hire people who are smarter and better than yourself. However, it is imperative to do it because it will make your business better.
He also stated that "courage is over intelligence," meaning that it takes a person to become bigger than their ego to keep going forward even when it seems difficult. The take-aways from Tal were the importance of believing in yourself, having courage and accepting failure.
After considering Laskow's insights about the IDF, it is clear how Israel has become a high-demand place for multinational companies to set up research and development centers. The riskiness ingrained into the Israeli people from birth is beneficial in their workplace life, especially after their experiences in the IDF.
The IDF fosters a place where people must fail and learn from their mistakes to survive. It seems that Israel has mastered its survivalist engine perfectly. As many say "I'm Tirzu, Ein Zo Agadah" which translates into English as, "If you will it, it is no dream."
Future trip planned
The University of Georgia plans to host another trip to Tel Aviv, Israel in 2023 through the Entrepreneurship Program. For more information, please visit terry.uga.edu/entreprenuership.