Lorri Christopher, Her Vision for Peachtree Corners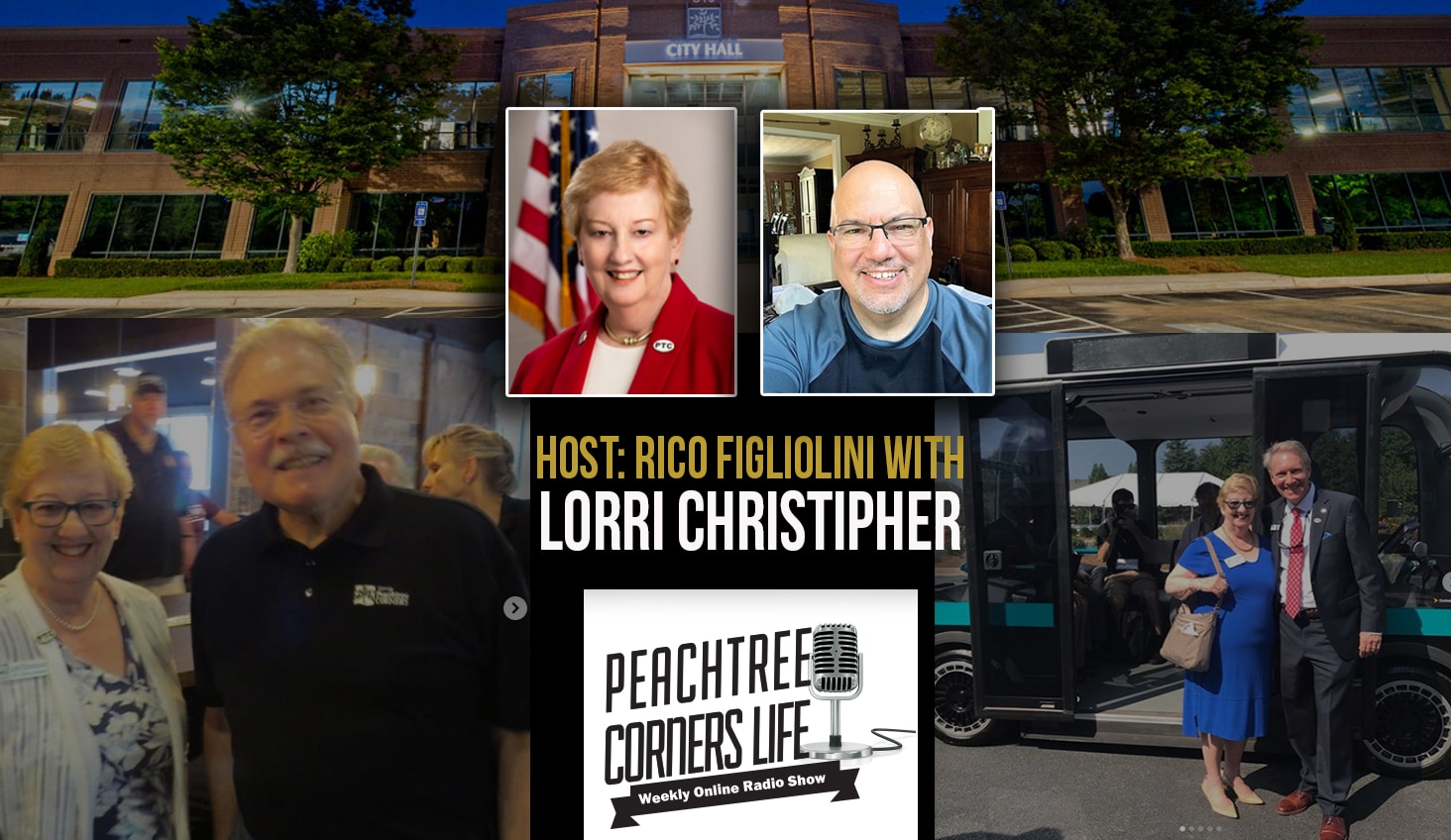 On this episode of Peachtree Corners Life, we get the chance to hear from Lorri Christopher. Lorri was one of the original founding city council members of Peachtree Corners. Listen in as Rico and Lorri discuss technological advances in the City, park improvements, and why she is running for re-election to Post 5 city council.
Resources:
www.Re-electLorri5.com
www.PeachtreeCornersga.gov
Social Media:
https://www.instagram.com/lorrichristopher/
https://twitter.com/lorri504
Facebook
Rico: [1:01] Hi everyone. This is Rico Figliolini, I'm the host of Peachtree Corners Life. I appreciate you joining us. Whether it's Facebook live or if you're listening to us on iTunes or Spotify or iHeart Radio, thank you for joining us. Before we get into our guest today, I just want to say thank you to Atlanta Tech Park here in Tech Park Atlanta in the city of Peachtree Corners right on this miraculous one and a half mile road, that's part of the Curiosity Lab at Peachtree Corners, which is the autonomous track that just opened just recently. But Atlanta Tech Park is an accelerator similar to some degree to Prototype Prime down the block which is an incubator. Curiosity Lab at Peachtree Corners, Bright and Prototype Prime is part of that. Now the original was separate, but now it's all together. Thanks Lorri. But we are in the podcast studio here at Atlanta Tech Park, and I want to thank them for allowing us to use the studio. It's a great place lots of things here. Lots of workshops, the ability to find and connect and network here is unbelievable. Next month is going to be a tech showcase that's happening November 14th I believe. An ATS I believe it is and you can find information on LivinginPeachtreeCorners.com or just Google Atlanta Tech Park and their website will pop up. So thank you for these facilities for us to use and now for my guest today a City Council Person. City Councilman, we discussed how we should do that right. City Councilman, Lorri Christopher. Lorri, thanks for joining me.
Lorri: [2:38] It's an honor to be with you.
Rico: [2:40] I appreciate it. Lori is the original, one of the original, founding city council people that started with the city of Peachtree Corners and actually prior to the city. So why don't you tell us a little bit about that and about yourself?
Lorri: [2:53] Well a little bit about me. I've lived in Peachtree Corners since 1983, the whole time. I worked in Peachtree Corners in the 70s and 80s in the Summit Building. We had our technology firm, Boris, was located there where we developed financial applications for the world, but we had over 400 people in that facility. So I've seen Tech Park when it was at its heyday. I've seen it since and it is so exciting, about what's happening now.
Rico: [3:25] Yes, it's like full circle almost right?
Lorri: [3:28] We're getting there.
Rico: [3:29] Lorri has an impressive background, I've got to say. MBA Emory Finance, Georgia State, Global Commerce, e-commerce. IT graduate work at Georgia Tech, Hofstra University, Undergraduate math. A long history not only of schooling but also of a long history of being involved in all sorts of things. She's back from Africa, 14 days there as well.
Lorri: [3:56] Well I was there doing a service project with a school. We had partnered with the local Rotary Club, the Arusha Rotary Club in Tanzania, and they had identified a number of projects that they needed help with. And so along with three other people, we went over with some money and some computers.
Rico: [4:18] And you told me you lugged in your luggage, actually.
Lorri: [4:20] We took them all over in our luggage and they all made it. And we were fortunate to be involved with a group that wanted to give in that community as much as our area wanted to give in terms of making the project a success. Sometimes you get engaged in these projects and it's a one-way street. But the people we worked with were equally as committed in spite of the challenges that they face. And that's kind of how I view some of the things sometimes we face as a city councilman because we'd like to do everything but our funds only go so far.
Rico: [4:59] This is true and the good part is that the city's somewhat debt free of things, right?
Lorri: [5:04] We are.
Rico: [5:05] Yeah, the town center we're debt free there?
Lorri: [5:07] The town center is debt free.
Rico: [5:10] The millage rate is zero.
Lorri: [5:12] That's true.
Rico: [5:13] For a small city that's only, how old are we now? Six years old? Well what it says seven there.
Lorri: [5:19] We're seven plus years old. And the bottom line is we've been able to do some things that we hadn't planned because we didn't plan to buy the property where the Town Centre is now. We had other initiatives in place at that time, but because of the citizen input and desire, they did not want that turned into garden-style apartments. So we ended up buying the property and we tried for a long time to sell it. That didn't go really well. We were just coming out of a recession. And so the city chose to build a town center there as a place for people to gather and be together. And it's debt free. The other thing is how fortunate can we be when we bought the town hall, our city hall, because we have a tenant on the top that pays the rent for us. So our mortgage basically is being paid by a tenant. So in my opinion, we work really hard at keeping the millage zero and being fiscally responsible.
Rico: [6:31] It's interesting, one of the few cities that haven't built their own city hall for example, lots of cities around here, Duluth, Suwannee, others. Not saying that's a bad thing for them to do, but they went out they built their own city halls and stuff. And rather you took, the city decided to take a building already existing in technology park, in the hub of the city.
Lorri: [6:53] Well it was important to us to bring Tech Park back and make it successful again because it was the heart of the area during the 80s and early 90s. And it attracted people to our community. And if we had made an investment in Tech Park, I don't think we would look that
good because we're asking business to do it and we wouldn't. And then to renovate something that's there, I think it's an important thing to do.
Rico: [7:25] Yeah. And I mean, it's proof in the pudding if you will. I mean we went from a twenty-six percent vacancy rate and we're now, we're under 20. 19 I think. So things are coming back.
Lorri: [7:37] Property taxes, property appreciation has gone up over 10% during the period we've been a city.
Rico: [7:46] Now do you think that you, do you think that's part of what the city's done? Do you think that the reason for that?
Lorri: [7:52] Well it's some of the things the city has done has spurred innovation. Have spurred growth in the city and attracted people to our community. And we're trying to create places where people can live, work, and play because they don't really like getting caught in traffic. The challenge we have is we have a major highway running through the middle of the city that we have no, really, control over other than figuring out if we can do anything to maximize the thruway part. So we've worked on light streaming so that we partner with our neighbors and Johns Creek and further north to sync up the lights to keep things moving when it goes through.
Rico: [8:42] Because it's the Georgia State Highway, I believe isn't it?
Lorri: [8:45] It's a State Highway, yes. We have, in our city we have state highways, we have County highways, and we have city highways.
Rico: [8:53] Three different governments to, trying to figure out how to work together.
Lorri: [8:57] And we have collaborated a lot because we partnered with the state in getting the access road improved to get onto 285. We've partnered with them, another, the county on street projects both in sidewalks and in highways and paving. So no City can exist as an island.
Rico: [9:22] For sure. Do you think that I mean, let's go to sidewalk infrastructure investment, for example. We've had 20 million dollars invested in 2015 alone. In roads and sidewalks Splost is a big part of that.
Lorri: [9:37] Yes it is.
Rico: [9:38] And that's coming up again, I believe?
Lorri: [9:40] There'll be a Splost initiative in about a couple years. In the hope. See the whole deal of us becoming a city as most people probably remember was, we weren't getting Splosts.
Rico: [9:53] It was a part of the area.
Lorri: [9:54] We're the largest city in population in the area. And so our citizens were paying into Splosts every year before we became a city. Well that same investment did not come back to us as an area. And the only way that would happen is if we became a city. So that was one of the reasons we became a city, in addition to being able to manage code enforcement and planning and zoning.
Rico: [10:24] Now we did have back, I guess a certain time before the city. We did have a commissioner that was a city commissioner that lived in Peachtree Corners. And we currently also have, well actually.
Lorri: [10:38] No we don't have one living in the city now.
Rico: [10:41] Now we don't, but we did in Linette Howard.
Lorri: [10:43] For many years yes. I mean we had people looking out for us but you're talking a six to one vote.
Rico: [10:51] It's a big difference and we do have a good Commissioner now in Ben Cooper though, I would say. But I would assume he would be in favor of another Splost update again of reupping it.
Lorri: [11:02] Well we would be in, we were in favor of Splost because some of the things we've been able to do have been primarily funded by Splosts. The city's revenues come from franchise fees, business licenses, and other types of fees associated with being a city. And Splosts. But Splosts generates for us around nine to ten million dollars a year.
Rico: [11:28] And they're mainly for roads, sidewalks, transportation?
Lorri: [11:30] Well it had been part of roads, transportation, sidewalks. The county handles education, the county handles police force, but I think it's important for people to know how that works. But we have intergovernmental agreements also with the county for other services that we don't provide.
Rico: [11:50] Are there services that you think, that you think the city should take over. I know we recently took over water, I think water and sewage, we took that over. Just before Peachtree station had the road fall out. I forget which road it was.
Lorri: [12:06] But that was an obligation of the county.
Rico: [12:09] At the time.
Lorri: [12:10] And they provided us some money to do that because it was their obligation before that.
Rico: [12:17] Before that but fortunate enough that was already being looked at at the time and plans were in place.
Lorri: [12:25] Plans were in place.
Rico: [12:26] Correct.
Lorri: [12:27] We had to improve some of those plans but it worked. We also preserved, helped acquire Simpson Wood.
Rico: [12:34] Simpson Wood park, right? Lorri: [12:35] Yes. Because, see the county was able to only invest so much in Simpson Wood Park. And if the city had not assisted them in that process that would probably be a development today.
Rico: [12:49] Because I think of the way that was zoned would have probably allowed two or three plus homes to be built there. And that's right across from, for those that don't know, is right across from Simpson Wood United Methodist. And actually was the retreat for Simpson United Methodist.
Lorri: [13:05] Well I've known that property for a long, long time. Being in the city a little while. We raised our kids here. They all graduated from Norcross High School.
Rico: [13:16] Right? Wow, okay.
Lorri: [13:18] Our oldest kids were at Peachtree Elementary when Brooks Coleman was principal.
Rico: [13:25] Yeah. Yeah.
Lorri: [13:28] So then they all went to Summer Hour. And then our daughter, who's the youngest, she ended up at Pinckneyville after a year at Summer Hour. And then they all went to Peachtree Elementary and then she ended up at Brookley Lake Elementary one year and the next year at Simpson.
Rico: [13:44] Simpson yeah, probably when it opened I guess, right? So what do you, you know, there's been so much accomplishment. You know people that know, listen to me on these podcasts and know, I don't have problems with anything for the most part that the city has done. Maybe the original plans for the pedestrian bridge, I had a bit of an issue with, but I didn't have
an issue with the bridge. I had an issue with the size of the bridge, the design, the money being spent, correct. Now that's been paired down by more than half from the original estimate.
Lorri: [14:18] Absolutely. You can see where, you can see the progress beginning on the bridge.
Rico: [14:22] And it's starting that, right because they put up the blocks and stuff. So when… So they're starting to level out the ground, I think right?
Lorri: [14:29] Well what'll happen is they build the infrastructure for the bridge. And then one weekend, they'll put up the arches.
Rico: [14:39] Because it's a prefab, right?
Lorri: [14:41] It's a beautiful bridge in terms of representing what we're familiar with in our city. So I was primarily, very honestly, in favor of a tunnel.
Rico: [14:52] Really? Like the Johns Creek Tunnel?
Lorri: [14:54] Well, I've seen a lot of tunnels internationally and they work very well. And it doesn't… let's say if they wanted to add two lanes say to 141, it's then going to affect the bridge. It wouldn't affect a tunnel, but it would affect the bridge. So that was some of the reasoning I had, but I'm very happy with the final design we came up with for the bridge. And I feel it'll be well used. And it wouldn't have made sense to start the bridge till we got the Town Center there.
Rico: [15:29] Sure. The bridge to nowhere would not have been good.
Lorri: [15:32] No. they had that up in Gainesville originally. In fact, they just finished their bridge.
Rico: [15:37] Right. So the bridge is going to be coming up and then I know there are plans for an offshoot pedestrian sort of walkway for the botanical gardens park and stuff.
Lorri: [15:38] It'll be like botanical gardens but it'll be a park type place. It'll be beautiful.
Rico: [15:56] Now and you know, listen. The city has done a lot of things. They bought the park of Simpson wood.
Lorri: [16:04] They assisted it.
Rico: [16:06] They assisted it, correct. It was a million dollars plus and Gwinnett County fitted most of the money actually for it. And it's a Gwinnett county park not a city park.
Lorri: [16:16] The parks are Gwinnett County Parks, but we are very blessed in our city. Because we have four parks on the Chattahoochee River. And have wonderful places for people to play and enjoy. We do really need though some play space in the south side of town.
Rico: [16:39] Where in the south side do you think?
Lorri: [16:40] I think that we could find some property around Mechanicsville and around that area over on, you know, toward the Winners Chapel and that side. Jimmy Carter area. Because those kids really don't have access to the type of amenities that are on this end of town and I think that's something that we need to work with. The county does parks, and we just need to help provide a little incentive and initiative to do that. Now the other thing though that's coming in, they've got the design for, is the upgrade of Simpson wood park.
Rico: [17:17] Right the master plan for that. But they're still keeping it a passive park.
Lorri: [17:21] Oh, it's always going to be a passive park.
Rico: [17:23] They're just expanding on the…
Lorri: [17:25] They're going to add a couple overlooks. They're going to improve the trails.
Rico: [17:31] In fact there's going to be a paved trail and the multi-use trail.
Lorri: [17:33] There's going to be a multi-use paved trail and also there will be a playground but it's going to be very interesting, the play space. Because it's going to be in the trees. Now you take these little children, it gets a little warm in the summer. And every playground is out there in the hot sun.
Rico: [17:56] Yeah, for sure. Lorri: [17:57] And we've found a design for a play space that is in the trees.
Rico: [18:03] So when you say in the trees, you mean like under the tree canopy.
Lorri: [18:06] It'll be under the tree canopy.
Rico: [18:08] Because I'm thinking tree tops, but under the tree canopy. And you're right most Gwinnett parks are not built that way. Gwinnett County Parks tend to clear a space and put the play, playground area in an open space. So this would be under the canopy where it makes more sense.
Lorri: [18:27] Well see the other part of it is that it protects the environment when you do that. I'm kind of a green person and you know every day today we hear more and more and more
about being green. But it means a lot for the future of our children and grandchildren, and now I'm a great-grandmother so I'm even more concerned about it. But I think that that's an ideal way to do that. There are two types of parks in Gwinnett. There are passive parks and active parks. And so Simpson Wood is a passive park which means very little development in the park and keeping the trails and that available to everyone to play. And Jones Bridge Park, which was the first County Park. I don't know if most people know that.
Rico: [19:20] Probably not that I would think. That makes sense though.
Lorri: [19:22] That was why it has been redeveloped because it's totally different than many of the other parks. But they have been bringing it back into that type of stage.
Rico: [19:32] In the last couple of years they have just renovated that whole area. When are they releasing the master plan for Simpson Wood then. Or I thought there was still some more work to be done on it?
Lorri: [19:43] Well the plan is done. See the funding is in the next block.
Rico: [19:49] So nothing's going to happen for the next year or two. Or two years, I guess, right?
Lorri: [19:53] Right. But the park is open and available to the public.
Rico: [19:56] Oh, yeah for sure and it's a great place for shots and photography in there. We've done some videos in that area.
Lorri: [20:01] We've hosted arbor days there.
Rico: [20:03] Yeah. It's a beautiful chapel building there as well.
Lorri: [20:06] Oh it is.
Rico: [20:09] So to go back to a little bit about you know, the county has services that are… Some of the services are being supplied like Gwinnett police does the policing. Gwinnett fire…
Lorri: [20:20] Fire, police and the emergency.
Rico: [20:23] So they do all that. We've taken over the sewage and the sewage services from the county. So we get funded for that. Those dollars come directly to us now and then we can spend that money here based on per capita.
Lorri: [20:38] And care of the problems that might exist in the city. And when you have some places we have more than 40 and 50 year old instructors to deal with.
Rico: [20:45] For sure. And so are there any other services that you think that the city should take over also that the city may provide or that you see in the future that the city should provide.
Lorri: [21:00] Well, I think we have some challenges in a couple areas. One, we don't have enough senior housing in the community for what's projected to be the number of seniors. Statewide we've seen the numbers just dramatically grow. I think that's important. And like I said, I think we need some more play space that you know, what we need to do is encourage and partner with the county. To get play spaces for people that don't have play spaces. So kids have a chance to get outside and be safe.
Rico: [21:39] You took you know, I mean, I know Brookhaven was just that… a Brookhaven candidate forum. And they're talking about pocket parks.
Lorri: [21:46] Yeah, we have we have a pocket park. Yeah, we have one pocket park down behind the condominiums. Where, you know, down behind that area where Lynn Williams lives?
Rico: [22:01] Yes, yes. I know Crooked Creek?
Lorri: [22:03] It's a little further than Crooked Creek. You know, we're putting in multi-use trails and we'll see things improve when those trails go in and gets down really toward Crooked Creek, not all in Tech Park. So that'll happen. I think that you know, we've had some people say we need more affordable housing. But that's a challenge. And when you think about affordable housing you got to find the right way to do that. Because what happens is if you have too much affordable housing, it decreases the property values of people in the community. So any decisions we make in that area have to be very carefully thought-out. We do have on the calendar some potential development over in the Mechanicsville area. It could be supportive of that type of development.
Rico: [22:59] Now, I noticed that other cities are talking about the same thing, affordable housing. Because you want to be able to have people that can work in the community. And work in jobs that are local jobs. And it gets expensive to live even in the city of Peachtree Corners it could be expensive to live, for a family. Let's say, a family of two or three. Is there, I mean, there are ways to adjust for that though now. Are there any suggestions you have?
Lorri: [23:28] Well, I think you have to find a developer that's interested in taking advantage of some of the resources that are available that permit affordable housing and acquiring the property. We face some of the same challenges when it comes to apartments. Our city has spent probably seven and a half years trying to incent and try to acquire some ancient old apartment buildings that don't need to be here. But the challenge is that because of our education system, which is so wonderful, those places are full. So a landowner doesn't feel like he has to be inspired to do something different.
Rico: [24:12] Right. When there's 95 percent occupancy. I mean, you know full rental.
Lorri: [24:16] But I think it's important that the public should understand what the challenge is there. Because we couldn't afford to buy them at the current rate.
Rico: [24:28] Right and no one else wants to buy them, actually because it's expensive too. Because to be able to buy that usually, there's a cycle, right? So things go bad, property values dro, and then all of a sudden you can buy that property.
Lorri: [24:42] Well, we did that with our city hall.
Rico: [24:46] That's right. Lorri: [24:47] And we did that in acquiring the Prototype Prime Building.
Rico: [24:49] That's right, and that was through a grant so that was pretty much, it was for free if you will. Also so that was no debt also on that one. Lorri: [24:57] So we've worked very hard at being fiscally responsible. In trying to deliver good things to the citizens. There are still many things. You know, there are a lot of things that we need to think we can do but we have to figure out how we fund them and moving forward.
Rico: [25:16] Are there other things that you'd like to see done that we haven't. That's on the board maybe or on your?
Lorri: [25:21] Well, you know, we've… There's a lot of people who have asked a lot of questions about a second bridge. And we have in the comprehensive plan, plans for a second bridge that bridges the gap from the hill down to Holcomb Bridge.
Rico: [25:38] That's right. So and that was in the master plan actually too.
Lorri: [25:40] That's in our comprehensive plan.
Rico: [25:43] So is that going to be coming at some point?
Lorri: [25:46] We have we have a strategic planning meeting coming up in November. Where we'll look and see what the things are that are most possible for the coming year. But we're going to be focused on bringing the community together. I think the other thing we need to do is find more ways to engage more citizens. I mean, we have 4, over 43,000 people in this community. And there are opportunities for us to collaborate and come together and address many things, like the Peachtree Corners Business Association does a lot for our community. The United Peachtree Corners Civic Association brings all of the homeowners together. But we need to have other groups like, thinking about an art center and a music center for our city. That would be important.
Rico: [26:41] So there's an art Council right?
Lorri: [26:44] Yes. We have an art council.
Rico: [26:47] We have a plan, I think, out of them. Or at least a study that was done. Lorri: [26:49] Yes we do. We have a start of a plan.
Rico: [26:52] And that is near and dear to my heart because I would love to see an art center actually built with a theater in it. And an event hall probably, that could be used as a gallery as well.
Lorri: [27:05] Those are things that have always been particularly interested in.
Rico: [27:09] Do you have a particular place you'd like to see that? Lorri: [27:12] Well, we have a little property that we acquired near the town center.
Rico: [27:16] that would be a perfect place, right off the town center. Right. That would be cool.
Lorri: [27:20] It'll be interesting. I'd like to hear the citizens input really, on what they would like us to do with that property. Because some would like to see us expand the town green and some might be more interested in an art center or that. And I think it's important to get citizens' input on what we do.
Rico: [27:41] Sure, makes a lot of sense. And I think there was a study so there was a survey that was done.
Lorri: [27:45] Yeah, there was a study. We do check the citizens out and ask him to tell us. Right now we're working very hard to figure out, I've got a lot of questions on the Michigan U-turn.
Rico: [27:58] Oh the roundabout you're talking about?
Lorri: [28:00] No, not the roundabout. They're looking at the intersection at East Jones and 141, which is the most trafficked intersection in the city. And the proposal has been because the state would fund the majority of it to do Michigan U-turns. There's a lot of concern about that and…
Rico: [28:26] It's a little different. I've been in Detroit where they, where I used one several times and it was… you had to get used to it because it was a lot different than what you might see here on the East Coast.
Lorri: [28:37] It is but there are some of them, in other areas of the state, and they are successful. And I really think it will increase safety.
Rico: [28:49] So you think that might be coming. Couple of those, or at least one of those.
Lorri: [28:54] Maybe, maybe not. Because a lot of people… See the other thing is it'll change the whole corner there dramatically. It'll tie up traffic dramatically for a while.
Rico: [29:07] While they construct it.
Lorri: [29:08] So those are concerns but I think safety should be our first concern.
Rico: [29:12] I mean, you know, listen to the construction of something is always a one-time thing anyway. So it's the outcome, whether the outcome is going to be for better or worse is what it's about. All right, cool. There were a few other things. So the cities is involved obviously with the Curiosity Lab at Peachtree Corners, the autonomous vehicle track. City council was visionary, thinking of visionary ways to bring the city forward when it first started by funding some of these things. Originally with Prototype Prime as an incubator and then evolving that into much more.
Lorri: [29:40] We're very fortunate to have three incubator environments in our city. I mean, I've always believed in that because I grew up in the technology industry since 1965. And if you don't have a way to do innovation, you're not going to grow. Because you're creating new jobs or creating opportunities for people. And that's what Paul Duke saw when he came here back in the 80s.
Rico: [30:18] So do you, what do you see happening over the next couple of years? What more beyond what citizens might see now with the autonomous track and all that?
Lorri: [30:27] Well the autonomous track was built primarily to attract industries that were related to the autonomous vehicles. And all the technology that goes along with it. What other things could be autonomous? That's the question you can ask. You know, and like we saw in the dedication, The Drone delivering a package? You've got people talking about autonomous scooters. And the whole thing about autonomous scooters is what they want to be able to do is get the scooters back where they belong after they've been used.
Rico: [31:07] Right. Seeing those scooters drive around by themselves, heading back home.
Lorri: [31:12] So that's a part of the autonomous area. But what other developments are going to occur in medicine? And in Healthcare? And areas like that, that are also areas for innovation.
Rico: [31:27] Biomedical, pharmaceutical. Or are you talking about retail medicine?
Lorri: [31:30] Well in telemedicine. And the extensions of telemedicine that might enable people that don't get access to Medical Services to have them. I'm totally excited that Gwinnett Medical located their operations in our city. I've been pushing for that since I was a counselman because we didn't have any of that here.
Rico: [31:54] And Northside just took that over. So yeah, they're getting bigger. The northside is getting bigger in the North part of Atlanta as well.
Lorri: [32:04] Very much so.
Rico: [32:06] The issues that arise sometimes from some of these developments and stuff; privacy issues. I talked with Brian Johnson on one of the podcasts on Prime Lunchtime with The City Manager about doing, about the cameras and license plate identification cameras as well as facial recognition type cameras for security. We talked about how those could be put out in different parts of the city and even in near different neighborhoods in front of different neighborhoods.
Lorri: [32:39] And the neighborhoods can make a choice on whether they want to do that or not.
Rico: [32:44] Do you find that as a good thing?
Lorri: [32:47] I think safety is important. And you know, it's kind of like some deterrents serve to keep people safe. So I mean the good people aren't going to mind you putting out a camera.
Rico: [33:04] But there's privacy to a degree.
Lorri: [33:07] But the access to those devices are limited. And the information is protected and encrypted. So that it isn't like it's wide open access for everybody.
Rico: [33:21] Right. And we talked a little bit about that.
Lorri: [33:24] The city is not going to track how many times you come and go home a day.
Rico: [33:30] No I'm sure the city won't be doing that. But you're right there will be restrictions on its use from what I understand from Brian Johnson.
Lorri: [33:39] No question about it. I mean the use is only for safety and for crime prevention.
Rico: [33:48] And we want to stay ahead of that. I mean we the city hasn't had real… I haven't heard. I mean I keep watching my crime…
Lorri: [33:55] We just had a murder last night.
Rico: [33:57] Yes, we did. That's right.
Lorri: [34:02] And it's sad. But there's some of the problems like the opioid crisis and those items. I mean those are things that we need to.. it's not a city responsibility but to be cognizant enough and aware of in able to help drive solutions to those type of problems. It's like with all, we have a number of hotels here. The other area we've got to be concerned about is human traffic. Most people don't really believe there's a human trafficking problem.
Rico: [34:40] Because they're not aware of it or they're just not looking.
Lorri: [34:42] They don't see it. I mean I've worked with a number of organizations over the years and I'm very aware of that type of environment.
Rico: [34:53] Do you think Gwinnett County police are doing a good job with that?
Lorri: [34:57] I think they're doing all they can do. I mean the big job there is education because you know, see something do something. You have to do that.
Rico: [35:13] For sure. It's a tough, it's a tough question, right.
Lorri: [35:17] The other thing that I'm not quite sure how to address, but it requires funding, is I mean when I sit here there's about 200 homeless kids at Norcross High School. We don't have any Rainbow Village in Peachtree Corners. This is something that the city, you can get some grants and money and things behind something like that so that we could have a facility to do that. I have been involved in a number of the homeless people I've run into since being a councilman when I've gotten calls and gone to see in what we do. Currently at least they take them downtown to the shelter in downtown Atlanta. But most of them don't, but they have to agree to go. They don't want to go because we have really nice people in Peachtree Corners and they generate the revenue here.
Rico: [36:15] So do you foresee maybe a shelter of some sort in Peachtree Corners?
Lorri: [36:18] Well, I think we should have some place where people get help and support. With a population of 43,000 the largest one with nothing. I think that's something that we could, we need to think about and how we could go about it.
Rico: [36:35] I mean that could be a private-public… public-private
Lorri: [36:38] Public-private partnership.
Rico: [36:41] What other issues are on your mind that you'd like to talk about?
Lorri: [36:49] Well, the only things I would like to say is; I appreciate the citizens of the city giving me the opportunity to serve them. I would like to continue to serve them if it's their choice. And hopefully everybody will go vote. I'd like to have them both for me, but I'd be equally honored if they went to vote. Because it's a privilege we have that not a lot of people have. I think it's extremely important to do that. And I want to say how much I enjoy serving with my fellow councilman. We have a really good team and without the team goals that we've had, we would never have been able to accomplish what we have in this short period of time. I'm thrilled to be a part of Peachtree Corners.
Rico: [37:40] And I'd be remiss to not say that you're being opposed in re-election.
Lorri: [37:46] That is true.
Rico: [37:47] And there's other candidates like the mayor or other servants of the city that are running unopposed. You're actually the only one being exposed right now.
Lorri: [37:57] That's because I have a large seat. That means anybody can run against me. Rico: [38:01] Correct. So you're not stuck in a post. So anyone in the city can actually vote for you.
Lorri: [38:08] Yes everyone in the city can vote in this election
Rico: [38:12] And this election obviously November 5th.
Lorri: [38:14] Well it the polls are open now from 9:00 to 4:00 Monday through Friday, until November 1st at City Hall. And then election day it's 7:00 to 7:00 at City Hall.
Rico: [38:28] So advance voting. Absentee voting?
Lorri: [38:32] Absentee voting. In fact, if anybody needs an absentee ballot, I'll be happy to get one to them. I took them over to Village Park last week. I told them I would come back and get them and deliver them.
Rico: [38:46] Very good. So they can find more information about you and at www.Re-ellectLorri5.com. All right.
Lorri: [39:05] Or the committee to re-elect Lorri Christopher on Facebook.
Rico: [39:09] On Facebook, cool. And if they want to reach you, I mean on Twitter you're @Lorri504. And they really can find and reach out to you through any of those.
Lorri: [39:20] They can also reach out to me from the city site.
Rico: [39:23] Okay. So go to the City of Peachtree Corners.
Lorri: [39:26] www.PeachtreeCornersga.gov Rico: [39:29] You got it. That's cool. I think we've covered quite a bit. I appreciate you coming out. Lorri Christopher running for re-election for City Council of the City of Peachtree Corners.
Lorri: [39:42] And please invite everyone to vote. It's their privilege.
Rico: [39:45] And don't forget when you vote at City Hall because that election day is at your precinct for… I think there's, no actually there's nothing.
Lorri: [39:54] There's no precincts. There's no voting except at city hall this year. Rico: [40:00] At City Hall this time this year. Yeah, very good. Thank you Lorri.
Lorri: [40:04] Thank you.
Rico: [40:05] Thank yo

Candidates for Peachtree Corners Council Square Off at UPCCA Forum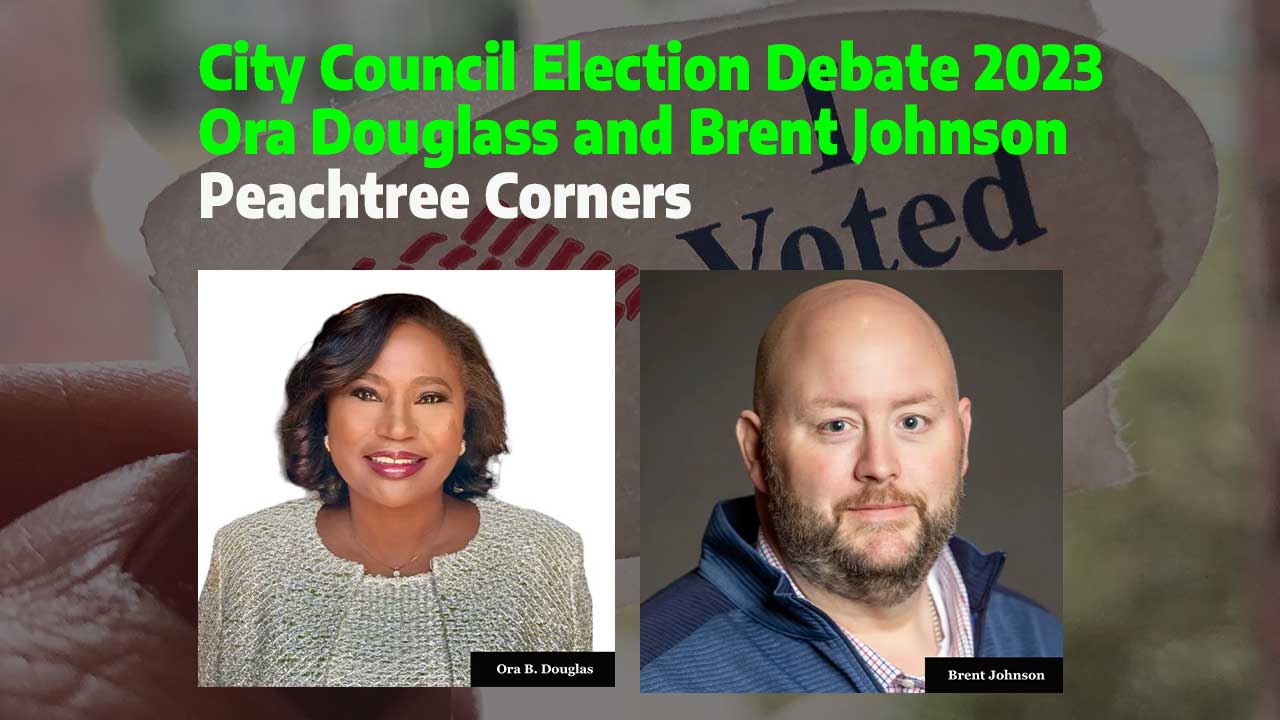 The city of Peachtree Corners Council Post 5/At Large is the only citywide race with at least two candidates, and it was imperative to let residents learn more about them.
United Peachtree Corners Civic Association hosted a forum on Thursday, Oct. 19, at Christ the King Lutheran Church to hear these candidates' voices.
Moderated by local attorney Jim Blum, candidates Ora Douglass and Brent Johnson appeared to have more viewpoints in common than in opposition.
Both candidates conveyed their love for the community and their passion to see it remain a great place to live and raise a family.
Community concerns about crime, growth and development
The first question asked the candidates what they thought were the top three issues facing the city that they would address if elected.
Douglass: "The citizens that have really been vocal as I've knocked on doors—they don't like the apartments. They want their property values to remain at a reasonable level. They don't like the traffic. They don't like the bridge. It's been there for a long time. Still, they don't like that bridge.
So, I think the top priorities for me would be communication between the council and the city because there's clearly a disconnect between what the residents feel and think and what's going on in the city council."
Johnson: "The top three things I want to accomplish if I get elected is to make the government smaller and more efficient. Right now, we're operating at a much higher efficiency than we were ever set out to be. We were supposed to be a small city—three services—we've kind of morphed into a full city now. We've lost more efficiencies that we need to have in place.
Second, the rapid development of high-density housing has got to stop. It's going to kill traffic. It's going to kill the schools and the crime rate is going to increase. We've got to stop that.
The last thing is public safety because of a lot of the high-density housing we're putting in place. We've got to curb the crime that's in Peachtree Corners like robberies at The Forum and shootings at Quik Trip. We've got to stem the tide on that and get out ahead of it before it gets really bad."
Doing good in the neighborhood
The candidates were then asked to describe the community service activities they each have led in Peachtree Corners and how they would continue those efforts if elected.
Johnson: "The community service I've done in Peachtree Corners has been more on the sports organization side from coaching sports with my kids—baseball and soccer. I help fundraise for food drives.
The biggest community service activity we need to implement, as I've stated before, is getting the community involved in what's going on.
A lot of people like to complain about things, but nobody wants to get involved with things. So, we've got to do something to bring the city together, to voice their concerns, and get with the government to actually listen to the concerns—not that they aren't.
If you like to complain and people over here are doing things, someone's got to get them together and bring them together. That's my biggest community service for the city that will make the city better—everybody on one page so we can make this a great place to live—continue to make this a great place to live."
Douglass: "My motto is service first because I believe in serving you first over self. I am the person who charted a chapter of Alpha Kappa Alpha [Sorority] right here in Peachtree Corners.
We clean up 1.6 miles of road of Peachtree Corners Circle, quarterly picking up trash from the south side. The other thing that I have done is, just a few months ago, I coordinated a clothing drive and a sanitary napkin drive for children and teenage girls over at Landmark Church. We had over 250 residents there.
We gave out food and we gave out clothing. Coming up here on November 11, mark your calendars, I am coordinating a veteran's event out at Town Center where we have all of our veterans and their families out there.
The thing that I would do when I'm elected is to bring more community service within Peachtree Corners—not just at The Forum, not just at Town Center, but on south side as well. I would like to bring activities that bring us together. Maybe we can have one and cross that bridge."
Taking a different approach
The candidates were then prompted to recall a city council decision that they disagreed with.
Johnson: "What I'm talking about, and brought up, is the $10 million bridge that we built, that probably didn't need to be built. We couldn't use it for heifers all said and done. It was a substantial amount of money that we spent on that bridge. That's one of the big things we've done.
Also, maybe not have done the condo for rent places right next to the liquor store. Those are the two big things that I will say most recently that we have done that I was not very pleased with because we started all this based on fear of apartments at the Town Center.
That's the reason for forming this city—was to protect property values and protect housing density."
Douglass: The first one is the intersection that's near my house off Bush Road. I go the wrong way there all the time. I understand from the people that I've knocked on their doors that there have been quite a few accidents there. That's one of the decisions that I just do not like.
I wish that they could hurry up and get it completed so that I can know which way I'm supposed to go. … I think I agree with Brett that those apartments behind the liquor store are hideous."
Closing statements
Both candidates remarked that they want Peachtree Corners to continue to be a place for families.
Douglass has raised children in the area and Johnson is currently raising children. Johnson pointed out that he works full-time and isn't retired, but still wants to devote a significant portion of his time to the betterment of the city where he was born and raised.
On the other hand, Douglass doesn't punch a clock but is heavily involved in many activities. She said she brings a vision and diversity that the city needs.
Watch the complete candidate forum here.
The next municipal election is scheduled for November 7, 2023.
Advanced voting will close at 5:00 p.m. Friday, November 3, 2023. 
All municipal elections take place at Peachtree Corners City Hall, 310 Technology Parkway, Peachtree Corners, Georgia, 30092, regardless of polling places for county, state or federal elections.
For information on where to vote and general elections visit the Georgia Secretary of State My Voter Page (MVP).

Peachtree Corners Councilmember Sadd Schedules Town Hall Meeting for November 2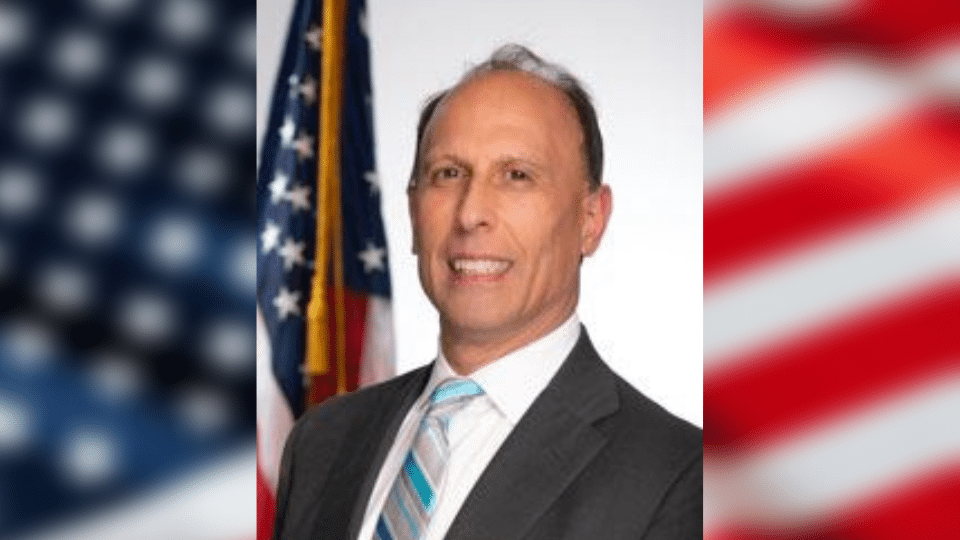 Post 1 Councilmember Phil Sadd is hosting a Town Hall Meeting on Thursday, November 2, at 7:00 p.m. at Winters Chapel United Methodist Church, which is located at 5105 Winters Chapel Road.
The issues that will be discussed include:
The new Marshal Program and Crime Prevention,
The Forum and Town Center initiatives,
Key transportation improvement projects,
Curiosity Lab Innovation initiatives and
Candidates for the City Council open seat.
"Meeting with constituents and residents to provide them with information regarding the city is vitally important for transparent communication," said Sadd.
"The upcoming Town Hall will not only provide our residents with information and an opportunity to ask questions, but also it will allow me to hear directly from them about their concerns and desires of our city for the future," he added.
The Town Hall Meeting will be held in Peachtree Corners District 1 and is a non-partisan event open to all citizens.
To get in touch with Councilmember Sadd, send him an email at psadd@peachtreecornersga.gov.

Gwinnett County DA Shows Compassionate Side of Law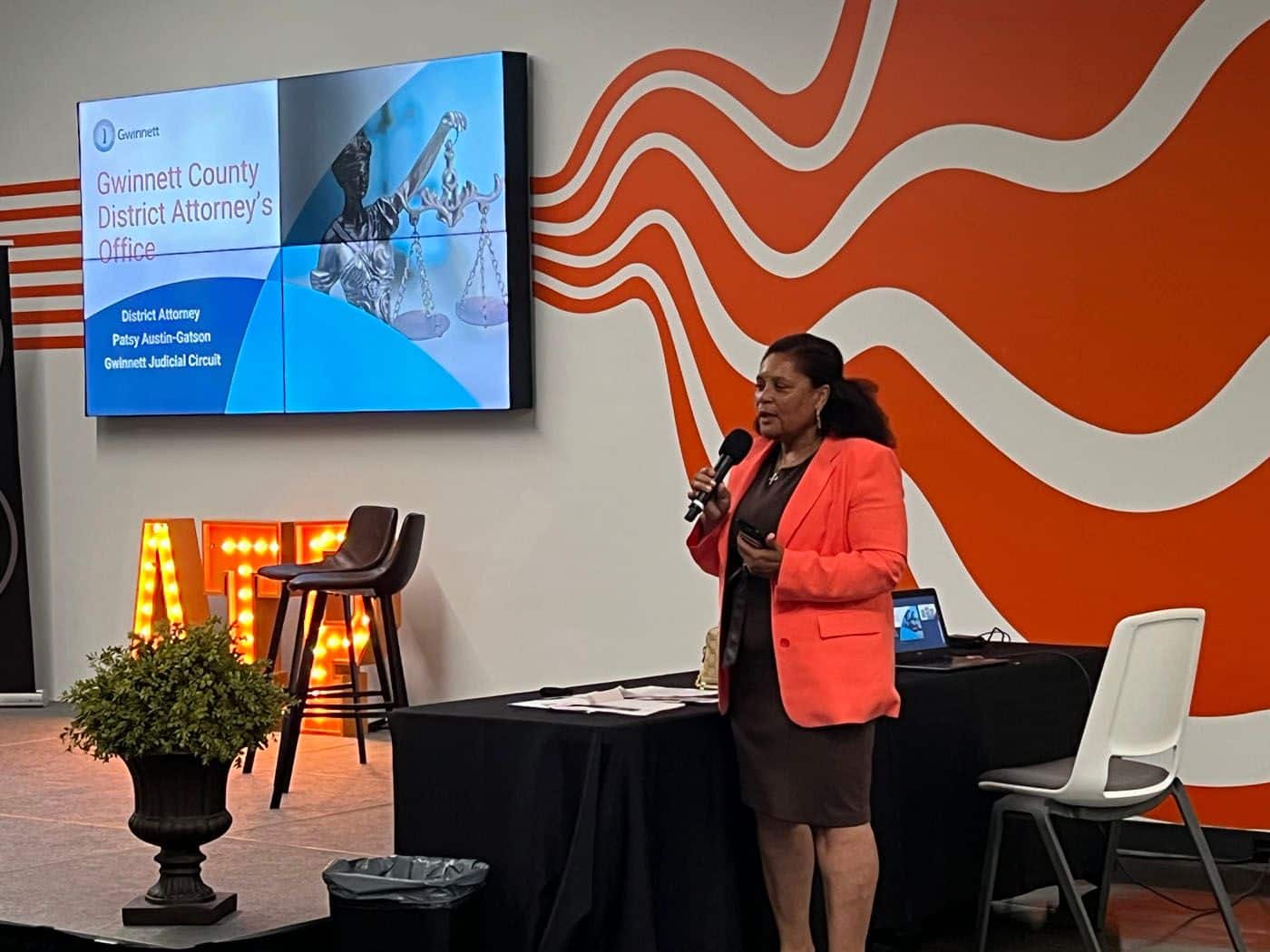 Although crime shows like "Law & Order" may have many of us thinking we know how the legal system works, we probably aren't as accurate as we think we are. To inform the business community about the resources available and the responsibilities of the Gwinnett County District Attorney's office, the Southwest Gwinnett Chamber of Commerce (SWGC) invited Gwinnett DA Patsy Austin-Gatson as the speaker at its September Coffee Connections.
Austin-Gatson started off by talking about a special initiative to bring local high school students to work in her office to get a first-hand look at how the wheels of justice turn. She started it last year with 12 students and it has already grown to a cohort of 49 this fall that spent 10 days with the DA's office.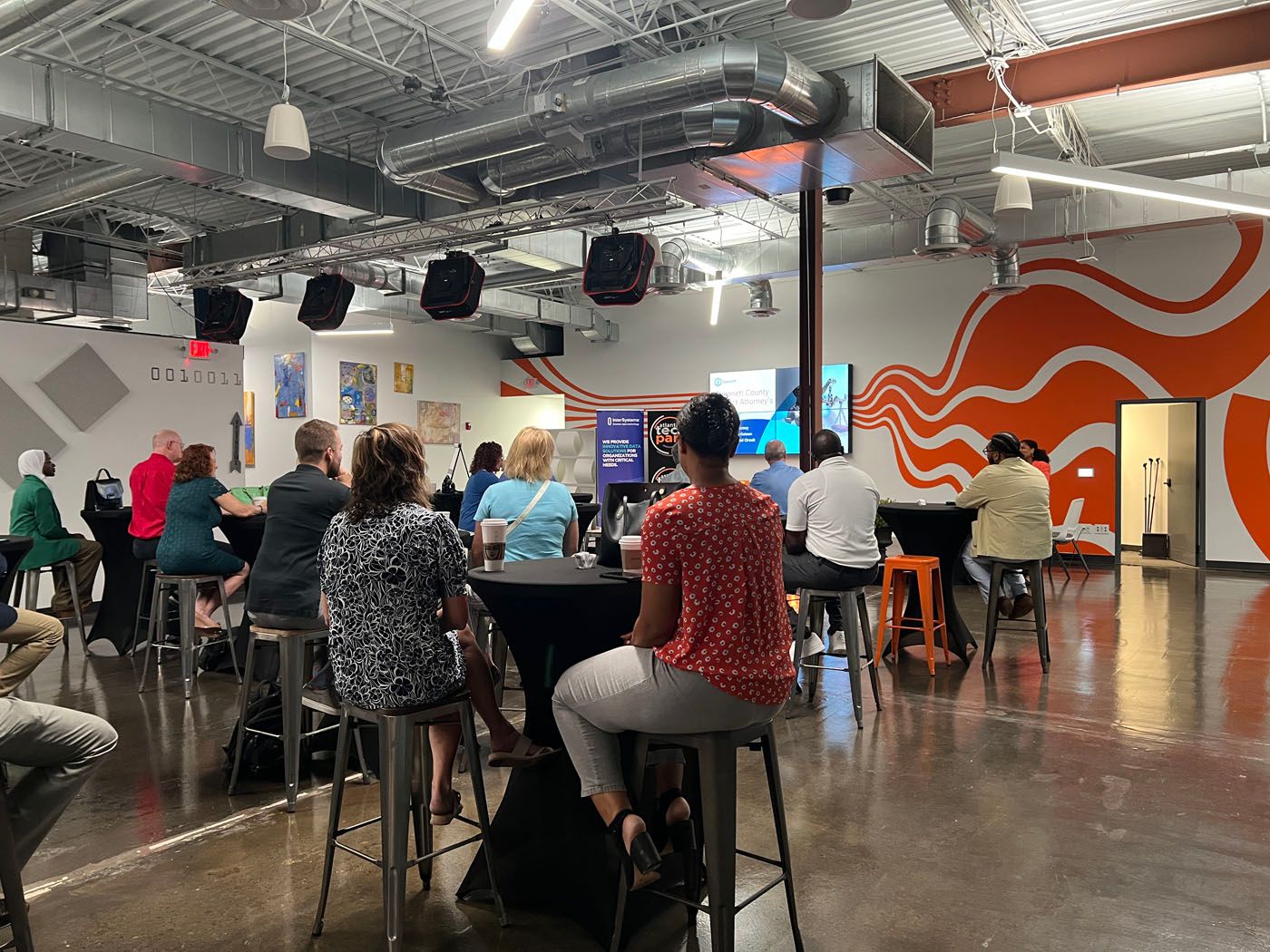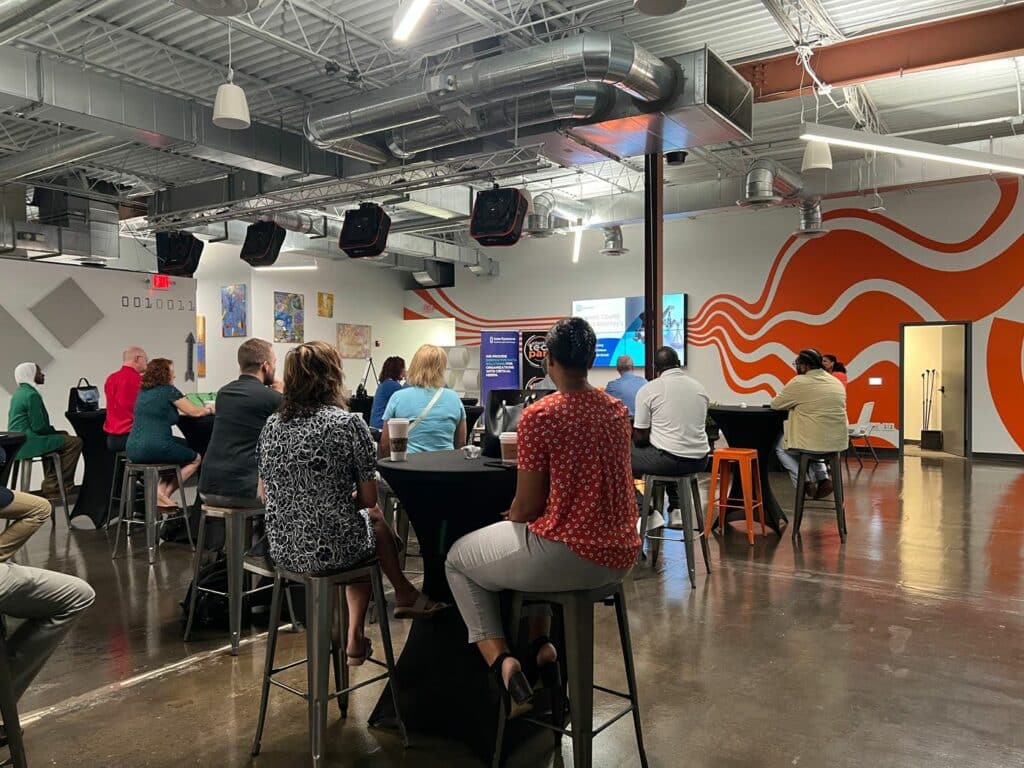 "I love our community. It's diverse, it's beautiful. And these students when they came in, they didn't know really what to expect," said Austin-Gatson. "But we expose them to what the DA's office does, and how we work, and also to other agencies like the police department and medical examiners. …We just took them around and really showed them a lot."
Besides putting education first, Austin-Gatson said the program is fiscally responsible in that it didn't cost taxpayers anything. "Restaurants and businesses donate their lunches every single day. So it was just a beautiful experience, and demonstrated how cohesive our community is," she said.
Law and order Gwinnett style
A few things Austin-Gatson wanted to key in on was that her office works directly with local police and courts. The mission of the Gwinnett County District Attorney's Office is to seek and pursue justice on behalf of victims of crime through the fair and ethical prosecution of those who commit offenses in the community.
The DA's office strives to impact the community through education, engagement and reduction in recidivism while working vigorously to keep the community safe so that all Gwinnett County citizens and residents can thrive.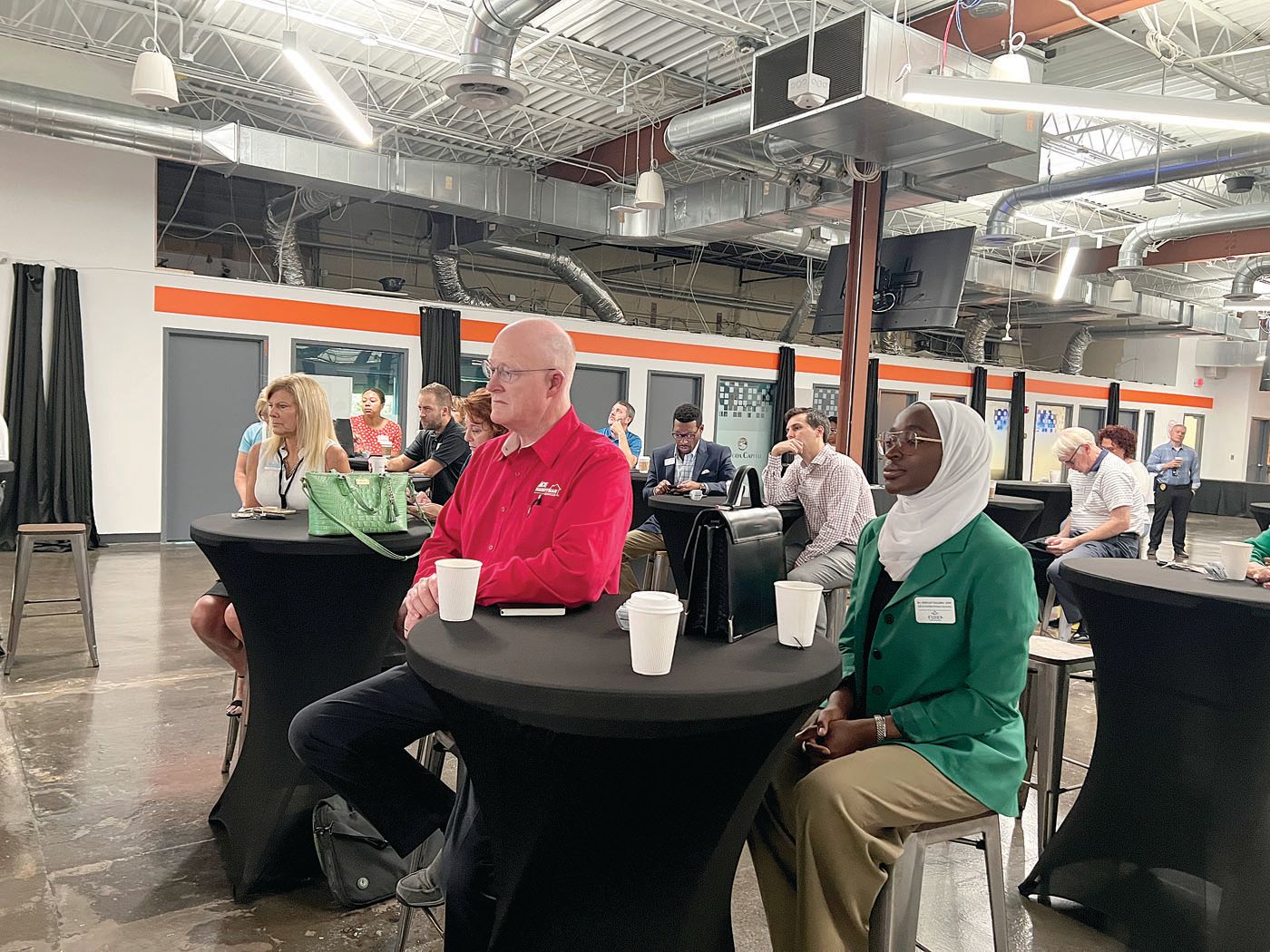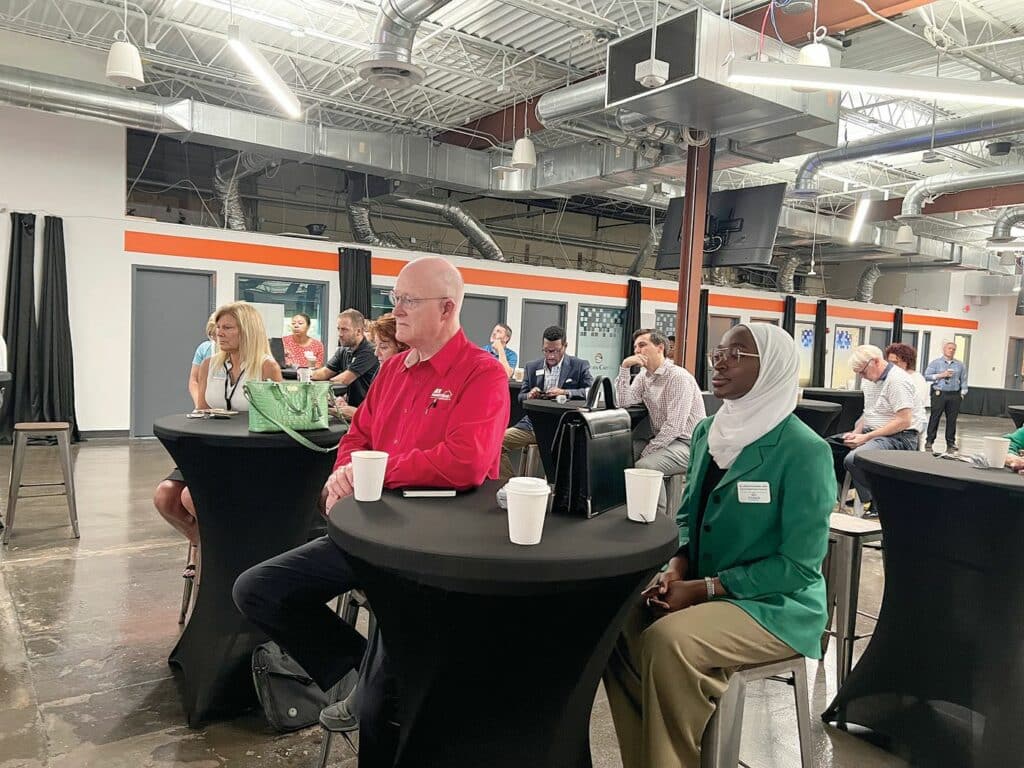 With that in mind, she explained that her office is an advocate for victims of crime. 
"They have a right to know everything that's going on with a case that they are involved in. And that's a constitutional requirement …that we walk them through the system," she said.
Anyone who's tried to read through a legal document can attest to how complicated the law can be, but the DA's office strives to make sure victims are aware of their rights and completely understand the process.
On the flip side, those accused of a crime have rights as well.
"There's a plea of guilty / not guilty. …If there's a trial, we go through that, and sometimes there are appeals," she said. "Basically, the legal case is still centered on protecting the defendant's rights, just like victims' rights."
Austin-Gatson pointed out that often friends and family want to see a conviction overturned.
"I'm getting some groups of people that go out and send 20 million texts, emails and things like that to [get the convicted person] freed, but unless they have additional evidence, we can't let them walk," she said. "We have to support the jury system when somebody was convicted of a crime; they went through appeals, they got that handled, then I'm not going to be one to set that aside."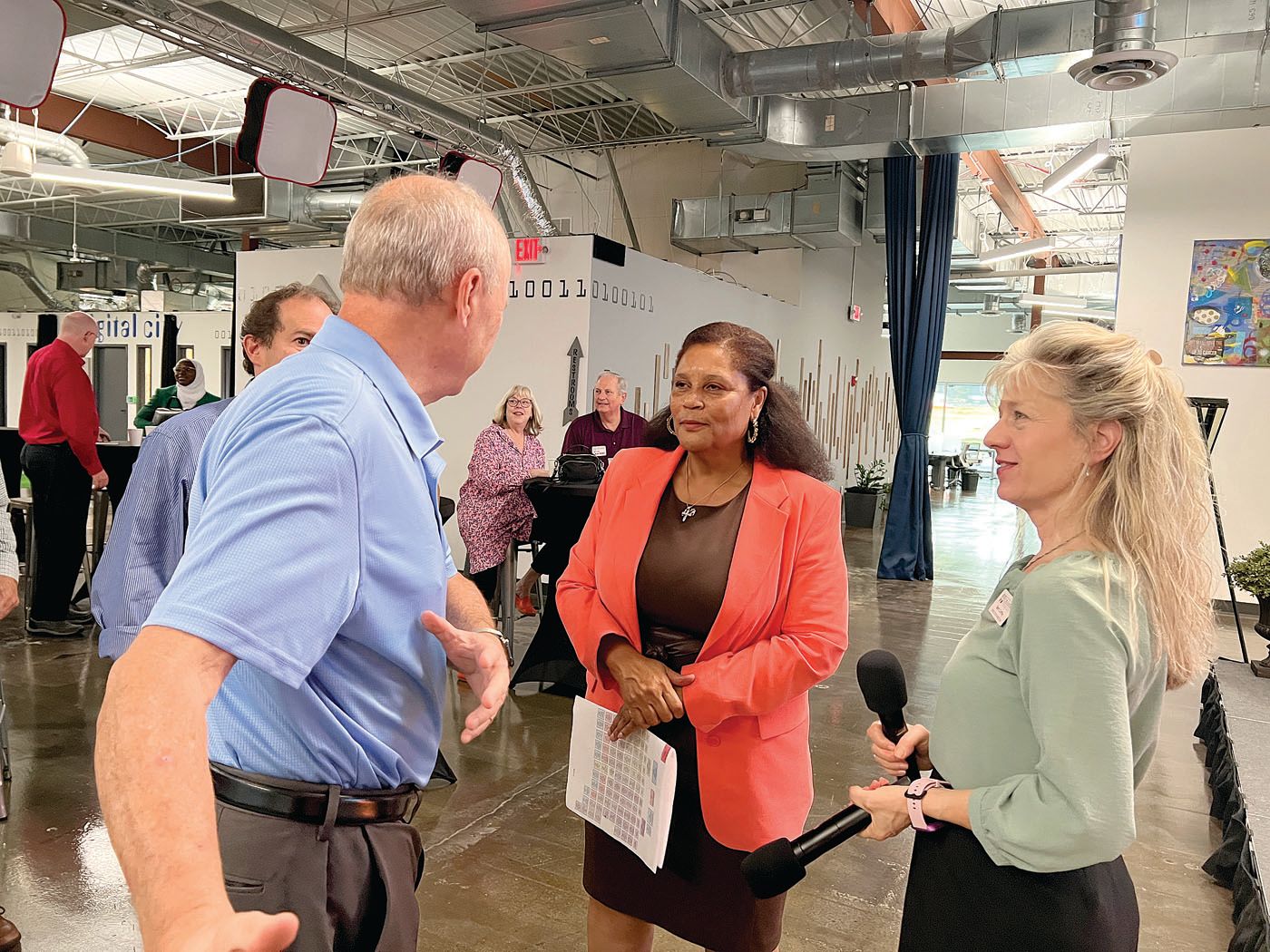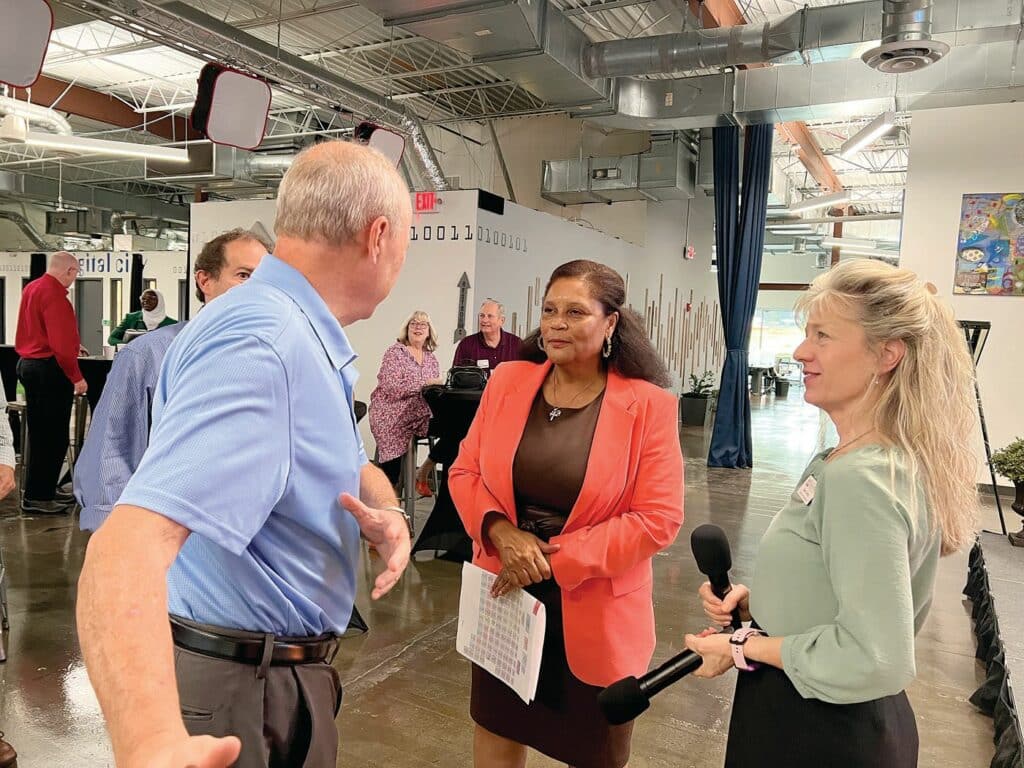 Ways to improve things
But a high conviction rate isn't the goal for Austin-Gatson.
The DA's office has initiatives such as rehabilitation and maintenance programs to turn former criminals into productive citizens.
"That's where 17- to 28-year-olds were having their first brush with the law," said Austin-Gatson. "We try a program …to deflect people from getting deeper into the criminal justice system."
The first cohort graduated in December, she said.
"We all have a responsibility to do something. We sit back and say things are so horrible, things are awful," she said. "I'm all about getting people [changing] their future."