Shredding, Electronics Recycling Event, Saturday April 13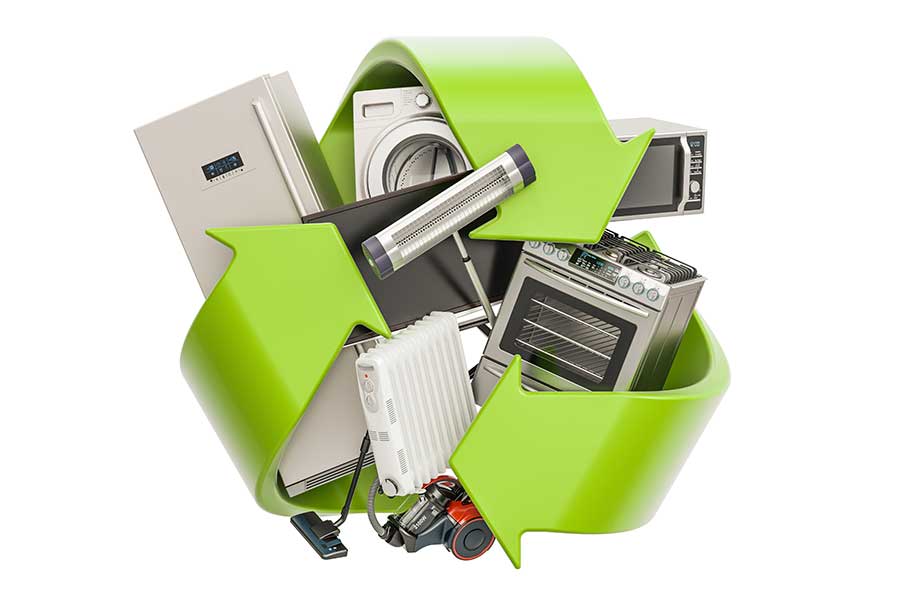 A free electronics recycling and paper shredding event will take place at the Peachtree Corners City Hall at 310 Technology Parkway on Saturday, April 13, 2019, from 9 a.m. to noon – OR UNTIL TRUCKS ARE FULL.
Residents of Peachtree Corners are invited to recycle electronics and shred unwanted documents. The city has hired Proshred and eWaste-ePlanet for the event. GATES WILL OPEN AT 9.A.M.
Residents are limited to five (5) medium-size boxes of paper materials. Most electronics are free to recycle. LCD flat screen monitors are free to recycle. There is a fee for CRT (large-backed, heavy monitors or televisions) of .40 per pound. E-waste staff will weigh the devices and collect payment directly. Cash or checks are accepted.
This event is open to Peachtree Corners residents ONLY.
ACCEPTABLE ELECTRONICS
Personal Computers
Floppy/Disk Drives
CD-Roms
Circuit Boards
PC Power Supplies
Keyboards
Mouse/Mice
PC Monitors
Laptops
Printers
Fax Machines
Copiers
Music/VCR/CD-Players
Typewriters
Test Equipment
Networking Equipment
Modems
UPS Batteries
Cell Phones
Phones
Scanners
Wire/Cabling
Servers
Shredding Guidelines:
OK to Shred:
Anything made of paper. No need to remove:

Staples
Paper clips
Binder clips
Hanging folders (with metal strips)
Manila folders
Paper board legal binders
Spiral notebook binders
Thin plastic sheet protectors
Books
Cannot shred:
Must remove (in advance):

3-ring binders
X-Rays
Plastic (such as CD cases or plastic folders)
Office supplies (pens, staplers, etc.)
Computer cables
Cell phones
Batteries (combustible)
Food or other garbage
If you, or your company, would like to volunteer at this event, please contact Jennifer Howard at jhoward@peachtreecornersga.gov
Construction on Pedestrian Bridge Underway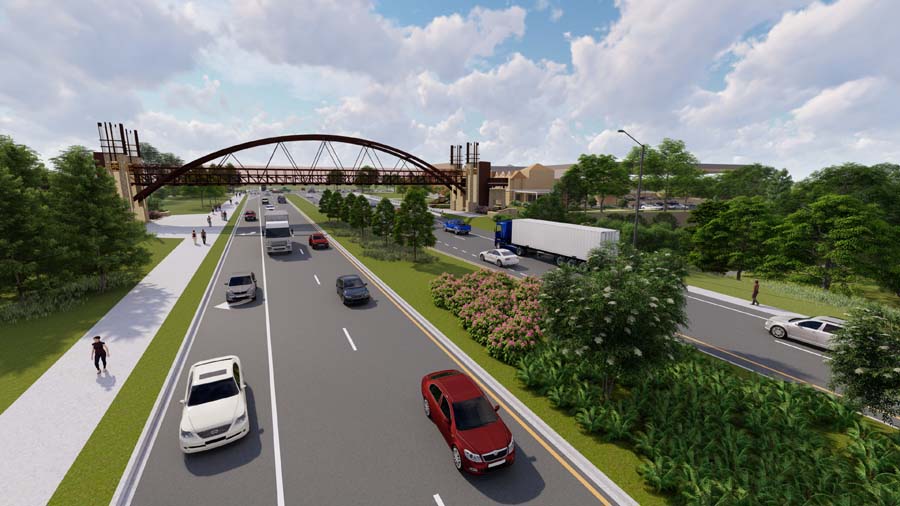 The Peachtree Parkway Pedestrian Bridge is now under construction thanks to the recent permit approval from the Georgia Department of Transportation. Construction is scheduled to continue for the next 14-16 months until completion.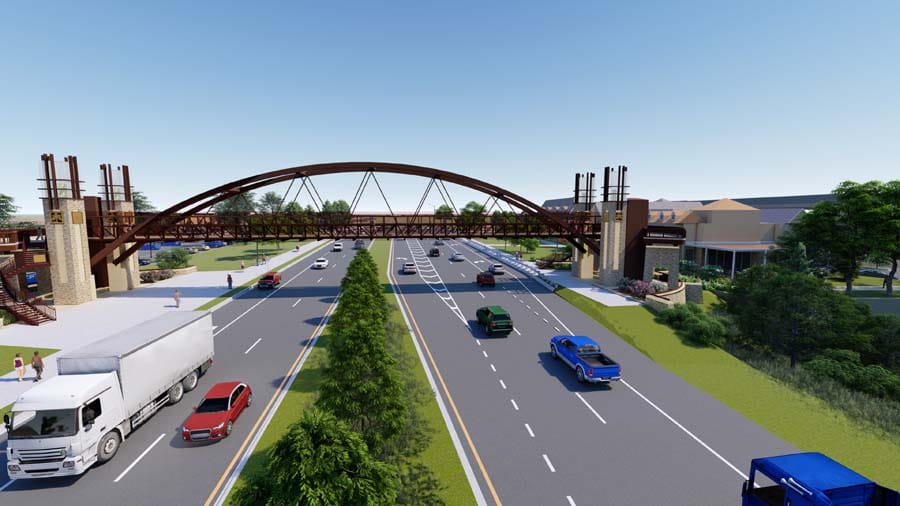 It will be a steel, thrust arch bridge connecting the multi-use path on the west side to the east side of State Route 141 that separates the Town Center and Forum developments. The design of the pedestrian bridge is intended to be a tribute to Jones Bridge, which stretched across the Chattahoochee River for decades and served as a namesake for many of the amenities and roads in the Peachtree Corners community.
Concrete barricades have been installed along northbound and southbound Peachtree Parkway that provides protection between the construction work zone and vehicular traffic. Lane closures or traffic interruptions are not anticipated, but any construction activities that require impact to the vehicular lanes will be kept to a minimum during off-peak hours only, and no permanent or long-term lane closures will be involved.
Initial construction for this project will involve driving piles for the foundation of the structural towers on each side of the bridge. The structure itself is being manufactured now and it will be delivered and installed in Spring 2020.
The installation process will require lane closures over a weekend, and information on that process and plans for detours will be disseminated as that information is finalized and the calendar approaches the scheduled dates for the work.
Early Voting for City Elections Start October 14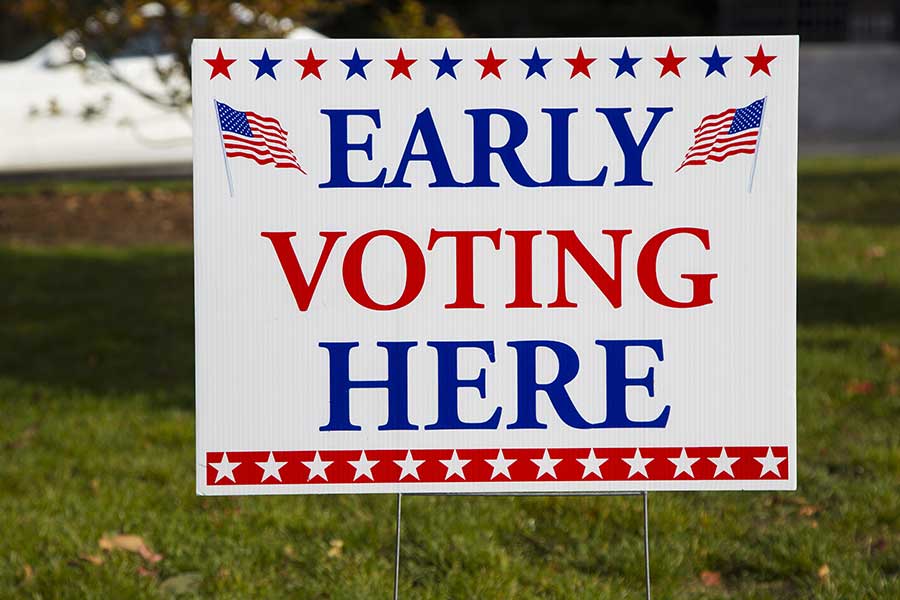 In-person voting begins Oct. 14 and closes Nov. 1, the Friday before Election Day. Voting will be available weekdays during City Hall regular business hours: 9:00 am to 4:00 pm. Proper identification must be supplied to cast a vote. No absentee/early voting is permitted by law the Monday before Election Day. For details see the Voter Information page.
---
Prime Lunchtime with Brian Johnson – Olli, Autonomous Vehicles, 5G and Smart City