Volunteer Board Member Positions Available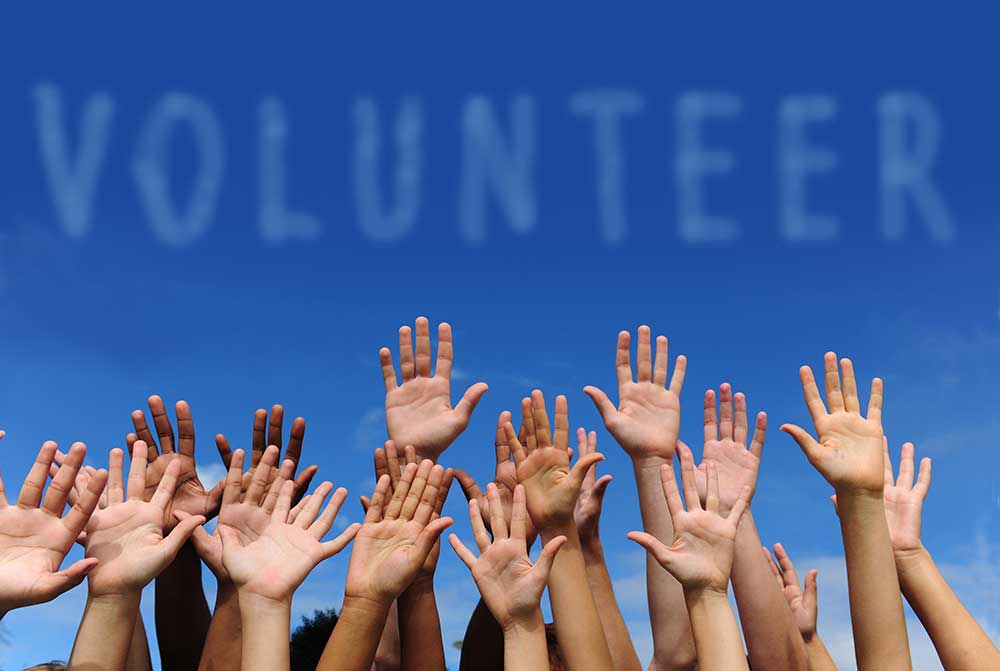 The City of Peachtree Corners is seeking volunteers to serve as alternates on its Planning Commission and Zoning Board of Appeals. Alternates attend all regular board meetings and participate in board discussions; however alternates only vote in the absence of a regular member.
Information about the Planning Commission can be found at this link.
Information about the Zoning Board of Appeals can be found at this link.
Interested applicants should email their resume and cover letter to Diana Wheeler at dwheeler@peachtreecornersga.gov. Cover letter should express reason for interest in serving and what perspective or expertise the applicant would bring to the Commission or Board.
Applicants must be Peachtree Corners residents. Deadline for submission is January 31, 2019.


Limited Access to Town Green This Winter During Expansion Projects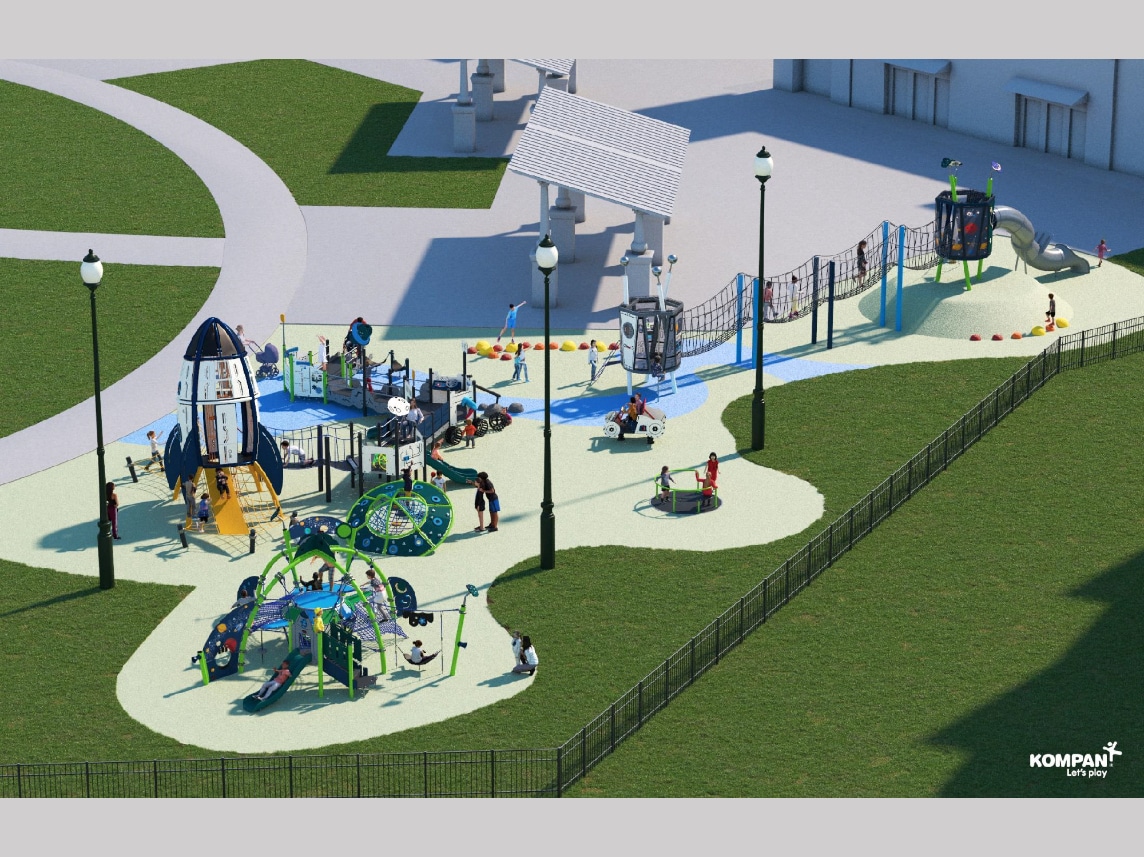 Beginning the week of Dec. 3, 2023, the City of Peachtree Corners will commence an expansion project for the Town Green and its associated amenities.  
Throughout the winter months, certain sections of the Town Green will be closed due to the ongoing expansion. This expansion initiative encompasses various projects to enhance the Town Green and introduce additional amenities to the area.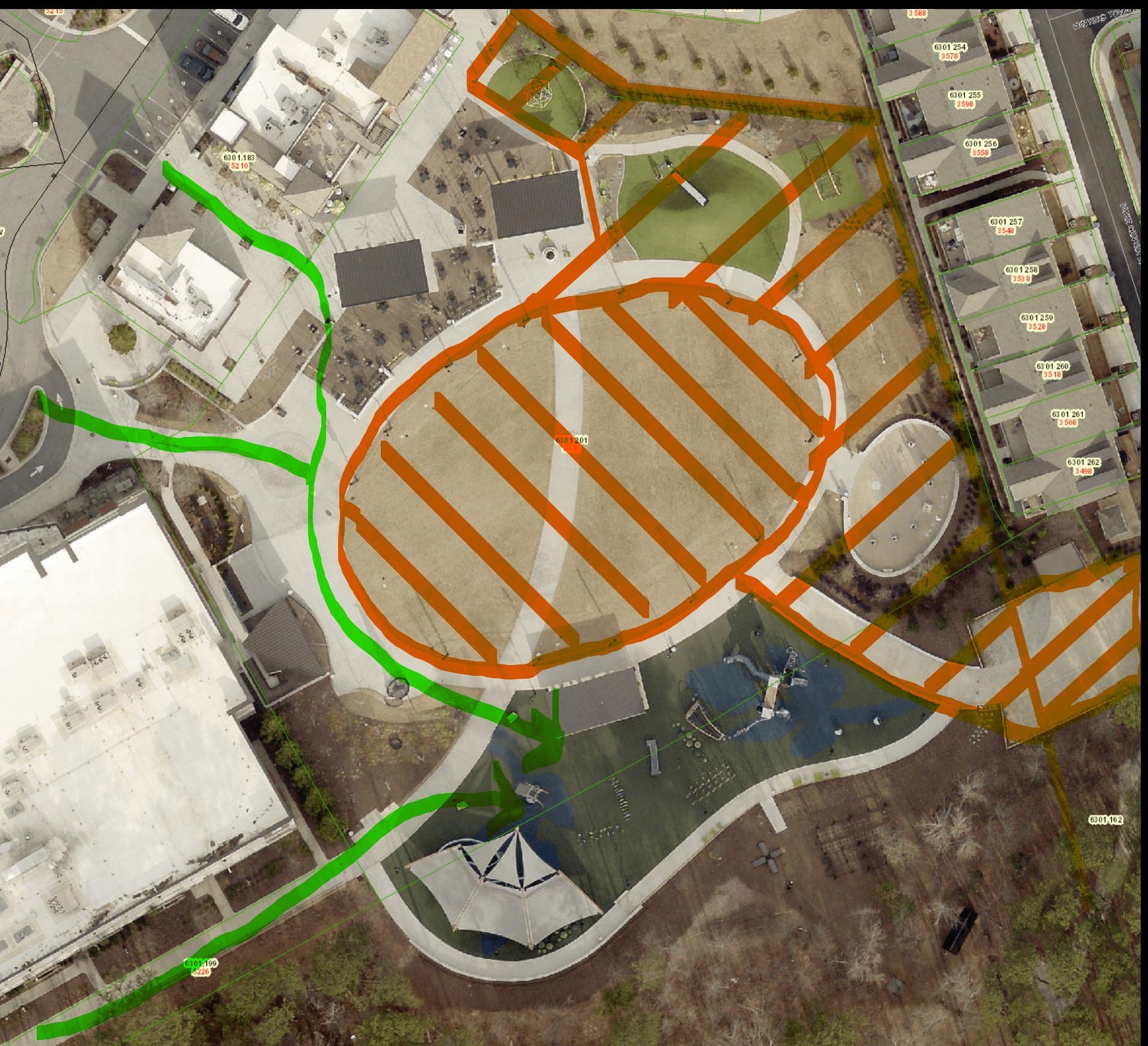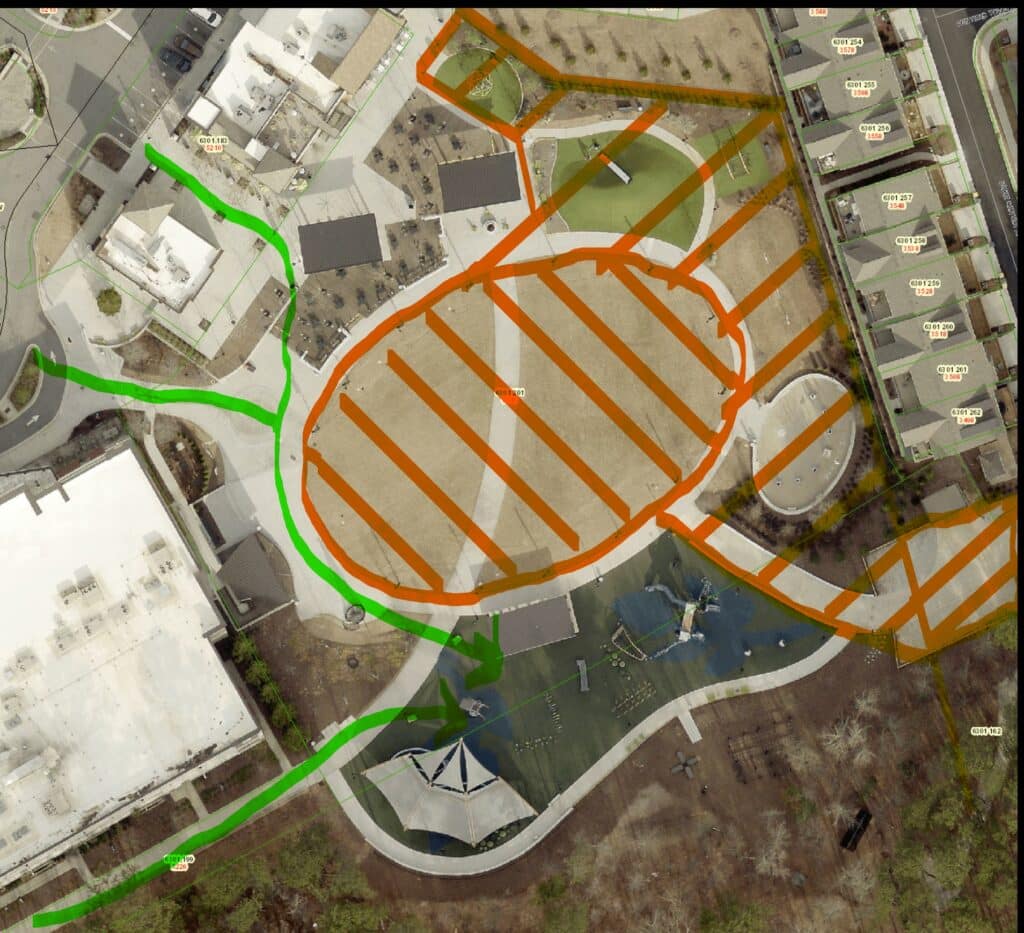 To begin, the center of the Town Green will be transformed as crews begin to install drainage upgrades and lay new sod in the park. During this project, the grass area will not be accessible to the public.
The City's new Tot Lot Playground is another addition to the Town Green. This playground, themed around space exploration, will be situated nearest the townhomes and is designed for children up to the age of six.
As part of this project, the current sliding hill and two existing jungle gym features will be replaced. Furthermore, one of the jungle gym features will be relocated to the playground installed last year.
The upcoming playground will showcase extraordinary elements such as a rocket ship, a moon rover, a crashed UFO and more. It is designed to be fully accessible, ensuring all children enjoy its offerings.
Presently, the construction of the City's off-leash dog park is underway. Situated behind the CineBistro building, this facility will span approximately 9,000 square feet and will be divided into sections for smaller and larger dogs.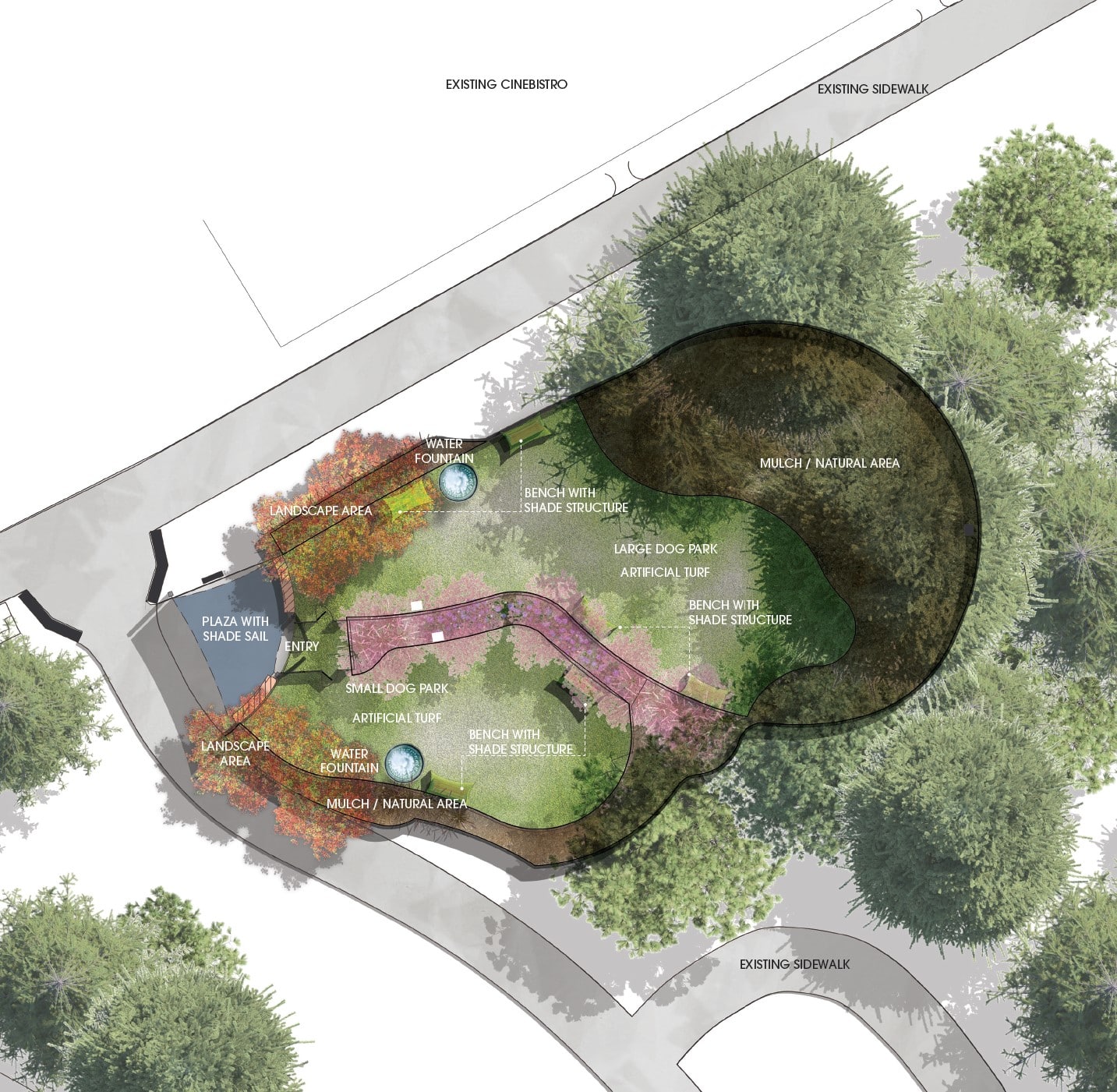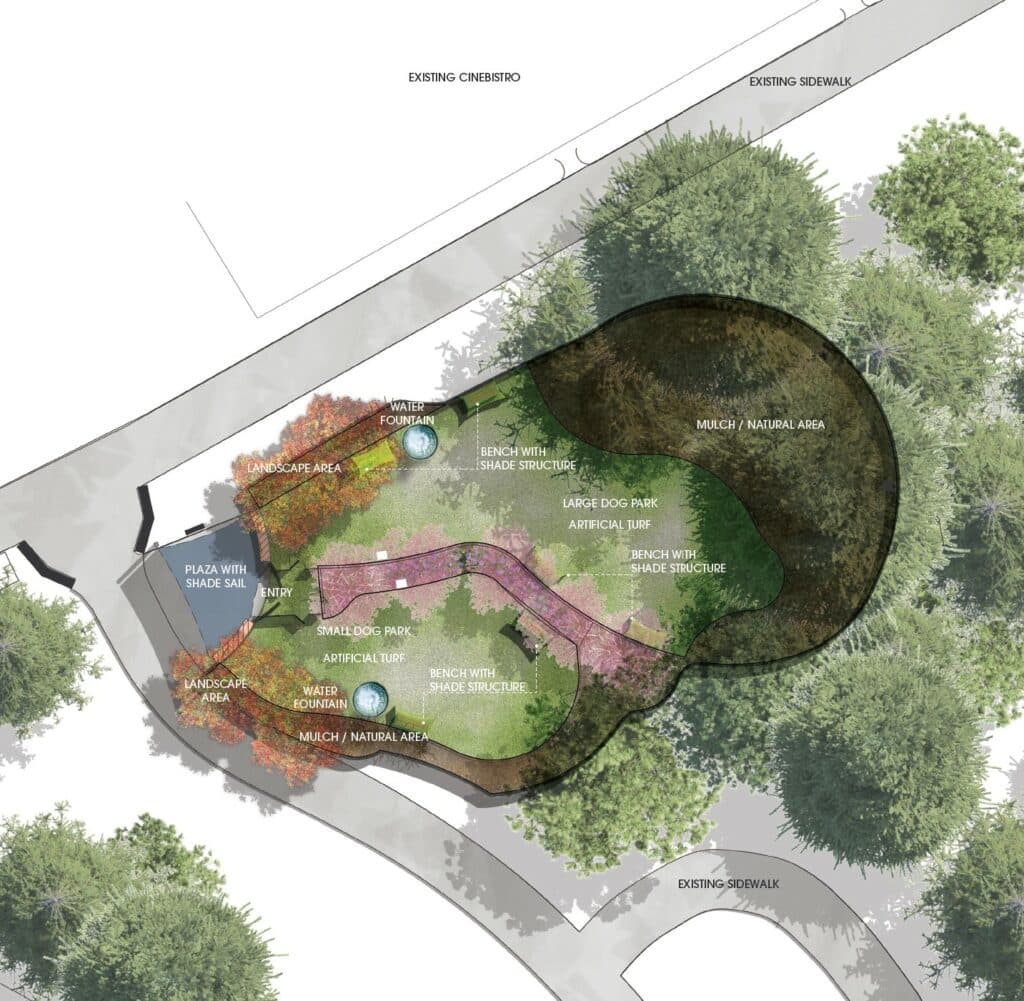 It will have both natural and artificial turf areas. Additionally, there will be a plaza featuring a shade sail, water fountains, pet waste containers, shaded benches and enhanced landscaping.
During the construction phase, access to the park will be limited. However, the existing playground and fitness path can still be accessed through the park entrances between Taqueria Tsunami and Jinbei West.
They are still accessible through the park entrance between Jinbei West and CineBistro and via the multi-use path behind CineBistro.
For more information, contact Louis E. Svehla, the Communications Director for the City of Peachtree Corners, at 770-609-8821 or lsvehla@peachtreecornersga.gov.

Candidates for Peachtree Corners Council Square Off at UPCCA Forum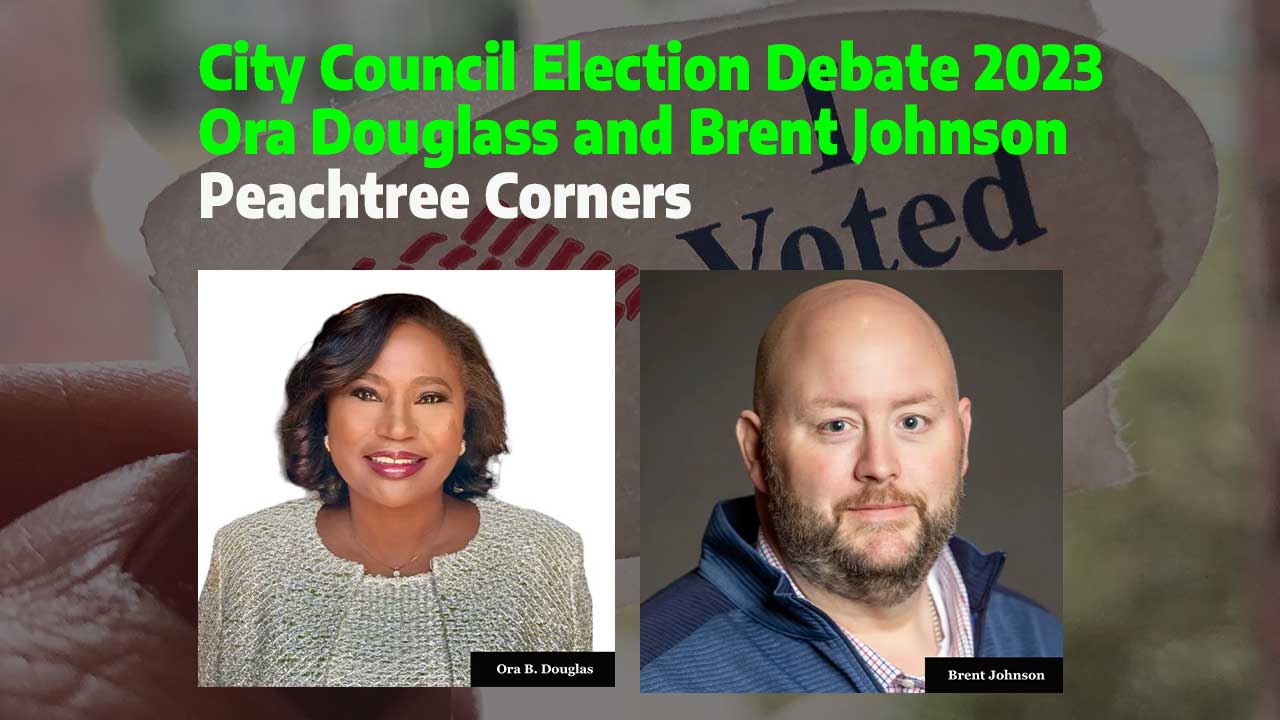 The city of Peachtree Corners Council Post 5/At Large is the only citywide race with at least two candidates, and it was imperative to let residents learn more about them.
United Peachtree Corners Civic Association hosted a forum on Thursday, Oct. 19, at Christ the King Lutheran Church to hear these candidates' voices.
Moderated by local attorney Jim Blum, candidates Ora Douglass and Brent Johnson appeared to have more viewpoints in common than in opposition.
Both candidates conveyed their love for the community and their passion to see it remain a great place to live and raise a family.
Community concerns about crime, growth and development
The first question asked the candidates what they thought were the top three issues facing the city that they would address if elected.
Douglass: "The citizens that have really been vocal as I've knocked on doors—they don't like the apartments. They want their property values to remain at a reasonable level. They don't like the traffic. They don't like the bridge. It's been there for a long time. Still, they don't like that bridge.
So, I think the top priorities for me would be communication between the council and the city because there's clearly a disconnect between what the residents feel and think and what's going on in the city council."
Johnson: "The top three things I want to accomplish if I get elected is to make the government smaller and more efficient. Right now, we're operating at a much higher efficiency than we were ever set out to be. We were supposed to be a small city—three services—we've kind of morphed into a full city now. We've lost more efficiencies that we need to have in place.
Second, the rapid development of high-density housing has got to stop. It's going to kill traffic. It's going to kill the schools and the crime rate is going to increase. We've got to stop that.
The last thing is public safety because of a lot of the high-density housing we're putting in place. We've got to curb the crime that's in Peachtree Corners like robberies at The Forum and shootings at Quik Trip. We've got to stem the tide on that and get out ahead of it before it gets really bad."
Doing good in the neighborhood
The candidates were then asked to describe the community service activities they each have led in Peachtree Corners and how they would continue those efforts if elected.
Johnson: "The community service I've done in Peachtree Corners has been more on the sports organization side from coaching sports with my kids—baseball and soccer. I help fundraise for food drives.
The biggest community service activity we need to implement, as I've stated before, is getting the community involved in what's going on.
A lot of people like to complain about things, but nobody wants to get involved with things. So, we've got to do something to bring the city together, to voice their concerns, and get with the government to actually listen to the concerns—not that they aren't.
If you like to complain and people over here are doing things, someone's got to get them together and bring them together. That's my biggest community service for the city that will make the city better—everybody on one page so we can make this a great place to live—continue to make this a great place to live."
Douglass: "My motto is service first because I believe in serving you first over self. I am the person who charted a chapter of Alpha Kappa Alpha [Sorority] right here in Peachtree Corners.
We clean up 1.6 miles of road of Peachtree Corners Circle, quarterly picking up trash from the south side. The other thing that I have done is, just a few months ago, I coordinated a clothing drive and a sanitary napkin drive for children and teenage girls over at Landmark Church. We had over 250 residents there.
We gave out food and we gave out clothing. Coming up here on November 11, mark your calendars, I am coordinating a veteran's event out at Town Center where we have all of our veterans and their families out there.
The thing that I would do when I'm elected is to bring more community service within Peachtree Corners—not just at The Forum, not just at Town Center, but on south side as well. I would like to bring activities that bring us together. Maybe we can have one and cross that bridge."
Taking a different approach
The candidates were then prompted to recall a city council decision that they disagreed with.
Johnson: "What I'm talking about, and brought up, is the $10 million bridge that we built, that probably didn't need to be built. We couldn't use it for heifers all said and done. It was a substantial amount of money that we spent on that bridge. That's one of the big things we've done.
Also, maybe not have done the condo for rent places right next to the liquor store. Those are the two big things that I will say most recently that we have done that I was not very pleased with because we started all this based on fear of apartments at the Town Center.
That's the reason for forming this city—was to protect property values and protect housing density."
Douglass: The first one is the intersection that's near my house off Bush Road. I go the wrong way there all the time. I understand from the people that I've knocked on their doors that there have been quite a few accidents there. That's one of the decisions that I just do not like.
I wish that they could hurry up and get it completed so that I can know which way I'm supposed to go. … I think I agree with Brett that those apartments behind the liquor store are hideous."
Closing statements
Both candidates remarked that they want Peachtree Corners to continue to be a place for families.
Douglass has raised children in the area and Johnson is currently raising children. Johnson pointed out that he works full-time and isn't retired, but still wants to devote a significant portion of his time to the betterment of the city where he was born and raised.
On the other hand, Douglass doesn't punch a clock but is heavily involved in many activities. She said she brings a vision and diversity that the city needs.
Watch the complete candidate forum here.
The next municipal election is scheduled for November 7, 2023.
Advanced voting will close at 5:00 p.m. Friday, November 3, 2023. 
All municipal elections take place at Peachtree Corners City Hall, 310 Technology Parkway, Peachtree Corners, Georgia, 30092, regardless of polling places for county, state or federal elections.
For information on where to vote and general elections visit the Georgia Secretary of State My Voter Page (MVP).

Peachtree Corners Councilmember Sadd Schedules Town Hall Meeting for November 2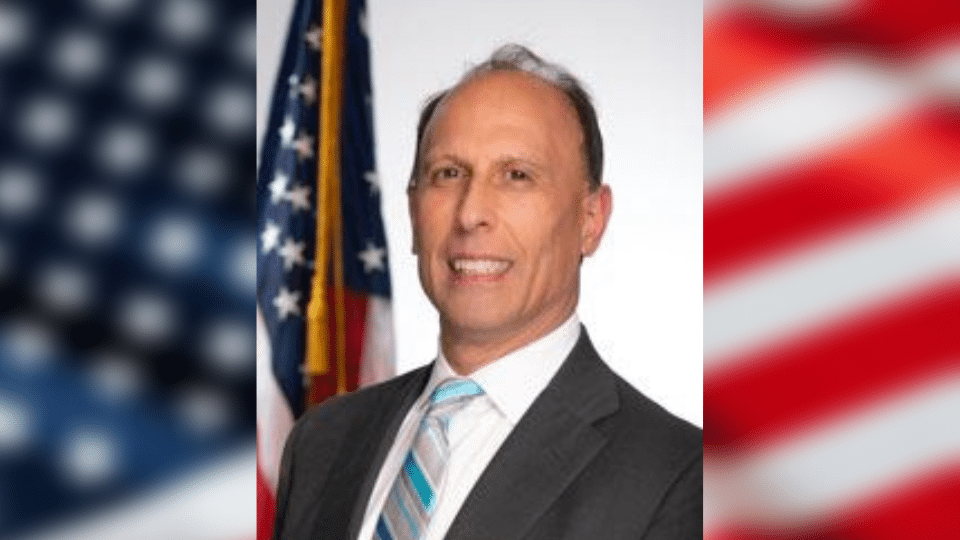 Post 1 Councilmember Phil Sadd is hosting a Town Hall Meeting on Thursday, November 2, at 7:00 p.m. at Winters Chapel United Methodist Church, which is located at 5105 Winters Chapel Road.
The issues that will be discussed include:
The new Marshal Program and Crime Prevention,
The Forum and Town Center initiatives,
Key transportation improvement projects,
Curiosity Lab Innovation initiatives and
Candidates for the City Council open seat.
"Meeting with constituents and residents to provide them with information regarding the city is vitally important for transparent communication," said Sadd.
"The upcoming Town Hall will not only provide our residents with information and an opportunity to ask questions, but also it will allow me to hear directly from them about their concerns and desires of our city for the future," he added.
The Town Hall Meeting will be held in Peachtree Corners District 1 and is a non-partisan event open to all citizens.
To get in touch with Councilmember Sadd, send him an email at psadd@peachtreecornersga.gov.